[This post may contain affiliate links where we earn a small commission. Please see our disclosure for more information and thank you for supporting our site so we can continue to bring you awesome content for your travel inspiration!]
Can I let you in on a little secret about visiting Stuttgart?
I actually don't really like the city of Stuttgart all that much as a tourist. I mean, don't get me wrong, there are some ok things to see around Stuttgart and if you are a car lover, I can see the appeal of going to the Mercedes Benz or Porsche Museums buuuuuut, as a city itself, I'd much rather spend my time in other places in Germany (Sorry, Stuttgartians- don't hate me!)
BUT, what I DO love about Stuttgart is that it makes the perfect home base!!! There are SO many amazing day trips from Stuttgart that it is the perfect, central location to find good and affordable accommodation for numerous days and then spend several days going to fantastic and charming places NEAR Stuttgart!!!
In fact, I have personally done this numerous times myself. Whether I am going to the World's Largest Pumpkin Festival in Ludwigsburg or doing some day trips to the Black Forest, I often have stayed in the city itself and then picked numerous Stuttgart day trips.
So, in this article, I've not only compiled some of my Best Day Trips from Stuttgart Germany that I have personally done myself but also have asked some fellow Germany Travel Lovers what some of their favorite places near Stuttgart to visit are! I'll cover where to go (and why as well as how!), some great options for day trips from Stuttgart by train, as well as some fantastic hotels for all budgets that you can call "home base" for a few days.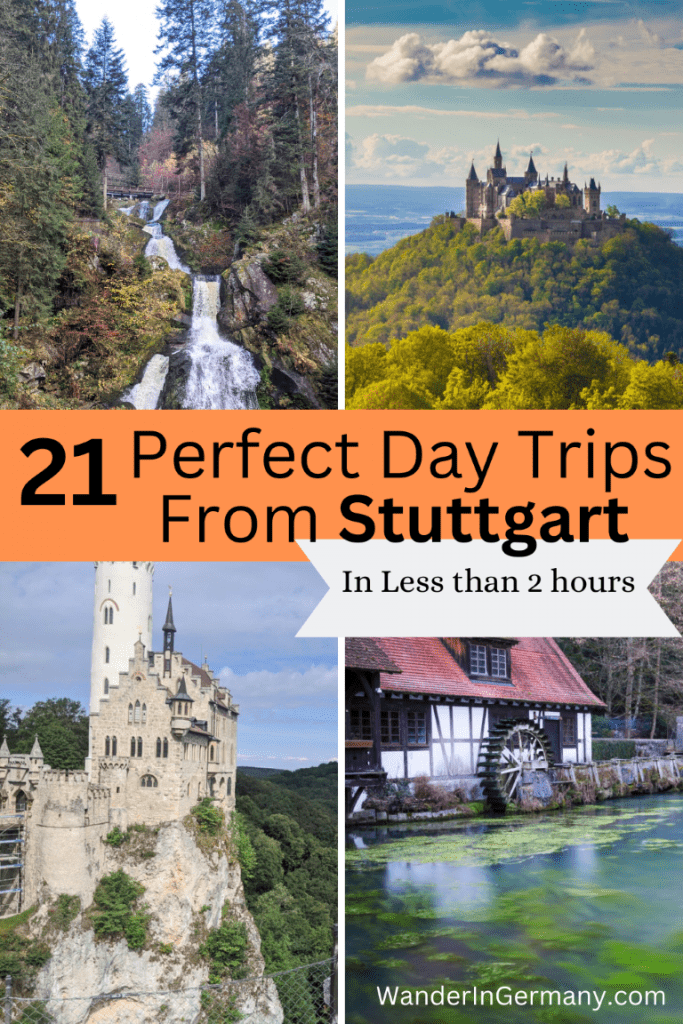 Getting Around
By Car
A lot of the suggestions on this list are accessible by the trains in Germany, however, several are best to get to by car. Whether that's because having a car will allow you to maximize your time and get to multiple places in a day or if it's because a few places just don't have good public transportation options even available, a car can be nice in some of these areas. Plus, driving in Germany isn't nearly as terrifying as many people may believe.
Many people fly into Frankfurt and then fly out of Munich (as they often make their way to Bavaria next) and having a car is really convenient for this. Just know that renting a car from one location and returning it to another can be pricey. However, for being able to maximize your time and see more places in Germany, it could be well worth it.
Compare Car Rental Prices Here
In this guide, I'll cover exactly how to do these day trips from Stuttgart by train but for driving, it's usually pretty self explanatory with a good Navi/ GPS system.
By Train
You'll see as you get reading that most of the locations mentioned below can all be accessed by train or public transportation. However, that doesn't always mean that it is going to be the quickest or most efficient option, so it's best to read my instructions in each section on how to get to each place by trains.
Consider the Baden-Württemberg Ticket for Trains
Each region or state of Germany has its own regional train tickets that are a great, affordable option when traveling within that one state. For example, Stuttgart is located in Baden-Württemberg and the majority of the places on this list are located within that German state as well. Therefore, when looking for trains and public transportation options, don't forget to look into the "Baden-Württemberg" ticket! There are a few things you need to know for it, but it's still a great option to remember to look into:
The most important thing you need to know is these state specific tickets are for regional tickets and are ONLY to be used for regional trains only. If you see the letters ICE, IC, or EC before a train number, those are high speed trains and you can NOT use the Baden-Württemberg ticket on those trains. You WILL get fined for not having the correct ticket. Regional Trains typically will say RE or RB in front of the number
This is a group day pass ticket that you can use for 24 hours on buses, trams, and all regional (only!) trains within the state of Baden-Württemberg.
While the Baden-Württemberg ticket and the Bayern Pass are two different tickets, the concepts and roughly the same rules are the same. If you are confused about what trains you can use, etc I go into a ton of details in my Bayern Pass Guide that you can apply to the Baden-Württemberg ticket as well.
Cost: Starts at 25 Euro for One Person (all day). Each additional passenger (up to 5 people) is 7 Euro extra. IE: 2 People on this ticket would be €32.00
*If you see me say "The BW Ticket" in this article, then I am referring to the Baden-Württemberg Ticket
Buy The Baden-Württemberg Ticket Here
Important: Many of the locations in this article are in Baden-Württemberg, however, there are MUCH faster options by using the ICE/IC (High speed) trains. If time is of the essence, you'll want to book these trains in advance and then remember that the BW Ticket will not be applicable for those routes.
Other Articles You May Be Interested In Reading:
Best Hotels in Stuttgart
I'll go into some more detail and give a few more options below, but for a quick glance, here are some of my top recommended hotels in Stuttgart to choose as a "home base" for several days
| Hotel | Price | Top Features | Rating | |
| --- | --- | --- | --- | --- |
| Rioca Stuttgart Posto 4 | $ | Excellent Reviews, Price, AirCon, Near Porsche Museum | 8.9 Book Here | |
| Adina Apartment Hotel Stuttgart | $-$$ | Apartment style rooms with amenities of a hotel, next to train station Bfast Included | 8.4 Book Here | |
| Motel One Stuttgart-Hauptbahnhof | $-$$ | Stylish, Modern, Clean. Next to train station | 8.5 Book Here | |
| EmiLu Design Hotel | $$ | AirCon, Great location, fitness center, Saunas | 8.8Book Here | |
| A&O Hostel | $ | Great Prices, Very Clean, Private and Family Rooms available | 7.3 Book Here | |
Best Day Trips from Stuttgart in Under 1 Hour
Lichtenstein Castle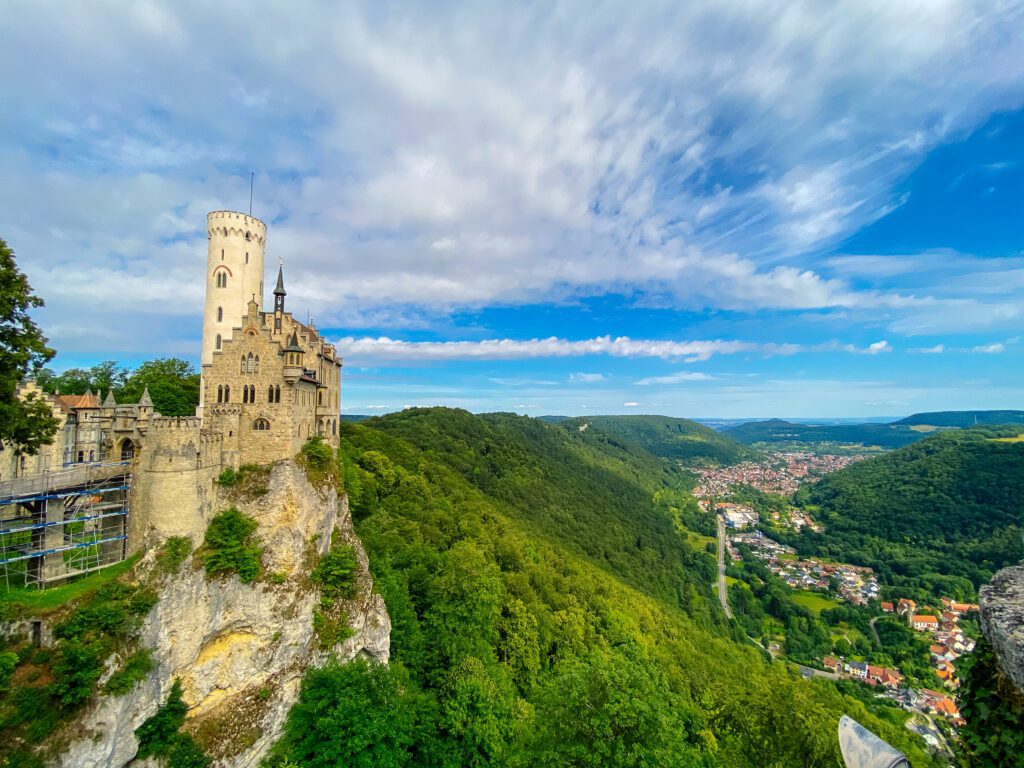 Distance: 61 km
Travel time: 1 hour by car
While a day trip from Stuttgart to Neuschwanstein Castle is honestly way too much in my opinion, there is a fantastic alternative less than an hour away from Stuttgart! The Lichtenstein Castle is often referred to as the "Little Sister of Neuschwanstin" because they hold so many similarities (both in back stories but also in architecture and styles). After all, both are inspired by and look like something Disney himself could have conjured up (Neuschwanstein is actually the inspiration for Cinderella's Castle). They are both built up high on a cliff over looking the valleys below. They are both, simply put, two beautiful, German Fairytale Castles!!!
One magical fairytale day is to do Lichtenstein Castle from Stuttgart in the morning and then do the impressive Hohenzollern Castle in the afternoon. I give a complete itinerary on how to do both, where to eat, and how to make the most of your day in my Lichtenstein Castle Guide.
Alternatively, you can do Tübingen and Lichtenstein Castle all in one day as well to make for a fantastic day exploring!
Getting There by Train: It is a bit complicated to get to Lichtenstein Castle by Train, but it technically IS possible. The time will vary depending on exactly which trains you catch, but it should be no more than about 1.5hours
Start at the Stuttgart Hauptbahnhof and take the train to the Reutlingen HBF (depending on the train and time of day, plan on about 40min-1 hr for the train ride)
When you get off the train at Reutlingen, you'll need to walk about 5 minutes around the corner to the bus stop. Just follow the signs for the bus.
Take either bus 7606 or bus 400 to Honau (Plan on about 30 minutes for the bus ride). You can either get off at the "Honau, Lichtenstein (Württ)" stop which is at Heerstrasse 34, 72805 Lichtenstein and walk from there or the "Honau Traifelberg, Lichtenstein (Württ)" stop which drops you off at the ski lift and from here, you can start the hike upHike Up to the Castle
Hike Up to the Castle
TIP: Know the timetable for the return bus before heading up! Depending on which bus stop you took, the return bus is most likely on the other side of the street. Pop over to that and snap a photo on your phone of the timetable so that you know what time to be back for a bus without having to wait too long.
Written by LeAnna Brown from WanderInGermany
Tübingen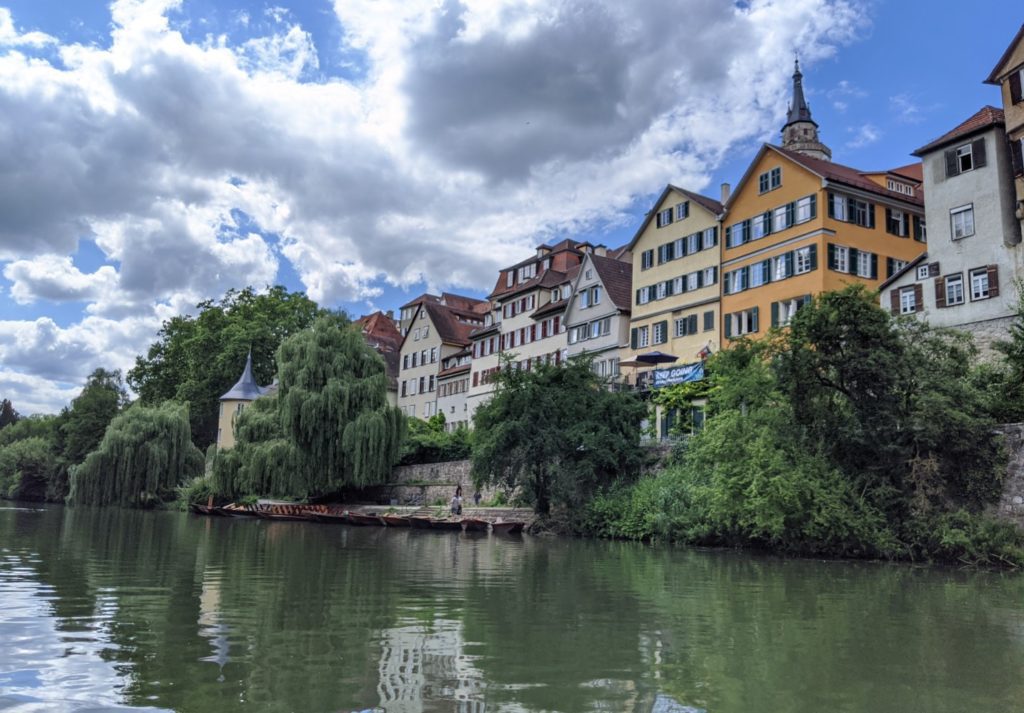 Distance: 61 km
Travel time: 40 minutes by car/ 45 minutes-1.25 hours by train
A low-effort day trip from Stuttgart is to the university town of Tübingen, which is only a 40-minute train ride away from Stuttgart! Visiting Tübingen is perfect for those who want to experience a small fairytale German town and escape the big city atmosphere. The Altstadt is absolutely gorgeous and oozing with charm! Plus, there are plenty of attractions and activities to fill up your itinerary for the day.
For starters, be sure to check out Tübingen University, which is one of the oldest universities in Europe and renowned for its theology and religious studies programs. You'll notice several of the buildings feature old-world architecture and are spread all throughout the city, rather than clustered together in a single spot.
Afterward, head over to the market square and take in the sights of colorful half-timbered houses while doing some shopping in the city or just grab a coffee or beer at any of the outdoor corner cafes and do some enjoyable people watching. This area is also known to host a farmer's market in the morning some days of the week and will frequently have live-music events in the evening!
Finally, cap the day off your visit by taking a leisurely stroll along the Neckar riverfront to enjoy the gorgeous views of Tübingen. This is one of the most popular spots to relax and hang out within Tübingen. And to make it an even more enjoyable experience, do a boat ride. But it's not just any boat ride! It's like the Gondolas of Venice meet the streams of Germany! A boat operator will help you onto the boat and he'll use a giant wooden pole to navigate you manually down the gentle river (sometimes they'll even sing you a song!)
Getting There By Train:
There are a few ways to get from Stuttgart to Tübingen by train but most will require transfers.
Sbahn: There are a few Sbahns so it will depend on exactly what time/day you are leaving

Express Train: Another option is to take the direct IRE 6 train in the direction of

Aulendorf. This only takes 45 minutes but is not applicable with the BW Ticket, so you will want to purchase your tickets in advance

Express Train: Another option is to take the direct IRE 6 train in the direction of

Aulendorf. This only takes 45 minutes but is not applicable with the BW Ticket, so you will want to purchase your tickets in advance
Contributed by Kristin from Global Travel Escapades
Hohenzollern Castle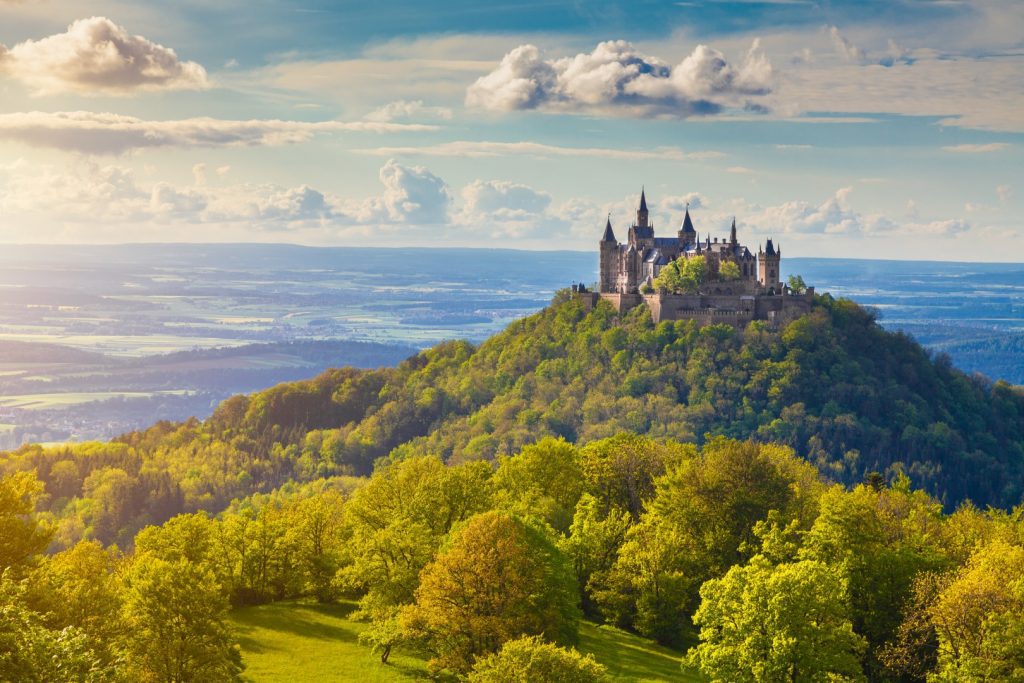 Distance: 68 km
Travel time: 1 hour by car/ minimum 1.5 hours by train
Another absolutely amazing castle near Stuttgart is the often overlooked yet stunning Hohenzollern Castle. While Neuschwanstein might be Cinderella's Castle, Hohenzollern could easily be Harry Potter's!!! Sitting high atop the mountain with it's many turrets pointing up toward the sky, it's easy to feel enchanted by this magnificent castle!
With a car in just under an hour, the Hohenzollern Castle is a must see and is incredibly easy to do in a day with either the nearby Lichtenstein Castle or the charming town of Tübingen.
There is a wonderful Beer Garden right in the castle courtyard where you can enjoy German beer with the classic Swabian (local to the area) Maultaschen, which is like a German version of a delicious ravioli!
Next, enjoy your time touring the castle itself, which is so rich in history. And don't forget to stop for the views out over the countryside!
Getting To Hohenzollern by Train:
This is a bit difficult and lengthy but still possible
First, you'll need to make your way to the Hechingen station (approximately 1 hour)
At Hechingen, there will also be a bus station. Here, get on the Bus 306 which will take you near the parking lot of the castle. Get off at the "Burg Hohenzollern" stop (approx 30 minutes)
Written by LeAnna Brown from WanderInGermany
Ludwigsburg Residential Palace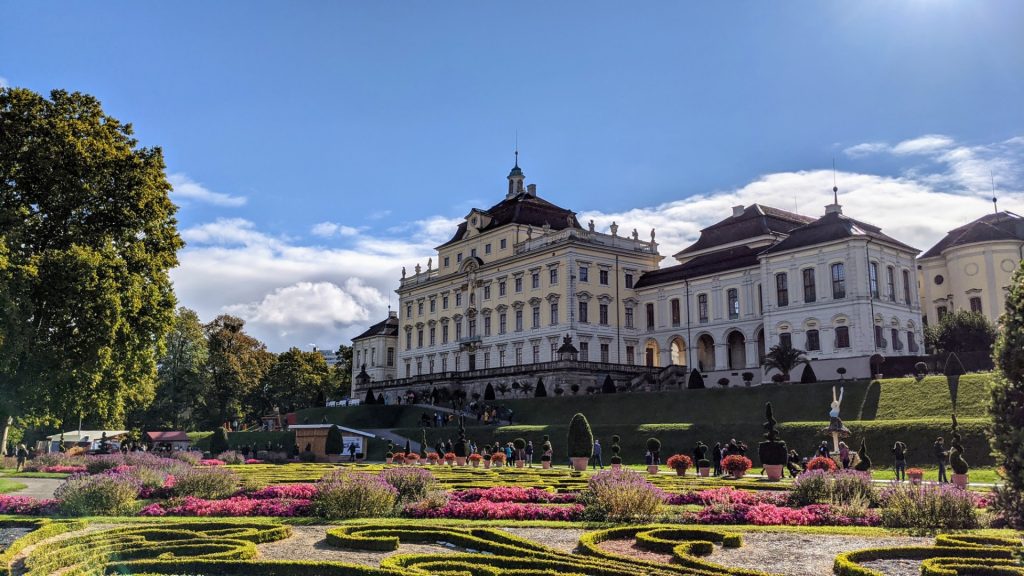 Distance: 15 km
Travel time: 25 minutes by car/ 30 minutes by train
Ludwigsburg Residential Palace is the biggest palace in Germany, with over 452 rooms and beautiful gardens around the estate. If you love 17th-century European architecture, fairytales, or huge gardens with pretty pavilions, flowers, and birds, then Ludwigsburg Palace is a perfect day trip to take from Stuttgart. Simply take the B27 towards Ludwigsburg and you'll arrive at Ludwigsburg Palace within 30 minutes!
What makes Ludwigsburg Palace the perfect day trip is that anyone of any age will have the best time there. There are activities, tours, and areas that young kids, teenagers, adults, and seniors can all enjoy!
Inside Ludwigsburg Palace, you'll find the Fashion Museum, Ceramics Museum, children's Museum, and the Baroque Gallery. The Fashion Museum showcases clothes from the 18th century up until the present day. You'll find all kinds of beautiful ceramic pieces in the Ceramic Museum. The children's gallery (The Kinderreich) gives the kids a chance to dress up as royalty and play different games. If you're into painting, you can visit the Baroque Gallery which showcases paintings from the Baroque period.
But that's not all! You can also visit the Palace Theater and take a guided tour of some of the 452 rooms that the palace has to offer.
On the Palace grounds, there are the Ludwigsburg Palace Gardens (Blühendes Barock) and the Fairytale Garden. The Palace Gardens is well known for being the host of the world's largest pumpkin festival, Kürbisausstellung Ludwigsburg. But throughout the year, you can still admire the stunning French, Medieval and English designs of the Gardens. The Fairytale Garden features over 50 interactive fairytale exhibits, from Rapunzel and Hansel and Gretel to Aladdin and the Magic Lamp. The Fairytale Garden truly brings these fairytales to life and is something you wouldn't want to miss out on when visiting Ludwigsburg Palace!
Getting To Ludwigsburg by Train:
It's pretty easy and quick to get to Ludwigsburg from Stuttgart by train. However, depending on exactly what time you leave will depend on which Sbahn line you take, which will then determine what exact bus you take. Either way, it should only take you about 30 minutes total with about 1 transfer from Sbahn to the Bus. Have the DB Navigator App or Google Maps on your phone if you can and use that to know exactly which line is best for the time of day you are traveling.
At the Hauptbahnhof, you can grab the Sbahn line S4 in the direction of Marbach
At the Ludwigsburg station, there will be buses. Grab the Bus

426 in the direction of

Ludwigsburg E.-Kranz-Str. (3 stops) and get off at the

"Blühendes Barock" stop. Another bus is the 424 and you can get off at the "Ludwigsburg Residenzschloss" stop.
Contributed by Abigail from The Novel Sphere
Frankfurt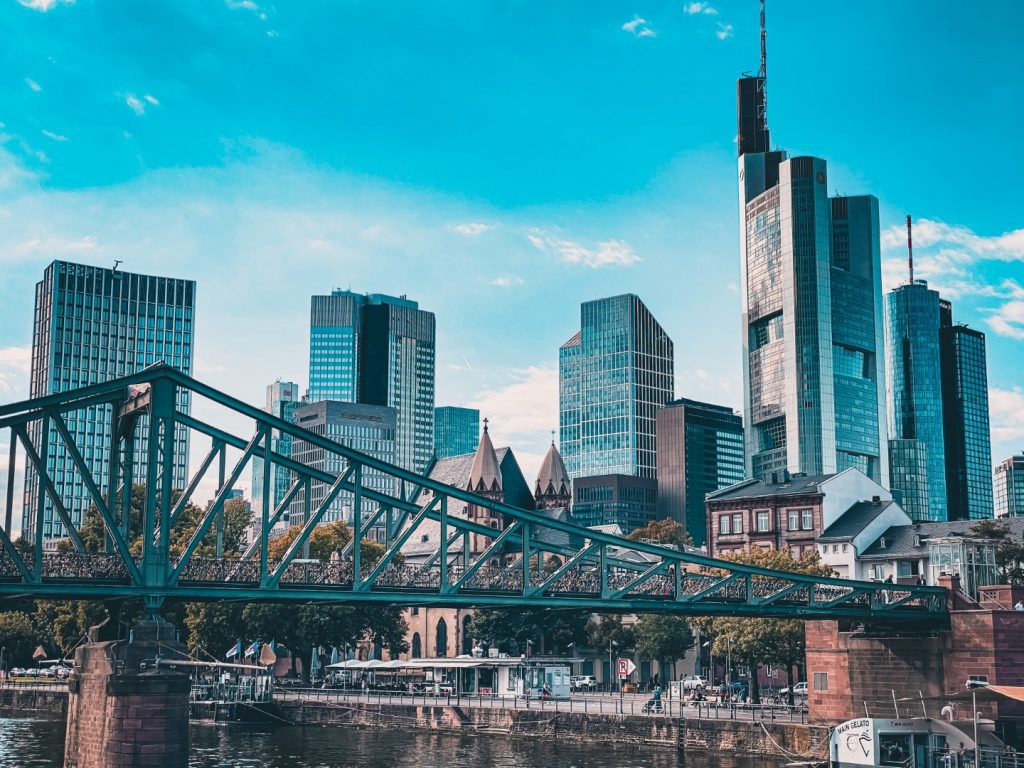 Distance: 205 km
Travel time: 2.5 hours by car/ minimum 1.5 hours by high speed train
A fantastic destination is a day trip from Stuttgart to Frankfurt. Even though Frankfurt is a big German city, one day is actually enough so that you can spend your time in more charming villages and locations in the country.
Frankfurt is a great city that combines modern and historic elements. For example, you can see a lot of modern skyscrapers in the city. Interestingly, many cities got to choose how to rebuild after the devastation of the bombs of WWII and while many chose to stick to the traditional style architecture of their region, Frankfurt was one of the few German cities to go modern. One of the best things to do in the city is to go to the observation deck of the Main Tower and see the city skyline from above.
If you like museums, Frankfurt is a great place to find several, such as the Goethe House in the city center of Frankfurt. which is an interesting place to visit. This is the childhood home of Johann Wolfgang von Goethe. Also, there are many other interesting museums in Frankfurt. For example, the Städel Museum has an extensive collection of art. Also, the Museum für Moderne Kunst is very interesting and you can often see modern art exhibitions here.
The Frankfurt Cathedral is another iconic sight that you can visit. This is a historic church that played an important role in the Holy Roman Empire.
You can reach the city of Frankfurt by train in about 1 hour and 40 minutes. This is much quicker compared to when you would be traveling by car as you take a high-speed train to do this day trip
Note: Frankfurt is in the state of Hesse, so the BW Ticket would not be applicable
Getting From Stuttgart to Frankfurt by Train:
The fastest way to get to Frankfurt from Stuttgart by train is to take the high speed ICE train (note that this train is not applicable w/ the regional tickets and you'll need tobook it ahead of time here). Again, depending on exactly what time you leave, there are numerous ICE/IC trains that can get you quickly to Stuttgart, all taking about 1.5 hours total with no transfers.
Take the

ICE 770 in the direction of

Berlin Hbf

ICE 692 in the direction of

Hamburg-Altona

IC 1296 in the direction ofFrankfurt(Main)Hbf
Contributed by Dymphe from Dymabroad
Ulm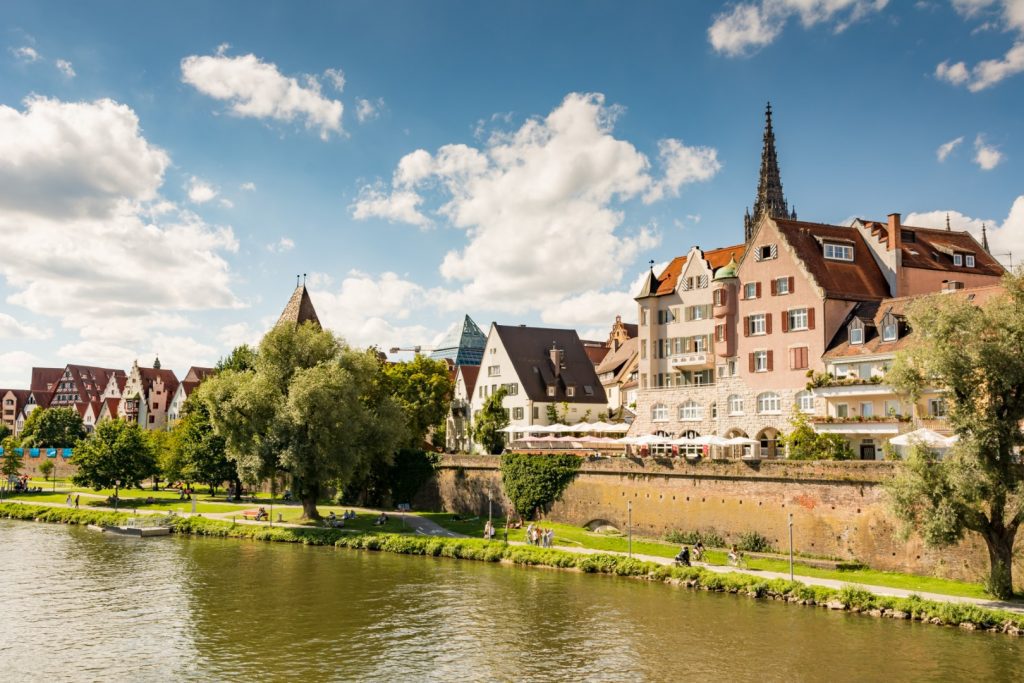 Distance: 94 km
Travel time: A little over 1 hour by car/ 45 minutes by high speed train
Ulm isn't one of Germany's most famous cities, but that's what makes it a nice gem to head to as a Stuttgart day trip! It's often known as a University town, but one thing that I've noticed about "University Towns" in Germany is that this often translates to a great, younger, chill vibe in the city with lots of great culture like fine arts (there are several state of the art theaters in Ulm) and fantastic cafe culture vibes! Of course, it's also got the quintessential half timbered houses and cobble stone streets that are so alluring in Germany.
Ulm is another one of Germany's "Medieval Cities" with a great historic Altstadt and the famous Ulm Minster- bringing in the title for the "World's Largest Church Tower." And if that isn't a fun "Bucket List" thing to say you've seen, then how about touting that you've been to the birthplace of Albert Einstein!?
Getting to Ulm From Stuttgart:
Depending on exactly what train you take, it will take only about 45 minutes-1 hour by train from Stuttgart to Ulm. Most of these quicker routes are not applicable with the BW Ticket so you'll need to purchase tickets ahead of time here.
The quickest option is to book the

ICE591 Train in the direction of

München Hbf: 45 minutes
Written by LeAnna Brown from WanderInGermany
Blautopf in Blaubeuren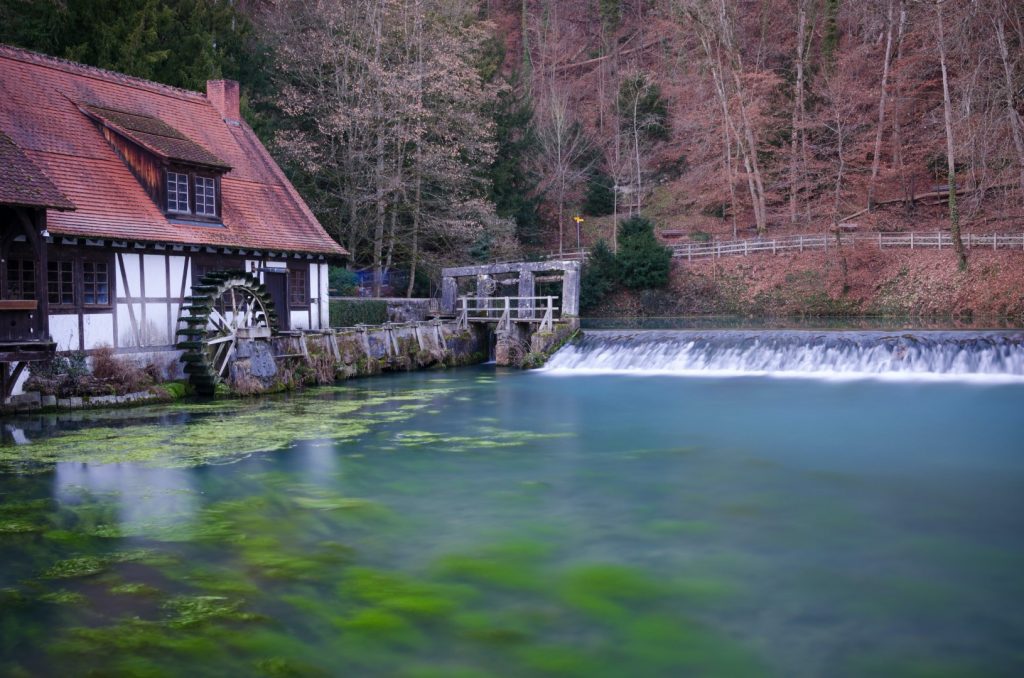 Distance: 83 km
Travel time: 1 hour by car/ approximately 2 hours by train
Quite literally, the "Blue Pot" in English, the Blautopf is a magnificent, beautiful, and rare natural beauty. Often with an intense turquoise color, combined with the absolutely picture-perfect image of a half timbered building (Fachwerkhaus) resting beside the lake, this location just screams "TAKE A PHOTO OF ME!" The lake itself is a stunning blue/green because of the limestone in the water but also from the way that the light is refracted.
Not surprisingly with such an "unnatural" look out in nature, there are plenty of stories and legends that surround the Blautopf. My favorite is the story that supposedly the lake is blue because someone would pour blue ink into it daily! Another story is that the lake has no bottom and it goes on forever. Others say we'll never know the depth of the water because mermaids steal any measuring mechanisms! Finally, there is the legend that a water nymph was outcasted to the lake because she was terribly boring and would never laugh with her husband and therefore, she could not leave the lake until she had laughed 5 times!
As Instagrammers take over the world (or so it feels sometimes), the more popular the Blautopf is becoming. And with that can often come a lot of crowds. To avoid as many people as possible, use the usual "tricks" of trying to go as early in the morning as possible, during weekdays, and not during public holidays or peak travel seasons. However, also know that on cloudy days, the blue is not going to be very intense anyway, so plan accordingly.
Getting from Stuttgart to the Blautopf Lake by Train:
There are no public transportation options that get you right to the lake itself, however, if you are up for a gorgeous walk, you can get pretty close and then enjoy an easy hike to the lake
First, take the

ICE 913 train in the direction of

München Hbf

Get off at the Ulm Hauptbahnhof
In Ulm, take the

RE55 train in the direction of

Donaueschingen

Get off at "Blaubeuren"
If you'd like a scenic route, walk about 1 hour along the Blau River to the Blautopf. Or, take the walk through town to the Blautopf which takes about 30 minutes
Written by LeAnna from WanderInGermany
Best Day Trips from Stuttgart in Under 2 Hours
Triberg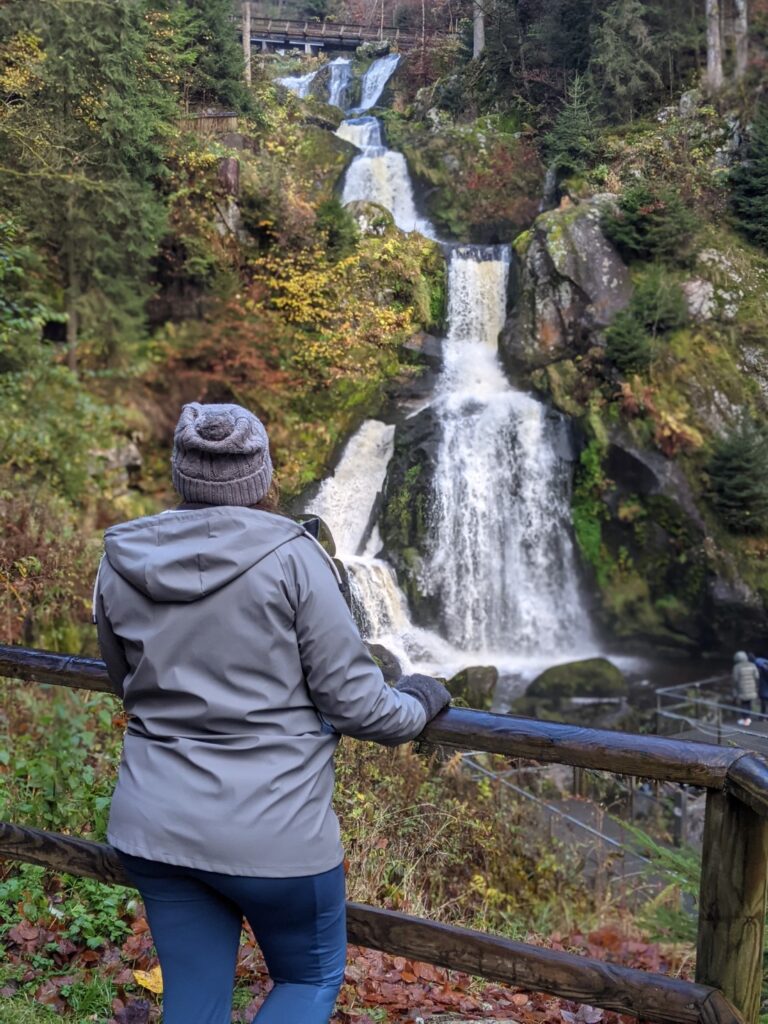 Distance: 130 km
Travel time: 1 hour 45 min- 2 hours by car/ 2.5-3 hours by train
While Stuttgart itself isn't in the German Black Forest, it's close enough that if you don't have enough time to do a full Black Forest Road Trip, you can easily pop in for a few good day trips from Stuttgart, one of them being the famous Black Forest town of Triberg.
Triberg is home to several "Bucket List" items in Germany like The Triberg Waterfall (The "Tallest" Waterfall in Germany) or the World's Largest Cuckkoo Clock! It also has the "House of 1000 Clocks" Yup, a store that has over 1000 Cuckkoo clocks (many which are chirping, ticking, and working!) However, one day in Triberg is actually plenty to see the main sights, as it's actually a pretty small village and it's the perfect taste to what the German Black Forest has to offer. Of course, while in town, don't forget to get some Black Forest Ham or a Schwarzwälder Kirschtorte (Black Forest Cherry Cake).
If you are visiting Germany in the summer, which has wonderfully long days (it doesn't get dark until well after 10:30pm in July!) you could even do a quick stop into Tübingen in the morning and then spend the rest of your day in Triberg to really maximize your time!
Planning a Trip To the Black Forest? You May Be Interested in The Following Articles:
Getting from Stuttgart to Triberg By Train:
Like the majority of locations on this list, you'll find numerous train options depending on exactly what time you leave. However, more than likely, the majority of them will be:
First, you'll want to get to Karlsruhe (multiple ICE/IC trains available)
In Karlsruhe, take the

RE2 train in the direction of

Triberg
Written by LeAnna from WanderInGermany
Baden Baden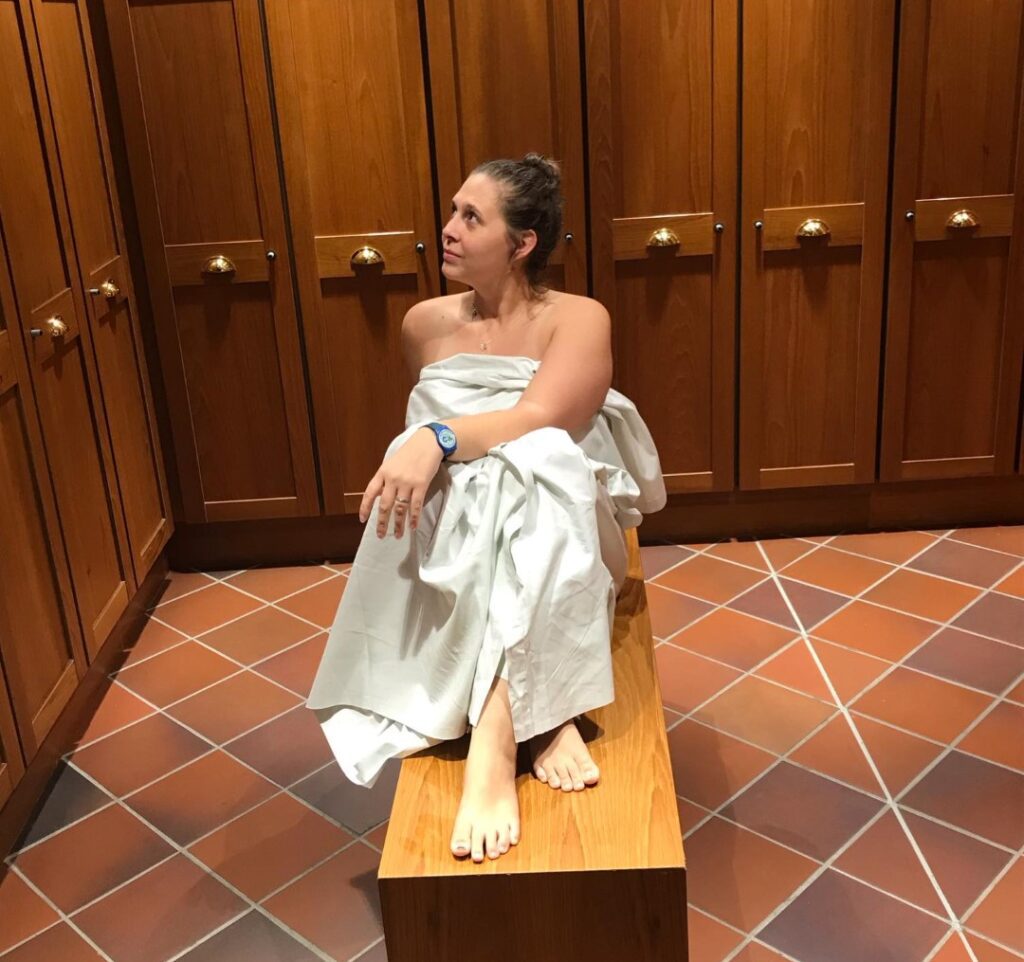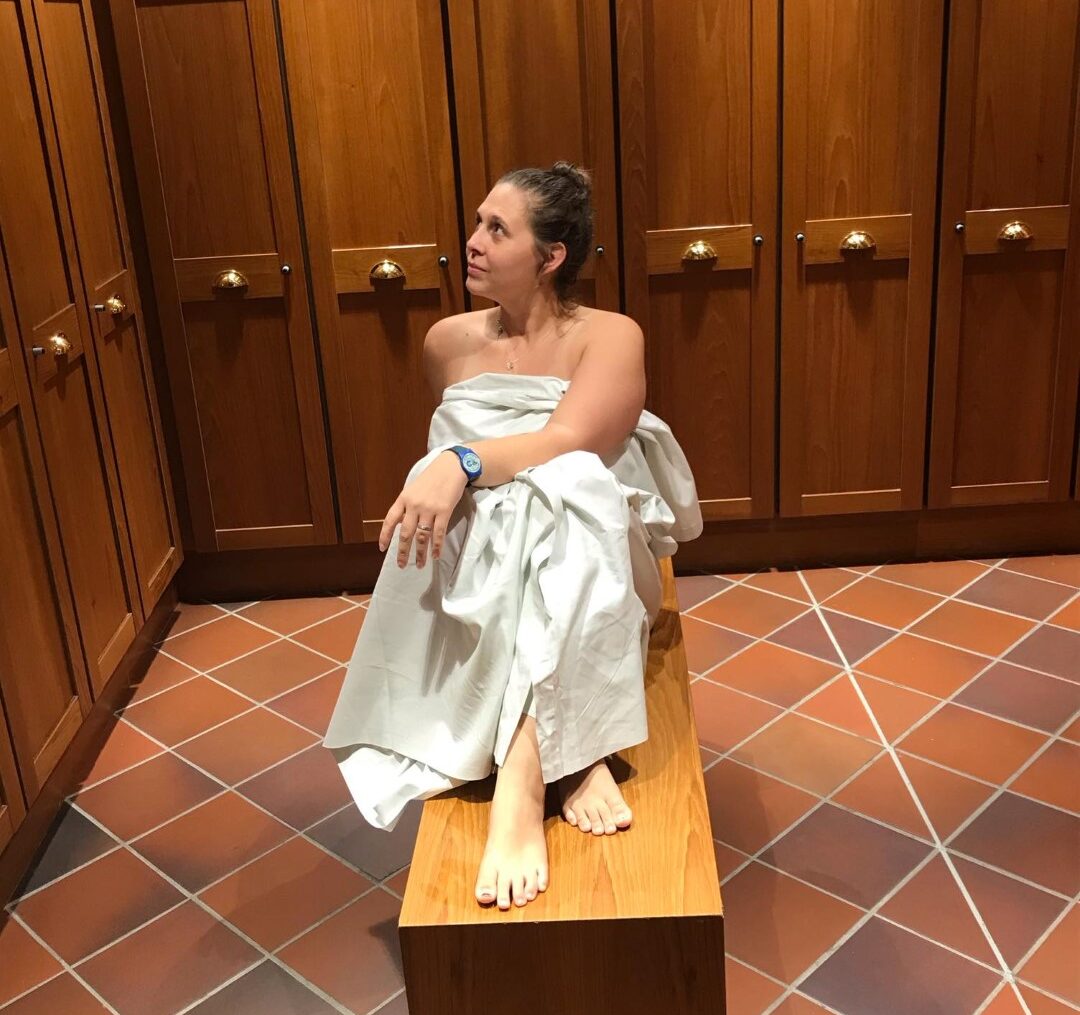 Distance: 100 km
Travel time: 1.5 hours- 2 hours by car/1.5 hours by train
If you've been around WanderInGermany for a bit, you know I'm nothing short of obsessed with the German Sauna Culture! Even if the idea of being nude at a spa terrifies you, I promise you, going to a German Spa and Sauna even just once is an experience in and of itself that I swear every tourist needs to experience for themselves. And what better place than one of the best and most famous Spa Towns in Germany: Baden Baden?
There are two main spas in Baden Baden (I suggest going to both for unique experiences at each, as they are quite different from one another….well, minus the nude part!) but even if the spa culture isn't your thing there are plenty of other Things to Do in Baden Baden like walking the beautiful gardens, seeing the Neu Schloss, or going up to the Hohenbaden Castle and doing a stunning hike overlooking the Black Forest!
You Might Also Be Interested in Reading:
Getting from Stuttgart to Baden Baden by Train:
As always, there are a few different routes that can get you to Baden Baden from Stuttgart. This one is one of the most direct and quickest options:
Take a train to the Karlsruhe station.
Transfer in Karlsruhe and get on the

ICE71 train in the direction of

Basel

Ride this train about 15 minutes and get off at the Baden-Baden train station
Written by LeAnna Brown from WanderInGermany
Strasbourg (France)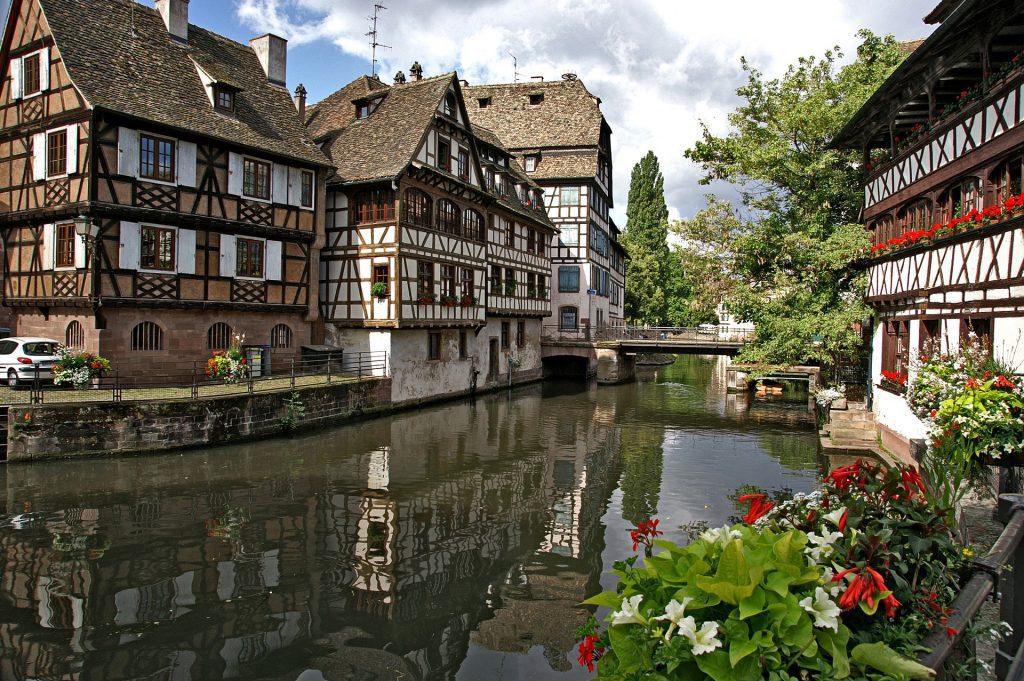 Time from Stuttgart: Approximately a little over 2 hours (by train or car)
Distance: 107km (66.5 miles)
For a great day trip from Stuttgart head over to Strasbourg, France!
With Strasbourg's quaint architecture, beautiful churches, and French charm, a trip here is something anyone would enjoy. Be sure to swing by Cathédrale Notre Dame de Strasbourg, which is quite possibly the largest church in the city. Stop by Place Kléber, which is a main square, and enjoy the colorful architecture and people-watching in the area. And of course, visit the Historical Museum of the City of Strasbourg if you'd like to learn a little about the history of this lovely city.
In fact, Strasbourg is considered one of the prettiest towns in France. The Alsace region is known for it's charming town squares and quintessential half timbered houses making it look like it was plucked right out of a fairytale!
While Strasbourg is wonderful to visit at any time of year, it's especially magical to visit at Christmas time. From roughly the last week of November until Christmas Eve, Strasbourg transforms into a Christmas wonderland with decorations and markets all over the city. Spend some time perusing the markets and looking at what treasures you might find. (Even if you're not a shopper you'll enjoy it!) Try all kinds of warm and delicious foods and drinks that are offered at every market, and get lost exploring the winding streets while admiring the Christmas decorations. European Christmas markets are an experience not to be missed!
Strasbourg is easily accessible from Stuttgart by car, bus and train. Public transportation would be most ideal as this eliminates the need to find parking.
Getting From Stuttgart to Strasbourg by Train:
The most direct route with no transfers is to take the

TGV 9576 in the direction of

Paris-Est. This is only 1.5 hours and has no transfers

There is also the ICE 9574 in the direction of

Paris-Est that also has no transfers and is also less than 1.5 hours

There are more routes that include transfers, check Bahn.com for options
Since you are crossing the border and can't use the BW ticket, be sure to book your ticket ahead of time here.
Contributed by Chelsea from Adventures of Chels
Heidelberg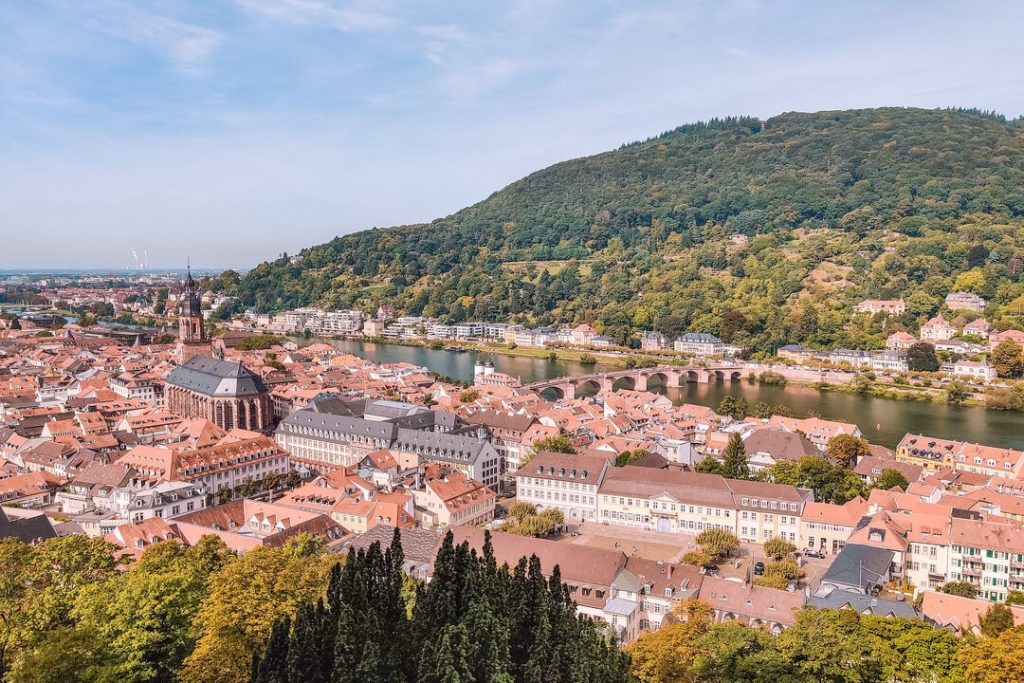 Distance: 117 km
Time from Stuttgart: 1-1.5 hours by car/ 45 minutes by high speed train
Heidelberg is a city located in western Germany and can be reached from Stuttgart in under 2 hours, making it an ideal day trip.
Since most of the attractions in Heidelberg are within close proximity to one another, it is possible to visit all the places to see in Heidelberg in one day or it also makes for a great weekend in Germany getaway as well.
The highlight of Heidelberg is the Heidelberg castle which is located on a small hillock that towers over the city and offers the most magnificent panoramic views of Heidelberg and the river Neckar. Additionally, the world's largest wine barrel also happens to be located within the castle premises. From the castle, one can walk down towards the old city of Heidelberg which looks like a scene from Beauty and the Beast! The church of the Holy Spirit, the market square, the facade of the Hotel zum Ritter, and Kornmarkt are some of the highlights of the Heidelberg city center. The Karl Theodore Bridge a.k.a the old bridge of Heidelberg is one of the highlights of the city and its glorious gate as well as the history behind it are noteworthy as well. The Neckarwiese garden across this bridge offers a picture-worthy view of the Heidelberg castle.
Getting From Stuttgart to Heidelberg By Train:

Depending on what time you leave during the day, there are numerous ICE trains that all have direct routes with no transfers to Heidelberg from Stuttgart by train and only take about 45 minutes
Contributed by Soujanya Rai from The Spicy Journey
Würzburg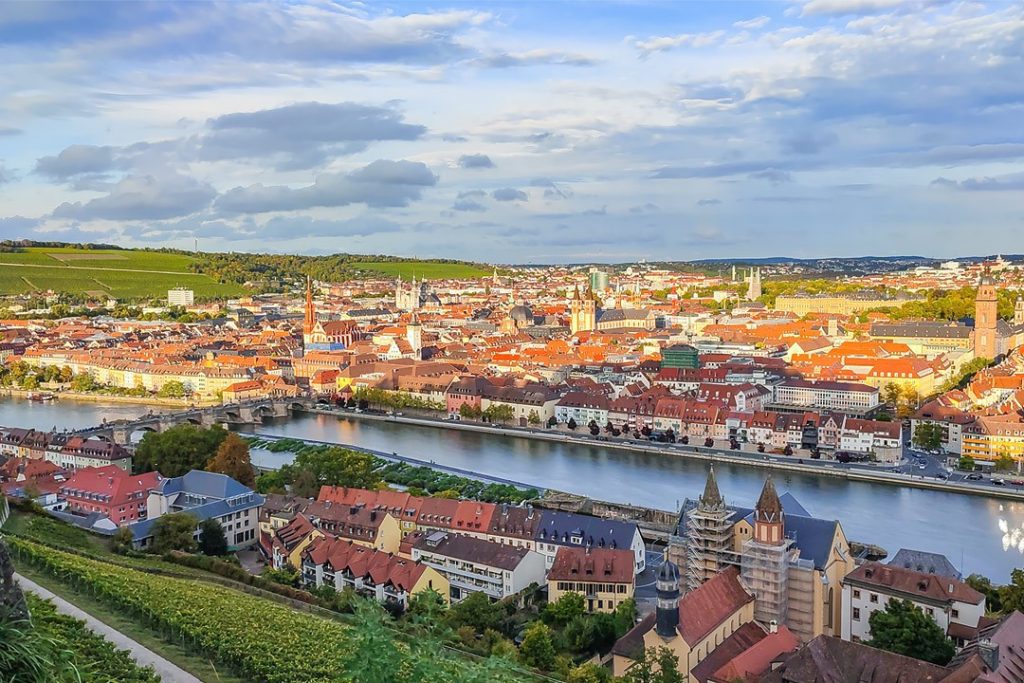 Distance: 150 km
Time from Stuttgart: Approximately 1.5-2.5 hours by car (pending traffic)/ 2.5-3.5 hours by train
Würzburg is a magnificent-underrated city in Franconia, Bavaria. The city is known for its wine and its baroque and rococo art, and it has been a university city for over 500 years. A day trip to Würzburg will unravel its rich history. The Residenz Palace is the city's pride, which is a UNESCO World Heritage Site. The largest ceiling mural painting in the world and the most stunning rococo stucco decors make this palace a special visit.
Look out for other building facades in the old town in the Baroque style, such as the Falkenhaus and the Neumünster. In the late afternoon, go to the Alte Mainbrücke, which is the city's oldest bridge, and take part in the Brückenschoppen. This involves drinking wine on the bridge, while admiring the beauty of the Main River and surrounding vineyards! The city has, of course, much more to offer, and you can pick from a list of things to do in Würzburg. The easiest way to get to Würzburg is by car because the drive is just under 2 hours on the highway. Yet, you can get there too by train within 2 1/2 hours, either with a direct S-Bahn line 5/1 or with a train connection that leads to Frankfurt and then Würzburg.
Getting from Stuttgart to Würzburg by Train:
The RE 8 In the direction of Würzburg Hauptbahnhof is a direct route with no transfers and only takes about 2.25 hours.
Contributed by Marina Helene & Paul from PaulMarina
Legoland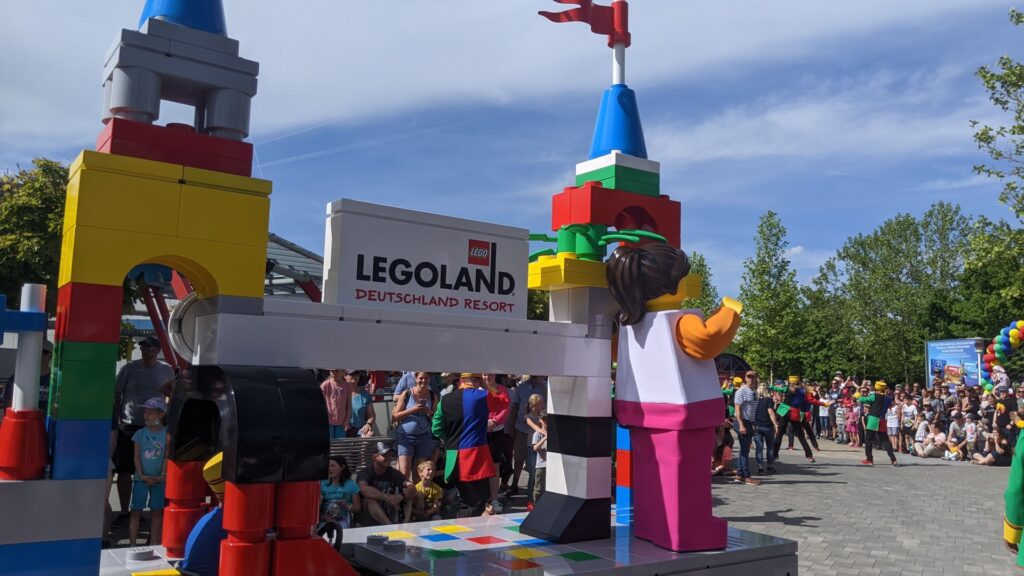 Distance: 115 km
Time from Stuttgart: As little as 1 hour by car to 2 hours pending traffic/ 2.5-3.5 hours by train
Whether you are traveling with kids to Germany or are just a Lego nut yourself, a fun alternative to all the castles and cobblestone streets is Germany's Legoland! We spent two full days in Legoland when it was my son's birthday and we all had a blast (I'm not even into Legos myself). While none of the rides were exactly what I would call "super thrilling" (there was maybe a small handful that made my stomach jolt a smidge) they were all still really fun and there was more than plenty to keep us busy for the full 2 days, but ideally, I'd say that it's perfect for ages 4-10.
There is even a whole miniature world built from Legos. Some of my favorites were an insanely intricate Neuschwanstein Castle, an entire city scape of Berlin, and many other famous cities from around the world…all built from Legos! It was outrageously impressive!
You can read my Visiting Germany's Legoland: Tips and Tricks here.
Tip: If it is roller coasters you are more into, then I suggest heading to Europa Park instead of Legoland (my next suggestion) but if Legos are your jam, then Legoland is a fun getaway as well!
Getting from Stuttgart to Legoland by Train:
Take one of the numerous ICE/IC trains that leave the Stuttgart HBF that go to Günzburg
At the Günzburg station, find the Bus stops and then take the 818A Bus/ Legoland Shuttle and get off at the Legoland Park stop (there is also a stop for the Legoland Feriendorf/ hotels if you are staying there)
Contributed by LeAnna from WanderInGermany
Europa Park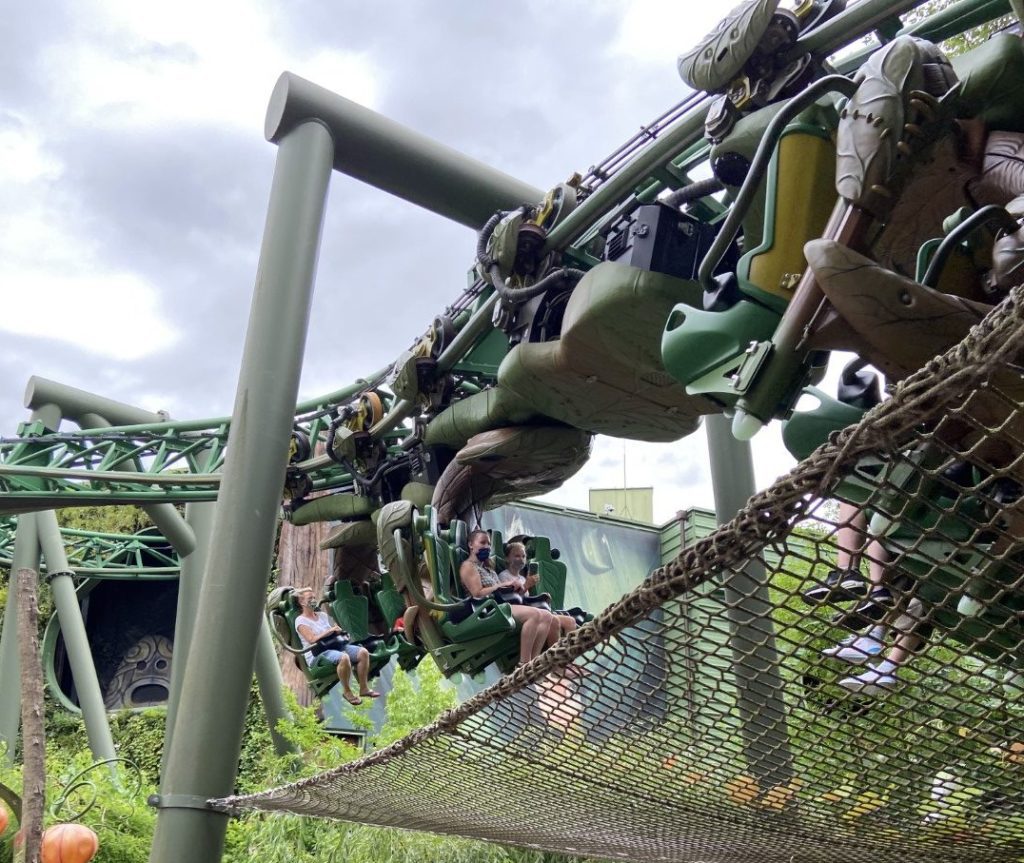 Distance: 115 km
Time from Stuttgart: 2-3 hours pending traffic (see note below)/ 2.5 hours by train
The first time we went to Europa Park, I was pretty blown away by it! Europa Park is the largest amusement park in Germany and its name is perfectly fitting. Now, I've traveled quite a lot all over Europe and I have to say that the park's representations of each country is pretty spot on! Whether you are in the France section with a Moulin Rouge or in "Russia" with a space station or in Scandinavia on a boat, it all really does feel like stepping into the most stereotypical parts of those countries!!!
But more than just the general fun of Europa Park, I loved how versatile it was. We had a wide range of ages (from baby all the way through adult)in our group and every single person found plenty to do and keep them busy, occupied, and happy! There were toddler sections, beginner rides, playgrounds, fun rides for the whole family, and of course, the super thrilling mega roller coasters!! If you are an amusement park fan, Europa Park should be at the top of your list while in Germany.
You can read my Europa Park Tips and Tricks here
Driving to Europa Park:
If you are driving to Europa Park, know that if you don't get there VERY early that the lines to get into the parking lot can be pretty insane and long. Try to get there no later than 7:45am so that you can get right into the park right when it opens at 9am.
Getting from Stuttgart to Europa Park by Train:
While there are quite a few transfers to get to Europa Park from Stuttgart, it is still pretty straight forward
Take the TGV9576 train in the direction of

Paris-Est. Get off at the Karlsruhe Central Station

At the Karlsruhe HBF, take the

ICE 275 Train in the direction of

Interlaken Ost. Get off at the Offenburg station

In Offenburg, take the

RE7 Train in the direction of

Basel Bad Bahnhof and get off at the Herbolzheim(Breisgau) station

From there, grab the

7231 Bus to

Rust, Europa-Park which stops right at the park
Written by LeAnna Brown from WanderInGermany
Rothenburg ob der Tauber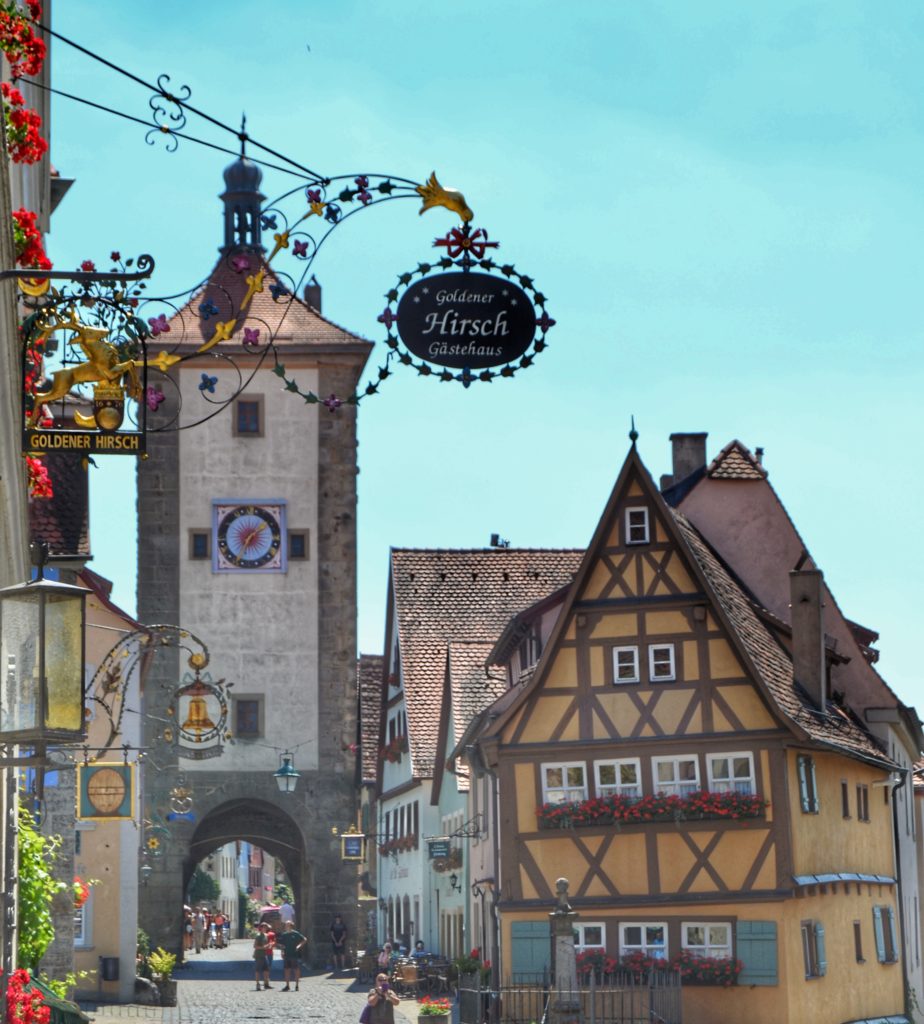 Distance: 150 km
Time from Stuttgart: 1.5-2.5 hours pending traffic (see note below)/ Approximately 3 hours by train
While many people prefer to do 2 days in Rothenburg ob der Tauber, you can also make a day trip to Rothenburg as well. In fact, I'd argue that most of the sights in the town can easily be seen in just 1 day. However, the village takes on an almost completely different atmosphere in the evening well after all the day trippers have already headed back. It's pretty centrally located that you can easily do it as a day trip from a lot of places like one of my suggested Day Trips from Nuremberg but it's also only about 2 hours (drive) from Stuttgart as well.
Rothenburg is sometimes called the "Disneyland of Germany" both because it is everything one envisions from a fairytale German village to the mass shuttling of people in and out of the town and all the trinkets and souvenirs you can buy. It's because of all this that I have a love/hate relationship with Rothenburg. I love it because if you can put your blinders on and just ignore all the other tourists around you, it really truly is an absolutely stunningly beautiful, stereotypical German village! On the other hand….soooo many people are there and most everything in town is now geared toward tourists and there are very few authentic experiences.
However, if this is a once in a lifetime trip to Germany, just because it's considered "touristy" don't write Rothenburg off your list too quickly, it really is a town to remember!!
Getting from Stuttgart to Rothenburg ob der Tauber
At the Stuttgart HBF, take the

RE90 in the direction of

Nürnberg Hauptbahnhof for about 1 hour 40 minutes. Get off at the

Dombühl station and then grab the buses from there

At Dombühl, grab the 807 Bus to

Rothenburg o.d.T. Bahnhof (about 40 minutes)
Written by LeAnna Brown from WanderInGermany
Lake Constance
Distance: 175 km
Time from Stuttgart: 2 hours by car/ Approximately 2.75- 3 hours by train
While Lake Constance (also known as Bodensee amongst locals) is well deserving of a Weekend Trip in Germany, you could also do it as a day trip from Stuttgart as well if you are looking for a mixture of "towns and nature." After all, Bodensee is the third largest (freshwater) lake in Europe and borders not one, not 2, but THREE countries! That's right. You can be in Germany today, Austria this afternoon, and then head over to Switzerland! And with the lake sitting at the foothills of the Alps, it's a refreshing break while still having plenty of amenities at close hand.
Lake Kontanz is HUUUGE. There are countless towns along the lake and each have different things to do and offerings. Bodensee is so big there are literally islands within the lake that you can go to!!!
There is SO much to to do at Lake Constance, which is why I prefer to go for a long weekend. However, even just a day to this "Sea" as the locals often refer to it instead of a lake, has plenty of activities such as:
Take a Ferry Boat Ride: This is one of the most popular things for tourists to do while at Bodensee and is a great way to hop all over the lake to get to the other countries and multiple towns all in one day
Go to the "Flower Island:" Mainau Island in the middle of Bodensee is a garden and flower lover's dream. The expansive gardens set on the lake is simply gorgeous!
Zeppelin Museum: A popular thing for many people to do is to go to the town of Friedrichshafen to go to the Zeppelin Museum, which is a fascinating museum for anyone with aviation interests.
Rent Bikes: I'd argue that this is one of the best things you can do at the Bodensee. There are bike shops all over and you can even get some Ebikes to zip you along around the lake. Get those stunning Alpine Views, see a few great towns, and enjoy being out in the fresh air!!!
Best Towns to Visit on Lake Constance Near Stuttgart
You can get to several of the quaint towns that line the Bodensee in less than 2 hours from Stuttgart (driving) or about 3 hours by train. Each town offers a little something different, so it's worth looking into different ones to fit the vibes you want most.
Konstanz: Approx 2 hours
Named after the lake itself, Konstanz Germany is only about 2 hours by car and is a perfect option for your day at the lake. There are plenty of the above mentioned activities here and the town itself is really charming with a mixture of medieval towers, half timbered buildings, and of course, fantastic views out over the lake! You can also easily grab one of the ferries from this main "port" town of the lake.
Überlingen: Approx 1 hour 50+ minutes
Überlingen is a great option for fewer tourists and more of a local feeling along the lake. There are some charming side streets in the Altstadt and Überlingen also boasts the "Longest lakeside promenade on Lake Constance." If you love flowers and gardens, you won't want to miss the Überlingen Garden Culture path, which is over 2.5 miles long of a beautifully manicured trail with stunning botanicals. For families, there is also a Zoo in Überlingen as well.
Friedrichshafen: Approx 2 Hours
Friedrichshafen is most noteworthy as the home of the Zeppelin! Most people that make their way here want to go to the Zeppelin Museum. Compared to the other towns on this list, it's not nearly as charming and beautiful, so most tourists come just for the allure of the museum. However, you can easily grab a ferry from this port to hop over to nearby towns.
There are SO many great towns on Bodensee, but I wanted to mostly still recommend places you could get to in less than 2 hours for the perfect Day Trip from Stuttgart. That being said I don't think a list about the best places on Bodensee would be complete without mentioning some of my other favorites (albeit a bit further away):
Bregenz (Austria!): 2.5 hours drive
Meersburg: 2.5 hours drive (great medieval town, castle, and even vineyards!)
Lindau: 2.5 hours drive (gorgeous "island" town on the lake with a picture perfect lighthouse and all!)
Getting from Stuttgart to Lake Konstanz by Train
Probably the easiest way to get to Lake Constance from Stuttgart is to get to the town of Konstanz itself since there is plenty to do there and you can easily grab the ferry in Konstanz to get to other nearby towns on the lake. There are, of course, several train routes to get there, but one of the most direct routes is:
At the Stuttgart HBF, take the

IC 2387 in the direction of

Singen and ride it almost 2 hours, getting off at Engen

In Engen, grab the S6 to Konstanz (about 50 minutes)
Over Two Hours From Stuttgart
Oberwesel/Rhine River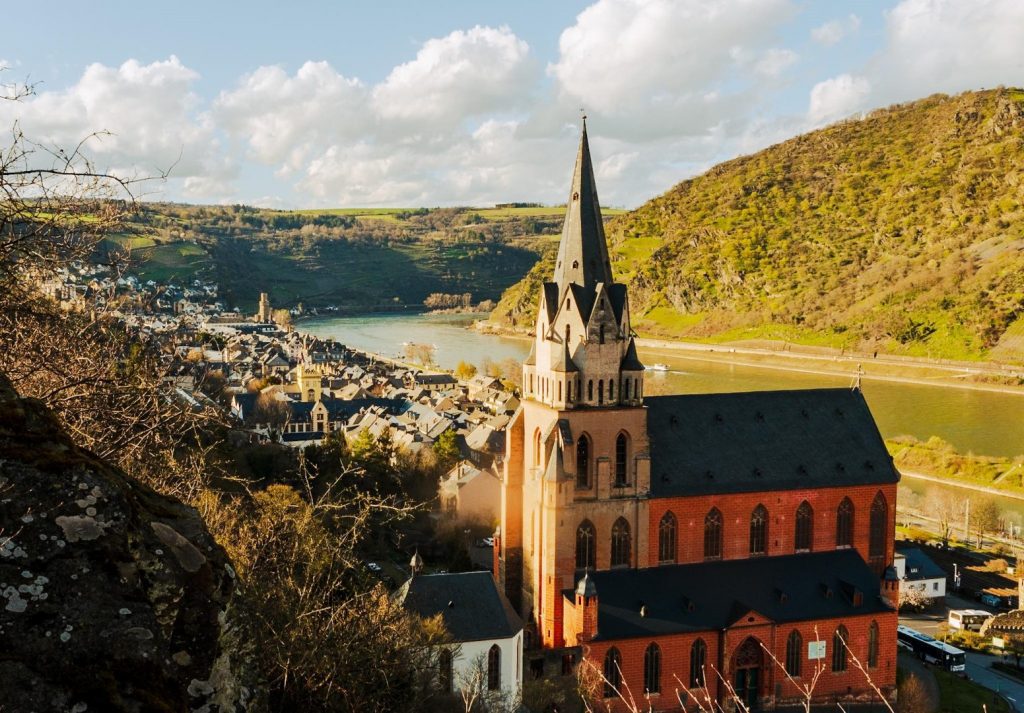 Distance: 230 km
Time from Stuttgart: 2.5 hours by car/ Approximately 3 hours by train
The Upper Middle Rhine Valley is a must-see UNESCO World Heritage Site in Germany that offers a range of activities, including hiking, wine tasting, and exploring over 40 historic castles sitting atop steep vineyards. The town of Oberwesel is a hidden gem in the heart of the valley, famous for its well-preserved medieval architecture, 18 towers, scenic vineyards, and historic castle hotel.
Located approximately 2.5 hours away from Stuttgart, it is a great day trip destination for tourists looking to explore the area. The town offers plenty of things to do, including tours of medieval castles, cultural experiences at local museums, and visits to stunning cathedrals that date back to 1331.
You can enjoy local wines and relax in cozy cafes while admiring the stunning views on a break from one of the many Rhine River hop-on, hop-off boat tours.
The area is also great for outdoor enthusiasts, with two amazing long-distance trails to explore, the Rheinsteig and the Rhine Burgenweg (Rhine Castles Trail). These trails offer stunning views of the Rhine River and the surrounding vineyards, meandering through forests, high meadows, and vineyards.
Additionally, the town is surrounded by medieval towers with a pleasant shorter walk that's perfect for families. One of the towers even has a trebuchet range for the kids to have fun at!
While the best time to visit is from April through October, with Mother's Day being a favorite time for tourists to experience the blooming canola oil fields and blossoming fruit trees, the rest of the year still has its benefits. However, it's important to note that January through March is the low season, with many hotels and restaurants closed.
Overall, Oberwesel is a charming town that offers visitors a chance to experience the beauty and history of the Upper Middle Rhine Valley, making it a great day trip destination from Stuttgart.
Getting from Stuttgart to Oberwesel
At the Stuttgart HBF, grab the

IC2047 Train in the direction of

Bielefeld Hbf and ride it about 1 hour 40 minutes to Mainz

In Mainz, take the

RB26 Train in the direction of

Köln Messe/Deutz Bf (about 50 minutes) and get off at the Oberwesel Bahnhof
Contributed by Morgan from Crave The Planet
Freiburg im Breisgau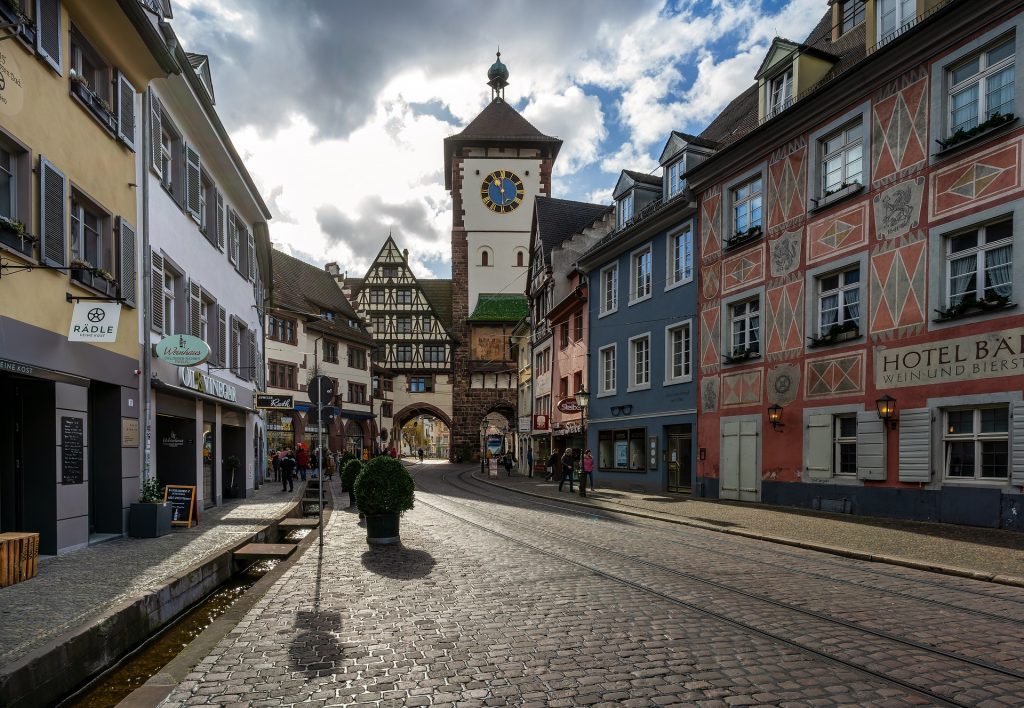 Distance: 200 km
Time from Stuttgart: 2.5 hours by car/ Approximately 2 hours by train
I have tons of Day Trips from Freiburg as well if you are looking to make it another "home base" for your time in Germany but if you are short on time, Freiburg is also another good day trip from Stuttgart. Especially in the summertime, it's got a great, chill vibe, most likely because it's a university town, so there are plenty of younger kids keeping things lively with plenty of Things to do in Freiburg.
You can't miss the Alstadt, which has the towering Munster Cathedral, which is a sight to be seen both inside and out. It's also a great town to just wander around in for a while, hop over the Bächle (open sewers…but don't worry, they are just freshwater streams now!!!), or grab a wurst and a beer at any of the many outdoor restaurants. Of course, you need to walk around and find the old town towers (one now has the eyesore of a McDonald's at the bottom) or get some amazing sunset views by going up the Schlossberg.
Getting from Stuttgart to Freiburg by Train:
As always, there are a few different routes that can get you to Freiburg from Stuttgart. This one is one of the most direct and quickest options:
Take a train to the Karlsruhe station.
Transfer in Karlsruhe and get on the

ICE71 train in the direction of

Basel

Ride this train about 1 hour and get off at the Freiburg(Breisgau) Hbf
Written By LeAnna Brown from WanderInGermany
Feldberg
Distance: 215 km
Time from Stuttgart: 2.75 hours-3 hours by car/ Approximately 3.75 hours by train
The perfect day trip from Stuttgart for nature lovers goes to the Feldberg, with almost 1500 meters altitude, the highest mountain in Germany, outside the Alps.
Nestled in the beautiful Black Forest region of southern Germany, the Feldberg is a popular destination for nature enthusiasts, hikers, families, and adventure seekers alike. The most popular outdoor activity on and around Feldberg in summer is hiking. The Feldbergsteig is a beautiful circular trail around the summit. The 12.5km hike leads through one of the most beautiful nature reserves in the country. The outstanding trail with many superlatives is even awarded as a premium hiking trail Germany!
If you aren't looking to hike but still want incredible views, you can reach the Feldberg summit, and highest point of the Black Forest easily by cable car. The fantastic 360 degree panoramic view from the plateau top reaches all the way to the the French Vosges and Swiss Alps on clear days.
In winter, the Feldberg turns into a winter wonderland with plenty of opportunities for skiing and snowboarding, in fact, it is one of the best places for skiing in Germany outside of the Bavarian Alps. With well-groomed slopes, ski schools, and equipment rentals, it is a perfect destination for winter sports enthusiasts of all ages and abilities.
All activities around Feldberg start at the main parking lot in Feldberg Ort, which is at cost. Here you can also find the House of Nature, a nature conservation center that informs interested people about the special ecosystem, flora, and fauna on the fantastic Feldberg
The best and easiest access to the Feldberg Mountain is from the village of the same name, south of the summit. From Stuttgart, Feldberg Ort, the village, is 160km away and can be reached within 2 hours by car. You can also get there by public transport, but the trip length is not really worth it for a day trip then.
Getting from Stuttgart to Feldberg:
While there are several train options for this, most of the time, you'll most likely need to get a train to Freiburg first
In Freiburg, switch to the

S1 in the direction of

Seebrugg and get off at the Feldberg stop
Contributed by Linda Bluemel from Hiking The Alps
Other Day Trips from Stuttgart to the Black Forest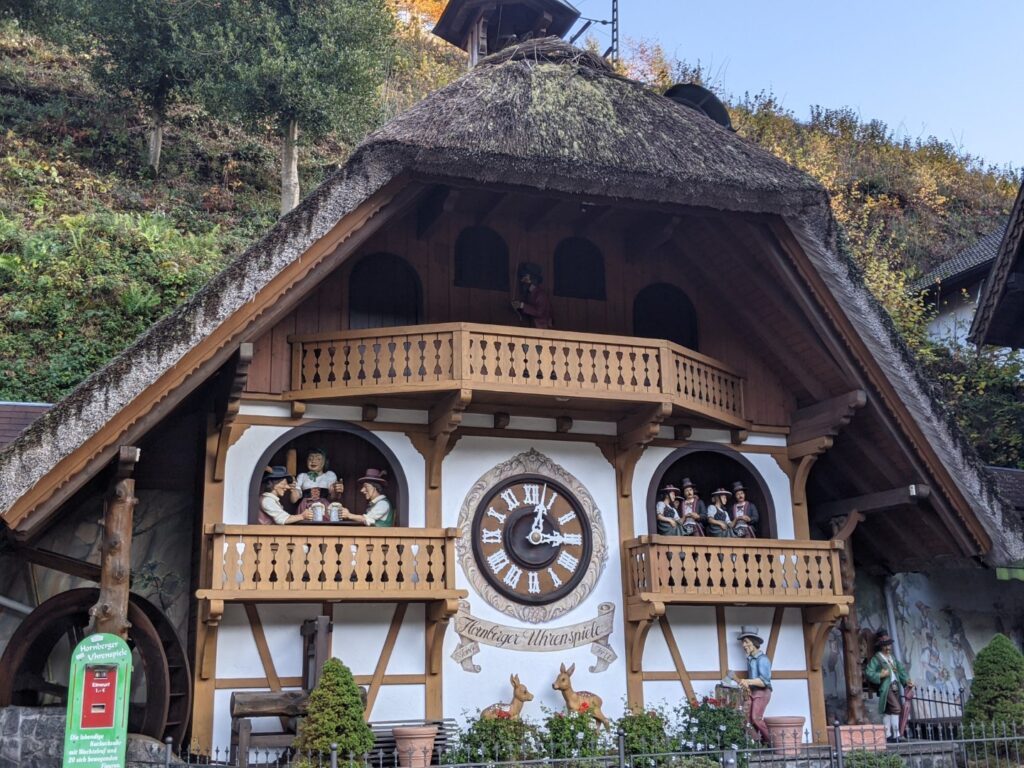 While I've mentioned numerous German Black Forest towns and villages already in this list (Freiburg, Triberg, Baden Baden), there are still a few other great Black Forest Day Trips from Stuttgart that you can look into. All of them are 1.5-2 hours from Stuttgart. Most are detailed in my Day Trips from Freiburg if you'd like further information.
Offenburg
Gengenbach
All Saints Waterfall and Abbey
Baden Baden
Freiburg
Triberg
Feldberg
Todtnau Rodelbahn (Hasenhorn Coaster)
Schiltach
Burgbach Wasserfall
Weekend Trips from Stuttgart Germany
If you are like me and you like to Google-around when researching for a trip, chances are you've seen some other listicles on the good ol interwebs with a few other suggestions that I don't have. So what's the deal!?
Look, here on WIG, I only want to give you the best and most honest information. You know, something like I would tell my own friend if they were planning a trip to visit me in Germany. And I would never in a million years tell my pals to do a day trip from Stuttgart to a place like Munich or Neuschwanstein. You might be saying, "But LeAnna, Google Maps says that Neuschwanstein is only 2.5 hours and you have other options for day trips on your site that are upwards of three hours!"
Yeah, sure, but that is because I still believe that those destinations are worthy of just a day trip. You can not do Munich justice in one day! Period. Let alone planning in travel times to get there and back!! So, here are a few suggestions on places that you might have seen elsewhere but that I would either make as another part of your itinerary or at least weekend trips from Stuttgart (ie minimum 2 days).
Where NOT To Go As a Day Trip from Stuttgart- and WHY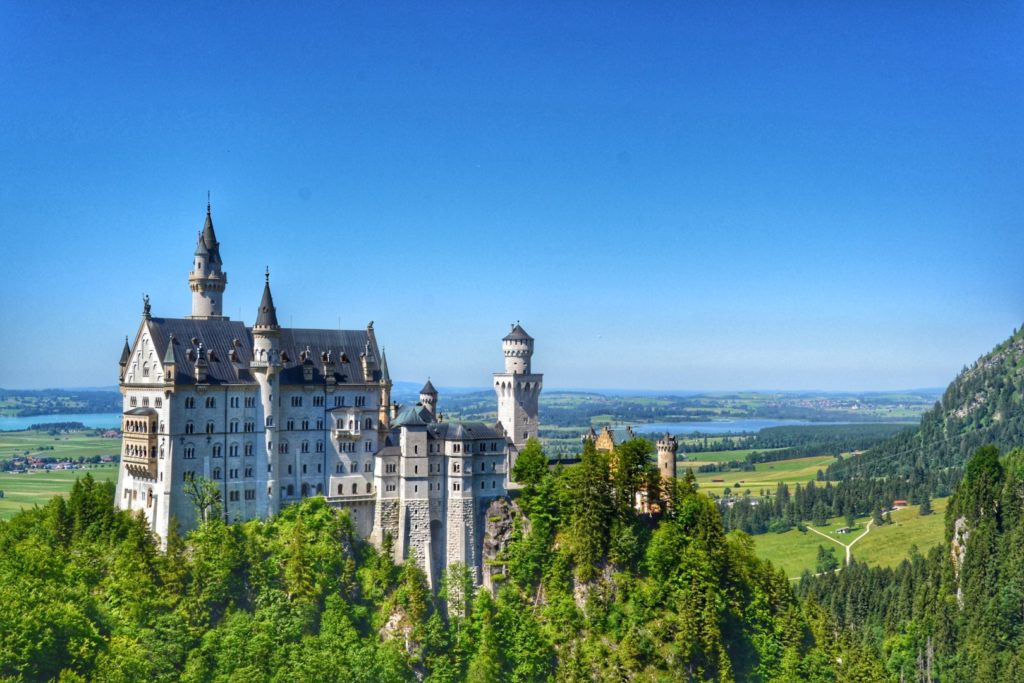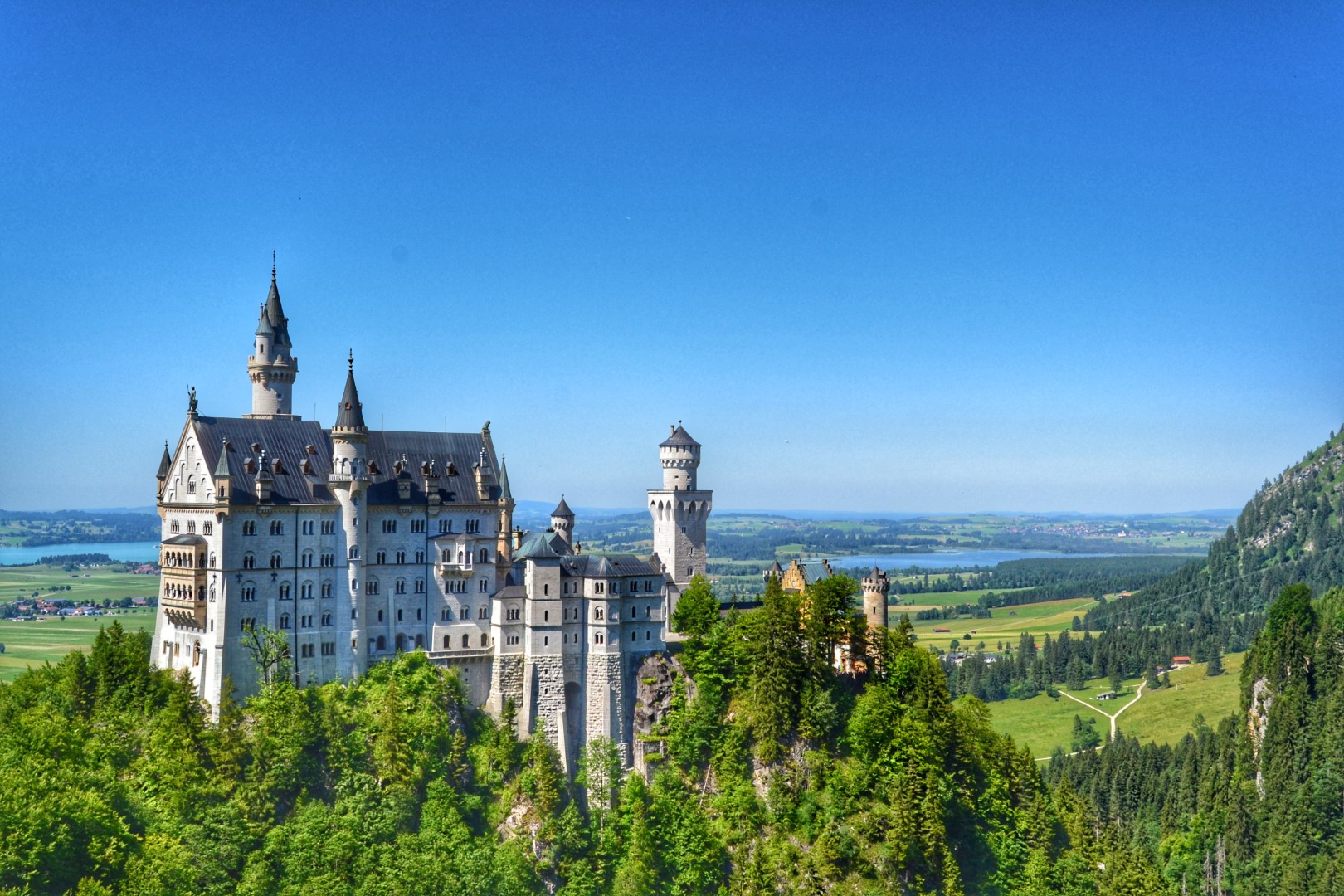 There are actually a TON of really great weekend getaways from Stuttgart Germany. Here are just a few of my personal favorites.
Neuschwanstein: You don't need more than a day for Neuschwanstein. BUUUUT, did you know about the nearby Linderhof Castle (A complete underrated gem in my opinion!) ? Or Hohenschwangau? What about the Ettal Abbey??? All of those should be considered in your Neuschwanstein day and if you are coming from Stuttgart, it's going to be near impossible to add any of those on. Or have you ever wondered what it's like to Paraglide Over A Fairytale Castle? Yeeeah, it's pretty freaking amazing, but no way could you do that and see the other castles with just one day.
Munich: Munich really shouldn't just be a one day trip from Stuttgart. You really should have a minimum of 2 days in Munich, if not 3 (you can do an easier day trip to Neuschwanstein from Munich)
Nuremberg: You can do Nuremberg in 1 Day, but I suggest it being a nice, long, full day. 2 Days is even more ideal.
Rhine River Cruise: Visit the picture perfect towns of Rudesheim, Bacharach, Boppard, and Cochem all while sipping wine down the Rhine and gazing upon castles!! I suggest starting in Rudesheim, which is only about 2.5 hours from Stuttgart!
Trier: This ancient Roman town in Germany is only about 4 hours from Stuttgart and makes for the perfect weekend trip.
Lucerne: Pop on over into Switzerland for the weekend. You can be at this stunning lakeside town at the bottom of the towering Mt Pilatus in about 3 hours from Stuttgart!
FAQs
Is it worth visiting Stuttgart?
Personally, I think there are better towns to explore in Germany that offer more culture, beauty, and better things to do. However, I love Stuttgart as a home base for tons of easy and nearby day trips!
How many days do I need for Stuttgart?
1-2 Days plus 3-4 days for day trips. You can easily visit Stuttgart in one day or even less. However, it's worth staying in the city itself and staying in the one location for numerous days so that you can reach dozens of nearby day trips easily