[This post may contain affiliate links where we earn a small commission. Please see our disclosure for more information and thank you for supporting our site so we can continue to bring you awesome content for your travel inspiration!]
On our most recent trip to the Black Forest, we decided to head to Freiburg Germany. While it is a popular town in the area, it is a far stretch from a "popular tourist destination" like the towns of Rothenburg or the Neuschwanstein Castle. In fact, I've lived in Germany for a lot of years and it had never really been on my radar before this particular trip.
Freiburg is a University city, so there is a younger vibe to the town, which is a fun contrast to the town itself with its Old, Gothic Architecture and cobblestone streets.
I think one of the reasons why Freiburg remains a lesser known town is because there isn't a TON to do here. In fact, we were able to do just about everything we wanted over one day in Freiburg. However, I could see how a second day would be nice if you wanted to spend more time at things like the Schlossberg (more on that below) or if you are particularly keen on spending long hours at the outdoor cafes! Just because there isn't a long list of things to do in Freiburg, doesn't mean that what there IS there isn't worth a day trip!
On the other hand, if you want to use Freiburg as a base for your exploration, there are plenty of great day trips to consider as well. In fact, you can base yourself in Freiburg and be in the heart of the Black Forest in 30 minutes, hop over to some of the most idyllic villages in France in an hour, and even see some of my favorite towns in Switzerland in about 2 hours.
So, in this article, I'll be covering some of the best Freiburg things to do, especially if you only have 1 Day in Freiburg.
You Might Also Be Interested in Reading:
Getting To Freiburg
The way we got to Freiburg was pretty cool. We took the famous Höllentalbahn train ride from Triberg. I list EXACTLY how we did this train ride in my Black Forest Itinerary Guide, but I'll also cover it a bit below on my day trips from Freiburg section.
Flying Into the Black Forest
Despite the Black Forest being in Germany, if you are heading to the Southern portions of the Black Forest, or in this case, Freiburg, surprisingly, the closest airport is actually Zurich. From there, it's only about a 2 hour drive.
Alternatively, most people fly into Frankfurt if they plan on visiting the Black Forest as part of their Germany trip.
By Car
If you are visiting Freiburg in addition to numerous places in the Black Forest, then I do think it is worth considering having a car. Getting to a lot more of the "off the beaten" path locations in the Black Forest aren't even possible with trains/buses.
Read my Driving in Germany Guide Here
By Train
If you are just doing Freiburg and no other places in the Black Forest, then it's actually a pretty good hub for public transportation, so getting there by train is relatively easy.
Frankfurt to Freiburg by Train is only about 2 hours. Depending on the exact time/ route you take, it can be a straight shot, or sometimes just have one stopover, often in Mannheim or Karlsruhe.
Read my Ultimate Guide to Train Travel in Germany
The main train station in Freiburg is centrally located. We were able to walk from the Hauptbahnhof to the city center where the majority of things on this list are located within about 15 minutes.
Where To Stay In Freiburg
I suggest using this interactive map to set filters to best meet your individual needs to find the best hotels in Freiburg.
There are a lot of apartment stays in Freiburg and many of them come with absolutely fantastic reviews.
Ferienwohnungen am Theater Freiburg: This holiday apartment offers SO much and goes above and beyond to make its guests feel important and well taken care of! You can't beat the location of this apartment within walking distance to all the best Freiburg Germany tourist attractions and combine it with the fact that it has air conditioning (something VERY rare in Germany!!), a fully equipped kitchen, and even a washing machine and dryer, you really can't beat staying here! Click Here To Book This Apartment In Advance To Ensure Availability
If you are looking for a place to stay that has a pool (and fantastic reviews!) check out either the Hotel Hirschen in Freiburg-Lehen, which is a stunning hotel with a mixture of elegant yet modern vibes or the amazing Exklusiv Freiburg Ferienwohnung, which has it's own private terrace and an indoor pool for all seasons
Freiburg Germany Things To Do
Marvel at the Freiburger Münster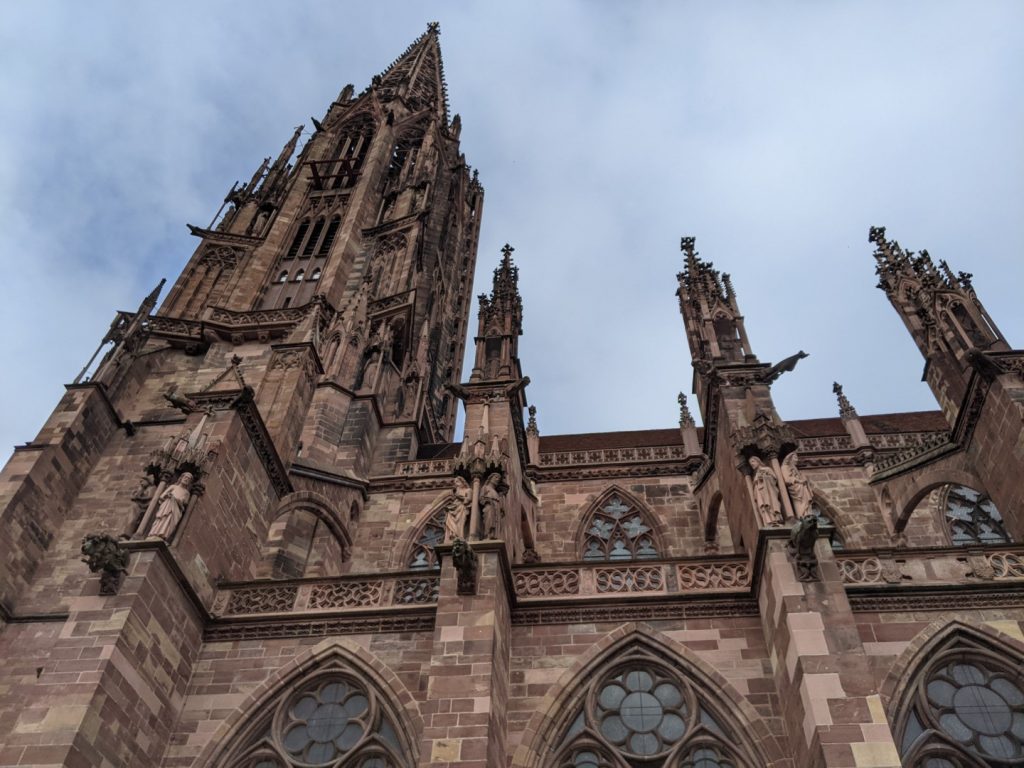 No matter where you are in town, there is no mistaking the Freiburg Münster Bell when it rings loud and clear. It is, by far, one of the most popular Freiburg places to visit. While church bells in Europe are no strange sound, what makes the Freiburger Münster so unique is that the church (and therefore bell) is over 750 years old!!!
The looming Cathedral is probably one of the most popular of the Freiburg attractions. While much of Freiburg got hit by the bombs of WWII, some places in the city were able to escape the destruction, such as the Münster. So, while many churches similar to this throughout Germany are beautiful, a lot of them have been rebuilt, where the Freiburg Cathedral is the original dating back aaaaaallllll the way to the 1200s!!!
Its Gothic architecture is hard to miss as it towers over the main market square of the town. Head inside to appreciate more of the church's beauty including the stained glass windows, tall arches and columns, and dizzyingly winding pulpits.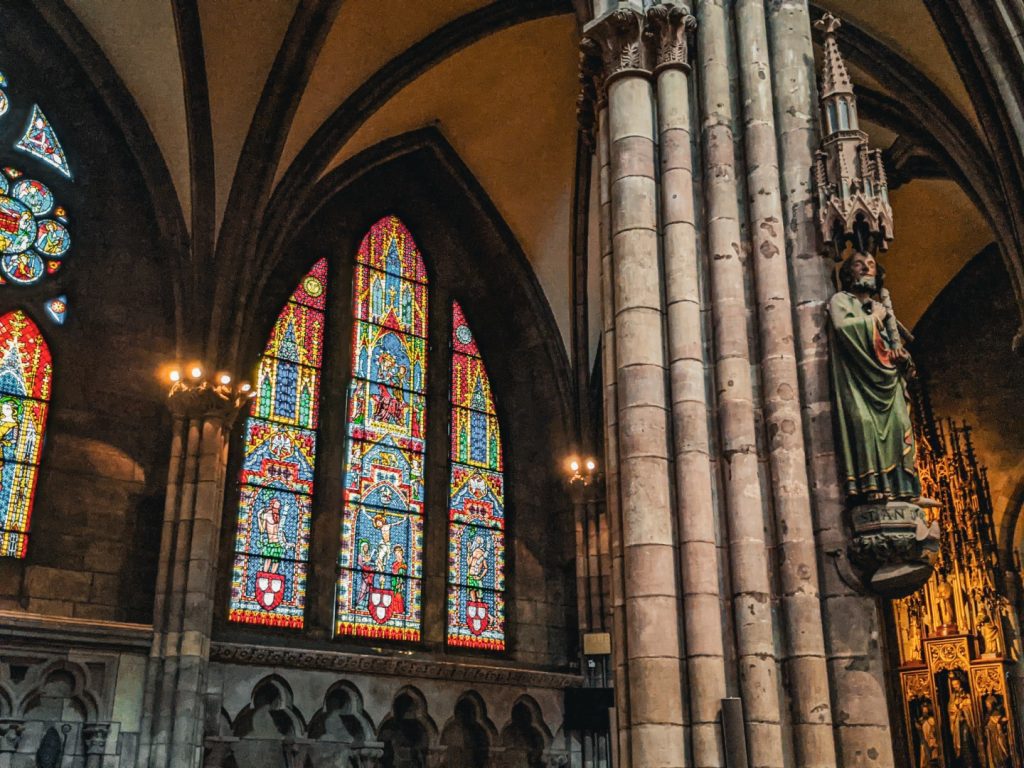 Do a 360 of the Münsterplatz
Outside of the Cathedral is the most popular town square in the city. In good weather, you'll find the whole Platz filled with cafe tables and chairs. Nothing beats grabbing a Cappucino or a Bier at a place like this and just soaking in the atmosphere and vibe of Germany. The cobblestone streets. The church bells ringing. The pastel buildings giving a picture perfect backdrop. THESE are the types of places and moments that made me fall in love with the slow living in Germany!!
Merchants Hall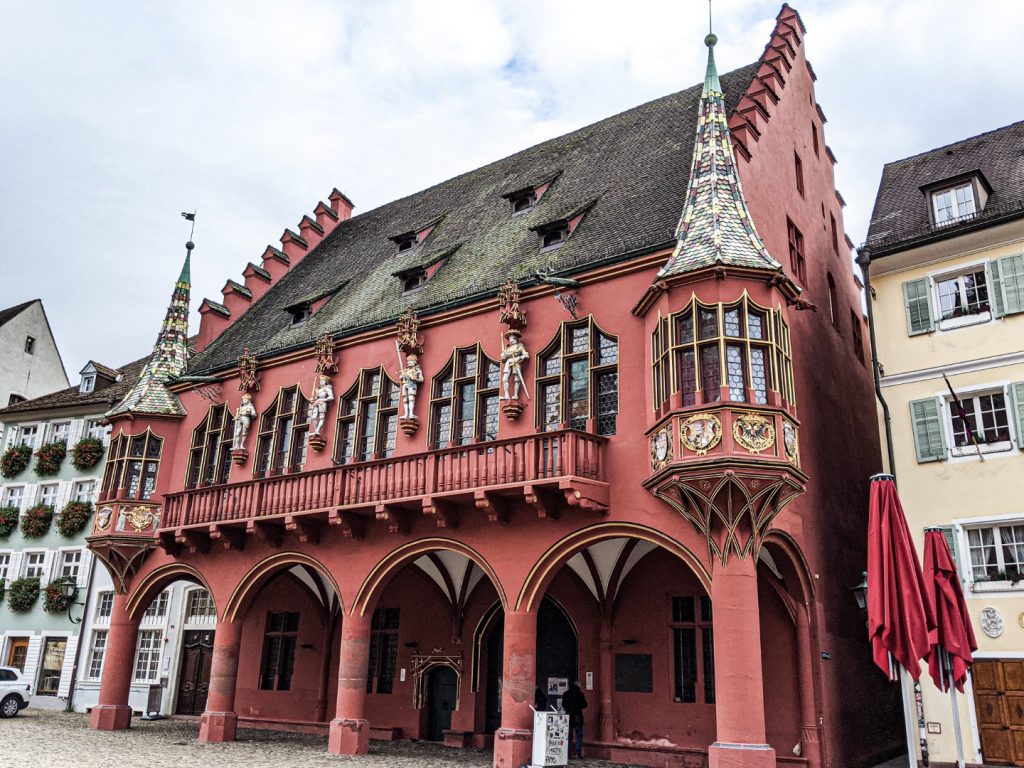 Within the Münsterplatz, is a building that you can't avoid seeing even if you tried. The bright red, ornate building pops out at you, despite the Gothic church competing for the limelight and attention of wanderers.
The Merchant Hall is exactly what it sounds like- a big courtyard that once held merchants' goods. Unfortunately, you just have to appreciate the building from the outside, as the only way to get inside is during special events.
Münstermarkt
One of my favorite parts about travel is seeing a more local side to life, and in a University city like this, where there are more students than tourists, it's easy to get glimpses of that. One such way is to enjoy the market that is every day (except Sundays) that encircles the Cathedral all along the Münsterplatz.
Locals come to markets such as these to grab some fresh produce, flowers, etc but if you want to feel like a local, grab a Wurst from any of the numerous sausage stands! It's a great way to have a cheaper and more authentic-style lunch.
Walk Under the City Gates/ Towers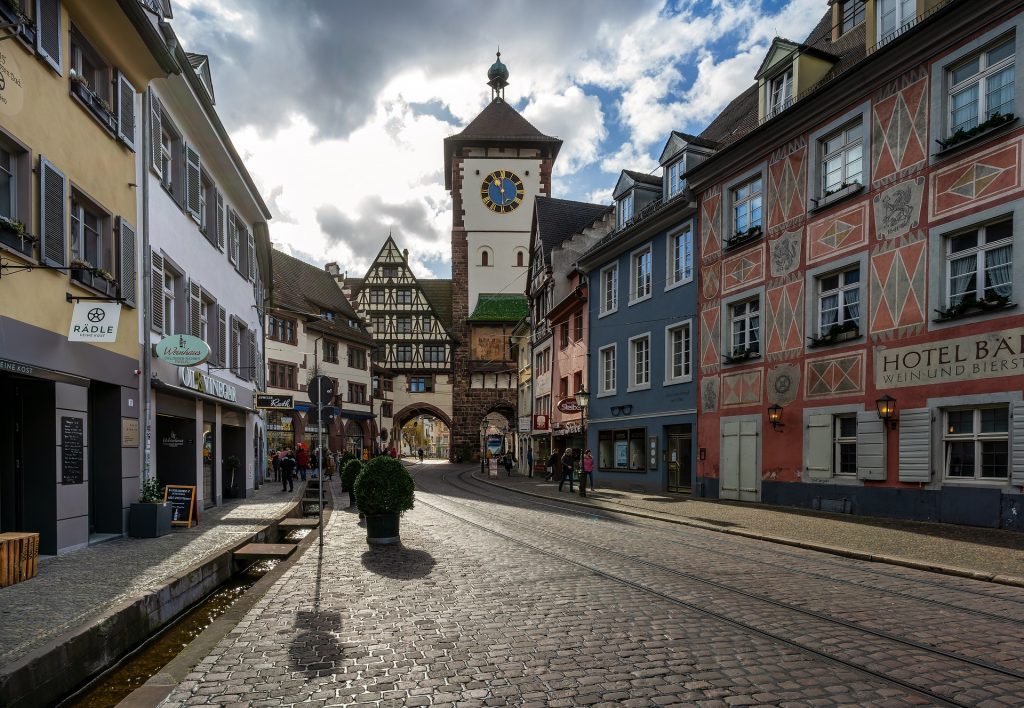 One of my favorite parts about Germany is the many different ages of history you get to explore as you go from town to town. There are still many well-preserved medieval cities in Germany, like the gorgeous Regensburg in Bavaria or the very famous Rothenburg. One thing that you'll find in common about all of these are that Medieval cities were often walled off, leaving only a few gates to actually be able to pass into the city. Ones that have been preserved over time still have walls (or sections) and the Tors (gates), which are really cool to see in person. Freiburg has 3 main gates still visible to the public
Schwabantor (Also called Obertor): You can actually go inside this tower by going into the Zinnfigurenlkause Museum (a slightly odd "Tin Figure" museum, but you can also learn about some history of Freiburg itself in it)
Martinstor: Martinstor is impressive for multiple reasons. First, the lower half is the original, dating all the way back to the early 1200s! However, the top/roof is "only" about 120 years old. Also, like a lot of gorgeous buildings from the past, this tower almost didn't '"make the cut" when modernizing the city. When the city planners were putting in the street cars, they were ready to demolish the whole thing! Luckily, it was spared! However, capitalism has still gotten the best of even this medieval monument. No, the Golden M Arch doesn't stand for the "M" of "Martinstor" it in fact, there truly is a McDonalds located at the ground floor!
Breisachertor: This one almost isn't worth mentioning only because if you were to walk past it today, it looks nothing like the other two main, gothic, towers and you may even mistake it for just another building. This one was heavily destroyed during WWII and when it was rebuilt, it was not in a medieval gothic style, but rather a baroque one.
Be Impressed By the Buildings and Architecture
Despite almost the entire Altstadt being essentially completely destroyed (minus a few things, like the Cathedral) Freiburg chose to rebuild the city in a traditional style. For example, the "Old Town Hall" was completely pummeled. What you see today is how they chose to rebuild it so that it actually looked like the original town hall.
However, the buildings of the town are still beautiful. Many of them were reconstructed in a beautiful Renaissance and Gothic style. Some buildings to be on the lookout for are the:
Rathaus
Both the New and the Old Town Halls are on the Rathausplatz (Town Hall Square). The New Town Hall is the white building with the bell tower, while the red one is the Altes Rathaus.
Haus Zum Walfisch
Just around the corner from the Rathausplatz is the "Whale House." While today, it is a bank, it originally was a part of a huge complex that was made up of 17 other buildings. You can see the bright colors and Gothic Architecture as you walk past.
Address: Franziskanerstraße 5, 79098 Freiburg im Breisgau
Run Along the Bächle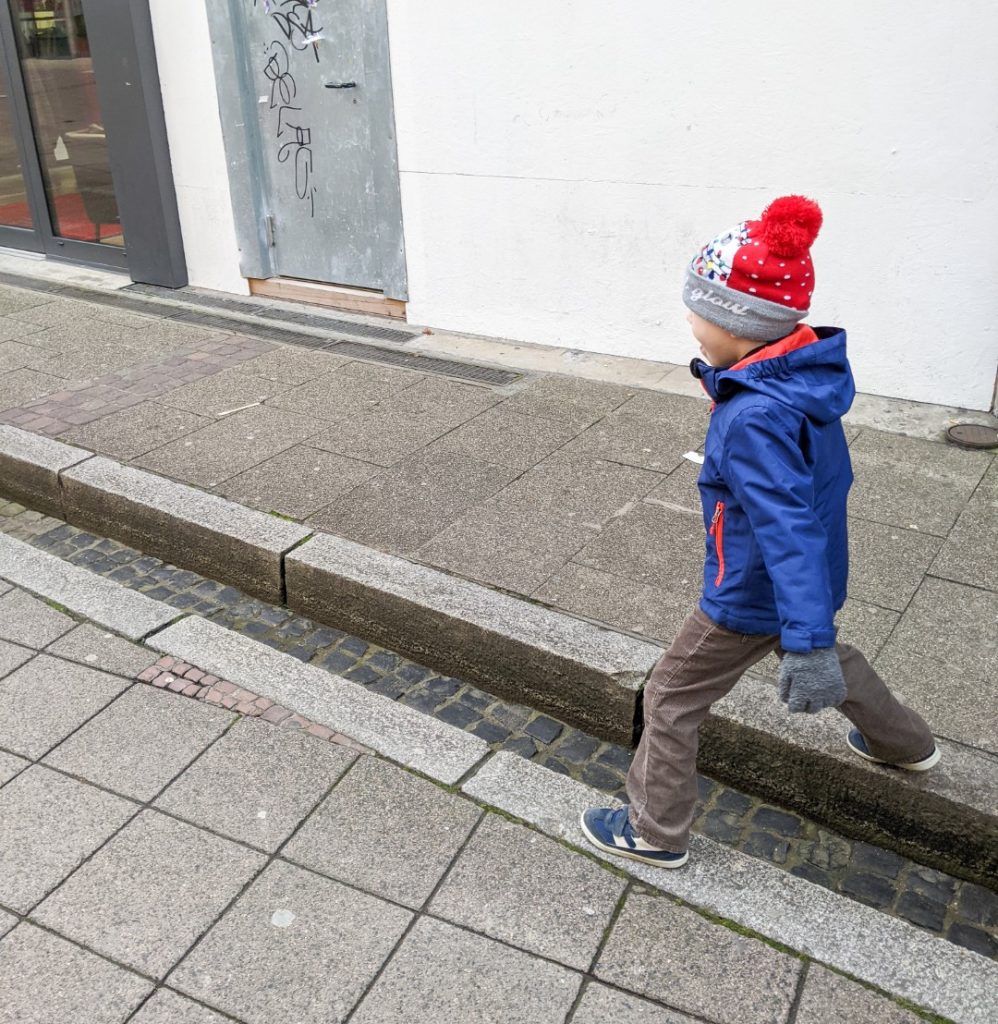 Legend has it, if you are single and you fall into one of these little "urban streams" that you must marry a Freiburger!
All folklore aside, the Bächle (which literally means, "Brook") are open gutters carrying fresh water throughout town. If you are lucky, you'll stumble across some boats being sailed down one, or maybe even a rubber ducky race!
While yes, these were most likely open sewers once upon a medieval time, they are completely clean and fresh water today. So, don't hesitate to dip your toes in (the water is completely fresh and clean!) on a hot summer's day!
Go Up to the Schlossberg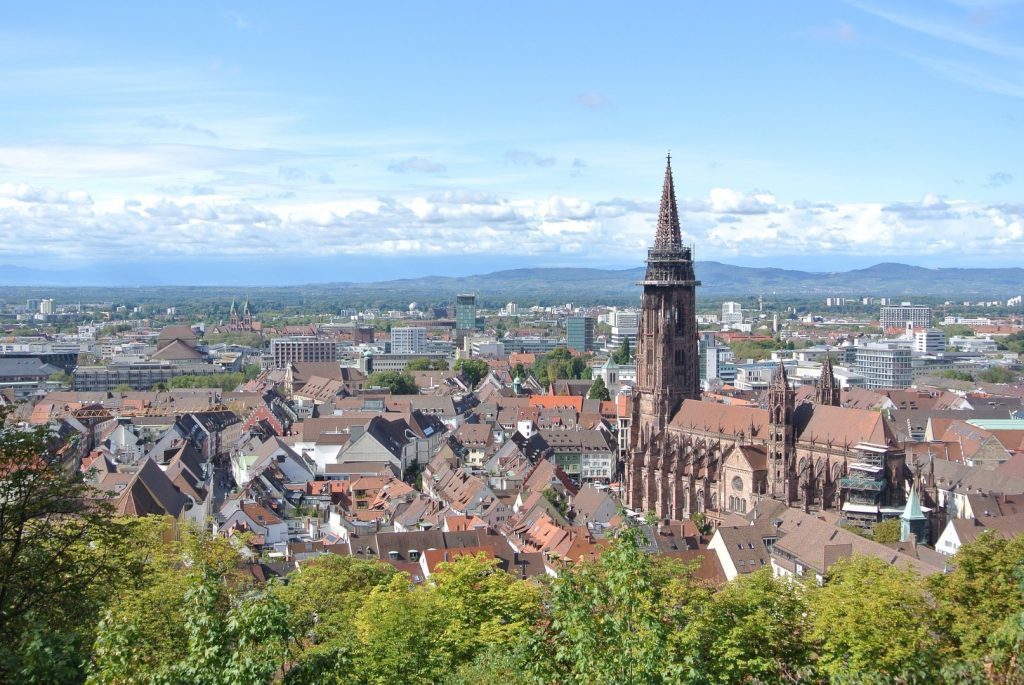 Over 1,000 years ago, the original Schloss (castle, or in this situation, more of a fortification) was built high on top of the hill (Berg), hence the name "Schlossberg". It's no surprise that over the next 1000 years, there were numerous owners with many different alterations and additions. However, through many wars, seizes and simply just time, today there is not much of the actual castle to be seen. There are ruins scattered throughout the hilltop and the city has tried to restore and repair several areas.
But even if you can't see much of the castle today, heading up to the top of the Schlossberg is one of the best things to do in Freiburg with tourists and locals alike. Head there on any evening as the sun goes down and you'll find plenty of people bathing in the golden sun enjoying a good o'l German Bier and amazing views out over Freiburg city as well as the surrounding Black Forest.
While up at the Schlossberg, there are several things to do:
Just Enjoy the Views: One of my favorite parts about living in Germany is just the slowed down lifestyle. Grab a few bottles of beer before heading up and just find a good patch of grass to sit back, people watch, and overlook the town itself and the surrounding Freiburg area.
Go Up the Schlossbergturm: This is the "Tower" at the top of the Schlossberg. It's a bit of a climb up the steps, but you'll be rewarded with amazing views stretching out all over the Black Forest, the Rhineland, Freiburg, and beyond!
Have a Meal: If you are looking for dinner (or lunch) with a view, there are a couple of restaurants and Biergartens with surprisingly really decent food! Sit back for awhile and just enjoy!
How to Get to the Schlossberg
1) Take the Funicular/ Schlossbergbahn
This is the easiest and fastest way to get to the top of the Schlossberg. You'll find the station at the Stadtgarten in town and in only about 3 minutes, you'll be zipped up to the top!
(Note: it's about a 15 minute walk from the Bahn Station at the top to the Tower.)
Cost for Roundtrip:
Adults: €6-
Children 6-14 Years: €4.50
Find all the prices (including one way, group discounts, family tickets, etc) on the official website
2) Hike Up
If you'd rather enjoy the scenery and nature on foot instead, there are TONS of walking and hiking trails up to and around the Schlossberg. A popular option is to start at the Swabantor, where you'll find signs and a path that will eventually wind you up to the Berg. You can make this into a loop and the entire journey (not including time to hang out at the top, enjoy the Biergarten, etc) will take about 1.5 hours.
You can also start at the Stadtgarten by the funicular for paths as well.
The hike up isn't the hardest thing in the world but it's not just a leisurely walk either. You don't need to be extremely fit, but as long as you've got a good attitude and don't mind stopping to catch your breath (just use the excuse of looking out over the city or reading one of the signs!) then it's a very doable hike up.
Go Even Higher with the Schauinslandbahn
If you are looking for even more impressive views and heights, then take a 20 minute ride out of the the Freiburg city but feel like you are a world away from town. While the Schlossberg is the perfect way to get fantastic views, if you are looking more for a "Mountain" style escape during your trip to the Black Forest/Freiburg, then the Schauinslandbahn is the way to go. The cable car takes about 10 minutes to get to the summit, all while you'll be stunned by the views on the way up.
Once at the top, you can enjoy a meal with a view at the restaurant or go on a variety of beautiful hikes throughout the Black Forest and overlooking the region far and beyond!
In the winter, this is a fantastic place to do some sledding with the kids, downhill skiing, cross country skiing, or just hanging out at the "lodge" (restaurant) with a good meal and fantastic views.
Cost For Roundtrip Cable Car:
Wander Around the Seepark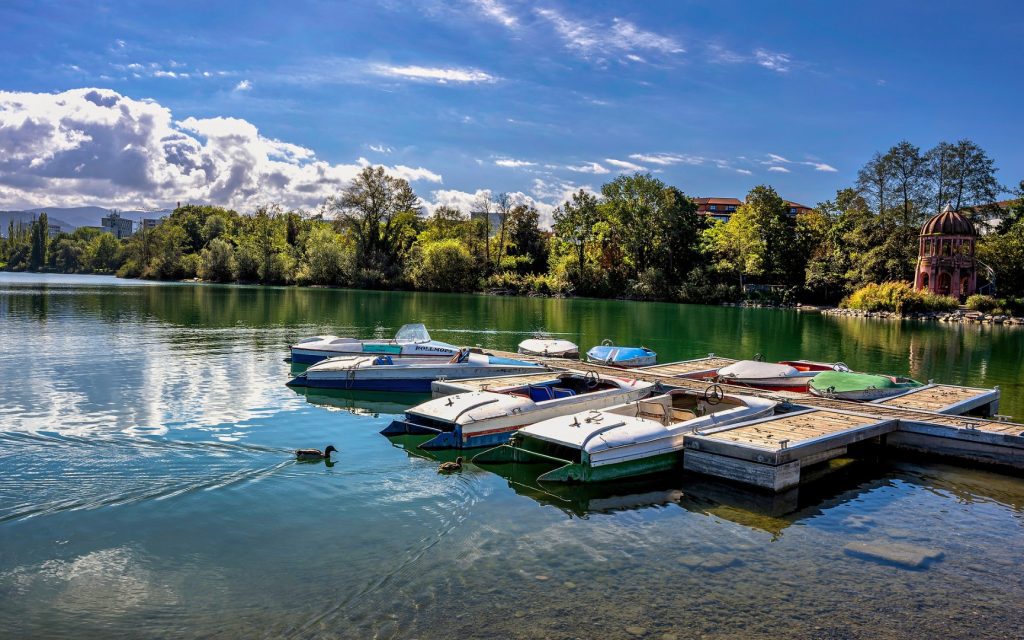 Another one of my favorite things about living in Europe is just how much they appreciate their green spaces, even right within the city. Most cities will have a Stadtpark (city park) but these are typically big, beautiful green space parks with walking paths, often lakes or ponds, playgrounds, biergartens, and more!
One of the more local things to see in Freiburg is the Seepark. You'll see locals coming here to go swimming (in the lake as well as at a swimming pool), taking a paddle boat around the lake, eating out at the restaurants, playing at the playgrounds, or even doing a round of Putt-Putt (mini golf!)
Getting There: The best way to get to the Seepark is to take the local Tram Line 1 in the direction of Landwasser. Gett off at the Betzenhauser Torplatz.
Relax in the Japanese Garden in Seepark
One thing that makes the Seepark quite unique is a huge section of it that is the Japanese Gardens. Together with their Japanese sister city, Freiburg created this beautiful, tranquil, peaceful Japanese Garden. What is pretty cool is that the large boulders come from the nearby Schauinsland and small rocks from the Rhine river, but the design and inspiration for the park is beautifully done by the Japanese architect, Yoshinori Tokumoto.
Spend your time in this section enjoying a waterfall, a Japenese style temple, small bridges, and beautiful gardens surrounding you.
Take a Tour Of the City
Sometimes, taking a tour of a place, especially if with a local, is one of the best ways to see a different view of a location. Freiburg is one of those places that holds so much history that you will probably just miss wandering the cobblestone streets yourself.
Take a Walking Tour
Like most cities, Freiburg has a few different walking tours that you can take depending on the amount of time you have or what your interests are. Here are a few to look into:
This is the perfect way to see Freiburg! It's a very walkable town to begin with, but having a guided tour in a small group is ideal for seeing things you'll most likely miss if you were to wander on your own.
See The Freiburg Walking Tour Here
If you want something a little more customized to you, your personal interests, time table, etc then Book this Private Walking Tour of Freiburg
Whether you are a "social media influencer" (bleh, sorry….I hate that term, but maybe that's because I've never taken a single Instagram photo in a flowy dress with a hat as I gaze out over a Vineyard in the Black Forest. Nope….you can see my very real, not photoshopped IG Here) or if you just genuinely love photography, then this tour may be of interest to you as the local guide takes you to great stops in the city that are ideal for framing the perfect shot.
In this tour, a local takes you around their own city to explore the street art, museums, galleries, and more to show you the artistic side of Freiburg.
See The Arts and Culture Tour Here
Enjoy the Freiburg Christmas Market (seasonal of course)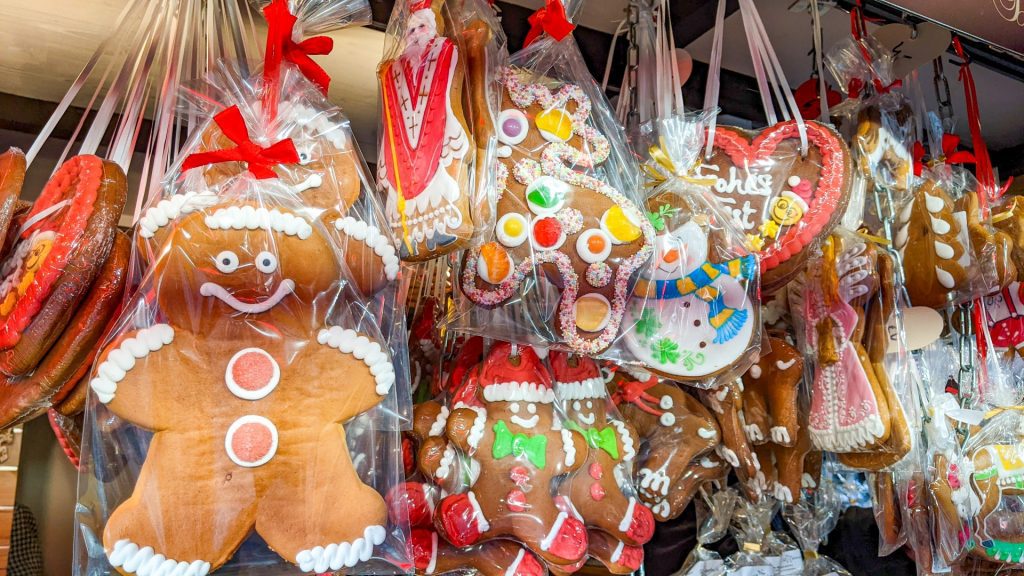 Obviously, this one isn't going to apply if you are in Freiburg in February. But, if you are looking for Black forest Christmas markets (like the Ravenna Gorge- Also in the Black Forest and on my list for Best Christmas Markets in Germany) and are going to be in Freiburg during Advent, then of course, do not miss the market with over 100 stalls, delicious food, twinkling lights, and of course, warm Gluhwein.
Where to Eat in Freiburg
Markthalle
This international food court isn't something you find in many German towns. However, if you are wanting something beyond your typical Wurst, head into the Markethalle to see what kinds of food stalls are serving up hot dishes. You'll find vendors with Thai food, Indian, Persian, Brazilian and more global foods to try. There's even a Champagne Bar if you are feeling ultra classy!
Zum Oschen
Most travelers who come to the Zum Oschen often describe this place as, "an experience." And I am all here for that! At Zum Oschen, you won't find menus, but instead a chalkboard with the daily specials. While they are worth looking at for consideration, the thing that the restaurant is most known for is their Schnitzels. If you are looking for some of the best Schnitzel on your trip, just head here for Schnitzels so huge (and delicious) you aren't going to know what to do with them!!!
Dattler Schlossbergrestaurant
If you are making your way up to the Schlossberg, then consider having a meal at the Dattler while at the top. The food is local, German cuisine, and is surprisingly really good for being at such as "popular" spot. The prices are really decent as well considering the high quality of food but also being in more of a "fine dining" atmosphere!
Tip: If you can sit outside on the Terrace, it totally completes the experience! Even better? Stay for the sunset!!!
Drexlers Wein & Essen
If you are looking for some high class, Michelin Star restaurants on your trip, give Drexler's a consideration. They combine German favorites with Italian and focus on fresh and local foods, which means that the menu is constantly changing on the availability of foods.
Five Guys
DON'T JUDGE ME!!!! I know, I know, why in the world would you come all the way to Germany just to eat an American fast food chain!? (I legit got mad at my Father in Law one year when he wanted McDonalds instead of eating German food!). But, in my defense, I'm a Nebraska Girl who loooves my beef and let's just say that Germany does pork like no other, but beef??? They have some room for improvement there. Sometimes, I just need a GOOD burger fix!!!! So, while I strongly suggest you just enjoy local food on your trip, if you need a break for a quick meal from the pork and potatoes, I'll totally understand.
Note: There is a "Hans im Glück" in town. This is a German burger chain. Buuuut I will tell you, if you want a burger, I still recommend 5 Guys
Day Trips From Freiburg im Breisgau
Baden Baden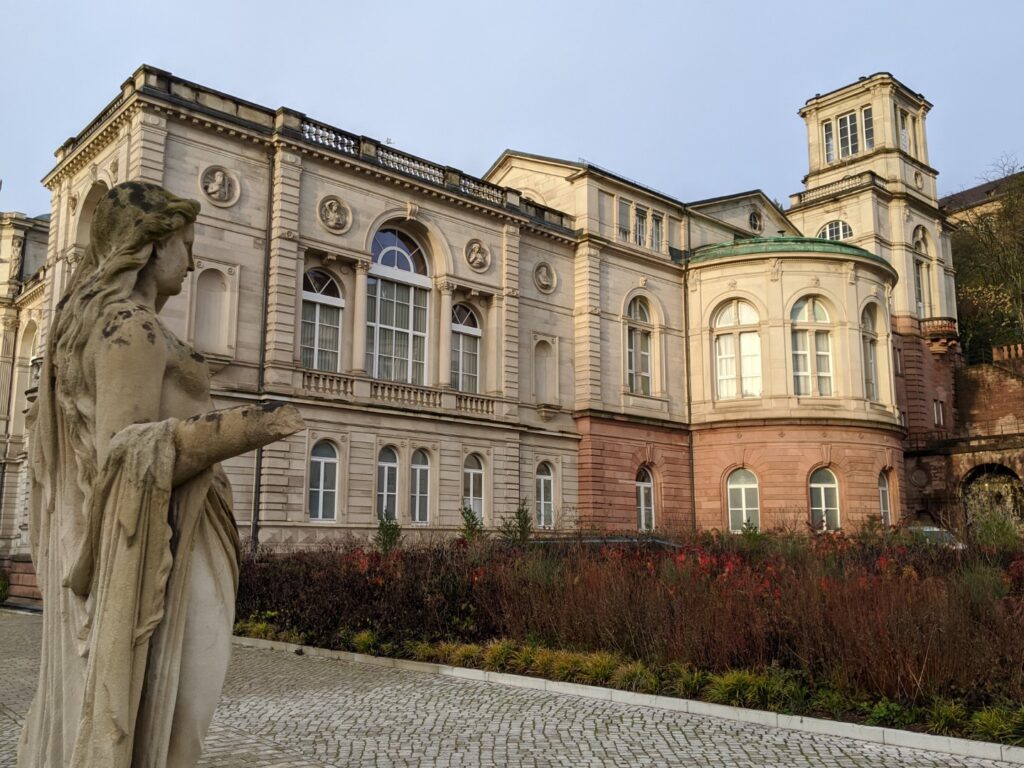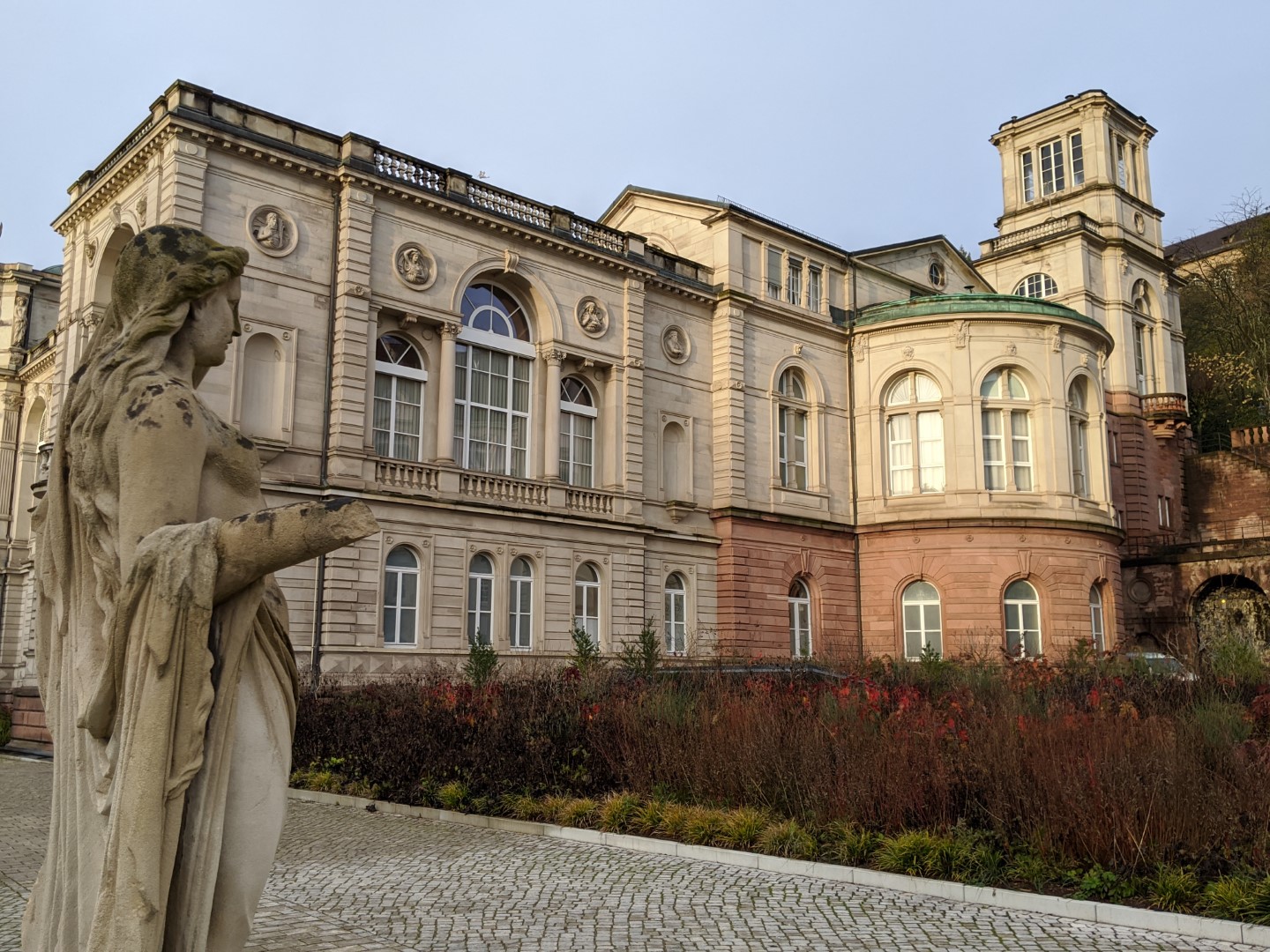 If you've been around this site at all, you know I'm a complete sucker for the German Spas and Saunas! And there are none like the UNESCO World Heritage Site in Baden Baden. While there are plenty of Things to Do in Baden Baden, and if I'm being completely honest, I would a lot for 2 Days in Baden Baden.
However, if you are just going for the famous Baden Baden Spas, then you can easily do it in one, relaxing day trip!
Getting to Baden Baden From Freiburg:
By Train: It only takes about 45 minutes with the high speed train (Book your train tickets here in advance for best prices)
By Car: It's an easy, 1 hour drive from Freiburg to Baden-Baden
Triberg
We actually based ourselves out of Triberg during our Black Forest Trip and did a day trip in Freiburg, which obviously means you could do it in reverse!
A few of the most popular things to do in Triberg is to:
Go to the beautiful Triberg Waterfalls (the "longest waterfall in Germany")
See the world's largest Cuckoo Clock
Getting To Triberg From Freiburg:
By Train: If you are taking the train, most likely you will need to stop over in Offenberg, which I recommend taking an hour or so to quickly wander around this beautiful little town before making your way to Triberg. By train, it will take about 2- 2.5 hours to get from Freiburg to Triburg
By Car: If you are doing a road trip and have a car, you can easily drive from Freiburg to Triberg in only about an hour
Take the Höllentalbahn Train Ride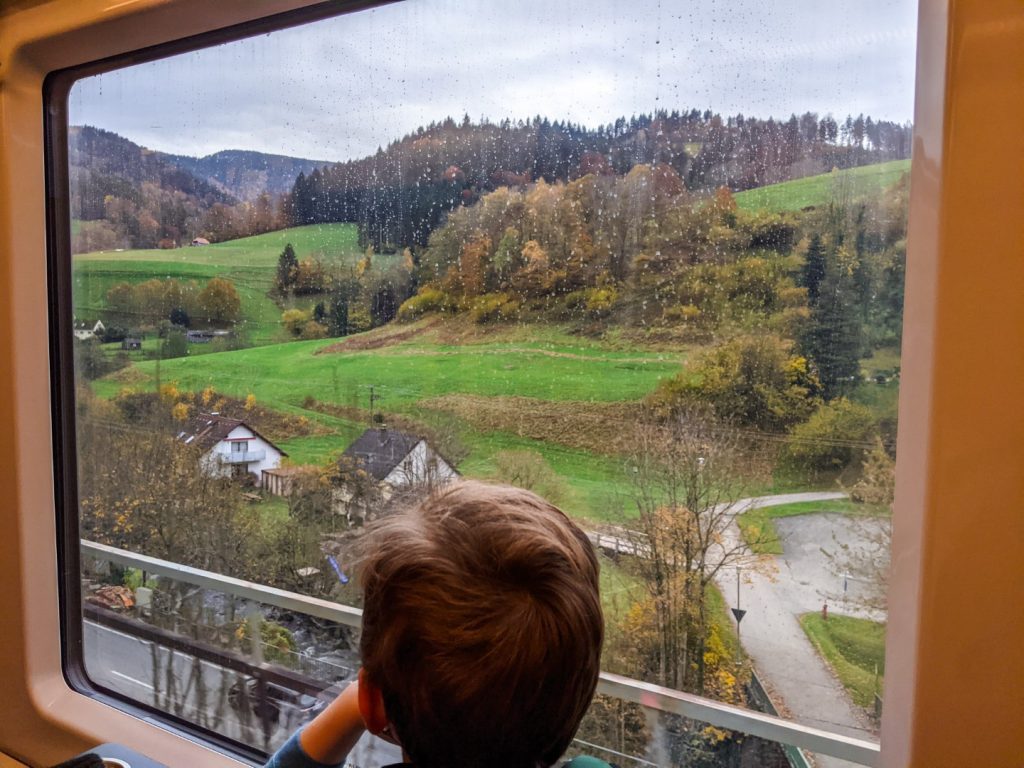 The Höllentalbahn is often on lists like "Most Scenic Train Rides in Germany" so naturally, it piqued my interest! While the train journey today didn't seem like it had any special maneuvers, apparently, when it was first built it was really important. Something about the track being on a really steep gradient and how that was a big deal at the time! In fact, it is still considered the steepest railway in Germany even today.
This train journey cuts through valleys of the Black Forest zips over the Ravenna Gorge, and goes through the cliffs of the "Devil's Valley". And that is just the first half! Continue on and the "Höllentalbahn" is now the "3-See-Bahn" (3 Lakes Train) where you can go to/past three separate Black Forest Lakes.
You can get on the Höllentalbahn right in Freiburg Breisgau at the Haupthanhof and it leaves every 30 minutes. It is actually on the Sbahn and you can use the S10 train in the direction of Donaueschingen or the S1 in the direction of Villingen(Schwarzw).
I recommend only going to the Titisee train stop, enjoying some time around the lake and then heading back to Freiburg the same way.
You can purchase the Höllentalbahn train tickets here. You'll put the Origin as "Freiburg (Breisgau)" and Destination as "Titisee." I recommend getting the "Tages Ticket" RVF Fare which is good for the whole day otherwise, note that that is only a one way ticket and you'll need to purchase a return as well.
Mummelsee and All Saints Waterfall and Abbey
You'll need a car for this day trip from Freiburg, but in only about an hour, you've got three perfect day trip locations!
The first stop is the small, but beautiful Mummelsee (lake). Nestled into the rolling hills of the Black Forest and surrounded by nature and trees, this is a fantastic stop. Grab a bite to eat, walk around the lake, and just enjoy Black Forest nature.
Next, continue on to the Kloster Allerheiligen (or "All Saints Abbey). The beautiful ruins of this old Kloster, set nearby waterfalls and beautiful scenery is truly a beautiful place to spend a few hours.
From there, it's only about a 20 minute walk through the Northern Black Forest to get to the All Saint's Waterfall.
Strasbourg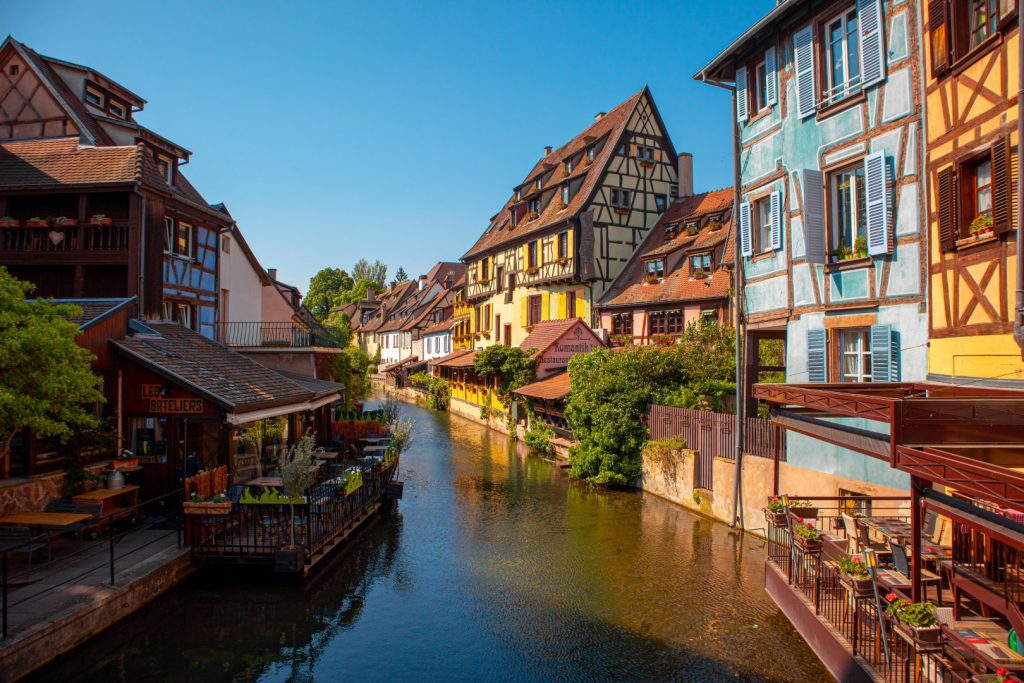 Freiburg is just on the border with France, making it almost irresistible to hop over the border into some of the most gorgeous little towns ever. One of those being Strasbourg, which just might be plucked right from the fairytale books!! The Half Timbered houses and cobble stone streets have you feeling transported to a whole different era and culture.
Getting To Strasbourg From Freiburg:
By either train or car, it is just over an hour from Freiburg to Strasbourg, making it the perfect day trip!
Note: If driving, you will need a "Clean Air Sticker" (Crit'Air Vignette) for driving into Strasbourg
Colmar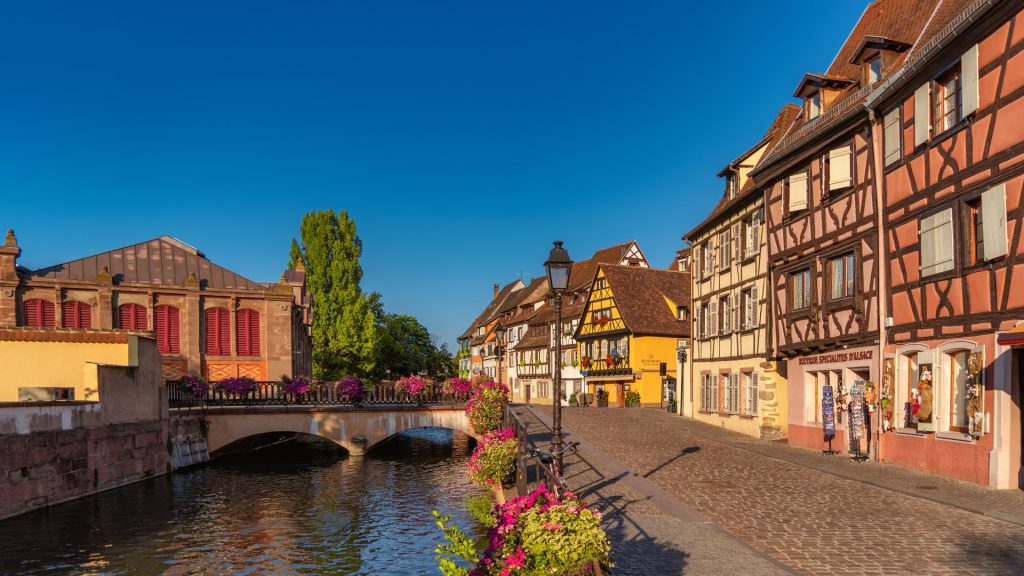 Similar to Strasbourg, Colmar is also just a stone's throw away from Freiburg into France. And like Strasbourg, it is also a half timbered, cobblestoned paradise for Francofiles and photographers alike! You'll love just wandering around and being in the real life French Fairytale!
Getting To Colmar From Freiburg:
You can either drive to Colmar in about 1 hour or take the train and be there in about 1.5 hours
Note: A Crit'Air Vignette is not needed when driving into Colmar from Germany
When to Visit Freiburg
No matter what season you go to Freiburg, you'll probably enjoy it. As a University Town, there are lots of young people keeping a lively atmosphere throughout the year.
Shoulder Seasons
We went at the very beginning of November, which is definitely outside of the typical tourist season and I will admit that I missed some of those "easy going" vibes that I know that city can offer. In shoulder seasons in Germany, you'll most likely be faced with more grey and cloudy (and quite possibly wet) days rather than those easy going days where the European sun warms your cheeks as you walk the cobblestone.
You'll definitely have a more local vibe if you go during a shoulder season and possibly less people, but you very well may not have the best weather.
Christmas
Like I mentioned above, combining the things to do in Freiburg and the Christmas Market is a fantastic excuse to make your way into Freiburg. In fact, if you are willing to skip a few of the things like the Schlossberg, then I would argue that a great use of your time would be to spend the morning in Freiburg and then hop over to the Strasbourg Noel (Christmas) Market for a perfect Christmas Market day!
Summer
If you want the laid back, wandering, chill vibes that the city has to offer, then definitely consider going in the summer. That way, you can head up to the Schlossberg in the evenings for the perfect sunset while sipping a beer, sit out at one of the many cafes for a morning coffee, enjoy an outdoor terrace eating a Schnitzel for lunch, and watch the kids playing in the Bächle to cool off from the heat!