[This post may contain affiliate links where we earn a small commission. Please see our disclosure for more information and thank you for supporting our site so we can continue to bring you awesome content for your travel inspiration!]
Let's just get one thing clear before we start. Rothenburg ob der Tauber is anything but "Off the Beaten Path" Germany. It is far from a "hidden gem." In fact, it oftentimes feels like there are more tourists than locals (it's sometimes even lovingly called the "Disneyland of Germany.")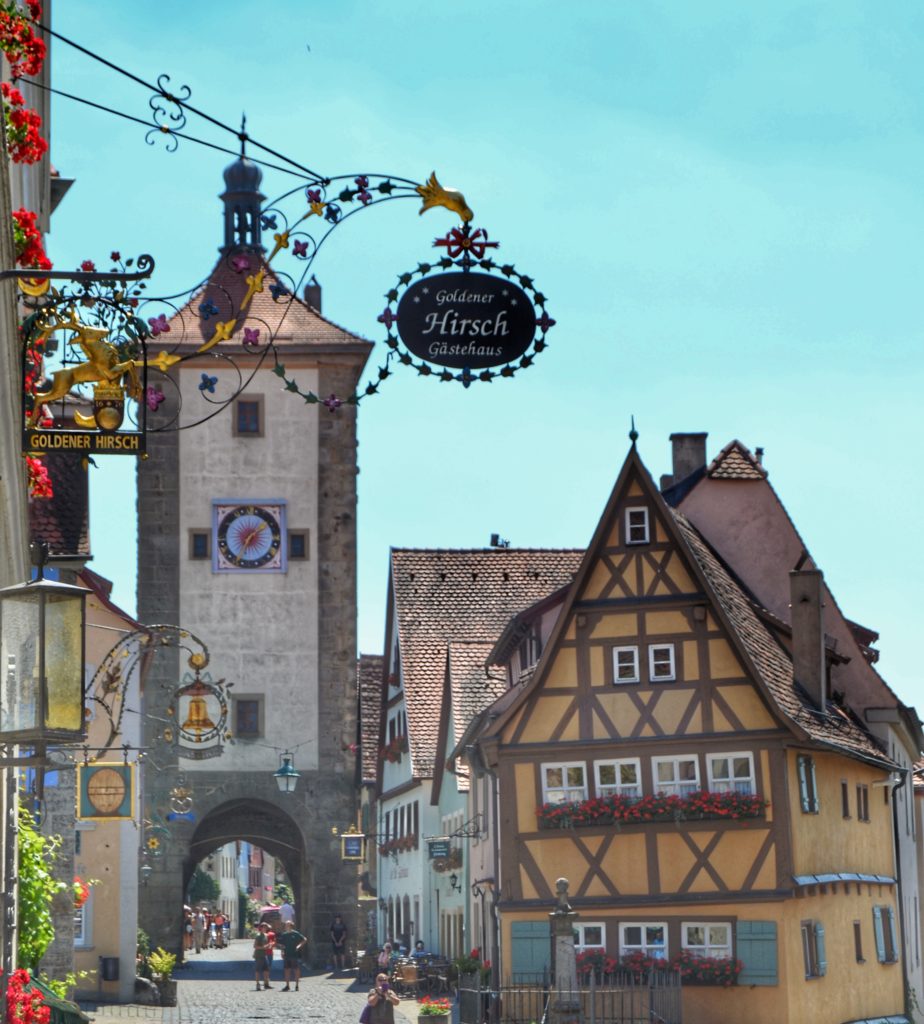 And yet, I somehow still love this medieval village. It probably captured my attention the same way that it attracts hundreds of thousands of visators a year. It's got the half timbered houses, the cute cobblestone streets, little shops to go window shopping in, and is still considered one of the best preserved medieval towns in Europe. But…with that comes plenty of other people.
So, the question I often get in my Travel in Bavaria Facebook group is, "Is Rothenburg worth it." And despite me usually preferring roads less traveled, I still say yes. I especially say yes if this is your first trip to Germany and are looking for those stereotypical most beautiful "German Villages." In this case, there is no shame in the game in adding Rothenburg to your itinerary.
Other Articles You May Find Helpful:
Getting To Rothenburg
What is on the rest of your itinerary is going to depend on if it is best to use a car or take a train to Rothenburg. For example, if you are coming from Frankfurt and are heading to Bavaria, you can easily use the trains. Additionally, if you are just doing some great day trips from Nuremberg, it's also worth checking out the train to Rothenburg.
Alternatively, if you are making it a part of your Germany road trip, or are, for example,taking the Romantic Road down to Neuschwanstein and want some more flexibility to your schedule, then a car is ideal.
Getting to Rothenburg
| From | By Train | By Car |
| --- | --- | --- |
| Frankfurt | 3.25 (With at least 3 connections) | 2 Hours |
| Munich | 2.5-3.5 Hours (with 2-3 connections) | 2.75 Hours |
| Nuremberg | 1.25 -2 Hours (with 2 connections) | 1.25 Hours |
| | | |
Rothenburg ob der Tauber Parking
As this is a medieval walled city, most of the tourist parking is going to be outside the walls, with a short walk into the Altstadt.
Public Parking
If you follow signs to P3 and P4, those are good, close parking lots to the walled city. However, if you are not arriving in the morning, do expect them to fill up. These will cost about 5 Euro/ Day
Train Station Parking
Another option if you are ok with walking just a little bit is to go to the Kaufland (store) near the train station, which is about a 10-minute walk to the walls.
Tip: If you are staying at a hotel in the city, many of them will offer parking, so check on this.
Where is Rothenburg Germany Located?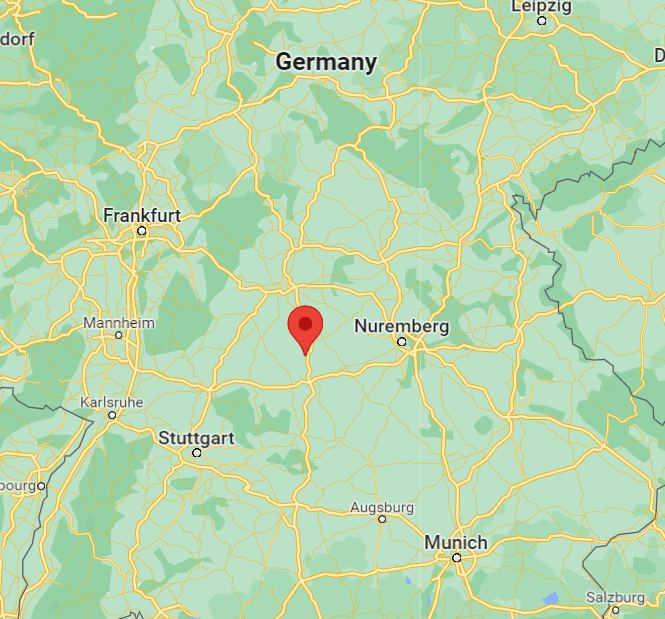 Aha. Good question. Because FUN FACT: There is more than one Rothenburg in Germany! Therefore, if you are driving, or even taking a train, be sure you are going to Rothenburg OB DER TAUBER!
Rothenburg Ob Der Tauber is located in central, southern Germany in the state of Bavaria and is just a few hours from Munich, Nuremberg, as well as Frankfurt, making it quite easy to get to.
Tips For Rothenburg ob der Tauber Sightseeing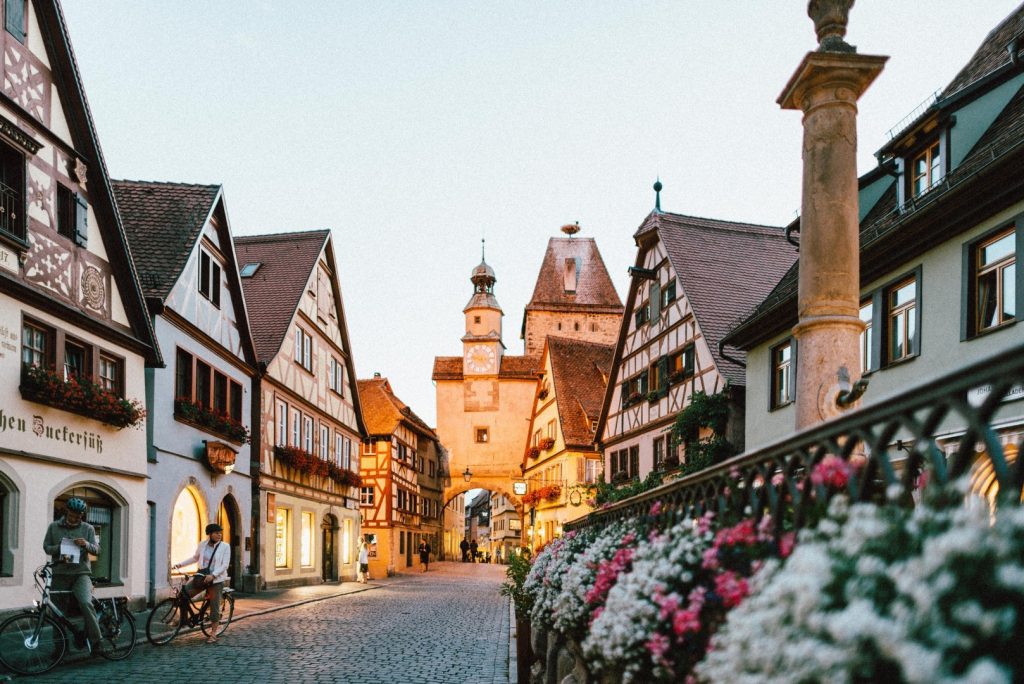 Go in the mornings and on weekdays
I know I've already said this, but it is just that important to set your expectations realistically: you aren't going to have those cobblestone streets to yourself.
Some people are vying for that perfect photo of the Plönlein Platz (you know, THAT photo that everyone sees and just knows, "Ah, that's Germany!!" ) If you want a photo without plenty of other tourists also pointing their camera, you can either wake up at the crack of dawn before the bus tours get shuttled in, or, alternatively, late in the evening (during the summer) when again, a lot of the day trippers have left.
Book Accommodation Early
If you are wanting to stay in town, you'll want to book your hotels in Rothenburg early. It is a smaller village, so even though its main money maker is tourism, you are still limited on hotels. If you are a budget traveler, it's even more important to book ahead.
Rothenburg is Made For Wandering
This site isn't called WANDER in Germany for no reason! While I give you some of the best Rothenburg attractions to visit below, Rothenburg has a bit more of a special feel when you just stumble upon things yourself. It is such a small town (and is walled off by the medieval wall, so you know you can't get TOO lost!) which makes it perfect for just aimless wandering if that is your style.
Shoulder Season Is Best For Visiting Rothenburg
I know it's not always possible, but shoulder seasons are actually my most suggested Best Times to Visit Germany, and Rothenburg is no exception. You will never have this village all to yourself, but if you are there in the summer (especially August) just expect it to be veeeery crowded. Christmas time is equally as packed with the Christmas Market. However, times like October and March can be wonderful (pending weather in Germany!)
Top Things to do in Rothenburg in 1 Day
Instead of creating a "listicle"of Rothenburg things to do, I thought it would be even more helpful to create a 1 Day in Rothenburg Itinerary that includes all the "Must Sees." I personally feel like 1 day is plenty, but you can stretch it out to two. Obviously, feel free to re-arrange, or just use "as is."
The way I wrote this, you should be able to walk from one location directly to the next. If you have a smartphone, you can easily just put in the next stop in your phone for the exact walking directions, or grab a map at the TI in the Marketplatz. Either way, from one bullet point to the next, it is only a few minutes walk each time and this will lead you in an efficient route around the town.
Arrive Early
You'll want to get a head start on your day. But this isn't some secret tip. Everyone else has been told to "Arrive as early as possible" so don't think you are going to get the town to yourself. However, if you are driving, this probably will mean that you at least will have better parking options.
Alternatively, some people choose to spend the night before so that they can wake up, walk out, and get a head of the bus tours that will be arriving shortly.
Start in The Altstadt
Start by getting to the main square in the Altstadt.
Enjoy the Marketplatz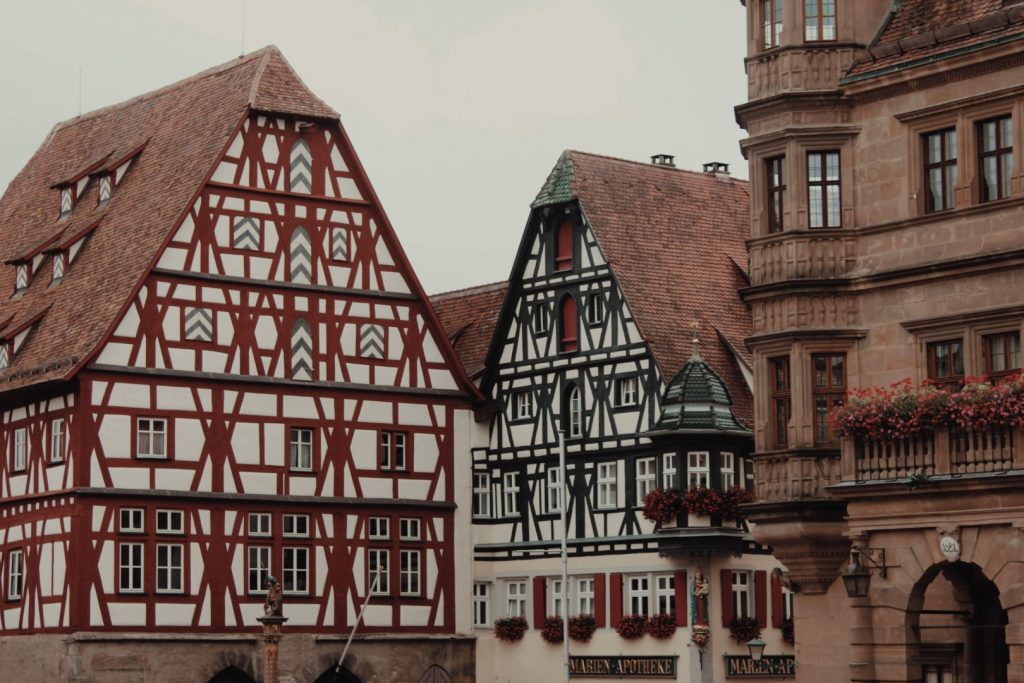 Do a 360 and just take some time to walk around the whole square. Instead of DOING anything during this time, just soak it all in. You are in quintessential Germany here, my friend! Things to be on the lookout for in the Marketplatz
St. Georgsbrunnen Fountain
Old mansions of the rich lining the square
Beautiful facades of all the buildings
Tip: If you need the Tourist Information office, this is also where you'll find it.
Town Hall (Rathaus)
You can't miss the towering Town Hall in the Marketplatz
Circle Around The Town Hall
After soaking it all in for a bit, if you are looking directly at the Rathaus, then head to your right to the Grüner Markt (street).
Tip: At the end of this street there is a public bathroom you can use.
Turn left at the end of the road, which will lead you to Hernngasse. If you take a left, then you will have circled the Rathaus.
There really isn't anything super magical about this loop, but it is just fun to wander around town like Rothenburg!!!
Walk to St. Jakob's Church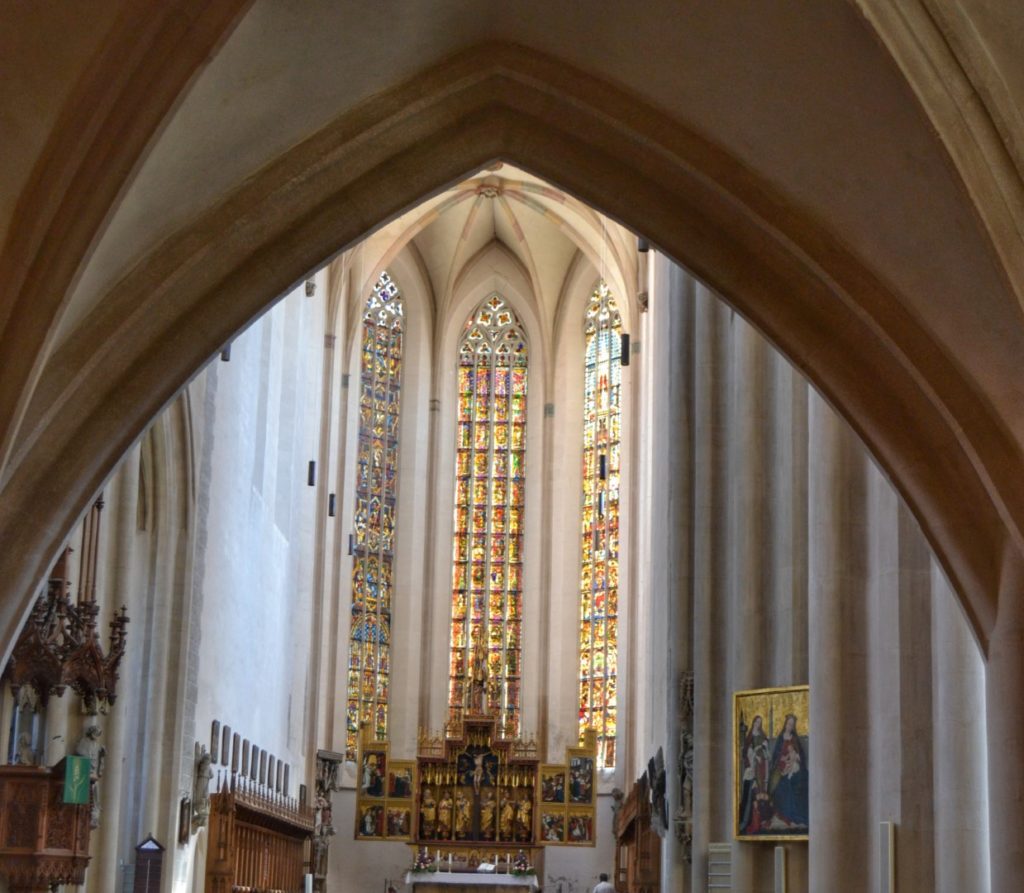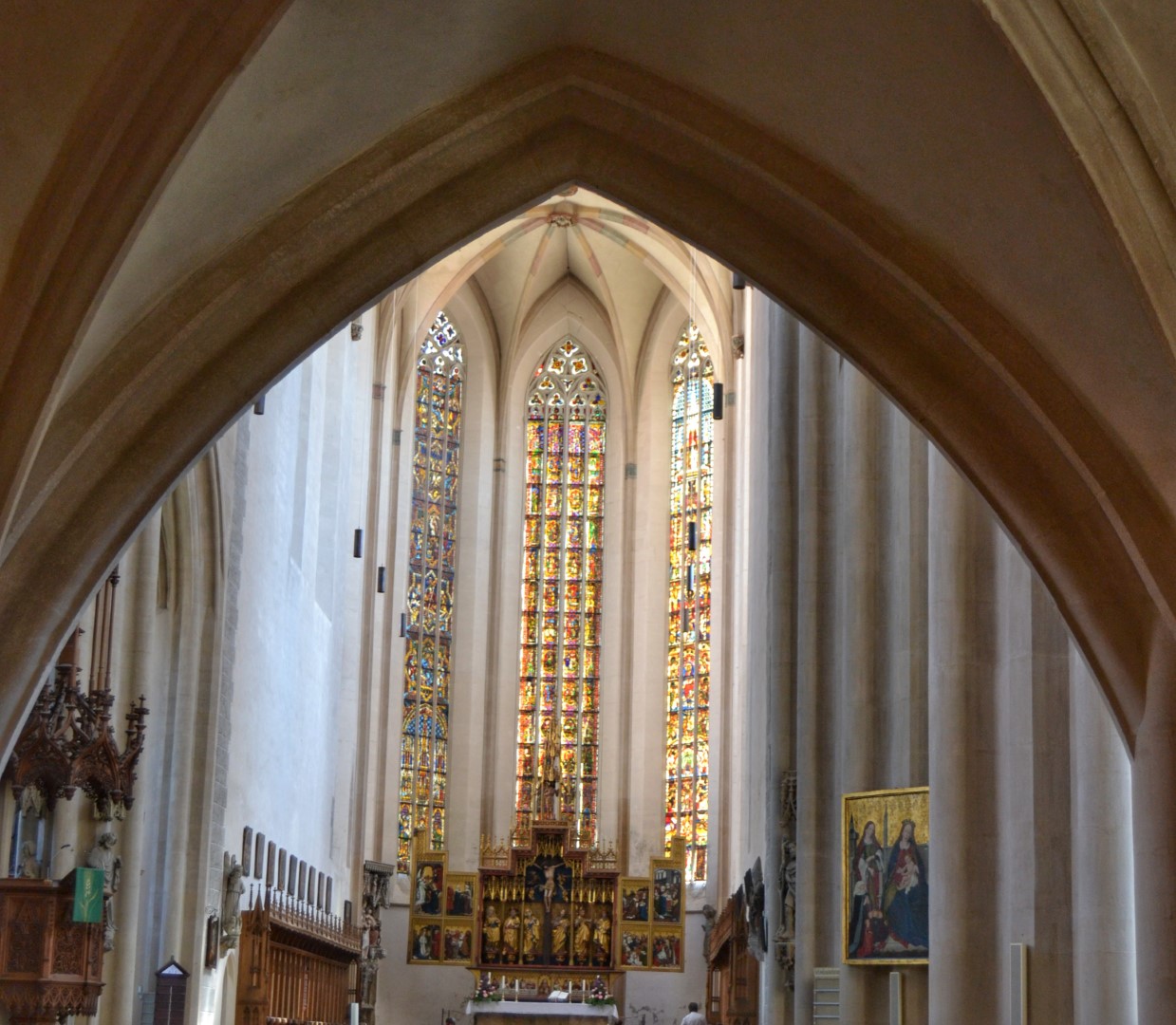 If you want to skip the loop around the Town Hall, feel free, and instead when you get to the Grüner Markt (street), follow it to the right (instead of turning to the left) which will lead to Kirchplatz (street).
I've actually found this church's name to be slightly confusing. Its patron saint is actually St. James….not Jakob?? But, I've never been one to truly understand the German language anyway!
There is a small entrance fee to enter the church, but for a few bucks, it's not a big deal to donate it and head inside. Take some time to just soak in the architecture and designs of the exterior before going inside. It's really quite beautiful both in and outside.
The Altar: Inside St. Jakob's is a popular altar that many people like to come in and appreciate. It's almost more of a piece of artwork rather than a typical altarpiece.
Pipe Organ Concert: There are over 100 pipe organ concerts each year. When you stop at the St. Jakob's church, see if there is one when you are in town. If so, it is a beautiful way to spend a few hours!
Altar of the Holy Blood: Take the stairs that are behind the organ and you'll find another chapel-like room. There is a carved, wooden altarpiece up here and is often renowned as one of the most impressive wooden carvings in all of Germany. But what makes it more "popular" is that in the center of the piece is what people claim is a drop of Jesus' blood. Obviously, Christians and Catholics love coming to this holy shrine.
Cost: €2.50 for Church Admission
Tip: If it is Saturday, you can come here at 3:30pm for a free, English guided tour. If you are there on other days, inquire about renting the audio guide on your own.
Go Down Klingenngasse
Outside of the church, find the passageway of "Klingengasse" and head into it until you get to Klosterhof and then turn left to go towards the Imperial City Museum
Tour the Imperial City Museum
This former convent, now a museum, is great if you are interested in the history of Rothenburg or even just medieval history in general. If you are into medieval weaponry like spears, armor, etc then this museum would be of interest to you. You can even see a set of Marie Antoinette's hunting gear! Another interesting room in the museum is a kitchen dating back to the 1200s!
If all of that sounds intriguing to you, then, by all means, go through the museum. However, I will admit that it didn't do a ton for me personally, especially with the Medieval Tortue Museum as another option for later on in the day.
Hours: Daily 9:30am–5:30pm
Meander Through the Convent Garden
Whether or not you did the museum, instead of taking the road to the next stop, see if you can dip into the Convent Garden (it's not always open). It is a nice little area to just walk through on the way to the next stop.
Stand Under the Burg Tor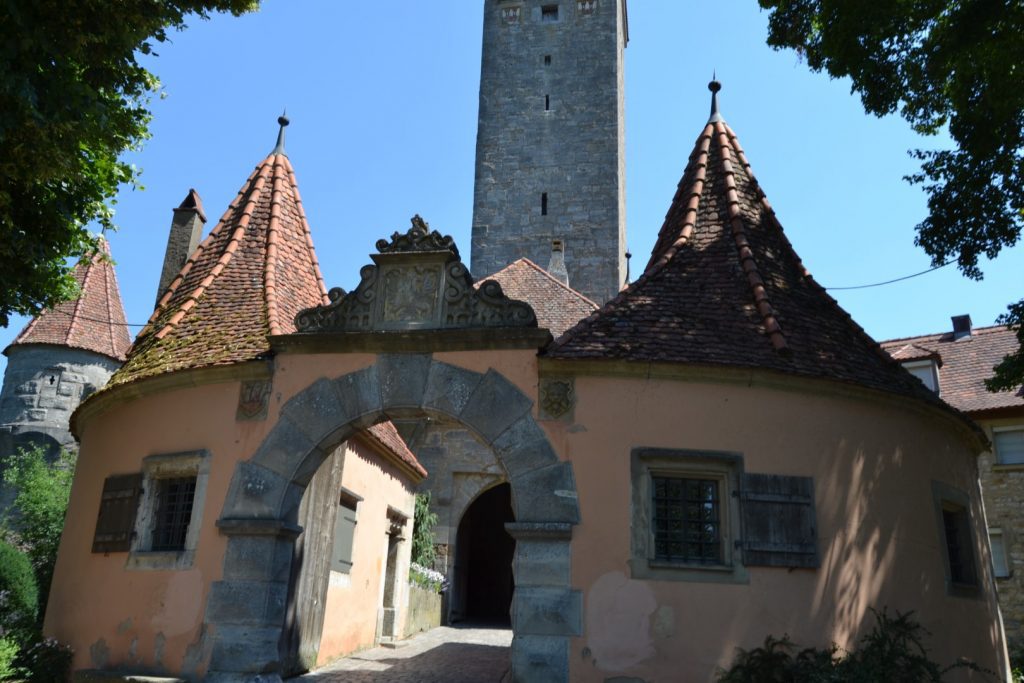 Next, you'll walk through the Burg Tor (Castle Tower). After you walk under the tower, be sure to turn around and look at it from an angle from within the garden. This is a classic Rothenburg Photo Op!
Slow Down in the Castle Garden
While there is no castle anymore (RotenBURG- Rot= "Red" and Burg is "Castle" in German), the beautiful gardens still remain.
Many people claim that this has some of Rothenburg's most beautiful viewpoints, and I agree. You can look out over the beautiful Bavarian countryside as well as get a glance at those classic German red rooftops.
Take some time to just meander for a bit here, look into the little chapel, and take in the views.
Follow the path around the garden and come out again on Herrngasse
This street is worth a slow saunter down, if for nothing else to gape at the beautiful homes along the way.
Browse the Käthe Wohlfahrt Christmas Shop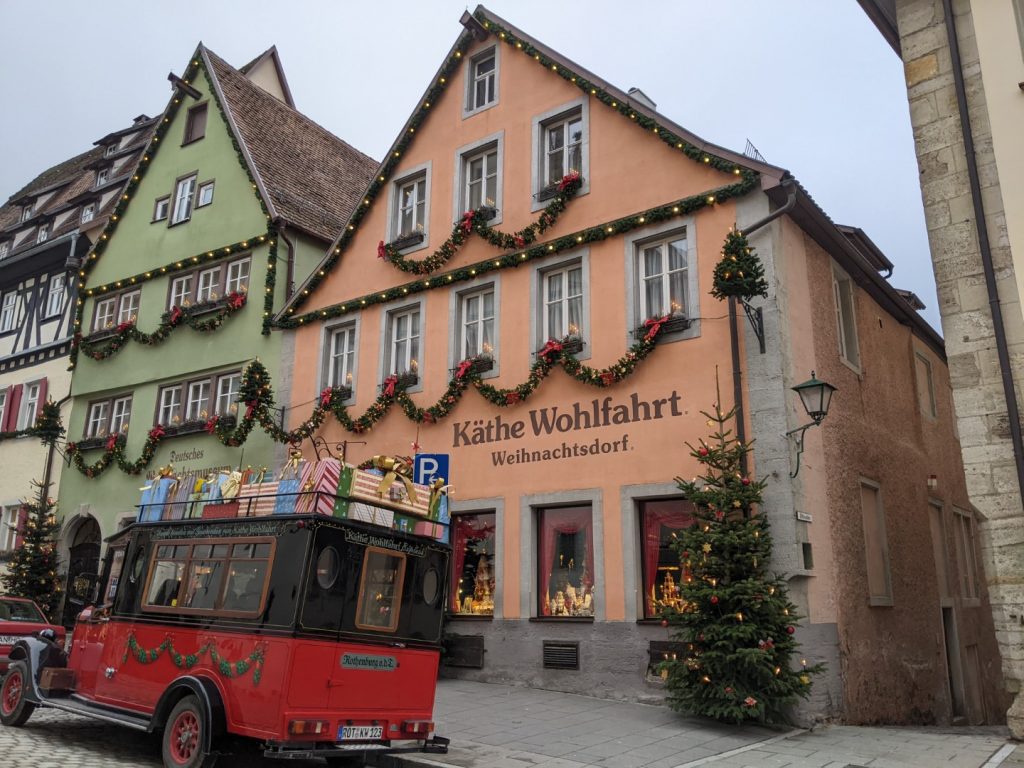 Next up is the famous, Rothenburg Käthe Wohlfahrt Christmas Store. As flooded with tourists as it may be, it is just one of those "musts" when in Rothenburg, even if you stop in just for a few minutes.
In this Rothenburg Christmas store, it is Christmas every single day of the year (Which is just one reason why Rothenburg is called called "The Christmas Village., or Weihnachtsdorf")
If you are wanting a fun German Souvenir, getting a Christmas ornament from "THE Rothenburg Christmas shop" is a fun little trinket both for yourself and for others. There are plenty of great ornaments like German pretzels, scenes of Rothenburg, etc that are great as memorabilia. However, the brand of Käthe Wohlfahrt is mass-produced and arguably overpriced. However, if you are not doing a Germany Christmas Markets tour/visit, then I can still see the appeal in buying something here.
Pop Into the Rothenburg Christmas Museum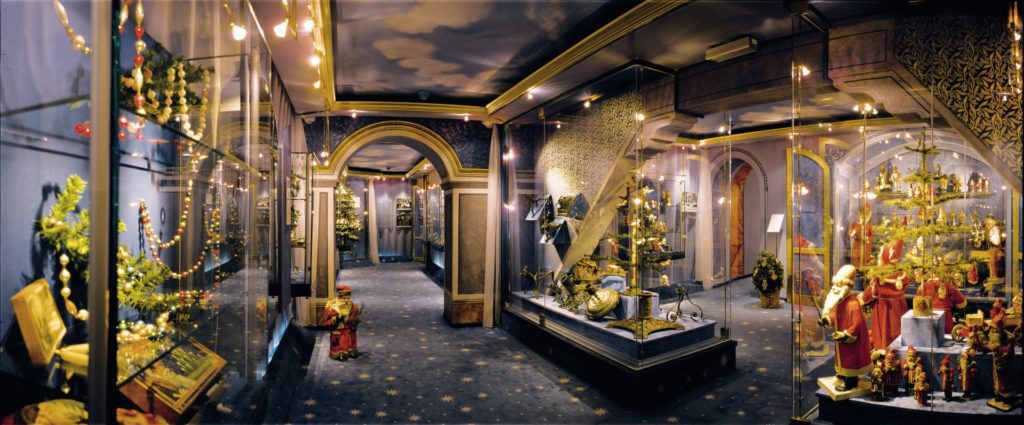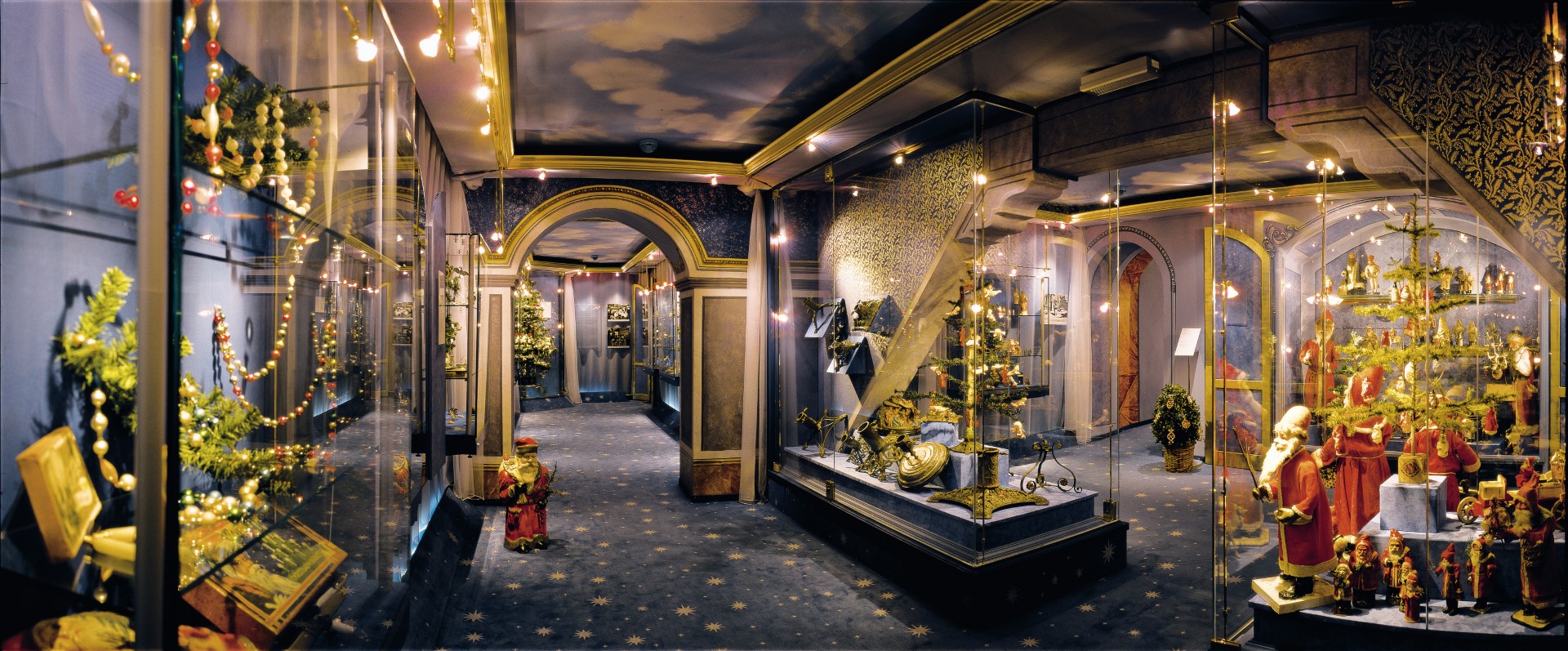 This German Christmas Museum is all things well, Christmas in Germany, of course! It is directly above the Käthe Wohlfahrt Christmas Store. You'll find German traditions mostly from the 19th and 20th centuries, beautiful decorations, and more. There is information in plenty of languages, including English.
If you love Christmas, particularly the history of the Christmas in Germany, this is a nice little addition to the Rothenburg Christmas Store, but it is small and if those things don't interest you, it's honestly ok to skip and you won't feel like you missed out on too much.
Note: It is free to go to the Christmas STORE, but the museum does have an admission.
Käthe Wohlfahrt Christmas Village Museum Costs:
Adults: €5
Children (6-11 years): €2
Family Ticket (2 adults with children under 14 years old): €11 per family
Stop at the St. George Fountain
Leaving the Käthe Wohlfahrt store, keep going down Herrngasse until you are pretty much back at the Marketplatz. If you haven't already looked at the "Georgsbrunnen" then do a quick stop as you continue on. This fountain was decorated in the early 1600s! It was originally used as one of the primary drinking fountains in the town.
Mozey Down Obere Schmiedgasse
From the fountain, walk just a minute more until Obere Schmiedgasse and turn right to head down this very popular (aka touristy) street lined with plenty of great window shopping opportunities.
On this road, you'll find the beautiful "Baumeister Haus" right at the beginning. Continue walking down and you'll be impressed with all of the souvenir shops, wood carvings galore, delicious meat counters, and the famous Schneeballin! (We'll talk more about that further below in what foods you need to eat while in Rothenburg)
Finally, you'll make it to
Das Plönlein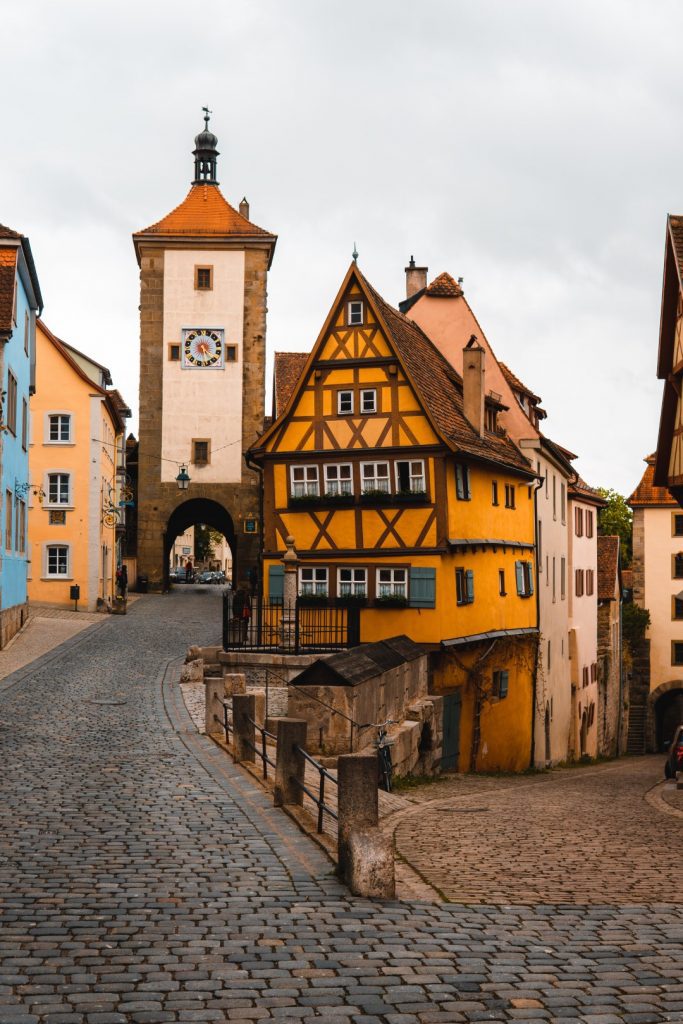 This just might be one of the most photographed spots in all of Germany. It just SCREAMS picture perfect Germany!!! Believe it or not, you can manage to take some halfway decent photos on this corner if you are patient enough. Otherwise, just be prepared for plenty of others to be in your pictures. If you are desperate for some stunning photos here, the best times are basically right at day break and again, in the evening after a lot of the day trippers have left.
There really isn't anything to "do" here, other than just soak in the beauty of Germany's romantic towns! In the winter, there are often barrels set up to stand along and sip your Gluhwein, making it a wonderful place to stop at.
Other Things to Do in Rothenburg Germany
Climb the Medieval Walls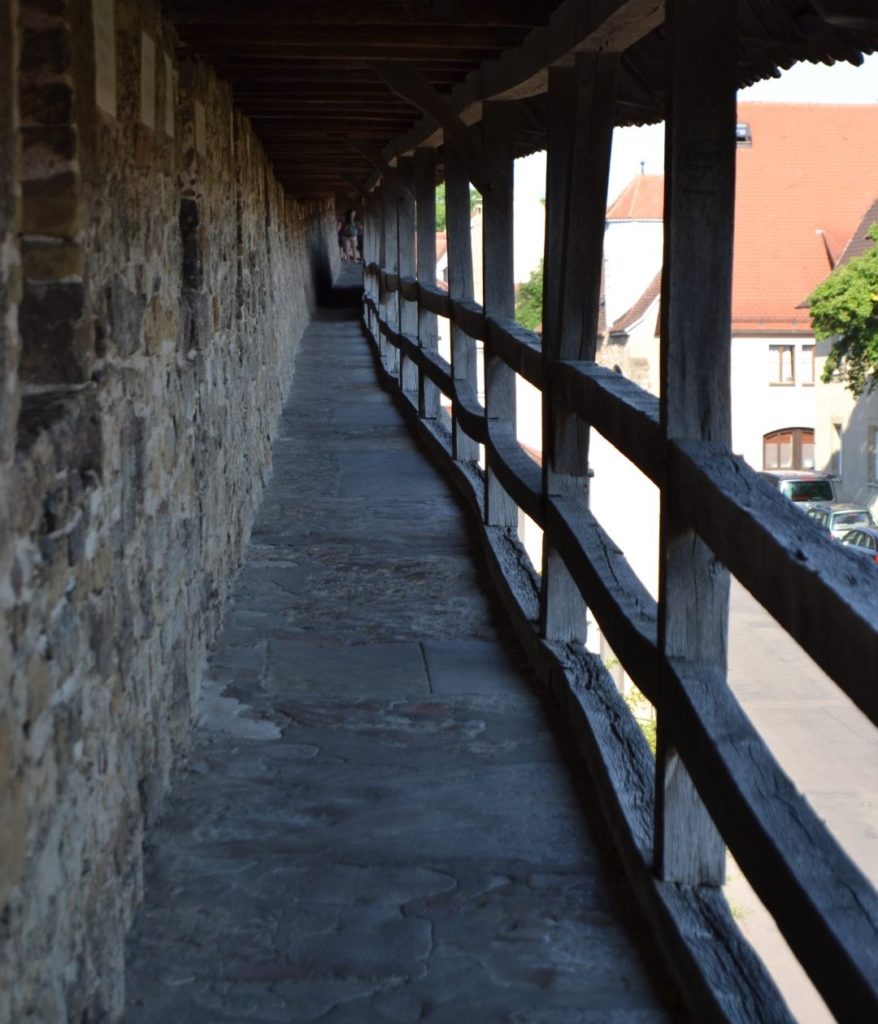 Taking a walk around the old City Wall is by far is a must on your Rothenburg ob der Tauber Things to Do list! However, I don't have this as a set thing to do at any particular juncture in the day because you can literally climb up into the Medieval Walls at any time! Remember, you are in one of Germany's best preserved medieval towns! The old, old, wall is still very much intact and preserved, allowing for tourists to actually still make the whole loop around the walled city!
If you choose to do the full circle around the whole town, plan on about 2 to 3 hours. But even if you don't want to do that, you should climb up and wander for as long as your heart desires. Don't worry about starting and stopping points, just enjoy!
Venture into the Medieval Crime Museum
After all the picture perfect stops, the "Rothenburg Torture Chamber" is probably one of the most famous and popular things to do in Rothenburg ob der Tauber, Germany.
This quirky, strange, and possibly terrifying (to think about what some of the tools were used for) museum is truly fascinating to see what life really was once like, particularly during the middle ages. Let's just say that I am thankful to be alive in the times that we are!!!
Address: Burggasse 3-5, 91541 Rothenburg ob der Tauber
Hours: Daily 10am-6pm
Night Watchman's Tour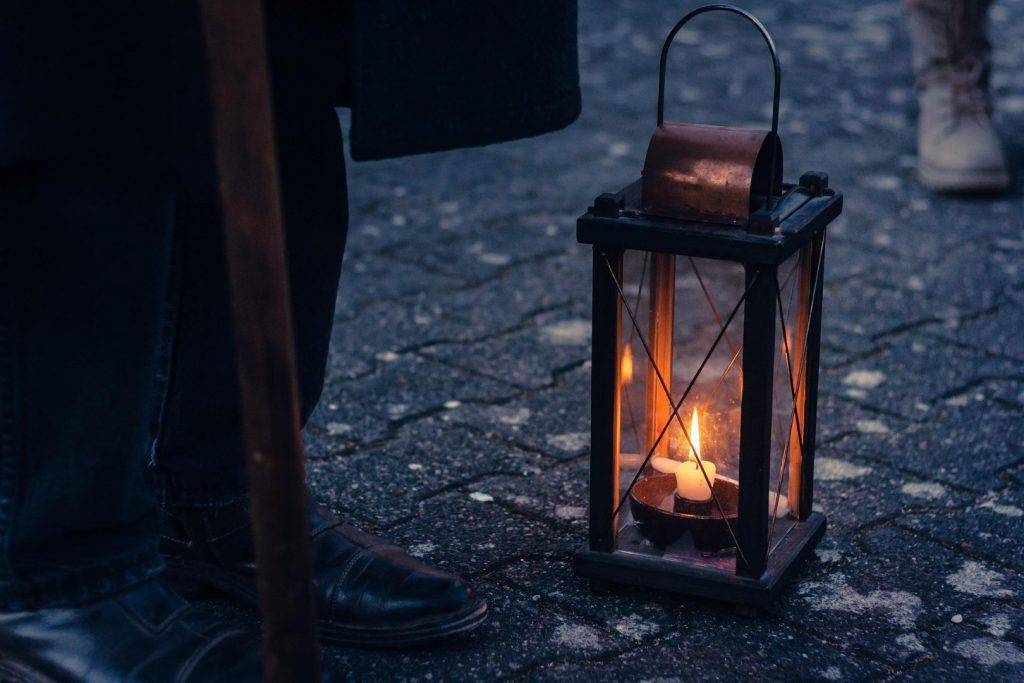 If you are staying the night in town, I highly recommend taking the famous Rothenburg Nightwatchmen's Tour. Taking this 45 minute tour (starting at 8pm at the Martetplatz) will have you stepping back into medieval times and is both educational and fun for all ages. The guide walks you through the city and transports you back to the antiquated, quirky, weird, and sometimes even gross dark ages!
Night Watchman's Tour Cost
Adults: €9 Euro
Students: €4.50 Euro
Kids 12/Under: Free
No reservations are required but you can email them with further questions: [email protected]
Foods To Eat in Rothenburg
Rothenburg Schneeballen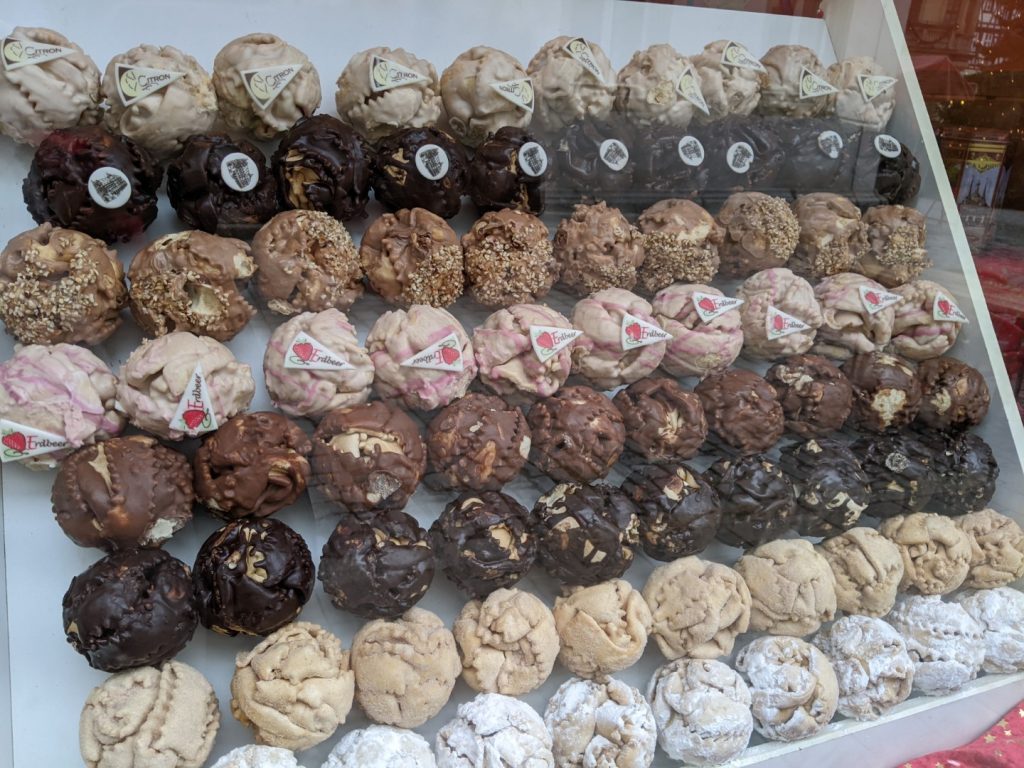 Whether it's actually Christmas in Rothenburg or Christmas in July, you'll find the Rothenburg "Snowball" in any season! They almost taste like a pie crust dough and is formed into a ball and then lightly coated with powdered sugar. But if that seems too boring for you, why not try a different flavor, like a strawberry jam filled Schneeball, chocolate covered, or a nutty snowball. You can even get variety packs to try out several!
Just remember, Germans don't really do "sweets" the way Americans do. These aren't going to be overly sugary, so many Americans say they are actually quite bland tasting. However, can you say you've been to Rothenburg without having a Schneeballen!?
Maultaschen
These are just one of the many recommended foods to eat in Germany, and since Rothenburg is right by Swabia, the region of Germany where Maultauschen are from, you are sure to find a few good ones here.
These ravioli styled pockets of deliciousness are made from a noodle that is rolled out and then filled with an amazing savory pork blend and some spinach. My favorite is the kind that is then lightly fried in a little butter and then topped with caramelized onions. YUM!!!
Bavarian Food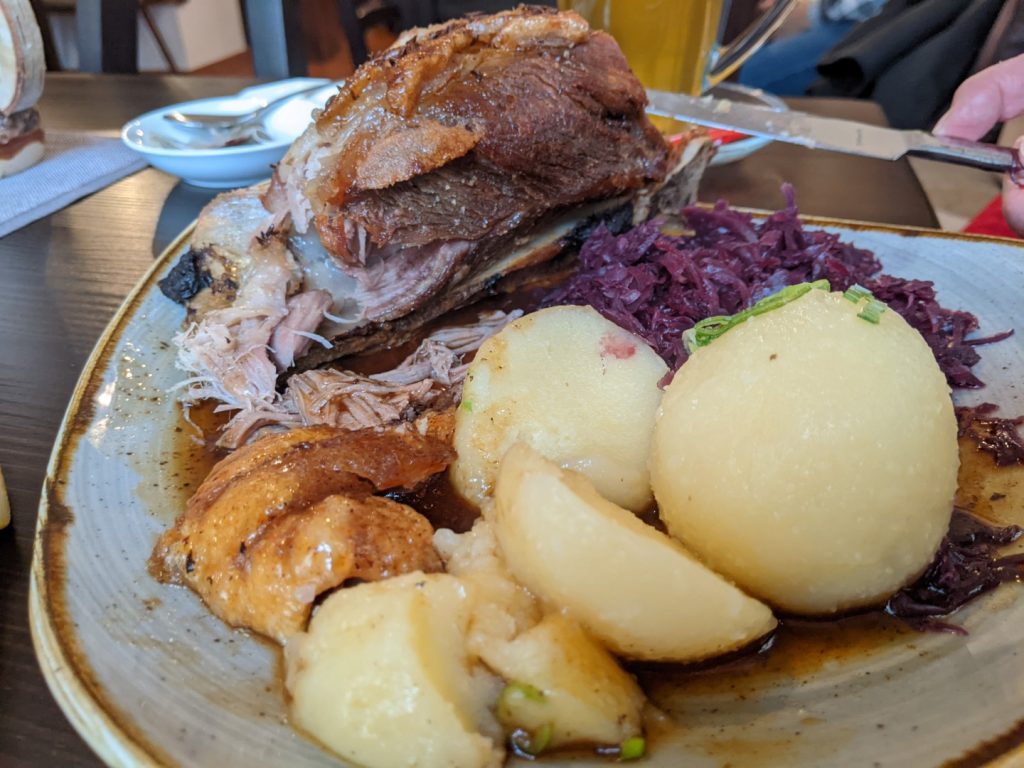 While Rothenburg is in the region of Franconia, it is still technically in the State of Bavaria. Bavarian food is soul food at its finest. Wonderfully tender, juicy meats in particular are always a great choice! Rothenburg Bayern food is no acception!
Other Important Rothenburg Information
Getting Into Rothenburg
Depending on what else is on your itinerary or where you are coming from, Rothenburg will most likely not be your first stop. If you are just flying in, you will probably have landed in Nuremberg (from within Europe), Munich International, or Frankfurt. From those airports, you can drive or take the train
By Car
While I absolutely LOVE the trains in Germany, despite Rothenburg ob der Tauber being one of the most touristy towns in the country, it is still not the easiest to get to by rail and typically contains at least a few transfers. That's why I just suggest having a car to get into town, especially if you are just doing a Rothenburg day trip.
Driving in Germany is actually really easy, despite many misconceptions, and this way you can even create a really wonderful Germany road trip, like doing theRomantic Road from Rothenburg down to Neuschwanstein Castle.
Parking: Use my parking tips from the beginning of this article to help you plan where you park your car, as it is a nightmare to try to actually drive within the city walls.
By Train
Depending on where you are coming from, you can absolutely take the train to Rothenburg ob der Tauber, albeit with just a bit of planning and understanding of the German trains/ connections.
If you are coming from within Bavaria, then I highly recommend saving some money with the Bayern Train Pass.
Most likely, if you are coming from one of the cities I mentioned above, then you'll transfer (at least) in Steinach (Rothenburg ob der Tauber). For example, if coming in from Munich, you would transfer at both Nuremberg and Steinach before arriving at Rothenburg ob der Tauber.
Once you get to the Rothenburg ob der Tauber Train Station, it's a 10 minute walk to the city walls.
Important: Munich to Rothenburg Train
If you are taking the train to Rothenburg from Munich, know that the fastest route is going to be on a highspeed ICE or IC train (read all about the different trains in my Complete Deutsche Bahn Train Guide) which are NOT covered on the Bayern Pass! Therefore, those tickets are going to be substantially more expensive.
If you want to save money using the Bayern Pass, you can only travel on Regional Trains (typically noted by RE or RB on Google or Bahn.com) and that journey will take about 3.5 hours compared to the 2 hours if you buy a normal ticket and use the ICE train.
Pro Tip: While many people do a Munich to Rothenburg day trip, I highly suggest making it one of your Nuremberg Day Trips instead! While it still takes 2 changes of trains, you can get there in less than 1.5 hours from Nuremberg.
Read My 30+ Day Trips from Munich Suggestions
Rothenburg ob der Tauber Hotels: Where to Stay in Rothenburg
Rothenburg ob der Tauber Tourist Info and FAQs:
How Many Days For Rothenburg ob der Tauber/ How much time do you need in Rothenburg ob der Tauber?
You can easily do one day in Rothenburg, arguably even in a few hours if you are especially tight on time. However, with just a half day, even if you can "knock out all the sights" one of the things that makes Rothenburg good is the ability to slow down here and just wander slowly through the cobblestone streets instead of zipping through.
If your schedule allows, I suggest planning in a full day and one night. This way, you can do the night tours and enjoy the town without all the day trippers swarming the town squares.
Is A Rothenburg Day Trip from Munich Worth It?
Rothenburg is very touristy, but for most first timers to Germany, it is still very worthwhile. If a day trip from Munich is your only option, then yes, it is still worth it (but it will be a long day including transportation back and forth). Alternatively, a Nuremberg to Rothenburg day trip is much more feasible and easier to do.
Is Rothenburg on the Romantic Road?
Yes. Rothenburg ob der Tauber is one of the most popular towns along the German Romantic Road route, which starts in würzburg and ends in Füssen (by the Neuschwanstein Castle)
Is Rothenburg ob der Tauber open on Sundays?
Bavaria is a very traditional German place in general. That means that in many towns and villages, many things will be closed on Sundays. Luckily for travelers, the town's main money makers are the tourists. So, most of the main Rothenburg Germany tourist attractions, like the Torture Museum, Imperial Museum, Käthe Wohlfahrt Store, etc are all actually open daily, and that includes Sundays.
While some of the more "traditional" stores may be closed, almost all the souvenir shops will be open as well.
As for restaurants, again, while some may close on Sundays in Rothenburg, at least during high tourist seasons, you won't have a problem finding a place that is still open on Sundays.
What is there to do in Rothenburg at night?
One of the most popular things to do at night in Rothenburg is the Night Watchman's tour. However, other great things are to wait until all the tour buses are gone and enjoy the town squares with even less people.
Another great thing to do at night in Rothenburg is to find a great little place that serves up local, Franconian wines, like the Glocke Winery, and enjoy a wonderful glass of Vino in a picturesque setting!
What is Rothenburg Known For?
Being on the "Romantic Road" in Germany
Classic German town squares (such as the famous "Das Plönlein"
The Rothenburg Käthe Wohlfahrt Christmas Store
Schneeballen Desserts
The Original Night Watchman's Tour