[This post may contain affiliate links where we earn a small commission.  Please see our disclosure for more information and thank you for supporting our site so we can continue to bring you awesome content for your travel inspiration!]
Living in Bavaria myself, one of my favorite ways to get around Germany is by train. The train rides themselves are typically easy, pretty straightforward, gorgeous, almost always exactly on time (you know those Germans, even a minute late is a minute too late!) and gets you to even small villages and towns quite easily. This is precisely why I use the Deutsche Bahn Bayern Ticket all the time to great around Bavaria for a really affordable and reasonable price point….even when traveling with a group/family! (It can be used as a Group Ticket, after all!)
Sometimes, the hardest part of seeing Bavaria by train isn't the actual train ride itself…it's the purchasing German train tickets that feels utterly overwhelming and confusing! So much so, that I can totally understand why someone would say "Forget this…I'll just drive in Germany myself!" After all, while the Bahn.com website does have an English toggle option, the website as a whole can feel massive and hard to navigate if you don't know exactly what you are looking for. And while the DB Navigator App is great, if you aren't planning on using a cell phone in Germany (Data, etc) then it's not AS handy.
And we haven't even mentioned how to know what train ticket to even purchase for OUR specific journey! Afterall, the Bavaria Train Ticket is great but is it great for YOU and where YOU want to go (and when!)? And if you have kids??? Yeah…that adds a whole other confusing wrench into it all (why can't it just be straight forward!?)
So even though the Bayern Pass is FANTASTIC, there actually are quite a few nuances to it that you absolutely need to know before purchasing or you might find yourself in an unfortunate situation where your ticket isn't valid (and no, the conductor will NOT take pity on your "What? I'm a tourist that didn't know!" explanation (ask me how I know this!)
The good news is that despite it all being overwhelmingly confusing at first glance, once you get the whole picture of it all, then it's actually a great option to fully utilize if you plan on doing a lot of sightseeing within Bayern (for example, it's fantastic for day trips in Bavaria!). So, just hang in there with me through this whole guide until the end so that you've hit on all the silly little details and fine prints and by the time you finish, you should feel confident in both understanding what the heck the Bayern Ticket even is but also how to use it (and NOT use it) and how to buy it!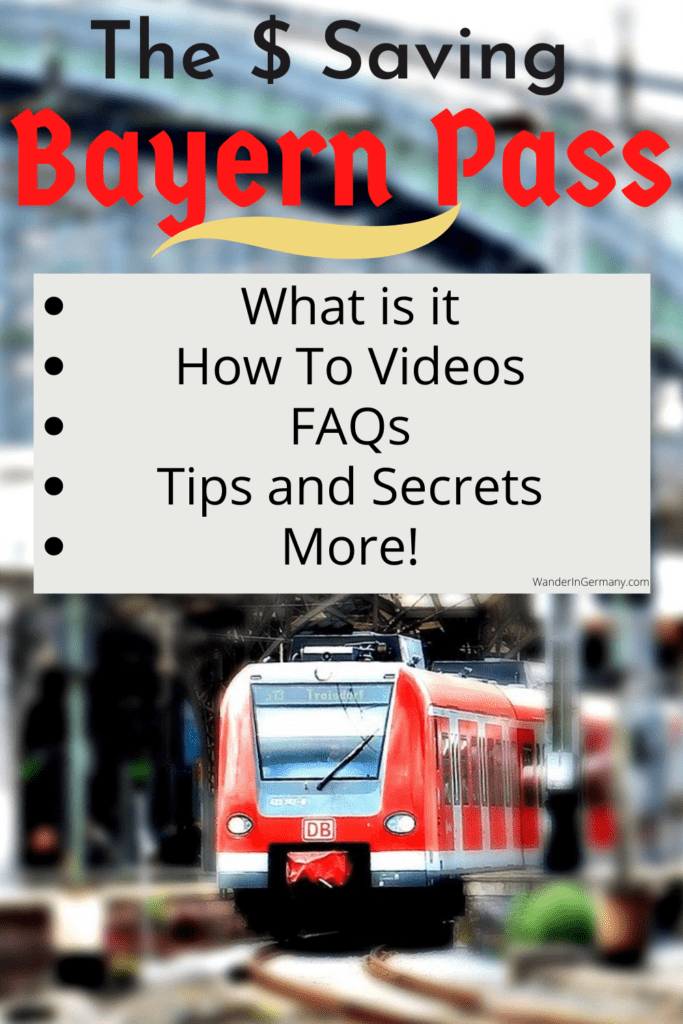 You Might Also Be Interested In Reading

🚂 WIG Train Guides
– Ultimate Guide to Understanding Germany Trains
– How to Buy Deutsche Bahn Train Tickets

Day Trips in Bavaria
– 30 Day Trips From Munich
– 20+ Day Trips from Nuremburg
– Munich to Neuschwanstein Day Trip (Step by Step)

What is The Bavaria Train Ticket and Why is it so valuable?
The Deutsche Bahn Bayern Pass is the regional day ticket for Bavaria.
Ok. Doesn't sound that appealing yet, right? Let's dig in.
It is a day pass that is good from 9am-3am the following morning. If it is the weekend or a public holiday, then you can start using the Bayern ticket at any time in the morning.
Can be used on almost all public transportation (yup, regional trains*, S-Bahns, U-Bahns, trams, buses).
It gives UNLIMITED travel on most public transportation systems.* (Yup, that includes regional trains*, S-Bahns, U-Bahns, trams, buses). There are a few nuances to this, but I'll cover those in detail as you continue reading. Don't worry, they aren't deal breakers and are pretty easy to understand once you know them.
You can have up to 5 people on one Bavaria Card! (Ahem, big money saver!)
Bavaria Train Pass
Can Be Used On
NOT Valid On
# of People
Times Valid
Great For
Not Ideal For
– REGIONAL TRAINS ONLY! (Trains that start with "RE, RB, ALEX)
– Local transportation (Buses, Sbahns, Ubahns, trams)
-ICE, IC, EC Trains
– Overnight
(Basically any high speed trains)
1-5
**Mon-Friday:9am-3am the following day
-Weekends: Valid all day (starts at midnight)
– Flexible Schedules
– Staying within Bavaria only
– Slower travel
– Group travel
– Long distance journeys
– High Speed Train Routes
– If you need to leave before 9am (weekeday)
What Does the Bayern Ticket Cost?
As of the current writing, the Bayern Pass starts at 27 Euro for one person for unlimited day use. You then add 9 Euro per person for up to a total of 5 passengers per ticket. So, if you use the max number of people (5) then it is only 63 Euro for 5 people for the whole day for all public transportation!
There is also a Bayern Night Ticket (Also called the Bayern Nacht Ticket (Nacht="Night")). It has the same concept, just different times and slightly different prices, so I'll cover that more below.
As of the current writing, the Bayern Pass starts at 27 Euro for one person for unlimited day use. You then add 9 Euro per person for up to a total of 5 passengers per ticket. So, if you use the max number of people (5) then it is only 63 Euro for 5 people for the whole day for all public transportation!
There is also a Bayern Night Ticket (Also called the Bayern Nacht Ticket (Nacht="Night")). It has the same concept, just different times and slightly different prices, so I'll cover that more below.
| | | |
| --- | --- | --- |
| # of Passengers | Ticket Cost | Bayern Nacht Ticket |
| 1 | € 27 | €25 |
| 2 | € 36 | €31 |
| 3 | € 45 | €37 |
| 4 | € 54 | €43 |
| 5 | € 63 | €49 |
Price Saving Comparison Examples
Let's take a look at the savings in a little more detail. Let's look at two scenarios. I'll show you exactly how to know if the Bayern Ticket is better than normal tickets.
Let's say you are a small family with two adults and two children wanting to go to Nuremberg from Munich
You and a friend, spouse, or partner are backpacking Europe. You want to go from Munich to the Neuschwanstein Castle by train
Scenario One: Small Family
First, go to Bahn.com. When typing in the search criteria to get to Nuremberg, most of the results are showing €102!!! WHAT!?
Instead, if you have two adults and two children (over 5) then it would still just be €36 with the Bayern Ticker from Munich to Nuremberg! You can get a boat load of famous Nuremberg Lebkuchen (gingerbread) for that cost difference!!!
Note: If your kids are under 5, they do not count towards the number of passengers, so in this scenario, if you have kids under 5, the two adults would only be €36 for the Bayern Ticket. If your kids are 6-1

Scenario Two: 2 Adults going to Neuschwanstein
If you go straight to Bahn.com and input 2 adults from Munich to Fussen, it shows that it costs 56 Euro for both. Versus the 36 Euro it would cost if you just bought the Bayern Ticket. €20 saved!!! Think of all the German pretzels you could buy with €20!!! (By the way, I have a fantastic step by step guide on exactly how to get from Munich to Neuschwanstein by train!)

Where Does The Bayern Pass Go?
Anywhere in Bavaria!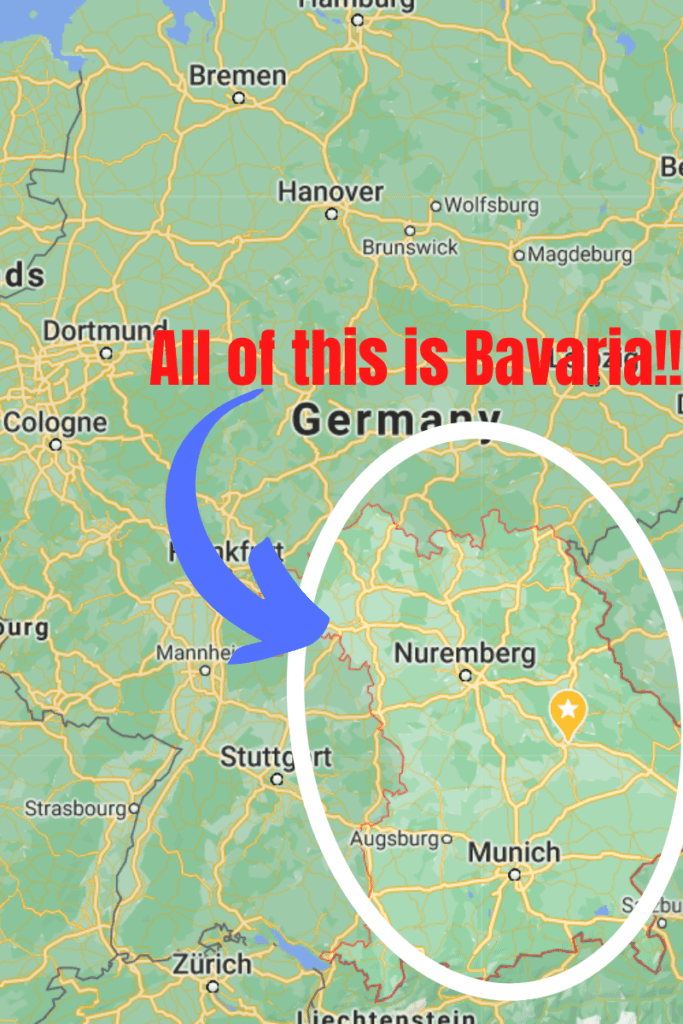 Like….ANYWHERE!
Don't over-complicate this. Just take a look at a map, and if where you are wanting to go is in Bavaria (Bayern) then you can use the pass for that destination and within that destination on things like public buses.
So, for example, get to and around popular places like Munich, Regensburg, Rothenburg Am Tauber, Garmisch(and the tallest mountain in Germany, the Zugspitz), and even Salzburg. No, you don't need to pull out a map, you are correct, Salzburg is not in Bavaria. Shoot, it's not even in Germany, but it IS included on the Bayern Pass, sooooo score!
Looking for fantastic Day Trips in Bavaria to use the Bayern Card? Here are some more articles you may enjoy:
Specifics and Logistics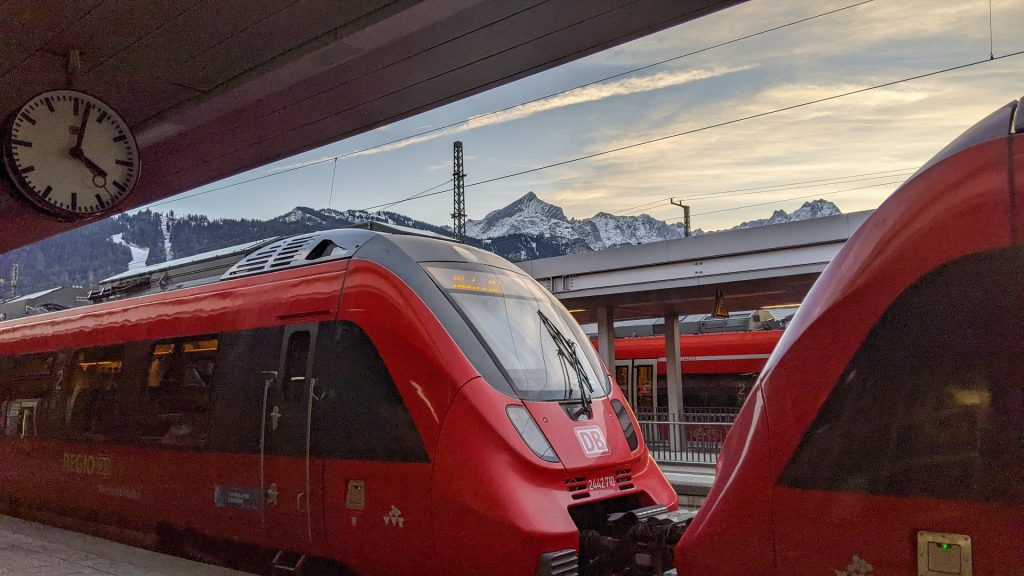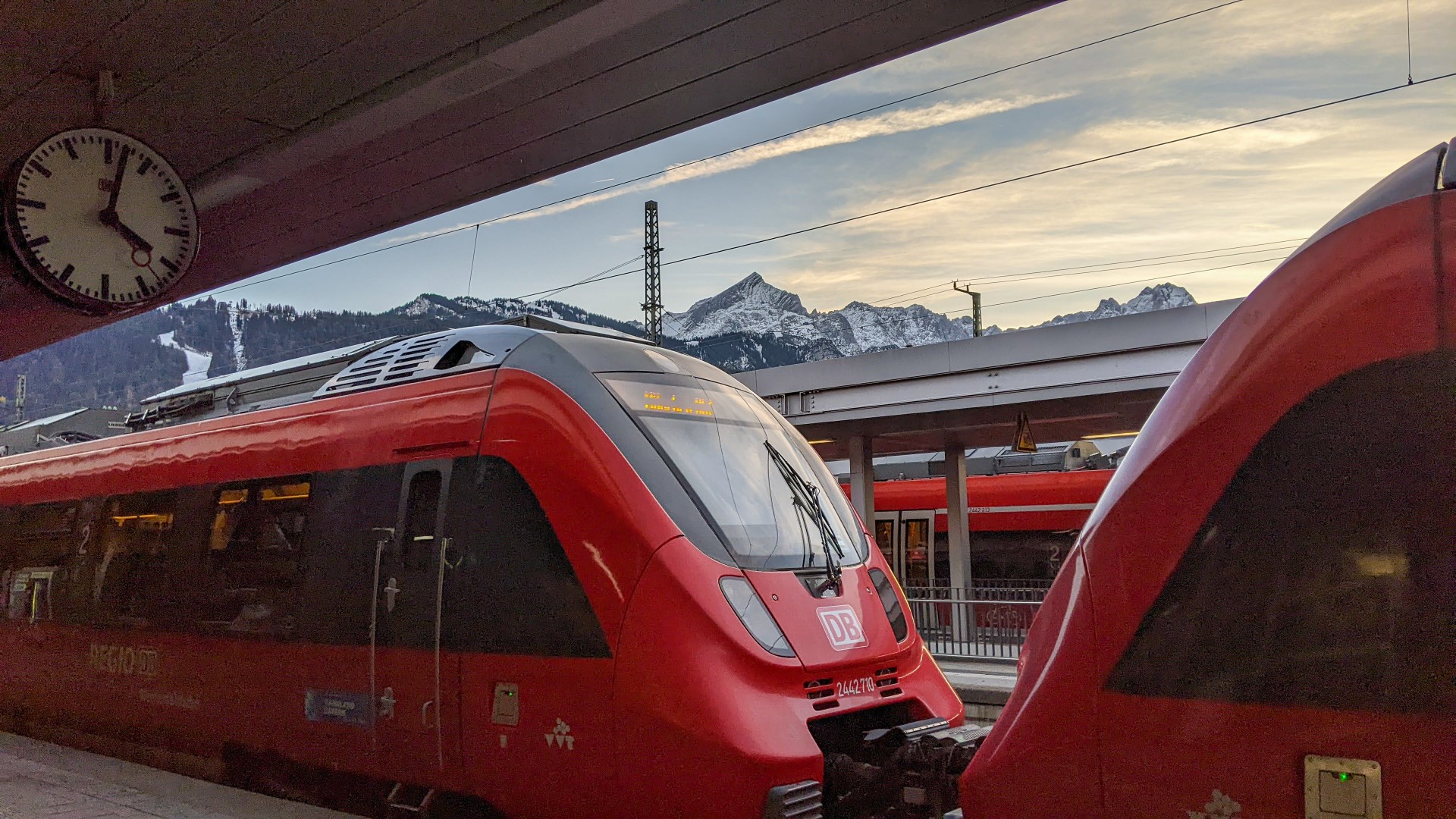 Alright, so notice I keep saying things like "The Bayern Ticket is good for MOST* public transportation systems in Bavaria"?
Those pesky little asterisks often scare people away from the ticket because they are nervous they are going to do something wrong or are missing a really important piece to the puzzle. But don't worry, it's actually still pretty straight forward.
Follow these rules and you are good to go.
1) The Bayern Pass is only good on regional trains.
The Bayern Ticket train type IS important! The Bayern Train Ticket is just like any other DB regional tickets, which means that you can only travel on regional trains.
This means no long travel trains or inter-country trains. For example, the high speed ICE trains will not work with the Bayern Pass. How do I know this? In my beginning days, I hopped on the IC train from Nurenburg to Regensburg because it was the exact same route as the regional train route. It even had the same stops! When I handed over my ticket, I got scolded and ended up having to pay the expensive IC train ticket price (on top of my already purchased Bayern Pass!) OOF!
Not sure how to tell the difference between a regional and not regional train? Watch this
Regional vs Other Trains
So let's say you are at the train station. How do you know which trains you can get on that are regional only trains vs trains that aren't accepted on the Bayern ticket?
As always, there may be acceptions, but most of the time, stick to this and you'll be fine
RED TRAINS= Regional Trains (Good to go with your Bayern Train Ticket!)
White Trains= Long Distance and/or High Speed trains like ICE trains (DO NOT USE!)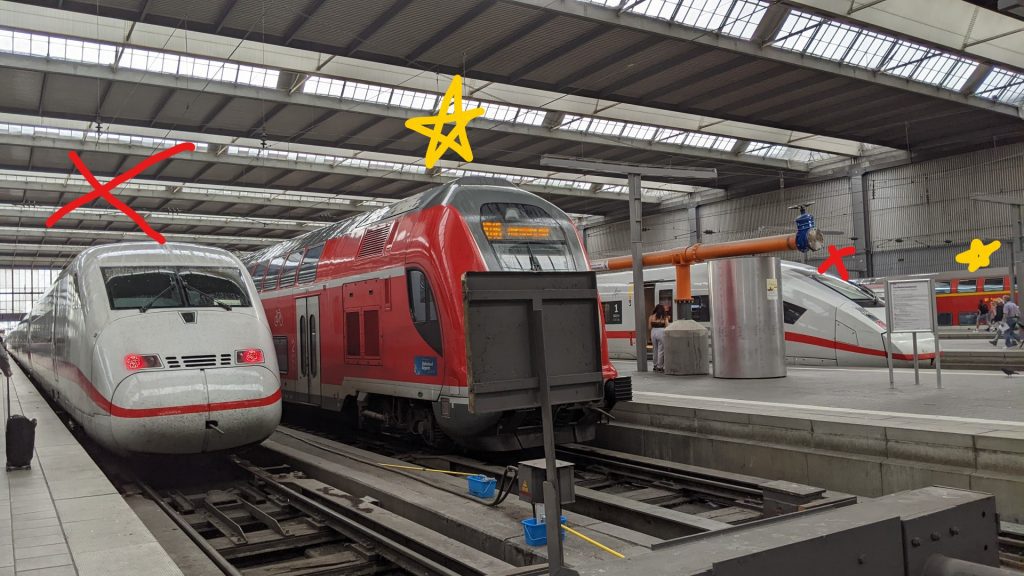 2) Check For Validity Times
Weekdays: Valid Starting at 9am!
As noted earlier, if you are traveling during the week, you'll want to watch your times. The Bayern Pass is not valid before 9 am on weekdays. Ask me how I know about this rule 😉 (Hint: I was on my way to the airport at 8:30am)
If you are needing a head start on your day and needing to leave before 9 am, you can always check the price for a ticket that gets you to 9 am. So, even if it is not your destination, see where the train should be around 9 am and buy a ticket for that location, and then at 9 am your Bayern Pass will take over. Often times, if it is not too far away, it won't cost too much.
The ticket is then good until 3 am the following morning, so yes, it should even get you back from those late night beer hall experiences.
Weekends
If you are traveling on the weekends, you don't have to worry about the pass starting at 9 am. It is good for any time and lasts until 3 am the following morning.
Traveling With Children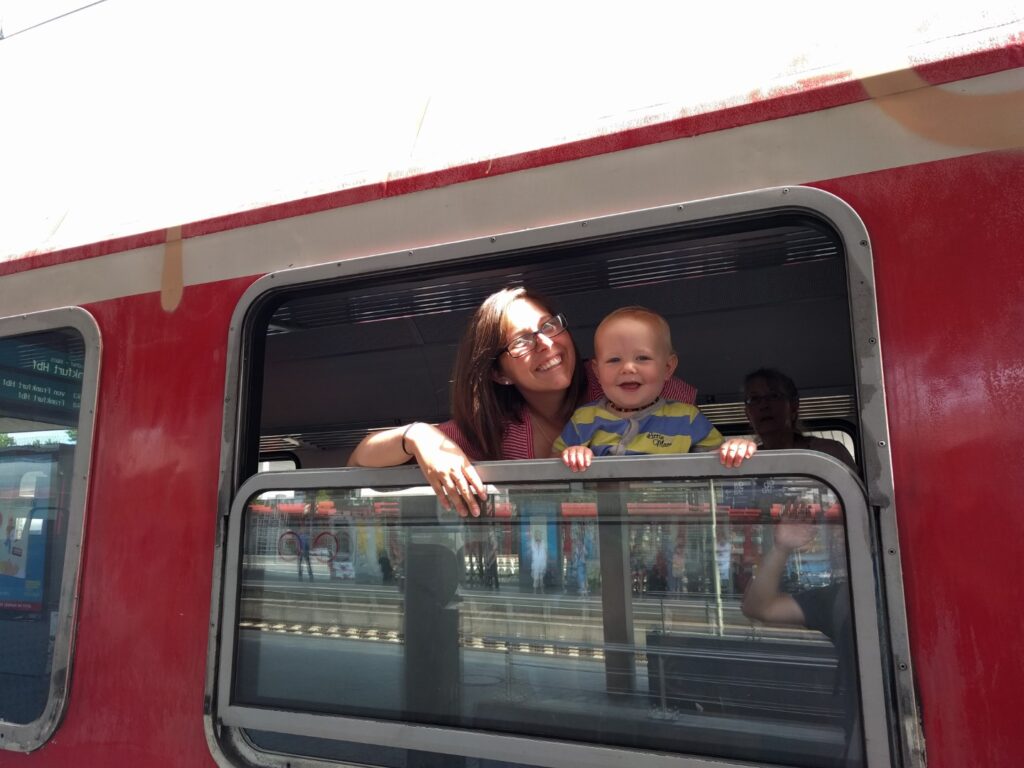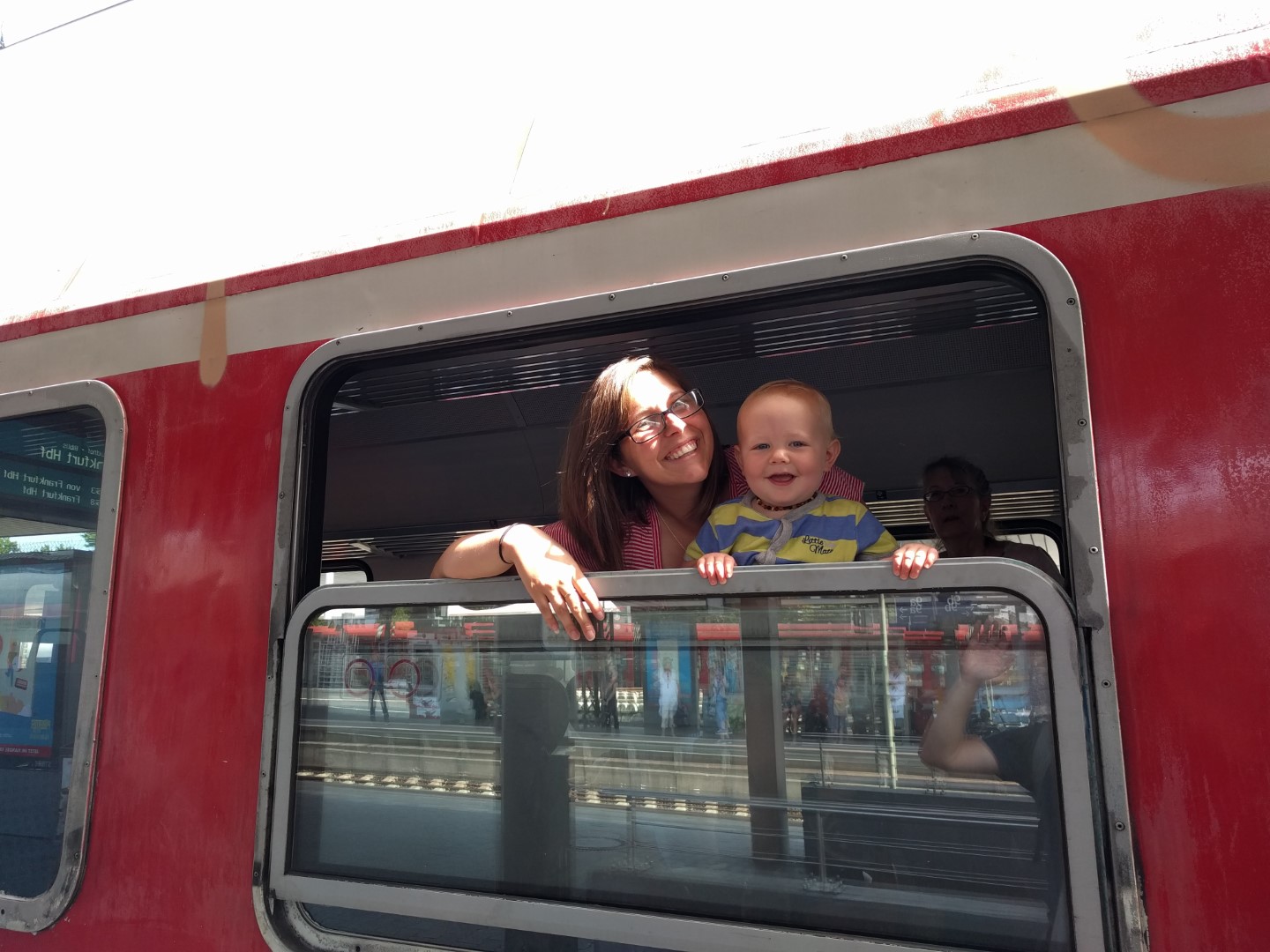 The Bayern Pass is fantastic for families as well. If you have kids under 5, they are always free and don't need a ticket when with you.
For kids 6-14 years old, with a ticketed adult, you can add 3 kids (6-14 years) onto the ticket at no additional charge BUT they do count against your 5 total passengers, so they do need to still be input onto the ticket.  For example, if you have two adults and four children, ages 6, and 8, 9, and 11 then you are at 6 people. This means you will need to purchase 1 Bayern pass and then one individual train ticket to cover everyone.
4) Seat Reservations
IMPORTANT: Seat Reservations Are Not Possible On Regional Trains!
I can't tell you the amount of times that a panicked traveler has posted in my Travel in Bavaria Facebook Group worried because they can't figure out how to book an actual seat reservation. This is because there is literally no such thing as reserved seats on ANY regional train, regardless of the ticket you bought.
So are you going to find an open seat?? Most likely. Only in rare situations like around Oktoberfest or during rush hours close to the big cities sometimes it is harder to get a seat. Just wait a few stops though and it typically clears out.
What is Not Covered on the Bayern Pass
Long Distance and High Speed Trains: Inter City/ Inter City Express/ Etc
While How To Book German Train Tickets" so you know exactly which ticket is best for you.
Private Transportation
There are some buses, shuttles, etc that are privately owned. For example, if you have read my Ultimate Neuschwanstein Guide, you'll know that the bus that takes you up the castle is not a public bus (operated privately), therefore your Bayern Pass is not good for that.
Bayern Night Ticket
The Bavaria Night Train Ticket follows pretty much the same rules as the normal Bayern Train Ticket. The only differences are times and prices.
Bayern Nacht Ticket Cost
The Bayern Ticket-Nacht starts at 25 Euro for one traveler. Add 6 Euro per each additional traveler. Again, you can have up to 5 people per ticket like the Day Pass.
You Can Buy the Bayern Nacht Ticket Here
Valid Times for the Bavaria Night Train Ticket
You can use the night pass from 6 pm until 6 am the following morning. If it is the weekend or a public holiday, you can use the ticket until 7 am the following day.
Where and How To Buy A Bayern Pass
You can not buy the Bayern Pass on the trains themselves. Therefore, you have 4 main ways to purchase your tickets.
Important: I get asked in my Travel in Bavaria Facebook Group all the time where the best place to buy German Train tickets is. My answer is to almost ALWAYS to go straight to the source (Aka Deutsche Bahn). You might see other providers for train tickets such as Omnio, Trainline, etc. These are all third party sellers. This means it will be more expensive and if you need a refund or assistance, it might be much harder.
1) Bavaria Regional Online Ticket (Desktop Purchase)
1. Start at Bahn.com to begin
2. Change to "English" if you need (top right corner)
3. Click "Offers" and then > "Regional Offers"
4. Select"Regional Day Tickets for Bavaria"
5. Click "Book Your Tickets Now"
6. Input your information and passengers

IMPORTANT:

If you are on the main search page of Bahn.com (for example, you are just looking at the different route options, times of trains etc) be sure you have De-Selected the "Fastest Route" box and instead you have clicked the "Local Transport Only" box since these are the only valid trains with your Bayern Pass!
Otherwise, it may show ICE trains, which again, are NOT valid with your Bayern Ticket
Click Here To Purchase the Bayern Pass Online
2) Buying the Bayern Pass on the DB Navigator App
Use this method to buy the Bayern Ticket straight on your phone
1. Download the "DB Navigator" App to your smartphone.
2. Click the three lines in the top left corner next to "Trip Planner"
3. Click "Regional Offer"
4. Select the red "Regional Offers" button again
5. Choose the "Bayern-Ticket" and "Search"
6. It will give you the optoin for Day or Night Ticket and you will be required to put the day of travel (this is essential, as your ticket is only valid for the date that you input)
7. Put in how many travelers and the required information for each
8. Click "Book Ticket"
– If you do not have a Bahn Account, it will prompt you to create one, including putting in your credit card information
3) Buy the Bayern Pass At A Ticket Machine/Kiosk On Site
Most main train stations will have a ticket machine/kiosk. However, the reason I don't like to rely solely on this method is because once in a blue moon the machine will not be working. Getting on the train anyway and explaining this to the conductor won't work. Want to guess how I know this???
Granted, if you don't have data/ a smartphone or access to a computer to get a ticket online/printer, you are usually ok with just buying it at the kiosk on the platform, especially at bigger, more touristy train stations. 
4) Buy the Bayern Ticket from a Ticket Office
At bigger train stations, there might be an actual Deutsche Bahn office. However, they will charge an extra 2 Euro to book your ticket. Not a huge deal if you just want someone else to take care of it, but it is simple enough to do on your own. And hey, 2 Euro can buy you a beer for that train ride! That's money worth saving!
Other Things To Know For the DB Bayern Ticket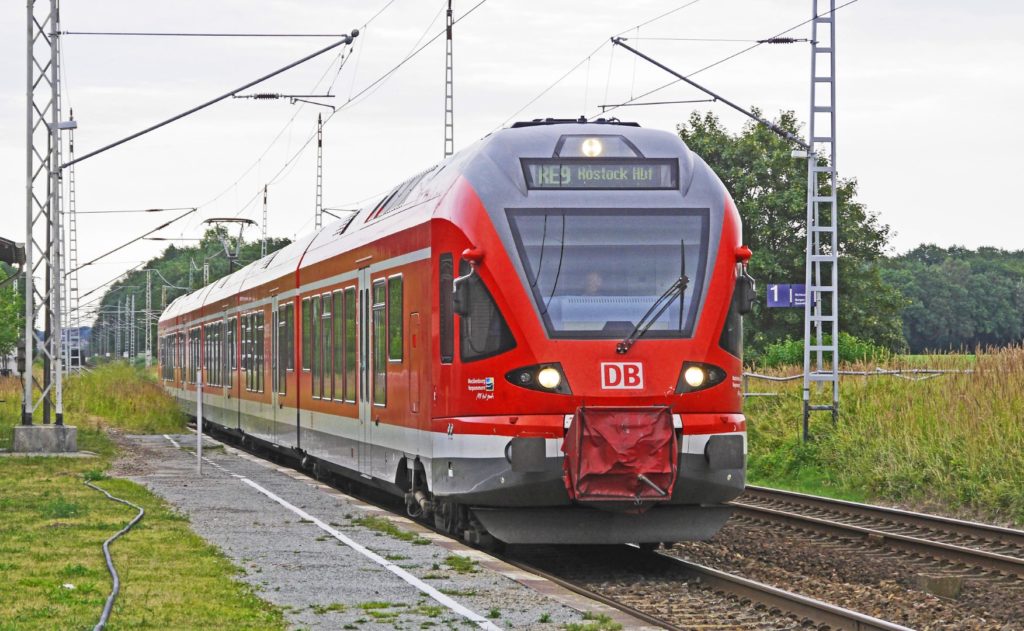 Designate The Passengers When Purchasing
When you buy your ticket, if you are getting it online, you will have to enter all of the passengers traveling on that ticket.
If you bought the ticket at the kiosk then you will need to write in the names of all passengers.
Keep Your Ticket
If you purchased your ticket online, you will receive a confirmation with a QR Code which will be used to verify your ticket with the conductor.
Sometimes, they ask for the credit card used to book the ticket and/or an ID, so have those handy if needed.
Since this ticket is good for the whole day, be sure to keep it nearby so that you can use it on buses, trams, etc throughout your day of exploring.
Bayern Ticket To Salzburg? YES!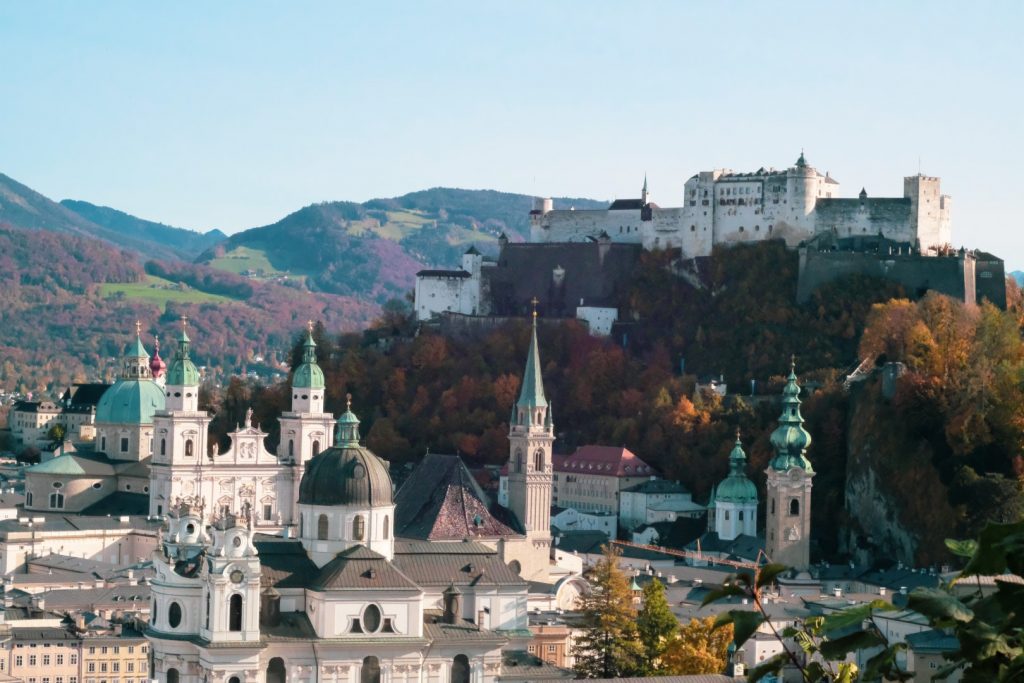 If you missed that info from above, yes, it is true! The Bayern Ticket to Salzburg is a thing, even though it is in Austria! However, unlike being able to use public buses, subways, etc within Bavaria, this route will only get you TO Salzburg, not within and around the city. Once in Salzburg, you will need to purchase a local transportation ticket for Salzburg's buses.
Here is my Munich to Salzburg 1 Day Itinerary
Consider The Local City's Transportations Instead of the Bayern Ticket
Consider The Local City's Transportations Instead of the Bayern Ticket
If you are going short distances, you might be better off actually not using the Bayern Pass at all. For example, in the small village I used to live in (about an hour away from Nuremberg) instead of using the Bayern Card, it was actually cheaper to use Nuremberg's VGN local ticket, which zoned out to where I lived. However, for most tourists, you'll probably be going far enough that the Bayern Ticket will still be best.
It is Good For the Zahradbahn to the Zugspitze
A little known secret is that the Bayern Pass is actually good to help you get you up to the Zugspitze in Garmisch!
FAQ About the DB Bayern Pass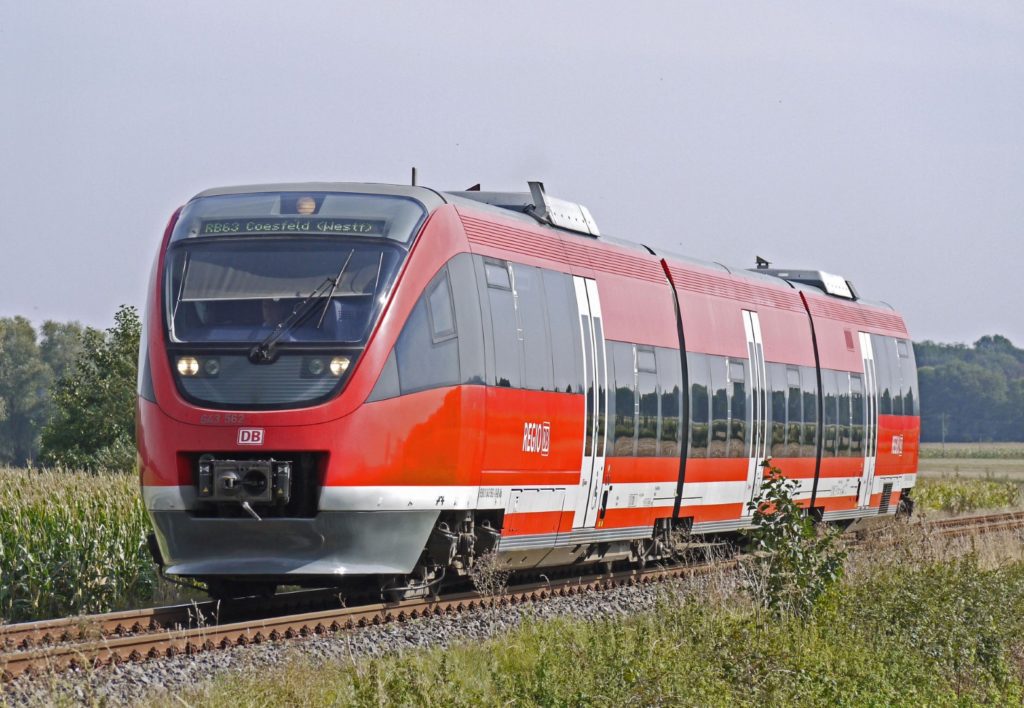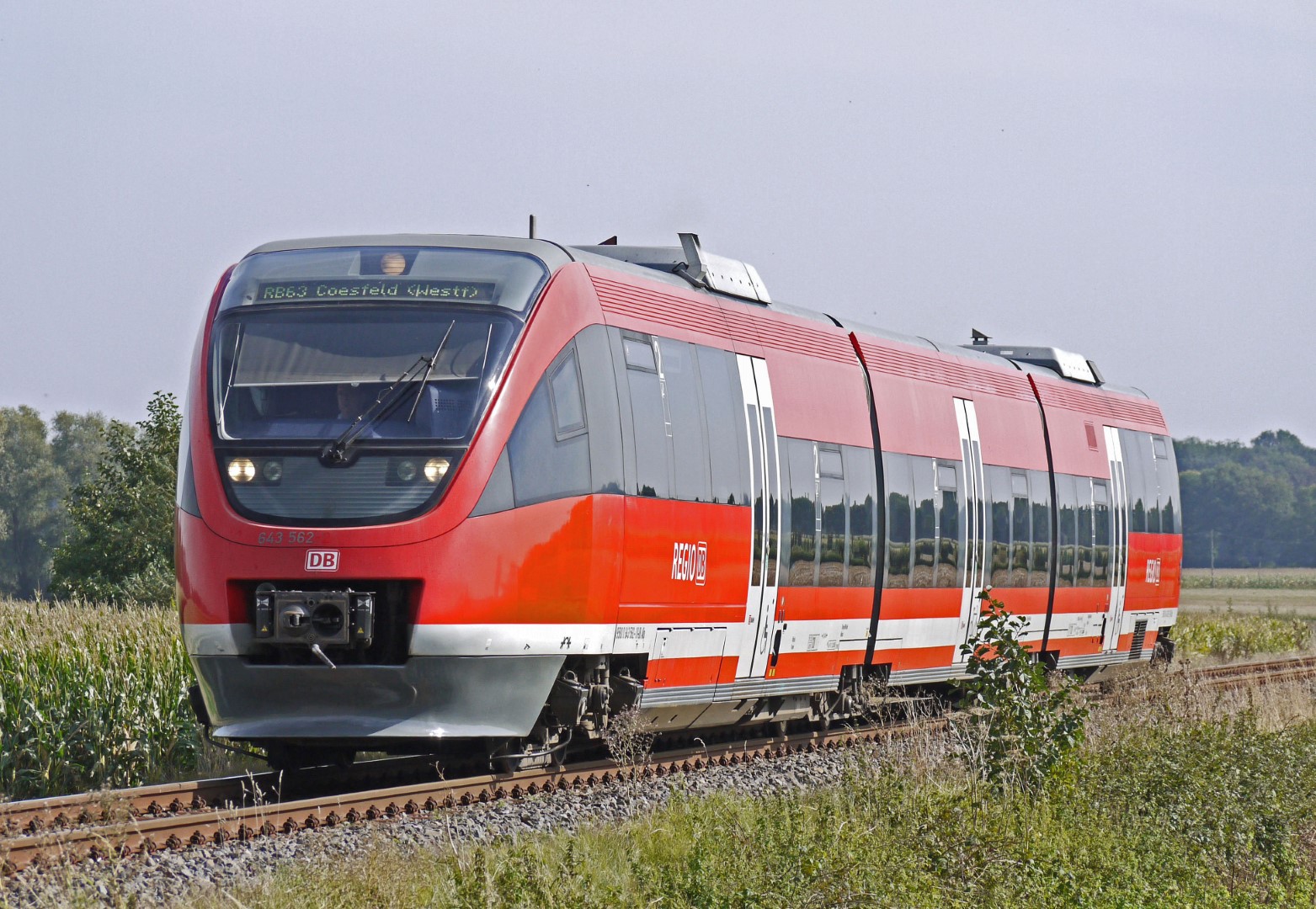 How Do I Know If the Bayern Pass is the Best Priced Option
Good Question! As stated earlier, there is a rare occurrence if you are traveling a short distance within Bavaria that you might be better off with a local day pass or if you are just a single traveler. However, for most travelers, especially ones that plan on using public transportation all day, it is still often the best choice.
If you want to double check, just simply go to the website or App and plug in both options (remember to choose "Regional Trains Only!" Don't forget to take into account single tickets for things like local U-Bahn or bus tickets if you plan on using those as well as they can up quickly (granted, most city day passes also include those as well)
The exception to this would be if you are staying within a particular city. For example, Munich's Day Pass is cheaper than the Bayern Pass.
Does the Bayern Pass Cover Buses, Ubahns and Sbahns?
Yes! The Bayern Ticket covers almost all public transportation within Bavaria. There are a few buses not included, which you can find here
What's the difference between first and second class on Deutsche Bahn?
You might have seen charts or prices for the Bayern Pass that includes a first class ticket vs a 2nd class ticket.
Remember, you will be traveling on regional trains only. That means that there is almost no difference between first and 2nd class. There are no special services or amenities.
The only possible perk to having a first class ticket is that there is rarely anybody ever sitting in these spots, so you will probably be guaranteed a seat (1st class doesn't even give you a specific seat ticket!) With that being said, I have used the Bayern ticket countless times and can't even count on one hand the times that I haven't been able to find a seat. It is a rare, rare occurrence.
My honest opinion? Don't even bother with first class.
Do I need to buy in advance (online)?
If you like to have everything planned and ready to go before your trip, you can Oktoberfest and on a rare occurrence that I hit a train right at a major commuting time in a bigger city. However, in either of these situations, it typically clears out enough within a few stops to find a seat with no problem.
Are There Bathrooms on DB Regional Trains
On almost all of the regional trains you'll find a bathroom. Most are even surprisingly clean!
Can I bring food? Is there food to buy on the trains?
On almost all of the longer regional trains (like the ones specified as RE) you will almost always find a drink and snack server. He or she is usually quite exuberant and will double, triple check that you really don't want a beer, coffee, or other drink to sip on. Occasionally, they will have light snacks like chips.
Rarely will there be an actual food car though on Regional Trains.
Alternatively, you are more than welcome to bring along your own food and drinks.
Tip: At almost all the main train stations, find a Backerei and get a delicious sandwich (I love the salami baguettes) and some pretzels. Grab a few local beers while you are there as well (yes, alcohol is allowed on the train).
I understand that the Bayern Ticket is only for Regional Trains, but what does that EXACTLY mean and how can I tell?
This is probably one of the most confusing parts (in theory) for people who aren't familiar with the Deutsche Bahn trains. For someone like me, who has traveled within Germany for years, I understand that this isn't a big deal and is easy to decipher, but for first time travelers or users of the Deutsche Bahn system, I can totally understand wanting a clear, defined answer rather than "Most public transportation."
This is not an all inclusive list, but it will get you started. Here are some of the trains that you will not be able to use on the Bayern Pass
Here are a few examples of regional trains that are included
When Finding Your Train, Select "Only Local Transport"
Whether you are on a kiosk at the train station or online, when looking at the timetables, you can select "Only Local Transport" (Scroll above to see my detailed step by step instructions on this). It will then ONLY show trains that are acceptable for the Bayern Pass so that you know you are good to go.
Will the Bayern Ticket Go To Frankfurt?
No. Frankfurt is in the state of Hessen, not the state of Bavaria. In order to go from Bavaria, such as Munich to Frankfurt, you will need to purchase a regular DB ticket, not a Bayern Pass.
Do I need to Validate My Ticket?
If you buy your ticket at a kiosk, it will have the date already printed on the ticket. Since the ticket has specific validity times already in place in the rules, this means that you do not need to validate the Bayern Pass. However, if you had to purchase a single ticket in addition to a Bayern Pass (for example, if you had too many people in your group) then don't forget to validate THAT ticket!
Instead of validating the ticket at a machine, you WILL need to make sure that all names of passengers are included on the ticket. If you printed this off at a kiosk, simply write/ sign all names. If you purchased online, be sure to include them when buying.
If you bought the ticket on the DB Navigator, then you will have to input the date of travel, so it is already "validated" for your purchase. There will be a section before finalizing your ticket for names and ages of everyone. Again, this is NECESSARY for the ticket to be valid.
Can I Change Passengers Throughout the Day?
No. Just because the Bayern Pass is good for up to 5 people, this does not mean you can switch out passengers.
Likewise, whatever number of travelers you started with is what you end with. For example, if you purchased your ticket in the morning for you and 2 friends to go to Oktoberfest in Munich and ran into your buddy there, he can't bum off the ticket to get home with you unless you specified him at the onset.
Are Kids Free on the Bavarian Train Ticket?
Kids under 5 are free on the Bayern Pass. If there are more than 2 adults on one ticket, then children over 5 then continue to count as additional passengers but are still free if ages 6-14.
Can I Bring A Bike?
Of course. However, this is actually a separate/additional train ticket. So, you will need to purchase yourself a Bayern Ticket and then an additional Fahrrad- Tages Karte Bayern ticket (Bavaria day bike ticket) which is only €5 and covers your bike in all of Bavaria. This is just a check mark online when purchasing and it gets added onto your Bavaria Ticket.
What are the hours of the Bayern Pass
Weekdays: Valid Only After 9am and is good through 3am the following morning.
Weekends and Public Holidays: Valid starting at midnight and is good through 3am the following morning.
During weekdays, the Bayern Ticket is not valid between 6:00 a.m. and 9:00 a.m. So you need to start your trip after 9:00 a.m. or buy a point-to-point ticket to the first station your train reaches after 9:00 a.m.
PHEW! That was a lot of train information!!! While it may seem overwhelming, I promise, once you actually start the process, you'll realize how simple it actually is and how much money it can save you. So, where are you going first on the Bavaria Train Ticket??