[This post may contain affiliate links where we earn a small commission. Please see our disclosure for more information and thank you for supporting our site so we can continue to bring you awesome content for your travel inspiration!]
One of the hardest parts of figuring out the Deutsche Bahn trains is actually figuring out exactly what ticket to buy in the first place. This all depends on where you are going, the distance you need to go, how far out in advance you are booking, and a myriad of other factors. Luckily, cover ALL of that in my How To Travel in Germany By Train Guide and I also have a detailed guide on understanding the German Rail Pass (vs Interrail vs Bahncard Discounts).
So, now let's just assume that you know exactly what you need. Phew! One step closer on planning your trip to Germany! So your next step is figuring out how to buy train tickets in Germany. You have 4 main options:
Online through Deutsche Bahn
In the Deutsche Bahn App
In Person in Germany (at a Kiosk or travel center at a train station)
Online through Eurail
Online Deutsche Bahn Train Tickets
Call me old school, but when I am planning a trip, I often find it easiest to book things online. The Deutsche Bahn website is actually really great and easy to use to buy Germany train tickets. This is especially easy if you are booking tickets in advance for long distance trains on the Saver or Flex prices.
I find the website extremely easy to use and to view comparisons of tickets as well.
You can easily set the language to English (as well as numerous other languages) and at each step of the booking process, it prompts you to do things like
You can then print off or email your tickets to yourself.
Here's how to book tickets online:
Put in Your Details For the Trip
Put in your desired locations, dates, and times
On this home screen page, you can choose "Local Transport Only" if you are looking for regional trains, like when using the Bayern Pass
Use the drop downs to select how many passengers and if you have kids, it will ask their ages
Unless you like spending extra money, there isn't a ton of reasons to select 1st class
If you've pre-purchased a ticket or have a German Rail Pass and need only a seat reservation (but not a ticket), click the "Seat Only" option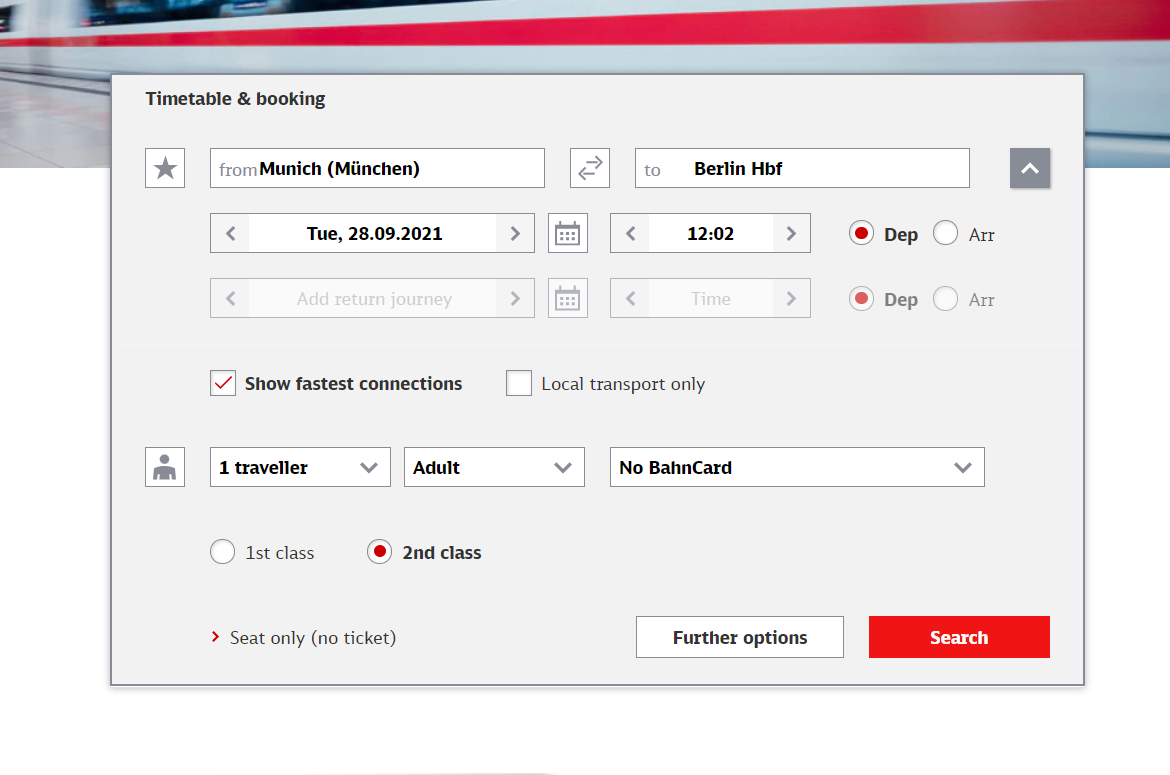 Choose Your Journey
The next screen gives you all the train options.
To compare the different routes/trains, you can click "Show Details" (highlighted below) This will then show you all of the stations and stops (as seen in the photo)
This info tells you if there are transfers, where they are, how long they are, etc.
When you find the train time you want, click "To Offer Selection"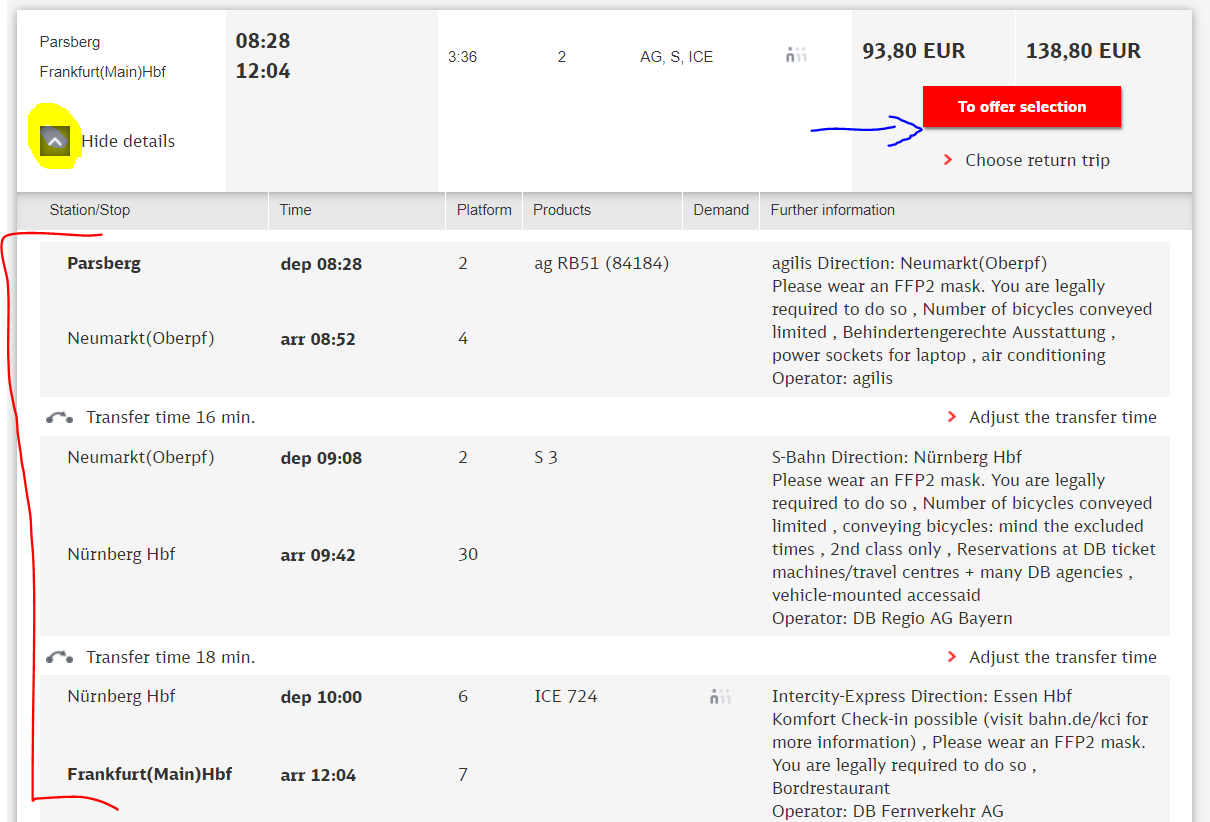 Compare The Tickets
The next screen gives you several options for your final tickets
Even if you chose 2nd class, it will still show differing prices just so you know all your offers.
This is where you can choose between the Saver Prices (Sparpreis) and the Flex Pirce. It is nice that it details exactly what is/ isn't included in each of those offers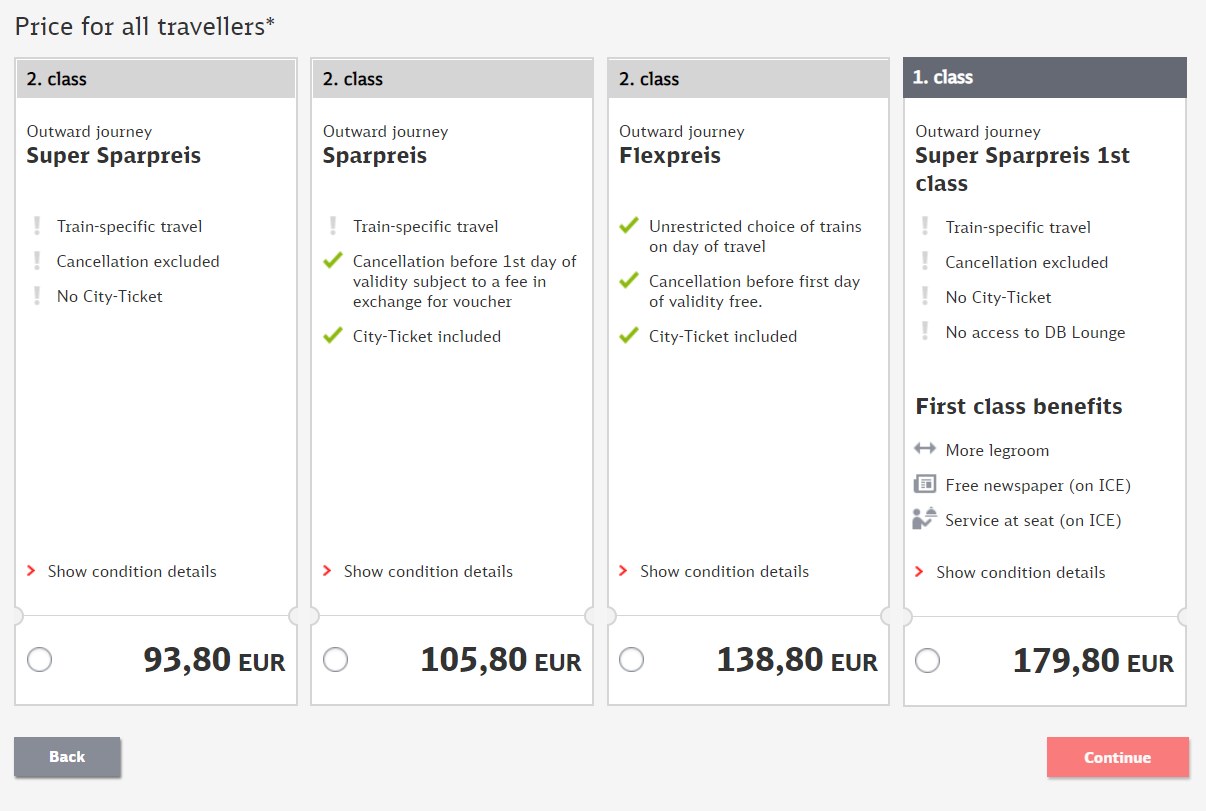 The next few pages may be prompts for additional purchases, like buying a BahnCard Discount. You can skip these steps if you'd like.
If you haven't logged in yet, this is when you'll need to do so or create an account.
Select a Seat Reservation (Optional)
The next page will prompt you to buy a seat reservation (if applicable). If you have a family, it prompts for the family car. Otherwise, you can choose from any of the other reservations.
Note: The photo below shows the family reservation cost. Single ticket reservations are currently 4 Euro.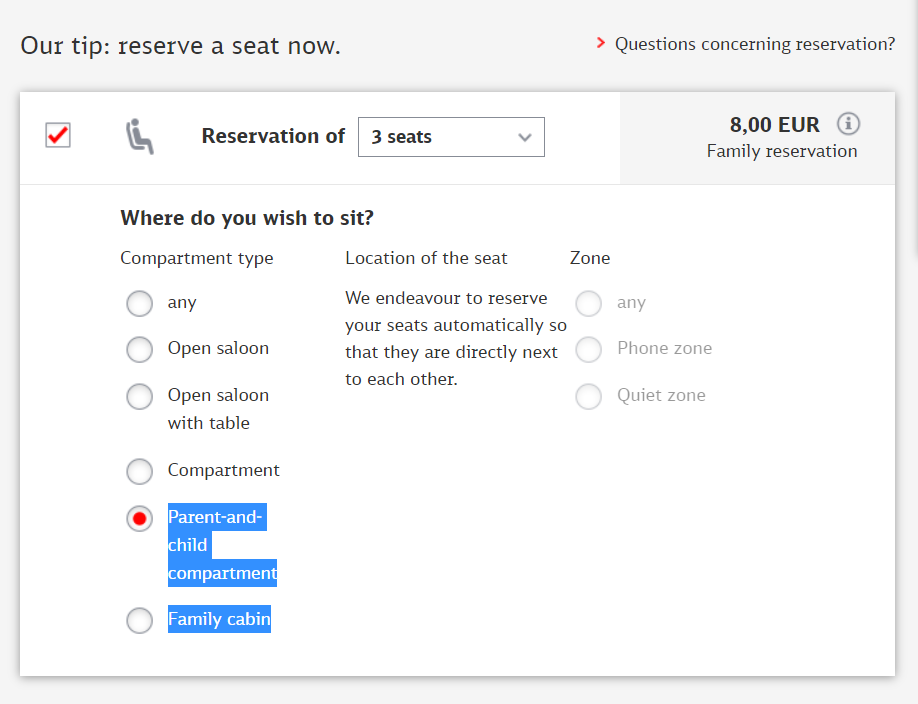 Pay For Your Ticket
After you pay by credit card, direct deposit, PayPal, or PayDirekt, you will receive a PDF of your ticket to download.
Buying the German Rail Pass Online
If you are buying the German Rail Pass, you have two options online:
Through Deutsche Bahn: It's pretty easy and straightforward, you can buy them here
Through Eurail: Again, very simple. You can buy them here.
Buy German Rail Tickets On the App
First, you'll need to download the App
The App is called "DB Navigator" and I really like using this as opposed to booking in other ways once I am familiar with the App. It keeps all your tickets in one place (no need to worry about losing papers) but it also updates you in real time on departures, shows you exactly where you are while on your journey, which is really helpful in knowing when to get off, so that you feel confident while traveling, and more.
It also has a section called "Transport" that really easily connects you to the individual city's own public transportation links for booking things like bus and S-Bahn tickets!
To Buy Single Journey
In the "Planner" section of the App (click on the three "hamburger lines" in the top right corner) insert your origin and destination

Where it says "2nd Class/ 1 Ad"> click on that to add more passengers, children, etc

The next screen shows you all of the train options (you can filter the best price by using the toggle)

Select the journey you want and scroll down to the red "Ticket/ Reservation" button

If you haven't logged in yet, it will prompt you to do so or to create an account at this next step
It will then prompt you to add a seat reservation and will even offer a ticket for public transportation at your destination if applicable!
You can then enter in your payment options
Paydirekt
Direct Bank Transfer
PayPal
Credit Card
The tickets will then be saved into your DB App under "My Tickets"
To Buy a Regional Pass On the App
Here is a step by step guide on how to buy the Bayern Pass on the App. You can do these exact same steps to choose any other regional/ Lander Offer
Local Transportation In Cities (Ubahns/Sbahns/Buses)
The DB App is also really handy because you can now buy most local city's transportation tickets right in the App as well, as opposed to needing numerous Apps for each city you travel in.
Click on the "Hamburger" lines in the top left corner
Select "Transport Associations"
Choose the City You Need
You can even then select where exactly you want to go in the city so that it calculates the best fares for you
Buying a Rail Pass on the App
I have yet to find a way to get to the German Rail Pass on the App. (If you have found it, let me know!!!)
How To Buy a Train Ticket in Germany At A Train Station
At a DB Reisen Center (DB Travel Center)
Larger Hauptbahnhofs may have an actual official Deutsche Bahn ticketing office where you can go in and speak to a real human being and book with them.
The biggest thing to know about this option is that, while it's not significantly more, there is typically a small surcharge for booking in person this way and not all stations have this service. (Small villages almost definitely won't have a travel center)
On the Platforms/ Kiosks
At all train stations in Germany, you should find a Deutsche Bahn self-service kiosk machine. Bigger stations will have them all over, smaller ones may just have one. While I don't believe you can buy the German Rail Pass at these kiosks, you can get just about any other ticket from them.
The biggest catch is if you are at a smaller train station, I've been caught in a pickle (gurken?) before where the machine isn't working. I can tell you from first hand experience that the conductor will not take "Die Maschine ist kaputt!" as an excuse for not having a ticket in hand.
I find these machines extremely user friendly.
You can get all the DB tickets English by clicking the British Flag before starting
Machines take credit cards and cash
Buying Single Journey (Such as long distance/ ICE/ IC trains)
You'll want to click on the British Flag so that it is all in English and it may take quite a bit of digging around to find the exact tickets you need. Don't worry about taking up too much time. The people behind you can wait. MOST of these machines now take credit cards, but double check that before getting started, just in case they don't
Buying a Regional Train Ticket
Buying The German Rail Pass
I have a step by step guide on How to Buy a German Rail Pass(and compare it to the Eurail and Interrail passes as well as how to use the BahnCard Discounts).
Can You Buy Tickets on The Train In Germany?
Yes and No.
If you are traveling on Long Distance (ICE, IC) trains, then technically you can, but they are going to be quite expensive. You'll need to find a conductor (either standing on the platform or walk around until you find one onboard) to request a ticket ASAP. If you wait until they come to you, you'll be considered riding without a ticket and then you'll have to face a hefty fine as well.
If you are traveling on a Regional train or on local transport then you must have a ticket pre-purchased. Not having a ticket will cost you a high fine for "Black Riding" the train.
Is it cheaper to buy train tickets in advance in Germany?
It depends
If you are buying the single journey tickets, then yes, it is usually cheaper to buy in advance. Typically about 2-3 months in advance are often the best prices.
If you are buying a regional ticket, those are all flat rate prices, so you do not need to buy in advance and since there are no seat reservations available, getting them the day of your travel is no problem.
If you have a German Rail Pass, you'll need to have your pass bought prior to your travel, but only so that it can be validated before your trip. Once you have your pass, you do not need to buy single journeys, so individual prices don't matter.