Look, if you aren't scheming what German Christmas Market Foods you are going to devour, you are probably doing Christmas Markets wrong.
Christmas markets in Germany are almost surreal. But the Germany Christmas Market FOODS? For me, they are just as important as the Weihnachtsmarkts themselves! I mean, shoot, sometimes, I'll go down to our local market just for dinner!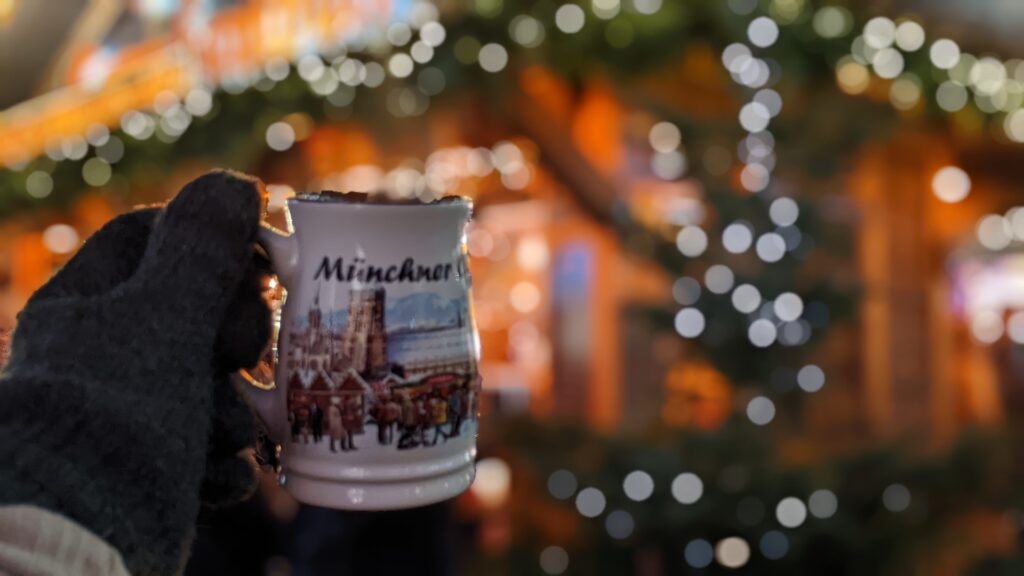 The Weihnachtsmarkts feel magical with the soft glow of the stalls as white powdery snow drifts down and quietly melts in your piping hot Glühwein. And, if you've been around this blog at all, you know there is one thing that I may love as much as travel…and that's FOOD! Even after almost a decade of living in Germany myself, I still get giddy around Christmas time. I could lie and say it's because of the magic of Christmas, but then I'd get put on the naughty list for lying. Let's just be honest, after going to hundreds of Christmas Markets myself over the years, I still love the food!
So, while you may be busy planning WHAT German Christmas Markets are Best and which to go to this year, I think we need to spend some time drooling planning out what Christmas Market FOODS you are going to try! I highly recommend bookmarking this page so that while you are meandering the mazes of the markets, you can easily pull up this list to get reminded of what foods you simply can't miss!
Since everyone loves a great Weinachtmarkt, I asked a few friends to help me round out my list of the best German Christmas Market Food. Here are our top picks:
(Note: Some food may be more regional than others and therefore not found at every market)
The Best Christmas in Germany Food at a Weinachtmarkt
Whether it's a classic German Christmas recipe beloved by all Germans or local specialties, it's just as much fun to explore the foodie scene of the markets as it is the trinkets and gift stalls! Let's tuck in and get hungry!
We'll start with what to snack on, move on to the main dishes to try, and then follow up with those sweet sweet delicious German Christmas desserts. And let's not forget about German Christmas drinks (and yes, it goes beyond the traditional Gluhwein!)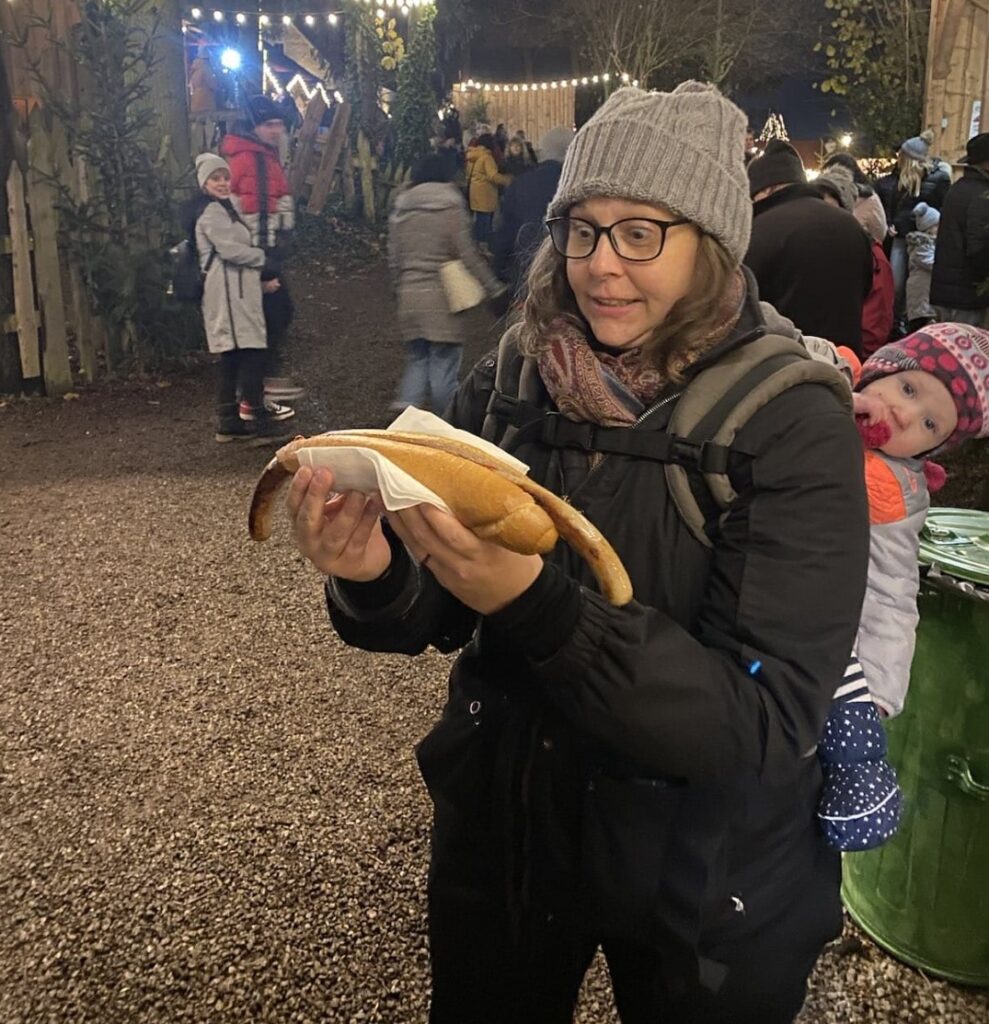 At a Glance
TL;DR: Is having to go through this long list of what to eat at German Christmas markets going to make you too hungry? Need a "at a glance?" List? Here are my top 8 DO NOT MISS Traditional German Christmas Market Foods to Try!
👉 Kartoffelpuffer (I personally prefer it with the sour cream over the applesauce!)
👉 Halb Meter Wurst
👉 Schupfnudeln
👉 Gebrannte Mandeln
👉 Feuerzangebowle
👉 Knackerwurst (Mit Alle!)
👉 Langos (Not traditionally German but you've got to try them!)
👉 Käsespätzle (not just at the Geman Xmas Markets, but who can say no to warm, cheesy noodles!?)

Please note that some articles contain links that earn me a small commission at no extra cost to you.
Christmas Market Snacks
The reality is that a lot of the food at German Christmas markets can fall into numerous categories. For example, I'll cover the Kartoffelpuffer below which can be either a snack OR a full on meal depending on just how hungry you are. Because let's just be honest- is there really such a thing as a "Light" German meal?? Regardless, here are some of my favorite things to nibble on when just wandering the markets!
Kartoffelpuffer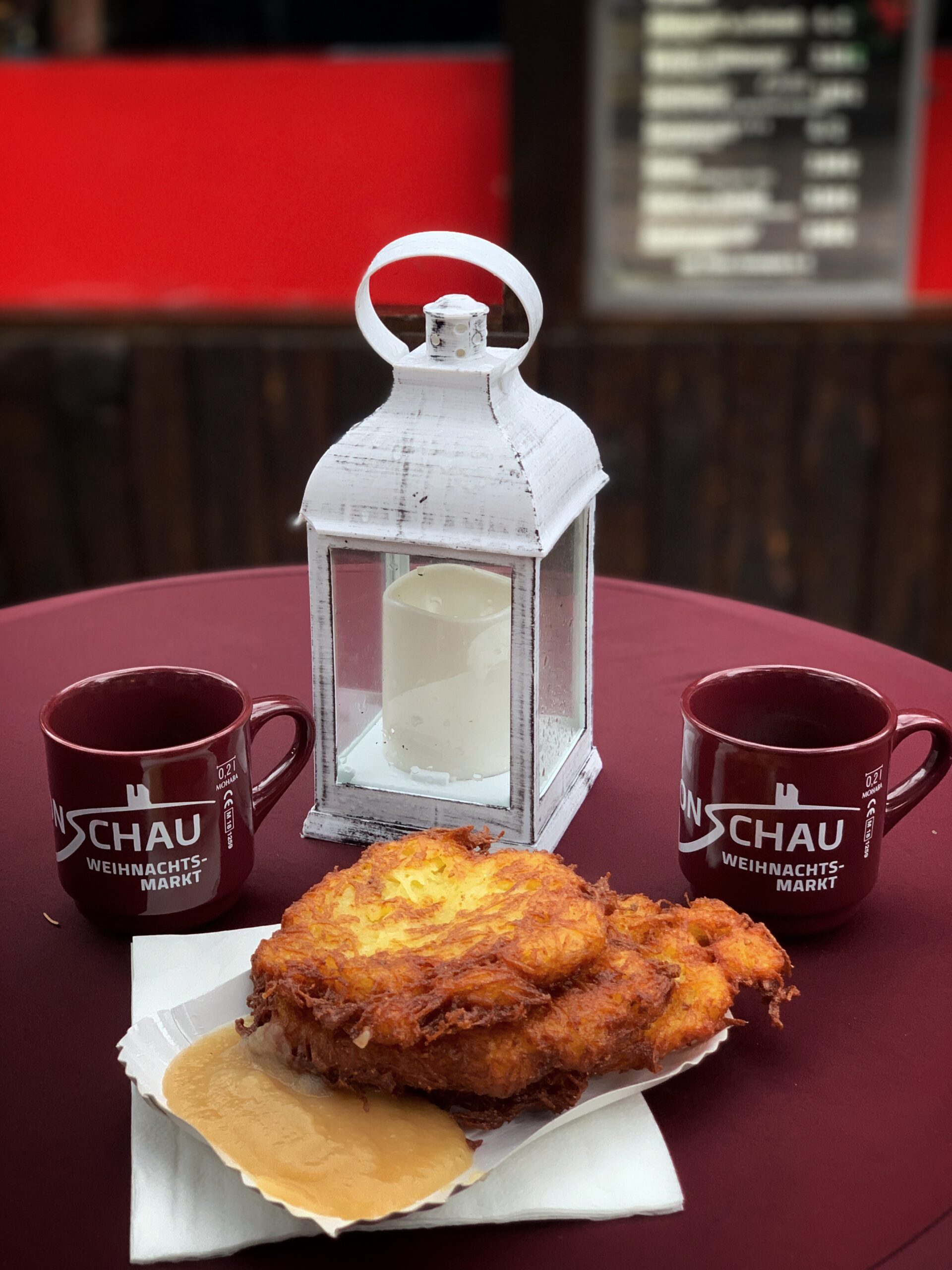 Fans of savory food served together with a twist of sweetness should absolutely not miss trying a Kartoffelpuffer (a golden, fried potato pancake). This dish is also sometimes referred to as Reibekuchen.
Deep fried, this Christmas market treat is typically vegetarian (though some regional variations may add bacon and cheese so check before purchasing) and is created by grating raw potatoes rather finely. Typically, finely grated onions will also be added to the mixture, though this is not always the case.
Though Kartoffelpuffer are incredibly delicious when eaten as a standalone dish, they almost always come with a choice of sauce.
Sweet: One of the most common and popular choices is surprisingly Apple Sauce (Apfelmuss)~don't knock it 'till you try it!. While this pairing may sound unusual, it's incredibly tasty and makes for the perfect snack when you're out and about exploring the rest of the Christmas market.
Savory: Another savory way to eat the potato pancakes is with a delicious sour cream sauce on the side. You can find these delicious Katoffelpuffer at many Christmas markets all over Germany, including those at Cologne, Monschau, Aachen., Rothenburg and Guteneck
Contributed by Sophie Nadeau from Solo Sophie

Champignons 
When I go to a Christmas Market, the last thing I want to do is eat vegetables….that is until I came across the delicious mushrooms at the markets.  But in true German Christmas Market fashion, these button mushrooms are served up in a delectable manner, usually fried up to perfection in a buttery concoction or slathered in a creamy garlic sauce. 
They make for the perfect on-the-go- snack and are a nice change of pace from all the wursts and meats!
Kartoffellanzen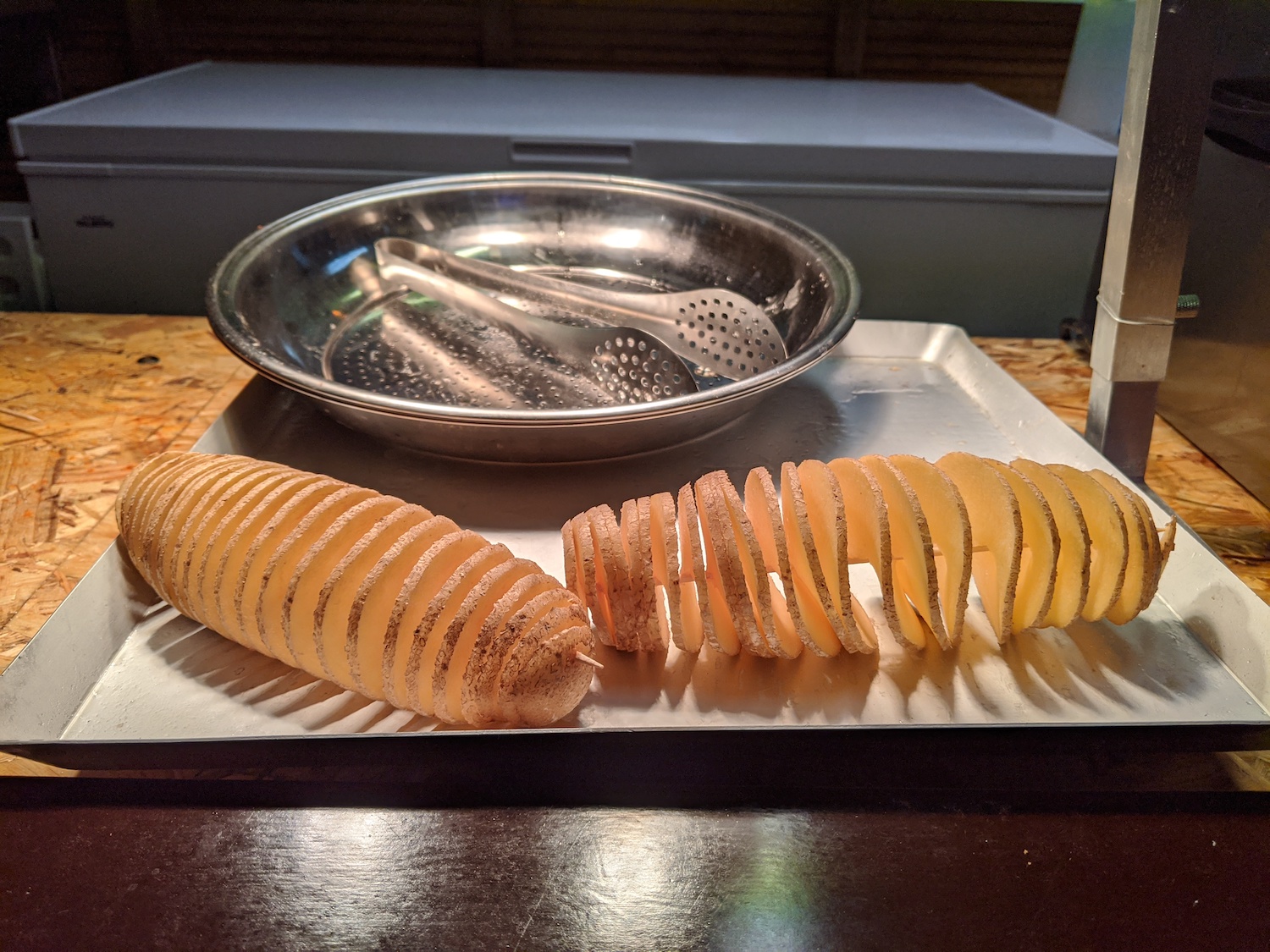 Kartoffellanzen (Potato lances or Potato Tornadoes) are not only tasty but are easily one of the most fun German Christmas market foods to eat. I mean, who doesn't love a deep-fried potato on a stick!?
These classic German Christmas market potatoes are considered the ultimate comfort food at Germany's markets and are just one of the many vegetarian options you can find. Whole potatoes are cut using a spiral technique before being fried until crispy and then dusted with a simple yet flavorful seasoning. They are served on a wooden skewer, making them a great companion as you explore the cheery Christmas market stalls.
Each bite is a reminder that Germans know how to cook potatoes to perfection.
Kartoffellanzen is a Christmas market staple, and you can easily find it at most markets around Germany. However, the cost, name, and look might vary regionally. For example, in Munich, they are sometimes called Spiralkartoffeln (spiral potatoes) and will set you back around 5 Euro. One of the best places to get them in Munich is the Märchenbazar, where they serve local organic Sprialkartoffeln!
No matter how they come, this hearty food pairs perfectly with warm glühwein, keeping you warm and satisfied during Germany's long and cold winter nights. Ein Guten!
Contributed By: Susanna from Curiosity Saves Travel
Marones (Roasted Chestnuts)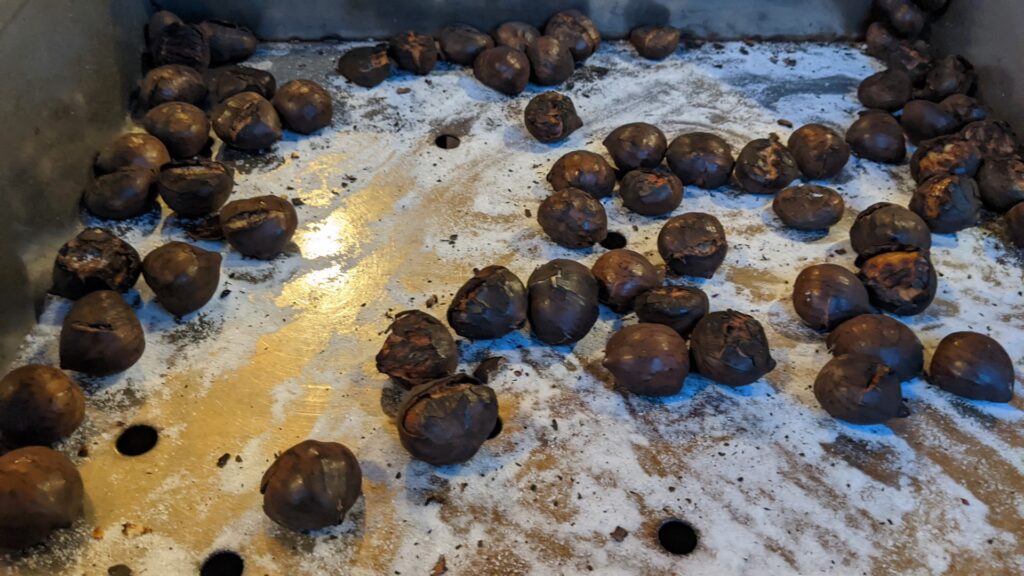 This may sound really silly, but before moving to Germany, I never knew that "Chestnuts roasting on an open fire" (You sang that in your head while reading it, right??) was like….a real thing! BUT IT IS!
Of course, the first time I saw them, I knew I needed them in my life! I took one bite….and then spit it right back out! How in the world can something so awful tasting be the subject of an entire Christmas Song!? I felt completely duped!
I don't know, maybe it's just me and I'm weird (well, we all know I'm weird). So I guess I am putting this one on the list as a "Try at your own risk." Obviously, people buy them if they are a typical German Christmas market food and are sold all over! But from now on, I'll just stick to singing the song and I'll pass on the actual roasted chestnuts.
Traditional German Christmas Market Food (Main Entrees)
Like I said above, sometimes I will head over to my local Christmas Market when it is running just because I'm lazy I want to eat the Christmas Market Food! The reality is that a lot of food at Christmas Markets are also foods that you would find at a typical fest in Germany and not many are "Super Specific German Christmas food" but that doesn't make it any less delicious! And there really is just something different about eating a Wurst under the glow of a Christmas tree!
Frikadellen
The first time I ever had a Frikadella was at the Nurnberg Christkindle Markt and when we asked what it was, the server called it a "Fleischküchle" or, quite literally, "Meat Cake"
Sure, it just looks like an unassuming meatball, but it is so much more! It is perfectly seasoned and then grilled and is best served on a roll with caramelized onions and a healthy dollop of mustard. Move over burgers, there's a new meat patty in town!!!
Langos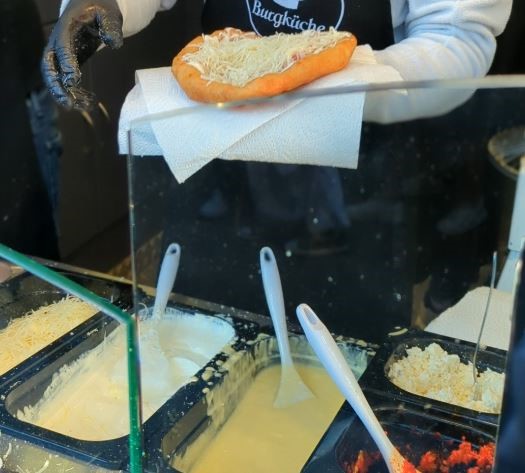 Germany has become an eclectic food scene over the years, often taking inspiration from other countries. One such food that you'll find at just about any fest and Christmas market in Germany is the Hungarian Langos.
This heart attack waiting to happen is insanely delicious.  The most common way to serve it up is to take a deep fried piece of dough, and then generously top it up with a garlic (Knoblauch) sauce, cheese, ham, and if you are feeling up to it, a fantastic red, spicy sauce. 
Schupfnudeln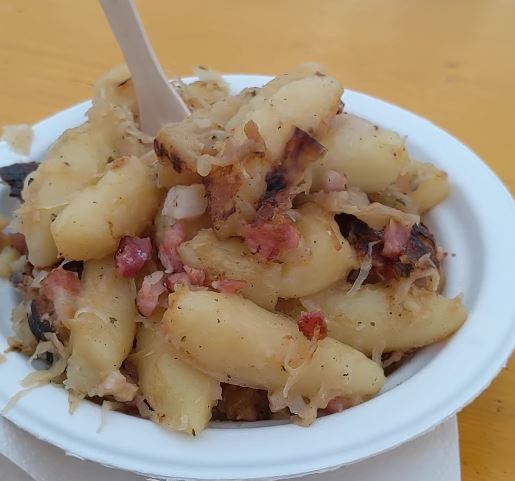 Schupfnudel are little potato dumplings, almost reminiscent of a Gnocchi. Here in Bavarian, the traditional way to eat these "finger noodles" is to first fry them in some lard or butter until golden and crispy on the outside and yet still perfectly soft inside.  Then, top it off with sauerkraut that has been mingling with juicy bacon ("Speck") pieces.  OMG YUM! I'm not even a huge sauerkraut fan, but a good Schupfnudeln is hard to pass up even for me!
The German Christmas market stalls sometimes like to get creative as well with this classic dish. They use the dumplings as their base and then start taking some creative liberties from there!  You may see a curry sauce version, some may come in a heavenly cream sauce, and I have even seen them offered as a sweet dish with jams or even Nutella
Käsespätzle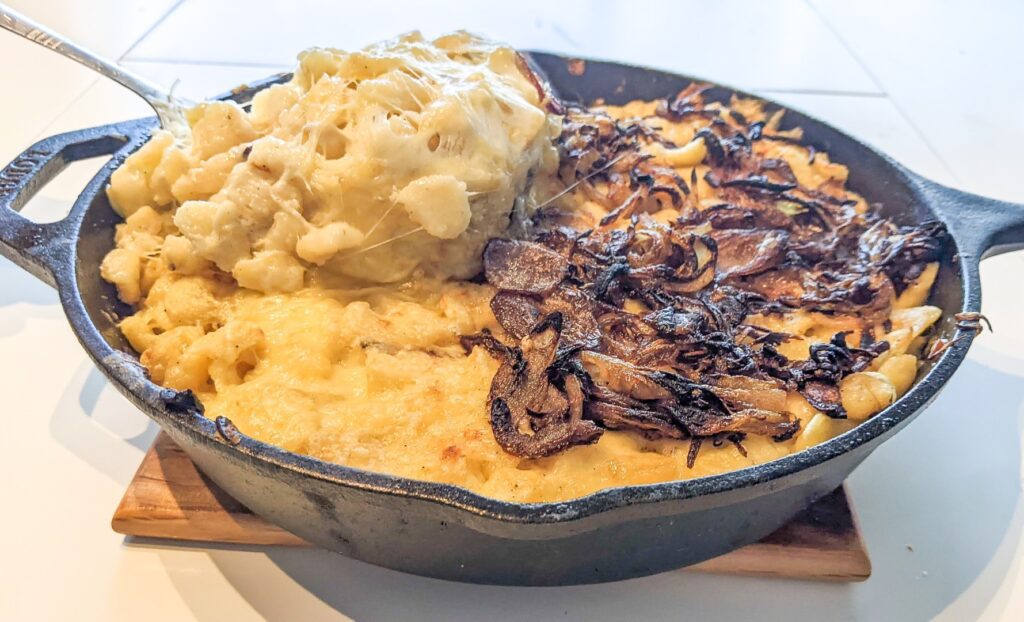 Anyone who has been visiting Germany knows that Käsespätzle is not reserved just for Christmas market foods. But, that doesn't mean that this favorite German food dish isn't eaten widely at just about any market! It's the perfect, warm meal that will fill you up on those cold evenings.
If you are unfamiliar with the beloved Käsespätzle, think "Gourmet mac and cheese!" This ooey, gooey, cheesy goodness is made slightly different from stall to stall well as from every region to region, but they all include "Spätzle" (German egg noodles) slathered in a creamy concoction of cheeses and often topped with crunchy or caramelized onions.
It is German comfort food at its finest!
Stecklerfish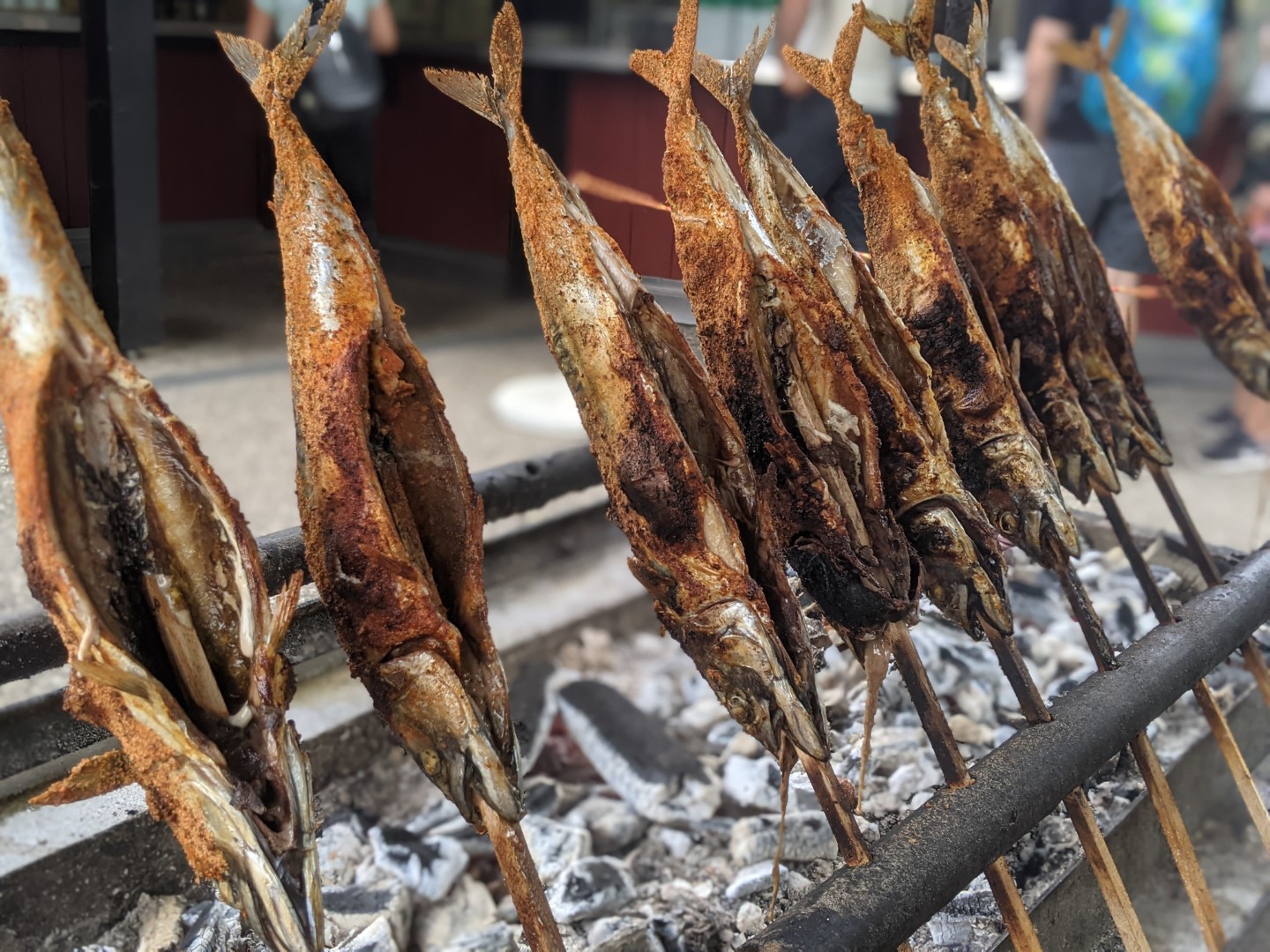 Literally, "fish on a stick," Germans LOVE their grilled fish at fests and markets. The most commonly used fish to skewer up and place over a blazing fire is mackerel but you may also find other white fish or trout.
In the North of Germany, you may even come across fish like salmon and even….wait for it….eels!
This is definitely not a "Grab and Go" meal though, so find a high top table nearby and belly up to it while you try this dish out.
Flammkuchen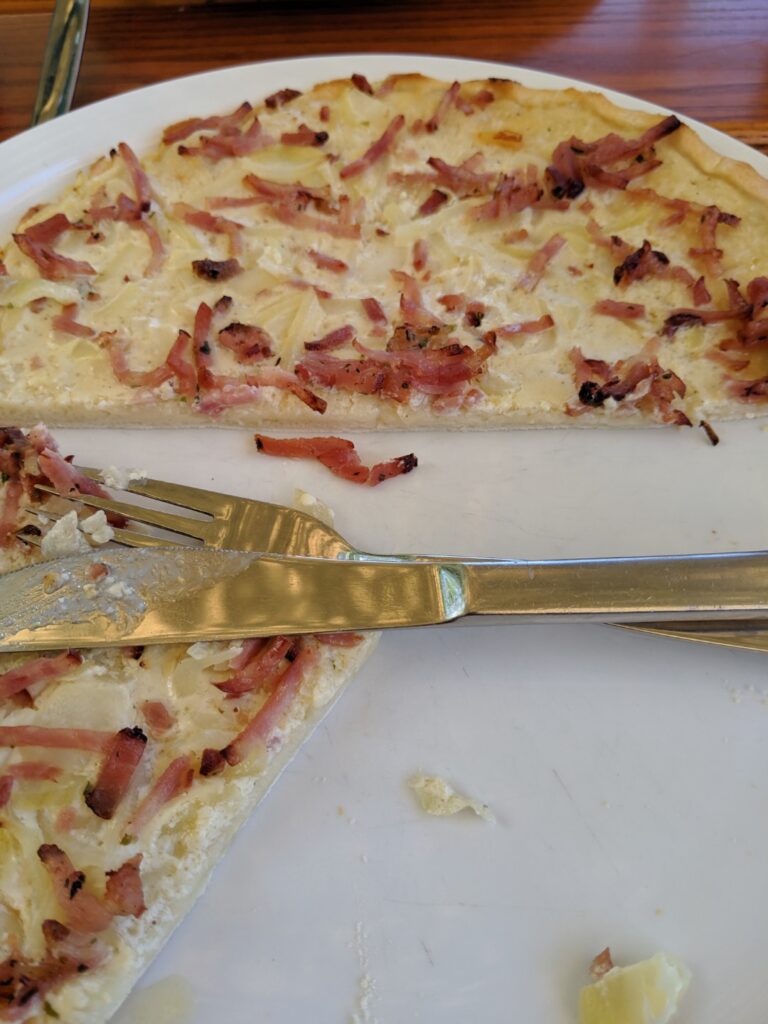 Again, Christmas Markets don't have a cornered market for Flammkuchen fanatics, but that doesn't mean it's not a go to Christmas Market staple today! And while Flammkuchen may have originated in France, it is pretty much synonymous with Christmas markets in Germany now and can be found all over the country at Christmas time.
This thin, flatbread pizza is made with a crème fraîche sauce, bacon, and onions. It is then cooked perfectly in a wood fired oven until crispy and absolutely delicious!!!
Pfaffenglück
At first glance at a description, one might think that Pfaffenglück is pretty similar to the Flammkuchen above. They are both typically wood fired, are both made with a bread/dough base, and they both commonly are served with things like a crème fraîche sauce, bacon, and onions.
So what's the difference??? Well, the Pfaffenglück is going to be a heavier "pizza" style food as it is usually made from a rye bread or a sourdough that often has pretty typical "German Spices" like caraway mixed in. Instead of crème fraîche, a healthy dollop of sour cream is used for the "sauce" and instead of cooked onions for topping, fresh, green or spring onions are sprinkled on top.
Brats, Wursts, and Sausages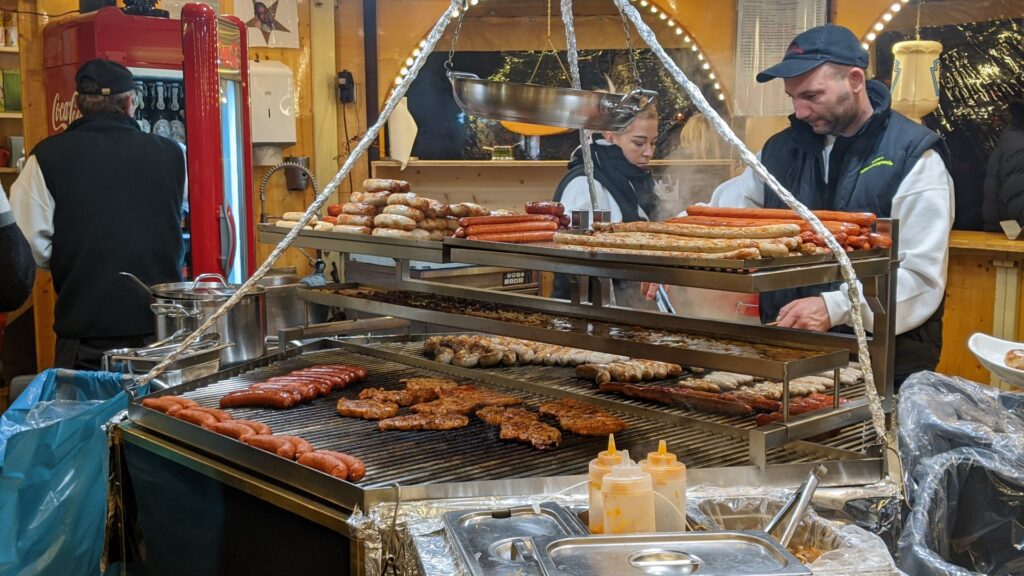 While there is not a particular or specific "German Christmas market sausages," no visit to a Christmas market is truly complete without having a Bratwurst! This is a German sausage made from veal, beef, or pork.
Fun Fact: There are over 40 different kinds of Wurst!
Christmas market Wursts are usually grilled or barbecued on a giant barbecue pan so you could oogle over them before making a decision on which one to pick. No matter your choice, they are all incredibly juicy and tasty. At a market, wursts are usually served on bread but occasionally at a market, you'll also see them served with potatoes or placed on a pile of sauerkraut.
A Bratwurst usually costs about 5 Euros in the Christmas markets. There's really no strict way of how to eat them; just slop on your favorite condiment and enjoy!
You'll find wursts at Every.Single.Market. in Germany so wander until you find one that really calls to you!
Insider Tip: While you can get the insanely delicious "Currywurst" at literally any Christmas Market in Germany, this is a great Berlin Christmas market food, since Berlin IS the home of the original Currywurst! There are so many Christmas markets all over Berlin, it's fun to try this classic dish there!
Contributed By Kenny from Knycxjourneying
7 Wursts You HAVE to Try At a Christmas Market:
Halb Meter Wurst
Even if you don't speak German, yes, you probably understood that correctly….I AM talking about a sausage that is, indeed, half a meter long!!! A MUST try as a classic food at German Christmas markets!
Feuer Wursts
Germans don't do "spicy" all that well, but these "Fire Sausages" do have a little kick to them! YUM! They even come in the Halb Meter length…because why not!?
Thüringer Brat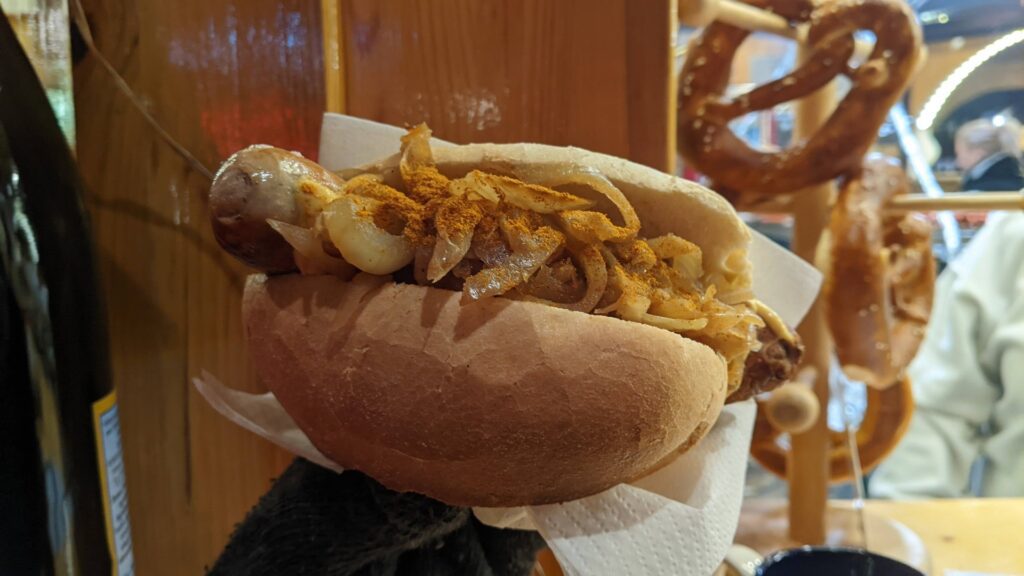 These sausages, which originated in the Thüringer region of Germany are an extremely popular and common Christmas market sausage all over the country. They are heavily seasoned with caraway (and garlic, salt, and pepper) and often served on a bread roll.
Fun Fact: In order to be called a Thüringer, over 51% of the ingredients must come from the state of Thüringa!!
Nürnbergers
These tiny little finger sausages resemble the look of almost a breakfast sausage (but don't taste like them). They originated in (you guessed it!)Nurenburg but is another wurst that you'll find all over the country at Christmas Markets.
Grilled up and placed "Drei im Weggla (Wechla)" or "three on a roll" with kraut is the way to go!
Currywurst
While I mentioned the currywurst above, it's so good we need to talk about it more! It's probably one of my favorite kinds of sausages in Germany if I'm being honest. The sausage itself is often a "Rotwurst" which is a nice, juicy, wurst.
Then, an amazingly, DELICIOUS ketchup that is perfectly cooked with seasoned with curry, cardamon, and other wonderful spices is slathered all over the wurst.
Knackerwurst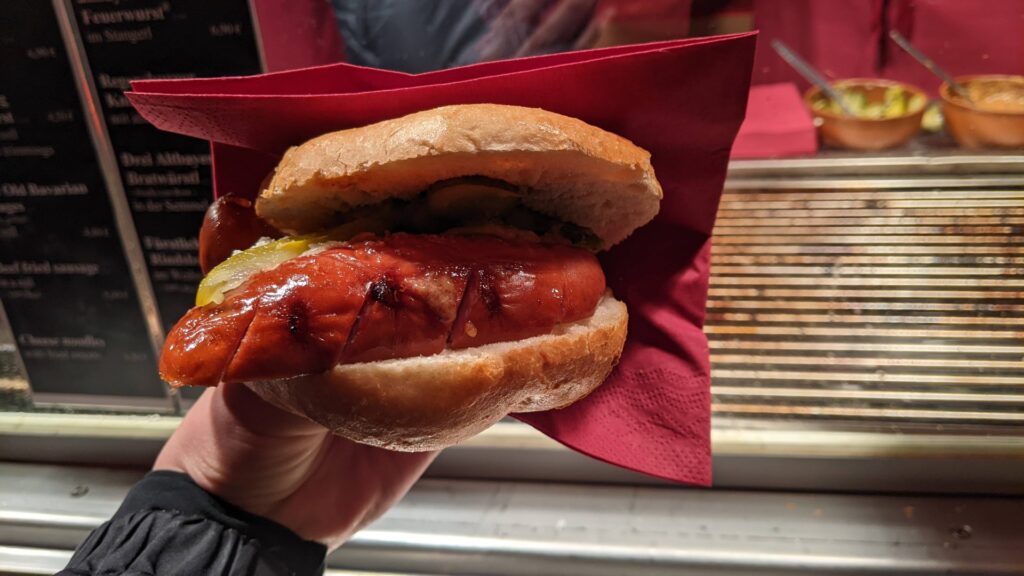 If there really was a "German Christmas Market Sausage" I'd probably put Knackerwurst at the top of that list because, while it's an extremely common sausage, I find that the most common time that it is cooked up and served is at the Christmas Markets (at least here in Bavaria!)
If you really want to get the full experience, you'll need to order a Knackerwurst mit Alle (with everything) which will include a pickle, horseradish, and Bavarian sweet mustard. Trust me on this one!!!! I make everyone who comes to visit me during Christmas markets try this and almost always, they end up saying this was their favorite German xmas market food of their whole trip!
Frankfurters
Honestly, you can probably skip these ones. They are basically like hotdogs. So, unless you've got picky eaters in your group, try one of the other ones on this list!
German Christmas Market Sweets and Desserts
I'm not going to lie. Sometimes when I go to Christmas Markets, I'm strategic about my food. If I go into a market and eat any of the above, I often find my stomach so full that it's hard to convince myself to get a dessert. Oh, who am I kidding, it's NEVER hard to convince me to get a dessert!! But it IS sometimes hard to make that dessert fit into my already filled up stomach!
Since I truly do hope that you aren't going to just one German Christmas market on your trip, you can also be like, "Ok, today I am going to try some of the main foods and then tomorrow, I'm going to fill up on the sweets!!!" I mean, dessert absolutely can count as a full meal and the calories actually don't count because you're on a vacay, friend!!!
Fruchtspieße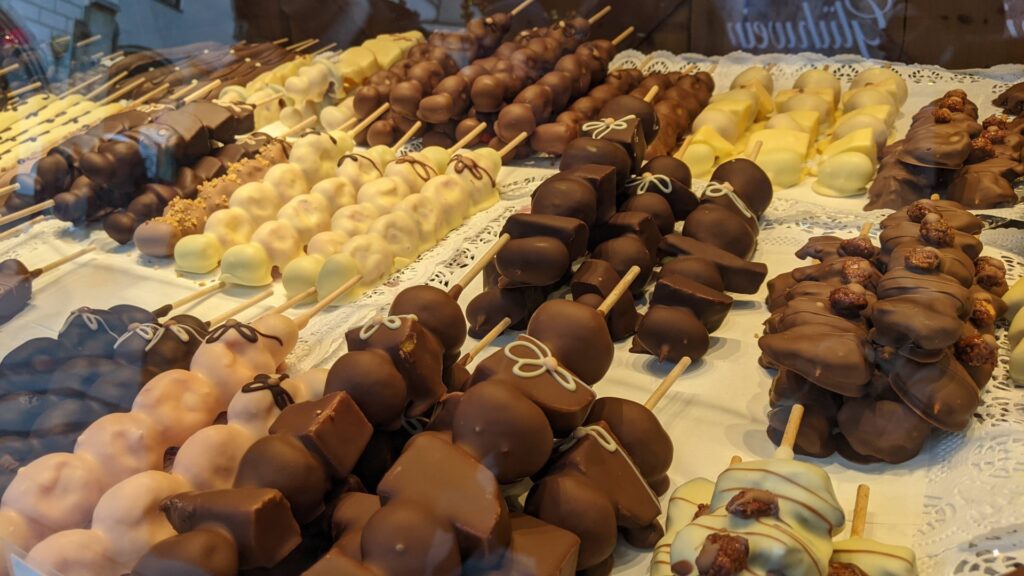 So here's a little known fact about me. I love chocolate. I love fruit. But I haaaate chocolate covered fruit!!!
However, I am clearly in the minority here, as the "Fruit Skewers" at Christmas Markets are clearly a crowd favorite! One of the most popular items is the chocolate-covered bananas and the chocolate-covered apples, but considering there is an entire vendor for this, you know they'll have all sorts of dessertified fruits for the picking!
Lebkuchen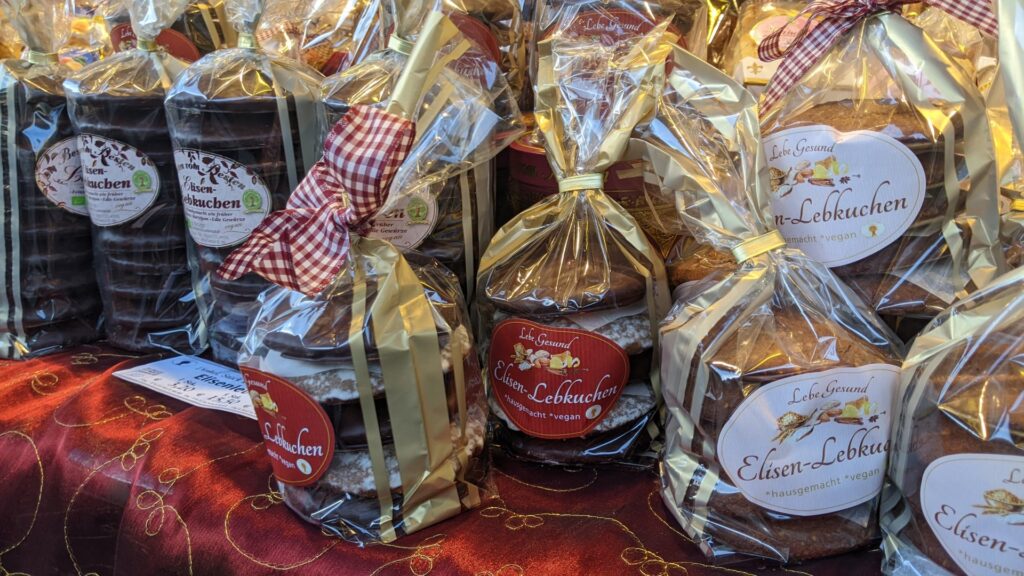 Lebkuchen is one of the most popular German foods eaten during the Christmas market season. While many people describe it as the"German Gingerbread" that is still a bit misleading. This German-style cookie is heavily spiced with anise, nutmeg, cinnamon, cloves, and allspice. To be honest, you will either love or hate this cookie, but did you REALLY go to a German Christmas Market if you didn't even try a Lebkuchen!?
Lebkuchen has a long history dating back to the 13th century. Medieval monks in the Franconia region in Bavaria are credited with inventing this moist, cakey German delicacy that's now served as German Christmas market food around the country.
Although it's found around the country, a fantastic place to try it is the city of Nuremberg, which is in the heart of Franconia and supposedly the home of the original Lebkuchen. Nuremberg's Christmas market is famous around the world as one of the largest Christmas Markets in the world. A serving of Lebkuchen will cost you no more than a couple of Euros. You could eat it as a dessert after sampling the city's equally famous Nurenburger Bratwurst, and of course, washed down with Gluhwein!
At Christmas, Lebkuchen is typically served as a circular cookie. Sometimes they are even dipped in chocolate! However, have you seen those adorable cookies in various shapes hanging all around those sweet vendor's stalls? Those are also Lebkuchen! These are a fun and touristic way to see it served and it makes for a Great German Souvenir. But, of course, it tastes better the authentic way!
Insider Tip: Depending on the region you are visiting, similar German Christmas cookies may be called Depending on the region you are visiting, you may see it called 'Honigkuchen' (Honeycake) or 'Pfefferkuchen' (Peppercake) as well.
Contributed By Rose from Where Goes Rose
Gebrannte Mandeln (Candied Almonds) and Nuts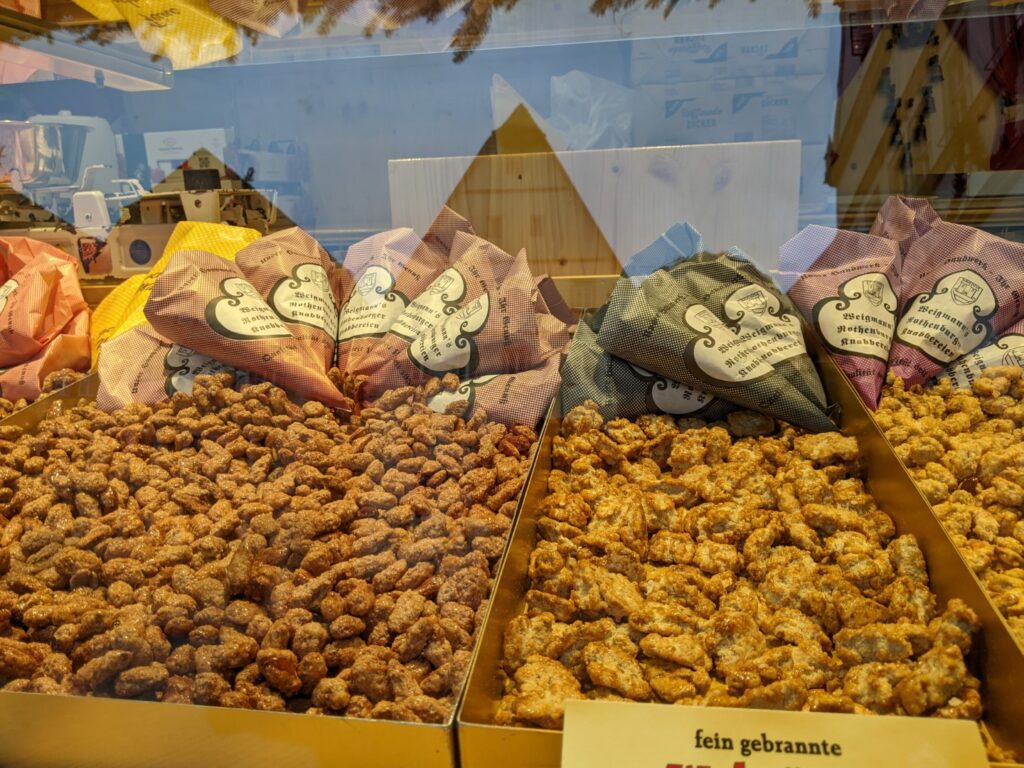 German Christmas markets are perfect for indulging a sweet tooth. One of the tastiest Christmas market foods is candied almonds. These are almonds that are made by cooking a blend of sugar, cinnamon, and vanilla, and then adding the almonds. The nuts are cooked in the sweet sugary mix until the sugar melts and coats the almonds. What you end up with are crunchy, sweet, delicious treats!
Just about any Christmas market you go to will have these, and it's worth trying them at least once. They aren't expensive, usually about 3 to 4 euros for 100 grams, which is a good portion of candied almonds. They usually come in a paper cone, so it's easy to wrap them up and save them for later if you don't want to eat them all at once, but fresh and hot are the best way to devour them!
Almonds are definitely the most popular of the nuts to be made this way, but don't limit yourself there! Try out the other candied:
Cashews
Walnuts
Peanuts
Macadamia Nuts
Not only do they have a plethora of nut choices, you'll sometimes see different types of flavorings on roasted nuts. Instead of the standard sugar and cinnamon mix, you might see a chili mix, chocolate, fruit, candy bar flavors, and even alcohol flavors like rum or Baileys!
Contributed by Ali from Berlin Travel Tips
Baumstriezel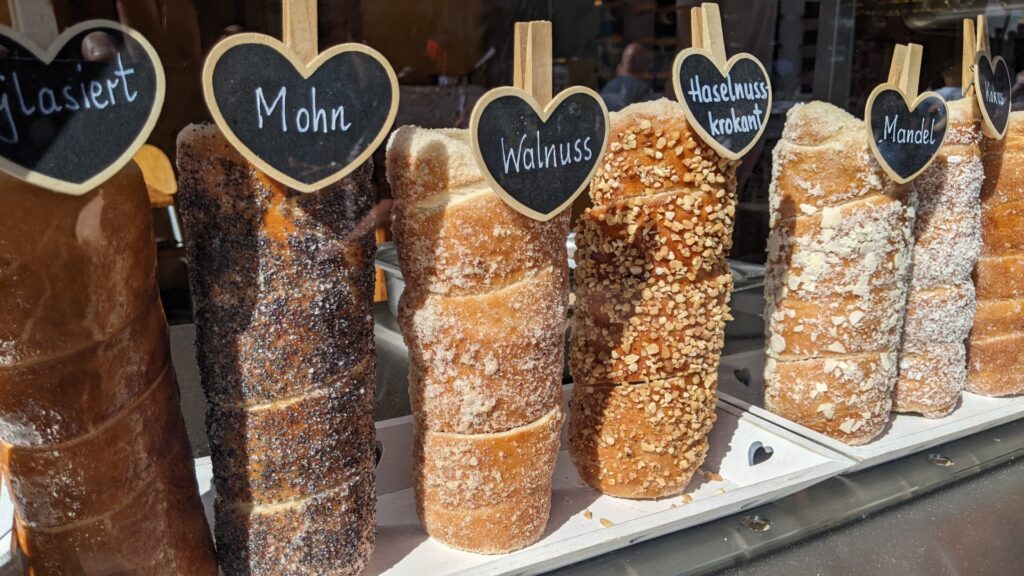 Another Eastern European food, now adopted happily in Germany is the Baumstriezel, which is a delicious pastry that is coated onto a "roller" that is then placed into a blazing fire to be cooked. It comes out perfectly warm for those cold days and is the absolutely perfect snack to walk around with.
You can choose from a plethora of toppings like nuts, but my personal favorite, by far, is the classic cinnamon and sugar coating.
And a newer craze that should not be skipped is the Baumstriezel Cone. Yup, take that flaky, delicious pastry and put a few scoops of ice cream (Eis) inside and you've got yourself a German Christmas Market treat!!!
Schaumkuss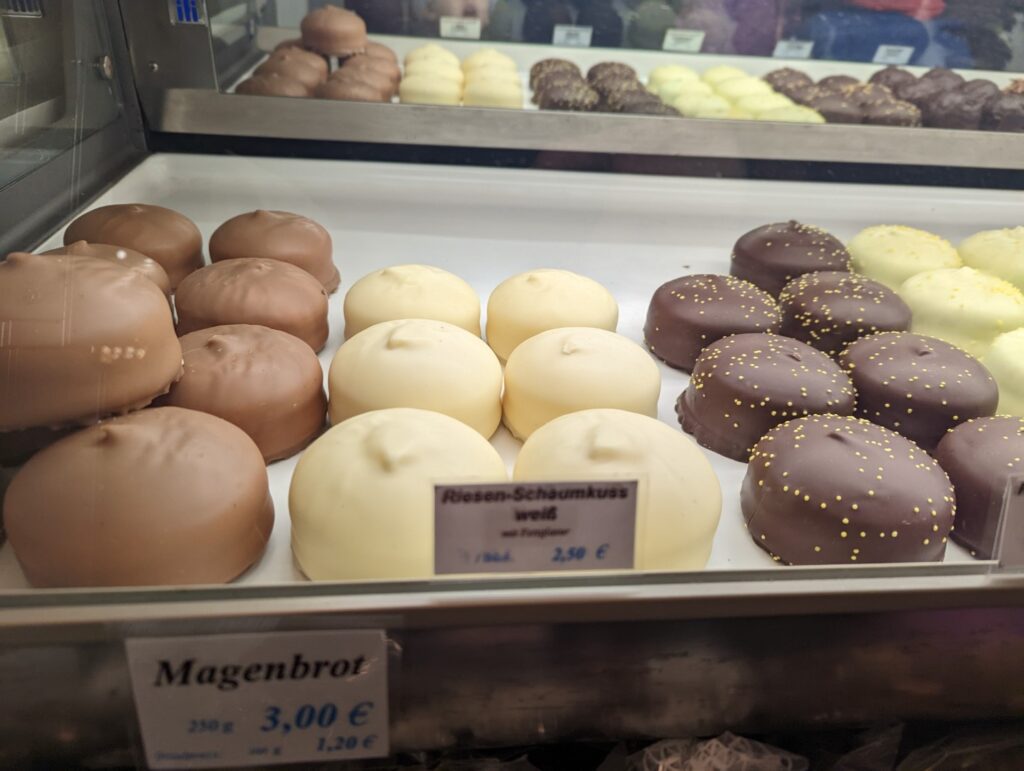 Literally translated to, "Foam kiss" (how sweet is that!!!) these little marshmallows are as adorable as they are tasty and are the perfect German Christmas treats! At these stalls, you'll have your pick of different kinds of Schaumkuss. They are all dipped and coated in different flavorings, so just take your pick! Chocolate covered, vanilla flavored, coffee, fruit…you name it!
Christmas Stollen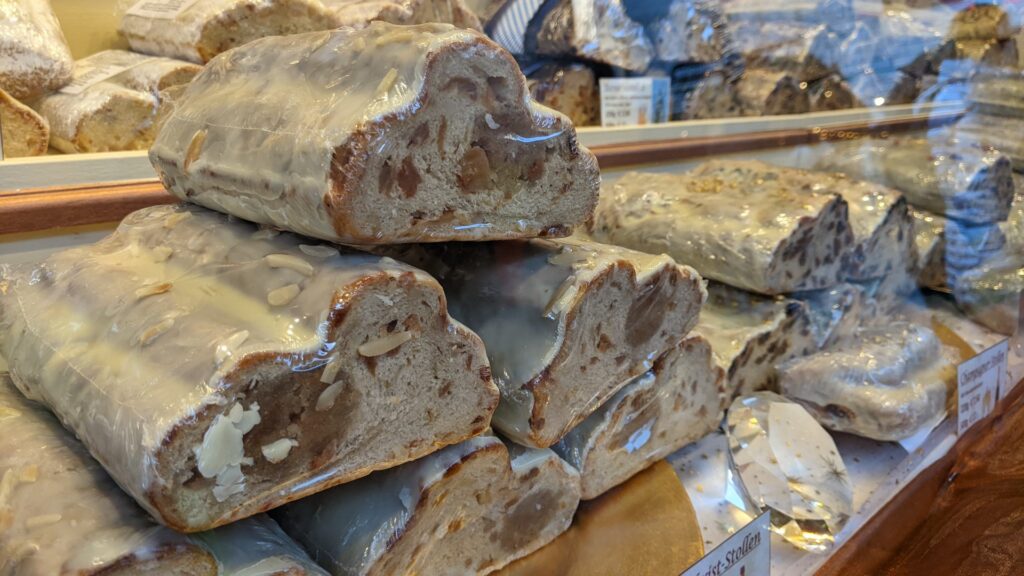 One of the most commonly found German desserts for Christmas is the "Stollen." This "Fruit cake" is a thick cake that is baked with nuts, dried fruit, and a lot of savory spices and then given a generous topping of powdered sugar.
Christmas Stollen originated in Dresden and this is the best location to try it out at. Ironically, as popular as it is all over Germany, it's more often found at a grocery store (and homemade Oma's house) than at the Christmas markets (outside of Dresden). However, if you see it, you should give it a try!
Personally, it's not at the top of my list as far as cakes and sweets go, but no list of German Christmas Foods is complete without Stollen!
Dampfnudel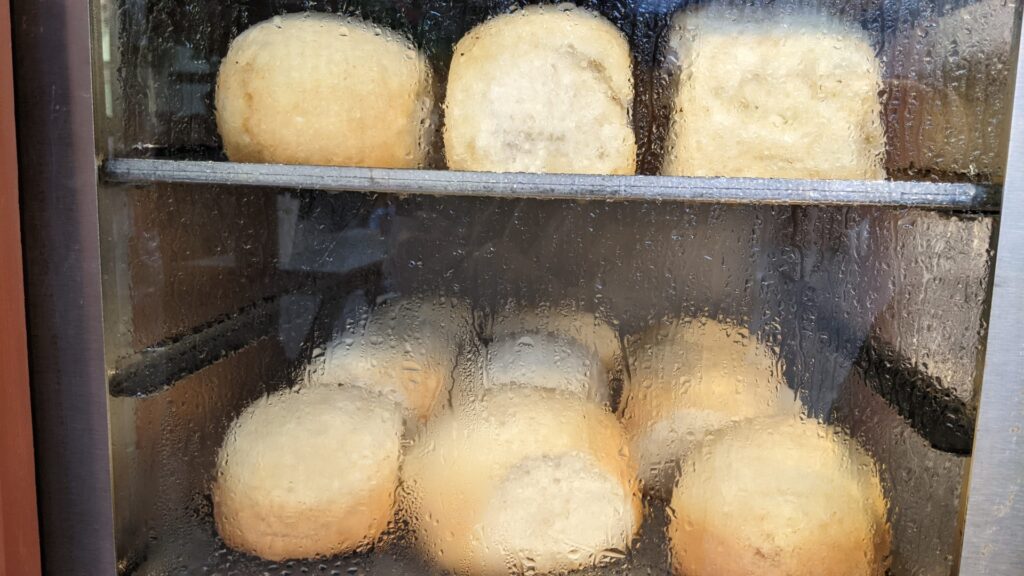 Forget dreams of sugar plum fairies, most people that have a warm Dampfnudel will long for this Christmas in Germany food long after the holidays are over.
Depending on the region, your Dampfnudel may be prepared slightly differently, but in general, it is a (slightly) sweet bread that is steamed. Then, you can choose to top it with a hot, creamy, vanilla custard sauce, or a fruit jam of sorts.
Quarkbällchen and Mutzen
Depending on the region you are in, these little dough fried balls may vary in name and a few slight changes in ingredients. No matter what though, I LOVE them! They are basically Germany's answer to little doughnut holes and are the perfect warm, sweet German christmas market treats!
A Quarkbällchen's dough is made with Quark (think of it like an "old fashioned sour cream doughnut"- just not glazed) so the inside of the ball is perfectly fully, light, and creamy while the outside has been fried to perfection and powdered generously with powdered sugar and cinnamon.
Mutzenmandeln on the other hand are very similar in the sense that they are little doughnut pieces essentially. However, a Mutzenmandeln will have "Mandeln" in them (Almonds) and many are also made with "Kirschwasser" which is a German brandy.
Schneeballen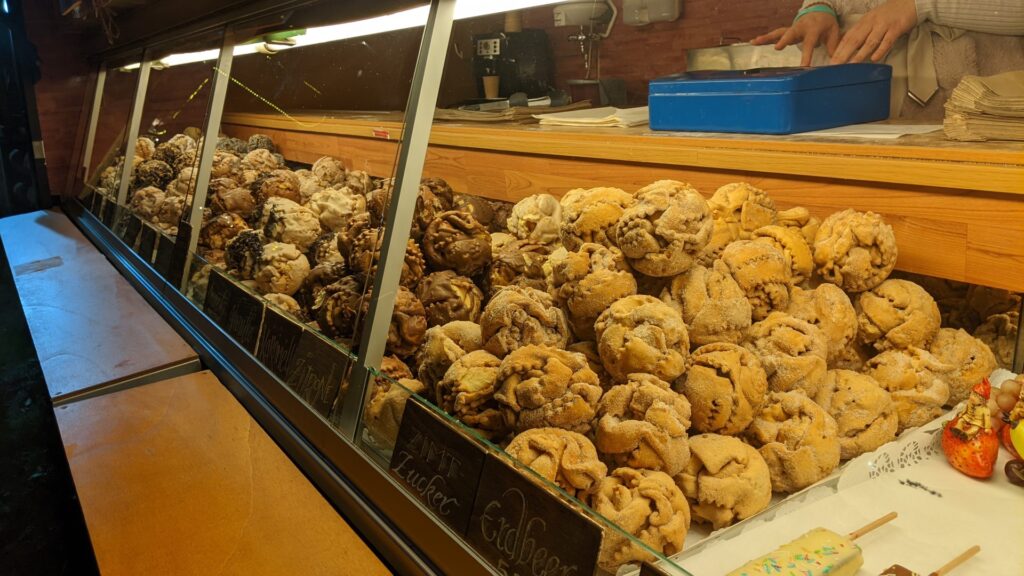 You won't see Schneeballen at every German Christmas Market, so if you spot it, it is worth nabbing it while you can.
Made famous by the town of Rothenburg ob der Tauber (Aka THE German Christmas Town!), these are little German pastries that take almost a pie crust-tasting dough, cut it into strips, form it into a ball, fry it up and then cover in a plethora of topping choices!!!
Here's the odd thing though. Fried dough? How can you go wrong with this!? Well, one thing you have to know about German sweets and desserts in general is they are MUCH less sweet than what most people are typically used to with desserts. So, while I've come to really enjoy the taste of Schneeballen now, I'll admit that before my "Sweet Tooth" adapted to German baking, I thought these pastries were pretty bland!!!
However, if you are planning on going to the famous Rothenburg Christmas Market, there is zero excuse for not trying one! (Come back here and let me know what you thought of it though!)
While the "Classic" is a powdered sugar coating, I love buying a "Sample Box" which includes other toppings like chocolate, marizpan, nuts, and more!
Crepes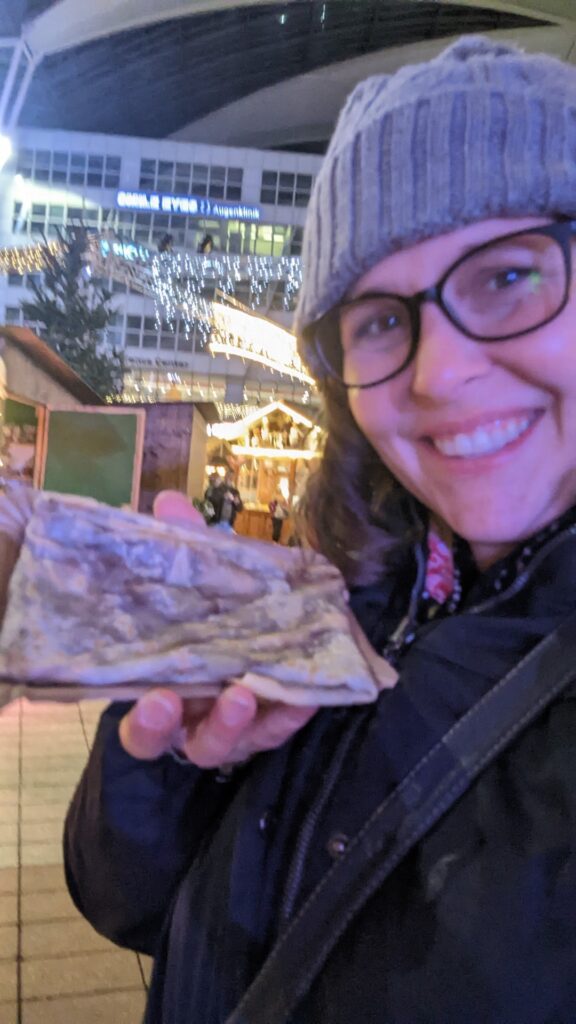 If you have seen any German food stalls at any festival in Germany, then you've seen crepes, so they are not particularly special to a Christmas Market. However, you really just can't ever go wrong (any time of year) with a delicious crepe! These very thin pancakes can be served in about as many ways as there are Christmas markets!
Some people like their crepes savory, with some ham and cheese.
But personally, I love my crepes sweet (and a bit boozy). Oh yes, you heard that correctly. A hot off-the-stone crepe drizzled with Nutella and splashed with a shot of Amaretto is TO DIE FOR!!!
Other popular options are Nutella and banana, strawberry filled, or just simply with cinnamon and sugar.
German Christmas Market Drinks
You've surely already heard of the famous German Mulled Wine; Glühwein. You can't go anywhere in Germany as soon as the weather starts to cool down (you'll start seeing it at the grocery store in August and September even!!!) without seeing that delicious warm wine! However, don't limit yourself to just this classic, there are so many other types of great Christmas market drinks to try!
Classic Rot German Glühwein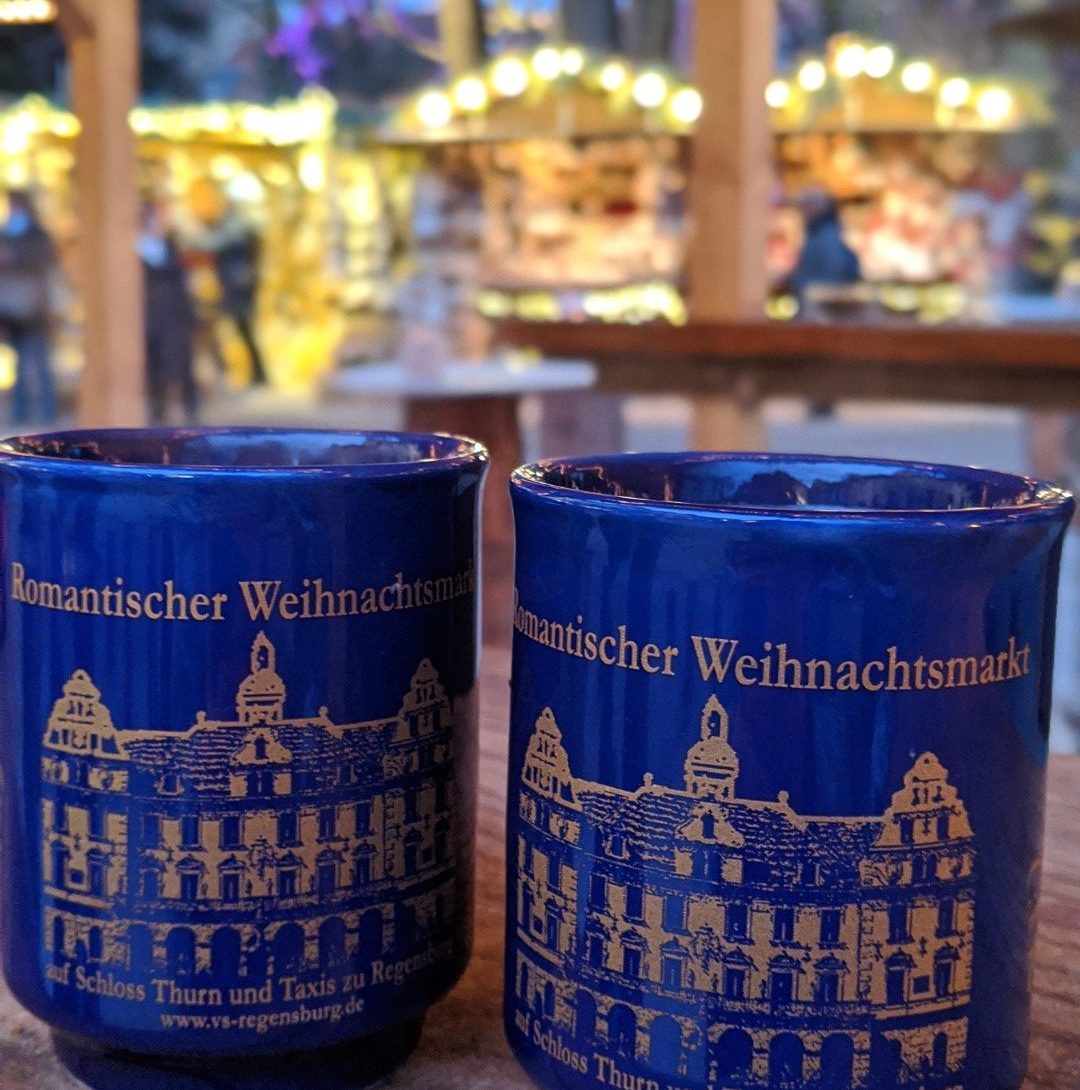 I'm not sure if there is anything that screams "Germany Christmas Markets!!!" more than its most famous hot drink: Glühwein. When it is cold outside, the magical powers in Gluhwein warm up your body and soul. This mulled wine can be found in just about any European country at Christmas, but in Germany, it is the ultimate holiday drink. In fact, it is so beloved, you would be remiss if you didn't try out the plethora of varieties.
Weißer Glühwein (White)
You thought that all Glühwein was from red wine? Nein!
While the classic and traditional Glühwein (👈Get my Grandpa's homemade recipe here to make yourself at home!) is red, the white, hot German wine is equally as delicious!
In fact, if you find normal Glühwein too sweet, give the white a try to see if it's any better for you.
Bratapfel (Baked Apple)
Sipping on a Bratapfel Glühwein is like drinking in the holidays straight in hot, liquid form! It's not JUST Apple Glühwein- it's BAKED Apple, which takes the profile flavor up to all new levels! It's not found everywhere (and it is different from just "Apfel" Glühwein) but if you spot it, it's essential you give it a try!
Other Fruit Glühwein Varieties
Just like the fact that you can make wine from all sorts of fruits, Germans love to make Glühwein from them as well!
Blueberry, raspberry, cherry, and other fruit wines are used and who is going to say no to more Gluhwein tastings!?
Mit Schuss (with a shot)
Oh, that's right. Take that boozy drink and add more…..well, booze! A shot of rum or amaretto are two of the most popular choices that you can order to "add a shot" of liquor into your Glühwein. When you order, start with the Glühwein you want (Rot Glühwein) and then the alcohol. For example, "Eine Rot Glühwein mit Amaretto, bitte"
Now THAT will really warm you up from head to toe!
Feuerzangenbowle
Literally translated to "Fire Tongue Bowl!"
Want to take your German Christmas drink up a few levels? Put it in a fancy cup with a "tongue" on the side, splash in a good helping of rum, place a sugar cube on the lip of the cup, and…..LIGHT IT ON FIRE!
Sure, it's pretty much like the "Glühwein mit Schuss" but look at how cool that looks!!!!!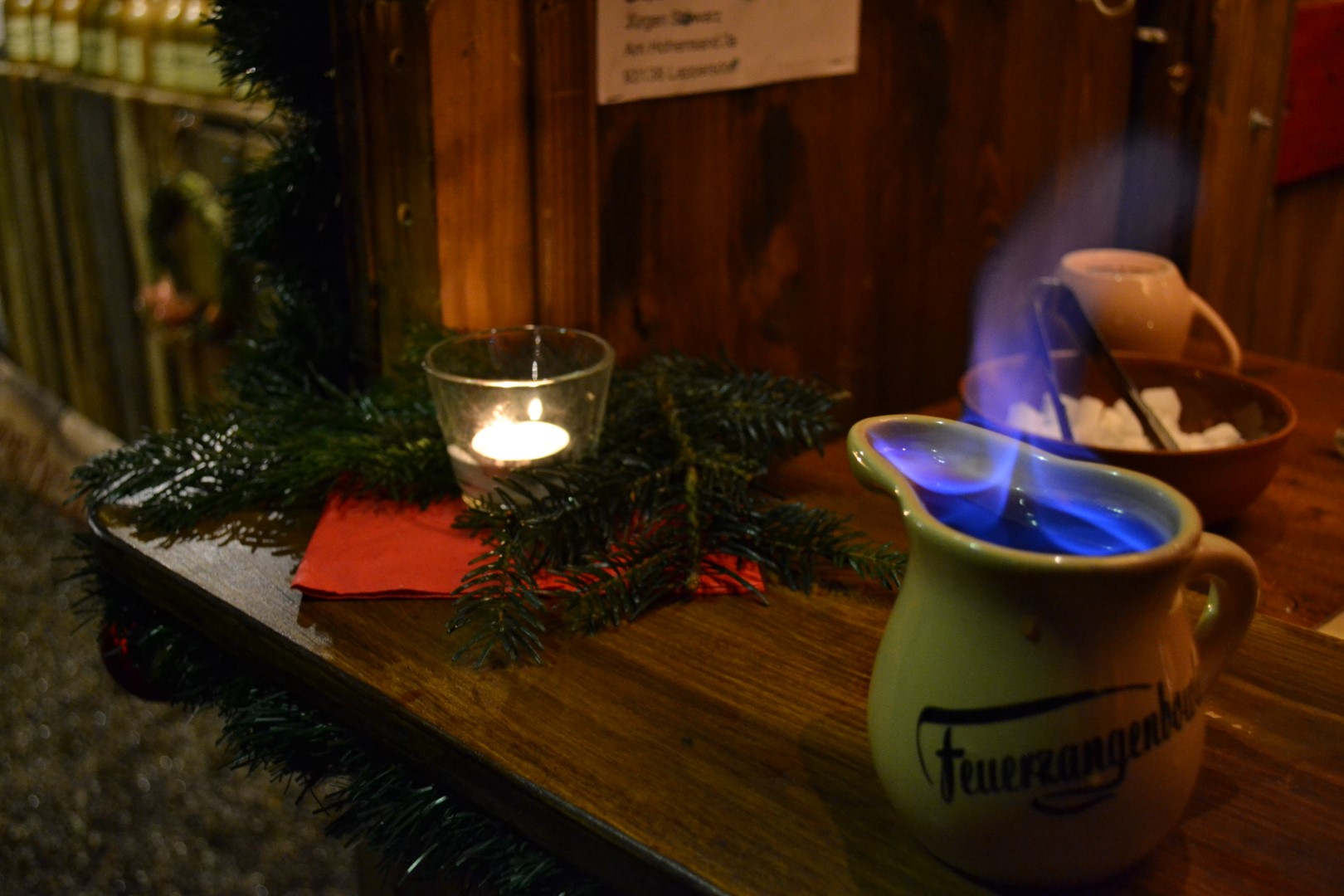 Eierliquor Punsch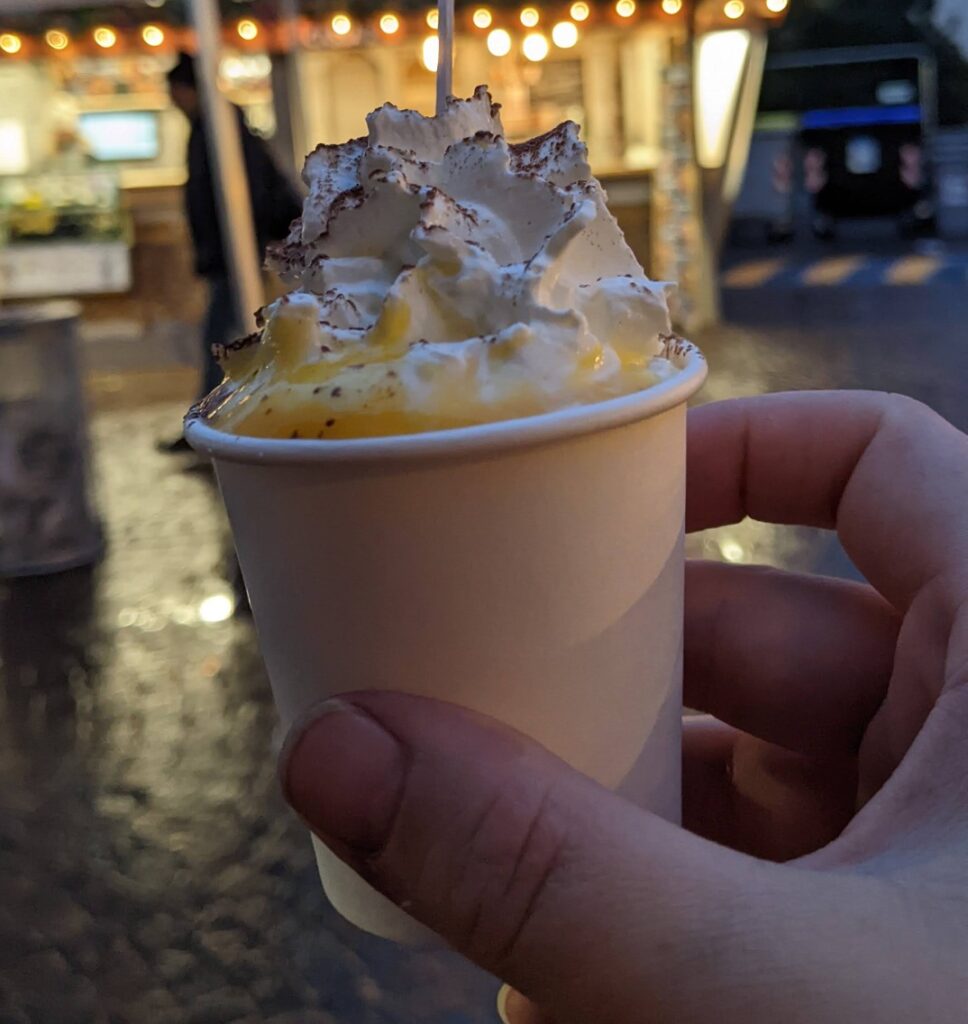 To me, Eggnog goes hand in hand with "Christmas" But this Egg Liquor is NO "Eggnog." So, let this be a warning to all you eggnog lovers out there. I repeat. This is NOT EGGNOG!
This German hot drink is a thick, egg-based drink and it may sound similar in description, but trust me, it's just….well, different.
I would consider Eierpunsch to be much thicker and less spiced than what I consider "Eggnog." It's made from a base of Eierlikör (egg liqueur) and wine (sometimes rum) and topped with whipped cream. I know, I know….that description SOUNDS like it should be a winner, right!? (I thought so, too!)
But it ends up being a very odd experience in your mouth as you drink the warm, thick, creamy substance that simultaneously just tastes like straight up booze.
This one is a "No Dawg" for me personally, but, like everything, I think it's worth trying at least once on your Christmas Market tour if you are really up for a German Christmas Market Bingo game!
Kinderpunsch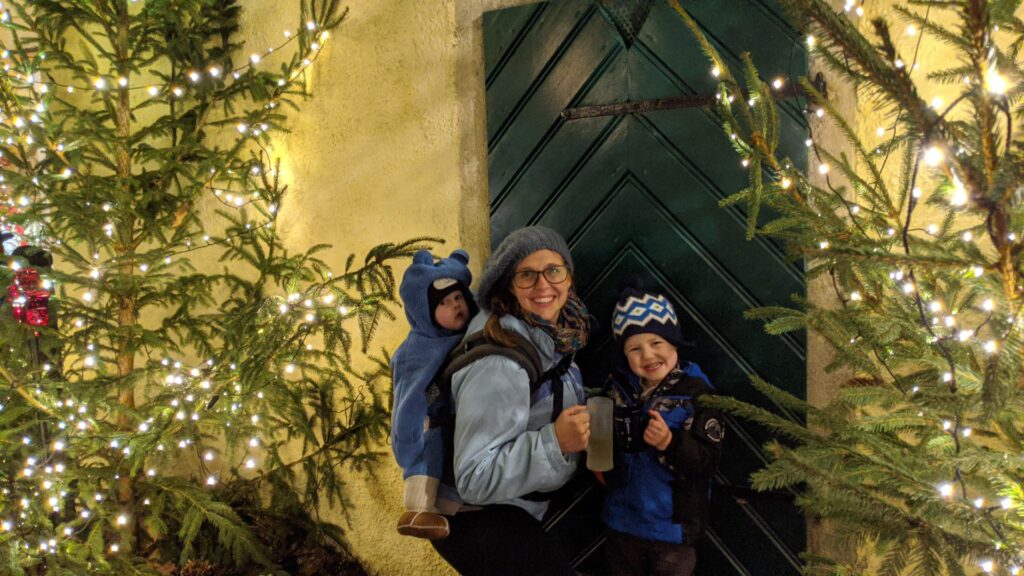 If you are all boozed out or are choosing not to drink but still want to partake in the classic German Christmas drinks, then don't skip on the Kinderpunsch! And no, it's not just for the Kinder (kids)! It's absolutely for adults who don't want an alcoholic beverage but still want to warm their hands and bellies with that quintessential Germany Christmas Market style drink!
This mulled juice is the non alcoholic counter part to the German mulled wine and is sold right next to all the other Gluhweins you'll spot on every corner of the Christmas Markets.
The Classic Kinderpunsch Recipe is pretty easy to make but equally as tasty as Gluhwein! They take a blend of fruit juices and slowly simmer them with a similar blend of spices to create the perfect non alcoholic, hot drink perfect for any age!!
Conclusion
Whether you are at the German Christmas Markets because you are actually shopping for the Best Things to Buy at a German Christmas Market or if you are there to eat (hey, no judgement here!)- one thing is for sure….
You can't avoid all the delectable, delicious, mouthwatering Germany Christmas Market Foods!!!
Heading to Germany for the Christmas Markets? Which food are YOU going to chow down on first??