[This post may contain affiliate links where we earn a small commission. Please see our disclosure for more information and thank you for supporting our site so we can continue to bring you awesome content for your travel inspiration!]
Where are the Christmas Markets in Germany?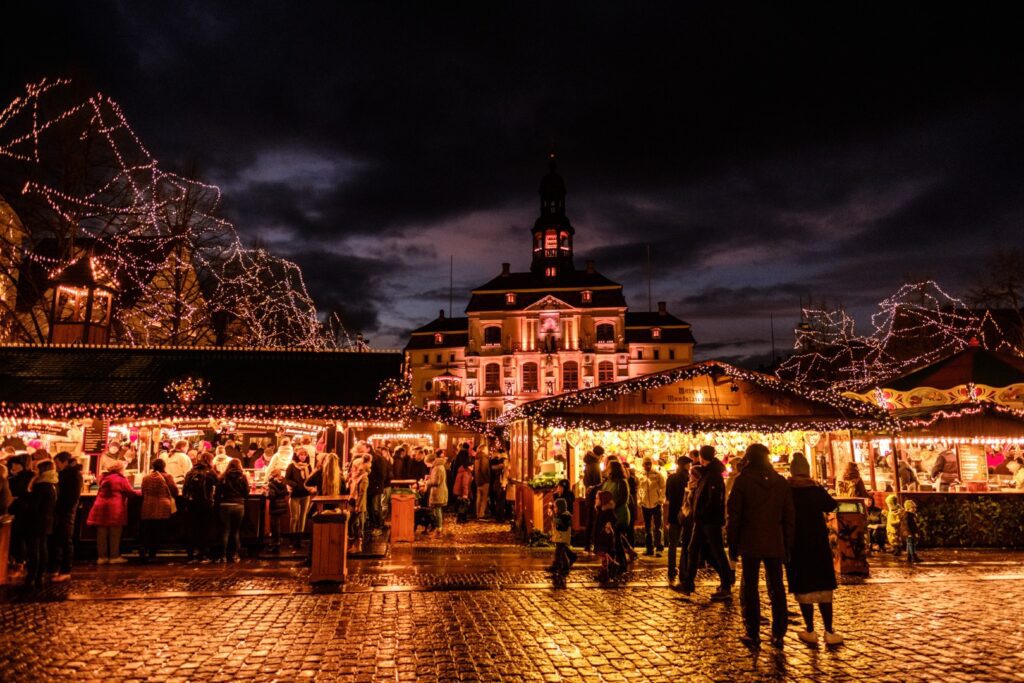 Almost every town and village will have its own Christmas market in Germany. Even the smallest of villages will typically have a Weihnachtsmarkt, even if just for a short weekend.
Planning a Trip to Germany? Join Our Fantastic Traveling in Bavaria Facebook Group!
When do Christmas markets start in Germany?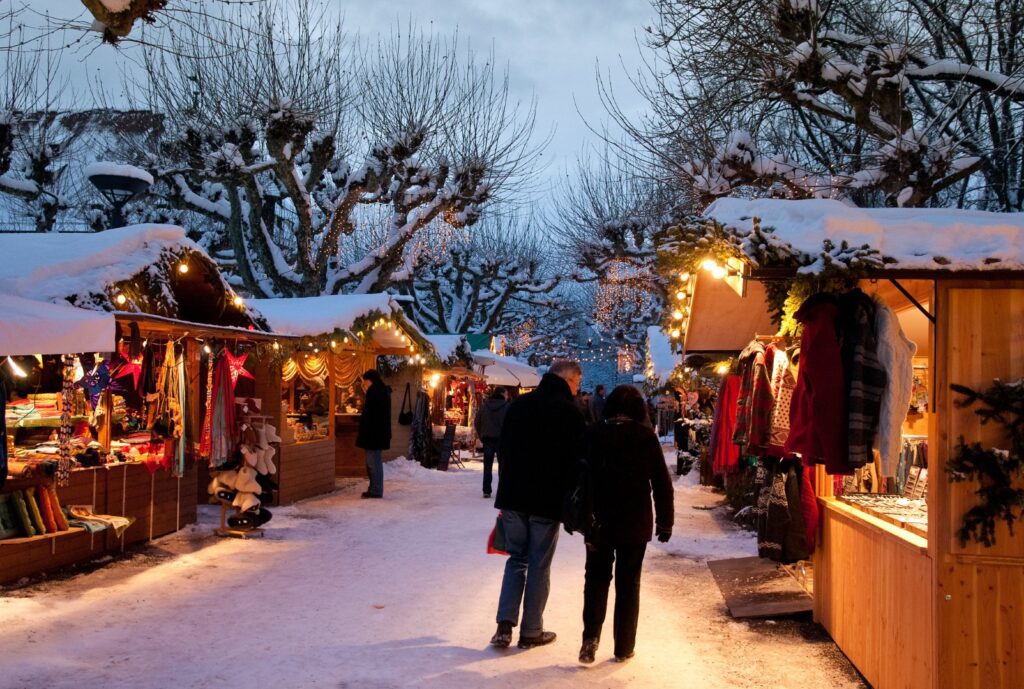 I often get asked, "When are the Christmas markets in Germany?" While this will vary market to market, Christmas markets often start on the first weekend of Advent (for you Americans, that is typically the weekend after Thanksgiving).
Some markets, like in Aachen, some in Cologne, Essen, Europa Park, and others may even open a week before Advent, so about mid November.
Many markets will run the entire advent season (about 4 weeks).
Other markets, like small villages, will often only do one weekend for their market.
Some markets are only on the weekends
Therefore ALWAYS look up this year's schedule.
Note: Many (if not most) German Christmas Markets end on December 23rd or by mid day on the 24th. Do not expect hardly any markets to be open on Christmas Eve or on Christmas Day. Only a few will reopen for a little bit after Christmas.
What is the Biggest Christmas Market in Germany?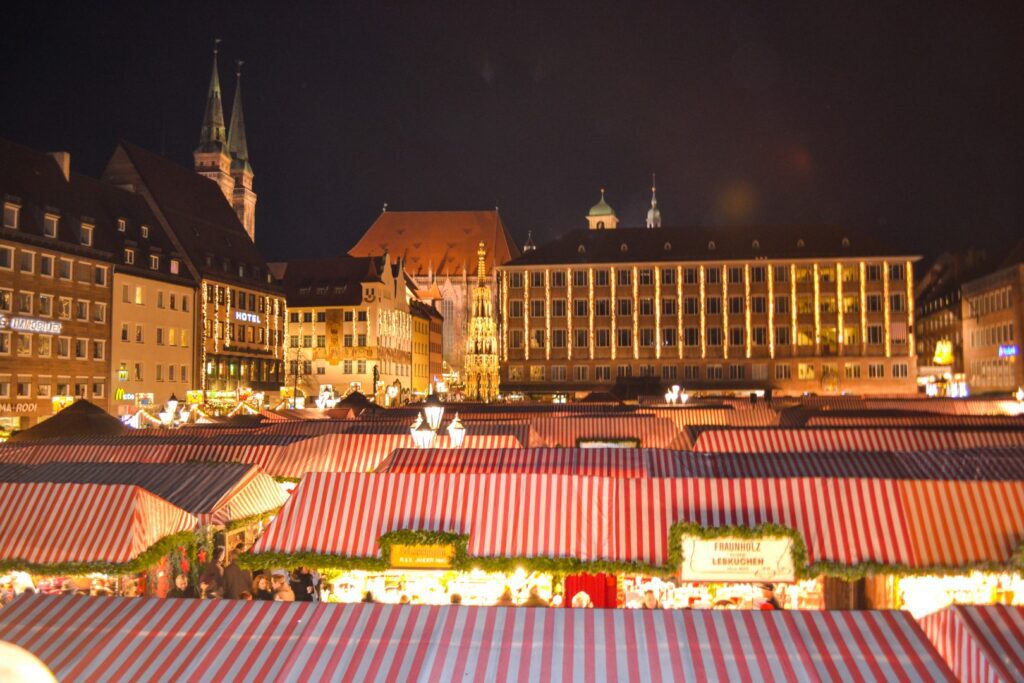 If you are just talking about the amount of stalls and vendors, then some of the biggest Christmas Markets in Germany are:
Stuttgart: 287 stalls
Dresden: 240 stands
Nuremberg: 180
Cologne: 150 stalls
However, some cities have Markets throughout their entire town/ city, making for what feels like countless markets! For example,
Berlin: 80+ Markets throughout the city!
Munich: 20+
Regensburg: While there are only about 6 markets, it's the perfect town to do a DIY walking tour through the Altstadt (Innenstadt) and combine it with stopping at each of the markets along the way!
What is the Oldest Christmas Market in Germany?
Dresden's Striezelmarkt is considered the first "Genuine" Christmas Market, which started in 1434, making it not only the oldest Christmas Market in Germany but also the oldest Christmas Market in Europe!
But what does "genuine" mean? Markets around the time of Christmas (or other Pagan holidays around the Winter Solstice) were not uncommon in Europe. However, they were more just a typical, local market where people would come to stock up on goods for the long winter ahead. But as Christianity became more widespread, it was said that in Dresden, a few local merchants began selling things like meat that buyers could get for a special holiday celebration at home. Then, over time, things like baskets and other goods started to be sold. Eventually, this evolved into a collection of vendors selling foods, goods, and finally even items that people could give as gifts….creating the first "Genuine" Xmas Market!
What are the Most Famous Christmas Markets in Germany?
There are so many amazing German Christmas Markets. Some of the most famous are:
Nuremberg
Dresden
Aachen
Freiburg
Berlin
Düsseldorf
Stuttgart
Munich
Cologne
Leipzig
What is the Best Christmas Market In Germany?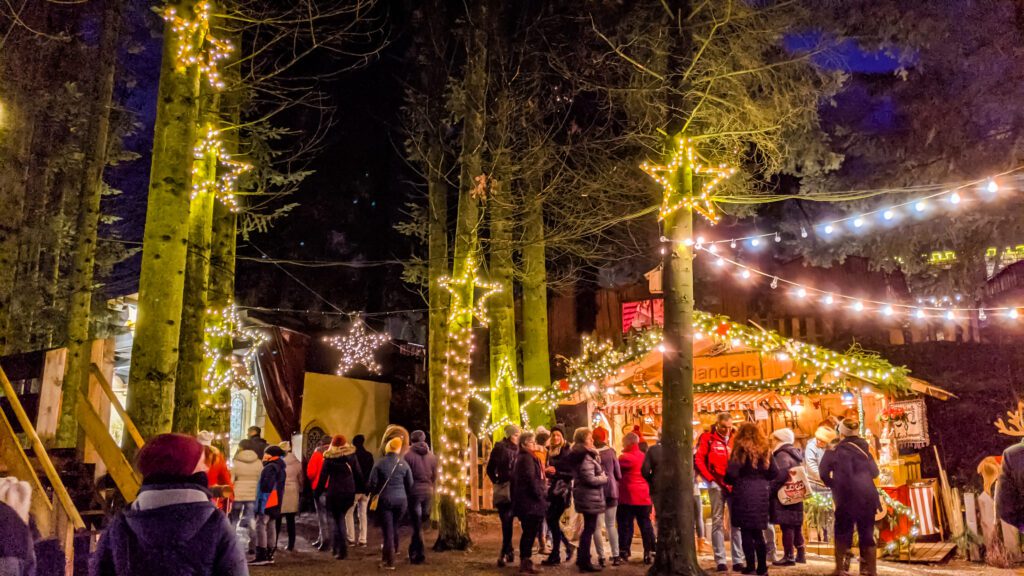 This is kind of like asking "Who is your favorite child?" 😉 It's almost impossible to proclaim where are the best Christmas markets in Germany because there are just so many and many of them are quite unique. With that being said, many of the large German Christmas Markets kind of all blend in together. A lot of the same (sadly mass-produced) items are sold at all of them. So, to find the best Christmas Markets in Germany, you have to look for a more off the beaten path experience. Some of my favorite Christmas Markets that are unique are:
Schloss Guteneck Medieval Market
Bernkastel Kues
Waldwipelweld Christkindlmarkt in the Bavarian Forest
Triberg's Winter Magic in the Black Forest
Schloss Drachenburg
Regensburg's Markets throughout town
Small villages (the smaller, the more local the vendors typically are)
Where is Germany's Biggest Advent Calendar?
The cute little village of Gengenbach in the beautiful Black Forest takes the German Christmas tradition of Advent Calendars and ups the ante. Each year, the town hall (Rathaus) turns into Germany's (some say the world's) largest advent calendar.
The Rathaus glows in beautiful Christmas lights and decorations. Starting on November 30th, a light dances around the building, finally landing on one of the windows, which opens that day's Advent Calendar's display! While the calendar is complete by the 23rd of December (which is when the market closes for the season), the town leaves the "Calendar" up until January 6th for viewing
Are Christmas Markets Kid Friendly?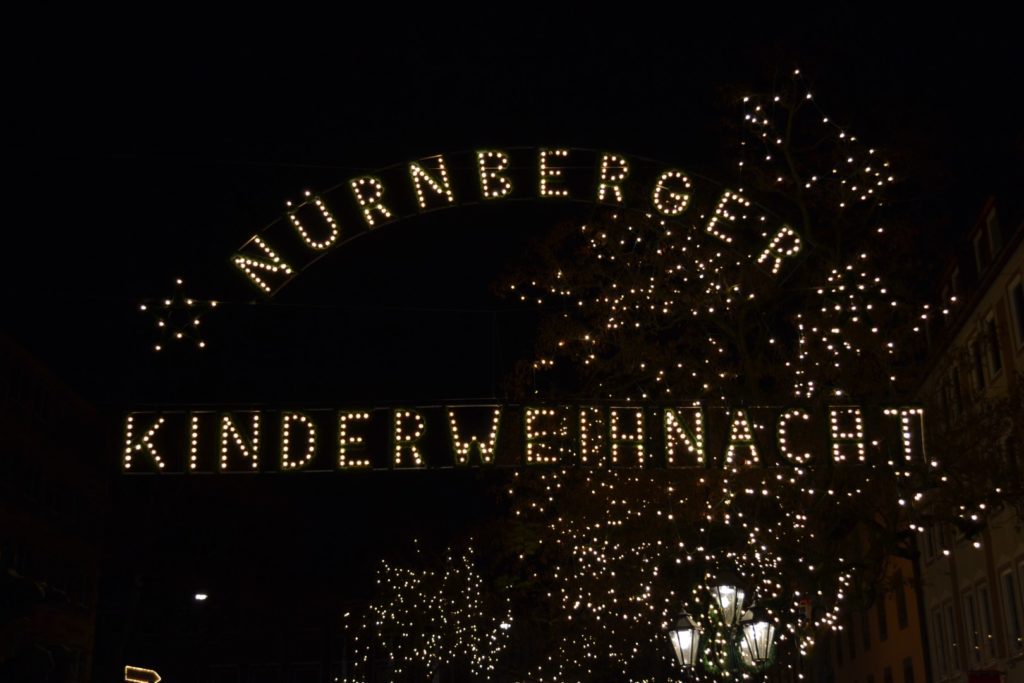 Yes and No. If you go during the day when it's not insanely crowded, there are plenty of things that kids may enjoy, such as hot chocolate and a few have some simple rides like carousels. However, it is a lot of "just" walking around looking at vendors, which, depending on the age of the kids traveling in Germany with you, it can get pretty boring for them. And, if your kids are anything like mine then bored= whiney!
Therefore, if you are going to Christmas markets with kids, do some research prior and find ones that are particularly kid friendly. Some examples of kid friendly Christmas Markets are:
Nuremberg has a whole Kinder Christkind Market, JUST for kids (they can make cookies, there is a carousel, they can write letters to Santa, and more!)
Guteneck has real camels, live birds of prey, and people dressed in Medieval attire!
Rothenburg ob der Tauber has a small kids section
Augsburg has kids programs where St. Nick comes to give out goodies to kids and there are kids choirs and processions
Stuttgart has the "Wintertraum" where there's a carousel. miniature train, and even a fairytale grotto
Fez Market in Berlin is great for kids with carolers, cookie making, Santa visits and more
Visiting German Christmas Market Tips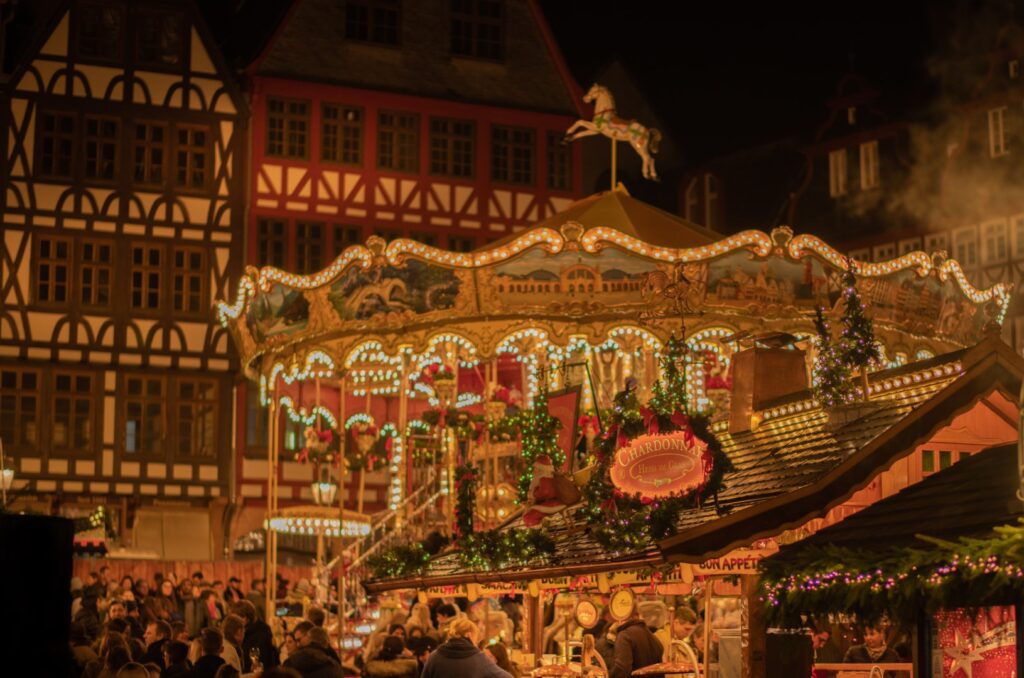 Bring Cash and Coins
While Germany has significantly improved its credit card acceptance in recent years (Covid actually helped this since people wanted more contactless transactions!), you are still going to want to carry plenty of cash on hand for the Christmas Markets as many vendors still only accept bills and coins.
And when Germans use cash, they are oddly peculiar about exact change, which means you'll want to have small coins ready.
In addition to having cash for purchases, one of my biggest traveling to Germany tips is to always have coins on hand for the bathrooms as well. At places like Christmas Markets, there will most likely be bathrooms set up for public use. Cleaning ladies take care of these so that they stay clean all day long. So, as you enter into the little make-shift bathrooms, you are expected to leave about .50 cents for the cleaning ladies.
Dress Accordingly!
One of the biggest questions I get asked is "What to wear at Christmas Markets in Germany?"
If you follow my packing list for Germany in December then you won't have any problems, but the key is layers, layers, layers (and bonus points if the outer ones are rainproof!)
Since you'll be walking a lot, it's surprising how warm you can stay (especially with that hot mug of Gluhwein in your hands!) but the temperature can often hover around freezing this time of year. Granted, there's usually not much of a wind chill, so the temperature is pretty close to what it will feel like outside.
You'll want to always have an umbrella with you, because….well, this IS Germany after all (and you aren't guaranteed snow even in December). One of the most important things is GOOD, waterproof, warm footwear. I find that if my feet get cold, the rest of me does as well.
No, You Can't Barter at German Christmas Markets
These aren't like other markets in the world where you can barter with the vendors to try to get a lower price. The price is the price.
How To Spot Handmade Goods
If you go to any of the larger markets, you are sure to quickly realize that SO many of the items being sold are mass produced, "Made in China" things. So, how do you know if you are buying something that supports a local artist and is made in Germany vs something you could just as easily order online or in bulk?
ASK! Not sure who made the ornaments you are looking at? Ask the vendor! Not sure if that hat is hand knitted? Ask!
Go to smaller markets. While this isn't a guaranteed that everything is going to be hand made, it is going to drastically increase your chances since many small villages like to support their local artists and even the vendors selling Gluhwein are often local clubs.
"Made In China/ Tawaiin" (etc) Stickers: An absolute stand out giveaway on mass-produced items are ones that have a sticker or label inside saying "Made in India" (or wherever)
Go To Markets Where Items are Known For
While this should/ could go under how to spot local items, I think it is important enough to make it's own tip. There are plenty of places that are particularly known for certain hand made items. Therefore, if you want to really ensure that those wooden Christmas Pyramids are authentic- go to the region they are made in!
Anything Wood, Go to Seiffen. In the Ore Mountains in the Erzgebirge region, near the Czech border towns like Seiffen are synonymous with the classic wooden Christmas items such as the smoking men, nutcrackers, candle arches, Christmas Pyramids, etc
Glass Ornaments, Go to Lauscha. If you are looking for authentic German ornaments, Lauscha still produces hand made baubles
Cuckoo Clocks, Go to the Black Forest. Even within the Black Forest, you may still find knock offs so always ask for a certificate of authentication! (Also, some of the Best Christmas Markets in Germany are right in the Black Forest!)
Lebkuchen, Go to Nuremberg. While this isn't really a "mass-produced" item, Lebkuchen is said to have originated in Nuremberg, so if you want the real deal, you can get fresh ones there! (However, most of the rest of the Nürnberger Christkindlesmarkt is pretty mass produced)
Rubber Ducks, Go to Mainz. Yes, rubber duckies. Germans have this hilarious obsession with personalized rubber ducks and there is a factory in Mainz that makes them.
What Can't You Bring Home
There is actually a pretty shockingly small amount of things you are not allowed to bring home from Germany:
Any meat (yes, that includes any delicious wursts or even dried salamis)
Certain nuts
Fresh fruits
If you are putting goodies in your luggage, you actually CAN bring home some German beer or wine (Even Gluhwein- but I recommend having a wine sleeve to protect it). You can bring home nuts if they have been boiled/ processed and dried fruits as well.
Read My List of What To Buy At German Christmas Markets
Expect HUGE Crowds (Pending Covid Restrictions)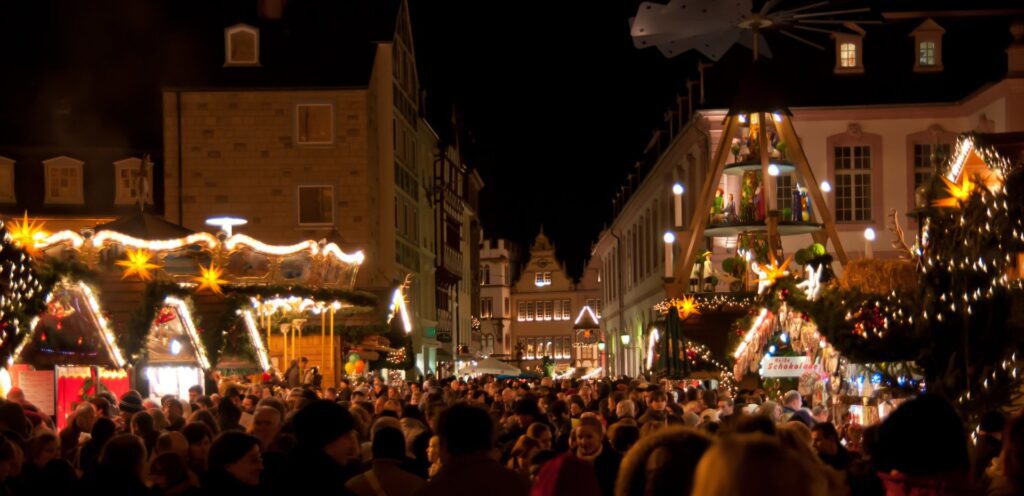 In "normal" years, German Christmas markets get insanely packed. One year in Trier, we couldn't even move at one point. We were literally at a standstill just standing in one of the alleys!!
When To Go
Because of the massive amounts of people, it is best to go to Christmas markets during the day and on the weekdays. By about 5pm (when it is dark) things really start to pick up. Yes, there is something magically ambient about the markets at night, but when you can barely move, it kind of puts a damper on all of that anyway.
Babywear Instead of a Stroller
If you are traveling to Germany with a baby then ditch the stroller and babywear for the reasons above. I've been to a few Christmas markets with friends when they've brought their strollers and it's been a nightmare. Either we literally can't move bc it's too crowded to navigate a stroller in, or at places like the medieval Guteneck Christmas Market, the paths are gravel. After a day of rain, it was treacherous trying to push that thing around!
Plus, bonus points to babywearing because it helps keep baby (and you!) all nice and snug and warm!
Know What a "Pfand" Is
Christmas mugs are one of my favorite things to collect at Christmas Markets. When you go to get your mulled wine or Kinderpunsch, you'll most likely pay a Pfand/ deposit (often around 2 Euro). If you bring the mug back, you'll get your Pfand back. If you choose to keep your cute souvenir mug, then it only costs you a few Euros!!!
Know Covid Restrictions
The last 2 years, markets have been pretty restricted. In 2020, all markets were sadly canceled, and in 2021 no markets in Bavaria and Saxony were allowed. In fact, if you are planning a Christmas Market trip, be prepared for last minute changes (For example, the Bavarian government didn't cancel the markets until just DAYS before they were supposed to open!)
Many markets that were opened were also restricted. Most of them required vaccination or proof of recovery status. Some still required masks even though they are held outdoors.
Plan a Schedule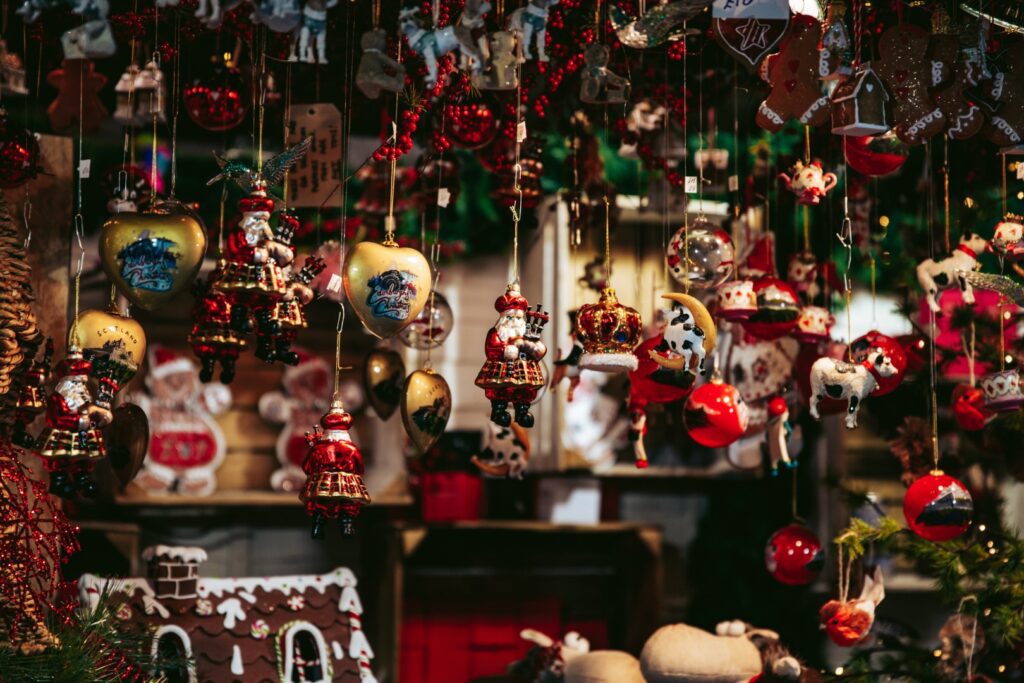 If you are planning a trip to Germany for the Christmas Markets, you'll obviously want to have a rough itinerary. Whether you are trying to hit all the Best Christmas Markets in Germany or want to spend 10 Days Visiting the Best Bavarian Christmas Markets it's best to have an idea of where you want to go.
Book Accommodation Early
One reason why you'll want a rough itinerary is because in some places, like Rothenburg or Regensburg, lodging books out way in advance, not leaving a whole lot of affordable options.
Soak It All In!!!
Some of my favorite memories of living in Germany are just wandering the Christmas markets in the evening glow. The soft Christmas music playing in the distance and the snowflakes gently wafting down. It really all does feel magical if you don't let yourself get too caught up in the chaos of the crowds. I always tell people to stop and slow down on their trips, especially at the markets. Physically stop in your tracks and take mental pictures (not just with your camera) to really soak in and enjoy this amazing German holiday tradition.