[This post may contain affiliate links where we earn a small commission. Please see our disclosure for more information and thank you for supporting our site so we can continue to bring you awesome content for your travel inspiration!]
I'm such a sucker for record breaking things when traveling, even if they are overrated, super touristy traps.
So naturally, doing things like
Visiting the tallest waterfall in Germany (Triberg Waterfall/ "Wasserfall Triberg")
Seeing the biggest cuckoo clock in the World
Seeing the world's smallest cuckoo clock
were all immediately on my "Things to do in the Black Forest" itinerary! And better, yet, they were all in/near Triberg, Germany, located in the Black Forest (Schwarzwald).
So, in this article, I'm going to cover everything about the Triberg Waterfalls (Wasserfälle Triberg) including how to get there, hikes to do nearby, how much time to spend there, and even where to stay in the Black Forest.
Other Articles That Might Interest You:
About The Triberg Waterfall in the Black Forest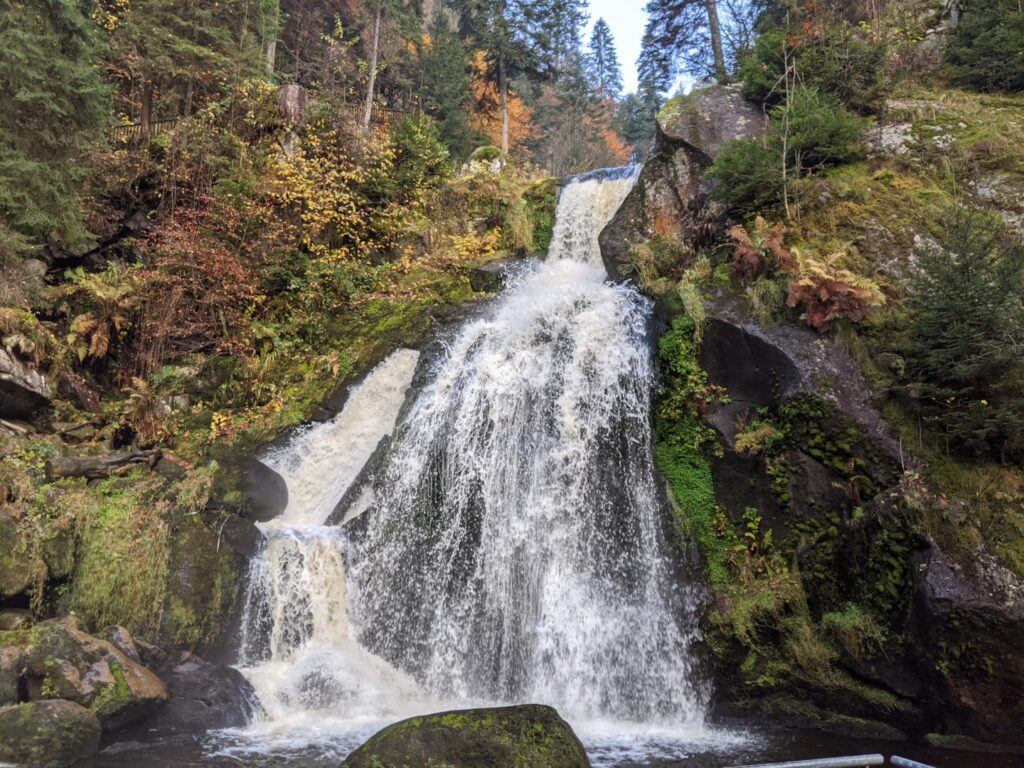 Address: Hauptstraße 85, 78098 Triberg im Schwarzwald
Everywhere you go, and even on Google, everything you read says that the Triberger Wasserfall is the tallest of the Germany waterfalls.
Was this just some kind of tourism gimmick? Surely there had to be taller waterfalls in Germany, for example in the towering Alps!? And why yes, that is absolutely correct…there is, in fact, a taller waterfall.
The Triberg waterfall is from the Gutach River, which tumbles down a whopping 163m, which is roughly 535 feet. It is a very long and cascading fall meaning it has 7 different "steps" if you will, so no, we aren't talking a small little amount of water falling over a few rocks.
But, not only is it a bold faced lie that it's the tallest waterfall in Germany, but since each cascade isn't that high in and of itself, and it is difficult to see the next cascade up, it actually looks like numerous small waterfalls. In fact, it is almost disappointing, especially if you've chalked up that whole "Tallest Waterfall" element in your head.
The title of the highest, longest, and plummeting (vertical drop) waterfall in Germany belongs to the Röthbach Waterfall, in beautiful Bavaria, in the stunning Berchtesgaden (which you can do on my 10 Day Bavarian Itinerary) which clocks in at 470 metres (1540 ft)
So why does Triberg proclaim to be the tallest? Eh, who knows, but arguments can be made that it's the most "accessible" since Röthbach is a bit difficult to get to.
Is it Worth Going To?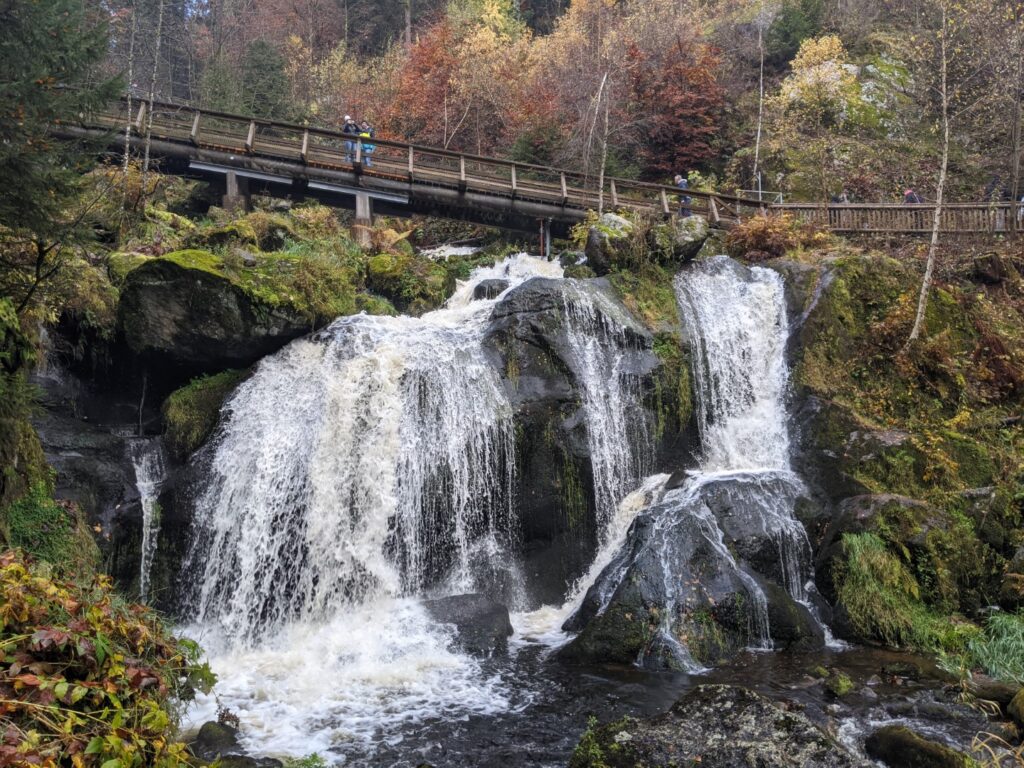 Sooooo, here's the deal. Like I said, I'm a sucker for "world record" type of activities while traveling, but when I found out that Triberg wasn't even actually Germany's Tallest Waterfall, that was a big disappointment. Triberg is a pretty touristy town. It's all kitsch and tourist shops and it's probably no surprise that those cross country bus tours often come here as part of their itinerary.
Surprisingly though, I didn't think that the falls were completely packed and overrun, in fact, I was a bit surprised that there weren't more people (we were there in November though, which may have played a part in that- more on the best time to visit Triberg below)
The falls are beautiful, but because it has seven separate cascades (most of which can't be seen simultaneously), it's actually quite anti climactic to see the falls.
If you are looking for a truly gorgeous Black Forest waterfall, which is also pretty easy to get to, I actually recommend the Burbachwaterfall, which is only about a 50 minute drive North of Triberg.
All that being said, I'm not mad we went to the Triberg Falls. After all, we were staying in a town down the road and had a whole weekend planned of things to do in the Black Forest with the family nearby. However, I don't know if I would plan a whole trip just around these falls in and of themselves.
How to get to the Black Forest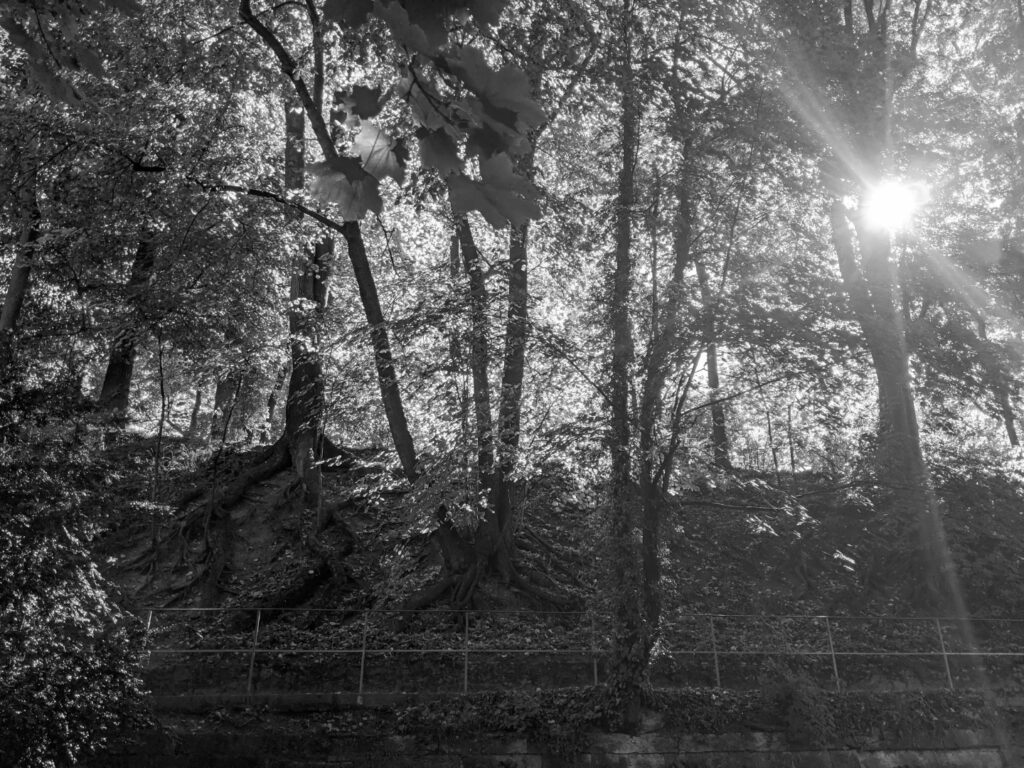 Closest Airports
If you are flying into Germany internationally, Zurich is actually the closest airport to the Black Forest, especially if you are staying in Hochschwarzwald, which is where the Triberg Waterfall is located.
Zurich to Triberg: Less than 2 hours by car (note, if you rent a car in Switzerland, you'll need the Swiss Vignette)
However, you can also fly into Frankfurt as well to get to the Black Forest. Frankfurt to the Black Forest is less than two hours to the Northern parts, and is a particularly good place to fly into if you plan on hitting up any of that region of the Forest, like experiencing the German Spas and visiting Baden-Baden.
Frankfurt to Triberg: Less than 3 hours by either car or train
I like to keep an eye on Scott's Cheap Flights, as there are often some good deals for flights to Zurich and occasionally Frankfurt.
Getting Around The Black Forest
By Car
Having a car is the easiest way to get around the Black Forest and while you can take the train to get to some of the main towns in the area, including Triberg, seeing things like the giant cuckoo clocks will require you to have a vehicle.
Driving in Germany is really enjoyable, especially in this part of the country, where it is just so beautiful!
Click Here to See the Lowest Comparison of Car Rentals for the Black Forest
By Train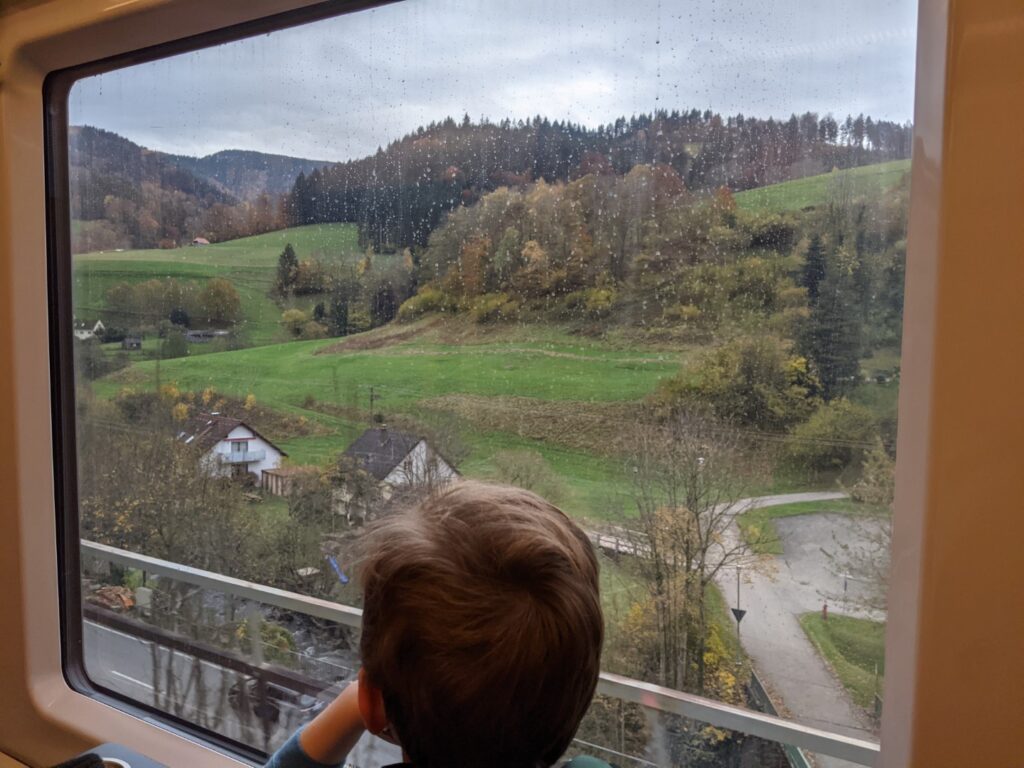 I love taking the train in Germany! All of the main towns in the Black Forest (such as Karlsruhe, Triberg, Freiburg, Baden Baden) are actually easily accessible by train. If you are JUST doing the Triberg Waterfalls, then taking a train is perfectly fine and you can take a combination of the ICE and the Regional Trains to get there in about 4-6 hours, depending on the route and schedules from Frankfurt, for example.
However, if you take the trains, then you'll have to greatly adapt your itinerary if you plan on doing much of anything outside of the towns themselves (and you'd really be remiss if you skipped out on them) Even getting to places like Feldberg (the tallest point in the Black Forest would take a whole day just by train from Triberg). You'd also miss out on other beautiful waterfalls in the Black Forest, like the Geroldsauer waterfall since it just doesn't make sense to use public transportation to get there as it takes so long.
If you do decide to take the trains:
Konus Card
Many resorts and hotels give you the Konus Card, which is a discount card for all of the Black Forest. This actually gets you FREE transportation on all local Black Forest trains and buses!
Super Saver Tickets
I'm going to cover numerous budget train options below, but to be honest, if you can book a Saver Ticket (best to book about 2-3 months out for the best price) then you can get a ticket from, for example, Frankfurt to Triberg for less than 25 Euro!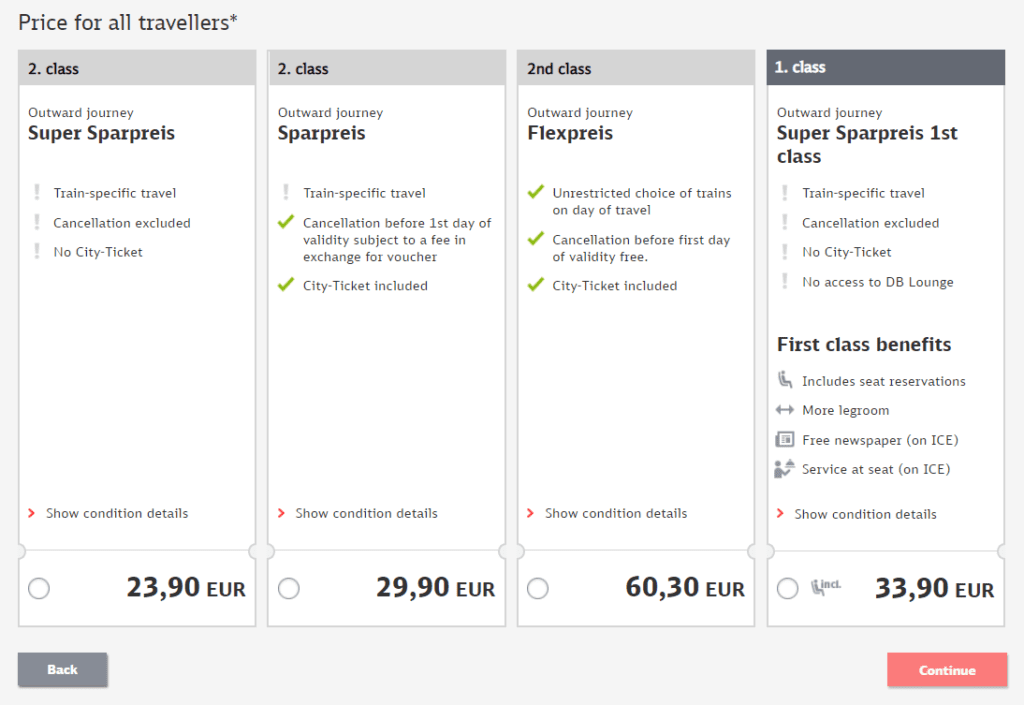 Price Out DB Train Tickets Here
Baden Württemberg Day Pass
Germany's train tickets has many regional offers, such as the Baden Württemberg Day Ticket. This is especially a great deal if you are traveling in a group/ family. This ticket can be used on unlimited travel for the whole day (see bulleted notes) within the state of Baden Württemberg.
This is a great option for getting around from town to town in the Black Forest
For €24,00, you can have up to 6 people on one ticket (if there are two people on the ticket, all of your own kids under 15 are free and don't count towards the 6)
Valid on weekdays starting at 9am and is good until 3am the following day
Valid on weekends and public holidays starting at midnight
*Note: The biggest thing to know is that this ticket does NOT cover the ICE trains (high speed) and will only cover the RE (regional) and local trains/ buses.
Quer-Durchs Land Ticket
This day ticket replaced the Schones Wochenende Ticket and is a great budget option that gets you unlimited travel on any Regional (RE) train throughout all of Germany for an entire day. This is also a great option for those Backpacking in Germany wanting to save a little money on the trains.
Only €42 for the first traveler and then you can add on up to 5 more people on the ticket for just 7 Euro more per person (kids 15 and under free)
Again, this is a great budget option but does not cover the ICE trains, so you could still be looking at long train days depending on where you are coming from. You can watch my video on the Bayern Pass (it's the same process) to understand how to look for only regional trains to determine if it is worth your time.
Look up the Quer Durchs Land Ticket Here
Getting To The Triberg Waterfalls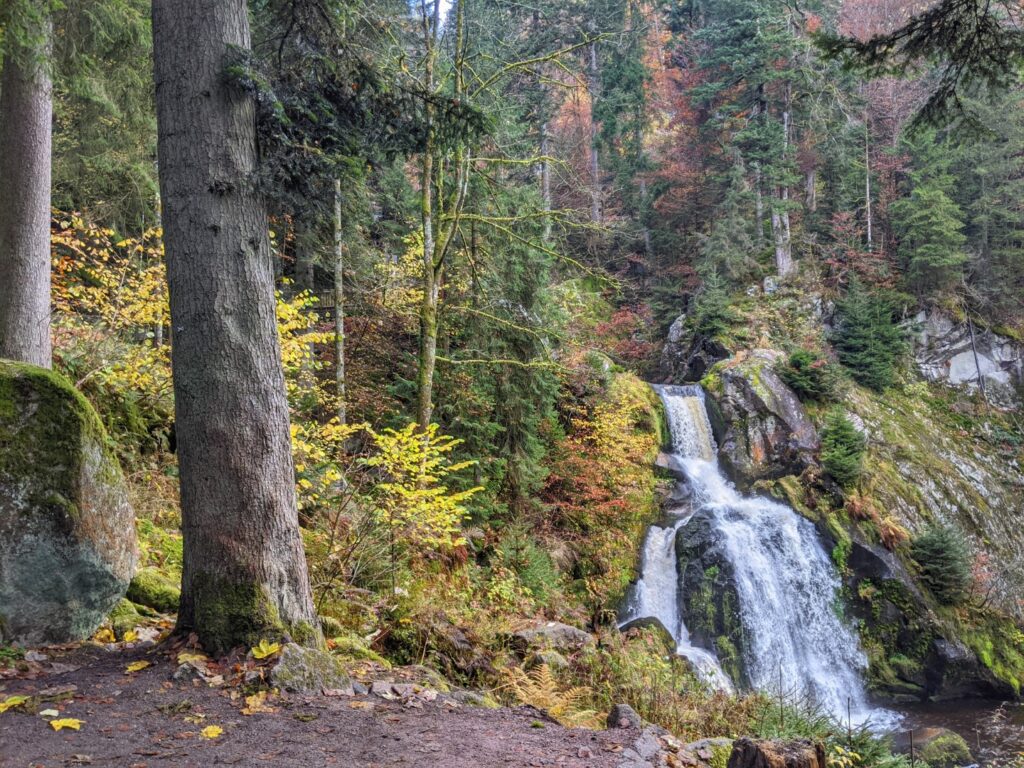 Ok, now that you know how to get to Triberg, Germany we've still got to get you to the actual falls!!!
Arriving By Train
If you have taken the train to Triberg, you'll arrive at its main station (Bahnhof). From there, you'll have a decent (but doable) walk to the falls and the main town. It will take about 40-45 minutes, mostly all along the B500 road and it is slightly uphill.
Arriving By Car/ Triberg Parking
Triberg is easy to get to by car. If you are looking for Triberg waterfall parking, there are several places you can park to get to the falls, as there are numerous entrances.
City Center: This is probably the most common and popular place to park, as Triberg is pretty small, so everything is basically right outside your car door. From the main street, it's only a few minutes by foot to the main entrance to "one of the best waterfalls in Germany." If you are arriving in the winter, you'll have to go in from the main entrance, as the others are closed.
Männer Parkplatz: Right next to (and below) the Edeka in town is a parking garage that is easy to get to and not expensive.
Address: Kreuzstraße 21, 78098 Triberg im Schwarzwald
On the Street: You can look for parking along the street, just keep an eye out if you need to pay or if you need a Parkschein (parking wheel you put in the window of your car) and if that limits you to how long you can park in that location
Scheffelplatz: This parking lot is about a 15 minute walk (approx 500 meters) to the falls, but is mostly flat and downhill and takes you from the top of the falls down, compared to the bottom up (from the city center entrance)
Address: Schönwälder Str. 20, 78098 Triberg im Schwarzwald
Adelheid Parkplatz: I'll go into details about a full loop hike from here below in my hiking section, but if you want to just get to the falls area, then you can park at the Adelheid Parking lot and from there, it's a bout a 15 minute, all mostly downhill.
Bergsee: I'll talk more about the Bergsee below in my suggestions for places to eat near the Black Forest waterfall, but for now just know you can park here and it's about a 20 minute uphill walk from there to the falls.
Visiting the Triberg Waterfalls in Germany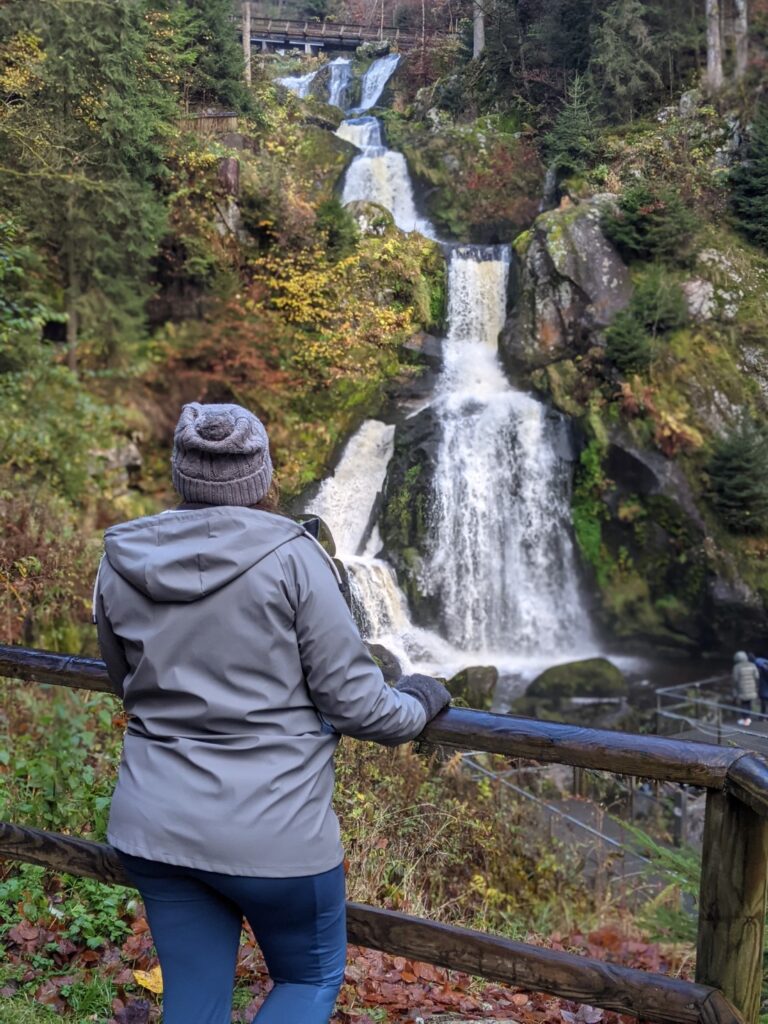 Alright, so what can you actually expect once you are AT the "Schwarzwald Wasserfall?"
Cost/ Admission
The entrance fees to the falls vary depending on the season you go, your age, and what discount cards you might be holding.
Know that you must pay with cash and check the official site to see what Covid restrictions are in place (when we were there, FFP2 masks were to be worn at the entrance, and it was at a 2G level so vaccination/recovery proof was required)
Summer Prices
Admission waterfall
Winter prices
Without Black Forest Guest Card (Konus Card)
With Guest Card
Adults

€8,00

€7,50

Discounts:

6-17 years

Severely disabled with proof from 50%

Military
Students (w/ ID)

€7,50
€7,00
Family ticket
€20,00
€18,50
Groups
20 adults and more
-> For every 20 people 1 person free!
€7,00
€6,50

Visitors with Triberg Guest-Card

Children under 6 years

Residents of Triberg

FREE
FREE
Winter Prices
Admission waterfall
Winter prices
Without Black Forest Guest Card (Konus Card)
With Guest Card
Adults

€6,00

€5,50

Discounts:

6-17 years

Severely disabled with proof from 50%

Military
Students (w/ ID)

€5,50
€5,00
Family ticket
€15,00
€13,50
Groups
20 adults and more
-> For every 20 people 1 person free!
€4,50
€4,00

Visitors with Triberg Guest-Card

Children under 6 years

Residents of Triberg

FREE
FREE
We were at Waterfall Triberg in early November, which was already winter hours. I felt like this was actually a great time to go. The autumn colors were still absolutely stunning and there weren't as many tourists as I had prepared myself to encounter.
However, it is also still completely open in the winter and since the path is paved, while it may be slick, it should still be easy enough to thoroughly enjoy even in the colder months. You'll have to enter at the main entrance in the city and only the lower section of the falls will be open, but they do clear the paths.
Here's my Germany Winter Packing Guide to help you know what to wear to help you prepare.
Just remember that here in Germany in the winter, it gets dark suuuuuper early, as in there are days where it's dusk by 4pm and dark by 4:30 but they do have lights to illuminate the path when it's dark in the winter.
Triberger Weihnachtszauber
Dates: 12/25 — 12/30/2022
2:00 pm — 9:00 pm
Another thing to be on the lookout for if you are going to be in Triberg in the winter is their Winter Celebration. Each year, you can experience the Triberg "Christmas Magic." This is throughout town as well as into the waterfall grounds. They do some pretty insane pyrotechnic shows on the bridges of the falls, there are fireworks high in the sky, and in the town, there's the classic Weihnachtsmarkts where you can warm up with some delicious Gluhwein, and there's even a "children's world."
If you are here for the Christmas market, be sure to check out the Ravenna Gorge Christmas Market, which is on my list of best Christmas Markets in Germany and is only about a 40 minute drive from Triberg!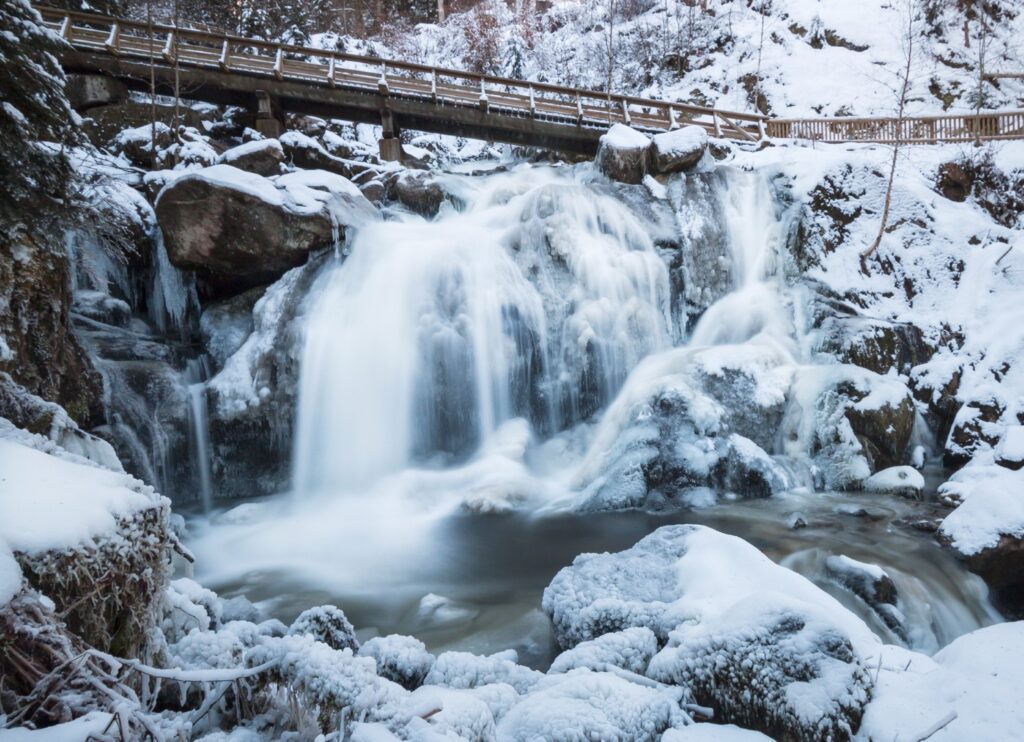 Triberg Waterfalls Opening Hours
April-September: 10am-6pm daily
October- March: Closed Mondays. Tuesday-Sunday 10am-5pm
Christmas Eve/ Christmas Day: Closed
New Years Eve Day: 10am-1pm
Jan 1: 1pm-5pm
Triberg Waterfall Hikes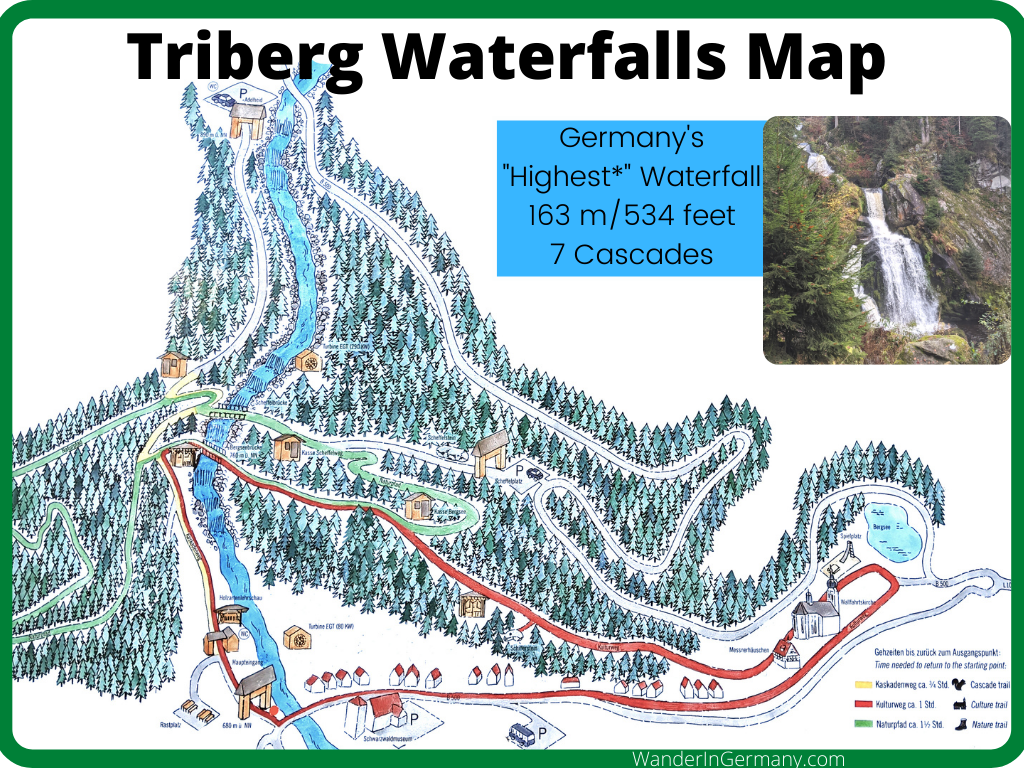 Tip: Everyone says to bring peanuts (or purchase a bag there) because the squirrels just love them! However, I think we saw all of 2 squirrels on the Cascade Trail and since everyone bum rushed the poor animals, instead of grabbing a snack, they ran for cover (who can blame them!)
There are numerous hikes around Triberg Waterfalls that you can do. The three main ones from the main entrance are:
1) Cascade Trail (Kaskadenweg)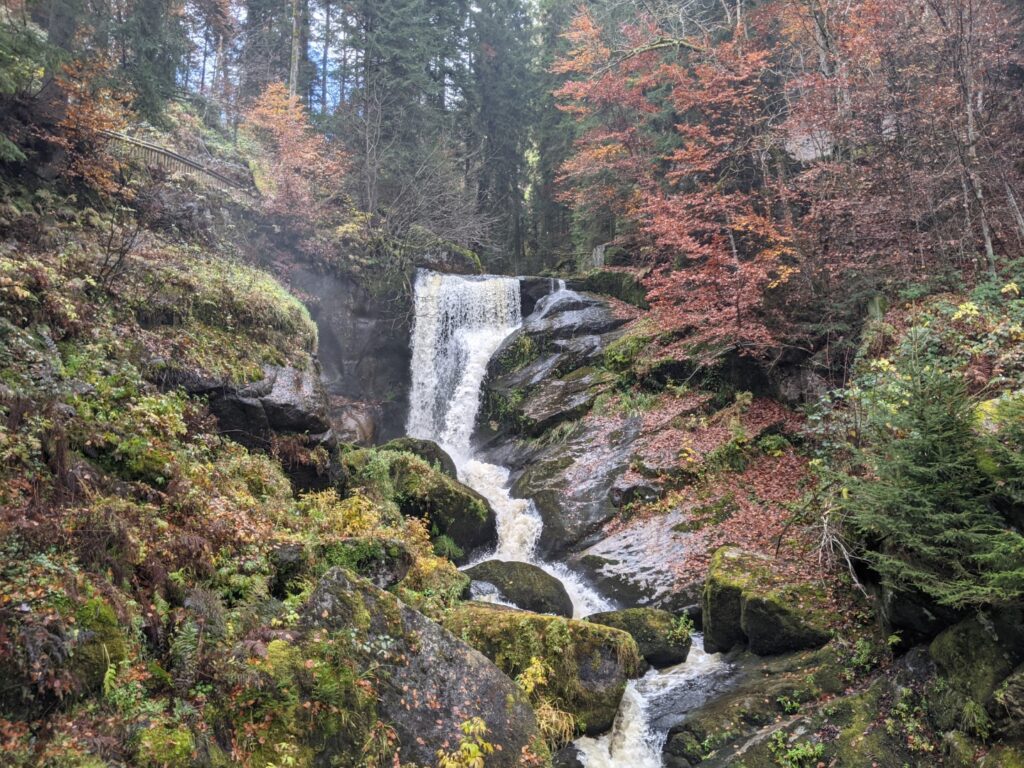 Time Needed: 45 minutes- 1 hour (longer if you are stopping for lots of photos)
Difficulty Level: Medium
Path/Terrain: Paved
This is often referred to as the "Squirrel Path" since it's denoted on the trails with a squirrel on the yellow plaques. This hike is the one that just follows the cascades (hence the name).
While it is all uphill and relatively steep, it is a smooth paved path, making it stroller and wheelchair accessible (albeit maybe difficult due to the incline)
It passes the main viewing platform as well as the two bridges higher up the cascades. You'll pass through a cute little gazebo and then end at a little hut.
The return is the same way you came up. If you want to extend this hike just slightly, then at the second bridge (from the bottom- so the first bridge closest to the top of this hike) you can do a short loop on the Nature Trail section, which will just wind around to the first bridge (from the bottom) and gazebo again and then you can continue your way to the bottom the same way you came up.
This is the perfect hiking option when traveling to the Black Forest with Kids. Yes, it is steep, but it is not very difficult. My 3 and 5 year old did it just fine (with a bit of some cake bribing for lunch, of course!)
2) Culture Trail (Kulturweg)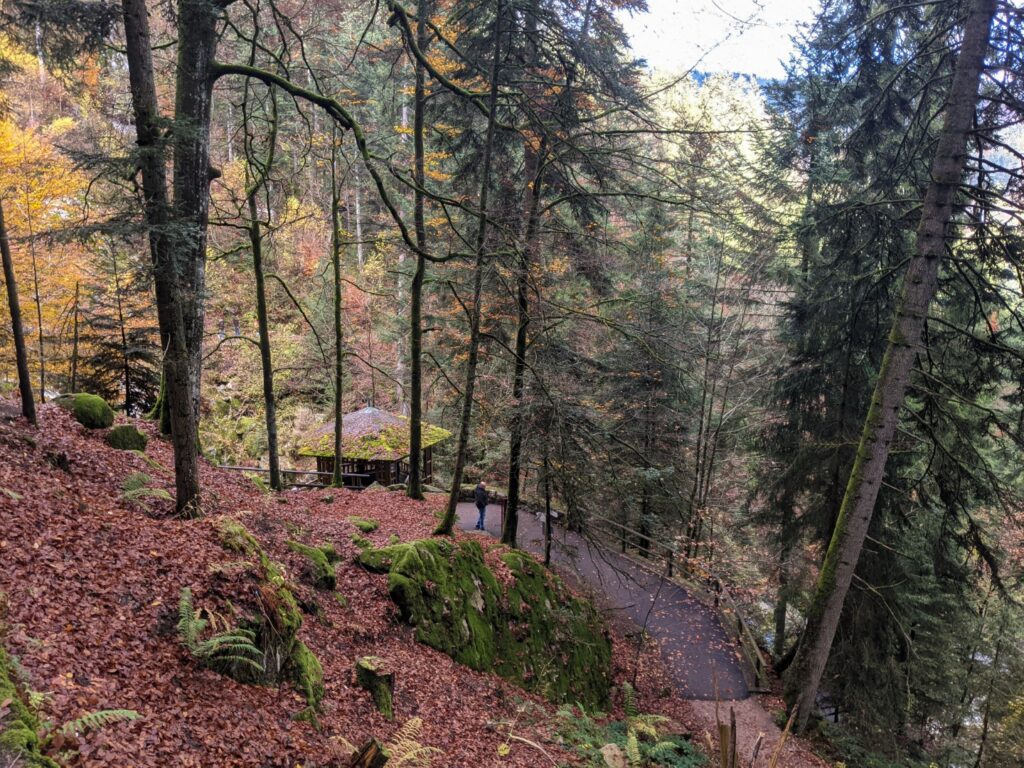 Time Needed: 1 hour (longer if you are stopping for lots of photos)
Difficulty Level: Medium
With the Kulturweg, you'll follow the little church looking icon on the red plaques. This trail and the the cascade path are the same at the beginning, but this one technically only goes up the first bridge and then splits off, so I actually recommend taking the Cascade Path up to the next bridge, then you can either come back down the same way and then veer off onto the Culture Trail, or even take a section of the Nature Path (next) to connect to the Culture (See the Triberg Waterfall Map above).
This trail takes you by the falls, then winds you back down through the forest, goes past the Maria in der Tanne church (which has some seriously intense decor- duck in for a quick peek), walks by Bergsee (stop at the restaurant here for a break as well as some really good food!). The path then loops back around on the B500 back into town and will pass the Schwarzwald Museum and finally ends at the entrance to the falls.
3) Nature Path (Naturpfad)
Time Needed: 1.5 hours (longer if you are stopping for lots of photos)
Difficulty Level: Medium
You'll start on the same path as both of the above trails and walk along the first few cascades of the falls. At the Gazebo/ First Bridge, you can veer off in either direction, as this path becomes a loop through the woods on both sides of the falls.
Longer Hikes
If you are an avid hiker or want more, then here are some hikes that still incorporate the waterfall or the nearby Black Forest. Triberg will be your starting point for all of these, but then you'll venture out a bit further.
Adelheid Hike Around Falls, Triberg Town, and Nearby Forest (Roundtrip)
Time Needed: 2 hours (longer if you are stopping for lots of photos)
Distance: 6,06 km
Difficulty Level: Medium (900 ft elevationgain)
Path/Terrain: Mixed (some paved, some gravel, some unpaved).
To start this hike, park at the Adelheid parking lot (see above for parking directions). Instead of starting at the bottom of the falls, you'll be starting towards the top, so you start the hike with a descent as you follow the Gutach river down as it turns into the cascading falls.
While in the Triberg Waterfalls area, you can tack on any of the above mentioned hikes. If not, then you'll just follow the Cascade Trail all the way down, along the waterfalls and exit at the main entrance (there are bathrooms here if you need them)
Instead of going all the way down to the main street (B500), hang a right on Friedrichstrasse, which will bend around and merge with Ludwigstrasse, Luisenstrasse and Amthausweg.
Turn left at Amthausweg and go through the Kurpark and pass the St. Clemens church
From there, you'll make a series of turns in town (just follow the map I've linked to)
You'll enter into the forest and follow the path that leads to the Dreikaiserfelsen, which has a little Gazebo/ Lookout over the forest.
From there, you can head back down into town along Eichendorfweg and pass by the youth hostel. Turn right and continue on Eichendorfweg and cross Rohrbacherstrasse and shortly after that street, you'll head back into the woods. Follow my Kamoot Map to get you back to the Adelheid Parkplatz
Black Forest Railway Adventure Path (Schwarzwaldbahn Erlebnispfad)
Time Needed: 4 hours (longer if you are stopping for lots of photos)- you can split this up into two separate hikes though (see below) for about a 2 hour hike for each part.
Distance: Varies Depending on which paths you choose. Anywhere between 6km-14km
Difficulty Level: Intermediate/ Difficult (Note that the Kamoot hike says "easy" for the Unterer Section, but I humbly disagree!)
Path/Terrain: Mixed (some paved, some gravel, some unpaved).
This hike is perfect for those wanting to see more of the Black Forest. You won't be seeing the actual waterfalls in this route, but instead, you'll get some pretty fantastic panoramic views and enjoy more of the Alpine nature of the area. However, this hike is more on the difficult side. Expect a steep uphill climb and about the last mile or so is along a street with plenty of cars zooming past.
There are actually two sections of this trail, so you can either choose to do both or just one.
If you want to make a third loop, you can add the walk from the train station to the falls (about a 30-40 minute walk plus the time/walking at the falls)
Lower Adventure Trail
If you choose to just do this section of the hike, then you'll start and end at the Triberg train station and journey through the forest, stopping at numerous vantage points. You'll walk past the World's Tallest Cuckoo Clock and then head up to enjoy plenty of more great views and train tunnel stations. Finally, you'll start the descent that will lead you back to the train station.
Upper Adventure Trail
If you are choosing to do this trail combined with the above, then instead of going all the way to the train station, you'll veer off onto the "Oberer Bahnerlebnisweg" (watch for signs on your descent). You'll continue to pass over the railway line several times and will continue to be rewarded with picture postcard views of the Black Forest.
Triberg Hotels/ Where To Stay in Triberg
There aren't a TON of hotels directly IN Triberg itself, but there are so many towns nearby that you can choose from.
Budget $: There's really only a few truly budget options in Triberg, such as the DJH Hostel. It's not an ideal location near restaurants and such but is a no frills option.
Midrange$$: Best Western Triberg. This hotel is right in Tribeg, making it a good, central option to walk around easily
Luxury$$$: The Elzland Hotel Pfauen Wellness, Spa & Viatlis Hotel is about 25 minutes from Triberg and is pure luxury. Every room has a balcony overlooking the Black Forest, there is a pool, sauna, and wellness room. You can have breakfast out in the garden and more!
Unique Stay: Hotel Schloss Hornberg is only about 20 minutes from Triberg and is set at the foot of the Hornberg Castle and even has special "medieval" style events!
Family/Apartment Stay: This is where we personally stayed and it was great for our family. There is a pool, sauna, fussball and ping pong table at the apartments and a nearby mini golf and playground. It also came with a Konus Card, making it a great family stay. It would have also worked great for a couple wanting a nice holiday apartment.
Other Black Forest Travel Tips
When Is the Best Time To Visit the Black Forest?
The best time to visit Germany can be hotly debated! However, if you are flexible, then I highly suggest the autumn to visit the Black Forest. The changing colors were just stunning and the throngs of tourists weren't as thick as in the high tourist summer months.
However, the winter could actually prove to be an absolutely fantastic time as well, with the falls covered in snow and plenty of skiing and other snow activities in the area available. Combine that with some great Christmas Markets and I could see it as an ideal time to visit!
How many days do you need in the Black Forest?
To see ALL of the Black Forest, you'll want (at least) about a week. However, you can easily just do a section of the Black Forest for a few days and still thoroughly enjoy your time in the area. Because there is so much to do, it is easy to section it out into North, Central, and South areas and just focus on activities in that location for a few days at a time.
How Much Time For Triberg?
Triberg is pretty central, which is why we chose to base ourselves in this area, which gave lots of day trip options. However, the town itself can be seen in 1 day easily.
Prepare For All Types of Weather
This IS Germany, after all. That means you never know when it is going to rain!
Also, while this isn't the same altitude as the Alps, the Black Forest is considered a mountainous region, which means it can be a bit cooler than what you might have expected, even in the summer, so have a light layer you can throw on in the evenings.
If you are visiting in the winter, layer up. Otherwise, always have an umbrella and rain proof clothing on hand.
See My Germany Packing List For All Seasons
Have Good Footwear
The Black Forest is also primarily an "outdoors" kind of holiday destination. There is plenty of hiking in the area, so if you are planning on doing any hiking other than the main paved paths at the Triberg Cascades, then you'll want decent hiking shoes/boots.
Book Accommodation Early
I was surprised at how many places were already booked out when I started looking for hotels and holiday apartments in the Black Forest. Therefore, it's really not a bad idea to lock something down as soon as you know your dates/itinerary. A lot of Booking.com places even offer refundable options, which helps when booking things in advance.
Other Things To Do In Triberg
If you are wondering what to do in Triberg Germany, then honestly, you really only need about 1 day in Triberg total, but then you can spend plenty of time nearby (see my suggestions for that next). There isn't a TON to see in the actual Triberg town (it's quite small) and most of the "attractions" are kitchy and quick anyway.
World's Largest Cuckoo Clock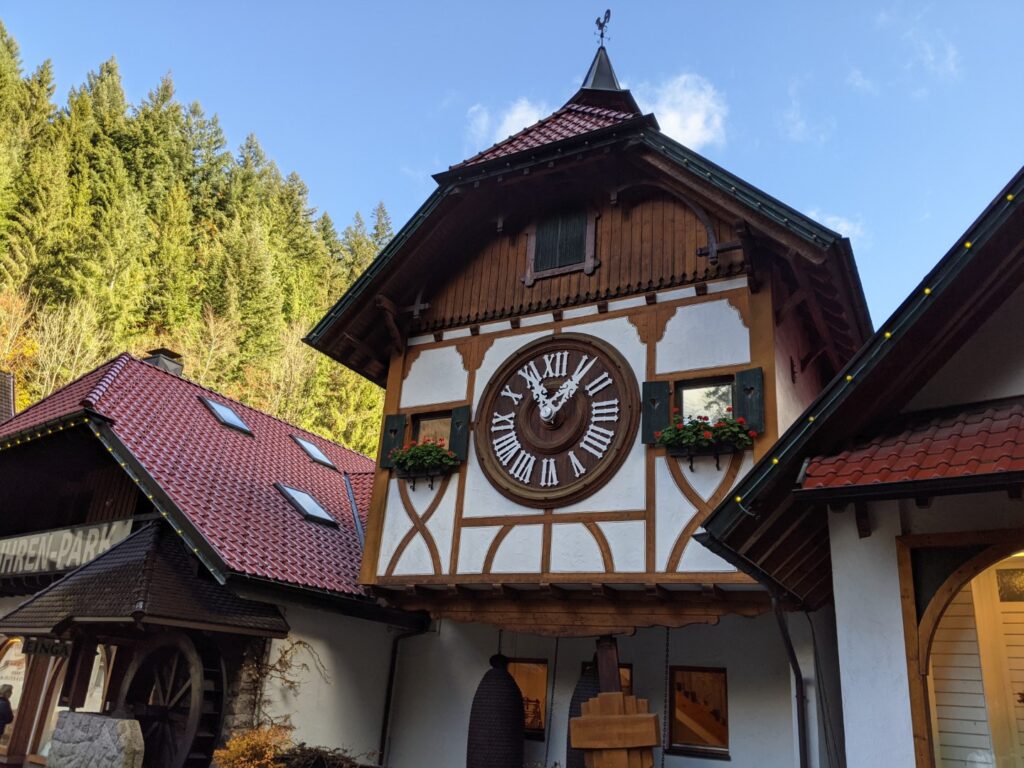 Address: Schonachbach 27, 78136 Schonach im Schwarzwald
Probably one of the most famous things to do in Triberg is to see the Triberg Germany Cuckoo Clocks, including the world's largest! It goes off every half hour, but try to get there at the top of the hour, when it will "chirp" more than once. We were there at noon to see all twelve "Coo Coos"
There is also a very small museum which only cost a few Euros to pop into. It wasn't all that impressive and we walked through it in about 15 minutes. However, you do get to see the giant gears from the clock inside, which is kind of impressive. My engineering husband decided to stay inside to watch those at the top of the hour instead of watching it from outside with me, so to each his own!
Eat Black Forest Cake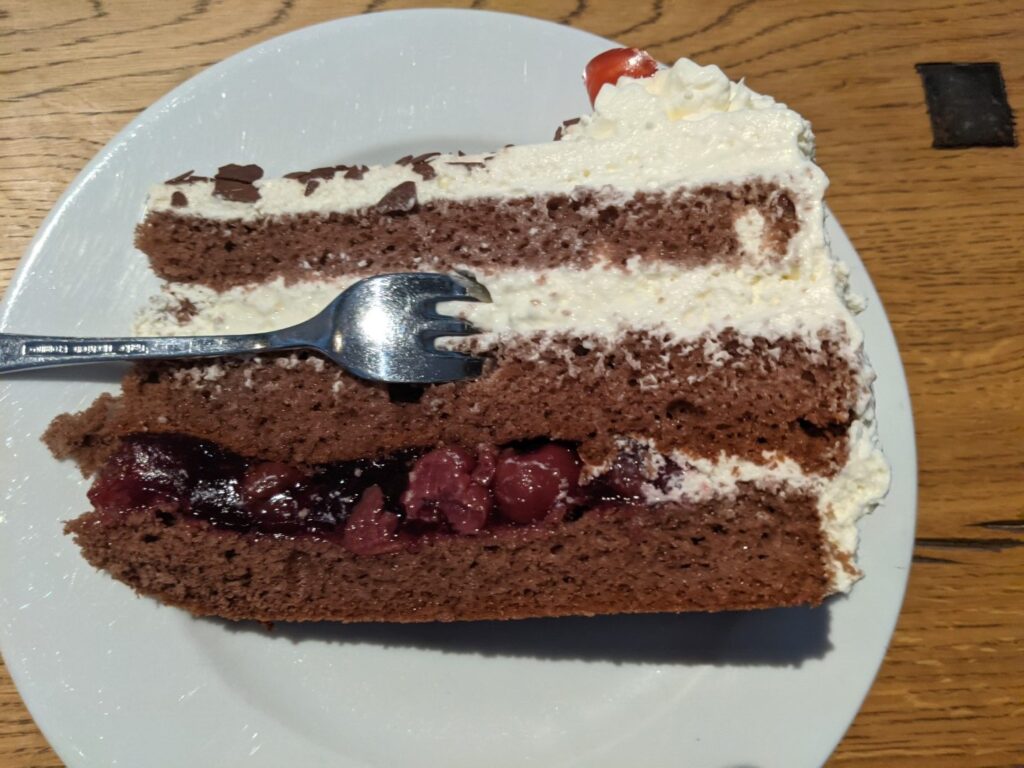 There are several cafes in town that you can choose from to get the classic and iconic Black Forest Torte. But no trip to the Black Forest is complete without at least one slice!
Have Lunch on the Lake
Address: Cl.-Maria-Hofbauer-Straße 19, 78098 Triberg
We had a fantastic lunch at Restaurant & Café Bergseestüble. Ok, maybe it's more like a big pond, rather than a lake. But, the place had fantastic schnitzel and there was even a playground for the kids. In nice weather, you can sit out on the terrace and in inclement weather, it's cozy inside.
Stop into the House of 1000 Clocks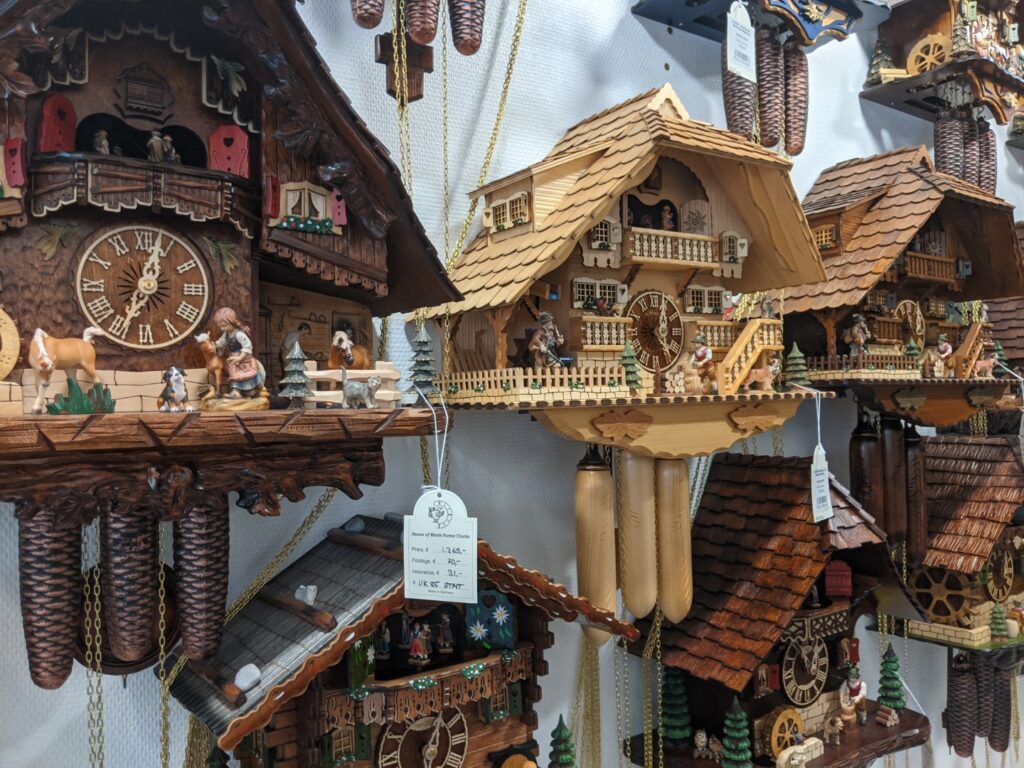 Address: Hauptstraße 79-81, 78098 Triberg
There are shops like this ALL over the Black Forest, but this one is on the main street of Triberg, right by the waterfalls. It's a pretty big tourist shop, so just make sure you are getting an authentic clock.
See The Smallest Cuckoo Clock in the World
Address: Hauptstraße 8, Triberg, Germany
If we are going to be suckered into titles of "Worlds……" then let's add world's smallest cuckoo clock to the list!
Watch the Hornberger Uhrenspiele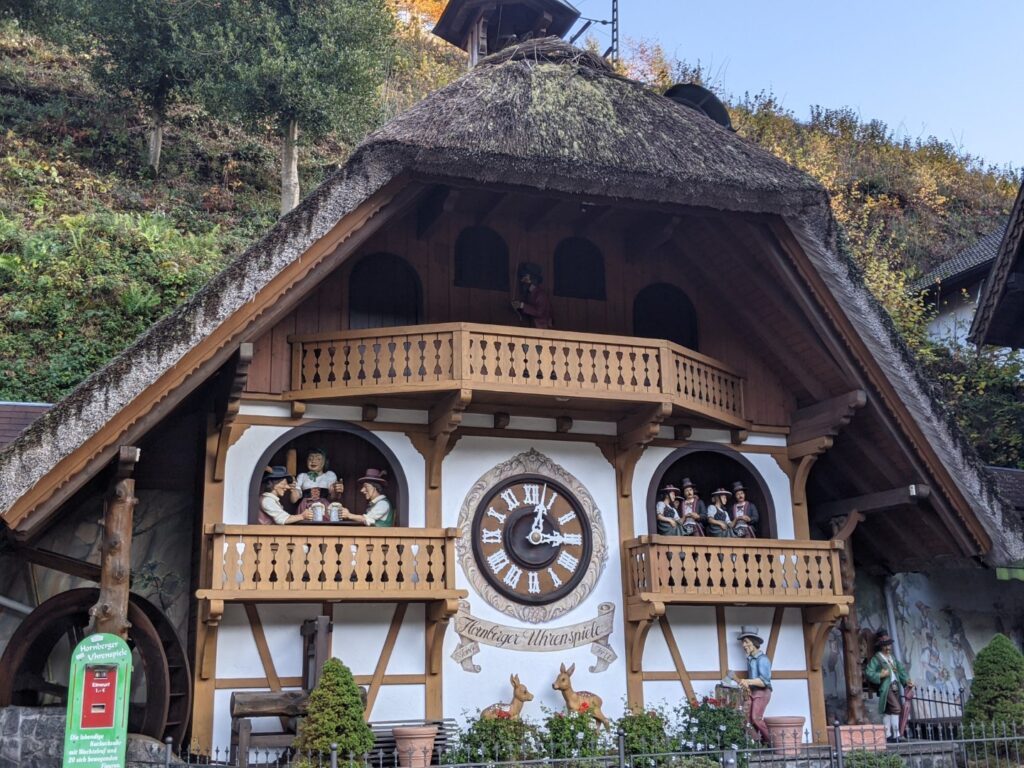 Address: Landstraße 7, 78132 Hornberg
This ginormous cuckoo clock is just about a 10 minute drive outside of Triberg and, if I'm being honest, is a bit more impressive than even the world's largest. The one in Triberg has a giant cuckoo bird that comes out and chirps, but that is about the extent of it. However, this one has all these little (well, big) figurines just like those big cuckoo clocks you see in the stores! So, there is a parade of men marching around the top, women wearing the classic Trachten (dresses and hats) of the Black Forest dancing in circles, and the men at the tavern, drinking their Maß of beers!
Just make sure you get there at the top of the hour to see the "show."
Day Trips Near Triberg
There are seriously endless options of what to do in the Black Forest! Here are some top favorites:
Go to the Baden Baden Spas
Take the Höllentalbahn famous train ride from Freiburg
Ski or hike at the highest point in the Black Forest (Feldberg)
Explore more waterfalls (see below)
Ravenna Gorge has tons of gorgeous hiking options, including some of its own waterfalls!
Follow my Tips for Europa Park to have the best day of rollercoasters!
Ride the longest zipline in Germany at the Hirschgrund Zipline
Other Waterfalls in Black Forest Germany
If you are on a waterfall adventure while in the Black Forest and are looking for other waterfalls in the Black Forest to explore, some are more impressive than others, but almost all allow for a beautiful walk (or even a decent hike) in the Black Forest
All Saints Waterfalls
Todtnau Waterfall
Burgbach Waterfall

Gaishölle

Big Ravenna Gorge Waterfall
Geroldsauer Wasserfall

Menzenschwander Waterfall