[This post may contain affiliate links where we earn a small commission. Please see our disclosure for more information and thank you for supporting our site so we can continue to bring you awesome content for your travel inspiration!]
Nuremberg ( Nürnberg ) seems to have it all as far as perfect touristy and picture perfect German towns are considered.
It's got an Emperial castle that will whisk you back in time.
History lovers will find plenty to keep them learning.
Foodies will love all the local "delicacies."
And it's all nicely compacted into an incredibly easy to walk and get around the city! There are plenty of things to do in Nuremberg Germany, whether you are doing just a quick day trip, or staying a while. In this guide, you'll find all you need to plan your trip including figuring out how many days in Nuremberg you need, a glimpse into the top Nuremberg attractions. If you want a step by step perfect one day in Nuremberg Itinerary, then you can read this.
Planning Your Time in Bavaria? Join our Travel in Bavaria Facebook Group to help!
Where is Nuremberg Germany?
Nuremberg is located in the Northern part of Bavaria in the Franconian region. While the city is in Bavaria, someone from Nuremberg considers themselves Franconian before a Bavarian. Therefore, there is a slightly different culture, differences in foods than further South in Bavaria (like Munich, Regensburg, etc) that are great for making Nuremberg sightseeing a real cultural delight.
Nuremberg is also a great, centrally located town for making a "home base" while traveling since there are almost endless day trips from Nuremberg Germany, especially if spending a lot of time in Bavaria (Here are 16 Reasons Why You Need to Visit Bavaria). A few of my favorite day trips from Nuremberg are:
I love using the Bayern Pass to travel throughout Bavaria by train. You can read all about what the Bavaria Train Pass is, where it goes, why it can be a huge money saver, and more here.
Here Are My Favorite 20+ Fantastic Day Trips from Nuremberg
Getting Into Nuremberg
By Train
If you are already traveling within Germany, then Nuremberg is a major train stop and is really easy to access by rail. The Hauptbahnhof is located right at the Old Town, making it a breeze to see the Altstadt quickly from the train station.
Flying
If you are flying within Europe, there are a lot of great budget airlines with quick flights to Nuremberg as well.
Note: You might see that this is called an "International Airport" but that is more for international within Europe. If flying from the US, you will find better routes flying into Munich first and then taking the train or driving to Nuremberg.
After you land, there is an S-Bahn station right out the front door of the airport. Hop on that to get straight into the city center with ease.
Driving
Nuremberg is right along the Autobahn, so it is easy to get to as well. While I love taking the trains in Germany, a lot of people have Nuremberg as one of the northern stops on their Romantic Road road trip.
Getting Around Nuremberg
Nuremberg is a fantastically pedestrian-friendly city, so leave your car behind if you can. Parking in the city itself is difficult and expensive. Instead, find a Park and Ride (P & R) and hop on the S-Bahn to get right into the city and not worry about cars and driving.
Nuremberg Park and Rides:
P+R Thon: Erlanger Straße
P+R Herrnhütte: Äußere Bayreuther Straße
P+R Mögeldorf: Freiligrathstraße
P+R Röthenbach: B14 Ansbacher Straße
P+R Bauernfeindstraße: Bauernfeindstraße
Walk
If you are getting in by train, just step off and you are already a few minutes by foot to the Altstadt. This whole area and part of town is perfect for just wandering around.
S-Bahn
A few Nuremberg attractions, like the Nazi Rally Grounds, are a bit too far to walk to. Instead, they are incredibly easy to get to with the S-Bahn. While there are S-Bahns throughout the city, most tourists will start at the main train station, where they can easily switch over to the local S-Bahns
How Many Days in Nuremberg?
When planning your time for Nuremberg, there are multiple things to consider. The quickest of tourists can make even just a one day trip to Nuremberg worth it.
However, 2 days will be much more pleasant and not as rushed (this is especially true if you plan on spending any time at things like the Documentation Center).
On the other hand, you could extend your stay even longer and make Nuremberg you base city and then just do day trips from here.
To boil it down for most tourists, you can suffice with a quick 1 Day in Nuremburg or a more leisurely paced 2 days (2 days is recommended if you are particularly interested in WWII history)
Top Things To Do in Nuremberg
If you are wondering what to do in Nuremberg, here are X things to consider.
Take a DIY Walk through the Altstadt
I love starting at the train station and making my way through the Nurnberg Altstadt and finishing at the castle. This is the perfect way to start to orient yourself and really start to get a feel for the city. You'll hit up a good chunk of the Nuremberg top attractions on this walk alone.
Start
When you leave the main train station, keep following the signs for "Ausgang" (exit) and then "Altstadt" (old town) and then head towards Konigstrasse. Start at the…
Frauentor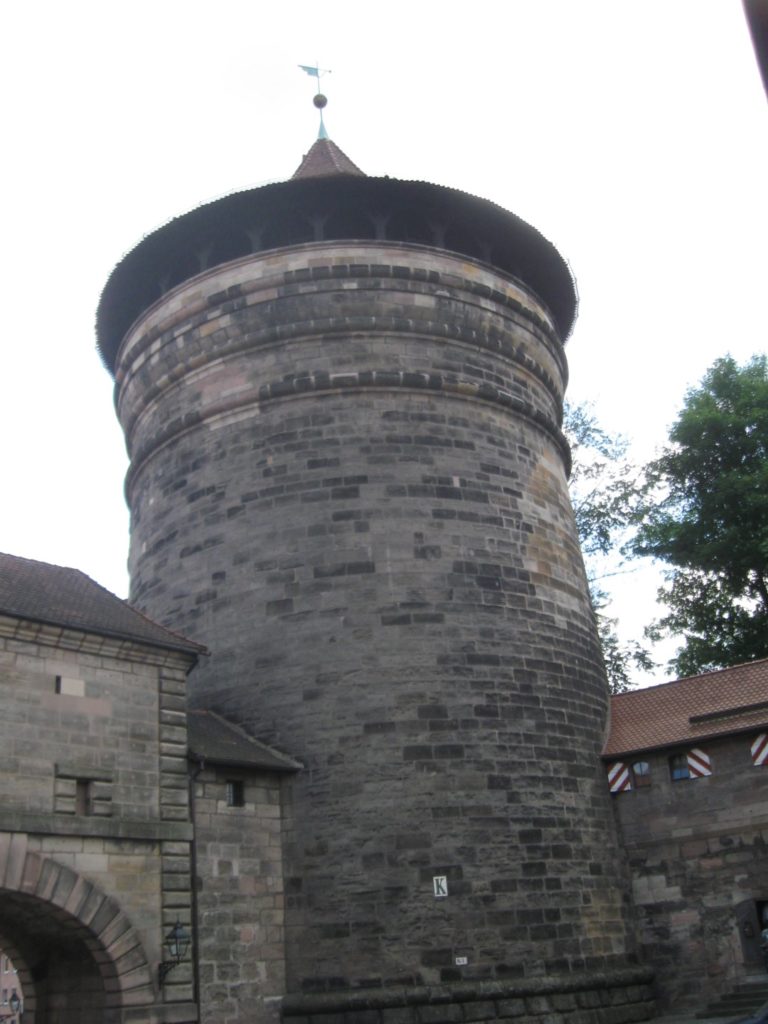 First, you'll pass through the huge, old, city wall heading into the Altstadt. The Frauentur is just one of 128 towers from the city wall! Next, stop at the…
Craftsman Courtyard
This little square right by the Frauentor could have been taken straight from a medieval memory. The timbered houses and small alleys just adds to its ambiance. It is a fun little area with all sorts of (supposed hand made) goodies being displayed from dolls, leather products, and more.
Lorenzkirche and Lorenzerplatz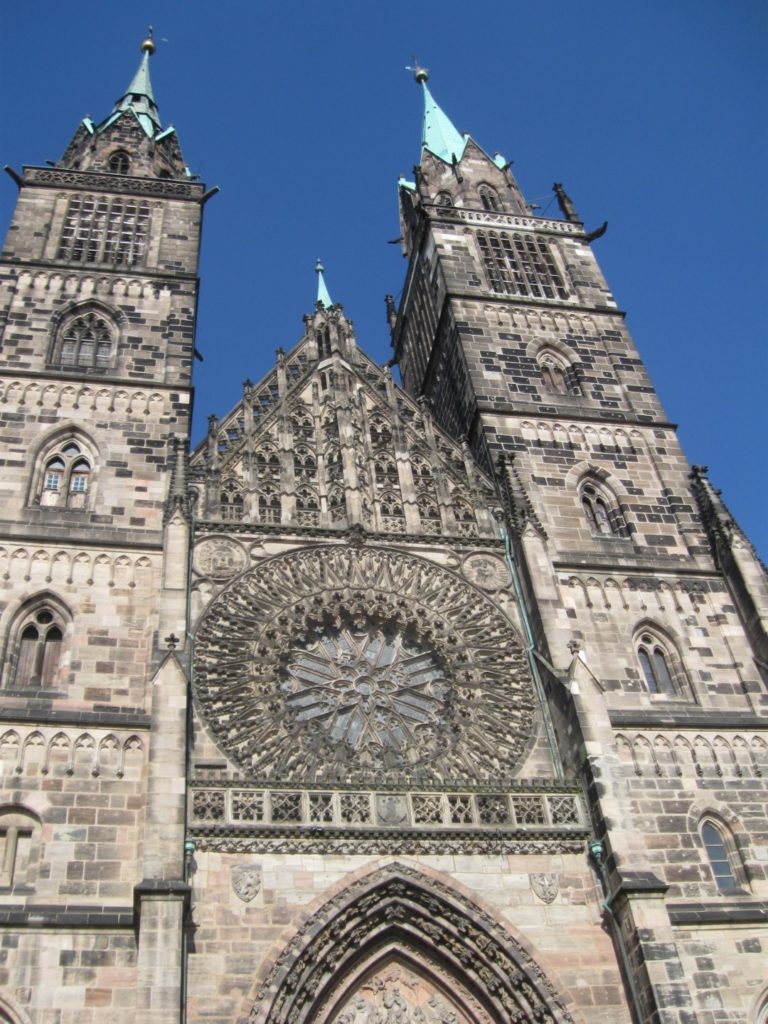 Nuremberg is not lacking in churches (they are on just about every corner, and I highly recommend stopping into as many as you want/can) but the Lorenzkirche often dominates the landscape along this route. It is beautiful on the outside and elaborately Gothic on the inside. While it dates all the way back to 1250, much of the church had to be rebuilt after WWII.
The square outside the church is also a great photo and people-watching opportunity. There is quite the….uuhhh, "interesting" Fountain of Virtue here as well. While virtues like love, charity, temperance, and patience are all depicted through statues, the most notable part of the fountain is the women all spouting water from her breasts. This is a classic example of Europe not seeing the human body as only a sexual thing.
Museum Bridge (aka Barefoot Bridge, aka Konigsbrucke)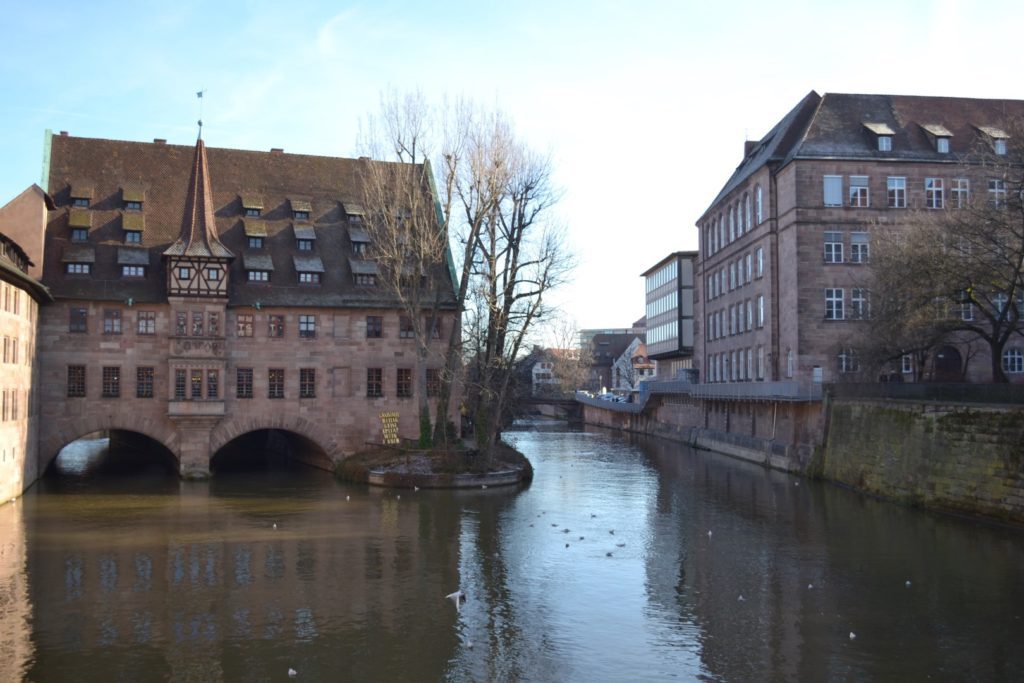 This is a favorite stop for some classic Nuremberg photos. This bridge is on the Pegnitz river looking over to the Hospital of the Holy Spirit (which is now a restaurant) . The hospital holds importance because it actually held the crown of the Holy Roman Emperor at one time.
Turn the other direction and look over at the Fleischbrücke, which many people say gets its inspiration from the famous Rialto Bridge in Venice. Continue walking straight on to the..
Hauptmarkt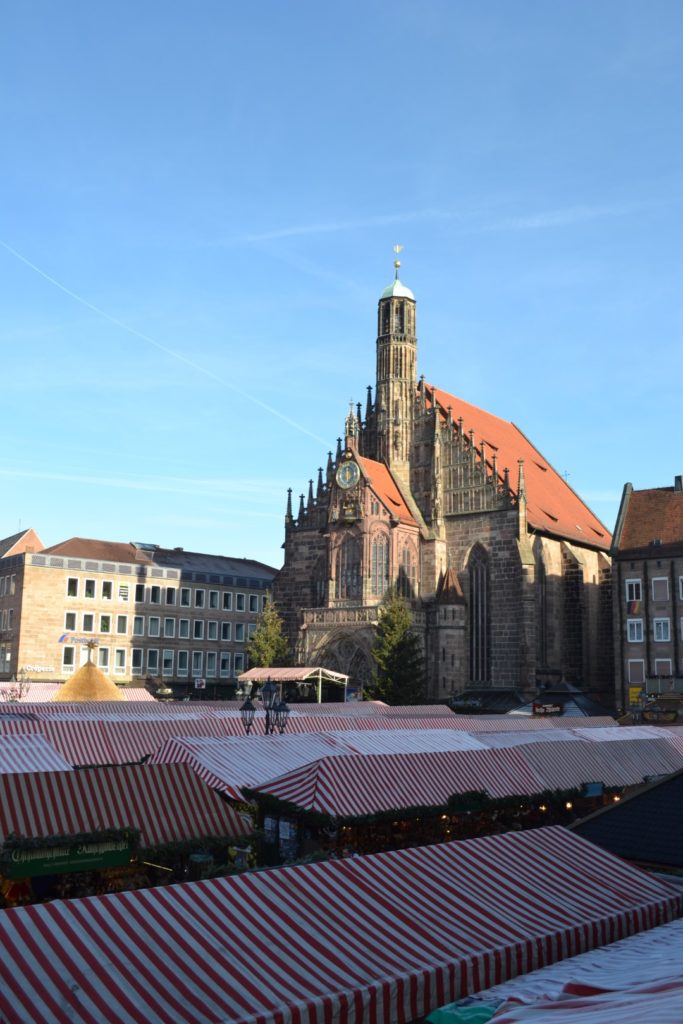 The main square of Nuremberg is huge and it lives up to its name "Main Market." After all, this is the location in town that still has weekly markets in the spring through fall with fresh fruits, vegetables, baked breads, and so many other goodies. But it really gets its fame and glory from having the largest Christmas Market in Europe here. It is a packed Christmas market with alley after alley of stalls set up to bring the jolly and cheer to your holiday season. While I do think that the Nuremberg Christkindle market is great to go to, if for nothing else to say that you've been to Europe's biggest Christmas Market, I do think that other markets, like nearby Dinkelsbuhl and the charming Guteneck, definitely have more ambiance and local hand made goods than the mass-produced items and overly touristy Nuremberg market.
While in the Hauptmarkt, don't forget to do a 360 and see everything that the square has to offer such as the
Frauenkirche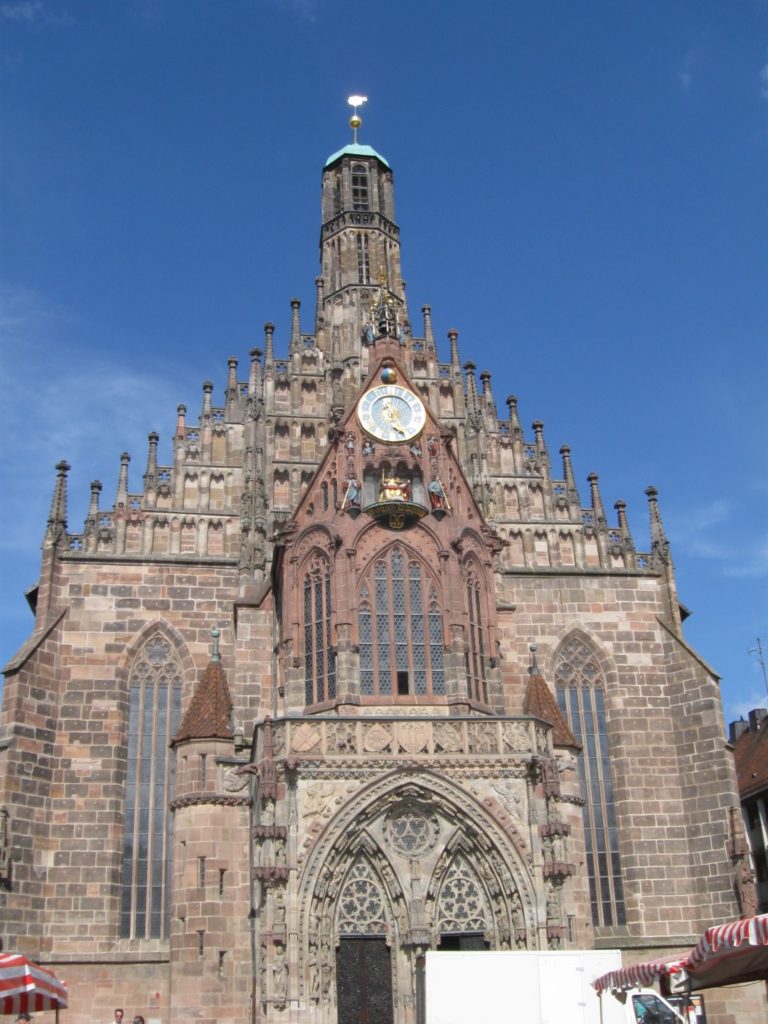 Don't worry. You can't miss this one. It's that GIANT, multi-tiered, beautiful, 14th century, Gothic church dominating the whole square.
Tip: Be there at noon to watch the famous Nuremberg Glockenspiel Show
Inside this Christian church, you might be surprised to see a Star of David. It is in remembrance of all the Jews people murdered in Nuremberg. No. Not during WWII, but instead in 1349, where almost the entire Jewish community living near the church were killed after people said that a recent plague was their fault. This just goes to show how far back anti-semetism was so deeply rooted in culture and a jolting reminder as to why it is SO vital to not forget history or let it repeat itself (again).
While most Roman Catholic churches have a looming crucifix above the altar, one of the favorite things to see in the Frauenkirche is the Tucher Painted Altarpiece.
The Schöner Brunnen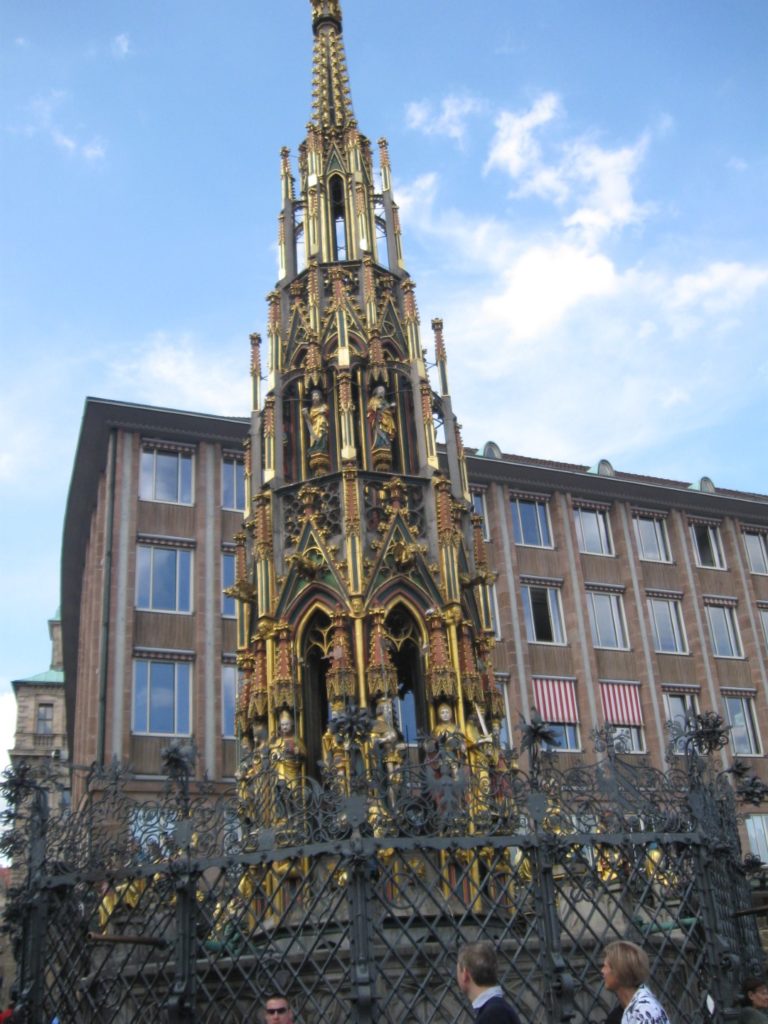 Back in the Square, you'll see a giant fenced in spire that looks like it could have been taken straight off the top of an old, Gothic style church. Instead, it is an elaborate replica of the "Beautiful Fountain" (Schöner Brunnen) that was built to show the "world views" of the Holy Roman Empire.
Fun Fact: Look around the fencing for a brass ring. Legend has it that if you turn the ring three times to the right you will have good luck. Turn it to the left? You'll get pregnant. But wait. Plot twist! It only works if you are a local! But don't worry, just go around to the other side and find the iron ring, where it will work for tourists 😉
Kaiserburg (Imperial Castle)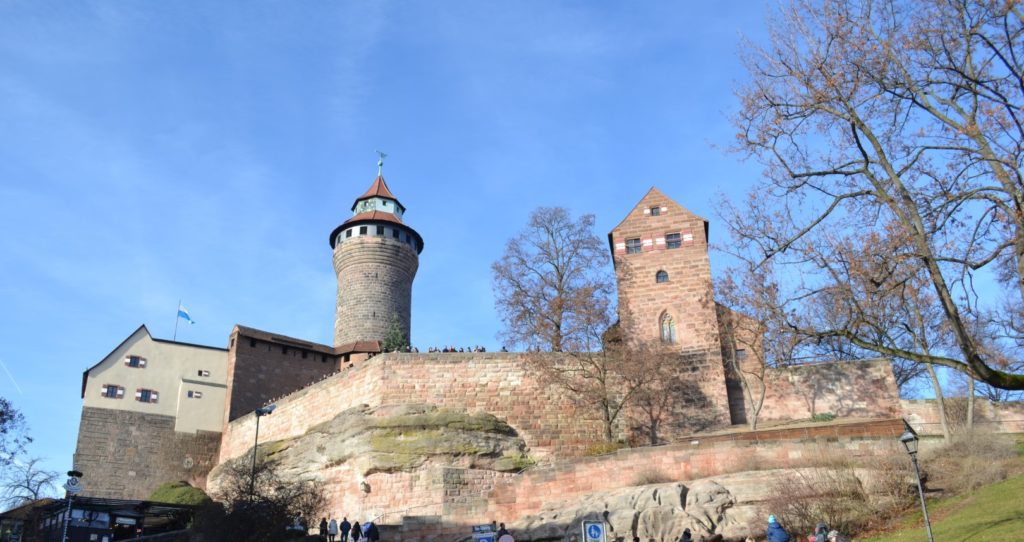 Next, you should walk a few minutes to the Kaiserburg.
The Imperial Castle is actually one of my favorite places to visit in Nuremberg. It truly does feel like stepping back into time as you walk the grounds of the fortifications on the cobblestoned paths with the half-timbered buildings surrounding you.
Note: There is a bit of a steep walk to get up and the castle itself is not wheelchair accessible
Besides just being visually impressive, it's fascinating to realize that the castle dates all the way to the 1300s when the Imperial Castle in Nuremberg was the main seat to the Holy Roman Empire. Once you get up to the grounds, stop and look out over the city spanning in front of you for an impressive sight.
If you have time, you can wander most of the castle yourself. There are a few things inside, but it is impressive to just walk around the fortification on your own. For example, one of the most notable parts of the castle is the…
Sinwell Tower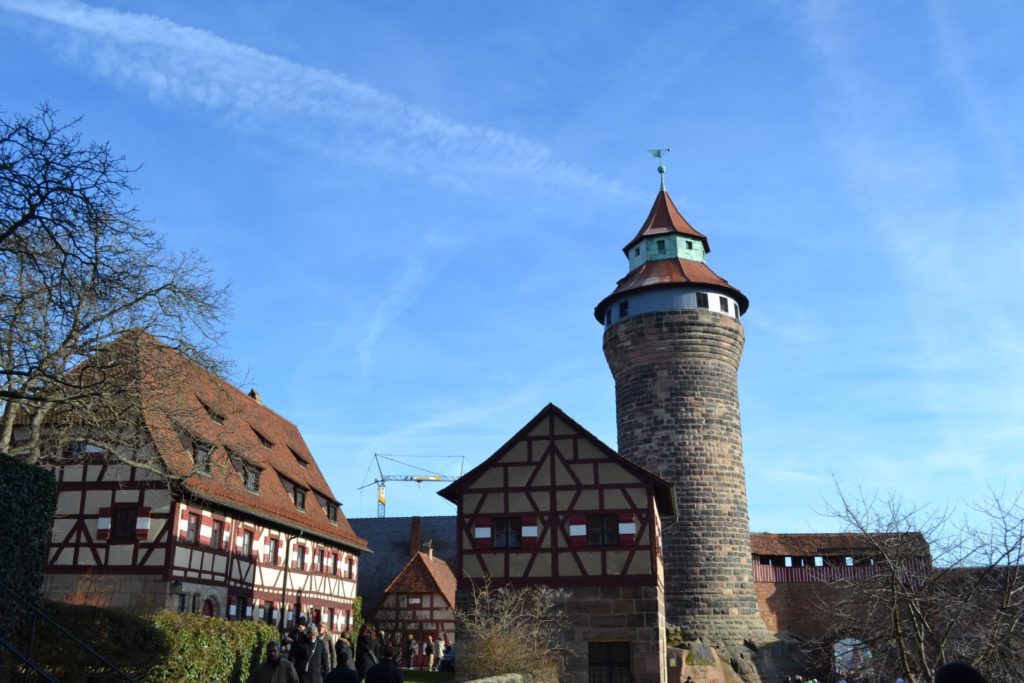 Insider Tip: While it's only a few Euro to climb the tower and many people say, "You get great views over the city" from here, I actually recommend skipping the tower climb itself and keep reading to see where I think one of the best viewing spots in the Imperial Castle is.
At the castle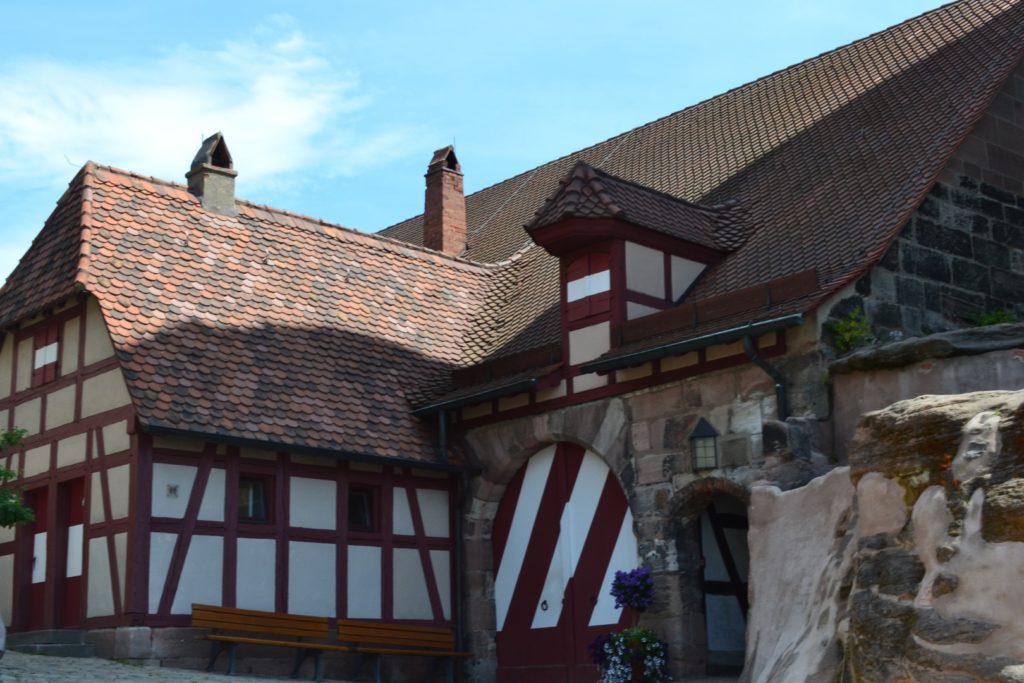 At the castle, you can also meander into the chapel, gaze into the deep (like REEAAAALLY deep) 165 foot well, and if you are really into history, check out the museum. If you are spending a few days in the city and have plenty of time, why not do all of that? Otherwise, if you are just doing a quick pass through Nuremberg, I personally think that just walking the grounds is good enough.
Tip: Heading to other palaces in Bavaria, such as the famous Neuschwanstein Castle, Linderhof Palace, or several in Munich? It might be worth looking into the Bavarian Annual or 14 Day Palace Tickets if you are also going to do the Kaiserburg Castle inside.
Kaiserburg Burggarten
I love the Kaiserburg Gardens and feel like they are really underrated and often skipped by people on tight timelines. However, they can be incredibly beautiful and a peaceful retreat, especially during spring and summer months when flowers are in full bloom! From here, you can find the viewing point and this is where I think one of the most impressive vantage points of the city is.
That is the end of my suggested Nuremberg DIY Walking Tour, but there is still plenty of Nuremberg things to do!
Weißgerbergasse
"Tanner's" lane is so picture-perfect beautiful. Even on the fastest of trips in Nuremberg, it is worth just sauntering down and taking in all the beautiful half timbered houses along this street. If you are wanting a fantastic photo op, this is where to do it.
If you've got a little bit of time, stopping at a cafe on Tanner's Lane for a cappuccino for some ambiance soaking is always enjoyable!
Spend the Night in a German Castle
If you really want to up your fairytale experience, why not spend the night in the Kaiserburg Castle? The stables have been completely renovated (but still holds the charm of a castle with stone walls, vaulted ceilings, and more) to now be a youth hostel.
Eat a Nürnberger Rostbratwurst (or 3!)
Germany is home to the bratwurst, yes. But Nürnberg has its own little sausage specialty! The best way to describe these little brats is to think of what an American breakfast sausage looks like. They are about that size and shape, but taste more "brat" like than an American breakfast link.
You can eat a Nurnberger Brat one of two ways:
1. On a plate with a healthy dollop of sweet bavarian mustard and a side of kraut
2. "Wickle im Drei:" Grab your brats to go by ordering this "sandwich" of three Nürnberger stuffed into a roll.
Want to see what other German foods are a MUST eat on your trip? Here are my top Bavarian foods not every tourist knows about.
Nibble Up Some Gingerbread
Nuremberg is supposedly home to the original gingerbread. These heavily spiced treats can be found all over the town, especially during the Christkindle Christmas Market, and due to the very distinct flavors used, you will either love them or hate them
Nazi Documentation Center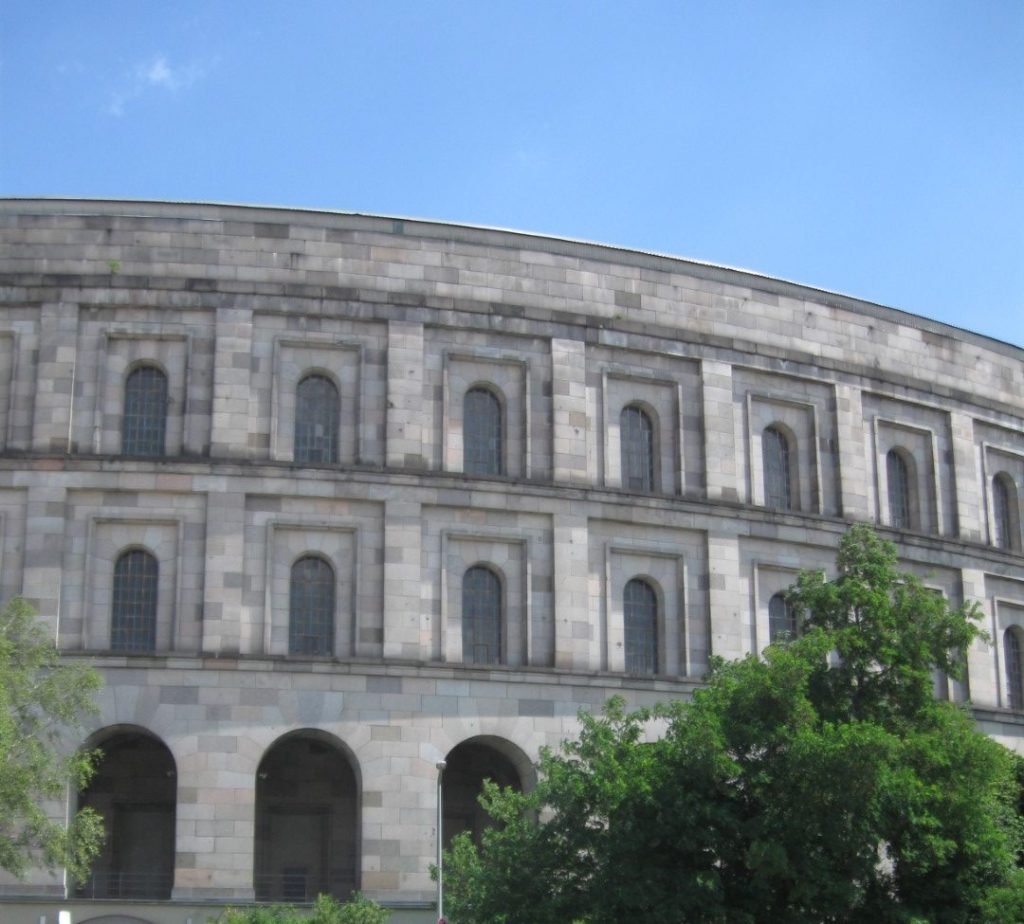 Having lived in Germany/Europe for the better part of a decade, I have been to numerous concentration camps, such as Dachau and Auschwitz, Jewish Ghetto camps, and memorial sites. Each one has a distinct learning lesson and an impact on me for various reasons. The Nazi Documentation Center in Nuremberg has to be, hands down, one of the best, well-done museums on the holocaust.
I have often looked at the rise of Hitler and exclaimed, "But how!? How does someone like that actually take over (with people electing him!)!? And how is an entire country ok with a genocide!?"
This museum explains all that so well. After spending time here, you find yourself thinking, "Oh my gosh…I get it." And while this is a glimpse into the past, I think it's a very powerful reminder for the future as well. We need to use this horrible example from history to prevent it from happening again. Not just the Holocaust, but the reminder of how people rise to power and the effects of this on the world.
Nazi Rally Grounds and Congress Hall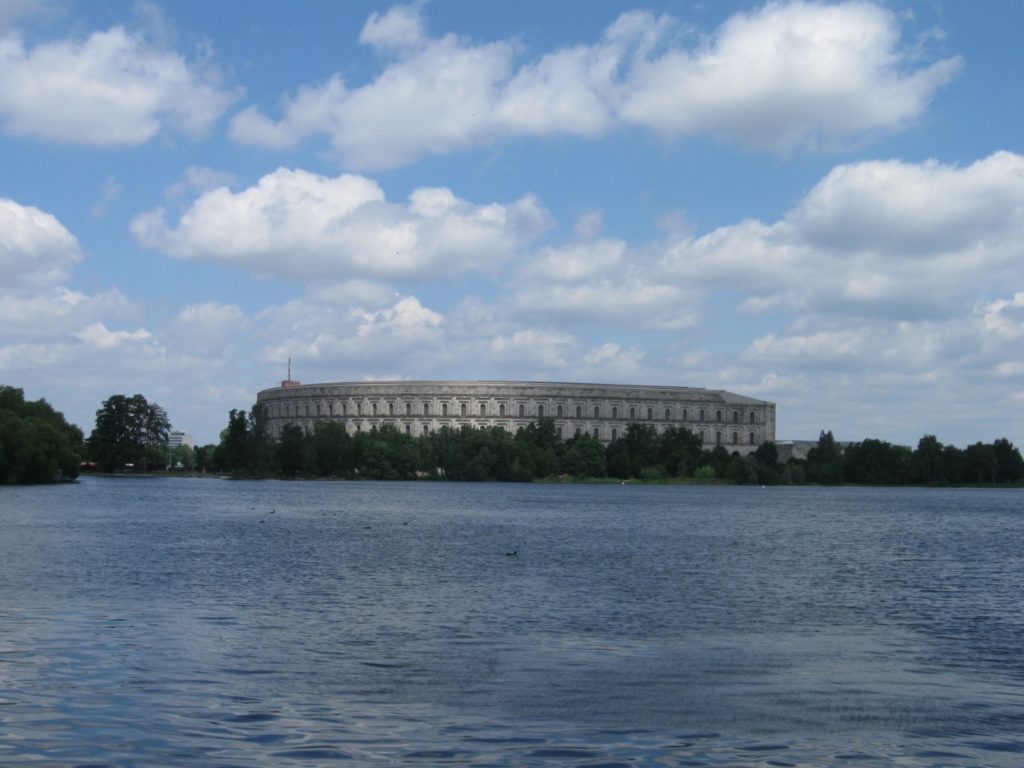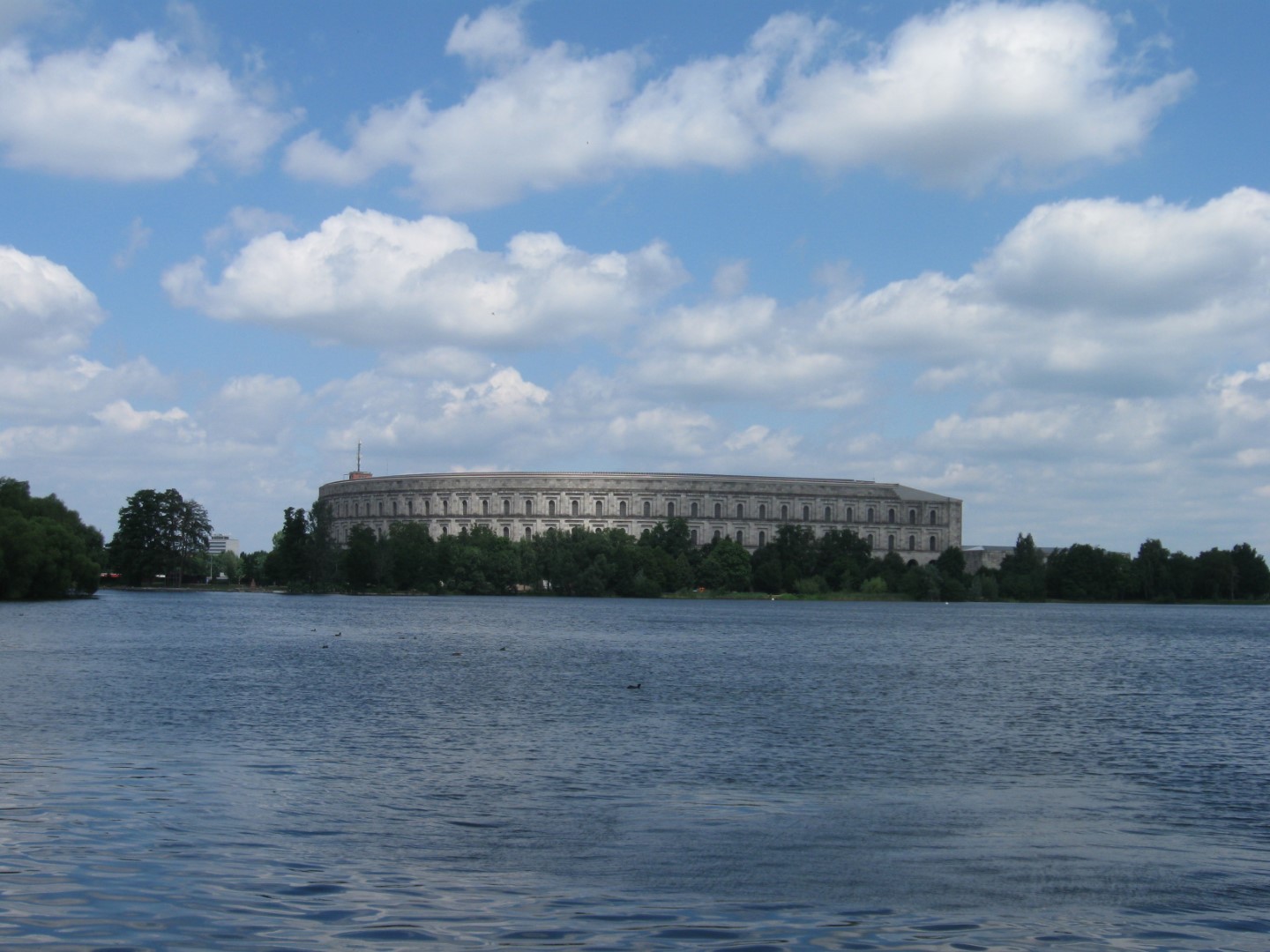 From the Documentation Museum, it is just a short walk to the Nazi Rally Grounds (The Documentation Center is actually in the Congress Hall on the grounds, but you can get better vantage points of the impressive building's architecture from outside).
At the grounds, you'll find locations like the Zeppelinfeld, where huge Nazi Rallies once took place and Hitler stood upon the podium spewing hate and white supremacy.
While it may seem strange for places like the rally grounds to be open to the public today, after the war, it was decided to keep these structures as a reminder of their history, and a lesson for the future. I personally have thought, "How has this not become a pilgrimage though for Neo Nazis and current day white supremacists!?" However, Germany has extremely strict laws regarding Hitler and Nazi memorabilia and things like the Nazi salute are also illegal today. In fact, several years ago, a tourist thought it would be Insta-worthy to do a Nazi salute on the grandstand in Nuremberg. She was arrested.
Germanic National Museum
Obviously, Nuremberg is a hothouse for history of all ages. If that is your jam, then you can add the "Germanisches National Museum" to your visit. If you are short on time, then the Documentation Center should take precedence though. The National Museum dives into both the history and the culture of German-speaking lands over time.
DB Museum
At first glance, one might think that the history of trains and transportation in Germany might not be all THAT interesting, but maybe it's the lower expectation that allows the DB Museum to really shine? Train lovers (cough, my 4 year old son) could spend hours, nay, a full day here if given the chance. Again, if you are looking for Nuremberg things to do on a longer trip, this is a surprisingly worthwhile stop.
Fun Events to Go To in Nuremberg
Check the calendar and see if you can line up these annual and really fun things to do in Nuremberg to really give you an amazing and authentic experience while visiting.
Nuremberg Christkindlmarkt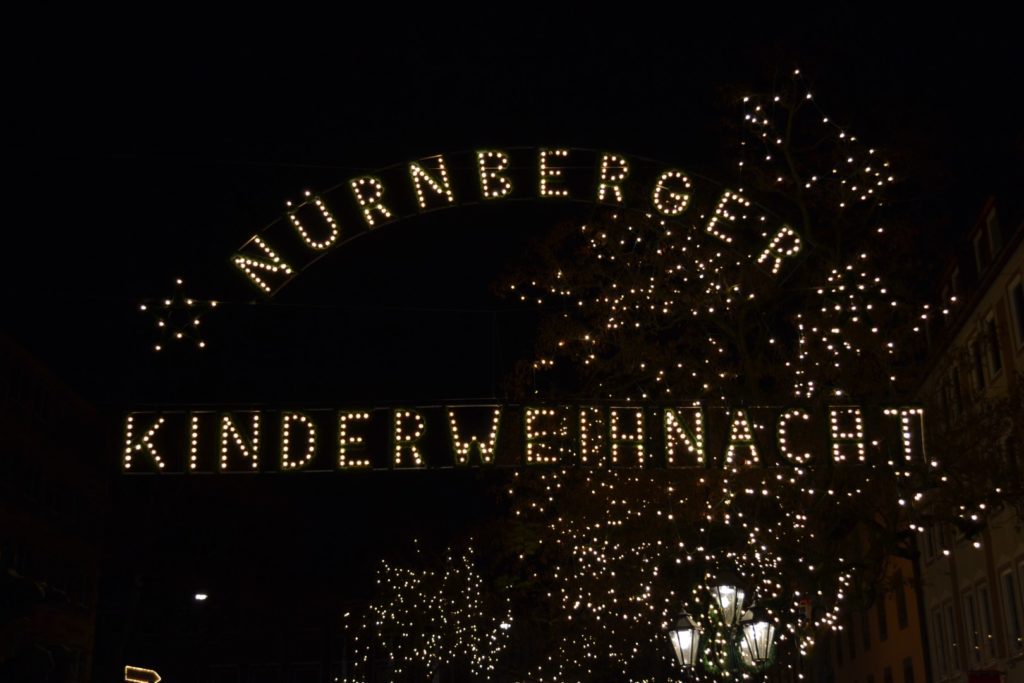 As noted above, Nuremberg is home to the largest Christmas market not only in Germany but in EUROPE! While one of the reasons to go to this particular Christmas market is to experience the sheer size, so does everyone else. Be prepared for massive crowds. Unless you enjoy feeling like a crammed sardine, try to avoid weekends and even just any evening. Don't worry, going to the Nürnberg Christkindlmarkt is just as magical on a Tuesday morning as it is on a Friday night (and yes, Gluewein consumption is totally acceptable at 9am!)
Nurnberg Herbst Volksfest
This annual Volksfest typically runs late August through mid-September. Even though Nurnberg is technically a part of the German state of Bavaria, a Nurnberg local considers themselves Franconian before Bayerisch. So, while you'll still get fantastic Oompah bands, mouth-watering foods, exhilarating rides, and other fun "fest" activities, don't be surprised to not see people in Lederhosen and Dirndls, like you would at Oktoberfest in Munich.
But, to me, a fun fest is still a fun fest! The Herbst (fall) festival could be a great Bavarian alternative to Oktoberfest for those wanting to avoid all the tourists at a fest.
Nurnberg Fruhlingsfest
Yes, Germans do love their fests! The Fruhlingsfest (spring festival) is basically the same as the fall one (give or take), so if you missed the Herbst fest or Oktoberfest in Munich and still want to experience a great festival, if you are there in April, see if your dates align.
Trempelmarkt
Every September, the old town is taken over and replaced with a never-ending flea market! Even if you aren't in the market to buy, it is quite the experience browsing just for fun!
Summer Wine Festival
In July, on the small Jacobsplatz, there is a delightful little wine fest. After all, Franconia is one of Germany's best wine regions, so this is a great time to sample on all kinds of local wines!
Frankisches Bierfest (Franconian Beer Festival)
This annual festival is a must! It takes beer fests and levels them up. The moat of the Nuremberg castle is transformed into the world's largest Biergarten! Over 40 local breweries get together to serve up authentic Bavarian and Franconian brews. Who can say they've drunk beer in a castle moat before!?
Rock im Park
Every July, music lovers flock to Nurnerbg's Frankestadion for four days of extreme music fun.