[This post may contain affiliate links where we earn a small commission. Please see our disclosure for more information and thank you for supporting our site so we can continue to bring you awesome content for your travel inspiration!]
Regensburg Germany might just be one of my favorite hidden gems in all of Germany. It's not exactly totally off the tourist path (a lot of cruise boats stop here along the Donau River), but it is a town often skipped over by people quickly going from Munich to Nuremberg. And quite honestly, they are missing out one of my favorite, picturesque towns of Germany! So if you are wondering what to do in Regensburg in one day (or more), then I've got you covered!
Read My 30 Day Trips from Munich (including a Regensburg Day Trip)
And ok, maybe I'm a bit biased because I now live here, but even well before I called Regensburg home, this was a town that I loved to bring family and friends to when they visited because one after another, they fell in love with it as much as I have.
You can easily do Regensburg in one day, or spend longer if you like as well. But regardless of what you choose, there are plenty of amazing and sight-worthy things to do in Regensburg that will have you happy not to have skipped out on this charming, Bavarian town.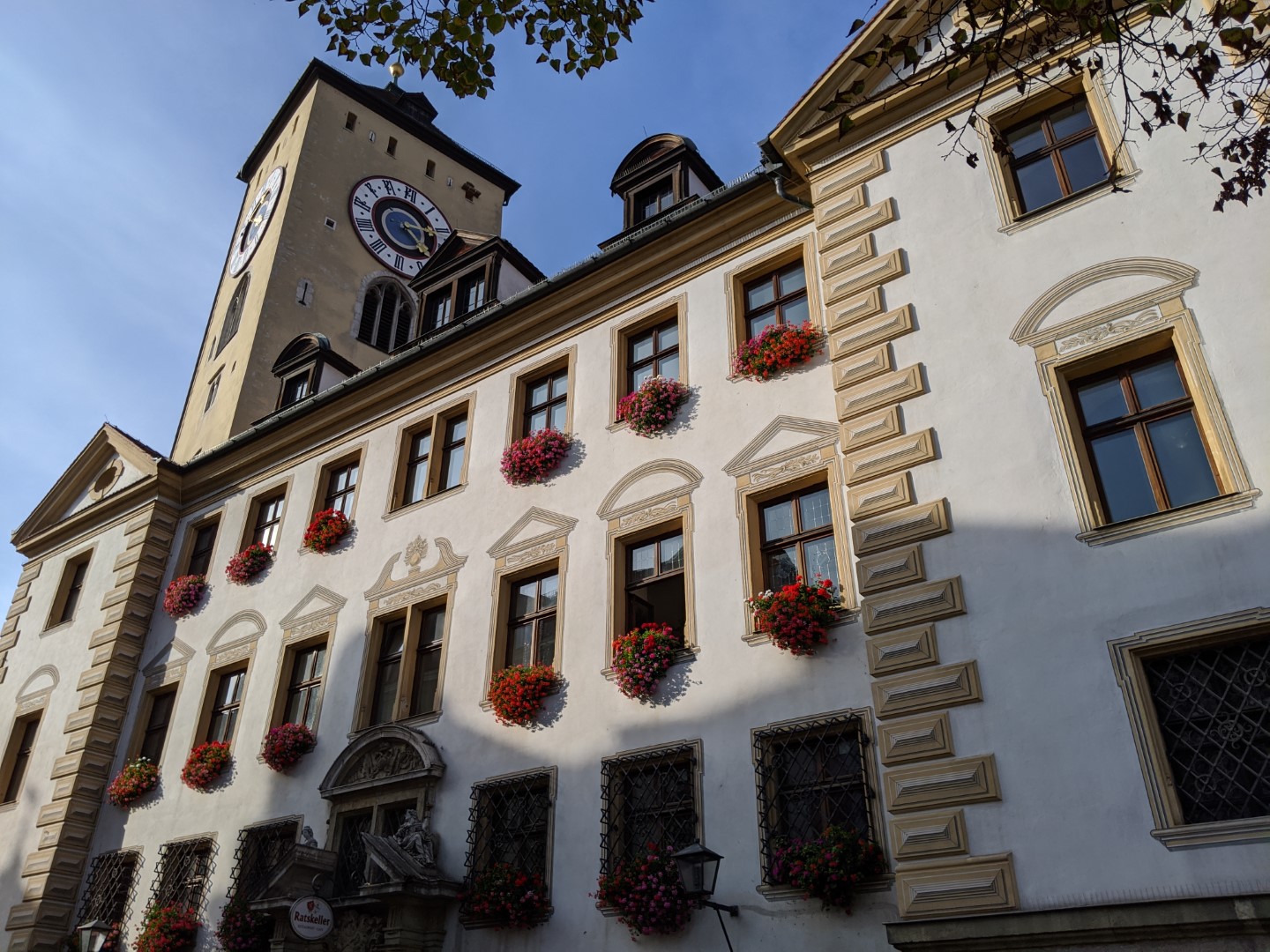 A Bit Of Regensburg History
Regensburg Germany is over 2000 (yes, that is correct 2 THOUSAND) years old! And while it is the 4th largest city in Bavaria today, it actually once held the title of the largest city in all of Germany (well, what we consider Germany territory today).
For a lot of its history, Regensburg was a completely independent city, only to be rule by itself. After all, being one of the wealthiest cities in the Holy Roman Empire, they could (quite literally) afford to do that, meaning they only had to answer to the Pope himself. This gave Regensburg a lot of autonomy to govern itself.
Another fascinating part about this beautiful German town is that because of its heavy influence from the Roman Empire, you might look around and wonder if you are in Italy, or Germany. You won't see many of those classic German half timbered houses here. No, the wealthy could afford BRICK! Therefore, much of the architecture in Regensburg has an Italian influence, including the tall watch towers (which we'll see later), the small, windy alleys, and the big, beautiful squares (Platz).
One reason why Regensburg retains so much of its beauty and history is because much of the Innenstadt (the Old City) has buildings and houses upwards of 800 years old! Because they were built with brick (and not wood) fires didn't ravage the town like in other locations. Combine that with the fact that the Altstadt of Regensburg actually escaped getting bombed during WW2 means that these buildings you are about to see aren't redone. No, they are hundreds of years old, authentic, Bavarian homes!!!
With its fantastic charm, its stunning buildings, immense history steeped on ever corner, you'll quickly see why it's a UNESCO World Heritage site.
Planning a Trip to Germany? Join Our Fantastic Traveling in Bavaria Facebook Group!
Wander In Germany's Free DIY Regensburg Walking Tour
The way I've created this guide is as if you are doing just a day trip to Regensburg. I love that this town is so easily walkable, so I've created the perfect free walking tour of Regensburg for you to just simply follow along with and enjoy your day!
Start At the Hauptbahnhof
We're starting at the train station both because that is an easy place to start if you are taking advantage of the Bayern Train Pass but also, there is plenty of parking garages around here as well if you are choosing to follow my driving in Germany guide.
Maximillianstrasse
When you leave the Hauptbahnhof, follow all the people. Most of them will be heading into the Altstadt (the "Innenstadt") via Maximillanstrasse. This is a good street to just do a little bit of window shopping and start seeing a glimpse into the rich and opulent styled buildings that we'll continue to see more of throughout Regensburg.
As soon as you exit the Hauptbahnhof (Main Station) or get off the bus at Albertstraße, you will head straight for the main thoroughfare. Not the most exciting street in the Old Town, so don't get bummed out. Instead, it offers a few restaurants, a historic cafe and some affordable shopping.
Thurn and Taxis and St. Emmeram's Abbey.
We are going to make our way to the Thurn and Taxis Palace now.
The St. Emmeram's Basilica next door to the Schloss is beautiful and worthy of a quick dip inside to see the stunning gilded baroque features adorning every last inch of the building!
The Abbey was built as early as the 11th century and was eventually turned into the Baroque beauty of the Schloss we see today, which has over 500 rooms!
Even today, it is reported that the sitting Prince of Thurn and Taxis is actually one of the wealthiest bachelors alive! (Any single ladies in here??)
The St. Emmeram's Basilica next door to the Schloss is beautiful and worthy of a quick dip inside to see the stunning guilded baroque features adorning every last inch of the building!
Jakobs Tor
You can technically skip this stop if you are in a rush and just skip the next few stops and go straight ahead to Haidplatz, however, I like taking my guests along this route to see one of the many, still standing city gates into the city. It's just great reminder that this is still very intact medieval town.
Scots Monastery
As you walk through the gate and straight into the Altstadt, you'll pass a huge glass enclosure keeping the monastery building safe from the elements. However, you are still free to step inside and appreciate the intricate design of the building that actually is original and dates back to the 11th century!
Bismarkplatz
Continue straight ahead and you'll take a slight right through an alleyway which will spit you out onto the beautiful, baroque looking Bismarkplatz. You'll notice it hustling and bustling with locals who love to gather here. The Theater and Haus Der Musik are both located on this square, contributing to its opulent feel.
In the summer months, it's not uncommon to find farmers markets in this square and in the winter, there is a fantastic tiny little Christmas Market with local goods.
No matter the season though, you might notice Germans eating ice cream. Like, in ALL weather. It's a concept I still don't understand, but when in Rome er Regensburg, do as the locals do. The "famous" Stenz Eis is right off Bismarkplatz. Don't worry, you won't be able to miss it. It's the shop that has a long line, no matter the temperature! Grab a gelato and enjoy the Bismarkplatz fountain and some people watching for a few minutes before continuing onto…
Haidplatz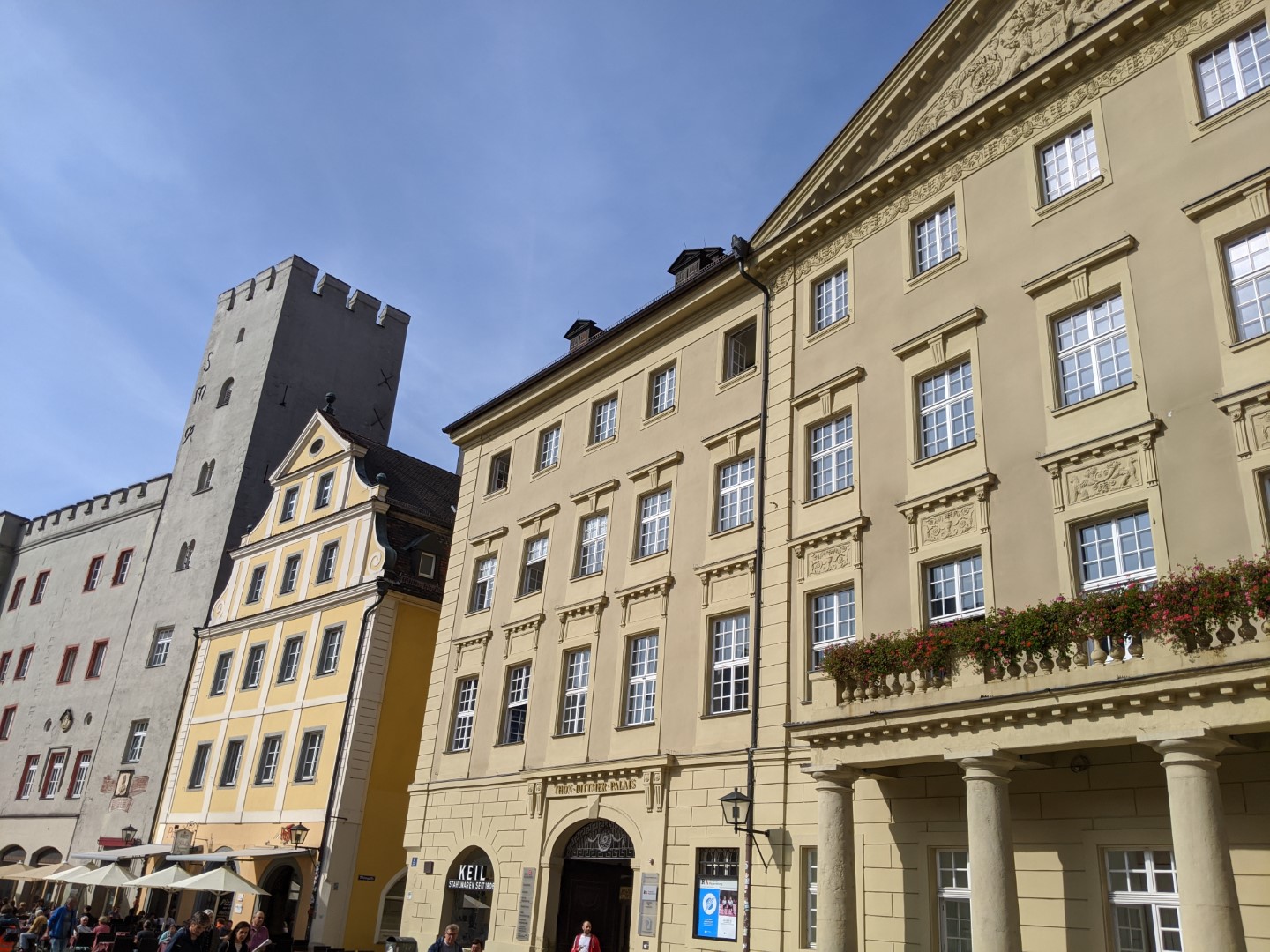 Next we are going to make our way to one of the richest squares in town, or at least what once was. Today, it is one of the locals' favorite places to sit at a cafe outside and enjoy some of those classic and delicious Bavarian foods.
And while the buildings look old and beautiful today, 1000 years ago, this was Regensburg's "New Town" where only the wealthiest of merchants could afford these lavish, ginormous homes. That's right. Look carefully to discern where one building ends and another starts (you can do this by seeing the slight change of color) and realize that is ONE, giant, home!!!
Rathaus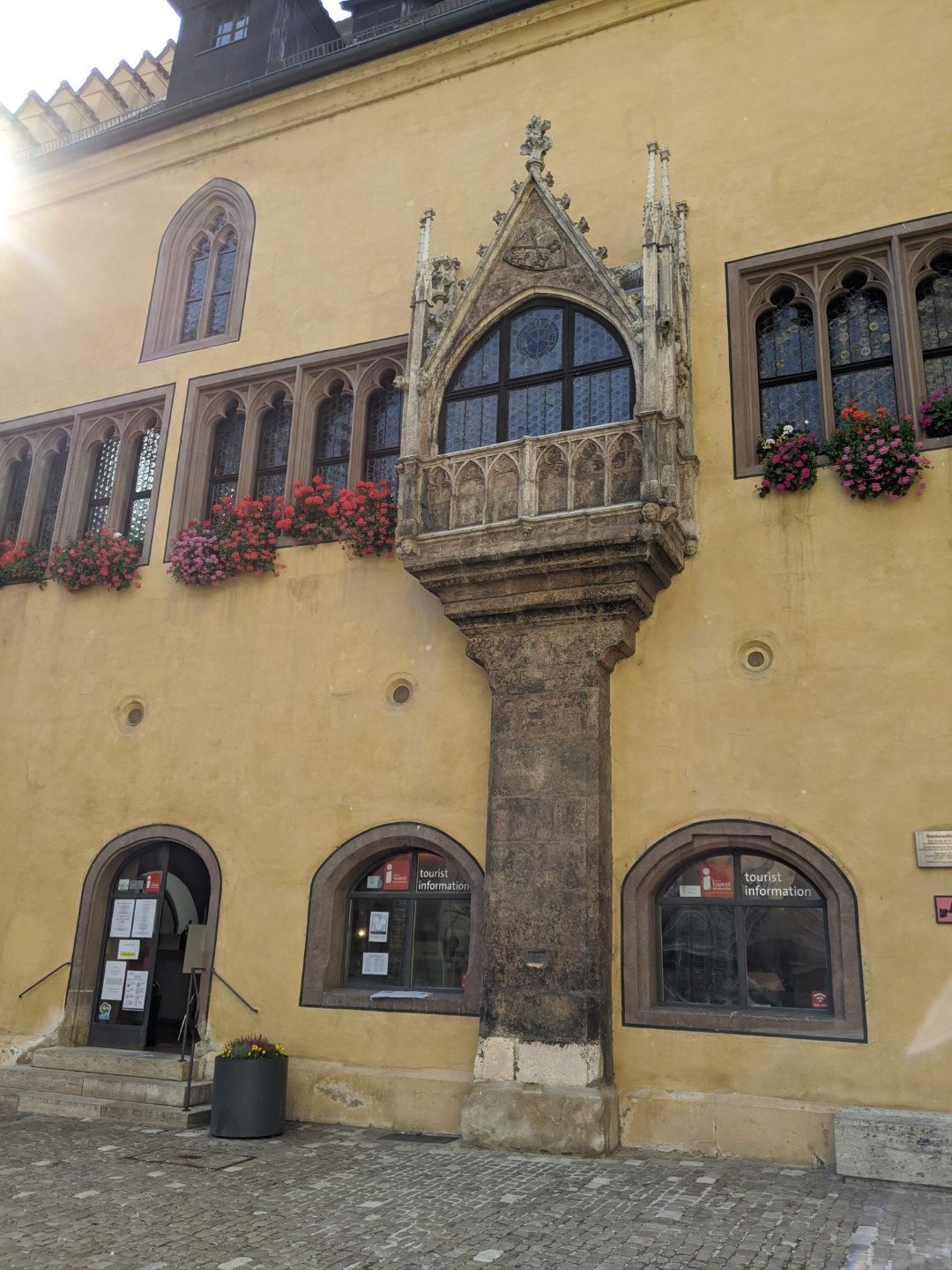 Next, we are going to stop at the Rathaus (or the town's municipal building). Today you might be lucky to see a bride coming out (since all weddings in Bavaria are civil first) but if not, just take a few minutes to do a 360 of this platz.
In this square, you'll also find the TI (Tourist Information) office where they also do several Regensburg tours. This gorgeous building actually used to be a festival hall. See that that balcony? That's where the Emperor used to speak out to the common people below.
In the corner, of the Rathaus, you'll see an elaborate looking door. Notice the measurements hanging on the outside? Before money was used for trading, goods were bartered. This is Regensburg's own official measurement for a "shoe" (IE: A footlong) that would help people measure their goods. (Fun fact: this measurement could be different in every town!)
Now, we are actually going to walk back to the Haidplatz and tuck into the
Regensburg Library
This is one of my favorite little secrets to show people. At Haidplatz 8, you'll get another glimpse of just how HUGE these homes once were. Today, it is an entire library! Go ahead and go through the archway and walk along the cobblestones until a big, giant courtyard opens up.
Regensburg now uses this stunning courtyard for concerts and theater performances, but it once was a PRIVATE courtyard for just the one family who owned this building! Just take a few minutes to look around and soak up the intricate balcony details and really absorb how rich the people in this part of town had to have been.
Walk back out into the Haidplatz and walk towards the statue in the middle.
This is the Statue Symbol of Justice. While it wasn't extremely common, this square is where executions would happen, if needed, so this statue is a symbol that justice will be served.
Before leaving this square, look at all the buildings again. While paint jobs and cleanings of the buildings have been done, it is said that all of the colors are original (meaning that when the house was built, if it was blue, then it is still blue today!)
Next we'll do a bit of some wandering
Walk down Rote-Hahn-Gasse
As you walk down this side street, again, just notice all of the different colors and stop to appreciate that this town never had to be rebuilt. What you are looking at is authentic, HUNDREDS of years old buildings!
Tip: If you are hungry, some people claim that Zara's Grill in the "Passageway" at the beginning of this street is one of the best Doner Kebab stands in Regensburg. I still have yet to put my stamp on my favorite Doner Stand, but if you haven't gotten a Doner yet, this would be a great place to give one a try!
You'll pop out of Rote-Hahn-Gasse and start to vear to your left. You'll see the Arrowbrau Biergarten Sign on the corner of
Hinter Der Grieb
Before walking down this charming little alley, again, just stop and gaze for a bit. Notice how these alleys really do feel like you might in Italy rather than Germany!
Walk down this charming little alley and near the Am ioi shop, you can actually peak into another, smaller, courtyard. This one isn't as big or grand as the one in Haidplatz but is still really nice to look into to get a feel of what the people of Regensburg had as their "open air" space during medieval times. And again, this is another great reminder of the Italian influence on the town. Next turn left on
Untere Bachgasse
On this street, you'll see locals walking. As you walk down the street, look for the Galerie Isabelle on your right (number 7) and here you will actually find a walkway into another great courtyard. Stop inside.
This is a really great place to stop for a moment to again, see how different Regensburg is compared to a lot of other German towns, with its wealthy and Italian influences. Again, this courtyard probably belonged to one family, owning this huge home overlooking yard. Where the tree stands today, once there was a well. For a family to have their own well, you know they are "well off" (get it!?!? Sorry, I had to!)
From here, look up and you can also see a huge tower 52 meters tall, also originally belonging to the family of this home. We'll check gaze up at that on the next street. Walk through the courtyard and through to Wahlenstraße 16 where we'll see the
Goldener Turm
Around 1250, this giant tower was built by a wealthy family in town. This isn't a Medieval watchtower though. No, it was built solely for the purpose of flaunting their money!
In fact, about 60 towers similar to this originally built throughout towns by rich families and 40 still remain! While not are as tall as the Goldener Turm, start looking up and around and you'll spot them all over!
Regensburg is the farthest Northen city from the Holy Roman Empire, but this is the ONLY town where you will see towers, such as this, North of the Italian Alps! If you have ever seen pictures of beautiful Tuscany, these towers might have reminded you of ones from towns like Montepulciano, where they got their inspiration from.
Continue to walk just a little bit down this road and duck into the passageway at Wahlenstrasse 9 (you'll see a florist shop here). You'll get spit out at the quaint little Tändlergasse, where you'll turn left towards
Kramgasse
At the corner of Tändlergasse and Kramgasse, this is another one of my favorite spots to just stop. Do a 360. You are standing in an authentic, amazing, historical, classic, medieval city!!
For now though, go back the way you came down Tändlergasse and head towards the
Neupfarr Platz
As you walk the cobblestoned streets, this is the part of Regensburg that I just absolutely have fallen in love with. Take some time to just go off on any given alley way and simply wander. As the tall buildings tower over you and you stumble over the cobblestoned streets, you just feel like you are in some magical European world.
Neupfarr Platz is another popular town square, with another dominating church (if the doors are open, peak inside!) and plenty of cafes to grab a Gelatto, coffee, or lunch at.
However, there is a dark history to this square. While most people only associate hatred towards Jewish people to World War II and the Holocaust in Germany, it goes back well before that. In fact, in 1519, this actually used to be the old Jewish Quarters of Regensburg and in 1519, the synagogue was torn down and the Jewish community was forced out.
Next, walk to
St. Peter's Dom
Now we'll walk over to the next major Platz where you can't miss the towering cathedral.
This is a one of the most popular things to see in Regensburg and is gorgeous, both on the inside and out.
This stunning cathedral was built in 1270 and, you guessed it, was never destroyed!!! Fun Fact: If you notice both green and white stones on the church, you are looking at Sand and Limestone….they ran out of money and had to switch to cheaper materials!
This cathedral is still in use today, so go ahead and pop on inside and look around. I love walking the interior walls and then just sitting in one of the pews and soaking it all in. On rare occasions, you might even get treated to someone playing the organ, which is the LARGEST hanging organ in the world! There is a crypt underground you can go into as well.
Insider Tip: The Domspatzen Boys Choir is one of the most famous in the world. You can find concerts to attend occasionally, but if you are there on a Sunday, you can actually (respectfully) attend a full Mass (about 1 hour long) where the choir still sings during.
Tip: Take a guided tour of the inside of the church. You can book them next door at Domplatz 5 or do one through the TI office. There are tours running as short as 25 minutes for people on a time crunch, or as long as 70 minutes for those wanting to enjoy some more time in Regensburg.
Der Hutmacher
Across from the Domplatz, you can find this hat making store that has been going strong for 5 generations. Many locals will come here to buy their hats to go with their Trachten (traditional Bavarian outfits). If you are in the market for a hat to go with your Lederhosen, this is THE place to get it in town.
Now, turn right and you'll be welcomed into the Domplatz where you'll see the towering
Bischofshof
Across from the Hat Maker, walk under the archway of the Bischopfhof and into yet another grand courtyard. Today, you can get a good meal and beer at the Bischofshof restaurant, but this originally was the grand home of the….well, Bishop! Yes, all the buildings surrounding this beautiful courtyard belonged to the church leader.
Next you'll turn right onto Unter den Schwibbögen and keep walking until you see the
Porta Praetoria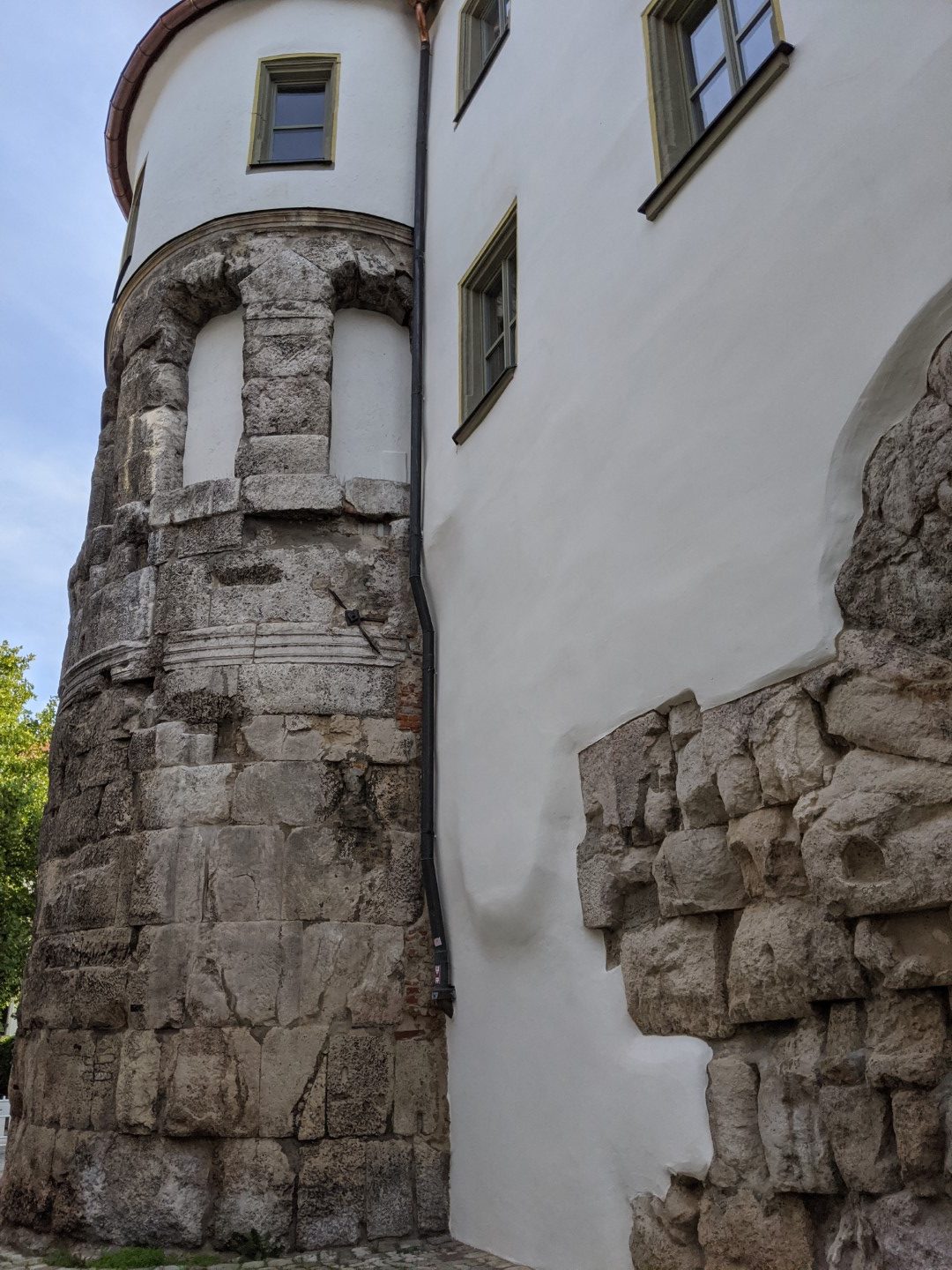 This old town "gate" is REALLY old. 179 A.D. to be exact. This is just one of the many examples of just how impressive this town really is. You can still see so many ancient Roman ruins hiding in plain sight.
Again, just next to this gate, you'll see another gorgeous Italian influence of architecture on a building with a latticed balcony and beautiful archways. I often have to remind myself that I'm in Regensburg, not Italy here!
Continue down to the end of this alley and when you get to the end of the street, look at the corner (Praetoria 179) where you'll see another Roman gate to the city. Look back down at the alley we just came from to visualize where the ancient roman wall was.
Across the street, you can't miss the big, new…
The Museum of Bavarian History
If you are spending a full day in Regensburg, or even more, then this is a worthwhile stop and has both English and even Children tours. The museum shows how Bavaria transformed from the agricultural state to the modern Bavaria it is today. If you are really short on time, then I think it's ok to skip this one today.
Turn left to go towards the river, cross the street to get to the riverside, and go left again at Thundorferstrasse and stroll along the river bank where you'll soon see the…
Old Stone Bridge (Die Steinerne Brücke)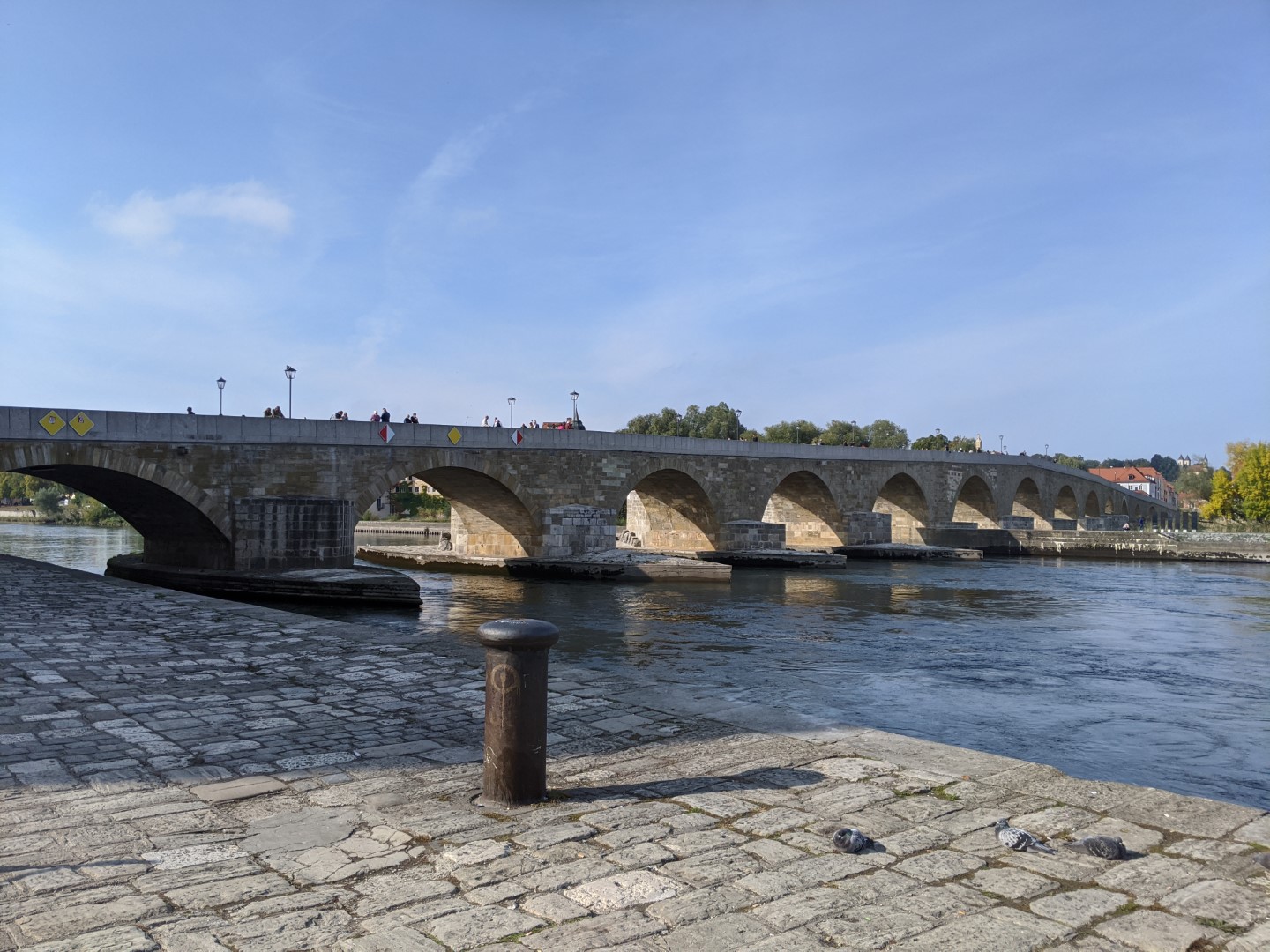 This is one of those MUST see Things to Do in Regensburg, Germany icons.
You are looking at the oldest stone bridge in Germany. Just recently, they have reconstructed the bridge and it looks way more "modern" than what I like (the older version just looked so much more "authentic!") but it still gets to claim that title, and therefore, this is one of the most popular places in Regensburg,
Wurst Kuche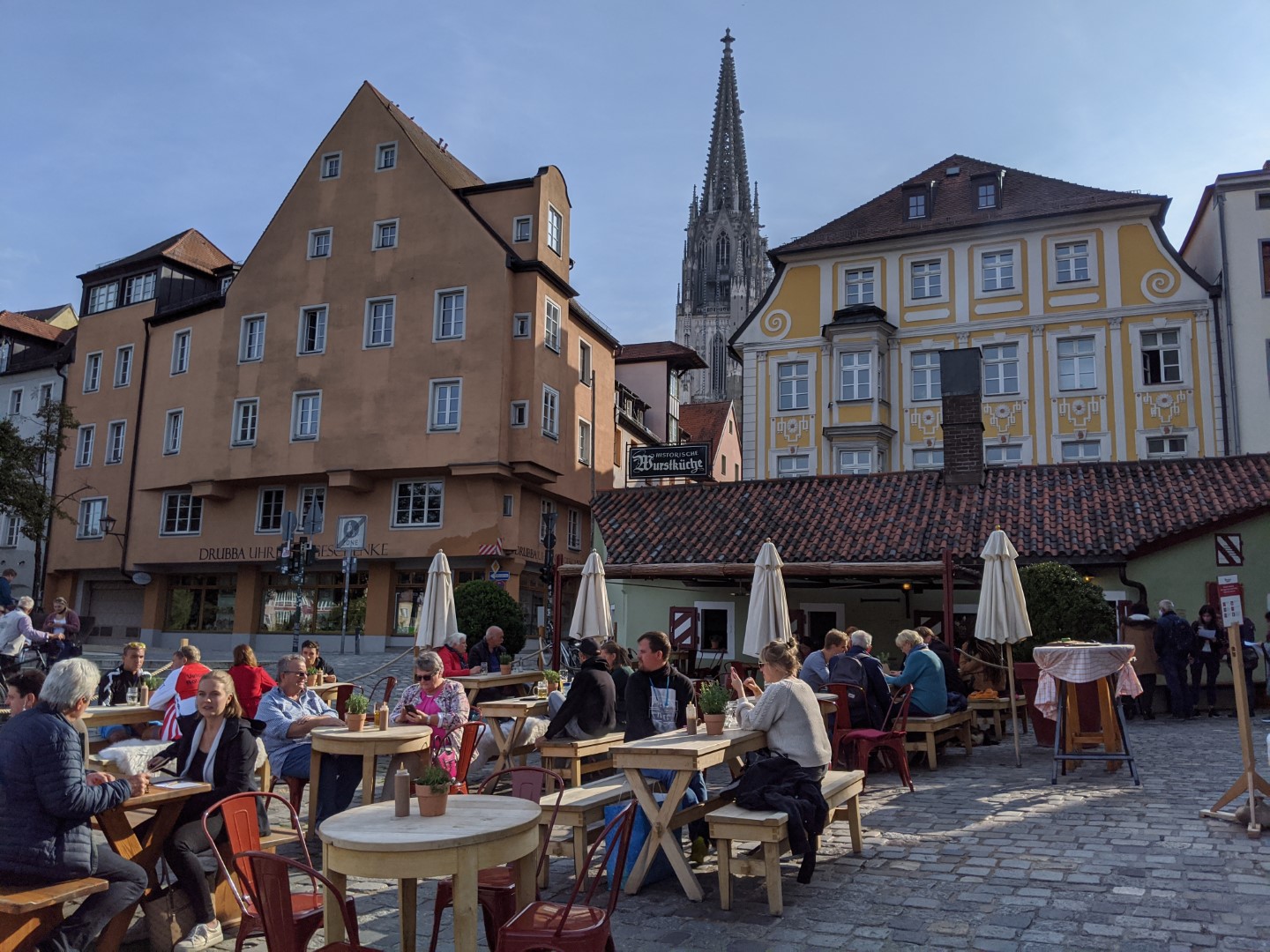 However, before you start your walk over the bridge, stop at the Wurst Kuche. Speaking of "Oldest in Germany" this is the oldest sausage stand/ restaurant in the whole WORLD and one of the favorite places to visit in Regensburg for tourists (ok, and locals!)
Grab some Nurnemberger style brats and enjoy the Danube river.
Next, walk over the bridge and head to the
Spital Biergarten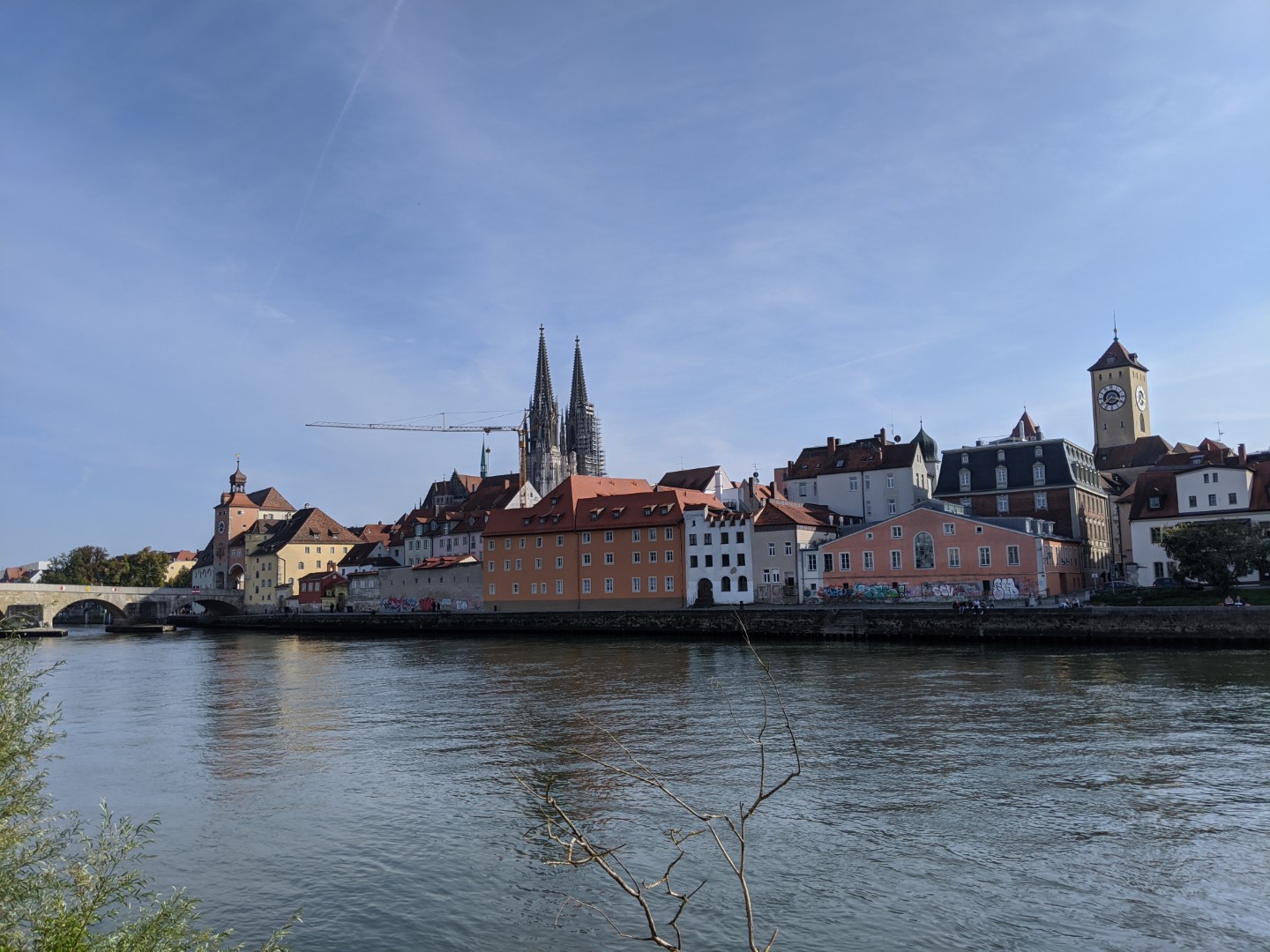 Next, walk over the Steinebrucke. As you walk, keep stealing glances back at the Altstadt. It is GORGEOUS!
Walk all the way over the bridge and then hang a left at St. Katherine-Platz where you'll find one of my favorite beer gardens ever; the Spital!
Honestly, it's not that the food here is tremendously better than anywhere else, but oh my, the views of the Dom, Donau and city are incomparable! I love spending sunny afternoons at this Biergarten just taking it all in. Even if you are not hungry, stop for a beer!
Go Under the Bridge
Next, we are going to go off the tourist path and get a few different vantage points of the bridge.
Walking out of the Spital, turn left (away from the bridge) on FranziskapkanerPlz, which will turn Pfaffensteiner Weg. Keep going and then turn Left at Pfaffensteiner Steg, which will lead you out to a path along the river.
Take the path back towards the bridge and soak in all the beauty of the skyline of Regensburg, the towering Dom, the beautiful pastel colors of the houses and just go slow!
You can keep walking around, or you can stop at the bridge, take a ton of fantastic photos, and then you can head back up to the bridge. You can either come back the way we came or walk just a little past the bridge and where the path splits, go up to Wassergasse, turn left and then make your way back to the bridge.
Walk Back Towards Altstadt
I love walking this direction on the bridge because the medieval city in front of you is breathtaking, no matter how many times I've strolled this route!!!!
After the bridge, just keep going straight ahead on Brückstraße into the Altstadt.
Keep going straight along this alley until you see the giant, beautiful,
Goliathstrasse
It probably won't take you long to figure out why this street is called Goliathstrasse after seeing the enormous mural on the building!
The painting was first put on the "Castle House" in 1573. While the painting we see today isn't the original, there has always been a Goliath scene on this house since it was first painted.
If you turn right here at Goliathstrasse and head straight, you'll pass through another charming square and eventually be put back at the Rathaus.
And there you have it. I hope that you not only got your fill of the top Regensburg tourist attractions but also fell a bit in love with the city I call home!
If you are going to be staying in Regensburg, or need any help or info, such as certain places to eat, where to spend the night, etc, don't hesitate to ask!