[This post may contain affiliate links where we earn a small commission. Please see our disclosure for more information and thank you for supporting our site so we can continue to bring you awesome content for your travel inspiration!]
Tips to Travel Cheap In Germany
Germany On A Budget
If you've been around this site for a while, you probably know a few things about me already in regards to living in Germany
I'm a sucker for Rick Steves and his guidebooks
I love dark, German beer (pass me that Kupfer, will ya?)
I'm cheap as hell very FRUGAL when it comes to traveling
When we first moved to Germany, we had one main goal: TRAVEL AS MUCH AS POSSIBLE! Buuuuut, that is pretty hard considering traveling can really add up in expenses. So, needless to say, we quickly figured out how to travel Germany on a budget. Luckily, we had a headstart on our research since we had already spent some time Backpacking in Germany. So, here's what we've figured out in over a decade of living and traveling in Germany.
You'll Find In This Article:
Is Germany Cheap?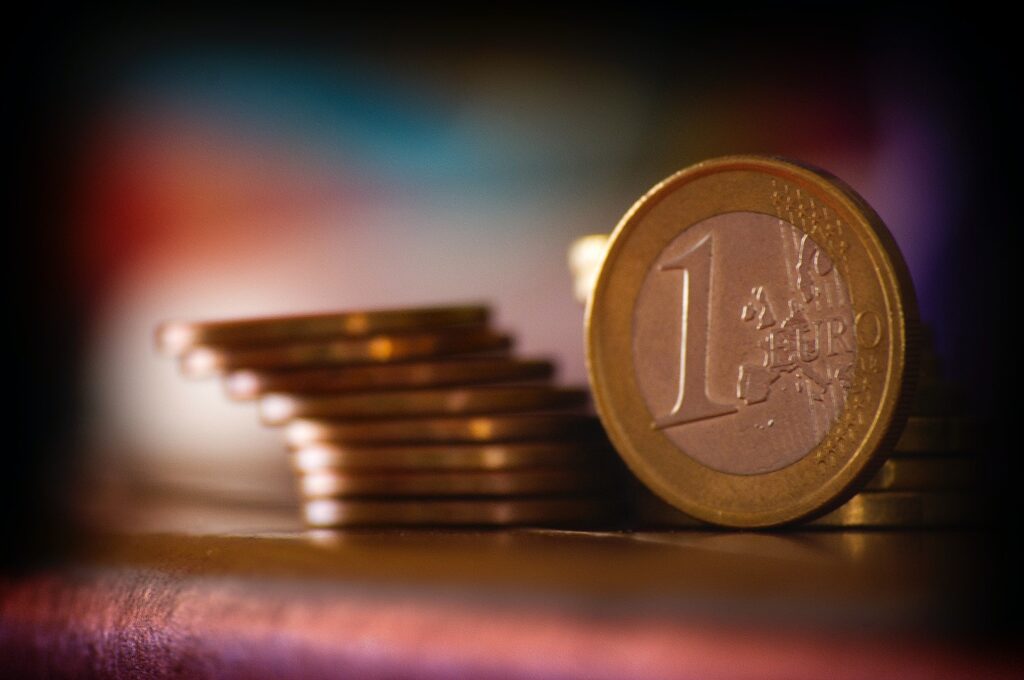 When it comes to affordable travels, Europe isn't exactly known for being a cheap option. But that also doesn't mean that you can't do Germany on a shoestring budget either. So, in this guide, I'm going to go over exactly how to travel cheap in Germany, including how to find the cheapest flights, figuring out the best time to visit Germany financially, go over the cheapest way to travel Germany, and more as you plan a trip to Germany.
Budgeting a Trip to Germany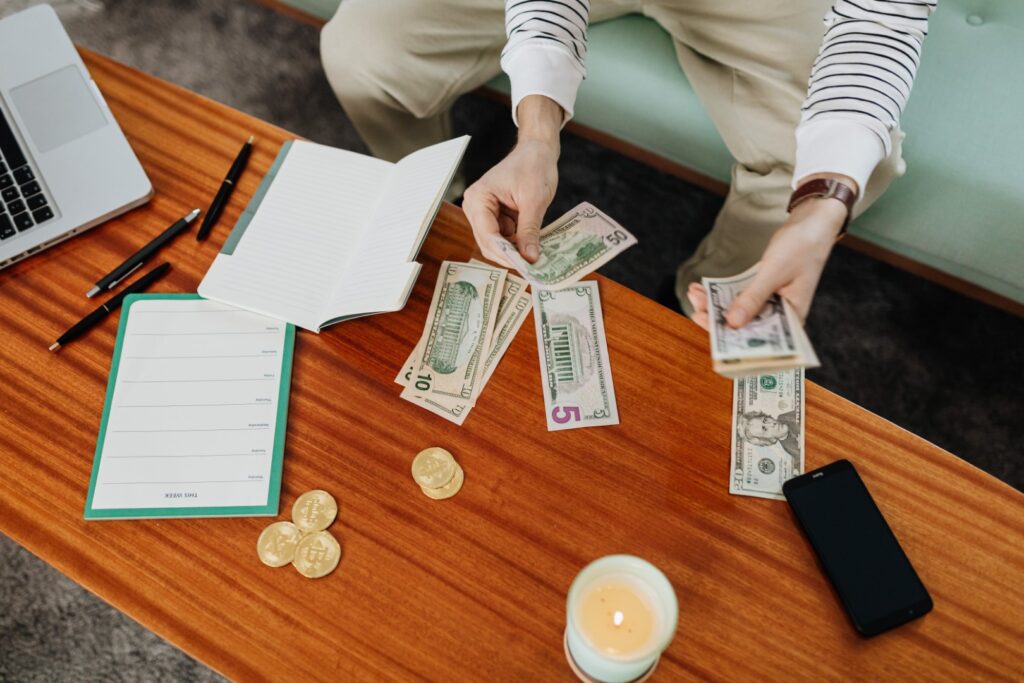 Before we talk about HOW to save money, I think it's important to figure out what YOUR budget is for your Germany trip. Granted, I'll be detailing exactly what you can do to get the cheapest trips to Germany, but depending on what your own budget is, you might be able to have a bit more wiggle room to play with variables. So how much does a trip to Germany cost?
I'll go into each of these thoroughly in this guide, but some of the expenses in Germany to plan for are:
Flights
Nightly Accommodation
Transportation
Daily Activities
Meals
Planning on Visiting Bavaria On Your Trip? Join our Travel In Bavaria Facebook Group For Money Saving Tips and Planning Advice!
Getting There: The Cheapest Way To Travel TO Germany
How much does it cost to fly to Germany? Well, that all really depends on the time of year you decide to visit. Plane tickets to Germany can be as low as around $400 in lower seasons or with a good deal. However, if you are trying to fly to Germany in the high seasons, like July, August, or December for the best Christmas Markets in Germany, then you can expect upwards of $2,000 for flights.
Expert Tip: The Cheapest Flights to Germany are often in February
While flying to Germany is pretty standard for the costs of Western Europe, here are a few tips I've learned over the years to get the cheapest flights to Germany.
Fly On the Holidays and Low Season
If you want to do Germany on a budget, you may have to adjust when you go so that you can get the best deals on flights, as this is often the biggest expense for your entire trip.
Often times, flying on major holidays can give you fantastic deals! For example, one year, we flew on Christmas day and it was almost half the cost of the days leading up to and after Christmas. Another great day to keep an eye on to fly is (American) Thanksgiving.
While most people want to visit Germany in the warmer months, February is typically one of the cheapest times to fly here. And yes, there is a surprising amount of things to do in Germany in February!
Find the Cheapest German City to Fly Into
You will most likely find that depending on which airport you are trying to fly into will greatly influence your flight cost.
I often find that there are some good, cheap flights from Berlin. Frankfurt is often the next most affordable airport and Munich is almost always the most expensive. However, just because it might be cheaper to fly into Frankfurt, if your goal is to explore Bavaria, like in my 10 Days in Bavaria Itinerary, then you still have to take into consideration the cost of transportation from Frankfurt to your destination in Bavaria (plus the travel time).
Total Cost To Fly To Germany: Expect $400-$2000 (pending season and deals)
Other Cost Saving Tips for Flying
Round Trips vs Open Jaw
I have found that it's almost always cheaper to fly roundtrip from one city. However, many people try to cram as much into their Germany trip as possible, which often means trying to cover a ton of ground. This ultimately results in many people flying into one major city but then being in a completely different region by the end of their trip. If you are doing a roundtrip, this then means having to plan for both the actual cost of transportation back to the original city as well as the time it takes to get there, adding to your expenses.
Find Saver Fares or Mistake Fares
At least once a year, I see a killer deal on Scotts Cheap Flights for insanely cheap flights to Germany, typically into Berlin. For example, I've seen flights from the US to Berlin for about $350 roundtrip! That's pretty fantastic!!!
You can also set a price alert for the destinations you want on Google Flights and Kayak. You'll get a notification if the price drops. There are about 3 catches to this method though:
Mistake fares often get corrected REALLY fast, so if you see one, you can't sit on that debating if you should book or not. They are often changed within a few hours, but if you catch one, oooooey, you can save HUNDREDS!!!!
SOMETIMES airlines won't honor a mistake fare. Not always, but occasionally, they'll refund you and say, "Oops, Sorry"
You have to be flexible on dates. Oftentimes, a mistake fare is for a select period of time but again, if you find one, it is a fantastic way to get cheap trips to Germany!!!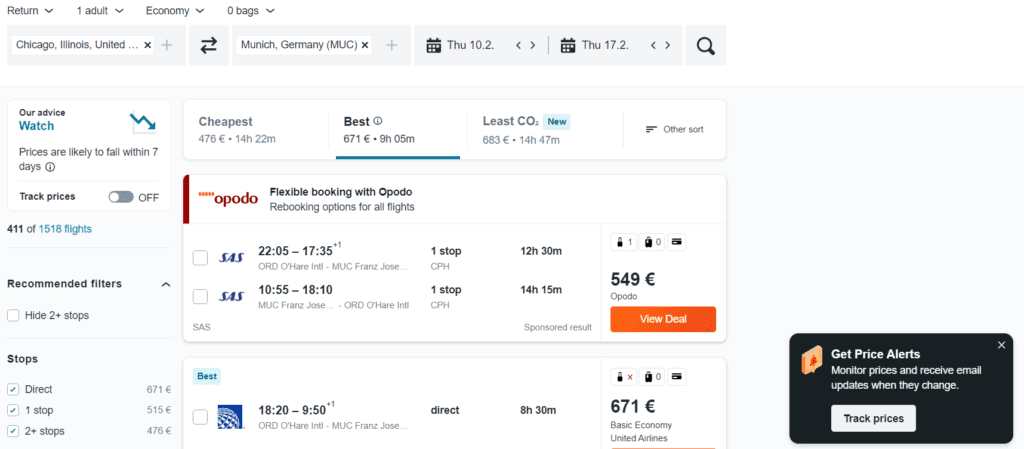 On desktop, the first time you search for a route, you'll see a notification to track prices. Otherwise, there is a toggle you can select. On mobile, you just need to click the bell icon.
Book on Points and Miles
We are BIG travel hackers (using extreme points and miles for traveling). One of the reasons why I like using points and miles for flying to Germany is because the "cost" is typically seasonal. So, it's one set price for points in the winter months, and one set price for points in the summer months. Yes, they are typically more in the summer, but you don't have to keep a constant look out for deals because you know that "price" isn't fluctuating.
The biggest downside is that it is sometimes hard to find award availability, so you typically need to book your flights on points as far out as possible (often 6-9 months in advance).
Note: Travel Hacking is mostly for Americans. It is credit card based and most other countries don't have similar programs.
Finding Budget Accommodation in Germany
Ok, so you find an amazing flight deal to Germany. HUZZAH! Now, to find affordable lodging to help keep those costs down!
It's probably not all too surprising that the usual "tricks" for finding cheap places to stay in Germany are the same as just about anywhere.
For a double occupancy room, I'd say a rough average of nightly accommodation will run you anywhere between 70-130 Euro, which will give you a mid-range style of lodging. However, there are plenty of ways to lower this cost and you can still find great places for close to €50/Night.
Guest Houses
One of my favorite styles of accommodation in Germany is a traditionally run Guest House. These are often family-run hotels that are cozy, quaint, and super charming. The rooms are typically smaller compared to what you might be used to in the US, but you can almost always expect them to be clean (but minimally furnished) and if you book one with a breakfast, you'll get a great feast in the mornings!
A guest house in Germany isn't always the cheapest option (more mid range), but they are pretty reliable and are so much more memorable than a chain hotel. Depending on the region and location, you can expect a guest house room to run anywhere from about 50 Euro/night to 100.
Hostels
No surprise here that hostels are a great way to do Germany on a shoestring budget! But gone are the days of sketchy hostels just for backpackers (ok, those exist, too). You can find some really great hostels in Germany that accommodate families, ones that have private rooms (and their own bathrooms….#SCORE!). Shoot, there are even hostels in Germany that are in old CASTLES!!!
You can expect a hostel in Germany to run you about 30 Euro/night.
Use Points
There are tons of hotel chains that you can book on points, such as Hyatt, Mariott, Sheraton, and more. This is how we have been able to travel as much as we have and it's astounding how cheap travel can be when you are getting flights and hotels for "free."
Booking
In recent years, I've started to shy away from AirBnB (there are a lot of legal and sketchy reasons that make me hesitant to use them now) and instead almost always book on Booking.com.
You can filter by type of lodging (hotel, apartments, home rentals, hostels, etc) and by price and even reviews. I'm rarely let down by what I find on Booking and almost always can find a good deal if I am booking enough in advance.
Figuring Out the Cheapest Way to Travel Around Germany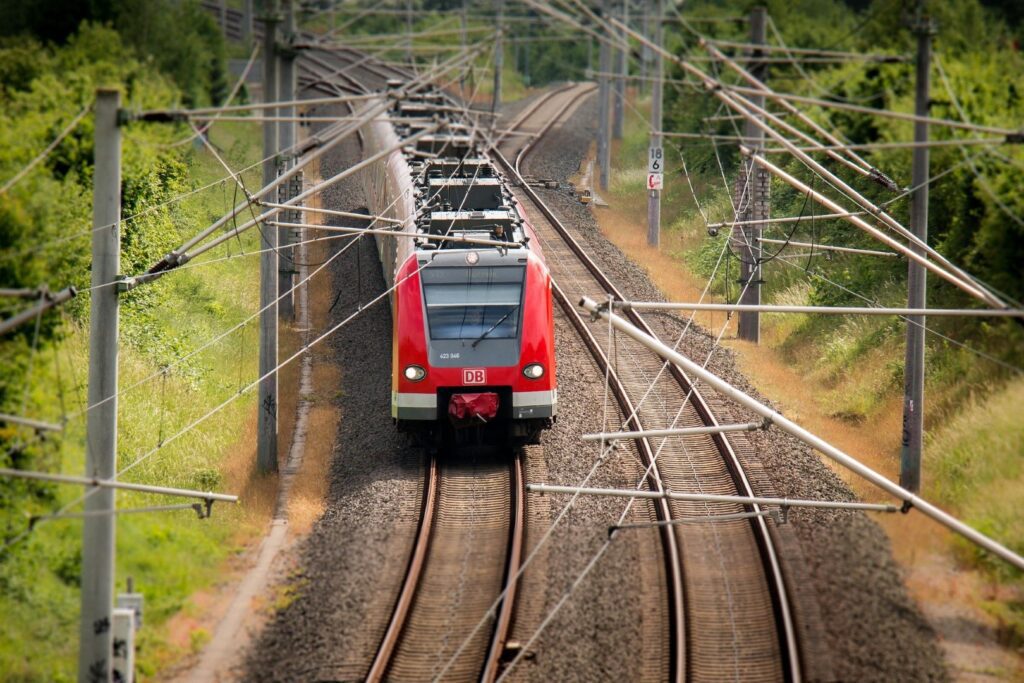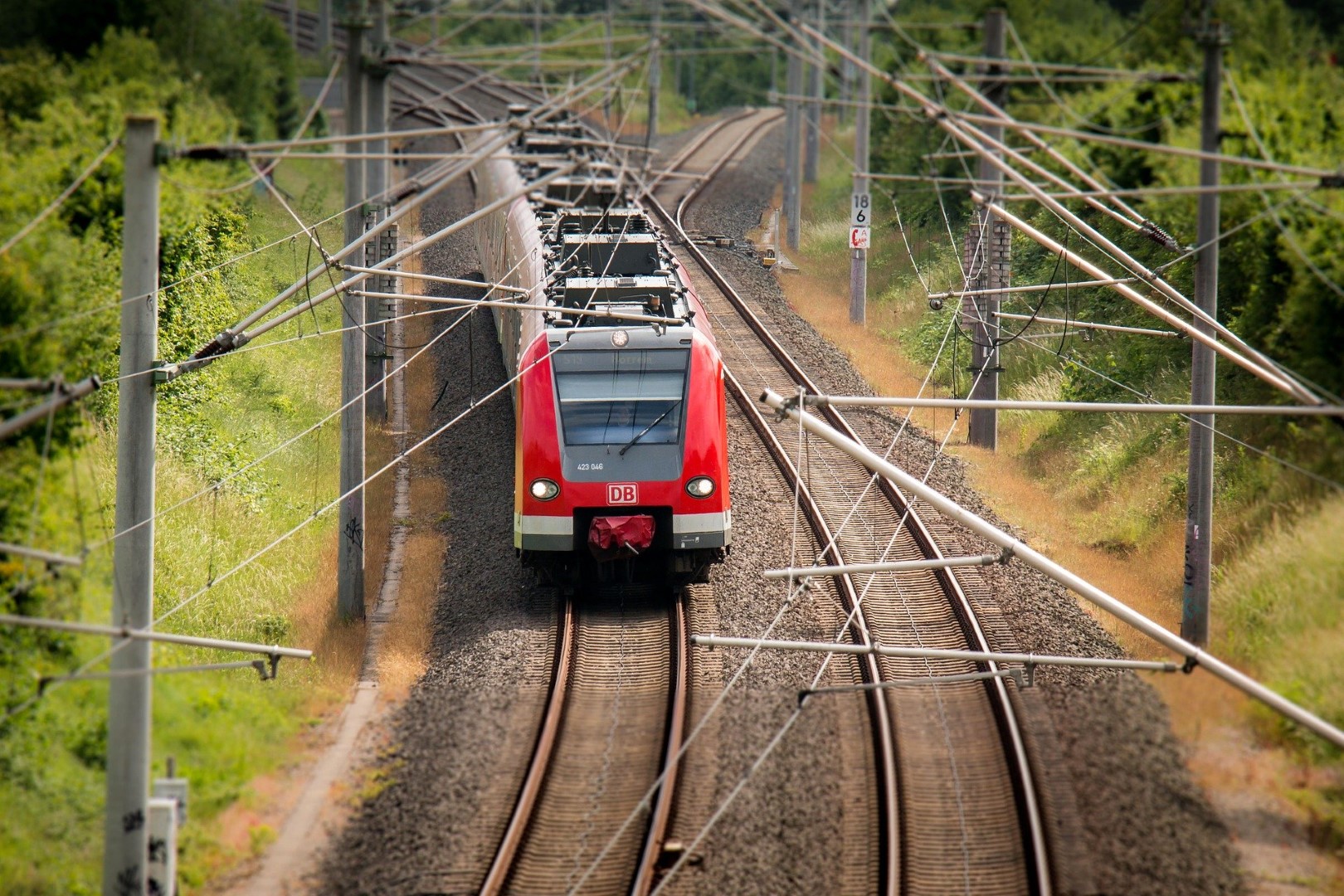 Ok, so now that we've got the two biggest expenses out of the way, let's dig into finding the cheapest way to travel within Germany. Most likely, you won't be staying in one location, so you have a few ways to get around.
Trains
Car Rental
Bus Service(s)
Flights
Tour Companies (For Day Trips)
Let's dig into each because there isn't always a clear winner of which mode of transportation will be the cheapest. It will often depend on a lot of circumstances, such as how many people you are traveling with, where are you wanting to go, etc.
Cheap Train Tickets in Germany
I have an entire series of guides on Trains in Germany, which goes into extensive detail on understanding the trains, how to get the best tickets, when to book, and so much more.
But, the moral of the story is that the trains can either be a great deal ooooor, not so much (I know, helpful, right?) But let me explain.
Use the Regional Passes
Let's take things like the regional passes, like the Bayern Pass. This is a FANTASTIC way to save money if you are just traveling within Bavaria (there are a few loopholes, so be sure to read my guide on it to know if it's right for your circumstances). The regional tickets (there are numerous ones, many for the individual German States) can be a steal if you are traveling in a group or traveling to Germany with a family because most of them include up to 5 people per ticket.
Book In Advance
The other thing you need to do if you want cheap train tickets in Germany is to plan ahead and book early. While you can (and should) book the regional fares the day of, traveling longer distances and needing tickets on the ICE train is going to require more planning if you want the best prices. The tickets are usually released about 3 months out from travel. The earlier you book, the better your fare will most likely be. Rarely do they have last minute deals, so snatch it up before the prices go up!
Look Up Deutsche Bahn Prices Now
Use the App
Download the Deutsche Bahn App. Not only is this SO much easier than dealing with kiosks on the platform (they aren't hard, it's just one more thing to figure out) but occasionally, there are random cheaper tickets only available on the App. For example, when we went to the Black Forest and the Triberg Waterfall, and then took the train to Freiburg, there was an App only fare that was cheaper than buying at the platform.
Consider A Rail Pass
Understanding the German Rail Pass can be a bit confusing at first, but the bottom line is if you are planning on doing a lot of long distance travel within Germany, or want a lot of flexibility, this can be a really great option. You can choose from a number of train travel days, with each plan being a different price.
Check the German Rail Pass Prices Here
Renting a Car in Germany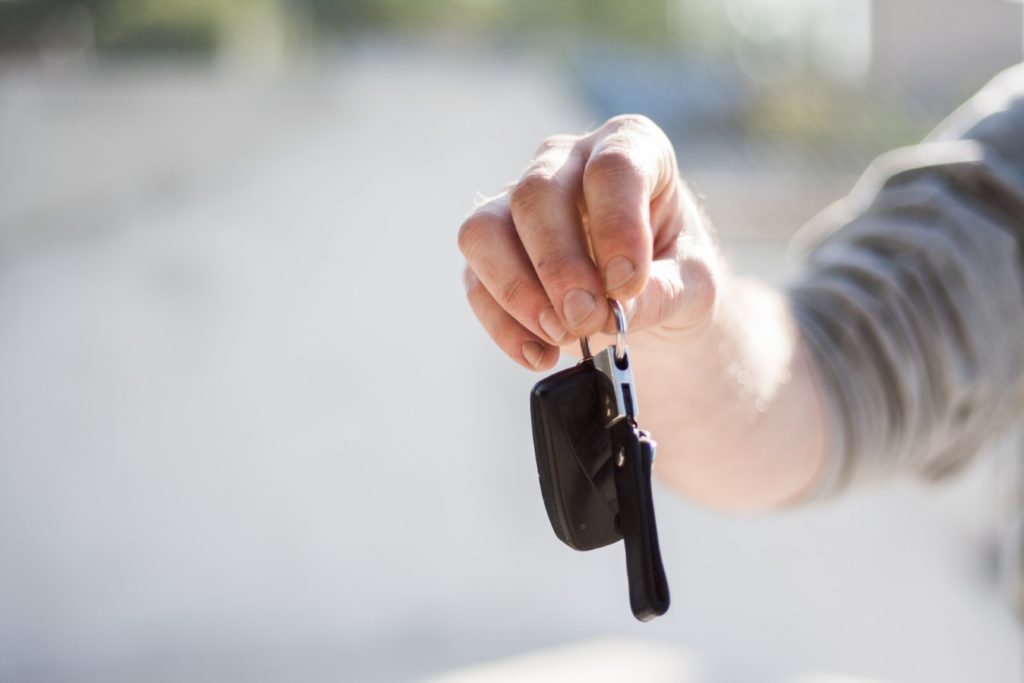 Depending on your circumstances, driving in Germany just might be the cheapest way to travel in Germany. The daily cost for car rentals can be as low as around 30-40 Euro/ Day. While I LOVE taking the trains and they do get you almost anywhere, there are times that taking a car is going to save you a significant amount of time, as well as give you a lot more flexibility, like if you want to go skiing in Germany, for example, or even if you want to visit Neuschwanstein Castle.
The biggest catch is gas prices. Yikes, can petrol cost a pretty penny (eh, Euro) here!!! So, it's not so much the cost of the car itself that is going to be costly, but instead the gas prices.
The other flip side of finding a cheap rental car in Germany is that it often costs extra to do a drop off in a different location than where you got the car from.
With that all being said, if you have even just a few people traveling with you, splitting the cost of all this still could end up being the cheapest way to travel around Germany.
Bus Services
Deutsche Bahn
While the trains can be fantastic, Deutsche Bahn also has a lot of bus lines now that can actually be even faster (depending on the route) than the trains. When you search for a route on the DB Website, if the bus is the cheapest (or sometimes only) option, it shows it on the search results, so it's easy to price compare.
FlixBus
Flixbus is the other bus service that has really cheap tickets around Germany. The buses are often good routes, have wifi and toilets on board and are a great alternative to trains and cars. There are fares for as low as 9 Euro to get from Berlin to Dresden for only 8 Euro!!!
Cheap Flights Within Germany
This used to be an ok option, but with AirBerlin being discontinued, it's not as great of an option anymore. There are still other budget airlines out there, like RyanAir, but these are better for routes within Europe as a whole, and there really aren't a ton of great options, sadly, just within Germany.
Tour Companies
As a sweeping statement, I think that tour companies, as a whole, are NOT the cheapest way to travel Germany. Especially the ones that plan the whole trip for you (I mean, yes, there is a luxury in having the whole thing ready for you, but that comes at a price!)
Instead, use the itineraries on this site, like my 3 days in Munich, 2 Days in Berlin or my 10 Days in Bavaria Itinerary to help you plan your days.
However, there are times where a tour company actually might make sense for both the cost of your time and your money, and usually, this is in the form of day trips. For example, here are a few great prices for day trips with a small group tour:
These can be especially good options if you don't want to rent a car, but also want to go to a location that is really hard to get to by public transportation alone.
Food Cost in Germany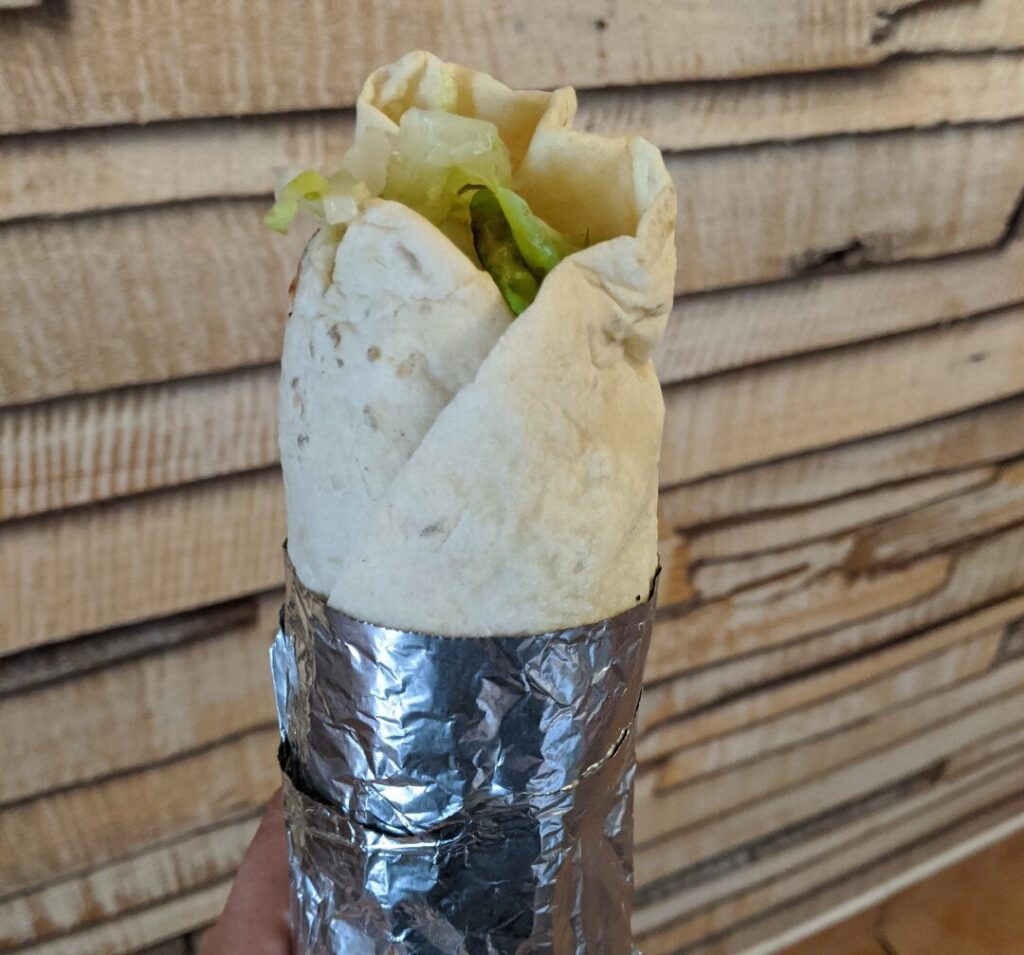 Alright, we are starting to get down to the nitty gritty part of budgeting for a trip to Germany! Time to talk about one of my favorite topics; FOOD! Not even sure what to eat? Here are my 20 favorite foods you MUST try in Germany! Nom Nom Nom!
So, how much does food in Germany cost?
If you are eating out at a sit down restaurant, you can expect a meal to be between 10-15 Euro. Add in a few more Euro for a beer (and yes, water… even tap water, will cost you extra!) Obviously, even at the lower end of €10/meal for three meals a day, that is going to add up. Here's how we minimize food costs in Germany when traveling:
Book Hotels With Breakfasts
German breakfasts are massive. You'll typically find things like eggs and bacon and then lots of deli style meats with fresh baked breads. Yogurts and muesli (granola) are common on the spread as well.
Now, I don't pay EXTRA for a hotel breakfast if it's offered, but when it comes with the standard rate, I take this into consideration when planning my budget.
I know this is a bit frowned upon, but if we are reeeaaaaaallly trying to stretch our money, I'll even make a little sandwich from the breakfast buffet and grab an apple and have all of that for lunch, leaving me only dinner to have to figure out. That means I can get by on only about 15 Euro/Day on food if I'm really being frugal!
Grocery Shop Locally
This is probably the biggest way to save on food in Germany and when we book apartment style lodging, we always get at least breakfast supplies at the local stores. Produce is really affordable and grabbing sandwich supplies will only set you back a few Euro total.
If you are really trying to keep a budget, the cheapest (but still really decent quality!) stores are Aldi, Netto, and Lidl (stores like Rewe and Edeka are more expensive)
Eat Street Food
Street food doesn't always jump to mind when you think about food in Germany, but it does exist, especially in the big cities, like Berlin.
Currywurst: Whether you get this at a stand or even at a restaurant, it's usually one of the cheaper (but oooh sooo good!) meals! A plate of Currywurst mit Pommes (fries) is around 4 Euro
Döners: You can't come to Germany and NOT eat a Döner Kebab!!! You won't have a hard time finding an "Imbiss" where you can get the most delicious street food in Germany! I personally love the Dürüm Döner (on a flat bread) but you can't go wrong either way! A Döner will be less than 5 Euro and will more than fill you up, but add a side of pommes (fries) for a few more Euro to get the full experience.
Brats: Depending on where you are, there might be stands or other Imbisses ("snack shops") where they sell other kinds of brats. These are often more regional, so if you are in Thuringia, expect to find (surprise!) Thuringiawursts or if you are in Nuremberg, you'll find Nürnberger Bratwursts all over.
Buy Beer At a Getränkemarkt
Many grocery stores now have their own Getränkemarkt (drink store) but some are separate. Either way, if you want to save big, you can get a bottle of beer at the store for less than a Euro! That exact same bottle at a restaurant is going to run you about 4 times that amount! If you are looking at getting those big, giant Maß of beers either at a fest or even at a Biergarten, you can expect them to be upwards of around €10.
Likewise, really decent wine is actually really cheap at the stores! It now pains me to pay €4 for a glass of wine when eating out when I can get an entire bottle of really good wine at the store for the same price!
Visit the Cheapest German Cities To Save Money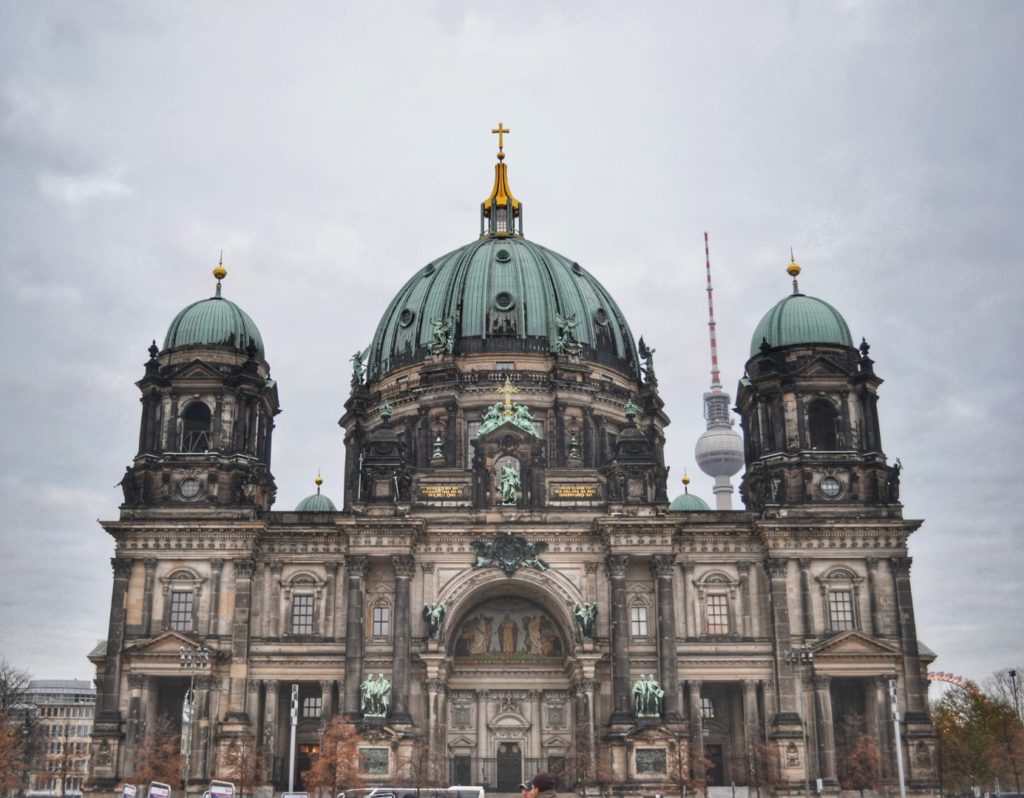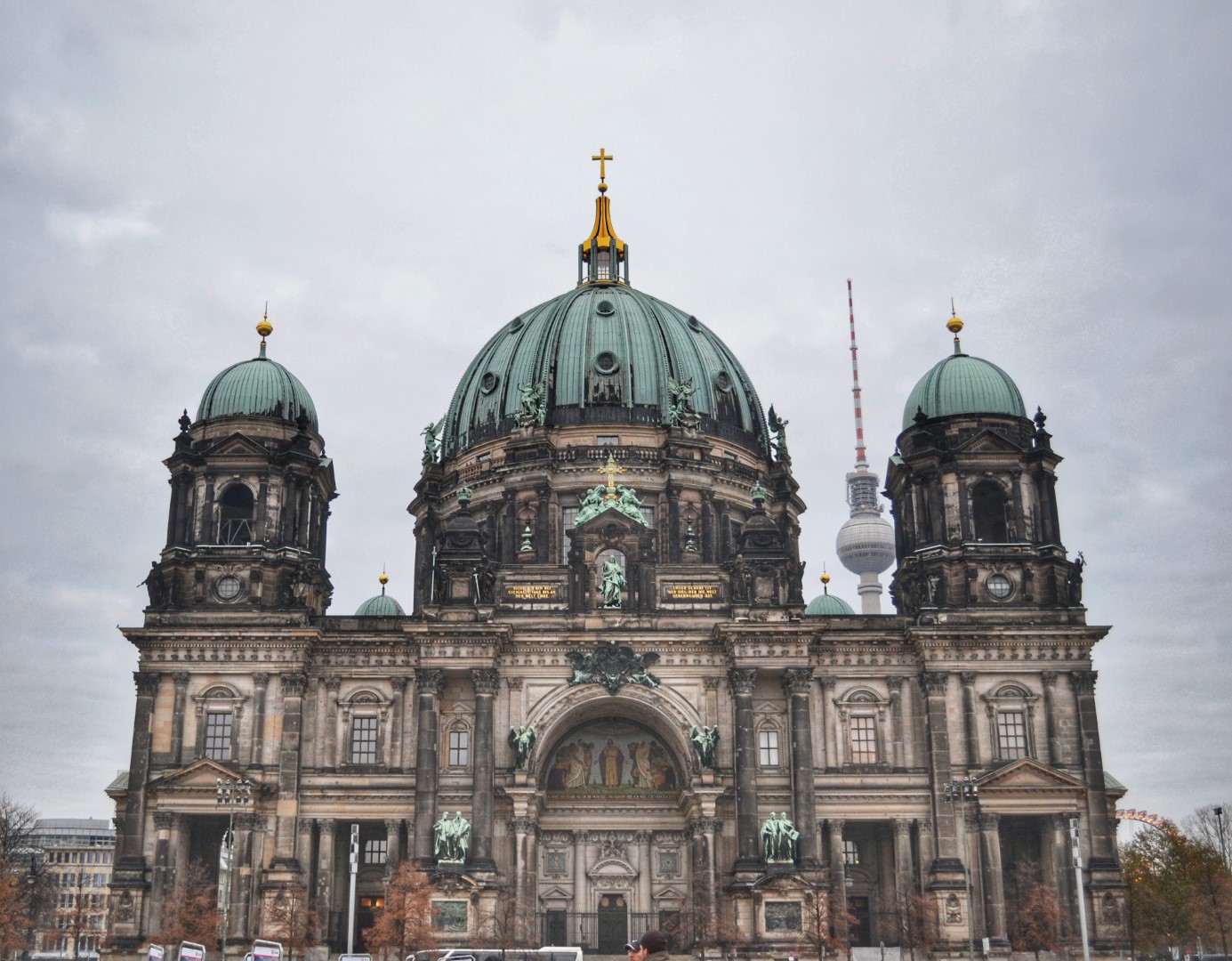 Another way to save money is to avoid the more expensive locations. So what are the cheapest cities in Germany to visit? This isn't an exhaustive list, but here are a few that may be more affordable:
Berlin
I'm always SHOCKED with how cheap Berlin is, considering it is a major city and the capital of Germany! This usually means high prices, but it's the opposite for Berlin! You can get really affordable accommodation here, there are tons of free things to do in Berlin, and it's easy to find street food for cheap eats! Berlin on a budget is really easy to do!
Heidelberg
Heidelberg is a great place for finding accommodation on the cheaper side. You can find some really decent hotels and guest houses for around €50/night.
Passau
Passau has a pretty low cost of living, which can often translate to lower prices for travelers, especially if you are doing things like shopping at the local grocery store to keep food costs down.
Dresden
Dresden also has a lot of affordable hotels and there are a TON of day trip options from this city, making it a great place to call "home base" for a few days with cheaper accommodation while still seeing a ton of different things!
East Germany
Again, this is kind of a blanket statement, but on average, what used to be "East Germany" often trends towards being more expensive than what used to be "West Germany." This isn't always true, but it's something to consider and look into.
Most Expensive Cities to Visit in Germany
On the flip side, some cities are more expensive than others. That is not to say you can't find great deals and use all the other tips in this guide to help you lower the cost though.
Munich
Munich is notoriously known for being one of the highest cost of living cities in Munich. That translates to higher hotel costs and food costs for travelers, too!
Frankfurt
Frankfurt is also known to be on the pricier side of travel, despite the airport being one of the more affordable locations.
Berchtesgaden
This has got to be one of the most stunning places in Germany! However, the accommodation costsfor travelers in this national park area is crazy high!
Expert Travel Tip: It's actually often more affordable to find a cheap place to stay in Salzburg and day trip in to Berchtesgaden
North Sea Resort Towns
The North Sea is a great place that locals flock to in the summer! However, even though it's not as known as a major tourist destination, the seaside town of places like Rügen, Sylt, and Usedom don't come cheap! And, to add a little (sea) salt to the wound, in the high tourist season, many of these places also require a minimum night stay (often 5-7 nights!)
Finding Cheap Things To Do In Germany
Ok, so now that we have figured out how to get to Germany for cheap, where to stay on a budget, and even cities to save a few Euros in, what are some things to do in Germany on a budget?
Free Walking Tours
Almost all the major cities in Germany now have free walking tours (there are several different organizations, just google, "Berlin Free Walking Tour" etc).
I've actually really come to love this style of city tours! The guides are shockingly fantastic (they have to be because they are relying on your tips!) so at the end, you simply pay what you felt the tour was worth! For budget travelers in Germany, if you can only afford a few Euros, that's fine, but I highly suggest looking up similar costs of tours in the area to know a ballpark range to tip.
Free Museum Days
Many cities offer free (or really reduced) museum days. For example, in Berlin, on the first Sunday of the month, there are tons of free museums you can visit! And you can even do Munich on a budget because on Sundays, you can find numerous 1 Euro entrance museums!
Free Activities
Almost every city has plenty of things you can do for free.
You can spend an entire afternoon lounging in the English Gardens in Munich.
While you are in Berlin, take a walk through the Tiergarten.
In Rothenburg ob der Tauber, you can walk in the entire old medieval walls.
Do my free DIY walking tour of Regensburg in a day.
Or, take a hike in the vineyards in Baden-Württemberg.
Enjoy the Café Culture
One of my favorite things about Germany is its slowed-down lifestyle. Find a corner cafe in the city you are visiting and just sit with a coffee or beer and simply people watch! It's really enjoyable to just take a breather while on a busy trip and it only costs a few Euros!
Other Tips For Saving Money In Germany
Find Alternatives
This is a sweeping statement, but if you find alternatives to popular events or locations, you can really save so much money and still have an amazing trip (arguably even more authentic!) For example:
Go to a local Volksfest instead of Oktoberfest: Oktoberfest is SOOO expensive- from the hotel prices to the cost of a beer at the fest! (If you are going for Oktoberfest though, here is my Ultimate Guide to Oktoberfest as well as my Best Tents at Oktoberfest Suggestions.)
But, you can get just as great of an experience at a local Volksfest in other cities. Consider the Gäubodenvolksfest in Straubing or the Stuttgart Cannstatter. Or, just find a different type of festival altogether.
Here are 23 Festivals in Germany Other Than Oktoberfest
Get Off the Beaten Path: Yes, that is a totally cliche phrase and is anything ACTUALLY off the beaten path today anyway? However, you can still find places in Germany that are cheaper than others. For example, Regensburg is a beautiful city and often overlooked compared to Rothenburg. Erfurt is another common place that people compare to Heidelberg, but even cheaper. Mittenwald is just down the street from Garmisch but offers just as beautiful Alpine views!
Get The City Cards
If there is a city card, look into what savings it could give you. For example:
the Berlin Welcome Card was a great deal when we visited. It gave included all local public transportation and a ton of discounts to city attractions, restaurants, museums, and even shops.
The Munich City card is similar and depending on how long you are staying and what you intend on seeing, it could save you money
Know When To Use Public Transportation (Even when renting a car)
If you plan on renting a car, try to plan it out so that you don't have it when you are in the big cities. Finding parking in the cities can be really costly (even many hotels charge you €15-20/night to stay in their garage), and sometimes even harder to find street parking. It can also be really overwhelming trying to drive in big, foreign cities.
But even all that aside, it is WAY cheaper to just use public transportation when in a big city! Just about every major city in Germany is either completely walkable or it has a great local bus/ U-Bahn/ S-bahn system that is affordable.
Therefore, if you plan on doing some city hopping where you'll want a car, I recommend waiting to rent a car in Germany until your last day in the city. For example, if you spend several days in Berlin, wait to hire the car until the last day, tour Germany at your leisure, and then if you are ending in Munich, return the car hire on the first day and just use public transport again in the city.
Consider Bikes or Scooters
Not all cities have this option, but some of the bigger ones do. I love how bike friendly Germany is! Just make sure you mind the bike lanes and know how to cycle in the cities (you still must follow road rules, including signaling turns, etc).
In some places, you can find a shop to rent out bikes, but in other cities, like Stuttgart, there are bikes that you can find on the streets that you usually pay for time used.
There is a similar system in many cities now with electric scooters, where you simply pay for an hour or so and can zip around!
Conclusion: How Much Does a Trip to Germany Cost?
Like always, this number can vary tremendously! Here's what you can roughly expect a trip to Germany to cost:
Germany on a Budget: €525-€600/ Week + Flights
If you are trying to stretch every penny you have and are being VERY conscious about your spending, you might be able to spend about 600 Euro/ week, which includes daily lodging, food, transportation, and daily activities. If you are couchsurfing or can cut down on any other things (like daily activities) then I think you could even get by for closer to €525/week.
Germany on a Mid Range Budget: €900-€1000/ Week + Flights
Traveling Germany on a Mid Range Budget is actually really easy and gives you a middle ground of affordability while not having to completely slum it up. Almost everywhere you can find really decent (if not good!) accommodation for about €80/night. If you are still watching your spending, you can get by on about €30/day on food. That just leaves daily spending on activities and transportation, which you might want to budget around 30 Euro/Day for.