[This post may contain affiliate links where we earn a small commission. Please see our disclosure for more information and thank you for supporting our site so we can continue to bring you awesome content for your travel inspiration!]
Note: I will update this article with the dates of the festivals as they are released. If you are trying to plan, they are usually on the same weekends/days as the previous years for that town so I will keep the 2022 dates in here until the 2023 dates are released, but due to the variables with the animals and weather, dates can change.
When The Cows Come Home
There is something rejuvenating, peaceful and calming about being high up in the mountains with just you, the view, and nature at its finest….oh and the cows. Don't forget the cows.
Yes. Cows.
I'll never forget my first time hiking in the Bavarian Alps near Garmisch. As we gazed out into the mountainside, the faint sound of cow bells starting clanging in the distance. Further along the path, we realized that we were sharing our journey with the huge, gentle giants that were up for some summertime munchies in the mountains!!!
Just the sound of the cow bells with the magnificent Alpine views is enough to have you fall in love with the Bavarian Alps, but when I found out that there were huge festivals to celebrate the "Cows coming home," (An Almabtrieb) I KNEW I had to get to one!
Planning a Trip In Bavaria? Don't forget to join our awesome Day Trips and Travel Within Bavaria Facebook Group!
What is an Almabtrieb?
There are plenty of amazing September traditions in Germany. Oktoberfest anyone?? (Yes, in September, not in October) However, move over Oktoberfest, there is quite the unique festival that everyone should know about.
The "Almabtreib" is the Bayerish word for the German cows coming home festival. Alm is mountains and Trieb is drove (drive) so it is basically the "Drive down the mountains" or the "Bringing down the mountain." In the Allgäu region of Bavaria, it is also known as Viehscheid. And the reality is that it isn't just for cows. It is a festival for any animals that have had a successful season out to pasture in the summer up in the mountains.
Note: During the actual fests, if a group of animals is not decorated, that means that one of the animals didn't make it. If they all are jazzed out for the parade, that means that all the animals survived and had a successful season.
I've actually never been much of a milk drinker, but there is always something really great about Bavarian (ok, specifically Bavarian, Alpine) milk that just tastes soo good. The secret? The cows go up to the mountains where they have a beautiful buffet of wild flowers, fresh grasses, and anything else that I guess cows like to nibble on.
But come the fall, the cows can't withstand the Alpine winters (plus, who wants to dodge a cow when skiing in the Alps!?) and each year, the farmers have their annual traditional cattle drive when they begin bringing down the mountain cows from the peaks to continue to be raised in the lower fields and barns for the winter months.
Traveler Tip: If grocery shopping locally while in Germany, look for "Heumilch" (Hay Milk) which often is from the Alps!
Originally, the festivals would take place in each small Alpine village to celebrate a successful summer (and supposedly if no animals perished throughout that time). But today, an Almabtrieb is one of the most unique, cultural experiences in Germany you can partake in and is no simple and quiet event!
No, it is, in some towns, a huge fanfare where, traditionally, the entire town takes part in giving thanks for the success of a good summer season of livestock. If there were no major pitfalls while the cows enjoyed their own mountainous hikes, they are decorated with wreaths and headdresses fit for a queen (cow).
And with the Bavarian region being a predominately Catholic area, the farmers show their praise and thanks to God with symbols of crosses and saints (on the headdresses) in thanks for the safe-keeping of their livelihood; the cows.
Other Articles that Might Interest You:
When are the Almabtriebs?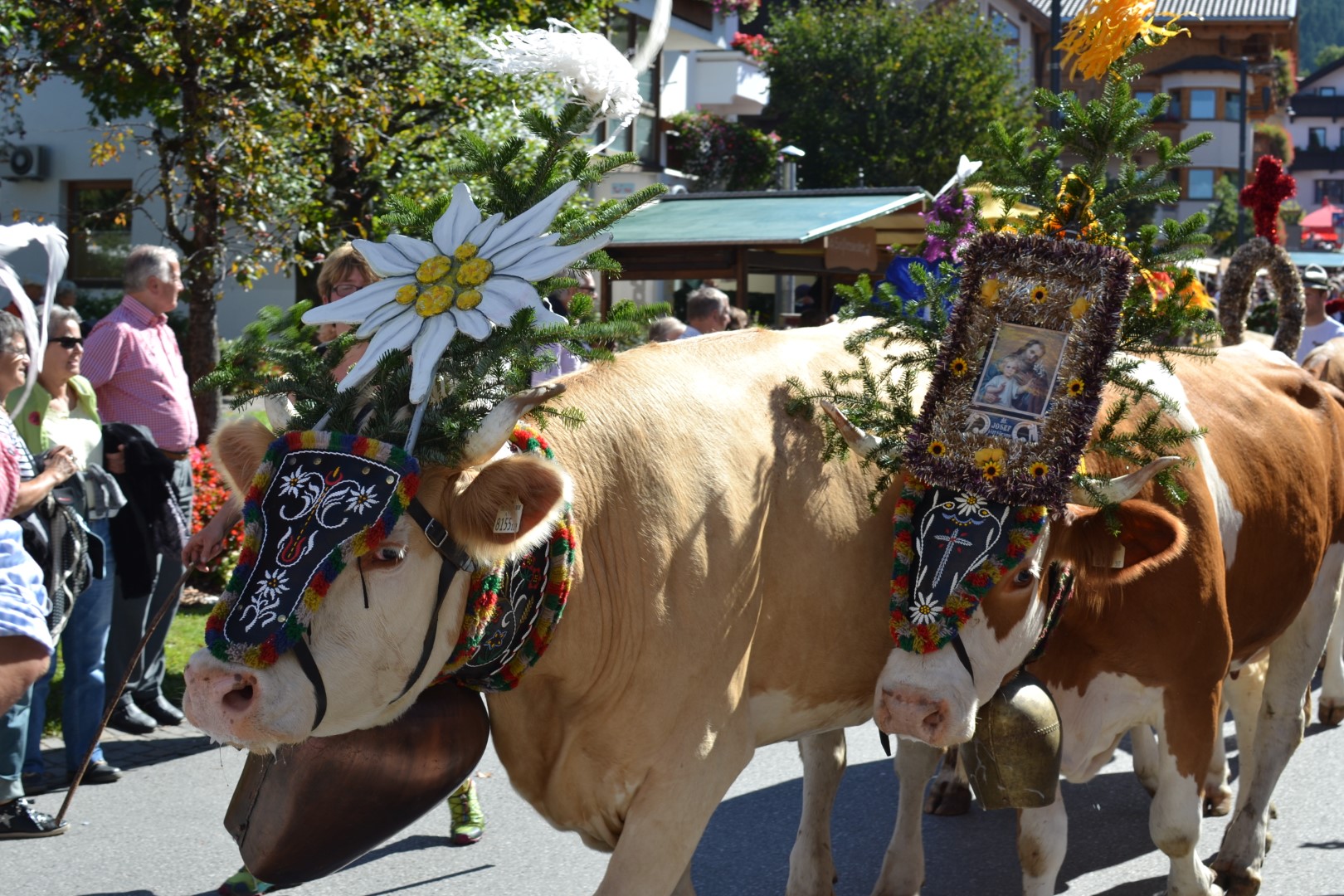 They usually set the exact dates for the parades about one year in advance, but some of the more local ones will wait until the summer to finalize when the fests will take place. However, almost all of the Almabtrieb festivals all fall within September and October.
I have some of the most popular Bavarian Almabtriebs below with their current dates (if announced).
Note: While some Almabtriebs have become more touristy, the origin of these was for the local farmers to bring down their livestock from the mountains. This meant that since they could never predict the weather or foresee any other obstacles that may delay their journey, that the fests often were last minute.
*** To this day, festival dates may be announced last minute, or even changed due to inclement weather, accidents along the way, and a myriad of other factors that the farmer may encounter.
Almabtrieb Variations: The Schafabtrieb und Rossalmabtrieb
While the most popular and grand parades are with the decorated cows, many of the larger festivals will also have separate days and events for the other animals that may have been hanging out in the mountains all summer long.
For example, in Mittenwald, Germany, there are the sheep (Schaf) and goat parades as well.
These are oftentimes on separate days as the big cow Parades, and sometimes even on different weekends.
I think everyone should have a chance to go to the amazing Bavaria festival of the Almabtrieb, but if your schedule doesn't allow for the cow days, then going to a Schafabtrieb is still well worth the experience as well!
What To Expect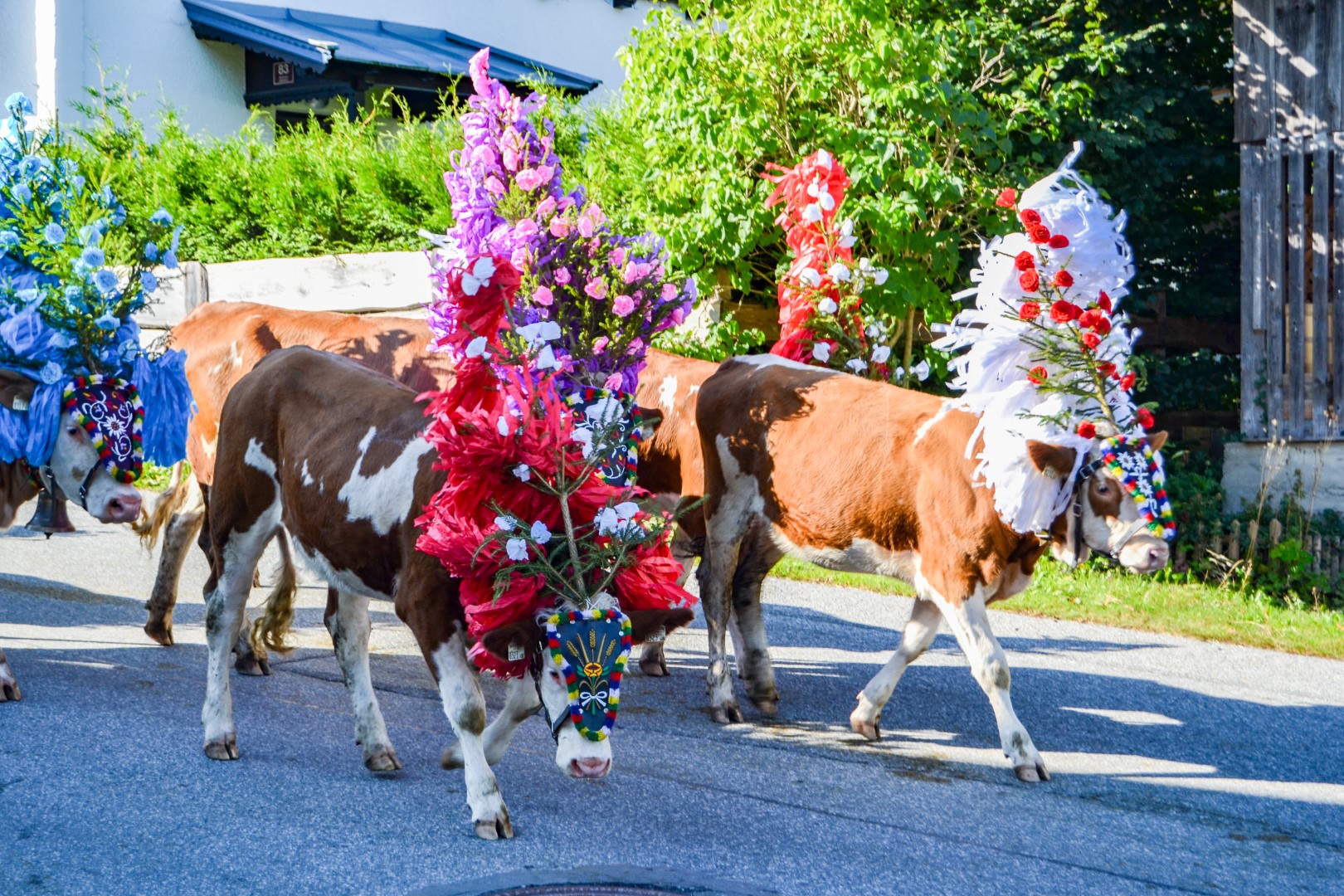 They are all different, yet more or less the same…if that makes any sense!
There are no shortages for Almabtriebs in the German and Austrian Alps (and even happen in Switzerland as well as Croatia) and while they have become much more touristy over the years, you will still get a heavy dose of local culture as well as past-time traditions wherever you decide to go.
They often start around 9ish in the morning and the parade itself will vary on the town and the schedule of events for the day, but depending on the festival, it is usually between 10am-Noon. After all, once the cows are down, the festival officially has begun!
If you have ever been to a Volksfest in Germany, you are used to an almost carnival like experience with tons of rides and food stands creating different paths, all which lead to a big, giant beer hall tent where bands play and beer runs freely!
However, the Almabtrieb is a bit more different, which is actually one of the reasons that makes it so unique and memorable! Depending on the size of the town, the festival will probably take place in the Altstadt or in a main Platz (square) but isn't centralized to one big tent.
Instead, it is often just a big open air scene where local farmers set up a stand here and there with their goods. There will be traditional Bavarian food being sold at one stand, and then big, giant cow bells being sold at another. Of course, you can't forget the local Schnapp stand, either!!!
Most Almabtriebs will have amazing local craftsman at work as well. You might find anything from an old lady at a spindle with her newly shaved wool from her own flock of sheep or a man using goose feather spines to elaborately decorate traditional Bavarian belts. And of course, wood working is a highly regarded craft in many parts of the Bavarian Alps, such as in Oberammergau.
Depending on the size of the festival, there may be several small, or just one big, Biergarten area. It's again, usually open air for the Almabtrieb and there is almost always an oompah band ("Blasmusik") ready to play.
In addition to all of that fun, a lot of the Almabtriebs will have two very unique Bavarian traditions, the Goaßlschnalz (which is a band that instead of percussion uses whips to create the beats!), sometimes called "The Whipping Boys." The other really fun musical experience to watch is the Schulplatters, which is similar to the Goaßlschnalz, but instead of whips, the percussion is purely the sound of them slapping their legs, feet, and any other body part that will make a fun sound!
What to Eat an an Almabtrieb
Just wander around the festivals and you will be delightfully treated with amazing foods to try.
One of the reasons that I love the Almabtrieb festivals so much is that they are highly regional! This means that what you may find at one Almabtrieb to eat, you may not find at another. And better yet, these are usually so regionally specific that some of the foods are often hard to find elsewhere, even within Bavaria or Germany!!! Non the less, keep your eyes peeled for some of my favorites:
Rahmschammerl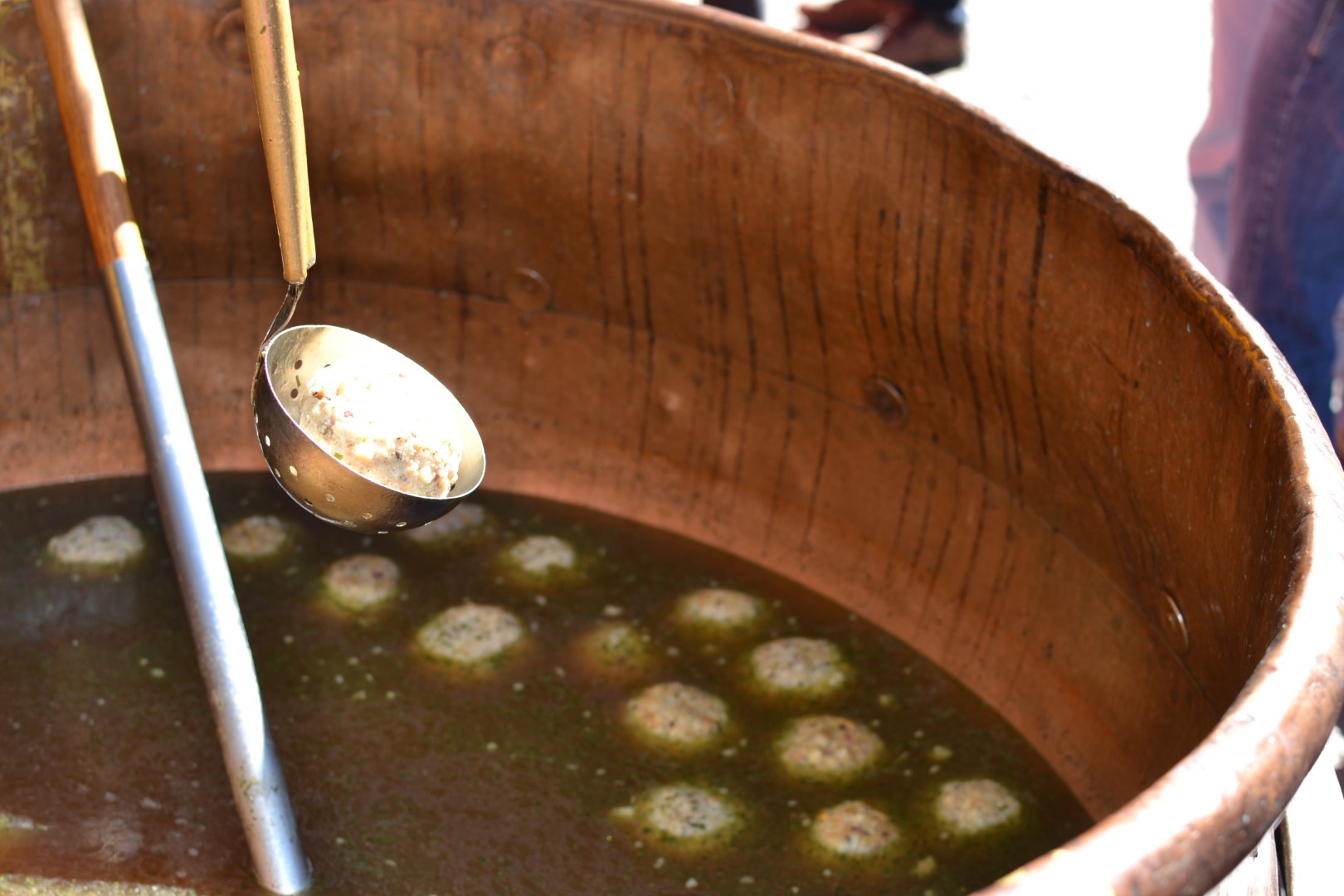 This is one of my favorite Bavarian Dishes of all time. They make homemade bread dumplings and then slather them with a heavy cream gravy made from herbs and fresh, in season mushrooms.
Apfel Krapfen
If you've ever wondered what it would taste like if an apple pie and a doughnut had a love child, this would be your answer.
Melchermuas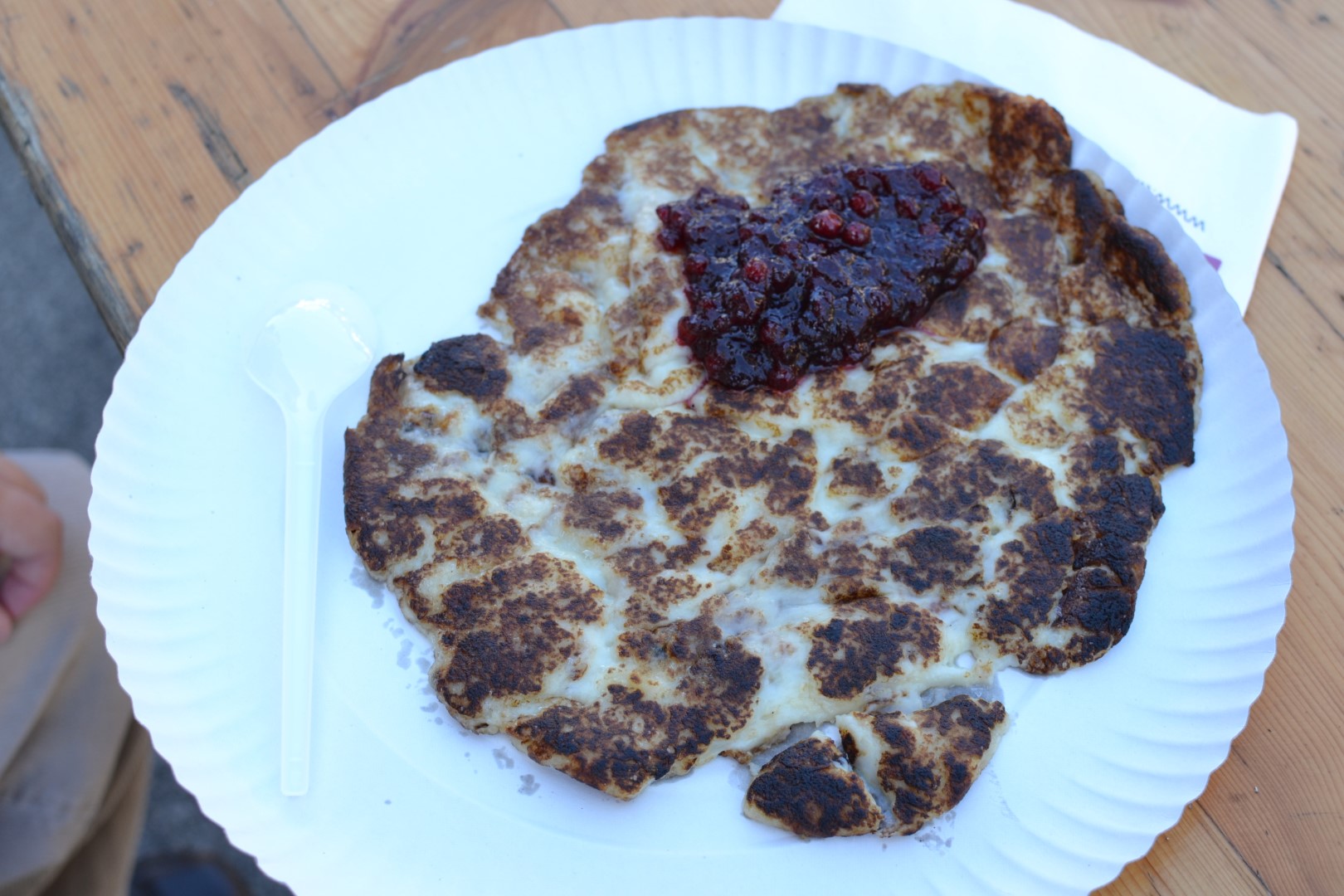 This is more of a Tirol (Austrian) dish, but you might be able to spot it close to the border as well. It is somewhat bland, but is still a must try! It is kind of like an unsweetened pancake, but it is cooked over a fire right in front of your eyes and then topped with fresh cranberries
Baumkuchen/Prügeltorte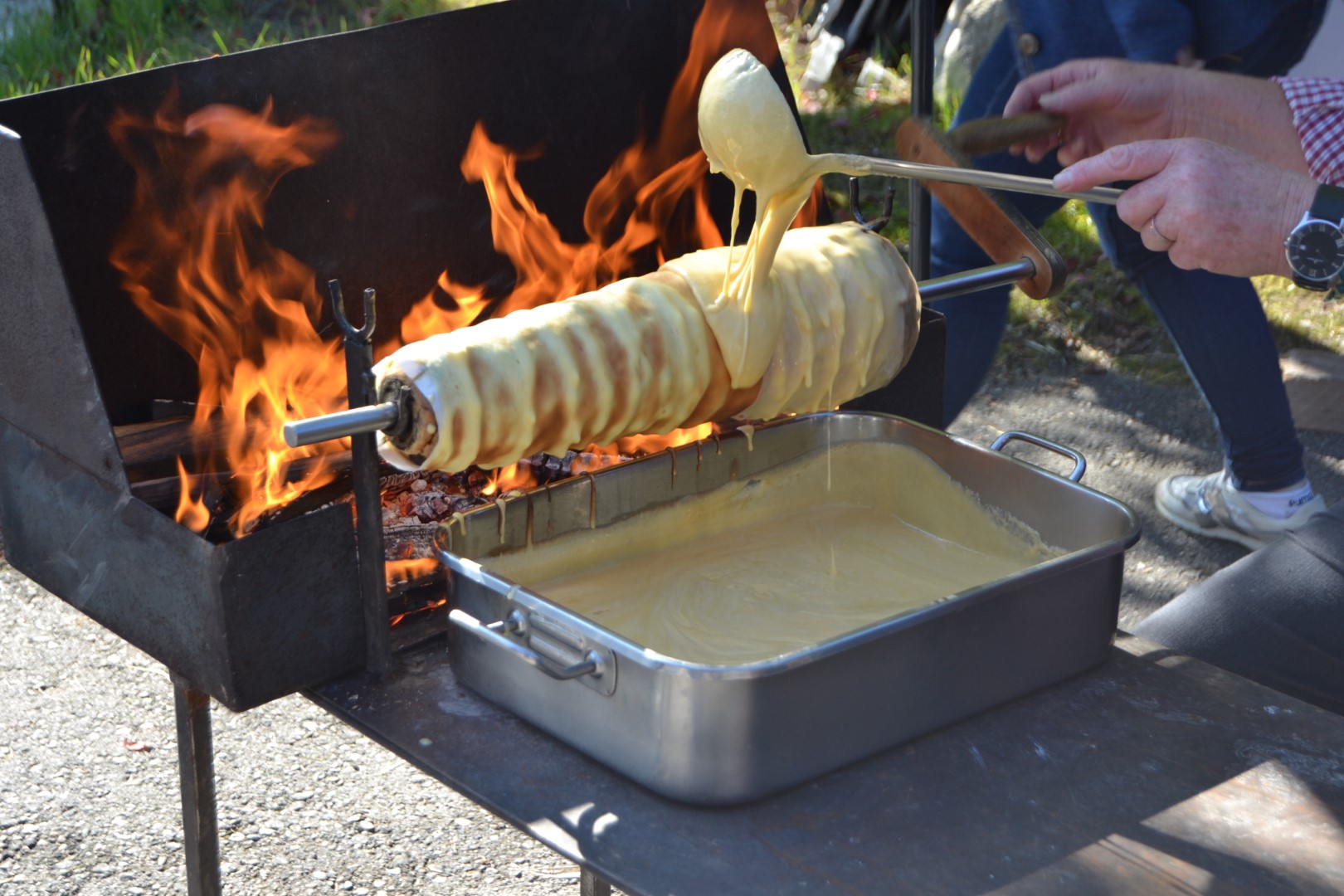 In Germany, this cake that is cooked on a spit over a fire, layer by layer is called a Baumkuchen but in the Tirol of Austria (and maybe in the very Southern parts of Bavaria), you will most likely find it as the Prügeltorte, but no matter the name, this delicious cake is a must try. It gets its name (Baum= tree) from the rings that each layer cooked creates.
Zillertaler Krapfen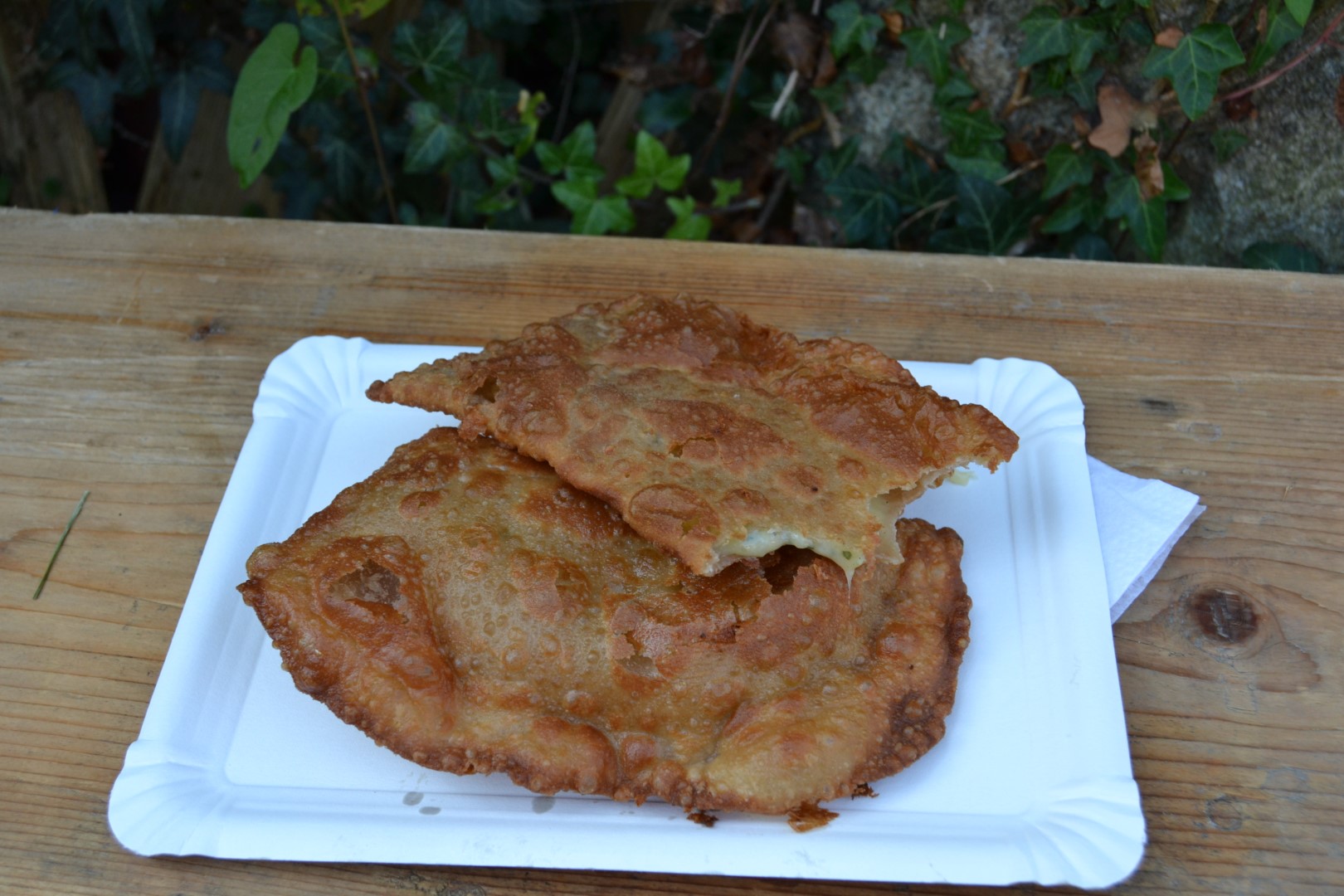 While in some parts of Bavaria, a Krapfen is more of a doughnut style pastry, in the Zillertal Valley in Austria (just over the border of Bavaria), they are a savory dish. Here, you'll find the most magical "cheese pockets," for lack of better words.
These UUUHMAZING fried flaky crusts filled with Alpine cheeses are to die for. Seriously, if you come across them, eat as many as you can, as they are not common in many other areas!
What To Drink At an Almabtrieb
After all that eating, you'll have to wash it down with SOMETHING!
Beer
Naturally, it won't be hard for you to find a beer at any Bavaria festival, and the Almabtrieb is no exception. However, there are many other really great drinks to try at these particular fests as well….
Federweißer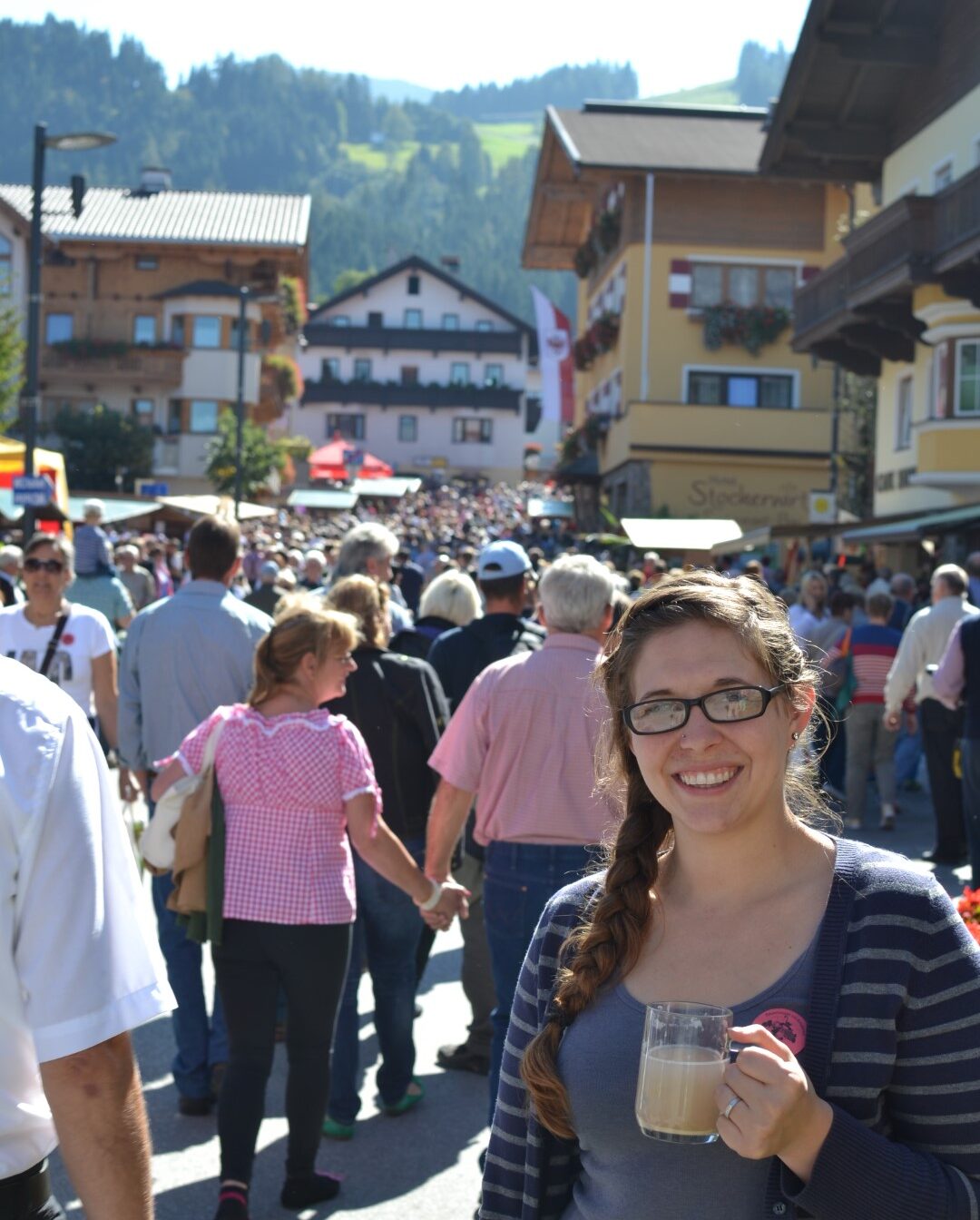 This unfiltered, immature wine which is fermented and carbonated is a different alternative to your typical wines. But get it now because you won't find Federweißer (or "Sturm" if you are in Austria) any other time of year! This is an autumn-only, fresh from the harvest wine.
Once it is made, due to the fermentation and lack of preservatives, it will spoil within a few days, so drink up while you can!!!
Schnaps
If I have to be honest with you, I actually have no idea why Schnaps are so popular at the Almabtriebs, but they are! (Maybe because the fruit is also harvested in the fall?)
In Germany, "Schnaps" is technically ANY strong liquor. But what we are looking for at the Almabtrieb is the Obstler Schnaps, or Fruit Schnaps.
The most popular fruit Schnaps you'll find are most likely pear, apple, cherry, plum, and apricot and they are ALL beloved at these festivals!
Looking for other drinks in German (besides just beer!)? Here is my list of 20 Other German Drinks to Try.
What to Wear
Don't worry, there is not a strict dress code for the Almabtrieb! However, just like any classic Southern Bavarian Festival, you will find plenty of people wearing their Trachten.
Trachten is the traditional clothing worn in Bavaria, so it's the Lederhosen for the guys and the Dirndls for the gals.
If you want to fit right in, there are usually Trachten stores in the bigger towns with the festivals, and of course, you can find Trachten stores all over if you following my 3 Days in Munich itinerary.
Don't want to drop all that money? No worries! There are plenty of people also in "normal" clothing, also. Just remember that you ARE in the mountains, so you'll want some layers, as it can get surprisingly cooler, especially in the evenings. And of course, when in Bavaria, always, and I mean always, carry an umbrella with you! If you are attending a fest in October, know that it can actually get quite cold, so you may even need to pack for winter in Germany.
Tips For Getting the Most of an Almabtrieb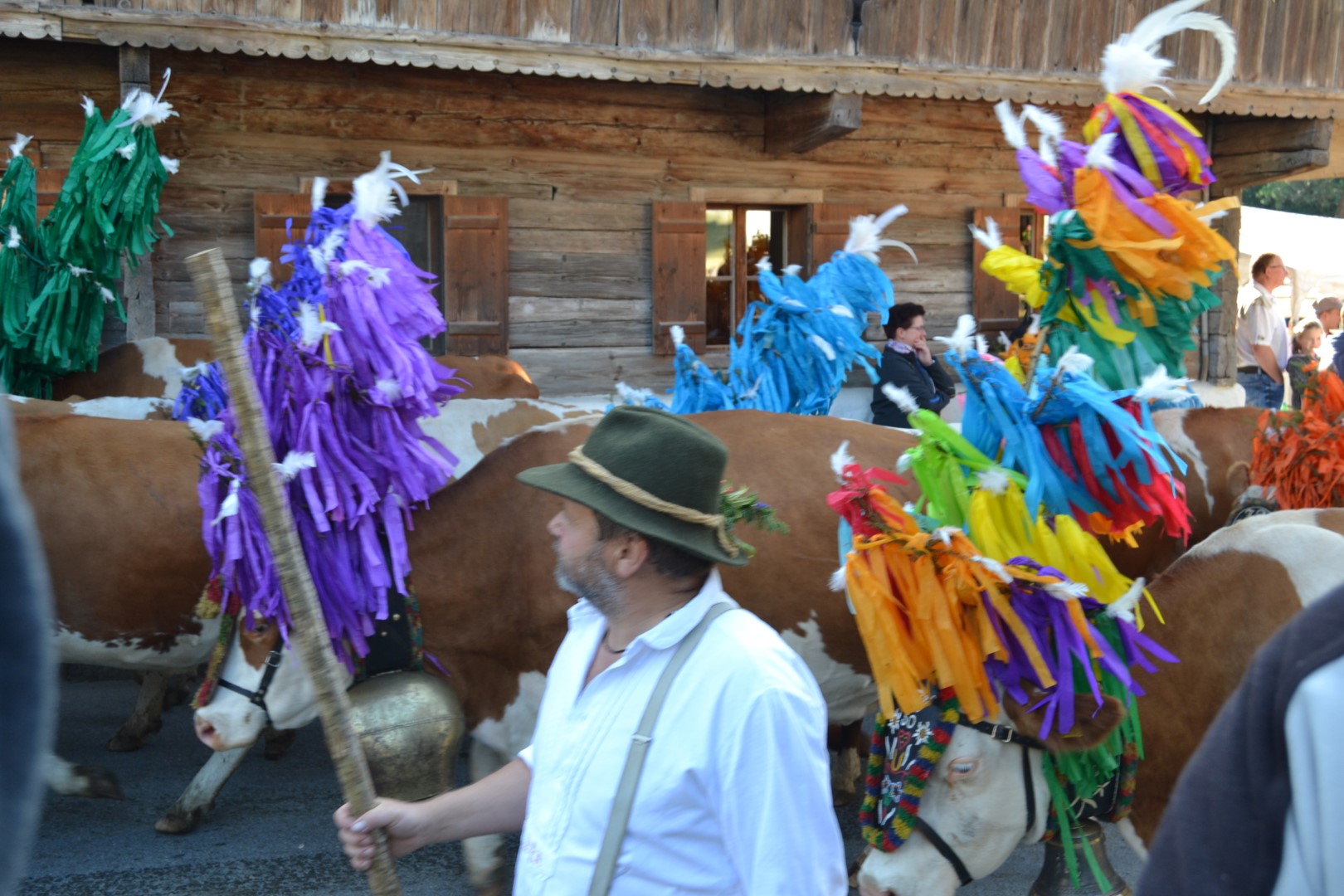 1 Research the Festival Ahead of Time. If a village sits at the bottom of a mountain, chances are, there will be an Almabtrieb. However, not all "Cows Coming Home" festivals are created equal! Some may be just a small procession with the locals and others may be an elaborate, several week ordeal.
Remember that technically ANY cattle drive down the mountains in Bavaria can be called an "Almabtrieb." Therefore, look into the town and make sure the festival is what you want so that you aren't disappointed if you were looking for more fanfare and instead just get a small herd of cows walking down the street.
2 Book Accommodation Early. If you are planning on staying in the actual town or village of the Almabtrieb, you'll want to book far in advance, especially if it is a more popular or bigger fest. You can compare prices for accommodation on the best lodging in the Bavarian Alps here.
3. Arrive Early. If you are staying in the actual town itself of a fest, be sure to walk to the fest, as parking can often be a nightmare. This means that if you are driving, arrive plenty early. Depending on the town or fest, they usually fill up one of the farmer's fields as the "parking lots" and may have a shuttle bus to drop you off closer. Regardless though, parking spots fill up FAST, so come early so that you don't have to fight the traffic.
4. Line Up in Advance for the Parades. This is, after all, the main event of most of these fests and you will absolutely want a front row seat!!! Most people start lining the curbs at least an hour in advance. Germans sometimes aren't the best with personal space, so plant yourself down and don't be afraid to stand your ground as the crowd creeps in.
5. Try to Combine Several Almabtriebs into a Weekend. Most of the time, a town's main (cow) Almabtrieb will just be in one day. Therefore, if you can, look over the schedules and try to plan one Almabtrieb for a Saturday and then make your way to another on the Sunday! This may mean finding accommodation in between or having to drive in Germany between the two, but if you are lucky, you might even be able to get two that are decently close together!
6. Combine it With Other Sight Seeing. We like to make a long, 4 day weekend out of our Almabtrieb trips. For example, if you find yourself wanting to go to the Garmisch or Mittenwald Almabtrieb, then you could do the Zugspitze and Lake Eibsee on Friday, the fests on Saturday and Sunday, and the Partnach Gorge on Monday!
We've also just combined it with things like day hikes in the Alps, since we are there anyway!
Here are Over 20 Day Trips from Munich, many of which are in the Alps and could make for a perfect addition to your Almabtrieb vacation!
List of Almabtriebs in Germany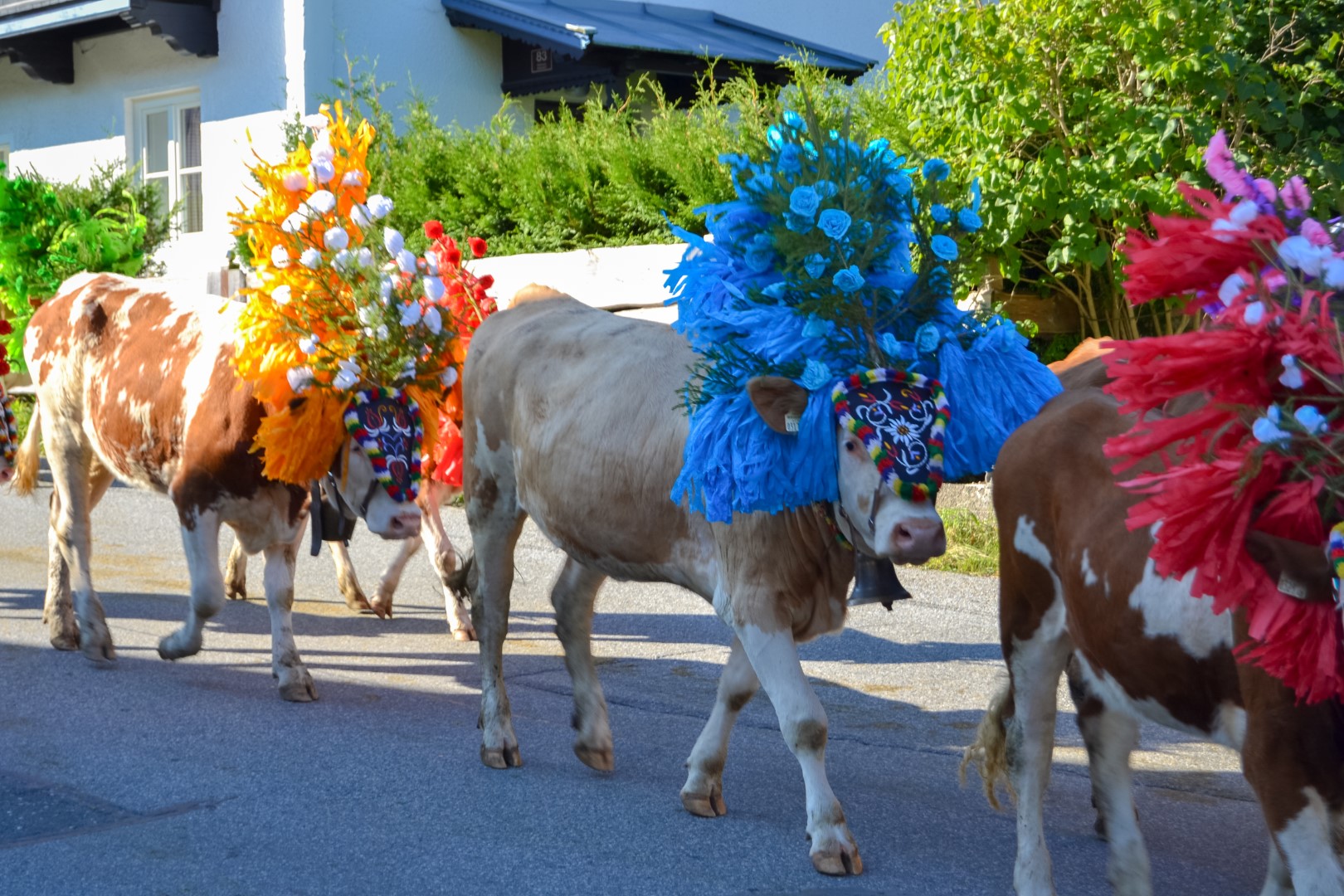 This is in no way a full list of Almabtriebs in Germany (there are too many to count!) but this list will at least get you started with some of the more popular and unique ones to look into.
Note: If there is no date listed then they have not yet announced the official date. You can keep coming back here to check, or just make note of their official sites so that you can keep an eye on the dates.
As stated previously, not ALL Almabtriebs are huge, elaborate events. Some literally just have a parade of cows and maybe a drink stand and that's it.
A few that you definitely should put on your list for Bavaria that are known to be a bit bigger are:
Mittenwald
Garmisch
Konigsee
But be sure to look into the others to see if it is offering something unique that you would like to check out!
Bavaria Almabtriebs
Garmisch Bergschafpraemierung
September 2022 (Almabtrieb- Cows)
Often there is also a Schafabtrieb in Garmisch as well. No date listed yet for this.
There is the "Grosse Bergschafpraemierung" (Mountain Sheep) drive every September in Garmisch, in the pedestrian zone (Am Bischofseck). Events last all day, starting around 7:30 am all the way through the evening, where an award ceremony is hosted around 8pm.
This is a great fest for families since there is a children's program as well. Throughout the Am Boschofseck, you'll find handicrafts for sale, music, and, of course, food!
Also, each year there is the Almabtrieb with the cows, but this is one of the few times that the sheep festival may be more worth looking into than the cow festival.
Karwendel Bauern Wochen
(See website for all the various dates)
Each year, the towns of Wallgau, Mittenwald, and Krün host a ton of festivities. You'll find various programs throughout the month, so check to see what is on offer in 2022 on their official Karwendel Almabtriebe Site
Krün Almabtrieb and Farmers Market
September 17th, 2022
If you are looking for pure, authentic "Bavaria" culture, the Kruen Almabtrieb is the place to be (plus, it's a gorgeous location!)
Enjoy regional food and freshly brewed beer as well as a local farmers market on site.
If you have never seen a Bavarian Schuplattler, then you need to put that on your bucket list! It is a blast to watch! They also have the "whipping boys" (Goaßlschnalz) performance which is also incredibly unique. And yes, Alpine horn blowers are not just a stereotypical thing…they actually exist and you can listen to their music at this fest.
There is also a children's program here as well.
Fest starts at 11 with the parade where the animals will be taken to the Sports Platz in town.
Wallgau Farmers Market
September 10th, 2022 (Starts at 10 am, Children's Program at 1pm)
This town has more of a little handicrafts festival and farmer's market. I don't believe there is an actual animal drive, but if you are in the area on the same weekend and love to see local handmade crafts, it is the perfect pairing for the cow drives. There is elaborate woodcarving, hand made wool items (sometimes even made right in front of you), you'll find plenty of embroidered items, hop wreaths….the list goes on. And of course, you'll find tons of freshly made food products like honey and jam to purchase as well as other regional foods to enjoy throughout the day. And beer….always beer in Bavaria!
Mittenwald
September 3: Goat Parade
September 10th: Sheep Parade. Awarding to most beautiful sheep on the 11th
September 18th, 2022: Almabtrieb (Cow Festival/Parade)
This fest isn't as big as the following Almfest, but you can still see a really fun event, eat delicious, local made wursts, drink beer and enjoy the day! The parade starts at 11 and are taken through the village, ending at Dekan-Karl-Platz.
For the Sheep Drive, it is a similar experience and day to the Goats. The sheep are led through Mittenwald and end at the Gröblalm, where there are festivities, food, music and more ready to take place. The most beautiful sheep also get awarded a prize.
The Mittenwald Almabtrieb is a great Almabtrieb in Bavaria, set in a picture perfect village. The party kicks off about 11am when the cows are led through the village all decorated and dressed up and taken down Partenkirchner Straße, through the town center, down Innsbrucker Straße and ends at the fairgrounds on Riedboden. While a smaller, more local feeling fest, it is a really enjoyable one to experience.
Almabtrieb Königssee
Dates not Announced, but typically at the beginning of October
Berchtesgaden just might be one of the most beautiful areas in all of the Alps. Therefore, you will not be let down in terms of pure Alpine beauty if you choose any of the cattle festivals in this area, but what makes this even more special is the very unique form of transportation needed to complete the Almabtrieb!
Once the cows (and animals) are driven down the mountainside, they are face to face with the gorgeous Königssee. How are you supposed to get a herd of cows across a huge lake? By boat of course!
However, you must know that in the Berchtesgadener Land, the Almabtriebs are not all about huge fanfare and giant, touristy festivals. Instead, this is all about centuries-old traditions.
Therefore, there isn't much of a fest so don't expect Biergartens full of tables, food and beer. Also, because these are local farming families, they go off of traditions, not a timetable and schedule. That is one of the reasons why the dates are often not announced until last minute's notice. After all, the farmers can't control the weather for bringing down their animals.
While this may not be the biggest Almabtrieb out there, it is definitely unique, extremely local, and you just can't beat the views here!!!
Other Bavarian Almabtriebs
There are still plenty of other Almabtriebs in Bavaria to look into. However, most of the following are not as big and don't have subsequent festivals, like the above mentioned ones. They are often planned last minute (due to weather and other circumstances that farmers have to account for), are very local, and follow strict "traditions." You'll still be able to see the cows decorated beautifully (if all of the animals made it that year) and it's just a great excuse to see a more local side of life in Bavaria! If all else fails, you are in the mountains, and many of these are located at or nearby some of the gorgeous lakes, which warrant spending some time at anyway!
September: Almabtrieb from Spitzingsee to Fischhausen

September: Schliersee Almabtrieb
September: Almabtrieb from the Schönleiten Alm (Kircherbauern)
September: Almabtrieb in Kreuth am Tegernsee, Upper Bavaria
October: Almabtrieb from the Wechselalm near Tegernsee
October: Almabtrieb to Enterrottach am Tegernsee, Upper Bavaria
Almabtrieb Allgäu
The Allgäu region is still within Bavaria, but is a really popular area. (In fact, the famous Neuschwanstein Castle is in this stunning region of the Bavarian Alps). Here, the Almabtrieb is known more commonly as the Viehscheid.
So it comes as no surprise that there are plenty of Almabtriebs in this area as well! In fact, there are way too many to even list here, so check out all of the Allgäu Viehscheid here. There are so many that it should be easy enough to combine a few into one weekend.
Here are a few to note:
Schwangau
Saturday, September 17, 2022
Neuschwanstein Castle and the beautiful Hohenschwangau call this town home, so if you are looking at knocking out a couple of Germany Bucketlist items all at once, this would be a great fest to look into!
Nesselwang
Friday, September 16, 2022
Since this one starts in the middle of the week, you might be able to get away from more of the crowds with this cattle festival. It all starts on Wednesday with the barrel tapping in the evening for the big festival and the animals come into town on Thursday. This particular Viehscheid has more of a Volksfest feel to it with the big Bier Tent and everyone dorning their Trachten.
Oberstaufen
Friday, September 9, 2022
Over 700 animals partake in this huge festival in the Alps.
Shuttle buses run between Oberstaufen and Steibis and between Oberstaufen train station and Scheidplatz.
Tip: Combine Oberstaufen with the Bad Hindelwang in 2022, as they are on the same weekend and less than 40 minutes apart!
Bad Hindelwang
Saturday, September 10, 2022
This giant festival is one to take note of. Between 700-1000 animals will be herded down the mountain and into town for the Viehscheid. In addition to the fest with a Bier Tent, plenty of live music, food and fun to be had, there is also a huge farmer's market with over 120 stalls and even rides at this festival.
Almabtrieb Obertsdorf
Saturday, September 10, 2022
This another really big festival in the Allgäu because several communities come together. The herds from the villages of Bierenwang, Haldenwang, Rappenalpe, Taufersberg, Biberalpe and Traufbergalpe all bring their livestock down (totaling over 1000 animals!) together to culminate in their big festival. The parade begins around 9am but if you want a really unique experience, you can take a horse drawn carriage from Megèver Platz to Ranksteg (Viehscheidplatz am Ried) before the parade.
Tip: Typically the nearby district of Schöllang where several farmers all do a collective Viehscheid the night before the Oberstdorf, so you could easily combine the two for more festivities! Shoot, combine Bad Hindelwang and Oberstaufen to make an entire long weekend out of it!!!
Related Reading: My Review of Staying at the Center Parcs Allgäu: Is the family resort worth it?
Black Forest Almabtriebs
While everyone should visit Bavaria while in Germany (Ok, I'm a bit biased living here!) that's not to say that other parts of Germany aren't totally worthwhile.
However, if you are looking for everything stereotypical about Germany (Lederhosen, pants slapping polka music, wursts and pretzels galore) then Bavaria needs to be where you head.
That being said, there are still some Almabtriebs in the Black Forest that need to be mentioned as well. Just don't expect the "Bavarian Gemütlichkeit," Trachten, etc. However, most of them will still have the decorated cows and many will have some form of festivities associated with the event as well.
Bubenbach
Date: TBD
This town has a cattle drive that starts around 2pm. You can also find a "Spinning sheep's wool" demonstration, a brass band bringing a festive spirit, and of course delicious German foods and beer. There are even horse drawn carriage rides you can take!
Haslachtal in Simonswald
September 14th, 2022
If you are looking for a whole weekend of events, then this Almabtrieb just may be what you are looking for!
On Friday, the weekend is kicked off with a "party" complete with Trachten wearing guests.
(9 euro entry. [email protected] for reservations)
On Saturday at 8pm there is another night of dancing, fun, and entertainment (free)
Finally, on Sunday at 11:30am the big Almabtrieb fest begins with a concert from a local band followed by the cattle drive around 1:30pm. There is a "farmer's Olympics", more music throughout the day, and of course food and drink!
Oberried Almabtrieb
Typically the end of September- Early October– no dates available for 2022 yet
Like most of the other big Almabtriebs, this one leads over 100 cows from the pastures back to the farms. Here, they take special care to adorn their animals with flowers, leaves and herbs that at the end of the parade turn into a nice little snack for the animals. There is a festival that concludes the animals being safely brought to the farms as well. This usually has a big concert and also there is often a "nightlife party" after hours as well.
Peterzell (Alpirsbach)
October 30th, 2022
This is a unique drive, as there are three fire brigade goats, named ""Ta", "Tü" and "Ta Ta" which are all apparently the highlight of the parade! However, there are a few cows as well to join in the party, but this is also more of a fun parade for local organizations to take part in as well. Non the less, it culminates with food and drinks!
Austria Almabtrieb
While there are plenty of Almabtriebs in Bavaria, most of the really big festivals actually take place in Austria and I will admit that there are some really spectacular ones. Since this IS a site all about Germany though, I'll just add the ones that are closest to Bavaria and really worth looking into!
You could even combine it with my 10 days in Bavaria, Austria, and Switzerland Itinerary
Know Before You Go: Unlike driving in Germany, when you drive into Austria, you'll need a Vignette when on the Autobahns there. The Vignette is just a little "toll sticker" that you put onto your windshield before driving on the motorways in Austria.
You can easily get a Vignette sticker at any rest stop on the Autobahns before entering Austria (Tip: DO NOT wait until you cross the border! You need it before entering!)
The shortest amount of time you can get a Vignette is for a 10 day period.
10 Day Vignette Costs € 9,50
€120 Fine if you are caught without a sticker and up to €240 for tampering with one
Almabtrieb Zillertal
The Zillertal Valley, located in the amazing Tyrol (Tirol) region of Austria, is one of the most popular spots for Almabtriebs. In fact, many of the most well known ones are held somewhere in this gorgeous valley and with over 20 just in this small area of Austria, you are sure to find one that is spectacular. Both the Mayrhofen, Reith im Alpbachtal, and Kramsach fests are all in the Zillertal area.
Almabtrieb Mayrhofen
October 1, 2022
This really popular Austrian Almabtrieb starts at about 9:30am and goes all day and this is definitely a party festival! During the parade, people are handing out shots and samples of their homemade beers, bands are playing, and the cows look absolutely stunning with their ornate head dresses.
This particular festival is one of the most popular, which also means the most crowded. Therefore, if you come to this one, arrive early as to not have to deal with too many parking issues and definitely line up along the street well before the parade starts if you want front row seats.
Reith Im Alpbachtal Almabtrieb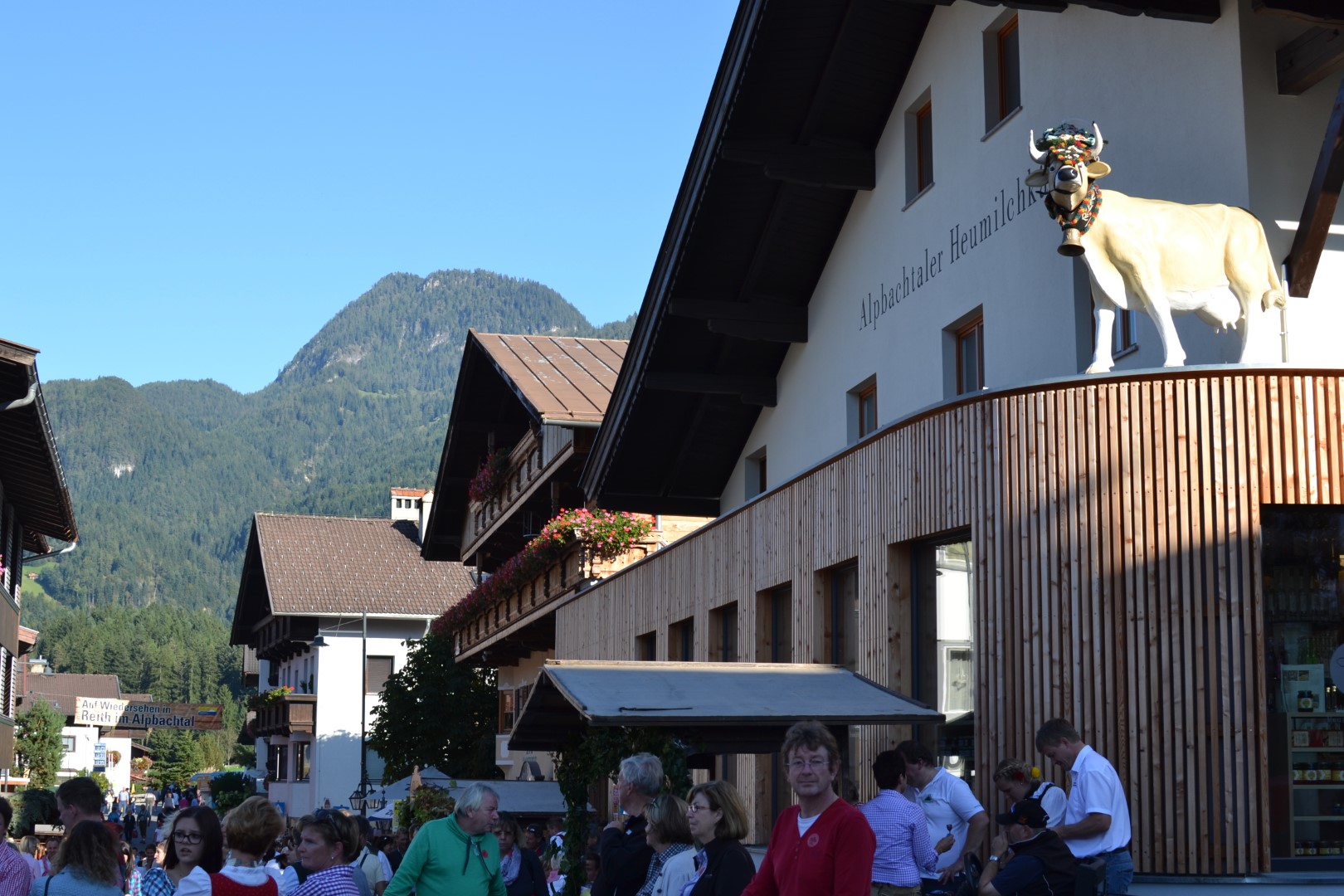 September 24th and October 1, 2022 (2 Weekends)

This is one of my personal favorite Almabtriebs. It can get quite busy, but there is still a really nice, local feel to it. The main streets of the town are lined with little stands of food, handiworks, and schnaps. An old lady sits on a pedestal hand weaving her wool right in front of your eyes while a man nearby works with a quill as he meticulously decorates a regional belt. A group of young men tirelessly work over an open fire making pancakes with cranberries on top and you can sip on the local Sturm Wine as you gaze up to the mountains looming over the village.
This particular festival has all the classics as well. The whipping boys, the Schulplatters, and a massive parade of decorated cows.
Kramsach Hoamfahrerfestl and Almabtrieb
September 11, 2022
This was a REALLY interesting festival for us. We were able to pair it with the Reith im Alpbachtal Almabtreib and it was a really unique experience.
This festival actually takes place at the Museum Tiroler Bauerhöfe, which is an open air "museum" of old Tirolian farm houses and buildings, each from a specific time period. You can see what farmers used to live like as you wander the massive grounds.
Not surprisingly, one of my favorite parts of this festival was the old ladies cooking in one of the houses. They were making the above-mentioned "Krapfen" and these were to die for!
Tip: The lines are long for these. Even if you think you just want to try one or two, get more. You'll want them and that way you won't have to wait in line again!
More buildings had other organizations baking up fresh pastries and other delicious local goodies that can only be found in this small Zillertal region of Austria.
On the Sunday of the festival, there is quite a unique Catholic Mass. The whole thing is outside and everyone sits at their fest tables, drinking their beers as they "attend" mass!!! Now that's a church I could go to regularly!
As you explore, you'll hear and see the yodelers with their alpine horns, or later on, follow the oompah band on winding paths as they walk from house to house playing their music.
While this all sounds elaborate and wonderful, it's not like the full blown fest of the nearby Reith im Alpbachtal, but it is an amazing experience nonetheless and holy cow (no pun intended) is the food AMAZING here!!!!
Tip: We were able to combine the Kramsach Farmer's Festival with the Reith im Alpbachtal Almabtrieb on the same weekend the year we went, see if the dates align again for you!
Kelschau and Hopfgarten Almabtrieb
September 17th, 2022: Small Almabtriebfest in Angerberg
September 20th-24th: Various Supporting Programs
September 24th, 2022: Main Almabtrieb in Kelschau and Hopfgarten
We really loved these two-in-one festivals. The two towns sort of combine their festivals and bring the cows from Hopfgarten on into Kelschau.
We started our morning early with the cow parade in Hopfgarten where it definitely had a more "local" than touristy feel to the village. And of course, we also had some amazing food. I've never seen anything like a funnel cake in Germany, yet here I was, digging my face into a delicious fried dough!
But then the farmers continue down the road with their herd of cows to Kelschau. What we didn't know was that we would get stuck in the Cow Stau (Stau= Traffic Jam in German), which was quite the experience in and of itself on our short drive between the two towns!
At Kelschau, it is a much bigger festival. There are the bands playing, the big (crowded) parade of decorated cows, tons of fantastic, local foods to try, and plenty of stalls and stands to peruse.
No matter which Almabtrieb you decide to attend, it is sure to be one of the most amazing, unique, and culturally rich experiences you can have while visiting Germany!