[This post may contain affiliate links where we earn a small commission. Please see our disclosure for more information and thank you for supporting our site so we can continue to bring you awesome content for your travel inspiration!]
(This post has been updated for Oktoberfest 2023 and will continue to be updated throughout the fest)
So, you are planning a trip to THE biggest beer festival in Germany (actually, the world!) eh? Going to Oktoberfest can be a blast…or it can be a total train wreck!
Now, I know not everyone (especially the main demographics for tourists to the fest) may not be super into planning, but for this particular German Beer Fest, doing even just a little bit of Oktoberfest planning can actually be the difference between having an amazing time or feeling like you just got stuck in the worst tourist trap.
So, in this Guide to Oktoberfest, I'm going to cover everything you are going to need to know for an epic 2023 Oktoberfest! From knowing what are the best tents at Oktoberfest (and tips for getting into them!), to the dates for Oktoberfest 2023(No, it's NOT in October!), what foods you HAVE to try, deciding if you should get those cute little "Oktoberfest outfits", to the best hotels near Oktoberfest. I've got ALL the Oktoberfest tips you could ever need or want to help you create the BEST time!
This Munich Oktoberfest guide is PACKED full of info, so please use this table of contents to help you navigate to the exact advice you may need.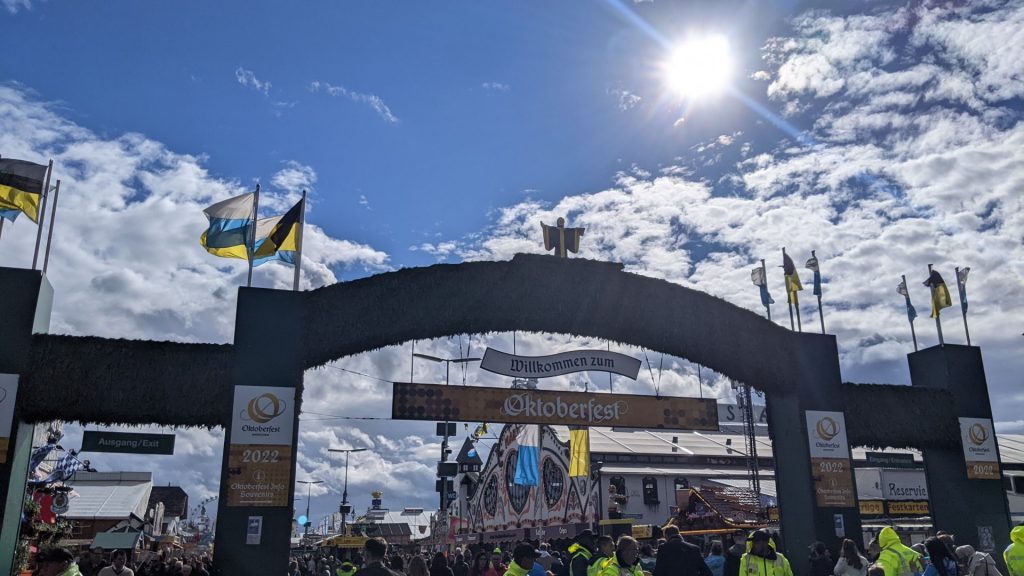 You Might Also Be Interested In These Articles:
You'll Find In This Article:
How to Plan a Trip to Oktoberfest
The biggest thing people need to know for how to plan for Oktoberfest is just how far out you need to start your trip planning.
If you are planning that once in a lifetime trip to Germany for Oktoberfest- DON't WAIT!!! Many hotels book out far in advance (sometimes upwards of a year, although, if you are reading this preparing for 2023 Oktoberfest and you have less time than that, you are fine. Just know that things may be harder to find or more expensive, but Munich is a biiiiig city, so don't worry) I go into more detail about all this below.
The other thing to consider is flights. I have a few insider tips in the Flights section of this guide, but just know that the cost for flights around Oktoberfest are always going to be quite high, so just plan accordingly for your budget.
The other thing I like to suggest when someone is creating an Oktoberfest plan for their Germany trip is to remember you can't do it all! I get it. You are traveling to Germany, you want to see and do it all!!! But honestly, you will be better off picking a few places as bases and truly enjoying each one rather than going on a whirlwind tour just for the sake of check marks off your list. For example, since you are already going to be in Munich, be sure you plan on at least a few days for sight seeing the city itself and Munich also makes a great location for nearby day trips.
When Is Oktoberfest Celebrated?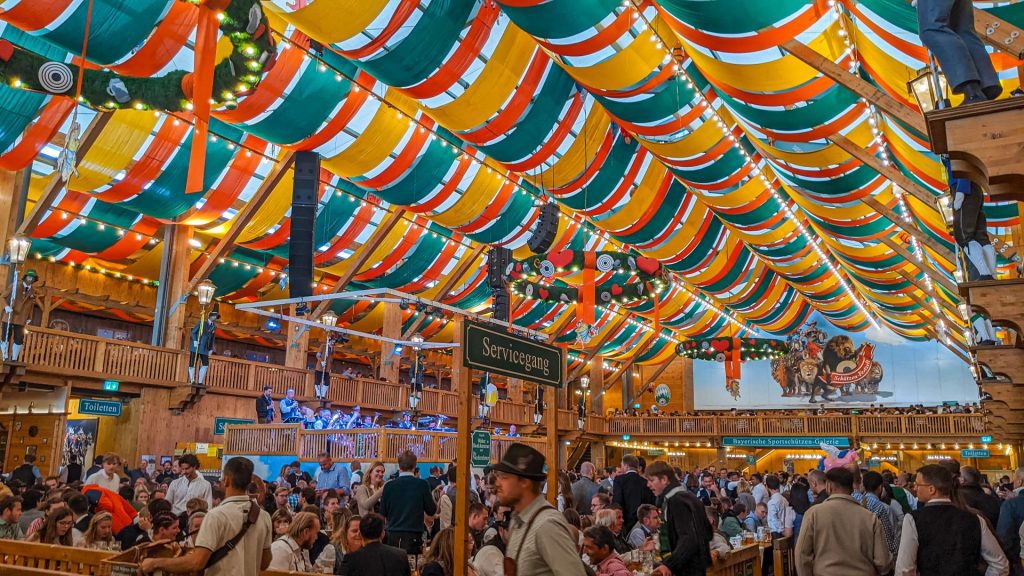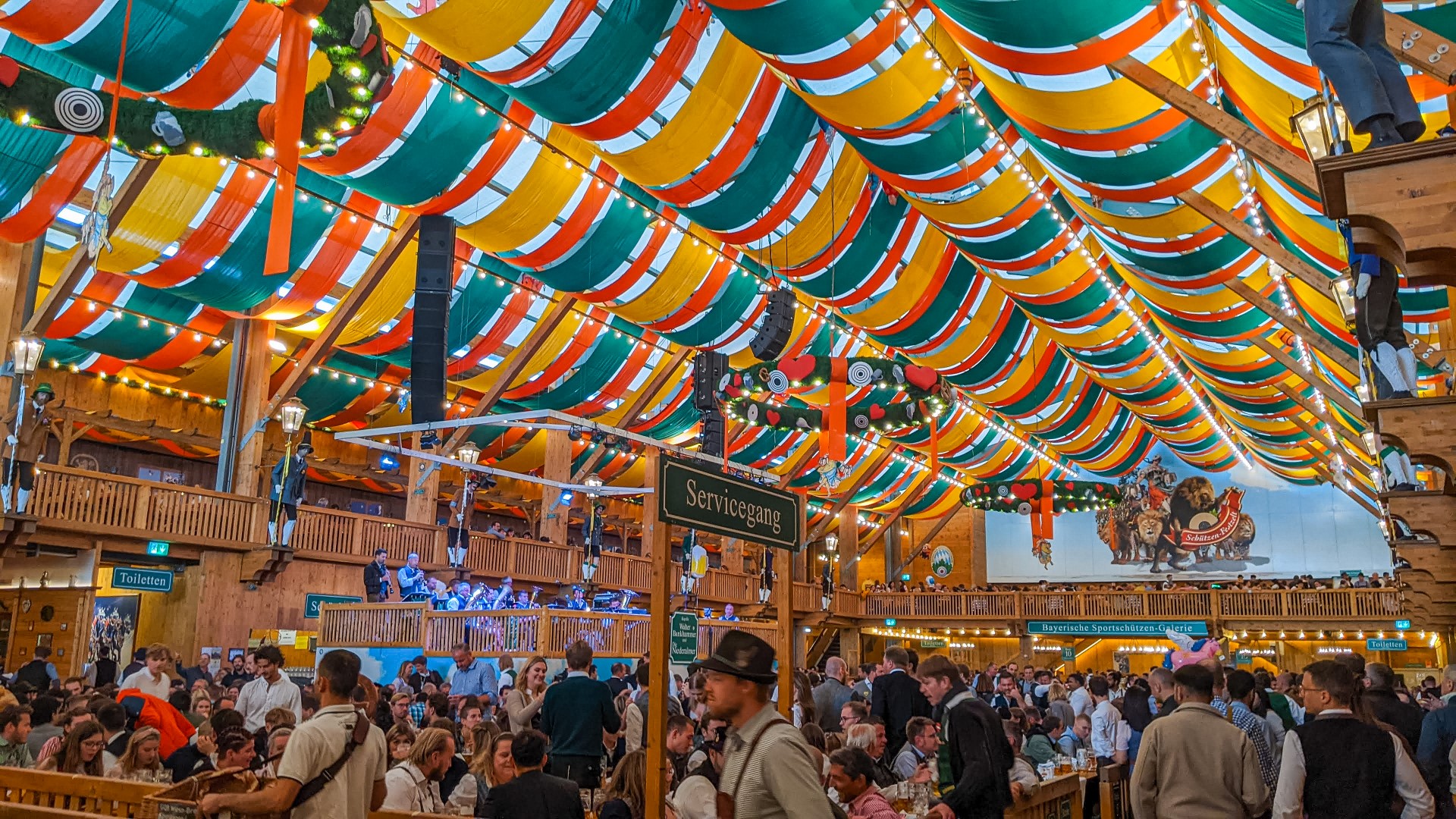 Let's start with the basics for Oktoberfest trip planning. You'll need to know when is the Oktoberfest in Germany? Oktoberfest is actually mostly in SEPTEMBER, not October! So then why is it called Oktoberfest? Well, it's actually a really simple reason.
The original Oktoberfest was actually a wedding celebration for the Bavarian Crown Prince in 1810 and the celebration actually did, in fact, take place in October. Since the party was such a hit, they decided to do a repeat the following year. However, as tourists know, figuring out when is the best time to visit Germany, October can get, well…..wet (and the days get shorter quite rapidly). So, in order to have more daylight hours to party it up, they tried moving the dates for Oktoberfest to September, when there is better weather (I love September for traveling in Germany!) and it was so well received, that they continued to have the fest year after year and kept in September!
How Long Does Oktoberfest Last?
Just over 2 weeks
2023 Oktoberfest Dates: Saturday, September 16th, 2023-Tuesday, October 3rd, 2023
Oktoberfest Opening Times
Tents open from:
Monday-Friday: 10 am to 10:30 pm
Saturdays, Sundays and Holidays: 9 am to 10:30 pm (Note: Oct 3rd is the German Unity day. Avoid this day and its crowds if at all possible)
Opening Day: Beer starts being served at noon
You Might Also Be Interested In These Articles If You Are Planning a Trip to Munich:
How Early To Book Hotels
Now that you know WHEN Oktoberfest is, if you plan on going, you'll want to start booking your accommodation well in advance, as in…..RIGHT NOW, particularly if you are traveling to Germany on a budget. Below, I'll give you specific hotel recommendations for varying price ranges, but just know that if you want a moderately priced hotel, hostel, or guesthouse, you'll want to start looking about 6-9 months out or risk nothing available (or insanely expensive options). If you are looking for hotels close to Oktoberfest, know that it can be hundreds of dollars per night for 1 room.
One budget option is to actually stay in a nearby town or village and take the train or Ubahn in. I live in Regensburg and have easily made the day trip down to Munich for Oktoberfest. Another closer option is Freising, which you can zip into Munich on the Sbahn.
Where is Oktoberfest?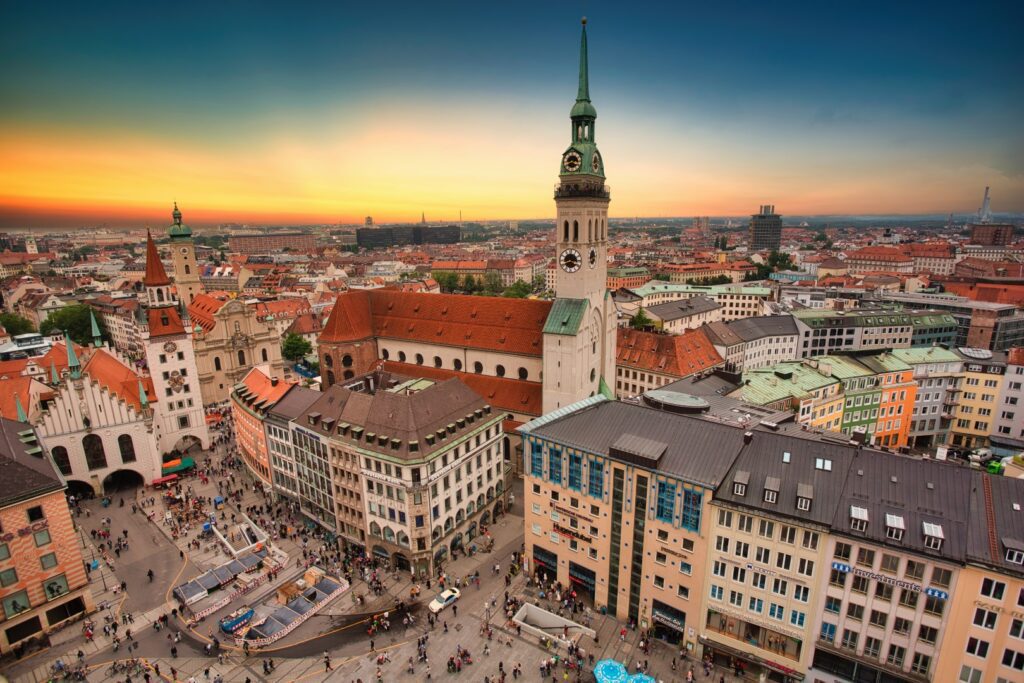 THE official Oktoberfest is the Munich, Germany beer festival, located in (you guessed it) Munich and is located at the "Theresenweise." Munich is located in the beautiful state of Bavaria and is perfect for tourists since Munich is one of the major German airports.
Getting to Munich
While Munich is typically more expensive to fly into than Frankfurt or Berlin, it's still easy to find plenty of good flights into the city. Granted, prices can be pretty steep around this time of year because they know that the demand for tourists is there. If you are looking to catch a deal, I keep an alert in Scott's Cheap Flights as well as Google Flights.
Alternatively, you can fly into Frankfurt and then catch an ICE Train over to Munich. It only takes about 3.5 hours in the high speed train and is a really easy journey.
You can also rent a car in Germany and do a roadtrip and take some time sightseeing on your way from one city to the other. (Tip: I don't recommend keeping a rental car in Munich- the public transportation in the city is fantastic and the parking costs can be astronomical)
Some great stops along the way from Frankfurt to Munich would be:
If you are traveling within Bavaria at all, don't forget that the Bayern Pass is perfect for getting around on Deutsche Bahn and can save you a lot of money, especially if traveling with a group of people. (Read all about it in my guide)
The Theresienwiese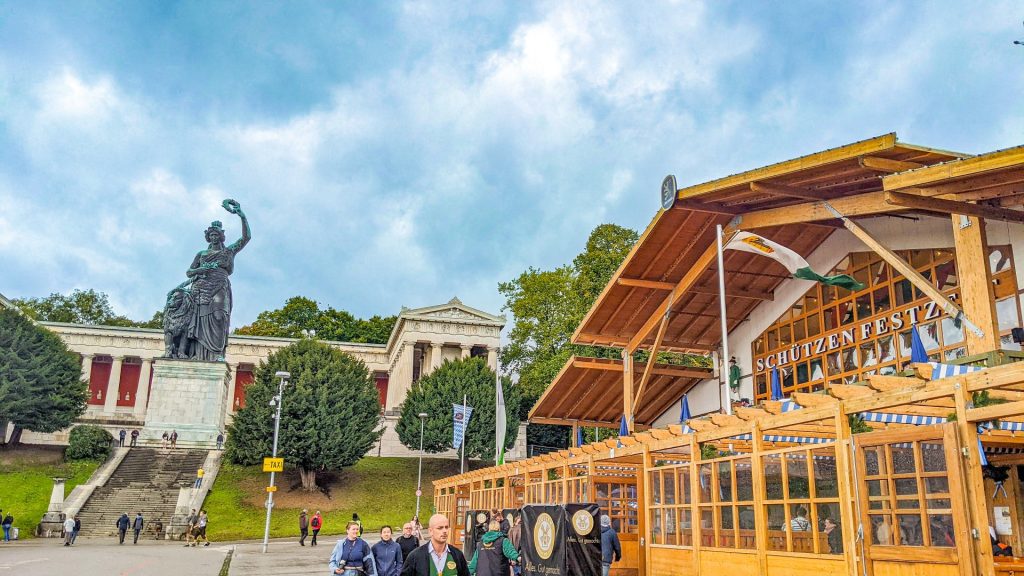 Tip: Zoom in on the map to see the exact location and directions on how to get from the Munich Train Station to Oktoberfest Thereisenweise
The exact location for the beer festival in Munich is at the Theresienwiese Fest Grounds, which is actually a somewhat central location in the city. In fact, it only takes about 12 minutes to get from the main train station to the fest grounds.
Oktoberfest Address: Theresienhöhe 16
Parkplatz: Wirtsbudenstraße 1
How to Get to Oktoberfest by Public Transportation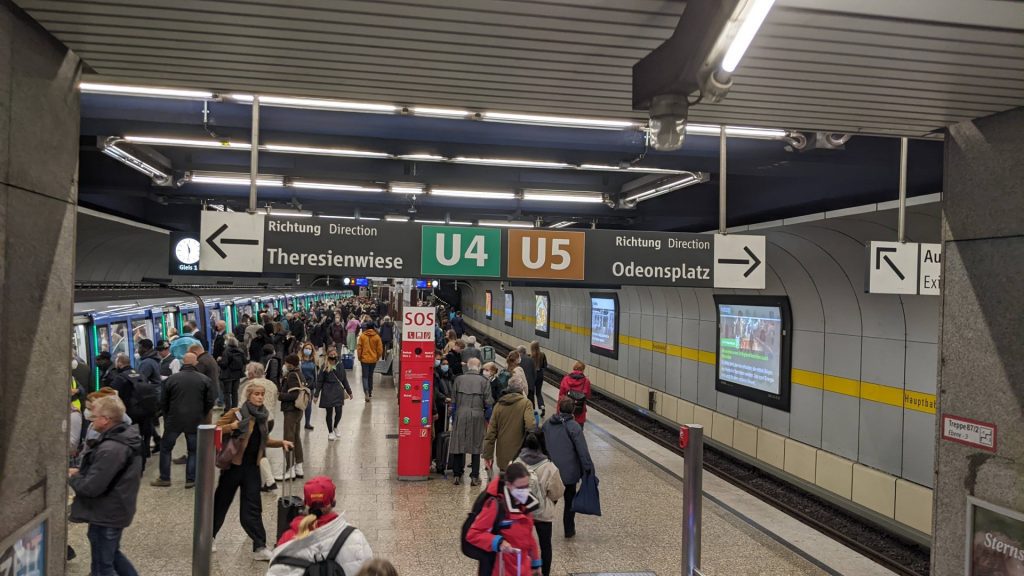 If you are not within walking distance to the festplatz, taking the public transportation in Munich is really great. Especially during Oktoberfest, there are more routes and they run more frequently to help handle the amount of people. However, just be prepared for long wait times, especially if you are trying to get to the actual Theresienwiese stop. The main 3 ways of using public transportation for Oktoberfest are:
U-Bahn (Underground/ Subway)
S-Bahn ("Strasse Bahn"- Street Trains)
Buses and Trams
Expert Tip: There is actually an U-bahn station right at Theresienwiese, however, this particular stop can get SUUUUUPER crowded and busy. After numerous beers, it's not uncommon to lose people in these crowds. Therefore, it's often better to walk a minute or two further and use one of the many nearby stations (like the Schwanthalerhöhe or Goetheplatz ) instead.
U-Bahn
Take the following UBahn line right to the Theresienwiese
Green Line U4 from Odeonsplatz, Karlsplatz/Stachus and Hauptbahnhof straight to the Theresienwiese stop
Take the following Ubahn routes to get to the nearby stations, which then only takes about 3-5 minutes to walk to the East and South gates of the fairgrounds
Orange Line U3 from Odeonsplatz, Marienplatz, and Sendlinger Tor to Goetheplatz (or one stop further, away from more crowds to the Poccistraße stop)
Blue Line U6 from Odeonsplatz, Marienplatz and Sendlinger Tor (or one stop further, away from more crowds to the Poccistraße stop)
S-Bahn Train to Oktoberfest
The Sbahn won't get you directly to the fest grounds, but it will get you close enough that within about 10 minutes of walking, you'll quickly be there. If you are worried about getting lost, Google Maps and Maps.Me (can download an offline map) work great but of course, you can just follow the crowds of people!
All the S lines from S1-S8 will go to the Hackerbrücke stop. From there, follow the crowds 10 minutes to the fest grounds.
Munich City Bus to Oktoberfest
Finally, you can take the stadt bus, which is just as easy to use as the above other options. The below options won't drop you off directly at the Theresienwiese, but just like the other options, it will only take a few minutes by foot and you just simply follow the hoards of people!
Line 53 to the Schwanthalerhöhe stop. Then it's about a 20 minute walk to the fest grounds
Line 58. Can get off at:

Georg-Hirth-Platz, Beethovenplatz or Goetheplatz. 10 Minute walk from all to fest

Bus Line 62. Can get off at:

Hans-Fischer-Straße (1o min walk), Poccistraße (1o min walk) or Herzog-Ernst-Platz (20 min walk)

Bus Line 134. Can get off at:

Theresienhöhe (10 min walk) or Schwanthalerhöhe (20 min walk)
Munich Trams to Oktoberfest
The "Straßenbahn" is different from the above mentioned S-Bahn. This is often called the "Tram" in Munich and there are a few routes you can take on here as well to get to Oktoberfest
Tram Lines 18 and 19. Get off at the Holzapfelstraße stop or the Hermann-Lingg-Straße (both about a 15 minute walk)
Lines 16 and 17. Get off at the Hackerbrücke stop and walk 10 minutes
What To Expect at Oktoberfest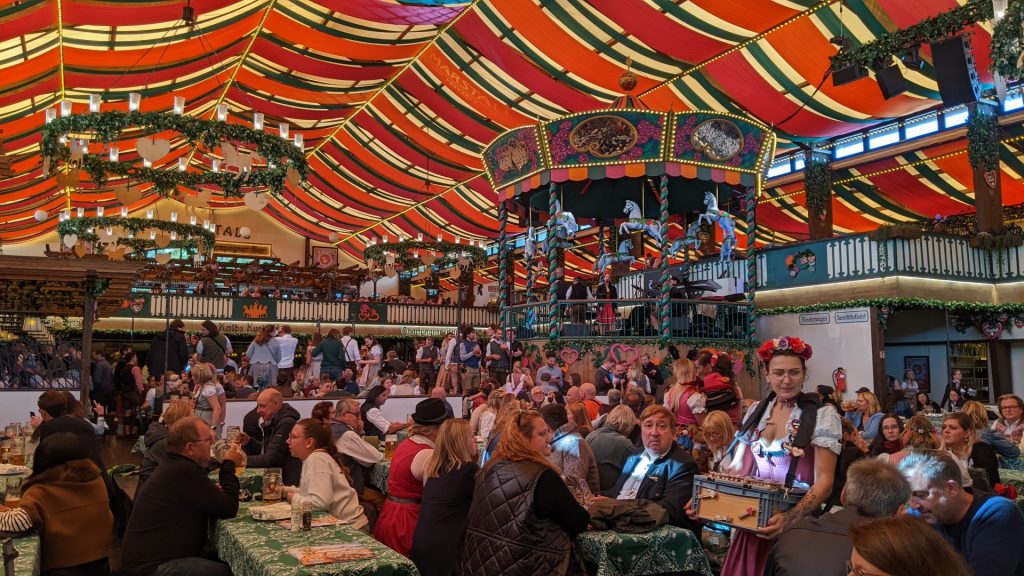 Ok! So you navigated the streets of Munich and got yourself (along with a million other tourists) to Oktoberfest! Huzzah! But, what is Oktoberfest like once you get there?
It's a Volksfest
If you've never been to a German Volksfest or a Bavarian beer festival, you may not know what to expect. The best way to describe these to outsiders is that they are very similar to a carnival. There will be tons of carnival-style rides and all those classic carnival games!
Yes, There are Locals
There is a reason why Oktoberfest is considered one of the best German beer festivals. So yes, while there are plenty of rowdy tourists ready for days on end of drinking, don't be surprised when actually the majority of visitors are surprisingly from Germany itself. Granted, they often just go for one day (there are so many other fantastic festivals in Germany that they don't feel the need to spend more than a day at Oktoberfest usually)
Crowds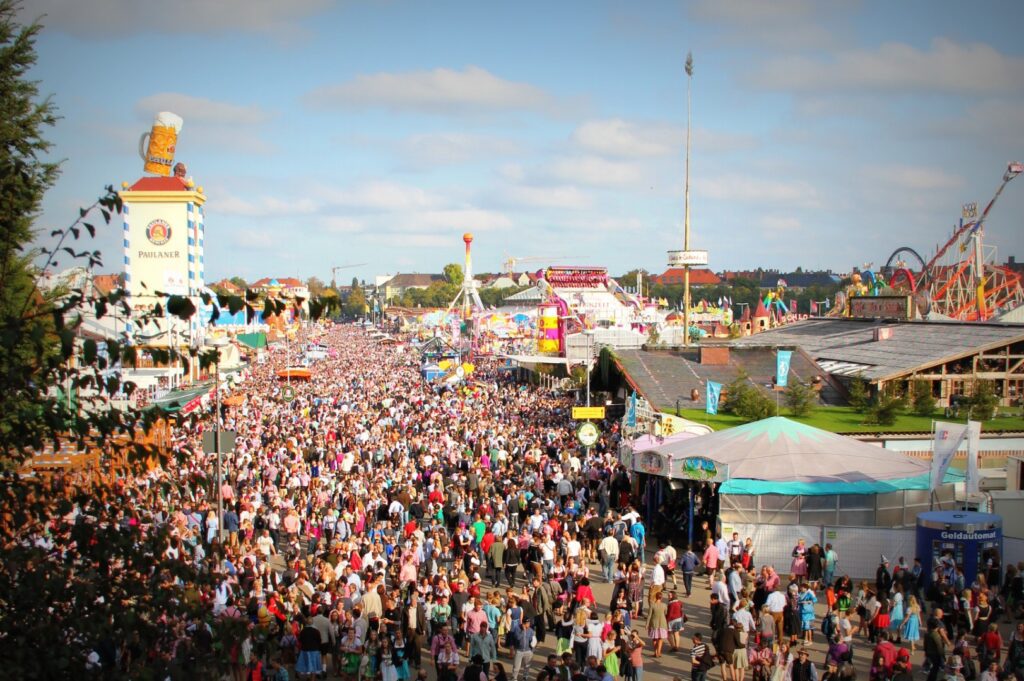 More than 6 million people attend Oktoberfest every year! And that is in just about 18 days worth of the fest being open, so yes, expect PLENTY of crowds. I've got an entire section below on insider tips on the best days and times to go to have a lesser crowd.
Trachten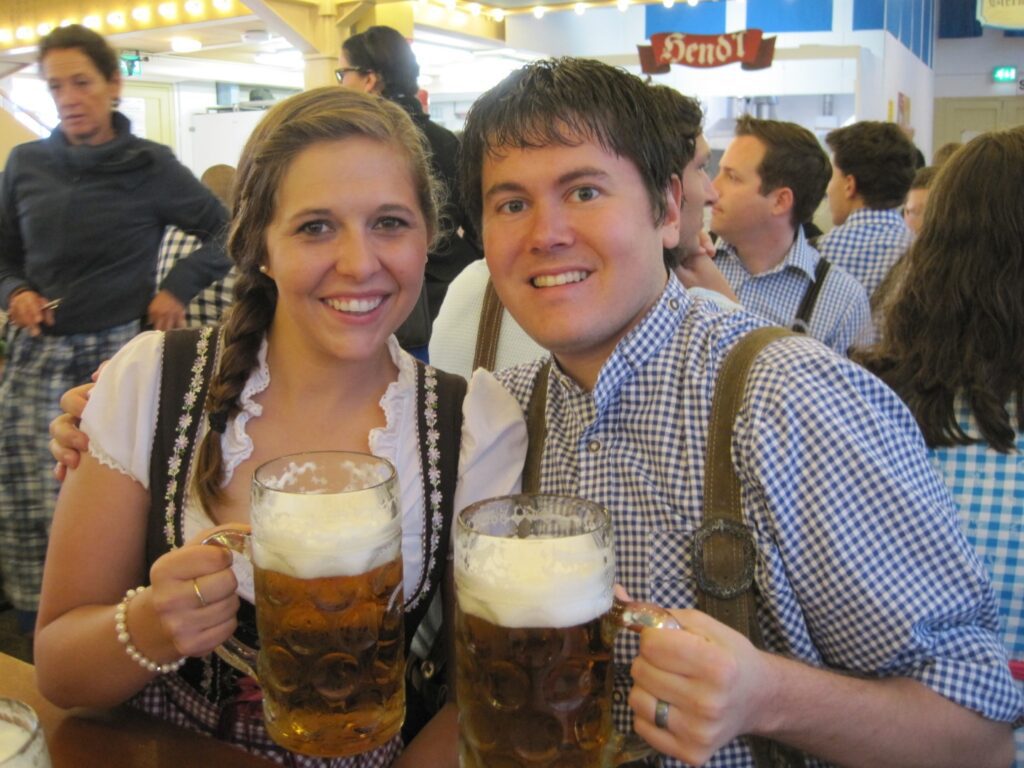 These are not "Oktoberfest costumes" or even "Outfits for Oktoberfest." They are instead the authentic, cultural outfits that people still wear in Bavaria. Granted, Lederhosen (for men) and Dirndls (for women) are typically worn for special occasions (birthdays, weddings, etc) and not just on a typical run to the grocery store. However, fests in Bavaria, particularly those in the more Southern part of Bavaria, almost always come with plenty of Trachten wearing!!!
Can you wear Tracthen as a tourist?
Sure!!! Read my entire guide to What to Wear to Oktoberbest. In fact, there are Tracthen stores all over Munich! Pop into any of them and get a custom fitted, authentic Lederhosen or Dirndl to have a souvenir of your trip that will bring back many fond (or maybe just fuzzy?) memories for years to come!
Oktoberfest Tents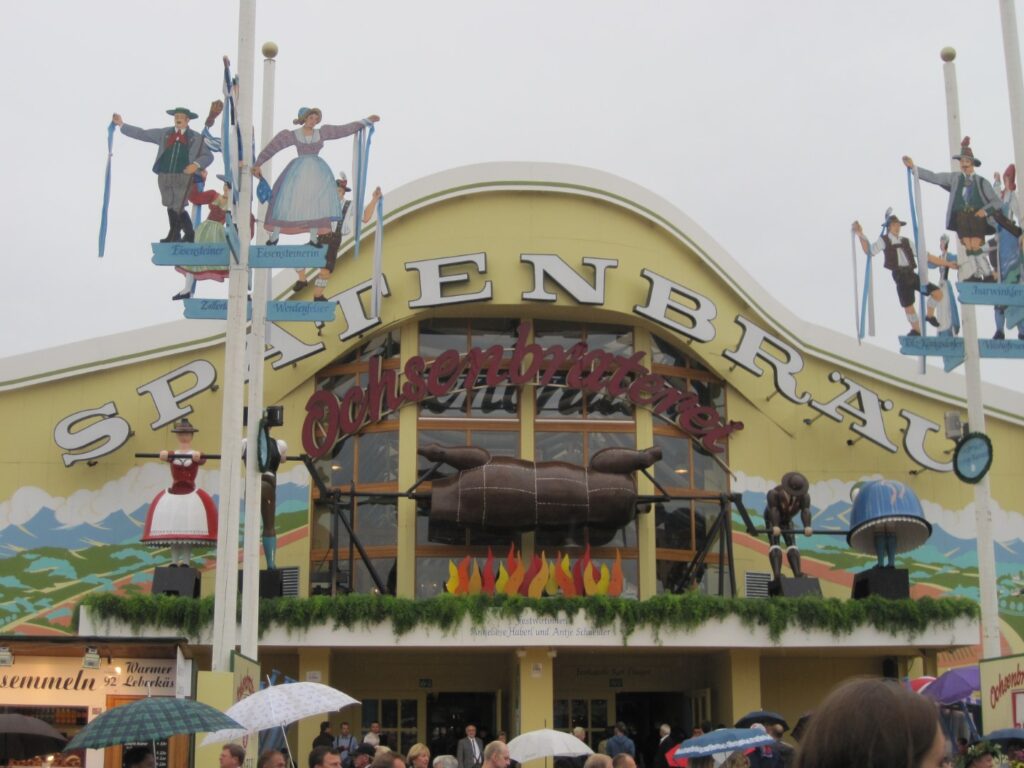 I don't mean camping tents. No, these Munich Oktoberfest tents are so huge, they are the size of buildings. The tents at Oktoberfest are where all the real partying (and dancing, and singing) happen. THIS is where the magic happens, folks!
However, they can fill up pretty quickly, especially on the weekends.
If the weather is nice, there are also plenty of beer gardens outside.
Pro Tip: No matter the day, get to a tent at opening times and you'll almost always be able to find a table without needing a reservation
You can read my separate article on the "Best Tents at Oktoberfest" to know exactly which ones to target and how to actually get a table at them (both with and without reservations).
Tent Sessions
It's really important to know that most tents have two sessions during the day. The first session is from opening until about 3pm or even as late as 6pm. At this time, many tents actually clear out the entire tent to clean up and prepare for the evening session.
If you were able to score a tent table in the morning, know that most tables are reserved in the evening, so you'll likely be booted out by about 6pm at the latest if you don't have a reservation. Alternatively, find out what time the evening session opens for the tent that you want to be at and arrive before the evening session opens and then immediately search out tables that don't have reservations.
Oktoberfest Food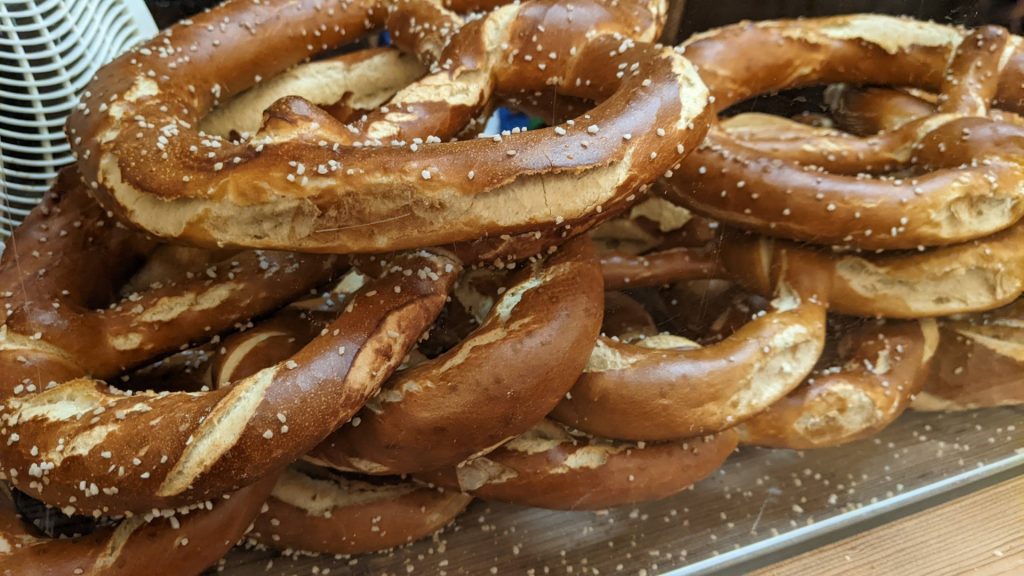 OMG The Food! I love fest food. From fresh baked Brez'n to cheesy, gooey Spaetzle to perfectly juiscy, roasted chickens, here are 30 of the best Oktoberfest Foods to try!
Food Vouchers: Many people hear about the food vouchers and wonder if they are needed or where to get them. If you have a tent reservation, then that typically includes a food voucher (which, in the past, they give it to you upon arrival) Usually, the voucher gets you 2 beers as well as a hendl (chicken). The food voucher will only be good for the tent that you made your reservation in. Basically, you already "paid" for these food and beers with your reservation. Therefore, this is pretty much just the tent's way of making sure they get their money in case you are a no show.
If you do not have a voucher (or tent reservation) but you did get a table seat, a voucher is not necessary. Simply order your food and drinks from any of the workers buzzing around.
Families at Oktoberfest
While it may be seen as the Munich BEER festival by many, you might be surprised to realize that Oktoberfest is actually a pretty big family destination as well. It's not all just drunk tourists.
Because of the carnival atmosphere, many parents love to take kids to Oktoberfest. They typically come more during the daytime when it's less crowded.
Traveling to Germany With A Family? Be sure to read all of my Traveling To Germany With Kids Articles
Oktoberfest Tickets and Costs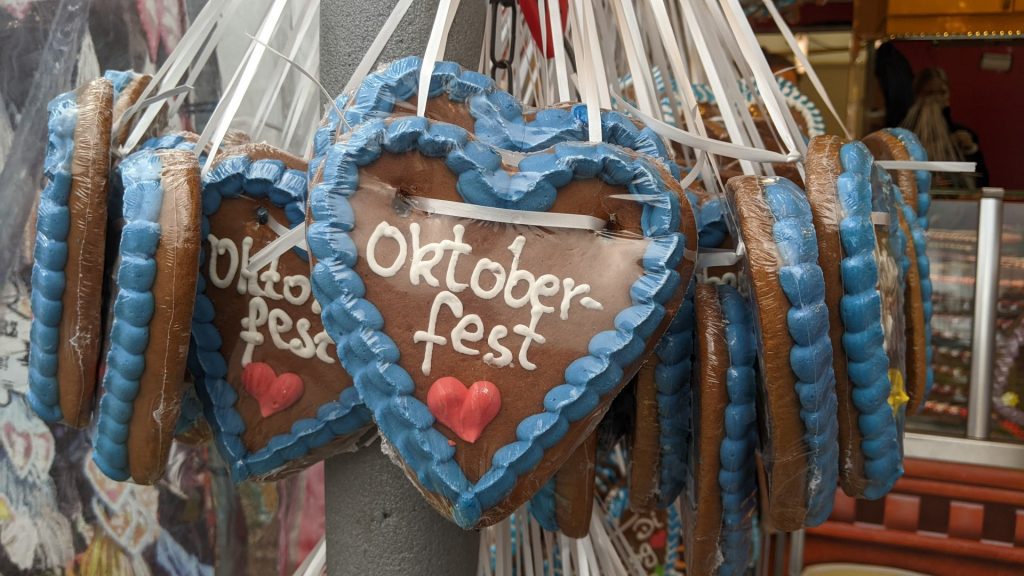 People sometimes get Oktoberfest Tickets (not a thing) and tent reservations (not necessary) confused.
It is free to enter Oktoberfest and it is even free to enter all of the tents (despite what people will have you believe). However, if you are going on a weekend or in the evenings, if you want to guarantee that you have a seat in the tents, then having a reservation is pretty much imperative.
But, just because it is free to get into the fest, that doesn't mean that it is going to be a cheap outing! Here are some average costs at Oktoberfest:
€12-€14 per Maß (1 liter of beer) varied from tent to tent last year. It was typically between 12-14 Euro
€8-15 per (half) chicken
€5 for a large pretzel (around 3 Euro for the smaller ones)
€0.50 to use the bathroom (per time)
Rides will vary, but they can run anywhere from about €3-5 per ride
Tents at Oktoberfest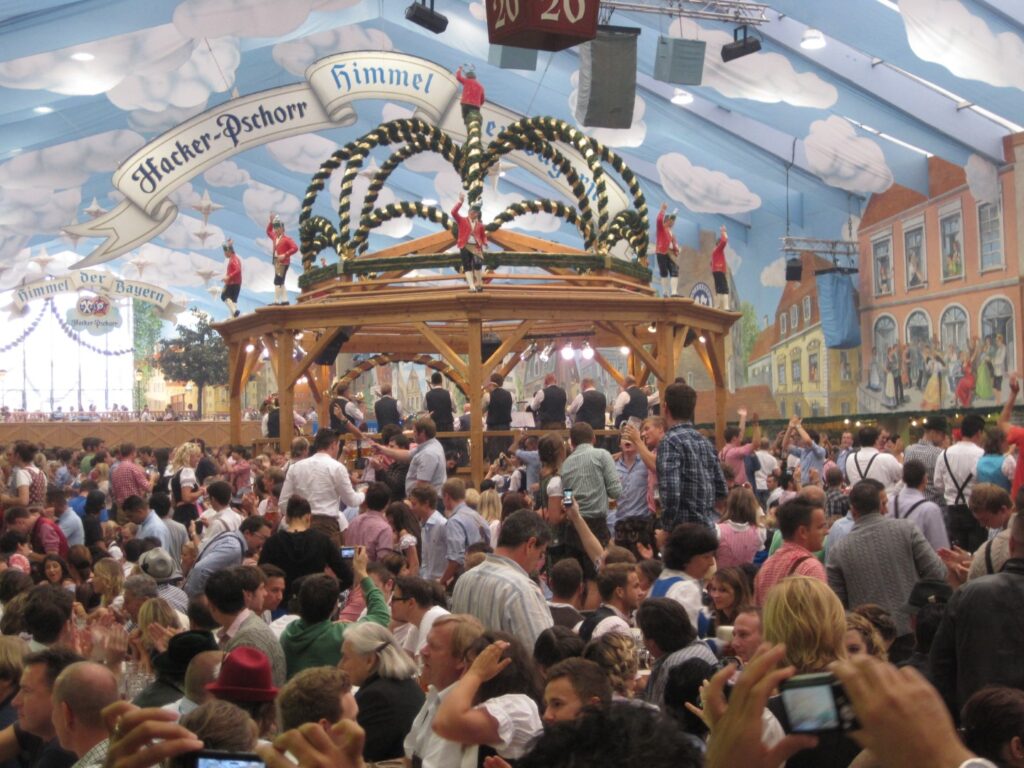 I have an entire post about the best tents at Oktoberfest that has ALL the details of exactly what you need to know for them. But for brevity's sake, here are some of the major bullet points:
There are 38 tents at Oktoberfest! Therefore, there are plenty of places to get into for beer hall fun. Out of those 38, there are 21 "Large Tents" and 17 "Small Tents." Some of the more notable ones are the:
Paulaner Oktoberfest Tent
Armbrustschützenzelt (Paulaner)
Hacker-Pschorr Tent
Hofbrauhaus
Augustiner
Ochsenbraterei
The "Traditional"
Schottenhamel tent
Cafe Kaiserschwmarrn
Feisingers Kas- und Weinstubn
More!
Do You Need Reservations For the Oktoberfest Tents?
Yes….and No. It kind of depends on your goal.
Some of the tents are so big that they hold close to 10,000 seats (each!) And while that times multiple tents seems like it should be plenty of space for everyone at the fest, it's actually pretty surprising how fast they all can fill up.
If you go during the weekdays and in the morning, then no, you should still be able to find plenty of seats inside the tents and reservations aren't needed or required.
If you plan on going in the evenings and weekends, then it's best to consider reservations. The smaller the group, the better the chances of finding seats to wiggle into, even at busier times.
Pro Tip: As soon as you enter, ask a worker where a non-reserved table is and head straight for them!
Getting an Oktoberfest Tent Reservation
If you've decided that you want to do a table reservation, you need to plan well in advance. Some tents' reservations will start selling about 9 months in advance. It will be difficult to get ones closer to September.
You can find all the big tents and the links to their individual reservations here.
How To Know What Tables at Oktoberfest are Reserved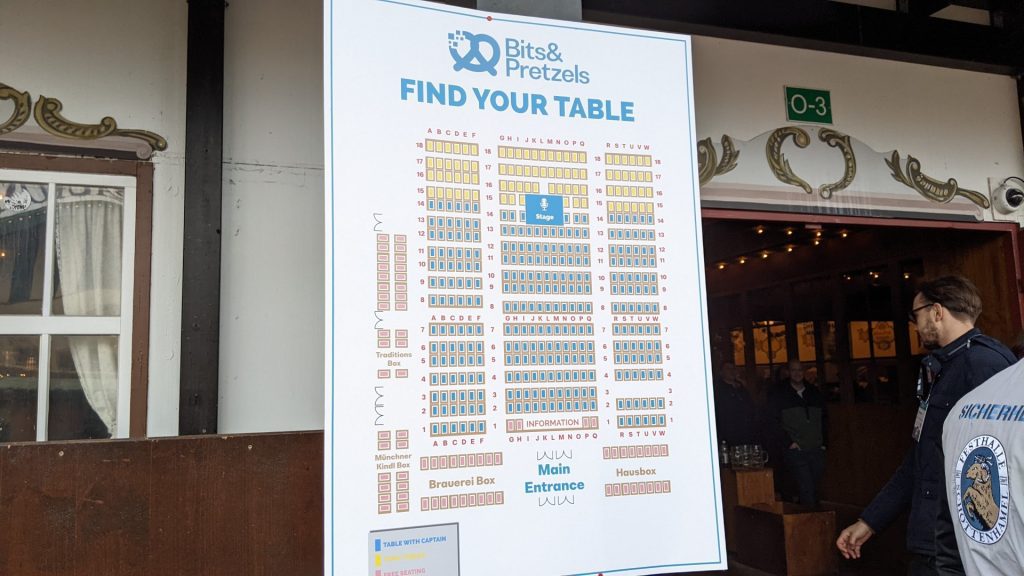 There are a few ways to know what tables are open for you to sit at. Most tents will have a sign posted somewhere either inside and/or even outside before entering so you know exactly where to go.
It's pretty easy to see what tables are reserved because there will be a piece of paper at the end of the table and it will say a name and a time on it. Technically, you can sit at the table until that time but will have to leave once the people arrive, so it's just best to search out tables that are completely open.
You can also find a server and ask them if they know of any open tables. There are often sections that are nonreservable, so they can quickly point you in the right direction instead of you having to search through 10,000 seats worth of tables!
The Best Oktoberfest Beers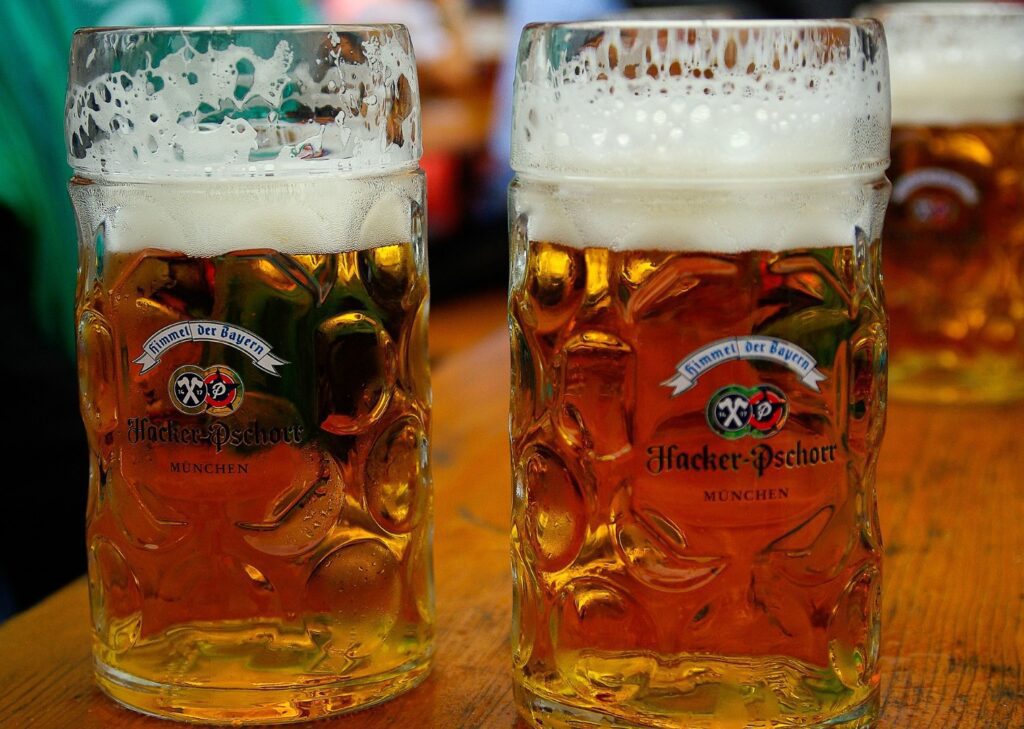 A "Fest Beer" is basically its own kind/ style of beer and typically, you can only find bottles of it around fest seasons in Germany. But, to have a freshly poured, straight from the tap Fest Bier at a fest is a downright, fantastic German experience!
A fest bier is actually a style of Lager and almost every town or village that has a fest has a local brewery that makes its own fest beers for that local fest.
A fest beer is going to be a golden yellow in color. While there is a malt taste, it is more "bready" than "caramel" and the hoppiness notes are on the lower end of the spectrum.
However, at Oktoberfest, only the following breweries are allowed to brand their beers as "Oktoberfest Bier"
Paulaner
Spaten
Löwenbräu
Augustiner-Bräu
Staatilches
Hofbräu-München
Hacker-Pschorr-Bräu
But which one is the best Oktoberfest Bier? Well, that answer is as complex as planning a trip to Oktoberfest as whole!
Paulaner is arguably the most popular and consumed. After all, they are the brewery that brewed the first style of today's Oktoberfest Beers. However, tourists like to down the Hofbräu beers, mostly just because it is a recognizable name.
If you ask me though, my favorite is the Hacker-Pschorr. It has a really nice balance but is slightly more malty and less hoppy tasting, which I am all about! However, I really enjoyed the Augustiner in the Festzelt Tradition (tent) in the Oide Weisen area of the fest last year! There is just something about drinking it out of the stone Maß that elevates the experience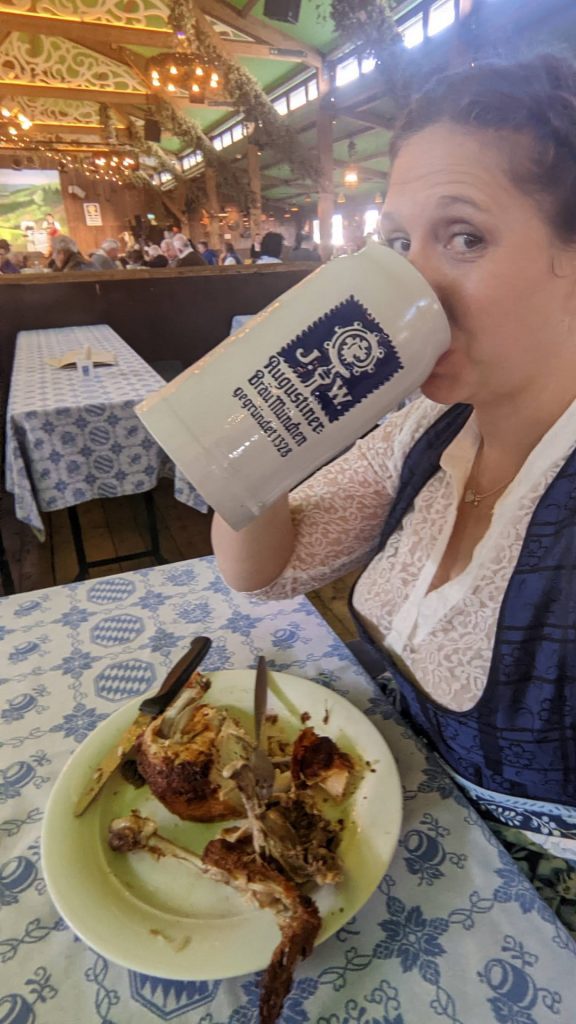 Tips For Surviving Having a Successful Oktoberfest
Have Cash
While Germany is becoming much more accepting of credit cards, in a fast-paced environment like Oktoberfest, you'll need cash. You'll need this to pay for things like rides, food stalls, beers inside the tents, and food.
Go Early In the Day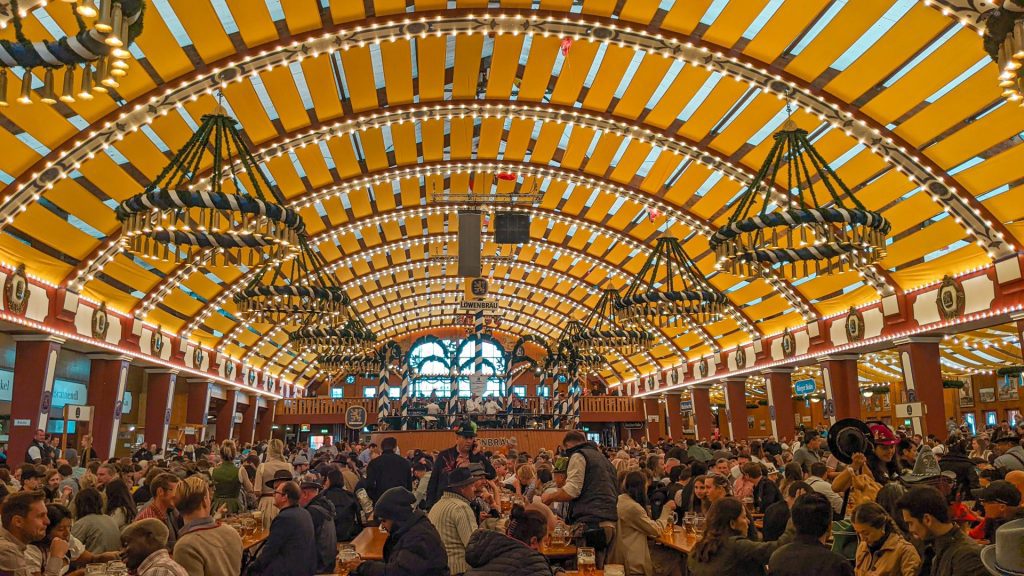 Even on a Monday morning, you won't be lacking for atmosphere and that Oktoberfest or beer hall environment you've dreamed about. In fact, the more people there are, often the less enjoyable it is. And since there is never NOT a lot of people, going early during the days is a great way to have all the party feel without an overwhelming amount of people.
Tip
While rounding up for tips in Germany at normal restaurants is the standard, at Oktoberfest, it is much more customary to tip 10-15%. After all, if you watch how much the servers bust their buts, they deserve it!
Bring Coins To the Bathrooms
In my Know Before You Go (To Germany) article, I talk about the importance of always having change on you! All over Germany, you'll find you have to pay anywhere from about 0.50 cents to 1 Euro for public bathrooms. At Oktoberfest, you'll need to have coins on you to use the bathrooms, so keep a pile of change in your pockets.
Cozy Up With Random People
We'll see how this evolves with Covid (there hasn't been an Oktoberfest since 2019) but at any fest you go to in Germany, it's 100% acceptable to ask completely random strangers if the rest of their table is free. If it is, they will gladly gesture to the seats and you can claim them as your own.
And while Germans get a bad stereotype for often being cold or "not friendly" (this isn't true) in general, at fests they are normally more than happy to strike up a conversation with their table mates! So, feel free to say "Hallo!" and do a big "Prost!" to the whole table!!
Don't Steal a Maß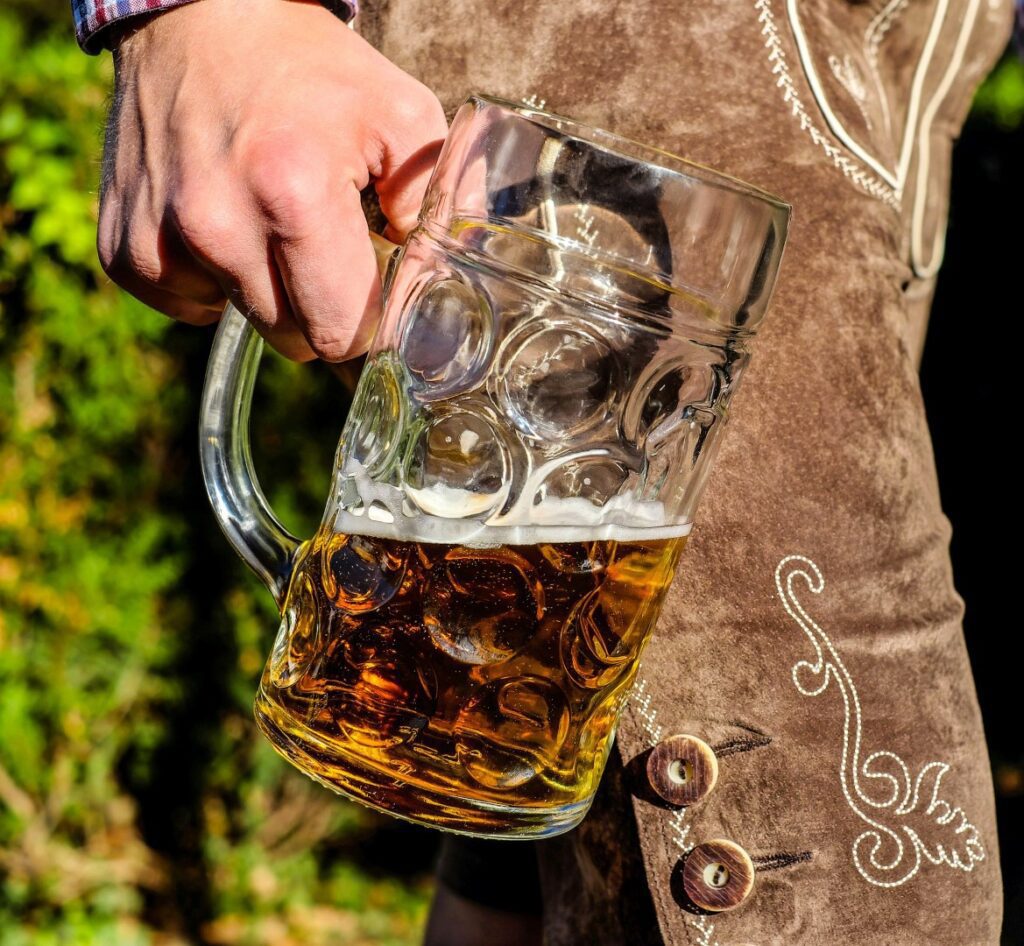 As tempting as it is, do not steal these as a personal souvenir. In fact, security guards frequently check as you leave that you aren't taking one. You can be kicked out if they find you swiping one.
There are Maß for sale though throughout the fest as well as in town.
MAKE EYE CONTACT!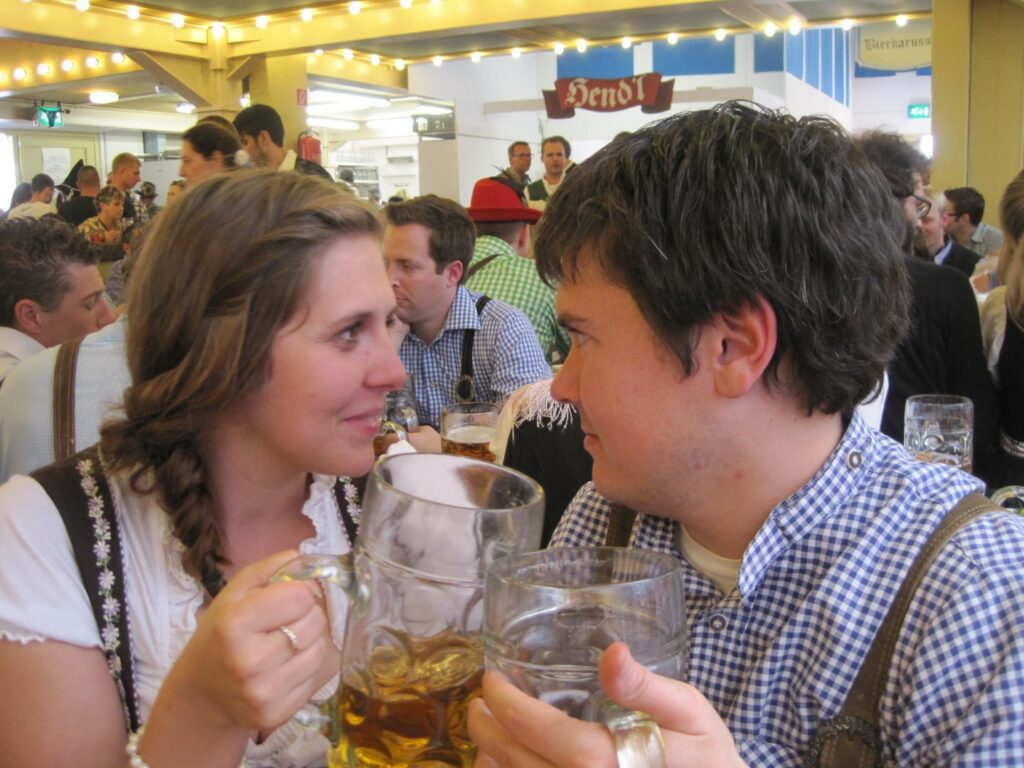 You will have lots of "Prosting" all day long. However, if you don't look dead into the person's eyes you are "cheers-ing" then you risk years of bad sex. Yup, you read that correctly! So look everyone in the eyes, already!!!!
Pace Yourself
No, seriously. I don't care how much alcohol you can handle at home. German beers are strong! And you are drinking an entire liter at a time!!!! Having too much makes it miserable for everyone around you to deal with. We all want to have a fun time, but don't you want to remember that fun time!? Besides, just don't be THAT tourist, mmmmk?
Germans even have a word for people (usually tourists) that can't handle their booze. A "Bierleiche" literally means "Beer Corpse" so if you hear that phrase, you're gonna wanna slow down!
There are plenty of other drinks in Germany besides beer. Between each liter of beer, don't be a hero! Order another water and polish it off before ordering another Maß.
Have an Easy To Find Meeting Point
If you are with other people at Oktoberfest, before the day even begins, find something tall and easy to find as a meeting point in the event that you become separated. With that many people, it is really easy to lose track of your friends (or have a kid wander off) and after a few drinks, who knows what could happen. In the past, cell phone service has been difficult at the Wiesn as well due to the sheer amount of people in the area, so don't rely on being able to call one another, either.
Having a place that you know you can meet in case phones aren't working well is just good Oktoberfest planning!
Know What To Say (and sing)
You should always know a few basic phrases of anywhere you are visiting. Granted, everyone will be able to speak English at Oktoberfest. But that is not to say that you shouldn't have some of the very basic lingo down.
Words to Know at Oktoberfest
Bitte (Please) and Danke (Thank You)
Ein Mal (one more (beer) ): use your THUMB (like a sideways thumbs up)- NOT your pointer finger to signify the number one
Maß– That funny little character at the end of the word is like a double "s" and you say this word like "Mahss" (not Mass, like the Catholic Church event). And no, these giant liters of liquid bread are not Steins. It's a Maß of beer!
Toilette?: Shrug your shoulders and say it in a question form and it's universal for "Where is a bathroom?"
Prost: Cheers!
Learn "Ein Prosit"
This is like the anthem of any Volksfest (it's not just the "Oktoberfest song")! You'll hear this often and you'll have way more fun if you know the words as you swing your Maß around clinking it with others instead of standing there smiling like a tourist.
The words are pretty simple.
"Ein Prosit, ein Prosit, Der Gemütlichkeit. Ein Prosit, ein Prosit, Der Gemütlichkeit!!!!" You literally hold your Maß up and sway it back and forth as you sing. At this point, you may hear "Oans! Zwoa! Drei! GSUFFA!!!" (Which is basically Bayerisch for "1,2,3, Drink!!!") You can now all clink your Maß together and take a giant swig. (Don't forget to look everybody in the eye!!!)
When To Go To Oktoberfest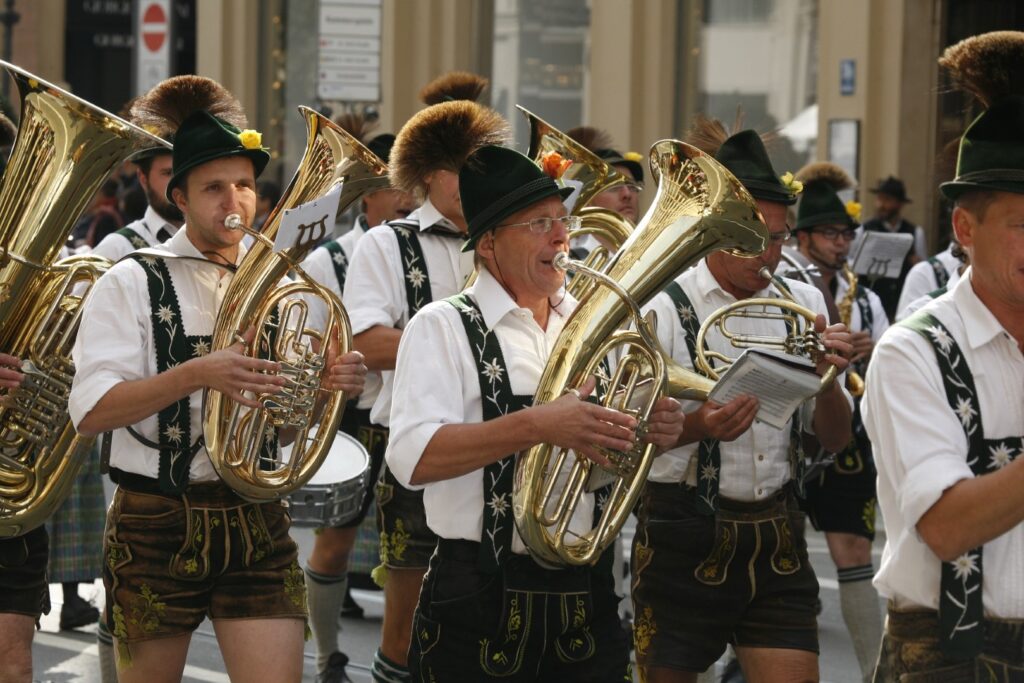 This is clearly a hotly debated topic. This is purely my own, personal opinion on the matter:
During the Weekdays
If I'm sounding like a broken record on this, it's because it's true!!! I promise you will not be missing any of the fun by going during the weekdays!
In the Mornings
Ok, same statement as above! By 10 or 11 every day, things are already jam packed and everyone is ready to roll! There is zero shame in day drinking at Oktoberfest, so the earlier you go, the better!
Skip the "Italian Weekend"
This is the weekend in the middle of the fest and is notoriously pretty crowded. In 2022 it will be September 23-28
On Good Weather Days
If it is rainy, then where is the first place everyone flocks to to get out of the rain? The tents! So it becomes impossibly hard to find places to sit, no matter what day of the week or time of day it is!
Family Days
The two Tuesdays of Oktoberfest are specifically designated as "Family Days." Obviously, if you have a family, this is the day to go, as there are specifically kids centered things to do and even discounts on rides for families and children, making it a lot more affordable. Things can get pretty crowded outside on these days since most families hang out at the stalls and rides rather than in the tents.
Watch the Real Time Attendance To Know When To Go
While going in the mornings on the weekdays (especially in the first 1.5 weeks of the fest) is usually a great game plan, there is also an official Oktoberfest App that tracks real time attendance in the tents. This is great so that when you arrive, you don't waste your time going to tents that will be harder to get a spot in.
Weekends and Holidays Will Always Be Busy
No matter what the weather or anything else, you can just go ahead and expect that on the weekends and any public holidays (like October 3rd) things are going to be really packed. Saturday evenings are one to avoid if you can.
Oktoberfest Security
As times have changed, so has the security at Oktoberfest. In order to enter the fairgrounds, expect there to be a long line for a security check. Most of the time, it is just security guards doing bag checks here. No bags over 3 liters are permitted (that's basically a backpack!). Fanny packs, small purses, and pockets are your new best friend!
You'll also find Polizei (police) walking around as well everywhere. Most of the time, they deal with the drunk people, but are also there to make sure everything is as it should be safety-wise.
Finally, depending on the time of day (typically not until the afternoon or all day on weekends) you will find security guards at the tents themselves. They may ask to do another bag check at this time.
Oktobefest Covid Protocols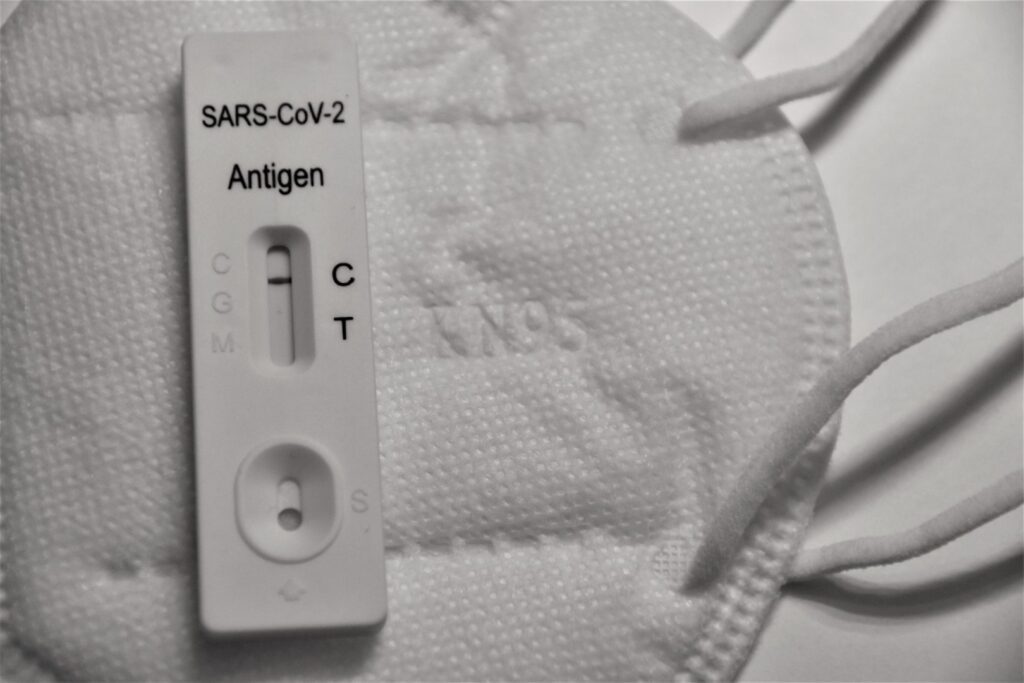 Surprisingly, there were really no major covid rules for Oktoberfest in 2022 and they've eased up state and countrywide even more since then (the only place masks are required now are in places like Doctor's offices). They have even gotten rid of the mask madates for the trains and public transportation as well in Bavaria, so it is pretty much business as usual.
Oktoberfest Plan For the Day and Schedule
7am: Wake up early to get a head start on the day (or 8am if going during the week- then the rest of the timeline below can be 1 hour later)
7:30: Eat a really good, big breakfast, preferably something with plenty of protein. Drink at least several glasses of water
8:15: Get your Covid test if you don't have one yet. (Tip: It is better to get this the night before if possible). There is a test site right outside the fest, but this will, no doubt, have long waiting lines.
Start walking or heading towards whatever public transportation you need. Use the MVV App to buy tickets right on your phone and know exactly what times and what locations to be at to get on the Ubahn. Sbahn, or Trams.
9:00am: Be at the gates and ready to head into Oktoberfest. Use the official Oktoberfest App (linked above) to see the status of the tents and decide if you have time to:
Walk around a bit and/or do some rides or
Decide which tent you have the best shot of getting into and head directly there
10:30am: If you haven't gone to a tent yet, use the App to decide which tent has the least amount of people and try to secure some seats by this point.
REMEMBER TO HYDRATE!
11am-3pm: As tempting as it is going to be to Tent Hop, if you find open seats, take them and keep them!!! Spend the rest of the afternoon hanging out in the tent. Order a Hendl or a Brez'n while in here for lunch, and, you guessed it…..drink lots of water with those beers!
4pm-6pm: Depending on your state by this point, go walk around for a bit. This is a great time to get some fresh air, look at all the stalls, and if your stomach is a tank of steel (or you haven't been drinking) then do some of the rides. If you are still in party mode, there are plenty of beer gardens to grab another drink at.
Buy some water!
6pm: Find a delicious food stall. There are so many great food options at Oktoberfest so go get something that will sop up that booze
6:30: Head back to the hotel.
I know, I know, you may be thinking, "6:30pm and head back!? You've got to be kidding me! "
But remember, you've been going at it since 9 or 10 am!!!! I promise, by this point in the evening, you'll be ready for a bed!
If you are going back for day 2, go for the evening rounds this time. This will give you most of the morning to recover from yesterday and will give you a slightly different feel from the day before with the evening crowds. Plan on being at the fest grounds by around 3 or 4pm so that you can try to find tent spots for the evening session. Be there earlier if you want to do some rides and walk around first.
Oktoberfest FAQS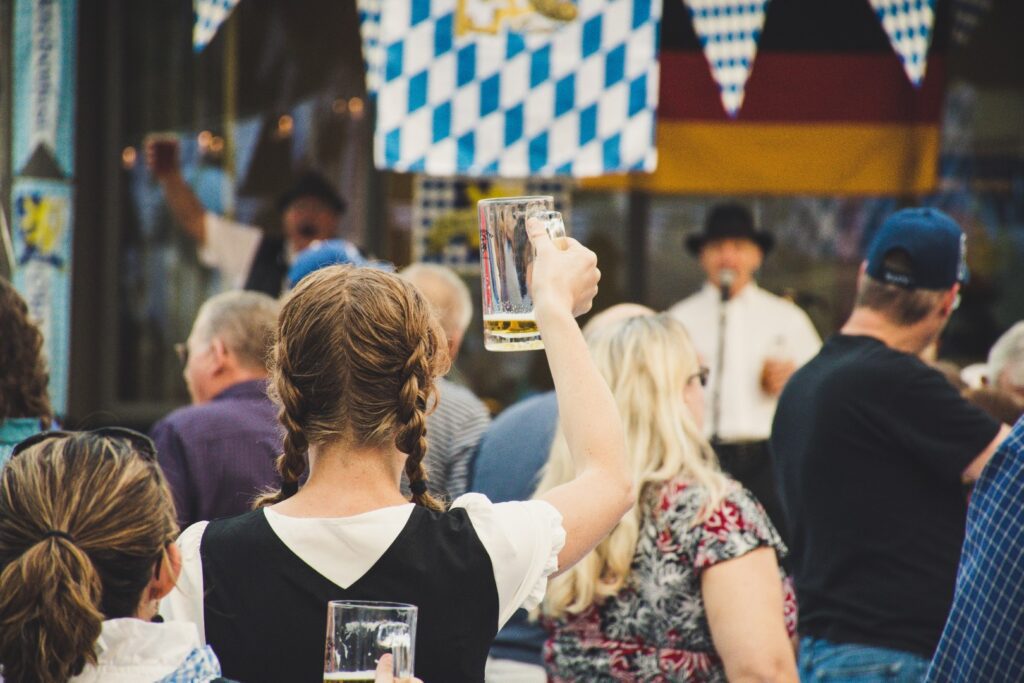 What Are the Dates for Oktoberfest in Germany 2023?
Saturday, September 16th, 2023-Tuesday, October 3rd, 2023
Is Oktoberfest Free to Enter?
Yes. There is a security check to enter the fairgrounds but the fest itself is free. Entrance into the tents is also free, but if you want to reserve a table, that does cost money upfront but it typically goes towards your food and drinks once there.
Where is Oktoberfest Held in Munich?
Oktoberfest Munich is held at the Theresienwiese Fest Grounds
How Much Time Do You Need at Oktoberfest?
One day is plenty for a great time at Oktoberfest. As a tourist, you may be tempted to spend multiple days, but honestly, even 2 is more than enough. Spend the rest of your time sightseeing Munich with my 1, 2, or 3 Day Munich Itineraries or do some day trips from Munich!
What If I Don't Like Beer or Don't Drink?
No worries! There is a Weinstube (wine bar) and of course, there are plenty of non alcoholic options as well! In fact, one year I even went to Oktoberfest pregnant and I still managed to have a really great time, so no, you don't need to drink in order to enjoy yourself!
If you still want that fun feeling of swinging your Maß around and Prosting everyone, try out a Spezi (half cola, half orange soda). You can have it in a Maß and it's more unique than just water. If you just don't like beer, try a Radler. It is half beer, half Sprite, but doesn't have a strong beer flavor and is really refreshing!
And since the majority of the fest is just a big, giant, carnival, if you don't like drinking, it's still really fun to walk around, do some rides, try out different foods at the stalls and stands, and simply people watch!
Are Credit Cards Accepted at Oktoberfest?
In general, almost all tents, rides, and vendors will only accept cash. There are ATMs at most of the entrances of the fest though if you need money (and don't forget the coins for the public bathrooms!)
What Bags Can I Bring to Oktoberfest?
They are VERY strict about bags being allowed into Oktoberfest. Basically only very small backpacks and fanny pack style pouches are allowed. If it has a capacity of more than 3 liters, it will not be permitted in.
There is security before entering the fest and they will make sure that nobody is bringing in anything that they aren't supposed to be, including large bags and dangerous/ suspicious items.
Are There Luggage Lockers at Oktoberfest?
If you do have bigger bags or backpacks, or are just passing through Munich and need a place to put your luggage, they do have options to keep your bags and luggage for a small fee.
Why Is Oktoberfest often referred to as the Wiesn?
A "Wiesen" in german is literally a meadow. At the very original Oktoberfest, the "Theresienwiese" wasn't in what was considered the city, in fact, that location was considered a meadow, hence the reason why people say they are going to the "Wiesen." And since Müncheners may speak Bayerisch (a dialect of German) many times Bayerisch words are shortened (ie: Brez'n instead of Brezen). So, eventually "Wiesen" just got shortened to "Weisn"
Finally, it is located at the "Theresienwiese," which is literally the "Theresa Meadow." The original Oktoberfest was for the wedding celebration of King Ludwig to Theresa, so naturally, they named the meadow after the bride!
Do I Need to Know German at Oktoberfest?
No. It is a huge, international event, so everyone working there will speak basic English. However, as noted above, it's still courteous to know some basic phrases.
What are Oktoberfest Waitresses Called?
No, they are not "Beer Wenches!" The women are called "Kellnerin" and the men are "Kellner"
What should I bring to Oktoberfest?
Money (Cash and Coins!)
Cell Phone
ID
Jacket
Small bag to keep your belongings in
Comfortable shoes
Can Kids Go to Oktoberfest?
Yes! Kids are more than welcome to come to Oktoberfest! You can read my entire article of Oktoberfest with Kids, which tells you everything you need to know about having a great time with your family at the Wiesn! Just know that by 8pm, kids are no longer allowed in any tents and if you are with a 6-15 year old, a parent must be present with them at all times.
Are Strollers Ok at Oktoberfest?
Yes and no. Small strollers are acceptable most days. However, every Saturday and on Oct 3rd, no strollers are allowed at all. Also, strollers are only allowed until 6pm every day of the fest.
But I really don't recommend bringing one. It is such a pain to try to maneuver them around. If you are traveling to Germany with a baby, then I can't suggest baby wearing enough. If the security guards deem your pram too big, then you'll have to check it at the gates.
Best Hotels For Oktoberfest
If you'd like a complete rundown of the Best Oktoberfest hotels, including the details of specifics like hotels near Theresienwiese as well as the best parts to stay at in other parts of Munich and even places to stay outside of Munich for the fest, I'm creating an en entire article dedicated to all your options. Until then, here are some great choices to start with.
Remember, everything is relative when talking about Oktoberfest! What is normally considered "Budget" costs can be what some people consider luxury! However, that just is what it is during this peak time of traveling to Munich!
Tip: In writing this in February (for the upcoming year) hotels are already sold out for the Oktoberfest dates! Therefore, if you see a hotel that looks like it can fit your needs and budget, do not sit on it! Book it ASAP!
Hotels Near Oktoberfest
Budget $
Hotel Stadt Pasing: This quaint little hotel has really affordable single rooms, but it will take about 30 minutes via public transportation to get to the fest.
See The Hotel Stadt Pasing Location Here
Hostels
Wombat's City Hostel- Hauptbahnhof: While not dirt cheap, it is still on the affordable end of lodging in Munich during Oktoberfest! Plus, it's got a fantastic location nearby the main train station. You can walk to the fest in less than 20 minutes and the hostel has fantastic reviews!
Jugendherberge München City: While it's not exactly the closest to the fest, if you are on a budget, this is a great option for affordable lodging. You can be to the fest within about 25-30 minutes via public transportation.
See Availability for Jugendherberge Here
For a full list of all Hostels in Munich click here
Mid Range $$
Ibis München City Arnulfpark: Even though this hotel is about 30 minute (walking or by public transportation), with such great reviews and a wonderful breakfast, it's hard to overlook this hotel in Munich.
Check Ibis Arnulfpark Availaibity Here
Buddy Hotel: The hotel is ultra modern and sleek. It also has a great location for Oktoberfest as well as general Munich sight seeing. You can walk to the fest in 20 minutes.
Luxury $$$
Bold Hotel München Zentrum– You can be to Oktoberfest in just 10 minutes from the Bold Hotel. The upscale hotel has a great hotel bar on site, is right next to an Ubahn station for getting around town, and is always clean! The staff is extremely helpful and ready to assist you with your needs.
Check Out Bold Hotel Availability Here
Rocco Forte The Charles Hotel– If you are out for pure luxury stays in Munich, you can't beat Rocco Forte. No small detail is overlooked. The staff goes out of their way to ensure you are having a great stay not only in the hotel but in the city. There's a beautiful pool and the rooms are pretty spacious. You can be to the Oktoberfest grounds in about 15 minutes via public transport.
Read The Reviews For Rocco Forte The Charles Hotel Here
There you have it, everything you need to know when planning a trip to Oktoberfest! Are there any further questions you have?
If so, don't hesitate to ask away in our Travel in Bavaria Facebook group.