[This post may contain affiliate links where we earn a small commission. Please see our disclosure for more information and thank you for supporting our site so we can continue to bring you awesome content for your travel inspiration!]
There is just something magical about fest food in Germany.
I mean, you can get almost all the exact same food at restaurants while traveling in Germany, but under the carnival lights and with a few liters of beer in you (aaah, THAT must be the secret!) suddenly, the food at fests are the most delicious things you've ever eaten! While the Munich Oktoberfest food isn't really any different from other fests in Germany it doesn't mean that you shouldn't try to knock off every single one on this list at least once.
Other Articles That You'll Want To Check Out:
So, if you are planning a trip to Oktoberfest, you should also know what food at Oktoberfest you need to keep an eye out for and nosh on all day long! From Traditional Oktoberfest Food to desserts, here are all my favorite Oktoberfest foods and where to find them at the Wiesn.
Planning Your Trip To Oktoberfest? Have you Joined My Travel in Bavaria Facebook Group Yet?
Getting Oktoberfest food at the Stalls vs. Tents
First, you need to be aware of where you can buy food (everywhere).
Inside the Tents
Since you've already read my full Oktoberfest guide, you know that if you've found yourself a seat inside a tent, that you don't let that precious piece of real estate go! So, if you find yourself hungry it's best to just order from the menu inside the tent. I'll go into exactly what foods you can get in detail below, including info on if you need a food voucher or not. Inside the tent, there is everything from snacks to full-on plates of classic Bavarian dishes. There are more options for "sit down restaurant" style meals inside the tents as well.
At the Stalls Outside
The stands outside the tents offer close to limitless options for food as well! Most of these are "grab and go" kinds of foods that you can nibble on as you wander around.
So let's start with these foods first….
Wursts
There are countless sausages to choose from at Oktoberfest. Here are just a few that I personally like to keep an eye out for at fests:
Knacker Wurst: These are some of my favorite ones, especially if they put sweet mustard, horseradish, and fried onions on top (Which is commonly called a Knacker Semmel)!
Halb Meter Wurst: Yup, that's right- half a meter worth of sausage! These go on a long bun and are as fun to eat as they are delicious.
Nürnbergers: Classic "on the go" type of wursts. You'll find these usually on a bun at the outside stalls, typically 3 on one roll. Slather on some sweet mustard for a tasty meal! (If you order these inside the tent, they usually are not in a bun, but on a platter)
Feuer Wursts: Germans don't do "spicy" all that well, but these "Fire Sausages" do have a little kick to them! YUM!
Currywurst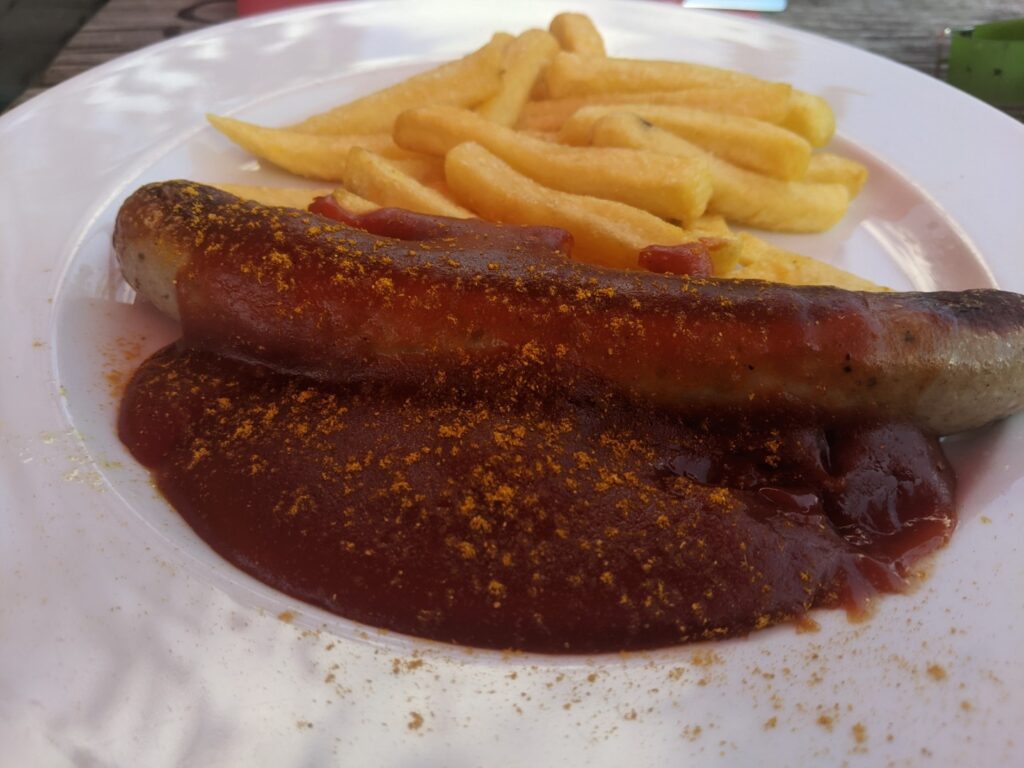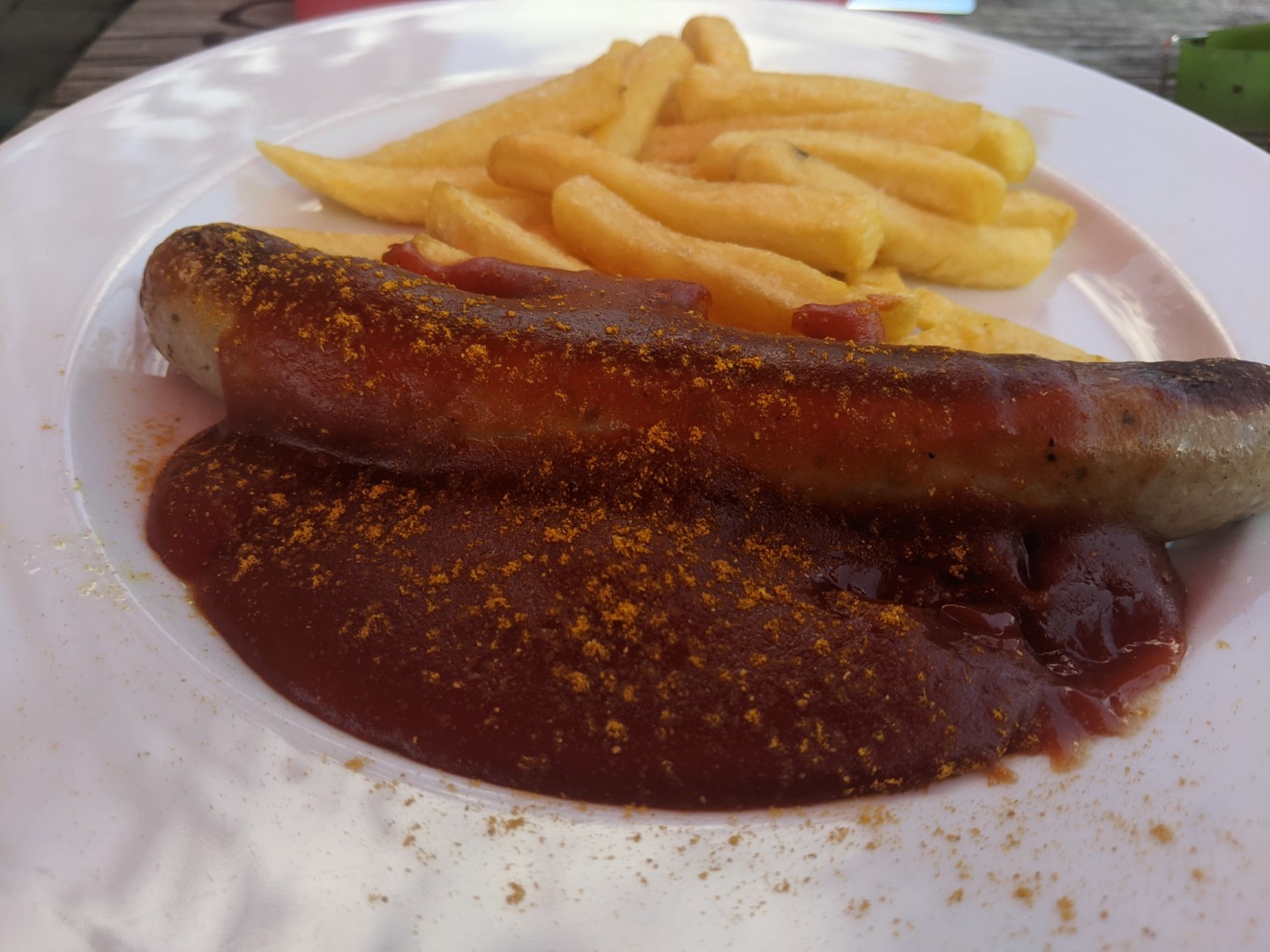 I know, I know, it's a wurst, so why is it not in the list above? Because it's that dang special that it deserves its own section!
Everyone loves a currywurst!!! A sausage slathered in a perfectly seasoned curry ketchup concoction, typically served with plenty of fries so that every drop of the curry sauce doesn't go to waste!
Outside the tents, you'll find currywurst stands that will have the sausage all chopped up for you on a paper plate. Inside the tents, it will be a full, proper meal with a huge helping of fries and a side salad.
Flammkuchen and Rahmfleckerl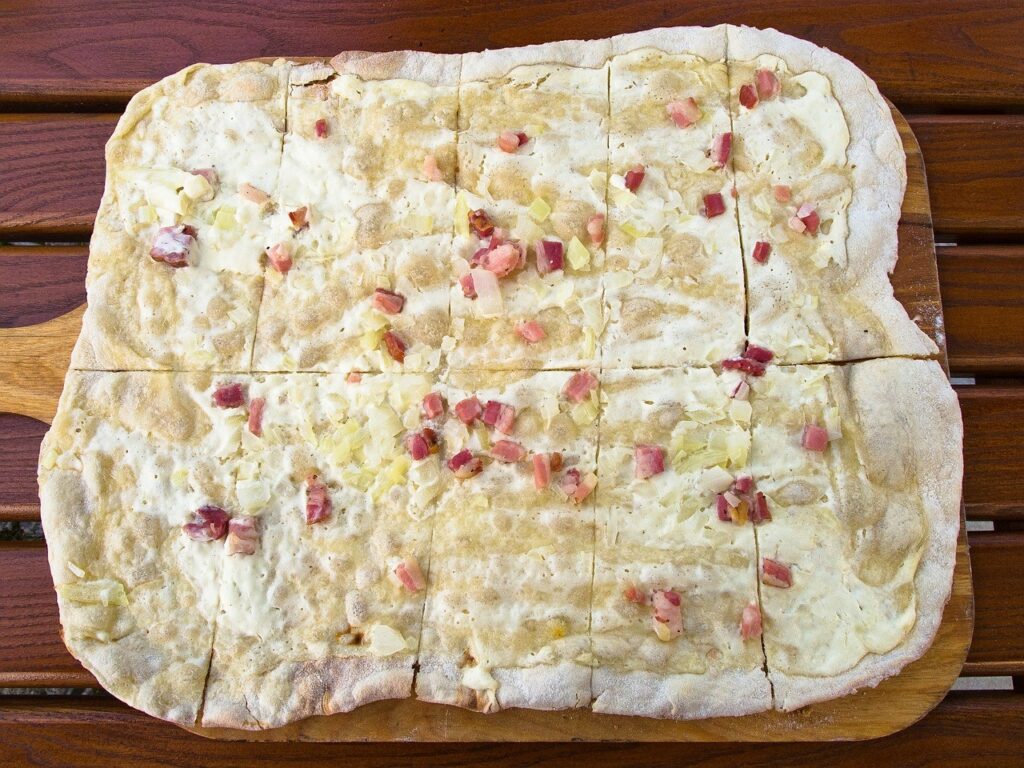 Flammkuchen is a classic fest food. It is an extremely thin crusted "pizza" if you will. But, instead of a tomato sauce, it is a cream cheese style (crème fraîche) "sauce" topped with delicious little pieces of bacon and a mild cheese and onions.
The Bavarian take on a Flammkuchen is the Rahmfleckerl, which is more or less the same except they use "Schmand" instead of crème fraîche (which to an outsider's palette really isn't THAT much different) and it's made with a rye sourdough for the crust. Instead of caramelized or plain onions, it's usually green onions to top it off.
Kartoffellanzen (Spiralkartoffeln)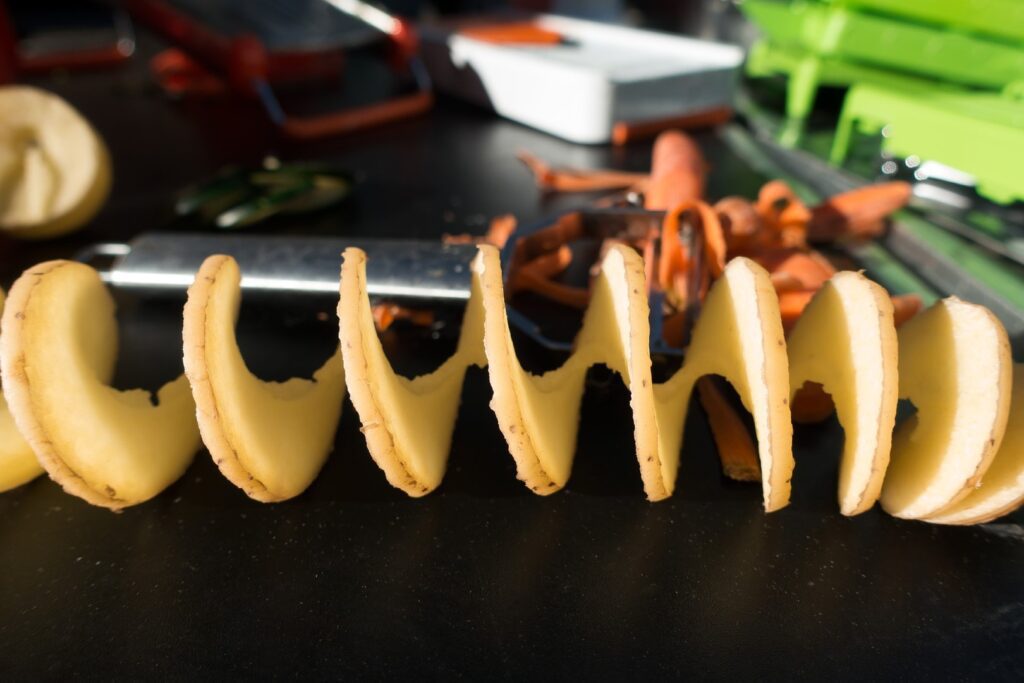 These potato spirals are a fantastic "eat on the go" snack. The potatoes are cut into a spiral shape and then deep fried to a golden perfection and then handed over to you on a wooden skewer. They are somewhere between a fresh made chip and french fries!
Frikadellen
These "meat patties" are a great food to get something more filling in your stomach after drinking all day. They may look similar to a hamburger but almost taste more like a meatball. I don't know….just try it to see for yourself. (Order it with caramelized onions and on a bun….sooo good!)
Steak Semmels
After I've been drinking, I need substantial food. A steak sandwich is just what I need! These are actually typically pork steaks grilled up and put onto a bun and are perfect for walking and eating at the same time. I personally like mine with onions, but they are fantastic with or without!
Doners and Doner Boxes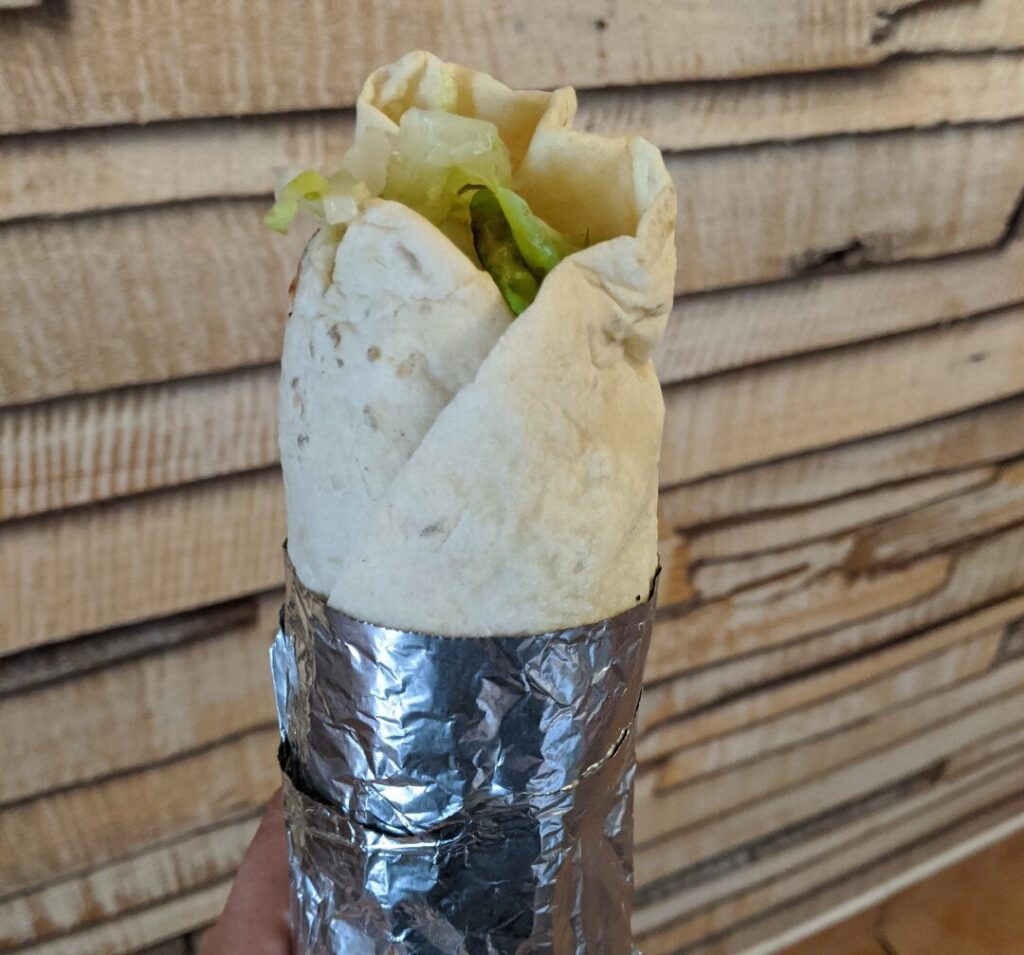 Nothing screams "Drunk Food" in Germany more than a good ol' Doner!!!! After all, a mixture of mystery meats, bread, and a good amount of toppings will sop up that booze in no time. And who orders a Doner without Pommes (fries)!? Your tummy will be nice and full!
A Doner Box is a fantastic way to walk around while eating, too. It's a nice little take away box that has a pile of fries on the bottom, plenty of meat, and all the toppings all combined and ready to devour with a cute little wooden skewer.
Champignons
Whether you are looking for vegetarian Oktoberfest food ideas or just want something reaaaally tasty, the mushrooms are not to be missed! After all, something cooked in that much butter can never NOT be delicious! While there is a wide variety of sauces you can choose to douse your Champignons in, I'm personally partial to the garlic cream sauce!
Reibekuchen (Kartofelpuffer)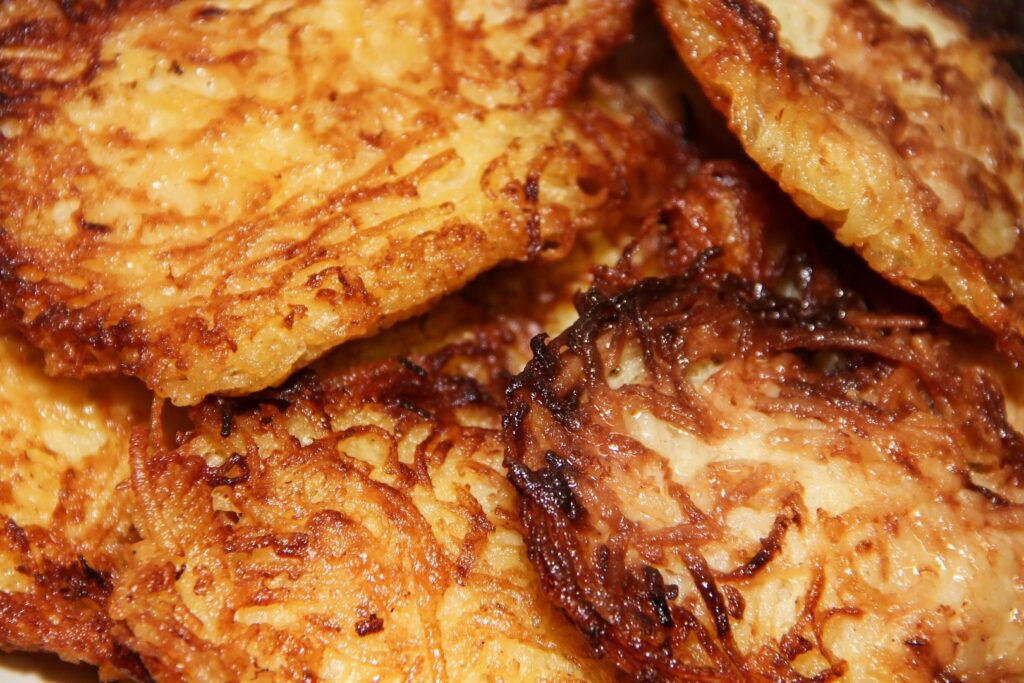 Fried potato pancakes are a must try food at Oktoberfest!!! While they may be simple dishes, they sure are delicious! If you are familiar with Latkes, that is the best comparison of a Reibekuchen.
If you want something sweet, order it with Apfelmuss (apple sauce) and if you want something savory, get it with the sour cream dip! Either way, you can't do it wrong!
Stecklerfisch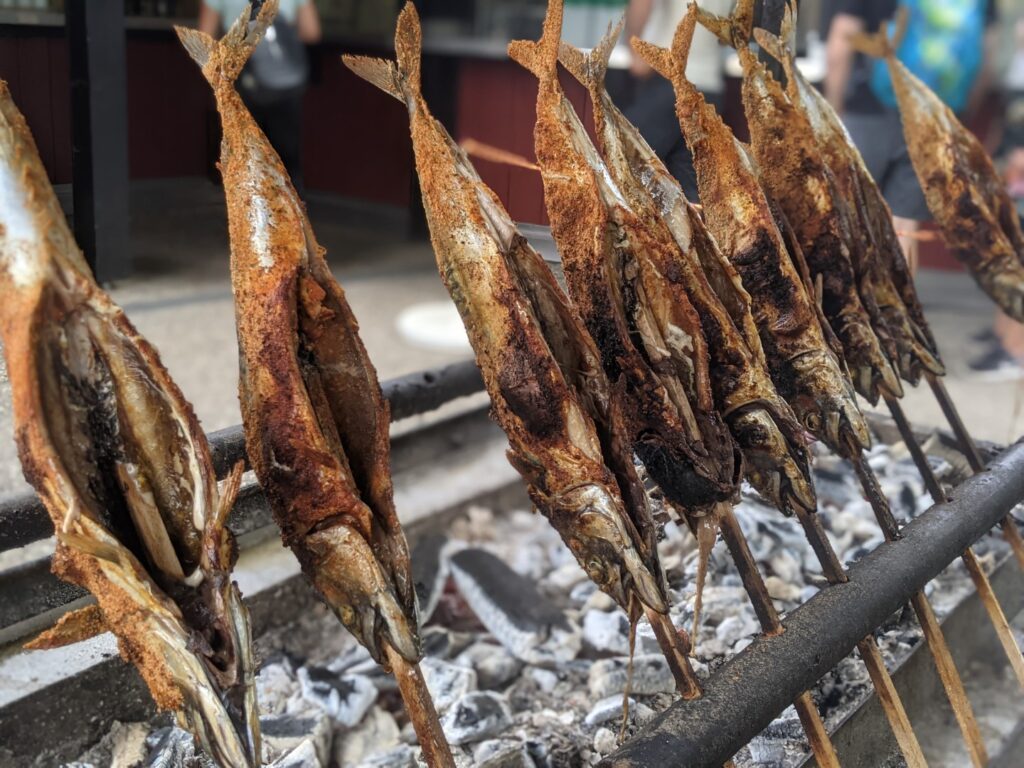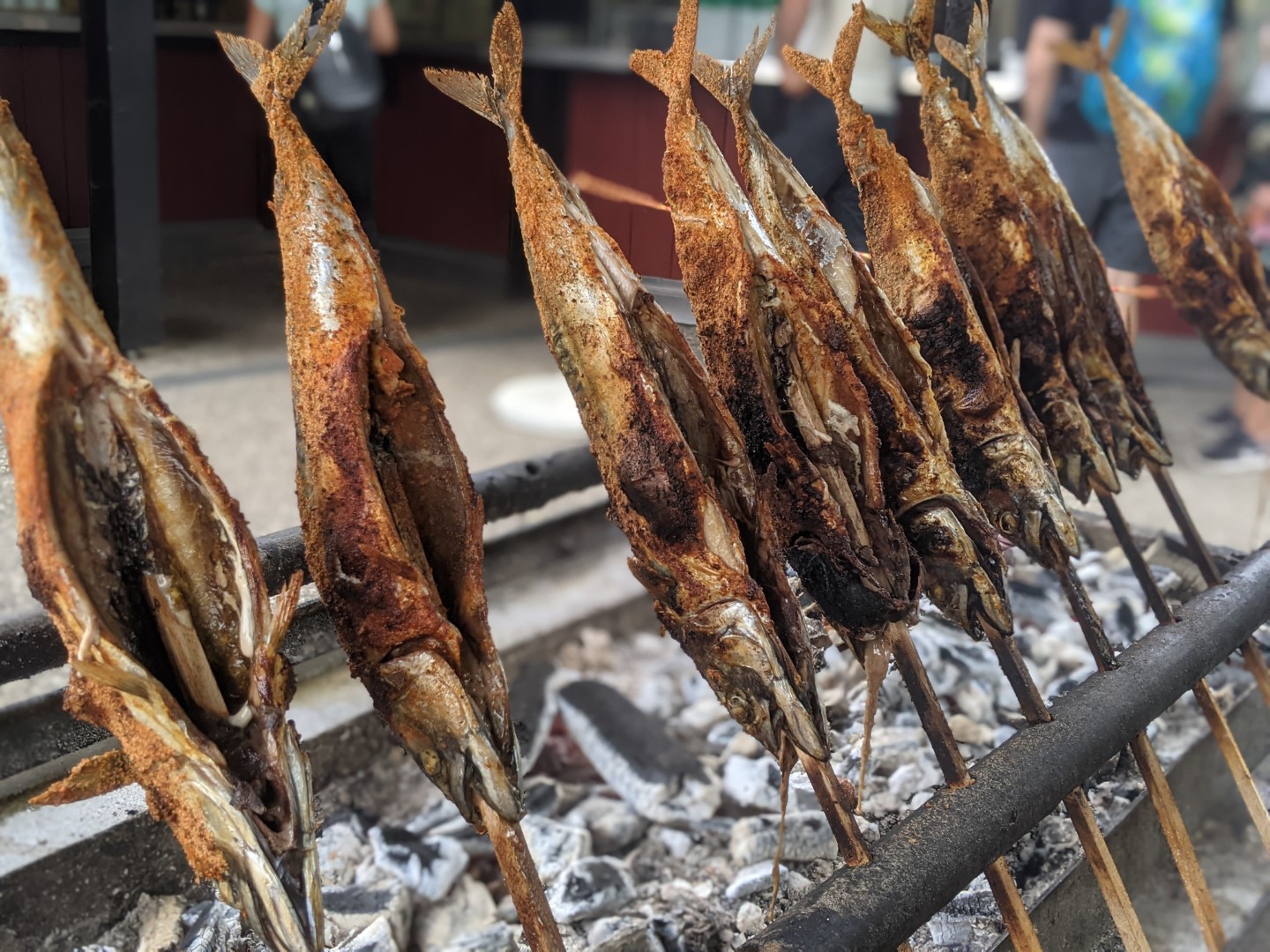 You'll find the fire roasted "Fish on a stick" both inside the tents and outside, but they are much easier to eat sitting down rather than taking on the go. The most commonly used fish is mackerel but other whitefish, trout, and char are also used.
Stecklerfish is such a beloved food for Oktoberfest that there is an entire tent dedicated to the grilling of them! Head to the Fischer-Vroni tent, where there is an open grill that is almost 50 feet (15 meters) long!!!
Brez'n mit Käse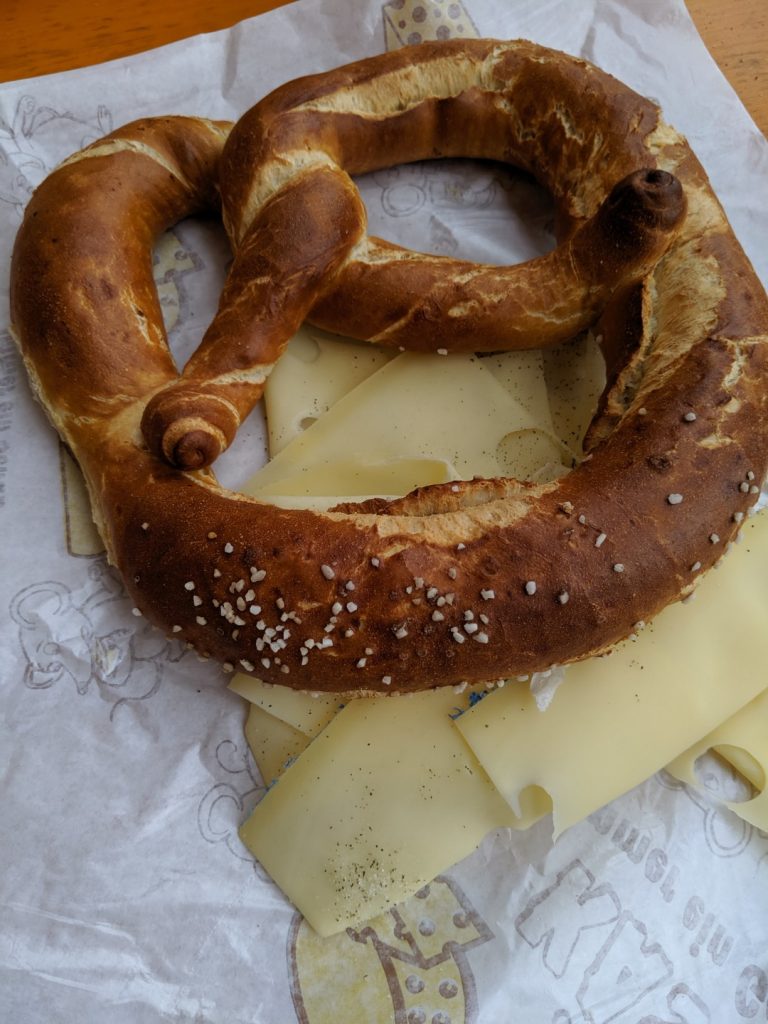 Most tourists make the mistake of just getting the huge, delicious Bavarian Pretzels and calling it good. And while there is absolutely nothing wrong with that, you are really missing out on a German fest favorite if you skip the cheese! And no, I don't mean that fake, yellow, liquid cheese dip you'd find in the US with pretzels!
When you order your pretzel, most stands will have a giant cheese wheel as well. Order about 500 grams of the Emmental (like a mild Swiss cheese) to go with it (and don't forget to ask for a bit of Salz und Pfeffer on it as well). Just try it and then come back to thank me later!
Crepes
There just might be as many Crepe varieties as there are wursts! What I love about Crepes at a fest is that if you need something filling, you can get savory Crepes with things like cheese and ham inside. But, if you've got a hankering for something sweet, the options are endless! Here are just a few of the most popular kinds of sweet Crepes at a fest:
Anything with Nutella (Banana and Nutella, Strawberries and Nutella. My personal favorite is Nutella with a shot of Amaretto, because, you know….you haven't had enough alcohol today, right!?)
Jam filled (often with a fruit like strawberry)
Sugar and cinnamon
Langos
Anything deep fried after a day of drinking is going to taste insanely delicious, but Langos are fantastic no matter how many fest biers you've downed!
This Hungarian dish is a deep fried piece of dough that is then slathered with a garlic sauce, some shredded cheese, a piece of ham and if you are feeling up to it, get the red spicy sauce.
Gebrannte Mandeln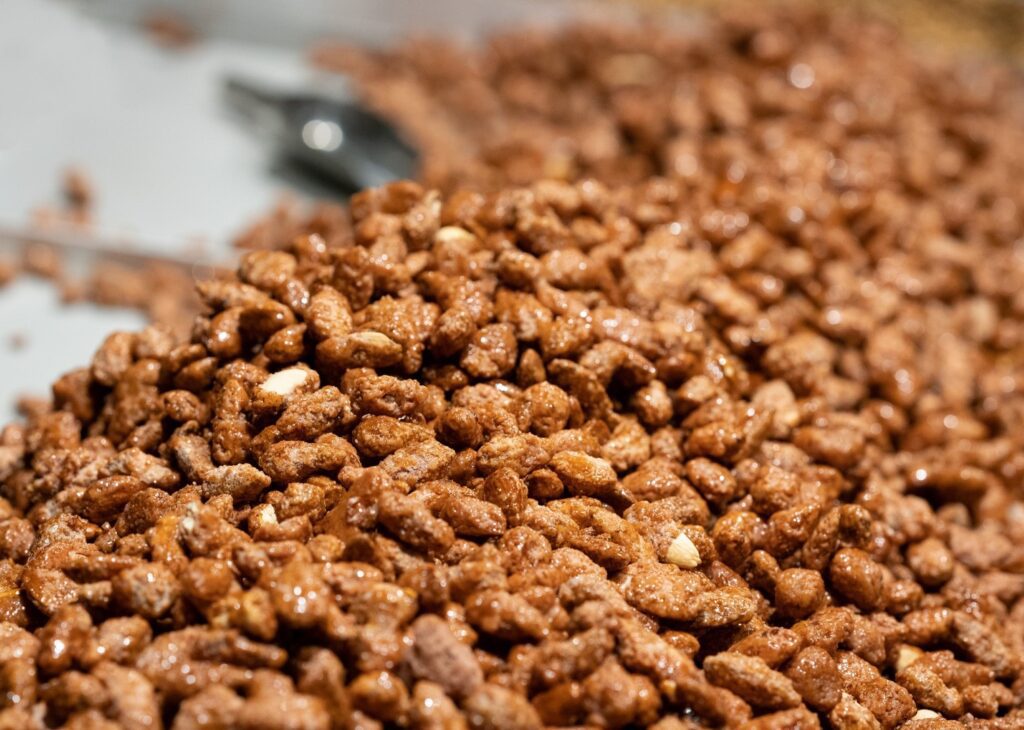 It's so easy to find the roasted nut stands because you can smell them a mile away! While there is a plethora of nuts to choose from (cashews, peanuts, etc) the classic candied almonds are probably everyone's favorites I personally like to grab some of these on my way out of fests and snack on them on the walk back to the hotel.
Foods To Get At the OUTSIDE of the Tents
Almost all of the tents will have basically a little "To Go" area where you can see all of the food lined up and you can order various dishes that will be served on little paper plates that you can take away.
Käsespätzle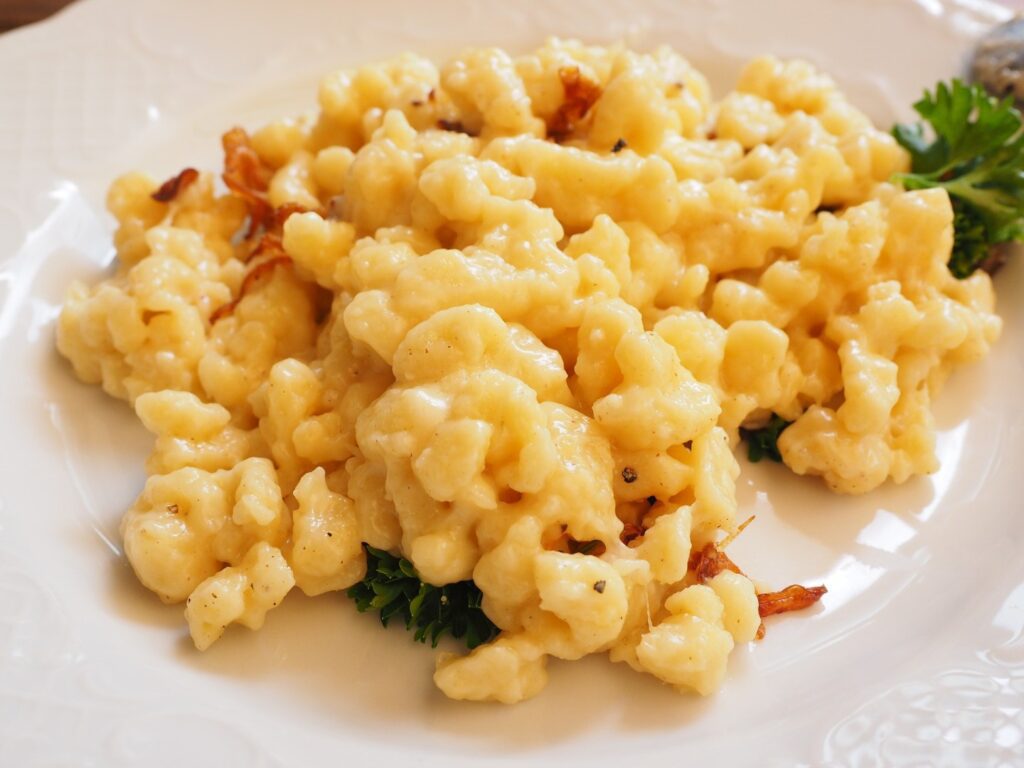 If there was ever a German comfort food, this would be it! I like to describe this as a "Gourmet Mac and Cheese." The German egg noodles are the base of the dish, covered in a mild, creamy, cheese sauce and topped with caramelized onions. You just can't go wrong with ordering a Käsespätzle!
Schupfnudeln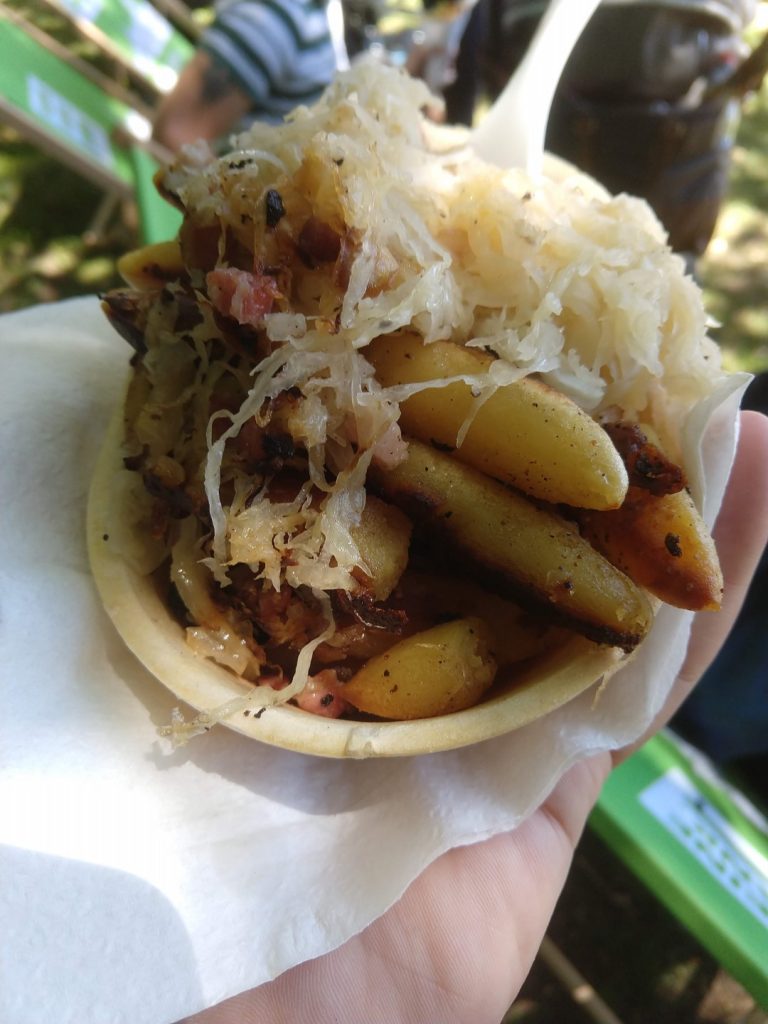 These finger noodles look and taste somewhat similar to gnocchi (potato based). The traditional Bavarian way to eat these dumplings is with a healthy portion of sauerkraut and sprinkled with a good amount of speck (bacon).
Oktoberfest Meals Inside The Tents
Pretty much all the foods that you could order "To Go" you can get inside the tent as well, which typically will be a larger portion and usually with a side, like a salad. However, there are also plenty of other foods to eat at Oktoberfest tents.
Each tent will have its own Oktoberfest menu, each having something slightly different from the other tents. However, almost all of them will have the following.
Food Vouchers In the Oktoberfest Tents
Something that confuses a lot of tourists is if they NEED a food voucher to eat inside the tents. The answer is no.
If you have a tent reservation, these will almost always come with 2 beers and a Hendl. This is not a coupon or a discount. The reality is that you've basically already paid for these when you made your reservation and are now cashing in on them. This is a way for the tent to ensure that they don't lose money in case there are no shows.
If you do not have a voucher (or tent reservation) but you did get a table or seat, a voucher is not necessary. Simply order your food and drinks from your table server.
Weißwurst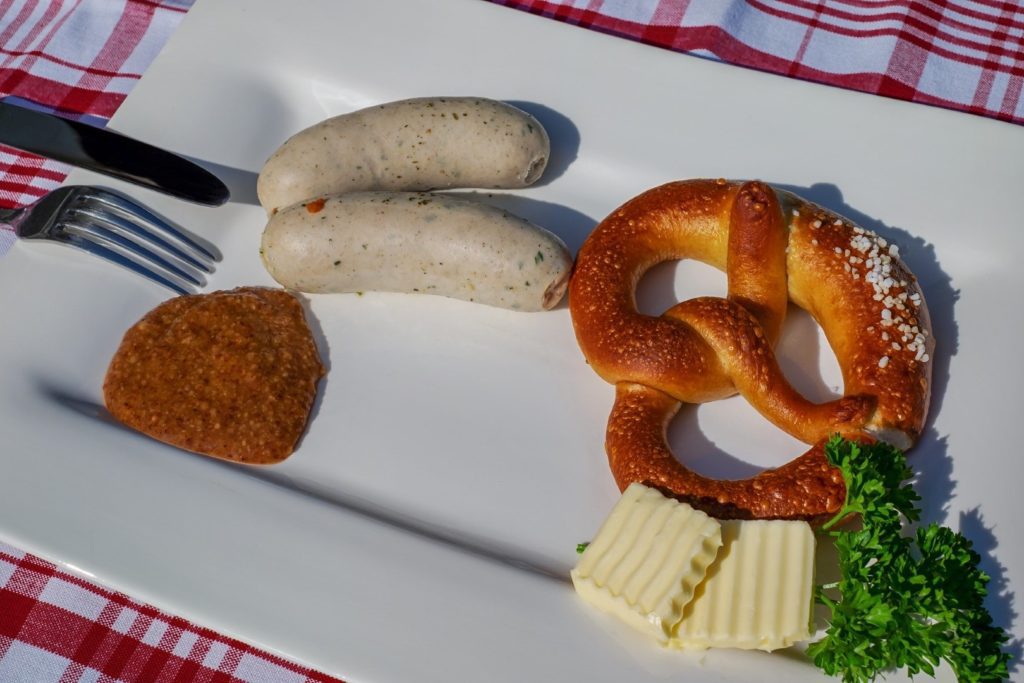 You'll most likely only see these "White Sausages" at places you can sit down and eat. These do take a bit of getting used to, but there is not a more traditional Bayerish Breakfast to be eaten! The meat is a bit mushier than one might expect with a wurst and much more mild in flavor. However, once you get on board, you'll love these breakfast sausages!! To be truly Bavarian, eat them with some sweet mustard, a pretzel, and a wheat beer.
Note: Weißwurst is only to be eaten before noon. Even if you see it offered at a later time, nothing will make you look more like a tourist than eating Weißwurst later in the day.
Hendl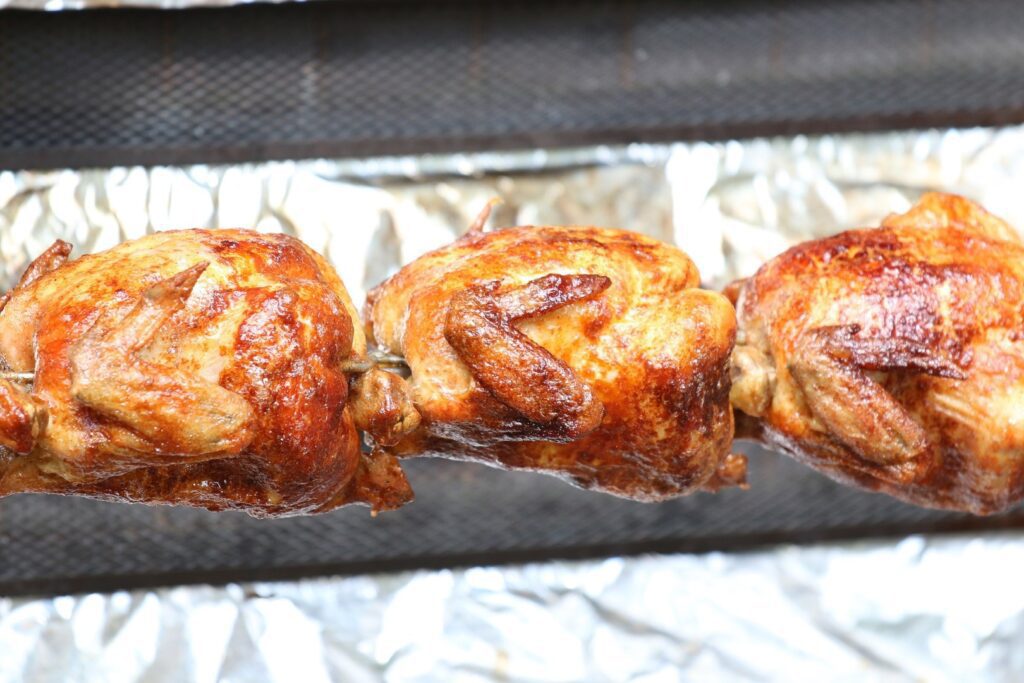 Nothing screams German Oktoberfest Food more than "Hendl!"
A roasted chicken may not sound like much, but the moment you have a Bayerisch Halb Hendl, your life just might be changed. They slow roast these chickens so perfectly that the skin on the outside isn't crunchy (like fried chicken) but just tough enough to give you a slight crisp. Then, you bite into the juiciest piece of flavorful chicken you've ever had and you'll never want KFC in your life again!
Obatzda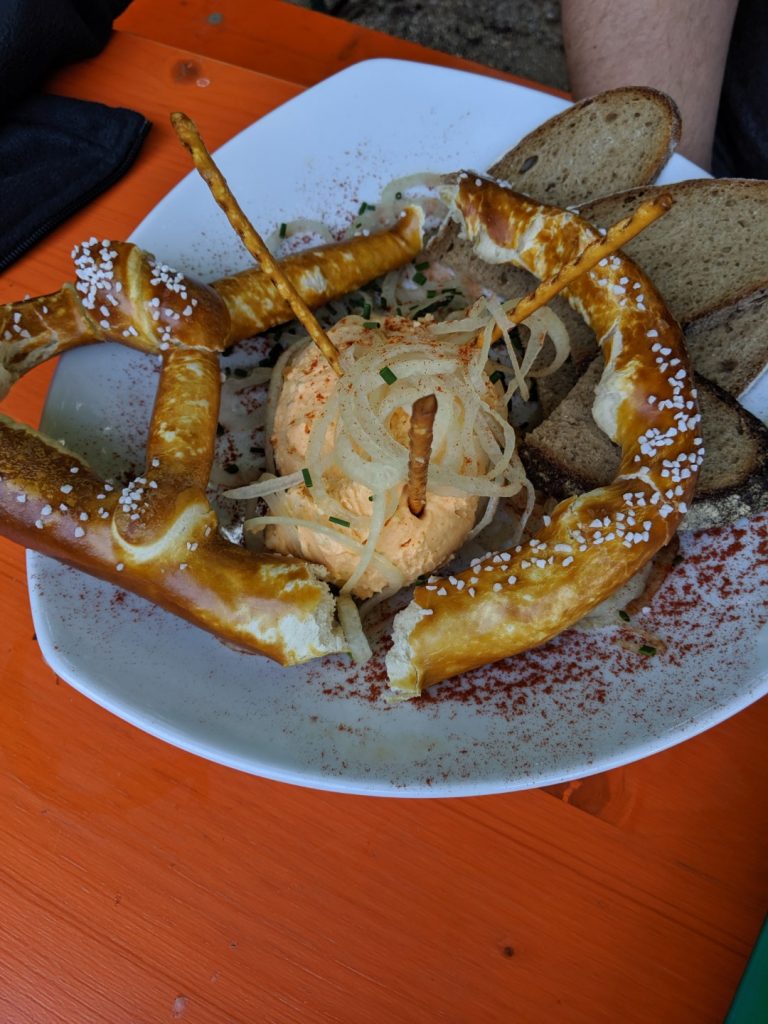 This so very Bavarian dish is a beer garden must have. It is a mixture of soft cheeses (typically Camembert) mixed with butter and even a bit of beer (of course). It's then seasoned with a mixture of salt, pepper, garlic, and paprika. Its creamy deliciousness is paired perfectly with Brez'n but any bread will also do in a pinch
Haxen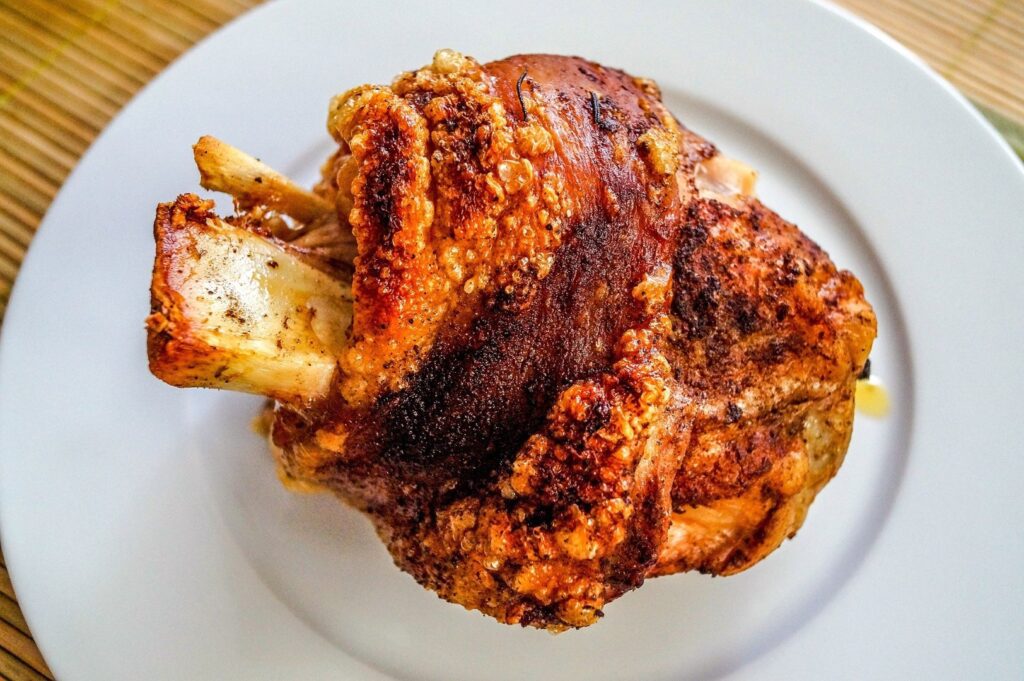 While the sound of "pig knuckles" may not sound appetizing in the slightest, you can't come to Bavaria and not have a Haxe!!! I promise this dish is so delicious that you will forever be dreaming about the day you chowed down on a Schweinehaxe!
So, what is so great about this dish? Well, how does one describe pork heaven? The ham hock is slow roasted for hours upon hours so that the outside becomes so crispy that it almost crackles in your mouth. Underneath that layer of goodness is the most tender pork meat you will ever encounter.
Of course, you'll get a big ball of (potato) Knödel, which is a German potato dumpling and often blaukraut on the side of it all. Everything is topped off with a wonderful gravy.
Schweinebraten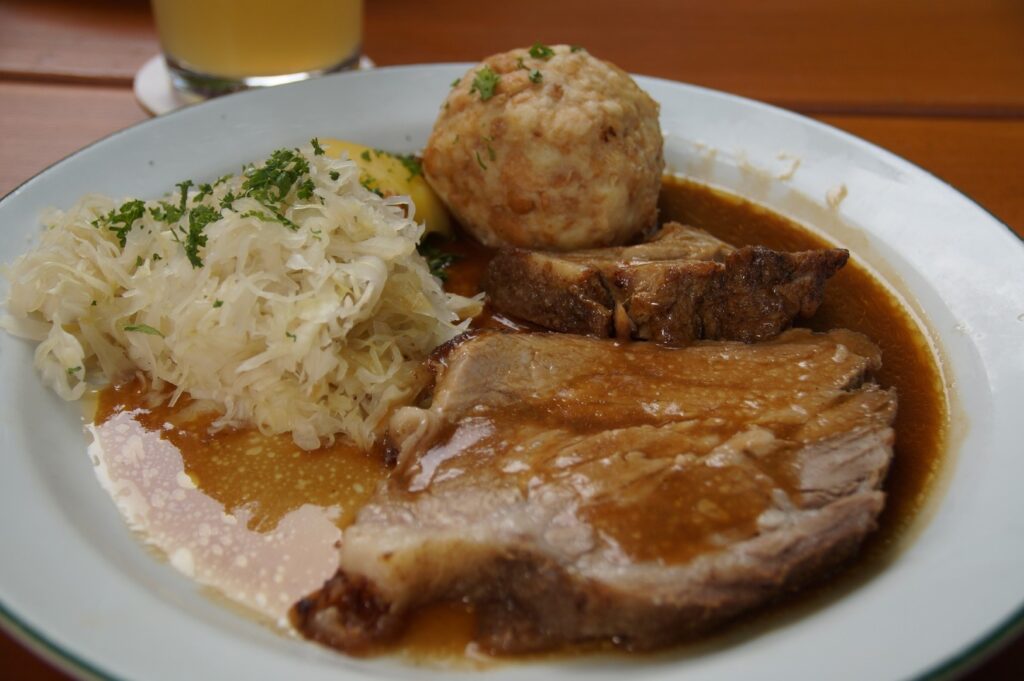 Like the sound of a juicy pork meat slathered in gravy, but a pork knuckle sounds a bit too….exotic? Try the Schweinebraten, which is the national dish of Germany. It takes all the caveman-esque parts of the ham hock out and leaves you with slices of juicy pork that is easy to cut into and devour.
Radish Platters
So, if I'm being 100% honest here, I don't really get the radish platter craze, but the Germans go nuts for them, and hey, when in Rome Oktoberfest! I guess there is something about the saltiness of it paired with the carbonation of the beer that goes exceptionally well? And while they are a bit spicy, it's an odd cooling kind of spice, which is apparently great for those hotter Oktoberfest days.
These plates will have beer radish (which is a special kind of white radish) as well as red radishes. There is often some bread or pretzels served with them. To truly eat them the "correct" way, make sure you heavily salt them!
Duck
While roasted duck isn't the most popular dish on an Oktoberfest menu, it is still absolutely something to consider if you want to try something other than pork or cheese!
Just like the pork dishes, the roasted ducks will be perfectly tender and typically served with a side of blaukraut and a Knödel.
Brez'n
Just like outside, you will find plenty of pretzels to purchase! While you can order these from the menu, there is also often a server walking around with a wooden dowel of pretzels. Just wave him or her down (it's not rude to wave the waiters down) and order as many as you want.
However, if you want the Emmental cheese (and why wouldn't you!?) you'll order that from your table server off the menu.
Desserts
If you somehow magically have room in your belly after all those beers and fantastic foods, then make sure you get some desserts!
Kaiserschmarrm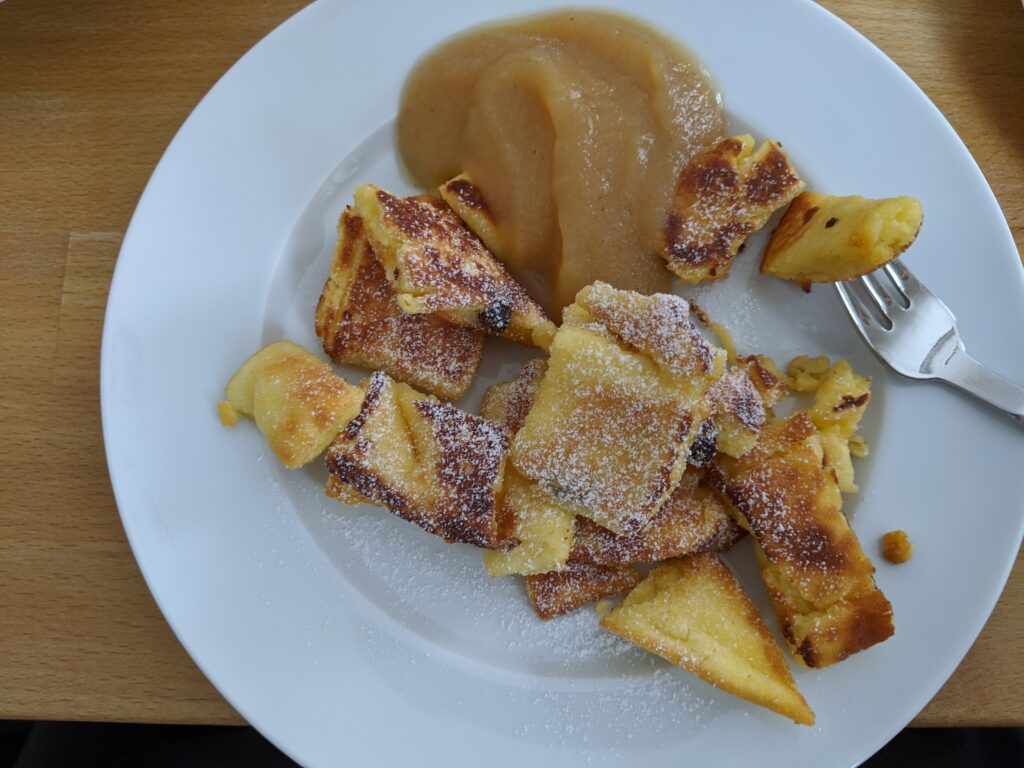 These "shredded pancakes" may be a hit with the kids, but that doesn't stop me from eating a plate as well! They fry up a "pancake" style of cake which is then torn into lots of little pieces. It's then covered generously with powdered sugar. This alone is fantastic, but many people love theirs with apple sauce as well. If they offer Nutella, this is my personal fave!
Tip: There is an entire tent dedicated to Kaiserschmarrn, the "Café Kaiserschmarrn" just look for the giant Gingerbread castle-looking building!
Apple Strudel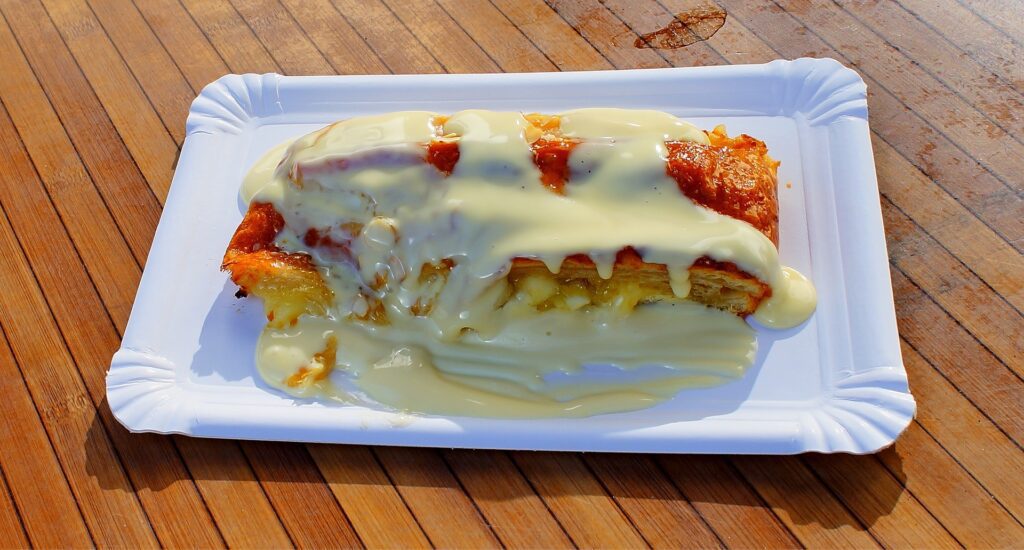 Apple strudel just may be the epitome of traditional German desserts. Oktoberfest may not have the most homemade tasting strudels in the world, but they aren't half bad, either!
Dampfnudel
Another classic Oktoberfest Dessert is the Dampfnudel. This is sort of like a sweet(ish) steamed bun that is then covered in a creamy vanilla custard sauce. It is perfect on rainy or cold days since it is warm when served to you.
Oktoberfest Food Menu Tent by Tent
While there are upwards of 38 tents at Oktoberfest, I'll just list the main 6 breweries and their tents below and what you can find to eat at them.
Hacker-Pschorr
This is my favorite tent. I just LOVE the decor and it's actually my favorite Oktoberfest Bier as well.
This tent is known for some of its meats on the menu, such as ox and veal. They also pride themselves on using local produce and foods from local farmers.
Find the Hacker-Pschorr Oktoberfest Menu Here
Augustiner
The Augustiner has what I would consider more "rustic foods" Think really classic, old school Bavarian dishes, like Gulash, suckling pig, and the delicious Rahmschwammerl (a bread dumpling with fantastic mushroom gravy)
Find the Augustiner Oktoberfest Menu (German) Here
Hofbräu
I find that the Hofbräu caters well to international guests. That's why you can even find things like chicken wings on the menu! There's a (VERY EXPENSIVE) schnitzel (seriously, skip this at the Oktoberfest and get it at a restaurant somewhere where it would probably be better anyway) and even steak on the menu! Of course, you can find all the typical items as well like wursts and Käsespätzle
Find the Hofbräu Oktoberfest Menu Here
Löwenbräu
The Löwenbräu Tent is going to have all the expected classic staples, of course! This tent will also have the Weisswursts for breakfast as well.
Find the Löwenbräu Oktoberfest Menu Here
Spaten Ochsenbraterei
The Spaten Tent is literally named the "Ochsenbraterei" or the Ox Roastery! So, no doubt, if you want something hearty, this is where you should head! This is a very popular tent with the locals, so if you are wanting not only a great authentic food experience but a fantastic local feel to a tent, this one is a great choice.
Find the Ochsenbraterei Oktoberfest Menu Here
Paulaner Festzelt
Paulaner is the most consumed brand of Beer at Oktoberfest, but that's not to say that they don't have plenty of the classic German foods for Oktoberfest ready to go either.
Find the Ochsenbraterei Oktoberfest Menu Here