[This post may contain affiliate links where we earn a small commission. Please see our disclosure for more information and thank you for supporting our site so we can continue to bring you awesome content for your travel inspiration!]
Most people heading to Oktoberfest are out for that classic Bavarian Beer hall experience. They can't wait to cozy up with strangers at the same table, chug liters of beer at a time, and stand on the tabletops as they swing and sing to the live band playing everything from classic polka ditties to Country Roads by John Denver (no, seriously, that IS a classic at the beer halls…don't ask me why!)
Which is exactly why people search out the best Oktoberfest tents to spend their days in. These "tents" aren't some small to-do either. These are MASSIVE, building sized semi-permanent structures, some holding upwards of 10,000 people!!!
And while yes, all of the Munich Oktoberfest tents are going to have more or less the same things going on (delicious foods to eat at Oktoberfest, plenty of beer, music…) as someone who has attended Oktoberfest countless times, there are subtle differences which is exactly why you should pick and plan carefully.
That's why, in this "Everything You Need To Know About the Tents at Oktoberfest Guide", I'm going to go over each and every one of the Oktoberfest beer tents, what you can expect in each of them, the food you can get, how to get reservations for each, best times to visit (and ensure a seat), and more!
Other Articles You Might Be Interested In:
Planning Your Trip To Oktoberfest? Have you Joined My Travel in Bavaria Facebook Group Yet?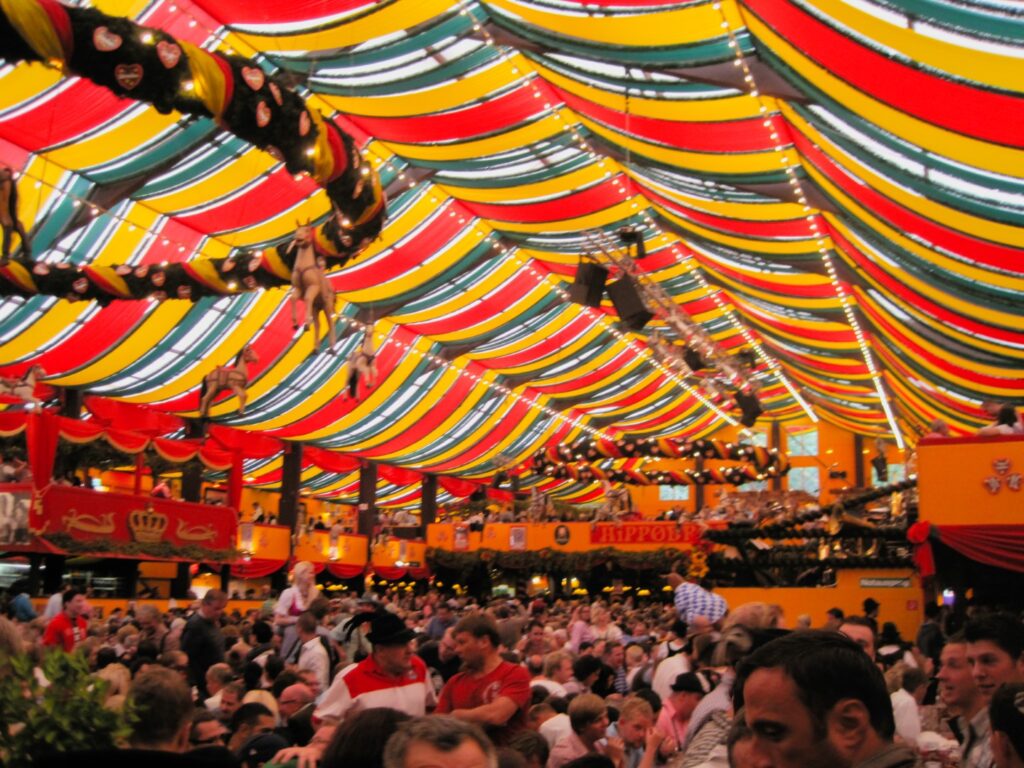 First, How Many Tents at Oktoberfest Are There?
For 2022, there are 38 beer tents at Oktoberfest! That includes the 17 large ones and the 21 "small" tents. Oktoberfest has a tent for everyone!
Oktoberfest Tent Opening Hours
Weekdays: 10am-11:30pm (drinks stop at 10:30pm)
Weekends and Holidays: 9am-11:30pm
The Käfer Wiesn-Schänke opens at 11:30am but stays open until 1am
Kuffler's Weinzelt opens at 11am and stays open until 12:30am
Tent Sessions
Before getting your bearings on the Oktoberfest tents, you need to understand how the sessions work.
Most tents will have a morning session and an evening session (some will have a morning, afternoon, and evening).
Morning Session: This session typically lasts from when the tents open until about 3 or 4 pm (Each tent is different, so you'll need to check them individually for exact times).

Many tents "Close" the tent for a short period of time between the Morning and the Afternoon Session so that they can clear everyone out as well as do a quick clean up before the evening session begins.
Evening Sessions: These usually start around 5 or 6 pm. It is extremely difficult to get free (unreserved) tables during evening sessions. If you know that you are going to be there at these times, it is best for you to look into reservations well in advance (more info on this below)
Table Tip: If you didn't plan accordingly and didn't reserve a table if you play your cards right, you still might be able to squeeze into something.
Find out what time the evening session opens
Arrive before it opens so that you are one of the first in line to get in
As soon as you enter, ask the servers if there are any sections specifically for tables that aren't reservable. Make a bee line for them!
How To Get a Seat in an Oktoberfest Tent (without a reservation)
Know The Best Times To Go to Oktoberfest
There are plenty of theories on the best days, or even weeks to go to Oktoberfest. At the end of the day, just know that there will never be a day that doesn't get really packed and full of people. The best you can do is try to find pockets of time with LESS people.
Oktoberfest lasts 16-8 days. Naturally, the first few days are going to be very busy with all the opening events going on. The last few days can be equally as crowded because people are getting their last minute fun in! So, the middle is when you should go, right? Well, let's dig into that a bit deeper….
The Smaller Your Group, the Better
What is fantastic about Oktoberfest is that everyone gets real cozy with one another, even with strangers! If there are open seats, you just simply ask if you can sit there and if they aren't taken, it's customary for them to happily allow you to join them (even if the people sitting there had the table reserved for themselves).
Obviously, this means that if you only have 2 people, it's going to be so much easier to wiggle your way onto a bench rather than a group of even 5 or so people.
With that being said, one year we went on a Saturday (eeks, what were we thinking!?) and I thought for sure we'd have a nightmare of a time finding a table. Luckily, we arrived before the gates opened and headed straight to the first tent and didn't have an issue getting a spot for all TEN of us!
Avoid Weekends If you Can
Weekends are generally the busiest times at Oktoberfest. One year, we went on a Sunday morning (we arrived at about 10am) and it was already extremely difficult to get a seat for 4 of us! I guess the Germans skip mass during Oktoberfest to get their Maß!
Tip: There is what the Germans call the "Italian Vacation Weekend" on the second weekend of the fest, which is often one of the busiest times. If you want to avoid the biggest crowds, be sure to go another time.
Weekday Mornings Are Best
You might be asking a few things about going on, say, a Tuesday Morning, to the Wiesn.
"Is there going to be that great, Oktoberfest atmosphere at 10am??
"Will I be missing out on the fun by not going later?"
"Is it really ok to start drinking at 10am!?"
And the answer to all is a resounding YES!!!! I promise, there are NO days at Oktoberfest that you won't be lacking for people. As soon as the gates open, the fest tents are flooded with Lederhosen clad folks ready for that first sip of liquid bread. And as for day (erm, morning) drinking? It's just the norm at Oktoberfest!
Family Tip: If you are heading to Oktoberfest with kids, this is also the best time to come as well. There won't be as many people drunk and stumbling around in the mornings as there are in the afternoons and evenings and it is far less crowded, which is less overwhelming when trying to keep track of the littles in a crowd of 600,000 people per day!
Use the App To Know The Status of Seats
Where was this 10 years ago when I went to my first Oktoberfest!? The App is perfect for knowing what tents have open seats and it's all in real time. Therefore, when you arrive, check it out and decide on a tent that looks like you have the best shot of finding tables and just head straight there. That way, you don't waste time going from tent to tent in hopes of finding something.
Avoid Rainy and Cold Days
Watch the weather and if it looks like it's going to be rainy, if you can, go another day. It's not that you want to avoid the rain, per se, but instead, when it is raining, everyone wants to get out of the rain. So, where do they head? Into the tents! Even at times that otherwise should be easy enough to find seats, it is going to be difficult when all the people that are normally walking around outside or sitting out in the beer gardens are all flocking to get a roof over their head.
Know Where To Look (The Secrets to Scoring a Seat in an Oktoberfest Tent!)
There are a few secrets in almost always guaranteeing that you'll find some seats (at least during the day sessions).
The first thing you'll want to do is find the map on the wall of where the reserved tables are. Depending on the tent, these are sometimes in a designated area (easier to do the following tricks) but often they are scattered throughout tables that aren't reserved as well. Either way, if you can head straight to the tables that don't have reservations, this saves you a lot of hunting time!
When you walk into an Oktoberfest tent, you can look for signs that say "Reservierung" or "Reserviert." These tables are, you guessed it, "Reserved." However, not all tables are FULLY reserved. What I mean by this is that most tents require a reservation to be a minimum number of people (some are 8, some are 12). If you can find tables that had less people, you just might be able to sweet talk them into letting you bum a slice of seat for yourself.
Walk around the tables and you'll see notes at the end of them which has the reservation details, such as time of reservation and number of people.
Here are some other top tips:
If you arrive early enough, try to find a table that has a later reservation in the day. You are actually free to sit here until that time!
Look at how many people are on the reservation. You can squeeze quite a lot of booties onto those benches, so look for a reservation that doesn't have a big party and then hope that when they arrive, they'll be willing to share the table with you (most people are if there is enough space)
If you still haven't locked down a spot, start looking for expired reservations. These are harder to come by, but if you spy one that is 30 minutes past the time of reservation…then the table is yours!
Once You Get a Seat, Don't Leave!
I know, I know. You are at Oktoberfest! You want to go out and explore the world (well, festplatz!) and if you are like me, you may have a serious case of FOMO. After all, what are the other tents like!?
But, my friends, I can tell you that the grass is NOT greener in another tent (Nor is the beer colder or bigger). While you'll be tempted to see what the other tents may have to offer, DON'T! If you get up, your seat is free for the taking and you may not be so lucky to find a spare one elsewhere.
Do I Need a Tent Reservation at Oktoberfest?
Many people ask "Do you need tickets for Oktoberfest?" First of all, there are no "tickets" (it's free to enter Oktoberfest) but sometimes it's easier to ensure you get a seat with a reservation, so then the question becomes "Do I need Oktoberfest tent reservations?"
Obviously, no, you do not. In fact, not only do you not need one, but it is actually incredibly difficult to even secure one!
Some tents open up reservations to corporations and large groups as early as January (yes, 8 months in advance). While Oktoberfest is full of tourists, it surprises a lot of people to know that actually, the majority of people attending are locals and Germans. Many people return year after year and so they actually will often get "first dibs" on reservations before it's opened up to the larger public.
Other tents don't even offer reservations to newcomers. THey have enough repeat customers year after year that you can't even get a spot as a tourist.
Note: If a tent does reach capacity, then they will often just simply close the doors until the next session. That means that even if a large group of people leave, they don't always let more in. This is particularly important to know if you plan on going on any holidays (October 3rd, or busy weekends like the Italian Weekend) because it could be worth trying to get a reservation then.
How To Make Oktoberfest Reservations
Oooooh Germany! While they have gotten better at technology over the years, it is shocking that an event of this size doesn't have a better, non headache inducing solution to reserving a table at Oktoberfest. You know, like…..having it all online…in one place preferably! But no! They insist on making it as difficult as possible. Here is how you need to attempt getting a reservation.
Choose your top (several) tents
Use the info below to know when reservations open up. Make sure you are on your computer exactly at that time! (I like to set Google reminders so that I can be ready)
Most reservations require either an email or a phone call. If it is an email, have a template drafted and ready to go so that you can just sent it to as many tents as possible.
You'll need to know the number of people, exact dates, and even a preferred location in the tent if you have one)
Apply for a reservation to as many as possible. You only pay once they accept your reservation, so it's worth trying for as many as possible and you can always decline ones if you get the tent you want.
Use the links below to head directly to their reservation information.
Important Notes about Oktoberfest Tent Reservations
Germans are known the world over for their efficiency. So, someone please tell me why this system isn't more efficient and in line with that stereotype!?
Many Oktoberfest tents require a minimum of 10 people for a reservation
Don't ask me why they don't have online reservation systems, but many still require you to send an email for a reservation request (or even make a phone call!)
Don't expect replies immediately. In fact, some may take up to 6-10 weeks to even reply yes (or no)
As of the 2019 Fest (we'll see if this changes for 2022) many require a bank transfer for payment. EC and Credit Cards are not accepted for a lot of the tents.
Most will only mail the vouchers to a German address. Some will require you to pick them up from central offices in Munich as well. Therefore, ask specifically about how to obtain their voucher so you know the correct process
What You Get With an Oktoberfest Reservation
If you actually do get lucky enough to score yourself a reservation, this just simply means that you are guaranteed a seat at a table in the specific tent that you got the reservations at. Be sure to arrive on time though, because if you are more than 30 minutes late, they will give your table/seats up to anyone lurking around.
Almost all tents do have a cost to their reservations. However, it's not a straight-up charge just for the reservation. You actually pay about the equivalence of 2 beers and a Hendl (chicken). When you arrive, you'll get a voucher for these drinks/ foods so you really aren't out much (there may be a small handling charge or something like this, but it could be worth not having to deal with finding seats at prime times).
If you don't want chicken and beer, you just have to pay a similar amount and you can get other food and drinks as well. The whole purpose of this is for the tent organizations to plan better for food as well as ensure they get paid.
At the end of the day though, don't stress too much if you don't have a reservation. In fact, out of the numerous times I have gone, I've always been able to weasel my way into some seats and have never gotten a reservation.
How To Buy Oktoberfest Tickets 2022
Since the tents do not want to have to deal with refunds and the mess of having to cancel yet another year for Covid, many are waiting for official announcements from the city on if they plan on going ahead with Oktoberfest in 2022. Last year, Munich made the announcement to cancel in May, therefore a lot of the tents are waiting until then to open up reservations.
Use the following links to get info on the brewery's fest tent reservation system.
The Lowdown on ALL the (big) Munich Beer Tents at Oktoberfest
Ok, so now that we've got all the logistics out of the way, let's start looking at all the Oktoberfest tents, one by one. After all, while they are all going to be a great time, depending on what you want out of Oktoberfest, there is not a one size fits all in what one tent to recommend most.
Note: In the seat counts, I've only included the number of seats INSIDE the tents. Almost all the tents have at least a few thousand extra seats in their own Bier Gardens (just outside the tent) which are all relatively easy to get a spot at. However, it's inside the tents that can be trickier in finding an open platz and where most tourists want to hang out in any way.
Hacker Festzelt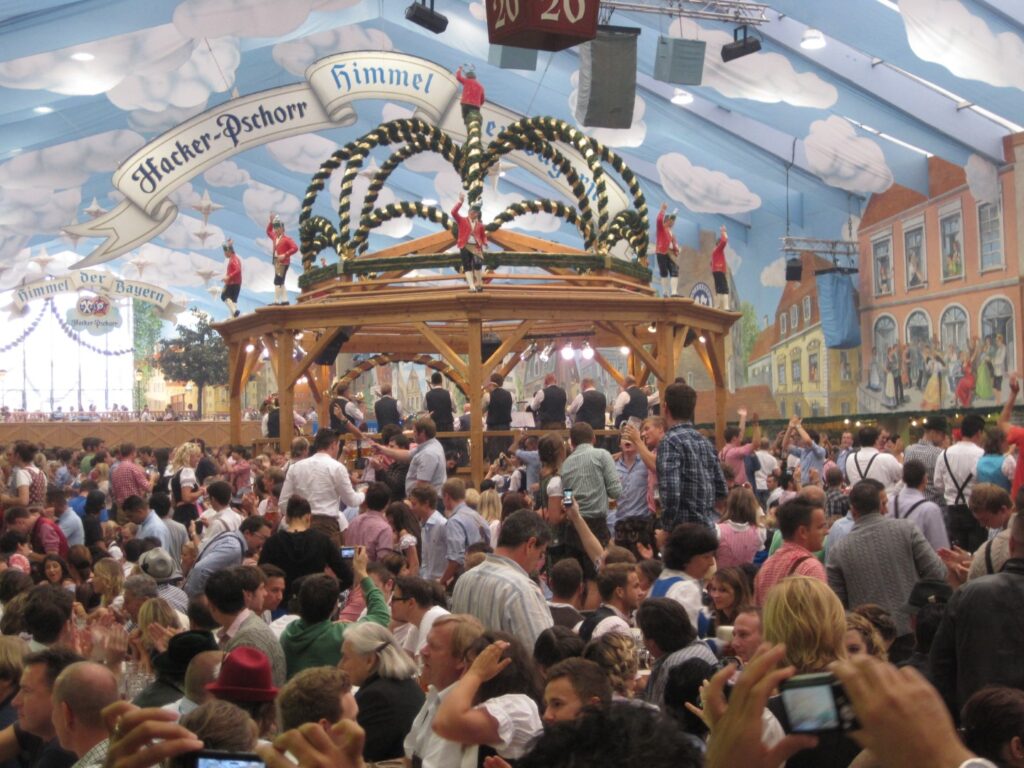 I'm going to start with my favorite Oktoberfest tent: Hacker Pschorr! I've already laid my claim in my other Oktoberfest articles that I actually like this beer the best, so naturally, if I'm going to be consuming copious amounts of something, I want the best of the best!
But what isn't to love about the "Der Himmel Der Bayern" (The heaven of Bavaria)!? Look at how freaking adorable it is with its sky decor and beautiful scenes of Munich up and around the entire tent. I think one of the reasons why I like the inside of this tent the best is because it is just so bright and cheery. Some of the other tents seem darker and therefore just "feel" like you are in tighter quarters with the thousands of others in there with you.
The vibe at the Himmel Der Bayern is also almost always fantastic, no matter the time or day. It's definitely a place to party and have fun, but hardly ever feels like it's too much.
Beer Served: Hacker
Great For Ages: You can find all ages having a great time here but it is definitely more for people wanting a bit more fun
Seats: 6800 Seats Inside the Tent- you can find 1700 unreserved seats open on the weekdays and 4000 on Weekends
Website: https://hacker-festzelt.de/
Paulaner Festzelt
The Paulaner Oktoberfest Tent is another very popular tent. In fact, Paulaner is considered to be the most consumed of all Oktoberfest beers. At this tent, there is actually a surprising amount of locals as well.
During the day time, this tent has a bit more of a relaxed vibe. However, in the evenings, it picks up to everything you would expect in a fun Oktoberfest night out.
Beer Served: Paulaner
Great For Ages: Good for families during the day. It's popular with the twenty-somethings in the evenings
Seats: 8450 seats inside
Website: https://paulanerfestzelt.de/
Hofbräu Festzelt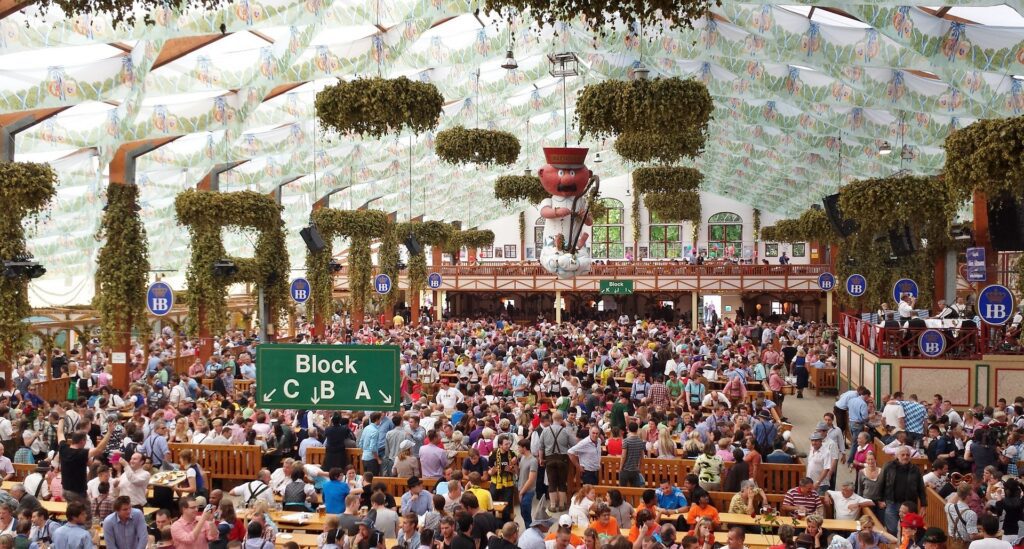 Another very well known tent is the Hofbräu Tent. This is probably because the Hofbräu Haus in the city center of Munich is like a beer hall mecca for tourists. Therefore, just like the Hofbräu Haus, expect the Hofbräu tent to be the most popular with tourists. That isn't to say that there are no locals at this tent, but comparatively to the other tents, this one has far fewer Germans than the others.
This is often why the Hofbräu tent gets a reputation for being a huge party zone. Tourists want to come and really live it up at Oktoberfest. Unfortunately, this means a bit less of an authentic feel to the fest, less Trachten being worn, and more lads who think they could drink more than they actually can.
One thing that does set the HBH apart though is that there is a standing room only section. It can fit around 1000 people in it (we'll see if they allow it for covid times) so if you don't have a seat, but still want in a tent, this is a good place to look.
Beer Served: Hofbräu
Great For Ages: Older teens (can drink beer at 16 years old) and people in their 20s.
Seats: 6,018 seats inside plus 1000 standing room section
Website: https://www.hb-festzelt.de/en.html
Ochsenbrauerei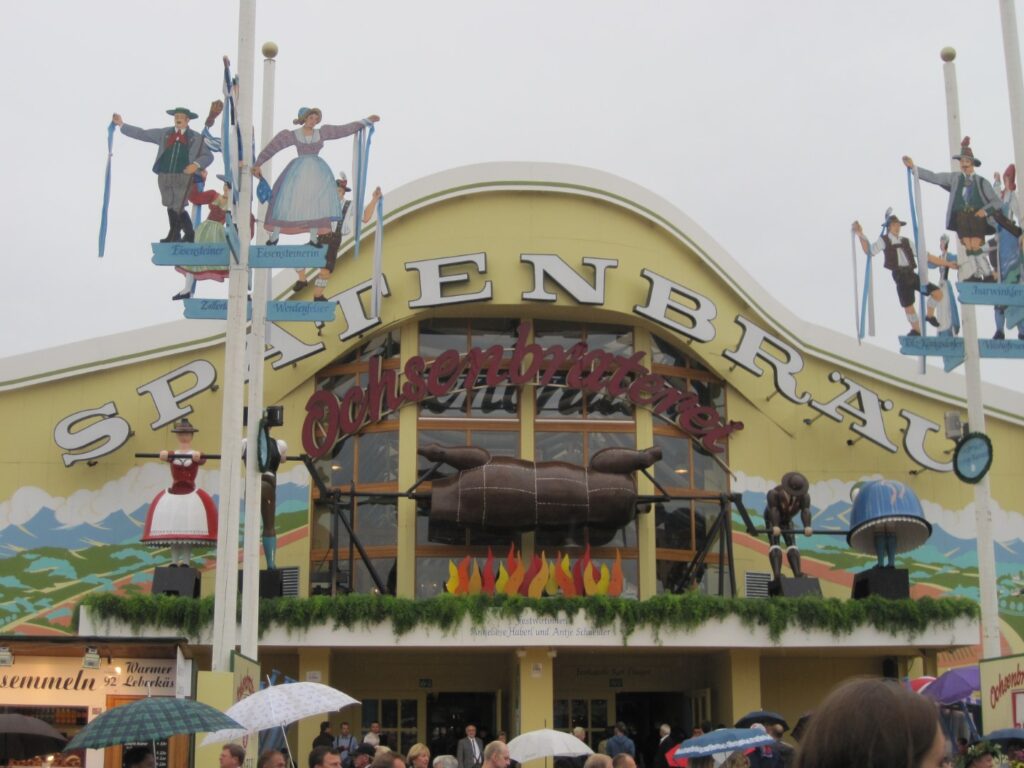 If you are looking for a great, authentic feeling vibe to Oktoberfest, look no further than the Ochsenbrauerei (Oxen Brewery). It often has juuuust the right amount of dancing, music, and Prosting, but with a more laid back feel compared to some of the heavier party areas.
This tent is also especially known for its quality foods. You can get unique meals, like (surprise, surprise) Ox! And they don't just cater this in, they roast up to 7 Oxen per day right on site! In fact, you can find the sign that tells you exactly the "name" of the Ox they cooking up each day. Nothing like knowing your meat!
Beer Served: Spaten
Great For Ages: Locals especially of all ages like to frequent this traditional tent
Seats: 5900 seats inside
Website: https://www.ochsenbraterei.de/en
Löwenbräu Tent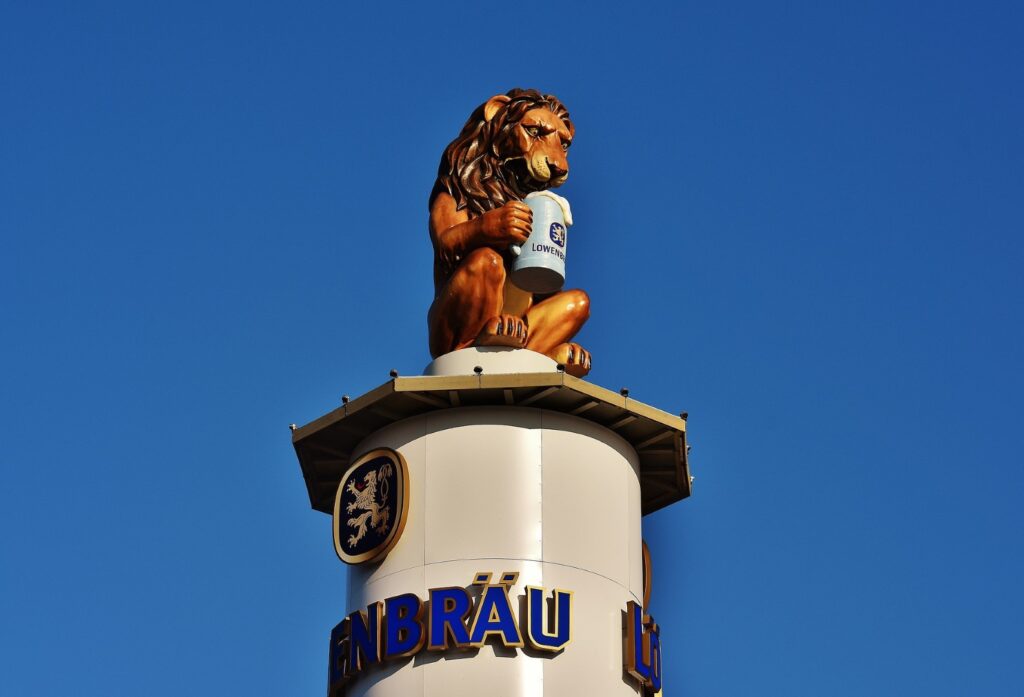 Those looking for another big party tent, this is one to head to. It's probably the second most popular with foreign tourists (probably because the Löwenbräu brand is known halfway decently outside of Germany).
Don't worry, you won't be able to miss this tent. It is the one with the GIANT lion roaring frequently (quite loudly at that!)
A fun little game you can play here is, "Who will the lion scare next" as you watch unsuspecting people get caught by the growl of the beast!
This tent, decor wise, is nothing spectacular, but I do love how bright and cheery it looks and feels. This tent is also one of the largest of any at the fest.
Beer Served: Löwenbräu
Great For Ages: Older teens (can drink beer at 16 years old) and people in their 20s.
Seats: 5800 seats inside
Website: loewenbraeuzelt.de
Augustiner Festhalle
If you are looking for that absolutely traditional feeling, vibe, decor, and overall ambiance of everything a classic German Beer Hall should be, look no further than the Augustiner! The decorations haven't changed for decades and even the music is more of the traditional and classic beer hall (think oompah and polka band) rather than all the modern or rock music you might find intertwined into the lineup at other tents.
In fact, the Augustiner is still one of the few breweries that still uses a good ol' wooden keg for their brew!
It is all of this that makes this tent so popular with locals (newcomers/ tourists can't even get seat reservations!) so if you are wanting a less "party" feeling tent but still that fantastic beer hall ambiance, this is a great one to try your luck at finding a seat in.
Beer Served: Augustiner (the "oldest brewery in Munich")
Great For Ages: Families wanting a quieter atmosphere, people looking for more beer hall vibe and less drunk young folks
Seats: 6000 seats inside
Website: https://www.festhalle-augustiner.com/
Armbrustschützen Festzelt
Almost 130 years ago, the Crossbowmen's Guild decided it needed a place to shoot their bows and arrows and what better place than here. In 1935, the Armbrustschützen was home to the "German Crossbow Championships" which is now continued to be held annually in a tent extension of the Armbrustschützen (can you imagine flying arrows in a room where people have been slamming beers!? Eeks!)
Not surprisingly, it takes this hunting theme into the decor inside as well. You can expect plenty of animals stuffed and hung along the walls.
If you've never seen a Schuhplattler performance, then you are in for a treat here as well. This traditional dance from Southern Bavaria needs no percussion. After all, the men's whips, shoes, and leather pants provide all the beats needed for a great and entertaining dance.
This tent isn't as hoppin' (and no I don't mean the beer hops) as some of the other tents though. They have a good band that plays the traditional music you'd expect in a beer hall, but it's not one that gets everyone up and dancing on the tables.
Beer Served: Paulaner
Great For Ages: More of an older crowd kind of tent
Seats: 5,830 seats inside
Website: https://www.armbrustschuetzenzelt.de/en/
Festhall Schottenhamel
If there was a central location for "Where the party's at" then this is it!
Every year, thousands of people gather outside the Schottenmamel, where there is a huge opening ceremonies celebration. The Bürgermeister take takes a mallet and begins striking a keg. Once he successfully opens the tap, then the Oktoberfest party officially begins! And it continues on and on right inside this tent!
If you are looking for a party scene, but with less tourists and more locals then the Schottenhamel is the place to be, however, this one does tend to have fewer people during the day itself so if you are on the prowl for seats, this could be a good tent to look into.
Beer Served: Spaten
Great For Ages: The younger crowd looking to get a bit wild and rowdy
Seats: 6288 seats inside
Website: https://festhalle-schottenhamel.de/en/the-tent
Fischer Vroni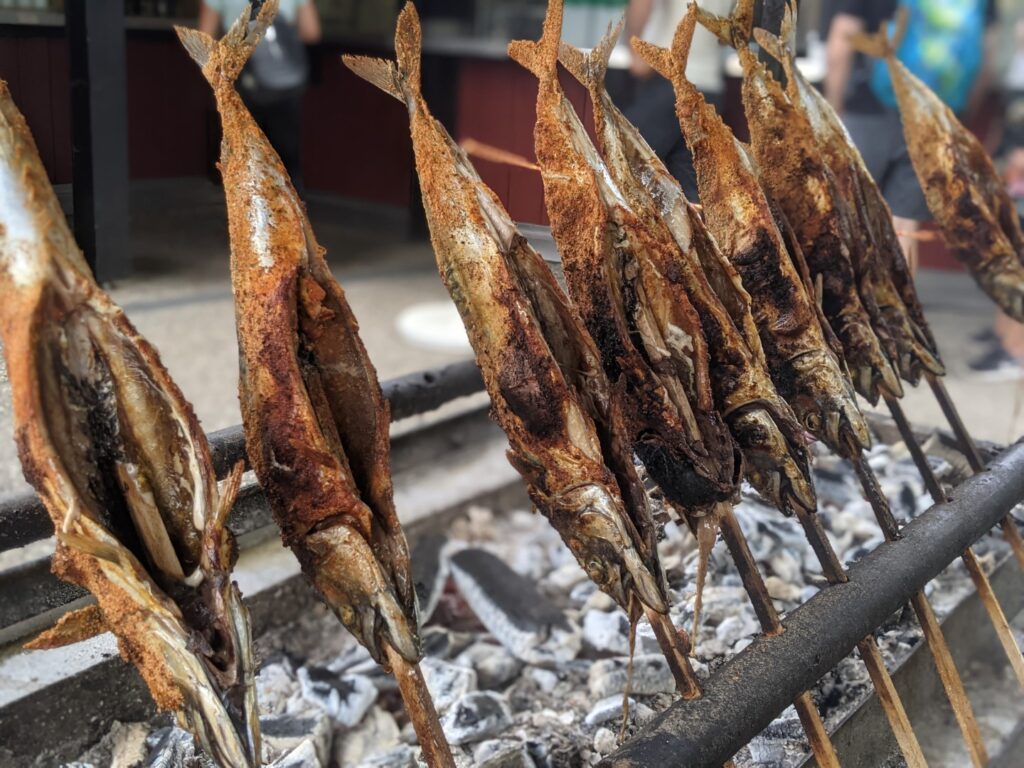 The Fischer Vroni is a well….let's just call it unique tent in just about every explanation!
First, as the name of the tent implies, this is THE place to be if you want one of those classic "Foods To Eat at Oktoberfest": the Stecklerfish (or "Fish on a Stick")! After all, this tent has an open grill almost 50 feet long that is constantly blazing this popular dish. Granted, with that comes, well…the smell of fish. So, if that's not quite your jam, then this might not be the place for you.
To keep that whole sea-fairing theme going, inside the tent is a life sized boat (where the band plays)! And it's not just the smoked mackerel that line the grill that has locals loving this tent, it's all the plentiful seafood that's on the menu!
The other unique thing about the Fischer Vroni tent is that it is extremely LGBQT+ friendly. In fact, on the second Monday of the fest (September 26, 2022) a large group of LGBTQ+ people come to this tent to gather to have a merry ol' time! However, since this is one of the smaller (big) tents at Oktoberfest, you'll definitely want reservations if you come on this day.
Beer Served: Augustiner
Great For Ages: Locals and those wanting a bit of a quieter scene. LGBQT+ Friendly
Seats: 2,695 seats inside
Website: https://www.fischer-vroni.de/welcome.html
Käfer Wiesn-Schänke
Instead of the typical Oktoberfest beer tent decor of sweeping streamers lining the ceilings, this tent takes a much more unique approach to its decorating. It instead feels like a small village, local Gästehaus. Because of this, it is more like a sit down restaurant rather than a big giant beer hall.
It's because of this that it is known as the place to go for gourmet and fantastic food and wines. In fact, if you don't have reservations (well in advance) don't expect to get a seat inside. However, some consider their outside beer garden one of the best at the entire fest and you'll have a much better chance of getting a seat out there.
You'll find mostly locals (and maybe even a celebrity!) here as opposed to tourists.
At night, the cozy restaurant transforms into a concert of great rock music. Strangely, out of all the tents, this is one (out fo 2) that stays open late and well past all the other ones (closing time is 1 am here)
Beer Served: Paulaner
Great For Ages: Families during the day and all ages (if you can manage to get a seat!)
Seats: 1164 seats inside plus another 2100 in an outside covered area. The Beer Garden holds 1900 seats
Website: https://www.feinkost-kaefer.de/oktoberfest
Kuffler's Weinzelt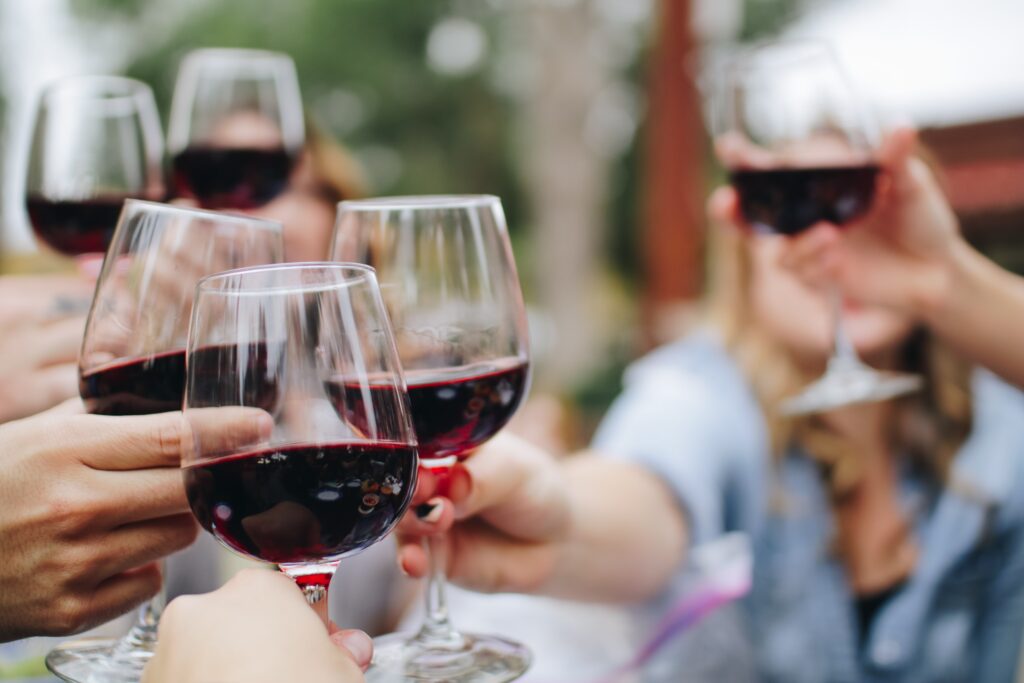 Even if you don't speak German, you can probably figure out that this location is all about the wine (wein)! In fact, they really want to make this be the location for wine lovers, so the only beer that is even served is a Paulaner Wheat. And there's a caveat to even that! After 9pm, the only alcoholic drinks served are wine, Prosecco, and Champagne! In fact, they have 25 kinds of sparkling wine to choose from!
If you are looking for a classier time at Oktoberfest, look no further than the elegant Kuffler's Weinzelt! Instead of the long picnic tables, this tent has wooden booth like structures, which gives the entire atmosphere a more cozy kind of feeling.
Kuffler's isn't just fancy with its drinks, but it is also known for being one of the best places at Oktoberfest for gourmet food (and probably the only tent where you can find Asian food on the menu as well!)
And while you wouldn't expect it, this is actually a great place to come during the day with families. It is not as crowded or as wild during the day as the other tents.
(Tip: There is a "Lunch Festival" during the day which even has a special Kinder Menu)
But despite it being a more family friendly and low key location during the day, an almost VIP vibe picks up in the evening and it becomes one of the most sought after places to be at night. In fact, this is another location that stays open late (1 am) but good luck getting in without reservations in the evenings since this is also one of the much smaller of the "big" tents.
Prices aren't exactly cheap either here. Expect around €15 for ONE glass of wine and anywhere from €35-90 for a bottle! If you are looking for some bubbly (which they serve the local, fantastic Nymphenburg sparkling wine) expect it to be closer to the €140 range for a bottle!
Beer Served: Only Paulaner Wheat and only until 9pm.
Nymphenburg Sparkling Wine and Roederer Champagne plus wine served as well
Great For Ages: Families during the day and all ages (if you can manage to get a seat!) in the evening.
Seats: 1920 seats inside plus another 2100 in an outside covered area. The Beer Garden holds 1900 seats
Website: https://www.weinzelt.com/en/
Schützenfestzelt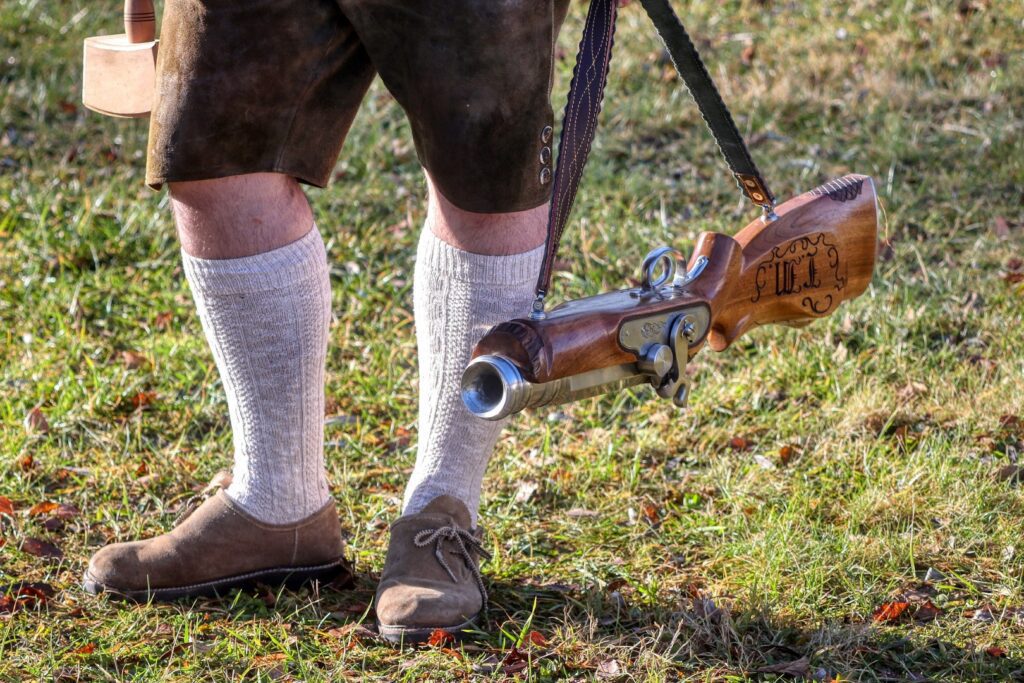 A little more "off the beaten path" (is that really a thing at Oktoberfest??) this tent doesn't have as much foot traffic from tourists that pop in, which means that most people that come into the "Shooting Tent" are Germans. Because of this, you are going to have a much more authentic festival feeling inside this tent rather than just a pure party zone. That doesn't mean that it doesn't get lively though, after all, Germans DO know how to have a fantastic fest! The music in this tent is great, which means everyone will be having a great time singing along.
One of the things that I personally love about Bavaria is heading down to the gorgeous Alps. If you don't have time for that on your trip, then head to the Schützenfestzelt to get a bit of that Alpine Lodge vibe. They have a fantastic beer garden and even a VIP Balcony that has the iconic flower boxes overflowing with gorgeous blooms, just like the beautiful Alpine huts and houses do in the mountains.
(Inside Tip: The Balcony is actually usually free for the taking until the evening. Even if you see a reservation sign, you are free to sit at the table until that time if nobody else is there yet)
Beer Served: Löwenbräu
Great For Ages: Not many very young people. A lot of locals though
Seats: 5100 seats inside and an additional 1400 in the fantastic Bier Garten and Balcony
Website: https://www.schuetzenfestzelt.com/english-information
Marstall Festzelt
This tent is a relative newcomer on the scene. It took over for the Hippodrome Tent in 2014 to create a "Royal Stables" decor theme inside. To carry that "royal" feeling through, the tent has worked very hard at establishing a more "upscale" customer who likes a good fest tent but with high quality foods and fine wine (and of course, beer!)
The carousel in the middle of the tent is a great stage for the bands, but things don't really pick up (party wise) until the evening session. That means that it's actually a fantastic place for a quieter (albeit still great) morning or afternoon, particularly for families wanting a bit more of a calmer atmosphere.
Beer Served: Spaten-Franziskaner
Great For Ages: Families during the day. Classier Crowd in the evening
Seats: 5100 seats inside and an additional 1400 in the fantastic Bier Garten and Balcony
Website: https://www.marstall-oktoberfest.de/
Bräurosl
In the past, this tent was known for its yodeling! However, in 2022 a new owner of the tent is taking over and in addition to redoing the entire inside and decor, it is rumored that there will also not be a yodeler belting out the tunes anymore (a real shame if you ask me) so we'll have to see what else they do to maintain their proud "sense of tradition" in this tent.
Another thing that makes the Bräurosl a sought after tent is that on the first Sunday of the Wiesn this tent transforms into one of the largest "Gay Oktoberfests" in the world for "Gay Sunday." Come prepared to have a Gay Ol' Time (literally).
Beer Served: Hacker-Pschorr
Great For Ages: A bit on the younger side. All ages of LGBQT+ on Gay Sunday
Seats: 6200 seats inside
Website: https://www.braeurosl.de/
Oide Weisn Tents
In 2010, as part of the 200th anniversary of the Weisn Oktoberfest, a kickback to the past was created in an "Oide Weisn" area. Old school rides were reconstructed and traditional Bavarian dances were held. However, this was such a well-received event that it was decided to keep it year after year.
Bavaria is a state that adores its traditional roots. You can see it in their food, the traditional clothing, and at many cultural fests, like the Almabtriebs in the mountains. In fact, it is in the mountain areas of Bavaria that traditions such as special dances and even foods are well adored and not just a tourist event.
And while Oktoberfest itself didn't actually partake in many of these things originally, as a way to connect to its past as well as to show outsiders some of its amazing traditions that are still carried on in many parts of the state, it really is a fantastic area of the fest to enjoy.
Unlike the rest of Oktoberfest, which is free, the Oide Weisn does have some small fees.
3 Euro Per Person to enter this section of Oktoberfest
Free for children under 14
1 Euro Rides
Tradition Tent
Traditional dances, gorgeous traditional styled, regional Tracthens, stone beer Maß with cold beers, and that good ol' Gemütlichkeit feeling of Bavaria is well and alive in the "Tradition" Tent!
Surprisingly, this tent isn't overly touristy and it definitely isn't as rowdy as some of the other big tents in the main Oktoberfest area. In fact, table dancing is strictly "Verboten" here. But that doesn't mean that it is lacking liveliness and fun!
Special Folklore Dancers take the raised stage and one of the best shows of the day is when the Schuhplattlers come out with their whips ready for crackin'! Seriously, if you've never seen a Schuhplattler dance (and song) it is something you have to experience for yourself!
With free lemonade refills (seriously, the concept of free refills does NOT exist anywhere in Germany!), it makes this tent a hit with families and kids.
If you want to experience a really unique, cultural, and fun tent, like something you might be able to experience deep in the heart of the Alps (but without a bunch of drunk tourists of Oktoberfest), this is a great tent to go to.
Beer Served: Augustiner
Great For Ages: Fantastic For Families. All ages will enjoy this tent
Seats: 5000 seats inside
Website: https://www.oktoberfest.de/en/beer-tents/the-oide-wiesn
Herzkasperl Festzelt
If you've never been to a classic Beer Hall (not tent) in Bavaria, then the Herzkasperl Festzelt is a good close second. It's got the beautiful decor of an Oktoberfest tent, but not the rowdy crowd. It's also substantially smaller than the other "Big Tents." Instead of people dancing on the table tops, you find friends gathered around the table for great food, plenty of beer, and wonderful conversation. It is more about the company you are with.
And in this tent, in addition to its cozy atmosphere, there is an emphasis on local musicians as well.
Therefore, if you don't want a bunch of sloppy tourists stumbling and yelling all around you, this is the perfect place to find a bit more quiet, but with all that amazing Bavarian Gemütlichkeit!
Beer Served: Hacker-Pschorr
Great For Ages: Family Friendly. People of all Ages.
Seats: 1500 seats inside
Website: https://www.herzkasperlzelt.de/
Schönheitskönigin
If you want dinner (or lunch or even just a beer) with a show, come on over to the Schönheitskönigin where music is the name of the game! In fact, every day, the focus is put onto folk music, cabaret shows, and more. All this while feeling like you stepped into an old Bavarian "Tavern."
But watch out, this isn't just a "sit and watch" kind of event. These concerts fully expect the audience to get involved and sing along. In fact, there is a daily "Beauty Queen" that is picked from the crowd and declared as the queen of the day here!
Naturally, this is going to be a fun, light hearted tent. Families love the kid's menus and everyone enjoys watching (and participating) in the songs throughout the day.
Beer Served: Hofbrau
Great For Ages: Family Friendly. People of all Ages.
Seats: 1500 seats inside
Website: https://www.zur-schoenheitskoenigin.com/