I can almost envision how it all started way back in the 1300's. Just a bunch of German/Austrian Mountain men sitting around, drinking their beers when one is like,
"Hey, anyone up for lighting around 200 fires in the mountains tomorrow? Yeah? Awesome. Oh, and can anyone make it into the shape of Mickey Mouse?"
Ok Ok…..I know Mickey didn't even exist in the 14th century, but you get the gist.
The reality is that originally when the mountain fires were lit, it was a celebration of the summer solstice. Midsummer traditions (which is actually the official beginning of summer) meant celebrating the longest day of the year (and celebrating the sun). Therefore, locals would climb high up into the mountains where they would light fires (symbols of the sun) to give thanks to the pagan gods.
They also believed that fire would ward off any evil spirits and demons, so lighting the mountain fires was a way of them protecting themselves, their families, and their towns.
As time passed, Christianity began to take over, so eventually, many of the designs transformed from pagan symbols to Christian ones, like crosses.
At some points in history, the fires were even ways to communicate with nearby mountains and warn of encroaching enemies.
Planning a Trip to Germany? Join Our Fantastic Traveling in Bavaria Facebook Group!
But what are the Solstice Mountain Fires in Austria and Germany (Today)?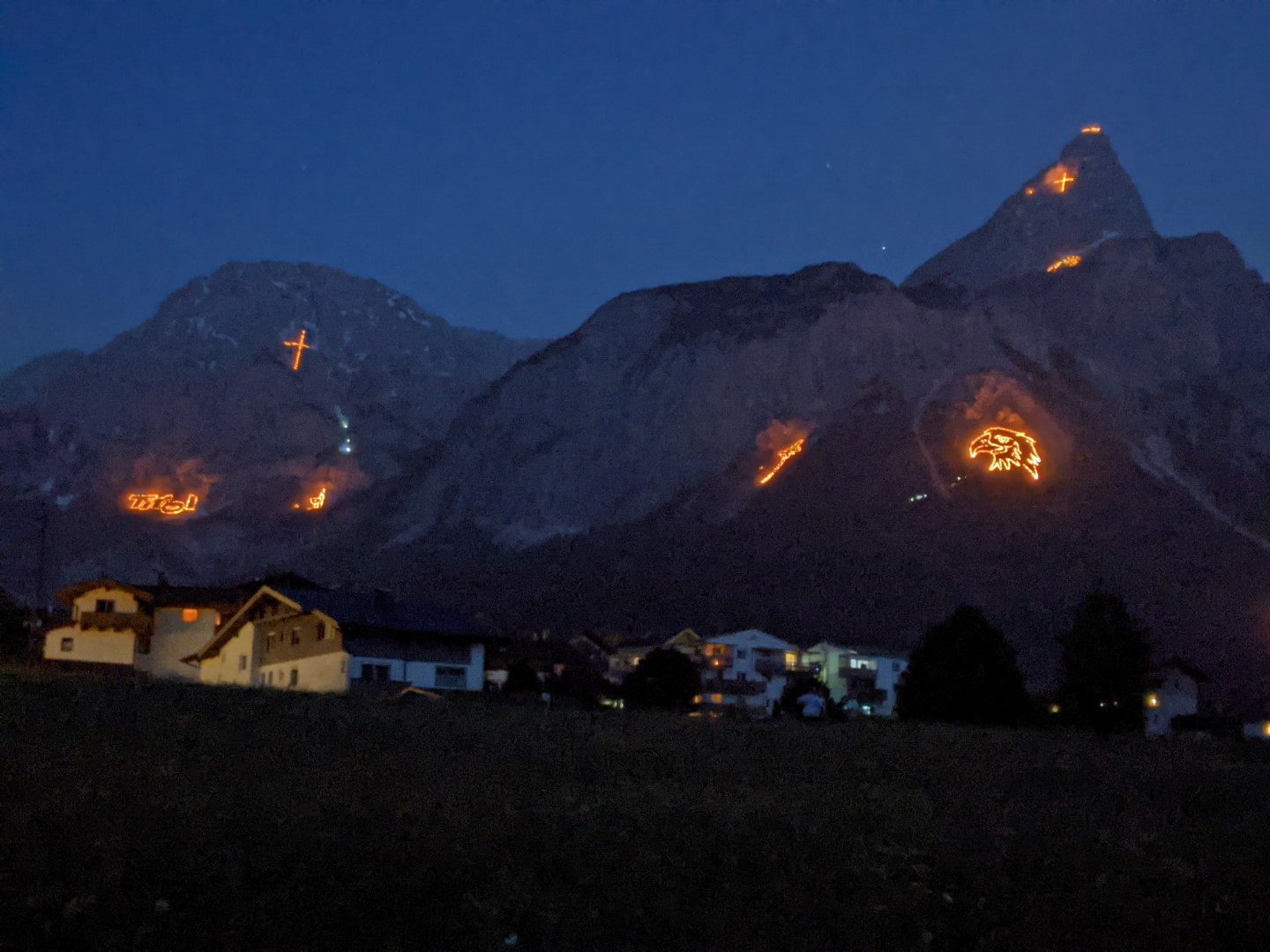 Even though centuries have passed, Bavaria and the Tirol region of Austria are some of my favorite places in Europe because of all the traditions they still hold onto, one being the annual Bergfeuer (mountain fire). While there are plenty of summer solstice traditions throughout the world, this is truly an unforgettable one to experience first hand. In German, you'll probably hear it called the "Sonnwendfeuer" or the "Bergfeuer"
Each year, dozens of local organizations and groups (like a local fire department, a mountain rescue squad, or even just a group of friends!) will come together to organize their design. Often the groups keep the motifs to the general images of
Christianity
A Flower
An Animal
They have someone figure out exactly how many bags of sawdust are needed to create enormous images as big as 650 feet! On the day of the Solstice Fires, the group makes the trek up to their spot (typically on a slope away from trees and other foliage that could easily catch fire). They then painstakingly begin anchoring down their bags to create the beautiful designs.
Then, as dusk looms over the mountains, the group quickly begins lighting the fires. Typically, they have someone douse a bag in Rapsöl (like a Canola Oil) while someone else follows quickly behind with a torch to light the bag. (In other places in Austria, some use big, giant candles to create their images).
From below in the basin, locals, and tourists alike watch in awe as the sparkling images begin to take shape. It's almost like a magical moment as each individual design flickers more into focus with each passing minute.
While you can find the summer solstice fires all over the Tyroler Mountains (and many in the German Alps as well) all the way down to Italy, many people say that the ones in the Zugspitze Arena (Where you have a full 360 view of the Zugspitze, Sonnespitze, Lermoos, and Biberweir mountains) are some of the best. In fact, since 2010, it's been on the UNESCO's Intangible Cultural Heritage List.
I still find people willingly lighting mountains on fire to be a strange concept (coming from the US where wildfires are a real concern) but, as the Germans and Austrians often do, they seemed to have everything planned out and very under control!
Sonnwende in der Tiroler Zugspitz Arena from ProMedia on Vimeo.
When are the Summer Solstice Fires in the Zugspitze Arena?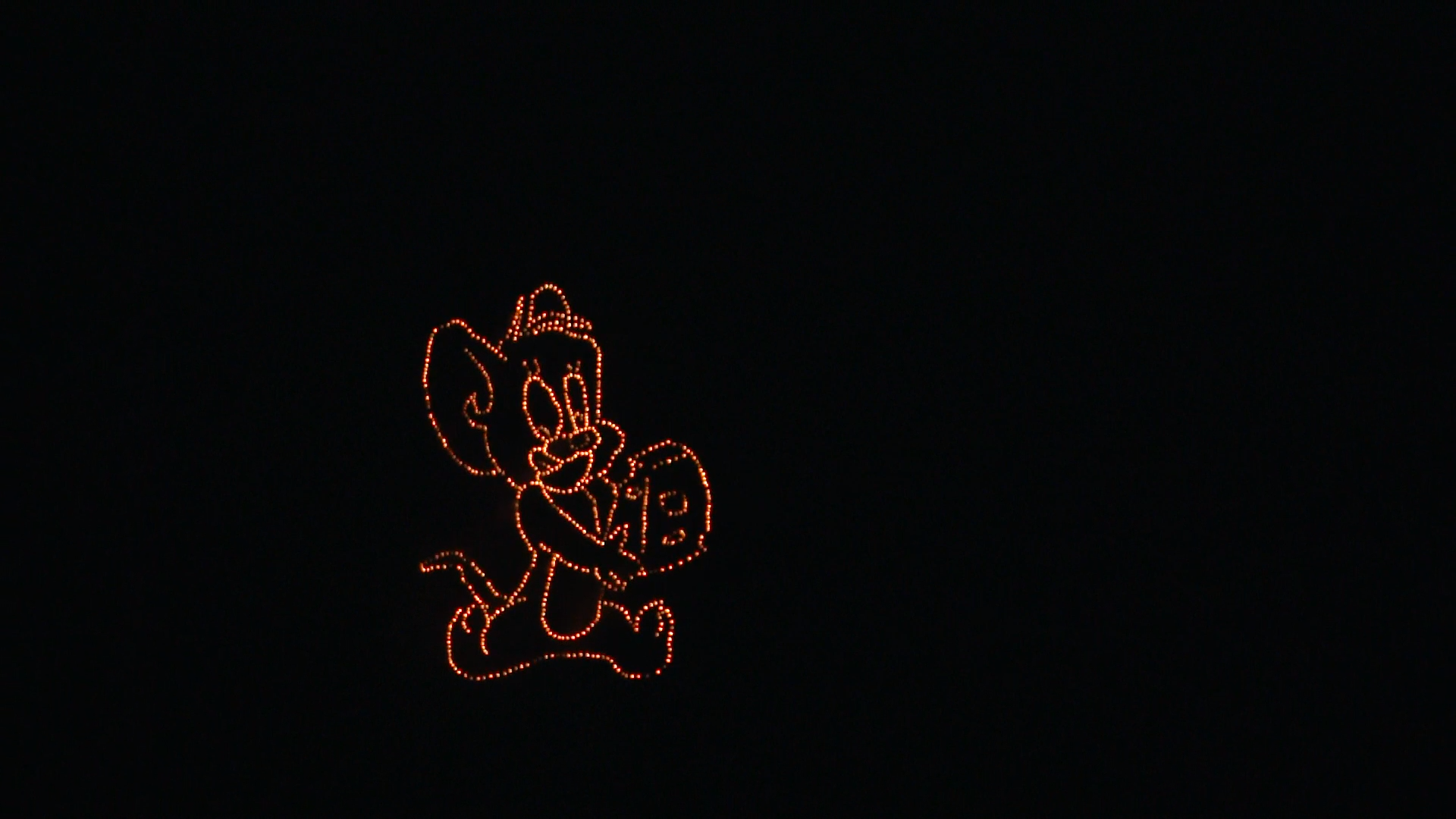 Not that you are probably lacking on what to do in Austria in June, but if for some reason you are, then put this at the very top of your list!
Mark your calendars, as the dates have already been set! For 2022, the Zugspitze Arena Summer Solstice Fires (Bergfeuer) will be June 18, 2022, starting at 9:30 pm.
In case of rain/ inclement weather, the alternate date will be June 25th.
Getting There
If you are flying in from elsewhere for the Austria Summer Fires, I recommend looking into Munich (MUC) or Innsbruck (INN) to quickly get to the basin for the fires.
As usual, in Germany and Austria, you have two main ways of getting around easily:
From Munich
1. By Car
We personally drove just to have more flexibility with our time, days of exploring, and where we wanted to go throughout the weekend. Even though the Zugspitze Arena Bergfeuer is in the mountains, you aren't driving up crazy Alpine roads. In fact, most of the drive (from Germany) is still flat and in the valleys, so it was a very easy (and beautiful!) drive!
Depending on traffic, it only takes 1.5-2 hours from Munich to get to the Zugspitze Arena.
Pro Tip: If you've read my 10 Days in Austria, Germany, and Switzerland Post, you know that when driving on the Autobahn in Austria that a "Vignette" is needed. However, if driving from Munich, you can avoid needing to purchase one if you just stay on the highways. Since Ehrwald is just across the border from Germany, you can easily find a route that doesn't require the Autobahn, and therefore doesn't need a Vignette
Read My "Driving In Germany" Ultimate Guide to know how to navigate the Autobahns, what permits you need, and more.
2. By Train
While normally, I find taking the trains into mountain areas in Germany to be a pain (it often takes waaaay longer than driving, has tons of transfers, etc), getting to the Zugspitz Arena is actually shockingly not that bad! Depending on what time you leave and what transfers you need, it will only take about 2.5-3.5 hours from Munich by train/ public transportation.
Pro Tip: If coming from Germany, you can actually use the Bayern Pass the whole way to Erhwald, even though it is in Austria!!!
There are several options to get to Ehrwald from Munich, but some require many different transfers. Your best option is to look at Google Maps and put in your date and time and look at the "train" tab and then you can decide which option is best for you, your timetable, and your travel comfort levels (if you aren't comfortable with transfers then renting a car may still be easiest).
Note: If you are flying, you'll want to make sure you choose your starting origin from Munich Airport vs Munich Hauptbahnhof, as that will influence your route as well.
Click Here To Purchase a Bayern Ticket
From Innsbruck
Another easy way to get to Erhwald, Lermoos, and Biberwier is if coming in from the Innsbruck airport.
1. By Car
If flying into Innsbruck, after renting your car, it's a pretty easy drive over to the Zugspitze. Since you will be on the motorways though, a Vignette will be required.
Depending on traffic, it only takes about 1-1.5 hours from Innsbruck.
2. By Train
Depending on what time you leave (aka which routing you'll need, as it will vary on time of day), it takes less than 2 hours to get from Innsbruck to Erhwald by train. You can purchase your tickets at the official OBB Train website.
From Salzburg
From Salzburg to the Zugspitze Arena is about a 2.5-3.5 hour (pending traffic) drive.
Where to Watch the Summer Solstice in the Tiroler Zugspitz Arena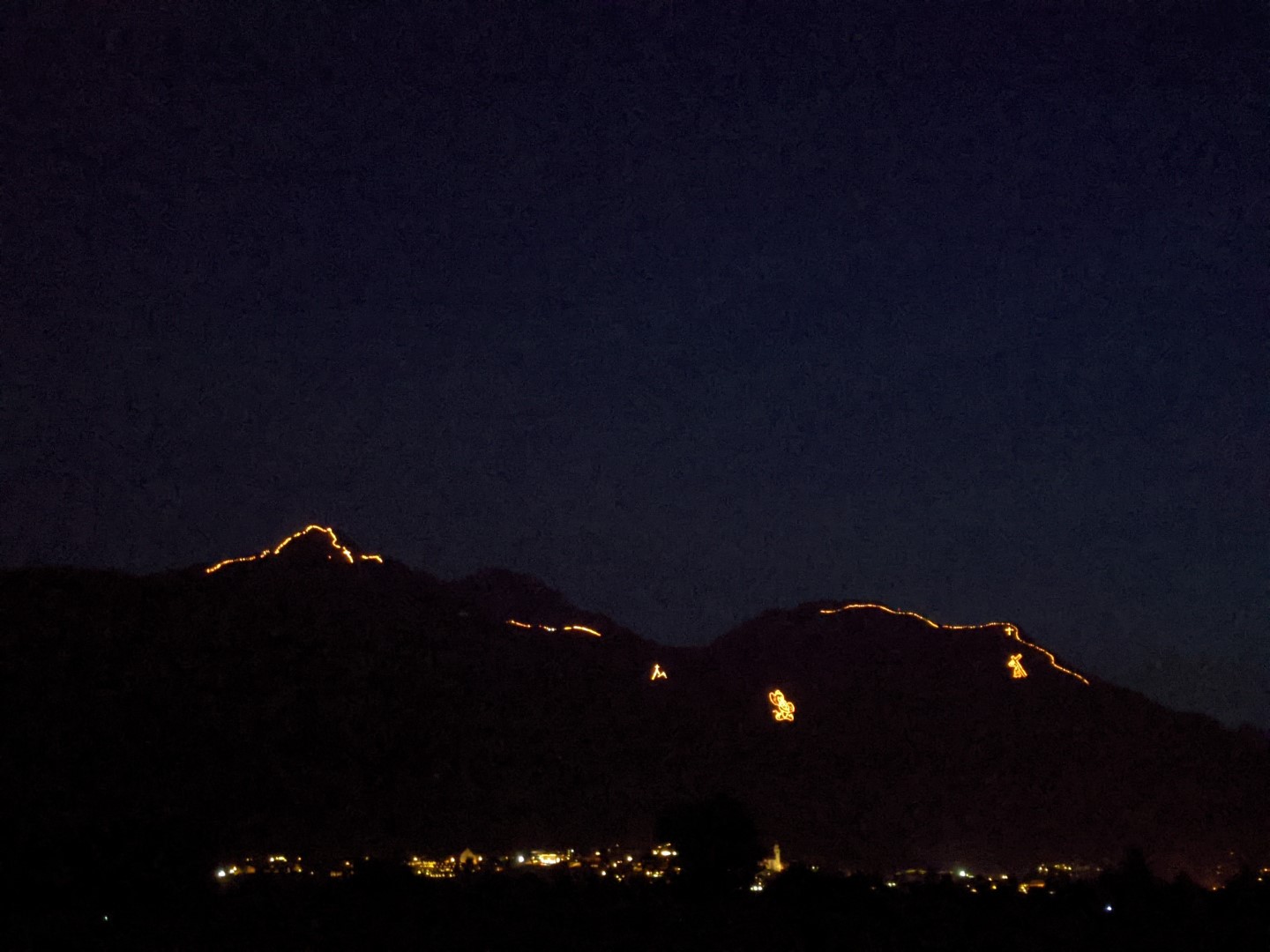 There are several places that are recommended to watch the summer mountain fires from. Most people suggest Erhwald as one of the better options because you'll get a full 360 view from the entire basin and all the mountains surrounding it (Zugspitze, Sonnenspitze, Lermoss and Biberwier).
Since this is where we chose to stay, I'll be giving specific details to finding great viewing spots from Erhwald.
Bergfeuer Ehrwald
From town, you have a couple of options to find some amazing spots for viewing the Bergfeuer.
Find a Restaraunt with a Terrace (but be sure you can still see all the mountains!)
Many people enjoy staying at a restaurant where they can order food and drinks while they "watch the show." The downside of this though is that you won't get a FULL 360 view.
A popular place that was closer down into the basin was The Caledonian Irish Pub in Ehrwald. They had a bunch of tables and benches set outside where you could get great views of most of the surrounding mountains (arrive early though if you want to stay at the pub!) They even had a little "To Go" stand for drinks if you wanted to "Grab and Go" to a more private spot.
Walk Into the Basin
This is my personal recommendation. There are several ways you can go into the basin and since it is SOOO huge, you won't have any issues finding a spot, even if there are tons of other people. Here are three options for you to find good viewing places right in the basin.
From the Caledonian Pub, turn left onto a little farm path and just walk as far as you want until you find a spot that is suitable for you.
Find the "Apartment Haus Leitner"/"Hervis Ski for Rent." There is a little driveway which turns into a footpath that leads right down into a great piece of the basin that opens up to fantastic 360 views.
From the Shell Gas Station in town, there is a little stream/ brook that if you follow will take you right into the basin. Find a piece of tranquil quiet along the water.
From Your Hotel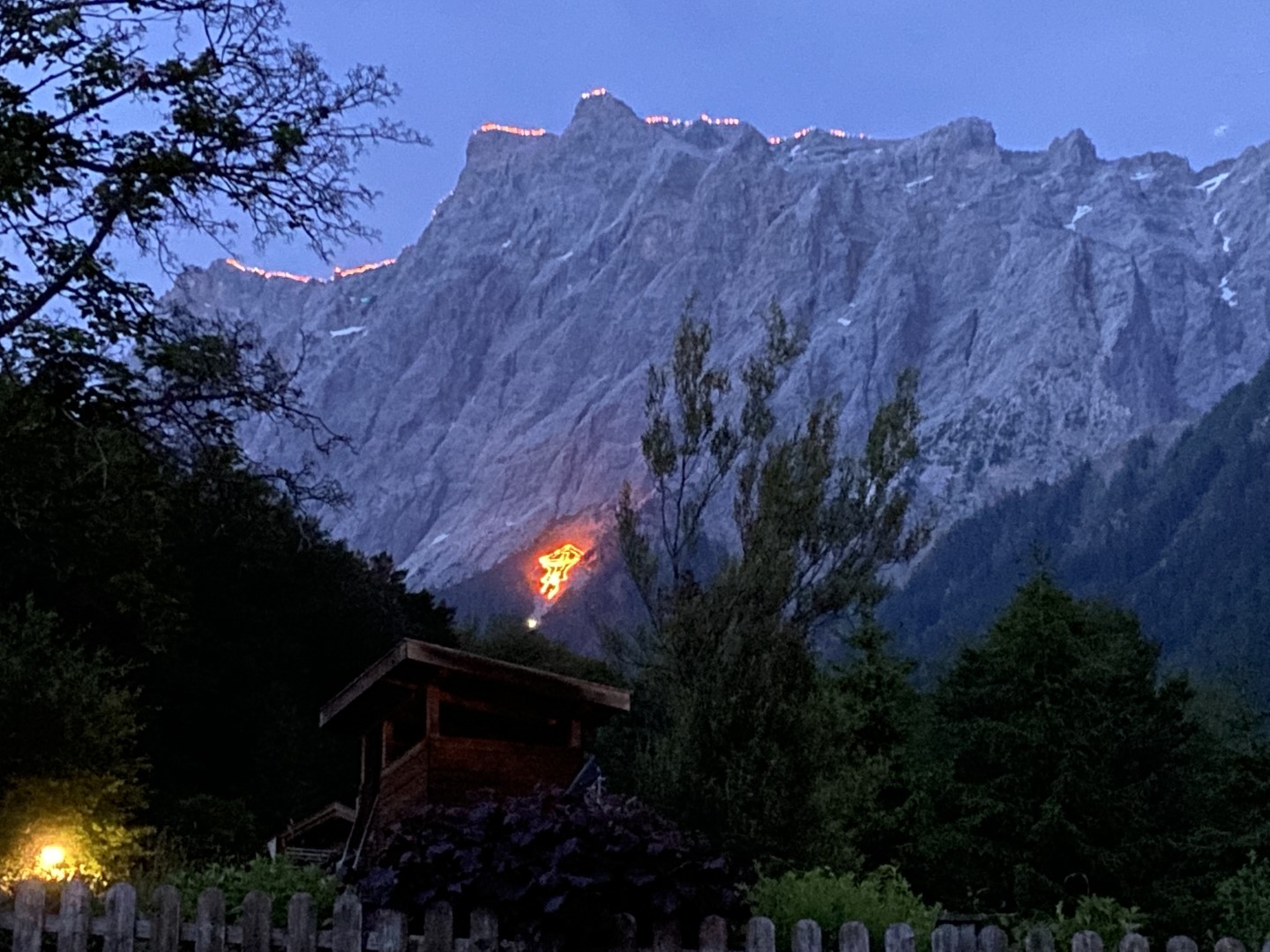 Our apartment was located a little bit up on a hill. While I went down into the basin, my husband took "kid duty" (they were already asleep) and he was still able to get fantastic views of the Sonnespitze and Zugspitze and was even able to see Lermoos right from the balcony of our hotel! This is a great option if you've got little ones still asleep and still want to experience some of the fires but can't stray too far from base.
Bergfeuer Lermoos
Another popular place to view the fires is in the next-door town of Lermoos. Just like in Erhwald, you can walk into the basin to see all the mountains.
Garmisch
The majority of the Garmisch Solistice Fires actually take place a few days later and is always on June 23rd, which is "St. Johannestag." Like many Christian holidays, they tried to sway followers by using pagan holidays. Since people already were celebrating Midsummer (Solstice), St. Joahnnestag became a popular feast day in the very Catholic region of Bavaria.
However, with all that being said, while on the Austrian side, the faces of the Zugspitze are lit with beautiful designs, you can still easily see the top range of the tallest mountain in Germany lit up with beautiful dots all along the ridges from the Garmisch side.
If heading to Garmisch, be sure to check out the following articles:
What to Expect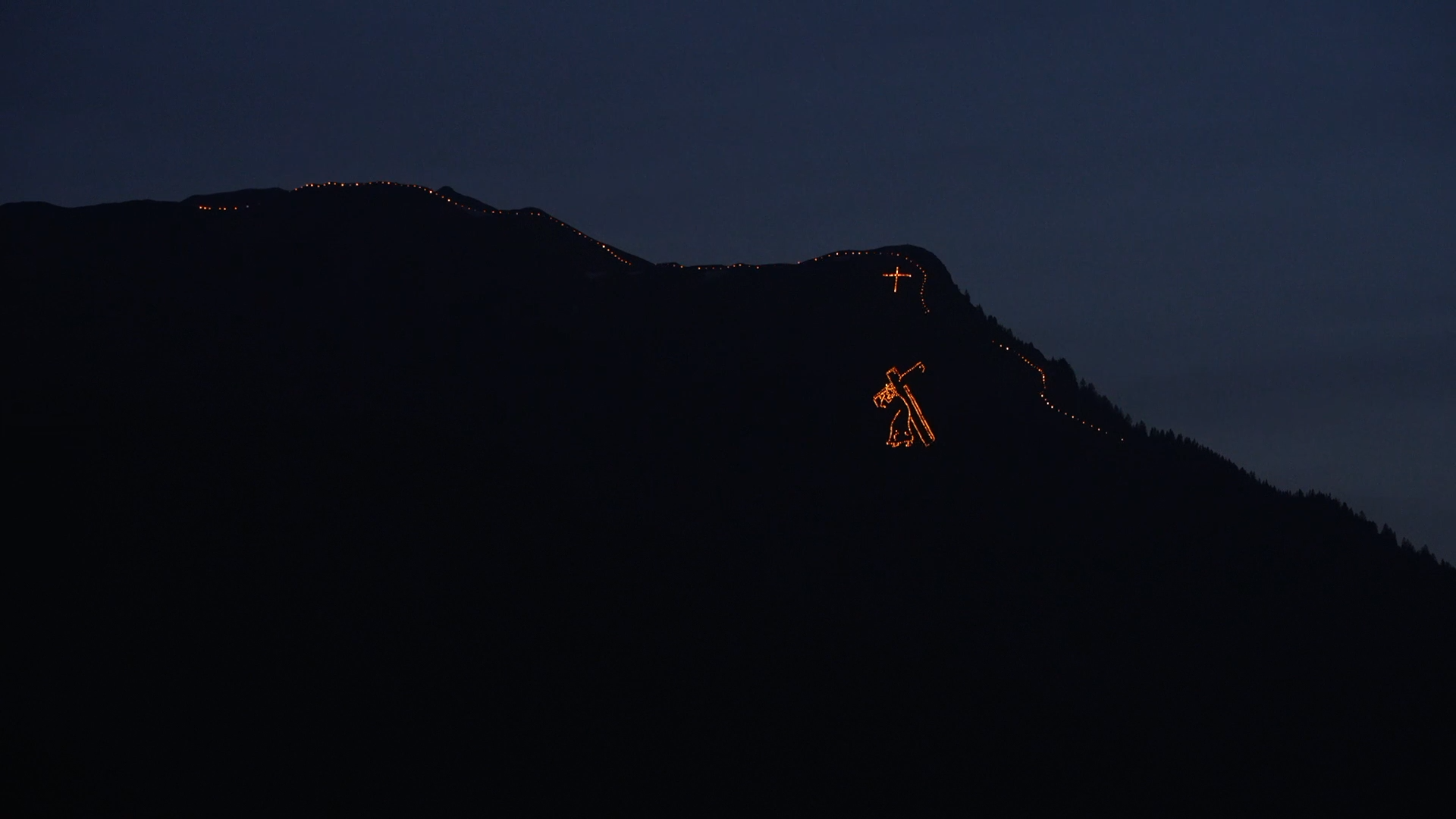 As evening draws near, hundreds of thousands of people start to flock towards the Zugspitze Arena Basin in preparation for watching the fires. However, despite tons of people, you don't need to go extremely early as there is PLENTY of space in the huge basin and farm fields to watch from. (I walked down at exactly 9:35 and had no issue finding a huge plot of open space to lay my blanket down in)
Starting at 9:30, you'll start to see flickerings of light beginning to form high up onto the mountains.
Some are slow and you can barely make out when they initially get lit. Others sparkle and shine as if a strobe light was going off.
Eventually, designs begin to slowly form onto the mountainside. In fact, this was half the fun! Some designs took almost until the entire motif was fully lit to figure out what we were seeing (Is that…..a parrot!?). Others, you could predict quite quickly (Oh, look, another cross)
Tip: While everything says that the fires start at 9:30pm this is when they slowly start getting lit, but you couldn't start seeing the actual full designs until closer to 10 pm.
By 10:45pm people were already packing up their belongings and making their way back. After all, the fires aren't meant to last ALL night.
Tip: If you drove, just wait around a while longer. At 10:50 as I was walking back to my hotel and traffic out of Ehrwald was at a standstill. The fires are still going, so sit back for a few more minutes and just enjoy the show!
By About 11:30pm the fires will begin sputtering out. In fact, this was actually one of my favorite times to watch them. By now, I was back at the comfort of my balcony at the hotel/apartment and the fires basically looked like they were sparkling as they slowly peetered out.
The Designs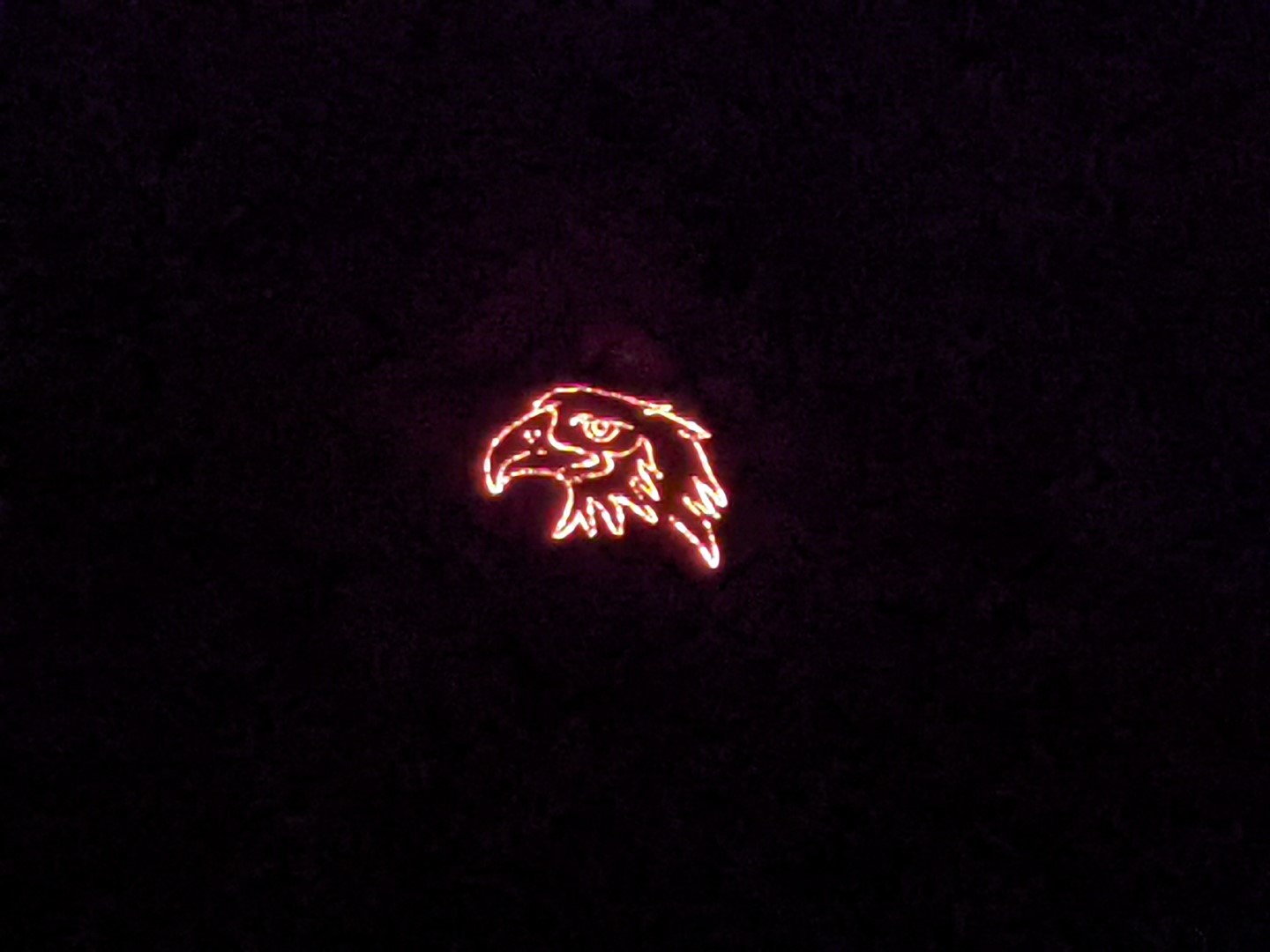 Each year, the groups and organizations pick new designs to create. They don't really coordinate with others, but also don't really care if there are similar designs. As noted above, they often stick to animal, religious, or flower themes.
This year, we got to see Mickey Mouse, LOTS of different kinds of crosses (some were extremely elaborate, others quite simple), the word "Tirol", an image of mountain peaks with a cross on the top, a boat, and a parrot were just a few of the bigger fire designs.
Tips For Seeing the Solstice Fires in the Mountains
Stay In Town
If you can, actually stay IN one of the towns in the Basin as opposed to driving in just for the evening.
Parking can be extremely difficult to come by in the small towns and with so many people, I was thankful I didn't have to deal with a car!
Driving out of town was stand still traffic after the fires
I stayed at a perfect little apartment (see below for accommodation recommendations) in Erwhald that was only an 8 minute walk down into the Basin. I had no problem with traffic or parking and could just thoroughly enjoy my evening!
What To Bring As you Watch the Zugspitze Arena Fires
Binoculars
Jacket
Blanket or chairs to sit on if you are going to be sitting in the fields in the basin
Bug spra
Snacks, drinks, picnic, dessert etc. Most people had bottles of beer or even glasses/bottles of wine to enjoy.

Many people came quite early and just sat out in the fields enjoying a romantic little picnic dinner \
Where To Stay
You have several options for where to stay to see the solstice mountain fires in Germany and Austria.
Erhwald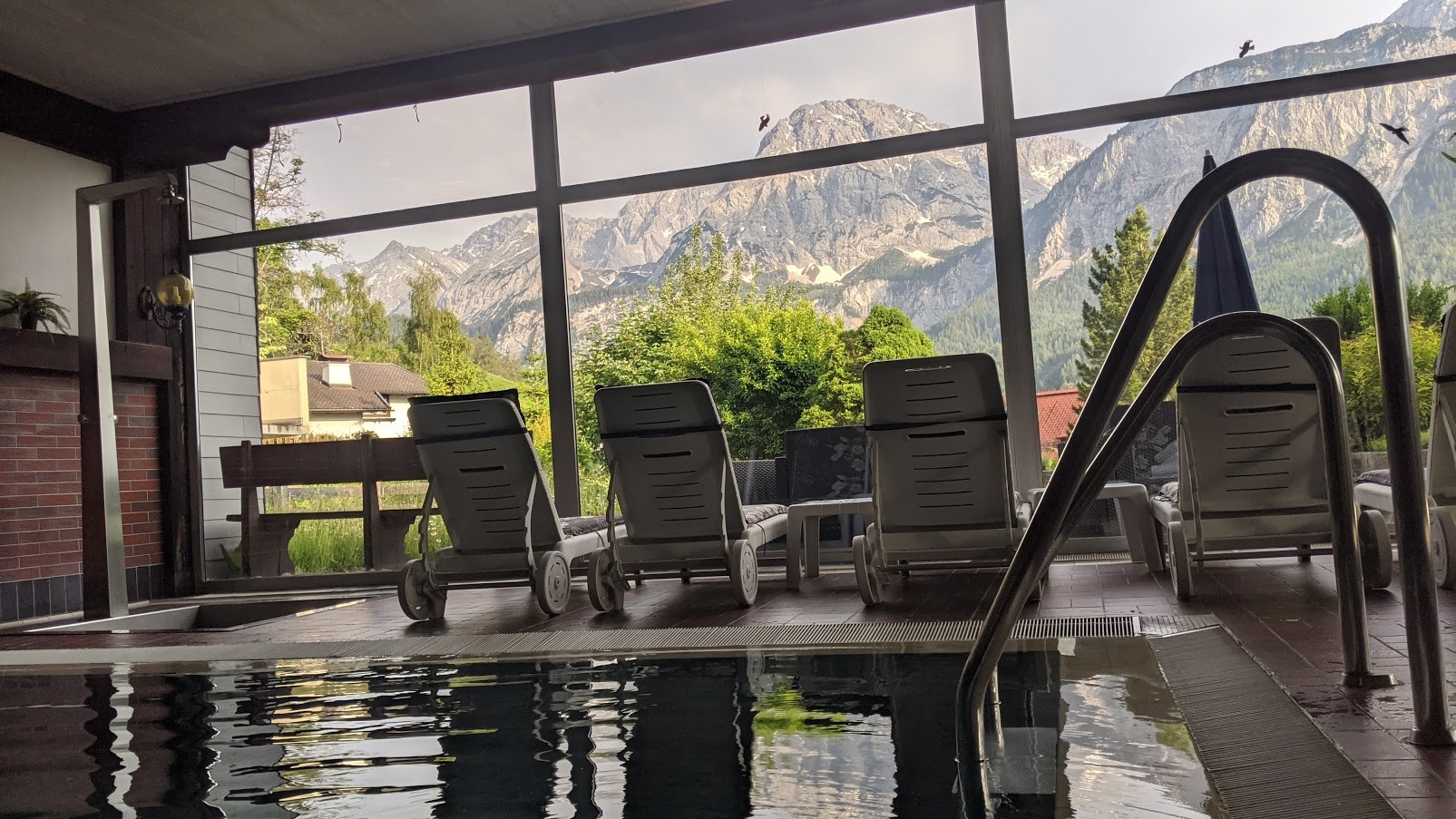 This is where we personally stayed and I would stay here again and again! The apartment we had (in a big old, Tirolean Haus) was a 2 bedroom apartment with a little kitchenette (PERFECT for a family!) But the best part was that we had our own pool! Every day, the kids loved being able to just go right upstairs to go swimming and I couldn't complain about the views from the water, either!!!
From our apartment, we could go to the balcony and see a ton of the fires (not a full 360 view, but still fantastic if you've got littles while Traveling in Germany with Kids and can't go down into the basin past their bedtimes)
Click Here to See Availabity For the Apartments
Funny enough, my second choice when looking at reviews was to stay at the Mellow Mountain Hostel. Why is this funny? Because after I booked the above apartments, I got a message that they were run by the Mellow Mountain and to stop there for our keys. We had such a great time at the apartments (and the owner was FANTASTIC with communication, suggestions on where to see the fires and more) that I would happily book a family room at the Hostel next time if the apartments weren't available.
Just from going in to talk to the owners for suggestions, the hostel had so much charm, was clean, and there was a fantastic group room with stunning views out into the basin and surrounding mountains!
Click Here to Read Reviews on The Mellow Mountain Hostel
Romantik Hotel Spielmann
Right next to our apartments was the STUNNING Hotel Spielmann. They don't call it "Romantik" for nothing! It looked SO dreamy and would be a fantastic option if you were making this a couples getaway weekend. With its fantastic reviews, stunning view from the pool, huge breakfast, and even a 5 course dinner option, I'm tempted to make it a weekend getaway for myself!
Click Here To See Availability for the Romantik Hotel Spielmann
Lermoos and Biberweir
With a pool, sauna, and quiet little spa oasis right in the hotel, what's not to love. There is a huge playground area for kids as well and breakfast is included so it would be great for families as well as singles or couples.
Click Here To See Photos Of the Aparthotel Tyrol
If you are looking for a luxurious getaway, this hotel has both hotel rooms and apartments available and between the pool, sauna, and gorgeous rooms, I don't know how you wouldn't be feeling your Alpine best!
See Current Prices for Pure Lermoos
If you are looking for an apartment-style accommodation, this was also on the top of our list. The reviews tout hosts that are fantastic and helpful and that the rooms clean, and have fantastic views of the Alps, all for a great price.
Read All the Review for Haus Alpenruh Here
Garmisch
Another option is to stay on the German side and then drive over for the fires since there is so much to do in the area.
Edelweiss Resort
Many US Military members love staying at the Edelweiss Resort (must be US Military ID cardholders) as it often feels like a "piece of home" when stationed abroad.
I've stayed at this fantastic hotel in the past and loved the huge rooms, fantastic balcony views, sauna, and pool! We chose to eat dinner there as well and swear it was one of the best Bavarian Goulashes I've ever had!
Click Here to See Availability for Rheinischer Hof
Other Things To Do Nearby
Hiking
Just look outside. You are SURROUNDED by gorgeous mountains! There are so many amazing hikes you can do in the area. Here are some suggestions to get you started.
Go Golfing
It's not often you see golf courses in Germany (and Austria)! But in between Lermoos and Ehrwald, you can find the Tiroler Zugspitz Golf to putt around at!
There is also a mini golf in Ehrwald if that is more your speed.
Kletterwald
If you haven't been to a Kletterwald yet, they are so much fun! At the Bichlbach Aerial Forest Adventure Park (about 15 minutes from Ehrwald), there are tons of high ropes courses ranging from easy (for kiddos) to quite a challenge for adults (and those adventurous daredevils!)
Garmisch- Partenkirche
Despite having been to Garmisch numerous times previously and us staying IN Austria, we actually hopped the border back into Germany a lot on this particular trip to nearby Garmisch because there is still just so much to do there.
Zugspitze
One of the most popular things to do in the area is to climb to the top of Germany; the Zugspitze. There is plenty to do at the peak such as enjoy a lunch or coffee, go to the Ice Hotel (and have a cocktail), go sledding (yes even in the summer….you are on a glacier after all!), or find some hikes.
Pro Tip: If you take the cable car from the Austrian side, it is cheaper than from the German side!
Alternative: While I love "checklist travel items" like "Go to the tallest mountain in Germany" I am also WAY more about actual experiences (ok ok…..and saving money!) than about checking off a bucketlist item. If you want to do an alternative to Zugspitze, we took the cable car up to the Alpspitze (right next to the Zugspitz) and then did some hikes up there and the views were absolutely stunning (plus fantastic views OF the Zugspitze as well!)
Lake Eibsee
We spent the better part of a day at this stunning Alpine lake. Be warned, it IS a touristy area and can get quite crowded and packed, especially on the weekends and on hot summer days. You can take the loop trail around the lake (about 3 hours total), enjoy a Schnitzel on the waters at the Biergarten, dip into the cool waters for a swim, or paddle on out into the middle of the lake for FANTASTIC views of the looming Zugspitze above you (we did a paddleboat, SUPS are also available).
Gorges
One of the most popular gorges is the Partnach Gorge in Garmisch. However, if you want to escape a few of the crowds, head over to the nearby town of Mittenwald and do the Leutasch Gorge!
Rodelbahns
Garmisch also has a really fun Alpine coaster (Rodelbahn) that everyone loves to race down!
If you are staying on the Austrian side and looking for things to do, there is also a Rodelbahn in Biberweir as well!
Other Popular Sonnwendfeuer in the Alps in Germany
Kampenwand (June 24th)
Near the Kampenwand mountain station, a huge bonfire is lit, accompanied by traditional Bayerisch Alphorn players!!! From here, the views out into Austria are spectacular.
The festivities continue at the nearby SonnenAlm as well as at the fire itself.
(Note: The cable car runs until midnight for this celebration)
Johannifeuer Garmisch-Partenkirch (June 23rd)
One of the most popular places to go to see these Bergfeuers are along the Wank mountain, which then provides fantastic views out over to the Wetterstein, Karwendel and Ammer mountains.
Johannifeuer Grainau (June 23th)
From the valley floor of Grainau, you can view the entire ridge of the Waxenstein lit up in a chain of fires on the eve of St. Johann's feast day.
Johannifeier auf dem Wallberg (check dates for your upcoming year)
This is more of a fest and party than just mere "go see the fires." Starting around 6pm, live music starts, and plenty of people will be in their traditional trachten clothing (Lederhosen and Dirndls). You can take the cable car from Rottach-Egern up until 10pm and down until midnight.