[This post may contain affiliate links where we earn a small commission.  Please see our disclosure for more information and thank you for supporting our site so we can continue to bring you awesome content for your travel inspiration!]
Garmisch, Partenkirchen is one of Germany's most beloved resort Alpine towns, mostly because there are plenty of Things to Do in Garmisch.  Hovering above the town stands the largest mountain in Germany, the Zugspitze, there is the ancient, rushing bright blue Partnach Gorge, and of course, you can't ignore the masterpieces of artwork (Lüftlmalerei) painted right onto the buildings making it an absolutely picture perfect village in Germany.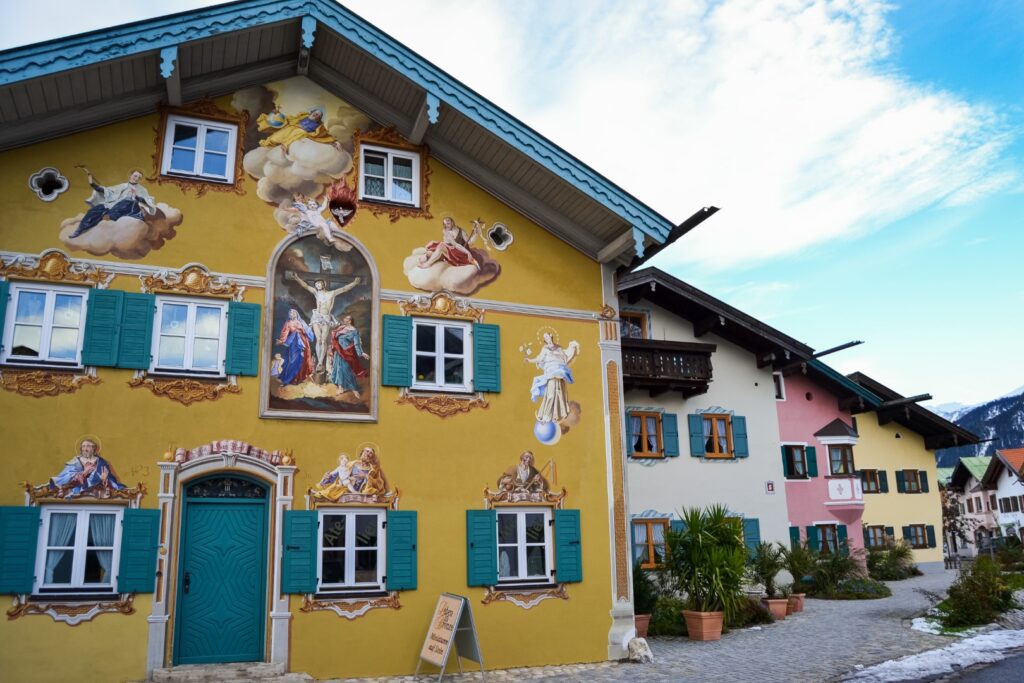 Whether you are coming to Garmisch Germany in the Winter for a ski holiday or want to find some breathtaking hikes in the summer, Garmisch is one of the best Alpine towns in Germany to visit, no matter the year.
You Might Also Be Interested in Reading:
Quick Answer: What are the best Garmisch Partenkirchen Hotels?
In a rush and just want my absolute top picks without the fuss?
Budget Friendly: Does this actually exist in Garmisch?? Look into the DJH Hostel or Moun10
Luxury: Das Graseck 
For a Family: Hotel Aja Garmisch-Partenkirchen or the DJH Garmisch Hostel (yes…Hostel! Just hear my out!) 
Apartment: Gapartments
With Mountain Views: Das Graseck (You are literally at the foot of the Zugspitze!) 
You'll Find In This Article:
Why Choose and Stay in Garmisch?
One of the main reasons that make Garmisch so desirable to tourists is its easy access.  In less than 1.5 hours by train using the Bayern Pass, you can be from the Munich HBF to the Garmisch train station with no transfers.  Easy Peasy! Combine this with the fact that Garmisch has a decent amount of things to do and is easily walkable by foot/ easy to get by with bus, then it's easy to see why so many people choose Garmisch over other German Alpine villages.
However, if you've got more than just a few days, having a car isn't a horrible idea either because there are so many really fantastic villages nearby that you can zip around to much more easily by driving.  A few of my favorite day trips from Garmisch are:
Mittenwald
Neuschwanstein Castle (and pair it up with Linderhof and Hohenschwangau)
Ettal Abbey
Lermoos (Austria)
Living just a few hours away inRegensburg, I make going down the German Alps a regular weekend getaway. I've stayed in Garmisch and the surrounding villages and towns countless times, which is why I wanted to share with you not only my personal favorite stays as well as the best options for various budgets based off of my own personal research and personal stays. 
Note For American Military Members: If you are in the US Military and are coming to/ living in Germany, then you have undoubtedly already heard about the Edelweiss Resort. I have many friends who love going there because it "feels a bit like home." They have typical "American" style rooms (Aka options with things like 2 queen beds) and restaurants that serve "American" food (can anyone say "Chicken Fingers!") buuuuut, as someone who has stayed at Edelweiss, I actually don't think it's THAT great of a deal.  Afterall, if you are a military ID card holder, you can access all of Edelweiss (Yes, even the pool with a day pass) including the restaurants. So, I actually recommend people to stay at a more charming, local place (and probably better priced) and if you really want those Chicky Fingers (hey, I don't judge!!) then stop in for a day. 
Understanding Garmisch-Partenkirchen Towns
Real quick, before you choose where to stay in Garmisch, you may have heard that Garmisch is actually two villages.  Yup! That is correct!  It was only for the 1936 Winter Olympics that the separate towns of Garmisch and Partenkirchen combined to form the one municipality that it still remains today. 
Since all that separates the two towns is the Partnach River, you probably won't even notice/ realize that it was once two, separate towns. Everything is all very accessible and easy to get around. 
I mentioned all of this because many people in my Travel in Bavaria Facebook Group ask if the Garmisch or the Partenkirchen side is better to stay on. Honestly, I don't think that this is much to really worry about since everything is so close.  However, one could argue that:
Garmisch: Is better to stay on this side if you want to walk easily to most restaurants in town and have more hotel options. This is also closer to the train station itself.
VS
Partnach: There are "less" tourists on this side (less is a VERY relative term when talking about Garmisch!) because there are a lot more hotel and restaurant options on the Garmisch side.  However, this side has the really nice pedestrian street "Ludwigstrasse" which is gorgeous and if you want to hike straight to the Wank mountain, this is a potentially better starting point. 
However, there are frequent buses that go back and forth and you can actually easily walk from one "town center" to the other in about 20 minutes, so personally, I think the argument of "which side to stay on" is a bit moot.
Understanding Garmisch Hotel Prices
Before I start listing all the places I think you should look into when staying in Garmisch, there is something you need to know.
This is a "German Resort Town." Keyword being: "Resort."  AKA: Expensive! 
I can't tell you how many times I've been asked to recommend cheap hotels in Garmisch Partenkirchen and I have to break some young backpackers in Germany heart that it really just doesn't exist here!
So, for the purpose of this article, please know that my typical "Budget, Mid-Range, and Luxury" categories aren't my typical price ranges.  
In Garmisch, you can expect
Budget Hotels: $100-200 (good luck finding ANYTHING under $100/night. If you find that rare unicorn, snatch it up without a second thought!!!)
Mid Range: $175-$250/night
Luxury: $200+/night
Alright, with all that aside, let's dive right in! I'll be sectioning out this Garmisch Hotel Guide into the popular budget categories mentioned above (Luxury, Mid Range, Budget, Apartments, and Family Stays). Skip around to find the one that best suits you.
The Best Places to Stay in Garmisch-Partenkirchen, Germany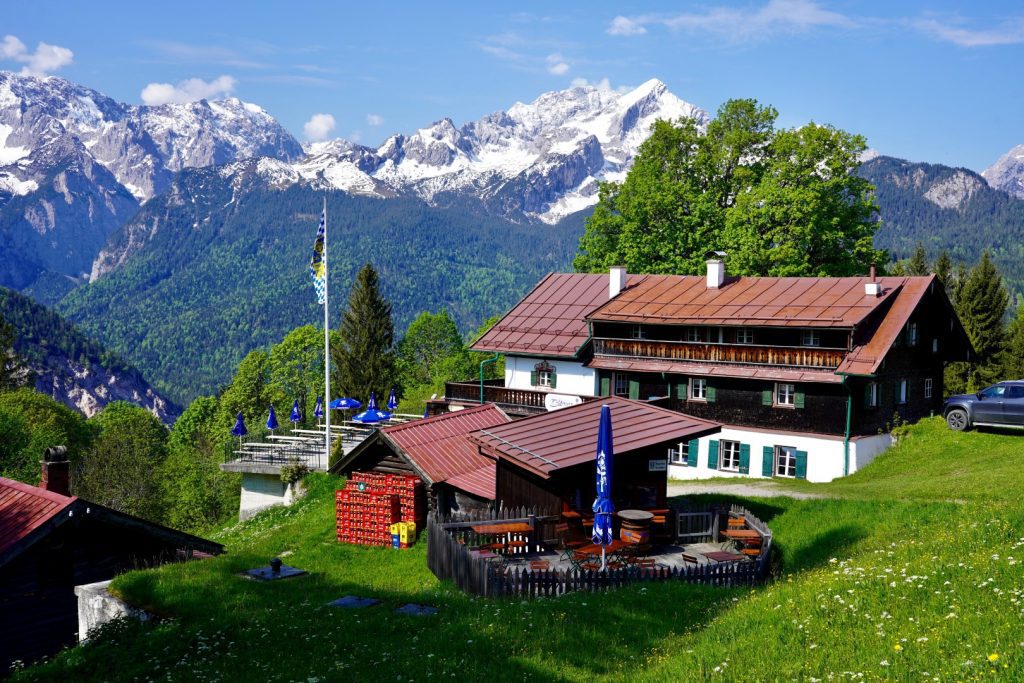 Garmisch Luxury Hotels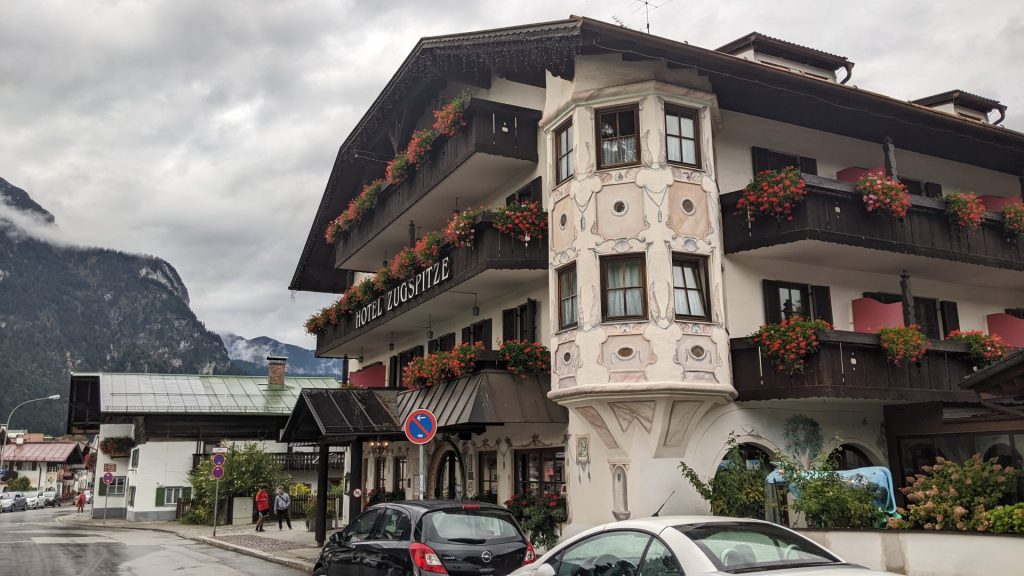 Hotel Zugspitze Garmisch is a 4-star hotel situated in the heart of town and makes a wonderful base for your stay. This hotel is walkable to downtown Garmisch which offers shopping & dining options galore. This location is a short car ride to Austria (the border is 8 miles away). It has a traditional Alpine style exterior with modern amenities including spa services, an indoor pool & elevators.
Why I'd Book Hotel Zugspitze:
Gorgeous mountain views
The hotel offers complete spa services: fitness center, indoor pool, whirlpool, steam room, sauna, massage & beauty services. Packages are available. Free Taiji classes
5-minute walk to cog train which brings you to the Zugspitze summit
The hotel restaurant was awarded the Michelin Bib Gourmand signifying a high-quality dining experience at a reasonable price.
Breakfast is included with the room price (Half board also available)
Family friendly: Baby/Child sitting services available to book, rooms available include studios, double rooms, & suites, cribs & extra beds available (additional charge)
Pets allowed
Things to Consider:
There are some complaints that the hotel could use a refresh, and for being a 4-star hotel, I could maybe see that opinion. However, it is decorated in a very Bavarian style, which is very common. Expect lots of wood and white decor- simple, but functional~ just like Bavarians!
Also, a note on air conditioning. There are often complaints about no AC at this hotel but you need to know that it is not common in Germany and not available at this hotel. It is rare to find it no matter the hotel star rating.
Booking.com Rating: 8.8 Excellent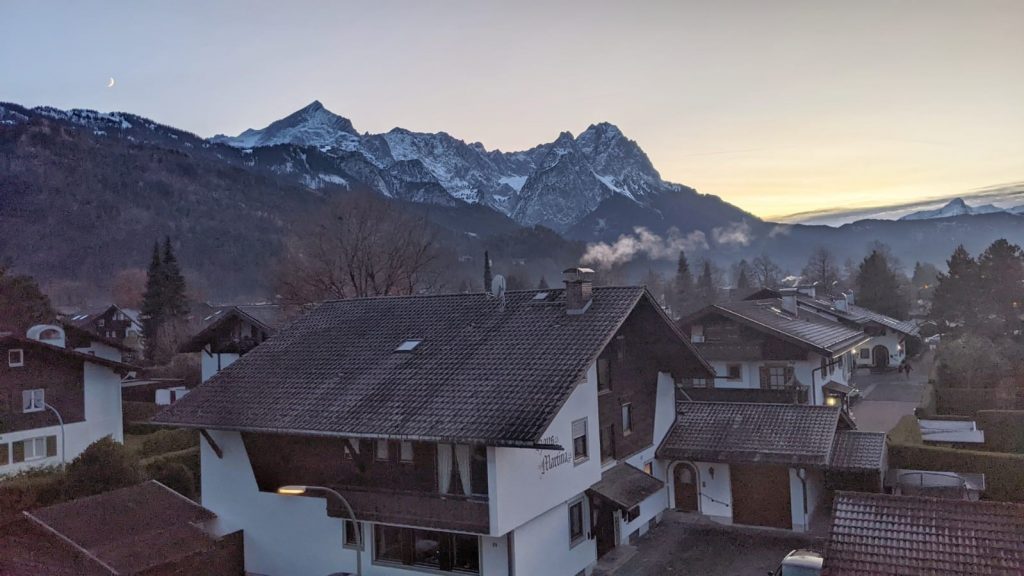 On my most recent trip to Garmisch with my sister, we chose to stay at the Aja and I couldn't have been happier with that decision! It was a little bit of a splurge for my usual budget, but we all ended up loving every minute of our stay!
One of the biggest reasons why we chose Aja was because it is literally just across the street from the main Garmisch Train Station and since we didn't have a car, that was perfect. We could walk to some fantastic restaurants in about 15 minutes or catch a bus around town when needed.
Our second biggest reason for booking the Aja Hotel in Garmisch was because of how family friendly they were. There were highchairs for my toddler for the fantastic breakfast buffet, there was a little play room that the kids loved playing in while I enjoyed the free afternoon "Kaffee und Kuchen" hour, and the kids pool was perfect for us!! (Us adults loved the spa, sauna, and big pool as well!)
See Aja Photos and Reviews Here
Why We Booked the Garmisch Aja Hotel
2 minute walk to Garmisch Hauptbahnhof
3 minute walk to the Zugspitzebahn
Extremely family friendly (including family rooms available and a kids play area inside)
Amazing pool, sauna, and spa with different sections for all ages (including a beautiful outdoor pool, open year around, with stunning Zugspitze views!)
Gorgeous Zugspitze views from the rooms
Wonderful and big breakfast buffet is included with the room price
Walking distance to the Old Town
Booking.Com Rating: 8.4 Very Good
Hotel Obermühle Garmisch is a family run 4 star hotel resort with extensive spa services, making it a great luxury hotel in Garmisch. The property was recently renovated (in 2019) so that the traditional Bavarian (woods, etc) look is combined with light and airy vibes, giving it fantastic wellness feeling. There are 4 pools at this property – do not miss the rooftop pool with an Alpine view!!
Important: This is one of the rare hotels in the area with air conditioning. If that's a priority on your list, make sure you book with Hotel Obermühle Garmisch asap if there is still availability for your dates.
Why I'd Book Obermühle:
It is pure wellness, relaxation, and chill vibes here!
This hotel runs its own shuttle service within Garmisch-Partenkirchen for its guests!
The Premium Spa area includes a panoramic sauna, heated outdoor infinity pool with a view of the Zugspitze, a steam bath, and solarium!
The Balance Wellness area includes an indoor pool with a panoramic view plus the fitness center & whirlpool. This area is open to all guests at no additional charge.
Wonderful breakfast and dinner included with room reservation.
Some rooms are available with air conditioning which is a rarity in this area.
Rooms have a balcony or terrace with stunning mountain and/or garden views.
Things to Consider:
The spa areas are for 18 years and older. (If you haven't been to a German Spa, read my whole German Spa Etiquette Guide) However, the property has outdoor play equipment, indoor play area, and games/puzzles available for families with younger kids.
The Premium Spa is free to use for guests who book Executive Double Rooms or Suites. Guests of other room types must pay a daily fee to use the premium spa or have access in conjunction with a massage appointment.
A damage deposit is collected at check in and just know that there is an extra charge for daily housekeeping.
Booking.com Rating: Excellent 8.7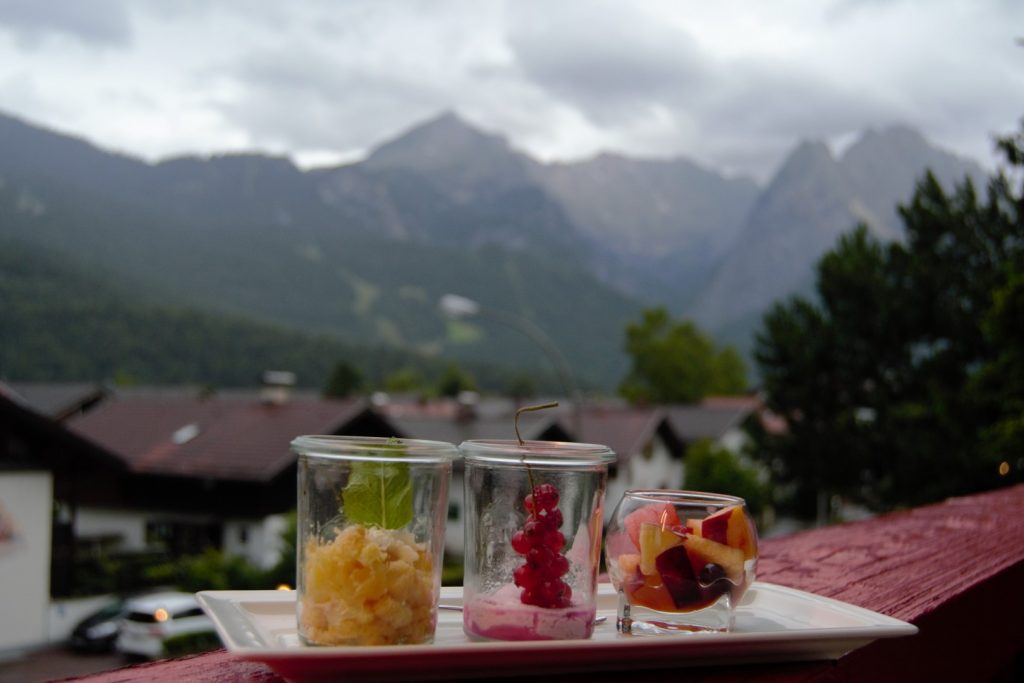 I personally stayed at the Rheinischer Hof on my second trip down to Garmisch. This was one of the first trips I took in Germany with a Baby, and I really appreciated the extremely large room (which that in and of itself is a luxury in Germany!).
This family run hotel earns high marks for the size of the rooms, location, customer service and breakfast. We booked dinner here and I had one of the best goulashes I've ever had in my life! Yum!!! The renovated spa area includes a sauna, solarium and massage room. The bus stop for transportation around Garmisch-Partenkirchen is steps outside the hotel door.
Why I Booked Rheinischer Hof:
The rooms and bathroom were huge
Easy bus access
Ask for a mountain view room- it won't disappoint!
Free private parking for hotel guests on site
The food!!! Breakfast if fantastic and if you want dinner, be sure to book ahead.
The staff is extremely attentive, friendly, and has great customer service
Things to Consider:
This 4-star hotel is in high demand and often doesn't have availability. Book it as soon as you know your dates!
You are a little bit off the most central part of town, but there is a bus stop 2 buildings down. You will receive a guest card allowing you access to the buses at no charge.
Some parts of the hotel have already been renovated. The restaurant will be closed from 2 Oct 2022 – Dec 2024 but there are several restaurants and cafes within walking distance. In addition, there is a grocery store .3 miles from the hotel.
Booking.com Rating: 8.3 Very Good
If skiing is your wish, Hyperion Hotel Garmisch (previously known as Hotel Alpina Garmisch) is one you should highly consider. While you could walk the 10 minutes to the ski lift, I recommend just taking the super convenient ski bus located right outside the hotel. There is a ski equipment rental shop by the bus stop as well if you need some gear. Of course, the hotel can print your lift tickets to both Garmisch Classic and Zugspitze if you need them.
Enjoy a leisurely 5-minute walk into the city center where you can eat, shop & enjoy photo opportunities.
Important: This hotel also has air conditioning throughout all its rooms. Consider this one if you want one with A/C!
Why I'd Book Hyperion Garmisch Hotel:
Centrally located. Guests love this location – it has a 9.2 excellent rating
This is one of the few hotels in Germany with air conditioning. All rooms have AC
Facilities of the hotel include an indoor pool, fitness room, infrared cabin, Finnish sauna, and Roman bath. Spa and beauty treatments are also available.
Some of the rooms have been recently refurbished
Enjoy a fantastic breakfast buffet with a wide variety of choices
Things to Consider:
Hotels in the area tend to be older. There are some comments of wear and tear in certain areas but renovations have been ongoing at this hotel and areas including the reception area & some of the rooms have been completed (2019-2020). If you want to ensure you've gotten a recently refurbished room, make sure you note that in your reservation request.
There are a few parking spots in front of the hotel that are free of charge. If these are unavailable, there is a parking garage available for a daily fee.
Booking.com Rating: 8.2 Very Good
Das Graseck is an amazing boutique hotel located at the foot of the Zugspitze and can only be reached by cable car! It boasts luxurious mountain & gorge views from hotel rooms with panoramic windows. Hikers will be excited to walk outside the hotel doors straight into a hiking adventure.
Why I'd Book the Garmisch Graseck Hotel:
The views! Splurge with panoramic view rooms with a private balcony & large window fronts
Get a room with private saunas, terraces, outdoor day beds & 270° mountain views!
Fantastic for a romantic couples mountain getaway
The Graseckbahn cable car pass is included to access the hotel
Comprehensive spa & wellness facilities
Things to Consider:
There is typically a 2 night minimum stay if booking during the week and 3 nights minimum if your stay falls over the weekend (although most people don't want to leave even after the 2 nights!!!) This is also another hotel that is very hard to find availability, so book in advance!
Since it is located in more of a remote location, plan breakfast & dinners accordingly as they can get busy during peak times.
This may not be the best location for families, while kids of all ages are welcome & options for connecting rooms are available, the spa area is for 16 years & older. The new outdoor pool is available to all ages from 1000-1200 daily.
Booking.com Rating: 9.3 Superb
Mid Range Hotels in Garmisch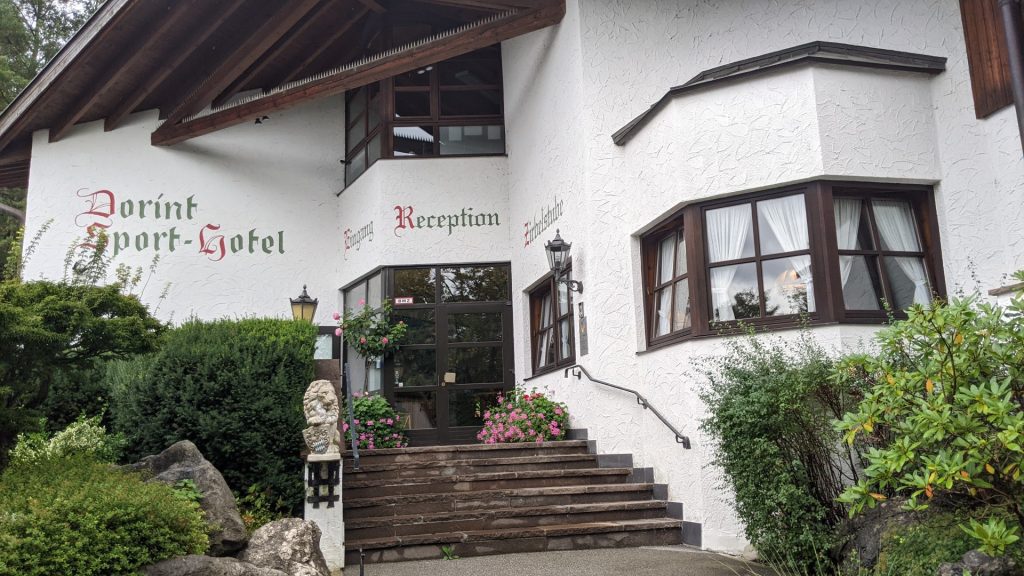 The Dorint Sporthotel Garmisch 4 star hotel is a great choice for families (including group/multiple families going on a group vacation!) Apartments and deluxe double rooms are available to book, up to 6 people, which is not always an option in this area. These rooms include a kitchenette, patio, and dining area. The rooms, lobby & garage are all connected by an underground walkway.
Why I'd Book Dorint Sporthotel:
Location! Situated at the foot of the Zugspitze, the Dorint Sporthotel Garmisch is a great location for those wanting to ski, hike and enjoy the outdoors.
Facilities for the families include an indoor pool (kiddie area available), indoor play area, outdoor playground, gameboard/puzzle area.
Pets are welcome guests (extra fees apply).
Huge breakfast buffet available and if you want to grab a drink or cocktails, enjoy one either next to the fireplace in the winter or out in the Biergarten in nice weather!
The on-site restaurants serve Bavarian & Mediterranean fare. Kids menu is available.
Plenty of options for relaxing as well. Take a yoga class, book a massage, or enjoy the steam room or spa services. There's even a hammam. The pool is heated with a view and even has bar service (now THAT'S my kinda pool!)
Things to Consider:
There are some notes the facilities could use a refresh. however, the hotel will supposedly be doing a renovation next year (2023)- which is good for an update, but could also be bad for noise and disruption.
The property is large. Some of the rooms can be a trek, so request a closer room if you want to be closer to the facilities and lobby.
You can enjoy all of Garmisch when booking a room at Hotel Königshof Garmisch. It is located in the downtown area within walking distance of a grocery store, restaurants, the river & several attractions. It is also within walking distance to the train station & a ski bus stop. Enjoy all the comforts of town with beautiful views of the mountains & river.
Why I'd Book Königshof Hotel:
Great Location: It is within walking distance to several attractions including downtown restaurants, shopping, museums & parks. The Garmisch-Partenkirchen train Station is .01 miles away.
Guests have free use of the 3 saunas & complete fitness studio (weight & cardio machines) all included with your booking. Massage services are also available for a fee.
Professional and very friendly staff
Included Breakfast Buffett: Start your day with an excellent breakfast buffet full of variety. You even have an option to make your stay a half board & add dinner which is a four-course menu.
Mountain room views are available upon request
The hotel offers ski equipment storage with a cellar drying room.
This hotel also has an elevator (also something not very common in German hotels!)
Things to Consider:
There is a separate charge for parking, but that isn't that uncommon and many hotels in this area charge some sort of fee for private onsite parking. However, the parking spots and garage is a wee bit tight (garage height is only 1.75m/5'8") so those with larger cars and vans may need to look for alternative parking. There is a parking garage located at the train station, a short walk from the hotel.
If you are a sensitive sleeper, you may want to consider asking for a room that is not street facing. During the cooler seasons when windows do not need to be open there may not be as much noise since windows are newer and double insulated, but along the street, you may hear noise.
Just as a reminder, A/C is not common in Germany and is not at this particular hotel.
This traditional Bavarian family run hotel is conveniently located in the center of town. They have a tourist information office that offers free hikes and guided tours. This hotel rates high for location, friendly staff and the breakfast buffet, which is included with your reservation.
Why I'd Book the Vier Jahreszeiten Hotel:
The rooms are big and comfortable. Some are available (with request) with a balcony that provides a beautiful view.
The location of this hotel has everything. You are close to downtown shopping (grocery stores included), restaurants, minigolf, museums, the local bus stop & and the train station.
It is a great location if doing a Christmas Markets in Germany as it is super close to the market. Also, there are several things you need to know about traveling to Germany over Christmas, one being that most everything is completely closed on Christmas Eve. However, the Vier Jahreszeiten puts on a fantastic Christmas Eve (and also New Year's Eve) dinner!
The hotel restaurant offers a seasonal menu based on the produce of the season
Things to Consider:
While there is no gym or sauna on the premises, the hotel does offer use of a partner gym that is a 5-minute walk from the hotel.
Although the location of the hotel is highly rated, there are some comments regarding noise, as it is in such a popular area.
There is a minimum 3-night stay, but prices are competitive. It would be perfect for a long weekend.
This quintessential Bavarian hotel has all the local charm with rooms that have been recently renovated. It is located in the original historic part of Partenkirchen on Ludwigstrasse, which is beautiful. It offers a highly rated restaurant and Biergarten open for all 3 meals.
Why Book:
Very close to the Wankbahn for easy ski and hiking access
This is a great option for single travelers, couples or families that are looking for more budget friendly lodging.
There is a local bus stop located right outside the hotel.
The hotel restaurant is open for breakfast, lunch and dinner. This is not always the case with hotels in the area. (Very good breakfast included in the booking)
Things to Consider:
Parking on site is free but there is not always a spot open There is a (paid) garage about 4-5 minutes walk from the hotel.
Check with the hotel for days of the week the restaurant may be closed.
Booking.com Rating: 8.3 Very Good
Budget Hotels in Garmisch
Important: I mentioned this above, but I just want to reiterate that "Cheap Hotels in Garmisch" is veeeery subjective and in relation to what is available in the area. Typically when I look at hotels, I consider anything under about 60 Euro/night "Budget" but you won't find that in Garmisch! So, take the "Budget" category with a grain of salt, but be assured, these are the hotels on the lower end of the price range!
If you are looking for a Garmisch Hostel, this is going to be one of the closest ones (located in the nearby village of Burgrain, about 4 km away). Now, before you get excited and think, "Huzzah! A Hostel! I just KNEW I could find a cheap place to stay in Garmisch!!" Don't get your hopes up too high yet, my friend. This hostel will still run you about 100 Euro/Night!!! However, if you are traveling with just a few people or even a family, then one of the shared rooms could make this a really great price actually.
Why I'd Book The JDH Garmisch Hostel:
You can get a group or family room (bunk beds) for up to 6 people for a good price
Buffett breakfast is included
Sheets are included
Great amenities such as a beautiful garden, climbing wall, on site, skills course, volleyball field and ping-pong table on the grounds
Things to Consider:
In order to stay at most a DJH (this brand of Hostel), you actually need a membership. You can either pay €3.50 per night or an upfront €18 total for a full "card" membership (plus, there is a "resort" tax added upon arrival as well)
Like most hostels, you can expect a shared shower and bathroom in the dorm-style rooms, but some do have it's own private ensuite bathrooms.
Booking.com Rating: 7.8 Good (The "Value for your money" and "Free Wifi bring the scores down but the "Service, Cleanliness," etc are all very good)
Pricing for lodging in Garmisch-Partenkirchen is higher than most locations and finding budget accommodations in the area is almost non-existent. Hotel Schatten Garmisch is a gem of a hotel for the price point alone, not to mention it's great reviews! (If this is available for your dates, run, don't walk on booking it!) It's a family owned business with a charming traditional Bavarian look inside and out. It is in the original historic part of town and still has those famous views that other hotels do but at a budget friendly price! #WINNING!
Why I'd Book Hotel Schatten:
Depending on season & availability, you may be able to reserve a room for under 100€ a night, which is actually a steal for this area!
Beautiful views. Guests love the rooms with balconies.
There is an elevator (again, not always common in Germany, especially in the more "traditional" buildings, like this one)
Wonderful buffet breakfast & Biergarten
Exceptional guest service ratings
Family room available for up to 5 people~making it a bargain for family travelers as well!
Things to Consider:
There are only 22 rooms so book as soon as you have your dates!
Pets are not allowed at this hotel.
Breakfast is a separate charge from the hotel fee. It is currently 10.50€ per person but very good.
Booking.com Rating: 8.5 Very Good
The price is right for this centrally located guesthouse. It is perfect for the budget conscious couple or single traveler. You may request a room with a balcony and enjoy those beautiful views of the mountains.
Why I'd Book Gästehaus Angela:
Depending on the season, room type, and availability, you might be able to find rooms for under 100€ per night!
A hearty continental breakfast is included with the cost of your reservation.
Great location, as it is close to museums, parks, restaurants, cafes, train station and bus stop.
Amazing staff that are welcoming, helpful, and very accommodating.
Things to Consider:
The regular Single as well as Double rooms do not have a private, ensuite bathroom, rather they have a shared bathroom. (The Suite & Deluxe double rooms DO have their own private bathrooms.)
This is a no frills guest house so no extra amenities but if you just need a pillow to put your head on at night, with great hospitality, this is a fantastic option.
Booking.com Rating: 8.8 Fabulous
Apartment Hotels in Garmisch Partenkirchen
In Germany, apartment hotels are called "Ferienwohnung" which translates to "Holiday Home." I typically find that there is very little to none on AirBnb for this area, but you can often find a few on Booking Here
Garmisch Partenkirchen is often referred to by locals as Ga-Pa. So any hotel that uses a clever pun (Gapartments= Ga-Pa Apartments) has my vote! This family run apartment has a traditional meets modern concept. It's not uncommon for the hosts to meet guests in town to take them to the apartment if needed, showing just one example of their fantastic hospitality. And of course, if you are looking for recommendations for things to do around town, they are happy to give their insider knowledge. The hosts are easy to work with and responsive.
The apartments are new, spacious, and offer beautiful views from your apartment windows (some have a balcony). They include a full kitchen, dishwasher & refrigerator.
Why I'd Book Gapartments:
The individualized customer service is top notch (9.6 on Booking.com)
If you are looking to book for up to 8 people, Gapartments is an outstanding option to look at.
The location is close to shopping, food (restaurants, cafes and a grocery store), and the train station.
Ski or bike supply storage available.
Things to Consider:
This is more on the higher price range, but if you have a small group and can split the costs, or have a family, it could be worth it.
Pets are only allowed in certain apartments.
There are only a few apartments so book as soon as you have your travel plans!
Booking.com Rating: 9.5 Exceptional
Ah, another great pun in the name! (Hey, I'm a writier-I'm a sucker for a good pun!)
These apartments are located in a central location of town within walking distance to regional and local buses, the train station, stores (including supermarkets), tourist attractions, and restaurants. (Check out the great bakery next door, too!) The facilities are modern, clean and new. The staff receives exceptional marks for customer service.
Why I'd Book Moun10 Urlaubswohnen:
More of a mid-range price point for the area
Great access to skiing/ hiking (Nearby lift: Hausbergbahn)
This fully equipped apartment has a full kitchen: refrigerator/freezer, coffee maker, microwave, oven, dishwasher, kitchen utensils, and dining area.
You can even book an additional service to have your refrigerator fully stocked when you arrive so that you don't have to worry about bringing it with you!
Units are available with clothing washing machines (great for families and longer trips!)
If you have a large group or family, there are options for up to 6 in one unit.
Fitness Center and Sauna available (at additional charge)
Things to Consider:
Private parking is available on-site for an additional charge and must be reserved in advance.
Booking.com Rating: 9.5 Exceptional
Where To Stay in Garmisch With a Family
This will highly depend on your budget. I know that for me, personally, traveling with my family means more "Mid-Range" so I would choose somewhere like the Moun10 Apartments. I personally rarely stay at hotels anymore with my family. We just prefer a bit more space and love having a place to do our own meals at.
Click Here to See Reviews of Moun10 Apartments
However, Hostels in Europe (ESPECIALLY "Family Friendly" certified ones) are not some scary place that Liam Neeson is going to have to come rescue you from. Quite the opposite actually! So don't go writing the JDH Garmisch Hostel off your list so quickly. We've stayed at numerous hostels in Germany and they are great. We always get one that we have our own room to (and at a place like the Jugendherberge Garmisch-Partenkirchen Hostel where you can get a room w/ 3 sets of bunks= 6 beds, my kids LOVE the idea of a room of bunk beds!)
Click Here To Check Out The Garmisch Hostel
On the other hand, sometimes it's great to splurge, and if your budget allows, the Hotel Obermühle is an absolute gem! The kids can hang out in the Game Room which has a pool table, Fussball, air hockey, board games, etc! There is even an "indoor cinema" (check to see if it is reopened due to covid). Or, have the kids go run off some energy at it's wonderful outdoor playground on site! And while the outdoor pool is for adults only, the indoor pool is great for all ages!!
Click Here To Get a Perfect Family Room at Hotel Obermühle