[This post may contain affiliate links where we earn a small commission. Please see our disclosure for more information and thank you for supporting our site so we can continue to bring you awesome content for your travel inspiration!]
If you know anything about my homestate in the US (Nebraska) then you probably know that it is flat flat flat. Which means I'd never properly skied for most of my life.
So, here I was, in my mid twenties going on one of my first ski holidays in Germany and could barely do more than a pizza wedge with my skis down the beautiful Bavarian Alps in Germany when, I kid you not, a 3 year old (still with a BINKY in her mouth!) ZOOMED past me with ease and grace. Of course, this was just seconds before I did yet another giant superman face plant into the powdery snow.
And thus began my skiing in Germany journey. I'd like to say that a decade later I can hold my own on the moguls with the best of them, buuuuut that would be a bold faced lie.
And while some people prefer the bigger, higher, more diverse mountains in places like Austria, France, Switzerland, or Italy for skiing holidays, Germany actually is a fantastic place to find REALLY reasonably priced lift tickets for what you get on the slopes!
Which is why I've put together some of the best ski resorts in Germany- no matter what level of skier you are! While most of the more popular are in the (Bavarian) Alps in Germany, there are still several others that you can look into in other locations in the country. Here I'll give you 15 tried and tested German ski resorts- including where to go skiing near Munich, Germany, some of the best slopes for beginners, and more.
At a Glance: Where to Go Skiing From Munich:
While I'll cover most of these in detail below, many people want to know where are some "Munich Ski Resorts." And while there isn't really skiing IN Munich, this is one of the best cities to start from, especially if just getting/flying into Germany. There are plenty of places for skiing near Munich, including plenty of day trip options. And of course, if you are staying in Munich, check out my 1, 2, and 3 day Munich itineraries!
| Name of Ski Resort/ Town | Time From Munich (by car) | Day Pass Cost (Adult) |
| --- | --- | --- |
| Brauneck | 1 h 13 min (94.6km) | €42.00 |
| Spitzingsee/ Tegernsee | 1 hr 11 mins (93.6km) | € 39.00 |
| Zugspitze/ Garmisch | 1 hr 45 (117km) | €52.00/ €50.00 |
| Kitzbühel (Austria) | 1 hr 25 mins (125km) | €62.00 |
Zugspitze
Probably the most famous place for the best skiing in Germany is the tallest mountain in the country- the Zugspitze. This is the perfect place for advanced skiers with over 20 km of runs and 9 lifts. And while there are plenty of options for different levels and abilities here (and even a Kinder Ski School), there are actually better places nearby for beginners and even moderate abilities not that far from here. Therefore, I'd leave this mountain more for the experts and dare devils.
Since the altitude is so high (2962 meters), even on the grey, dreary days that we often see in Bavaria, many of the runs are high above the dark clouds, offering sunshine and blue skies!
2021-2022 Zugspite Ski Season:
November 19, 2021- May 1, 2022
Open Daily 8:30-4:45pm
Cost For a Day Ticket:
Adults: €52.00
Youth (16-18 years ): €41.50
Kids (6-15 years): €26.00
How to Get There: Many people will go to the Zugspitze from Munich as a day trip
Train: You'll first take the train from Munich to Garmisch-Partenkirschen. There, you'll get off and follow the signs at the station for the "Zugspitzebahn." This is a separate ticket (which you can get there) than your Deutsche Bahn train pass and go to the Zugspotzplatt on the mountain.
Or, you can take the cable car from Lake Eibsee to the top, where you'll then find the Gletscher lift
Note: It takes about 1 hour and 15 minutes from Munich to Garmisch, but then another 75 minutes or so by train to the peak. Plan your time accordingly to get the most of your ski day.
Car: You can easily drive to Garmisch and from there take the Eibsee Cable Car up to the peak
Ability Levels: Intermediate and Expert
Garmisch Ski Resort (Garmisch Classic)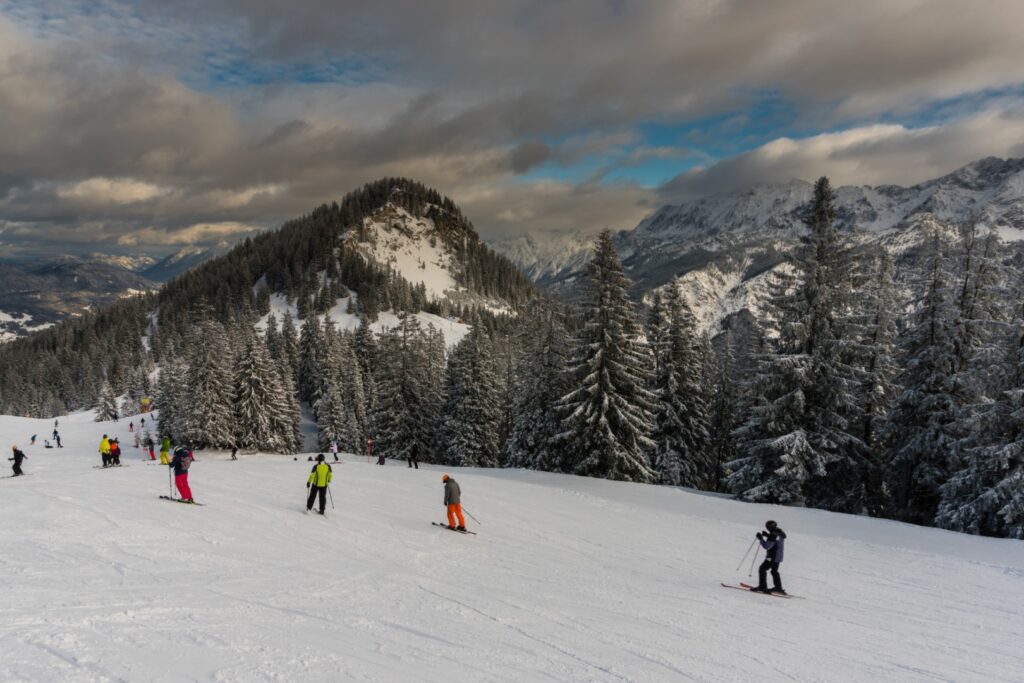 Many people confuse skiing in Garmisch Germany with skiing the Zugspitze. While they are both based out of Garmisch-Partenkirsche, they are actually two separate ski areas (although you can buy combo tickets to explore both).
This is the Garmisch Classic, which is actually a bigger area and more versatile than the Zugspitze. There are 17 lifts and over 40km of runs of various ability levels.
So, while many people just assume they should go to the Zugspitze, don't forget about the Classic Garmisch, Germany. Skiing at this resort gives you access to three mountains; the Hausberg, Kreuzeck, and the Alpspitz.
2021-2022 Garmisch Classic Ski Season:
November 16, 2021- April 3, 2022
Open Daily 8:30-4:30pm
Cost For a Day Ticket:
Adults: €50.00
Youth (16-18 years ): €40.00
Kids (6-15 years): €26.00
2 Day Twin Ticket (Including Zugspitze):

Adults: €90
Youth: €76
Kids: €47.50
How to Get There: Many people will go to Ski Garmisch from Munich as a day trip
Train: Take the train from the Munich HBF to Garmisch- Partenkirchen and then take the bus to the ski area
Car: Drive to the Kreuzeck Lift Station (Am Kreuzeckbahnhof 1, 82467 Garmisch-Partenkirchen)
Ability Levels: Great for all levels and abilities
Oberammergau (Kolbensattel) and Laaber Mountain Skiing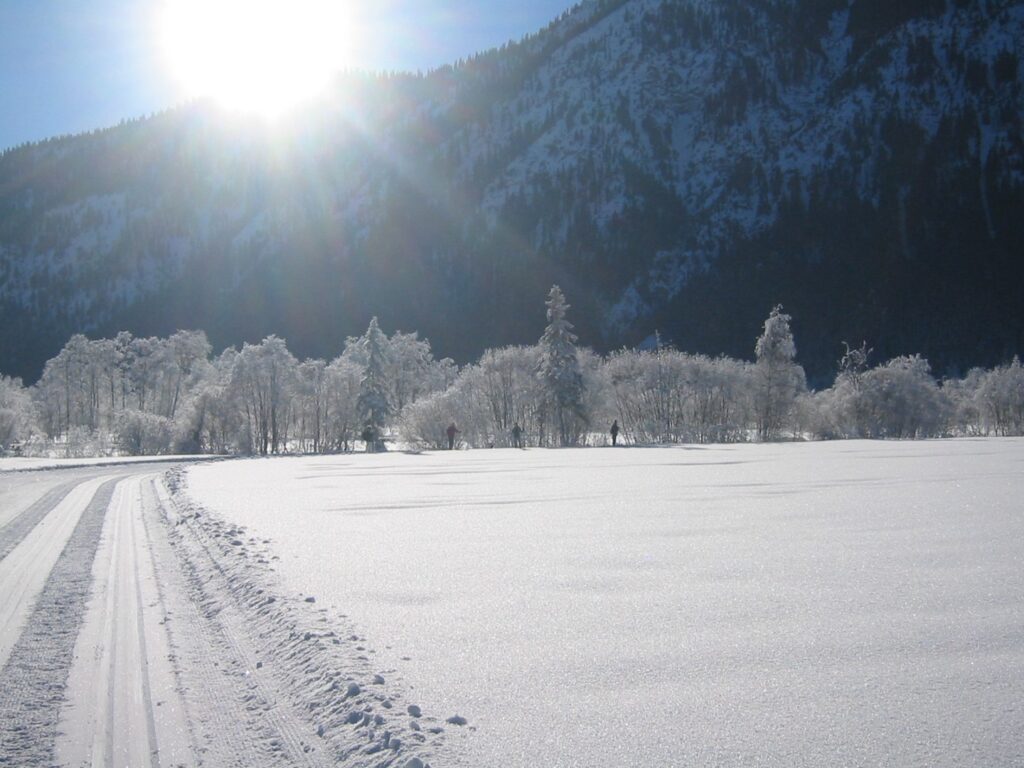 Oberammergau is actually the very first place I went skiing in the Bavarian Alps, Germany. We chose this as a less touristy, less busy, and less intense version to the more difficult Garmisch and Zugspitze options. While there are only 9 lifts and 8km of slopes, with the majority of the runs being blues, it was the perfect place for me as a beginner!
However, if you are a more experienced skier (do not attempt this one if you are not an expert skier), you can always do the nearby Laber Run, which is considered Germany's steepest freeride and is sure to give anyone a good thrill.
I particularly love Oberammergau because the town itself is absolutely beautiful, and in the winter, there is the added bonus to cross country ski to one of my favorite palaces in Germany- the totally underrated Linderhof Schloss!
2021-2022 Oberammergau Ski Season:
December 22, 2021- April 6, 2022
Open Daily 8:30-4:30pm
Cost For a Day Ticket:
Adults: €32.00
Youth (16-18 years ): €30.00
Kids (6-15 years): €19.00
Ability Levels: Beginning and Moderate Levels
Lenngries (Brauneck)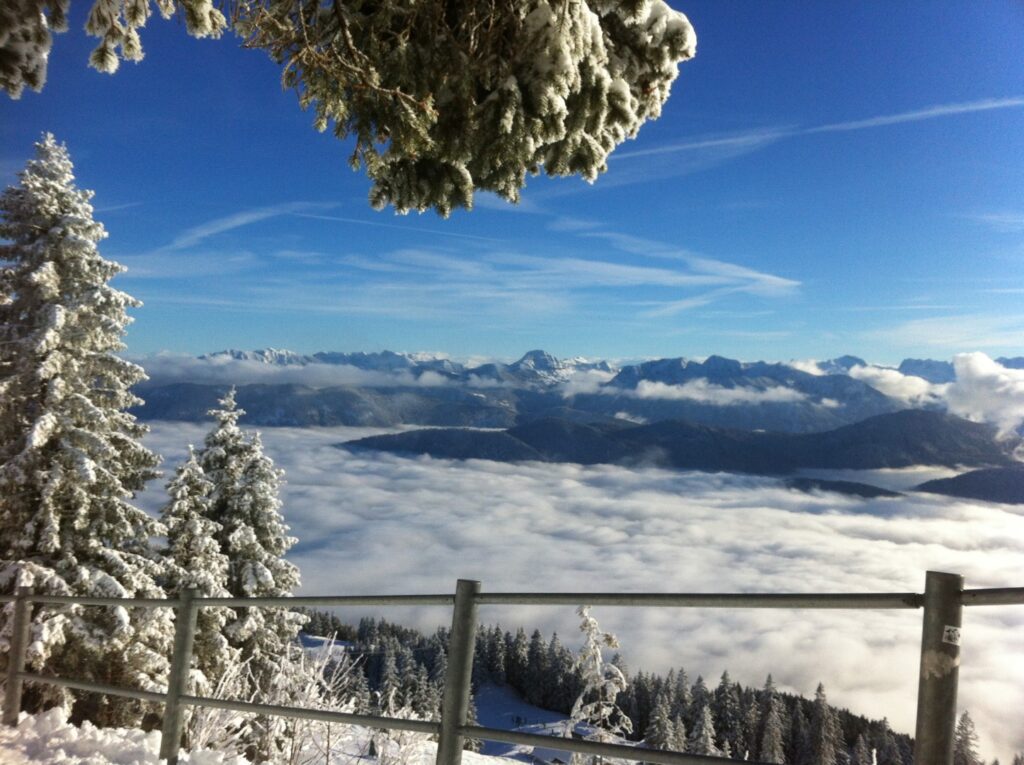 The Brauneck Ski Resort is more popular amongst locals coming for the weekends from Munich. With 34 km of slopes and 19 lifts, it's not known as the biggest or most diverse that Germany skiing has to offer, but actually offers a little bit of something for various levels. Even though it's particularly fantastic for kids and beginners, there are a few surpsring runs that will test more experienced levels of athletes.
This is a great resort to sneak away to during the week since it can get quite busy with weekenders from Munich on Saturdays and Sundays.
2021-2022 Lengries-Brauneck Ski Season:
December 11, 2021- April 27, 2022
Open Daily 8:30-4:30pm
Cost For a Day Ticket:
Adults: €42.00
Youth: €37.00
Kids: €22.00
Ability Levels: Best for kids and beginners. Some intermediate and a few expert options
Oberstdorf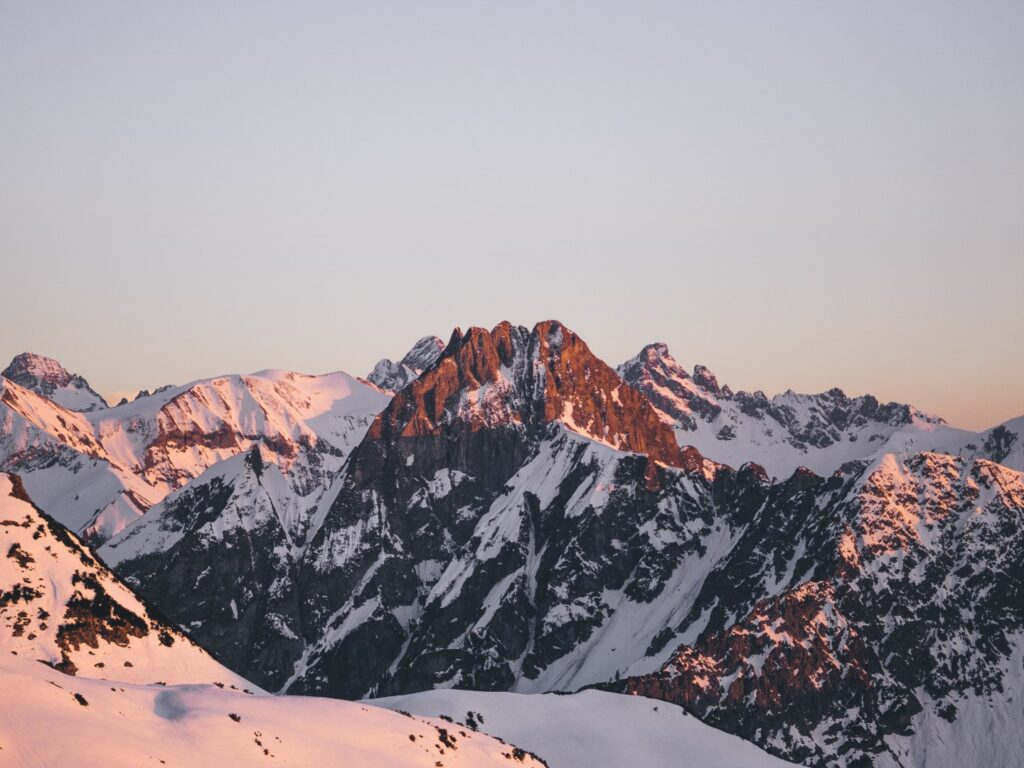 If you are looking for another one of the best German Ski Resorts for all levels, Oberstdorf is a great choice. Located in the Allgauer Alps (it has the tallest cable car in the Allgäu region), this ski resort actually spans over both Germany and Austria! There are 7 mountains available for skiing on and 48 lifts with 130km of slopes which includes the Fellhorn skiing as well. There truly is something for every range of ability and level of ability here!
2021-2022 Obertsdorf Ski Season:
Early December- May 1, 2022
Open Daily 8:30-4:30pm
Cost For a Day Ticket:
Adults: €52.50
Youth: €40.50
Kids: €20.00
Ability Levels: All. Particularly great for beginners as well as intermediate
Oberjoch (Bad Hindelang)
While the Oberjoch offers one of the higher ski areas in the country, this is actually the perfect place for families and beginner skiers for German Alps skiing. In fact, this is often known as the "Go To" place for families and kids, as the entire resort is very kid friendly and has very easy runs and slopes. There is a fantastic "Schneekinderland" (Snow Kids Land) where they can practice and learn their ski and snowboarding skills and then the slopes themselves are great for beginners. There are 5 lifts that take you to 32 km of slopes.
There is also about 36 cross country ski trails as well to explore.
Another fun thing that Oberjoch offers is the night skiing in Germany! Every Thursday from 5:30-9pm, the Iselerbahn is lit up for skiing in the dark!
2021-2022 Oberjoch Ski Season:
December 17- April 18, 2022
Open Daily 8:30-4:15pm
Cost For a Day Ticket:
Adults: €39.00
Youth: €30.00
Kids: €19.50
Ability Levels: Perfect for kids, families, beginners, and intermediate skiers
Grosser Arber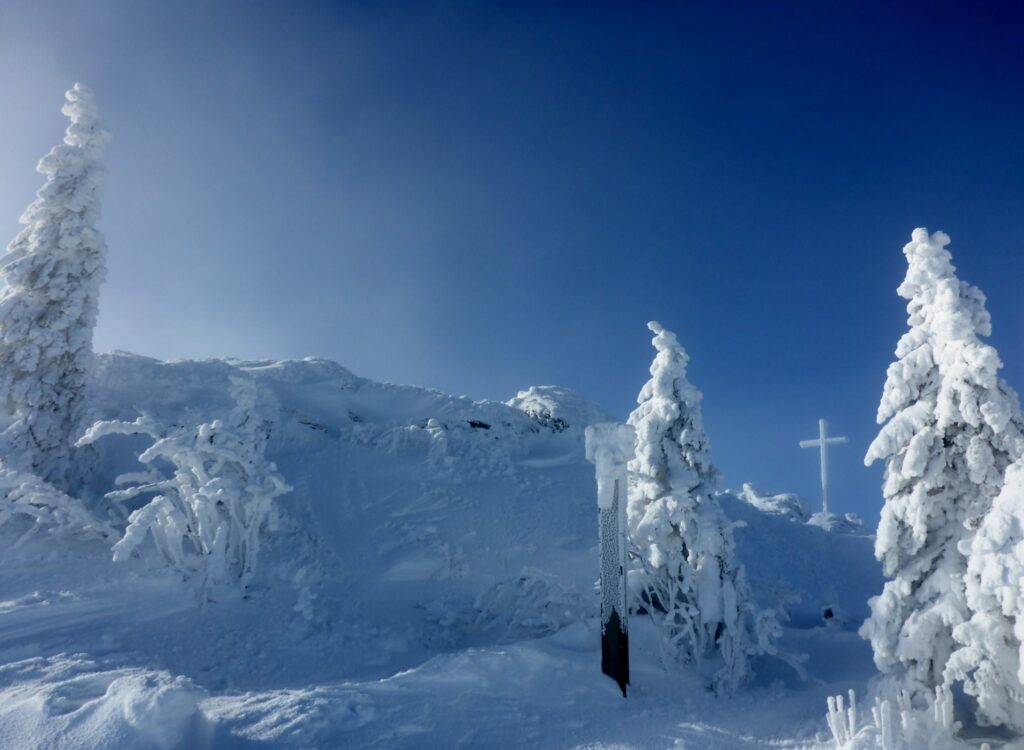 While most people are going to flock to the Alps in Germany, the Bavarian Forest offers a great option of skiing for day trips at the Grosser Arber Ski Resort (the tallest mountain in the Bavarian Forest). I personally love this as a day trip option from where I live (Regensburg) and is also very popular with locals as well as US Military Stationed in Germany at the Army Posts of Hohenfels and Grafenwöhr .
It may only have 12 km of runs, but has 9 lifts and several runs of each and every ability with several reds, blues, and even blacks.
2021-2022 Grosser Arber Ski Season:
December 25- Late March
Open Daily 8:30-4:30pm
Cost For a Day Ticket:
Adults: €36.00
Youth: €34.00
Kids: €26.00
Ability Levels: Perfect for kids, families, beginners, and intermediate skiers
Winterberg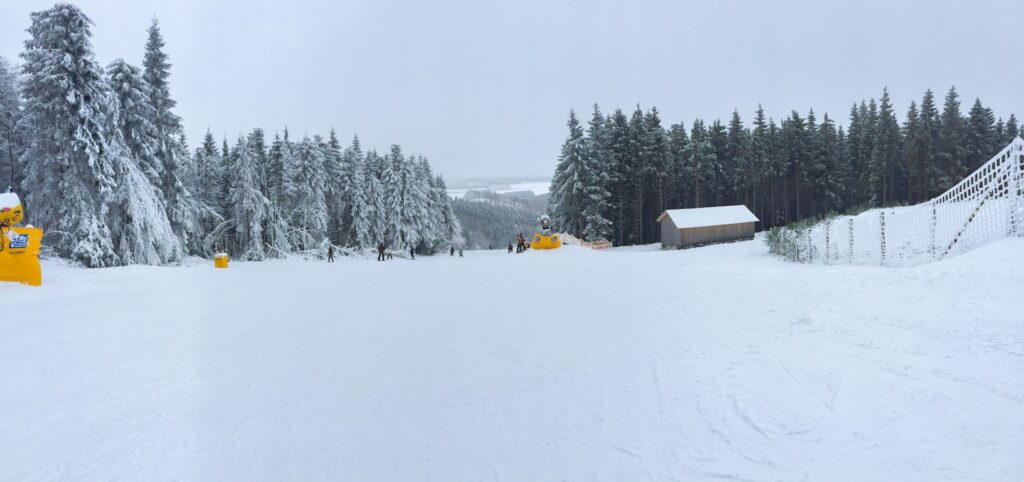 While the middle of Germany isn't particularly known for it's Alpine peaks, I was surprised when we visited the Hochsauerland Centerparcs Family Resort that the Winterberg Ski Resort was a really decent offering for skiing.
No, this isn't really comparable to the Germany Alps in Bavaria, but for those in more central Germany, it's a great alternative with a wide range of ability levels. While the main ski area is at Winterberg, with the day pass you can also take the complimentary shuttle to the nearby Neuastenberg (Postwiese), Sahnehang, and Altastenberg ski areas, so you are sure to find some runs that are perfect for your abilities.
2021-2022 Winterberg Ski Season:
November 27 2021- March 18, 2022
Open Daily 9am-4:30pm (Tuesdays and Fridays Night Skiing from 6:30pm to 10:00pm)
Cost For a Day Ticket:
Adults: €42.00
Kids: €29.00
Ability Levels: Great for beginners and intermediate levels
Skiing in the Black Forest Germany: Feldberg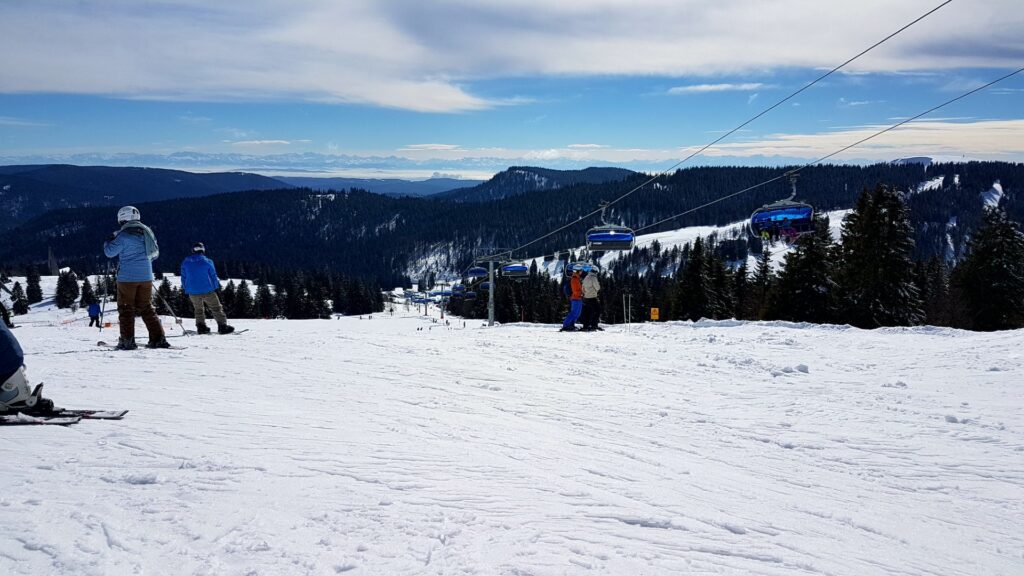 While the Bavaria ski resorts in the Alps may be known as the best ones, that doesn't mean you can't find other places to ski in Germany. In fact, the first ski club in the country actually started in Feldberg, located in the Black Forest. The Liftverband Feldberg Ski Resort has 28 lifts and 36 runs and has a fantastic snowboard park with the "longest jib line in Germany."
This is a really great place for both beginners and intermediate levels, as there are tons of both blue and red slopes (there's only about 6km worth of Black runs).
You May Also Be Interested in Reading:
2021-2022 Black Forest Feldberg Ski Season:
December 25- Late March
Open Daily 9am-4:30pm
Cost For a Day Ticket:
Adults: €43.00
Kids: €29.00
Ability Levels: Best for Beginners and Intermediate. Some Expert Slopes Available
Summer Skiing in the Alps
I hate to be the bearer of bad news, but there is nowhere to go summer skiing in Germany. If you REAAALLY want some of the thrills of feeling the snow in June, the best you can do is get a free sled and do the toboggan run on the Zugspitze Glacier.
If you want to go summer skiing in the Alps from Germany, you can head to Austria, which has a lot of options, like the Hintertux Glacier, which is still only a little over 2 hours from Munich. St. Moritz in Switzerland is only about 2.5 hours from the Lake Constance area in Germany.
Indoor Skiing in Germany
Ok, so it may not be the best skiing (ok ok….maybe not even the ok-est of skiing!) but there are actually a few places to go indoor skiing in Germany. They are all more or less the same, where there is one main (small) hill that is indoors. Obviously, these are best for the novelty of it or even for kids and very early beginners just needing to get used to being on some skis.
Alpenpark Neuss: Just outside of Düsseldorf (website)
Snow Dome Bispingen: In between Hanover and Hamburg (website)
Bottrop Alpincenter: About 30 minutes north of Essen (website)
Wittenburg Aalpincenter Hamburg-Wittenburg: 1 Hour East of Hamburg (website)
Snowtropolis Skihalle: About 50 minutes North of Dresden (website)