[This post may contain affiliate links where we earn a small commission. Please see our disclosure for more information and thank you for supporting our site so we can continue to bring you awesome content for your travel inspiration!]
"Unlimited Travel Within ALL of Germany!"

"Month Long Tickets To Travel Affordably in Germany!"
Honestly, these read like fantastic infomercial voices selling you on this "You've got to Have this Product!" (AKA the "49 Euro Deutschland Train Ticket), especially for Budget Travelers in Germany!
BUT I have some serious reservations about jumping on the "THIS IS SO AMAZING!" excitement as a catch all recommendation for all tourists.
Don't get me wrong, I literally just bought myself the Deutschland Ticket, so I am totally here for it! But I think that the average traveler has to really understand it to know if it's the right German Train Ticket for THEM.
As a brand new Germany Train Ticket as of May 2023, we are all learning the top tips, tricks, nuances, and ways to use the Deutschland Ticket (as well as rules and complications). I will keep this article up to date as much as possible as new developments continue.
*If you just need a step by step guide on how to purchase the 49 Euro Ticket with a Credit Card Read THIS Article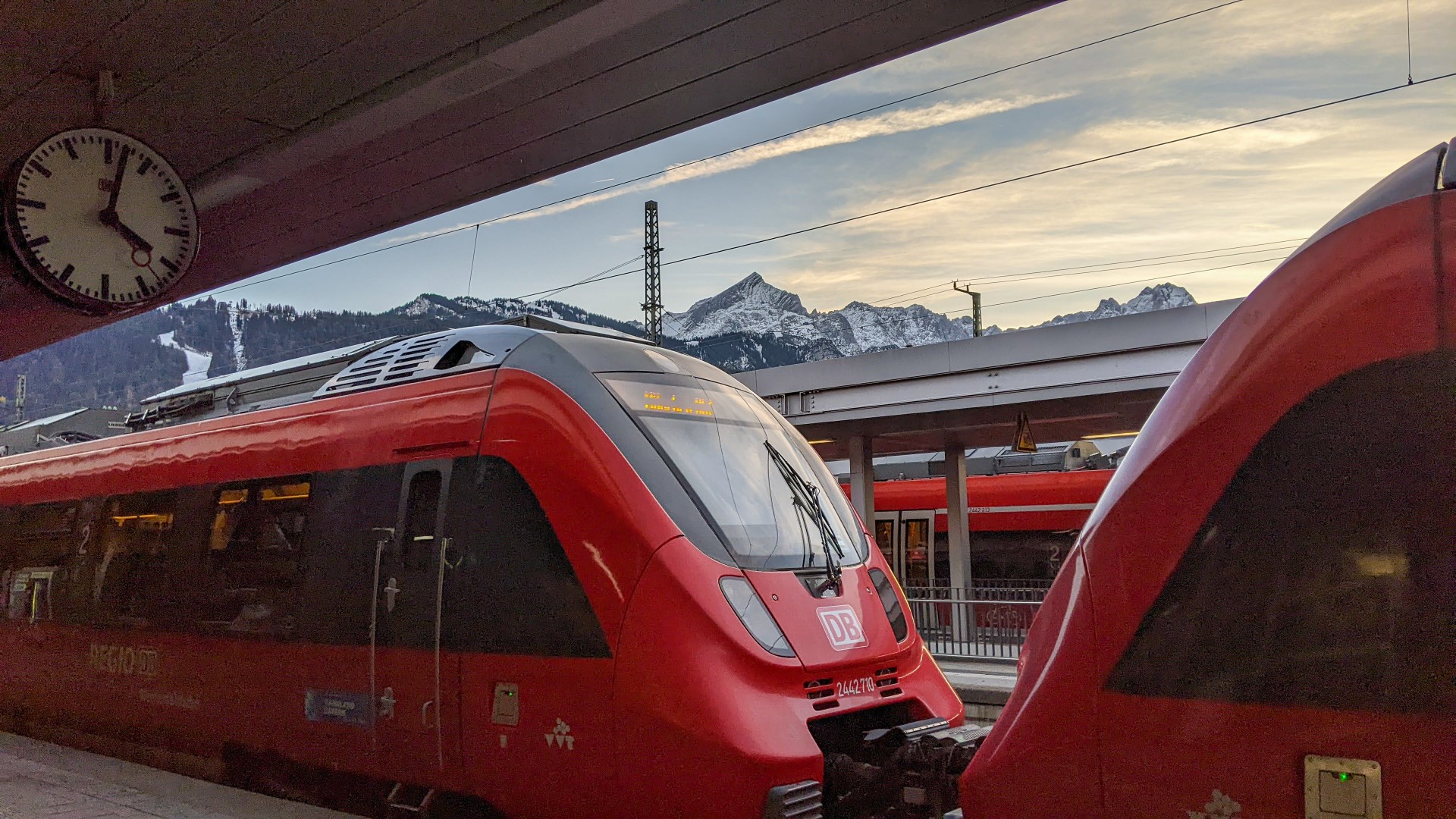 You'll Find In This Article:
The Deutschland Ticket is brand new and I think it has a ton of potential, but there actually are quite a few nuances to it that you absolutely need to know before purchasing or you might find yourself in an unfortunate situation where your ticket isn't valid or instead of a quick, 1 hour ICE high speed train ride in between picturesque German towns, you find yourself sitting on a crowded, non air conditioned, slow train for hours.
The good news is that despite it all being overwhelmingly confusing at first glance, once you get the whole picture of it all, then depending on what kind of travel you intend to do while here, this is still a great, cheap train ticket in Germany to consider! So, just hang in there with me through this whole guide until the end so that you've hit on all the silly little details and fine prints, and by the time you finish, you should feel confident in both understanding what the heck the Deutschland Ticket even is but also how to use it (and NOT use it) and quite possibly the hardest step for tourists…HOW TO BUY IT!
For a lot of people, purchasing German train tickets feels utterly overwhelming and confusing! So much so, that I can totally understand why someone would say "Forget this…I'll just drive in Germany myself!" And while the Bahn.com website does have an English toggle option, the website as a whole can feel massive and hard to navigate if you don't know exactly what you are looking for. And in the case of buying the €49 Ticket, it's actually more confusing than ever without the system accepting credit cards!
So, in this article, I'm going to cover everything you need to know about the €49 Deutschland Train Ticket Including:
What IS the Deutschland Ticket
Who can buy and use it (and WHEN)
Who is the Deutschland Ticket best for?
How can foreigners easily buy this Deutsche Bahn monthly ticket
Before I get into exactly how to buy these Germany train tickets (because oof, it's a doozy) I want to be very very clear on the nuances of this ticket. If you already know about the Deutschland train ticket but are struggling on purchasing it, feel free to skip straight to the Purchasing Section below.
And while I am going to go into all of this in (possibly painfully in depth) detail, here is the very short, cliff notes version you need to know!
💶 Cost: €49
🗓️ Monthly Ticket Valid For the Calendar Month (Not 30 day period)
🚂 Valid on REGIONAL Trains ONLY
🚫It is NOT POSSIBLE to reserve seats on Regional Trains
⏰ Monthly Subscriptions Only (Automatically charging each month for another ticket)
You Might Also Be Interested In Reading:
🚂 WIG Train Guides
– Ultimate Guide to Understanding Germany Trains
– How to Buy Deutsche Bahn Train Tickets
Day Trips in Bavaria
– 30 Day Trips From Munich
– 20+ Day Trips from Nuremburg
– Munich to Neuschwanstein Day Trip (Step by Step)

What is the 49 Euro Train Ticket in Germany?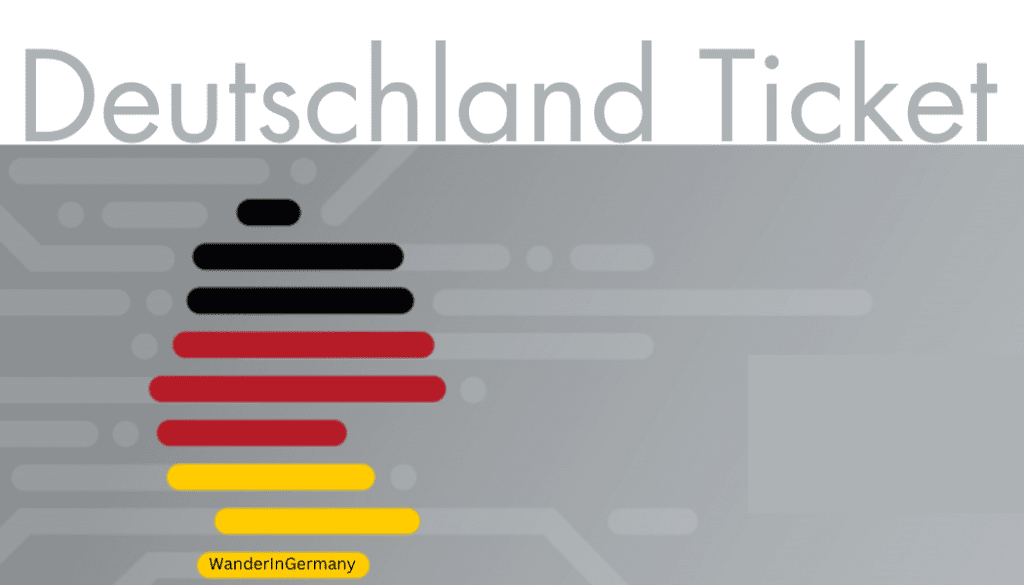 Let's set something straight first. This is actually technically not a "Deutsche Bahn Monthly Ticket." The Deutschland ticket is actually a GOVERNMENT-SUBSIDIZED ticket and the local companies, such as Deutsche Bahn are simply implementing. (This is why there has been quite a bit of confusion as it initially rolls out because, like all things government, it's not always straightforward!) For example, it is only 49 Euros now. It may very well change with inflation and over time.
But here is what you need to know at the very core of it as a tourist:
THE DEUTSCHLAND TICKET IS FOR REGIONAL TRAINS ONLY!!!
If I start to sound like a broken record on this whole "REGIONAL TRAINS ONLY" thing it's because it's probably one of the most important aspects of this whole ticket that you need to fully understand before purchasing. Don't worry, I'll explain EXACTLY what a regional train is (vs other types) in a second… The other main things you need to know about the Deutschland Ticket are:
This is a monthly subscription. Therefore you you will be automatically charged each month.
This ticket is only valid on regional (aka slow) trains. It is not valid for high speed/ long distance trains
It gives UNLIMITED travel on most public transportation systems.* (Yup, that includes regional trains*, S-Bahns, U-Bahns, trams, buses). There are a few exceptions to this, but I'll cover those in detail as you continue reading. Don't worry, they aren't deal breakers and are pretty easy to understand once you know them.
This is a brand new ticket as of May 2023 and let's just say that it seems like maybe the government is flying by the seat of their pants on this one. There are still tons of details that have yet to be figured out (like family travel) and I have a strong feeling that as people begin to use this, we are going to quickly learn plenty of downsides (like how last year when the 9 Euro tickets were released the train cars were so packed full there often weren't seats!) Don't worry. I will keep this article as up to date as possible as we all learn the nitty gritty details as we go.
Who Is The Deutsche Bahn Monthly Pass (49 Euro) For??
While tourists absolutely can get these tickets, they are really geared towards locals- particularly commuters or people that use their local public transportation extensively.
As a tourist, to be blunt, if you want guaranteed seats, are only traveling for a short time in Germany, are traveling long distances, and have a time table you need to follow, this ticket isn't really ideal for you.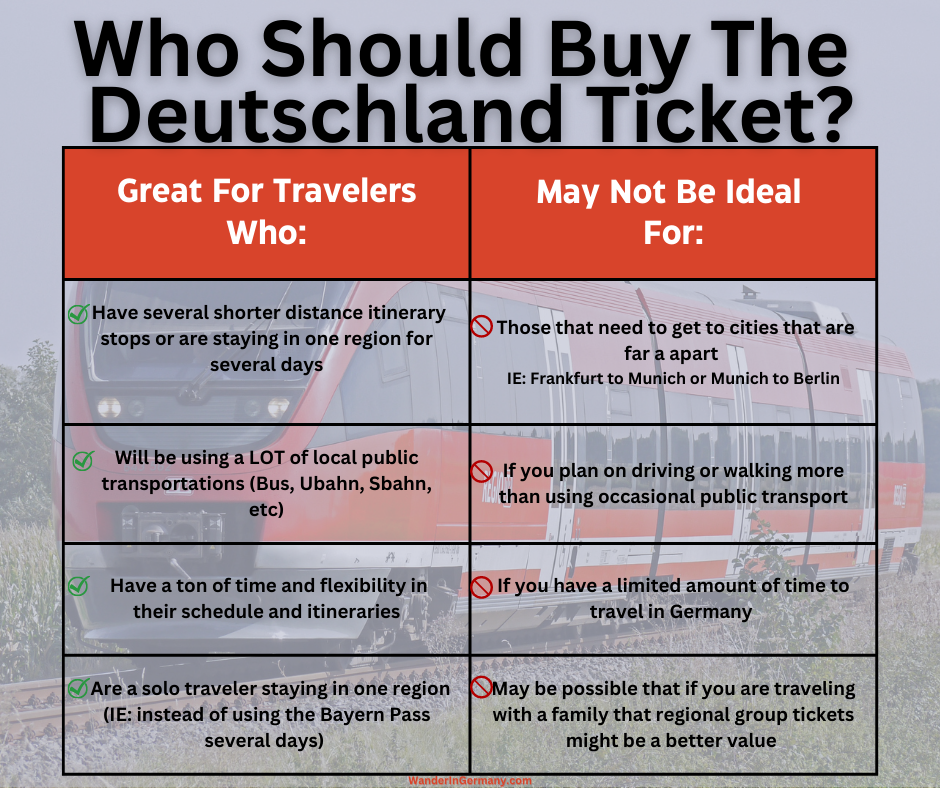 After all, while TECHNICALLY you can use the Deutschland Ticket to get from, let's say Frankfurt to Munich, because you need to take regional trains only, it's going to take between 5.5-6 hours and anywhere from 1-3 train changes. Whereas, if you take the ICE trains from Frankfurt to Munich, you could be there in 3.5-4 hours and some routes even have zero transfers. I'll give some more specific examples and comparisons based on popular tourist destinations later to help you evaluate if this ticket is best for you or not.
Deutschland Ticket Cost and Subscription
So, it's pretty apparent the cost of the ticket, after all, many people are just simply calling it the €49 Ticket and it is good for an entire month. And at first glance, this seems fantastic.
Here's the catch: It is Subscription based. That means that it's not intended for just 1 month purchases (not saying you can't) though, which is what we cover next.
Monthly Ticket
This particular Deutsche Bahn monthly pass is valid for the calendar month, meaning all of January, all of February, etc.
Therefore, if your trip to Germany is from June 25-July 15, you'd have to buy two monthly passes to cover both June and July, as it is NOT valid for a month after purchase (for example, it would not work for June 25-July 25th).
Monthly Subscription (Automatic Payment/ Debit)
You do not have the option currently to say, "I'm going to the Christmas Markets, so I just need the one month of December please" and do a one off payment for the one month. Instead, you will have to give a payment method (more on this in a bit) that can be automatically debited or charged every month.
I'll mention this a few times in the article because it's pretty important, but if you want to cancel your subscription, you need to do so before the 10th of the prior month of travel.
For example, if you purchased your ticket in August for your September Oktoberfest Trip, in order to not be charged for October, you must have your subscription canceled by September 10th. This means you may even have to cancel your subscription before your trip! Just keep this in mind as it seems like it may be a lot to remember. I highly recommend putting in a reminder in your phone/calendar so you don't forget to cancel.
Regional Trains vs Other Trains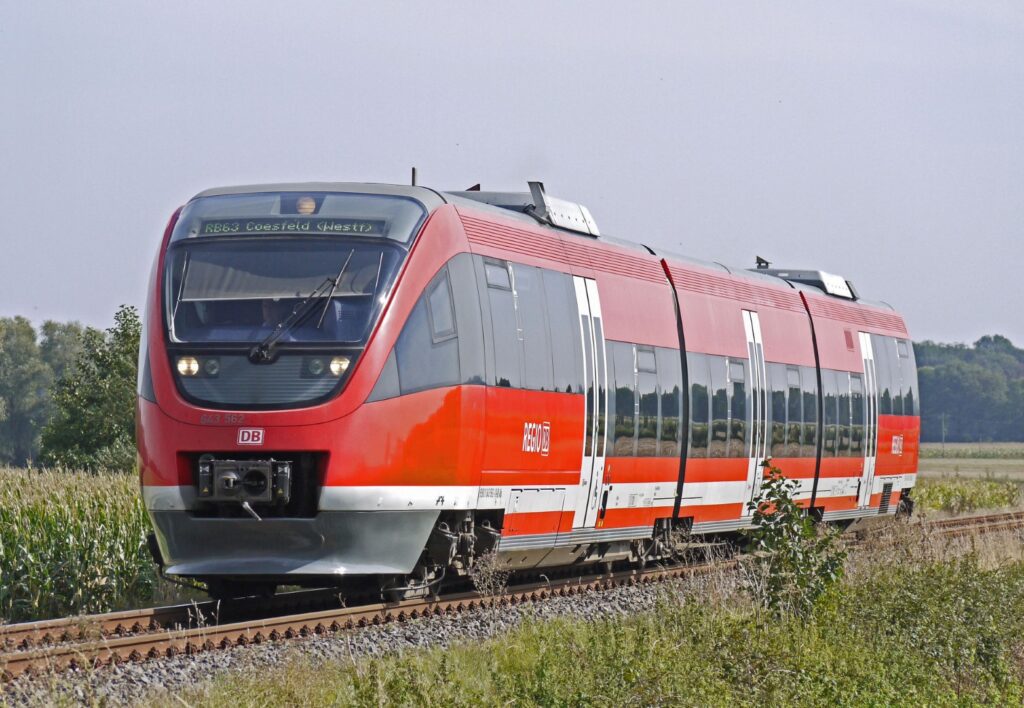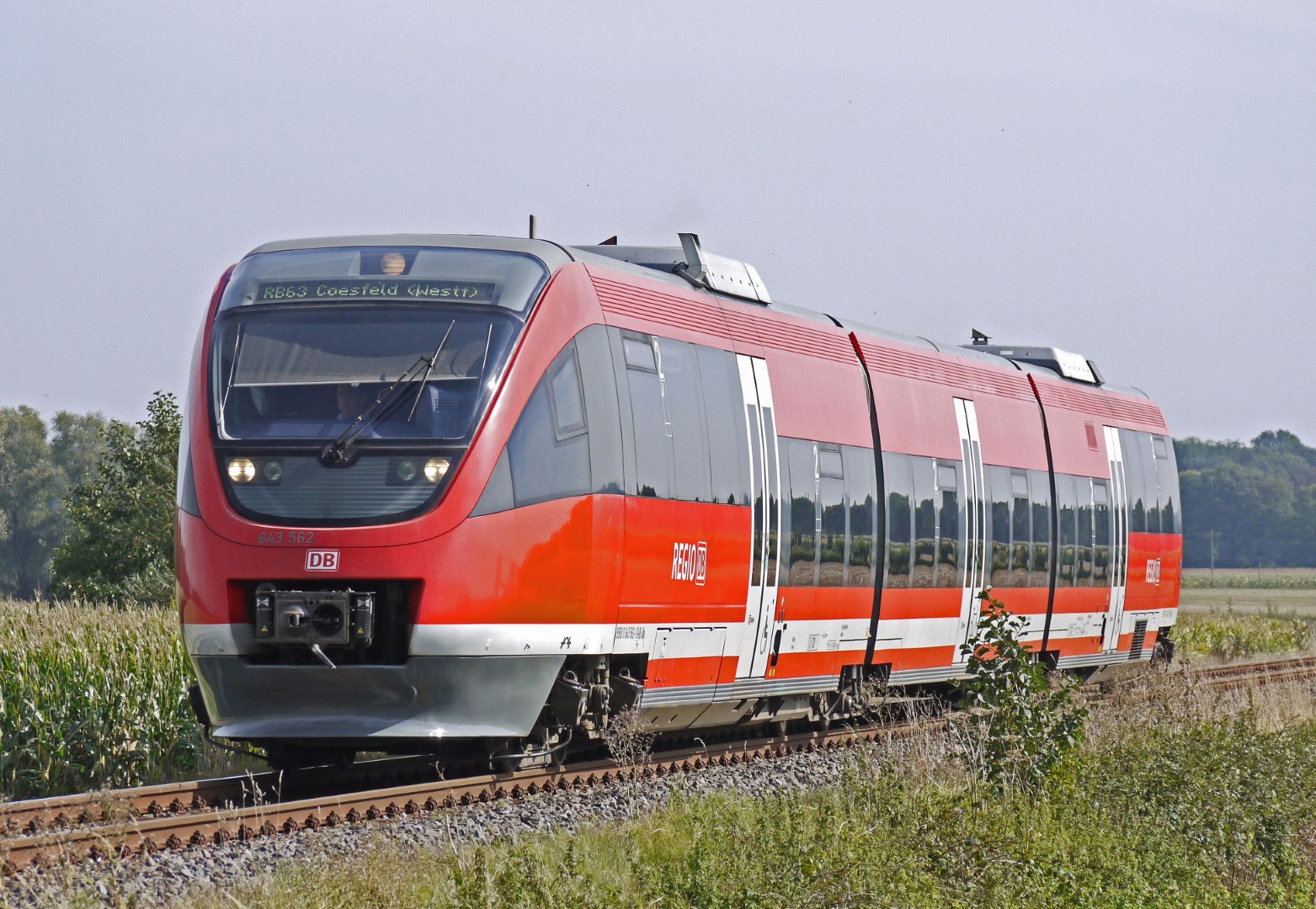 Ok, so I'm going to keep saying this. The Deutschland Ticket is only good for Regional Trains!
To someone who has never traveled in Germany, you may be saying, "Ok, yeah. I get it, you've said that like 10 times, what's the big deal?"
So, regional trains are great. They can get you all over Germany and many even go to small villages. In fact, I personally use regional trains almost exclusively because I use the Bayern Pass so much here in Bavaria. But they are called "Regional" for a reason. They only travel within the region they operate in. In order to go long distances, you will either need to use a combination of numerous regional trains (that interconnect the regions) or use the ICE/EC trains (which are NOT covered with the DeutschlandTicket)
So how do you even know what is a regional train vs other types of trains?
This is important to know the difference because, even though you'll have your ticket purchased, you'll still need to know what you are looking for when finding your train times/ schedule/ timetable on either the Bahn.com website or the DB Navigator Smartphone App.
Filtering Regional Only Trains
I made this video to explain how to filter out for Regional Only Trains for the Bayern Pass (which also only uses regional trains). So, even though I mention the "Bayern Pass" in the video, you'll use these exact steps for filtering out the high speed/ long distance trains for using the Deutschland Ticket as well
Knowing Which Trains at the Train Stations
So before you even arrive to the train stations, I recommend looking at the website or the app and knowing which track (Gleis) you need to be on. This will automatically eliminate a lot of confusion on what trains are good for your Deutschland Ticket.
However, trains change, multiple trains come in on the same tracks, and some areas of Germany are just notoriously known for train delays (and cancellations). So, use this rough guide to help you know if you are getting on ok trains.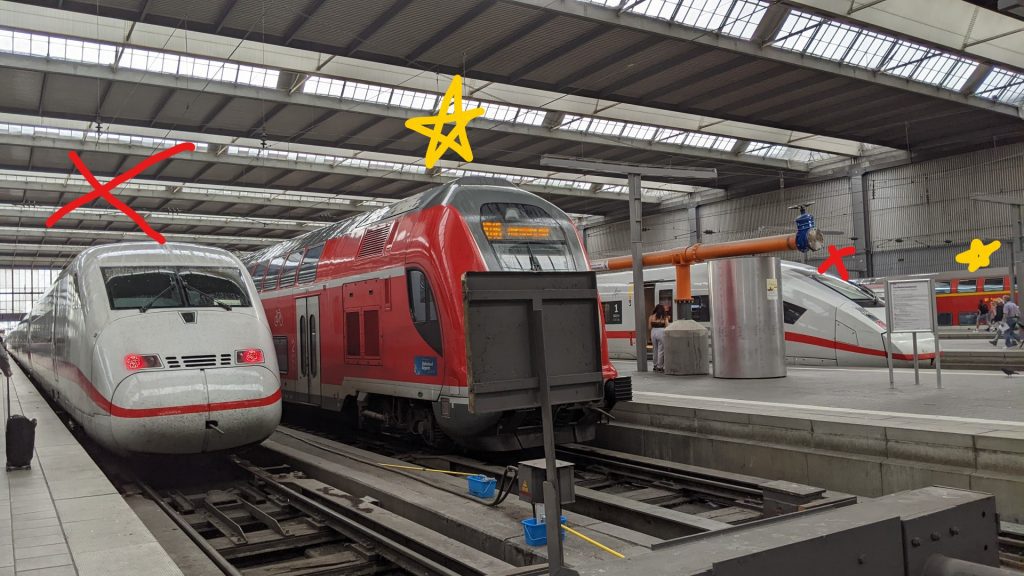 Regional Trains
When at the train station, these are typically the Red Trains. Abbreviations Include:
RB: These are the standard regional trains. They are slow and may stop at even the small villages
RE: This stands for Regional Express- these are sometimes a bit "faster" than the RB trains and will usually make less stops
You may see names like "Alex, Agilis, Abellio, Eriz"- these are other operators besides Deutsche Bahn and offer regional transport. Your Deutschland ticket IS valid on these as well
A few examples of regional trains within Germany are:
RE1: This train goes between Aachen and Hamm with some of the major stops being in Cologne, Düsseldorf, Duisburg, and Essen
RE2: This train goes between Wismar and Cottbus and stops in Berlin (among other towns)
RB17: This regional train goes between RB17. This train operates between the cities of Tübingen and Ulm with multiple stops including Reutlingen and Blaubeuren
RB37: This train will go from Regensburg to Munich
RB 270: This train goes from Munich to Salzburg (and IS covered on the Deutschland Ticket!) Yes- the 49 Euro ticket can get you to Salzburg!

Trains that CAN NOT Be Used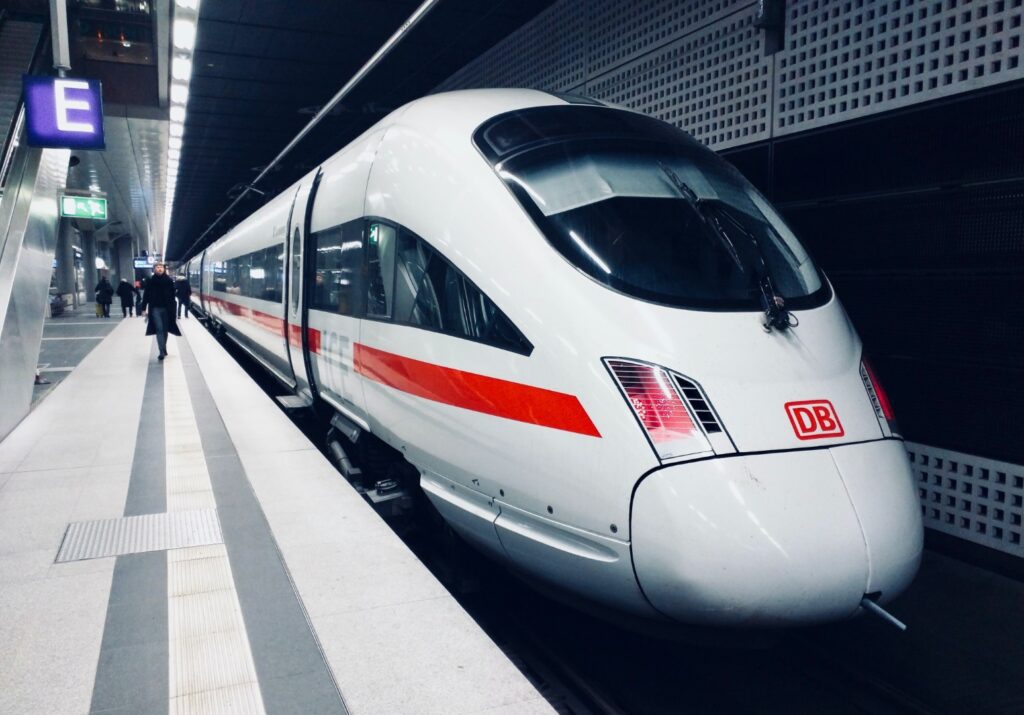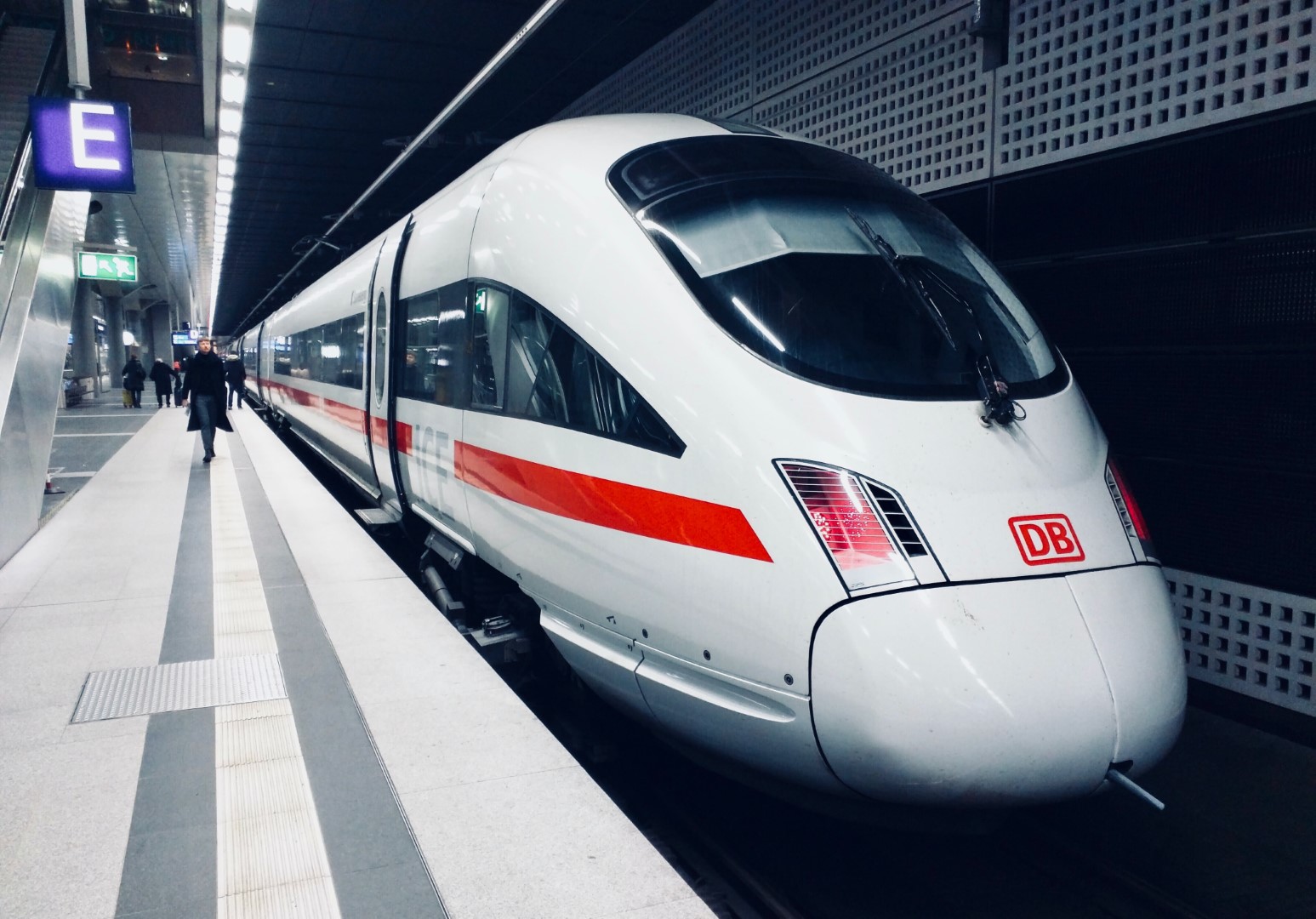 In short, any long distance and high speed trains are not able to be used. So, if you aren't sure what constitutes a long distance vs not, be sure to watch my video above so that you can just filter out any ICE trains and not even worry about it. But long story short, if you have the wrong train tickets in Germany, believe me, the conductor isn't going to say, "Oh well, you tried!" (Ask me how I know this!)
The German word for "long distance trains" is the DB Fernverkehr and you'll see in the small print that all DB Fernverkehr trains are excluded on the 49 Euro Ticket.
However, when you are at the train station, again, not a hard and fast rule, but a generalized statement would be that these are going to be the WHITE TRAINS with Red Writing. Abbreviations Include:
For example:
The ICE100 that goes betwen Munich and Berlin (that stops in Nürnberg is NOT included- even if you are just traveling the short distance regionally between Munich and Nuremberg!)
The ICE 25 train from Frankfurt to Munich is not valid with the Deutschland Ticket
Privately Operated Transportation
There are some buses, shuttles, etc that are privately owned. For example, if you have read my Ultimate Neuschwanstein Guide, you'll know that the bus that takes you up the castle is not a public bus (operated privately), therefore your Bayern Pass is not good for that.
Same thing with transportation such as cable cars, many shuttle services, etc.
Flix Bus
The Flix Bus, which is another great option for getting around Germany, is also NOT included in the Deutschland Ticket
Exceptions to the Rule
Not to get complicated but in the fine print of it all, it does specifically say, "the Deutschland-Ticket is not valid on trains operated by DB Fernverkehr AG or other long-distance providers." (As we've already just discussed.)
The way you know if the train you want is operated by "Fernverkehr AG" is to click the "More Information" drop down when looking at a specific route.
I'll be honest, I worked for a long time trying to find an exact example of a train that was listed as RE or RB but still operated as Fernverkehr AG and didn't really come up with much of anything. So basically what I'm saying, is don't get too hung up on this detail but when all else fails, if you want to be absolutely sure, check the "Further Information" for each route section.
In this example, it's clearly an ICE train so that should be your first indication that your Deutschland ticket isn't valid for this route. However, always double check this "Further Information" section even when it says it's an RE/RB train to make sure that your regional train isn't operated by the DB Fernverkehr AG either.

It will very clearly say:
Operated By:Fernverkehr AG
"Deutschland Tiket not valid"
Deutschland Ticket Seat Reservations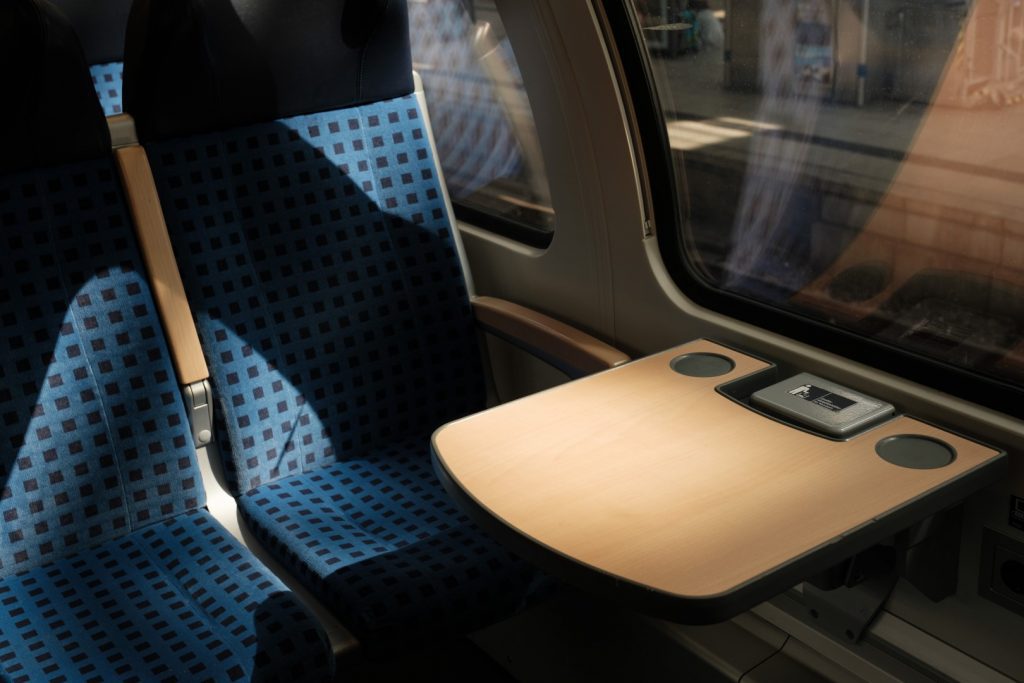 IMPORTANT: Seat Reservations Are Not Possible On Regional Trains!
I can't tell you the amount of times that a panicked traveler has posted in my Travel in Bavaria Facebook Group worried because they can't figure out how to book an actual seat reservation for the Deutschland Ticket (or any regional train for that matter). This is because there is literally no such thing as reserved seats on ANY regional train, regardless of the ticket you bought.
So are you going to find an open seat?? Most likely. In my experience, only in rare situations like around Oktoberfest or during rush hours close to the big cities sometimes is it harder to get a seat. (Although, I will say that this may change as more and more people try to use the regional trains with this ticket….we'll see and I'll update this section as need be)
Using the Deutschland Ticket to Get to Nearby Countries!
Fun Fact: You can actually use the 49 Euro Ticket to go to several bordering cities in other countries! Right now, these include:
Salzburg, Austria
Tønder, Denmark
Veno, Netherlands
Luxembourg, Luxembourg
Is the Deutschland Ticket Worth it?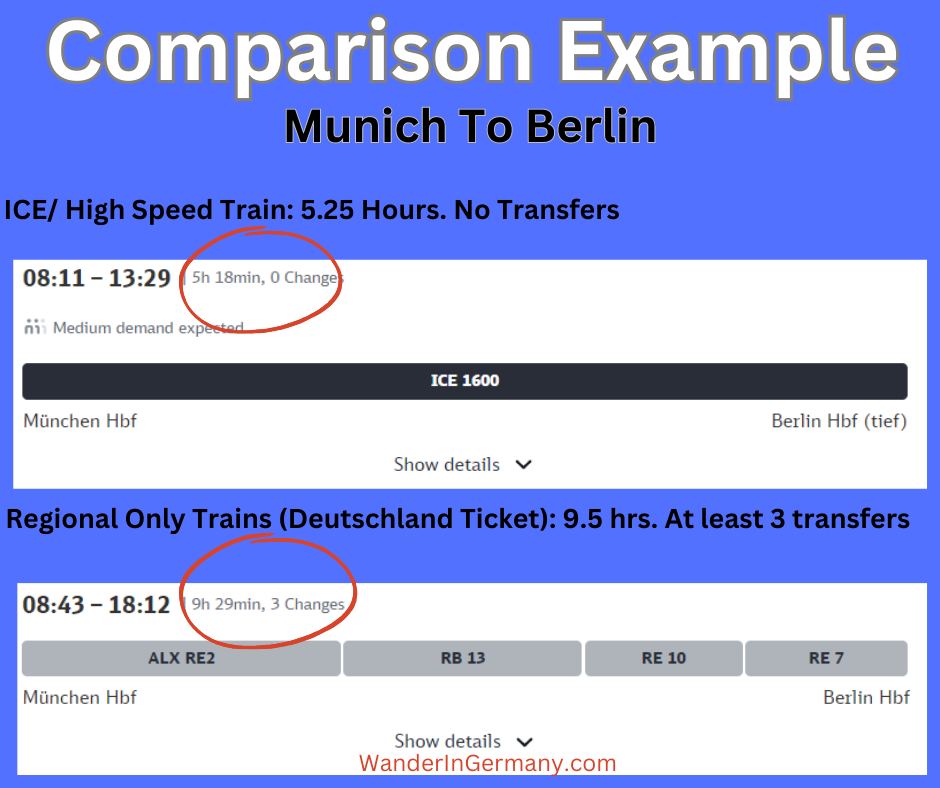 If you've been around this site at all, you know my typical answer, right? "It Depends," I promise, I am NOT trying to be a cop-out here, but it really does come down to you, your travels, what you are willing to put up with, etc.
How do you know if the Deutschland Ticket is a good option for YOU? It may take some time and some math, but just do the cost breakdown for YOUR trip. Go to Bahn.com and price out all your individual journeys, including local transport. Don't forget to take into account things like group day tickets. Write down the cost but ALSO the time it takes.
And then compare.
How To Buy The Deutschland Ticket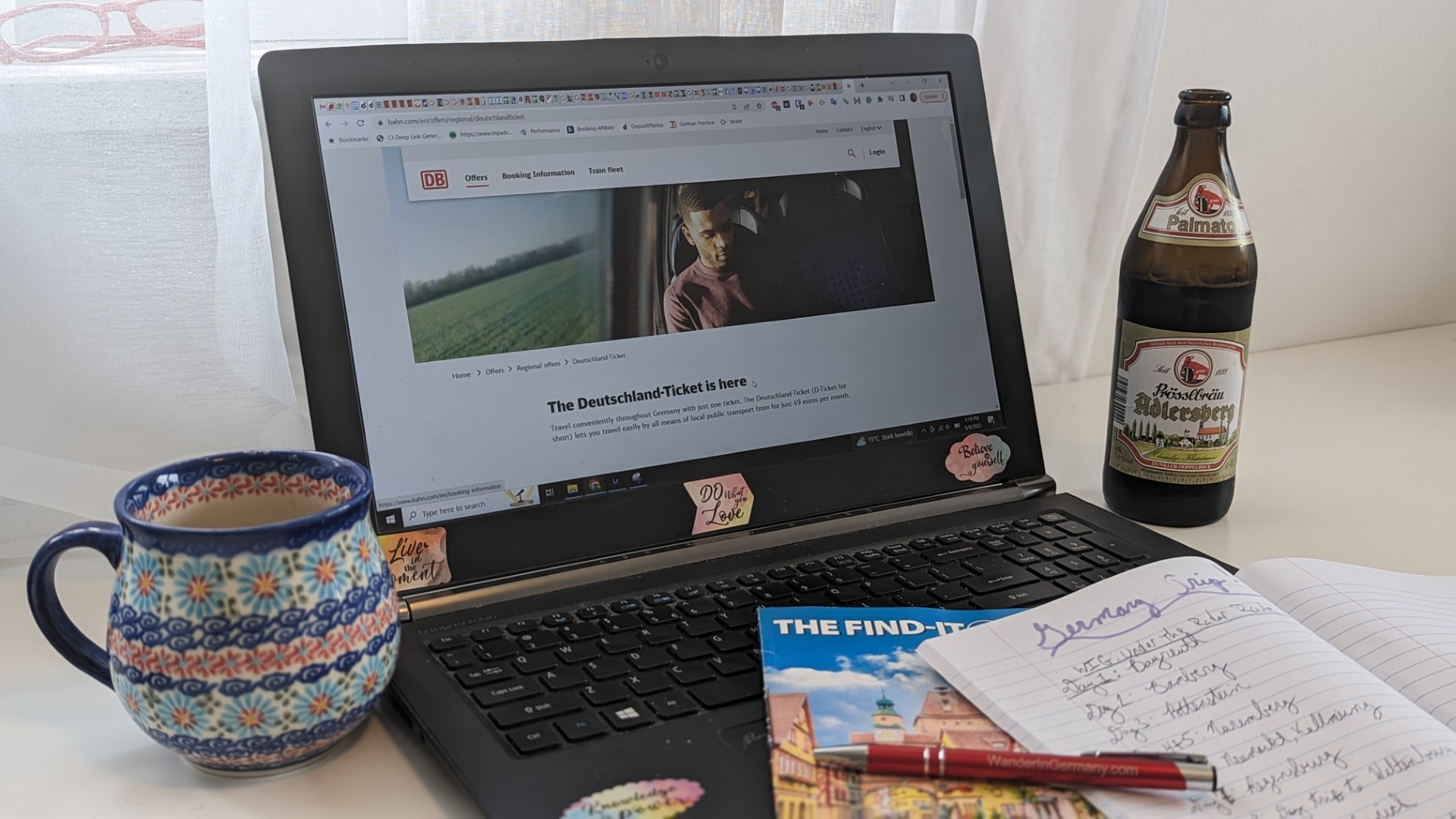 Ok, so hopefully by now you fully understand the Germany 49 Euro Ticket (as well as all its possibilities for budget travel along with its limitations). So now you need to know where to buy the Deutschland Ticket.
If you already feel a bit dizzy from all the information, don't worry; you aren't alone. While it feels like a ton of small details, it is pretty basic if we boil it all the way down:
Tickets are for regional only trains
It is an automatic subscription based model
But boy oh boy, if you felt overwhelmed with all of those details, buckle up because it's about to get even more confusing…especially if you don't live in Germany. But again, just hang in there with me and I'll break this down as much as I can so that hopefully, it no longer feels like a climb up the Zugspitze!
When To Purchase Your Deutschland Ticket?
Oy yoy yoy, I wish this was more clear cut. There are so many different sources right now for this answer and actually, what it all will boil down to is WHERE you buy the ticket from.
As the ticket rolls out, it seems like most companies are being lenient with when to buy your ticket by, but I believe that eventually, you will need to have your Deutschland Ticket purchased by at least the 10th of the prior month of travel.
TL;DR: Buy Your Deutschland Ticket by the 10th of the Prior Month of Travel
For Example: If you are going to the amazing Almabtriebs in September, you need to have your ticket purchased by August 10th for it to be valid!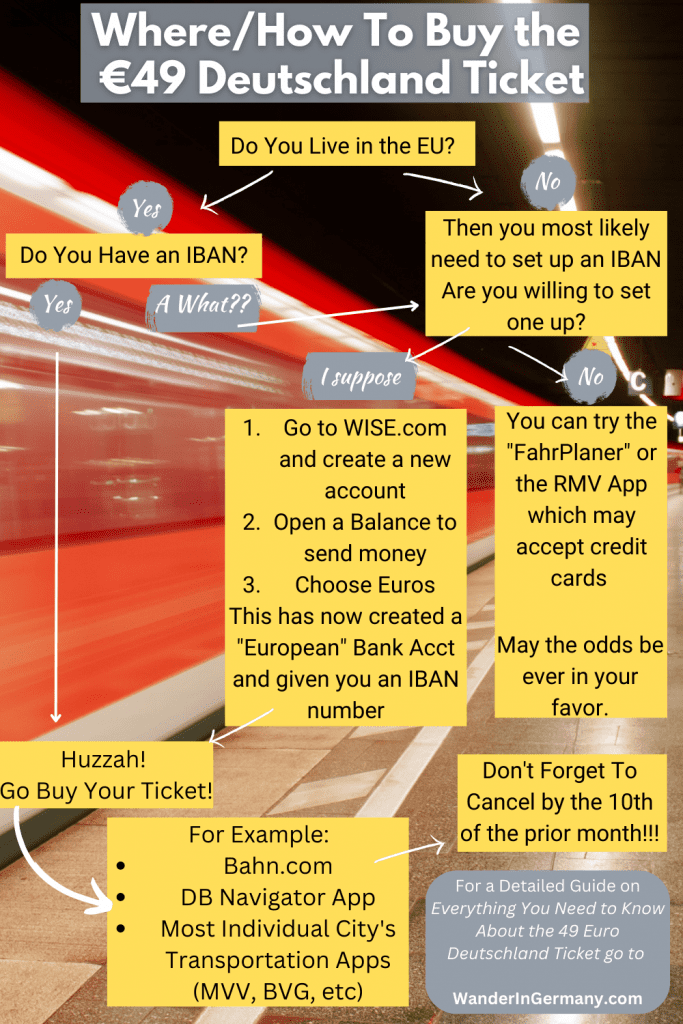 For Those Living in the EU/ That Have an IBAN
If you already live in Germany, or another country that uses the IBAN system, then you can pretty much buy the ticket anywhere online that you can buy other Deutsche Bahn Tickets.
For example, I always say to just go straight to the source and use Bahn.com when booking trains in Germany. Or, you can download the DB Navigator App and purchase in there. Alternatively, you can go through any other local services, such as Munich's MVV, Berlin's BVG, etc.
For Foreign Travelers That Don't Have an IBAN
First, let's cover probably your first question: What is an IBAN???
IBAN stands for "International Bank Account Number." Basically, instead of using SWIFT numbers (like they do in the US), IBANs are used for things like Direct Debit here in Europe, and since the Deutschland Ticket is subscription based, they are requiring a Direct Debit. However, it's not like a "Debit Card" like Americans think of it. It is only tied to this IBAN (not credit cards/ debit cards, etc)
1. Get a WISE Account (Automatically gives you an IBAN)
As an expat American living in Germany, I've actually been using WISE for years now. I freaking love it for transferring money because it's so easy!!! But, one of the best perks is that it has allowed me to get an IBAN without actually needing a full German bank account! It's completely legit, completely legal, and best of all, completely easy to set up and use.
If you don't have a Wise Account, you can sign up for free here. The set up is really easy, just follow the prompts. You will have to verify your identity with an official ID document. This is for your protection and again, I promise is completely safe. Once you have your account set up, getting your IBAN number is also pretty easy, but does require a few steps. Here's exactly how to do it.
Click "+Open"
Click "Balance"
Choose the option to "Send Money"
Choose your currency, in this case, it will be Euros
Voila!!! You now have a European IBAN number! Since Deutsche Bahn needs to automatically debit your account, you'll now need to add some money to this account in WISE. You can link it to your debit card, credit card, or even your US Bank account (which is what I do and is the cheapest)
Click "+Add"
Add in your money. For example, 49 Euro
Click "Pay with USD" (Or whatever currency you are using, such as CAD, etc)
Add money with your choice of payments
This will now allow Deutsche Bahn to automatically debit your account (which is required for this Deutsche Bahn Subscription Ticket).
2. Set Up Your Deutsche Bahn Account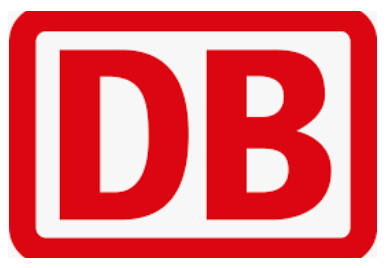 Now that you have an IBAN, you can actually purchase your Deutschland Train Ticket. Buuut first, you need a Deutsche Bahn Account.
Again, don't worry, it's actually quite easy to do and you can do so quickly here.
3. Buy The Germany 49 Euro Ticket
The biggest catch here is that when you purchase your ticket, they are going to want a German Address. It's been verified that you can put in the address of your first hotel that you are staying at in Germany and the system should accept this.
On the first of the month that you have chosen for travel, you will then receive your digital ticket
IMPORTANT: You will get a confirmation if you've purchased this ahead of time, but will only get the digital ticket once you are in the correct month of travel.
Foreign Travelers Alternative to WISE Account
So, while Deutsche Bahn is the national railway company in Germany, most individual cities also have their own public transportation systems (and Apps) that operate individually. And ironically, more and more of them are starting to offer the option to use a (foreign) credit card if you buy the ticket directly from their App.
Do NOT ask me why the individual entities can offer this and the largest rail company in Germany can't. Believe me, I've stopped asking questions about the efficiency of German Bureaucracy ages ago! I have a feeling that eventually, DB will let you buy the Deutschland Ticket directly through them via credit cards, but alas, we aren't quite there yet!
I'm sure there are more but the ones that I know do offer the option to purchase the Deutschland Ticket with Credit Cards are:
The Rhein-Main-Verkehrsverbund. I personally called them up and they verified that you can purchase with a credit card in both the App and the website
The Bremen VBN Fahrplanner App (hat tip to Seat 61)
The HVV Hamburg App
Important Note: You don't need to be traveling in the areas, cities, or regions of these local apps to purchase the Deutschland Ticket with a credit card! Just make sure you keep that App on your phone to keep your digital ticket, no matter where you are traveling at throughout Germany!
Where CAN'T You Buy Deutschland Train Tickets?
Since this is subscription based, buying this particular Deutsche Bahn monthly ticket isn't as straight forward as buying it wherever tickets are sold. For example, as of right now, you are still unable to purchase them
At the kiosks (for example on the platforms)
On the trains/ from the conductors
Are Kids Free with the Deutschland Ticket?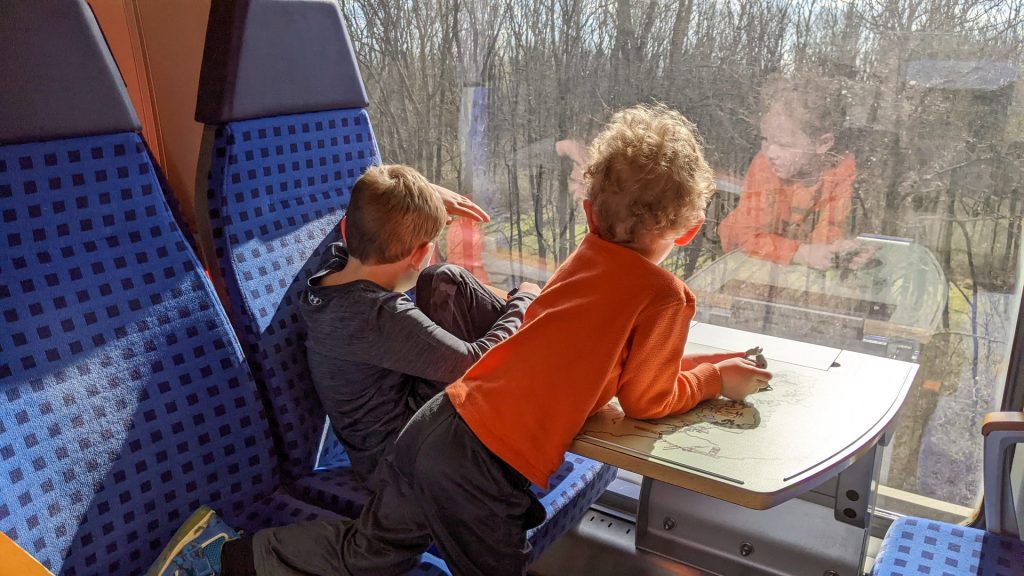 This is something that us families that travel in Germany are hoping DB and the government figure out because as of right now, only kids under 5 can travel for free if a parent has the Deutschland Ticket. That means that any child over 6 will have to pay the full adult fare of the 49 Euro Germany Train Ticket. Seems a bit silly if you ask me (as a traveling parent) that there isn't even a child fare option, but, there's not…so that is that for now.
Canceling Your Deutschland Ticket
So one of the "hurdles" of this ticket is that it is not a one-off ticket. You DO NOT make a one time purchase for the month that you want to travel. Instead, you must sign up for the "Monthly Subscription" and it will automatically debit your account for 49 Euro each month in return for a new ticket. I suggest putting a few month's worth of money into the account that will be debited, just in case you forget to cancel or something goes awry. That way you won't be charged for an overdraft through your bank.
However, you can cancel at any time. (There is no current "minimum amount of usage" time)
The biggest thing you need to know is that you *MUST* Cancel Your Ticket By the 10th of the Month.
For example, if I am traveling in July (and that is the only month), that means I would need to cancel by the 10th of July in order to not be charged for August.
HOW to cancel it may vary depending on exactly who you bought the ticket through. However, if you bought it directly through DB, you will have to create a "Subscription Portal" within your account.
After logging in to your account, find the "Add my Subscription" menu
Select "Germany Tariff"
You should have gotten an email previously with your subscription number (Numbers only- NO letters). You'll need to input this along with the date of birth that you used to sign up and and zip code
Now, you can edit your subscription. Click on "Deutschland-ticket"
It will ask "What would you like to do?"
Choose "Cancellation"
Select your "Reason For Cancellation"
Input your cancellation date
In order to confirm the cancellation, you must confirm your email.
Click "Continue"
If you don't receive an email confirmation, then something did not go through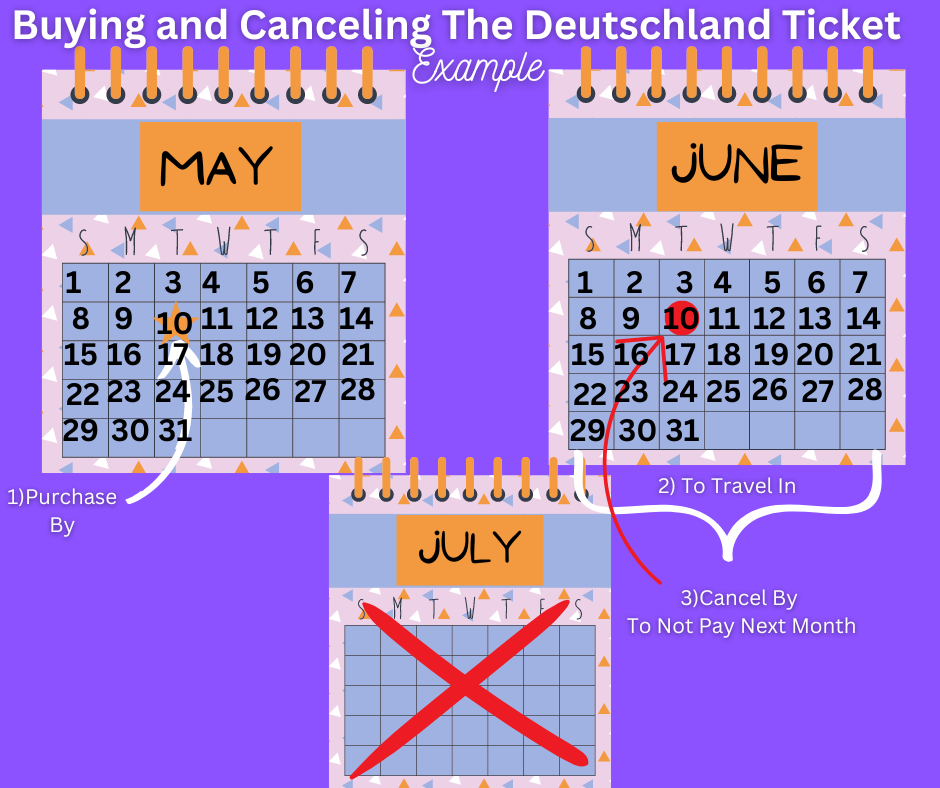 Concerns about the Deutschland Ticket
Overcrowded Trains
We saw this last year when the 9 Euro Ticket was released. Regional trains were INSANE!!!! They were SO packed that it was often standing room only (for hours on end!)
Delayed Trains
Due to the general strain on the Deutsche Bahn system, we saw a lot of delays last summer as well. Here in Bavaria, I rarely have issues with delays or cancelations but I have friends in other regions who actually loathe using the train because some areas are just notoriously known for more frequent delays. However, with SO many passengers, this meant simple things like people getting on and off the trains took longer than normal, resulting in more delays all over Germany.
Cleanliness
Typically, I have ZERO issues using the bathrooms on a Deutsche Bahn train! In fact, on most, they are shockingly decent for being public trains!!! But again, with such an influx of people using the trains, it's not out of the question that things like the bathrooms are going to probably need more attention than usual.
Pro Travel Tip: I don't go anywhere in Germany without a Kleenex tucked into my pocket. You just never know when there won't be toilet paper.
Conclusion
Holy Schnitzel, that is a LOT of information to absorb and take in!!! I'm hoping that as this train ticket in Germany takes off here that it will become much simpler for travelers to use and understand. However, one of my main theories is that the government is kind of purposely making this a bit tough for an average traveler. Despite loving tourists to come to their country because that means Moolah, last year we saw just how difficult the 9 Euro Ticket was on the rail system and tourism in general.
This is a great option for people that live in Germany or are willing to jump through the hoops and by weeding out those that aren't willing to figure it out, that may help decrease things like insanely packed trains that are unsafe for travel.
But to wrap this all up, if you are an average tourist that has one week in Germany or something like 10 Days in Bavaria, then the Deutschland Ticket may sound really appealing at first, but it still not be as practical for travelers who are trying to see as much as possible in a short amount of time
If you are on a tight schedule and only have One Week in Germany, then no, I don't think that the 49 Euro ticket is going to be your best option. However, if you are here for a nice, long, extended holiday and are planning on using buses, trains, and local transport a lot, then yes, it could be a great thing for you. Or, if you are a budget traveler and will do just about anything to save some cash, then taking a 4 hour train journey instead of a 1.5 hour ride may be worth it to you.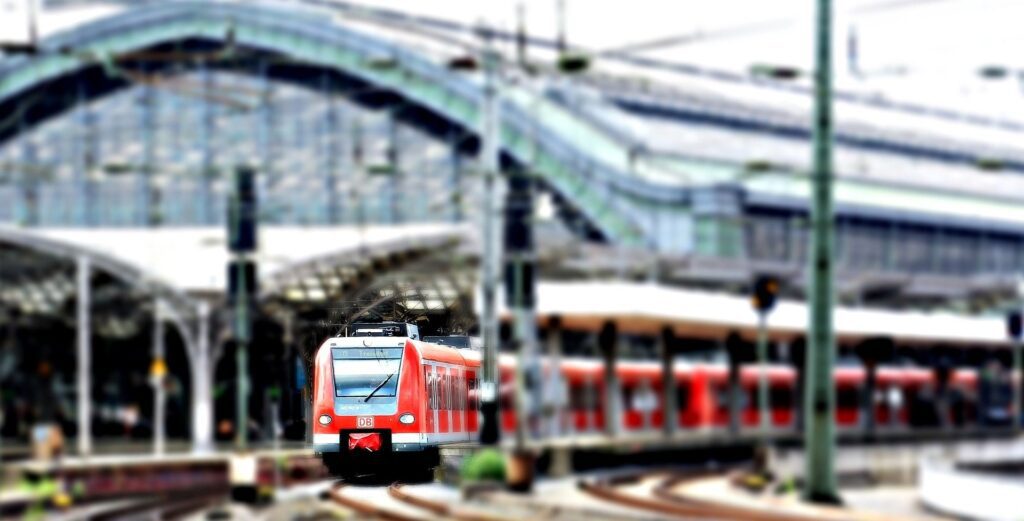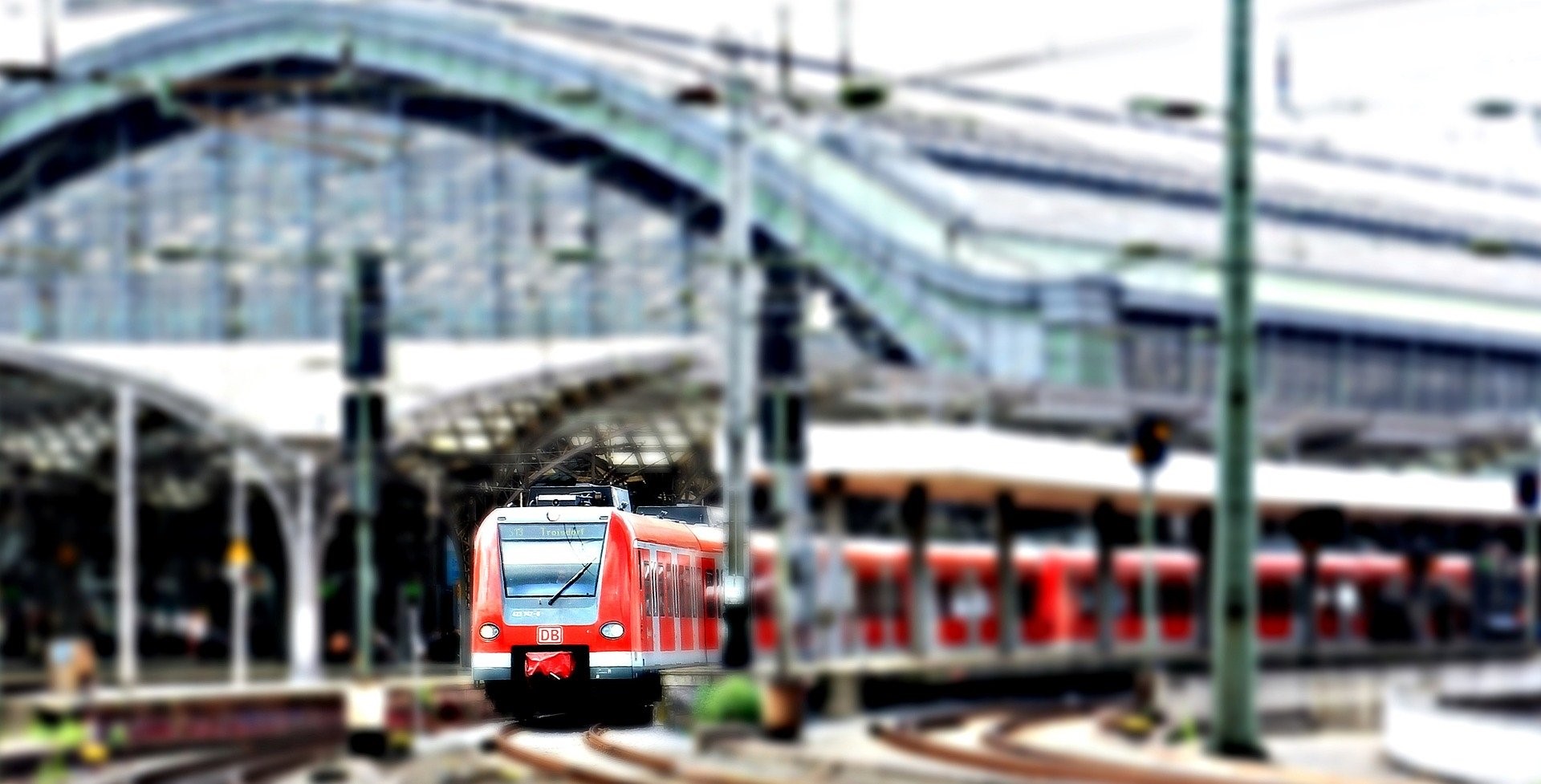 FAQs About the Deutsche Bahn Germany 49 Euro Deutschland Tickets:
Can tourists buy Deutschland Tickets?
Yes. Tourists can buy the Deutschland Ticket. It is more intended for commuters and people that live in Germany but that doesn't mean that travelers can't utilize it. It is a little difficult at the moment, for example, you may need to obtain an IBAN number, which means signing up for a service, such as WISE to get one. Alternatively, several local public transportation companies (IE: Bremen Fahrplanner App and the RMV are allowing for direct purchase with credit cards)
How do I get the Deutschlandticket??
You can purchase the 49 Euro Ticket from all public transport companies within Germany. This includes Deutsche Bahn as well as all local and regional transportation companies (ie: Individual cities like Munich's MVV, or the Rheinland Main RMV)
Can you buy Deutsche Bahn tickets at the station?
If the station has a Deutsche Bahn operated office (most bigger cities will) then you may purchase your Deutschland Ticket there, but not at the kiosks. Most all other Deutsche Bahn tickets (for example, ICE tickets, Bayern Pass, etc can be purchased at the kiosks at the stations)
Where is the Deutschland-Ticket valid in Germany? / Where can I use the Deutschland Ticket
The Deutschland ticket is valid nation wide all over Germany on all local transportation as well as Regional Trains. It is also valid to get to: Strasbourg (France), Salzburg (Austria), Tønder (Denmark), Veno (Netherlands), and Luxembourg (Luxembourg). However, once you get to these locations, you'll need to buy the local transportation tickets (buses, etc) to get around locally.
What all does the Deutschland Ticket cover?
You can use the 49 Euro ticket to travel on all Regional Trains within Germany as well as all local public transportation, including buses, Ubahns, Sbahns, and trams.
What do I need on me while traveling with the 49 Euro Ticket?
Your paper or digital ticket as well as a valid ID that corresponds with the name on your ticket.
I bought my Deutschland Ticket but haven't received the Digital Ticket, why not?
When you buy the 49 Euro ticket online, you should receive a confirmation that it was purchased. However, your digital copy will not show up in your App or inbox until the first of the month that you chose to start your subscription. For example, if I purchased the Deutschland Ticket in May so that I can travel in June, it won't show up until June 1st.
Can you buy the Deutschland Ticket at a ticket machine/ Kiosk?
No. You currently have to buy it in person at a Deutsche Bahn office (at most bigger train stations) or online.
Does the 49 euro ticket go to Salzburg?
Yes! Using the Regional trains you can get to Salzburg with the Deutschland Ticket. However, it only covers the regional train TO Salzburg. Once in Salzburg, you'll need to purchase additional local transportation (buses, trams, etc) tickets to get around.
Can children travel with the Deutschland Ticket?
Yes. Children over 6 need to pay full price for a Deutschland Ticket. Children under 6 are free.
What is IBAN in Germany?
IBAN stands for "International Bank Account Number" which allows people to make international bank transfers easily. Each country has its own codes. For example, German IBAN numbers start with "DE" and then are followed by the individual's bank account number. You can use IBANs from other countries (not just a German IBAN) to purchase a Deutschland Ticket.
Is ICE included in the 49 euro ticket?
No. No long distance/ high speed trains are included in the Deutschland Ticket. That includes ICE, IC, and EC trains that are invalid with the ticket.
Is ICE train the same as Regional trains?
No, regional trains will only operate in one region of Germany whereas the ICE trains can get you quickly all over Germany. Regional Trains have no seat reservations system available but a seat reservation on ICE is highly recommended.
What is the difference between RE and RB trains?
RE and RB trains are both Regional Trains. RE Stands for "Regional Express" and may be slighter faster than the standard RB "RegionalBahn" trains which make more stops and may go to smaller towns. Both RE and RB trains are valid on the Deutschland Ticket
What is the difference between RE and IC trains?
Regional Express trains operate only locally, within one region. For example, only within Bavaria where the IC (Inter City) train (As well as ICE and EC trains) is a form of a Deutsche Bahn high speed train. IC trains may operate regionally but make very few stops (typically at the bigger cities) offering a much faster mode of transportation compared to the slower RE trains. Even if the IC train only stays in one region for the journey, it is still not covered on the Deutschland Pass