[This post may contain affiliate links where we earn a small commission. Please see our disclosure for more information and thank you for supporting our site so we can continue to bring you awesome content for your travel inspiration!]
Living just an hour from Munich myself, I am always looking for awesome things to explore nearby. Sometimes, I don't have enough time for a full on trip but still need a good getaway. Whether you live near Munich yourself or are using Munich as that perfect "home base" in Germany and are looking at great weekend trips from Munich, Germany to fill in some of your itinerary, I've compiled some of my personal favorite weekend getaways from Munich.
Now, a few things before we get started. Europe is SO accessible! I mean, shoot there are so many places you COULD go for side trips from Munich!
However, I want to keep this realistic. While you absolutely could go somewhere that is a 6 hour drive, I am keeping this list perfect for short trips from Munich. I often see on similar lists places that deserve so much more time than just 2 days. Therefore, everything on this list is going to be:
4 hours or less from Munich by train or car
A destination that doesn't NEED more than 2-3 days to thoroughly enjoy
Day Trips from Munich
If you are looking for Day Trips from Munich, this list has over 30 that are perfect. Some of my personal favorites are:
Any of the nearby Alpine Lakes from Munich
Bamberg
Mittenwald and Krün
Starnberg
Hikes in the Alps to place like Tegernsee, Walchensee, Kochelsee, etc
Otherwise, let's dive into some of my favorite 2 day trips from Munich. I'll cover where they are in relation to Munich, if it's better to get to them via car or train, and will offer some hotel options as well.
You'll also find a short list of places that you can fly to in just 1.5-2 hours from Munich. Obviously, the whole process of getting to the airport checking in, etc will add some time, but I still think that if you can get an early morning Friday flight, there are still some places you can fly to, especially if you are looking for long weekend trips from Munich (3-4 days).
Weekend Trips from Munich In Bavaria
Getting Around Bavaria by Train
If you are staying within Bavaria, it is worth knowing about the Bayern Train Pass. While there are some nuances to it (time of day, what specific trains you can take, etc) it is a fantastic option if you are looking at saving some money while traveling around Bavaria!
Garmisch Partenkirchen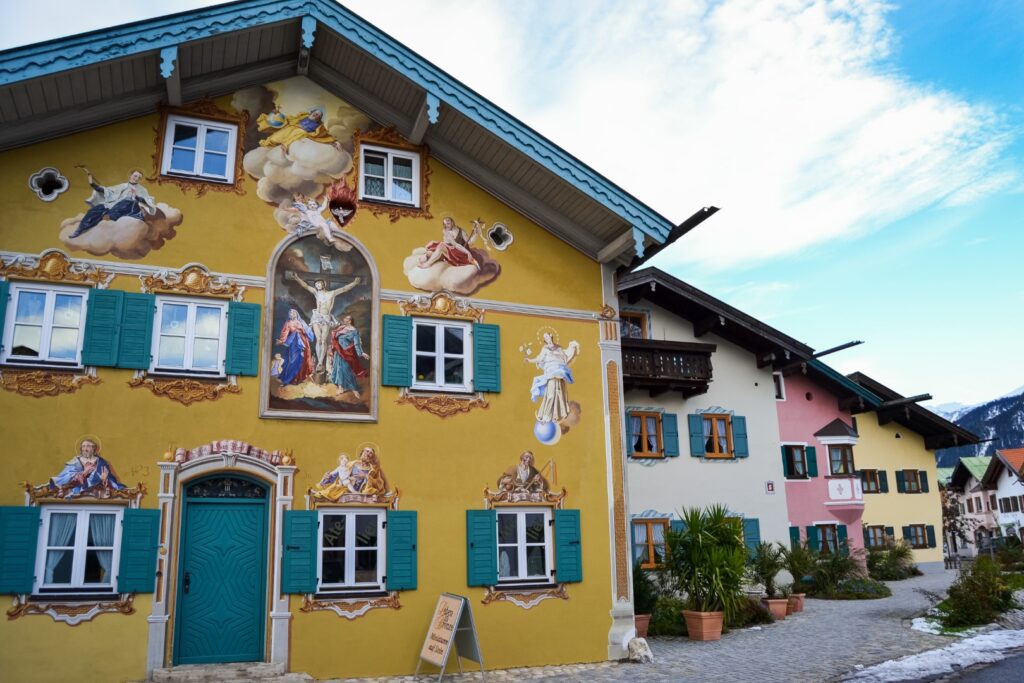 Munich to Garmisch
Distance: 90 km
Travel time: 1 hour 10 minutes by car/ 1.5 hours by train
Really, anywhere in the Bavarian Alps is a perfect weekend getaway from Munich, but Garmisch has it all for anyone wanting a quick escape to the mountains. There are plenty of Things to Do In Garmisch to fill up a full weekend. You could spend the whole weekend just finding gorgeous hikes! But, if you want something beyond just trekking, then, of course, you can always head to the top of Germany to the tallest mountain in the country, the Zugspitze for stunning views as well as enjoy the Eisbee Lake. Just wandering the Garmisch Altstadt is a gorgeous and fun thing to do as well! Or, walking through the Partnach Gorge is always a treat (If you want something even more "off the beaten path" try the alternative (and I may even argue, better!) Leutasch Gorge.
Of course, you can even add the numerous Things to do in Mittendwald, which is just down the road.
Nuremberg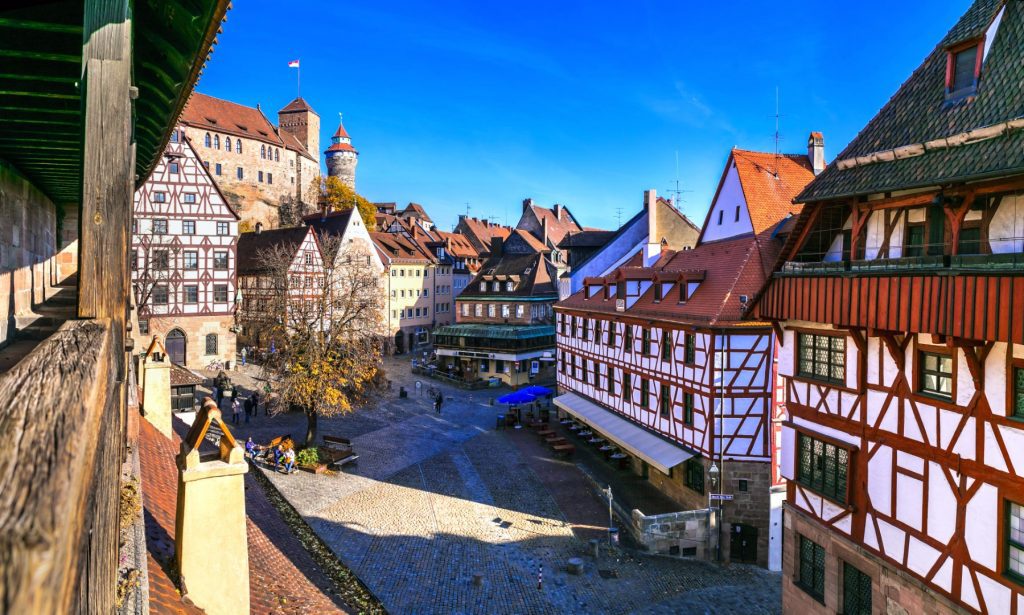 Munich to Nuremberg
Distance: 170 km
Travel time: 2 hours by car/ A little over by 1 hour by high speed train (Not applicable with the Bayern Pass) by train or between 2-3 hours on Regional Trains
While I would argue that you can see most of the Alstadt of Nuremberg in 1 Day, I still think that spending the weekend in this Franconian town is well worth the few days! For example, on the first day, wander the Altstadt fully to enjoy the cobblestone streets, grab a famous German Lebkuchen (gingerbread), eat the classic Nürnberger wursts, and get fantastic views out from the castle.
But then on day 2, spend some time at the Nazi Rally Grounds, in particular the Documentation Center (Dokumentation Zentrum). This is one of the most well done museums I've been to. If you have ever wondered how someone like Hitler could have possibly taken over a whole country this museum does a phenomenal job of explaining it all.
Of course, if you have a longer weekend (like a Friday and Monday off as well), Nürnberg makes a fantastic "Home Base" with plenty of Day Trips from Nürnberg
Berchtesgadener Land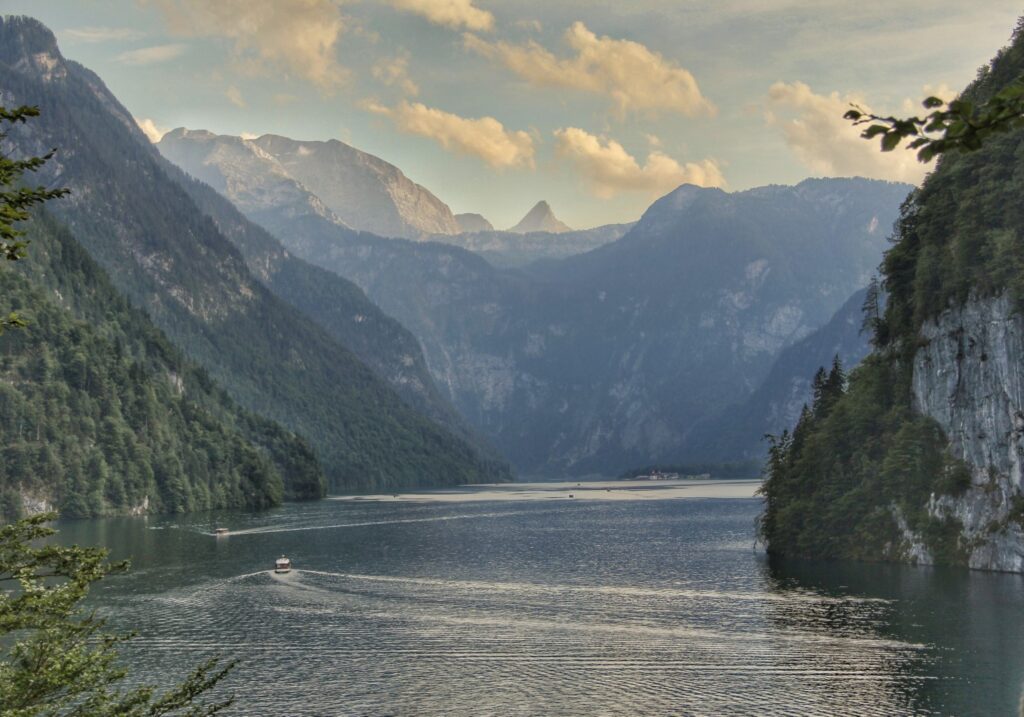 Munich to Berchtesgaden
Distance: 155km
Travel time: 2.5 hours by car/ 3 hours by High Speed trains (Not applicable with the Bayern Pass)
* While you can get to Berchtesgadener Land by public transportation, it's going to take a lot longer to get around the area if you plan on doing a lot of sightseeing. It's not impossible, but a car is more feasible
Berchtesgaden is another fantastic Bavarian Alpine location that deserves at least several days exploring all there is to offer here! Berchtesgaden is both the name of the town as well as the National Park, and there is so much to do in this area!
Arguably one of the most popular things to do in Berchtesgaden is to take a boat ride on the stunning Königssee. It's often compared to the scenery of Fjords due to the cliffsides right along the beautiful lake. Many people will stop at the St. Bartholomew's church and it's well worth the effort to go to the Obersee as well.
If you are into photography, places like Ramsau bei Berchtesgaden couldn't be more picture perfect and of course, there are countless hikes to do in the area!
Bad Füssing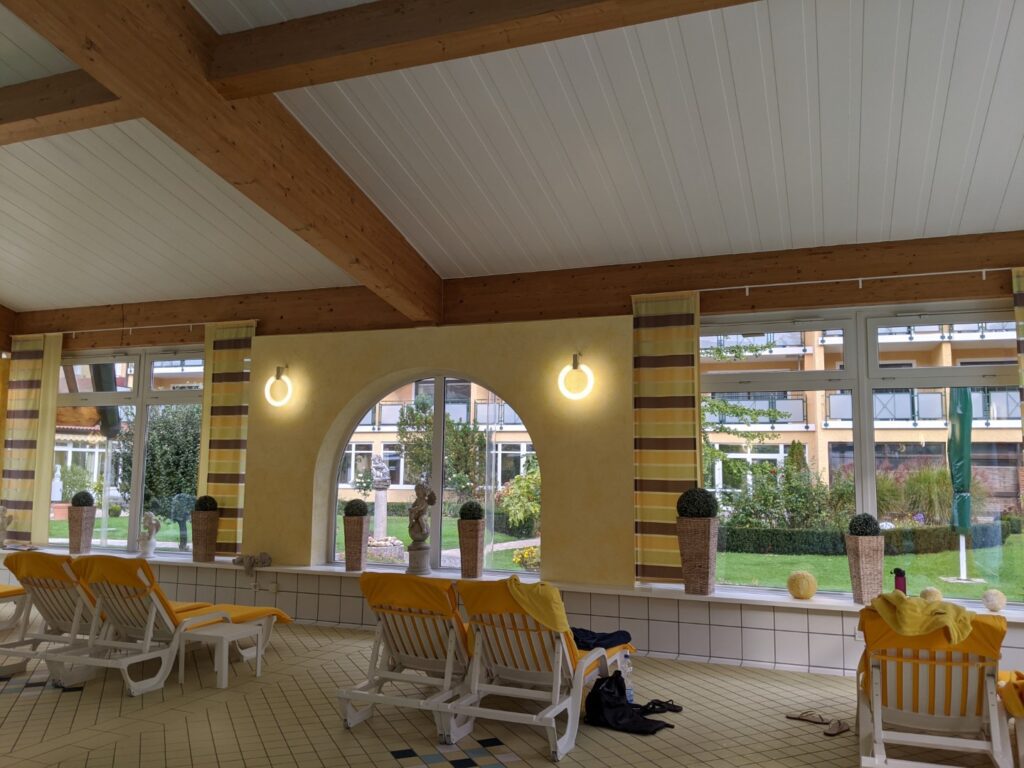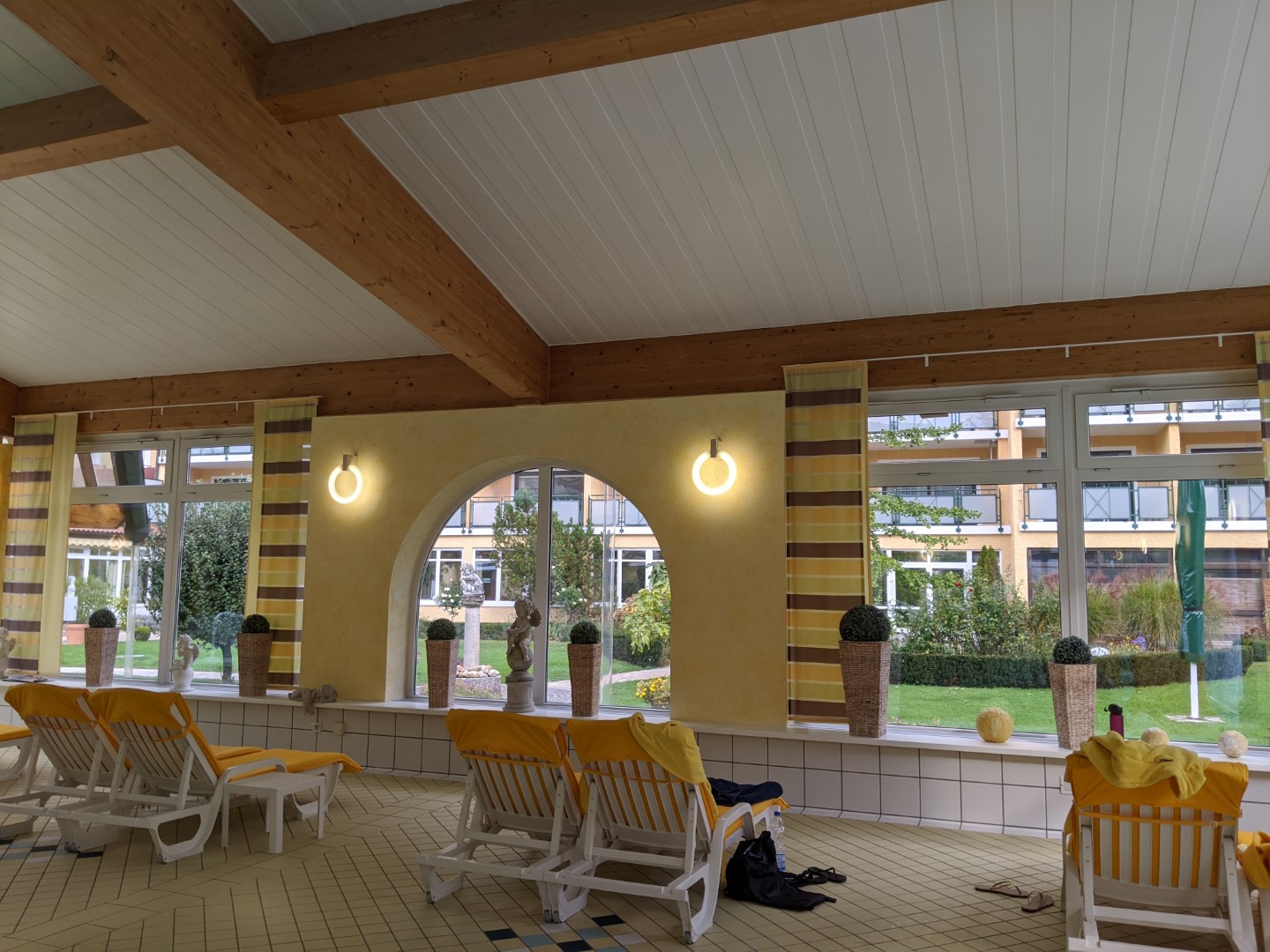 Munich to Bad Füssing
Distance: 145km
Travel time: 1 hour 45 minutes by car/ Approximately 3 hours by train
Germany's Spas are some of the absolute best that I've been to and the Bad Füssing's Therme Eins is truly one of a kind. I personally love staying at the Kur Hotel Zink with a full board package (their food is out of this world good!!!) and enjoying their own thermal pools on site. But, then I always make time for a day at the Therme Eins, where the Bavarian Decor simply transports you to a magical and relaxing experience! There's a Sauna with a Krampus, a "potato cellar" sauna where you can do salt and yogurt peels, and the aromatic saunas are UUHmayzing! Of course, there are the thermal pools, plunge pools, a hay room, quiet rooms, and so much more!!!
Talk about a relaxing (and unique) retreat!
Legoland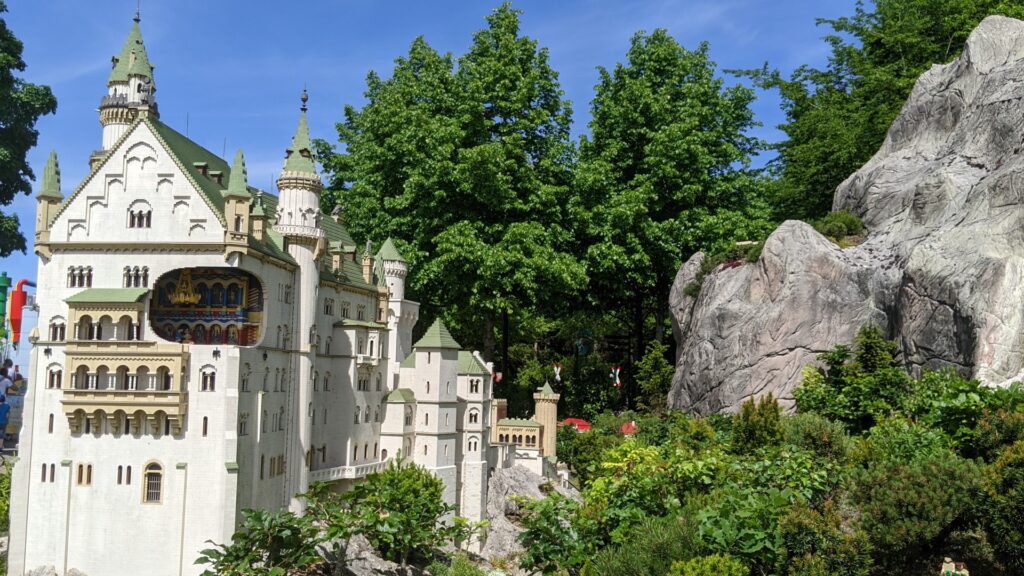 Munich to Legoland
Distance: 125km
Travel time: 1.5 hours by car/ Approximately 2.5-3 hours by train (most include a high speed train)
Whether you have kids, are a kid at heart, or just love Legos, a weekend at Legoland Germany is an absolute blast! We spent 2 days at Legoland, which seemed to be just about the perfect amount of time to fully experience the whole park without feeling rushed. I found Legoland to be just about perfect for ages 4-10(ish) but if you are going just as adults, I recommend getting a fast track pass so that you can do more of the bigger roller coasters several times. We also stayed right at the park itself (in the Pirate Hotel) as a special treat for my son's birthday, but there are plenty of accommodations nearby that you can stay at as well.
Lake Constance
Munich to Konstanz
Distance: Will vary depending on the exact town you go to
Travel time: Will vary but approximately 2-3 hours depending on where on the lake you go
Lake Constance (also known as Bodensee amongst locals) is a well deserving Weekend Trip in Germany. After all, Bodensee is the third largest (freshwater) lake in Europe and borders not one, not 2, but THREE countries! That's right. You can be in Germany today, Austria this afternoon, and then head over to Switzerland! And with the lake sitting at the foothills of the Alps, it's a refreshing break while still having plenty of amenities at close hand.
Lake Kontanz is HUUUGE. There are countless towns along the lake and each have different things to do and offerings. Bodensee is so big there are literally islands within the lake that you can go to!!!
There is SO much to to do at Lake Constance, which is why I prefer to go for a long weekend. However, even just a day to this "Sea" as the locals often refer to it instead of a lake, has plenty of activities such as:
Take a Ferry Boat Ride: This is one of the most popular things for tourists to do while at Bodensee and is a great way to hop all over the lake to get to the other countries and multiple towns all in one day
Go to the "Flower Island:" Mainau Island in the middle of Bodensee is a garden and flower lover's dream. The expansive gardens set on the lake is simply gorgeous!
Zeppelin Museum: A popular thing for many people to do is to go to the town of Friedrichshafen to go to the Zeppelin Museum, which is a fascinating museum for anyone with aviation interests.
Rent Bikes: I'd argue that this is one of the best things you can do at the Bodensee. There are bike shops all over and you can even get some Ebikes to zip you along around the lake. Get those stunning Alpine Views, see a few great towns, and enjoy being out in the fresh air!!!
Rothenburg ob der Tauber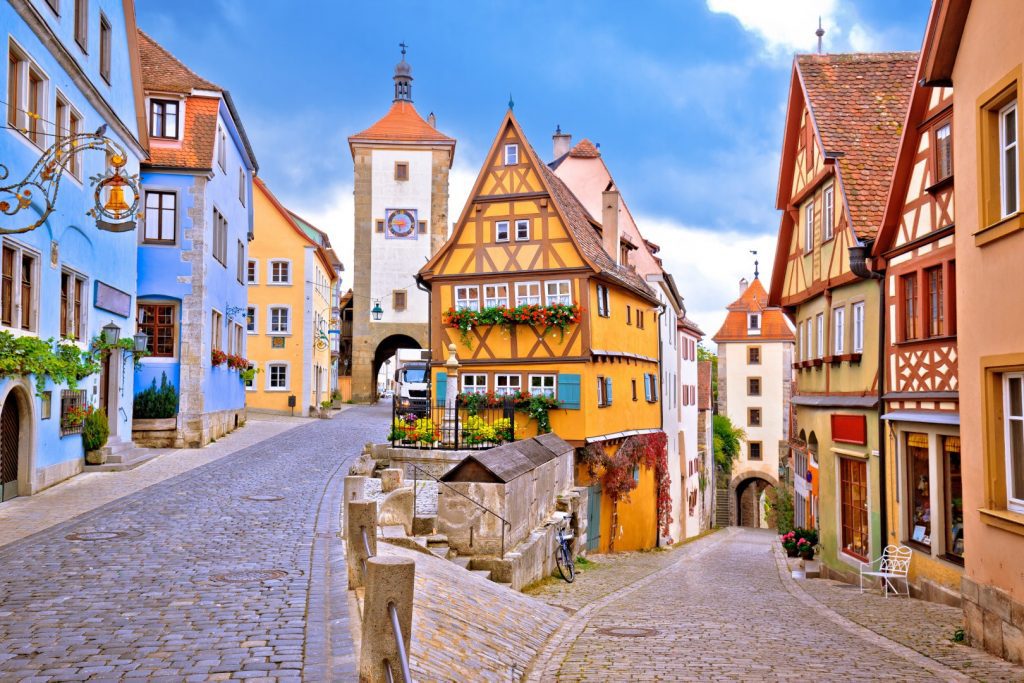 Munich to Rothenburg ob der Tauber
Distance: 250 km
Travel time: 2.5 hours by car/ 3 hours by High Speed trains (Not applicable with the Bayern Pass)
Since most tourists do day trips from Munich to Rothenburg, staying a short weekend is the perfect way to get the town a little more "to yourself" in the early morning hours or in the evenings when all the day trippers have left! It really can feel like a different town on the Plönlein Square or on the cobblestone streets when the mass amounts of tourists aren't there!
There are definitely plenty of Things to do in Rothenburg to fill at least one full day (if not more), but what most tourists leave out is some of the great wine hikes and scenery nearby!
And of course, if you haven't done a Night Watchman's Tour yet, be sure to do that in the evening as well for a fun (and surprisingly enlightening) experience!
Neuscwanstein and the Allgäu Region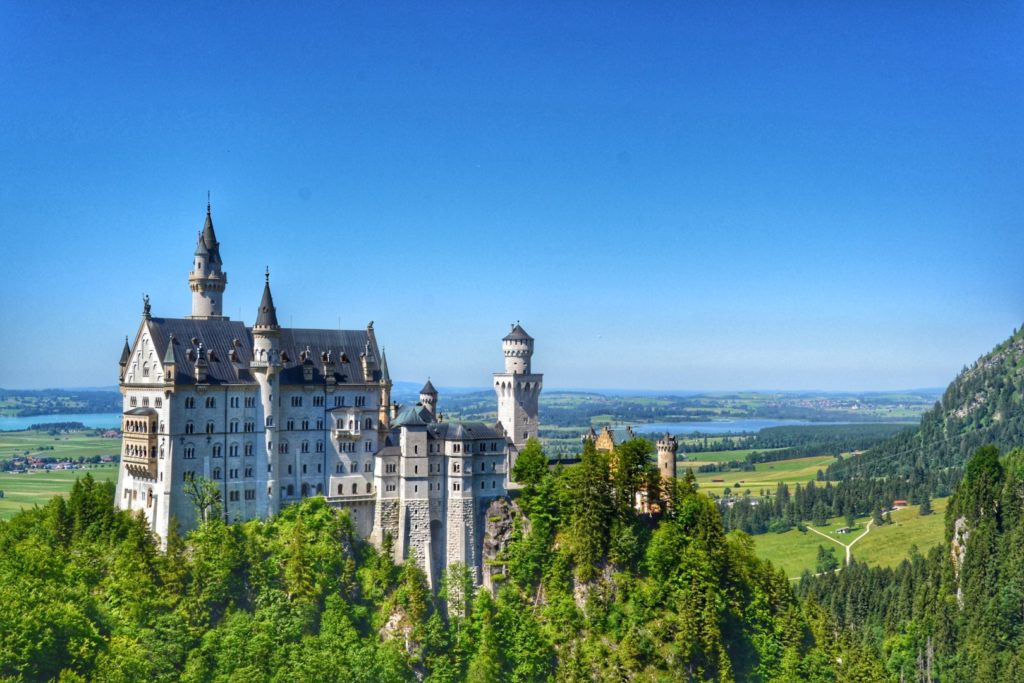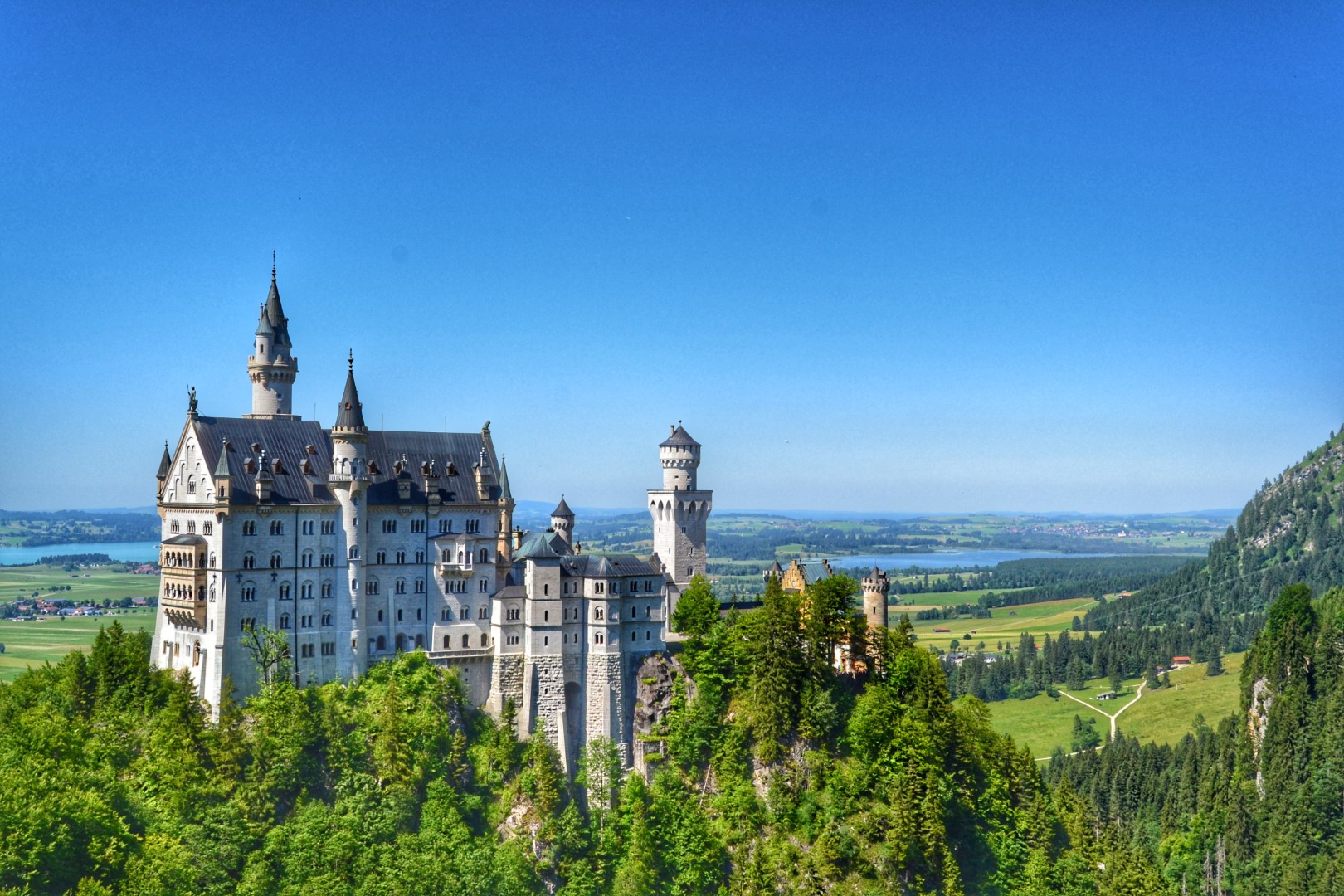 Munich to Neuscwanstein Castle
Distance: 130 km
Travel time: 2 hours by car/ 3 hours by train
Most people will do Munich to Neuschwanstein as a day trip. However, the Allgäu region of the Bavarian Alps is so beautiful (and if you love cheese, like me, then you'll want to hit up some "Käserei" (German Cheese Shops!!!) ) In fact, if you are looking for romantic getaways near Munich, my husband and I just spent a few days in the region at a luxury hotel with views of Neuschwanstein and it was the perfect anniversary trip for us!
I recommend doing Neuschwanstein and Linderhof in 1 day with a stop in Ettal on your first day. You can always spend time in Oberammergau as well, since it's such a charming and beautiful Alpine town.
Otherwise, spend your next day exploring the Allgäu. In fact, the Breitachklamm Canyon, which is the deepest canyon in Central Europe, is right there in the Allgäu. And of course, there are some seriously stunning hikes in the region as well!!!
Fränkische Schweiz/ Franconian Switzerland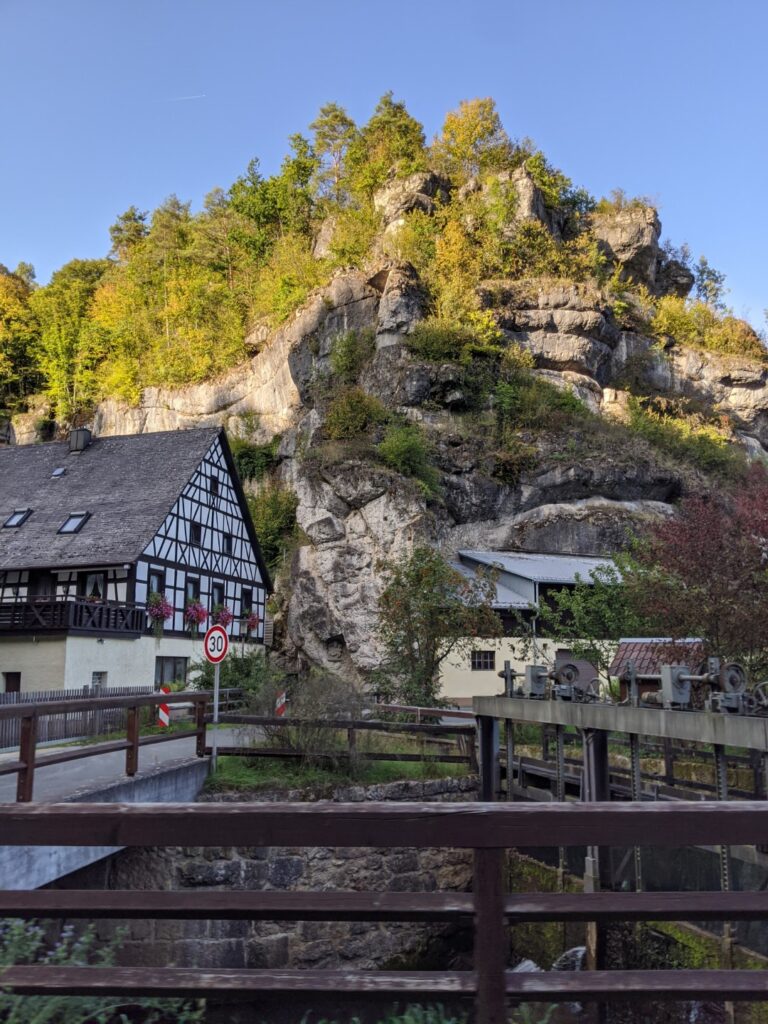 Munich to Franconian Switzerland
Distance: Will vary depending on the exact town you go to
Travel time: Will vary but approximately 2ish hours by car or 3 hours by train
While most outdoor enthusiasts wanting weekend trips from Munich, Germany will typically head straight to the Bavarian Alps, many people underestimate the very cool"Fränkische Schweiz" (Or Franconian Switzerland) in the Franconian region of Bavaria! While I would argue that it actually is nothing like Switzerland (no, there aren't mountains), the geography, interesting Karsts, caves, and beautiful medieval towns in the area really are unique!
Many people love hiking and being outdoors in the Fränkische Schweiz. A really unique angle on this is the many "Beer Hikes" that can be done in the area!
Personally, I love going to Pottenstein where there is plenty to do such as hiking around the area, doing the Klettersteig (ropes courses), riding the Rodelbahn, going to some caves, and more!!! However, there are plenty of other really charming towns to look into as well such as:
Pottenstein
Tüchersfeld
Forchheim
Muggendorf (there is a great autumn Pumpkin Festival here annually!)
Pegniz
Weekend trips from Munich In Germany
While getting around for weekend trips from Munich in Bavaria is super easy, there are still plenty of places that you can head to still within Germany itself!
Berlin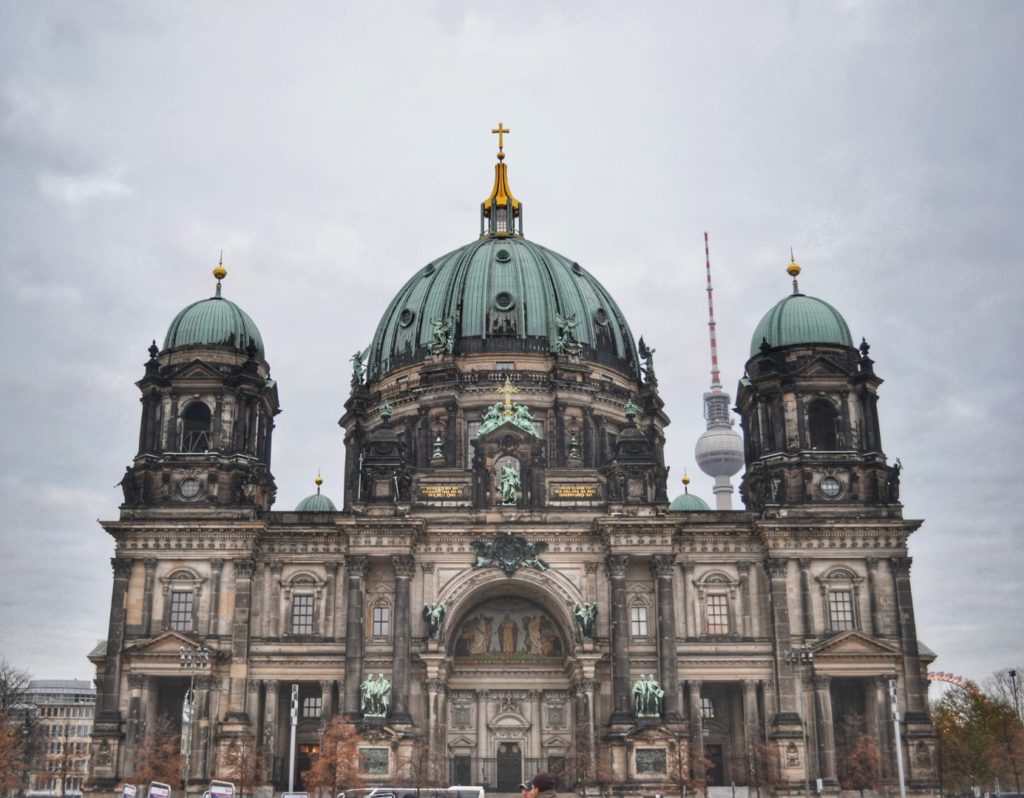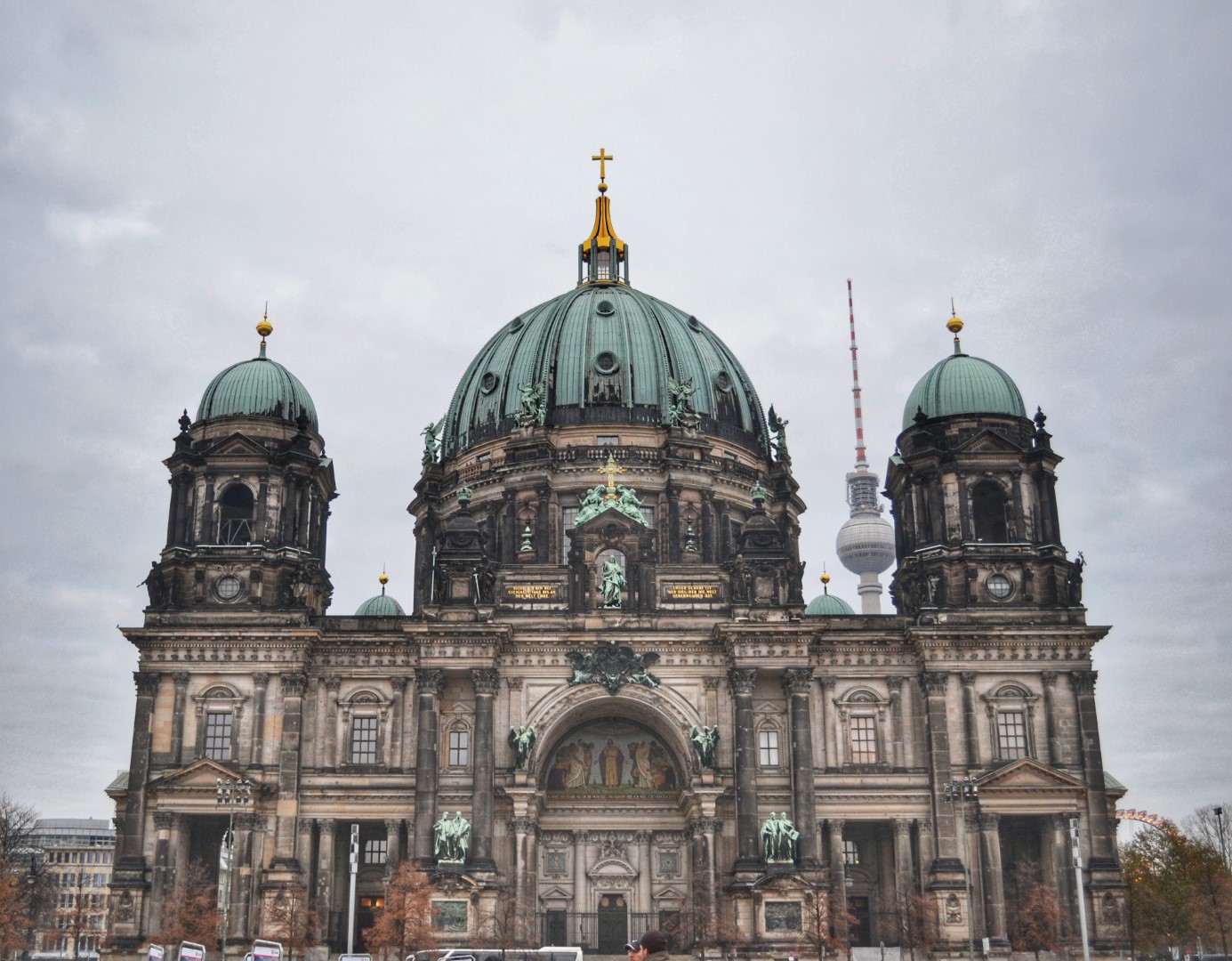 Munich to Berlin
Distance: 600 km
Travel time: 6 hours by car/ 4- 4.5 hours by train
Ok, so this one is a little over my promised "only 4 hours away" but I'm making an exception because of just how dang easy it is to get to Berlin from Munich!!! With just one ICE train, you can hop on at the Munich HBF and just sit back for the next 4.5 hours doing nothing (looking at the beautiful countryside, reading a book, catching up on work with the free WIFI on board, watching a movie, whatever!) and then arrive to the Berlin HBF a few hours later!
And while I think that Berlin deserves more than a short weekend, you can still do SO much in Berlin in 2 days!!! While both Munich and Berlin are big cities in Germany, Berlin has a completely different vibe than Munich! While Munich feels a bit more "traditionally German," Berlin is this eclectic mixture of different eras and even cultures as many foreigners often choose Berlin to move to. There's everything from magnificent museums to hot nightlife to great food to fascinating and sad history!!!
Tübingen + Hohenzollern and Licthenstein Castles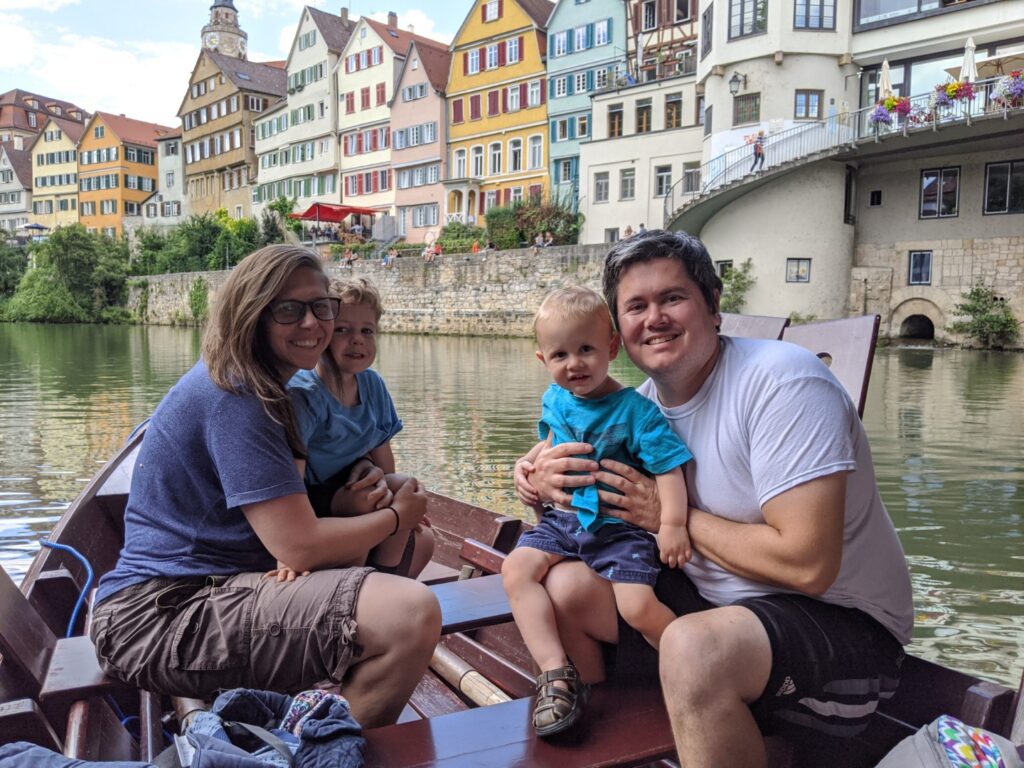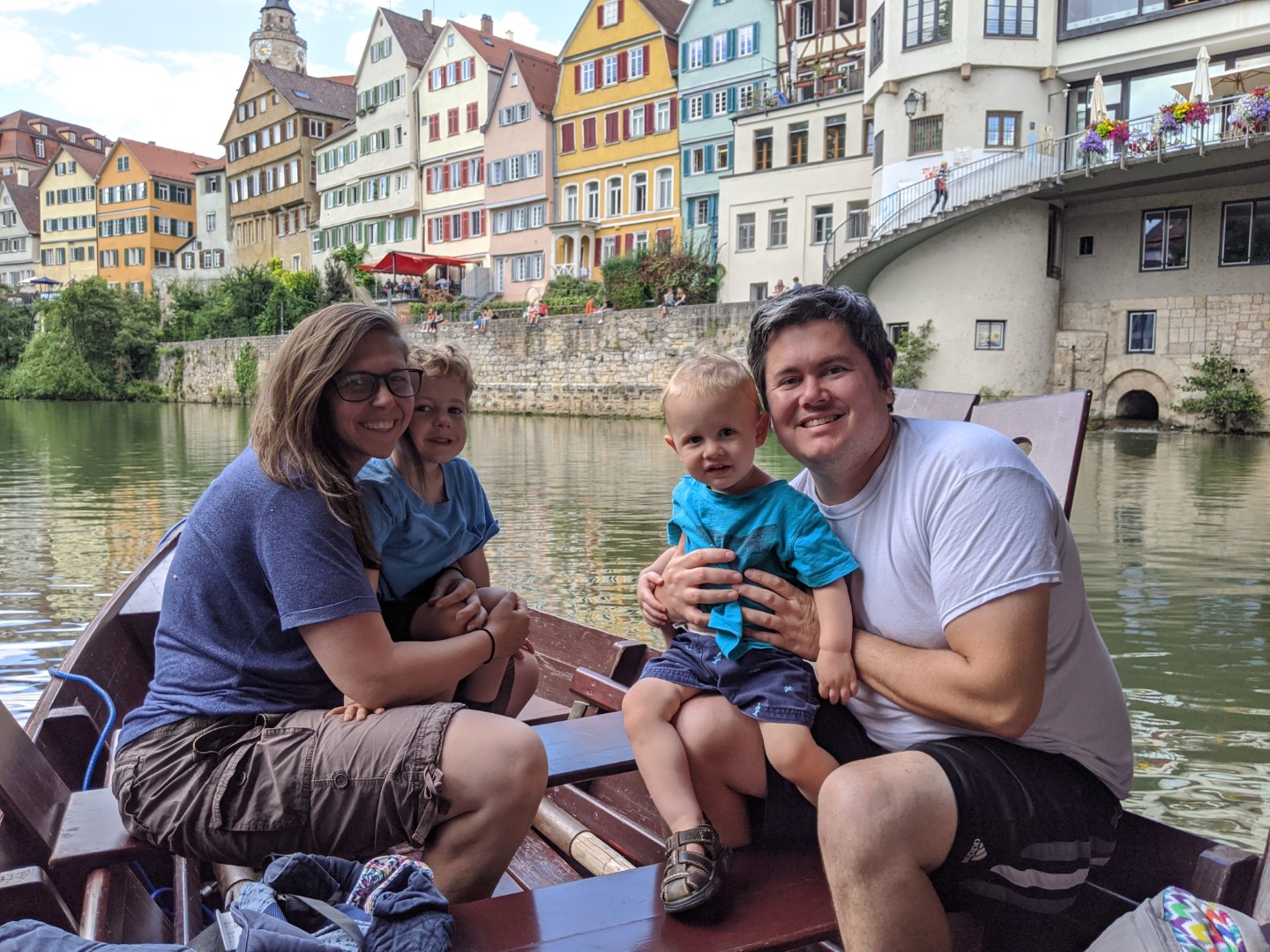 Munich to Tübingen
Distance: 255 km
Travel time: Approximately 3 hours by both car or train
Tübingen is one of my favorite "hidden gems" in Germany that I like to recommend to people. You really don't need more than even 3/4s of a day here, but it is just so darn charming! The town square with the half timbered buildings and fountain reminds me of the scene from Beauty and Beast when Bell is singing in the village!!! One of the most unique activities to do in town is to take a boat ride (almost like a gondola ride!) with a local as he steers the waters with a giant pole while you pass the pastel-colored houses and glide under willow trees!
The other day of your weekend trip should then be spent doing the "Harry Potter" Hohenzollern Castle and "Neuschwanstein's Little Sister," Lichtenstein Castle. I go over in my Lichtenstein Castle Guide exactly how to do both castles easily in one day.
Baden Baden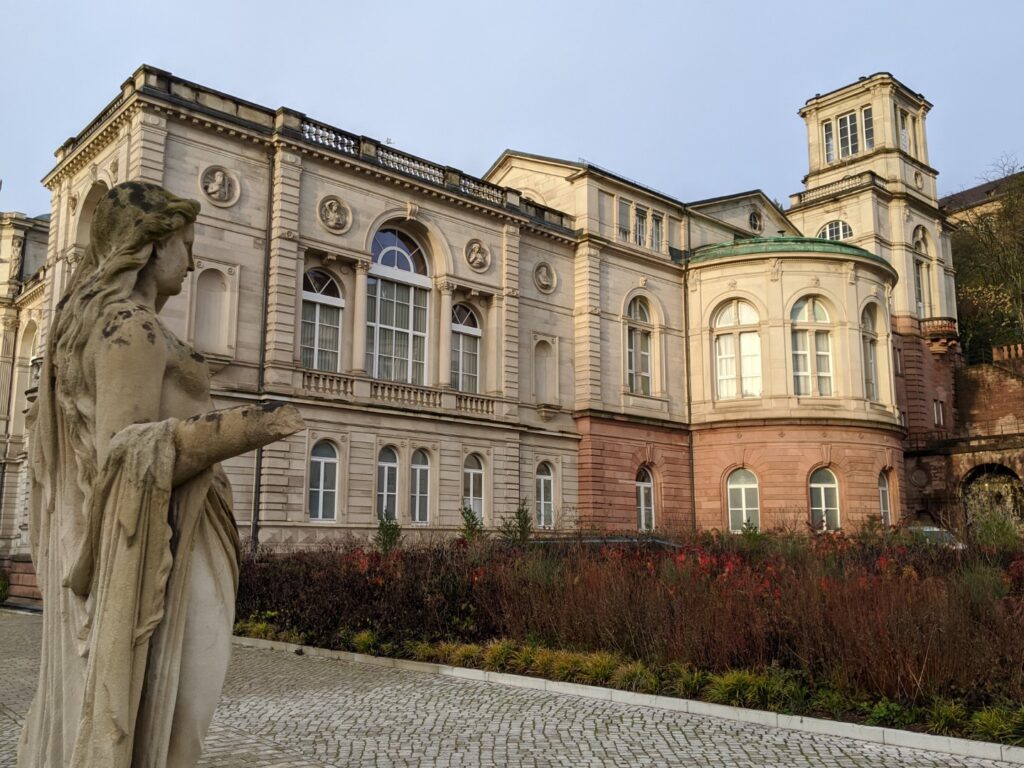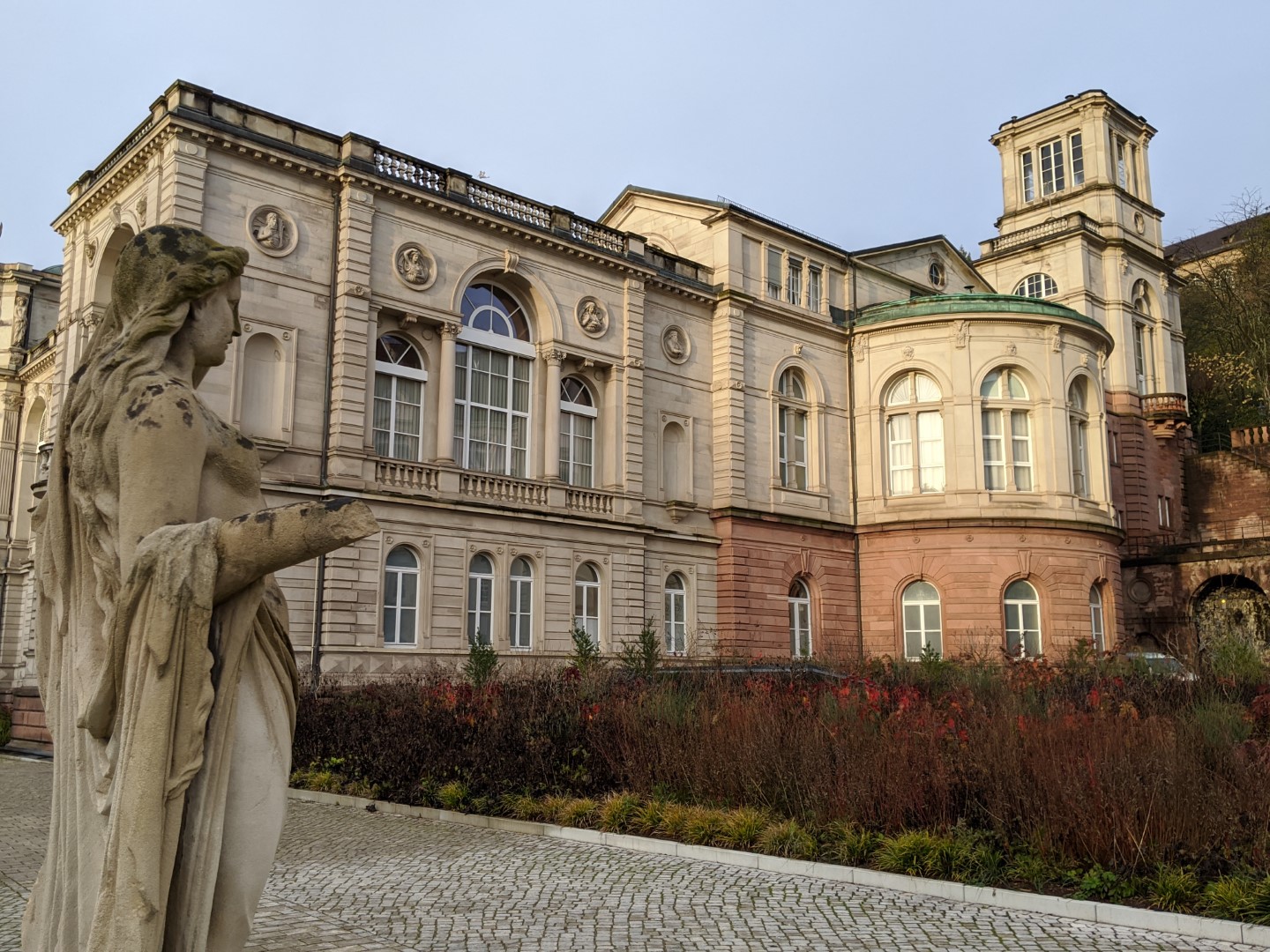 Munich to Baden-Baden
Distance: 330 km
Travel time: 3.5-4 hours by car/ 3.5 hours by train
While the above mentioned Bad Füssing is absolutely fantastic and has a much more "local" feel to it, if you want some of the best Spas in Germany, then heading to Baden Baden is a must!!! Personally, a weekend in Baden Baden is just about the perfect amount of time to see some of the town's sites while still enjoying the amazing Baden Baden Spas! I love to split my time between relaxing in the thermal spas and enjoying the Black Forest, like going to the Hohenbaden Castle.
Choose from any of these Spa Hotels in Baden Baden(for all budgets) for the perfect weekend getaway from Munich!
Black Forest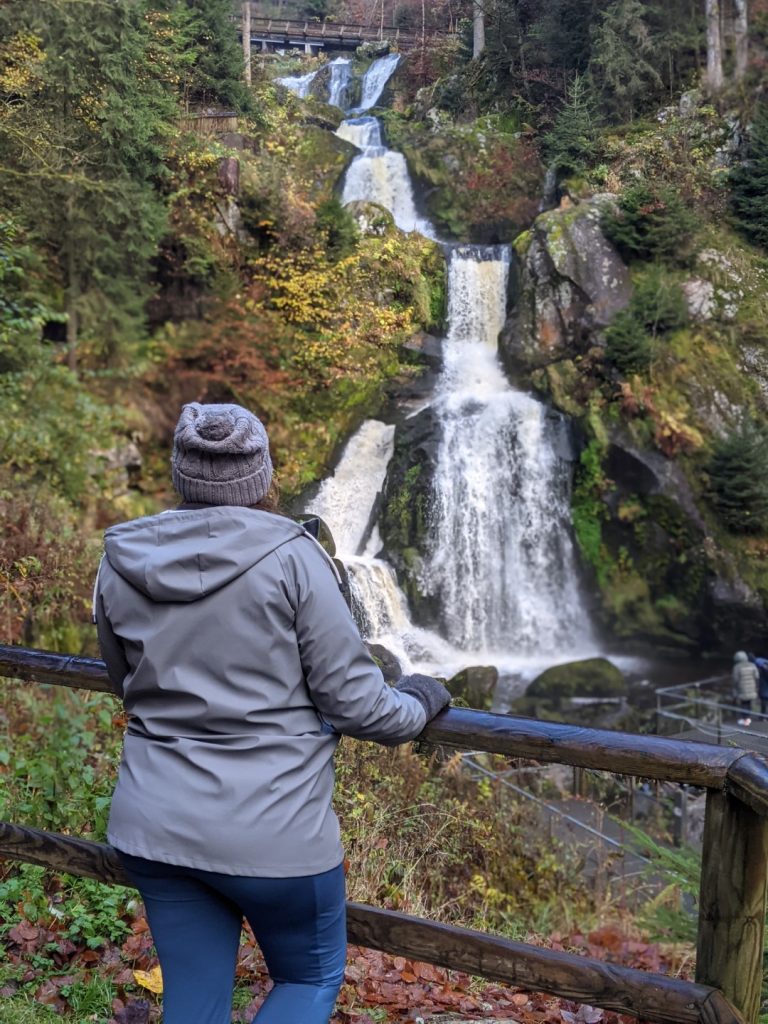 Munich to the Black Forest
Distance: Will vary depending on the exact town you go to
Travel time: Will vary but approximately 4-5 hours by car or 5.5+ hours by train
* Some towns in the Black Forest are easier with car (like Triberg and the smaller villages). If you want to do the bigger places that have better public transportation options, go to Freiburg
There are so many options for things to do in the Black Forest and a weekend in the area is barely going to scratch the surface. I recommend choosing one of these Black Forest Itineraries and maybe even narrowing it down further to just one town. For example, we stayed in Triberg, which you could easily do in a day, including the Triberg Waterfalls, and then do a day trip from there to somewhere like Freiburg or enjoy some absolutely gorgeous small villages like Schiltach or Gengenbach for your second day.
If you are looking for some fantastic day trip options in the Black Forest, check out my 19 Day Trips from Freiburg.
Germany Road Trips from Munich
These road trips need more than just 2-3 days but you can always do just a portion of one!
Romantic Road Itinerary: Do the Romantic Road in 1,2,3, or 4 days with this detailed itinerary.
Under the Radar Route: Use this Romantic Road Alternative road trip in Germany if you want something more local and less touristy.
Other Cities in Germany
In keeping with my "No more than 4 hours away" theme for the best weekend trips from Munich, I won't go into detail on the following locations. However, they are still fantastic options for places that are great for longer weekends like a 3-4 day trip. Depending on your tolerance for car drives or train rides, they are still worthy of looking into, but will be further away, making them not as ideal for weekend only trips.
Hamburg from Munich: 8 hours by car/ 6.5 hours by train
A great option if you are looking for an affordable trip. You can get fantastic Deutsche Bahn Ticket prices from Munich to Hamburg (as in, as low as 20 Euro!)
Dresden from Munich: 4.5-5 hours by car/ 4.75 hours by train
I love using Dresden as a "Home Base" while traveling because it offers a ton of great day trip options in the beautiful Saxon Switzerland. However, 2 days in Dresden alone is just about the perfect amount of time to see and enjoy the city.
Weekend Trips from Munich to Nearby Countries
I think one of my favorite parts about living in Germany is that it's SO easy to get to different countries so quickly and I can explore all of Europe!! In just a few short hours, you can be in completely different locations with different cultures, food, sights, and more!!!
Salzburg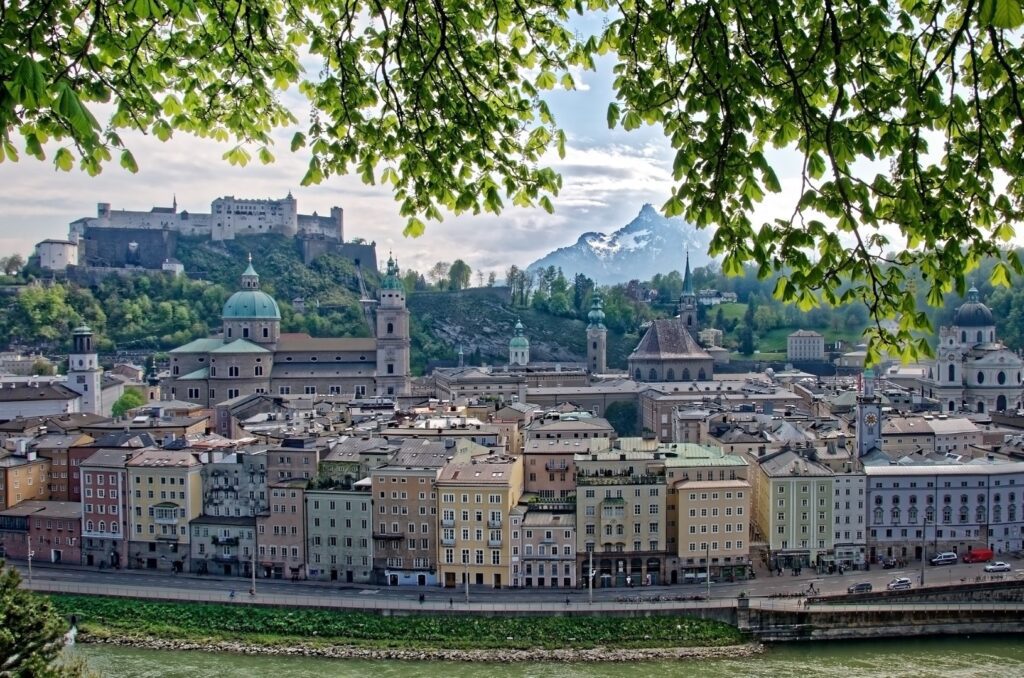 Munich to Salzburg
Munich to Salzburg couldn't be easier!!! Salzburg is one of my favorite towns in Europe. You are at the foothills of the Alps, there is some seriously fantastic food (and beer!) and the town itself is just gorgeous!
You can follow my instruction on thebest way to get to Salzburg from Munich here. But, in that guide, I talk about going to Salzburg as a day trip from Munich. Instead of rushing the things to do, slow down and really enjoy this amazing town! Spend some time just wandering the Baroque Old Town, have a beer at one of my favorite breweries in Europe (seriously, how is the beer THAT good!?), and even nonmusical enthusiasts always still have fun on an entertaining Sound of Music Tour!
Innsbruck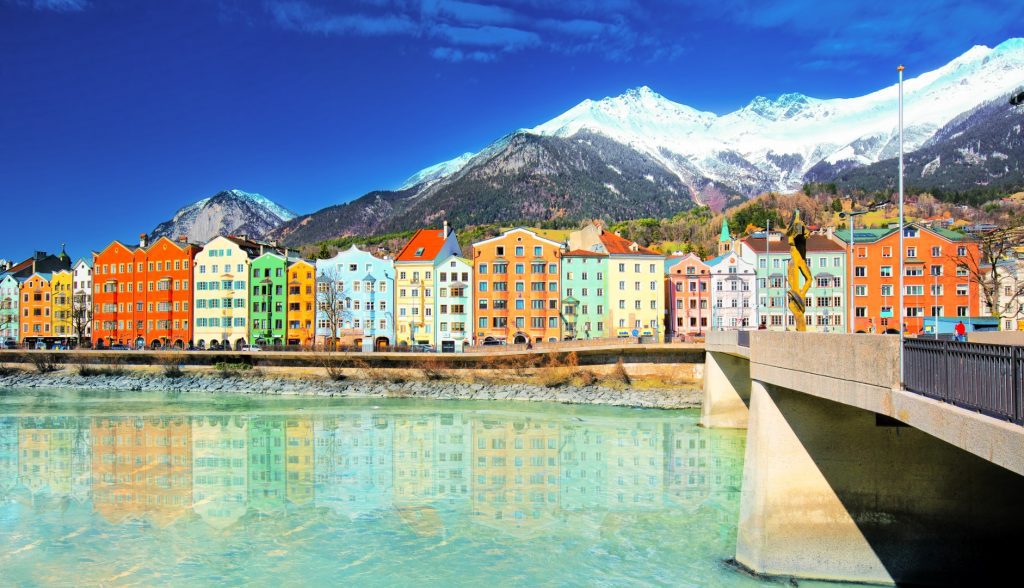 Munich to Innsbruck
Distance: 150 km
Travel time: 2-2.5 hours pending traffic/ 2 hours by train
Innsbruck is another fantastic place to head to for a great Munich Weekend Trip. There is just something about the pastel colored town, right along the turquoise river, sitting smack dab under the Alps that makes me swoon! This picturesque town is basically made for wandering. Grab a coffee at a cafe and just sit back and people watch as you enjoy the surroundings.
Another popular thing to do in Innsbruck is to visit the Ambras Castle or to take the Nordkette Cable Car right from the city center and be to the top of the mountains in no time!
Balzano
Munich to Innsbruck
Distance: 165 km
Travel time: Close to 4 hours by both car or train
For the perfect mixture of the Italian and German cultures, look no further than Balzano, a perfect weekend trip from Munich! As the "Capital of the South Tyrol region," it has a lot to offer (and sooo many gorgeous views!) While the Bavarian Alps are always beautiful, the Italian Dolomites are out of this world! Spend your weekend trip from Munich wandering through vineyards (and of course, do a wine tasting!), visit old, Italian castles, or see the 5,000 year old ancient"ice man!"
Český Krumlov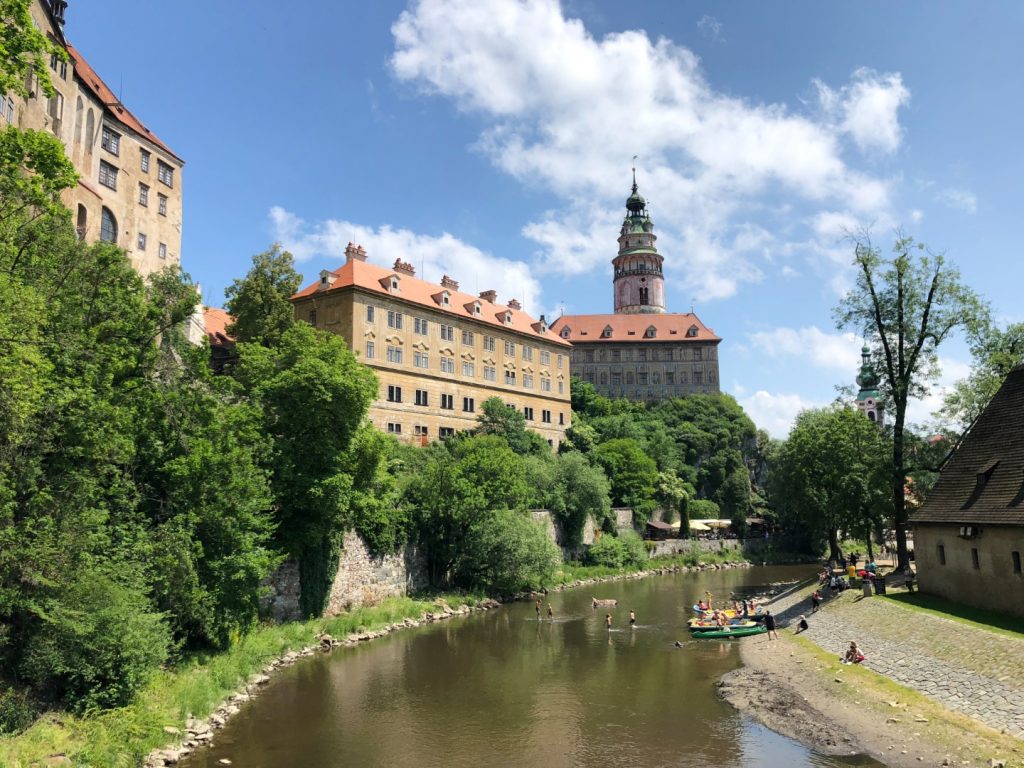 Munich to Cesky Krumlov
Distance: 300 km
Travel time: 3.5-4 hours by car (Not really feasible by train)
Cesky Krumlov just might be one of my favorite European cities (ok, I know I already said that about Salzburg, I'm sorry… there are just too many great places in this world to explore!). While one of the main money makers to the town is tourism, it somehow almost doesn't feel like it. This perfectly intact medieval town in the Czech Republic is like something from a fairytale. 2 days in Cesky Krumlov is about the perfect amount of time to wander the charming old town, step back in time at some of their pubs, tour the spectacular Chateau Český Krumlov and surrounding gardens, drink some fantastic Czech beers, and do my favorite activity there: go rafting in Cesky Krumlov around the towering castle and down the rivers!!!
Prague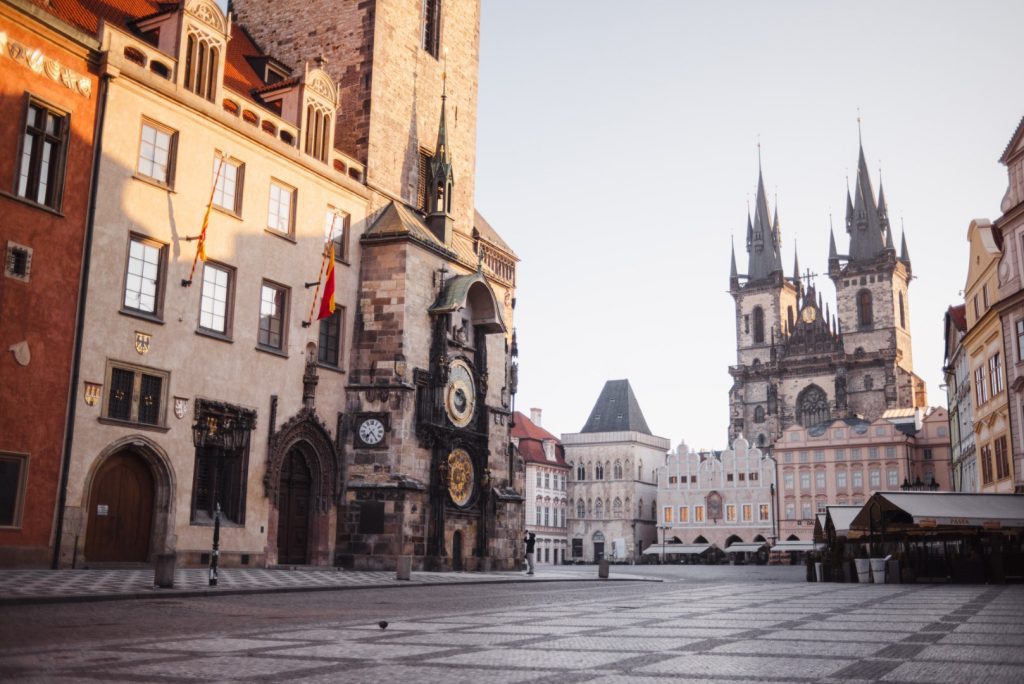 Munich to Prague
Distance: 380 km
Travel time: 4 -4.5 hours by car/ 5- 5.5 hours by train
Ok, I'm making another slight exception to my 4 hour rule! Munich to Prague is juuuust over 4 hours (it's only about a 4 hour and 20 minute drive from Munich!) and is a perfect place when looking for a weekend getaway!!! Despite Prague being a big city and the capital of the Czech Republic, 2 days is a great amount of time to visit the city. In fact, my sister in law used to live in Prague, so we visited regularly but always seemed to go back to the same spots that we loved! Of course, everyone must stroll across the Charles Bridge and spend some time at the astronomical clock and visit Wenceslas Square. But some other great places we always loved visiting that felt a bit "more off the beaten path" were gems like the Vyšehradské Sady park (and go to the great Beer Garden there!) or eat the most amazing potato pancakes and Svíčková and of your life at the U Rudolfina, an unassuming restaurant near the Charles bridge.
Quick Flights to Nearby Countries
I was a bit hesitant to include this section in the list. Afterall, where do you draw the line on weekend trips from Munich when there are so many places that you can fly out of (from MUC or Memminghem Munich) and get to nearby European destinations in just a few hours? However, I think I'd be remiss if I didn't at least offer them as suggestions. If you are just doing a quick trip to Germany, I don't advise adding a weekend flight somewhere. There is plenty to do in Germany for 1 week for first timers (and more!) and you don't need to cram even more into your short time (as tempting as it is to cross off another country from your list!) However, if you are staying for an extended period of time or live here, then it's always fun to country hop on the weekends!!!
Of course, the options are endless for where you want to fly to from Munich, but again, focus on the amount of time that you truly have. For example, I would never recommend Rome as a weekend trip from Munich (it deserves way more than 2 short days!) Same with places like Istanbul. Sure, you can get there in less than a 3 hour flight from Munich, but you'll want more than just 2 days there! However, you might be surprised that some of the bigger cities in Europe are still perfect with just 2 or 3 days!
Paris
Flight Time: 1.5-2 hours with Air France or Lufthansa
In just about 1.5 hours, (after security, check in, etc) you can be from Munich to Paris! Now, I've both driven to Paris and flown and flying is, by far, the better choice! There are TONS of tolls in France that I didn't take into consideration when comparing the prices. And then, the fact that I can wake up in Munich and be in Paris by lunch, is just something out of a dream! Of course, you can always spend more than just 2-3 days in Paris, but I've done Paris as a weekend trip before and it's still been fantastic! I mean, a weekend of Creme Brulee, macaroons, and Eifel Tower views? Ok, twist my arm!!!
London
Flight Time: 2 hours with British Airways, EasyJet, and Lufthansa
Memmingen to London-Stansted: 1 hour 45 minutes with Ryan Air (and often SUPER cheap- less than 20 Euro one way!)
Truth be told, London just doesn't do it for me. It was worth going to once, but I wouldn't make it a repeat destination. But, I know plenty of others that have done London as a weekend trip and loved it! London in 2 days is enough to hit some of the absolute highlights of the city like Buckingham Palace, Westminster Abbey, Big Ben, the London Eye and still have time for a quick Fish n Chips.
Sofia
Flight Time: 2 hours from MUC or with RyanAir (Memmingen )
A totally overlooked city that is perfect for a weekend trip from Munich is Sofia, Bulgaria! We spent a long weekend there, flying out of Munich, and loved that we could be in such a different culture in such a short amount of time! We spent our first day doing a Free Walking Tour of the city and seeing some of the main highlights since we really didn't know much about the history or anything at all about Sofia. This was a fantastic way of getting to know the town, the history, and the people. The next day, we did a Food Walking Tour because Bulgarian food was something we hadn't explored much of before. Let's just say I now regularly get Borek at our local grocery store after being completely converted to this amazing breakfast "pastry!"
*** Depending on the time of year, you can find insanely cheap flights to Sofia from Memmingham (Ryan Air). For example, I was just looking for flights in May and they are only 13 Euro one way!!!
There are plenty of weekend trips from Munich that are worthwhile. Just remember that you have to take into account travel time to get to your destination and then make sure that it's a location that doesn't need more than just a few days to still thoroughly enjoy!