[This post may contain affiliate links where we earn a small commission. Please see our disclosure for more information and thank you for supporting our site so we can continue to bring you awesome content for your travel inspiration!]
While I absolutely love going to pretty much any Spa and German Sauna (which the terms are pretty much used interchangeably here in Germany), I've been known to head back to THE German Spa town- Baden, Baden numerous times. It just makes for the perfect Weekend in Germany. But let's be honest, you could easily spend more than just 2 days in Baden Baden, Germany. However, even with just a few days, you can still create THE perfect trip to visit Baden Baden.
Baden Baden- the UNESCO World Heritage Site for "Great Spa Towns of Europe"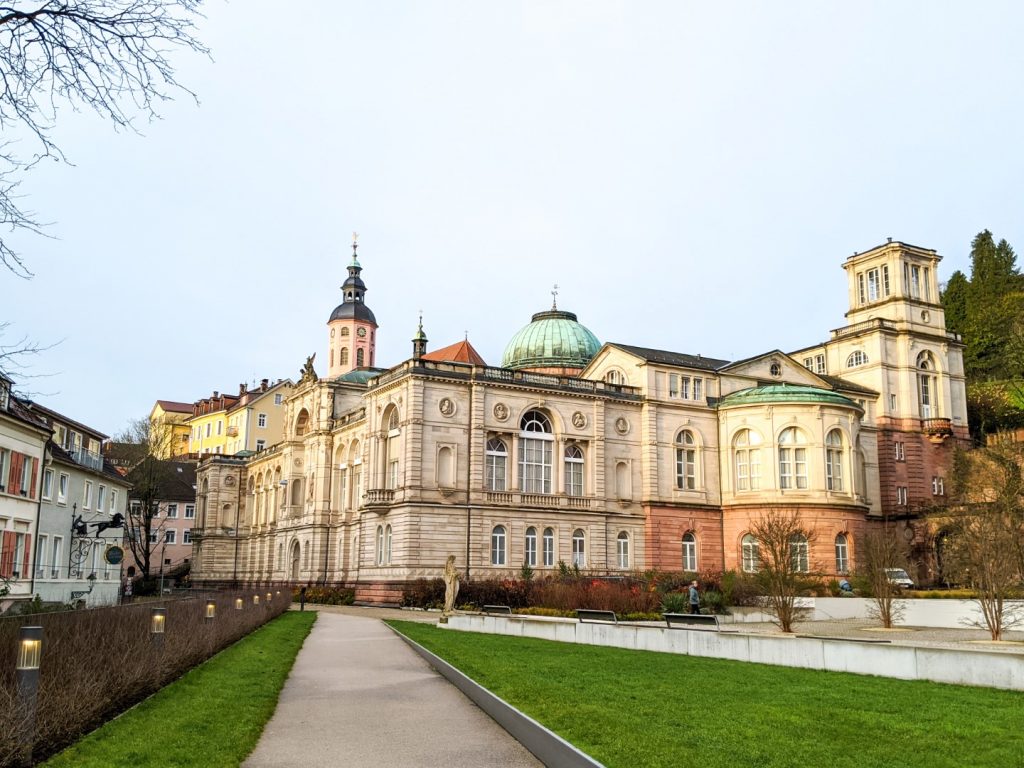 You Might Also Be Interested in Reading My:
Just recently, in 2021, Baden-Baden received a well overdue accolade- it was added as a UNESCO World Heritage Site. And there really is no surprise as to why. The whole town has this certain elegant air to it. The buildings look like they could be plucked right from a fairytale. Even the casino looks like it could be a palace inside rather than a gambling area!!
The Baden-Baden Roman Baths date all the way back to the first century when the Roman Emporer, Caracalla (where the now, modern spa gets its name from) was known to frequent the area to dip into the hot, thermal springs to get some arthritic relief.
The town went through many ups and downs in the centuries after, but almost always, people would still flock to the location for thermal waters, which people have always believed to have medicinal benefits.
With so many elites and wealthy people visiting, Baden-Baden, it eventually also became a cultural hub, possibly because the town flourished during the Belle Époque era (late 1800s). You can see this influence in the stunning baroque architecture all over. There is also still a high amount of museums and fine arts activities and events in the city. Combine this with the spas and saunas and you've got the perfect German Spa Town!
The Thermal Springs and Baden Baden Thermal Baths
Many people wonder what natural hot springs they can enjoy in Germany. The reality is that there are TONS of wonderful hot springs in Germany, but most are diverted to special "Bath Houses" (Spas and Saunas or "Thermes"- more on these in a bit). In Baden Baden, there are 29 natural hot springs that are used for the local Thermes. With waters rich in minerals and salt and temperatures that can reach up to 68°C (About 150+ Fahrenheit!) it's easy to see why people LOVE visiting Baden-Baden, Germany!
What's In A Name?
If you are wondering why the town is called, Baden-Baden, it's actually a pretty easy answer! The word "Baden" is derived from the German word "Bath" and since there were the ancient Roman Baths here originally, it just makes sense. But why the repeat of the word?? Well, there are other towns in the world (like Baden, Austria or Baden, Switzerland). I guess they just weren't feeling too creative when they decided to just double down with "Baden-Baden!"
You may also have noticed that the state that Baden-Baden is located in is "Baden-Württemberg." Baden-Baden is far from the only location in the region with thermal waters and Thermes, which is most likely why a previous state (in the 1100s) was rightfully named, "Baden". In the 1950s, three states (Hohenzollern, Baden, and Württemberg) were combined.
Where is Baden-Baden, Germany
Germany is not lacking in amazingly beautiful areas, but this Black Forest Spa town, is set in a truly stunning region of Germany in the Southwest German state of Baden-Württemberg.
Located on the edge of the famous German Black Forest, Baden-Baden is also a great addition to any of my Black Forest Itineraries.
The Baden Baden thermal baths and the town itself are really accessible and easy to get to. We personally drove the easy 4(ish) hour drive from Bavaria. It's also pretty easy from other nearby cities as well:
Closest Airport To Baden-Baden
If you are flying in and heading straight to the German spa town, then most likely, you'll want to fly into Frankfurt, which is less than 2 hours by either car or train.
Baden Baden Train Station
If you are taking the incredibly easy to use Deutsche Bahn trains in Germany, the Baden Baden Bahnhof is also easily accessible. There are plenty of routes from other major and nearby towns. Once you arrive at the train station, right from there, just grab the 201 Bus (runs about every 10 minutes) or any bus that takes you to "Leopoldsplatz" which will take you into the city center.
Getting Around Baden Baden
If you drove, then getting around Baden Baden is obviously pretty easy. However, even without a car, the town is still extremely walkable and has a good bus system that you can use as well.
Best Hotels in Baden-Baden
I've got an entire guide dedicated to the Best Hotels in Baden-Baden with hotels from Spa Resorts to budget friendly options. But for a quick rundown, here would be some of my top picks:
For a Luxury Spa Getaway: Brenners Park Hotel and Spa
For a Special Occasion: Hotel Maison Messmer
Budget Friendly Option: Leonardo Royal Hotel
Apartment Stay: Royal Apartments
For Families: Helio Bad Spa or Charming Central Apartments
Baden Baden Itinerary
Alright, let's finally dive into the waters, oops, I mean the 2 Day Baden Baden Itinerary! You are going to want to dedicate a FULL 2 days in Baden-Baden for this itinerary. However, if you are really pressed for time, I've also done Baden Baden in 1 Day as well, which I mention how I did it below.
To be completely honest, you can pretty much spend almost your full 2 days in Baden Baden at the Caracalla Spa and the Friedrichsbad Roman Baths and if that is all you want to do, by all means, I am not going to stop you! However, if you are wanting to squeeze in a little bit of Baden Baden sightseeing without cramping your relaxation, then this itinerary does its best to balance out the two.
Note:
You can easily add more things to do in Baden Baden if you choose to only spend a few hours at the Spas, Saunas and Baths. For example, if you decide to only do 3 hours at both the Caracalla and 3 hours at the Roman baths, that obviously opens up a lot more time to add in other activities. This will have to be a personal choice on what you prefer to do.
To get the absolute most out of your time, if it is possible, try to get into town in the evening (so, for example, if you are spending the weekend in Baden Baden, try to get in Friday night). If you can swing this, depending on how much time you have on that first evening, add any of these options upon arrival:
Enjoy a spa treatment at your hotel
Splurge at one of the two Michelin-starred restaurants in Baden Baden (Le Jardin de France im Stahlbad or Maltes Hidden Kitchen) – Reservations Recommended. If you are looking for something more affordable and relaxed, try Pizzeria Da' Saverio for great Italian food or try the Schneider's Weinstube if you are in the mood for some German food
Have a nightcap. Head to the Hotel Brenner, where there is a Roaring 20s style bar or head to the Roomers hotel if you are in the mood for some swanky drinks
Baden-Baden Day 1:
Morning
Breakfast
Try to get an early start to your day so that we can still get a few Baden Baden attractions in with our spa time. Start your day off with a big breakfast to get you through a full day of relaxation. If your hotel does not offer breakfast, head to either:
The Wirtshaus zur Geroldsauer for a traditional Weisswurst breakfast (opens at 9am on the weekends but 11:30 during the week- which is probably too late for our plans)
Stop into a local Bäckerei: just google a Bäckerei nearby and then let your eyes and nose do the rest!!! I love getting things like a Kase Schinken Brot but I'll never say no to the sweets either (I love anything with Quark!!!) and of course, if you are a coffee drinker, add a Latte or Cappucino to your order as well to get that energy going!
Enjoy The Kurpark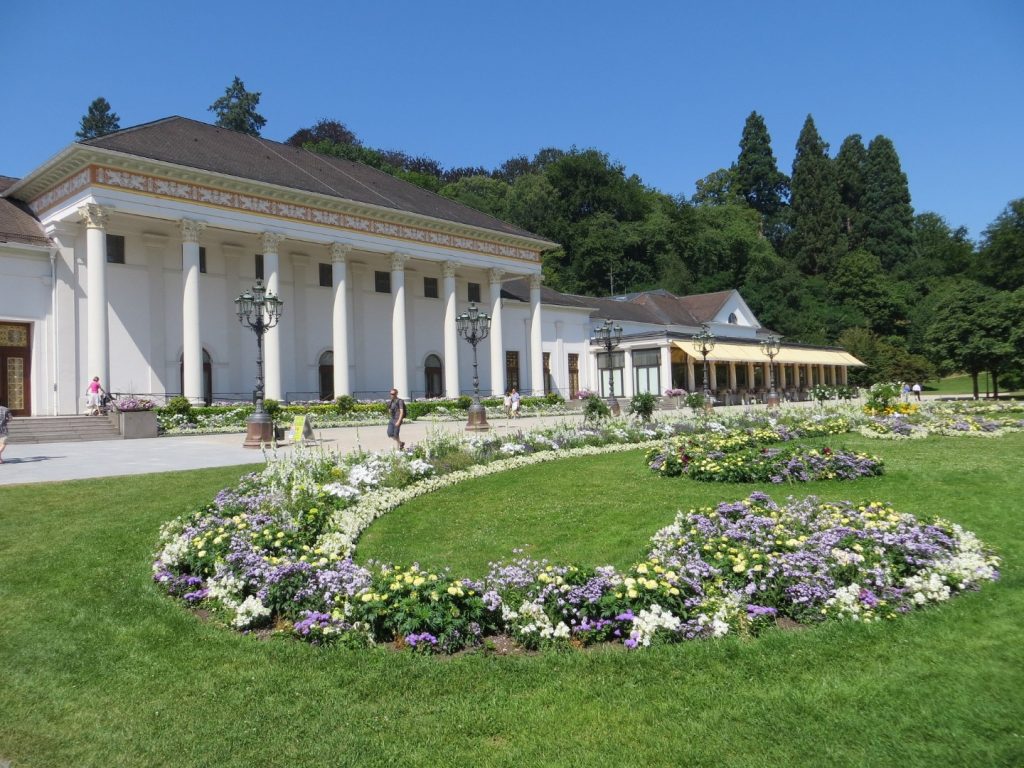 After breakfast, head to the Baden Baden Kurpark. This is a beautiful, green-space park. Spend some time just wandering around and enjoying the nature right inside the town. Be sure to find the:
Michaelsberg: rolling hills within the Kurpark. There is a small "waterfall" from the stream that leads from the Trinkhalle
Stourdza-Kapelle (Roman Chapel): located at the Michaelsberg is a beautiful Roman Orthodox Chapel
Keiser Wilhelm Denkmal Trinkhalle (Pumproom): Where people originally (no longer functioning) could come in the 1800s to sip on the medicinal thermal waters. This 90 meter long building is an open air style with beautiful columns facing out to the Kurpark and lovely gardens.
Altstadt Walk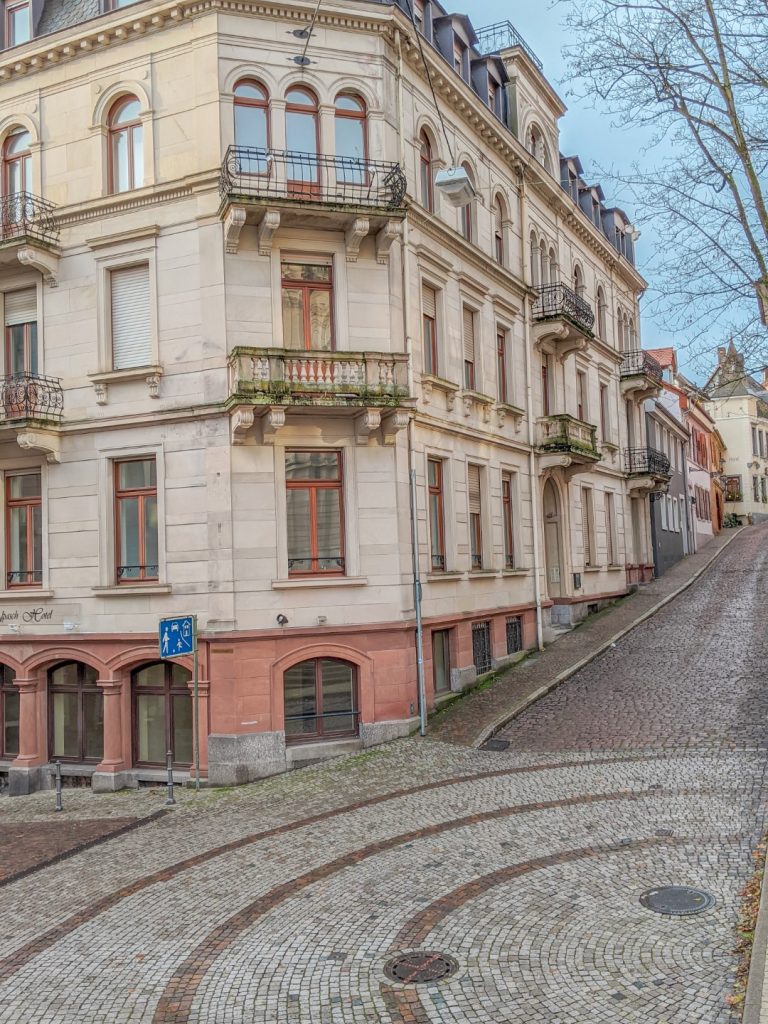 Next, continue to wander East into the Baden Baden city center/ Old Town. You'll be enchanted with the gorgeous Baroque buildings, cafes lining the streets, and many shops to either splurge in or just do a bit of window shopping. There is no specific stops here, so just find your inner "Wander in Germany" persona and let it lead you around for a bit.
When you are done exploring the Alstadt, start to make your way to the Caracalla Spa. As you are wandering, keep an eye out for a cafe or restaurant that grabs your attention and get a quick bite to eat.
Afternoon
Visiting Caracalla Spa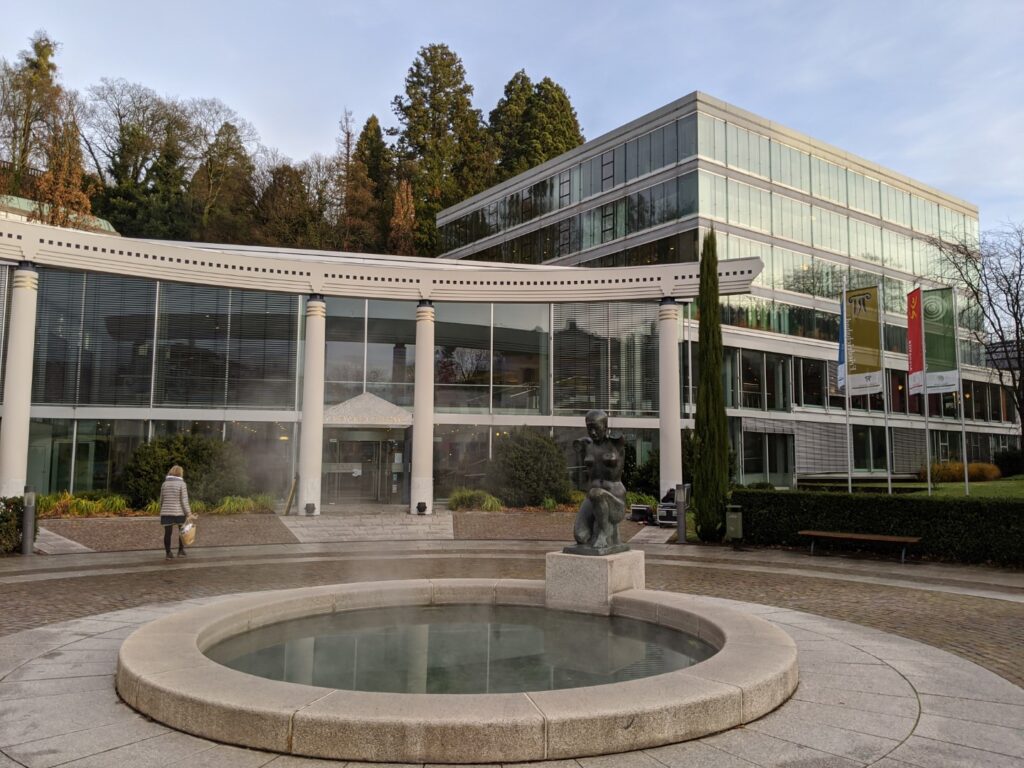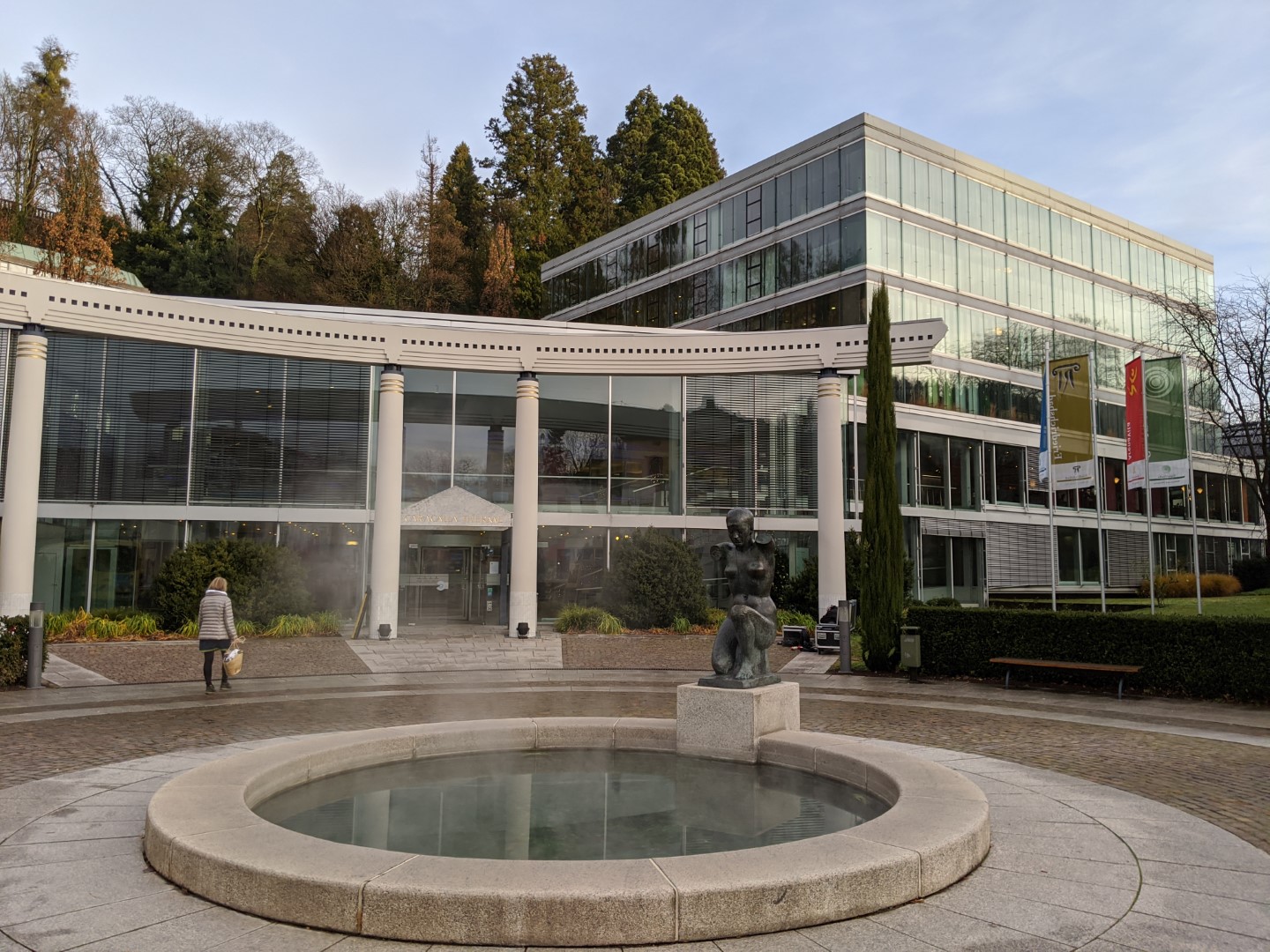 Finally! It's time to do one of the most popular things to do in Baden-Baden- the Spas!!!! There is a reason why many people consider this the Best Spa in Germany. If you haven't read my Complete Guide To Caracalla and Friedrichsbad yet, make sure you do so now because I go into great detail on everything from how to use the locker rooms (not as straight forward as you might imagine!) to understanding the different parts of the spa (it is confusing for first timers!) to even eating while at Caracalla.
There are two main areas of the Spa:
The Thermal Pools
On the main floor of Caracalla, you'll find one huge, circular pool that extends out into the outside as well as several other smaller pools of varying temperatures throughout the ground floor. Since the pools are thermal hot springs, you can enjoy the outdoor pools all year. There's even a beautiful grotto area inside, complete with rocks and waterfalls.
If you want a great spa day without the Baden Baden Nude Spa aspect, the entire main floor is swimsuit mandatory. There are even several saunas and steam rooms on this level like a salt room and a lavender-infused sauna. While you won't get the full Saunahof Experience, it is still a great way to dip your toes into the German Spa Culture while in the comfort of your swimsuit.
You can also just kick back and relax in this area as well. There are hotbeds where you can just lounge and read or you can pay for a few minutes in a tanning bed.
To be honest though, the first time I went to Caracalla Baden-Baden, I thought this was all there was to it and I was like, "I don't get it….it just feels like a really nice pool???" That's when I eventually saw the stairs leading up and my entire world was changed! (Ok, that may be a bit dramatic, but the concept of nude only spas really have changed a lot of my beliefs on bodies, etc- but more on that later)
The Adult Only Spa/ Saunas
Buff-bathing, textile-free….whatever you want to call it, this is the completely NAKED portion of the Baden-Baden Spa. In fact, as you get to the top of the stairs, you'll be greeted with a sign that states "No Bathing Suits" in all languages. This is probably the "scariest" moment of all as you basically strip down right then and there. Don't worry though. Just keep your towel wrapped around you and nobody will see a thing (for now).
In this sauna/spa area, you can go to a number of saunas, all of varying temperatures, head to the salt room, take a dip in the hot and cold plunge pools, sit by the foot massaging pools, and hang out in the trippy neon lit room that makes you feel like you are in another world and more. Here is everything they have on tap:
Plunge Pools: there are freezing cold plunge pools all over the Sauna area. For years, I not only was too chicken to jump into these icy waters but also just didn't get the appeal. But this year, I finally worked up the courage and holy sauna, it felt AMAZING! It almost gave me a sort of high feeling (something about the blood vessels restricting or something??) It. Felt. AMAZING!
The Saunas: There are so many saunas at Caracalla.
The Spectaculum: a dry sauna that gets up to 90° C (yes, that is correct- 194 Degrees Fahrenheit!)

The Vitality Sauna: another crazy hot, 194

° sauna

The Fire Sauna: A beautiful little sauna out in the garden that somehow heats it up, even more, all the way to 95

°

C
Forest Sauna: "Cool Down'" to only 85

°

C (185

° F) out in the garden

The Aroma Sauna: Also 85

°

C and has amazingly scented aromatherapy
Meditation Sauna: If melting your face off hot doesn't sound appealing, spend your time in here (65

°

C/ 149

°F) where nature sounds help you to kick back a bit.
And of course, don't forget the famous German Aufguss, which is an intense process of heating up and humidifying a sauna room to excruciatingly insane temperatures….hey, all in the name of "health!" They offer several different kinds of Aufguss, so make sure you check out the schedule on the boards inside and do not miss one, they are truly an interesting experience! (Hot Tip (pun intended): Sit on the lowest bench possible during the Aufguss- it gets unbearably hot up top)
Relaxation Rooms: After all that sweating, you'll want some time to kick back
Sanarium: This trippy neon lit room makes you feel like you are in another world and uses humidity instead of steam
Blue Space Room: Blue walls, quiet, soft sounds and lounge chairs makes you feel super chill
Green Room: A solarium with amazing views into the Black Forest
You could easily spend the entire day in the Saunahof! Just get over the nude part and you are sure to have a relaxing day.
How Much Time Do You Need at Caracalla Spa?
This is COMPLETELY up to you. Personally, this is how I do it:
I get the all day admission
Spend 2-3 hours in the Thermal Pools downstairs. Just soak it all in (sorry…pun totally intended again, it's just too easy!) and get really relaxed. There is a cafe restaurant down here as well so if you get hungry, you can grab something to eat or drink. No need to rush.
Finally, once you've gathered the courage to ditch the suits, head upstairs. Again, I like to spend at least 3 hours just in this area alone-if not more. Some people will even fall asleep in the relaxation rooms!
If you do that, then you've easily spent 5-7 hours at Caracalla. Some people will literally spend the WHOLE day here.
Caracalla Spa Costs
2 hours: €19.00
3 hours: €23.00
All-day admission: €31.00
Dinner
After all that, you are going to have quite the appetite for dinner. I've actually gotten dinner twice at the Caracalla Spa restaurant and each time was shocked at how good the food was (I was mostly expecting Cafe style-not so great food but both times had wonderful meals!!) Or, choose from one of the other restaurants I suggested above.
Evening
By now, it will be well into night if you've followed my itinerary and stayed at the Spa that long. If you are like me, all that relaxation will be exhausting 😉 so you'll be ready for bed! If not, a few great Baden-Baden night life options are:
Baden Baden Casino
The "Spielbank" is basically a site to see in and of itself and is one of the top Baden Baden tourist attractions! It is gorgeous and elegant inside and feels like you are in a palace! With that though comes some expectations.
You must be 21 years to enter
There is a 5 Euro "Cover Charge"
You need to show your passport upon entry
There is a dress code: Men need a jacket and tie. Women need to be dressed "Smart Casual"
See A Show
As a cultural hub in Germany, Baden-Baden has many different shows and concerts. There are ballets, modern performances, philharmonics, and so much more. You can see what current performances are on the calendar here.
Grab a Drink
If you don't want to gamble or sit through a show but still want to go out at night in Baden-Baden, head to:
The Hotel Brenner, where there is a Roaring 20s style bar
Go to the Roomers hotel if you are in the mood for some swanky drinks
Fritz and Felix is another popular upscale bar, where they even have their own house made Gin.
Baden Baden Day 2:
I know, I know, it's hard to believe that you crammed ALL that in yesterday and it was only your first day!!! Luckily, even with all the Baden Baden things to see and do, it's easy to balance relaxation and sightseeing. Today, we are going to focus on nature combined with the Roman Baths. I have to admit, this is actually my favorite day!
If you can bring yourself to wake up early on your weekend of relaxation, it's not a bad idea if you want to get the most out of your 2 days in Baden-Baden. Grab a quick breakfast and then "Los Gehts!"
Altes Schloss Hohenbaden (Castle)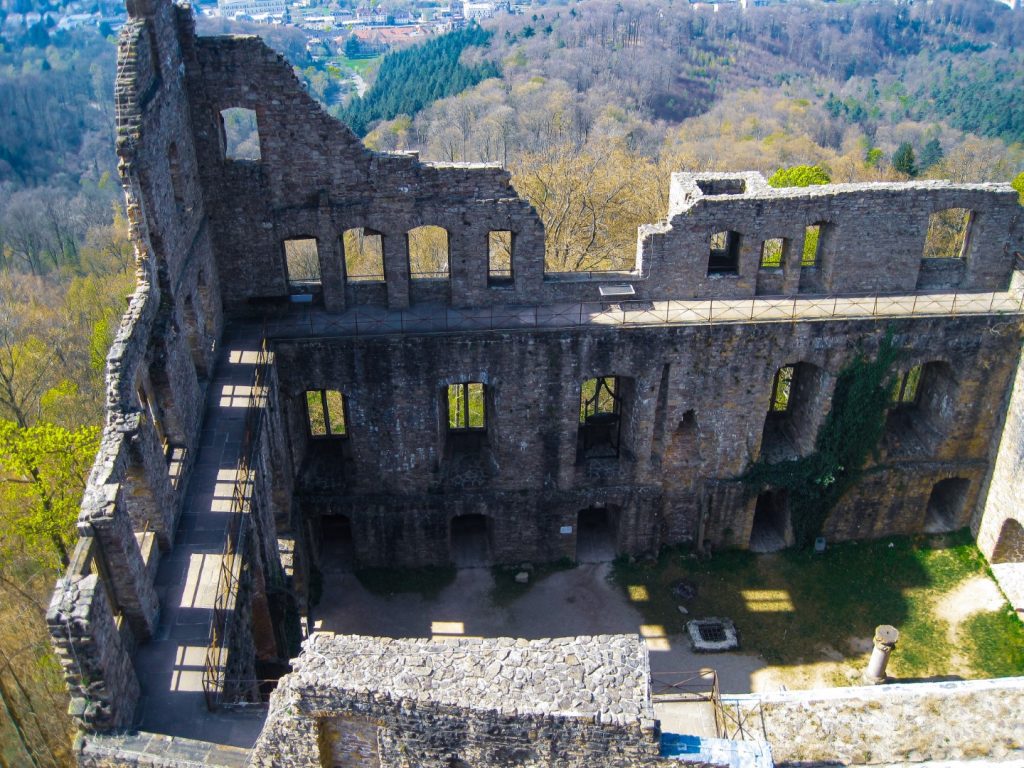 While there are so many Amazing Castles in Germany, the Hohenbaden Schloss is really fantastic. With Baden Baden having so many elegant buildings in towns, this "ruined" castle is the perfect contrast and gives phenomenal views out over the Black Forest! Just a short, 10 minute drive from the Altstadt makes this the perfect morning activity. While it's not an overly busy or touristy place, getting here first thing in the morning allows you to have the place even a bit more to yourself.
You probably only need about an hour or so here as the castle itself is easy to explore in that amount of time.
Hohenbaden Castle Hours: 8am-8pm Free Entrance
Merkurberg
Next, head to the Merkurberg ("Mountain"). I use the "Quotes " because when I think "Mountains" I think of things like the tall peaks of the Alps in Bavaria, like Garmisch. The mountains in the Black Forest aren't the same as the Alps (to be honest, I think of them more like "really, REALLY big hills") but they do have some good elevation to them. I say all of this because you can go hiking at the Merkurberg with something just like normal tennis shoes instead of intense hiking gear.
Murkerbergbahn/ Hiking
One option to get up to the top of the Murkerberg is by the Funicular-a cute little railway car that zips you up a monorail to the top! From here, you can just enjoy the views out over the Black Forest and Baden Baden or find a plethora of great hikes to take as well.
Alternatively, I personally drove about halfway up the Murkerberg and looked for signs that said "Wanderweg" (which means hiking/ walking trails) and found a parking lot, and from there, explored around on foot hiking for about 2 hours. I brought some yummy German pretzels for a good pitstop with a view, of course!!!
I loved how easy it was to get out into this beautiful, mountain, and pristine nature, all within just minutes of being in the city! It was the perfect way to rejuvenate amongst the trees, dirt paths, babbling brooks, fresh air, and Black Forest views!!!
While not hiking in a strenuous, mountainous location, it was absolutely beautiful and stunning to hike in the famous Black Forest. It was so peaceful to be in the middle of nature, smell the pines and start our weekend focused on our own health and well-being, both physically and mentally.
Grab some lunch and then head to the…
Friedrichsbad Roman Baths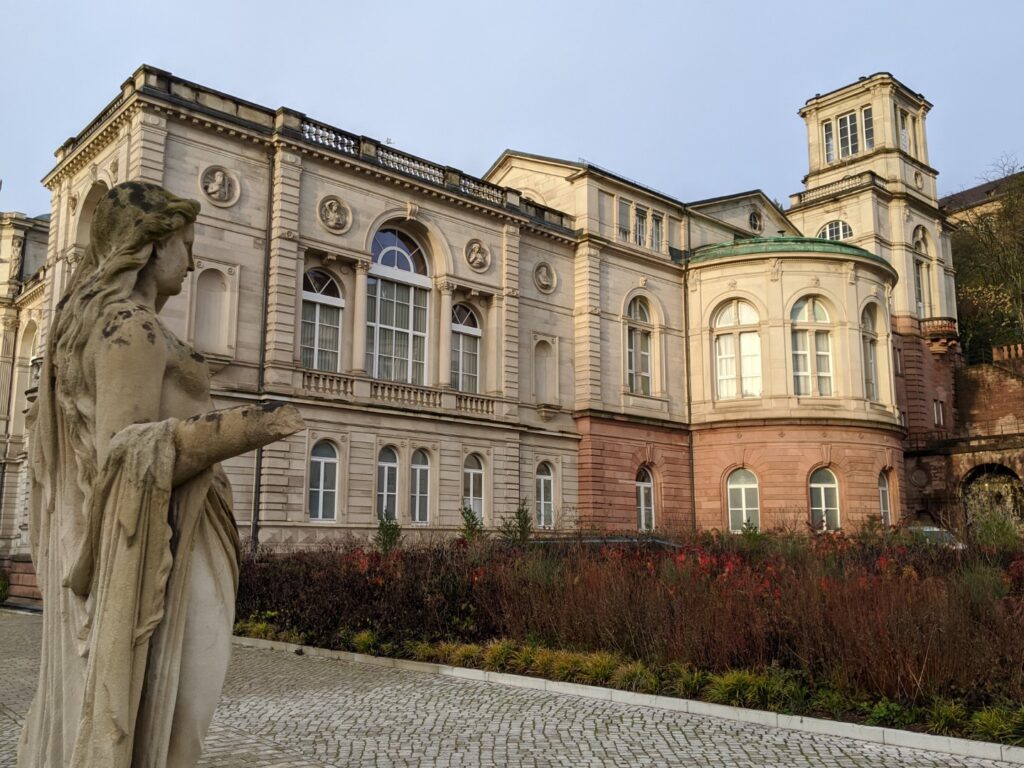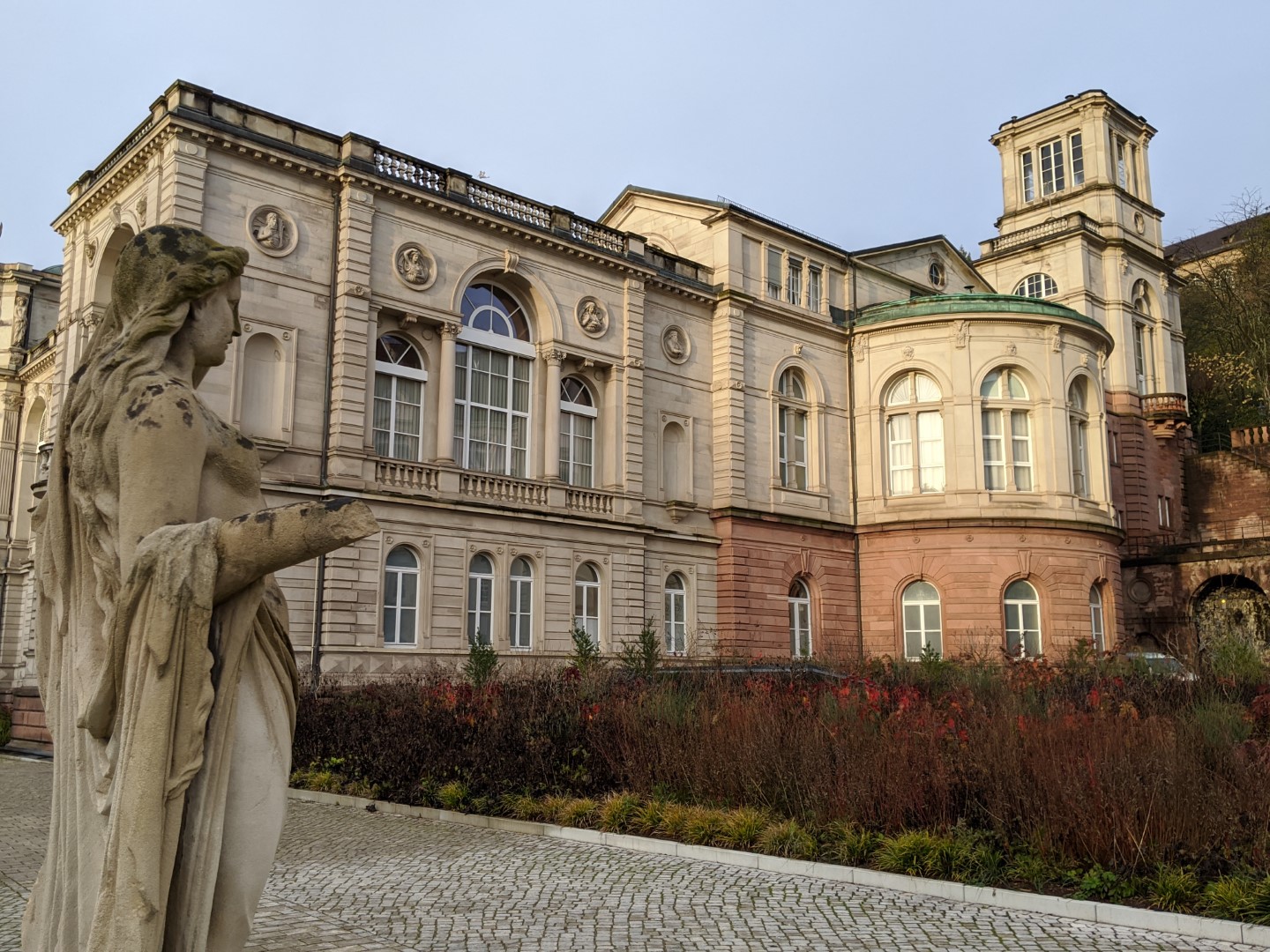 Everyone's preferences are different. Some people prefer the more modern Caracalla Spa while others (like me!) LOVE the Friedrichsbad Baths (Also known as the Baden Baden Roman Baths)! There is just something about the whole experience that has me feeling like I stepped back in time.
The baths are still located at the original Ancient Roman Baths location, where the thermal springs are. The building itself makes you feel like a Roman Goddess yourself! There are domes high above the hot springs, there are statues in the corners, and if you didn't know any better, you'd think you were somewhere in Italy soaking in therapeutic waters! If there was no other way to describe this place, to just say, "It's an Experience" basically sums it up!!!
BUT, there are a few things you need to know before heading to Friedrichsbad!
It is adult only
It is a nude bath house- no acceptions. You are given a sheet that you can take from one station to the next to cover yourself in, but to be honest, most people just give up using it after the first few stations because they realize it's not a big deal (more on that in a minute) and just walk around in all their birthday suit glory
There is a "set procedure" of 17 stations (don't worry, nobody will care if you go out of order)
Again, I go into all of the stations, their purposes, and exactly what to expect in my Baden Baden Sauna Article.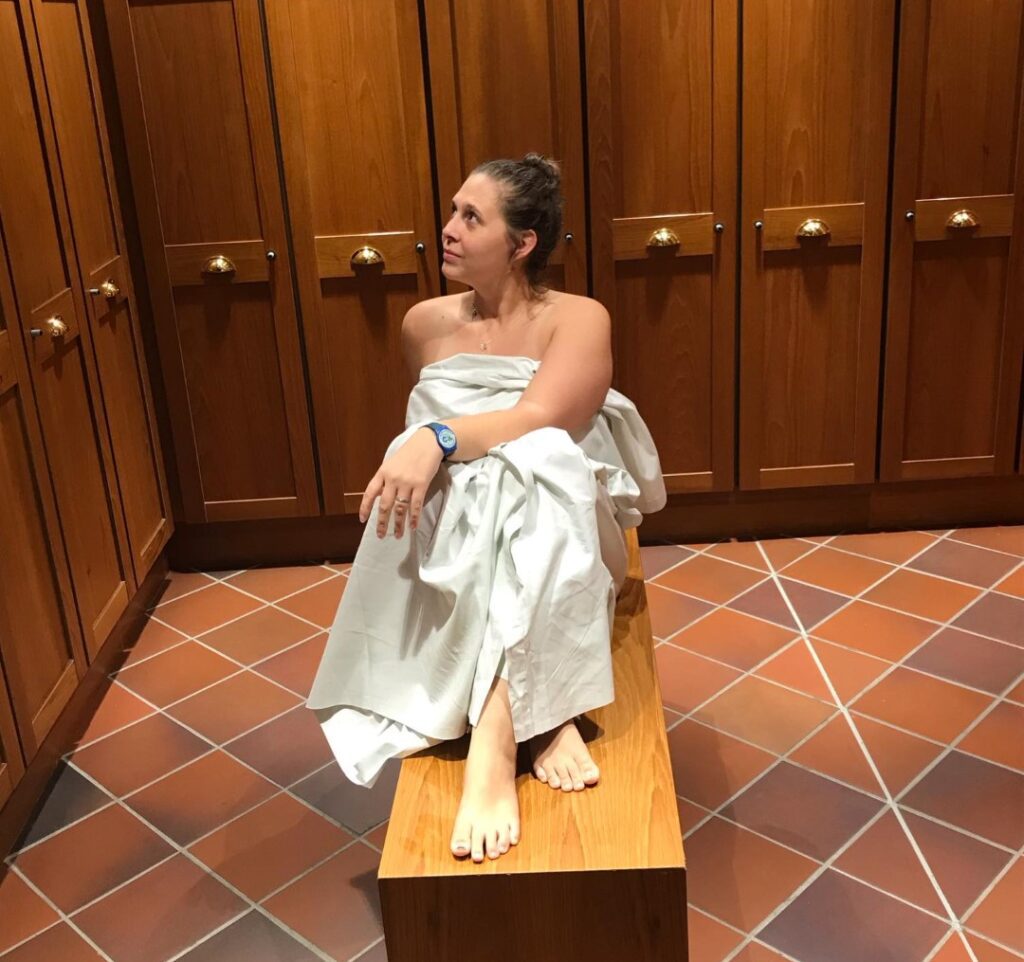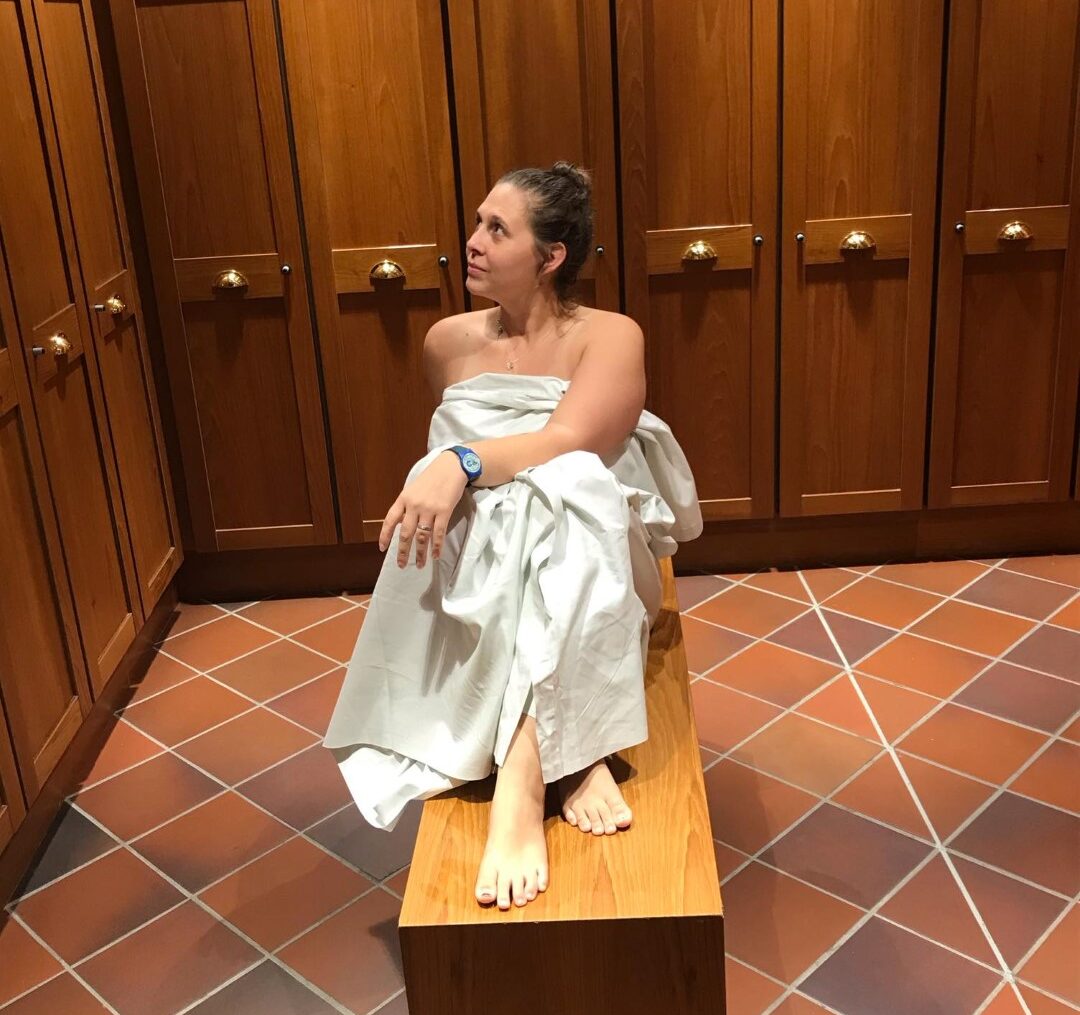 If the idea of going to a nude only spa terrifies you, I get it. But I truly can't stress enough that after that initial shock of disrobing, you'll realize not a single person in there is oogling, looking, or even caring about anyone else's body. There are people with tight, toned, tushes all the way to 80 year old women who have body parts sagging well below where they once were and the 70 year old men who have had their fair of schnitzels in their life! Then there are people like me, whose body has birthed 3 babies, and to say my body "isn't the same as it used to be" is an understatement! And all of that is ok!!!! I repeat…nobody is looking. Nobody is caring! Just give it a chance.
Friedrichsbad Hours: Daily 9.00 am – 10.00 pm (Last entrance is 3 hours before closing)
Cost: 35 Euros
Time Needed at Friedrichsbad
You are free to spend as much time as you like at the Baden Baden Roman Baths, but give yourself at least 3 hours. You can repeat any of the stations and the last one is where the attendants literally cacoon you up in a blanket like a newborn baby and you just lie in blissful silence (with an occasional German church bell ringing in the distance). Falling asleep in this room is completely acceptable, so leave yourself plenty of time!
Personally, I like to have at least 5 hours just to really take my time, enjoy the quiet rooms, and not rush to get out at the end.
Evening
If you did the full morning of castles, hiking, and the afternoon of the baths in Baden Baden, then you are well into your evening now. If you need to jet off to your next location, try not to rush out of that relaxation mode you've put yourself in.
Otherwise, go grab dinner and just enjoy your zenned out mood!!!!
One Day in Baden Baden Itinerary
While I tried to get as much into our 2 days in Baden Baden, I get that some people have even less time. So, how do you decide exactly what to skip out on??? Well, I would decide based on a few things
What kind of transportation are you using?
What kind of spa experience do you want?
So, if you only have 1 day in Baden-Baden, I would choose one of the following:
Combine Nature With Relaxation
Go to the Merkerberg in the morning for a beautiful nature hike. If you don't have a car to get there, then instead, go to the wonderful city park Lichtentaler Allee. While it's not mentioned in this article, I do have it on my complete list of Things to do In Baden Baden. You can walk the gorgeous grounds or even take a romantic horse drawn carriage ride!
Next, choose one of the spas. Which Baden Baden Spa is the best? Well, that is up to you to decide. Again, I go over both spas in complete detail in that article and tell you how to decide between the two if you must choose only one, based on your own preferences.
Go Full On Spa Mode
Go to the Caracalla Spa in the morning and spend 3-5 hours. Have lunch there
Go to the Roman Baths in afternoon/ evening for 3-5 hours