[This post may contain affiliate links where we earn a small commission. Please see our disclosurefor more information and thank you for supporting our site so we can continue to bring you awesome content for your travel inspiration!]
While Cuckoo Clocks, waterfalls, and booze filled chocolate cakes are some of the appeals to the area for adults, the Black Forest with Kids is actually considered one of the best places to visit in Germany with kids! There are alpine toboggans, farm stays where you get to play with goats, beautiful (and easy) hikes, stunning train rides, one of the biggest amusement parks in Europe, and so much more!
You can easily spend a week (or more), or just choose a Black Forest 3 Day Itinerary from below (you can even combine a few to cover even more distance!) In this article, I'll go over three separate 3 day itineraries that you can customize to your family, point out some of the best things to do in the Black Forest for kids, give some great accommodation recommendations, and more!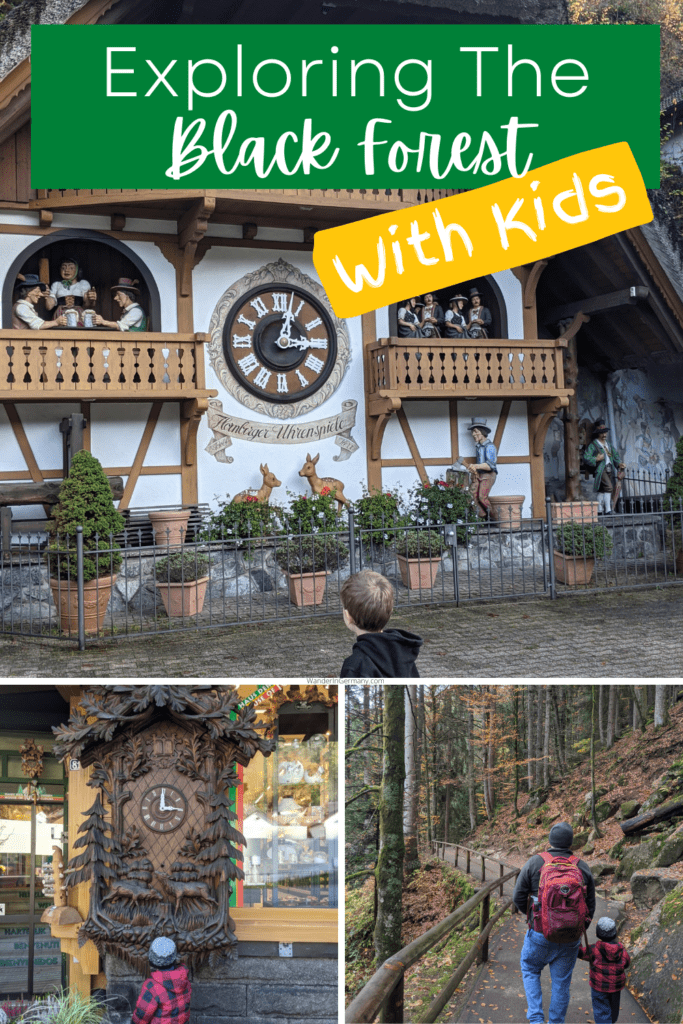 Other Traveling in Germany with a Family Articles You Might Like:
So let's get started!
Where is the Black Forest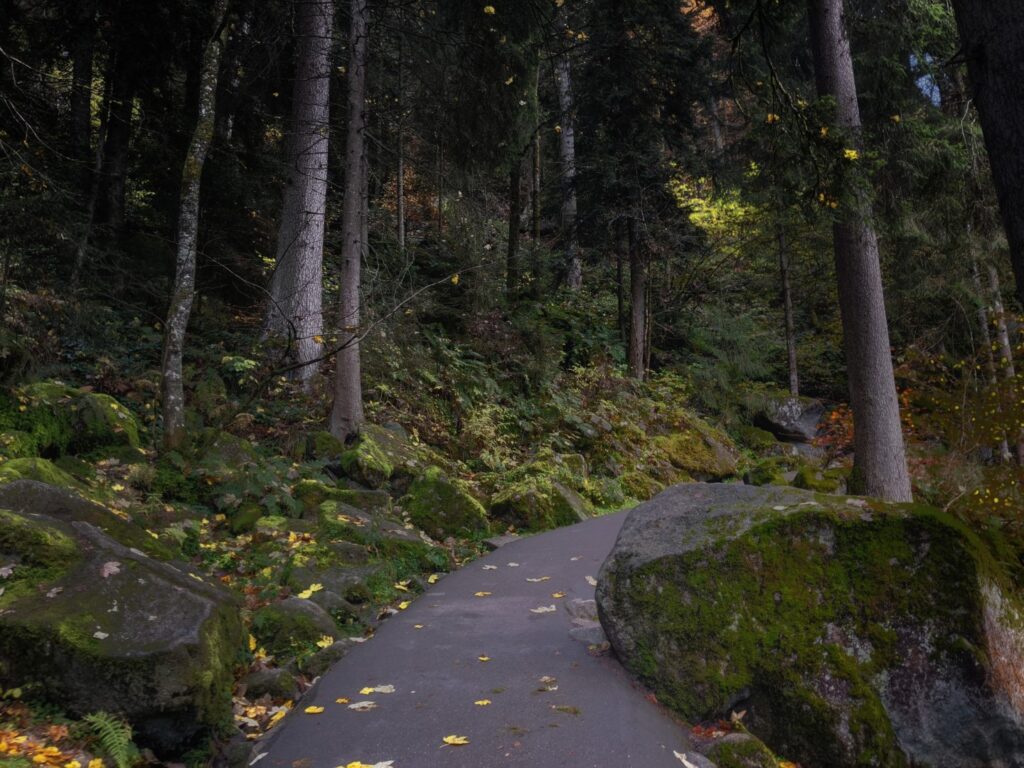 I had this vision of the Black Forest of Germany being a specific, designated location that you could draw a nice neat circle around and say, "Here. This is Germany's Black Forest!" (This IS Germany we are talking about….everything has its rules and place after all!)
So I guess I was a little surprised to find out that it was more of a generalized, very spread out area throughout the South Germany state of Baden Württemberg, which borders both France and Switzerland. In fact, the Baden Württemberg Black Forest and mountain range covers a good chunk of the state, which is why it's a little difficult to come up with a definitive list of things to see in Black Forest, but more on the logistics of that in a minute…
To make it even a bit more confusing on where to go, there is the actual "Black Forest National Park" but then there is also the Hochschwarzwald, which is where a lot of the popular Black Forest Attractions are located.
Map of Germany Black Forest
Tips For Visiting The Black Forest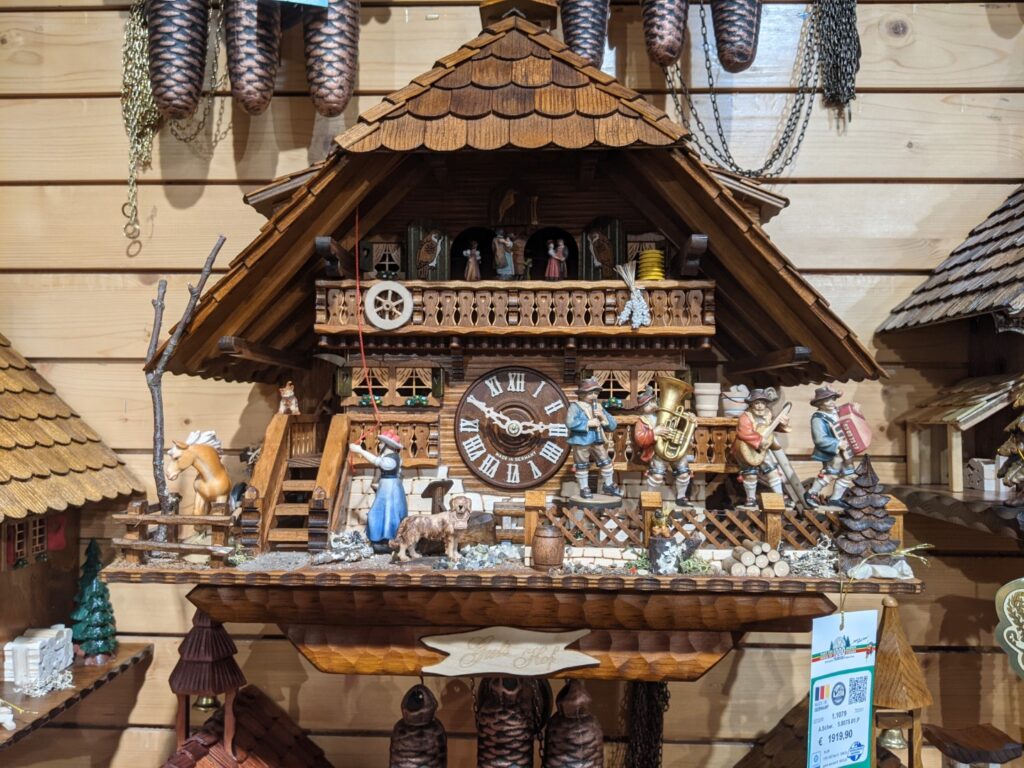 Focus on One Area
To be honest, I had a bit of a hard time nailing down a Black Forest Itinerary mostly because I was surprised with just how spread out everything was. As a solo traveler or just a couple traveling, this wouldn't have been a huge deal. I don't mind a 3 hour drive for a day trip when it's just me. But, with kids??? Yeah…..hard pass!!!!
Therefore, it's best to really focus on one area of the Black Forest if you are with kids and to thoroughly explore that section rather than spend half of your holiday in the car! Pick one area and do short and easy day trips from there. The reality is that there is SO much that can be done in the Black Forest, which is why it is often considered one of the best places to visit in Germany with kids.
So, for simplicity's sake, I would look into it as North, Central, and Southern Black Forest. I'll give examples of a Black Forest 3 Day Itinerary with families for each of those below. Obviously, if you have more time, you can bounce around a bit more.
Pick a Home Base
After a ton of research, it seemed like there was a good concentration of things to do in Triberg (and nearby), so I decided to start my search for both Black Forest apartments for the family to stay in as well as made a list of Black Forest things to do around there (which there was PLENTY to keep us occupied for a 4 day weekend!)
Balance The Sights With Your Kids' Interests
This probably goes without saying, right? Luckily, there are a TON of family friendly things to see in the Black Forest. However, like most trips with kids, there are plenty of things that I would have loved to have done that I knew the kiddos just wouldn't have. For example, I could have easily spent several days hiking in the Black Forest alone, but I think we all know how much my 3 year old would tolerate that. Therefore, I found short, easy, 1 hour hikes to do instead where I wouldn't have to hear "Are we almost done!?" a million times.
One specific example of this is at the Triberg Waterfall. In a life pre-kids, I would have taken the longer route that journeyed throughout the forest itself or the trail that winds through the woods to the other side of town. Alas, just getting a 5 and 3 year old to hike the uphill path (while babywearing the newborn) for about 30-45 minutes was a task in and of itself. If there's one thing I've learned traveling with kids, it is COMPROMISE!
Be Careful for Motion Sickness While Driving
Holy windy roads, batman!!! After all, the Black Forest is considered a mountainous area. No, we aren't talking Alps or Rockies as far as mountains, but there's some decent elevation and plenty of valleys! So, I guess the twisty, turny curves make sense. Driving in the Black Forest was SO beautiful, but if you've got kiddos (or yourself) that struggle with car sickness, then just make sure you come prepared. SeaBands are a fantastic, nonmedicinal, option for kids that struggle with car sickness. Anti-nausea ginger candies are also a go to for motion sickness for me. But, if you know if you've got a vomiter, I'd keep a stash of Dramamine (safe for kids over 2) on you just in case (and a doggy bag!)
Using The Following Itinerary Suggestions
The way I've written this post is that you can choose to do about 3 days in each area of the Black Forest or just choose one itinerary to do on its own for about three days. If you choose to combine them, I highly recommend staying for a few days in each area because hotel hopping with kids can be a major pain.
While the Black Forest is a surprisingly large area, there are plenty of day trip options that will overlap. So if you are planning on a long, extended time in the Black Forest with kids, you can easily combine some of these.
At the end of all the suggestions of the best things to do in the black forest for kids, I'll also cover some logistics like getting around, where to stay, and more.
Itinerary 1: Central Black Forest 3 Day Itinerary With Kids
Day 1
Tip: We were traveling in November when the daylight hours were already getting very short. But, even in the summer, I highly recommend starting your day early so that you have plenty of time for everything today. We ended up feeling a bit rushed and I wished we wouldn't have waited until 10ish to really get going. If you want ample time at each location, I'd start your day around 8am if you can, especially if you want to slow down and do things like play on the playgrounds.
Triberg
We started our day by heading into the town of Triberg. We parked in the "Männer Parkplatz" by the Edeka grocery store. This gave us a central location to the main street of the town. Here are a few things of what to do in Triberg with kids.
House of 1000 Clocks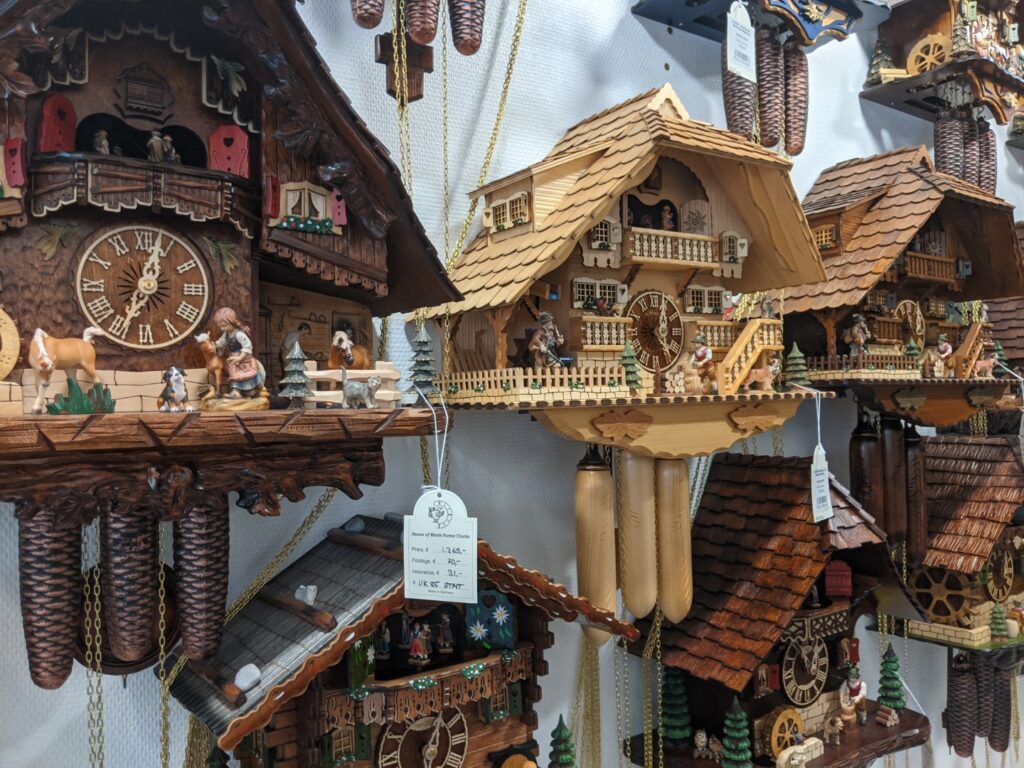 First, we popped into the House of 100o Clocks. It looks like a tourist trap, mostly because it is, but it is still fun to look around in! There are actually plenty of stores just like this, but this is probably one of the most popular.
Everywhere you look there are, you guessed it, CLOCKS! And obviously, this is the land of the Cuckoo Clock, so the majority of the store is just that.
Big, small, loud, quiet, simple, elaborate, classic, modern……what do you want in a Cuckoo Clock? It's there!!
We didn't spend a ton of time in here because just the idea of my wild child standing next to a €2,000 clock is enough to give me anxiety to last a life time. In fact, I sent the kiddos outside to look at the trinkets displayed on the sidewalk (and the giant clock on the street!) because let's not lie, they probably enjoyed that way more than the Cuckoo Clocks anyway!
Regardless, it is really fun to see all the different clocks. Some of them were huge and so intricate, with fantastic little scenes of German Folkspeople.
Triberg Waterfall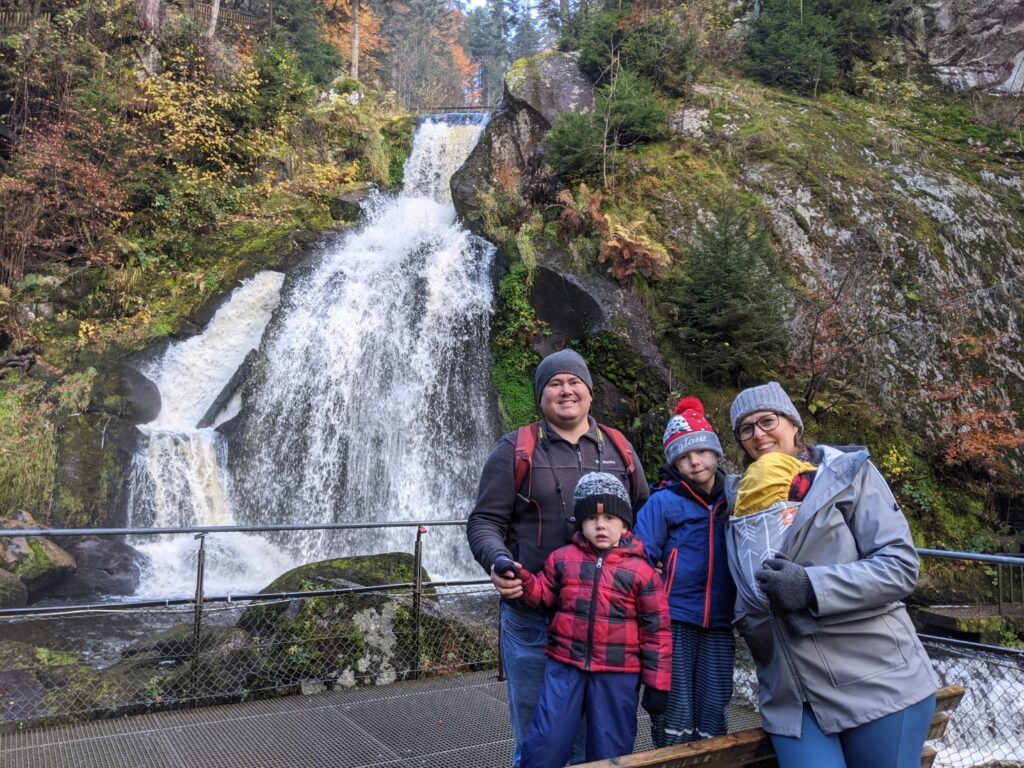 Arguably the most notable of things to do in Triberg is the Triberg Waterfalls, renowned as the tallest waterfall in Germany. You can read my in depth guide all about the Triberg Waterfall here.
To be honest, this little factoid perplexes me. You are telling me that in the German Alps there aren't higher waterfalls??? But, alas, I can't say that I'm a German Waterfalls expert, so I guess I'll just go with it?
Maybe one of the reasons why I wasn't fully convinced was because the waterfall is deceptively long. It is almost 535 feet (163 meters) tall, but instead of being one, huge plunging fall, it actually cascades over 7 separate drops, each one not incredibly long. But apparently, they sure do add up!
The Squirrel Path Hike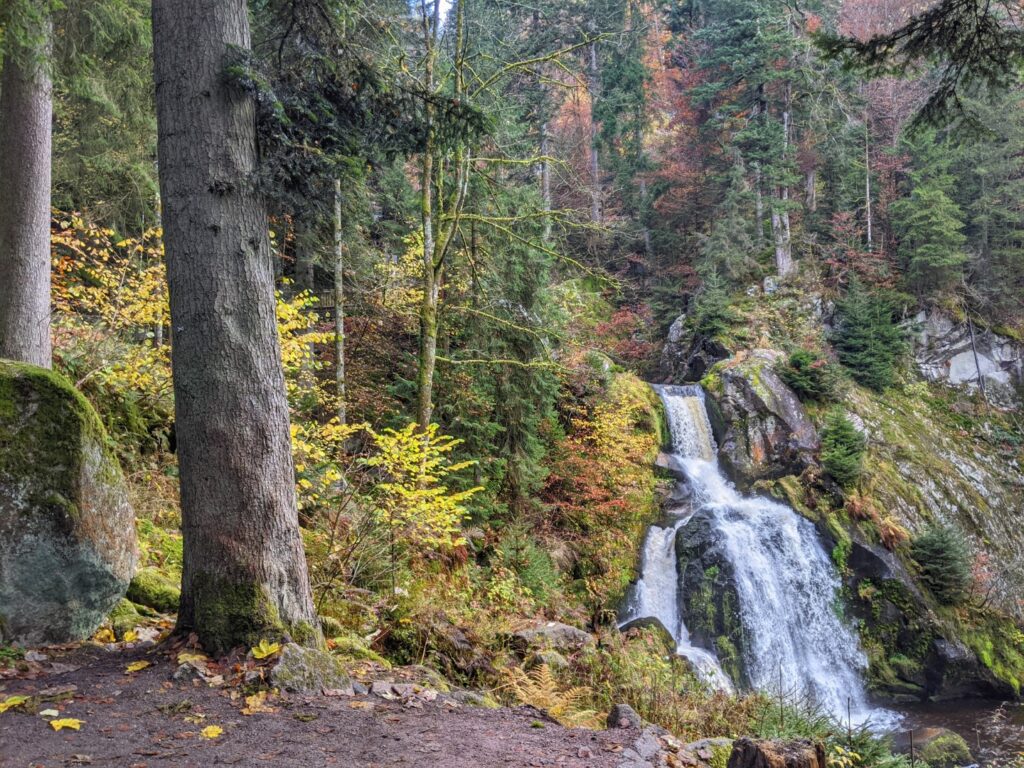 There were three main hikes you can take up to and around the Triberg Waterfalls. For kids, I recommend the "Squirrel Route" (Officially the "Cascade Trail"). In theory, it only takes about 45 minutes and it goes up and back along the same path.
Everything you read on the internet tells you that you absolutely must bring some peanuts along to feed the squirrels! (They even sell a bag of them at the entrance if you are fresh out of your own). Now, maybe it was the fact that it was already November and getting cold (squirrels don't hibernate do they??) or maybe they are just tired of people, but I had two disappointed kids (and a jar full of peanuts) when we had only seen a whopping 2 squirrels total on our walk. And what's more is that everyone else had the same idea, so one teeny tiny squirrel popped up and about 15 people (adults!) RAN to the squirrel! What happens when you run at a squirrel???? It runs away!
There is a small playground at the bottom of the falls as well.
Triberg Waterfall Costs
There are different costs for winter and summer months as well as if you have a Triberg guest card, Konus Card, etc. Therefore, it's just best to look up the current prices for when you'll be visiting here.
Have Lunch
We drove the 2 minutes up the steep hill (or you can walk about 10 minutes) to the "Bergseestüble." It was a great (tiny) restaurant that had fantastic schnitzel! There is a playground outside as well and you can spend time watching the ducks on the small little pond.
Eat Black Forest Cake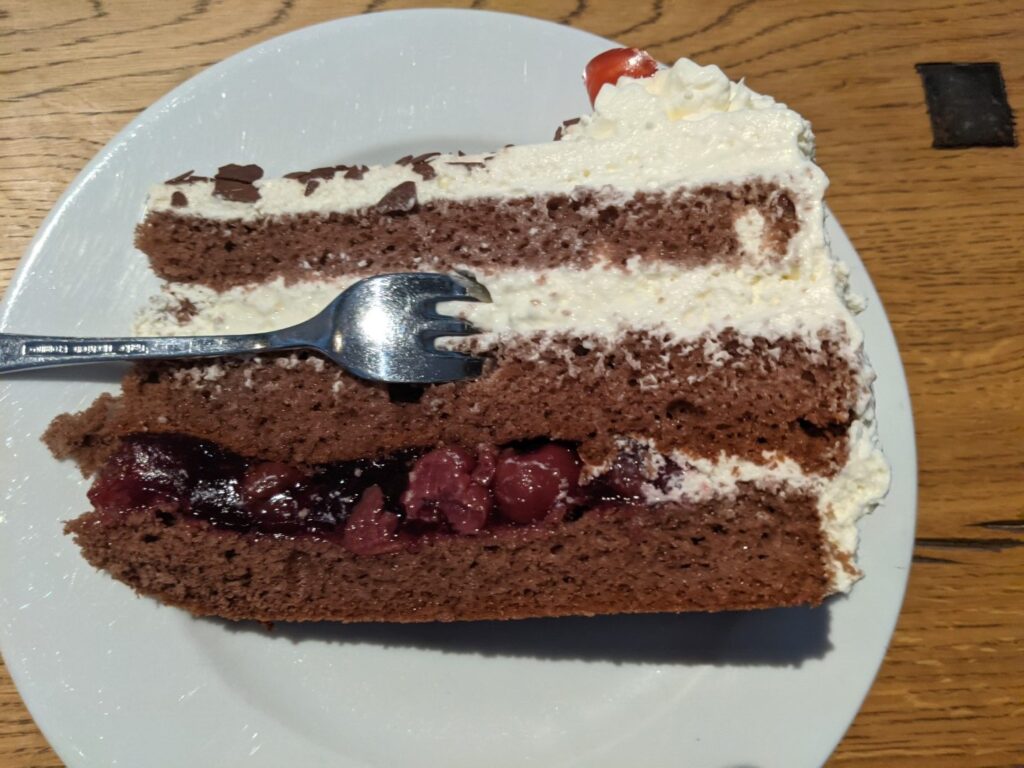 After lunch, we were ready to cross off another "Must Do In the Black Forest" activity: Eat Schwarzwälder Kirschtorte!!!
My son (whose German is embarrassingly better than mine) was so excited to be able to eat cake for lunch and promptly ordered it after finishing his Schnitzel….only to be told "Ah, nicht for Kinder!"
My husband and I looked at each other in a moment of panic, after all, the chocolate cherry cake is what I used to bribe him to walk the waterfall hike! Now, they are telling me, it has alcohol in it and it's not for kids!?!?
Luckily, they had a few other cakes on the menu, one being a cheesecake, and truth be told….I actually ended up liking that one better than the Black Forest cake anyway! But…when in Rome The Black Forest, eat the Black Forest Cake!
Go to the Largest Cuckoo Clock in the World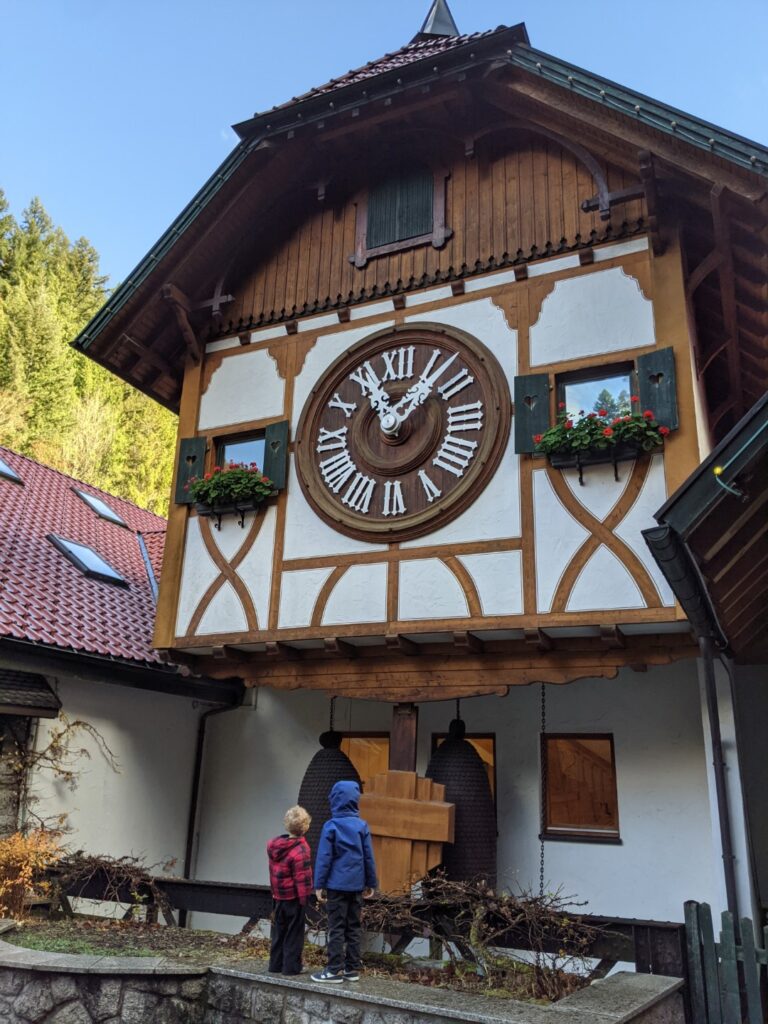 If you haven't figured it out yet, you are in the land of Cuckoo Clocks here!!!! So, you can't miss a stop at the "World's Biggest Cuckoo Clock!" even if just for bragging rights.
The Cuckoo Bird does emerge at every half an hour (but only 1 little chirp at the half hour) so try to time it to arrive on the hour. We were there at noon, so we got all 12 bird calls!
Inside, there is a (very) small museum that you can whizz through in about 10-15 minutes but you get to see the inside of the clock, which is actually a fully functional cuckoo clock. My kids really enjoyed seeing all the gears turn, and watching the huge pendulums swing back and forth.
Museum Cost: 2 Euro/Adult. Kids under 10 free
Address: "Eble Uhren-Park" Schonachbach 27, 78136 Schonach im Schwarzwald (3 minutes drive from Triberg)
We had a pool at our hotel, so naturally, the kids wanted to spend as much time in there as possible, so that was a nightly activity for us. There was also a mini golf in nearby Schönwald (about 10 minutes from Triberg), which would make a fun family activity if you still have daylight to burn.
Day 2
Stop At the Hornberger Uhrenspiele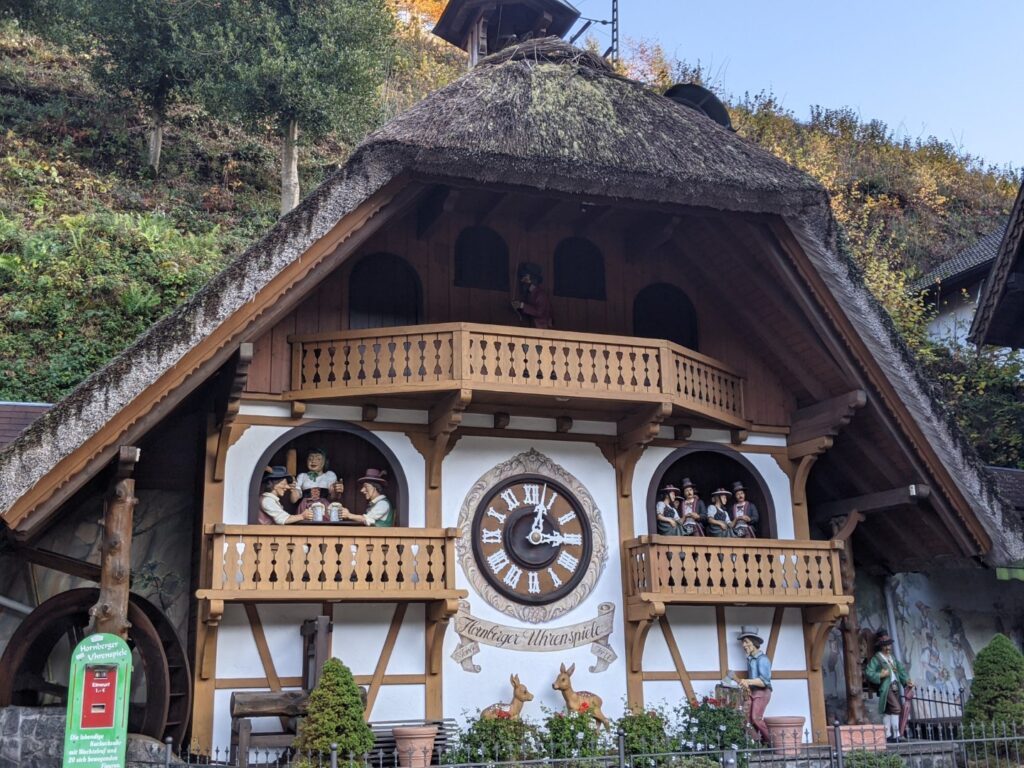 If you are coming from the Triberg direction, then the Hornberger Uhrenspiele is right along the way. However, depending on where you are staying, this might be a better option to do on day 1, as it's only about 10 minutes outside of town.
So, what is the Hornberger Uhrenspiele? It's this big, giant Cuckoo Clock on the side of a house and there is yet another giant clock store (similar to the House of 1000 Clocks).
This isn't to be confused with the World's Largest Cuckoo Clock though, but honestly, this one was more fun for the kids to watch.
We arrived just in time at the top of the hour to see the whole Cuckoo Clock Charade! It's got all the fixins' for the perfect, elaborate, Cuckoo Clock.
First, the Cuckoo bird obviously comes out to let you know the time
Then, what makes this one really fun is it has the whole moving scene (just like the real (big) clocks) complete with the rotating figurines. There's the German Band that circles around the top, the men drinking their Bier Maß that goes up and down, and women wearing the traditional Black Forest Bollenhut hats and Trachten dancing around! It's actually quite fun to watch!
To get there, it's only about 10 minutes out of Triberg. Take the B33 in the direction of Offenburg and you'll pass through the tiny town of Hornberg, where it's right along the main street.
Address: Landstraße 7, 78132 Hornberg
Visit the Black Forest Open Air Museum (Vogtsbauernhof Gutach)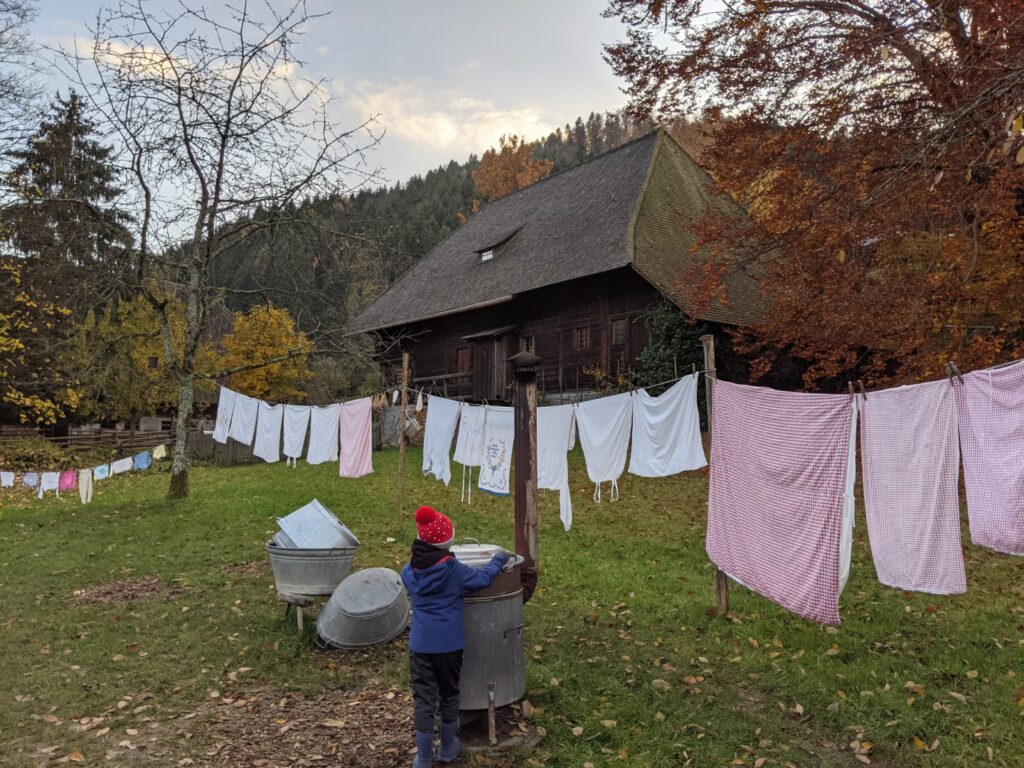 The Black Forest Open Air Museum is kind of like a working farm, with a ton of buildings that show different time periods of Black Forest pastimes. We weren't sure if the kids would like it, but my son wouldn't stop talking about how cool it was to "Use his imagination as if he lived in the past!" (Who would have known!?)
Each building focused on a different time period or purpose and there are several traditional farmhouses from the 16th to the 19th century as well as various other buildings like sawmills, a chapel, and storehouses.
There is so much to do here that I recommend leaving a really good chunk of your day for this activity. Most days there are various workshops or hands on experiences. The day we were there, kids could make their own candles and there was a basic weaving demonstration.
There are also guided tours, a water play structure (in the warmer months), and a huge playground. I highly recommend asking what activities are happening when you buy your ticket so that you can plan your time at the farm accordingly.
See opening hours, prices, etc here
Have Lunch
There is a little cafe inside the main Vogtsbauernhof or there is a small outdoor eatery next to the parking lot.
Alternatively, there is a nice beer garden at the next stop….
Ride the Gutach Rodelbahn
Right next door to the Black Forest Open Air Museum is the Rodelbahn in Gutach.
If you've never ridden on a Rodelbahn, they are often called "Alpine Coasters" and are a blast!!! You control the speed of your own toboggan as you coast down the side of the Black Forest mountain.
Note: This particular Rodelbahn only allows for kids 3 and older to ride. Anyone under 8 must ride with an adult.
At the base of the Rodelbahn there is a small playground as well that has a fun trampoline, a big slide, and some swings.
There are varying prices based on age as well as how many times you want to ride the Gutach Rodelbahn, so check out the current prices here.
Tip: If you have a visitors card, ask about a discount.
Alternative Day 2 If Visiting The Black Forest in Winter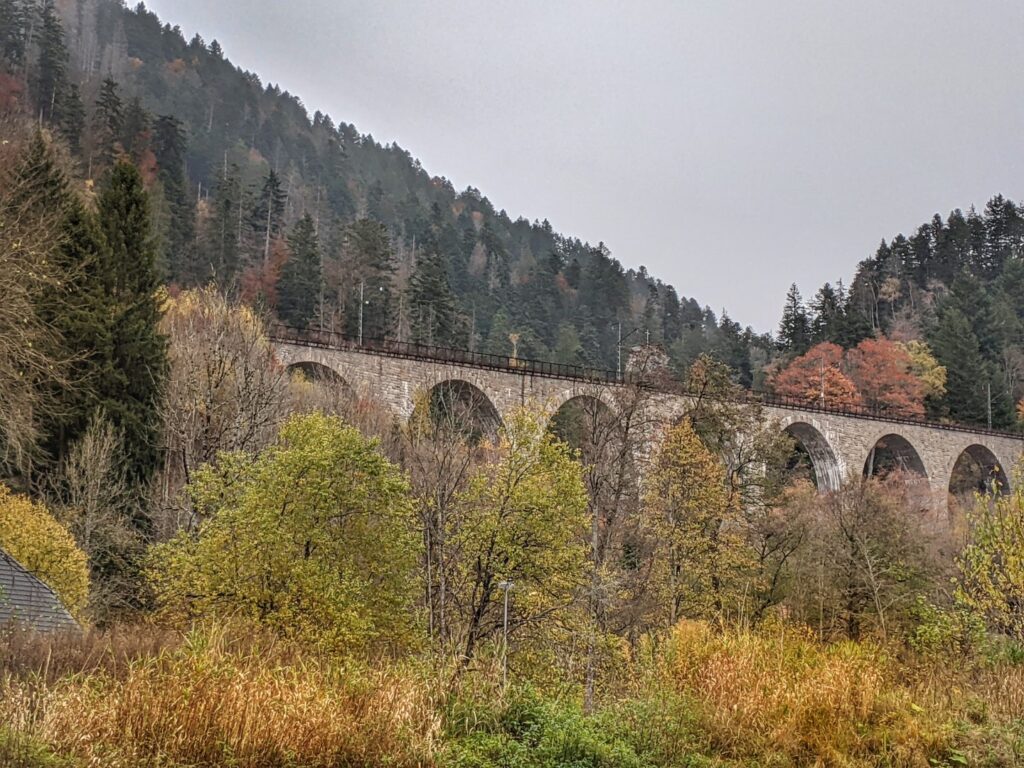 If you are visiting in the winter (particularly after November) then both the Open Air Museum and the Rodelbahn will be closed. Here are a few alternatives you can do instead:
Go On a Winter Hike: Obviously, this is a bit harder with kids in tow and you'll need proper snow gear and boots, but there is so much good hiking in the area, even in the winter! A few options are:
Around the Triberg Waterfalls: There are countless hikes around here
The Ravenna Gorge: While we will be venturing over to this area tomorrow as well, if you love hikes, this is a gorgeous area, even in the winter. If you are in the area during Advent though, you NEED to Check out the Ravenna Gorge Christmas market, as it is one of the best German Christmas markets!
Here are some winter-specific hikes in the Black Forest, just look for the level "easy" if you've got littler ones.
Go Skiing: There are plenty of skiing opportunities in the Black Forest. The slopes are not as intimidating as the Alps, so it is the perfect location for skiing with families and younger kids! Feldberg is the highest and largest of the Black Forest skiing areas and is actually considered one of the best in all of Germany. If you want something a bit closer to the middle of the Black Forest, there are a ton of places(but many are quite small). Simply just do a Google search of "Skiing Near Triberg" (or wherever you are staying) and you'll see ALL the possibilities and you can narrow down which ones would be best for your abilities.
Swim at an Indoor Waterpark: Badeparadies is huge and if your kids are anything like mine, they probably enjoy a day of swimming, HUGE waterslides, and wave pool more than sightseeing (insert eye roll…but, 'tis the life with kids!)
Day 3
So, again, my kids are on the younger side, and considering my 3 year old has Thomas the Train underwear, we figured a ride on what is considered one of Germany's most scenic train routes would be a hit.
Ride the Höllentalbahn or the Schwarzwaldbahn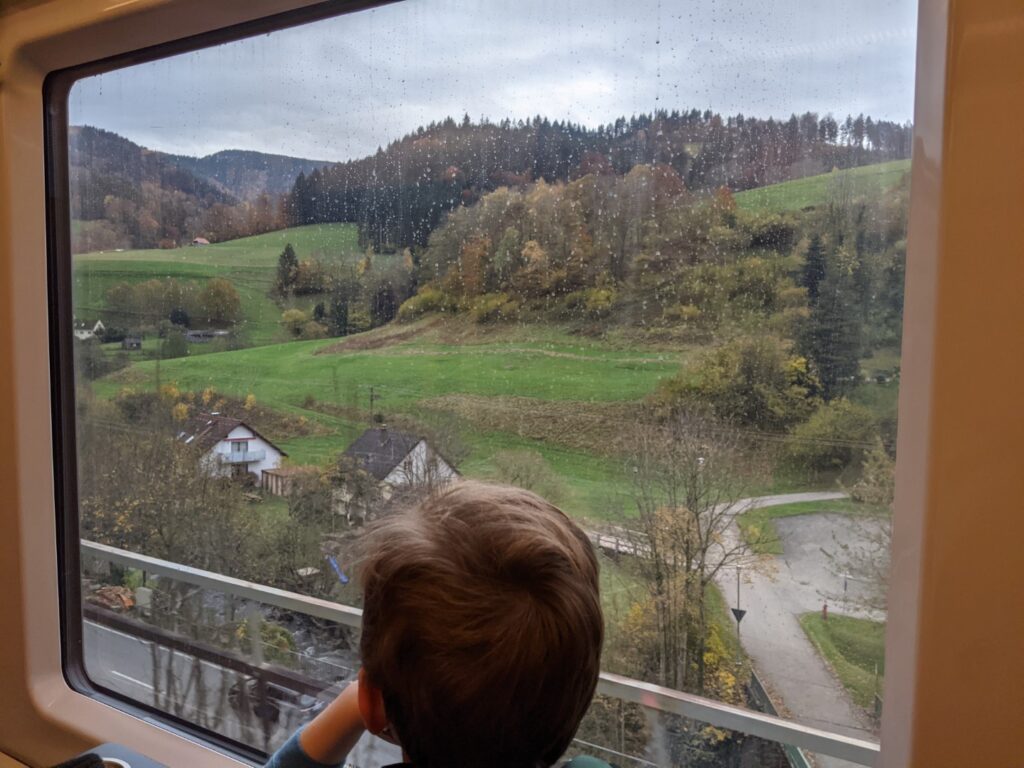 I'll cover both, but when we were there in November, the Schwarzwaldbahn wasn't running, so we chose the Höllentalbahn.
The problem is that the Höllentalbahn, which starts in Freiburg, is about a 1.5 hour one way journey, plus the 1.5 hours back and finally, it was about a one hour drive from Triberg. I couldn't really justify 4 hours of transportation just for the sake of it with 3 small kids.
So, we opted for a compromise. We personally drove the 40 minutes south from where we were staying to Hinterzarten. From that train station, it was about a 30 minute train ride on the Sbahn to Freiburg im Breisgau, which takes you on the most scenic part of the Höllentalbahn and through the "Devil's Valley." It was a win for all.
Info on the Höllentalbahn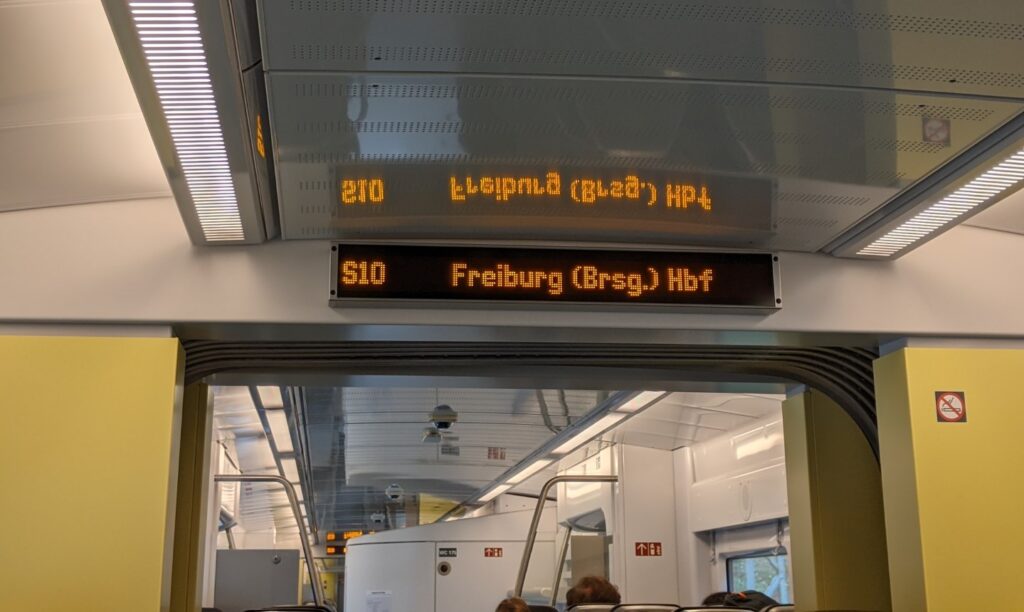 I had seen this route on a list of "most scenic train rides in Germany." When it was first built, it was an engineering feat by going on a 5.5% gradient. (I'll be honest, I don't know anything about trains, so I'll just take their word that this was impressive). The train flashes over the famous Ravenna Gorge and zips through the cliffs of the Höllental (Devil's Valley). If you continue to the end of the route, it turns into the "3 Lakes Train" that goes to Titisee, Schluchsee, and Seebrugg. We were there in the fall, so the autumn colors were just gorgeous!
Which Train to Take
This part was extremely confusing to me, as it seems like there are some "specialty" Höllentalbahn trains you can take as well as there are "Höllentalbahns" in other areas of Germany and Austria as well, so make sure when googling, you are looking at the Black Forest (Hochschwarzwald) one. So, today, you can also just simply take the Sbahn (the S10 leaves about every 30 minutes).
Read my "Everything You Need to Know About German Trains" Here
Cost:
One Way Tickets (Einzelfahrschein): The cheapest fair is actually only available on the Deutsche Bahn App if you just have 2 adults to pay for (kids under 14 ride free on the DB) . It was 5,13 EUR per adult (per way) so 10.26 EUR per adult. Be sure you have the ticket downloaded onto your App before boarding the train.
REGIO24: If you have more adults or kids (under the age of 14 ), then the Regio24 is the local RVF network group ticket. You can use all trains and buses for up to 5 people on one ticket for 24 hours. This is 25,73 EUR total for the 5 people.
Konus Card: We had the Konus Card and supposedly it is free to ride public transportation in the Black Forest with it. Unfortunately, we totally forgot about this, so I can't verify if the pass would have covered this, but I don't see why it wouldn't have (you can ask when you get your Konus Card from your hotel)
If you don't have the App, you can also get the tickets online here or you can also just get them on the platform at the stations.
Info On the Schwarzwaldbahn
This is actually considered on of the most famous trains in the world. This Triberg steam train winds you along through the Black Forest filled with mountain tunnels! It connects Offenburg to Singen (Hohentwiel) but supposedly the section of Hornberg – Triberg – St. Georgen is reportedly the best.
Dates: Mid-May to mid-September
Note: I believe you can still take the same route in the off season, it will just be on the Regional Train and not the specialty Steam Train
Monday to Friday
09:00h to 17:00h
Saturdays and Sundays
10:00h to 17:00h
Walk Around Freiburg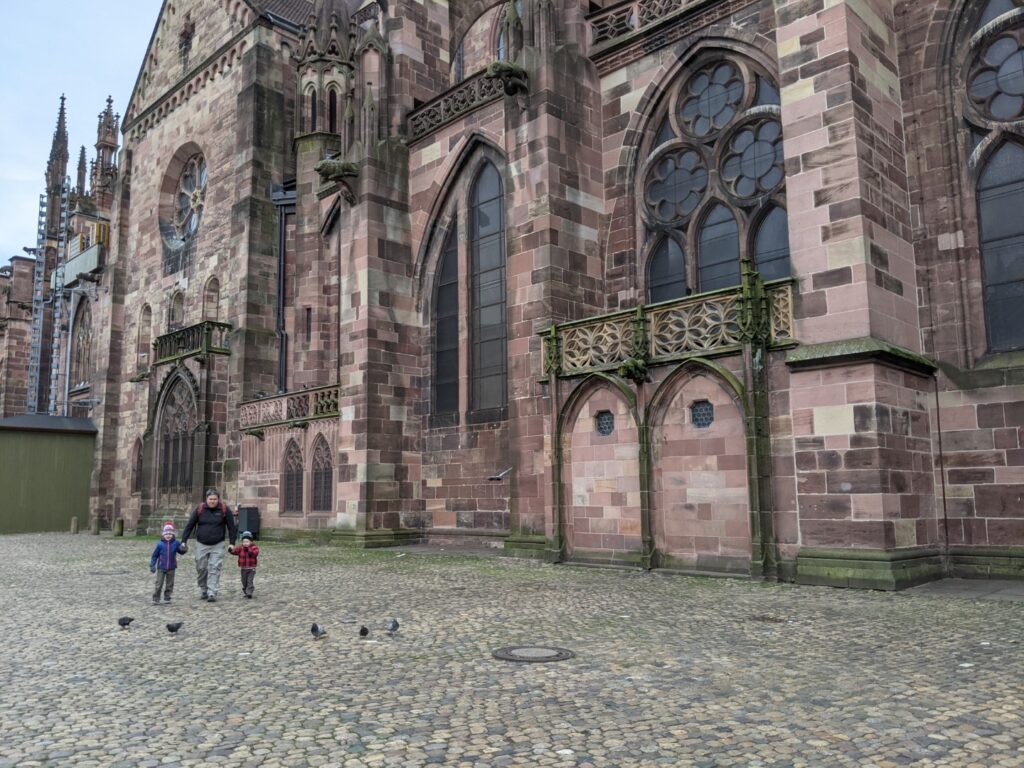 I was actually a little unimpressed with Freiburg, but we were there, so I figured we needed to walk around and give it a try. For being a decently big city, there was surprisingly not a ton of things to see in the Altstadt. Maybe if we would have done a walking tour, like this one, it would have been much more enjoyable and we could have gotten more out of it.
Münsterplatz
The other main draw in the city itself is the the main town square of Münsterplatz which is dominated by the huge Münster Cathedral. I'm not a religious person, but I always love dipping into European churches!
And, just like with so many other parts of parenting, you can plan the best trip for kids and they'll still say their favorite part was chasing the pigeons by the Cathedral. Go Figure!
Schlossberg
One thing we ended up skipping, but I wished I would have done was walk the 20 minutes to the Schlossberg, which has a tower you can climb that supposedly has fantastic views above the city.
We finished up the day by grabbing some Doners for our dinner, because who doesn't love doners!
Take A Walking Tour Of Freiburg
Itinerary 2: Southern Black Forest
These following days can probably be combined with the above itinerary if your kids are a bit more tolerable of car rides and you don't mind a bit further for day trips. This is also a great itinerary for families who are a bit more active and like to be outdoors in nature. Instead of giving a day by day run down for this itinerary, I'm going to just give suggestions on what to see in the Black Forest in this area, as the time you spend at each place may vary drastically depending on your interests and ages of kids.
Break Up The Höllentalbahn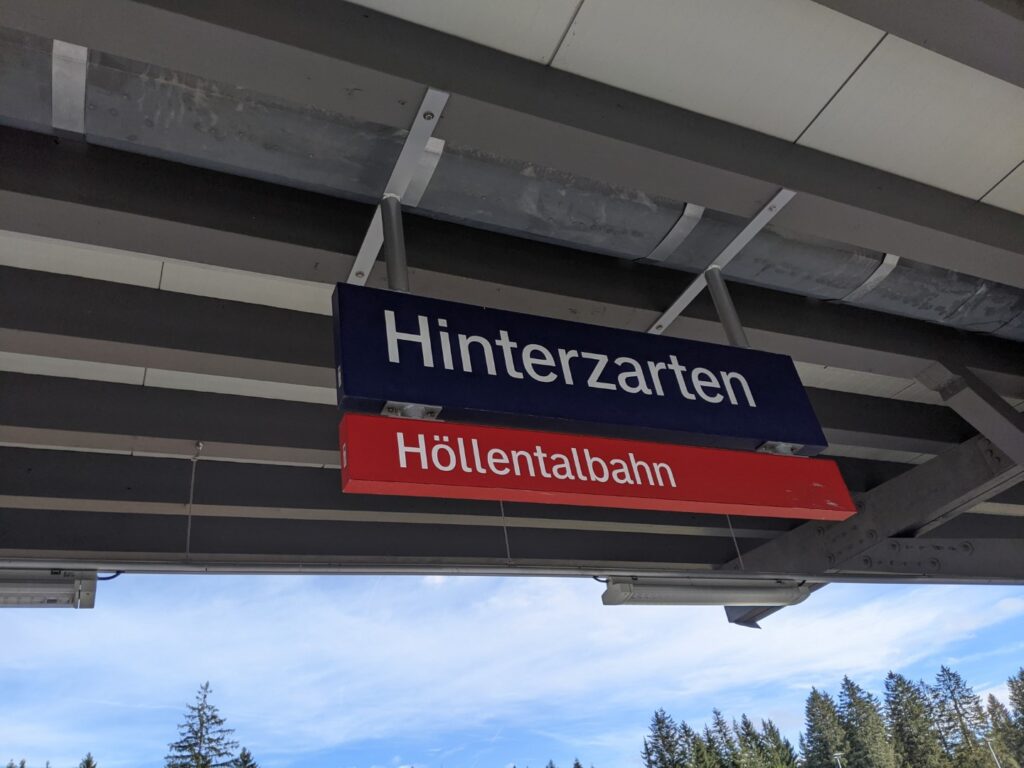 Dreiseenbahn (Three Lakes Train)
Depending on where you are starting, you can start at the "end" of the Höllentalbahn and go "backwards" and just do half of the trip in one day. Therefore, do the 3 Lakes side on one day and do the Höllental Valley and stop at any halfway point (Like Hinterzarten) and do the other side on another day. Therefore, on one day, just enjoy the beautiful lakes:
Titisee: In the summer, you can rent small boats to go out on the water. The town around the lake also has plenty of shopping and restaurants as well.
Seebrugg: On the route between Seebrugg and Titisee, enjoy beautiful views out your train window of the Bärental (Bear Valley)
Schluchsee: In the summer, enjoy swimming, sailing, and fishing. In the winter there are supposedly beautiful trails along the lake as well.
Tip: If you love "Escape Rooms" check out this "Escape the Lake" themed walk! It's like an escape room where you have to solve puzzles and clues, but all on an outdoor walk around the Scluchsee Lake!!! How fun is that for the whole family!?
Höllentalbahn
On another day, do the second half of the Höllentalbahn to Freiburg, which I went into detail above.
Hike (or Ski) in Feldberg
Feldberg is the highest peak in the Black Forest, so naturally, there is plenty to do and see around here.
In any season, you can take the Feldberg Cable Car up up up and enjoy gorgeous mountain and valley views.
In the summer, find plenty of family friendly hiking options, like this one, and in the winter, hit the slopes!
Ride the Todtnau Rodelbahn (Hasenhorn Coaster)
This is one of Germany's best Rodelbahns. In fact, to reach the top of it, you'll take a ski lift up! You'll then wind down almost 3km worth of fun rails that twist, turn, wave, and curve around!
Similar to the Gutach Rodelbahn, above, kids must be 3 years old to ride with an adult and must be 8 years if they want to ride alone.
Unlike the Gutach Rodelbahn though, this one does operate in the winter (with limited hours)!
Check out the prices and more info on the official Todtnau Rodelbahn website
Itinerary 3: Eastern Black Forest
Day 1: Europa Park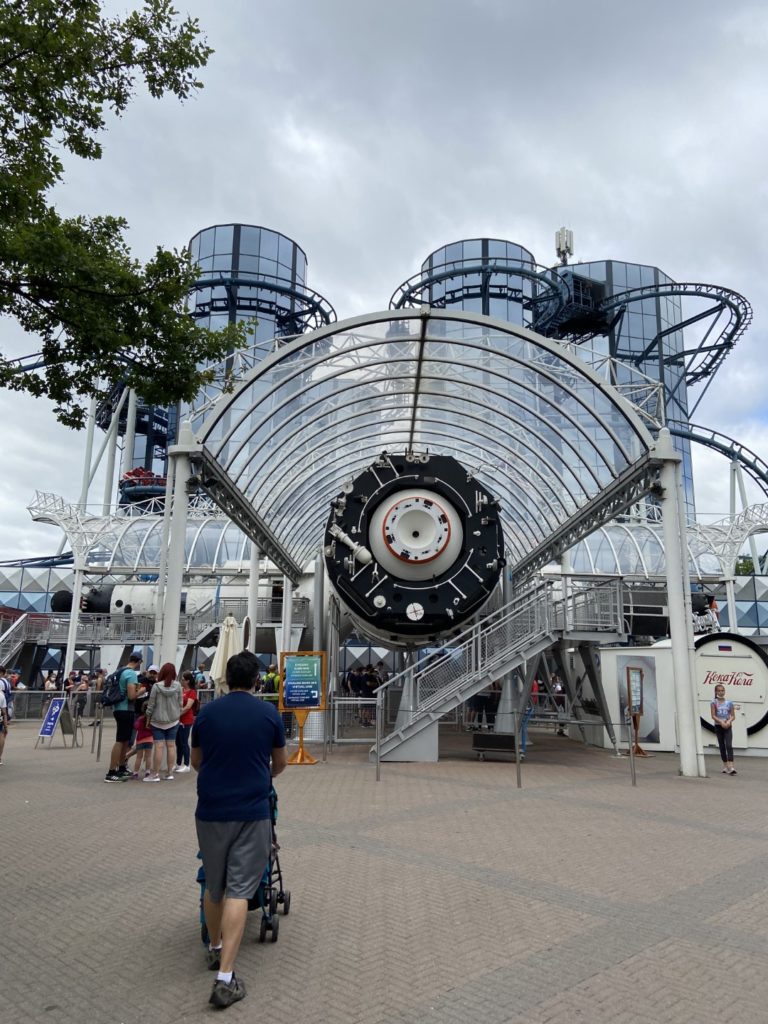 I was surprised at how much we enjoyed Europa Park! I mean, yes, the name clearly gives away its theme (Europe) but it does a phenomenal job of capturing every stereotype of differing European countries into sections of the park.
I also really liked that it had SO much to do that everyone in our group (we had ages ranging from 2 years old to 4, to 7 years old and then a group of adults) found something that they liked. There were small playgrounds and splash pads for the toddler, kiddie rides for the 4 year olds, and some of the best roller coasters in Europe for the adults!
Here is my Europa Park Tips and Tricks article to help you make the most of your day.
Get Your Europa Park Tickets Here
Day 2: Rulantica
Rulantica is the HUGE waterpark neighbor of Europa Park. There's a giant pirate ship in the middle of one of the pools for God's Sake! There are 27 slides in the entire waterpark, so you are sure to find one just your speed. There are also 2 cocktail bars for us adults and even a friendly trolls area that is perfect for the toddlers with pint sized slides!
Day 3: Visit The Nearby Black Forest Germany Towns
There are several towns nearby that you can go and explore for the day such as:
Gegenbach
This is a classic German town, with its half timbered houses and cobble stone streets. Kids may particularly like wandering around though because it's got tons of statues of jesters and other similar characters that are popular during the Karneval celebrations in Germany.
You can also climb the huge tower for commanding views of the town and surrounding area.
Freiburg and the Höllentalbahn
Look up above at my Day 3 on the Central Black Forest Itinerary to read all about this great train ride through the Black Forest that kids will enjoy.
Itinerary 4: National Schwarzwald and Northern Side of the Forest Itinerary
On the more Northern side of the Black Forest, it wasn't my top pick to visit Germany with kids. After all, this area is dominated by the ever-popular Baden-Baden Spa Town, which is considered one of the best things to do in the Black Forest…..and I would argue that it is…..but without kids! I LOVE Baden Baden for some "Mama Me Time" but it's not really for kids.
However, with that being said, there are still a few places that you can consider in this area of the Black Forest for kids. In fact, if you've got more than just a few days in the Black Forest, and are coming from Stuttgart, this could be a good route to take before heading further south into the forest.
Again, instead of giving an exact 3 day itinerary, I'm just going to list some of what to see in the Black Forest in this area, as the exact routes and itineraries will vary depending on where you decide to stay.
WildLine Hängebrücke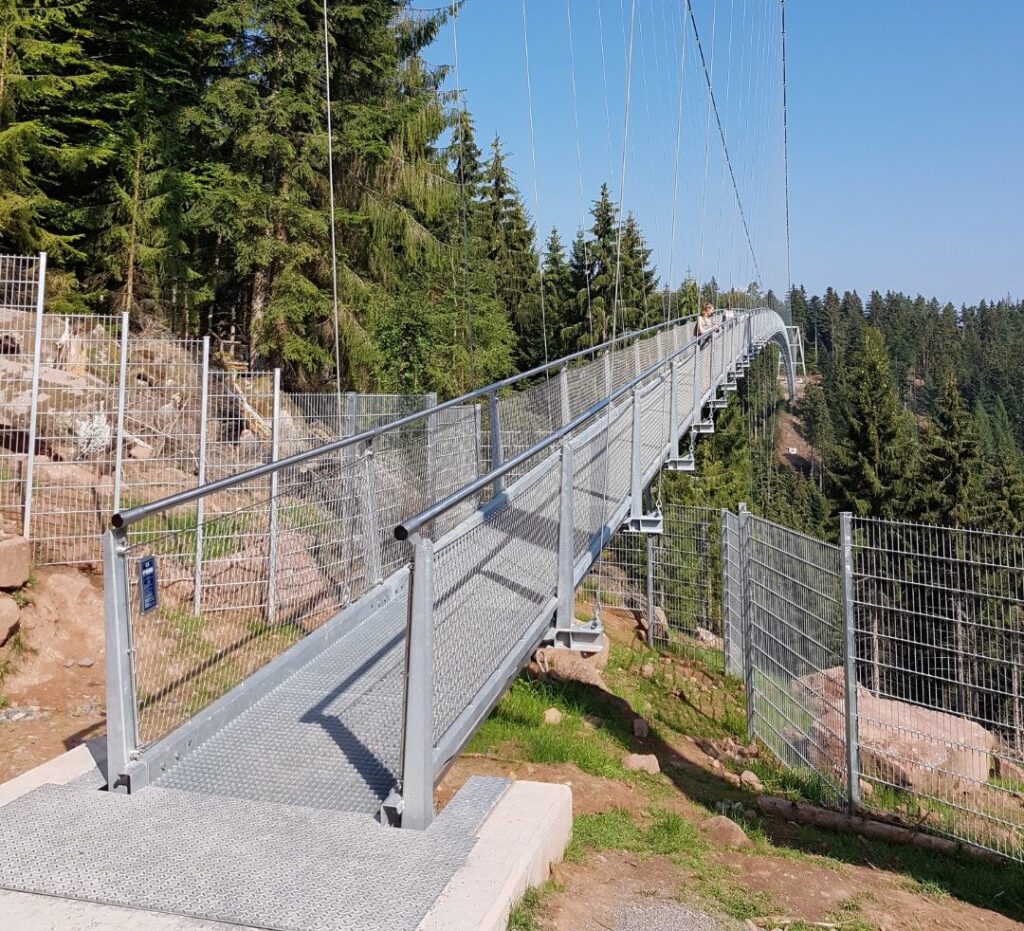 Towering high above the valley below (almost 200 feet/ 60 meters), this activity isn't for the faint of heart! It's almost a quarter of a mile long (380 meters) and might give anyone some wobbly legs! But, that's what makes it so fun!
Bad Wildbad Tree Top Walk and Baumwipfelpfad Schwarzwald Tower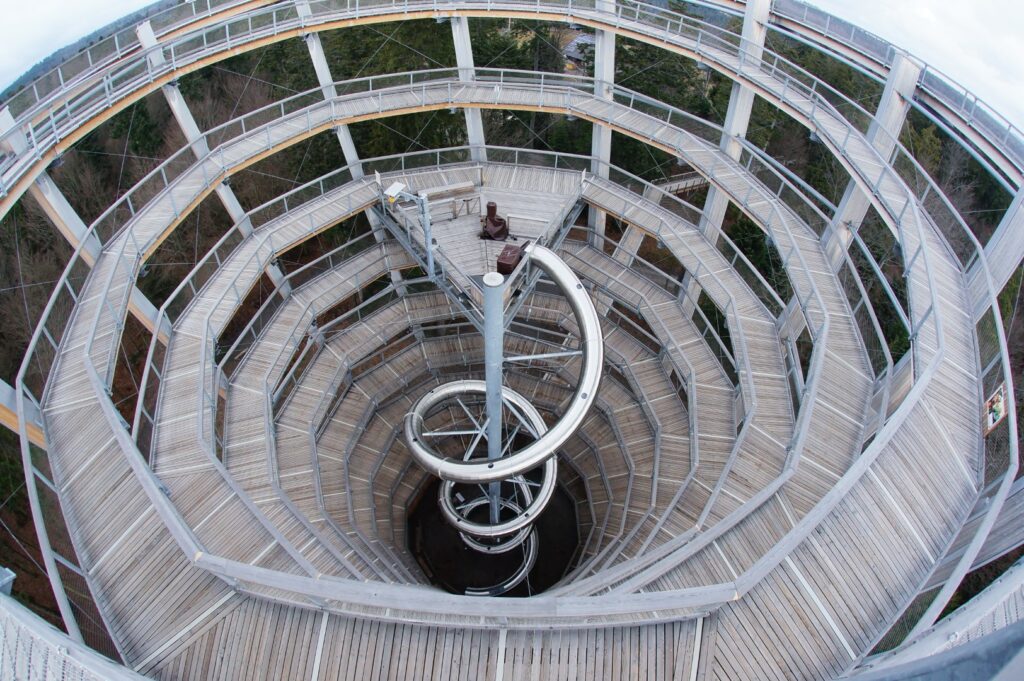 Just a 15 minute walk from the suspension bridge is the awesome "Treetop Walk," which is way less nerve racking, despite still being high above the trees of the Black Forest. This boardwalk in the sky eventually leads to the Baumwipfelpfad Schwarzwald Tower, which is a huge spiral tower (easy to climb) that gives stunning views out over the Black Forest.
Perhaps the most fun part of this tower for kids though is the GIANT slide that twists its way aaaalllll the way back down to the forest floor!
Between the suspension bridge, the treetop walk, and the tower, plan on at least several hours for all these activities.
Baumwipfelpfad Tower Costs:
Adults: €11,00
Children (6-14 Years): €9,00
Children Under 6: Free
Family Ticket (2 Adults and their kids 6-14: €26,00
Slide Down (Must be 6): €2,00 per person
Geroldsauer Waterfall
The B500 is considered the "The Black Forest High Route" and is a stunning, backroads drive through the area. Along this route is the Geroldsauer Waterfall. It's only a 1.5 km walk and in the summer it has the most beautiful rhododendrons blooming!
Kloster Allerheiligen Ruinen (All Saint's Abbey)
I am such a sucker for the ruins of old buildings like castles in Germany, or in this case, old an old Kloster. It's really fun to use your imagination to envision life waaaay back when. Plus, going to ruins are often way more enjoyable with kids rather than the posh, put together palaces, where they have to be quiet and not touch a single thing. Kloster Allerheiligen's ruins are all the way back from the 1100s, yet still really beautiful in all its ruined glory!
Allerheiligen Waterfalls
Only a 20 minute walk from the Kloster, why not add more beautiful German waterfalls?? While it's a short walk TO the waterfalls, know that there is a set of very steep steps that follow the waterfall, which may be difficult for the younger legs, but with enough bribing encouragement, kids should be able to do them. When you get to the end of the waterfalls, just turn around and head back on the same path. It should take about an hour for this hike.
(Lake) Ellbachsee
Nearby the Abbey is the Ellbachsee. It has a great viewing platform that gives wonderful, panoramic views out over the sweeping Black Forest. However, there's not a ton more to do here other than that, so it's a good thing to tack on to the above activities, but not as a stand alone outing.
Hirschgrund Zipline
(Note: This is also only about 40 minutes from Triberg and can be a great trip from that area as well)
***This activity is only for families that have kids over 12***
If you are a thrill seeking family, you HAVE to check out the Hirschgrund Zipline! It has the longest zipline in Germany, but also has 6 other zip lines that zip you through the forest canopy, fly you over valleys, creeks, and more!
Where To Stay in the Black Forest
Like I've said a few times, when you visit Germany with kids, I recommend getting a "home base" for a bit. While hotel stays are just fine, I also prefer homestays now that we have a family. A place with a kitchen and a few bedrooms is ideal now that we are a family of 5. Luckily, there are a ton of Black Forest apartments to book all over. So, if you are doing my itinerary suggestions, here are some Black Forest Germany towns I would look into:
Triberg
This is where we stayed on our most recent trip to the Black Forest. It gave tons of day trip options for us and because it is a popular tourist area, there are plenty of lodging accommodations available. We personally stayed at this apartment because it had a swimming pool, ping pong, fussball, and several other kid friendly activities right on site at the complex/ "resort".
Rust
If you are doing Europa Park then staying in Rust is ideal. There are tons of AirBnb options in town, so we chose an apartment that we could simply walk to the park from.
Europa Park
Alternatively, one way to really make Europa Park a special adventure is to stay at one of their many themed hotels. Kids will LOVE staying in these super kid friendly rooms.
Stuttgart
No, Stuttgart is NOT in the Black Forest, however it is one of my favorite cities in Germany to make as a home base (not much IN Stuttgart itself captures too much of my attention, but there are almost endless day trip options, many being in the Northern part of the Black Forest. Whenever we are using Stuttgart as a home base, we actually use A&O Hostel….yup, you read that right, HOSTEL. We get the family room which has a double bed and then one set of bunk beds. The Hostel is very friendly with a pool table, fussball table, and games out in the main room.
Pro Tip: If you are in the Stuttgart area from about September to early December, you HAVE to check out the World's Largest Pumpkin Festival in Ludwigsburg! The kids will love it….and there is even pumpkin sekt for you!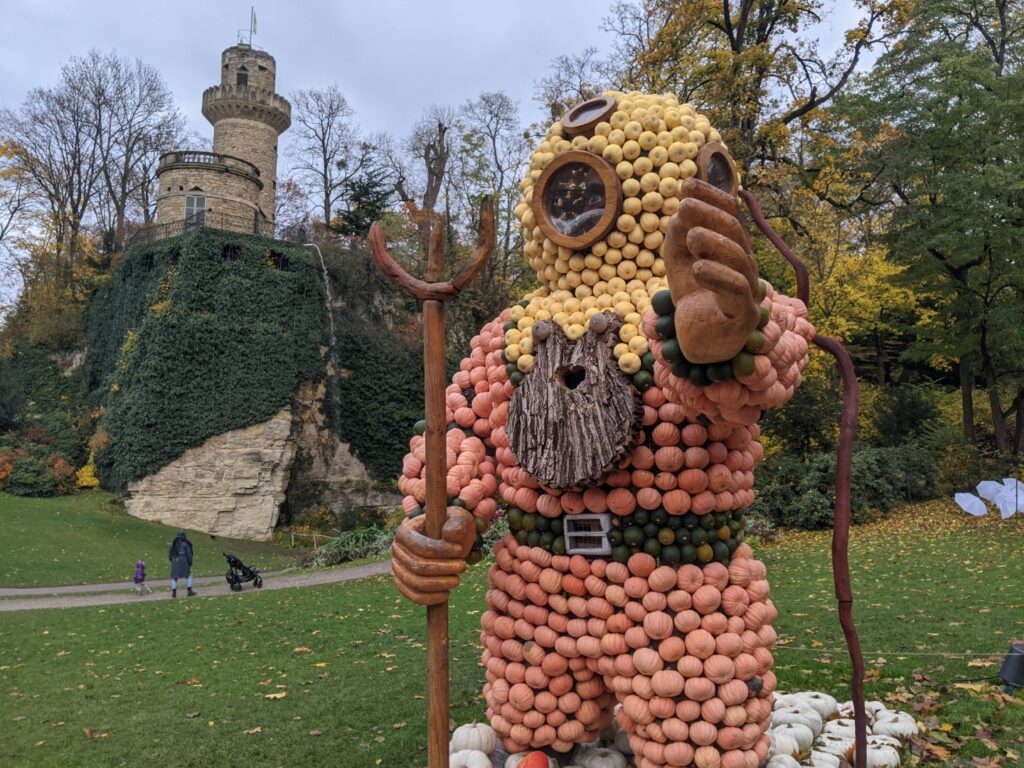 Offenburg
If you are going to be more on the Northern side, Offenburg is often a popular place to stay.. This hotel isn't IN Offenburg (nearby) but isn't this pool and view out to the mountains just dreamy!?
Black Forest Farm Stay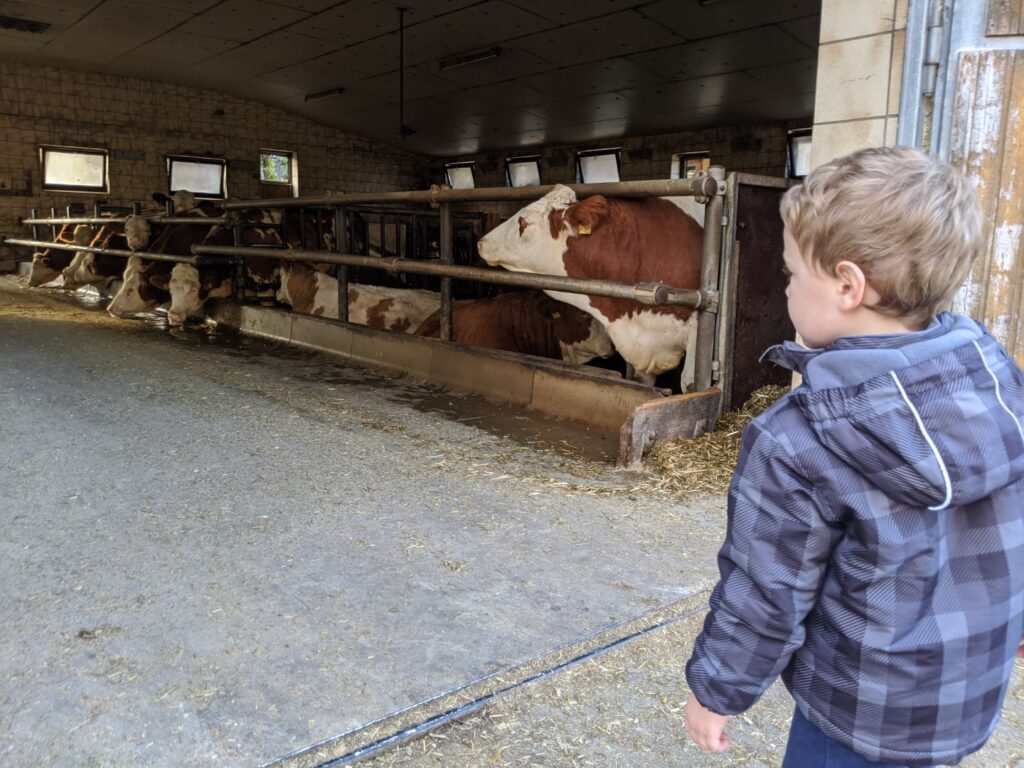 One of the most popular accommodations in the Black Forest with families is staying at a farm stay. It just adds a whole other unique element to your trip.
Look for the Best Reviewed Farm Stays in The Black Forest Here
Schwoererhof
This farm stay is a great location as it's pretty central to get to many Black Forest activities There are horses, BBQ facilities, cows, and a small playground.
Read Reviews for Schwoererhof Here
Maierhof
This apartment farm stay have hosts that are happy to help you figure out your daily activities. There are goats and chickens, a small outdoor swimming pool, a little on site pond, and you can even go on a walk in the Black Forest straight from the apartment.
Bühlbauernhof
While at first glance at the photos, it looks like this Black Forest farm stay needs a major update in decor, don't be put off by that quite yet. It is an extremely family friendly stay with gushing reviews. The kids can play with the goat, rabbits, and kittens. You can use the fully furnished kitchen or BBQ outside and the kids can run off energy on the playground on site. Just down the road is mini golf and a pool as well.
Check Current Prices for Bühlbauernhof Here
Getting To the Black Forest
Closest Airports
If you are flying, Zurich is actually the closest airport to the Black Forest, especially if you are staying in Hochschwarzwald, where a lot of the main things to do in Black Forest Germany are.
However, if you are wanting to go to the Baden Baden Black Forest area (more northern), then Frankfurt is the closest international airport.
I like to keep an eye on Scott's Cheap Flights, as there are often some good deals for flights to Zurich.
Getting Around The Black Forest
By Car
Having a car is the easiest way to get around the Black Forest. You can get to a lot of the main towns I've mentioned in this post by train, but to get to places like the huge coo coo clocks, for example, you'll need a car.
Driving in Germany is really enjoyable, especially in this part of the country, where it is just so beautiful!
Click Here to See the Lowest Comparison of Car Rentals for the Black Forest
By Train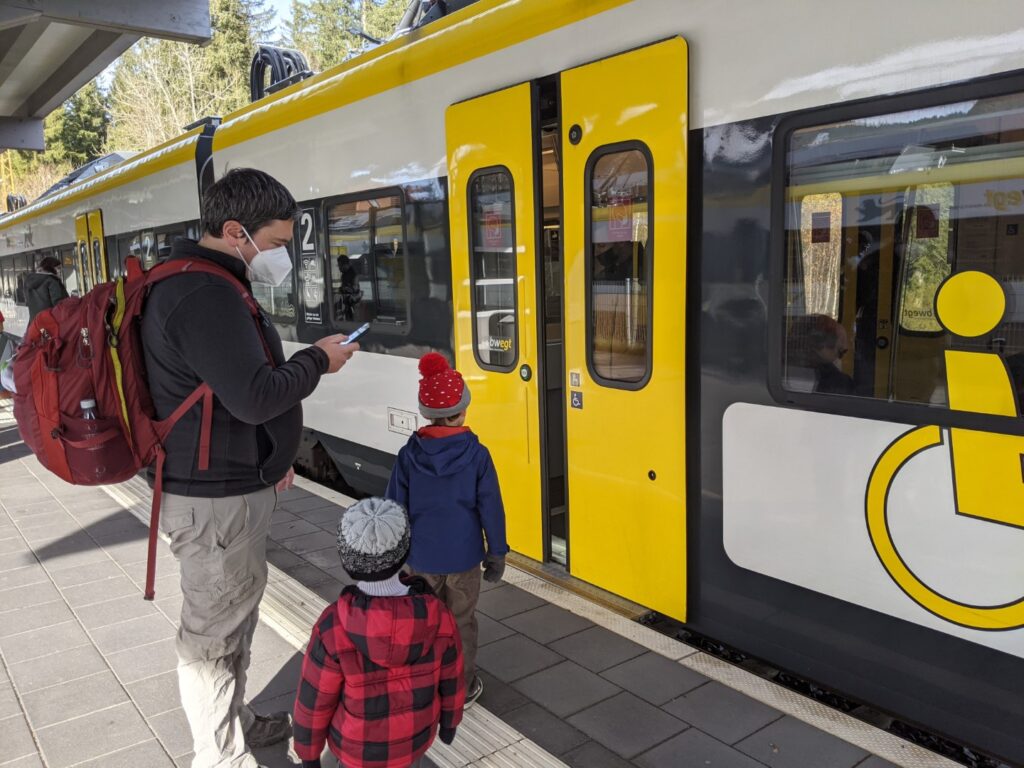 I love using the German Trains with Kids! All of the main towns in the Black Forest are actually easily accessible by train. You can get to Karlsruhe, Triberg, Freiburg, Baden Baden, etc by hopping on a train using the BWEinfach (Baden Wurtenburg One Way) ticket or even the local transportation system (depending on where/how far you are going)
However, if you take the trains, then you'll have to greatly adapt your itinerary. You won't be able to do things like the Black Forest Open Air Museum or the All Saint's Abbey (and more), since there is no public transportation to places like that. I think that all would be just fine for a couple or solo traveler, but so much of the fun stuff for families in the Black Forest are off the public transportation paths.
Note: Ask your lodging if you'll receive a Konus Card from them. If so, public transportation is free in the Black Forest with that card.
We still love taking the trains though when we can. So, if you are going to just do a day trip from one major location to another, consider the trains, just for the novelty and fun of it! Plus, it gives the kids a break from the confines of the car.
Check Out DB Train Ticket Prices Here
Black Forest FAQs
Which part of Black Forest is best?
That's kind of like asking, "Which one of your kids is your favorite?" There are so many places to visit in Black Forest Germany and each part has something different. In the North, there are amazing German Spas. Central Black Forest has a lot of family friendly day trip options. Southern Black Forest is a gem for outdoor lovers.
So the better question is to ask yourself what kind of activities do you want to do and then go from there.
How many days do you need in the Black Forest?
To see ALL of the Black Forest, you'll want (at least) about a week. However, you can easily just do a section of the Black Forest for a few days and still thoroughly enjoy your time in the area. Because there is so much to do, it is easy to section it out into North, Central, and South areas and just focus on activities in that location for a few days at a time.
What city is closest to the Black Forest?
The closest cities with airports to the Black Forest are Zurich (for the South) and Frankfurt (for the North). However, other big cities near the Black Forest are:
Stuttgart
Tübingen
Lake Konstance (Bodensee)
Basel (Switzerland)
Colmar (France)
Strasbourg (France)
While it is not an actual Black Forest Germany castle, I HIGHLY recommend going to the Lichtenstein Castle as well as the Hohenzollern Castle (you can easily do both in a one day side trip- we did them on our way from Stuttgart to Rust/ Europa Park) You can base yourself out of
What are the largest cities in the Black Forest?
Some of the larger towns in the Black forest are:
Baden Baden
Freiburg im Breisgau

Pforzheim

Karlsruhe
What should I wear in the Black Forest Germany?
Since a lot of the Black Forest is outdoors, I would definitely plan on:
Good walking (or hiking) shoes
Layers for the winter
Comfortable shirts and pants (I like moisture wicking clothing)
Swimsuit
Rain jacket
Here is my Packing For Germany for Every Season.
Why do they call it the Black Forest in Germany?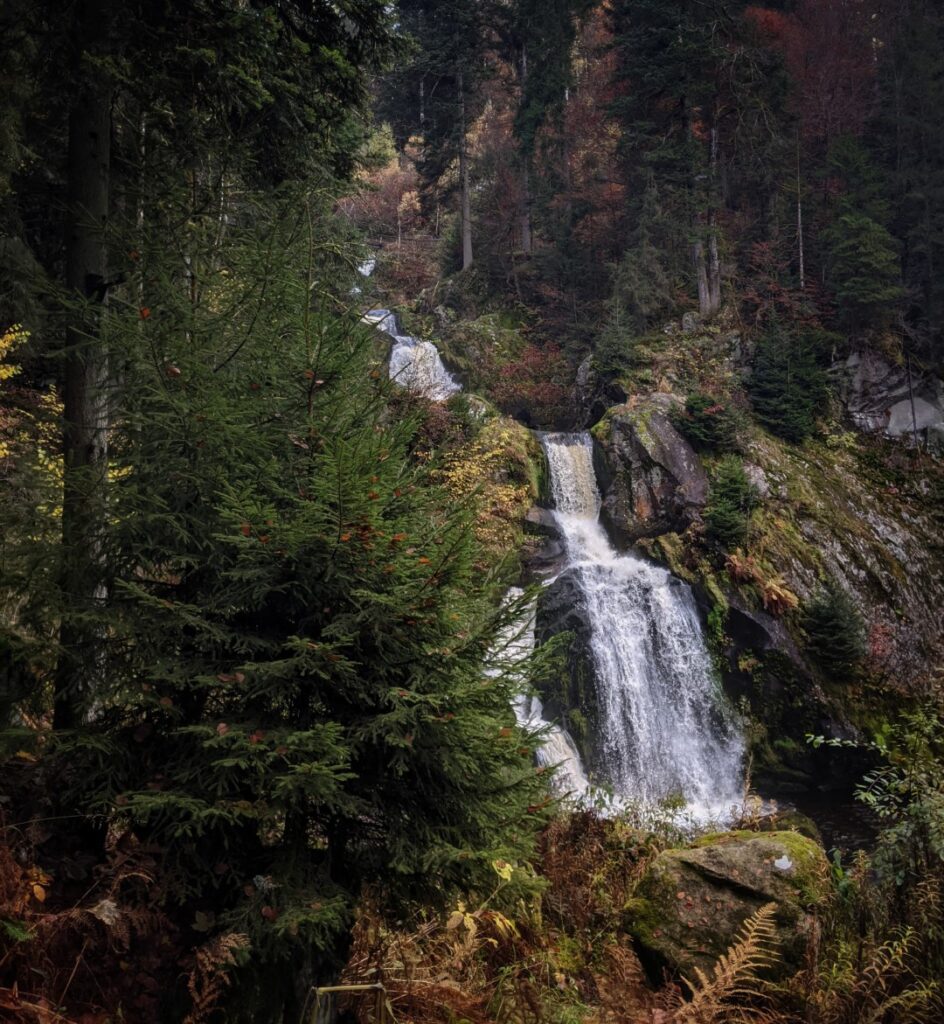 2000 years ago, when the Romans first came to this part of Germany, there were no cute, quaint towns nestled into the dips and valleys of the land. Instead, the entire area was a thick, dense forest of mostly spruce trees. From a distance, it was so thick and dark, that the Romans called it, "Silva Nigra" (Black Forest)
What is the Black Forest Called in Germany?
Schwarzwald, or literally, "Black Forest"
Why is the Black Forest Famous?
The area of the Black Forest is a beautiful, mountainous area, which lends itself easily to great activities for nature and outdoor lovers such as skiing and hiking. The area is also filled with flowing waterfalls. All of these things are common tourist activities, making it a popular destination.
The Black Forest is also famous for:
Cuckoo Clocks: The very first Cuckoo Clock as we know it today was made in the Black Forest town of Schonwald by a clockmaker named Franz Anton Ketterer. His invention took off in the region, with many towns specializing in the intricate and elaborate style of clocks.
Black Forest Cake: One of the most common ideas of how this cake came to be is that it took its inspiration from the traditional Trachten (clothing) of the women, who wore dark dresses and donned a hat with red pom pom looking balls. The cake itself is dark (like the dress) from the chocolate and the cherries resemble the balls. The Black Forest once was a popular place for growing cherries, and therefore locals made a liquor called "Kirschwasser" so naturally, it was easy to incorporate this into the regionally inspired cake.
What is Black Forest Cake Called in German?
Schwarzwälder Kirschtorte
(Black Forest Cherry Torte)