[This post may contain affiliate links where we earn a small commission. Please see our disclosure for more information and thank you for supporting our site so we can continue to bring you awesome content for your travel inspiration!]
I know, I know, most people just envision Germany as the land of endless sausages. While you aren't wrong, Germany is SO much more beyond tons of pork, wursts, and beer. In fact, there is so much German food for kids to enjoy, they will NOT go hungry!
Whether you are looking for foods for picky kids in Germany (ahem, or ARE a picky eater yourself) or you are just looking for foods that you know your kids will enjoy that won't go to waste, some of the best German foods (Here are 20 Authentic German Foods you MUST try!) are loved by kids and adults alike. And no, it's not ALL pork and potatoes!!!
And lucky for you, I've got two great field testers who have helped me create this list after several years of living here with my own kiddos.
Don't Forget To Read
Eating Out at Restaurants with Kids in Germany
Eating out in Germany with your kids can be a really great experience. In general, kids are very well accepted in Germany, as long as they are polite and not extremely loud. I think the hardest part of kids eating in Germany is not finding food they will like, but rather keeping them from being too rowdy (I have kids on the younger side).
Having a bag of trinkets that will keep them occupied (coloring pages, figurines to play with, travel magnetic blocks, etc) are all great things to keep them busy.
Here are a few other things to know:
Especially in touristy places, it's not uncommon for the wait staff to speak English. Just ask "Sprechen Sie English?"
In tourist locations, there is often an English Menu, just ask if they have one
Restaurants are extremely accommodating to children. Need something without sauce? No onions? Plain? This is typically no problem if you ask politely
A high chair is called a "Kinder Stuhl." While they are common, I wouldn't say they are everywhere. If your little one NEEDS one, I recommend having something like this stuffed into your day bag that will convert any chair into a high chair
It's no problem to ask for an extra plate ("Teller") if you want to share a meal between people
If you are traveling in the summer, find outdoor Bier Gartens. Your kids can be a bit louder and many even have a playground right in the garden!!!
Not sure how much to tip? Read my Know Before You Go and FAQs about Traveling to Germany
Planning a Trip to Germany? Join Our Fantastic Traveling in Bavaria Facebook Group!
Here are some of my kids' favorite foods in Germany
Germany Breakfast Foods Your Kids Will Eat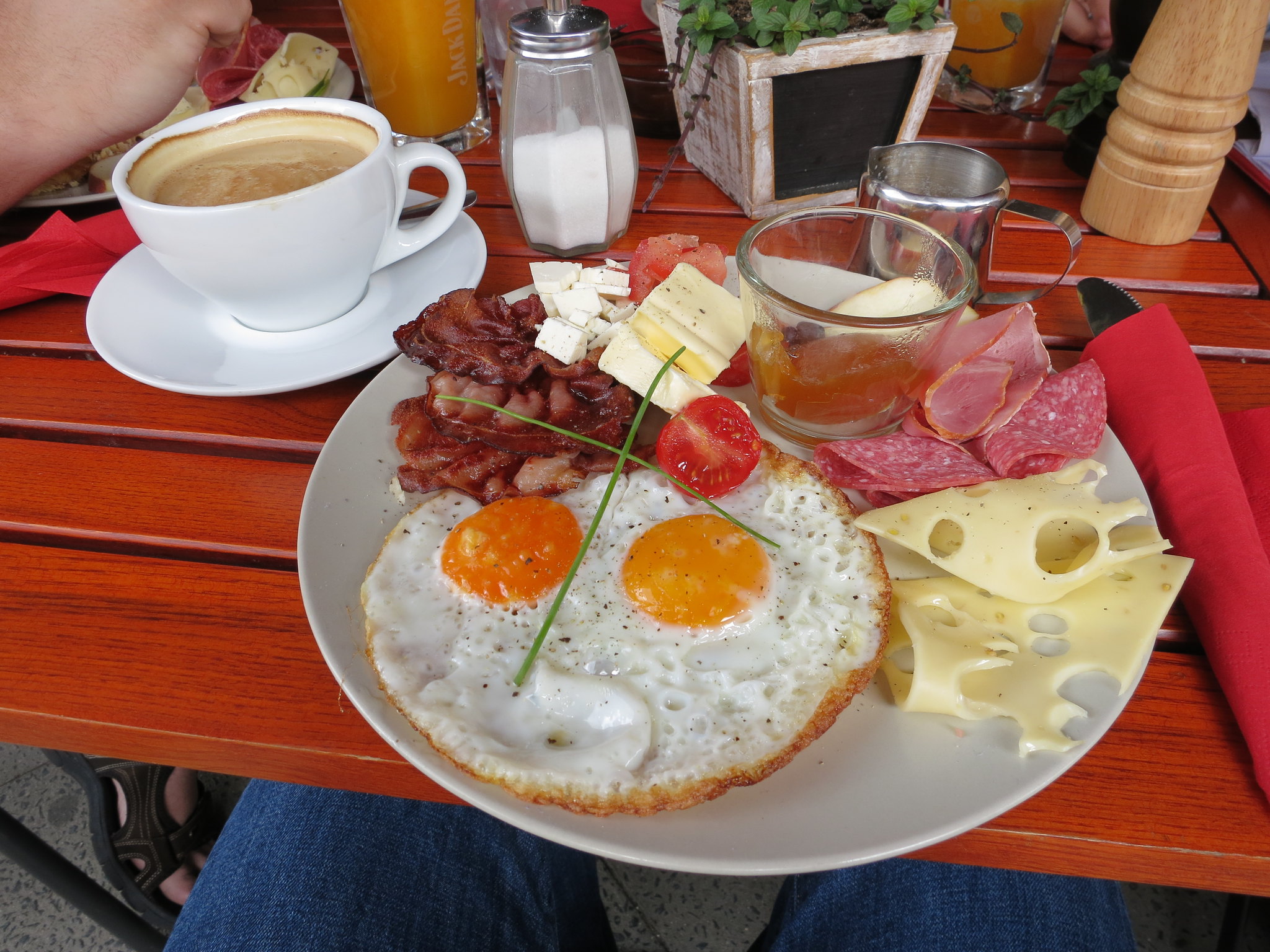 Let's start with breakfast. If you are staying at a typical Guesthouse or your hotel offers breakfast, you are in for a treat! The breakfast spreads are typically HUGE and your kids are sure to find something that will appease their palate.
You'll find things like:
Yogurt
Eggs
Bacon
Jam and breads (sooo many kinds of delicious breads and toasts!!!)
Cereal with milk as well as oatmeal and or muesli (an oats and dried fruit mixture, eaten with yogurt or milk)
Fresh fruits
Fresh pastries
Occasionally pancakes (but they will be flatter, not as sweet, and more often eaten with something like jam rather than maple syrup)
Most breakfast spreads will also include a ton of cold cuts, cheeses, and breads. You can make a "sandwich" out of all the fixin's for a hearty breakfast for the kids as well.
Popular German Foods that EVERYONE Loves!
Kinder Menus
At just about every restaurant you'll find a Kinder Menu (ask for one if not on the main menu). These are often just smaller portions of popular German food, but also you'll find things like a hamburger, chicken nuggets, spaghetti, etc.
Pommes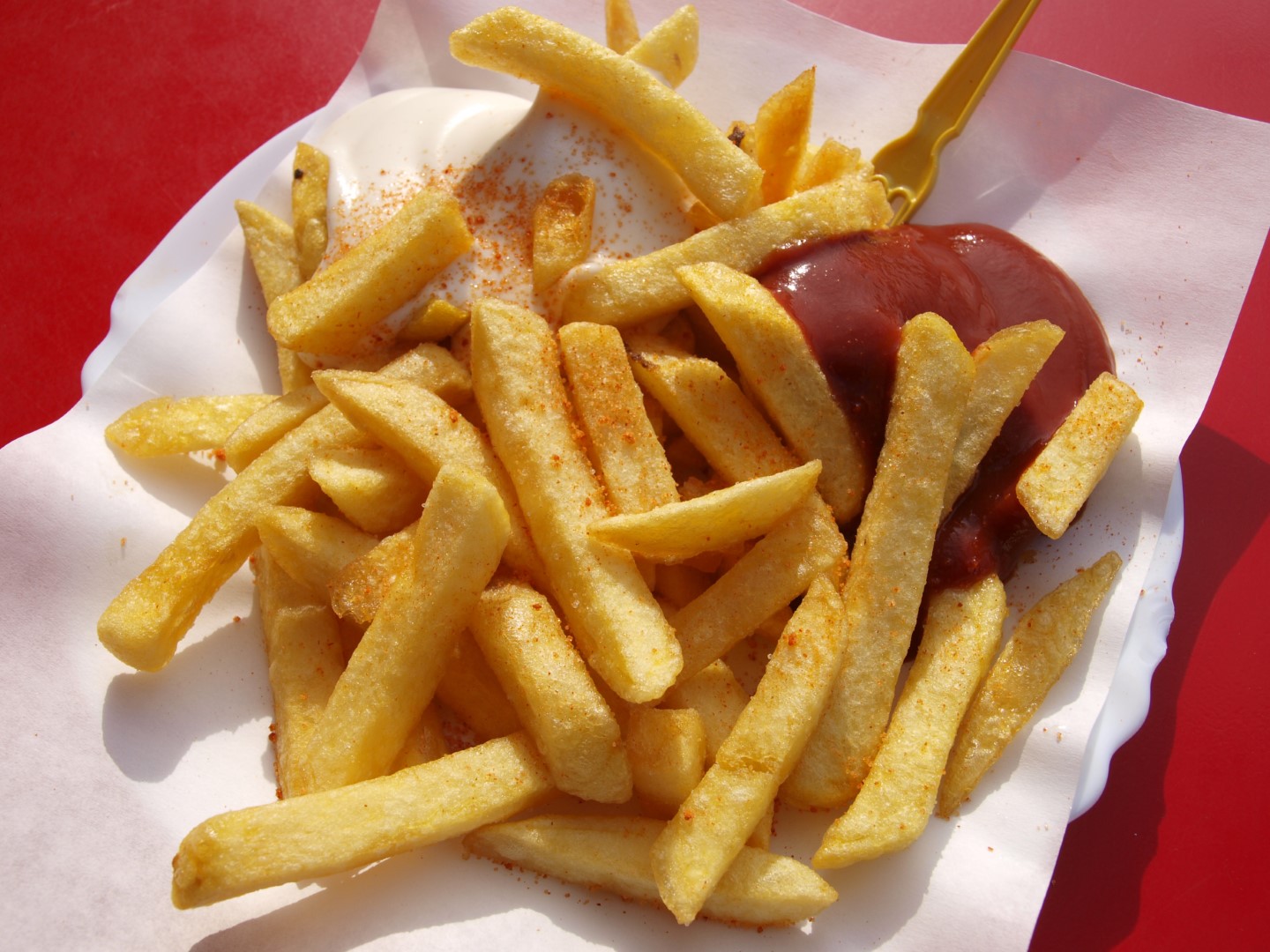 Who turns their nose up to french fries!? You'll find french fries (Pommes) on just about every menu.
Tip: If a meal comes with another kind of potato, you can typically ask for Pommes instead to share with the kiddos.
Note: Fries are often served with mayo here, if that happens and your kids would prefer ketchup, just ask for some, no biggie!
Schnitzel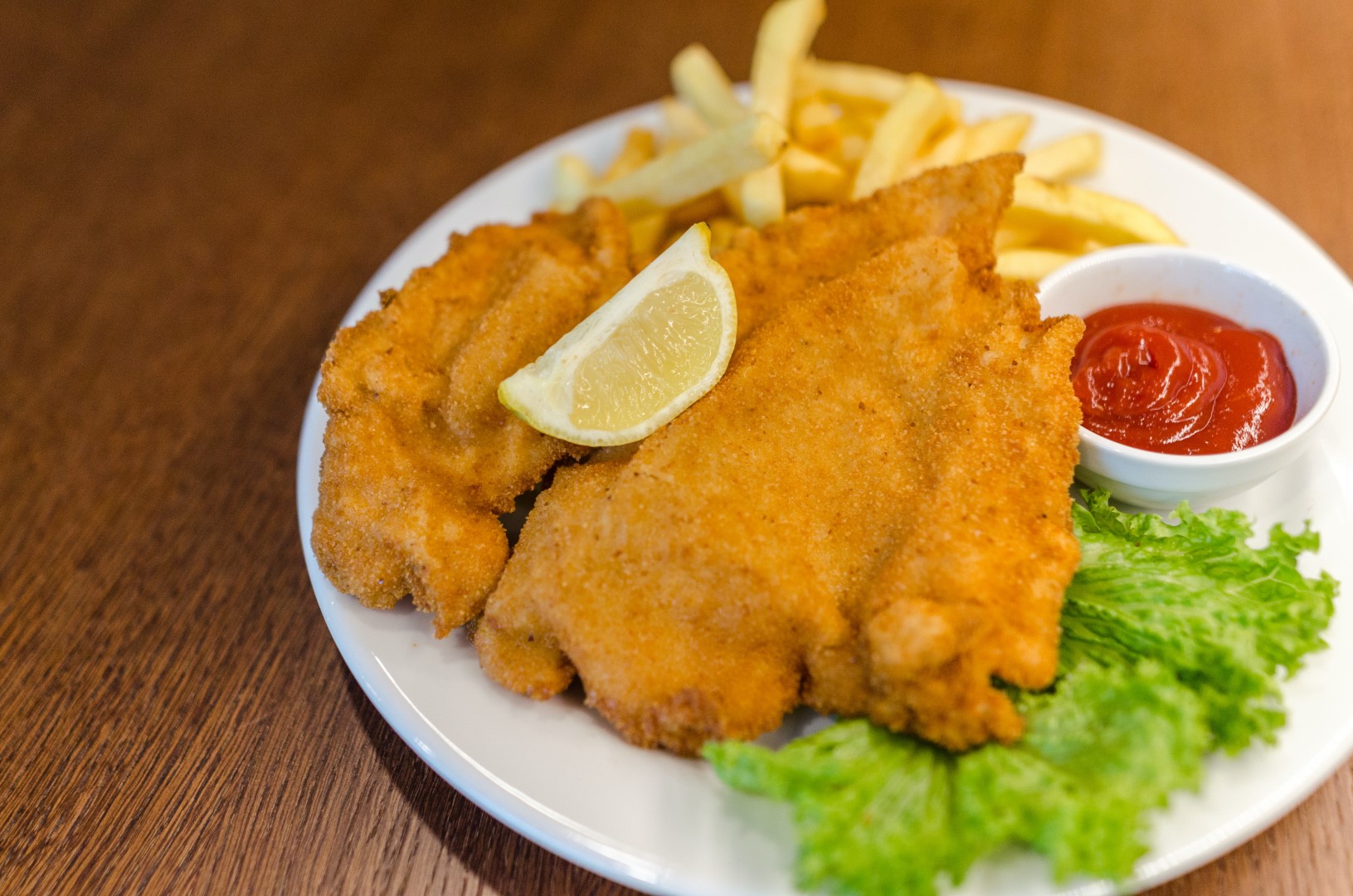 Often regarded as one of the best German dishes, Schnitzels are obviously found EVERYWHERE!
My friends just called this "Fried Chicken" with her picky eater and he immediately would gobble it up (It's actually pork, but they probably won't be able to know!) You can ask for ketchup for dipping if that will help sell the "chicken" concept for your kids!
Tip: Did you know there is something like over 100 kinds of Schnitzel in Germany??? Order the Wienner Schnitzle for the kiddos, that's the breaded and fried style.
Spätzle
A favorite food in Germany for all ages is Spaetzle, which is just an egg noodle. On the Kinder Menus, it may come with "Soße" which is a thin, brown gravy. My kids loved this, but if yours might not, just order it plain ("Ohne Soße")
Käse Spätzle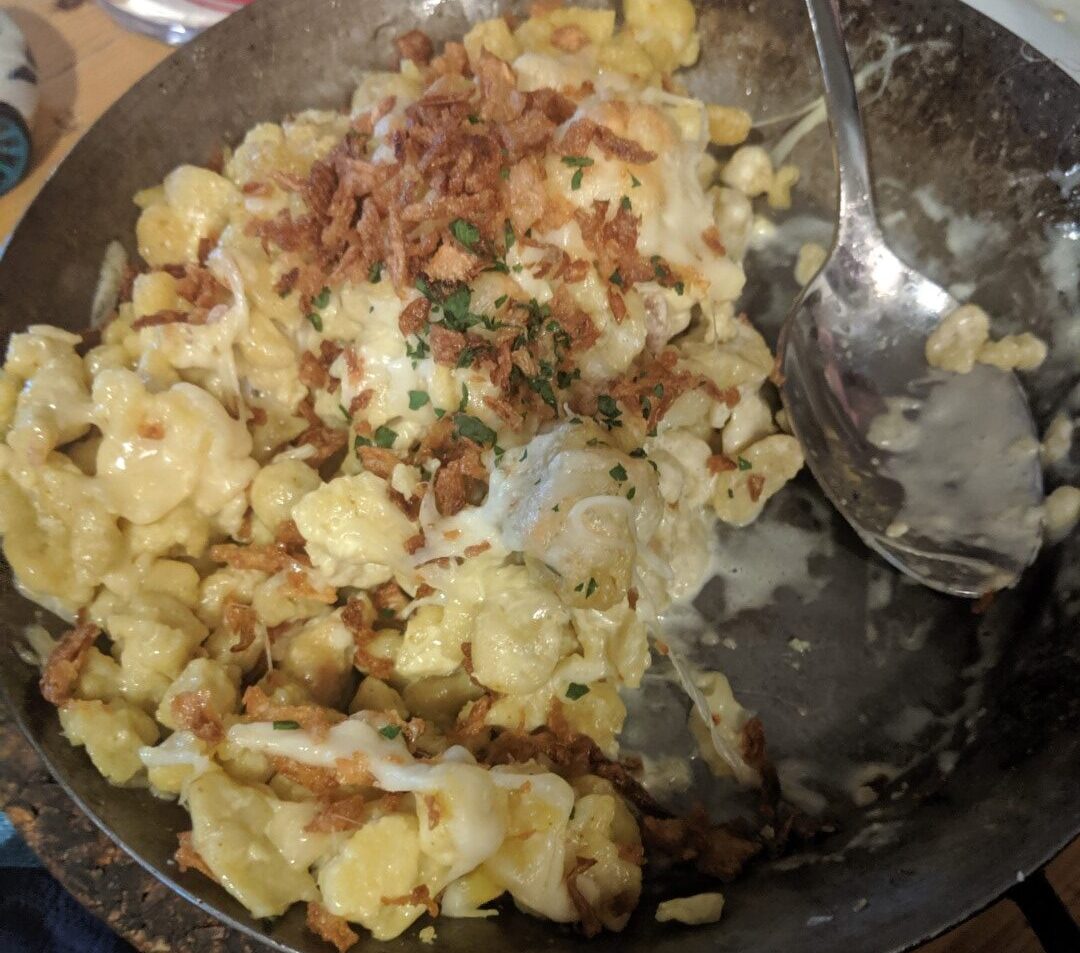 While this would clearly fall under the above, Kase Spaetzle really deserves its own section for German dishes for kids. Think gourmet macaroni and cheese (but hey, if the word "gourmet" also turns off your picky eater, just call it mac & cheese!). It is made with the classic German egg noodles and then a creamy cheese sauce is slathered all over it. You might find yourself eating your kids' portion it is so delicious!
Note: This typically comes with onions on top. If your kiddo will throw a fit at the idea of any type of vegetable (hey, no judgment here!) then just order it "Ohne Zwiebel")
Maultaschen
You'll find this more in the South and this one could be hit or miss with the kids. We just tell our children it's "Ravioli" and then they gladly eat several! Just keep the fact that it has some spinach (don't worry, you can't taste or even really see it) under wraps.
Note: This also comes with onions on top usually, just swipe them off.
Frankfurter Sausages
If all the plethora of kinds of wursts is overwhelming, just know that the Frankfurter is basically what Americans know as hot dogs. Toss some Pommes on the side, and your kid will chow down happily!
Bratwursts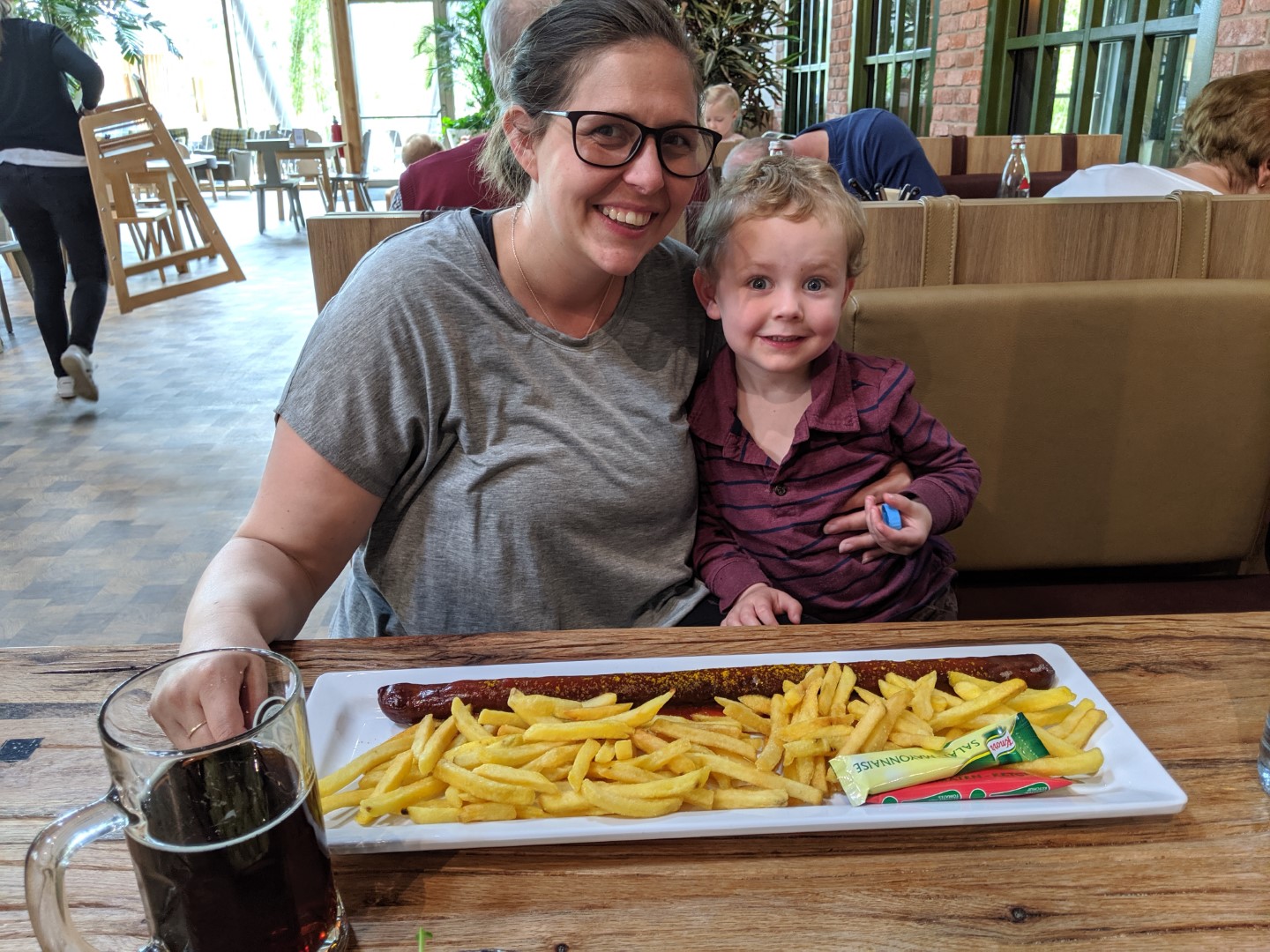 Obviously, wursts are another famous german food. There are plenty of kinds of wursts that kids will most likely like.
A Nuremberger is similar to a breakfast sausage. My kids LOVE currywurst (it's not spicy- just tell them it's a special ketchup, which actually IS the truth!) A Knackwurst is somewhat similar to a polish sausage and a Bock wurst is kind of like a giant hot dog (this is sometimes what the currywurst is made from, so if you find a currywurst, you can always just ask for just the sausage and no sauce for your kids).
Kartoffelpuffer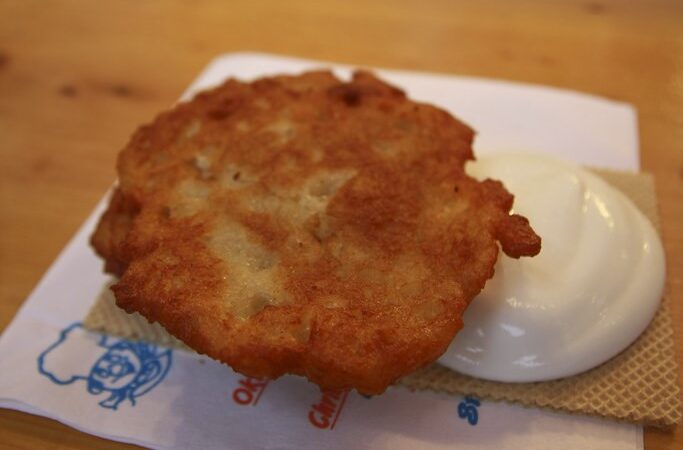 Depending on where in Germany you are traveling, this may have different names. But at the end of the day, just tell your picky eater that it's hashbrowns! These grated potato patties are fried up and often served with applesauce (what kid doesn't love applesauce?) or a sour cream style dip.
Other names you might see that are the same thing are: Reibekuchen, Reibeplätzchen, Reiberdatschi and Grumbeerpannekuche.
Pizza
For a country that is known for its meats, Germany actually makes some great pizzas! They are typically thin crust and often made in a wood oven. You can keep it simple with just a plain cheese (Käse) for the kids, or with a plethora of other toppings.
Note: There really is no "pepperoni" here in Germany (at least not what Americans think of pepperoni). In fact, if you see "Pepporoni" on a pizza menu, it will actually be a spicy whole pepper. The closest you'll find to pepperoni for pizzas is "Salami."
Also know that "Paprika" is (bell) Peppers, and not the spice.
Flammkuchen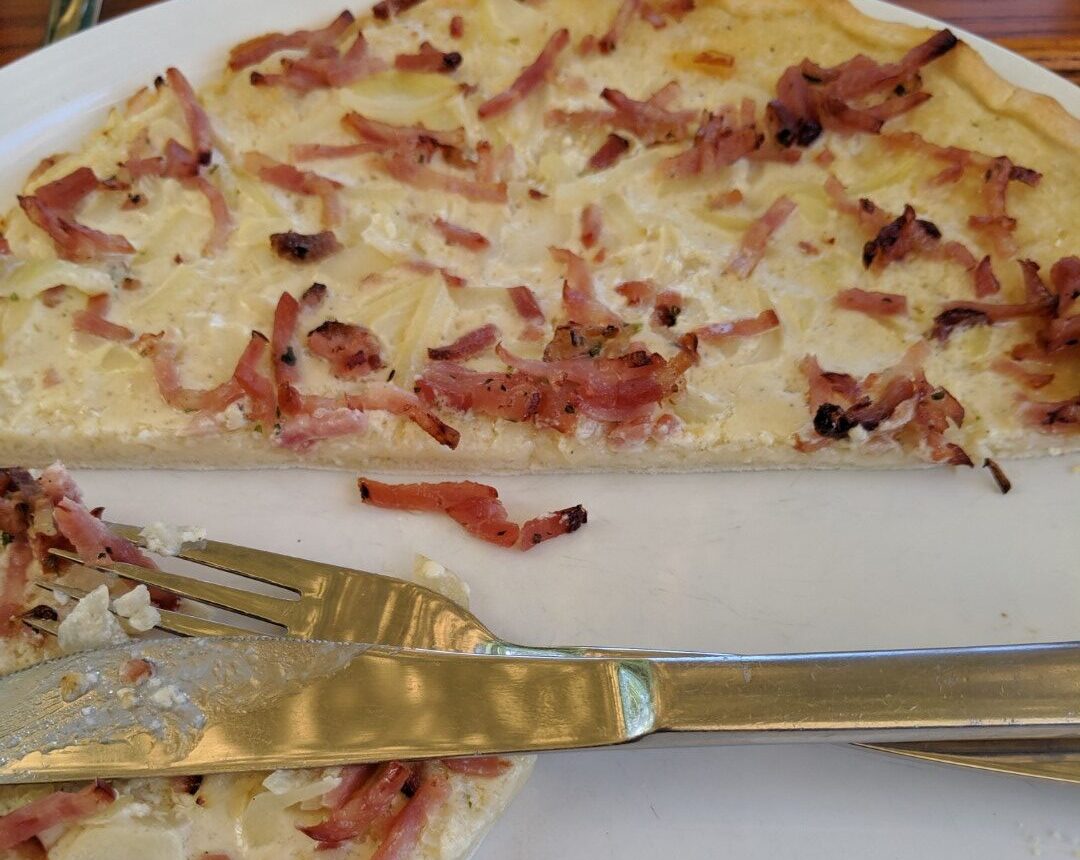 This may be another hit or miss with your kids, but mine devour Flammkuchen like it is going out of style! It is a very thin, crispy crusted pizza but instead of a red sauce, they use a "crème fraîche" mixture (which is something kind of in between a sour cream and a cream cheese) and topped with onions and bacon!
Doner Kebabs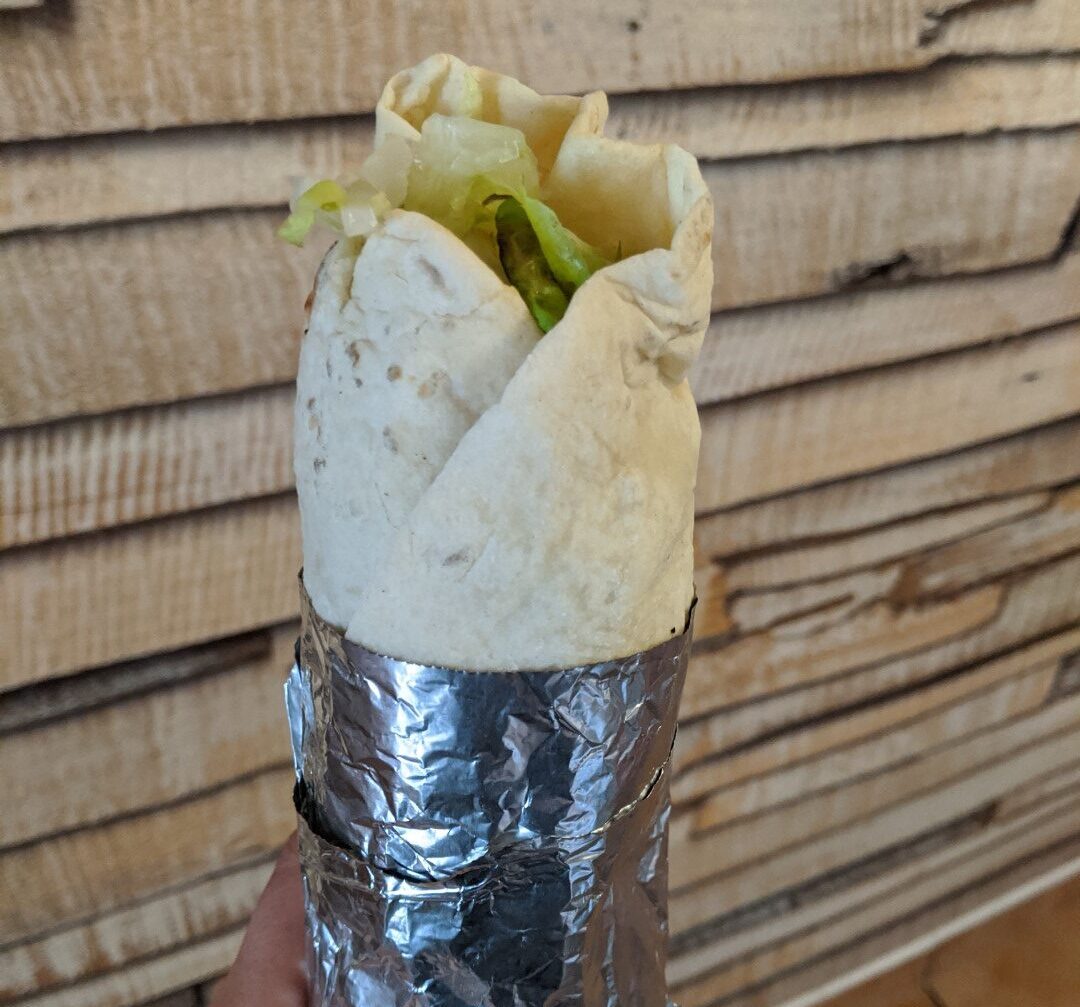 While you are in Germany, you absolutely, positively, MUST get a Doner. Even if your kid scoffs at them, I will never forgive you if you don't stop at a stand at least once (or if you are like me, at least once a week….shhh).
What is a Doner? It isn't too far off from a Gyro, and just might be one of Germany's favorite fast foods (besides Curry Wurst). You can get a normal Doner (with a pita like pocket of bread, shaved meat from a spit, and then your choice of toppings like lettuce, tomatoes, etc with a creamy sauce drizzled all over).
Personally, I LOVE the Dürüm Döner!!! It kind of looks like a Chipotle burrito all wrapped up in the tin foil. Instead of the pita pocket, the bread is rolled flat and baked like a flat bread.
But, what if your kids don't want any of that??
Try a Doner Box. It's like the Doner, but instead of bread, it's all piled on top of a huge pile of french fries! You can put anything you want in it from the Doner. Our friends who have EXTREMELY picky eaters literally just ask for the Doner meat and fries and that's it! (Personally, I think the sauce is one of the best parts though)
Get a Pizza. At just about every Doner shop, they also bake up fresh pizzas. That way, YOU get your delicious Doner that you'll be tempted to fly back to Germany JUST for another and your kids get something they want to eat as well.
Tip: My 5 year old son actually loves the Doner Pizzas (normal pizza with the Doner meat), but they also just have cheese pizzas available as well.
From The Backerei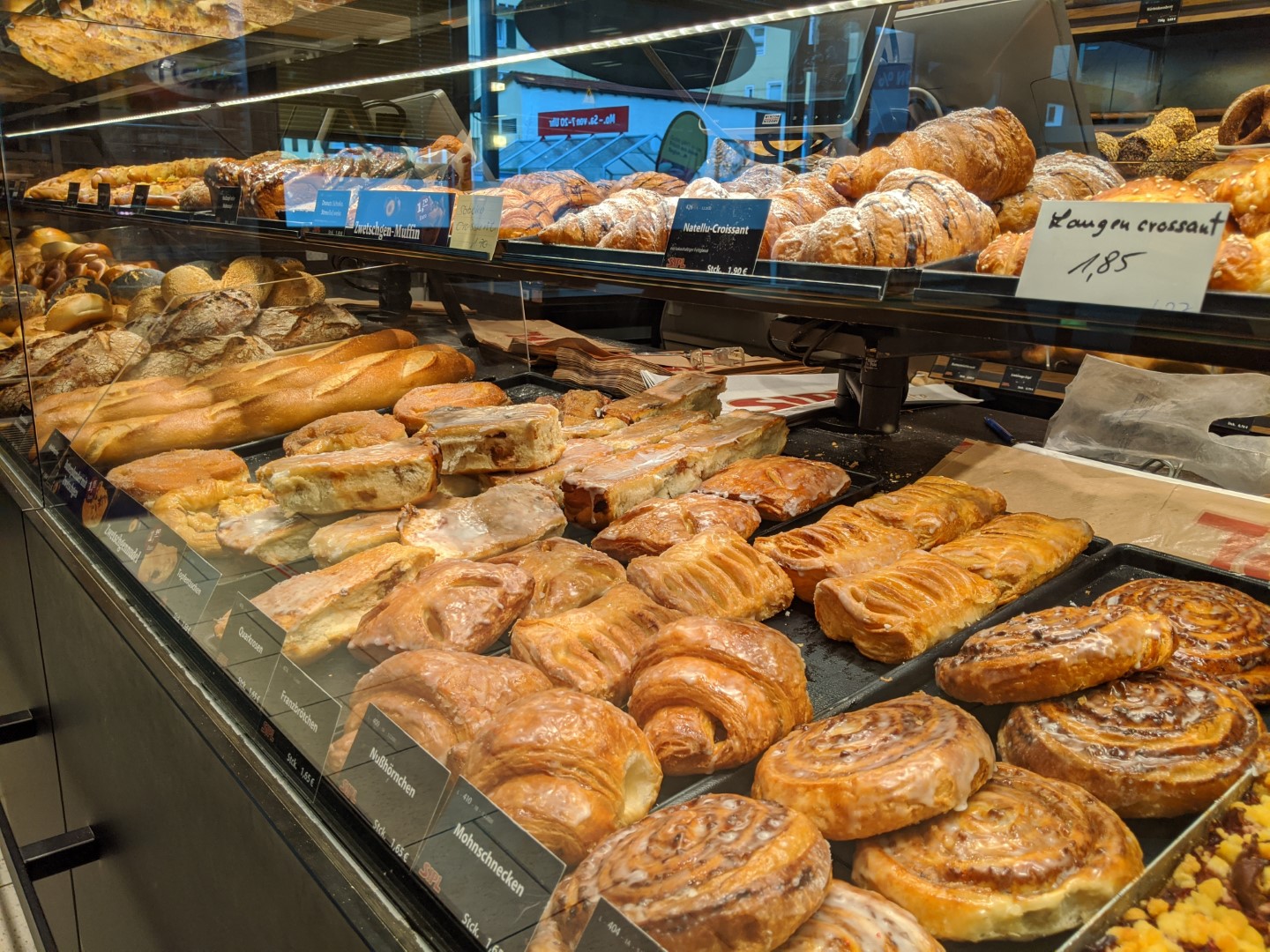 Just send my kid into the German Bakery, and we'll be set for food for the day. Hey, I didn't say they would be healthy or balanced foods, just that they will be fed and happy!!!
Pastries
You really just can't go wrong. Point to anything and I'm sure it will be delicious. Here are a few that are our go- tos:
Milkbrötchen: A slightly sweet roll. Some may even have chocolate or raisins in them
Croissants: Plain are so good, but yes, there are the chocolate and even Nutella filled ones, as well!
Berliner: Basically a doughnut
Quarkbällchen : Pretty much like doughnut holes
Quark Filled Anything: There are tons of different quark filled pastries and we love them all!
Fruit Filled Anything: Same as above, if you prefer a fruit filled pastry, just take your pick from the lot!
Schneke: There are a few different kinds of "Schneke" but I like the hazlenut ones, they are almost similar to a cinnamon roll
Anything With Nutella
Croissants with Nutella inside is a fan favorite in my fam!! We also love to get fresh pretzels from the bakery and get Nutella from the grocery store to "dip" the pretzels in.
You're Welcome.
Pretzels
There are so many different styles of pretzels, and they ALL deserve a try! While pretzels make a great snack any time of day, we love to load up with a bag of Brez'n for road and train trips!
Salted or not
Pepper (Pfeffer)- shockingly a great combo!
Käse Brezn: Pretzles with melted cheese on top
Speck und Käse Stange: A stange is like a (small) pretzel loaf instead of twisted up. I LOVE the cheese and bacon ones!!! Sometimes this is my breakfast it's so good!
Sandwiches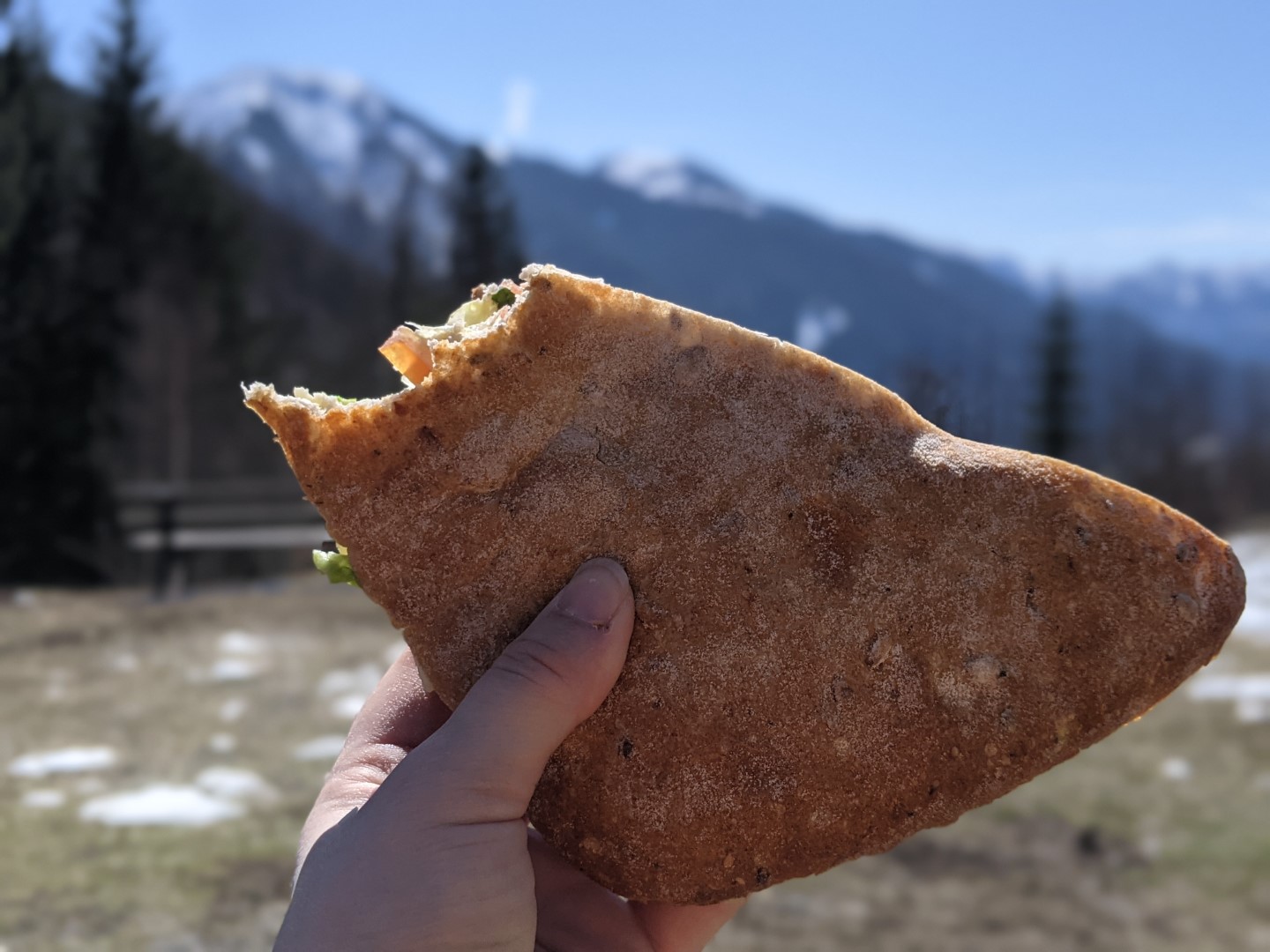 While there are plenty of treats at the bakery, there are also some fantastic lunch finds as well!
My kids favorite is often a schnitzel sandwich or a Salami Baguette (if it doesn't have too much else on it). There are plenty of other kinds as well. For example, another great one is a mozzarella and tomato sandwich on ciabatta.
German Treats For Kids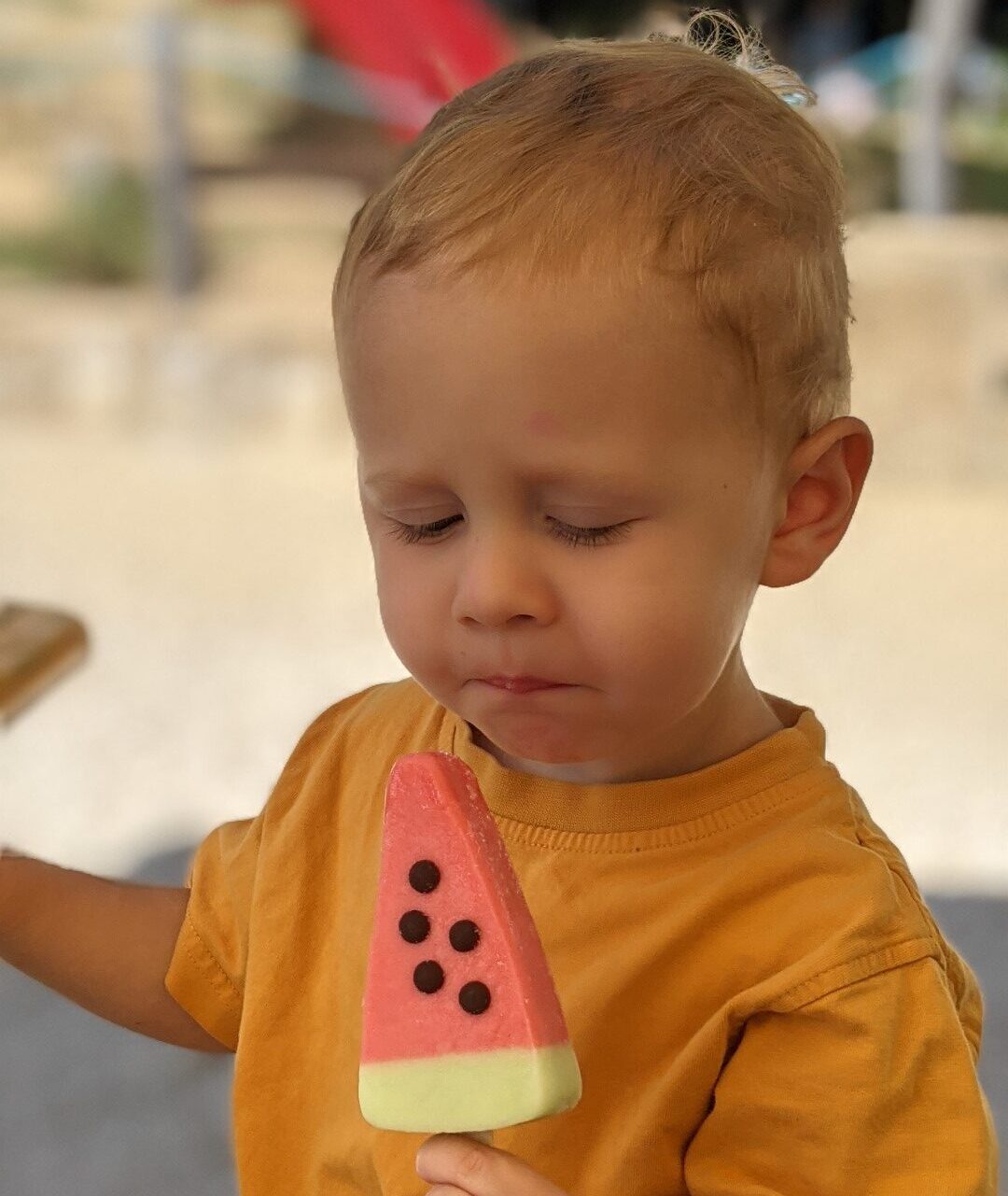 Bakery Treats
If you are looking for a sweet treat for the kids, we usually head to the bakery and pick something from the above list.
Eis (Ice Cream)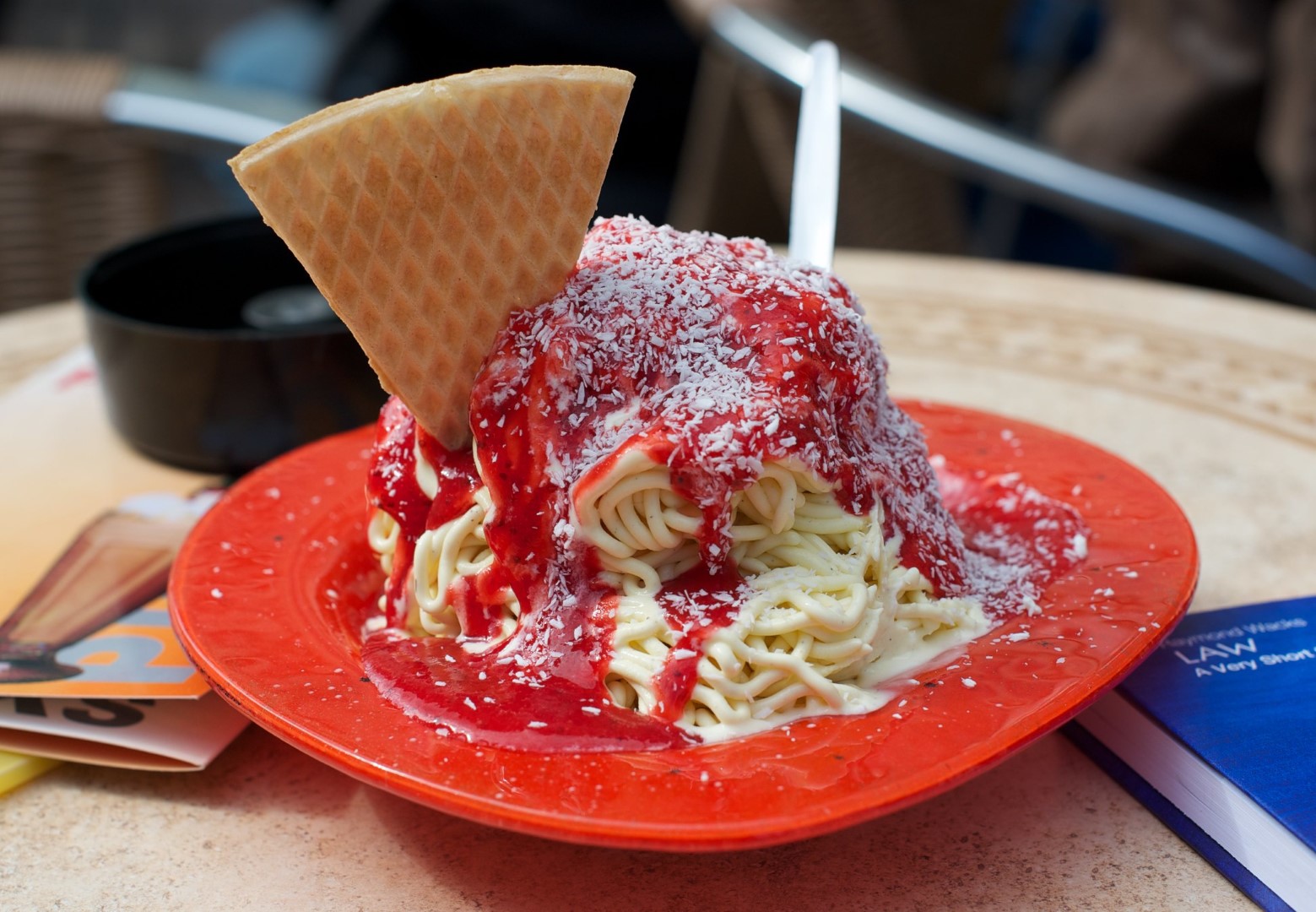 Another treat that you'll find everywhere is "Eis." Some Eis stands are homemade ice creams, others are more of a gelato style of ice cream, but really, you can't go wrong! And I love that they are sooo cheap!!!!
A "Kugel" is a scoop, so get a few different kinds to try out as much as you can!
However, if you want to go full German, then try a Spaghetti Eis.
A Spaghetti Eis you scream (I scream)!? Who wants to eat ice cream and spaghetti!?!?
I'm not sure who was making ice cream one day and thought to themselves, "Gee, I bet ice cream that LOOKS just like spaghetti would be hilarious!" buuuut, I kind of want to be their friend. The "noodles" are vanilla ice cream and the "sauce" is usually a strawberry sauce!
"Spaghetti Eis" is a must-try for your "german food list" and your kids will get a kick out of it!
Hanuta
For a sweet little treat, try a Hanuta. It's like a waffle cookie that has basically Nutella slathered on the inside. You'll find these at most grocery stores near the chocolate section.
German Chocolate
Speaking of chocolate, just head to any local grocery store and you'll find the aisle of chocolates. Here are some of the most famous (and delicious) German chocolate brands:
Ritter Sport: There are SO many different kinds and flavors of Ritter Sport, you are sure to find one that everyone loves
Moser Roth: While the most easily found are just the straight chocolate bars (and dark chocolate) they also have ones like Chili or Orange
Kinder: I know the US now has Kinder Eggs, but these used to be ALL the rage, and they are still fun for kids. Kinder is a whole brand now, but the "Surprise Eggs" (with a little toy inside the chocolate egg) is still one the most popular chocolate items
Milka: You'll find the Milka brand all over since it is made here, but if I have to be honest, I prefer the above brands better, mostly because of a wider selection
Kaiserschmarrn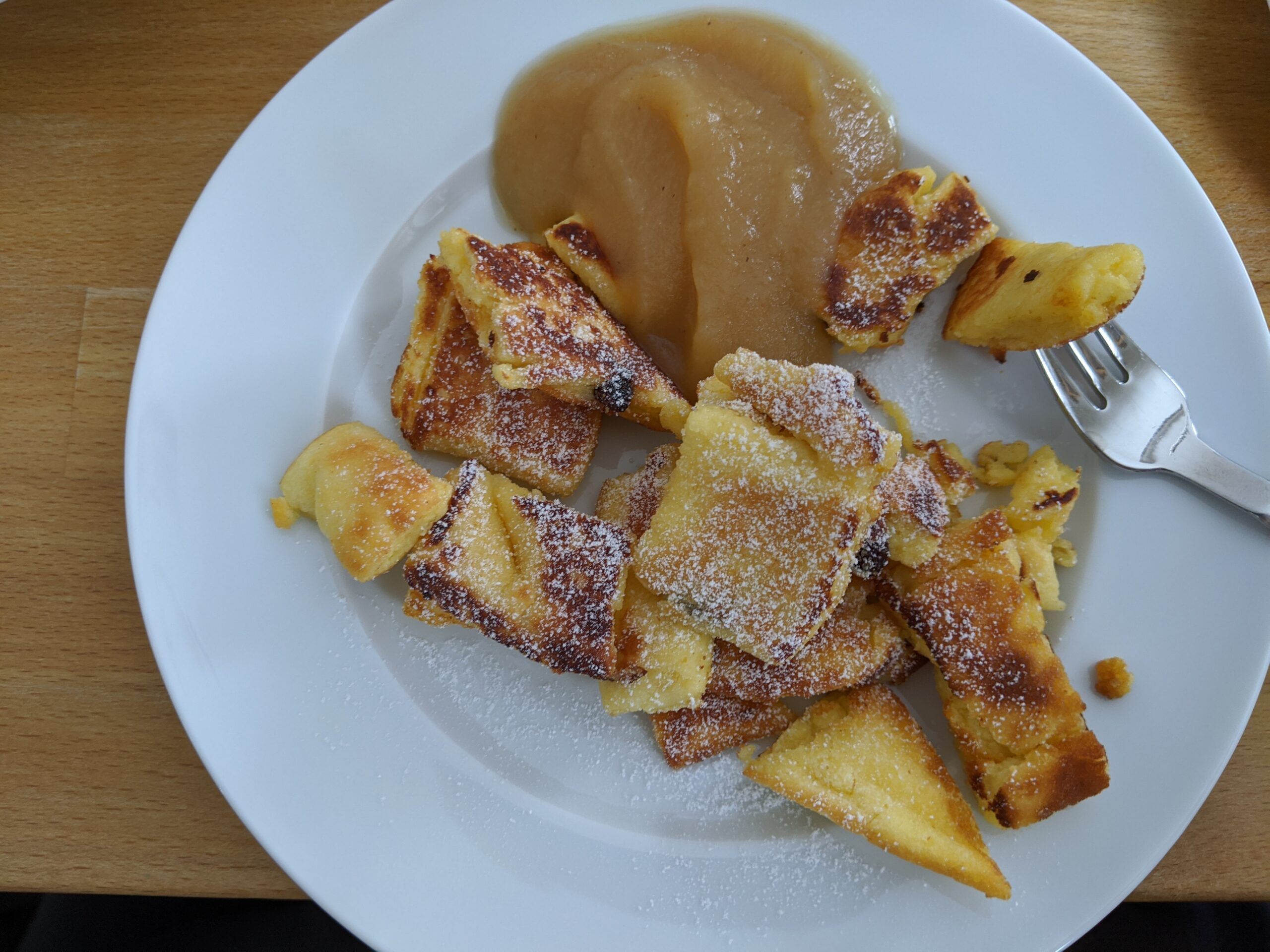 This delicious food is more commonly found at things like the German Christmas Markets or if you are following my 10 Days in Bavaria Itinerary, then you might come across it in the more Southern parts of Bavaria.
Kind of like a "pancake" this fluffy, slightly sweet bread is cut or torn into small bite size pieces and then showered with powdered sugar. Add a plop of apple sauce to the side (which is the traditional way to serve it) and your kids will gobble these up in no time!
German Snacks For Kids
Since you have kids, you know how important it is to always have a stash of snacks ready to toss at them at any given moment. Luckily, you'll be able to find plenty of snack food in Germany that will either be similar enough to what they are used to (or day I say, better?) or fun, new stuff for them to try.
I love German food snacks (Yes, for myself!) Stop into any local grocery store and load up on some snacks to help curb angry bouts of hunger on long days of sightseeing. Of course, you'll be able to find things like fruit, tiny yogurts, chips, candy, etc. But here are a few of my favorite German snacks for kids to get
Fruit Bars (Obst Riegel)
My kids love the German, on the go, fruit bars. They are made mostly with just fruit, so they are a great grab and go snack
Käse Stange
These little sticks are kind of like a hardened puff pastry and come in a few different flavors, but my kids naturally love the cheese ones. They are often found near the chips
Meat Sticks
Another super easy snack to grab is at the meat counter of a store or even just the pre-packaged within the store (often on a corner aisle) are the meat sticks. Again, like wursts, there are a lot of different kinds, but you really just can't go wrong. Toss these in your day bag for something to munch on when hunger strikes
Pretzels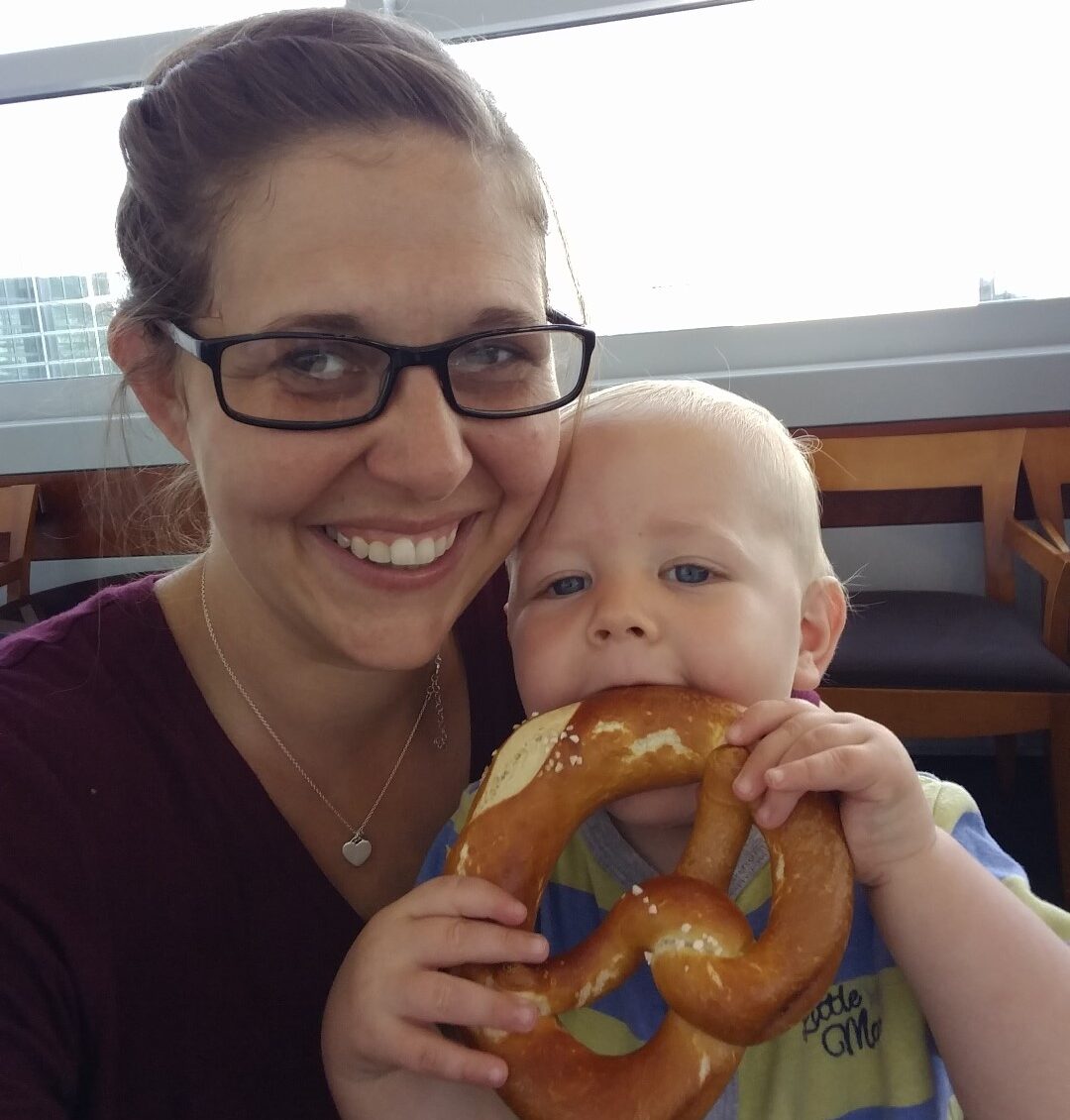 You can clearly see that there really is no wrong time for this classic, German favorite food!
Erdnuss Flips
Imagine the fluffy Cheetos. But instead of cheese, replace with peanut butter. You'll either love them or hate them. There is no middle ground!!!
What To Drink in Germany that is Non Alcoholic?
You may think that beer runs on an endless tap in Germany (again, not entirely wrong!) but for people who can't (or don't want to) drink, there are tons of great options.
Wasser
Remember, in Germany, water WITH gas (carbonation) is extremely popular and if you order a water at a restaurant, if you don't clarify which kind (or they don't ask), you will presumably just get mineral water with gas automatically.
Tip: If your child (or you) wants "normal," water, order your "Wasser ohne gas, bitte."
Note: "Tap" water isn't much of a thing here, even if you ask for it, you will get disgusted looks in return. Even when you order "Still Wasser" (non bubbly) water, expect it to be bottled and for you to pay for it. Yes, that is correct, the beer is often cheaper than the water here!
(When we first arrived I was adamant that it was ok to just have tap water. They finally said ok, and STILL gave me a bill for a glass of water, despite it just being from the sink).
Apfelschorle
This is a kid favorite! It is half apple juice, half bubbly water.
Saft
Anything with "Saft" after it is going to be a fruit juice. Some of our favorites are:
Apfel (apple)
Trauben (grape)
Orangen (orange)
Multivitam (multi vitamin) is also a very popular one in Germany
Spezi
Spezi is diabetes in a bottle! It is half cola, half orange juice. And it is delicious. I couldn't drink enough of this when I first visited Germany when I was 15!
Limonade
THIS IS NOT LEMONADE! I repeat, it is not what you think of as "Lemonade!"
If you order a Limonade (Pronounced like "Lemon-ah-day") you will get something more akin to a Sprite Soda.
Cola and Cola Light
There aren't a ton of soda flavors at restaurants or even grocery stores. Other than Spezi and Limonade, you can expect to see Coke and "Cola Light" (Diet Coke).
Kinder- Cinos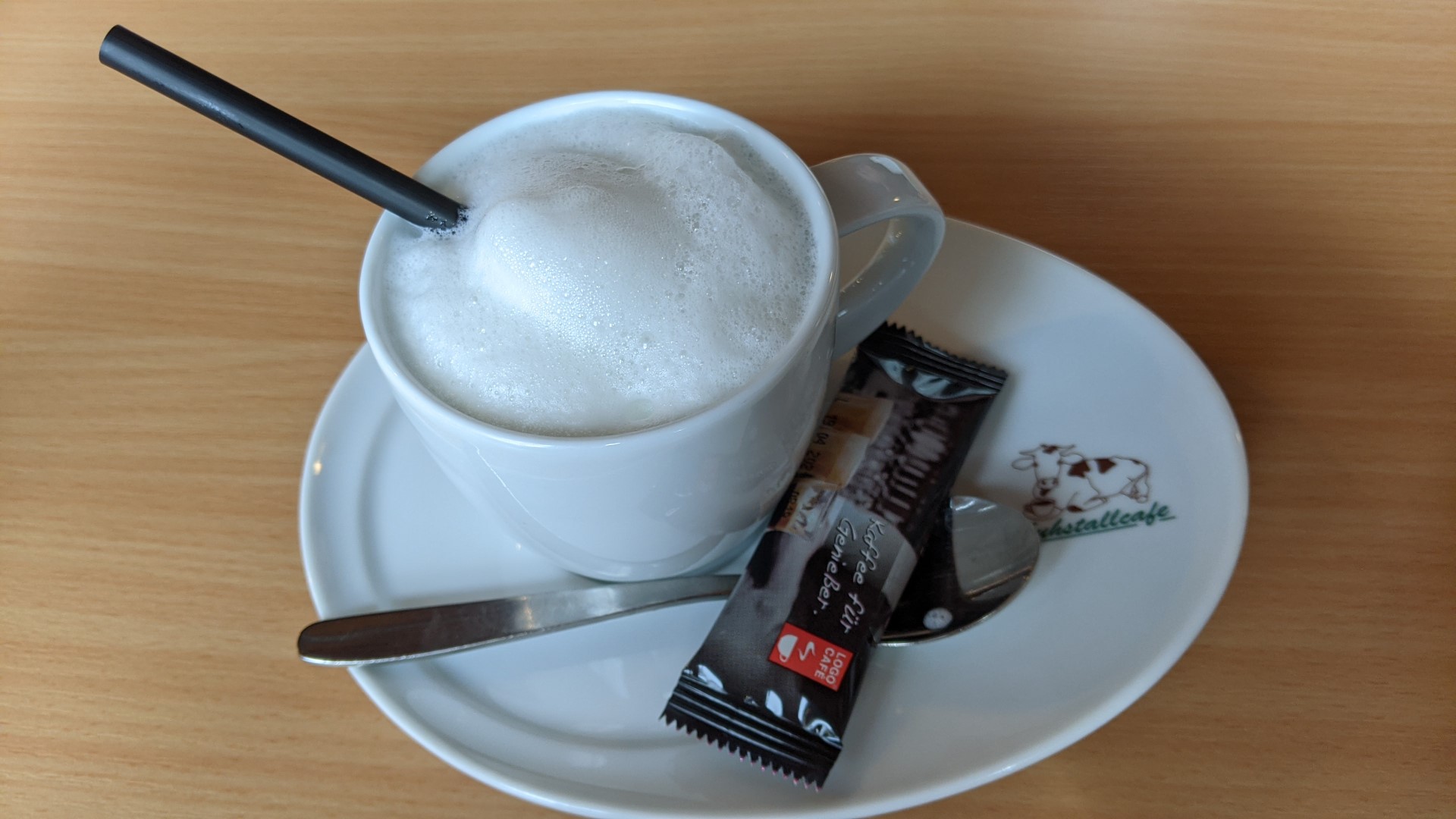 One of my favorite things to do in the afternoons while traveling is to grab a Latte or Cappucino on a town square (like in one of the most picturesque towns in Germany) and just people watch.
Ask for a "Kinder- Cino" for the kiddos, which is just warm, foamed milk. The kids love this and feel like they are having a fancy, schmancy coffee, too!
What Are the Drinking Age Requirements In Germany?
If you are traveling with older kids (teens) the rules here in Germany for drinking are much different than what you are used to in the US. Obviously, this is a conversation and decision you can agree upon within your own family
14 Years Old – Adolescents 14 and over may drink beer and wine if with their legal guardian/ parent
16 Years Old– Adolescents 16+ may drink beer or wine with or without the presence of their parent/ guardian
18 Years Old – Young Adults over 18 may drink any alcoholic beverage, including spirits and hard alcohol.
What WIll YOU Eat in Germany?
Obviously, this is just the tip of the iceberg when it comes to delicious food in Germany, but this should at least give you a start on what your kids can eat in Germany without TOO many complaints and rumblings from them.
And remember…when all else fails….pizza and pommes!!!