[This post may contain affiliate links where we earn a small commission. Please see our disclosure for more information and thank you for supporting our site so we can continue to bring you awesome content for your travel inspiration!]
"Our sled is going to go faster than the Autobahn!!!" My 5 year old exclaimed to his Gramma over Facetime as he couldn't contain his excitement about our upcoming trip to go sledding in the Alps at one of the best toboggan runs in the Alps in Germany. While I explained to him that his once adrenaline junky Mom was probably not going to allow my 5 year old to go at lightning speed, little did I know just how fast we were actually going to go!
You Might Also Be Interested in Reading:
Pfronten Sledding- Breitenberg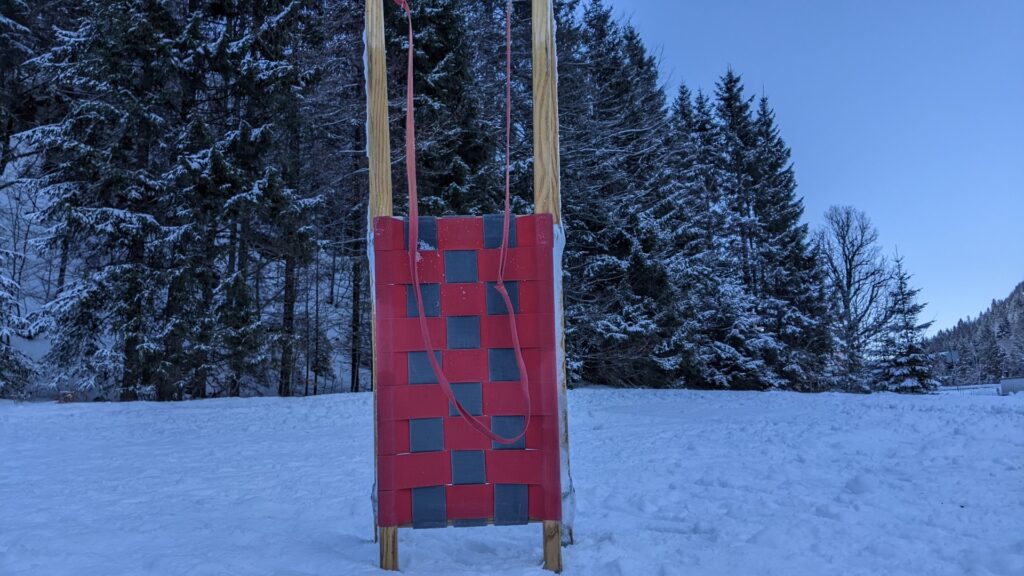 While there are actually a ton of great options for sledding in the Bavarian Alps, I had recently seen a video about Pfronten Allgäu being a fantastic place for those stunning mountain views and a ton of Alpine sledding options AND that it was perfect for families.
After much research, I decided the Bucketlist Junky in me wanted to to the Breitenberg Tobogganing since it had the longest toboggan runs in the region. I knew we had to give it a try!!!! Besides, Bavaria in winter is like a true winter wonderland! It's gorgeous! So I couldn't wait for a little weekend retreat with the fam soaking up the sights.
Looking for more local ideas of things to do? Join Our Fantastic Traveling in Bavaria Facebook Group!
Details
Starting Point: Breitenbergbahn (Cable Car Station)
Ending Point: Achtal (there is a bus that will return you to Breitenberg)
Length: 6,5 km/4 miles long (approx 30 minutes to descend)
Highest point: 1677 meters– Altitude: 846 meters
Ascent: 5 meters
Descent: 660 meters
Opening Hours: 9am- 4:30pm
Last Bus Back: 4:42 pm (Note- if are are going in November-January, it will be dark by this time)
Breitenberghan Website: https://www.breitenbergbahn.de/de
Where it Is and How to Get There
Pfronten is a municipality in the Eastern Allgau region of the Bavarian Alps, so it is an "area" more than just a town (It actually encompasses about 45 villages/towns). It is right on the border of Germany and Austria and has some of the best skiing in Germany as well.
The Pfronton area is only about a 30 minute drive from the famous Neuschwanstein Castle, so naturally, this area has plenty to do and see beyond just the sledding (or skiing)! I'll go into our specific weekend itinerary below.
I chose to go sledding at Pfronten Breitenberg because of its:
Family Friendly/ Easy Reviews
Longest German Toboggan Run in the Region (Allgäu)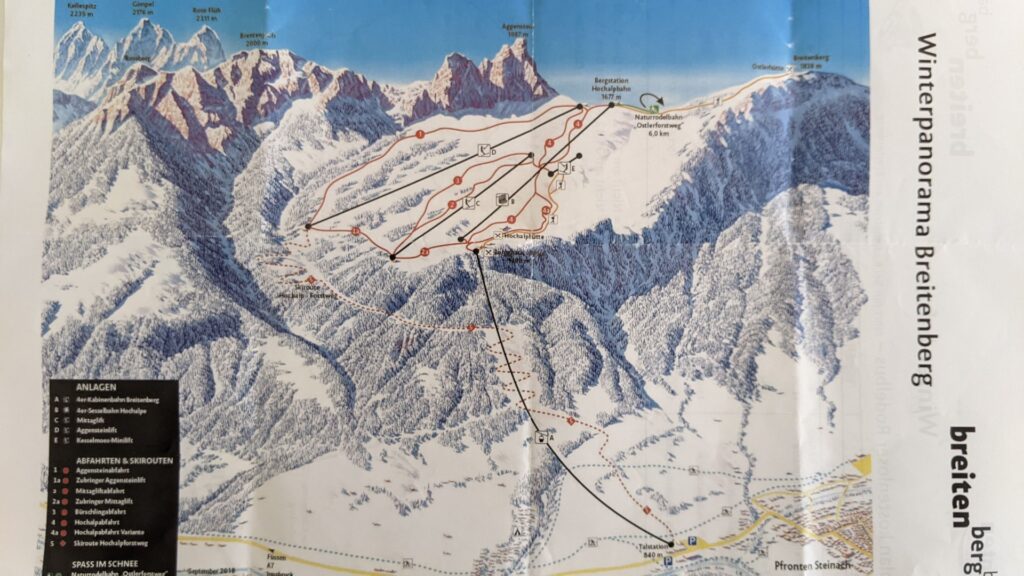 Munich To Pfronten Bergbahn
Address: Breitenbergbahn Pfronten, Tiroler Str. 176, 87459 Pfronten
To go sledding at Breitenberg, you'll need to get to the Breitenbergbahn Gondola Station first.
By Car:
If you are driving in Germany, it's a pretty easy drive to get to the area. You don't need tire chains or anything besides the mandatory winter or all season tires on your car.
By Train:
If you are using the trains in Germany, there are several routes you can take from Munich, the most direct one taking only 3 hours from the Munich HBF straight to the Bergbahn on the RB60(5516) train in the direction of Pfronten-Stein. You'll get off at the Pfronten-Steinach stop and walk only about a minute to the Bergbahn.
Tip: Use the Bayern Pass when traveling by train in Bavaria.
Breitenberg Alpine Sledding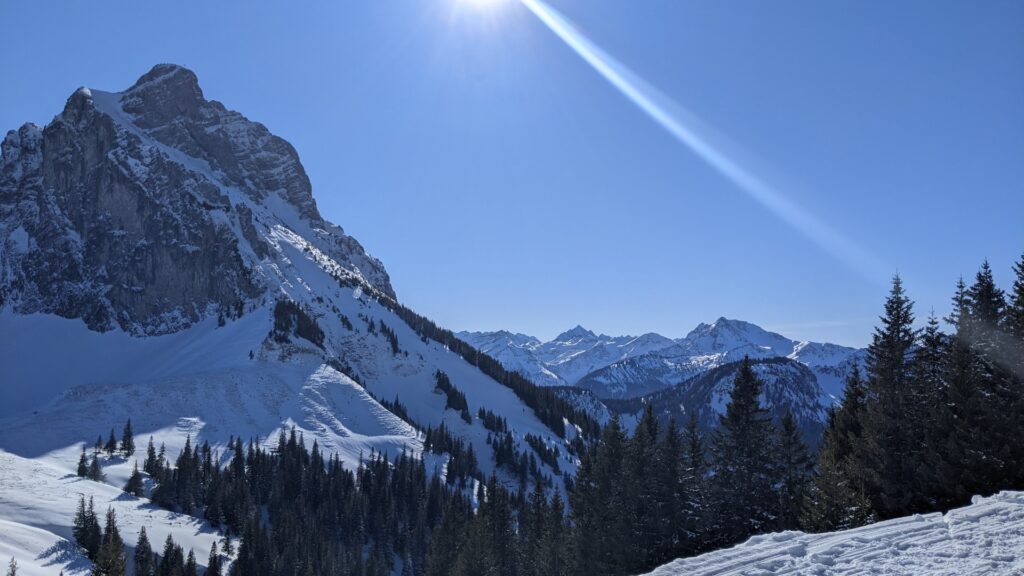 Despite my research, I still had a lot of questions going into our "Mommy and Me" day with my kiddo. I roughly knew where to go but other than that, I had lots of questions about what the day would bring, so hopefully, you'll find the rest of this guide helpful when planning your own day out on the slopes!
Here is how our day went, what I learned, and what advice I'd give to others now that I've done it….
Parking
If you are driving, just plug in the address from above and it will take you straight to the Breitenberg Gondola Station. The parking is directly across the street from the Cable Car. Make sure you go to one of the small kiosks to pay for parking (I saw them checking cars regularly). It was all in German but easy to figure out. The machines took credit cards as well.
Cost:
2 Hours: 2 Euro
Full Day: 5 Euro
After you get the parking receipt, don't forget to put the little ticket on your dashboard!
Important: Keep your full day parking ticket. If you show it at the ticket station, you can get 2 Euro off.
Arrive Early
We got there at 11:30am thinking we'd zip on up, grab some lunch and be on our way. Apparently, this is what everyone else thought as well??? It wasn't a HUGE deal, and to be honest, I'm not sure what the lines would have looked like earlier in the morning, but at 11:30am, we had to wait in line for tickets for a good one hour or so.
Tip: Once the sleds are all rented, they are gone until more return. That means if you are there at a busy time, you may have to wait. Just another reason to be there early if you can (or bring your own)
Note: At the time of writing (Feb 2022), everything was 2G (you needed to show proof of vaccination or recovery- you could not test out of these requirements). However, rules are changing quickly- check their website to see what the current regulations are.
Buy Your Tickets at the Kasse
I found that not much English was spoken, so just be sure you know how to say how many adults ("Erwachsene") and kids ("Kinder") you have (they may ask how old your kids are as well). If you need a toboggan(s), say so at this time as well.
They will also give you a map here, which is helpful to follow if you need it.
Cost:
Ask for just the ascent tickets since you'll be making your own way down.
Adults:

€

14.50

Youth (15-Adult):

€

13.50

Kids (6-15 years):

€7.50

Family Tickets:

1 Adult and 1 Child:

€

8.50

1 Adult and 2 or more Kids:

€

22.50
2 Adults and 1 Child:

€

32.50

2 Adults and 2 or more kids:

€

36.50
Your Toboggan ticket includes access to the Breitenbergbahn (Cable Car), Hochallpbahn Chairlift AND the bus transfer back
Toboggon Rental: €10
Take the Gondola Up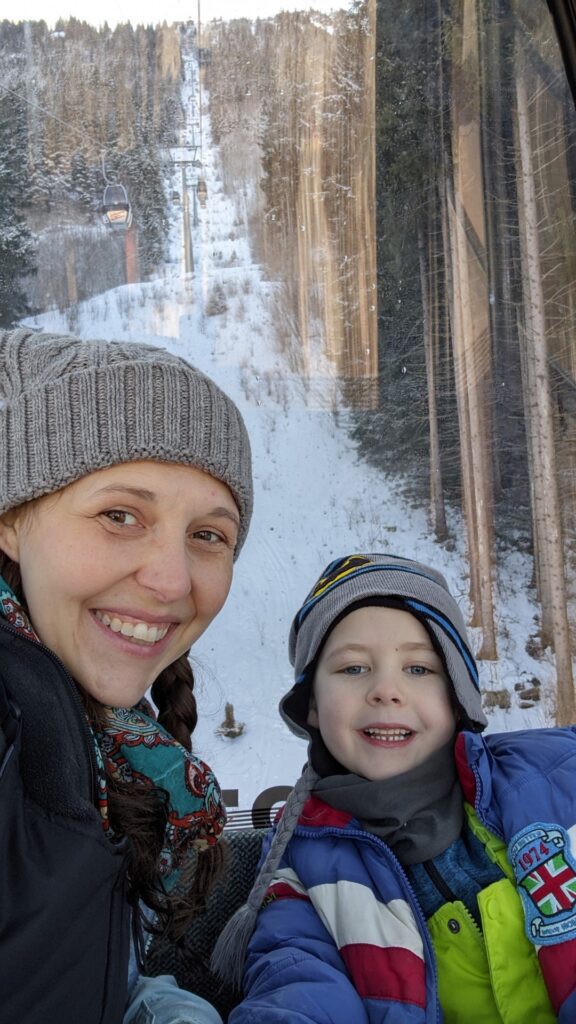 Around the corner from the ticket counter are the Gondolas. They are the 4 seater ones. In normal times, it's not uncommon for others to get in with you, but due to Covid, it specifically said 1 family/group per car. The journey up takes about 5-10 minutes and gives you great views out over the valley and villages below and then you'll get off at the first Talstaion.
On your way up, you'll fill out a form. It is in German, but basically states your name, address, and does require you to put your passport ID number in (so have that number handy!)
Get Your Toboggan/ Sled
As soon as you step off the Gondola, there will be a worker ready to take your slip of paper. You'll take the number of sleds you paid for down below and they will mark down what numbers they are so that they can track if they've been returned at the end.
Tip: If you are riding with a child (or just have a large rear end, like yours truly) grab one of the bigger/ wider ones!
Grab A Bite To Eat With A View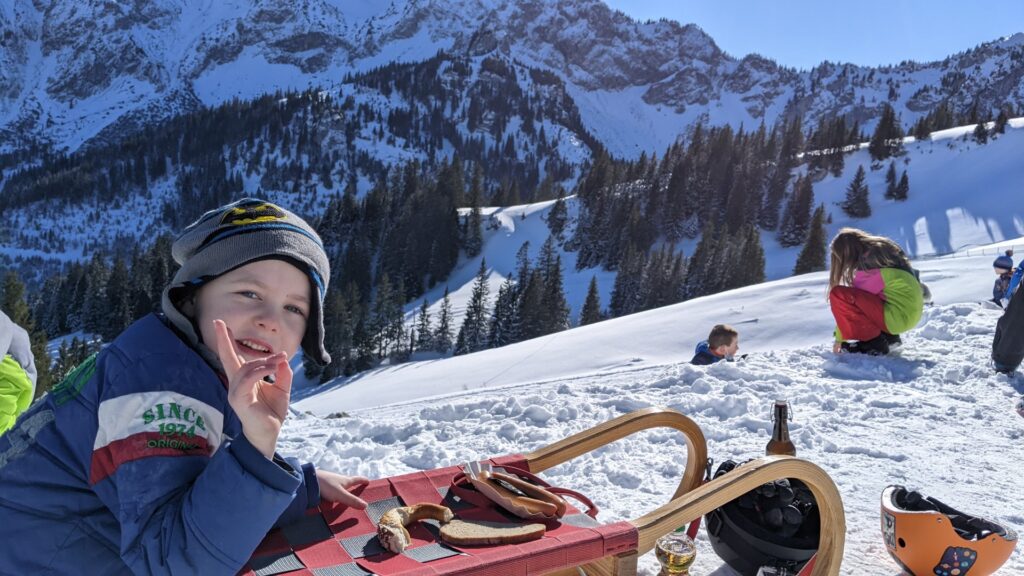 Tip: This is also where the bathrooms are. So, be sure to hit those up before heading out!
You only have a few options for eating once you are off the cable car.
Grab a Quick Bite
There is no mountain lodge or restaurant here or anywhere along the toboggan run down. However, right off the Gondola, there is a little stall/ stand that sells some basics like some hotdogs (Wienerl mit Brot), Ghoulash Soup, Semmels (sandwiches with things like Salami), and, of course, Brezen. (If you want a bigger meal, there is a restaurant at the base of the Gondola Station) You can also grab a beer, Radler, or soft drinks here as well. There were only 2 tables set out when we were there, but you can always plop down on your sled and enjoy the views while you get your quick bite to eat. Note: They only accept cash at this little stall and will most likely only speak German
Hike To the Ostler Hütte
After you get off the Chairlift (see next section) you can hike up to the Ostler Hütte but this is all uphill and a decent trek, but if you've got the abilities and stamina, the views looked absolutely breathtaking from the photos I saw!)
Hight Alpine Hut: On the official website, it does say that there is the High Alpine Hut (but was closed when we were there)
Take the Chairlift Up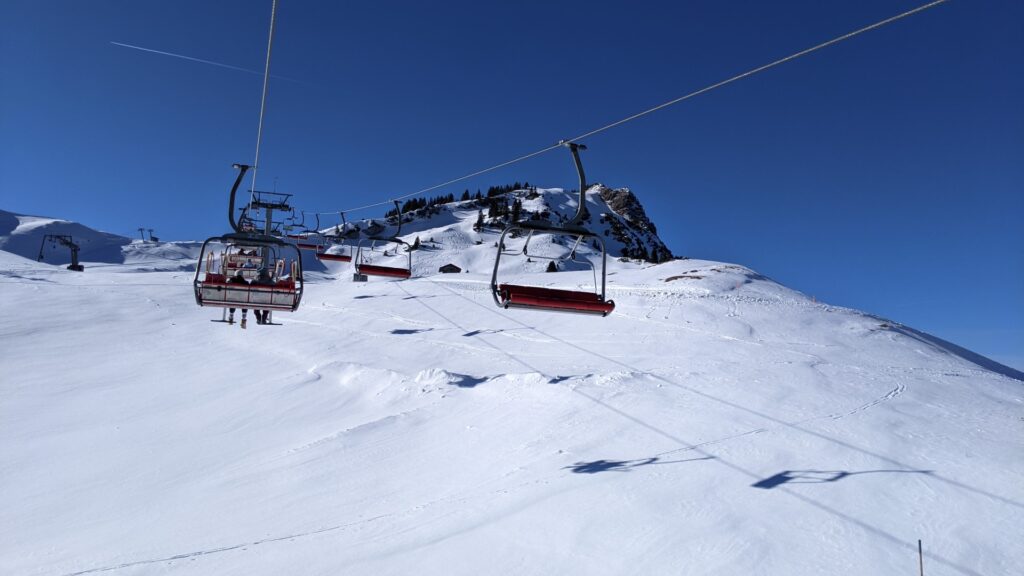 From the Gondola Station, you'll see the Hochalpbahn chairlift. Make sure you still have the lift ticket that got you onto the Gondola, as you'll need this to get through the turn style at the chair lift as well. The chairlift ride is about 5-8 minutes and is blissfully quiet, serene, and, of course, gorgeous!
These are 4 seaters, so depending on how many people you are with and how many sleds you have will determine how you get on.
There will be attendants helping with the sleds, so when it is your turn, just hand them the sleds and they will be the ones to plop them onto the outside seats of the chairlift, leaving the middle seats open. So, for example, you can put two people and two sleds on, but for us, it was just us two and our one sled.
Now, I've never claimed to be a good, no not even an "ok" skier (I'm from Nebraska after all…you know, that state is all farm field and flatness!), which is why getting off chairlifts even WITH skis is a challenge for me, and that's with a slight assistance from the chair pushing you out. I never knew how hard (and slightly hilarious) getting off a chairlift without skis on would be, let alone while trying to get your 5 year old out of the way before being pummeled by said skilift!!!!
Basically, I have no advice here, other than, "Get Ready!" Maybe if you have a bit more experience skiing than me, you'll find this a cinch.
Also, don't worry about your sled, there are workers at the top of the lift as well that will grab the toboggan quickly and set it to the side for you so all you have to worry about is getting off without getting knocked over.
The Rodelstrecke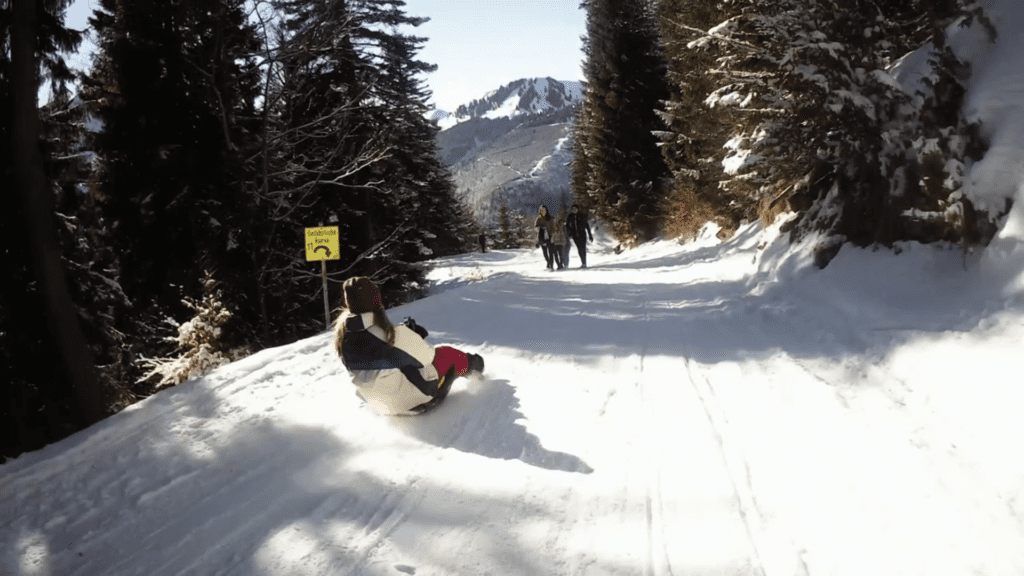 After you fled for your life from the ski lift, just start following everyone else. If you are wanting to hike up to the Ostler Hütte, this is where you'll see a path leading up. You'll also see a bunch of toboggans parked here because they are not allowed any further up (make sure you have taken a photo/ note of the your sled number!)
If you are ready to make your way down now, then you'll eventually see a sign that says, "Rodelstrecke" (Toboggan Route) so just follow that.
The Rodelstrecke is on what I'd call a Cat Track from skiing. If you aren't familiar with this, I consider these some of the most terrifying spots on the slopes (I know, I'm a big baby). I also have to somewhat laugh (as to prevent crying) because I'm pretty sure something like this would NEVER in a million years exist in the US. Why?
There will be a giant (as in freefalling) cliff on one side of you. No rails, no barriers. Just…….air (and maybe a few trees). This is actually extremely common and the reason why I haaaaate these sections when skiing (again, I can not stress just how bad of a skier I am!)
So, you can imagine why my son asked "Mama, why is everyone flying past us??" I simply replied, "They must be braver than I am." He apparently didn't quite like that answer and pushed me further with a "Why??" (After all, he's heard stories of me Paragliding Over Neuschwanstein, skydiving back home, and even bungee jumping on other trips) So I just simply responded that, "They didn't have their 5 year old kid with them." Luckily, he didn't notice that many other children (albeit many years older) fearlessly zig zagged and flew down the mountain without a care or fear in the world!!!!
The Toboggan Run: The Ostler Forstweg (Naturrodelbahn)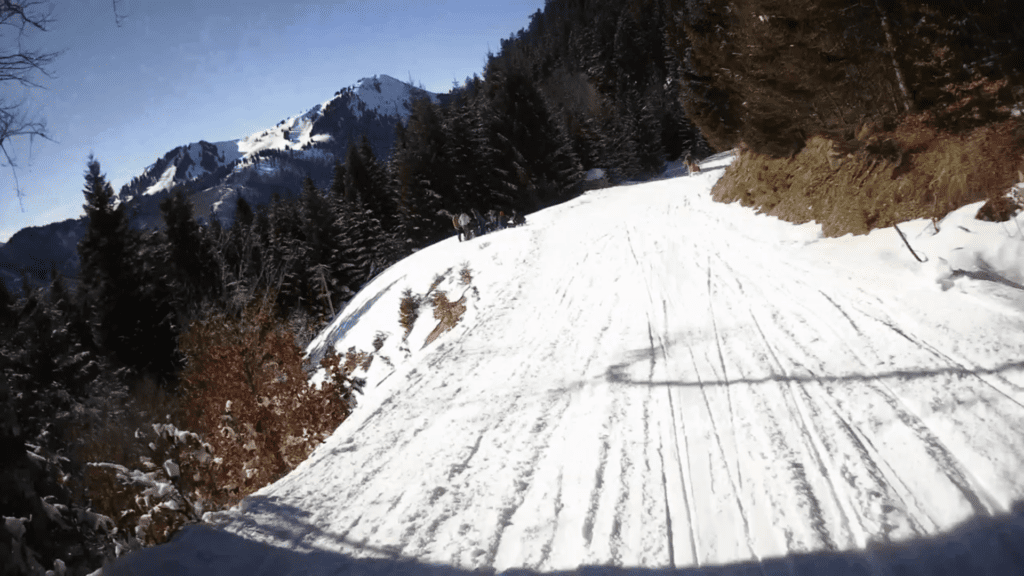 Right off the ski lift, you'll get some of the most beautiful views of the Alps in Germany. Winter in Bavaria, particularly the Alps, is just simply stunning!!!!
There aren't too many signs that tell you that you are on the Ostler Forstweg (you might see a sign that says "Naturrodlbahn"), but there should be plenty of other people, so just follow the crowd or refer to the map that you were given at the gondola station.
The majority of the next 6.5km are all downhill, but some spots are flatter than others and will most likely require you to stand up and pull your toboggan for just a minute or so.
Also, be prepared for lots and lots of turns! I think there was something like 15 of them!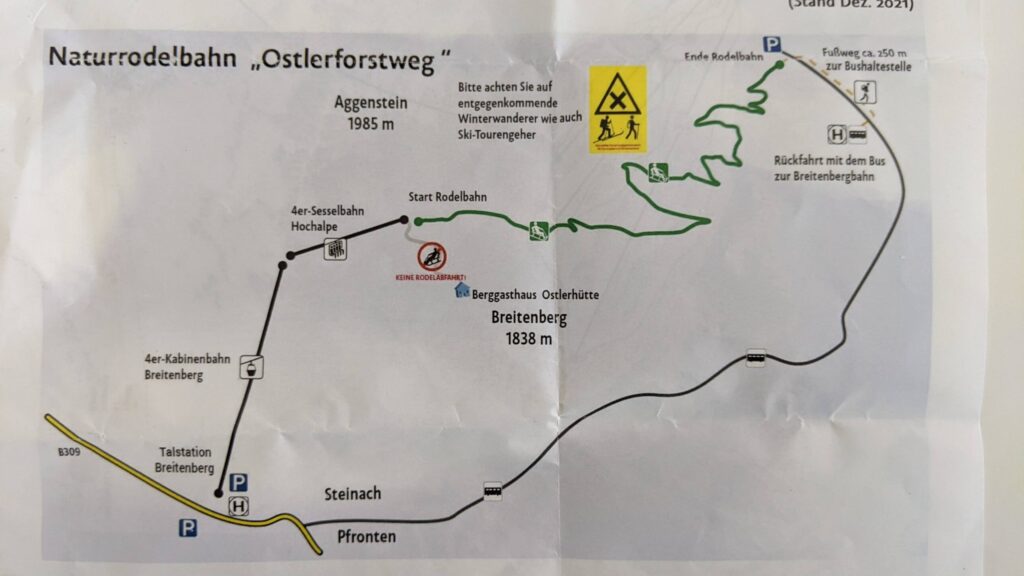 Length of Toboggan Run: 6.5 km
Difficulty Level: Relatively "Easy" (I would not have let my 5 year old son do this alone but I've never once been sledding on a mountain and we managed just fine together and both had a blast)
Time It Takes: 30-45 minutes to come down There are no stops/ huts along the route down, but plenty of absolutely stunning viewpoints. Plenty of people were stopped along the way with a sandwich in hand or a thermos of hot drinks. I really wish I would have brought something for us to have stopped and had a snack and sip of something warm, if for nothing else but the ambiance of it all!
Take The Bus Back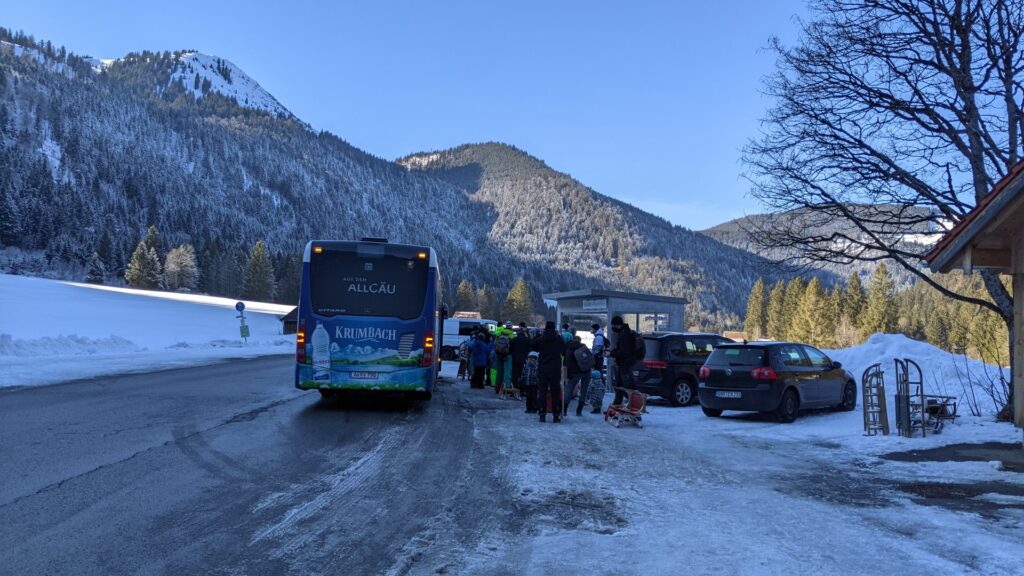 You'll finish the run when you come out at the bottom next to another parking lot. There will be a sidewalk, which you'll take to the right, downhill. You should see a blue sign that says "Bushaltestelle 200 meters" (Bus stop). Cross the street at the end of the parking lot and follow the sidewalk down. It will take you past a little bubbling creek, over a tiny, little bridge, and then, in the clearing, you'll cross the road once more and find the bus stop.
When it arrives, you'll put your sled on the opposite side of the bus in the luggage storage and then hop onto the bus, which will take you back to the Bergbahn Gondola Station (about an 8 minute drive) for free.
Note: FFP2 Masks were mandatory on the bus
Important: Make sure you know what time is the last bus. For us, it was 4:30, but it could be earlier in the winter when it is already dark by 4:30, make sure that you are down in time in case it is an earlier final time.
Return Your Toboggan
When you get back to the Bergbahn, take your sled back out from under the bus and then walk it back to where you got onto the gondola, where an attendant will direct you on what to do with it.
FAQs
Can I bring my own sled/ toboggan?
Yes! Plenty of people had all sorts of sleds, toboggans, ski runners, and any other downhill sled contraptions!
What is the difference between a sled and a toboggan?
In Germany, I would argue that a sled can be used interchangeably with a toboggan, but not all toboggans are sleds. Clear as mud?
When I think of a sled, I think of pretty much anything that will let me fly down the hill with snow. In the US, most of our sleds are plastic. However, here in Germany, the beautiful wooden toboggan, with the two runners and a curved front is really common as sleds.
How much time is needed
It took us about 4 hours total from waiting in line to returning the toboggans. If you don't stop for lunch or stop for breaks on your way down (or are a speed demon on your descent), then it obviously would be a bit shorter. Alternatively, if you wanted to soak up the views a bit longer or take more pit stops, allow for extra time.
Also, remember that in the winter, it is dark by 4:30 in Germany! Just another reason to make sure you start plenty early.
Can I ski on the toboggan run?
No, there was a sign that specifically said no skiers (at least at the cable car). I do think that this is determined by how much snowfall there has been though. However, there were a few people that looked like maybe they hiked up themselves and then were skiing down, but I could count on one hand how many did that.
Can I go more than once?
The ticket is only good for one lift ride.
When is the best time to go
Generally, November through early March is probably going to have snow, but you'll have the best chances of good snowfalls in late January through about late February.
What ages is this ok for?
It probably depends on what your kids are used to/ capable of. After all, I have seen 3 year olds flying past me on the ski slopes before in Germany.
I know my own 3 year old would never have done it. He would have absolutely freaked out at the chairlift (it is decently high at points) and I just don't think he has the overall thrill-seeking genes I have! That being said, there were clearly kids around the 3 year old mark with their parents and were clearly loving every minute of it!!!
My son that I did take was 5 and I thought it was just about perfect at that age. A few years older, kids were able to do it on their own.
Gear Needed For Tobogganing In the Alps
Clothing
You are going to be way up in the mountains, so think of it like you would a day of skiing. Here are the necessities of what you'll want to be wearing:
Snow Suit or Snow Pants
Even if you don't fall off, your sled will probably get wet and just in general, you are in a wet environment when sledding! Plus, snow pants will help keep you toasty and warm! My Arctix snowpants have held up great over the years and there are even kids and youth options as well.
Weatherproof Warm Coat
Just like above, you'll want something that will keep moisture and wetness out and warmth in! I've had my trusty Columbia Ski Coat for more years than you'd probably believe (18 years!!!!) and it is STILL hanging in there for me!
Water Resistant Snow Gloves
Just like when you are skiing or snowboarding, you'll want warm gloves that keep out any snow that may come their way! These gloves are great for kids.
Helmet
The trend for wearing helmets for skiing and snowboarding as greatly picked up over the last few decades and so I was pleasantly surprised with just how many people wore them for this sledding adventure. I'd say that almost all the kids had them. We personally have been really happy with the Lucky Bums helmets for all of us.
Waterproof Snow Boots with Good Tread
This might just be one of the most important items on the list. Ok, so you wear mittens instead of snow gloves? Not the end of the world. BUT, your feet are your brakes and steering system for tobogganing and that means you are going to need boots that are completely waterproof. In addition to that, having good tread and grip is a must because you'll be walking in the snow the whole time, and, again, these are your brakes!
Smart Wool Socks
I made the major faux pa by just having normal socks for my son. While my feet were toasty and warm with my smart wool socks on (which I wear anytime I'm in the cold!) poor kiddo's toesies were freezing by the end! I know what's going on his birthday list!
Optional:
Ski Goggles
I didn't find it as windy and intense as skiing, where I really personally need goggles, but if that sort of thing bothers your eyes, having some ski goggles won't hurt!
Scarf
The more layers the better! You can always take it off if you are too hot!
Buff
We wore these under our helmets to help keep our ears and head out of any wind
Other Things To Bring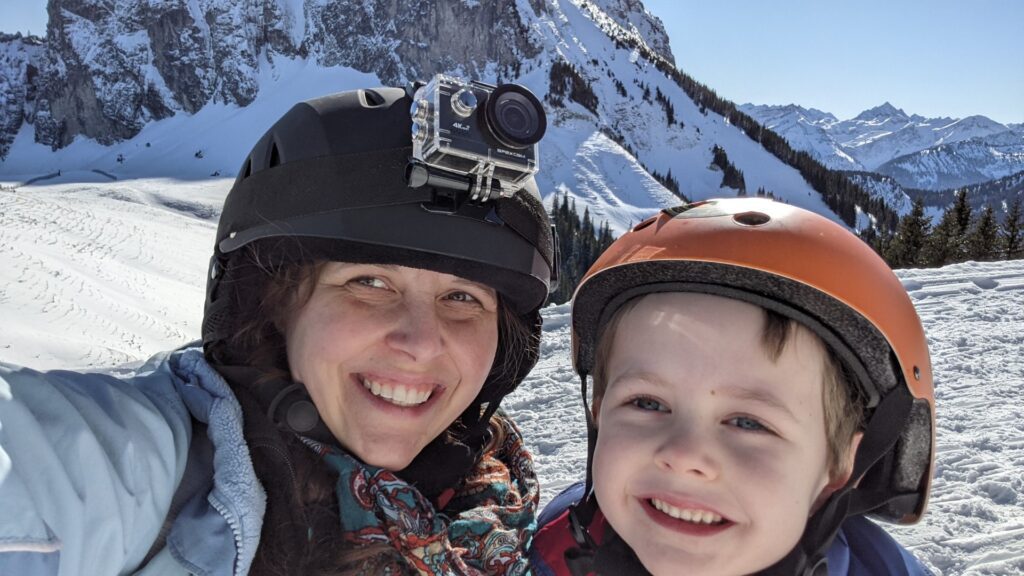 A Small Backpack
If you've been around any of my packing in Germany articles, you know I love my Osprey Daylite bag. It's small enough to wear comfortably, especially during sporty activities such as these, but big enough to fit what I need in it for the day!
Phone and Camera
It was SO stunning that I'm glad I had my camera for photos
GoPro/ Action Camera
Even though the video of our toboggan run is bumpy and choppy, I am so glad I had my action cam to record our absolutely fun day!!! I used a head mount strap to attach the camera to my helmet so that I didn't have to worry about holding the camera with a selfie stick. If it had just been me (and I didn't have a kiddo in front of me), I would have worn a chest strap for the camera instead so that the video wasn't so bumpy.
Thermos
Whether you bring up some good ol' Gluhweinor if you have a Kinderpunch, hot tea, or hot chocolate in a thermos, stopping for a few minutes for a quick break and drink is a beautiful way to soak in the day. Or hey, if you want to bring a flask with a lil' somethin' somethin', I won't judge, either.
How To Steer a Toboggan
Let's first make one thing clear, I am NO pro at tobogganing, but the reality is that it really isn't TOO difficult.
Also, know that you should use general ski/ snowboarding etiquette rules here as well. For example, you are always the one responsible for avoiding the people below you. That means you need to give them enough clearance if you are passing and use some of the phrases below to give them a heads up that you are about to pass. It is not up to THEM to move out of YOUR way.
Use Your Feet and Lean
Your feet are going to be your main method of steering as well as braking. Leaning is also going to help you as well.
To Brake
It's pretty simple actually. Just dig your heels into the ground to slow down or brake.
Alternatively, you can use the cord that is attached to the front of the sled and if you pull upwards on it (a lot) then it will push the back runners into the snow causing it to stop. If you need a hard/ fast break, lean forward and grab the front of the sled and pull up. Yes, this will cause you to fall backward. I'd argue that is better than flying off the mountain though.
To Turn
If you want to steer left, then you put your left foot out to drag against the snow. Vice Versa for the right.
At Breitenberg Rodelstrecke, there were countless twists and turns. You'll need to lean into the curve to help you hug around the mountain.
Tip: My 5 year old wanted to "Be my sidekick" as we flew through the forest and mountain. He had a kick helping me with the toboggan. When I needed help slowing, I'd say "Feet down" or when we were turning, I'd say "Lean Left!" I'd say we we made a good team!
German Words To Know
I found that Breitenberg was a real local gem! I didn't hear anyone else speaking English while I was there and pretty much all the workers only spoke German (or just a little bit of English). If you don't speak German, this shouldn't deter you- just learn a few basic phrases and do your best.
Where is the……: Wo ist…….

For example, "Where is the bathroom" (Wo ist die Toilette?) or "Where is the bus?" (Wo ist der Bus?)

Sled: Schlitten
WATCH OUT!: Vorsicht!!!! or Achtung!!!
Watch Out Up Ahead!: Vorsicht im vorne! (This was said a lot! They will be coming in hot from behind, so be careful as they pass)
Of course, know the bare minimum basics as well such as please (Danke) and thank you (Bitte)!
Where To Stay
This region is a very popular place for both locals and tourists to vacation in. Because of this, it can often be hard to find really great deals or even availability. You'll want to book out as far out as possible. I've included as many Refundable Booking options below so that you can book now and cancel later if you need to.
Also note that many hotels or apartment-style lodging in the area often require a minimum night stay (sometimes 3 nights, sometimes 5 nights) so if you aren't seeing availability, adjust the minimum nights of your stay if your schedule allows for it.
Pfronten Hotels
There are plenty of places to stay in Pfronten itself.
Apartment-Hotel Seespitz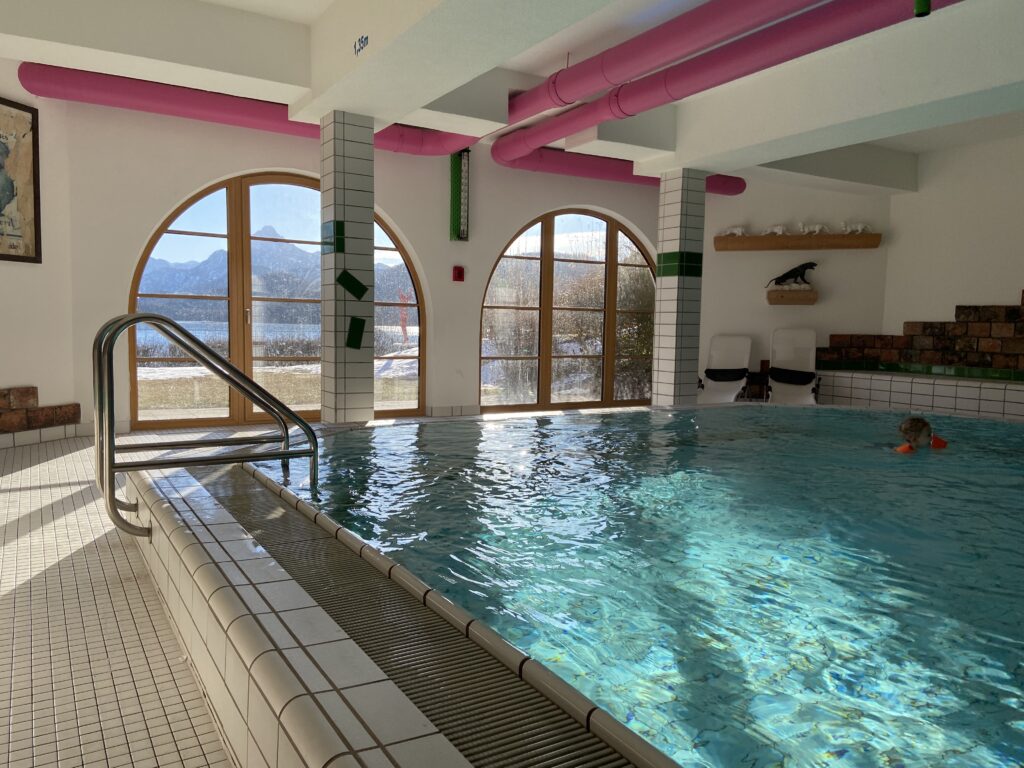 This is where we personally stayed and I could not recommend it more! The price at about $150 per night is what I'd typically consider mid range (but for the area is pretty much the average nightly cost- it's a decently expensive region to book accommodations in)
What I liked about this hotel is that it would have been perfect both for a couple or for a family (not many hotels cater exceptionally well to all demographics!)
We had our own little apartment (2 bedroom, living area, kitchenette, and balcony overlooking the gorgeous Weissensee (lake). There was a small, but great pool that had stunning views out to the mountains and there was a big sauna and quiet room as well if you want a bit more R&R!
For the families, there is a rec room with a ping pong table as well as games and puzzles to play. During the week, there is a free "Kindergarten" for kids ages 4+.
There is also a really good Italian restaurant on site. Get the cannolis! They were to die for!!!
See Availability for the Apartment-Hotel Seespitz Here
Wildgrün Allgäu Lodge
If you want stunning views right outside your window of the tallest mountain in Germany (Zugspitze) and the historical Castle Falkenstein, all while having modern, yet luxurious feeling amenities and rooms, look no further than the Wildgrün Allgäu Lodge.
Each room is beautifully decorated in a true Bavarian Alpine style. There's also foosball, ping-pong, and sauna to enjoy as well.
Note: Minimum 5 night stay is required
Read Reviews on the Wildgrün Allgäu Lodge Here
Alps Hostel
Don't let the word "Hostel" throw you off, even if you aren't doing Germany on a Budget, hostels are often great stays. This extremely affordable lodging option has plenty of private rooms available! You can always expect a clean room and the staff to be exceptionally attentive to you. There is even a communal area with a self serve bar that you can relax in.
Check Current Prices For the Alps Hostel Here
Im Achtal, Mehr als Ferienwohnungen
With reviews that are almost perfect, you better believe that these apartments need to be booked way in advance before others snatch it up! With the mountains just a stone's throw away from your bedroom window, modern and clean apartments, a pool, and a sprawling garden, what more is there to want in a perfect Alpine getaway!?
See Availability for Im Achtal, Mehr als Ferienwohnungen
Near Neuschwanstein Castle
If you are going to be Visiting Neuschwanstein Castle in addition to your winter wonderland excursions, the towns of Füssen and Schwangau (near the castle) are also great to station yourself in the area.
Hohenschwangau
Villa Ludwig Hotel
Not many hotels offer actual views OF Neuschwanstein Castle, but Villa Ludwig does! Situated right at the foot of the famous Ludwig castle itself, this hotel oozes charm. There is even a small spa area with a sauna, water loungers, and garden loungers (with the view!). Maybe the most surprising part is that while I would not call this "Budget Friendly" it's actually not too far off the mark for average nightly rates in the area!
See Availability For Villa Ludwig Here
Füssen
Hotel Fantasia
Charming. Quaint. Unique. Affordable! These are all just a few ways to describe Hotel Fantasia. When you envision the Cinderella Style Neuschwanstein Castle, it's as if this hotel was its perfect pairing with whimsical and fairytale inspiration!
The hotel is a few minutes walk from the train station and only 5 minutes drive to Neuschwanstein and only 15 minutes drive to the Breitenbergbahn station, making it an absolutely perfect location for people wanting to do it all.
See Photos and Reviews of Hotel Fantasia
Schwangau
Lizzi Mountain Apartments
Lizzi Mountain Apartments is a very typical German home. It is simple, yet clean, organized, and has everything you need from an apartment rental, and even a bit more. You can use the grill, ping pong table, and large lawn where there is even a play structure for families with kids. If you are wanting to feel a bit away from it all, but actually be right where all the fun stuff to do is, this is a great option!
See Current Ratings and Prices Here
Weekend Itinerary Options
We personally chose to go down to the Bavarian Alps for a long weekend. I know some people who base themselves at a central hotel and then each day go to different sledding areas each day (there are plenty in Pfronton besides just the Breitenberg run.
I also know some people who spend a day doing sledding and another day doing skiing/snowboarding. If you have kids, find a hotel that offers child care (like the one we stayed at- the Apartment-Hotel Seespitz) and you can go for a day skiing as the kids play, or you can even find a location that has ski lessons for kiddos.
Alternatively, use your time in the area to really explore this famous part of Bavaria!
Day 1:
We got in on Friday afternoon. This gave us time to get settled, ordered some take away pizza, and even checked out the pool at the hotel.
Day 2:
We started our day out with a great breakfast (many of the hotels offer fantastic spreads, some at an additional price) and then we were off to pool yet again (hey, my kids wake up at ridiculously early hours)!
Then it was time for the sledding!!!! We spent the rest of the afternoon on the slopes.
Since it gets dark in the winter in Germany, we were back to the hotel by 5, so we found a fantastic local place that served up the most delicious Allgäu food!!! It seriously had the best Käsespätzle I've ever had (and believe me, I've had my share!) and I've never seen fried cheese on a menu in Germany, yet here it was and it.was.amazing!
Restaraunt: Käsealp
Address: Lehern 158, 87659 Hopferau
Day 3: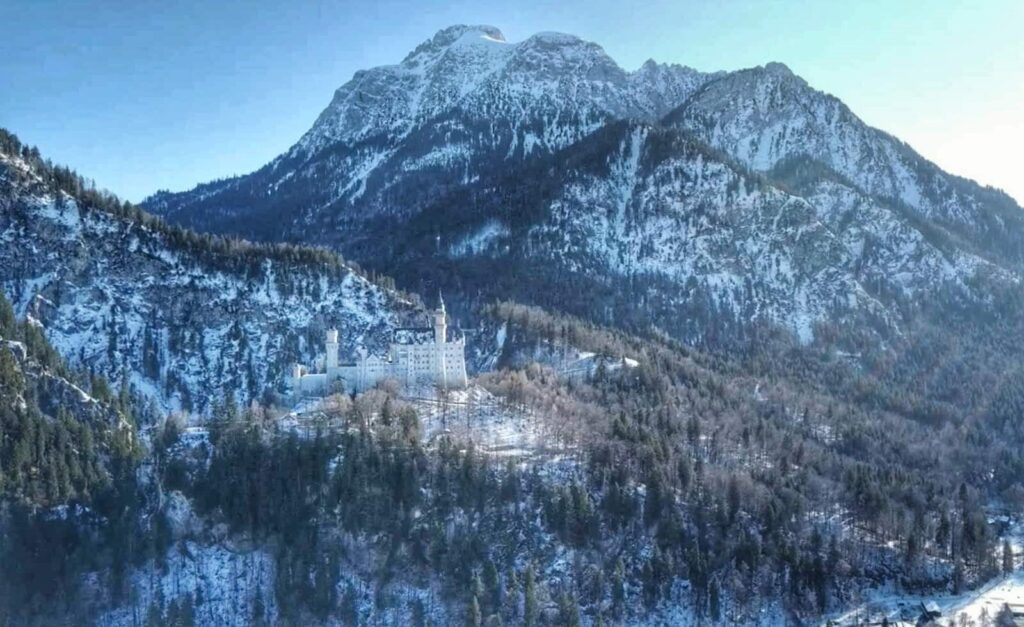 It's castle day!!! If you've never been to Neuschwanstein and Hohenschwangau, take the day to follow all of my suggestions on how to beat the crowds, where to take the best photos, and more in my Neuschwanstein Guide
Other Places to Go Sledding In the Bavarian Alps
Wallberg
While the Breitenberg has the longest toboggan run in the Allgäu, Wallberg boasts the longest tobbogon run in Germany!!! Located in the Tegernsee Valley (another STUNNING Alpine Lake) this run is a whopping 6.5 km long !!!
The reason why we didn't go to this one was because the difficulty levels were said to be a bit harder than the Breitenberg one and not as suitable for families/younger kids. But with that comes max adventures and you are sure to get fantastic views of the Bavarian Alps.
While you are there, there are actually 8 other toboggan runs in addition around Tegernsee, so you can make it a base and sled the whole weekend!
Time From Munich: 1,25 hrs by car. 2 hours by train
Cost:
Cable Car Tickets:
Child:€6,50
Adults €11,50
Sled Rental: €5 (plus deposit)
Website: https://www.wallbergbahn.de/en/winter/sledding-run/
Zugspitze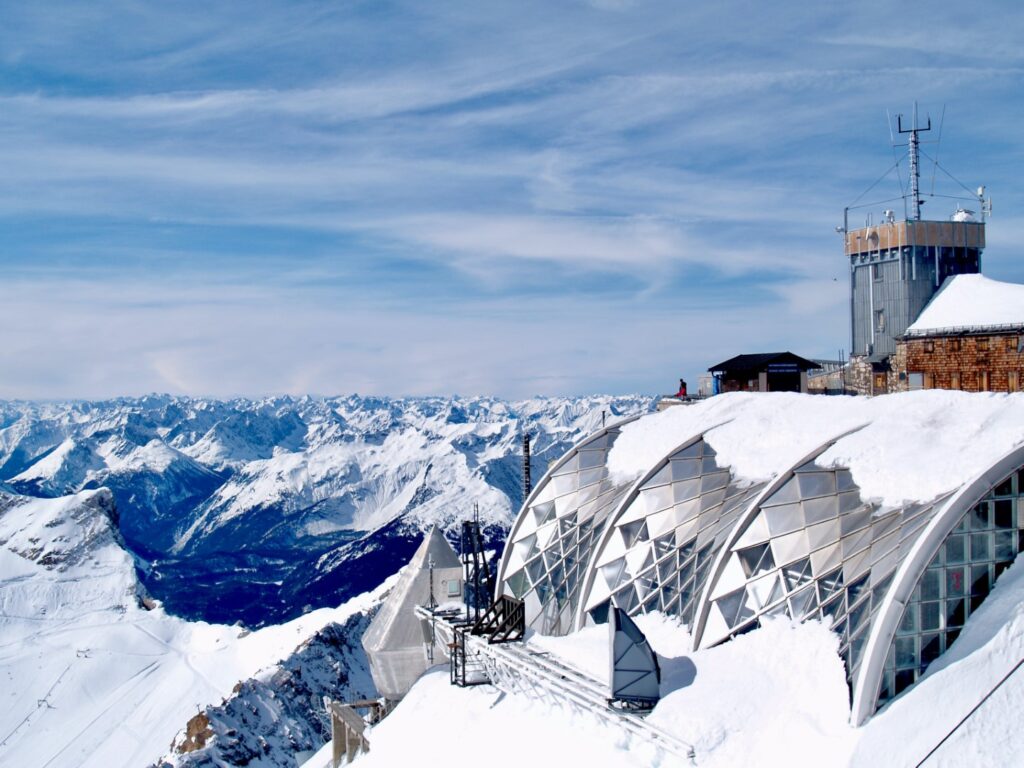 The Zugspitze is the tallest mountain in Germany and is typically a "Must See" while in Garmisch. There are three toboggan runs here, one perfect for the kiddos, another family friendly option, and a final, quite adventurous and challenging one. While the tickets here are more than other locations, you can go up and down as many times as you want.
Cost:
Cable Car and Lift Tickets:
Child:€21 (under 6 free)
Adults €39
Sled Rental: €6 (plus deposit)
Time from Munich: 1.5 hrs by car. 2 hours by train
Website: https://zugspitze.de/en/Zugspitze/Winter/Sledding
Bad Hindelang
There are several toboggan routes near Bad Hindelang. Many resorts here also offer you a sled or a SNOOK or you can rent them at the lift station
Cost:
Lift Tickets:
Child: €13.50
Adults €26.50
*If you have the Bad Hindelang Plus card, that will give you a small discount
Sled Rental: €6
Time from Munich: 2+ hours by car
Oberstaufen/ Hochgratbahn
There are many toboggan routes in the Oberstaufen area as well. For example, the Imberg has great options for families and Hochgrat is fantastic for those with a bit more experience.
If you are staying in the area, ask about the Guest Card, as that will give you free access at Imberg. Alternatively, the Oberstaufen Plus Card is a good value.
A Few Others:
Many of the following may require you to hike to the starting point yourself
Hemmersuppenalm (for experienced riders) near Reit im Winkl
Blomberg near Bad Tölz (has a wide range of ability levels depending on how high up you go)
Hochzell and Scherau near Bodenmais in the Bavarian Forest (Great for families)
Hirscheckblitz in the Berchtesgadener Land