[This post may contain affiliate links where we earn a small commission. Please see our disclosure for more information and thank you for supporting our site so we can continue to bring you awesome content for your travel inspiration!]
I've visited Neuschwanstein Castle about half a dozen times (I know, I know, it's touristy but it is also just so so gorgeous!!! And obviously, it's a top place that guests that come to visit me have at the top of their list when visiting Bavaria)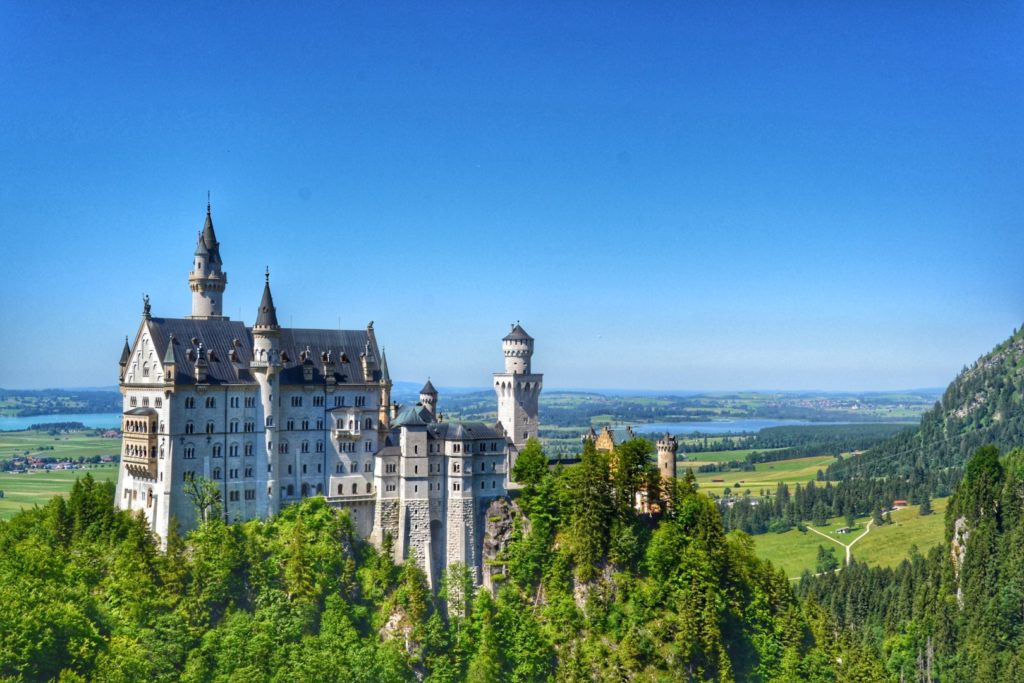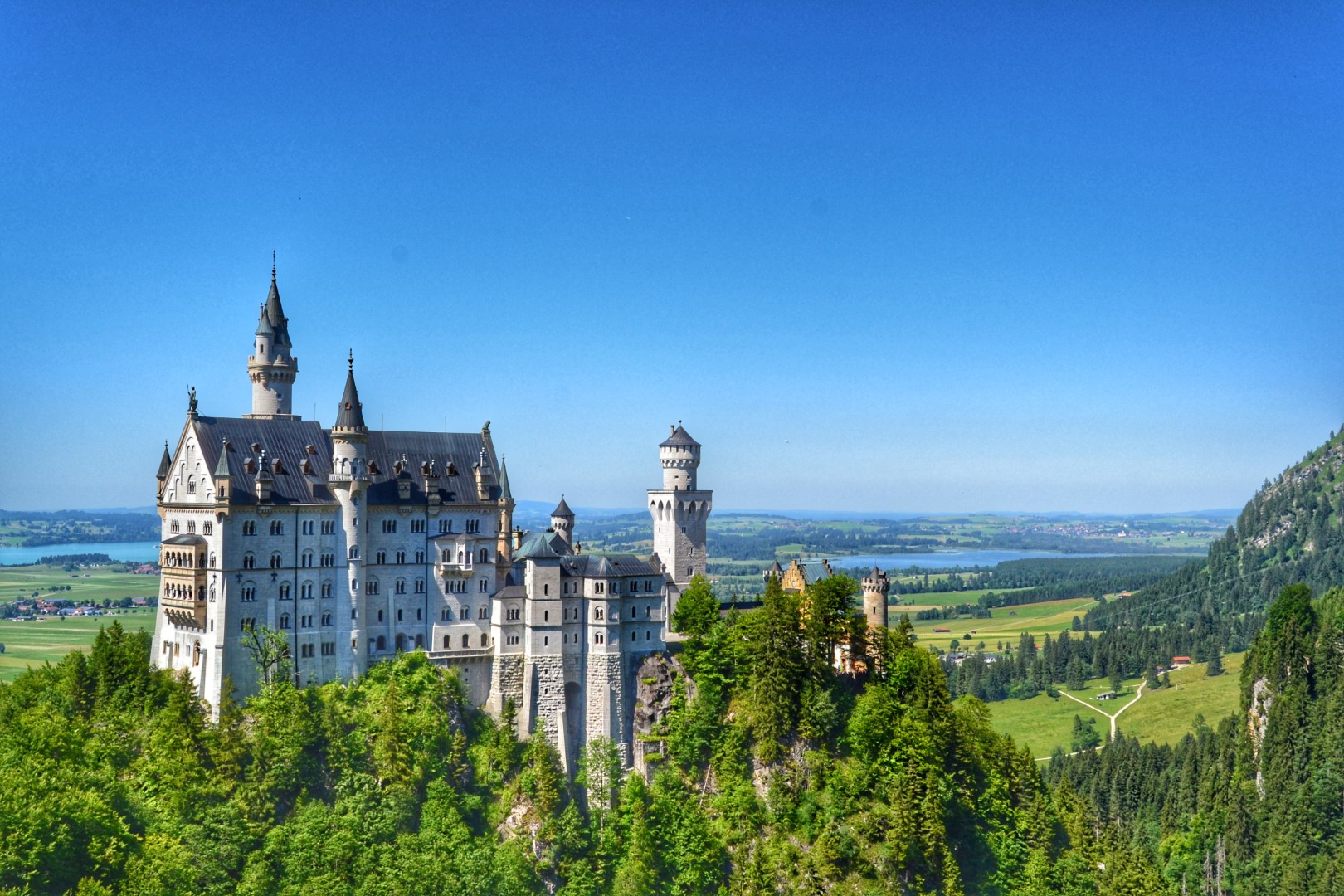 So, needless to say, I've worked hard at finding the best hotels near Neuschwanstein castle throughout those visits! From my own stays and own personal research, I'm including a variation of accommodations in this guide that will help you find hotels near Neuschwanstein Castle that either I have personally stayed at OR ones that I had on my list and would book myself! In this article, you'll find:
Hotels in the closest town to Neuschwanstein Castle (Schwangau)
Budget, Moderate, and Luxury accommodation options for all prices and travel budgets!
Personal experience and recommendations of WHY I would (or have!) chosen the different locations and hotels.
Quick Answer: Where is the Best Neuschwanstein Hotel In the Area?
In a rush and just want my absolute top picks without the fuss?
Closest (with castle views): Hotel Müller
Budget Friendly: Rote Villa Füssen
Luxury: Hotel Villa Ludwig but Burghotel Falkenstein if you are willing to drive a little bit
For a Family: Aparthotel Appartement-Hotel Seespitz
Apartment: Neuschwanstein Blick
Since you are heading to Neuschwanstein, you might be interested in my other guides:
Where to Stay When Visiting Neuschwanstein Castle
Can you stay in Schloss Neuschwanstein?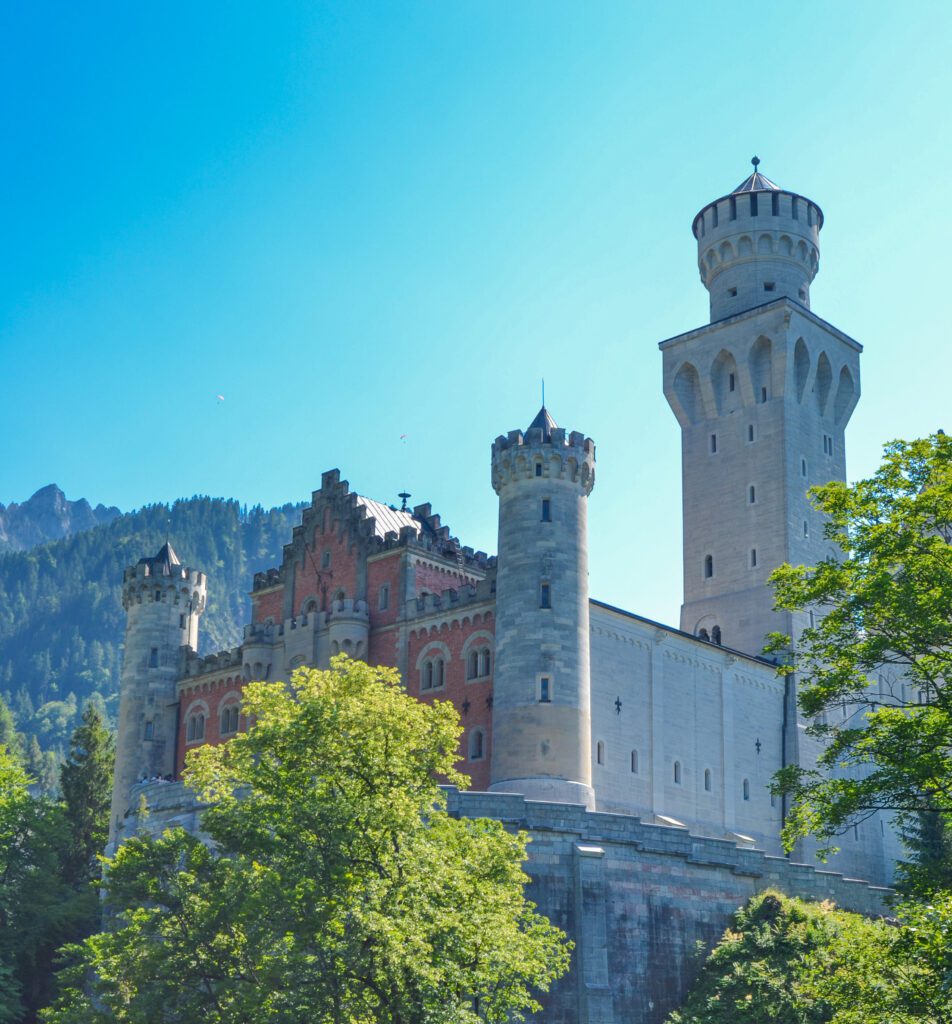 No. There is no Hotel in Neuschwanstein. Neuschwanstein is only the name of the castle (not the town, but more on that in a minute) and no, sadly, there are no rooms to rent as an actual hotel IN Neuschwanstein castle itself. (I actually have no idea why this isn't a thing since only 14 rooms in the whole castle actually ever got finished and the rest of it is just….there! Wouldn't this be a HUGE money maker!? Alas, there is no Schloss Neuschwanstein Hotel, but I digress…)
Therefore, I've sorted this post of Neuschwanstein Castle hotels actually by the towns that are nearby that most people like to stay at and my reasons for considering those places:
Day trip from Munich
Hohenschwangau (The village Neuschwanstein is in) and Schwangau, a stone's throw away
Füssen Hotels (closest city to Neuschwanstein castle)
Pfronton (the district (but also the name of a town)) just down the road from Füssen
Garmisch- Partenkirchen: Many people do day trips to Neuschwanstein from here
Munich to Neuschwanstein Day Trip
Doing a day trip to Neuschwanstein is one of the many Day Trips from Munich that I suggest. You have three main ways to get from Munich to Neuschwanstein.
Sure, it is going to be a full and long day, but it is easy enough and means having to do less hotel hopping.
Why just do a day trip? Of course, there is PLENTY to fill your time with things to do in the Alps, but for most people, they have a limited schedule (which is why they love my 10 Days in Bavaria Itinerary). So, unless one of your top priorities is just hanging out in the mountains, instead of finding accommodation near Neuschwanstein castle, doing a long day trip can sometimes be more ideal.
Top tip for doing Neuschwanstein As a Day Trip? Rent a car and have the flexibility to go when you want, stop at the Linderhof Castle as well, and have really enjoyable day!
Hotels in Schwangau and Hohenschwangau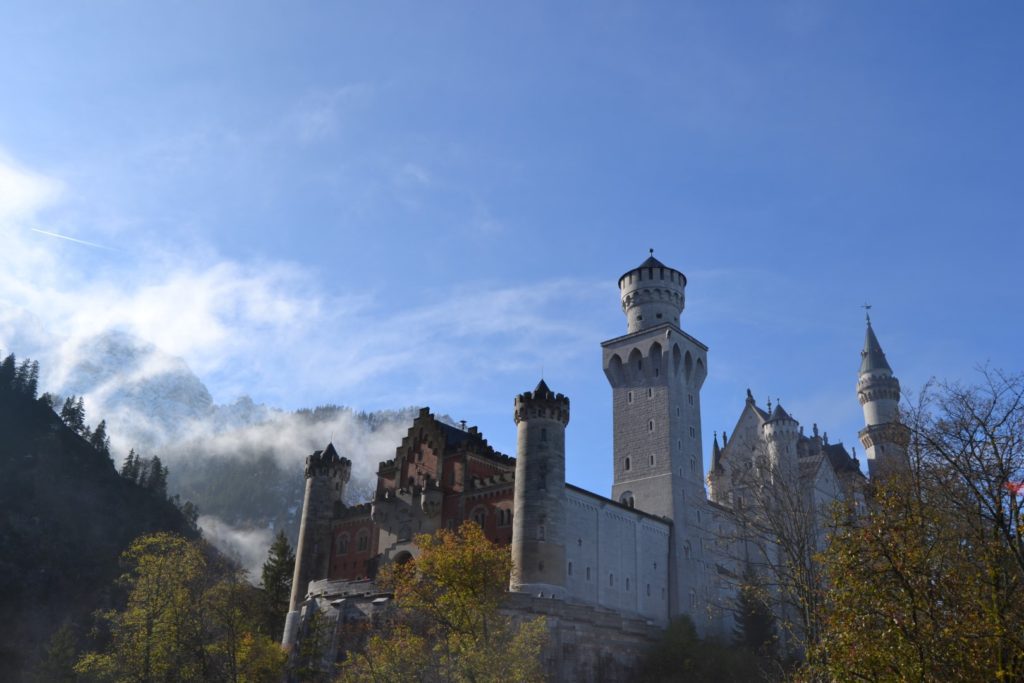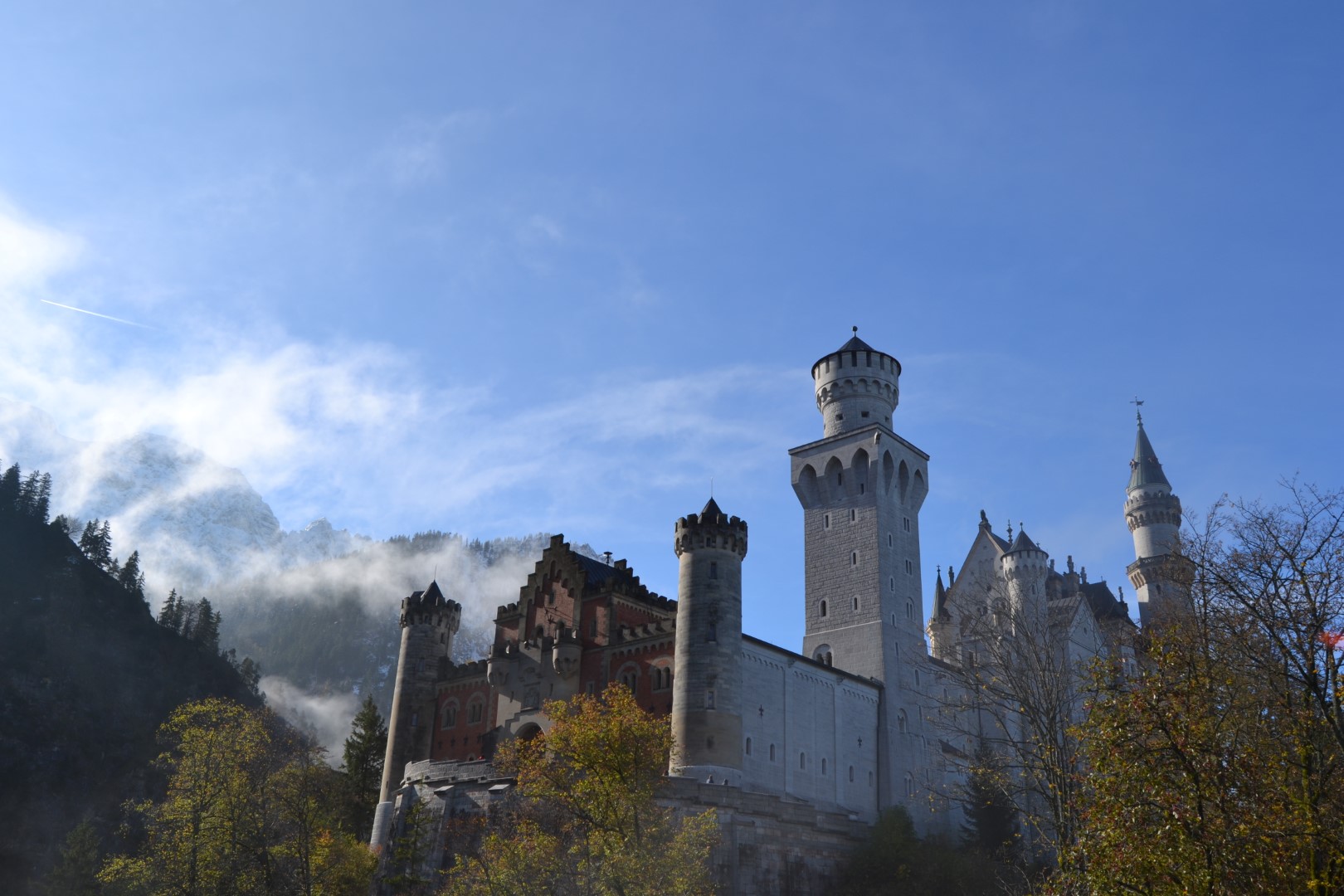 Hohenschwangau is the town near Neuschwanstein castle. Nay, it is the town at the FOOT of the castle. But, I'm lumping Schwangau and Hohenschwangau together because, I'm not even exaggerating, they are a whopping 3 minutes away from each other, if that.
Why Stay in Schwangau?
Really, the only reason why I personally recommend a hotel in Hohenschwangau is to get castle views.
There is pretty much NOTHING in the villages themselves (they are super tiny and pretty much just exist for the castles). You'd pretty much have to go into Füssen anyway to get a selection of restaurants, sightsee a cute town, etc.
However, if you are looking for some pretty boutique or luxury options, then Schwangau could be a good option for you
Please Note: Most hotels directly in Schwangau and Hohenschwangau are going to be on the pricier side. You are paying for the view!
Budget Options in Hohenschwangau and Schwangau
Unfortunately, if you are a budget traveler, you won't find anything in these towns. However, there are several great budget and shoestring options in Fussen (in the next section)
Mid to Upper Range
The Alpenstuben Hotel has been a favorite among the members in my Travel in Bavaria Facebook Group.
It's so close to the castles and has fantastic views of them you could probably call it the Schloss Neuschwanstein Hotel. It still maintains that classic Bayerisch Guesthouse charm as well, including having regional dishes at its restaurant. The rooms are quite big, clean and comfy!
Why I'd Book This:
Castle Views
Proximity to the castles
Great breakfast
Clean, comfortable rooms
Why I'd Book This:
Castle Views
Small Spa In the Hotel that is included in the price (Sauna, loungers with castle views, etc)
Air Conditioned rooms upon request/ If available
Fantastic, bavarian style breakfast buffet included
Cakes, snacks, and drinks available during the day
During the day, guests can get snacks and cakes as well as drinks until 22:00
The Landhotel Guglhupf is another place that is often considered the best hotel near Neuschwanstein Castle.
Depending on the room you get and if you book early enough, you might even be able to snag one of the rooms that is more on the Mid-Range scale of prices!
Why I'd Book This:
Fantastic reviews!!!
Very Bavarian style Guesthouse feel but with all the amenities you'd want in a top notch hotel
Fresh and homemade food straight from the Allgau region and a wonderful buffet breakfast included in price
Clean rooms with great Alpine Views
Very accommodating staff to help you
Luxury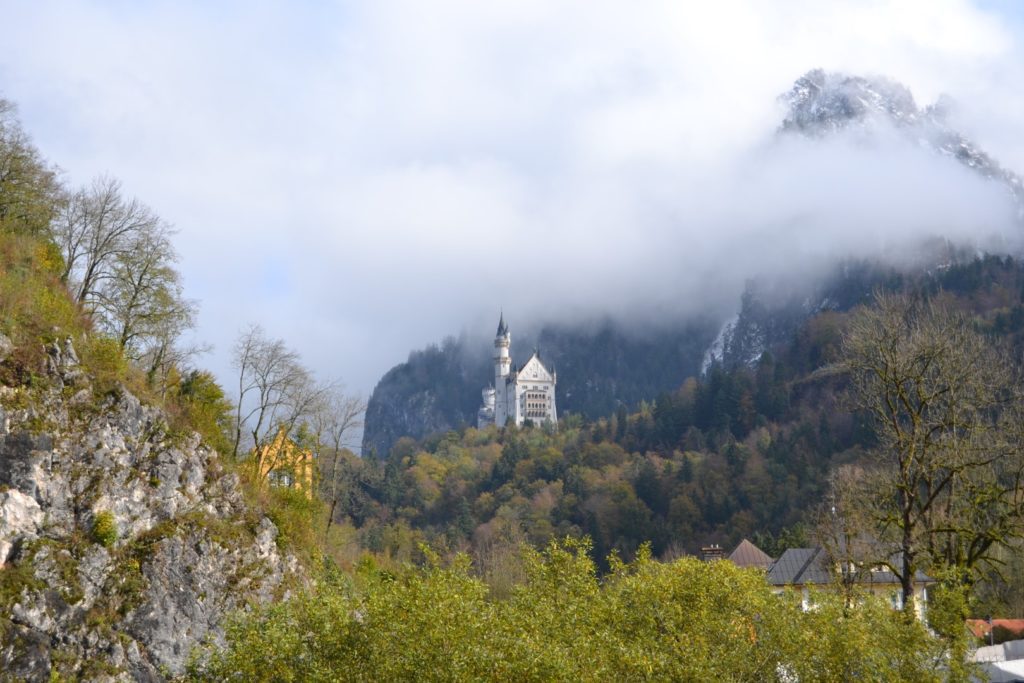 Hotel Müller is often considered one of the best places to stay near Neuschwanstein Castle because you simply can't get any closer for hotels near Neuschwanstein! In fact, some people even call it THE "Neuschwanstein Castle Hotel" because it is practically in the front yard!
If you are wanting to feel like you yourself are Bavarian royalty, look no further.
Why I'd Book This:
There are horse carriage rides that leave right from the hotel to the castle! (extra cost)
The hotel can arrange to pick up you pre-booked tickets so that you do not have to wait in the long pick up lines (this is a HUGE benefit!)
Staff that goes out of their way to make sure you have a fantastic stay
An amazing gourmet breakfast included
Local wine selections
Large, clean, rooms with options for castle views
This very modern, very luxurious spa and resort is a fantastic option to relax your travel weary bones! Just a few minutes from the castle, it has everything you need.
Why I'd Book This:
Has a free indoor pool and fantastic sauna with relaxing views out over the lake and mountains (massages and other beauty services bookable)
Still has views of the Hohenschwangau Castle
Beautiful outdoor terrace
Workout in the wellness center
Much more quiet compared to the hotels in Hohenschwangau
Can get a room with a view of the gorgeous Alpsee lake
Family Accommodation
This hotel (see above description) does have a rare "Family Room" which has 2 queen beds (a rare find in Germany!)
Apartments Near Neuschwanstein (Homestays)
If you are looking for a place that feels a bit like a home away from home near Neuschwanstein, this is it!
The hosts at the apartment are so accommodating that they often will have things like bread, butter, jam, fresh milk, and coffee for you!
Why I'd Book This:
Unbeatable online reviews!
Within walking distance to the castle
Fantastic and extremely accommodating hosts
Pet friendly
Fantastic views of the mountains
Big yard
Family friendly
Hotels In Füssen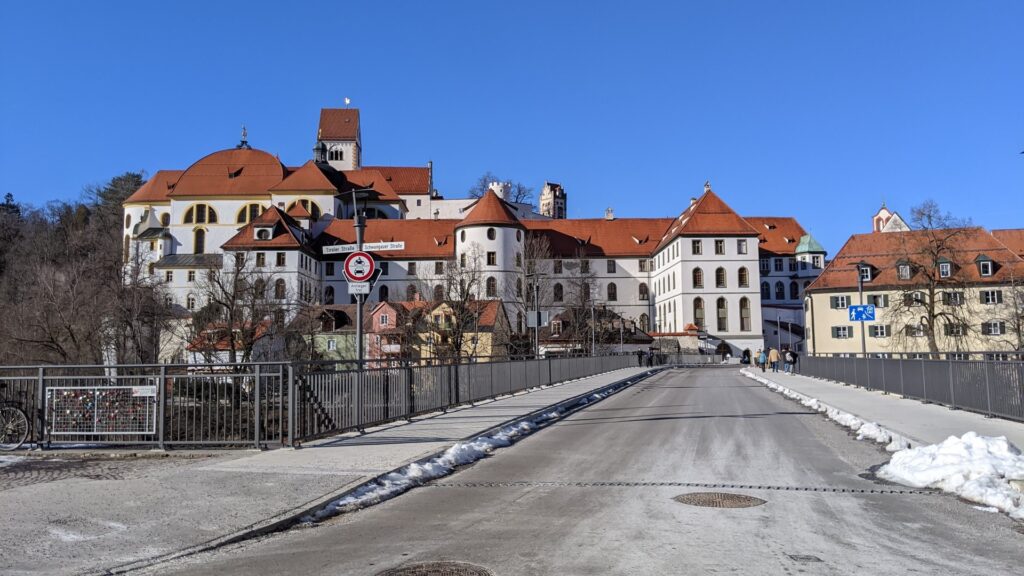 If you are looking at where to stay near Neuschwanstein Castle, then getting a hotel in Füssen, Germany is my top recommendation if being close to the castles is one of your top priorities.
Why Stay In Füssen?
5 minute drive to the castle: In just a few minutes, you'll be from your hotel room to the foot of the castle. Easy Peasy! (If you need to take the bus, I have those instructions below)
Plenty of options for hotels in Fussen, Germany for a wide variety of budgets and travel styles
Restaurants and shops all within walking distance
A beautiful pedestrian zone (small but still very nice!)
How to Get To Neuschwanstein Castle from Füssen
Drive: Like I mentioned earlier, it's only about a 5 minute, easy drive from Füssen
Bus: Just like if you were coming from Munich to Neuschwanstein, you would have to transfer at the Füssen train station and grab the bus 73 (direction Halblech) or bus 78 (direction Schwangau) that takes you straight to the castles. They will also have the word Königschlösser (King's Castles) on the buses as well.

Cost: €2.10 one way. You must have exact change and you'll pay to the bus driver
Time: The buses leave every 10-15 minutes (pending bus #) and get you from Füssen to Neuschwanstein (Hohenschwangau) in 15-25 minutes
Check for current times with the DB Navigator App: Type in Schwangau, Schloss Hohenschwangau (Tourismus) for the destination

Taxi: You can also get a taxi really easily from Füssen to Neuschwanstein
Private Tour Of The Nearby King Ludwig's Castles: King Ludwig kinda had a thing for building elaborate castles, and there is no shortage of them in the area! You can take a private tour, like this one, that includes a private car transfer to get to Neuschwanstein, Hohenschwangau, and the underrated gem, Linderhof.
Budget Füssen, Germany Hotels
If you are looking for affordable accommodation near Neuschwanstein Castle, Germany, Füssen is a fantastic place to look.
Normally, when I say "Budget" accommodation, I'm looking at prices less than 50 Euro/night, but again, remember this is a VERY touristy area, so "Budget" is going to be more in the €50-100/night range.
There are some really fantastic hotels near Neuschwanstein here, without sacrificing charm, location, or cleanliness, but super budget and "cheap" may be a tough find!
Gone are the days of sketchy looking hostel dorms. This Fuessen Hostel oozes charm and coziness that you'd never even know it was a hostel! Each room is themed to be different kinds of international royalty!
While it isn't dirt cheap like some hostels, as far as budget hotels in Füssen go, it is on the lower end (however, the prices do fluctuate quite a bit based on time of year- it's significantly cheaper in the off season).
If the idea of the word "Hostel" has you on edge, this one has plenty of private rooms and even family rooms as well, many of which have their own ensuite bathroom and all.
Why I'd Book This Hostel:
For the price!
It's so cute!
You can rent bikes and bike to the castles in no time
About a 5 minute walk from the train/bus station
This hotel is sort of like a hostel in the sense that there is a shared kitchen and living space for guests to use, and some rooms do have shared bathrooms (ensuite also available).
But if you are wanting a modern, clean, spacious, and basic room, all for a pretty affordable price, then this is just the place for you.
Why I'd Book This Hostel:
VERY clean and modern
GREAT prices (Note: Because of this, you'll want to book as far in advance as possible, especially during high season times (Like summer months)
Good for families
Mid Range Fussen, Germany Hotels
While it may not be full on "Cinderella" I LOVE that Hotel Fantasia looks like it still came straight out of some sort of fairytale, or, if nothing else, maybe Alice in Wonderland! The entire Villa is out of this world whimsical in decor and details!!!
Why I'd Book This Hotel:
2 minute walk to the train station and great location in town
Some rooms look out to the Fuessen Castle, while others have great mountain views
How freaking adorable is it!?
Good prices for the area
This one beat out some of the other hotels I strongly considered, like the Hotel Christine (which actually has better reviews), mostly because of its absolutely fantastic location (in combination with the other attributes listed here) which is right in the Altstadt of Fuessen.
The rooms are very modern, quite spacious for Germany standards, and even have some options for families as well.
Why I'd Book This Hotel:
Perfect location for a Fussen hotel in the Altstadt
Fantastic rooms (sizes, comfort, cleanliness)
Large breakfast included
Luxury Hotels Near Neuschwanstein in Füssen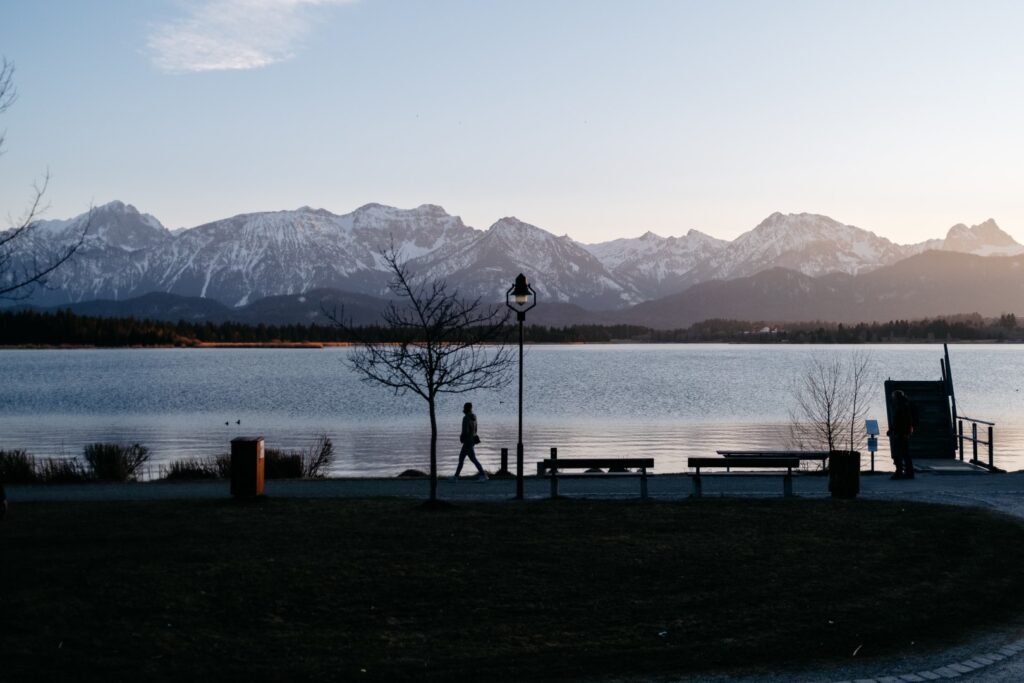 While this pure, luxurious hotel is not directly in the Altstadt, it is still considered to be a hotel in Fussen and is actually only a 10 minute drive to the castles.
Words can't quite explain the absolute beauty of this hotel, so just go check out the photos. I mean, that gorgeous infinity pool into the Alpine lake with those mountains looming above? Is this some sort of paradise!?
And while the focus may be to go to the castles while in town, if I were to stay here, you'd have a hard time pulling me out of the wellness center. The Finnish Sauna has a panoramic view out to the lakes and the relaxation room would have me zenned out in no time!
Why I'd Book This Hotel:
The infinity pool and spa can't get better views of the Alpine lake and mountains!
Has a Michellin recommended restaurant on sight that serves local and regional dishes
Spacious, clean rooms with stellar Alpine and lake views
Short drive to the castles
Everything you could want in a wellness and relaxation break!
Apartments (AirBnBs) Near Neuschwanstein
The German word, "Blick" literally means "Picture" and it's also located fittingly on the "Panoramaweg" road! The Neuschwanstein Blick Apartment really couldn't be more Panoramic, Picture Perfect! From the balcony of this impeccably fantastic rated apartment to rent near Neuschwanstein, you can see the Cinderella Castle itself!
While you will need a car for this 2 bedroom apartment, it has everything you need for a comfortable homestay during your trip to Neuschwanstein.
Why I'd Book This Apartment:
Unbeatable reviews!
Caste views right from the balcony
Close enough to the main sights
This apartment/ hotel near Neuschwanstein Castle is right in the middle of the Füssen pedestrian zone. The City Apart Hotel has various room offerings, one being the "Delux Apartment" which has 2 bedrooms, a seating area and small kitchenette. It is more of a suite rather than a typical AirBnB style apartment accommodation. For example, the kitchenette has a small microwave, mini fridge and sink, rather than a full kitchen. So, this is a great option if you still want the feel of a hotel with some of the amenities of a small apartment.
Why I'd Book This Apartment:
Right in the pedestrian zone of town
Clean, no nonsense apartments close to Neuschwanstein
Good prices
Pfronten Hotels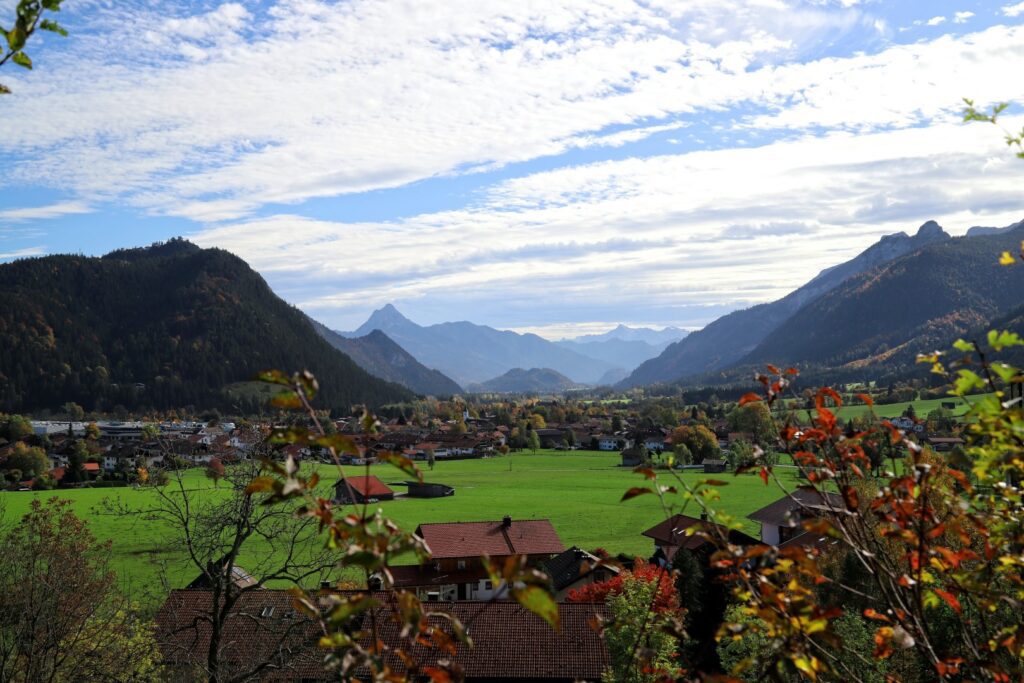 If you are looking for a hotel near Neuschwanstein castle, but a bit more away from the crowds, I can't recommend Pfronten enough. In fact, this is where we recently stayed when we went tobogganing in the Alps, which is just one more reason to recommend Neuschwanstein in the Winter!
However, just note that this is both a district AND a town. So, for example, we stayed at a fantastic apartment hotel on the Weissensee, which was only about a 15 minute drive to the castle, whereas if you stay in the town of Pfronten itself, it will be a longer drive of 30 minutes.
For the sake of this article, since I assume you want a hotel near Neuschwanstein Castle, I've only included options in the Pfronten area that are no further than about a 20 minute drive. (So for this option, it is best if you have access to a car)
Why Stay in Pfronten
Depending on where in Pfronten you stay, it can be as close as 15 minutes to the castles
Perfect for people who want access to all of the other activities that the Alps have to offer (like skiing in the winter, hiking in the summer, visiting the gorgeous Falkenstein Castle, visiting some of the breathtaking Alpine lakes in the area, and more)
Tons of accommodation options
Stunning Alpine views of the Edelsberg, Kienberg, Breitenberg and Falkenstein peaks!
Budget Accommodation
If you want something on the cheaper side in this area, you'll probably need to be willing to drive a bit further, so I won't go into very detailed reviews here because they aren't as close, but if you are willing, one particular budget hotel to look into would be:
8Peaks (25-30 minute drive to Neuschwanstein): Great reviews, clean and comfortable rooms, fantastic prices
The Pfronten area has a ton of apartment hotels. I recommend just taking a look at the map because there are so many really good ones, but a few to start with are:
Luxury
Ok, Ok, this one is further than the 25 minutes to the castles, but I couldn't NOT include this on the list for Pfronten Hotels! Why? It literally is at the foot of another nearby, off the beaten path castle; the stunning Falkenstein. Most tourists skip this castle, which makes it a great local, and underrated gem.
But that's not all that the Burghotel Falkenstein has to offer. It is basically on a mountain top itself, so just imagine the views you are going to get! The hotel itself is like a Bavarian dream, with its gorgeous, yet modern style wooden decor that has you feeling like you are in an Alpine lodge retreat center! And then there's the unbeatable wellness and spa center in the hotel! Saunas, hamams, relaxation rooms, and more are all included in this luxury hotel near Neuschwanstein.
Why I'd Book This Hotel:
Unique location!!
Amazing spa, sauna, and wellness center
At the foot of the beautiful Falkenstein Castle
A true, Bavarian (yet with a modern twist) hotel
Best Neuschwanstein Castle Hotels Nearby For Families in Pfronten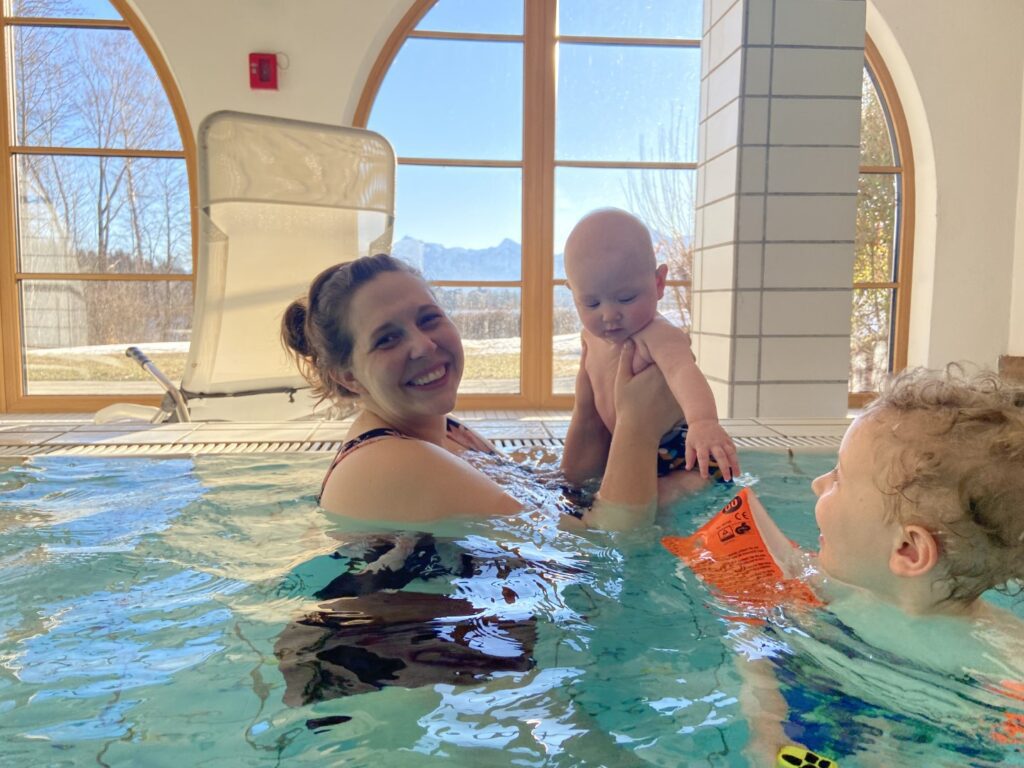 This is where we stayed on our most recent visit to Neuschwanstein with our 3 minions and I could not recommend it more as a place to stay with a family near Neuschwanstein!
We got one of the two bedroom apartments and it was PERFECT for us! The pool had stunning views out over the Weißensee (lake) and Alps. There was a nice sauna for me to escape to as well!
There is a rec room that had board games, a ping pong table, and a pool table that we were all able to play in and enjoy.
If you are there during the week, there is even a free Kinder Care for the littles (ages 4+) which is PERFECT if you want to get in a day of skiing or hiking (ok ok, or even just a quiet meal to yourself!!)
And bonus points to the Italian restaurant on sight that had the most uuumazing Canolis!!!
Note: Typically there is a 3 night minimum stay required
Why I'd Book This Hotel:
There was a good last minute booking available when we went- the price was fantastic last minute and they waived the 3 night minimum (but I would not count on this, as every other time I've looked, it's been booked way out!)
The kids' amenities are fantastic!
Rec Room
Small pool but with amazing views!
Very clean, 2 bedroom apartments perfect for families
Garmisch Hotels for Visiting Neuschwanstein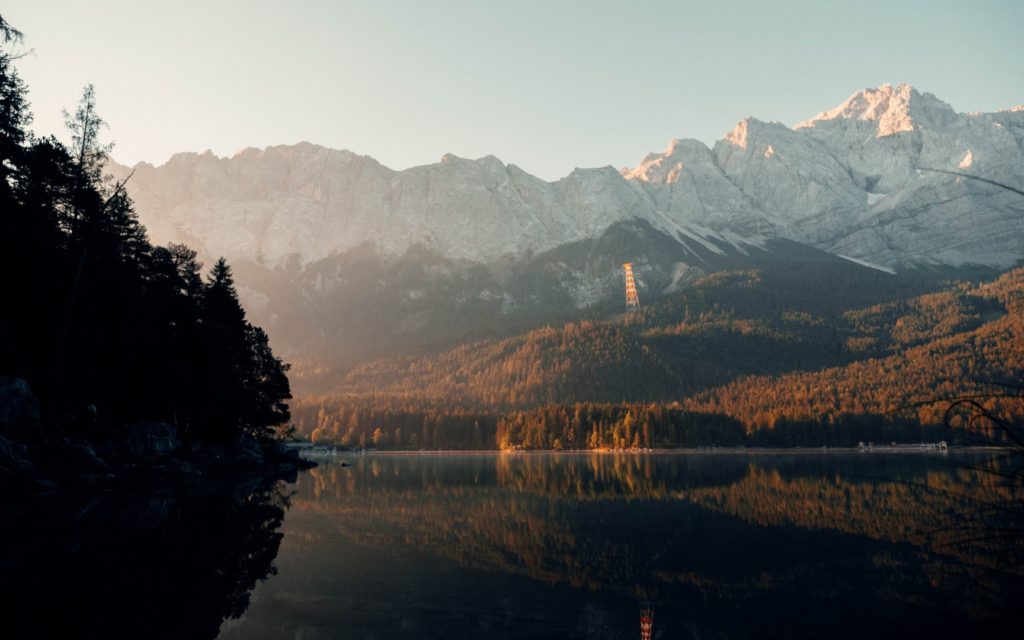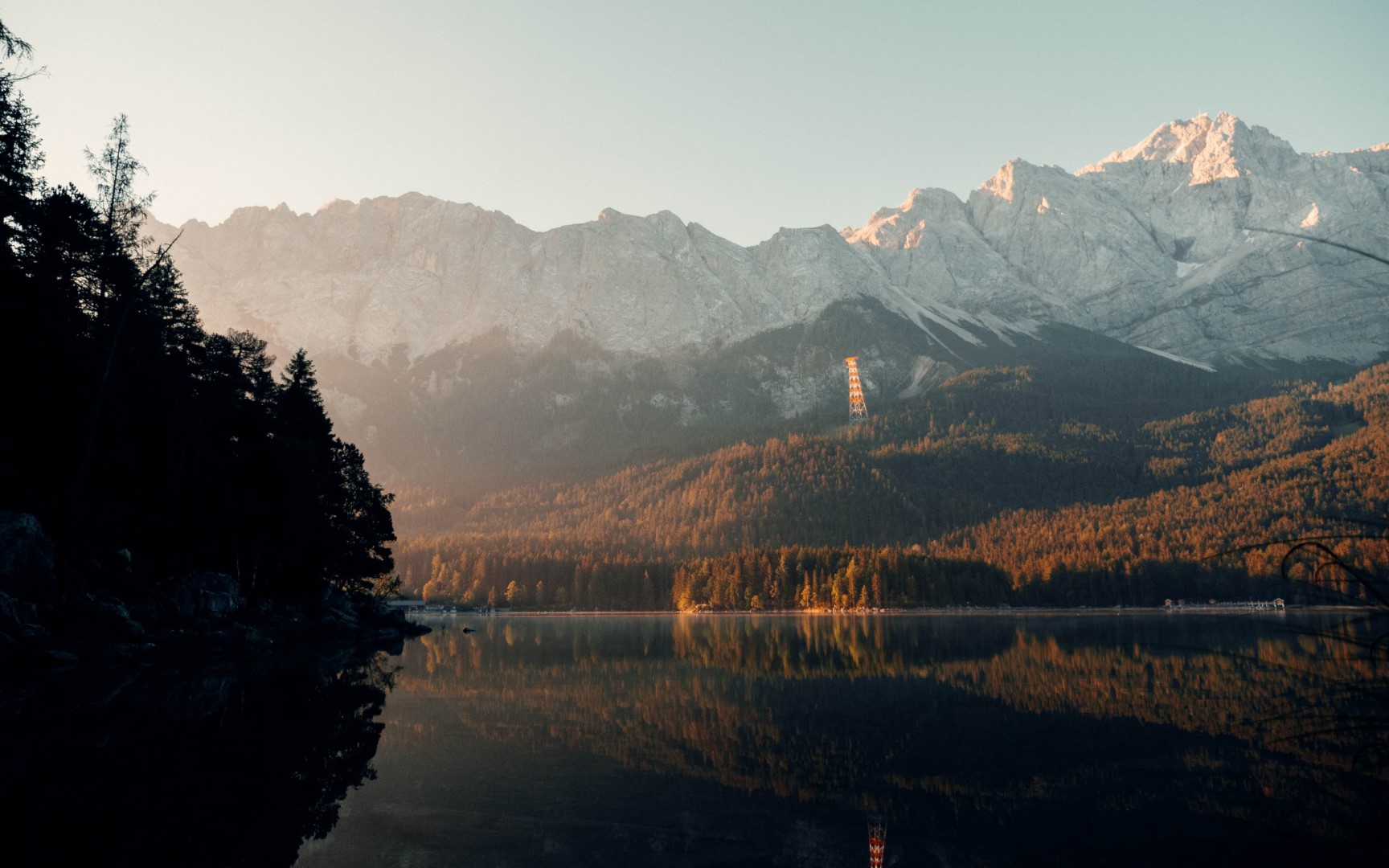 While you won't necessarily have a hotel NEAR Neuschwanstein Castle (it still takes about an hour to 1.5 hours from Garmisch to Neuschwanstein) this is a very popular place that visitors like to stay so that they can maximize their time in the Alpine area of Bavaria and not have to hotel hop.
In fact, we did this one year where we stayed in Garmisch and did ALL the things there (because there really is a ton) and then just made the short day trip over to the Castles and it worked really great.
Why Stay in Garmisch to visit Neuschwanstein?
You can stay in the area (Alps) longer without having to hop around to too many hotels in a short amount of time
It is only about 1.5 hours between the two, making it an easy day trip
There is SO much to do in the Garmisch area as well
Note: You may be tempted to seek out the bus between Garmisch and Neuschwanstein. While this is, of course, an option, I actually don't recommend it. It takes about 2 hours (so pretty much double the time) and makes lots of stops along the way.
Budget Hotels in Garmisch
Garmisch is another place that is hard to find "budget" accommodation in.
I mean, even the "Hostel" in Garmisch (Jugendherberge Garmisch) isn't exactly what I call cheap, coming in at around $125/night!
Depending on the season and what is available, you might be able to snag you a room for under €100/night at the Hotel Frauendorf, which is a good deal in Garmisch!
This "Old World" hotel is so very Bavarian and the restaurant on the ground floor is just what you need if you want to try some Bavarian as well as classic German foods.
Why I'd Book This Hotel:
Is one of the cheaper options in town
Is in the main part of town, with easy access to restaurants, shops, etc
Classic Bavarian guesthouse style
Mid Range
While not right in the center of Garmisch, if you've already got a car to get you easily to Neuschwanstein, this is a great option, just a few minutes' drive to the Altstadt.
You get extraordinary views overlooking the town itself as well as the surrounding mountains, especially out on the gorgeous terrace (with a restaurant)!
The rooms themselves are charming, clean, spacious, and very modern while still maintaining that Bavarian charm.
Why I'd Book This Hotel:
Great reviews
Quiet, yet still near the main attractions in Garmisch
Lovely rooms
Fantastic terrace views!
Luxury Hotels in Garmisch-Partenkirchen
This fantastic, luxury hotel has so much to offer its guests! Like so many other hotels in the area, it's got a great Bavarian feel to it but the rooms are nice and spacious. Guests often gush about the outstanding staff as well. You can choose half board options even in their great on sight restaurant. Of course, take advantage of the lovely spa and saunas in the hotel as well (included in the price)
Why I'd Book This Hotel:
For a half board option
If looking for a relaxing stay in the heart of Garmisch
Plenty of fantastic amenities
Apartment Stays in Garmisch
If you are looking for an apartment stay in Garmisch that comes with a really reasonable price (and fantastic Alpine views!!) the Panoramic Mountain Apartment is an excellent choice!
This 2 bedroom apartment has a kitchen for you to use, a welcoming and comfortable living room, and is nearby plenty of places to eat and things to do. It's like a home away from home in the mountains!
Why I'd Book This Apartment:
Those views!!
Great price for apartments (especially in Ga-Pa!)
Wonderful hosts
2 bedrooms with plenty of space