[This post may contain affiliate links where we earn a small commission. Please see our disclosure for more information and thank you for supporting our site so we can continue to bring you awesome content for your travel inspiration!]
I'm just going to come out and boldly say it,
Salzburg is one of my favorite European towns.
Yes, the owner of a GERMANY travel blog is unashamed to say that with all the fantastic things to see in Salzburg, that it had stolen my heart long ago.
But why???
Salzburg just screams "Picture Perfect Europe!!!"
It has all the charm of a small, Alpine village, but is a decently large enough city.
It has the laid back, easy going vibes that I just adore about living in Europe, but with enough activities to keep you busy if that's more your speed.
The cobblestone streets and street corner cafes couldn't be more quintessential "Europe"
It has my FAVORITE Bierhall I've ever been to (seriously, the beer here is just…..#ChefsKiss!)
Edelweiss, Edelweiss….Did someone mention Sound of Music??? Yes, the hills are truly alive in this movie inspired town!
Oh, and this is WanderInGermany…..let's not leave out the mention of FOOD!!!!! (but more on that in a bit)
Planning a Trip to Germany? Join Our Fantastic Traveling in Bavaria Facebook Group!
So, whether you have a full weekend to properly explore the town or can just squeeze in a day trip from Munich to Salzburg, I highly recommend putting it on your radar, or even better, on your itinerary for your trip to Germany.
In this Salzburg Day Trip from Munich guide, I'll go over exactly how to get there (like if you should take the train from Munich to Salzburg, drive, or do a tour), exactly what to see in Salzburg in 1 Day, and how to maximize your time so that you get the absolute most out of only one day in Salzburg.
You'll Find In This Article:
Is 1 Day in Salzburg Enough?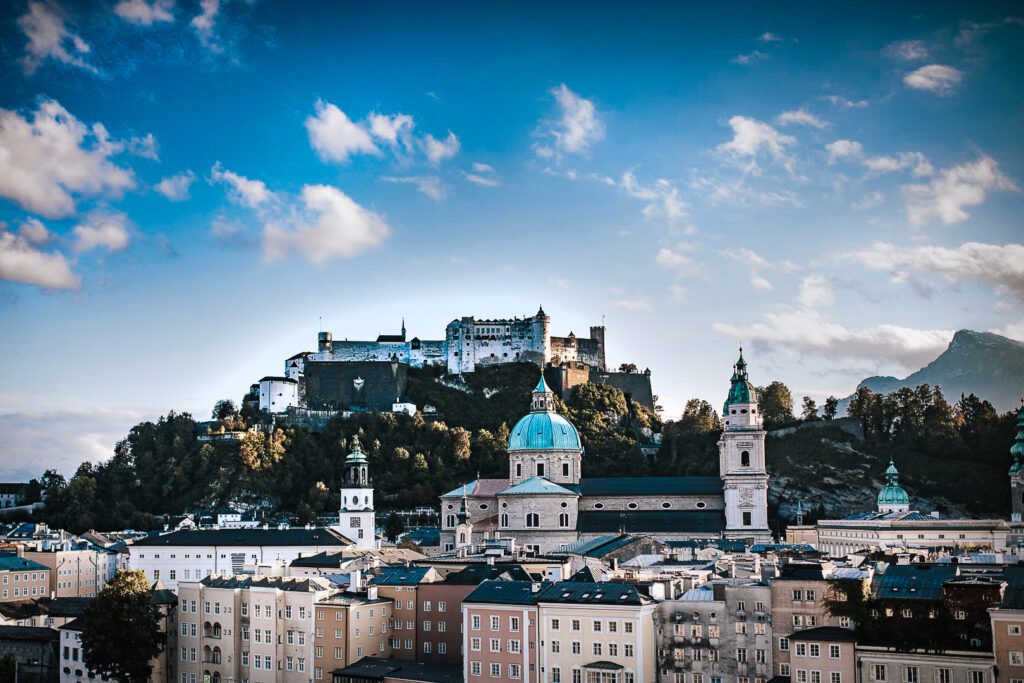 No. Plain and simple (sorry).
HOWEVER, I love it so much that I would argue with how easy (and affordable) it is to do a quick Munich to Salzburg day trip that even just one day scratching the surface is better than none.
So how much time IS needed in Salzburg? Well, that really depends on your interests and how slow or fast you like to travel. I would say 3-4 days is about perfect, but you can still squeeze in all the main highlights in two days if need be and even just one day in Salzburg will give you a great taste of what all it has to offer.
How Far is Salzburg From Munich?
Salzburg is literally juuuuust over the border of Germany into Austria. From Munich to Salzburg by train, you can be there in 1.5-2 hours. Surprisingly enough, it actually takes almost the exact same amount of time to drive the 150km between the two cities as well (if there isn't bad traffic)!
Day Trip Munich to Salzburg: Getting There
You have 3 main ways to do a day trip to Salzburg from Munich:
Train
Drive
Tour
IMPORTANT: Salzburg is in Austria, which means you will be crossing borders. Since both Germany and Austria are in the "Schengen Zone" there is no longer an official passport control. However, that doesn't mean that there aren't occasional checks, so you'll want to make sure you have your passports on you for this day trip.
Let's dive into all of them!
EXACTLY How To Get From Munich to Salzburg by Train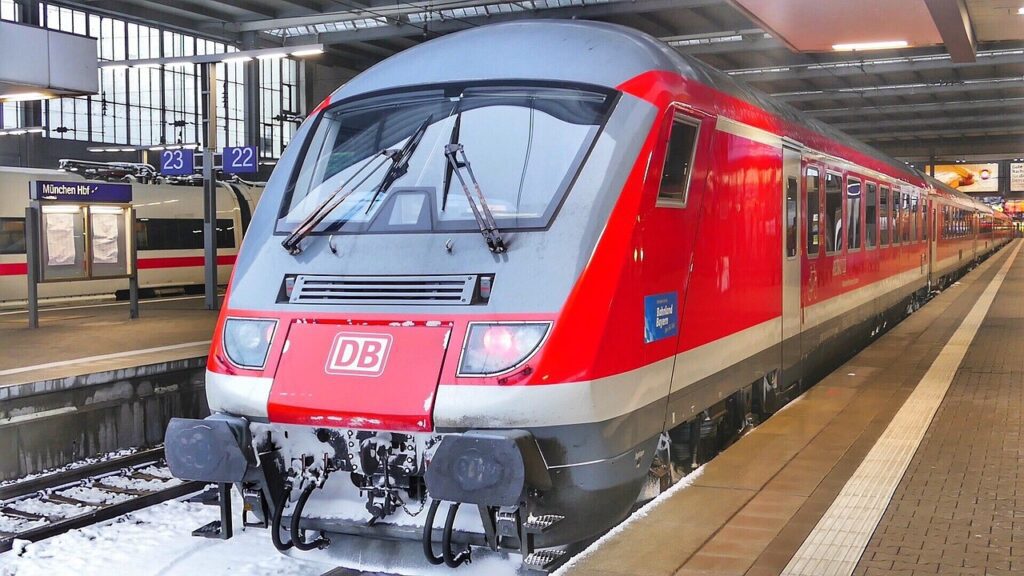 Buy the Bayern Pass
One of the reasons why I love living here is because I really love taking the trains in Germany. And if you've been around this site at all, then you know I LOVE using the Bayern Pass for affordable train travel within Bavaria.
"Buuuuut, Salzburg is in Austria, LeAnna! Not Germany!" Hey now, haven't you figured out that I'm all about the insider travel tips! And this is one of my faves! No, Salzburg is NOT in Bavaria but it IS covered on the Bayern Train Pass!!! And this is probably (in my opinion), the best way to travel from Munich to Salzburg.
The only catch is that unlike being able to use public buses, subways, etc within Bavaria, this train ticket will only get you TO Salzburg, not within and around the city. Once in Salzburg, you will need to purchase a local transportation ticket for Salzburg's buses.
So, the moral of the story: do NOT buy a single journey ticket on Bahn.com- that can easily cost double (or even more) than just getting the Bayern Train Ticket. #YourWelcome.
To Buy The Bayern Ticket: It's really easy. Just follow my steps on my Bayern Pass article, which goes into every nitty gritty detail you need.
Go to the Munich Hauptbahnhof
I recommend looking up on the DB Navigator App the daily times and to know exactly what train number and platform (Gleis) you'll need to be on. Just remember that with the Bayern Pass,
If it is a weekday, it is only valid after 9am
You may only take REGIONAL trains (again, I cover exactly how to know this in my guide). Therefore, for this particular journey, you'll need a Munich to Salzburg train that most likely starts with "BRB," "RE," or "M." Any that says ICE, IC, or RJX will not be valid with the Bayern Pass.
There is technically a train that leaves most days at 8:56am….that's your choice if you want to see if you can squeeze by those 4 minutes before a conductor can get to you. Otherwise, I recommend getting on the next train at 9:55am. Alternatively, if you get on at the Ostbahnhof (not the main station) you can actually catch the original 8:56 train from the HBF because it stops at the Ostbahnhof a few minutes later…meaning it is after 9am!
If it is the weekend, I actually recommend going as early as you can manage, as you'll want as much time as possible for your jam packed Munich day trip to Salzburg.
Board The Train
But first, grab something to eat! I always love grabbing a quick snack or meal before hopping on the trains. You are free to eat and drink (yes, even alcohol) on the trains, so I typically will get a sandwich or Brez'n from any of the stands in the train station before finding the train. I have a lunch spot recommended in Salzburg, but it will be a later lunch, so you'll want to have something on hand so that nobody gets Hangry on us!
The Munich Hauptbahnhof is a really easy to navigate station. The only thing to know about the Munich to Salzburg trains is that they are often not in the main area. Find the Starbucks and walk down the platforms towards the outside and there is a little subset of tracks. This is typically where the Salzburg trains are (particularly if they are the "M" Meridian trains). I mention this because it does take a few extra minutes to get to, so you'll want to plan accordingly.
Important: If you bought your Bayern Ticket at a kiosk there, make sure you find a little yellow box to validate your day ticket BEFORE boarding. You also need to have all the passengers traveling with you written on the ticket before boarding. Yes, they will check.
How Far is Munich from Salzburg by Train?
Only about 150 kilometers. That means you'll be from one Hauptbahnhof to the next in as little as 1.5 hours and typically no more than 2.
So, kick back with your coffee (it IS only 9am in the morning, buuut if you chose to grab a beer, I mean, hey….When in Germany!), your fresh pastry or Semmel (sandwich), and enjoy the super easy train journey.
Munich to Salzburg by Car
While I often like having the flexibility of driving in Germany, this is actually a situation where I say the trains are way better, ESPECIALLY if you are just doing a one day trip Munich-Salzburg. Here's why I personally would not choose to drive:
The Munich to Salzburg travel time is actually really no different whether you take the train or car (both take you about 1.5 hours)
You won't have to deal with parking in either location
Gas prices are getting so ridiculously high right now (I'm talking close to $10/ GALLON!) so it would be much more expensive to drive
Traffic in both Munich AND Salzburg can be stand still….especially on weekends! So that above mentioned 1.5 hours may turn into much longer than expected, cutting deeply into your valuable time.
If you plan on making it a longer trip or are looking for things to add to this particular journey, then I can't recommend doing Berchtesgaden enough, which then a car is absolutely recommended, since that's a lot harder to do by public transportation.
Directions
The easiest way to get from Munich to Salzburg when driving is to hop on the A8 and almost immediately you'll see signs that say "Salzburg" so it's incredibly simple to get there. Once you cross the border, I often joke that you'll know because you'll be in "Mario Brother Big Land" (suddenly all the road signs are big compared to Germany's!). After the border, just keep following the signs along the A1 Austrian Autobahn into the city center.
Is a Vignette Needed to Reach Salzburg from Munich?
Important: If you plan on driving further into Austria on their Autobahn, you'll need a Vignette (which you can get at any gas station along the border). However, there is just a very short stretch of Autobahn along the A1 in Austria that takes you from the border to the city, and this is exempt from needing a Vignette. You can also veer off at the border and take the B1 Bundestrasse (highway) to the city center as well.
Salzburg Tour from Munich
Your final option is to take one of the many Munich to Salzburg bus tours (or even hire a private one).
Munich to Salzburg Sound of Music Tour
I'm going to do a whole section on Sound Of Music Tours below because your options are plentiful! However, if this is one of your main reasons for wanting to do a day trip to Salzburg, then doing a specific Sound of Music Tour from Munich is an easy way to get there and see the Musical's main sights.
Alternatively, since it is so simple to take the train to Salzburg, I recommend just getting there yourself and then doing a tour in town.
How To Maximize Your Time With Only a Salzburg One Day Itinerary
1 Make a Game Plan
Below I'll give you an EXACT itinerary for your day. Even if you are a nilly willy, fly by the seat of your pants kinda traveler, you have limited time, so going in with a detailed itinerary for your day is going to help ensure you get the most of your time!
2 Consider a Salzburg Card
This isn't a must, but depending on what you decide to do in the day and how much you plan on zipping around the city, it could really be worth it for you to get a Salzburg Card. There are also 48 and 72 hour cards, but if you are just going to do a day in Salzburg then the 24 hour pass will be perfect for you. Here are a few things that it will get you:
Free transportation on all buses and trams/ trolleys (it does not include most Sbahns). Specifically, you get free transport on the following routes/ lines:

Obus lines 1-14
Albus lines 20-28, 31, 34, 35 & 151
Postbus lines 130/140 as far as Eugendorf, the No. 180 to Grossgmain & 170 to Rif
Suburban rail line S1 to Acharting
WALSIE bus taxi

Free admission to a lot of tourist spots in town (like Mozart's Birthplace, the Toy Museum, the Stiegl Brewery Tour, and more)
Take the Funicular to the Fortress at no charge
Get a ton of discounts on great activities like 10% off a Mozart Dinner Concert, 20% off a city walk, 20% off a Sound of Music Tour, and more
Have "Skip the Lines" privileges at numerous locations.
Getting Around Salzburg
Getting around Salzburg is actually really easy. While it is a decently sized city, most of what you will be doing in 1 day is going to be in the Altstadt (Old Town) city center, or very nearby.
By Foot/ Walking
The easiest way to get around is just to walk. Even from the Hauptbahnhof, the Altstadt is only about 15-20 minutes of walking. And once in the city center, everything is easily accessible by foot (and preferable since there are plenty of great little things to see all over).
By Bus
If you find that something is just a wee bit further than you'd prefer to walk, there is a fantastic bus system in town. The buses take you just about everywhere you need to go and run frequently and often. You can buy the tickets right on the bus but there are also little kiosks at many stations that you can also pre-purchase a ticket at.
If you have planned out your day and know you want to take the buses often, I highly recommend just getting the Salzburg Day Ticket for buses. If you purchase it ahead of time, it's only € 4,50 for an entire 24 hours (or only € 6,50 for same day travel)!
Alternatively, you can get a ticket that is good for a whole hour for only € 2.20.
One Day In Salzburg Itinerary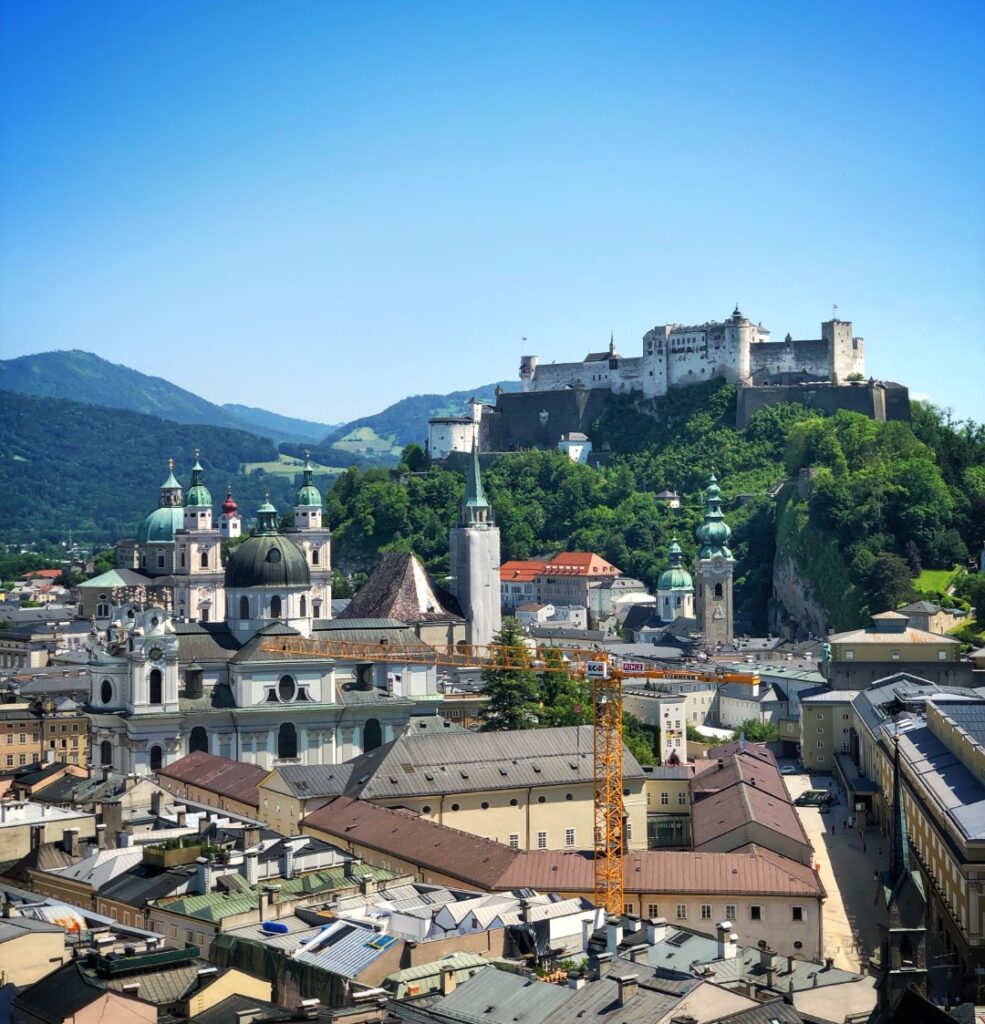 The way I see it, you have two main options for doing Salzburg in a day
See the main sites and embrace the fantastic culture of the Salzburg
Do the Sound of Music Tour
Unfortunately, due to time constraints, I really don't recommend doing both. I mean, you might find a short Sound of Music tour, or you can skip some of the stops for the city itself, but I think doing that will short change you on either option. So, below, I give exact details on both variations of the day.
Option 1: Salzburg 1 Day Itinerary
We are going to pack this day in so full you won't have any room for that famous Austrian Apfelstrudel. Ooooh, who am I kidding!? There's ALWAYS room for Apfelstrudel!!!! But no seriously, you'll need your running shoes on if you want to make the most of your 1 day in Salzburg.
DIY Walking Tour
I'm going to assume that you have taken one of the first trains possible with the Bayern Ticket, so you've arrived at the Salzburg Hauptbahnhof between 10:30-11am, which is what I'm going to base the rest of the day around. Obviously, if you went rogue (or are coming on the weekend), then adjust your times accordingly.
For this little "Walking Tour" the time JUST for walking is about one hour. You'll want to add in additional time for the quick stops though. This will vary depending on your interests or exactly how much time you have in your day. I would say plan on 2 hours total for this walk for the quickest of Wanderers and up to 3 for those that want to go at a bit more leisurely pace.
From the Hauptbahhof…
Frolic in the Mirabel Gardens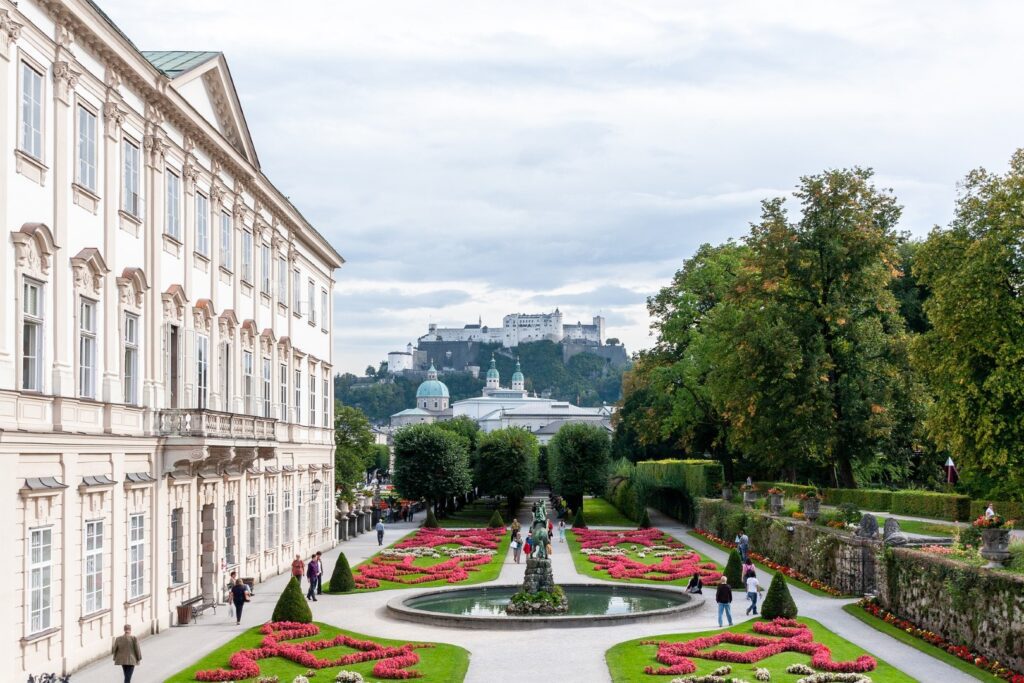 To get to the Mirabel Palace and Gardens, you can either walk about 15 minutes or hop on a bus and be there in about 6 minutes. Lots of the "O" buses will stop here and leave literally every few minutes from the HBF.
If you've seen the Sound of Music, when Maria hits that final high note in Do, Re, Mi (and when all the kids are hopping up and down the staircase), THIS is where they are at. Go ahead, I won't judge if you sing a few notes here yourself (I'd be lying if I said I personally didn't). You really don't need much time here, but it is really enjoyable to do just a quick stroll through. The gardens are simply stunning and on the staircase, you get fantastic views out to the Fortress as well!
Cost: Free
Time Needed: 10-30 minutes (more if you particularly love Gardens or the Sound of Music)
Address: Mirabellplatz 3, 5020 Salzburg, Austria
Walk Along the Salzach River and Cross the Mozartsteg Brücke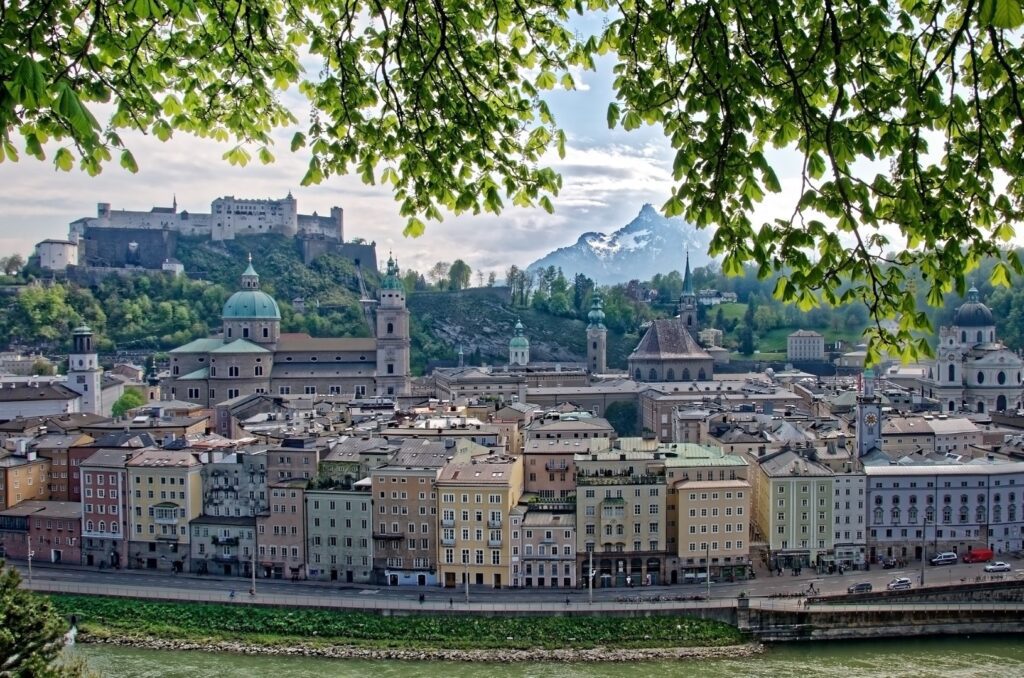 From the Mirabel Gardens, take a beautiful stroll along the Salzach river towards the Mozartsteg, a wonderful pedestrian bridge over the river. This particular part of this walk isn't even really mandatory, as there isn't a "highlight" to be seen. Instead, these are the moments I love about Salzburg (and Europe in general). Even though your time is tight today, take moments like this to just slow down a bit and enjoy the laid back style of life here as you take in wonderful views out over the Old Town (across the river).
As you walk across this bridge, if you are with someone special, you can add a lock to it to "lock" your love together for eternity!
Fun Fact: If you are wondering why everything is named "Salz" here (Salzach River, Salzburg….) it isn't because everything is salty here. Instead, this river used to carry the precious mineral of salt from the salt mines nearby (another fun day trip if you have the extra time) all over the region all the way down to the Mediterranean. Salzburg (Salt Castle) and the town became a major trading town and flourished every since.
Cost: Free
Time Needed: 10-20 minutes from one stop to the next (depending on how fast you walk)
Mozartplatz
Salzburg is the birthplace and home of Mozart and the town LOVES to honor him (You'll see Mozart stuff ALL over. They even have special chocolate in his honor- find a "Mozartkugeln" just about anywhere in town and give it a nibble!)
Oddly enough, Salzburg wasn't all that friendly to Mozart when he was around so he ended up living in Vienna. Maybe the over the top Mozart museums, concerts, chocolates and more is a way to atone for how they treated him (ok ok, or are just cashing in on it from the tourists today!)
But this Platz was actually one of the first town squares in Salzburg originally, so it is also important for that significance as well. But today, we are just going to do a quick 360 of the square, click a quick photo of the statue if you wish, and keep going.
Address: Mozartpltz 5020 Salzburg, Austria
Time Needed: A few minutes to pass through to the next stop
The Residenzplatz
This grand town square has a very "Italian" feel with the architecture. Forget separation of church and State. The Holy Roman Empire very much was intertwined with royalty in the past. That's why the Cathedral is so close to all of these State buildings. Today, these buildings are a museum that showcases the past royalty, musicians, artists, and writers (Salzburg was/is often a Mecca for the fine arts) of Salzburg.
On a longer trip to Salzburg, this would typically be a great "people watching" square, particularly next to the huge Tritan fountain, but today we will keep on moving.
Glockenspiel
However, if you just so happen to be at the Platz around 7am, 11am, or 6pm (doubtful with this itinerary, but just throwing it out there!) then try to catch the Bell Tower Glockenspiel. Each month has its own special songs that play from the 35 bells in the tower!
Address: Residenzpl. 4, 5020 Salzburg, Austria
Time Needed: A few minutes to pass through to the next stop
Grab A Picnic Lunch at the Grünmarkt
You will be well due for lunch by this point. You can easily go have a sitdown lunch anywhere along the route, but another thing that I love about Europe is their outdoor markets, and this one is particularly local and fantastic!!! The Grünmarkt has been around for over 150 years so you are guaranteed an authentic experience.
Wander around the stalls and find great, local produce, meats, and food that is very regional. (Tip: If you are a meat eater, look around for the local meats, particularly Speck (like a bacon/ ham) which is very popular and special to this area. Tiroler meat is also fantastic! And of course, be on the lookout for fresh, Alpine Cheeses!)
After you've picked up a few supplies, the Furtwänglerpark is just around the corner. Go grab a park bench and enjoy living like a local for a few minutes as you chow down on lunch!
Note: The Grünmarkt is closed on Sundays and Public Holidays
Cost: Market is free but plan on €10-15 for supplies for lunch
Time Needed: 15-30 minutes at the market + 30 minutes at the park for lunch. If you are quick on time, you can skip the park and just eat on the go as you continue this walk.
Address: Grünmarkt, Universitätspl., 5020 Salzburg, Austria
See Mozart's Birthplace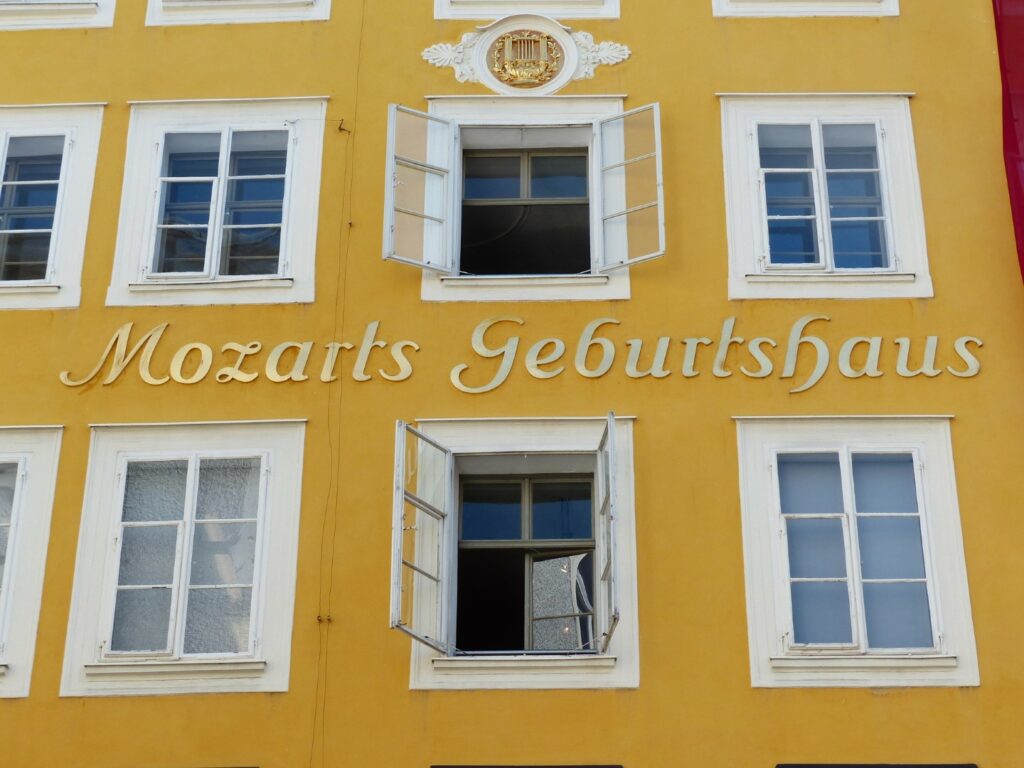 This is the place of Mozart's beginnings (quite literally). Today, they have turned his childhood home into a museum and have done their best to make it a "time period" style of interaction to give you a glimpse into what his life was really like as a youngster.
However, unless you are an absolute Mozart nut, then, again, for time constraint reasons, this is one of those moments that we must just do a quick touristy "Check Mark" next to the "See Mozart's Home" on the Salzburg Things To Do List.
Cost: Free entrance inside with a Salzburg Card
Time Needed: A few minutes if you are not going into the museum. Otherwise, a minimum of 45 minutes if you want to go inside
Address: Getreidegasse 9, 5020 Salzburg, Austria
Stroll Down Getreidegasse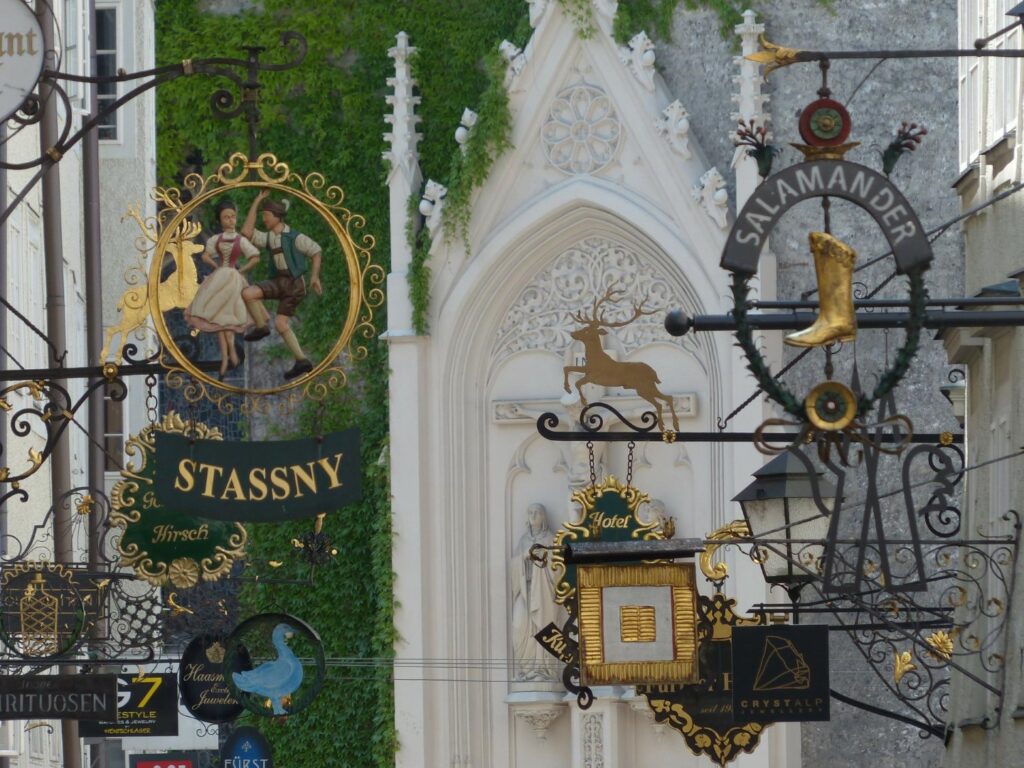 This is a quintessential road of Salzburg. As you meander down this lane, look up at all the buildings and notice the wrought iron displays. Throughout towns in Bavaria and Austria, this used to be each store front's "Advertising Sign," so to speak! If it was a bakery, there might be a pretzel, if it was a blacksmith, the sign might have a horseshoe. Have fun trying to figure out each shop.
The Großes Festspielhaus & Toscaninihof
Another famous Sound Of Music stop is this huge concert hall. Who doesn't love the scene in the movie where the whole family performs for Salzburg's Elites in the huge theater? This is that hall! As you walk along Hofstallgasse, the huge, long building(s) on the right are the "Great Festival Hall." On the end,at the corner, is the Toscaninihof, which is really only famous among Sound of Music lovers. This is where Rolf hands Leisl a telegram after their family rehearsal for the big show.
If you want to see the inside of the concert hall, you'll either need to be attending an actual show or on a special tour of Toscaninihof.
Cost: None to walk past
Time Needed: A few minutes to walk down the Hofstallgasse (street)
Address: Hofstallgasse 1, 5020 Salzburg, Austria
Domplatz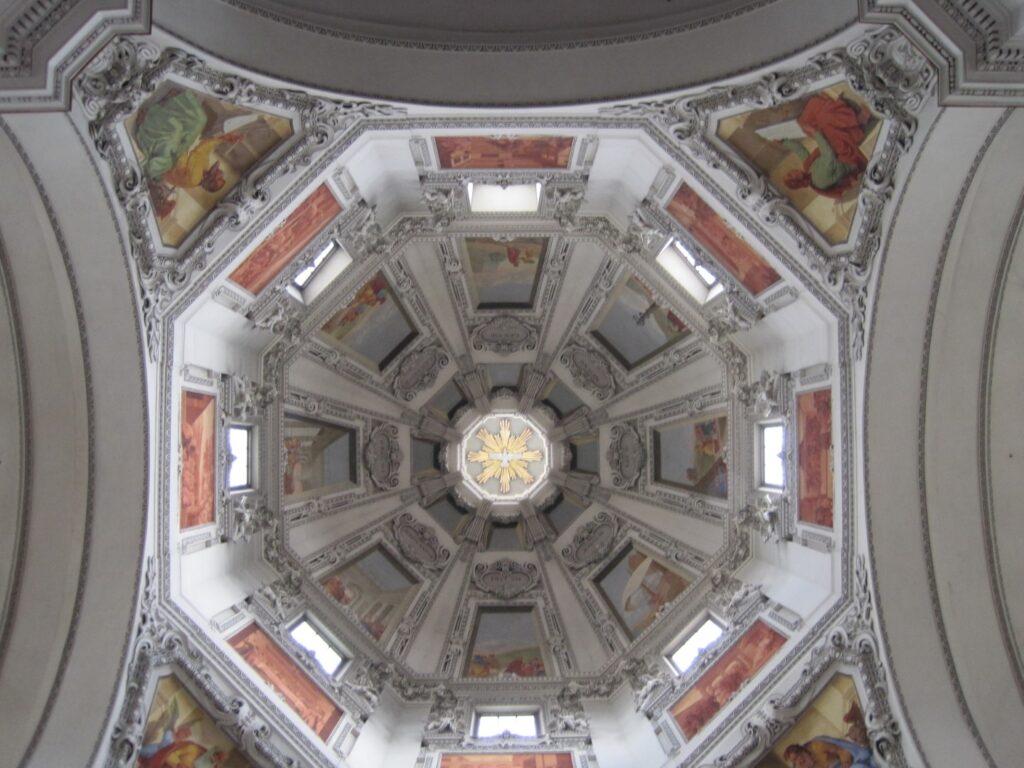 Before rushing inside this Cathedral, take a few minutes to gaze at it from the far side of the square. Like the New Residence, this Cathedral is very "Italian" inspired and so very Baroque! They often called Salzburg "The Rome of the North" and it's easy to see why.
As you enter the church, notice the dates on the iron gates. The first date of 774 was when the first church was built here. Now, I'm no math wizz but it always boggles my mind when I think about these places being over 1200 years old!!!! Granted, that church is not what we see today, but still! Today's church is just a measly almost 400 years old 😉 but it almost didn't survive WWII when a bomb destroyed the Dom. Luckily, it was repaired and we still get to marvel at its beauty today.
Take a few minutes to wander the huge inside. See the 4 organs? Mozart himself was one of the organists during his time living in the city. In fact, music is such an important part of this town (and church) that the Sunday services are basically concerts themselves! Feel free to attend the Mass on Sundays at 10am, which boasts gorgeous music almost every single week. Alternatively, there are often (free) concerts at any given time, just check the schedule to see if you'll be there during any.
While I am no longer a religious person myself, I always adore tucking into the churches of Europe. It is always so quiet and peaceful (and cool on a hot summer's day!) On a day like today, where we are rushing around packing as much as possible into our time in Salzburg, it's really enjoyable to just slow down, even if for 10 minutes to appreciate the silence and tranquility of these beautiful churches.
Cost: Free. Donations accepted
Time Needed: 10-15 minutes
Address: Domplatz 1a, 5020 Salzburg, Austria
The next few stops aren't really "Must Sees" however, you are going to be walking anyway, and these are great places to just see a bit more of a "local" side to Salzburg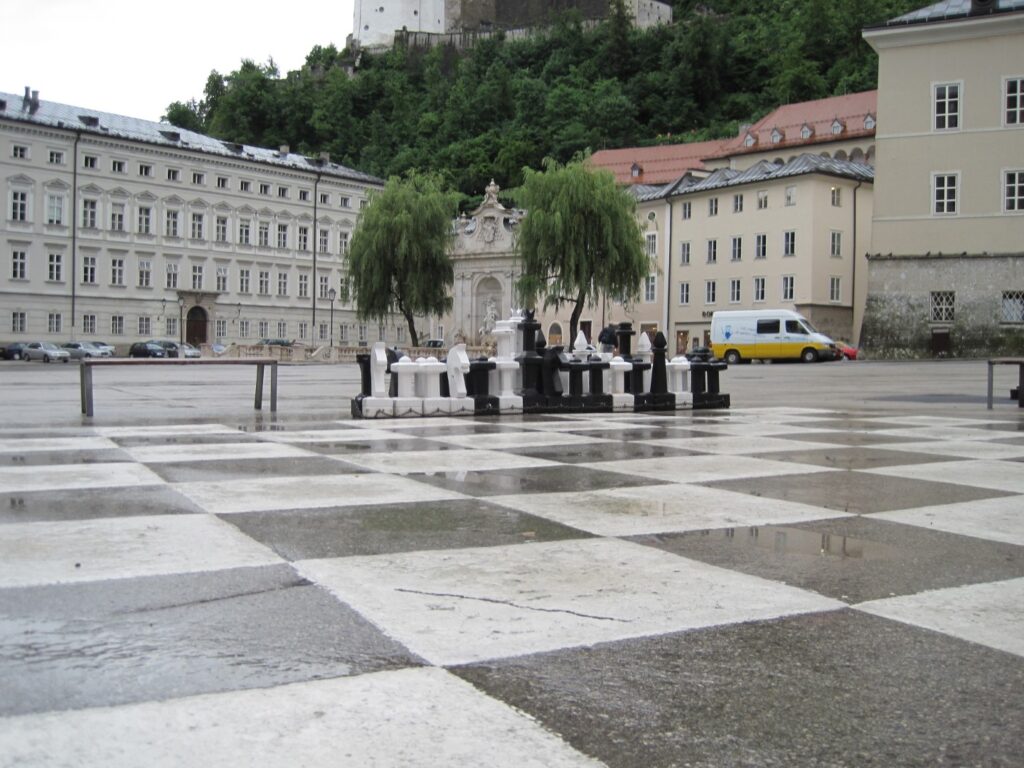 Kapitelplatz and the Golden Orb

This is a fun little square that has a GIANT chess board. It's fun to watch or even play a game yourself. The huge Golden Orb is a popular photo spot

Neptunbrunnen: Neptune's Fountain is a huge, beautiful fountain, which actually was originally a place for horse baths!

Find the Stiftsmühle (Water Wheel) tucked by an alley on the West side of the Platz. It's easy to miss, but if you plug in the "Stiftsbäckerei" to a GPS, you should be able to find it. This little canal is still used today for water power generation. However, this wheel was originally used for grain, which is why there is still a bakery right here. If you haven't popped into a Bäckerei yet on your German trip, do yourself a favor and go see what they have baking today! This one, in particular, has some great, fresh sourdough!
Time Needed: As little or as long as you need/ want. You can pass through these quickly to help speed up your time if need be.
Friedhof St. Peter (Petersfriedhof) / St Peter's Cemetary
While a cemetery may seem like a very odd tourist stop, if you've never been inside one in Germany/ Austria, then it's actually a must!
You'll notice the absolutely gorgeous, impeccably well groomed gravesites that look more like mini gardens and shrines than tombstones! That's because, in Germany and Austria, you actually rent out the plots. So, it's very common for the people renting them to come and tend to the gravesites regularly. When they are no longer rented, the remains get moved to the walls and the next person gets the spot.
Does this cemetery look familiar, despite never having been here before? That's because this is one of the Sound of Music sites in Salzburg! Remember when the Von Trapp family escapes from the Nazis and they hide in a cemetery and almost get caught by Rolf? Well, while they didn't actually film IN this cemetery, but the Hollywood set used this exact cemetery as its inspiration.
I highly recommend taking a bit of time to just walk around (respectfully and silently!) for a few minutes to appreciate the somber beauty of this cemetery.
Cost: Free
Time Needed: 10-20 minutes
Address: Sankt-Peter-Bezirk 1, 5020 Salzburg, Austria
St. Peter's Church
On any other day, I'd recommend to quickly pop into this church on the way to our next stop, but due to time, let's keep it moving.
Fortress View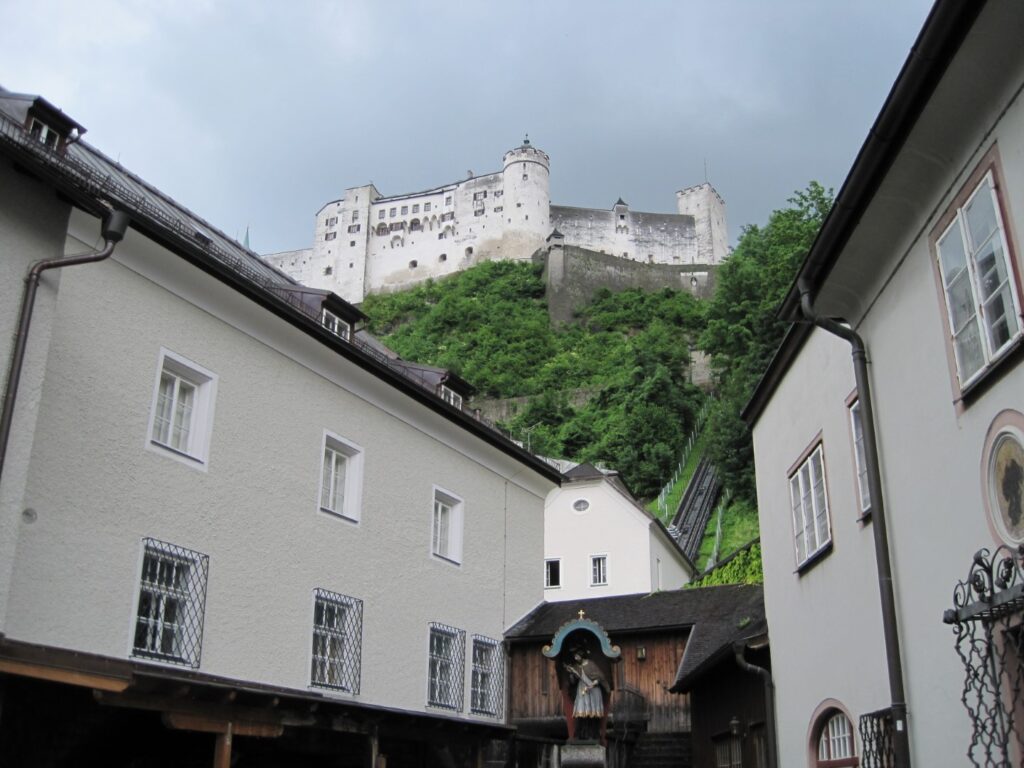 As you walk down the alley towards Festungsgasse (before you get to the Funicular), you'll see a fantastic view of the Hohensalzburg Castle from below. This is often considered one of Europe's most impressive castles and it is easy to see why. High up on the hill and HUGE, it did its job well- it was so intimidating that it was never actually attacked!
Take The Funicular (Festungsbahn) Up to the Festung (Fortress)
The first time I visited Salzburg, I was all about "Experiencing" every bit of the beautiful city, so I had the grand idea of basically "Hiking" up to the fortress. Now, my lazy but is all about the Funicular! Especially today, since we simply just don't have time to do the hike (don't worry, if you like to walk, I've got a GREAT activity coming up next!)
Hohensalzburg Fortress (Festung Hohensalzburg)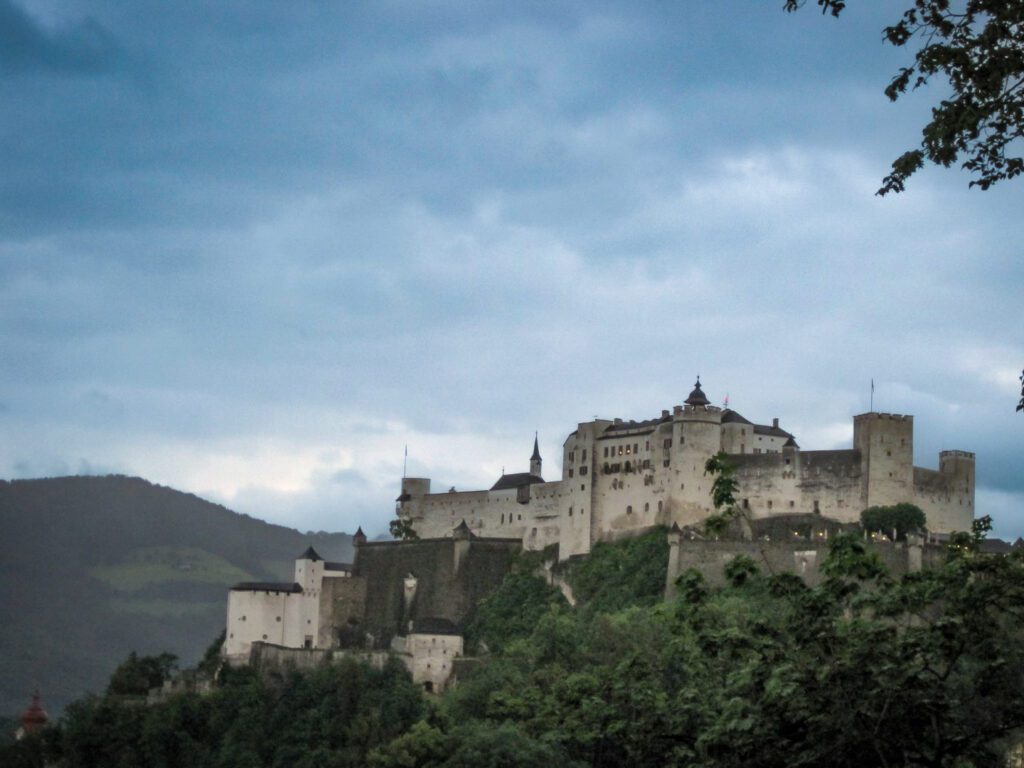 This is a highlight for anyone visiting Salzburg, particularly for the views!!! Depending on what you want to achieve for the rest of the day, you'll need to make a tough call on if you want to actually go inside, or if you'll just head up for the commanding views over the Salzburg region. For example, if you are going to try to squeeze in a Sound of Music Tour, you may have to choose to not do the tour of the entire fortress.
Cost: Free with the Salzburg Card for the "Basic Ticket" which includes: Funicular ride up and down, Fortress area: courtyards, bastions, chapel, Panorama tour, Fortress museum, Rainer Regimental Museum, Marionette Museum, and Armoury house
Time Needed: 2 hours minimum
Address: Mönchsberg 34, 5020 Salzburg, Austria
Alternatively:
I would cut out some of the above walking tour if you need some extra time at the Fortress or
Just take the Funicular up and enjoy the amazing views from the top of the fortress (this is an especially good option if you don't care much for historical sites or armories, etc)
In this case, plan on about 30-45 minutes total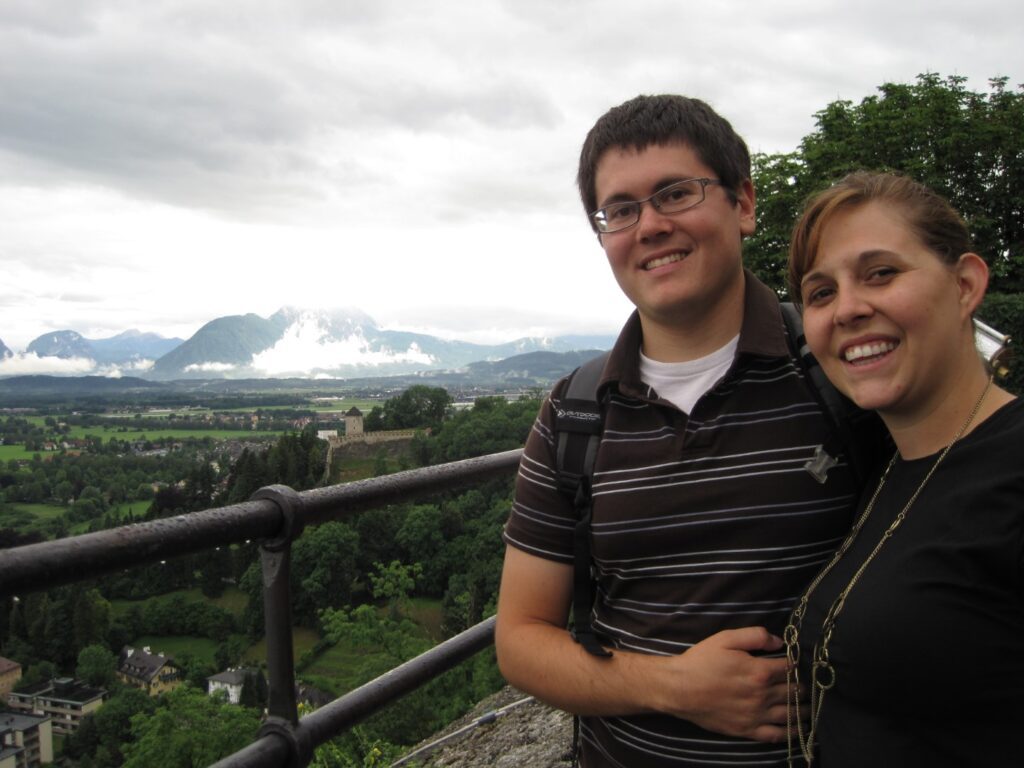 That concludes your DIY Altstadt Walking Tour of Salzburg. Now….
Walk From the Fortress to the Augustiener Brauhaus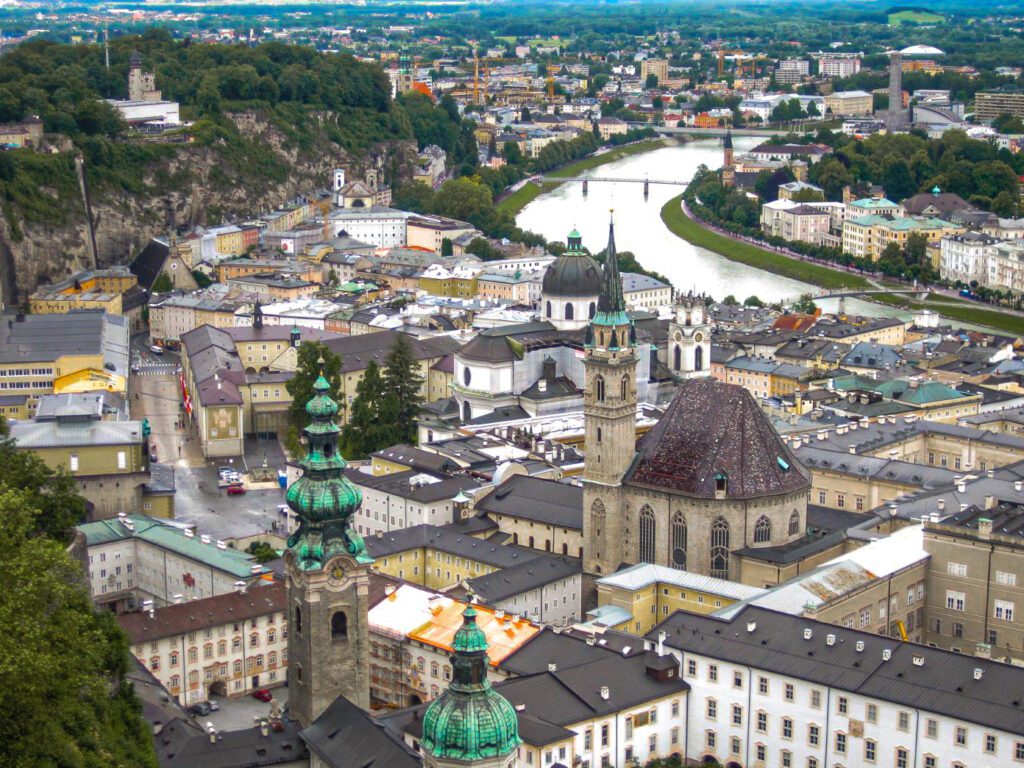 THIS!! This just may be my very favorite (and as "off the beaten path" as you can get nowadays) recommendation for Salzburg!!! By this point in the day, if you have done the above walk and chose to do the tour of the Festung, it should be well into the late afternoon by now. This is perfect timing to get over to the Augustiener Brauhaus for a fantastic dinner and classic Beerhall experience.
Note: If you are doing this itinerary in the Winter, know that it can get dark by about 4pm, in which this portion won't work well. Instead, you may just have to take the bus and skip out on the (fantastic) walking experience between the two.
From the fortress, you are going to take an easy "hike" (don't worry, "hike" sounds more exotic than "walk" but really…it's just a glorified walk!) from the Festung to arguably my favorite beerhall in all of Europe. Yes, that is a bold statement but I am willing to stand by it!!!!
While up at the fortress, find the signs for the Monschberg Route. On this short little hike (less than an hour and not difficult), you'll get some of the most stunning views out over the roof tops of Salzburg, the river, and if you are lucky, even get a serenade of church bells.
The path will end at my absolute favorite beer hall of all time: the Augustiner Bräu Kloster Mülln
The Augustiner Bräu Kloster Mülln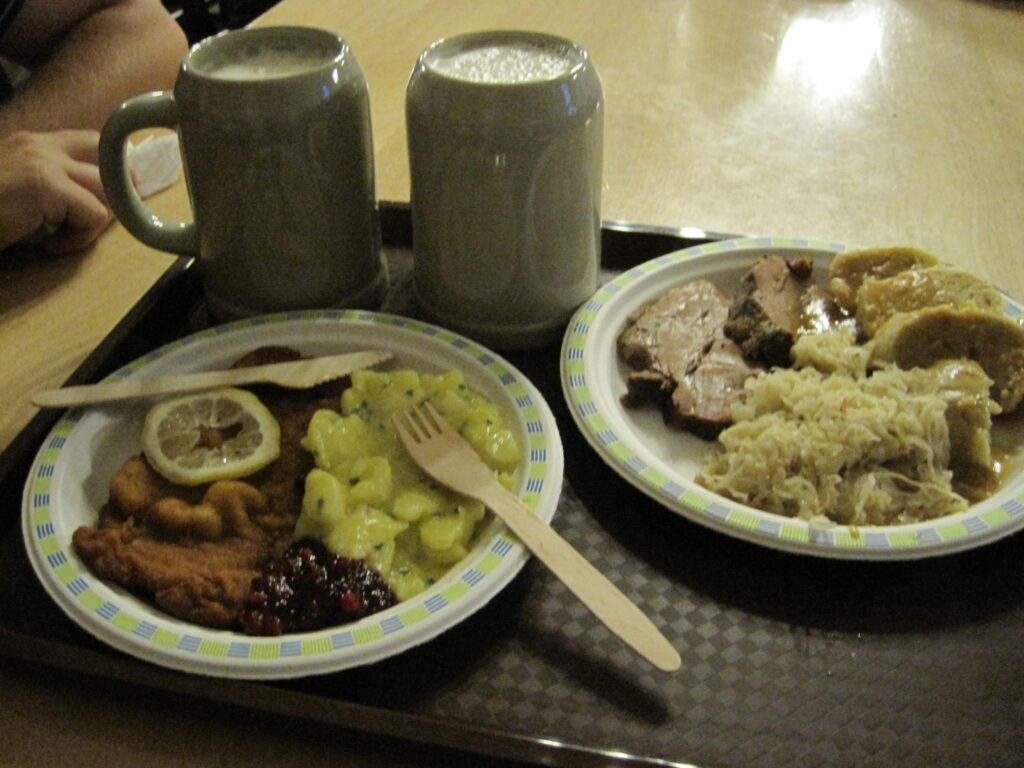 At this Abbey, the monks that run the Kloster still make their own beer and It.Is.Delicious! I always joke that monks always make the best beer (I LOVE the Weltenburg Kloster near Regensburg (Germany)-in fact, they have won "Best Beer Awards" for the WORLD there and my favorite Radler, is the Mönchshof brand- yes, from monks!)
In fact, before I moved to Germany I didn't like beer (GASP!!!!) It was our first trip to Salzburg that we went to the Augustiner Bräu Kloster Mülln and I tried some of my hubby's beer and was like, "WAIT! Is THIS what real beer is supposed to taste like!? THIS I CAN DO!!!" It is SO fresh and cold that even beer skeptics may just find themselves going for a second mug!
Inside, you'll find a network of Beerhalls. Depending on the time and day of the week, it may be difficult to find some space and you may need to walk around quite a bit until you find a few open seats. Alternatively, if it is nice weather, you can always enjoy the wonderful Biergarten outside!
Tip: In German/ Austrian cultures, you share your table with others. If it looks like a table has some open seats, don't hesitate to ask "Ist Das Frei?" (said like "fry") Just make sure to give your tablemates a good "Prost!"
In the main hallway, there are the food stands. You don't order any food or drink at your table, so if you need to get up to get anything (or to go to the bathroom) you'll want to make sure someone is manning your table. Wander up and down this hallway and pick out some insanely delicious, local style Salzburg food.
Enjoy some classic dumplings and kraut (these are my favorites here, as they do bread dumplings, which are really delicious!) or other regional Austrian food (like sausages) while you are there!
Despite it being a whirlwind of a day, try to plan on at least a few hours at the brewery. Why? Because THIS is what (Southern) German/ Austrian culture is all about!!! Slow down, really taste your food and drink, enjoy the company you are with. If you are lucky, they may have an Oompah band playing some great Austrian Polka music. If you wizz in and out of a place like this, you really lose out on what local life feels like, so relax after a long day of sightseeing and have an extra beer!
Getting Back to the Train Station and Heading Back to Munich:
From the Augustiner Bräu, you have two options on getting back to the HBF (this may be determined by what time it is and how much beer you had!)
Walk: It's actually only about a 20 minute walk back to the HBF. I recommend plugging it into a GPS App like Google or Maps.Me (you can use offline)
Use Public Transportation: You have tons of options for public transportation (plug it into Google because this will be determined by what time you leave). Many of the O buses go past the Augustiner to the HBF in about 15 minutes, or the S3 takes less than 10 minutes
The trains run about once an hour until 11pm, so just plan accordingly so that you don't miss a train by a few minutes and have to waste your precious time waiting at the train station for the next one.
Option 2: Sound of Music Munich-Salzburg Day Trip
For some people, Salzburg is one thing: SOUND OF MUSIC!!!!! Funny enough, most Germans and Austrians have never even seen Sound of Music, and for those that have, they don't get what the big to-do is about.
But for people like me, who grew up on the Sound of Music and was as big of a Drama Nerd in high school as you could get, I knew I had to make a Sound of Music Tour a top priority. However, for just a Salzburg day trip, you are going to have to make some sacrifices on what you will want to do.
For example, you may have to skip out on the fortress and (NO!!! The Augustiner) if you want to squeeze that Sound of Music Tour in.
Sound of Music Tour Options:
1. Panorama Original Sound of Music Tour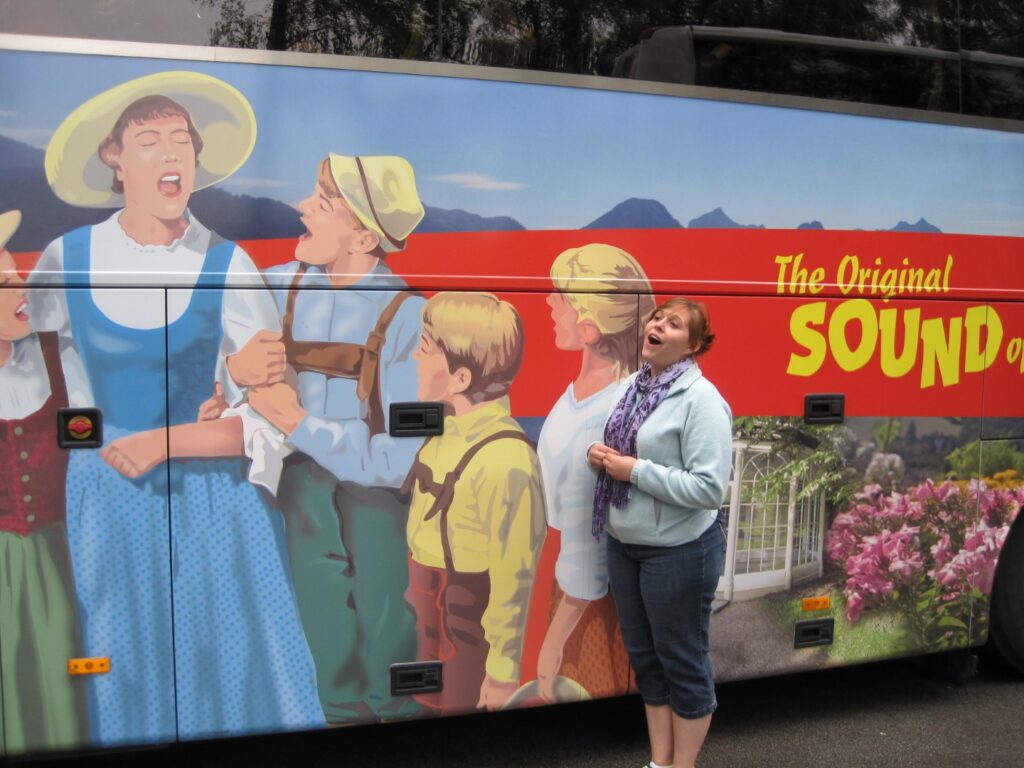 This is actually the tour that I personally took in Salzburg and was pleasantly happy with it. Extremely touristy? Sure. But what else can you expect??? This particular tour takes you in a bus (be prepared to sing….they WILL make you sing!) around some of the popular SOM sights such as:
Mirabell Garden and Pegasus Fountain (Do, Re, Mi)
Nonnberg Convent, where Maria was a novice nun
Schloss Leopoldskron (this was not their house in real life, but it was the set for their home in the movie)- today it's a grand hotel that you can stay at
Hellbrunn Palace (several singing scenes in the movie were here)
Gazebo (now placed in Hellbrunn), where the Baron von Trapp kissed Maria for the first time
Church Mondsee, where Maria and the Baron get married
Note: These tours do fill up, so be sure to book in advance
Book Your Salzburg Sound of Music Tour Here
2. Sound Of Music Bike Tour in Salzburg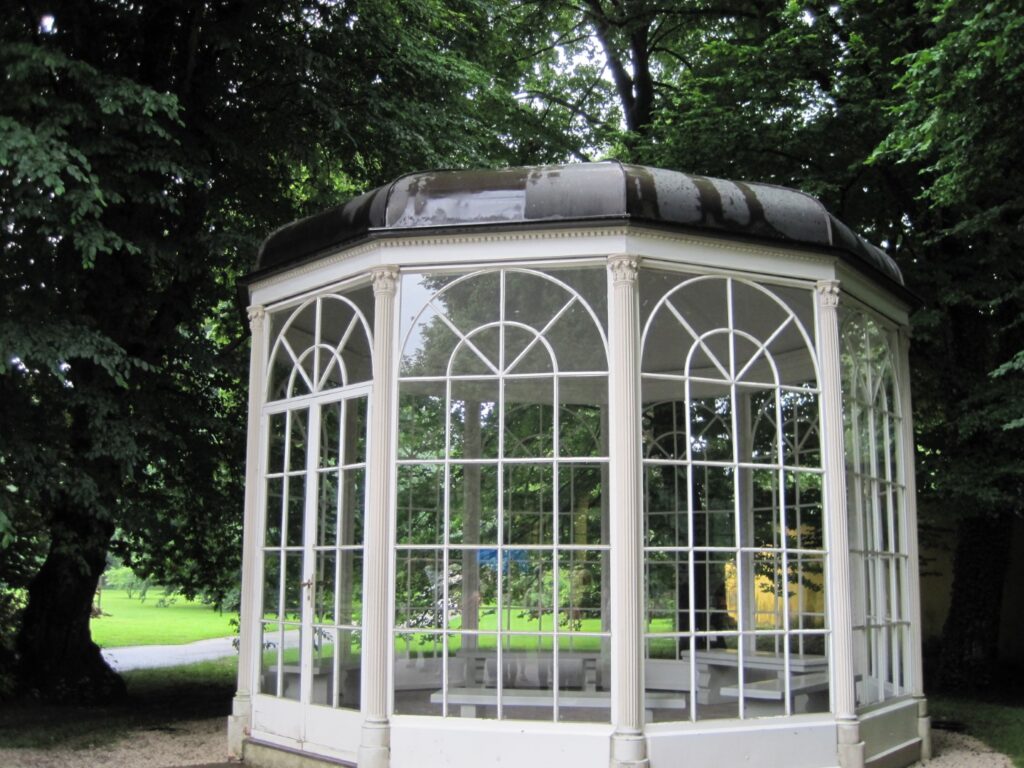 If you are looking for a more "active" and really fantastic, unique Sound of Music Tour in Salzburg, look no further than the "Fräulein Maria's Bicycle Tour"
If you are doing this bike tour, you can pretty much skip my DIY walking tour, as you'll cover most all of those main Altstadt sights as well as several Sound of Music stops.
Mirabell Square and Gardens
Horse Pond
St. Peter's Cemetery to Nonnberg Convent, on to
Leopoldskron Palace to the Frohnburg and
Through the beautiful Hellbrunn Avenue and Hellbrunn Palace (where the Gazebo is now located)
The bike ride is about 3.5 hours long (includes stops) but is all mostly flat and easy. So you actually don't even need to be "fit" to enjoy the tour. In fact, it's easy enough for most children as well and has lots of breaks and stops! All bikes, helmets, and even kids' seats are provided in the cost of the tour.
Tip: If you are traveling to Germany with kids (and in this case Austria), ask this tour about bike trailers or seats! My best friend had a toddler too young for biking and they were more than accommodating to her!
Note: There are tours daily from April to October at 9:30am. In June, July, and August an additional 4:30pm tour is offered
Cost
Adult: € 40.00
Youths: (13-17 years) € 25.00
Children: (under 12 years) € 20.00
Private tour: € 230.00
3. Horse Drawn Carriage Ride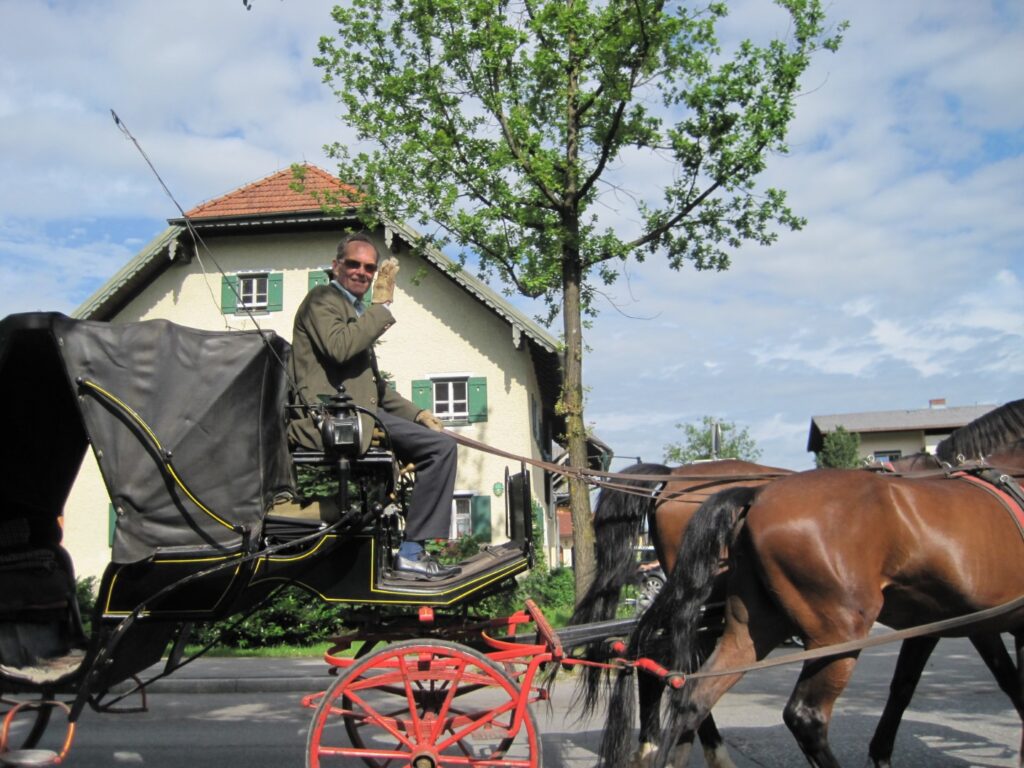 This isn't necessarily a Sound of Music Tour but, you can fulfill your inner SOM fantasies and do as the family Von Trapp did and take a carriage ride through the Salzburg Altstadt! I mean, if you accidentally let a little Do Re Mi lyrics slip, I doubt anyone will care!
Upon booking, you are more than welcome to ask if they will specifically take you around to the popular Sound of Music sights.
Book Your Horse Drawn Carriage Tour of Salzburg Here
4. Sound of Music Tour From Munich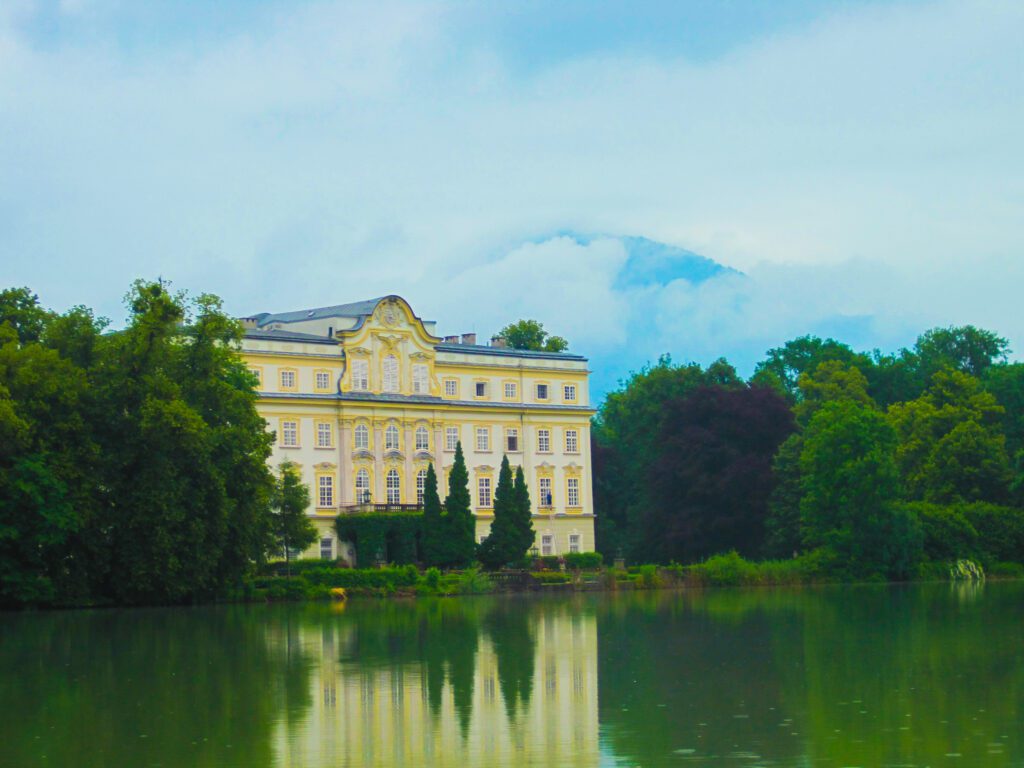 Another option is to just do a Munich to Salzburg tour that is designed just for the Sound of Music. These options typically have a central meeting point in Munich, take a private bus straight to Salzburg, and then go to all of the Sound of Music "Sights."
These really aren't much different than the ones you would find IN Salzburg, but if you don't want to deal with the transportation part of getting TO Salzburg from Munich, then it is taken out of the equation and done for you.
Book a Private Tour from Munich
5. Private Tours
When you are running short on time, sometimes a private tour is so much more conducive to making the most of your time. This Sound of Music Private tour is similar to the above mentioned Panorama Tour, but instead of being with a huge, giant bus, you get a private guide in a Mercedes E 220 or VW luxury minibus. What makes this tour unique is that you can even select to have a wonderful 1 hour Apfelstrudel cooking class!
Book A Private Sound of Music Tour Here
Getting Back From Salzburg to Munich
Depending on where you end your day in Salzburg, it is probably just a quick bus ride or a lovely, easy walk back to the Salzburg Hauptbahnhof.
If you bought a Bayern Pass, then your ticket is good for the whole day and you can get on any Regional train (no extra ticket or reservation needed). These trains from Salzburg to Munich leave about once an hour, so just plan accordingly. At the time of writing, the regional trains left at 15 minutes past the hour, every hour.
It takes 2 hours from Salzburg to Munich by train and the last train leaves Salzburg for Munich at 11pm. So, depending on how late of a night owl you are, you can stay in Salzburg quite late and then be back to Munich to crash in your comfy hotel bed in no time!
Where to Stay in Salzburg Overnight
For some people, they still only have enough time to do a Salzburg one day trip, but don't want to make it a DAY trip to Salzburg. In this case, you can easily get to Salzburg the previous evening to get an early start on your 1 Day in Salzburg. Alternatively, get into Salzburg in the morning, spend the whole day, spend one night, and then be off for your next adventure in the morning (This is particularly great if you want to do nearby Berchtesgaden!)
Here are a few of the best places to stay in Salzburg.
Best Old Town Salzburg Hotels
While there are plenty of great areas to stay in Salzburg, for the purpose of your 1, quick night, it is probably easiest, most convenient, and charming to stay at one of the many Old Town Salzburg Hotels. However, everything listed here is still just a quick 15-20 minute bus right into the Altstadt.
Star Inn Hotel Premium Salzburg Gablerbräu
If you want to be in the heart of the action, this hotel is in the wonderful Linzergasse pedestrian zone. All the main sights of Salzburg are within a few minutes of walking from the Star Inn.
What is nice is that the rooms all have AC (not always guaranteed in Europe!) but also have an espresso machine, fridge, and safe in each room. They also have a small bar on site if you want to grab a drink before heading up to your room at night!
Tip: This is in a very popular part of town, if you want to ensure a quieter room, simply request one upon booking (for example, not above the restaurant)
Altstadt Hotel Hofwirt Salzburg
This hotel is perfect for those staying one day in Salzburg. You couldn't ask for a better location for being centrally located! Everything is in just a few minute's walk from this hotel. It is clean, has breakfast included, and a helpful staff.
See Photos and Reviews of Hofwirt Salzburg Here
Hotel Kohlpeter
While not directly in the Altstadt, Hotel Kohlpeter is only about a 20 minute walk to the Old Town, or take the bus, right outside from the hotel, that gets you into the city center. It's got a fantastic restaurant in house that everyone recommends and the rooms are a very typical, comfortable Guesthouse style that are clean and comfortable.
See Current Prices of Hotel Kohlpeter Here
Best Apartment Stay
Herrschaftliche Wohnung in Zentraler Lage
Rarely do you see a perfect rating score for accommodation on Booking, yet this apartment has it! If you want to stay in an apartment lodging in Salzburg, look no further. Its location couldn't be better and the hosts are simply fantastic! However, because of its fantastic reviews, it goes quickly.
Book The Herrschaftliche Wohnung Early Here
Best Place to Stay With a Family in Salzburg
Pension Jahn
This no frills pension is great for families looking for a more budget option. It is within easy walking distance to most of the main sights, as it is right by the train station.
The rooms are clean but cozy (aka a bit on the smaller side) but for your 1 day Salzburg trip, it does the job for a good night's stay!
Read the Reviews on Pension Jahn Here
Villa Turnerwirt
If you are traveling with a family in Salzburg, you'll want a bigger place that still has an affordable price tag. I always like staying in Apartments with my family because it is harder finding rooms that will hold a whole family, but this hotel actually has the space and beds for parents AND kids all in one room!
It's a beautiful, unique, and charming hotel with a helpful staff. While it isn't right in the city center, you can just hop on the nearby bus and be in the Altstadt within about 15-20 minutes.
See the Photos of Villa Turnerwirt Here