[This post may contain affiliate links where we earn a small commission. Please see our disclosure for more information and thank you for supporting our site so we can continue to bring you awesome content for your travel inspiration!]
I'm just going to cut straight to the chase.
This isn't the perfect Germany Itinerary.
Why? Because it doesn't exist. There are just too many variables in planning any trip that I can't take into account for your own personal needs, interests, and time that there is no perfect Germany Itinerary- 7 days or otherwise.
That, and 1 week in Germany isn't nearly enough time to really get a grasp for the culture and sights that this fantastic country that I love to call my second home has to offer.
You Can't Do All Of Germany In A Week!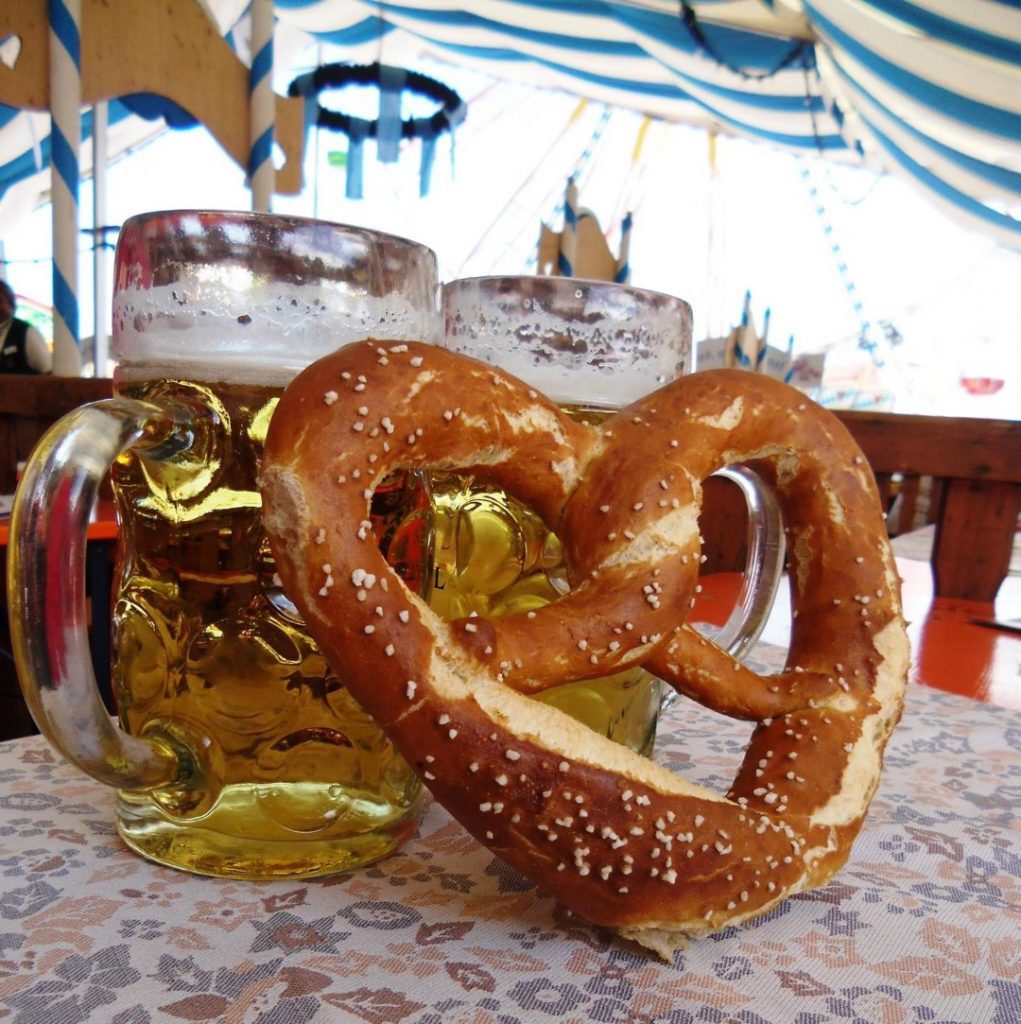 Before we begin, I've got to get my teacher face (yes, I used to be a teacher) on and get very serious with you.
Look, friend, I know this trip to Germany is probably a once in a lifetime trip. You want to do as much as you possibly can in the limited time you have. I get it!
And I'm not trying to throw anyone under the bus here, but if you are reading other itineraries where they have you in a new place every day, this is just plain unrealistic!
Can you squeeze in 4,5, or even 6 places into your 7 days in Germany? Sure. But I absolutely guarantee you that you will not actually ENJOY it, like thoroughly enjoy, remember, and look back saying "Wow, that trip was so memorable and special!" Instead, you'll say, "Where were we again when we were at that one beer garden….?"
Some other Germany itineraries on the interwebs will have you believing that you can bounce around from Bavaria, to the Black Forest, to the Rhine, and then up to Berlin all in a week somehow. This is not realistic!
So, pleeeeeaaaaase. I beg you. Don't try to do it all in a week!
You May Also Be Interested In:
Slow Down, But Still Do A Lot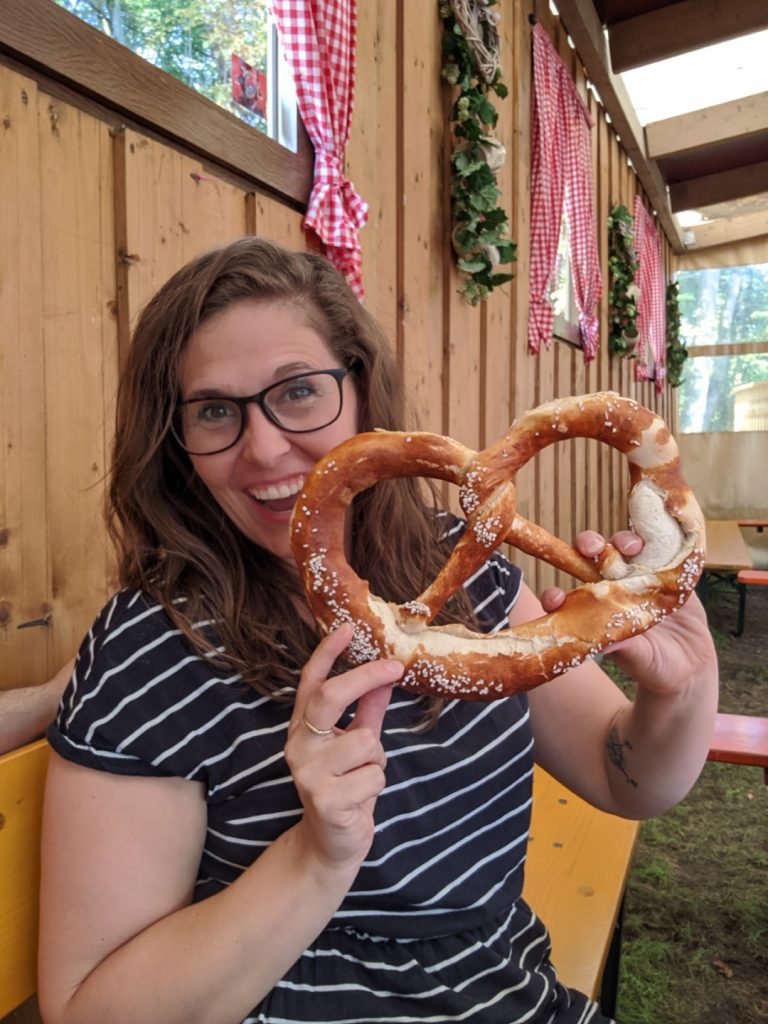 On that note, I get that if you only have time for a 1 week in Germany itinerary, that you still want to see as much as possible.
So, in this guide, I am going to do my best to give you some real, authentic experiences in Germany that will leave you feeling appreciative of the culture and sights here but also allow for you to feel productive and that you "got a lot in!"
What Airport is Best to Fly into Germany?
This depends. Are you looking for which airport is cheapest to fly into Germany? Oftentimes flights to Berlin and Frankfurt are more affordable than Munich.
But also, where do you want to go?
If you are looking to explore the castles, Rhine Valley, and wine regions, or even the Black Forest then Frankfurt is going to be perfect for you to fly into.
However, if you are looking for those quintessential "stereotypes" of Germany like the Lederhosen, sausages, and Alps, then Munich is going to be best to explore the heart of Bavarian culture.
Alternatively, if you want to hit up the more Northern cities, then you should consider flying into Berlin.
Use Open Jaw Flights Will Maximize Your Time
The reality is that flying into one city and out of another can often be more expensive than just a straight-up round-trip ticket. And that is not to mention the extra fees of a rental car drop off in a different location than the pick up (if you are going to be Driving in Germany).
However, if you really want to maximize your routes during your 1 week in Germany, you should really consider flying into one city, like Munich, and then leaving out of another, like Frankfurt- which is exactly what I'm going to be recommending for this specific itinerary.
This Germany Itinerary-7 Days
As I said earlier, there is going to be no perfect 1 week itinerary in Germany for everyone.
However, I have tried my best to get a little bit of a lot of what I love about this country crammed into this Germany travel itinerary while still maintaining my strong belief that everyone should experience an authentic, genuine, and slowed down version of Germany while still seeing as much as possible during your visit.
Therefore, in this guide, to maximize the time, I have suggested flying into Munich and out of Frankfurt (or, of course, vice-versa is fine). I have included a little bit of everything from the Bavarian culture of Beer Halls and Biergartens to the stunning Bavarian Alps. We'll then move out of Beer Paradise and into Wine Country with stunning castles and picture perfect villages.
You'll get beer, brats, schnitzels, castles, and villages in this guide. However, just remember, you won't get it ALL. Of course, you could make this itinerary even faster paced but I strongly advise against it. I carefully routed out this 7 Day Germany Itinerary so that it had a balance of seeing a lot, while still actually ENJOYING your time here.
But, the best way to experience Germany is often by slowing down. Stop for an extra coffee at a corner side cafe. Take a pit stop for a beer at an outdoor restaurant. Get an ice cream on the town square. Try to build in a little bit each day where you just stop and slow down.
You Might Also Be Interested In:
Fly Into Munich
Jet Lag
With only 7 days in Germany, we don't really have time to waste on recovering from jetlag, unfortunately. So, do your best to get a little bit of sleep on the plane and know that there are plenty of places to grab an extra coffee throughout the day!
Pro Tip: Most flights coming in from the US are going to land in the morning. Check with your hotel a few days prior to leaving to see if they will allow for an early check in to at least drop off your bags.
Here is my Step by Step Guide on How to Get from Munich Airport To the City Center
A Note About The Days in Munich
Normally, I suggest people do the Altstadt and surrounding areas of Munich on the first day just to get acquainted with the city. However, assuming you are just landing today, I wanted to give you more flexibility on what to do in case you are just too jet lagged for a full day like that. However, if you aren't flying in and hitting the ground running, feel free to do these days in various orders.
Day 1: Munich and Dachau
English Gartens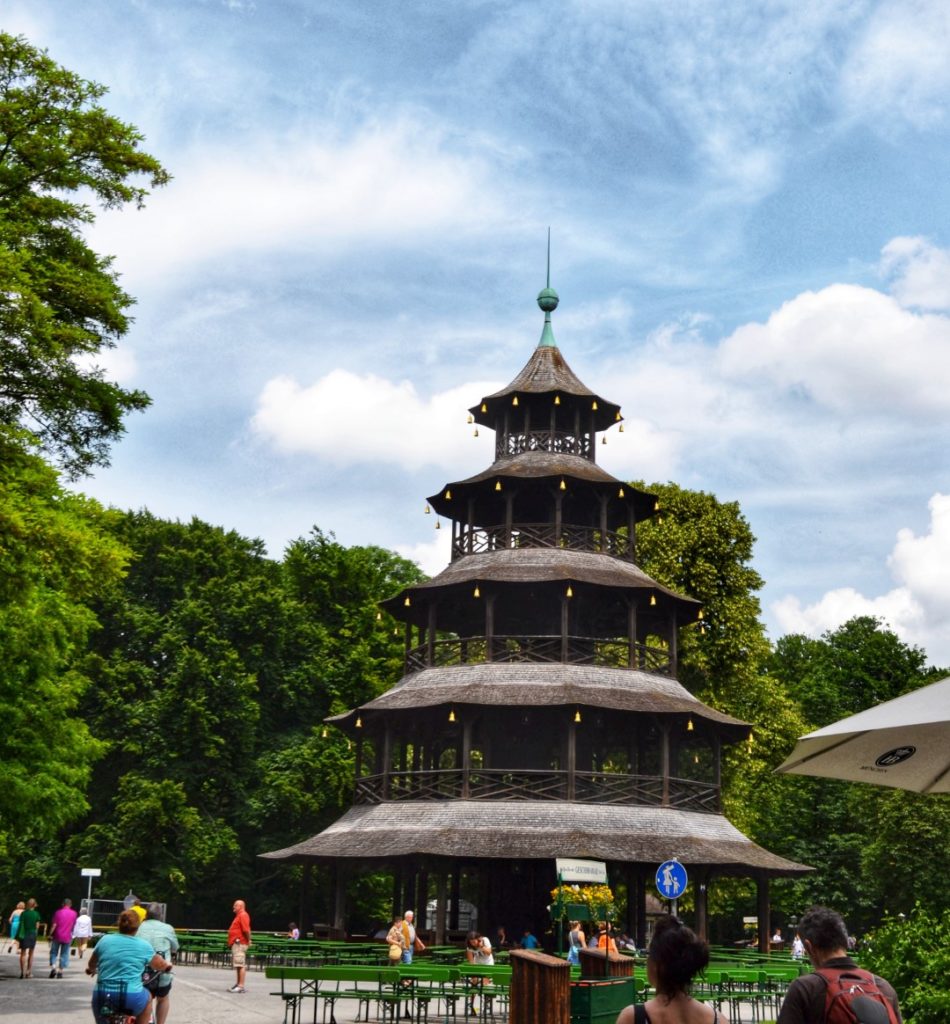 I know you are tired but with only a week in Germany, we've gotta keep things moving. Even if you can't get a room first thing in the morning, drop your bags off at your hotel and then make your way to the beautiful English Gartens, which are even bigger than New York's Central Park!
I absolutely love how much Germans appreciate their green spaces. In the English Gartens, you'll find locals taking a lunch break in the grass, playing frisbee with some friends, going on a jog, aaaand you may even stumble on the Nude area by the river. Yes….Germans have no shame about their bodies and many love baring it all out in nature! Just one of the reasons why I love going to the German Spas! It's a totally freeing experience!
Spend some time getting some fresh air and Vitamin D (both which will help combat jet leg!) and just wander around the park for a bit. However, some of my favorite spots are:
Chinese Tower and Beer Garden (Chinesischer Turm): Chances are good that it is probably around lunchtime at this point, which is PERFECT because I love going to the Chinese Tower/ Beer Garden. Depending on the day/time, there are often Ooompah bands playing, but even if there aren't there's still just a great vibe here as everyone shares tables and enjoys the beer and food.
Monopteros: This is a beautiful acropolis that is a good photo shot as well as has great views
River Walk: Just walk along the river that runs through the Gardens. It's peaceful and wonderful!
Surfers on the Eisbach
While still in the English Gardens, the surfers on the Eisbach river deserve its own bulleted item. You might be thinking, "Surfing?? In the middle of a city that isn't anywhere near an ocean??" Yup!!! This is a really fun activity to watch, no matter the season. Just have a seat along the banks of the river or watch from the bridge as locals come and surf in the cold Eisbach.
Head to Dachau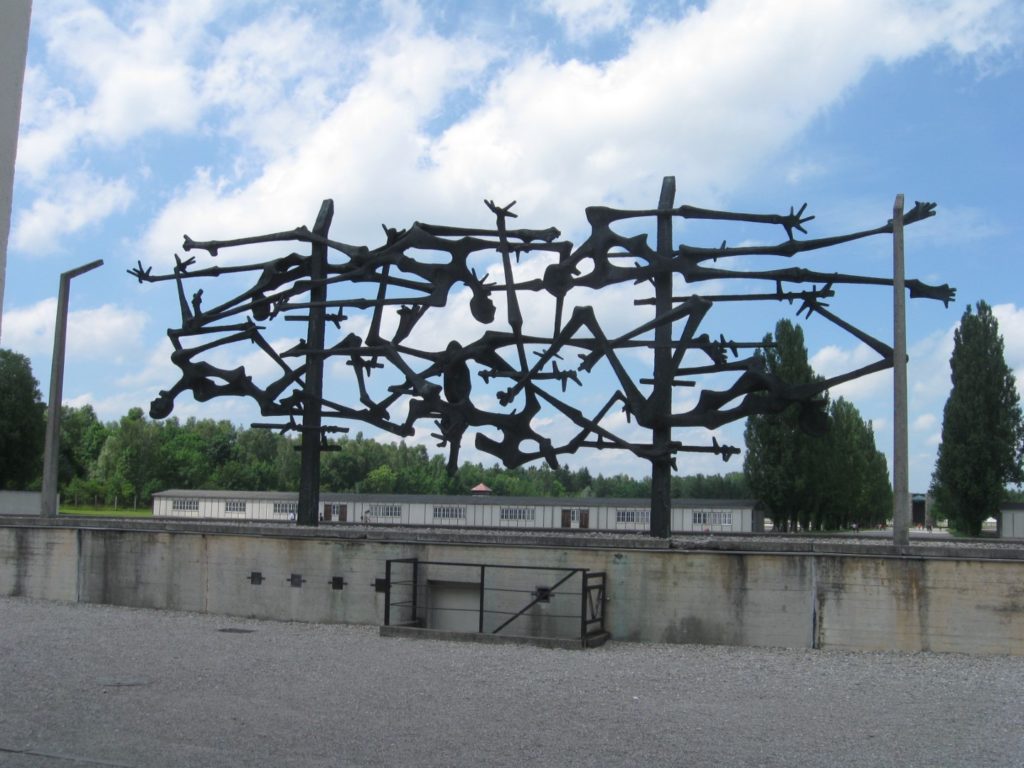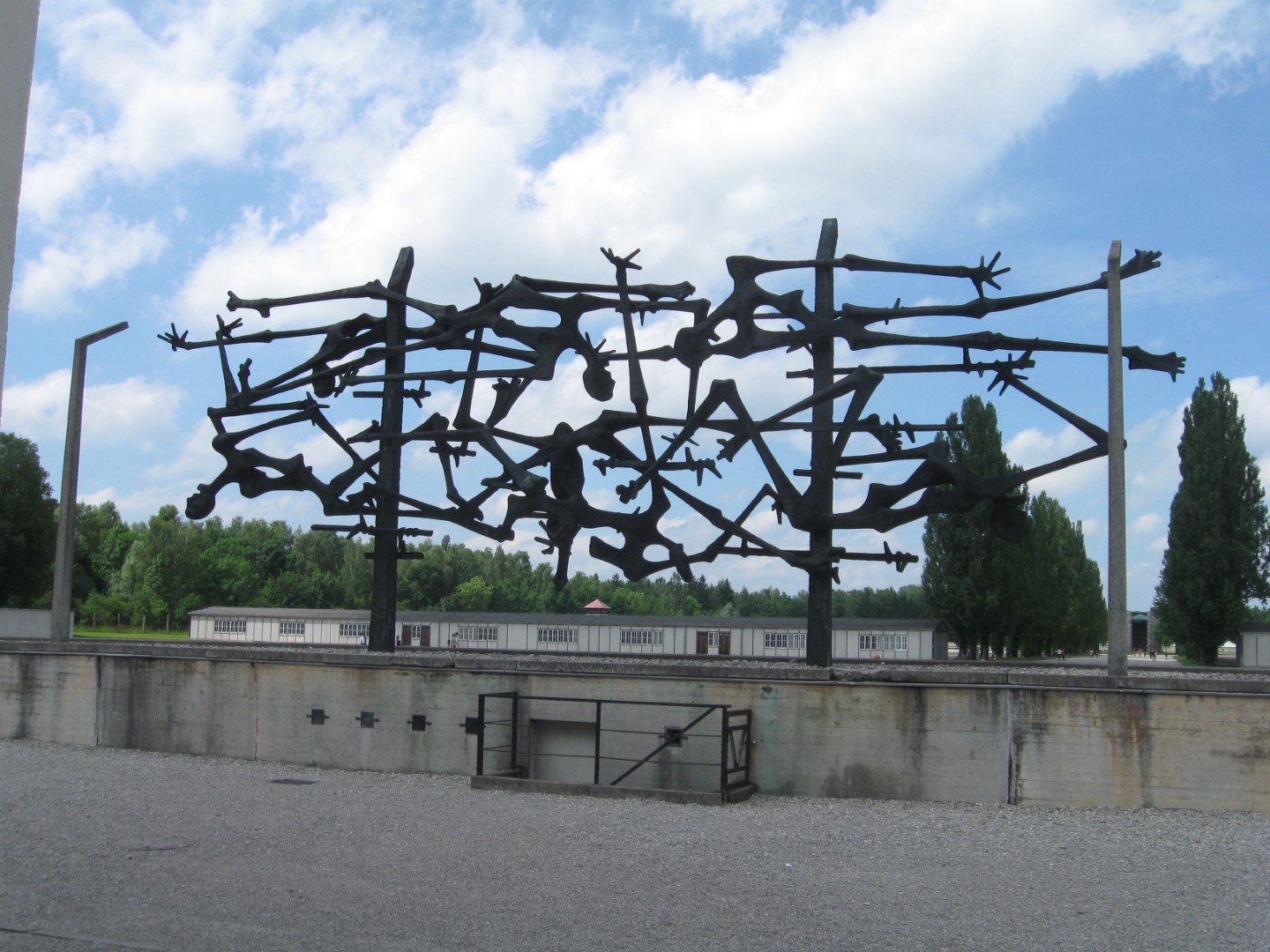 I know it's a tough thing to do, especially on your first day in Germany, but honestly, no trip to the country would be complete without getting this piece of history and Visiting Dachau.
Getting to Dachau From Munich is actually incredibly easy with my step by step guide. It takes about 45 minutes to get there (this could be a good time to take a quick power nap- just don't forget to set your alarm to get off at the right station!) and it closes at 5pm. You'll want at least 3-4 hours for visiting the memorial site itself, so plan on leaving Munich no later than about 1pm to get there.
Depending on what time your flight got in, it may influence if you can realistically squeeze in both the English Gardens and Dachau. While the English Gardens are beautiful, and Dachau is a hard thing to do right off a long haul flight, Dachau is going to be more important and I would make that the priority. If you'd rather head straight to your hotel (if you can) to get a quick rest and then head to Dachau, that is another option.
Tip: Dachau is an emotionally exhausting experience and you are going to be already exhausted from jet leg. Call it a day after this. Find a Döner shop near your hotel and get a quick meal to take back to your room for dinner (I love a Dürüm Döner) and hit the sheets early so you can keep on keepin' on for the rest of this whirlwind trip!
Day 2: Munich Altstadt
Head To the Marienplatz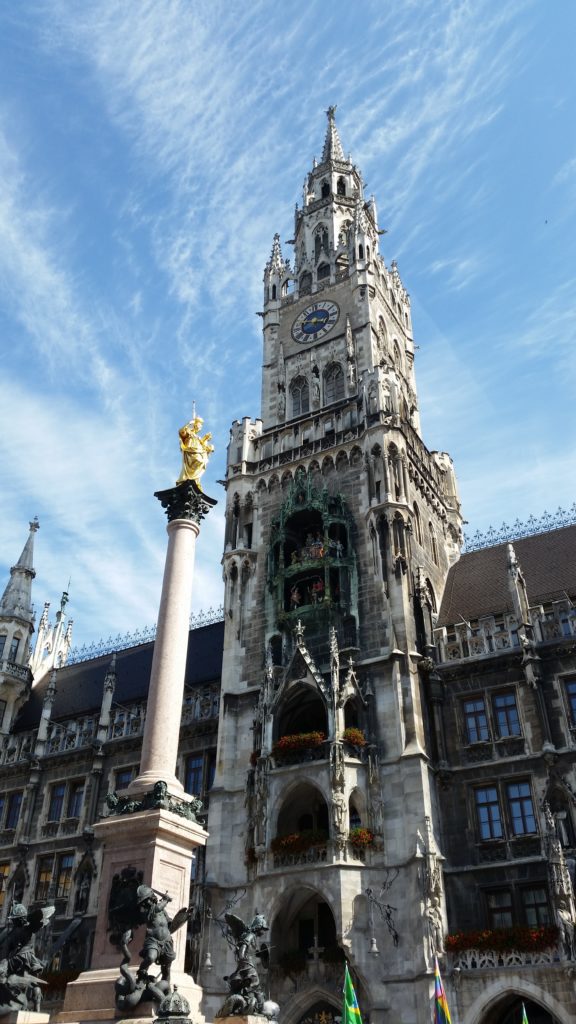 It's pretty amazing that this part of Munich was actually almost completely demolished by the end of WWII. You would never know that by looking around and what LOOKS to be very very old buildings on the square. However, when Munich was ready to rebuild, they decided they wanted the traditional style rather than going contemporary and modern (like Frankfurt). And if you ask me, I think it was the right call!
As you stand at the square, you'll see the Old Rathaus (town hall), the New Rathaus (ironically looking older than the old one- the new one is the big Gothic looking building commanding the square), the Mary Column, and St. Peter's Church.
Insider Tip: Don't forget to walk under the gates of the Neus Rathaus and have a peek inside the charming little courtyard.
Watch the Glockenspiel from St. Peter's
If you just so happen to be at the Marienplatz at 11 or noon, then you'll be treated to the "Glockenspiel" (Clock Show). While you are more than welcome to stay down at the Platz while the famous Munich Glockenspiel goes off on the Rathaus, I highly recommend instead heading "away" from the tourists and climbing the stairs to the St. Peter's tower where you'll be rewarded with fantastic views of the Glockenspiel as well as the city itself.
Even if you miss the Glockenspiel, it's still fantastic views to head up to the tower.
Pro Tip: Head up St. Peter's about 30 minutes before 11 or 12. This will allow you time to climb the spire and enjoy the views well before the Glockenspiel starts.
Cost To Go Up To the Observation Point: 3 Euro
Do a Munich Walking Tour
Note: These typically start around 10:30-11am. Sometimes they will add in afternoon tours as well.
One way to really maximize your short amount of time in Germany is to allow the experts to show you around. Walking tours are fantastic ways to get so much more context and information about where you are at rather than just wandering around aimlessly on your own.
And if you have been around this site at all, you know I"m all about the Budget Travel in Germany, so I LOVE the Free Walking Tours that Munich does. There are actually several companies nowadays and a quick google search will give you the top results and you can then find one that fits your time and schedule best. Personally, I always try to go with Sandeman's New Europe Tours. They are all over Europe and I've never had a bad one yet (no, I didn't get paid for saying that, I truly have enjoyed all my free walks with them!)
Most of the free Munich walking tours will start right at the Mary Column in the Marienplatz and will often take around 2-3 hours.
Note: These tours truly are FREE (you should still sign up ahead of time). However, at the end, you are encouraged to tip whatever you felt the tour was worth.
Alternatively, one way to really maximize your time and not be locked into someone else's timetable is to book your own private tour.
Have Lunch at a Local Biergarten or Beer Hall
The timing of this may need to be adjusted depending on how fast or how slow you've gone or if you did the Walking Tour, but consider heading over to the Viktualienmarkt, only about a 5 minute walk from the Marienplatz and finding the local Biergarten under the trees. The Viktualienmarkt was once a very local farmer's market and even today, you'll find lots of flower stalls, meat stands, and of course, the Biergarten!
This is a self service Biergarten, so you'll go up to the counters to put in an order. Of course, get that wonderful German beer in a Maß and then pick from My Favorite Bavarian Foods You Must Try. At any Biergarten, you can never go wrong with a big ol' Brez'n and I highly recommend getting the Käse (Emmentaler cheese) with it (Ask for some salt and pepper on the cheese and mmmmmm!!! Thank me later!). If they have Obatzda with the Pretzels, then you've got to give that a try! You can also get something like a Haxen (pork knuckle) for a bigger, fuller meal.
Alternatively, you can head to the…
Hofbräuhaus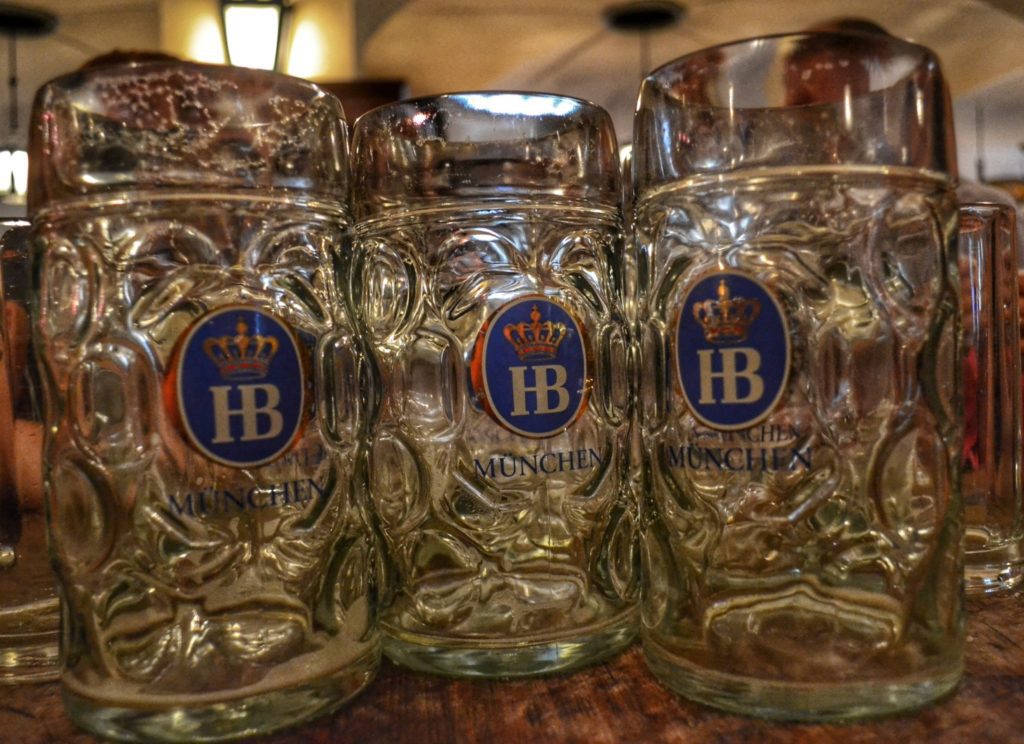 While today, the Hofbräuhaus is just a huge touristy, overpriced gimmick, let's not lie…it's still totally worth it to stop in for at least one giant Maß and to get the feel of a German Beer Hall!!! Honestly, the food here isn't that great, so I recommend eating elsewhere, but I totally get the appeal of wanting to experience the authentic Hofbräuhaus and I'd be lying if I said I haven't done it numerous times myself!
If there is an Oompah band playing, you can easily spend a few hours just having fun. If not, grab a Maß, enjoy, and then continue on.
Visit the Munich Residence or Continue Wandering
If you've still got time and energy today, then consider going to the Munich Residence. The Munich Residenze is dripping in gold (a little TOO much if you ask me), and the rooms start to feel repetitive after a while. However, if you are wanting to see a German Palace, then this is a good place to do so.
Alternatively, if you aren't a big museum person, spend the next few hours just wandering around the Altstadt of Munich. A few favorite points of interest are:
Go into the Frauenkirche
Stroll the luxurious shopping street of Maximillianstrasse where all the designer labels reside in town
Look at the stunning facade of the Munich National Theatre on the Max-Joseph Platz
Ponder the historical importance of Odenplatz. Today, this is a popular town square that is lively and fun. However, this is also the place where Hitler tried to over throw the government once and he was subsequently arrested and put in jail. It's amazing how standing on this square today looks almost the same as it would have to the people in the 1920s during those turbulent times.
Finish Your Day at the Augustiner Keller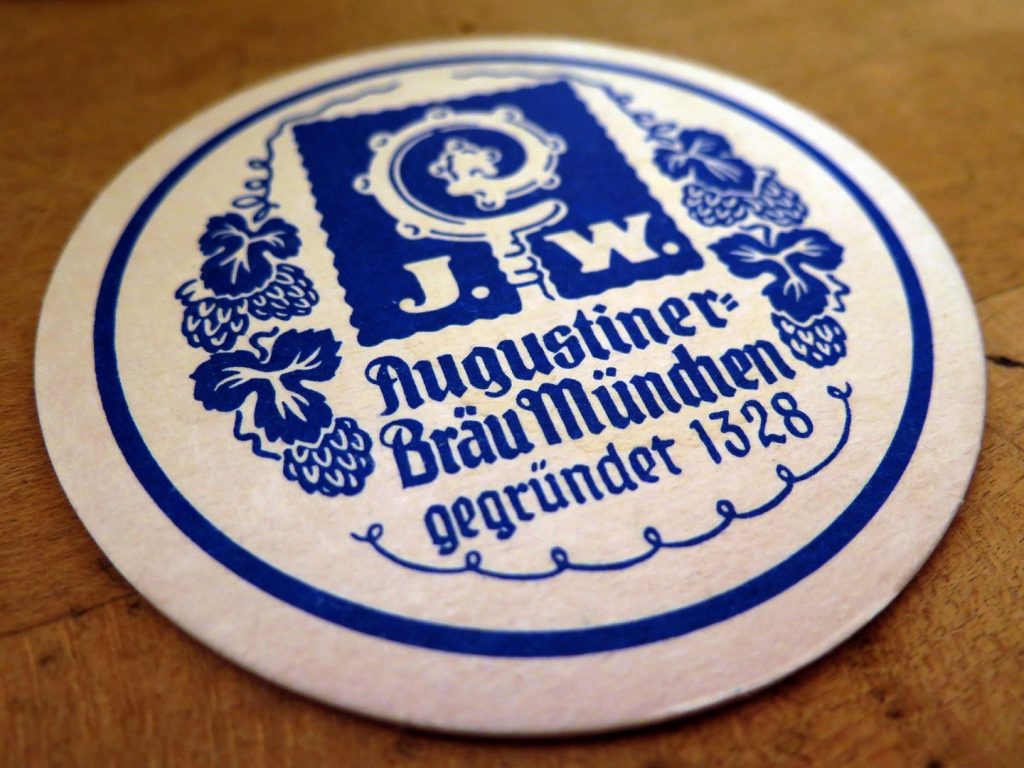 I don't even remember how we originally found the Augustiner, but once we did, we haven't gone back to the Hofbräuhaus again. You will have to take the Sbahn and walk for about 5 minutes to get there, but your small effort will be rewarded, I promise!
The food is UUUUH MAZING and the beer so fresh, you'll never want to leave the beer garden. If you want the authentic beer hall experience, just head inside or sit in the Kellar. While this definitely used to be a local hotspot, it's become more and more popular with tourists as well but it is still so completely worth it to go!
If you haven't had Maultaschen yet, I recommend getting it here. It's officially a Swabian dish (which overlaps with Bavaria) and is kind of like Germany's twist on delicious ravioli. Of course, you can't go wrong with the classics like currywurst, and of course schnitzel! as well!
Day 3: The Famous Cinderella Neuschwanstein Castle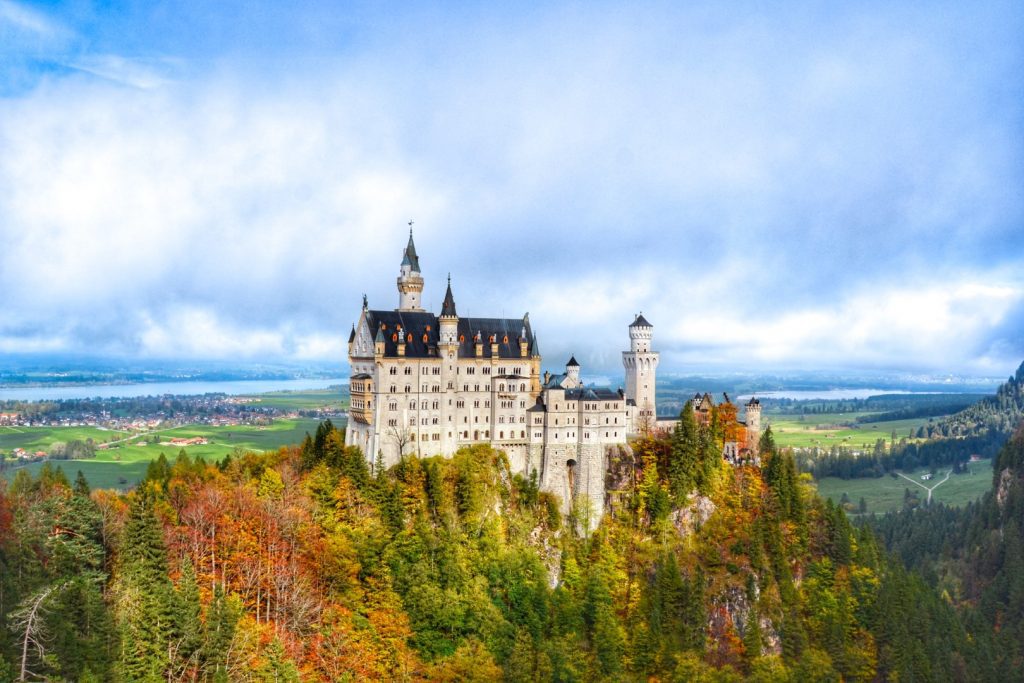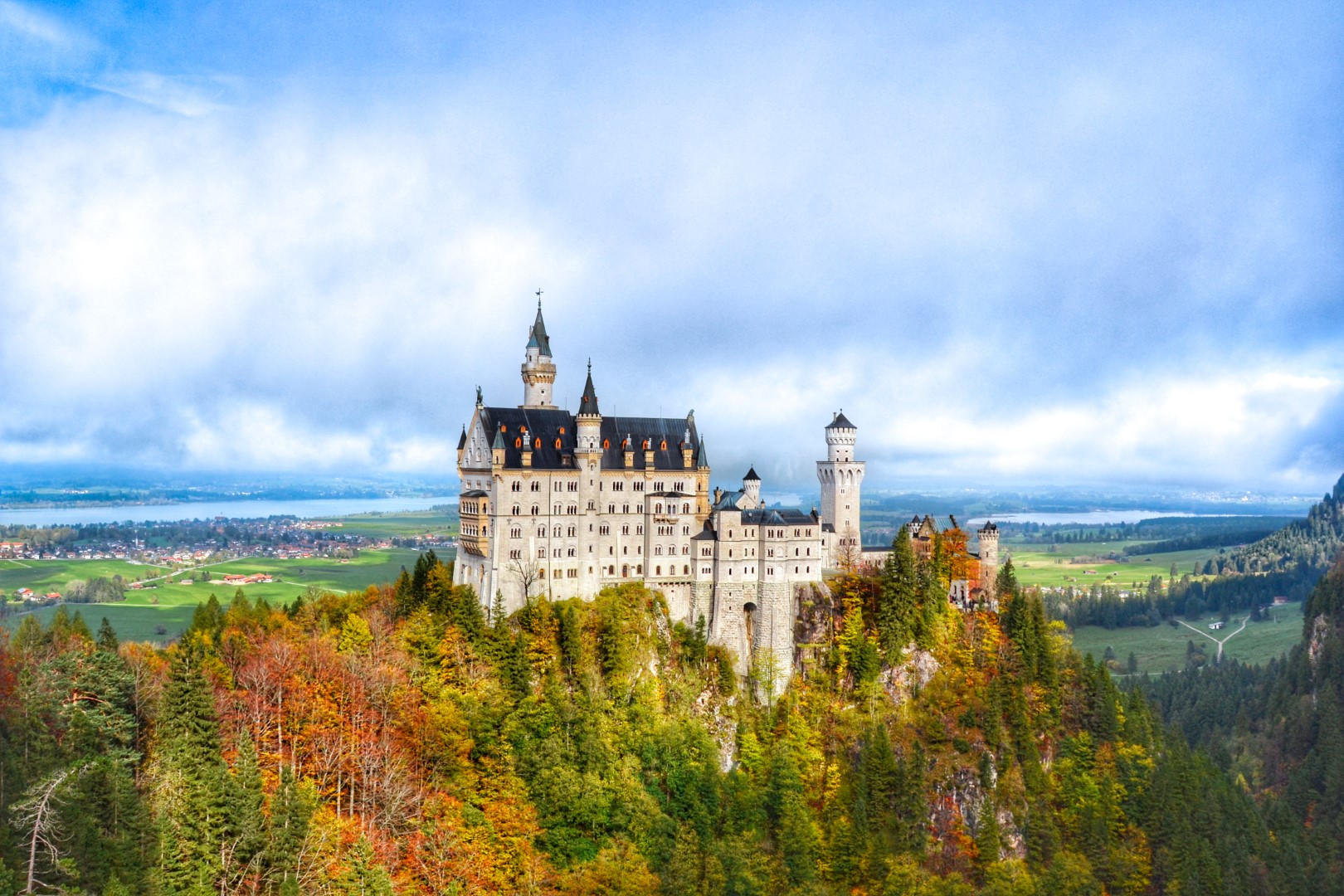 Today, we are going to visit Neuschwanstein Castle! Visiting this iconic castle in Germany is again, a pretty tourist thing to do, but c'mon. Can you really say you've been to Bavaria and NOT have gone to THE Fairytale Castle!? I've been to Neuschwanstein about 4 times and still find it absolutely beautiful! In fact, I've even gone Paragliding over Neuschwanstein. Talk about a unique view!
You can either choose to:
Go From Munich to Neuschwanstein as a Day Trip ( < Step By Step Instructions on how to get there by train, car, or tour). If you do this, you'll keep your hotel in Munich for one more night and just head to Neuschwanstein and back all in one day. This is totally do-able as a day trip. Don't forget to get the Bayern Pass to get you there if you are taking the train/bus!
Spend the Night Near Neuschwanstein: If you do this, you'll be done for Munich and will make your way down to Füssen, the town closest to Neuschwanstein. I highly recommend adding Linderhof onto your day if you are driving. You can pick from my favorite Hotels Near Neuschwanstein, some of which give fantastic views to the castle itself!
Of course, read my entire guide on Visiting Neuschwanstein Castle to know exactly what you should (and shouldn't!) do while there. And don't forget to go to Hohenschwangau as well!!!!
Alternative for the night: If you are wanting something even a little more local and if you have a car, we've stayed at the Appartementhotel Seespitz before. There are several other hotels right there on the Weißensee, which give amazing views of the lake and the mountains! It's just about 15-20 minutes away from Neuschwanstein making it an ideal place to get away from some of the crowds. Plus, we had THE most amazing dinner I may ever have had in Germany at the Käsealp Restaurant nearby. I mean, local Allgäu cheese with traditional Bavarian specialties??? YES PLEASE!!! (You'll want to call for a reservation)
Day 4: Rothenburg ob der Tauber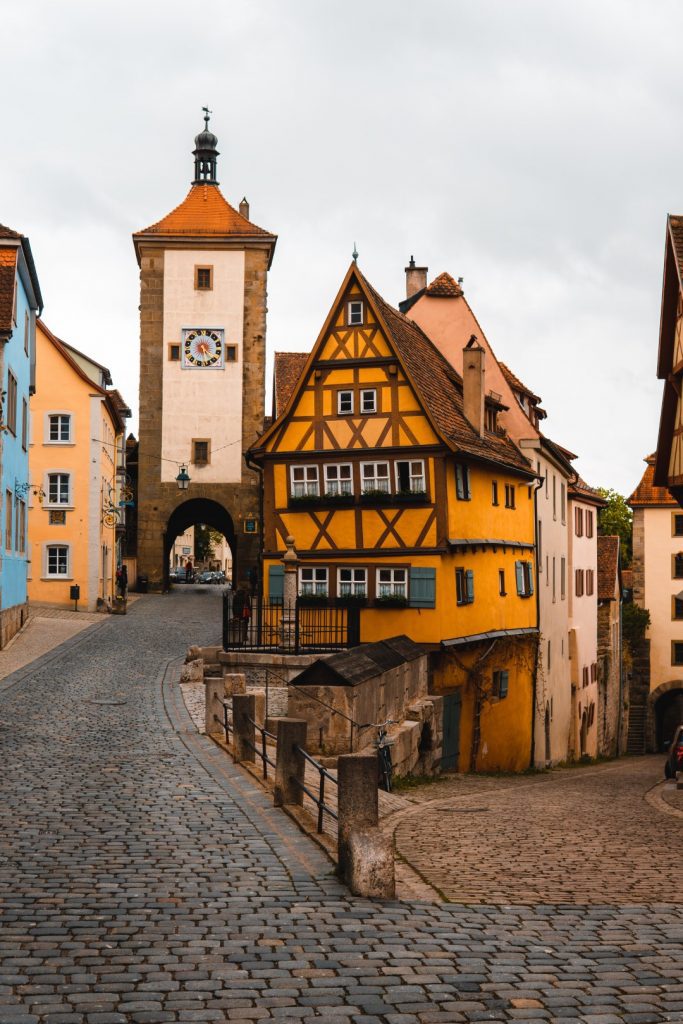 From Munich: If you are coming from Munich, plan on about 3 hours, give or take, by either train or car to get to Rothenburg.
Important: The fastest way by train is to take the ICE (high speed) trains, which the Bayern Pass will not work on even though both Munich and Rothenburg are in Bavaria. So, if you are taking the train, you'll want to book these tickets about 90 days out (when the tickets open up) for the best prices and get a seat reservation.
From Füssen: If you decided to stay in Füssen for the night, it will take you about 2.5-3 hours to drive from Füssen to Rothenburg. Alternatively, plan on a long train ride (you'll want to leave as early as possible) if that is your method of transportation as it can take about 5-6 hours!
It may seem like we are doing a lot of "Touristy" things on this trip. Rothenburg is easily one of them. However, there is a reason why a place like Rothenburg is so touristy- it's just so darn charming and beautiful!!!
Sure, you won't be getting a taste of "local" life here and it's far from "off the beaten path" for Germany, but the town itself is like it was plucked right from a fairytale or Disney movie. The cobblestone paths and half-timbered houses are just the quintessential "Germany" vibe you are looking for on that first trip to Germany!
Follow my 1 Day in Rothenburg Itinerary for the best experience possible, including tips for parking and more. And of course, don't forget to sign up for the Night Watchman's Tour!
Day 4 Alternative: Miltenberg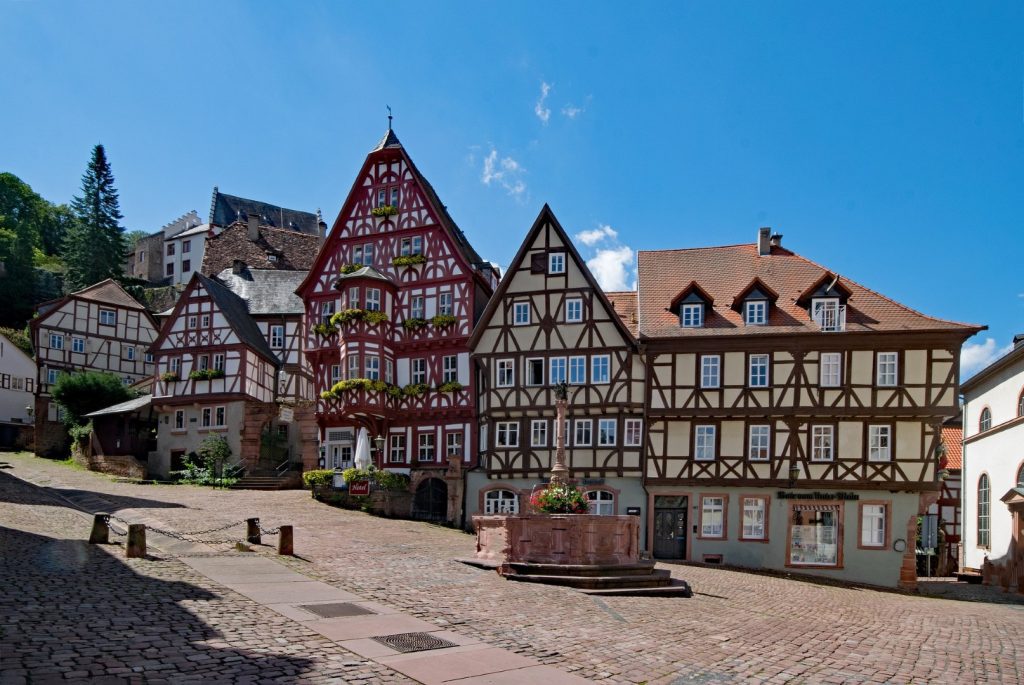 Just because Rothenburg is a touristy stop doesn't mean I don't think it's worth it. Quite the contrary actually. It's still got just about everything you'd want for a German village and most people that go are never disappointed in that stop on their trip to Germany. However, if you want to skip Rothenburg (or if you've got an extra day even) then consider Miltenberg as an alternative. It's just oozing with gorgeous half timbered, pastel houses, and a charming town square. There are few places in Germany that are "off the beaten path" completely but it is definitely far less touristy than Rothenburg.
Day 5: Drive to Rüdesheim am Rhein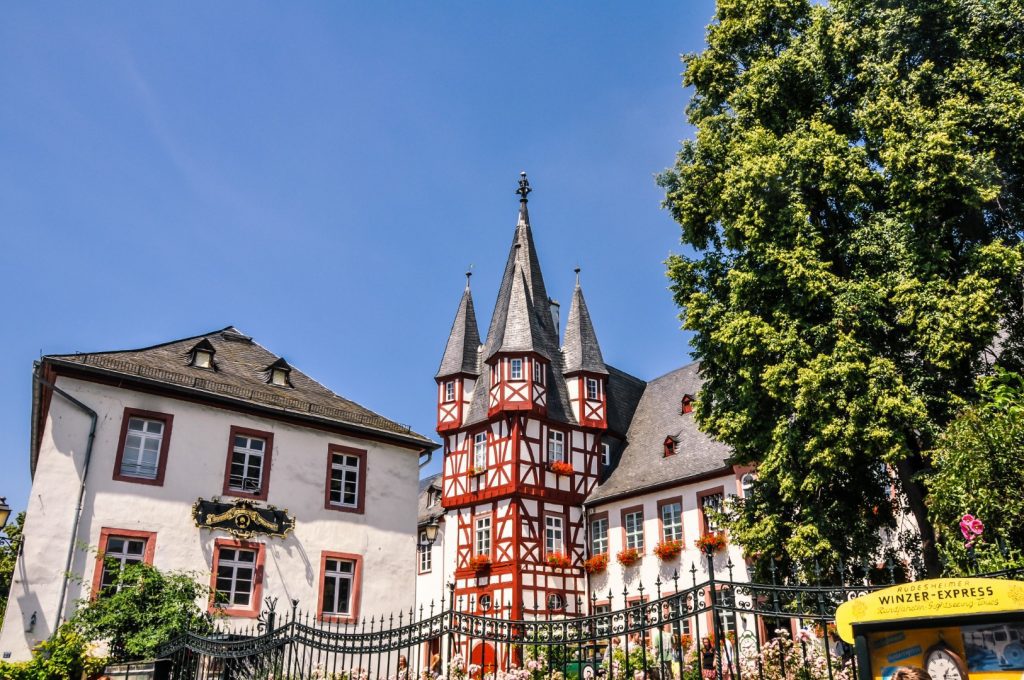 While it's not incredibly far to get from Rüdesheim to Rothenburg, we still have a lot to do in our day, so I recommend getting an early go.
Tip: It can take almost 5+ hours by train to get from Rothenburg to Rüdesheim, so plan accordingly if you are taking trains. Alternatively, it's only about a 2.5 hour drive.
You'll notice that you'll basically go straight through Frankfurt. I know what you are thinking, "Is Frankfurt Worth Going To?" In short, on this quick trip. No. I want you to spend your time in much more memorable locations than an urban jungle.
Optional: Stop in Mainz
Consider stopping in Mainz on your way to the next town. However, in doing so, you may have to remove other parts of the following days to allow for the time in this cute little town, even if just for a short visit.
We aren't going to spend a ton of time here in Mainz, but it is a really beautiful Alstadt to stop into. Chances are that if you left in the morning, this would be the perfect time to stop for lunch anyway. Grab a bite to eat at a cafe in the Altstadt and just soak in some of the slower styles of travel that Germany is so great for!
In Mainz, a few places to wander around to are:
Altstadt
Mainz Cathedral on Marktplatz
Citadel
Botanical Gardens
Rüdesheim am Rhein
Similar to Rothenburg, some people will say, "Rüdesheim is soooo touristy!!!" And well, it really is. Tour buses shuttle people in by the droves. But sometimes in places like this, I just put my blinders on to the people around me and just soak up WHY it's probably such a popular spot. This, once quaint, little village overlooking the Rhine River is insanely gorgeous. Time after time, people will tell you that despite all the other people, they still loved their time in Rüdesheim and are glad they didn't listen to the nay sayers that Rüdesheim should be skipped.
So, I want to offer both the Rüdesheim experience as well as a few other add ons and/or alternatives to help balance out the "touristy" side of this village.
First, if you've decided to stop in Mainz on your way to Rüdesheim then that means you will be getting there by about mid day. Rüdesheim is a very popular day trip location, so if you stick around late enough into the evening, you'll actually find that a lot of the day trippers and tourist buses leave by early evening.
Alternatively, if you are skipping Mainz, then I want you to head to…
Eibingen Abbey (Abbey of St. Hildegard)
I always joke that the monks in Germany make the best beer (no, I'm serious) so I guess it makes sense that the nuns must make the best wine! This beautiful Benedictine Abbey where the nuns live is set literally in the middle of a vineyard!!! Yes, these nuns produce their own wines (now those are my kinda gals!)
Not only is this Abbey a gorgeous building and church in and of itself, but it is plopped right into the vineyards on the hillside that overlooks the Rhine Valley. Just for those views and scenery alone, it's worth the 5 minute drive/20 minute walk from the Rüdesheim Altstadt.
While all the tourists are wandering around the cobblestone streets below you, you can have breakfast or lunch at the Monastery Cafe, where people with disabilities are given a chance to work a fair job for good wages. After a bite to eat, buy some of the sausages that the nuns make from their own sheep in their own fields outside. Or, buy some of their wine from the cellar!
Pro Tip: Be sure to be nearby the church itself at noon, when you'll be able to hear the nuns doing their midday morning songs and you can hear them singing!
Alternatively, see what they have going on. From guided wine walks in the vineyards to concerts, see what events the Abbey is hosting to get a much more local experience of the region.
Niederwalddenkmal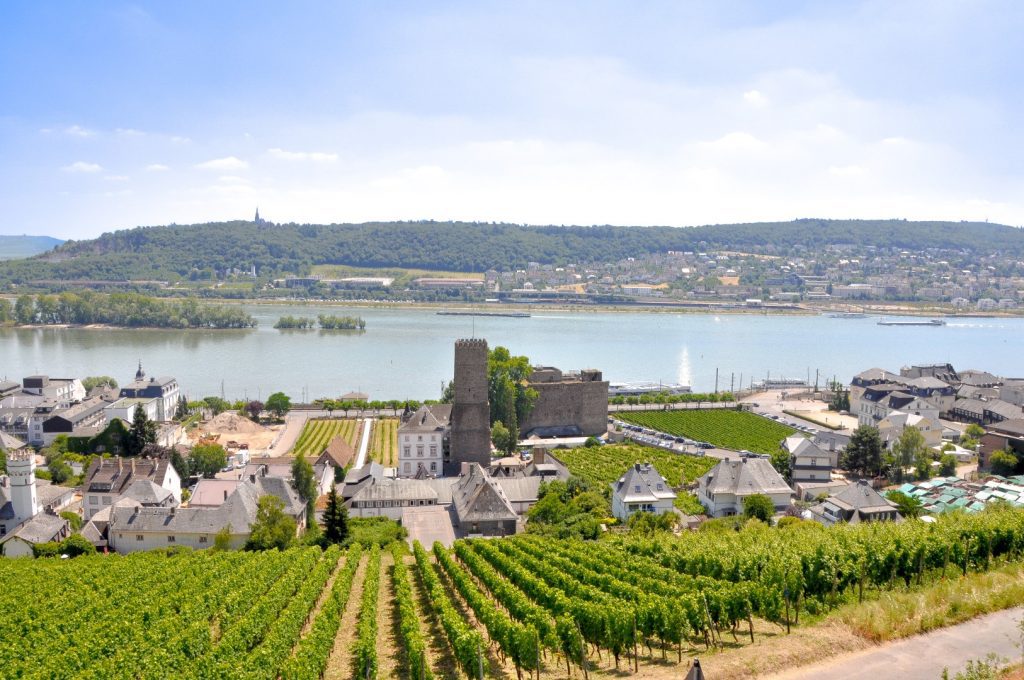 Next, we are going to head up to the Niederwald Monument in Rüdesheim. This is a GIANT monument to memorialize the beginning of the German Empire after the Germans beat the French in the Franco-Prussian War (1871).
My favorite way to get up to the Niederwalddenkmal, which is located high on the hillsides, is to take the "Seilbahn" or the cable car up to the monument. As you ride the little gondola cars up the miniature mountain, you'll look down at the passing vineyards below you and out over the rolling countryside of the Rhine Valley. It's breathtakingly beautiful!
Up at the top, enjoy the monument, the views, and if you are hungry or thirsty, stop at the little cafe.
After you are done exploring the top of the hillside, it's time to come down. Rather than taking the lift back down, I highly suggest walking back down, which is going to take you straight through the vineyards and continue to give you extraordinary views of the valley, river, and even overlooking Rüdesheim. This walk should only take about 30-45 minutes but can be a little steep in areas due to it being on the hillside.
Drosselgasse and Oberstrasse
Drosselgasse is THE picture perfect street in Rüdesheim. While all the other tourists are also going to be meandering down it, it is just stunning and could be taken straight from a postcard. From the vineyard walk you just did, it's a small little alley, but definitely take a stroll down it, and at the top is the Oberstrasse, which is another main street of the town that you pretty much have to wander down.
Spend the rest of your evening just wandering around, finding a cafe to have dinner and drink at, and enjoying the sunset over the river!
Day 6: Bacharach and a Rhine River Cruise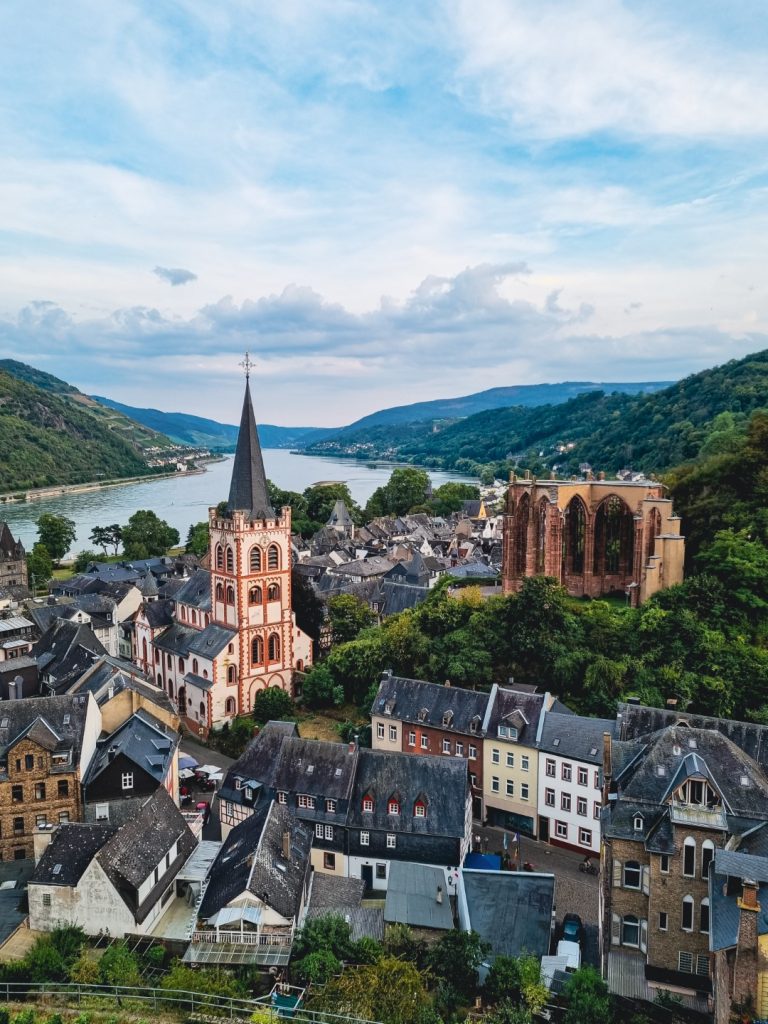 This is going to probably be one of the highlights of your trip. A river cruise down the Rhine, with a glass of wine in hand, passing by real life fairytale castles…what more could you want!?
The most popular company to do a Rhine River Boat Ride is with the KD Boat Operators. Just make sure you check their site for current timetables so that you know what time you need to be at the dock (they request you show up no less than 15 minutes before departure time)
There are tons of different route options for river cruises, but most people will always tell you that the most scenic and amazing part of the journey is between Bacharach and St. Goar. However, it's completely up to you how far and how long you go down the river. While you absolutely can start your Rhine River Boat Ride from Rüdesheim, I actually suggest going to Bacharach or Bingen first and starting from there. The reason for this will become clear in a few minutes.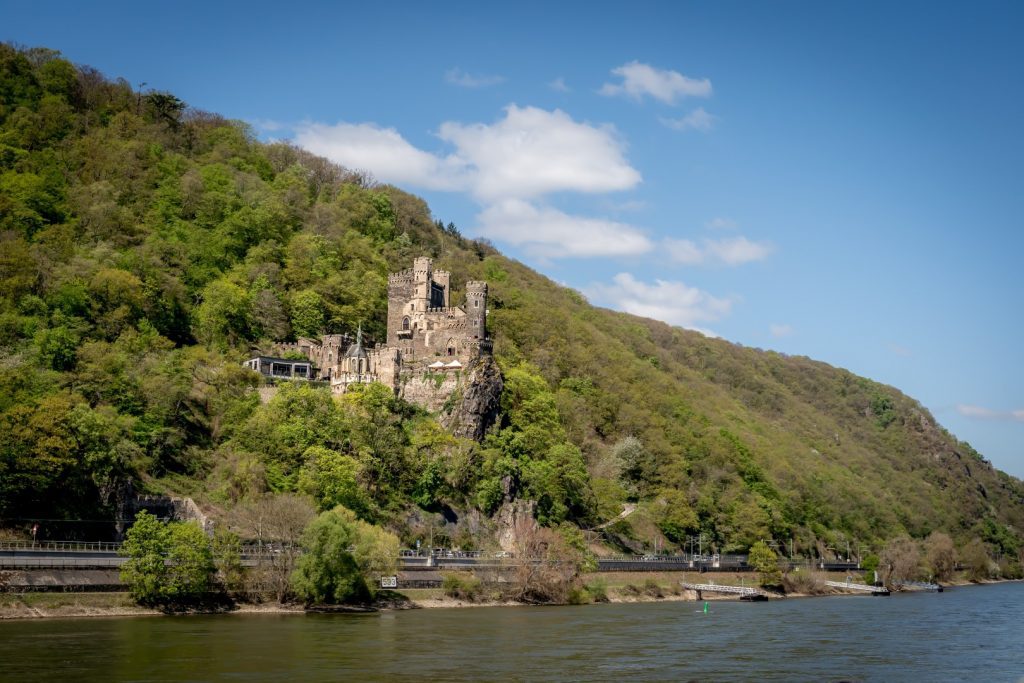 The great thing about most of the river cruises is that you can get on/ off them at any beautiful town you see that piques your interest. The biggest thing to know is the timetable though for the next boat so that you can plan your time accordingly to be back to the dock in time.
No matter what you decide for the day, be sure to plan in time to wander around both Bacharach and St. Goar. Whether that means getting off the boat and spending about an hour or two in each town just wandering for a bit or if that means starting your day in Bacharach and then taking the river cruise from there.
If you go all the way to Koblenz, with no stops at all along the way, you can expect the boat ride to take about 4 hours. If you just go to St. Goarhausen, it will be closer to 2 hours and Boppard is around 2.5 hours from Rudesheim.
Getting Back:
Depending on your time table for the day, the most popular places to stop the Rhine River ferry rides are:
St. Goarhausen
Boppard
Koblenz
If you go all the way to Koblenz, with no stops at all along the way, you can expect the boat ride to take about 4 hours. If you just go to St. Goarhausen, it will be closer to 2 hours and Boppard is around 2.5 hours from Rudesheim.
To get back your best option is to hop on a train and zip back to your starting point because the time it takes to come back (against the current) takes significantly longer to return. However, which towns to get off at can get a bit confusing because of the river. Depending on which side of the river the town that you want to stop in is going to determine where you actually will want to start because if you need to cross the river to get back, it can get a little complicated.
From St. Goarhausen, you can get back to Rüdesheim by RB 10 Train in the direction of the Frankfurt (Main) HBF. It will take about 25 minutes to return to Rüdesheim.
From Boppard or Koblenz it is best to start in Bacharach or Bingen. Take the

RB26 Train in the direction of the

Mainz Hbf and get off at Bacharach or Bingen
Important To Know: Due to recent environmental changes, the past several years have meant either flooding or alternatively, draughts; both of which mean that the river cruises may be canceled. Be sure to connect with the boat company a few days prior to double check.
Day 7: Finishing Up
If you have a full and 7th day, I have several suggestions of towns you should add as a stopover in between other towns below. Alternatively, you can spend this day getting more in touch with the local vineyards in the Rhine Valley. A few good options are:
Do a walking wine tour with Weingut Adolf Störzel
Enjoy a classic German Wine Cellar in the next charming town over, Assmannshausen and sip on local Pinot Noirs
Do a traditional wine tasting with local selections through the tourism board
If you only had 7 days in Germany, then that means it's time to sadly wrap up your dream vacation and head back to reality. Instead of returning all the way to Munich, the closest airport to depart from now is Frankfurt. The Frankfurt Airport can have very long lines and often has numerous security checks (there is typically one right before the gate as well- so be prepared) so you'll want to get to the airport no less than about 3 hours before your departure.
Adding A Few Days
If you have more than just one week in Germany or if you want to play around with this itinerary, consider adding the following towns:
Salzburg
While I would argue that Salzburg deserves SO much more than just 1 day, I still understand that not everyone has all the time in the world to galavant through Europe. You can easily do a Day Trip from Munich to Salzburg and still see a Few of My Favorite Things (yes, that was a nod to the Sound of Music Song, thanks for noticing)
Regensburg: 1 Day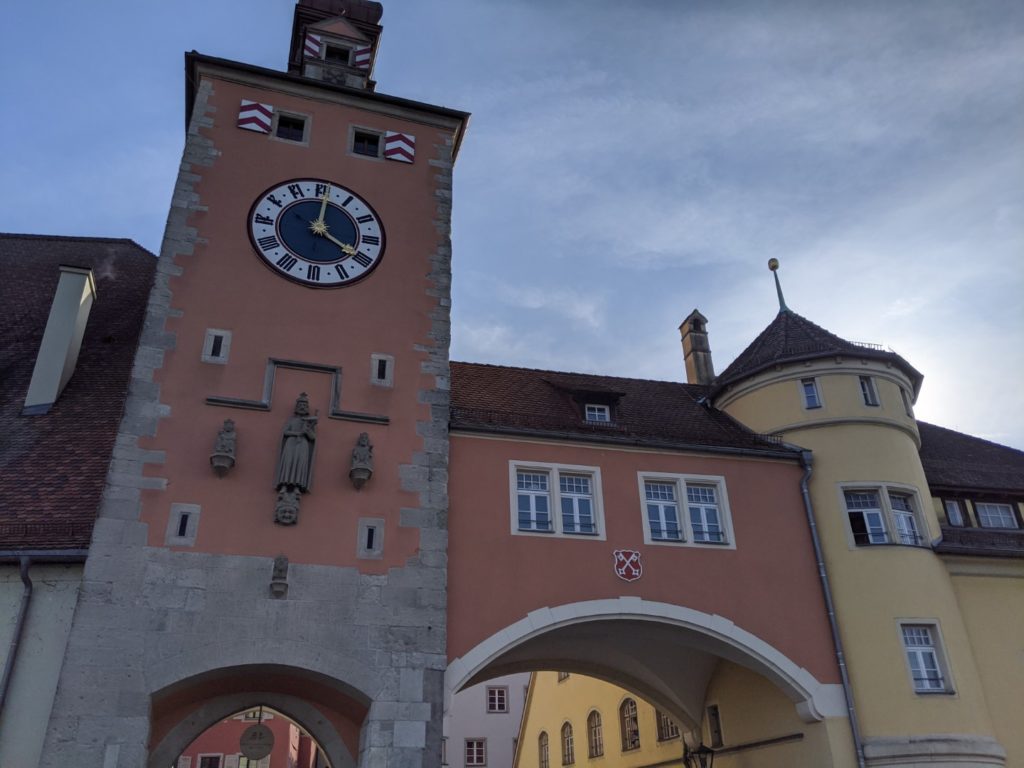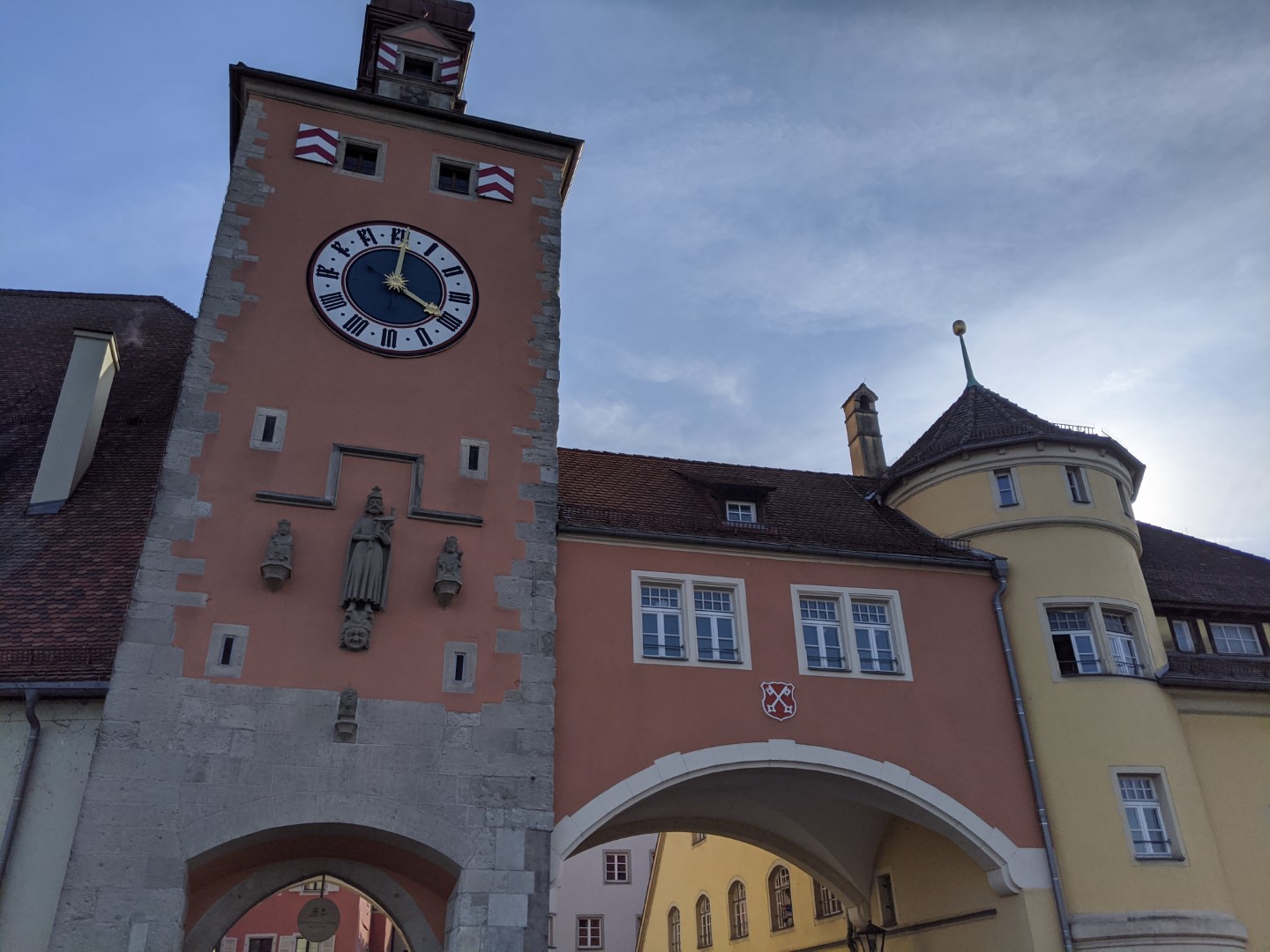 I've called Regensburg my second home for over a decade (off/on) now so maybe I'm a bit biased but everyone should consider adding it to their Germany Itinerary! You can either do it as a super easy day trip from Munich or add it as a stop in between Nuremberg if you are heading there as well. You can follow my 1 Day in Regensburg Guide Here, which includes a DIY Walking Tour of the Innenstadt
Nuremberg: 1-2 Days
Nuremberg is a fascinating place, especially if you are into WWII history. You can spend a day just enjoying its fantastic Altstadt or also spend some time at the Nazi Rally Grounds. One of the most thoughtful Holocaust museums I've ever been to is the Dokumentation Zentrum, which is in the Congress Hall of the Rally Grounds and well worth a visit. Follow my 1 Day in Nuremburg Guide or my Ultimate List Of Things To Do in Nuremburg to get an idea of all that you can do in town.
Würzburg: 1 Day
If you love Baroque architecture and wine, then consider a stop into Würzburg after your stay in Rothenburg.
Burg Eltz and Cochem: 1 Day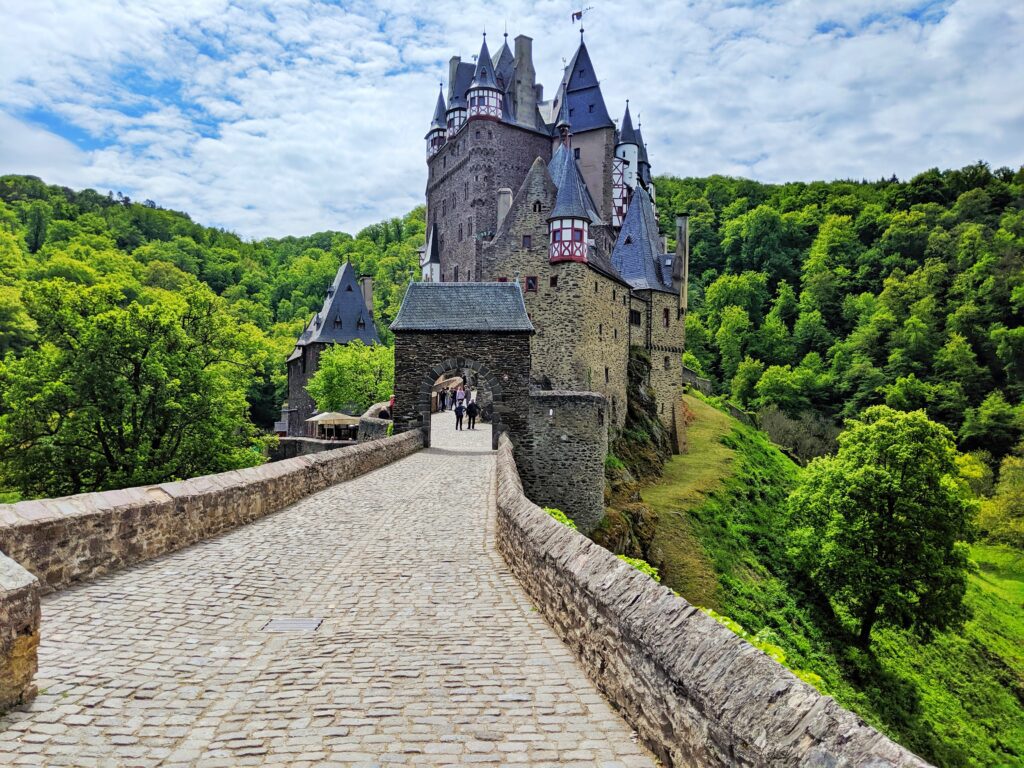 While in the Rhine and Moselle Valleys, an extra day of castles is just the cherry on top of your fantastic week in Germany! Head to Burg Eltz first thing in the morning and enjoy this fantastically romantic and gorgeous castle overlooking the valley!!! Then, spend the rest of your day exploring Cochem, an absolutely gorgeous town along the Moselle.