This post may contain affiliate links where we earn a small commission. Please see our disclosure for more information and thank you for supporting our site so we can continue to bring you awesome content for your travel inspiration!]
One of the things that I love about living in Germany is its fantastic public transportation systems. And while getting from the Munich Airport to City Center (such as the Marienplatz or the Hauptbahnhof (HBF)) may seem like your first daunting task as soon as you land, it is surprisingly easy (especially with this step by step photo guide!)
There are actually a few ways from the Munich Airport to the city center, but I honestly think that taking the Munich train from the airport is the best option
Planning a Trip to Germany? Join Our Fantastic Traveling in Bavaria Facebook Group!
For the purpose of this article, I am going to be referencing how to get to two places:
From the Munich Airport to the Main Train Station (Hauptbahnhof, or abbreviated as HBF)
From the Munich Airport to the City Center- to keep it simple, when I say "City Center" in this article, I am going to be referring to "Marienplatz" which is where most people head to when starting their day in Munich itself. This is where most of the walking tours are, you can easily walk to the Hofbrauhaus, the Rathaus (City Hall) is here, etc.
Luckily, no matter which one of those you are heading to, the way to get there is all the same.
Quick Answer: "How long from Munich airport to City Centre: About 45 minutes"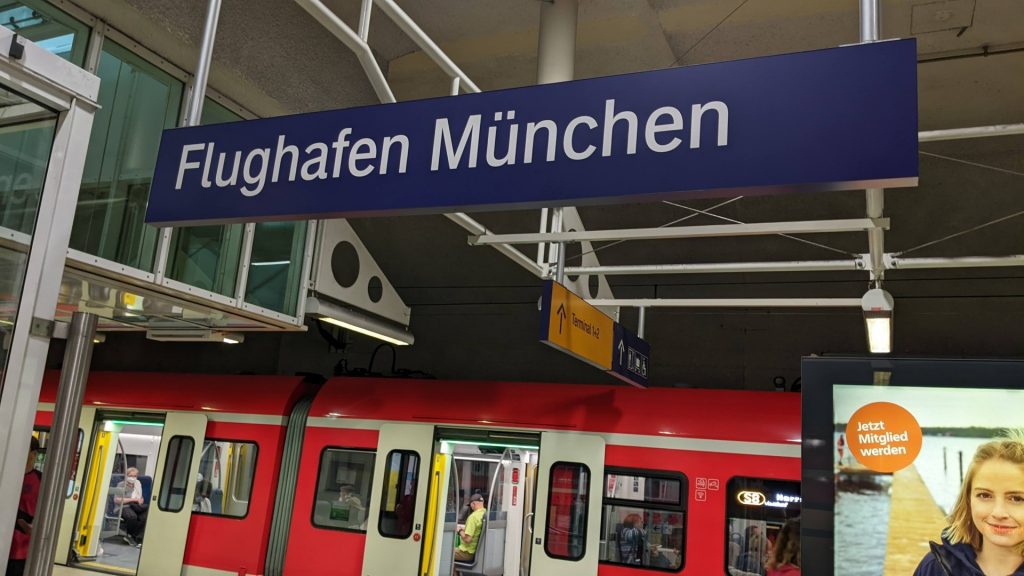 Landing at MUC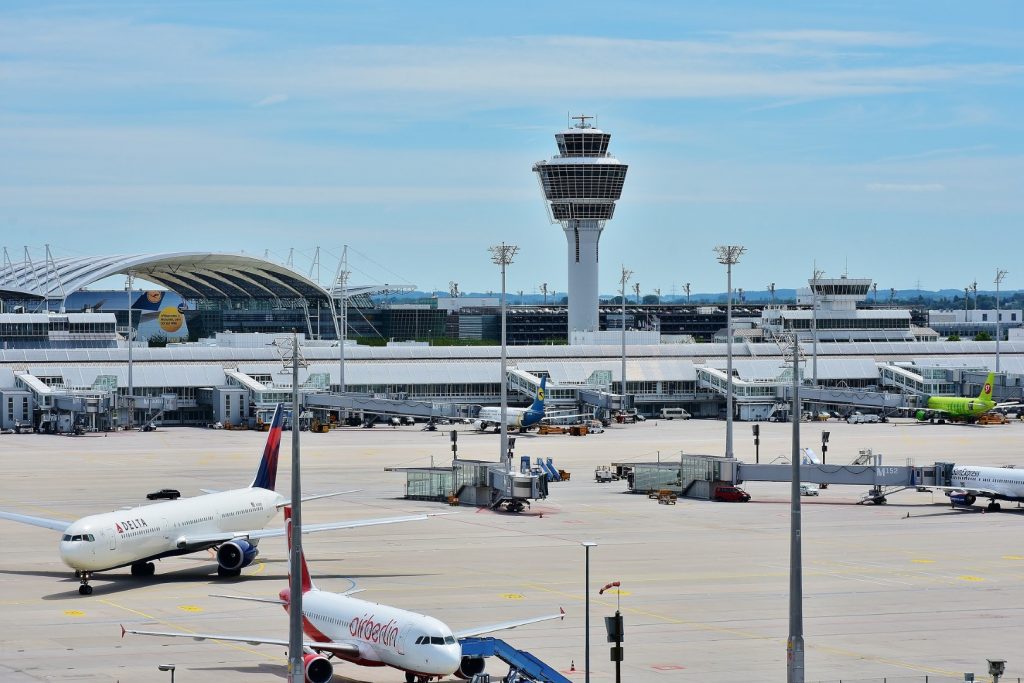 If you were lucky enough to get the Alpine view of the mountains, then just minutes later, your plane will touch down at the Munich International Airport. Depending on where you came from and your exact flight, that will determine which terminal you will land in. However, no matter if you landed in Terminal 1 or 2, the following directions will get you right where you need to be.
1. Going Through Customs/ Getting Your Bags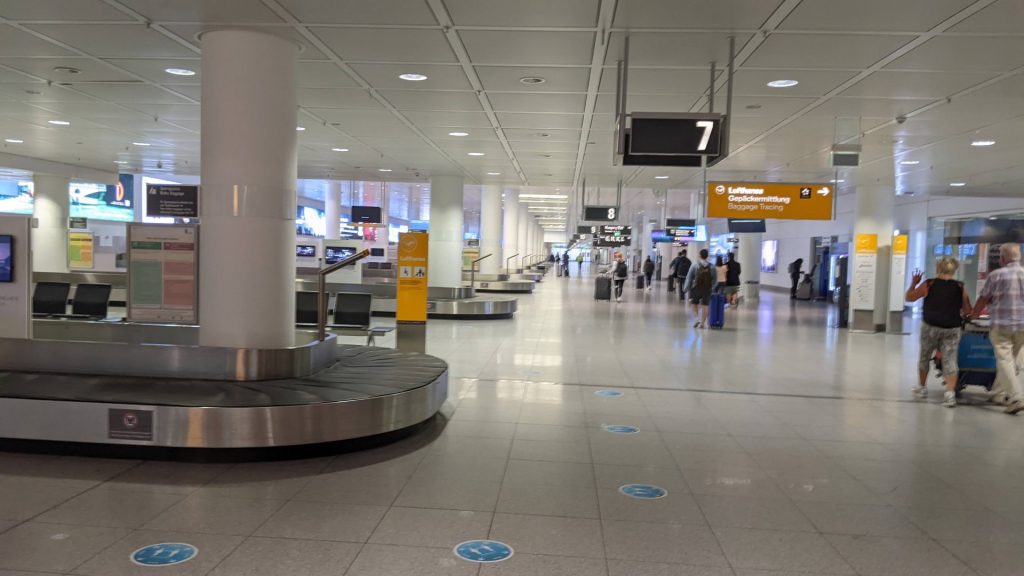 After getting off the plane, just be like a sheep. Follow the mass of people. It will head to the customs and immigration if you were flying internationally. Just after that, is the baggage carousel, where hopefully (in light of current events!) your luggage made it with you!
After you've collected your bags, just follow the signs for the exit (Ausgang).
No matter which terminal you landed in, after exiting the baggage area, start immediately looking for the big green S sign, which stands for "S-Bahn." (Look in the photos below and you'll see what it looks like in action)
If you landed in Terminal 2, you'll walk outside into the big, open air "Munich Airport Center"(MAC). Sometimes there are events going on in here, in December, there is a Christmas market, and other times it's completely empty. Just walk across to where the escalators go down, always looking for the SBahn Signs (which are always very clearly marked).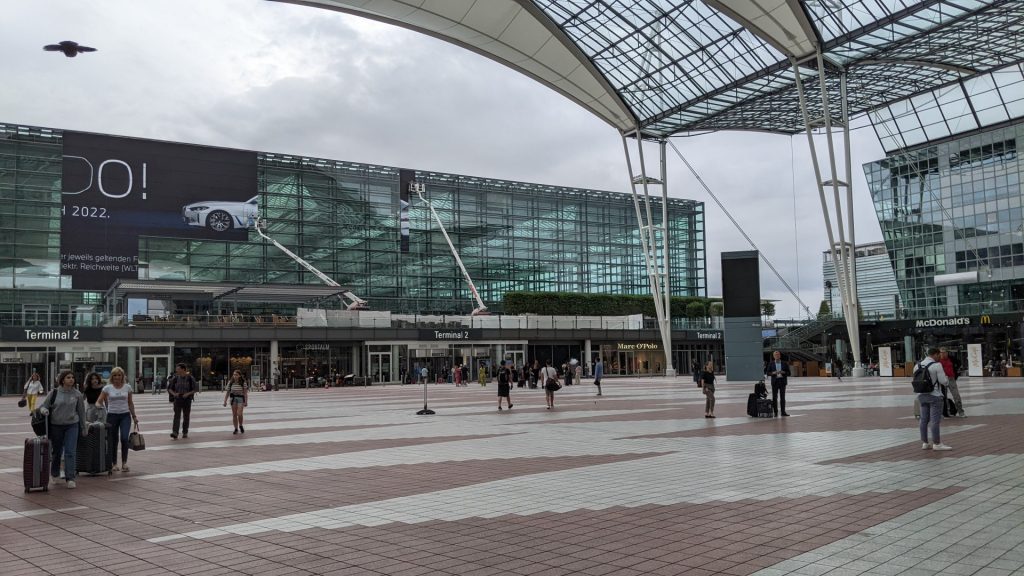 If you are in Terminal 1, the same rule applies. It's going to feel like you are walking a looooong way. Just keep following the signs for the S Bahn. You'll pass several shops but then eventually see the wall of Deutsche Bahn ticket self kiosks (you can buy your tickets here- more on exactly which one you want next). Then, keep following the signs, and you'll see the big, green S sign that points you down to the escalators that will lead to the train tracks.
2. Buying Your Ticket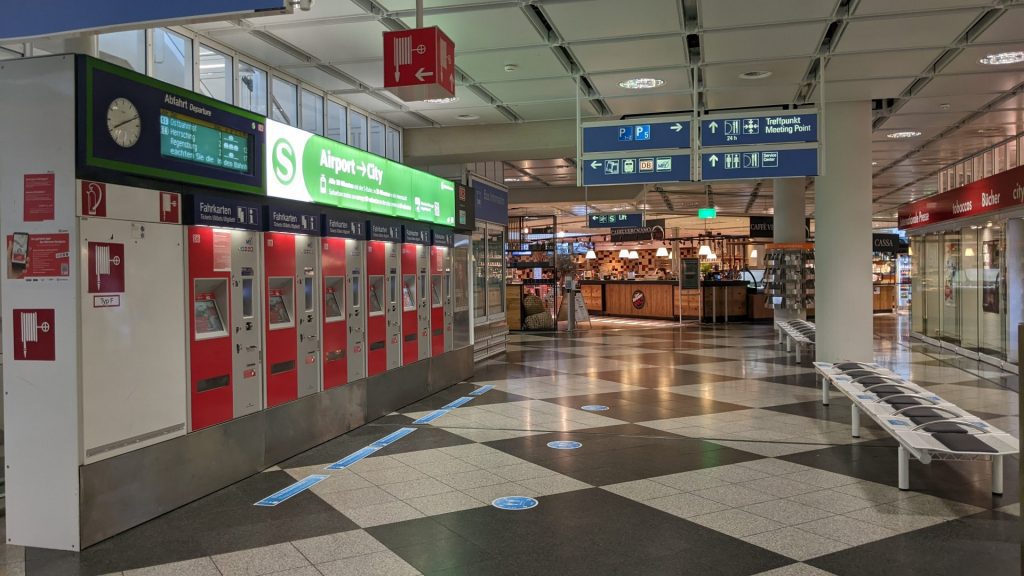 First, you need to buy your ticket. You can read my complete guide on Buying Deutsche Bahn Tickets here for even more details and info for general ticket buying info. For today's purpose, you can choose to buy it
In the App: This is my preferred way of buying Deutsche Bahn tickets. It is easy to use, up to date, gives the best price options, and is in your desired language
At the Self Kiosks: If you prefer a paper ticket, you can get them easily at these as well. If coming from Terminal 1, you will see the wall of machines before heading down the escalators to the Munich Airport S-bahn. If you are coming from Terminal 2, you will go across the MAC, down the escalators and there will be some at the end of the platform here as well.
At the Deutsche Bahn Reise Zentrum: This is located in between terminals 1 and 2 and has a desk and real people that can help you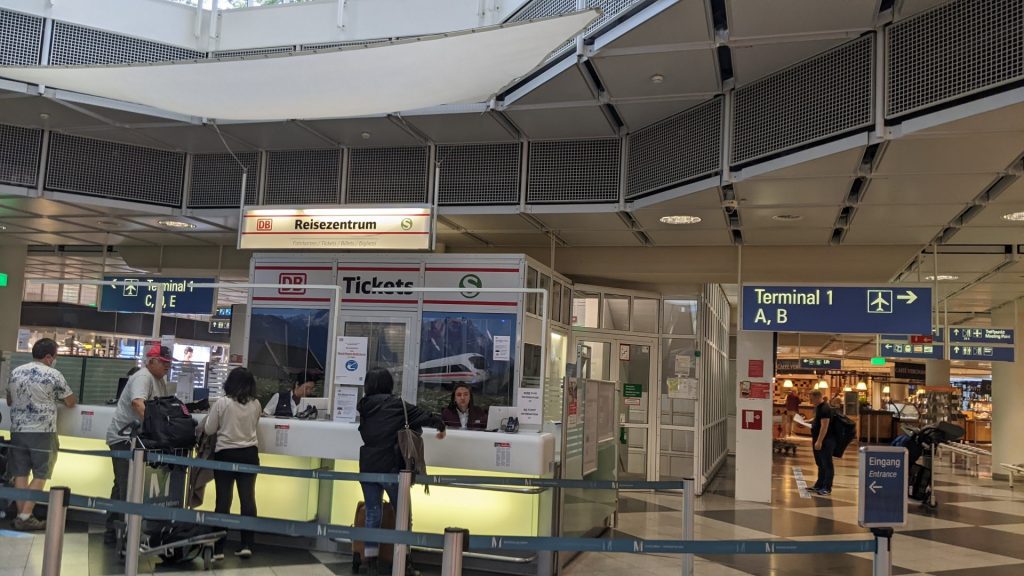 Everything mentioned above accepts credit cards.
Depending on what ticket you got (There are a few Munich train tickets from airport to the City that can work) look for the blue validation box before heading down. Germans have lots of stereotypes. Being insanely strict rule followers is one of them. Ok, this is not a stereotype. It is fully applicable with the ticket checkers!
If your ticket is not validated, despite it being the right ticket, you WILL be charged a fine (ask me how I personally know this)
Which Ticket To Buy For Munich to City Center (and HBF)
Nothing is ever a clear cut answer when it comes to travel, including which Munich airport train tickets you should get. Here are the 4 main tickets you'll want to consider.
Single Tagesticket/ Single Day Ticket: €13.70
This ticket is good for one person and can be used for public transportation within Munich for the rest of the day. (Note: There is a "Single One Way Ticket" (Einzelfahrkarte Erwachsene) that is about 1 Euro less. However, I recommend just getting the Single Day Ticket. This will allow you to take public transportation in Munich for the rest of the day. )
Group Day Ticket (Gruppen-Tageskarte): €25.70
This is a great deal if you are traveling with several people. You can put up to 5 adults on the one ticket (2 kids count as an adult). This ticket is similar to the above day ticket, where it is good for everyone on the ticket until 6am the following day and covers all local public transportation within Munich. If you have even 3 adults, then this will work out to be the best deal for your money.
Stripe Tickets
This can get complicated, so unless you are doing strict Budget Travel in Germany and watching every single penny, it's more straight forward to just get the above Single Day Ticket.
The way the Stripe Tickets work is that you get a packet of 10 little tickets. However, different journies take different amounts of "stripes." You can use the MVV Trip Planner (MVV is the local Munich Public Transportation network) and it will show you how many stripes it takes depending on your exact journey.
In this case, it will "cost" 7 stripes, which totals out to be €10.64, for example, from the Munich Airport to the Hauptbahnhof. If this is the only public transportation you are using today, then technically, it is the best ticket for your cost. However, you'll then have 3 stripes to use for another day, which may or may not be enough for another journey.
Note: You absolutely, positively, undoubtedly NEED to stamp/ validate your stripe tickets! NO ACCEPTIONS. Especially if you are doing it to save just a few Euro, if you forget to validate your ticket before boarding, you WILL end up paying WAY more in the end in fines!
Bayern Ticket: Start at 26 Euro
If for some reason you are going to be going outside of the city or further on into other locations in Bavaria on your day of arrival, then the Bayern Pass is the way to go. You can read all about the Bayern Train Ticket Here, including any rules and nuances.
IMPORTANT: No matter which ticket you purchased, if you get a paper ticket, you will need to validate it. You have two ways to do this:
Before you click the final, green "Pay" button at the self kiosks, make sure you have clicked on and selected the "Issue with Validation" button on the screen.
I know I'm about to sound super paranoid, but I just don't want you to find yourself in a situation where you thought you had a valid ticket but you actually didn't. I'm a double, triple checker kinda gal. I've been in situations where I wasn't sure, so I just go validate it manually again on the Blue Validation boxes (See below picture with the escalators to see what it looks like). Sure, will the ticket checker look at your weird? Maybe. Will you be charged an insane fee for not having a valid ticket? HECK NO!
3. Take the S1 or S8 Sbahn to both the City Center and the HBF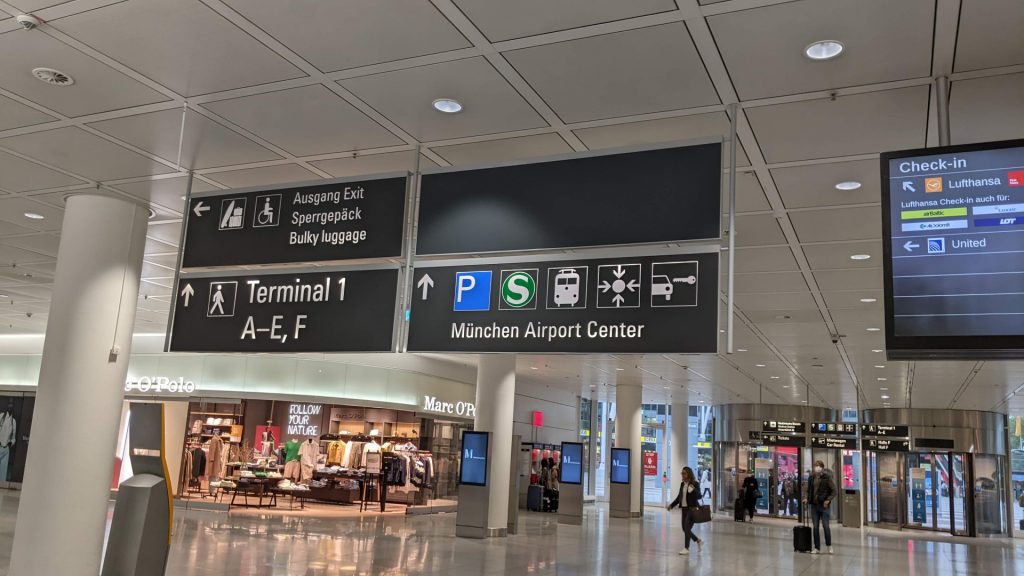 If I haven't drilled it in yet, no matter where you are in the airport, if you just keep following the green "S" signs, then you will eventually find the SBahn. Again, it is located underground, in the middle of the airport between the two terminals.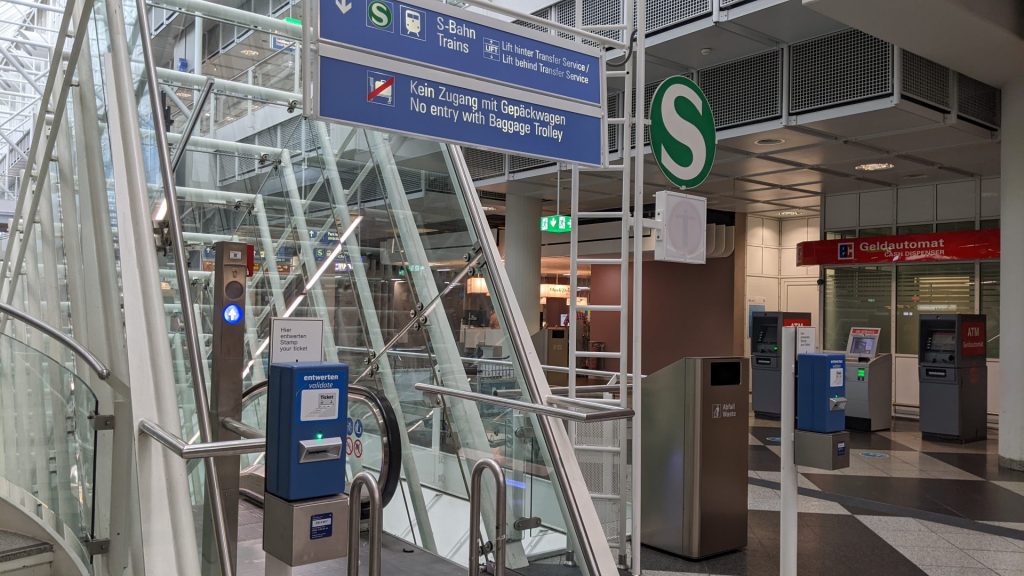 No matter what, you'll eventually find a set of escalators clearly labeled "S-BAHN" so ride those down (there are also elevators if you have large suitcases).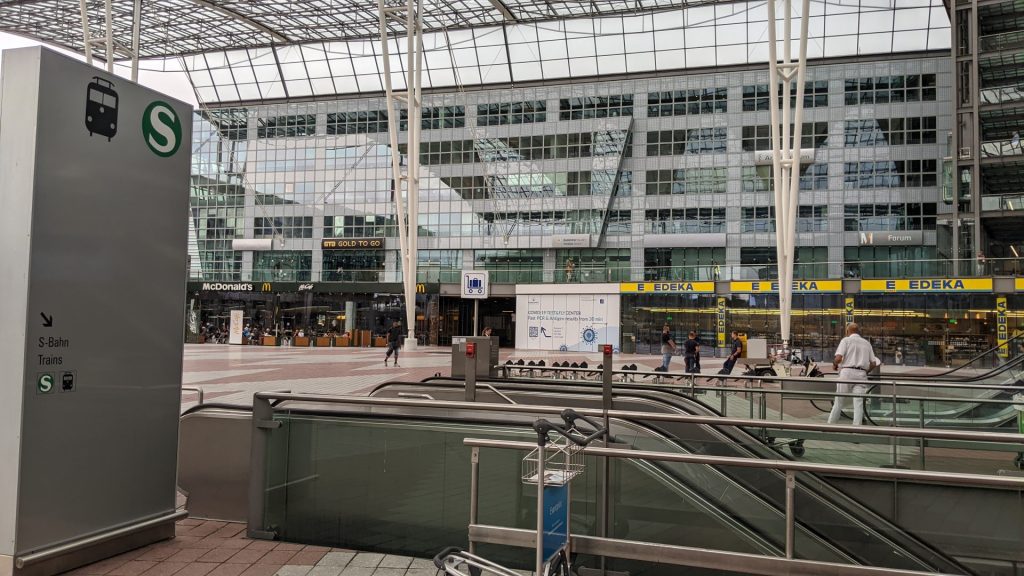 Once down at the platform, whether you are going from the Munich airport to the train station (Hauptbahnhof) or to the city center (Marienplatz and nearby), you can take either the S1 or the S8. Here are all the stops on both of them, in case you need a different stop to get to your hotel first.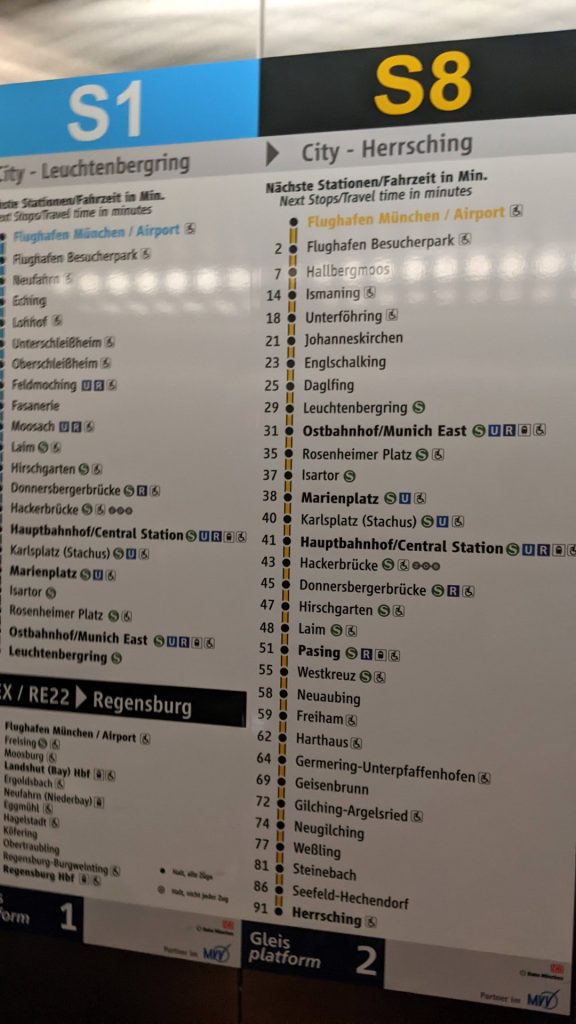 If you are going to the Hauptbahnhof, you may be tempted to just take the S8, as it is faster, but really just by a few minutes. Either one is fine and will take you to both the Marienplatz and the Hauptbahnhof, so really, just grab whichever one arrives first.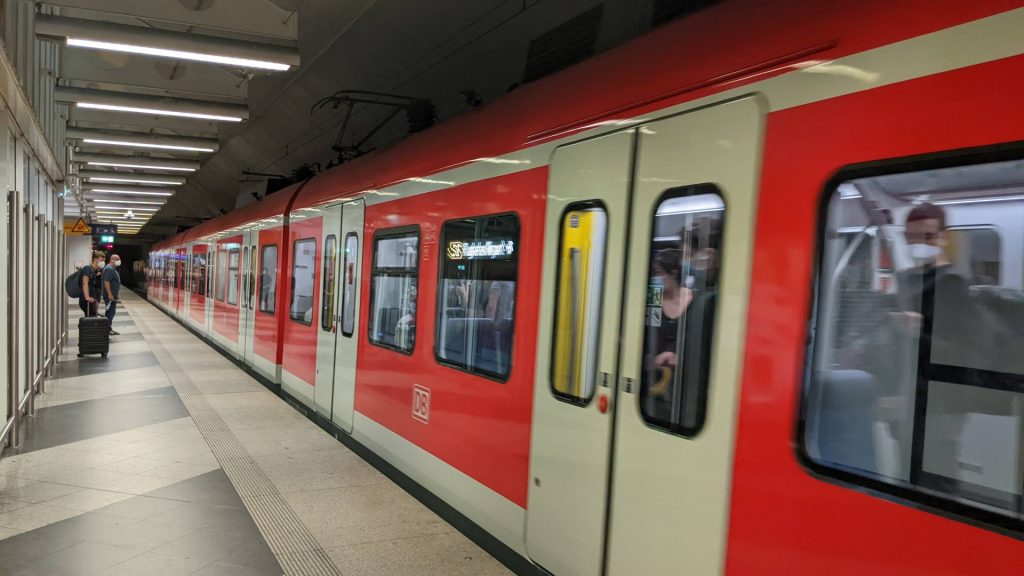 Pro Tip: If you are going anywhere else, like for example, your specific hotel, then this is the part where having the DB App or Google Maps is super handy. While the S1 and S8 will still be the trains you'll take from the airport, instead of going all the way to the HBF or the Marienplatz, the apps will tell you exactly which stop to get off at, if it is closer than the city center or the HBF, so you don't have to backtrack any.
The S8 will leave from Platform ("Gleis") 2 and the S1 will leave from Platform 1.
How Long Does it Take to Get from Munich International Airport to the City Center?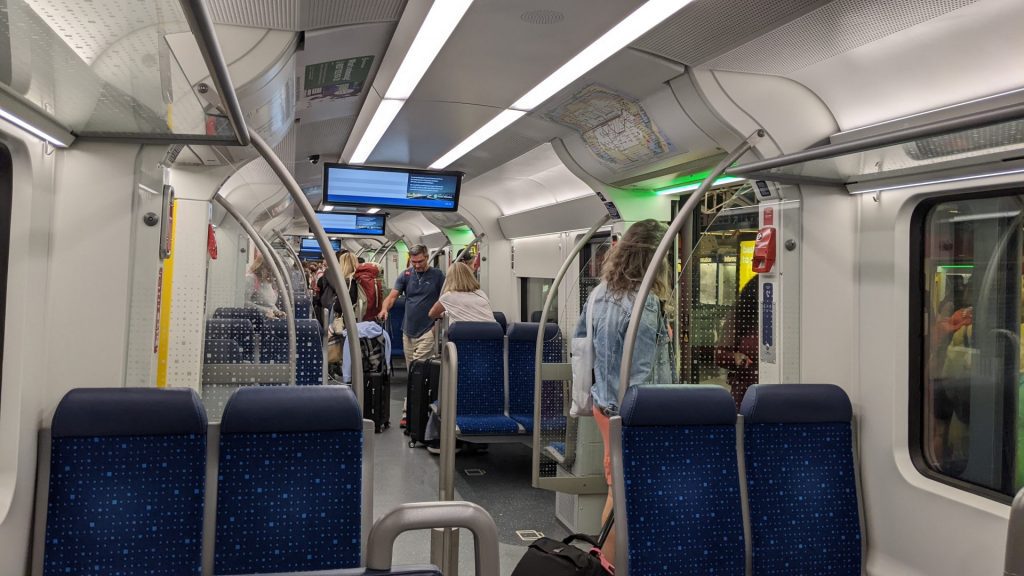 Depending on exactly where you are going, the ride from the airport into the city is about 40 minutes, give or take. It's not a horrible idea to just make sure you have an alarm set on your phone for a few minutes before your stop is supposed to arrive in case your jet lagged body decides to fall asleep! (Not that, erhm…that's happened to ME or anything)
And that's really it!
Tip: The Sbahn Trains don't have specific places for luggage. You can put small bags above, otherwise, you'll just need to finagle a spot by a seat. If it is especially busy, it is considered rude to take up seat spots with your luggage, so it's best to go stand by the doors if you have big bags and the trains are especially full.
Let's do a specific example though to really walk you through the steps above if you are staying somewhere else. For example, let's say you are Going to Oktoberfest and therefore have chosen a hotel close to the Theresienwiese (which is where the fest is held). Let's pretend that you've chosen the Bavaria Boutique Hotel, which is located just a 5 minute walk to the Fest Grounds. You can just use Google Maps to put in MUC to Gollierstr. 9, Schwanthalerhöhe (address of hotel). It will give you several options, 2 being to take either the S1 or the S8, but either way, getting off at the Hackerbrucke stop (NOT the HBF or Marienplatz).
For this specific example, the only thing to really pay attention to, is WHEN that stop is, depending on which line you got on. Both the S1 and S8 will take you there, but if you take the S8, you'll see on the schedule that you'll actually go one stop passed the HBF, whereas if you take the S1, it will be one stop before.
I only point this out to show that you don't HAVE to go all the way to the HBF (or Marienplatz) to get to where you need to be if either of those aren't your actual final destination. But also, just remember that the S1 or S8 will BOTH take you to both the HBF and the City Center, but if you are going to your hotel first, just make sure (again, using DB Navigator App or Google Maps) that that is still true for your specific hotel.
Note: There is technically the "Munich Airport Train" (Also called the ÜFEX Airport Express Train)
This train goes to/from the Flughafen (airport) to nearby cities such as Regensburg, Freising, Landshut, Moosburg, and several others. However, this train does NOT go from the Munich Airport to downtown! If you find yourself accidentally on this train, you'll have to get off at Freising, and then transfer there to get back into the Munich City Center.
Arriving at the Hauptbahnhof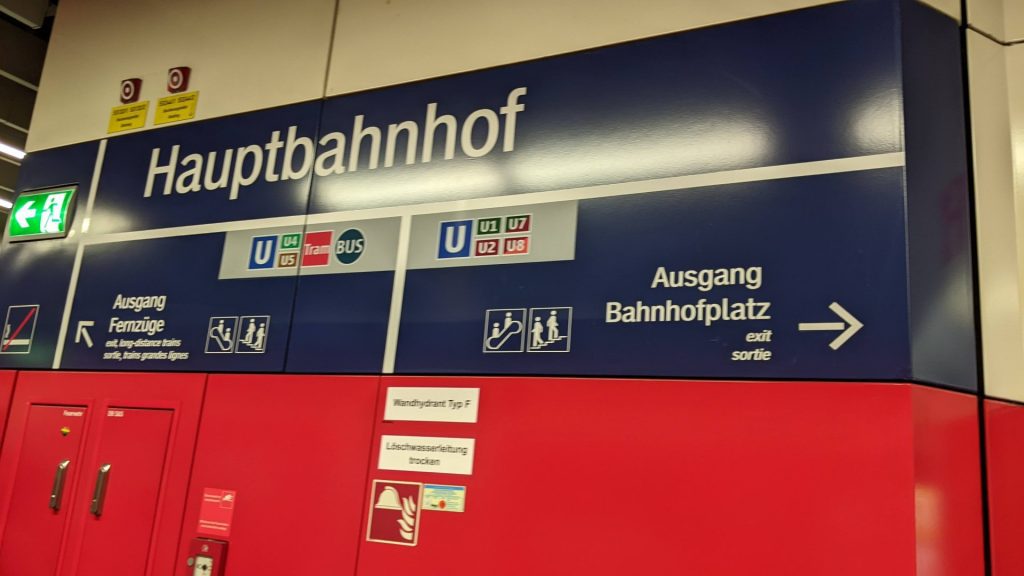 If you went from the Munich airport by train, you'll arrive at the S-bahn station at the HBF. Depending on where you want/ need to go next will determine where exactly you go next.
Getting To the Main Train Hall
If you need to get a train, for example, to get to Neuschwanstein, you'll need to get up to the main train hall. Simply
Go Up the Stairs following the sign that says, "Fernzüge" (long distance trains)
Follow the signs that say, "Zu den Zügen"
In The photo above, this is where you come up out of the Sbahn, but the red pillars is where you will go down to go back INTO the Sbahn. For example, if you are going back FROM the Munich Hauptbahnhof to Munich Airport.

This is the view from the top of the stairs that goes into main hall going back down TO the Sbahn station (for example, if coming from the long distance trains)

You'll go up a big set of stairs/ escalators (there will be a paid bathroom at the bottom)
At the top is the main train hall
Find the Gleis (Track) of the train you need
Getting to the Ubahn
This will slightly vary depending on exactly which Ubahn you'll need to take, but if you are using something like Google Maps, it will tell you exactly which Ubahn you need depending on your address, so it's just a matter of following the signs and then finding the right one.
Again, the signs are really well marked to know where to go. For example, when I got off the Sbahn, the signs said to go to the left to go to U4/5 and to the right to access the U1,2,7 and 8. (See above photo)
Getting To the City
Again, I wish I had a more definitive answer for you, but this is all going to depend on where exactly you are going in the city.
In the Sbahn station, you can go straight out to the Bahnhofplatz (which is the main entrance of the train station)
Go Up the S-Bahn Stairs/ Escalators and on this level is where you can exit at Anrulfstrasse or Pfefferstrasse
If you follow the directions to go up the main train hall, you can exit at the opposite end at Bayerstrasse
Other Options for Getting from the Munich Airport to Munich City Centre
Take the Lufthansa Express
The Lufthansa Express (also known as the "Munich Airport Bus" to city centre) MAY be another decent option for Munich Airport transportation if you are wanting the cost efficiency of public transportation and depending on exactly where you are going. It takes about 40-45 minutes from Munich Airport to Munich HBF
Pros To Taking the Lufthansa Express:
Affordable if you need to go to the Hauptbahnhof
Easy to find/ take at the airport
Has free wifi on board
Decently comfortable
Cons To Taking the Munich Airport Bus
It ONLY covers the cost of the bus. If you need to take another Sbahn/ Ubahn to get you to your final destination/hotel you'll need to buy an additional ticket (which then means it's no longer as competitively affordable as the trains) and doesn't cover the rest of your day the same way the above Day Ticket would.
It only stops at the Schwabing Nordfriedhof Stop and the Hauptbahnhof. If you need to go anywhere else, it's not as convenient.
Cost for the Lufthansa Bus from Munich Airport to City Center:
Adults:
Single Ticket: €11 if purchased online (€11.50 on the bus)
Round Trip Ticket: €17.50 online (€18.50 on the bus)
Children (ages 6-14)
Single Ticket: €5.50 if purchased online (€6 on the bus)
Round Trip Ticket: €11 online (€12 on the bus)
Take a Taxi/ Private Transport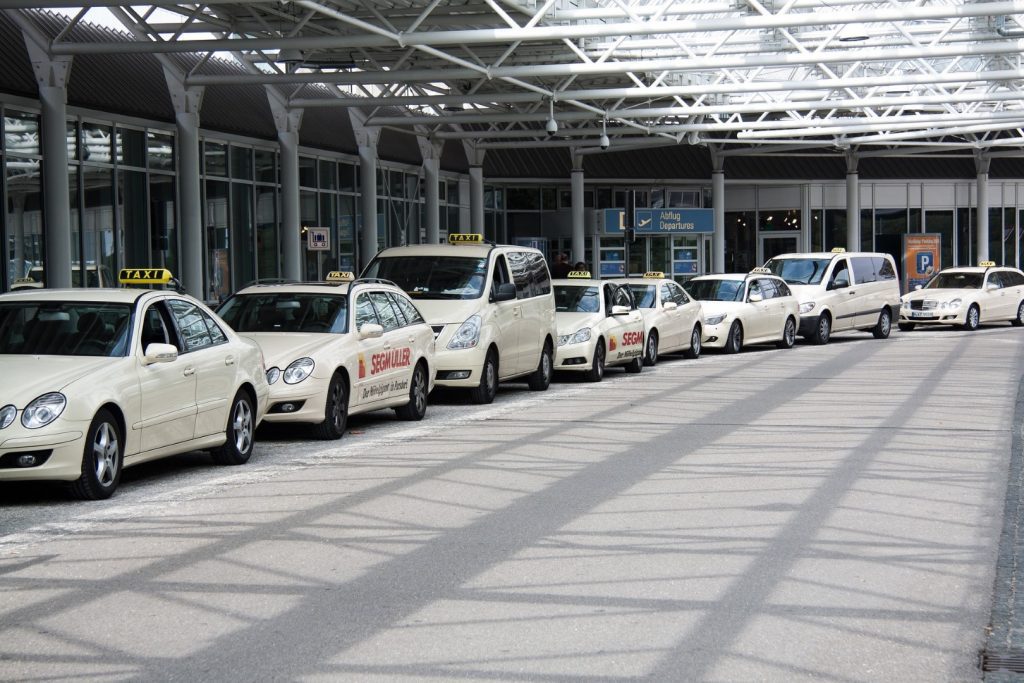 Another option is to take a taxi. This is actually my least recommended method, only because I'm biased to the public transportation because of how easy and affordable it is.
However, I do understand that not everyone likes public transportation, so I'll include the info on taking a Taxi from the Munich Airport to the City Center here.
Pros Of Having a Taxi:
You can arrange for it ahead of time if that helps ease your stress/ there is always a line of cabs waiting outside
It takes you straight to your hotel
Cons:
Is expensive
May be difficult to fit your luggage in
Can take longer than public transportation, pending traffic
Where to Get a Taxi: Like the other transportation options, just follow the "Taxi" signs on the boards in the terminals and it will take you out in front where there are taxis waiting.
Cost: A cab is going to cost you anywhere from 60-80 Euro depending on the time of day and traffic
Travel Time: Technically, it should only take about 40 minutes. However, this is one more reason why I don't like Taxis from the Munich Airport. You never know when there will be a Stau (traffic jam) and driving IN the city center can take significantly longer than zipping along on the Sbahn. If you think that a Taxi is a sure fire way to be faster, think again.
Another thing to note is luggage and car size. While nobody loves the person getting on the trains with a giant, oversized luggage set (hey, no judgment here, I have three kids, I've been THAT person plenty of times!!!) it can be really hard in European cars, which are often smaller than what you might be used to (if coming from the US for example) and more difficult to get giant suitcases into.
Tip: If you have a bigger group or have bigger suitcases and you want to take a private transfer, I highly recommend booking a van, like this one ahead of time since vans are much harder to come by in Germany than cars.
You can also book a car here, where you'll know exactly how much it is going to cost, arrange for exact pickup details ahead of time, etc
Is Uber Available at Munich Airport?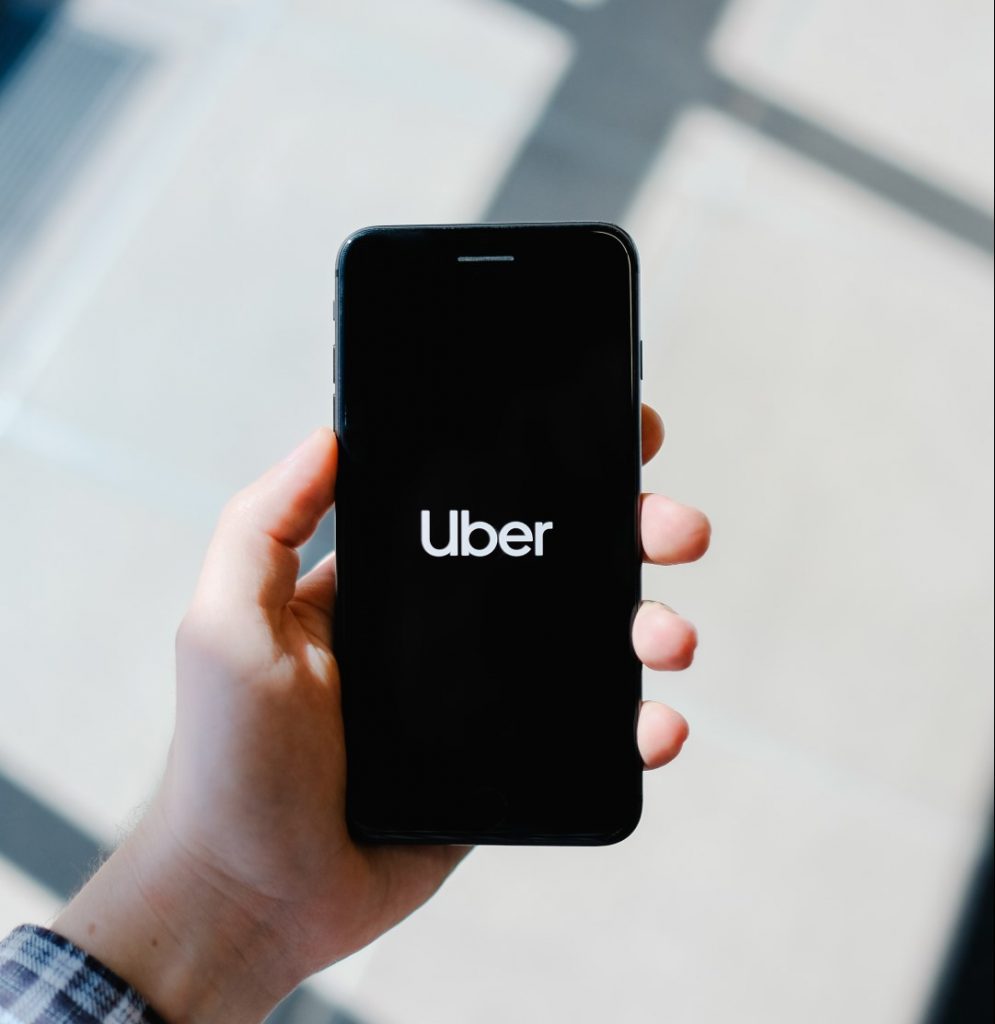 Yes, TECHNICALLY there is Uber in Germany. BUT it's not going to be as efficient as it is in the US/ other locations. Uber in Germany is actually no cheaper than just getting a normal taxi and there aren't that many Uber drivers, so you are at the mercy of waiting for one to accept your ride. I've even heard of a lot of people saying they eventually get "accepted" and then 15 minutes later, the driver cancels. So, it often just becomes this whole thing. It's also typically the same cost as a taxi, so I just think it's easier to just book a cab and be done with it.
How Much Does an Uber from Munich Airport to City Center Cost?
This will depend on how many other riders/ drivers there are and what time of day it is. But, you can expect to pay anywhere from around 60 Euro- 85 for an Uber from Munich Airport.
Car Shares
Shared rides aren't where you get in a car with a few other people but, instead where a car is shared amongst multiple over a duration of time. This isn't something that I actually have done yet, but I know it's becoming more and more popular in the cities here in Germany. For example, where I live, a lot of people just get around by bikes most of the time, but occasionally need a car for something further. Car Shares are organizations that allow you to use a car for a certain period of time (or kilometers) without the hassle of renting a car, needing to drop it off in specific locations, refuel it, etc.
So, in the case of the Munich Airport Car Shares, you would get a car (gas and parking fees are included in the total cost, so you don't have to worry about refueling), drive it to your hotel, and then basically just leave it there (if it is within Munich) for the next person to come along to use it. It seems almost ridiculously simple since you don't have to worry about refueling the car when you are done, don't have to take it back to a specific drop off location, etc.
To me, the biggest issues are:
You need to be comfortable driving in Germany (and even more so in a city, which can be nuanced in a place like Munich with street cars, etc)
If you have a lot of baggage, it might be hard to fit into a car
There are three main Ride Shares at Munich Airport.
How It Works:
You download the APP for the company you want to use. When registering, you will need to register and by doing so will be required to upload your driver's license as well as a selfie for verification. This is also the step where you put in your credit card
The App will tell you exactly where a Ride Share car is located at the airport (for example, SHARENOW has designated spots in Terminal 2, P20 Level 01). With the ShareNow App, you only need to reserve the car 20 minutes before needing it (if you require longer, it costs an extra fee to hold it, so it is best to wait to reserve the car until you have your bags and are on your way out)
Once you've selected a car, you'll receive a PIN, which is what you will then use to unlock the car
Cost
This will vary slightly depending on which company you choose. The links to the companies above will take you straight to their sites so that you can figure out exactly what it will cost for your journey. For example:
MILES: There is an airport rate where you can use a car for up to 120 minutes and the max that it will cost will €39 (or less, since MILES bases the cost on the Kilometers you go)
SHARENOW: Will depend on final location. Note the drop off zones and fees
SIXT: Will depend on final location. Note there is a 15 Euro Drop off Fee
Conclusion
Ok, so hopefully by now, you have complete confidence in getting yourself from the Munich Airport to the City Center and/or main train station! As always, if you still have any further questions, join in the fun in our Travel in Bavaria Facebook Group to ask any further questions!