[This post may contain affiliate links where we earn a small commission. Please see our disclosure for more information and thank you for supporting our site so we can continue to bring you awesome content for your travel inspiration!]
Crisp, clean air in the breathtaking Alpine mountains, Biergartens, fluffy pastries the size of your face, and a village you see in your dreams when you close your eyes and think of Bavaria. That is what most people can't wait to experience when they are looking for things to do in Garmisch Partenkirchen, Germany.
Living just a few hours from Garmisch, it's no surprise that I've made it down to this resort town several times.
And while there aren't a ton of undiscovered or "off the beaten path" things to do in Garmisch Partenkirchen anymore, it is still an absolutely beautiful place to visit to have on your itinerary. That's why I've tried to add a few of the "lesser known" things to do to this list. Not only is it a beautiful Alpine village itself, but with so many great options for things to do NEAR Garmisch, it makes for a great home base while in the Alps.
In this article, I'll first go over my favorite things to do in Garmisch. Below, I'll include information for getting to Garmisch both by train and car and also give you some of my top recommendations for places to stay.
Other Articles that Might Interest You:
Things to Do in Garmisch Partenkirchen
Planning a Trip to Germany? Join Our Fantastic Traveling in Bavaria Facebook Group!
Partnachklamm (Gorge)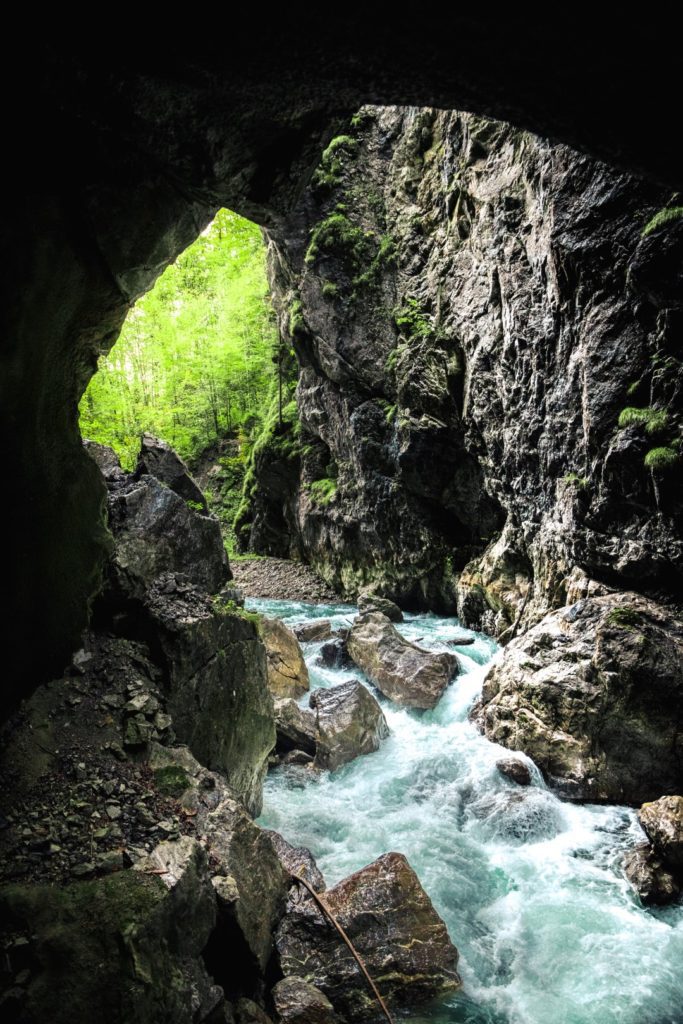 Nature is phenomenal. And wild. And Powerful!!! And you can see all of those forces of nature when walking through the astonishing Partnach Gorge, which is arguably one of the most popular places to visit in Garmisch Partenkirchen.
As you walk on the path you can gaze down into the bright blue rushing waters that have been slowly chiseling away to create the deep gorge for ages. At 2,303 feet long and, in some places, 260 feet deep, this gorge is a force to be reckoned with! (But is still very safe to explore, as there are clearly marked paths and guardrails the entire length)
But the history of the area goes back even further. There are sections of the gorge that still have imprints of marine life from 240 MILLION years ago when the area actually used to be a sea!!! Talk about mind blowing!!!
How To Get to the Partnach Gorge
Take a beautiful walk from the town of Garmisch Germany
Drive to the Olympic Ski Jump Stadium, which is the parking lot for both sights.
Hours and Admission:
The Partnach Gorge is actually open all year and current prices are only 6 Euro for adults/ 3 Euro for kids.
October to May: 8:00AM to 6:00PM
June to September: 6:00AM to 10:00PM
Insider Tips For Visiting Partnachklamm:
The Gorge can get very crowded in high tourist times. If you can get there as early as possible or later in the day (last admission is 30 minutes before closing) then you can avoid some of the thicker crowds
It can get quite cool in the gorge, be sure to have a jacket, especially in shoulder seasons
Bring a rain jacket if you don't want to get wet
The paths can be quite slippery in areas. Have very sturdy footwear on.
Depending on the time of day you are there, having a flashlight isn't a bad idea, either!
Skip Partnach and go to the way lesser known (and nearby!) gorges! There is the Letasch Gorge near Mittenwald and the Höllentalklamm near Grainau which are both GORGeous (sorry, I had to!) as well.
Stand On The Highest Mountain In Germany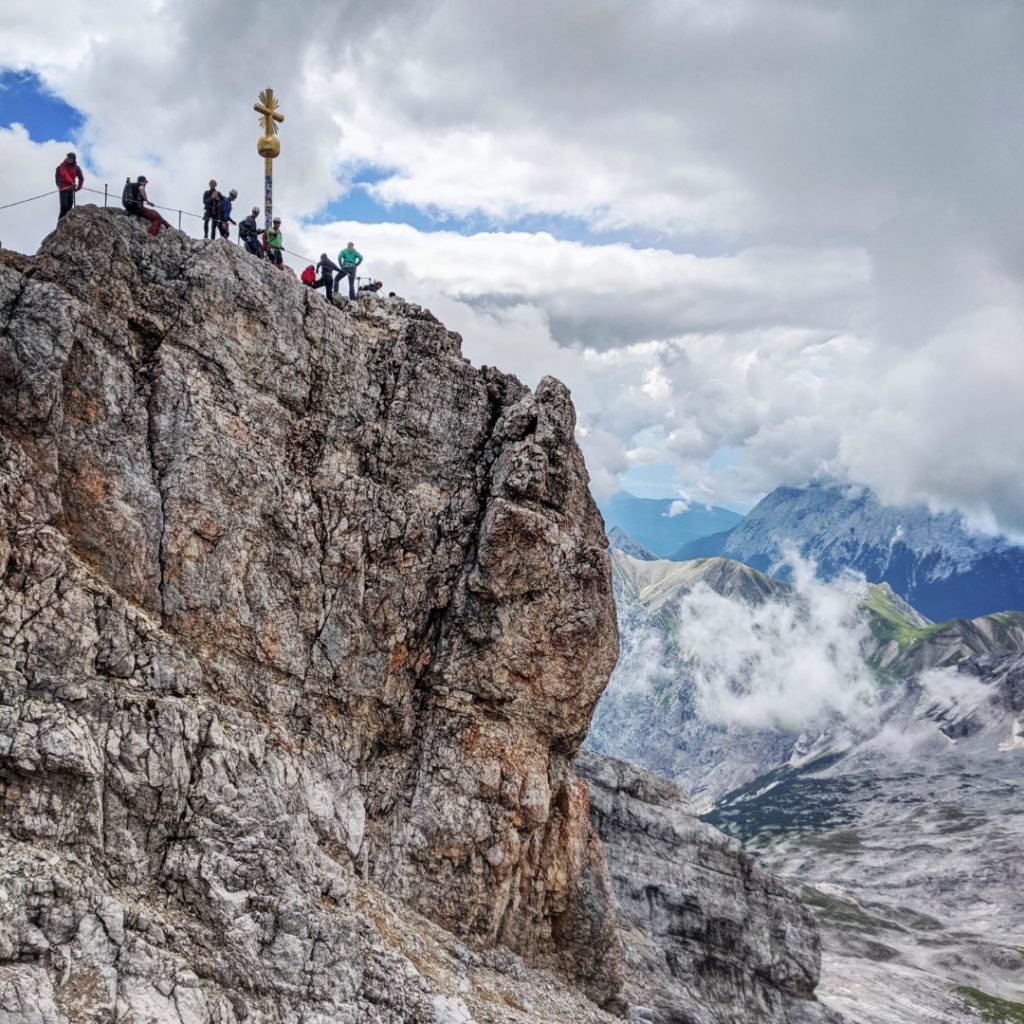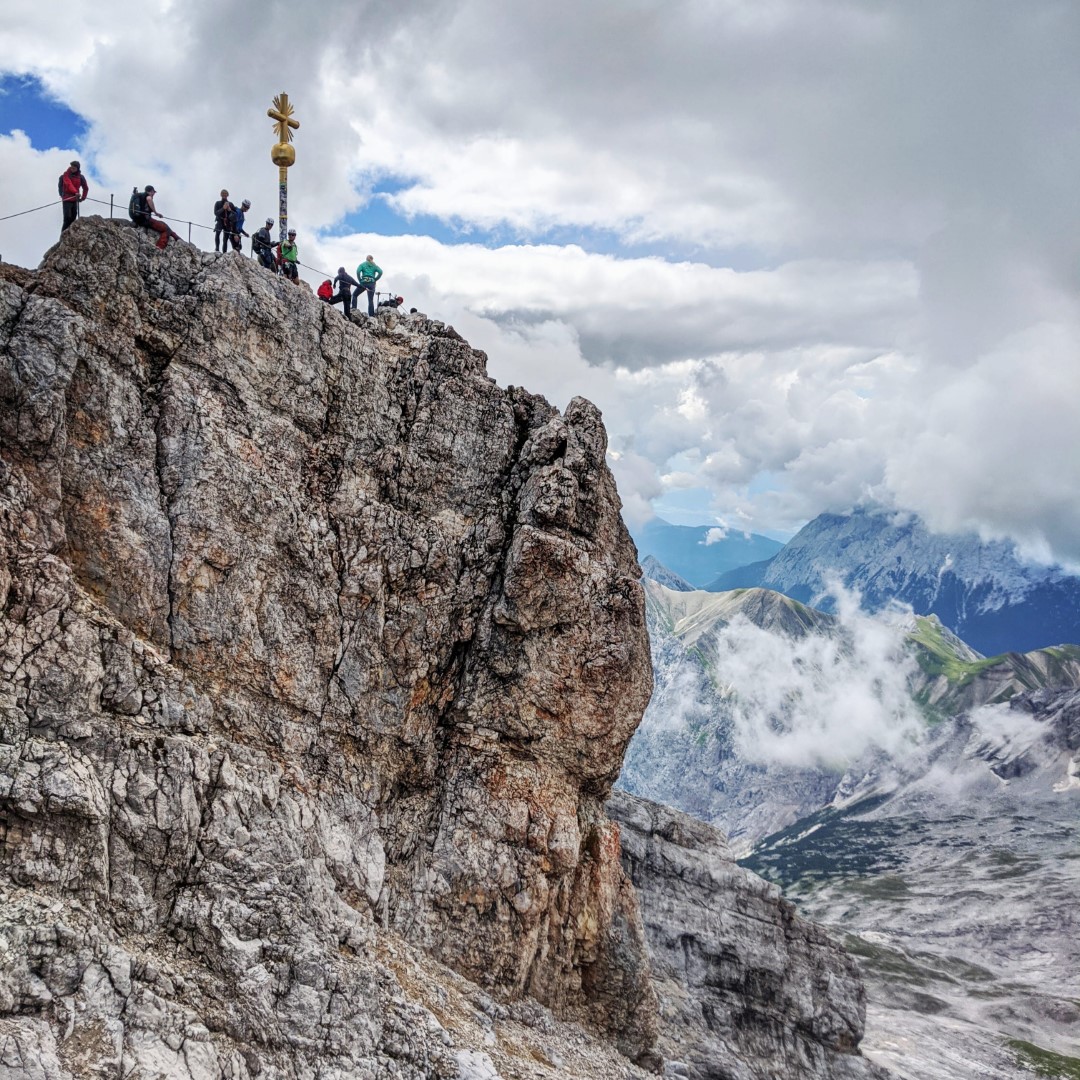 There is nothing like standing at the very tip top of a mountain peak!!! It's no surprise, that the Zugspitze, clocking in at a whopping 2962 meters, is one of the most popular Garmisch attractions.
You have a few options for getting up to the top of the Zugspitze, all of which are basically an experience in and of themselves.
1) Zugspitze Cogwheel Train
You can take this all the way to the top or you can stop at the Zugspitzplatt and then take the Gondola the rest of the way. It does take a bit longer than the Gondola, but for those afraid of heights, it's definitely an "easier" option.
Address: Olympiastraße 31 82467 Garmisch-Partenkirchen
2) Seilbahn Zugspitze Gondola
If you want to take the Gondola all the way straight up (and I do mean that it can feel STRAIGHT up!) then you can go to the town of Grainau, which is where the Seilbahn Zugspitze Gondola Station (Lake Eibsee) is at.
Address: Am Eibsee 6, 82491 Grainau
3) Combo of the Train and Gondola
I really like this option just because it gives you more variety in your day! If you choose this, then I recommend taking the train from the Zugspitze Bahn (Train station) just like above and getting off at the Zugspitzplatt (one stop before the peak). Grab a bite to eat at the restaurant, have a look around, try some sledding (even in the summer!) because after all, you are on a Glacier! Walk around, take in the sites at this altitude, like Germany's highest church, or even go on a short hike from this location, and peep into the "Iglu Hotel." Then there is the Gondola which will take you the rest of the way up to the peak.
For your return, I recommend taking the Gondola from the peak all the way back down to Eibsee, which is where we are going to spend the afternoon. At the end of your day, you can then take the same train you took in the morning from Eibsee, back to your car.
Zugspitze Tickets and Costs
You can get all the current ticket prices and timetables for the Zugpsitze here.
Go Sledding in the Summer
Want to do something truly unique? How about going sledding….in July! (or any other time of the year for that matter) After all, the Zugspitze has a glacier on it, which has snow all year long!
You can start at the Gletschergarten restaurant (which is at the top) and sled down the glacier. You can either bring your own, or even borrow one there (for free!)
See Three Countries At Once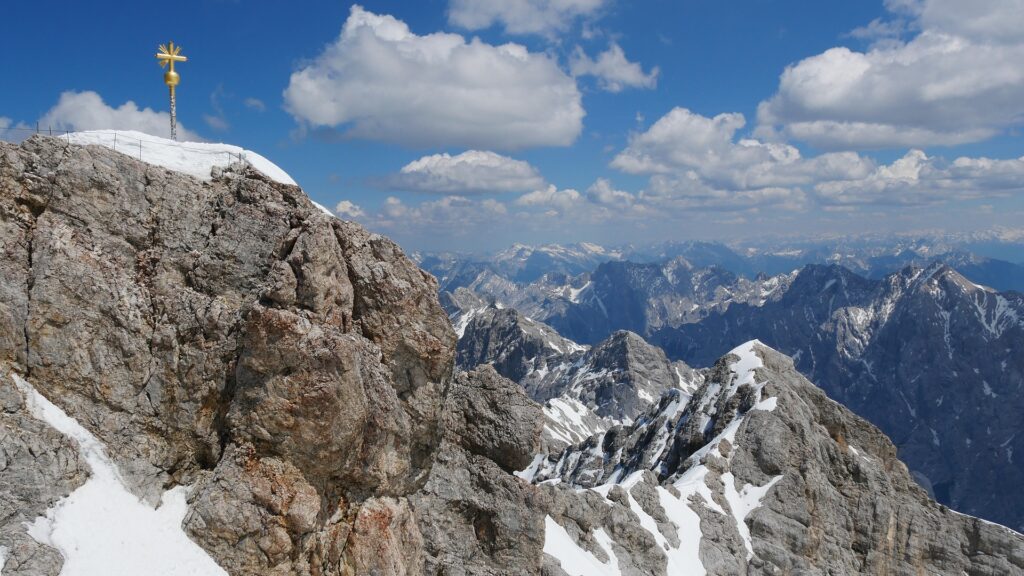 If you can manage to get to the Zugspitze on a clear day, you can actually see three countries all at once! Obviously, you can gaze out as far as the eye can see into Deutschland. The Zugspitze actually straddles the border of Germany and Austria, so you can see the stunning Tirol mountains as well into Austria. But, on a crystal clear day, you are so high that you can actually see as far as Switzerland! Talk about a view!!!!!
There are places where you can grab a coffee up at the very top or even sit at a restaurant. Whatever you choose, put away your phone, take some time to relax, and just soak it all in.
Note: If it is cloudy, you actually aren't going to see much of anything. If the weather doesn't look great, try to quickly rearrange your days in Garmisch and do another activity, like Eibsee and try again for the Zugspitze another day.
Tip: The earlier in the morning, the better chances of clear weather you'll have
Find an Unbeatable Hike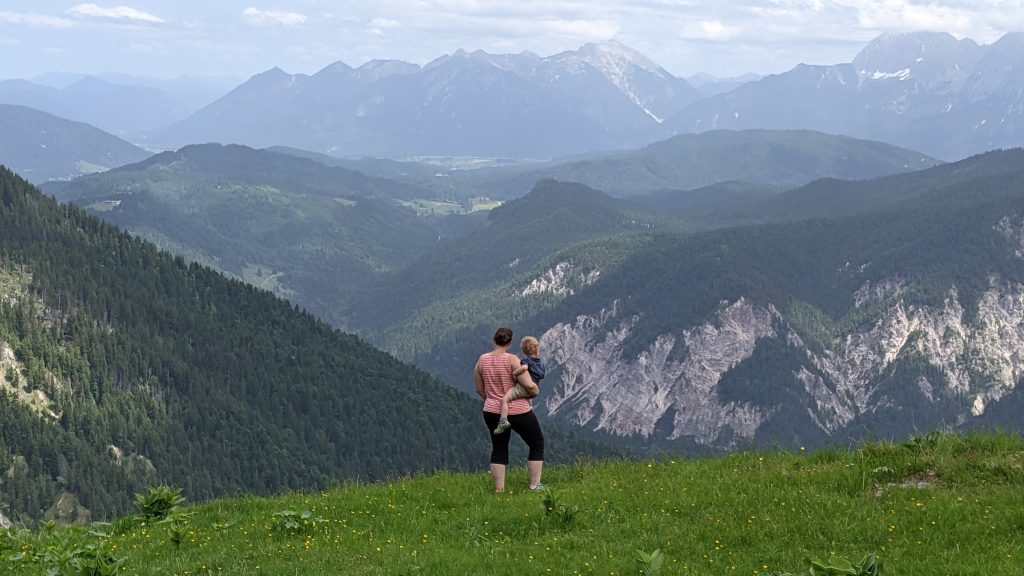 There are countless Garmisch Alps hikes that you can take in the area. I mean, COUNTLESS!!!! You can find hikes that are perfect for families, through hikes where you can stay at huts along the way for multi day journies, day hikes, and even short hikes from the top of mountains via cable cars! The world is your Oyster!!! I recommend using websites like Alltrails.com or Kamoot to be able to filter your personal abilities and interests for suggestions that will be best for you. Here are some of my personal favorites or ones that are highly recommended:
Kramerplateau Trail: We personally did the easy Kramerplateau Trail with the kiddos and it gave us wonderful mountain views and was easy enough for even the little ones.
Mount Wank Hike: Mount Wank is opposite the Zugspitze making it a very popular destination for hikers. You can find plenty of hikes to suit your interests and abilities here, one being the popular Panaramaweg, which, as the name suggests, gives outstanding and commanding views of the Alps all around you.
Alpspitze: Again, there are so many options for hikes here that make the Zugspitze's neighbor an amazing place for hiking. The "Summer Pleasure Trail" is a good one and the "Summit Adventure Trail is perfect for ALL ages and abilities, despite it being at the very peak of the mountain. You can get to it by the cable car, and even wheelchairs and strollers can make their way around this path at the top. Of course, there are far harder and more challenging hikes on this towering mountain as well and even a Ferrata for adventurists.
We personally did a fantastic hike (see above photo) where we took the cable car to the top of the Alpspitze, walked around the summit (the kids got a kick out of playing in the snow in the middle of June!) We then took another gondola from the top of the Holchambahn to the Holcham. From there, it was a 1.5-2 hour walk downhill with simply stunning scenery to the next cable car at the Kreuzeck, which then returned us back to the main Alpspitze station, where I promptly had an EisKaffee (and bribed the kids with ice cream)! It was the PERFECT day! (You could also do it in reverse if you want to hike UP the mountain as well, but with a very pregnant LeAnna and 2 small kiddos, I was all about the cable cars!)
Zugspitze: There are plenty of hikes for the Zugspitze. For the more experienced (and fit) hikers, consider the Reintal Valley hike that takes you to the Knorhutte and then finally up to the peak.
Peer into the Abyss at the AlpsiX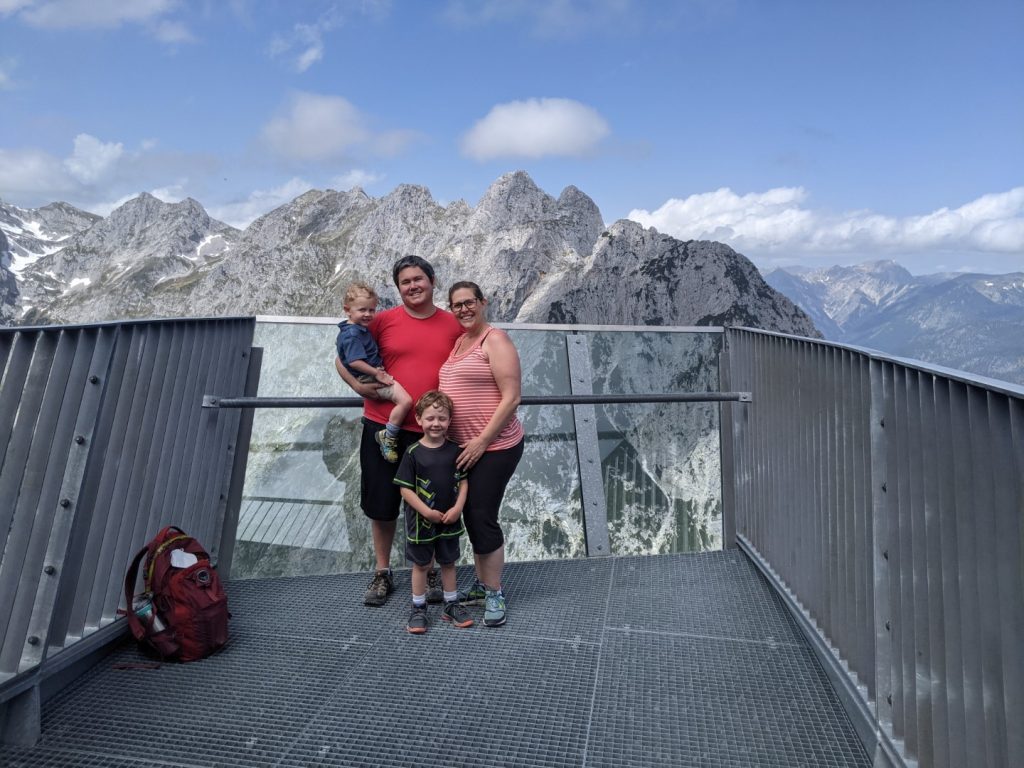 While most people are going to clamor to the Zugspitze, I actually prefer heading to its next door neighbor, the Alpspitze. Why?
Coming in at 2627 meters, it really isn't much shorter than the Zugspitze!
It's cheaper
It's popular but not nearly as touristy and overcrowded as the Zugspitze
Whether you chose to take the cable car up or hiked to the top, the Alpspitze has a special treat for anyone who made the journey up; the AlpspiX. Here, there is a massive (82 foot long) platform, made out of glass at the end that, from afar, creates the image of an intersecting "X." As you slowly walk out to the edge with trepidation over the see-through floor, you can literally see thousands of feet below you, as the cliffside of the Alpspitze drop off below your feet.
From here, you can peer out into the Bavarian Alps and the Garmisch mountains and see the Zugspitze, the Alpspitze as well as the Waxenstein mountains all commanding the finest views.
Frolic At Eibsee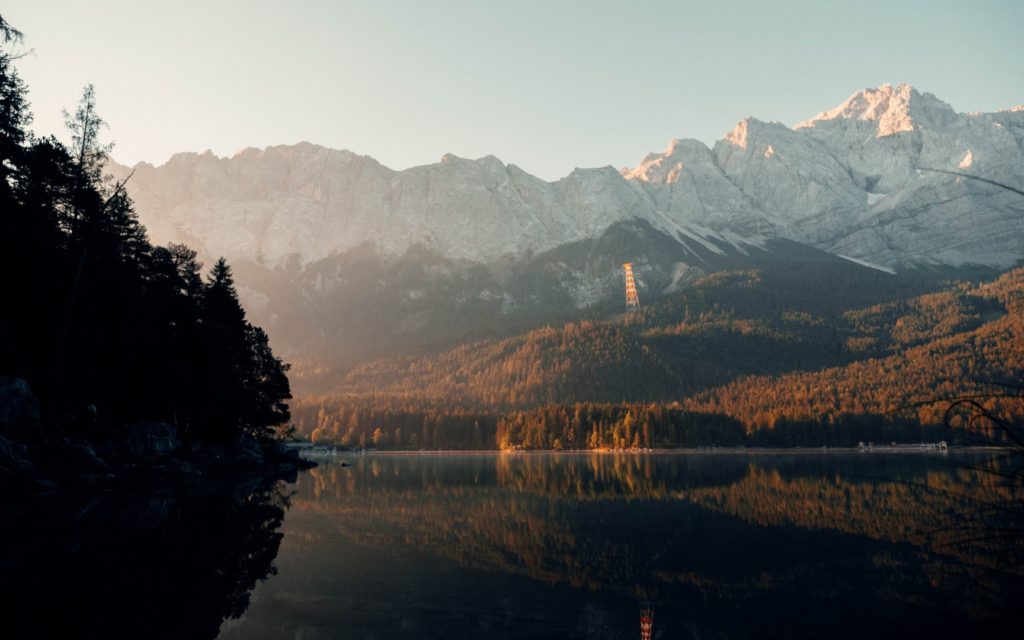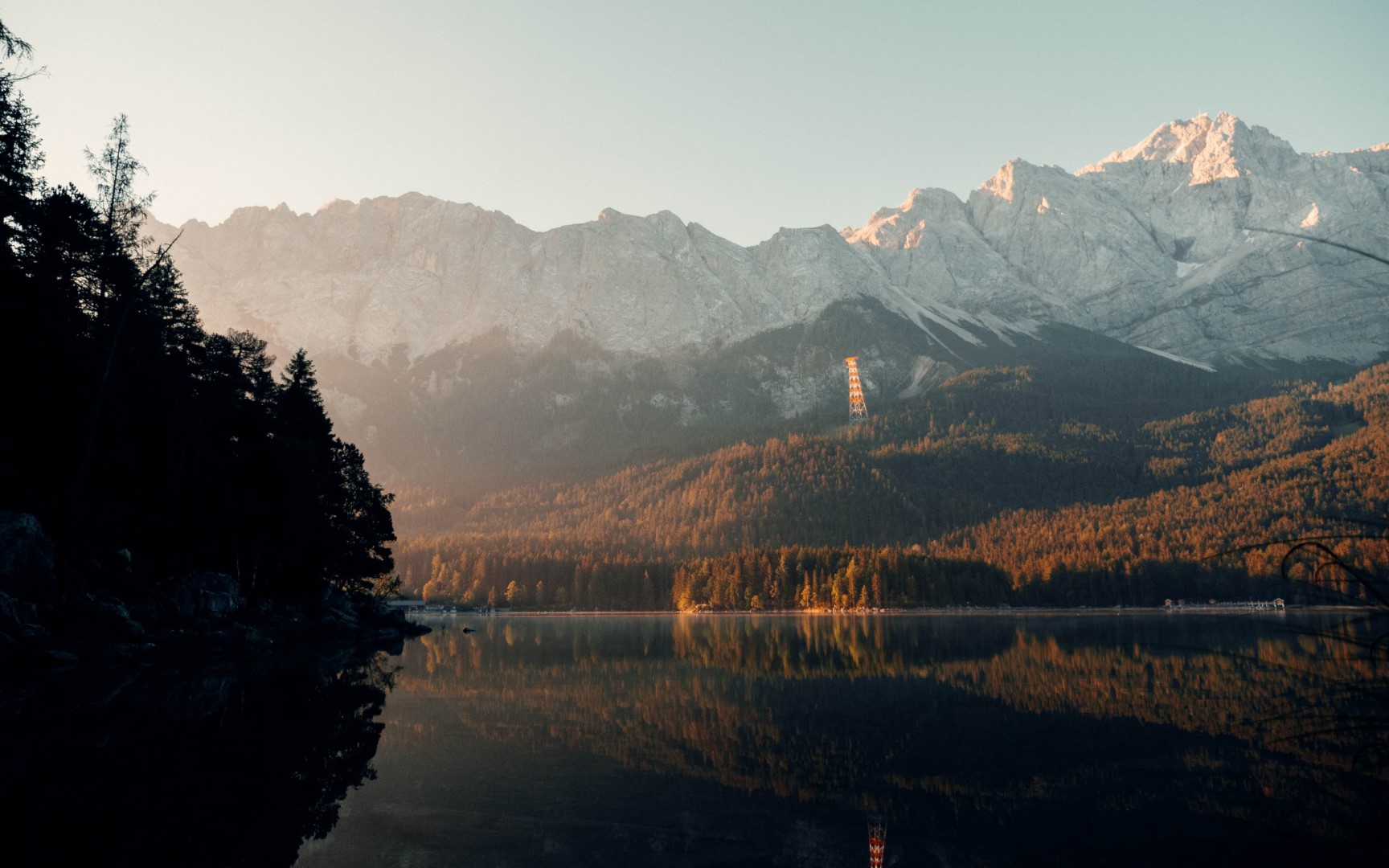 Lake Eibsee is out of this world. There are parts of the glacier lake that can look almost like the Caribbean with its beautiful shades of blues! No matter the season, Lake Eibsee needs to be on your Garmisch Things To Do list. And while yes, plenty of people (tourists) go there, it is so large that you are bound to find a quiet, peaceful serene peace of paradise to relax in. So, what is one to do at lake Eibsee?
Walk the lake: You can choose to do the whole 9km walk which would take about 1.5-2 hours or just do a small section of it!
Rent a Paddboat: We rented a paddleboat and it felt like we had the whole lake to ourselves!!!! You can even rent ones that have slides if you are willing to take a dip in the chilly waters
SUP: You can also get SUP or other boats to rent as well to take out onto the lake
Take a Picnic: I love bringing along picnic supplies and finding a beach along the path that doesn't have many people and just soaking in the gorgeous views with my meal!
Eat at the Biergarten: If you'd rather, there is also a restaurant where you can choose from a lot of great, German meals
Take a Dip: In the summer, you can of course take the plunge into the pristine lake as well!
Marvel at the Lüftlmalerei (Painted Pictures on the Houses)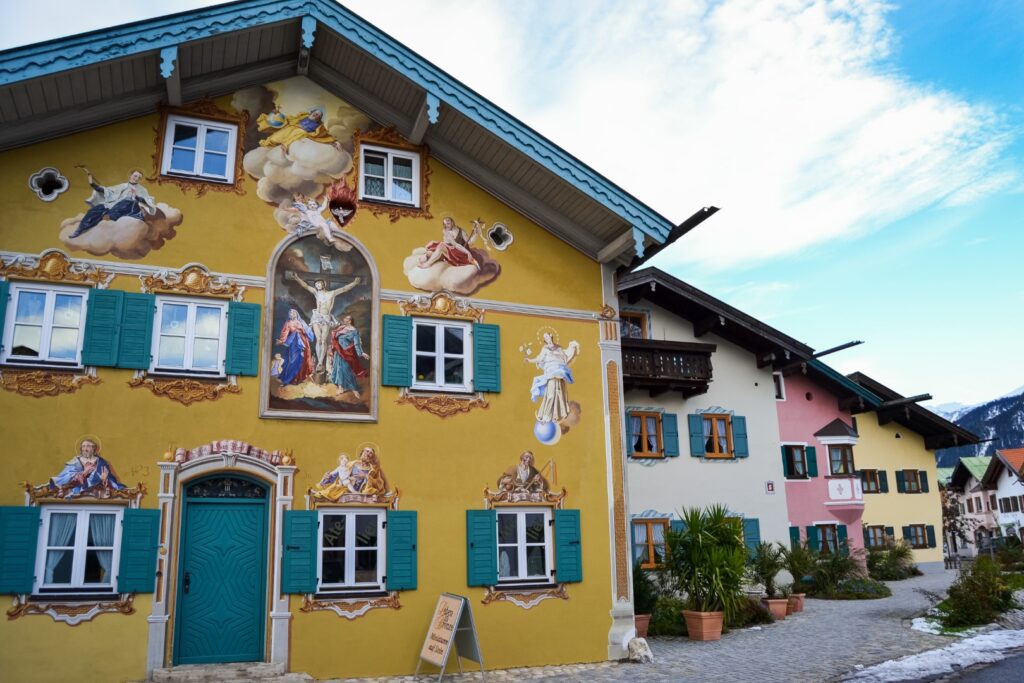 Back down on the ground and in the town, one of the most famous Garmisch Partenkirchen attractions isn't one particular place at all. It is wandering the village and admiring the gorgeous painted scenes on the sides of houses and buildings. These beautiful paintings are called Lüftlmalerei and the best way to see them is to rent a bike or just simply spend an afternoon strolling around.
Some of the paintings can go back to the 1700s and many depict religious scenes (Bavaria is a very Catholic region), folktales, or even family history/ important town events from the past.
Eat a Windbeutel
Move over "Cream Puffs", the Windbeutel takes the classic dessert and puts it on steroids. A Windbeutel is often a huge, fluffy pasty that is then stuffed with delicious Bavarian cream. Of course, no good Windbuetel would be complete without a great topping like chocolate or strawberries!
While you can find them all over, try finding a restaurant that is known for serving them.
Berggasthof: We took the Krammerplateauweg specifically so that we could end at the Berggasthof just so that we could get their famous Windbeutel. Unfortunately, we didn't realize that they didn't start serving the dessert version ones until the afternoon and we were there for lunch. Alas, I had a fantastic pesto mozzarella Windbeutel, but plan accordingly if you prefer desserts. (Note: you can also drive to the Berggasthof for the Windbeutel as well).
Konditorei Krönner: This is another fantastic place to try out a Windbeutel in Garmisch if you are right in the middle of the Altstadt.
Of course, there are plenty of other cafes and restaurants, especially the mountain huts that come with a great view to eat this delicious pastry dessert!
Go Paragliding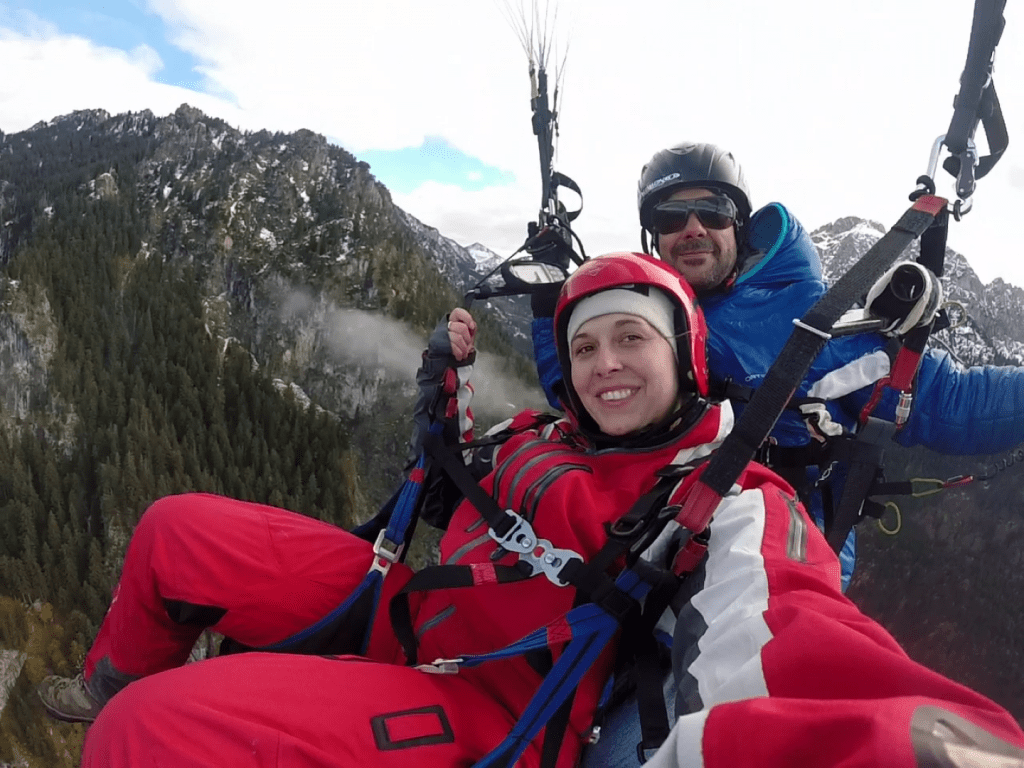 If you are wanting even more heart racing, adrenaline things to do, Garmisch has plenty. While I personally went Paragliding Over Neuschwanstein Castle, if you are calling Garmisch home base and want a thrilling adventure, there are plenty of companies you can do tandem flights with, like "Fly Garmisch"
Try Kaiserschmarnn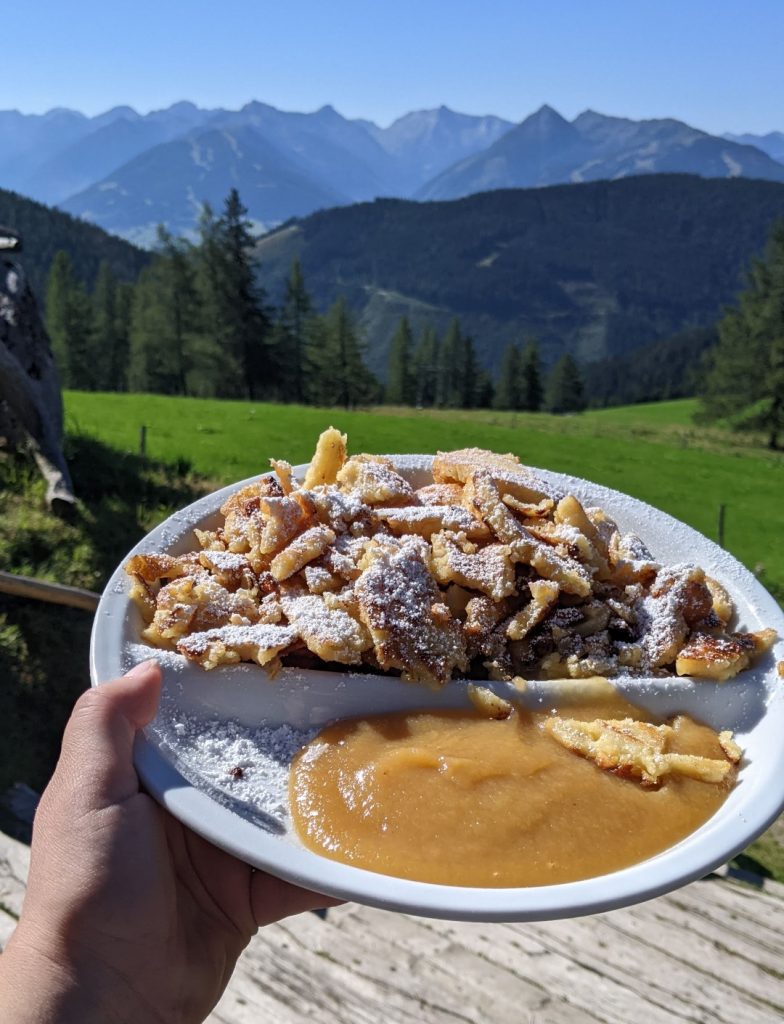 This isn't an "Exclusive Things to Do in Garmisch" thing to do buuuut when you are in the German (and Austrian) Alps, it's a must! And better yet, get it up in a mountain hut and it somehow tastes even better.
So what is a Kaiserschmarnn? It's one of those Classic German Foods You Must Try but is pretty unique to Bavaria. It is basically the German equivalent of their pancakes. It's not as sweet, and they tear it up into little pieces and then fry it up and toss it with powdered sugar (it is not deep fried, but tastes similar to a Funnel Cake!) Instead of syrup for the pancake, it is served with a side of Apfelmuss (Apple sauce)
Visit Olympiastadion
In 1936, Garmisch Partenkirchen held the Winter Olympics, and still today, its ski jumps are a sight to behold. Since it is on the way to the Partnachklamm, it's worth adding it to your Garmisch Partenkirchen things to do list, even for just a few minutes to marvel at the heights the jumpers leap from. If it is winter, you may even be lucky enough to watch some people training. Otherwise, if you've got a particular love for skiing or ski jumping, you can also take a guided tour of the facility. They run on Saturdays at 3pm (12 Euro Adults/ 10 Kids) and last about 2 hours.
See the Zugspitze from Austria for Less
Most people have the Zugspitze on their list when looking for things to do in Garmisch. Austria, however, is cheaper to get up to the peak! On one of our most recent trips to Garmisch, we ended up staying on the Austria side of the Zugspitze in Lermoos (where we watched the amazing annual Bergfeuer– A MUST do experience if there in the summer!).
To get to the Zugspitze from Austria, it was about 15 Euro cheaper per person than from the Garmisch side.
You can see current prices here on the official website for Austria and the prices for the Germany side here.
Ride The Sommerrodelbahn
If you've never done a Rodelbahn, they are a blast!!! A Rodelbahn is an Alpine coaster that zips you down and around the mountainsides as you control the speed of your own toboggan.
Go Skiing
Naturally, if you are in Garmisch in the winter, you'd be remiss if you passed on the opportunity to go skiing. Most people love skiing the Garmisch Classic, which is more versatile than just the Zugspitze, although combo tickets are available as well And don't forget about all the other nearby mountains as well, which are typically cheaper than the Zugspitze itself. If you love skiing, here are the Best Places to Ski in Germany for all levels.
Day Trips from Garmisch Partenkirchen, Germany
What a lot of people don't realize is that while there are plenty of things to do in Garmisch, Germany, a big reason why people like to add it to their itinerary is because there are tons of things to do NEAR Garmisch, making it a great home base. You can spend a few days in Garmisch itself, continue to stay at your one hotel, and then go off and have so many fantastic day trips near Garmisch!
Tip: While you can do several of the below options by train, having a car in this area is going to be much more conducive to getting to many of these locations easily.
Mittenwald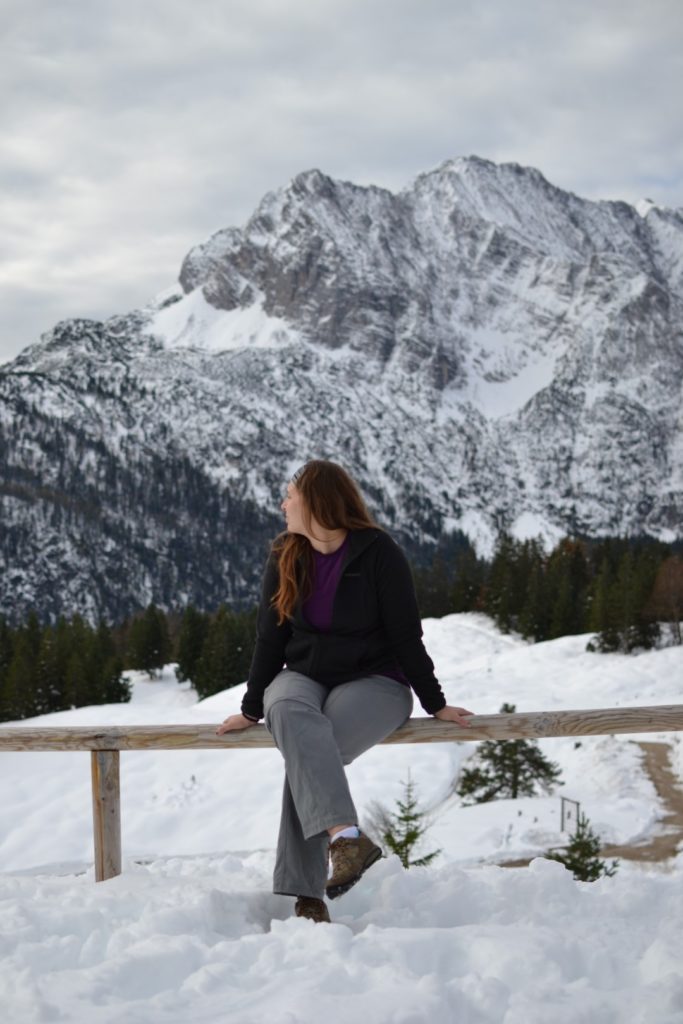 Truth be told, the first several times I went to Garmisch, I actually didn't really do much IN Garmisch itself. Instead, I headed to the much quieter and not as touristy Mittenwald. There aren't a ton of hotel options here and there really isn't much to do outside of hiking. But, if you want to escape a few of the tourists, then finding a great hike here is a must. You'll still get stellar alpine views, wonderful huts to stop for a Radler or Brat, and have some absolutely wonderfully, quiet mountain moments
Neuschwanstein Castle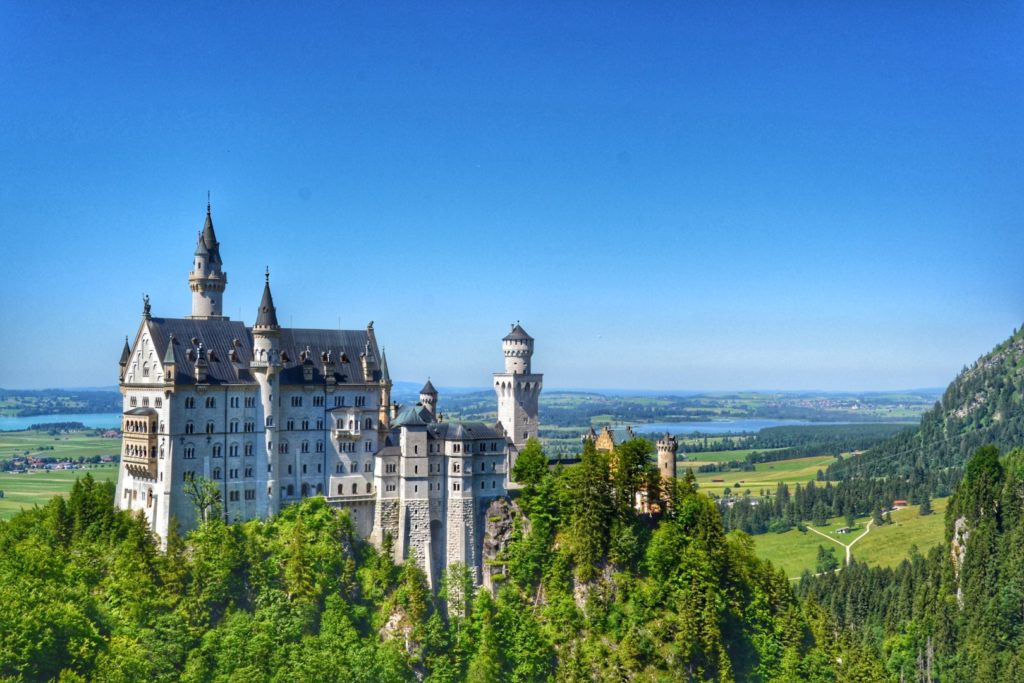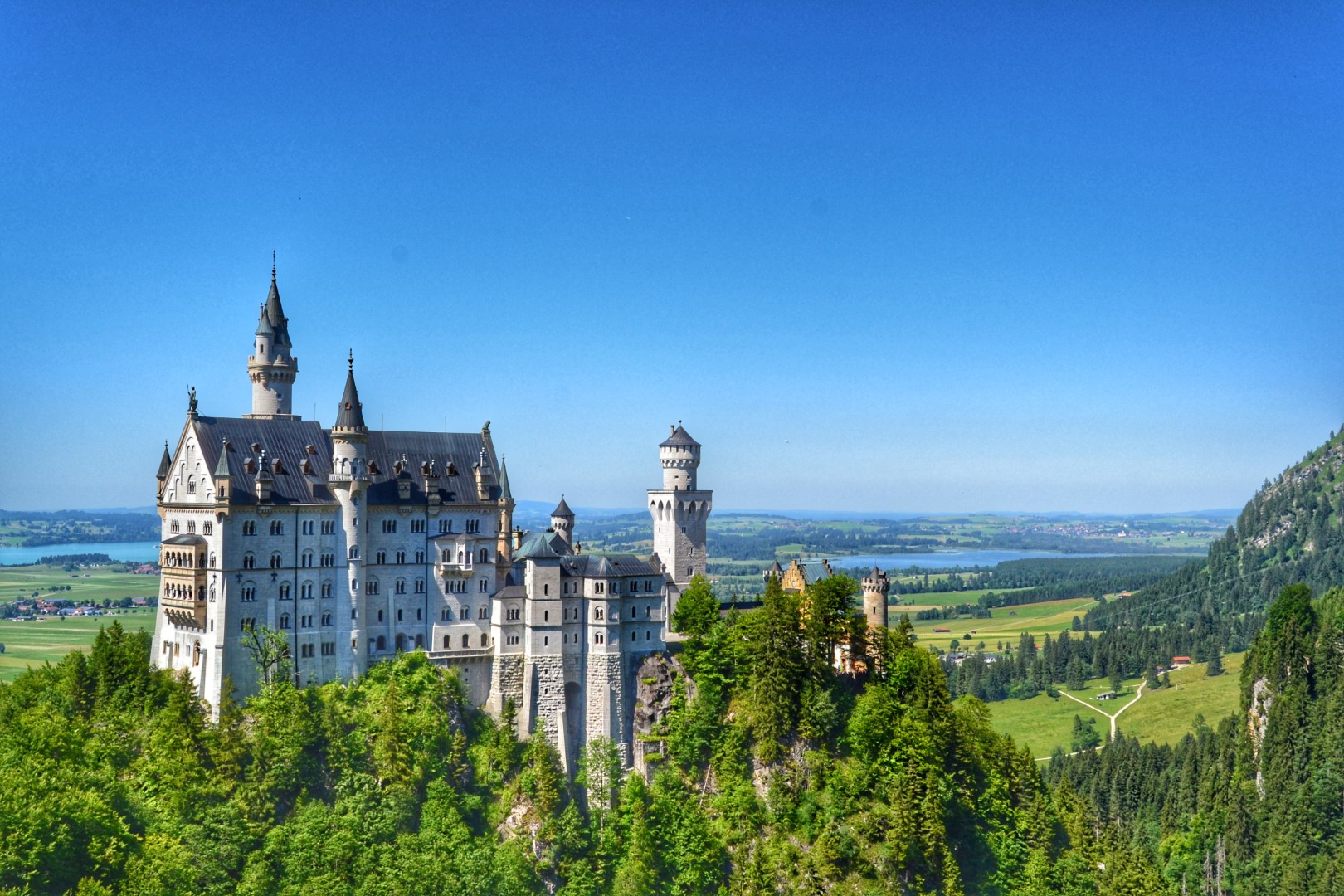 Just an hour away from Garmisch, you can visit the Cinderella Neuschwanstein Castle. Sure, it is one of the most touristy spots in Germany, but it is undeniably one of the most beautiful as well!! Right next door to Neuschwanstein is the Hohenschwangau Castle, which, in my opinion, actually has a far better interior. Read my guides on Neuschwanstein to plan the perfect day trip to the fairytale castles.
Linderhof Palace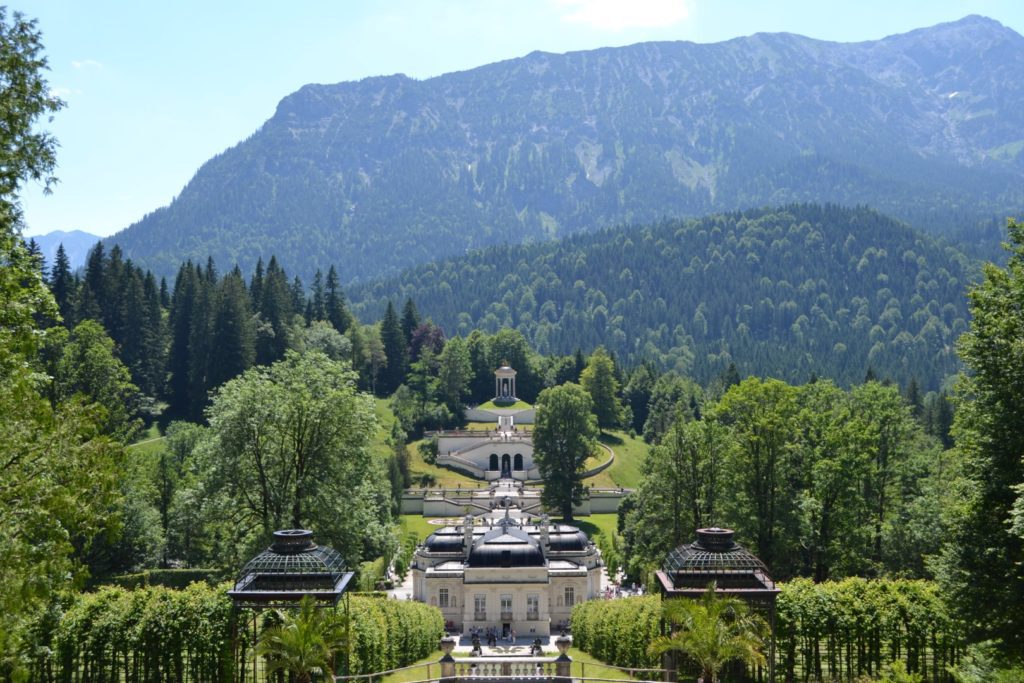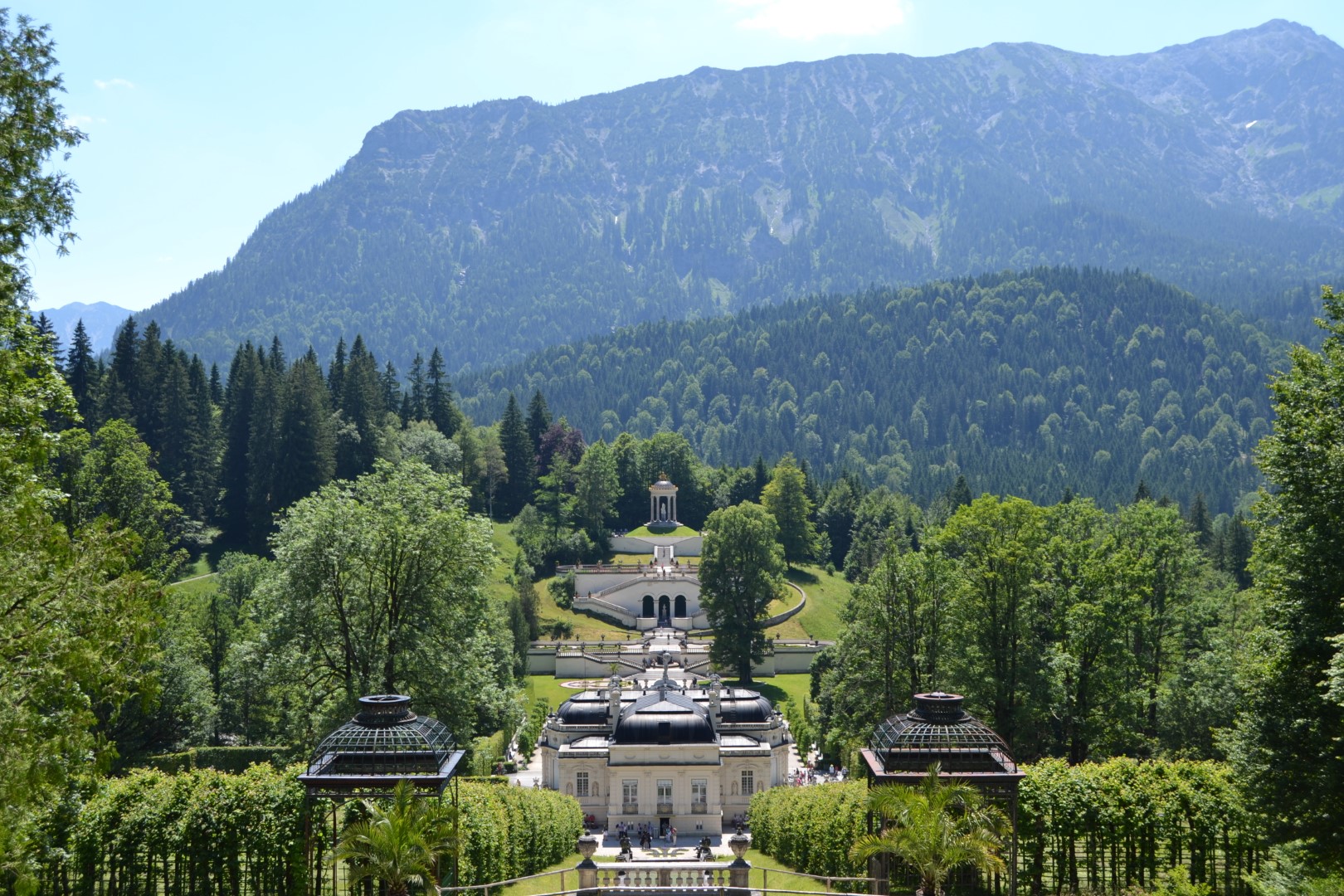 Another one of King Ludwig's breathtaking palaces is the Linderhof, which is still popular, but not NEARLY as touristy as its famous sister castle, Neuschwanstein. The grounds of this palace are enormous and there is even a grotto that the "Mad King" built to listen to Mozart as he sipped wine! (Ah, to be a rich king!)
I highly recommend making your day a whole day of fairytale castle hopping. Start in the morning from Garmisch and make your way to Linderhof. You can easily spend most of your morning here before heading over to Neuschwanstein. Wander the grounds of Neuschwanstein yourself and then take the last tours of Hohenschwangau and Neuschwanstein of the day to round off your day trip.
Ettal Abbey
Another great day trip from Garmisch is to the Ettal Abbey. In fact, you can even tack it onto your Linderhof, Neuschwanstein, and Hohenschwangau day. Of course, you'll want to leave plenty early in the morning to allow for all the activities, but it is still very do-able.
The Ettal Abbey is a gorgeous Baroque styled monastery. That in and of itself is worthy of a stop, but if you know anything about German monks, it's that they make great beer!!! Be sure to stop by the Brewery as well!
Oberammergau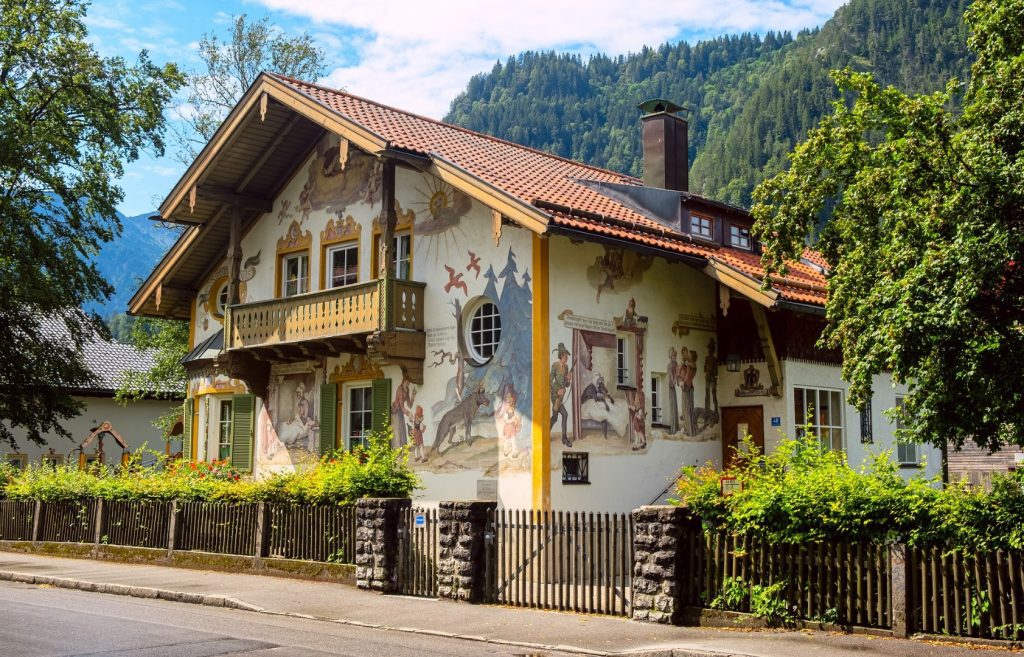 If things like the Zugspitze don't appeal that much to you but are you looking for a beautiful Bavarian Alpine village, then look no further than Oberammergau. Whether you use it as your base instead of Garmisch or if you just see it as a day trip, it is a great addition or even alternative to Garmisch. It's got the famous buildings with the paintings on them, beautiful Alpine views, and a great little village vibe to wander around in.
One of the biggest draws to Obberamergau is the famous Oberammergau Passion Play, which is performed every 10 years and is considered one of the best of its kind. People make the pilgrimage from all over the world just to view this famous play.
Grainau
Just a ten minute drive from Garmisch is the little quaint village of Grainau. There isn't a ton to actually DO in Grainau but if you love photography (or are a self proclaimed photographer via Instagram) then head over to Grainau for some stellar photo ops. While everyone is in Garmisch, you'll feel like you've got the Bavarian Alps to yourself over here. One of the most noteworthy photo ops is the Pfarrkirche St. Johannes der Taufer. With its onion dome set in front of the jutting mountains, it may just be something from a postcard. There is also the Badersee, which is nothing compared to the Eibsee, but will have a few less people crowding your photos.
Krün/ Geroldsee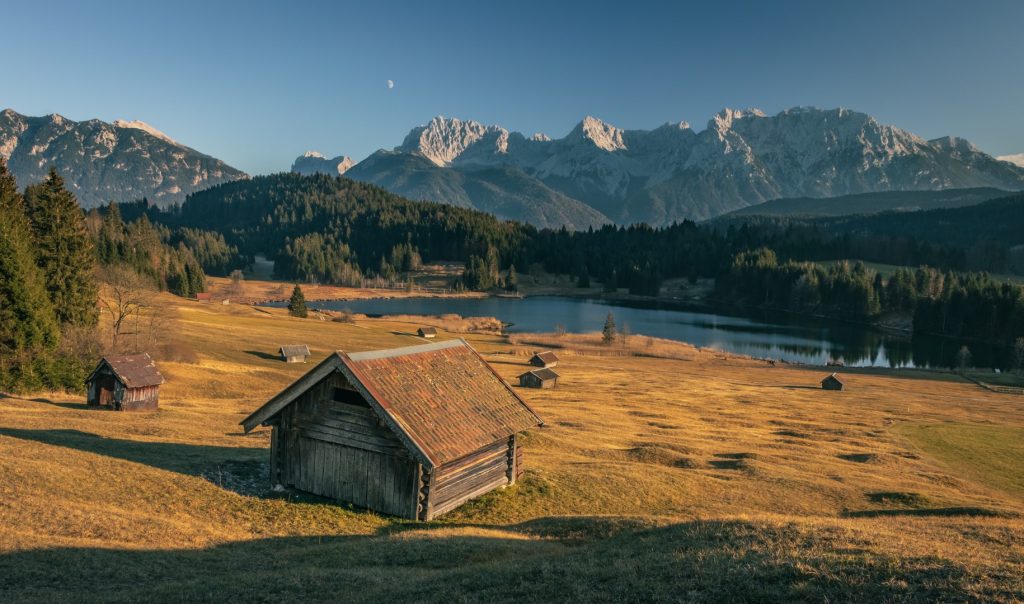 Speaking of out of this world photos, you've probably seen a photo from this iconic spot on the Geroldsee just outside of Krün. If this doesn't scream Bavarian Beauty, I don't know what does.
Garmisch Partenkirchen Location
The Garmisch resort town is located on the Southern border of Germany and Austria. It is actually two "separate" towns that were brought together for the 1935 Olympics. Ga-Pa, as it is sometimes called, is less than a 30 minute drive to the Austrian border.
Getting to Garmisch
Garmisch is a pretty popular place, so it's also pretty easy to get to. You can be to Garmisch from Munich by train in about 1.5 hours and slightly less by car. Luckily, the town is then also easily accessible by foot and what is further than that, there are plenty of buses to help get you around. However, if you plan on doing a lot of the day trips, having a car is more ideal.
By Train
If you don't plan on doing a ton of exploring outside of Garmisch or are just trying to do 1 day in Garmisch (for example to hit up the Zugspitze) then you can easily get to Garmisch by Train. The most common route by train would be to take the RB 6 train in the direction of Murnau. At Murnau, transfer to the SEV Bus in the direction of Mittenwald, getting off at Garmisch.
By Car
However, if you plan on making Garmisch your home base, I highly recommend you have a car. It will make getting around and to the recommended day trips above so much easier. Since you are in the mountains, the public transportation from Garmisch is fine, but can take a lot longer than if you were to have a car.
Should I Stay in Garmisch or Partenkirchen
Many people ask if Garmisch or Partenkirchen is better to stay in. The reality is, it's not a big deal either way.
The only real main thing separating the two "towns" is the Partnach river. However, some people claim there are different "vibes" for each side. The Garmisch side does feel slightly more modern and has more of the restaurants and arguably hotels as well. If you don't have a car, this side is good because you can get around really easily on foot.
However, the Partenkirchen side is arguably more "Bavarian" feeling, with its classic painted houses and the popular Ludwigstrasse, where many people like to wander and shop.