[This post may contain affiliate links where we earn a small commission. Please see our disclosure for more information and thank you for supporting our site so we can continue to bring you awesome content for your travel inspiration!]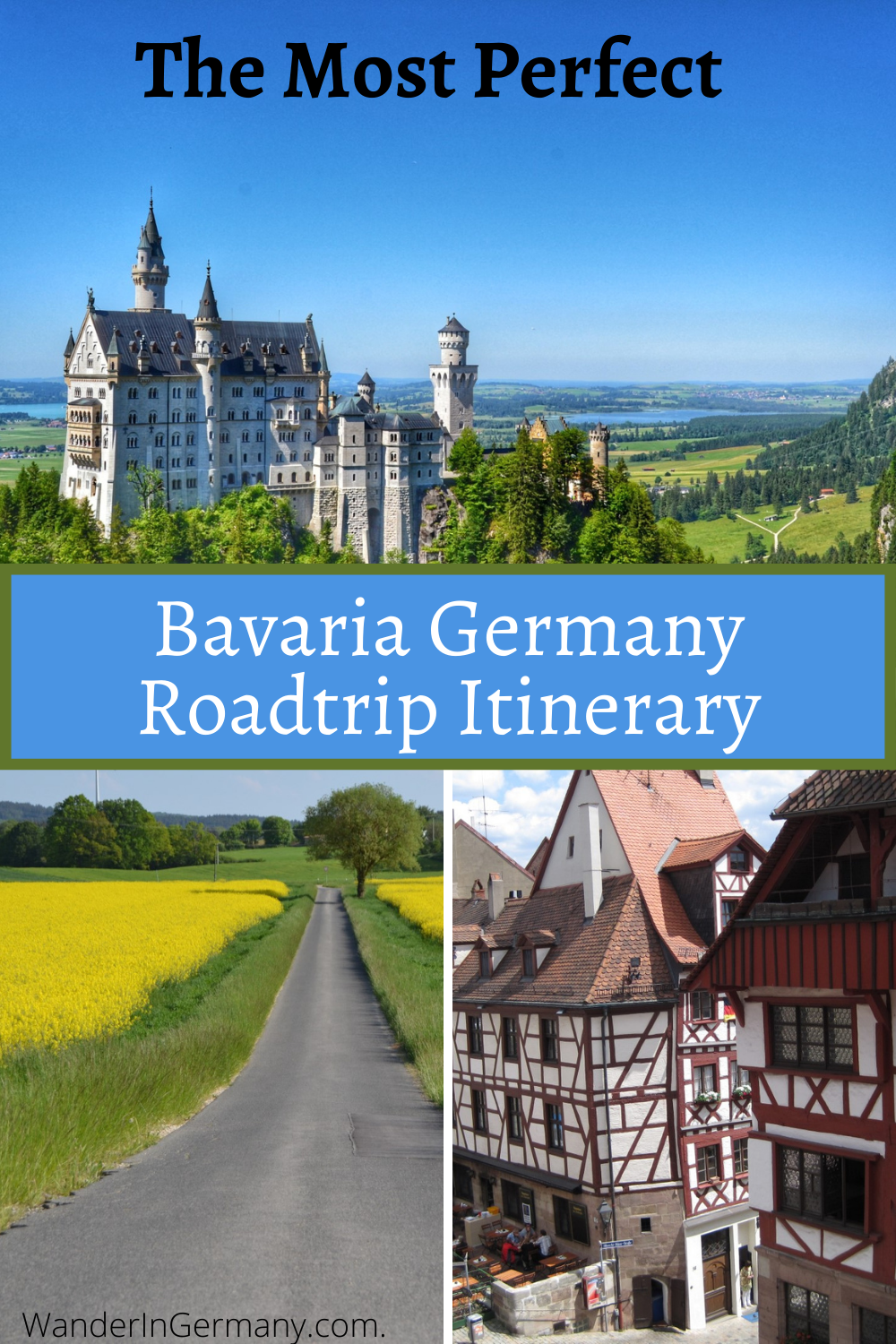 ^Pin This To Come Back Later for Planning^
The tallest mountain in Germany, mouthwatering foods, men dancing in Lederhosen, beer that is cheaper than water, and pretzels the size of your face.
THIS IS BAVARIA!!!!
You might be trying to figure out where to go in Germany. Maybe you plan on trying to see as much of the country as possible, or maybe you decide that a 10 Days Bavaria Itinerary is everything you could want to experience in Germany (and more!) Regardless of whether you tack this Southern Germany itinerary onto other Germany routes and cities or have this just be your complete trip to Germany, one thing is for sure; you won't be disappointed!
Living in Regensburg myself, I've found that Bavaria holds so much charm that it's the perfect place to spend the majority of your time while in Germany.
In this guide I'll help you decide when to head to Germany for your trip, how to get around, tips and tricks for getting the most of your trip, and obviously a complete Bavaria 10 Day Trip tour. In this itinerary, you'll know exactly how much time to spend at some of my favorite Bavaria destinations, what to do where, options for where to stay, how to get from one place to the next, and will already have each day planned out for you, if you so wish! While we'll be spending our whole time in Bavaria, you'll love every minute of your 10 Day Germany Itinerary.
Planning Your Trip? Join Our Travel in Bavaria Facebook Group
First, a few Resources
How much to tip in Germany, what to know about using public bathrooms, and so much more
FAQs About Traveling to Germany
Is Germany safe? Do I need a Visa for Germany? and more
16 Reasons Why you MUST Visit Bavaria on Your Germany Trip
20 Authentic Foods You HAVE to Try In Germany and Bavaria
Where is Bavaria Germany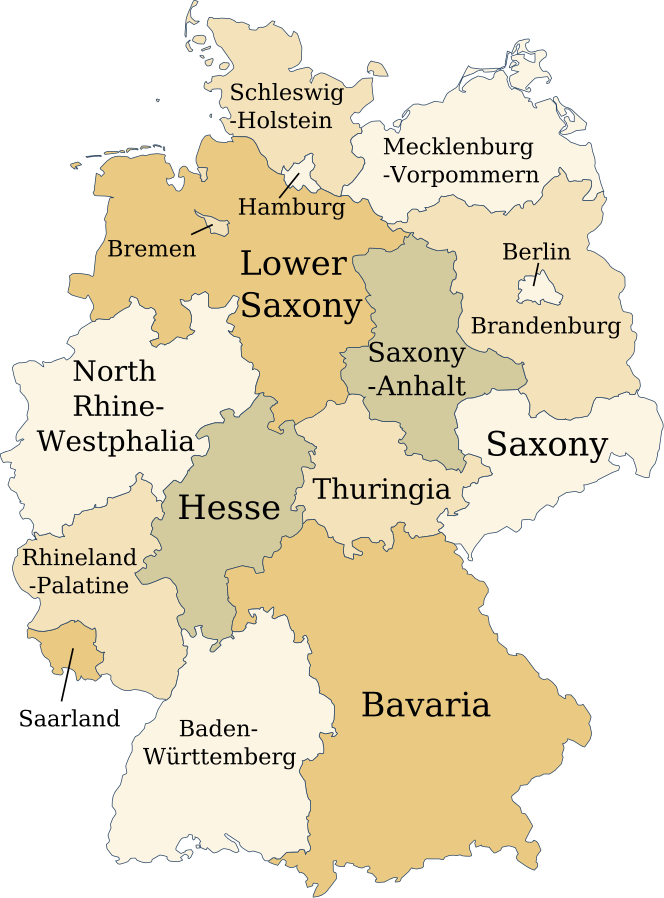 The Free State of Bavaria is located in the South Eastern portion of Germany. Long before "Germany" was ever "Germany," Bavaria once was it's own Kingdom. This is why Bavarians are very proud people with still many long standing traditions. Bavaria has over 13 million people living here, but the area is vastly covered in beautiful countryside, farms, rolling hills, and further South, you'll find the Bavarian Alps.
Many people actually often compare Bavaria to Texas, in the US. For example, many Bavarians see themself as Bayerisch before they do German. Bavaria has its own extremely unique culture compared to the rest of Germany, including some pretty unique (and insanely delicious) foods that you'll only find in Bavaria (Read More About What to Eat in Germany Here). And then, let's not forget the clothing! Yes, Lederhosen and Dirndles are not just here for tourists! Go to any Volksfest in Bavaria and everyone will be wearing their own Bavarian "Trachten" (traditional Bavarian clothes).
Why Make Bavaria a Priority?
Close your eyes. Envision Germany.
The reality is that when most people dream of Deutschland, they actually picture Bavaria. Bavaria is so culturally rich that most of what we think of as "stereotypical Germany" is actually often found in Bavaria. And, truth be told, often times only Southern Bavaria at that!
If you go to Berlin, as amazing of a city as it is, you won't get the same big beer halls, Lederhosen, and warm Gemutlichkeit. If you go to the Rhine or Mosel Valley, you'll be sure to see beautiful castles along the river while you sip your perfect Riesling, but you won't have the big oompah bands and people dancing on tables at a fest. And then there are some foods, that you just won't easily find outside of Bavaria, like "Haxen." My point being that each part of Germany is really special and worth exploring.
But, if you are looking for that storybook, picture perfect place where stereotypes absolutely come to life (in a good way!) then, in my experience, Bavaria is your place to be!
Note: Even WITHIN Bavaria there are plenty of cultural differences. For example, when we go to Nuremberg and Bamberg, that is in the "Franconian" region on Bavaria. Here, you won't find nearly as many Lederhosen (but you will still find some incredibly unique beers that you won't get ANYwhere else, not even in Bavaria….but more on that below) This is why I love Bavaria. It checks off everything you will want in a Germany trip, and more.
You Might Also Be Interested in These Itineraries:
When Is the Best Time to Visit Bavaria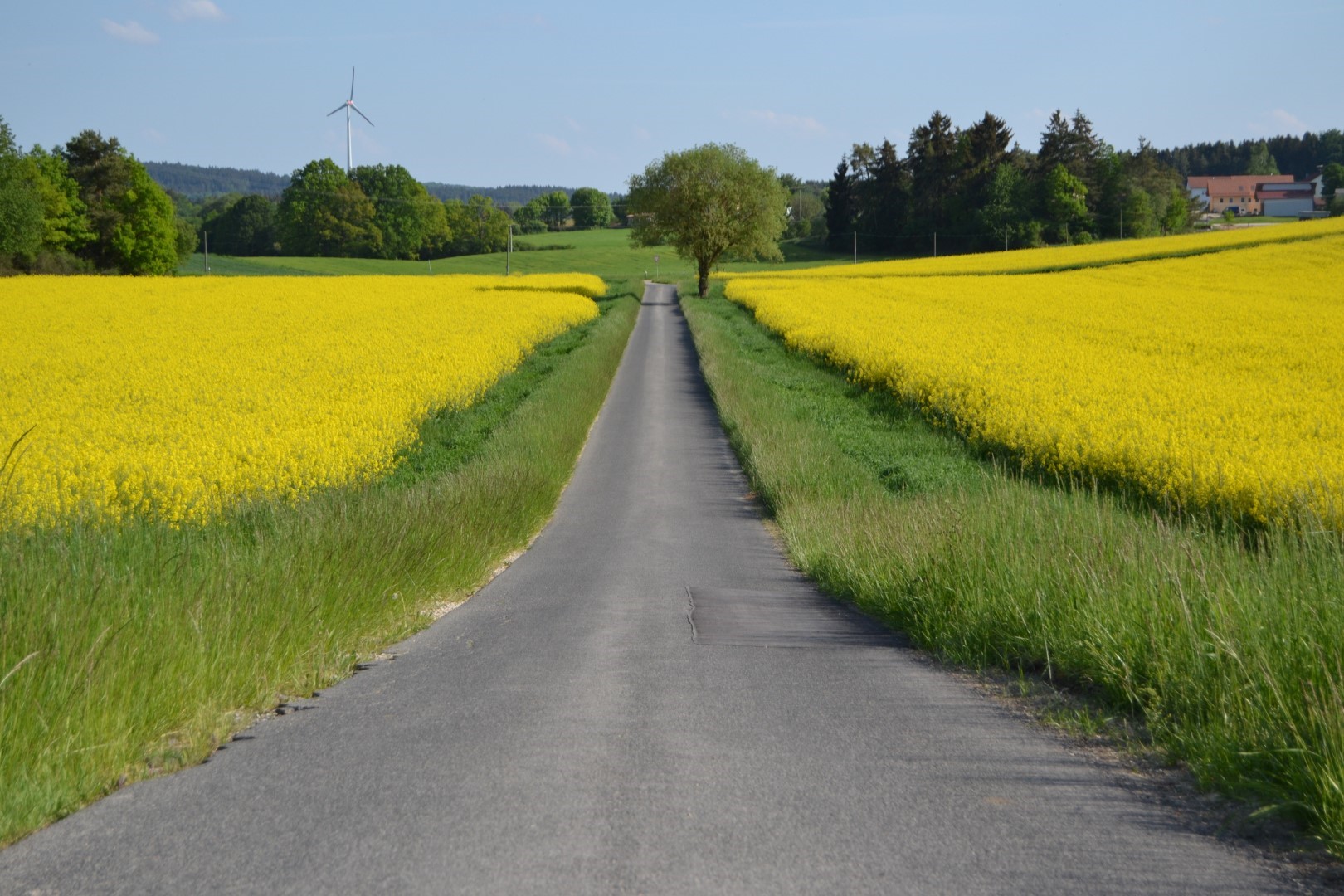 While you can read about my recommendations for the best time to visit Germany here, I'll be honest and say that you can make just about any time of the year a memorable trip!
However, here are a few things you should know
It rains. A lot. I often joke that I never leave my apartment without an umbrella, even if it looks like a bright sunny day. You just never know with that Bavaria weather! So pack that raincoat and just know that you can have fun even in the rain!
Summer is great, but with that also comes all the other tourists. July and August are great months for weather, but that's what everyone else is thinking as well. If you want sunny days and don't mind a ton of other tourists, then the summer months shouldn't be excluded. Note: Even in May and June it can be quite cool and rainy
The shoulder seasons are great if you don't mind unpredictable weather. May and September are great months to be here. May can still be a bit wet, but the fields in full bloom in the Bavaria countryside are stunning. September and October still have enough sunny days and everyone is back to school and work, so there aren't as many tourists. Plus, the fall is Fest Season! Whether you choose to go to an unforgettable Almabtrieb in the Alps, the massive Oktoberfest, or a smaller Volksfest in a Bavarian village, nothing screams Bavaria like Oompah music, liters of Bavaria beer, Lederhosen, and giant Pretzels! (Here are 23 Festivals in Germany Other than Oktoberfest to Experience throughout the whole year as well)
Winter in Germany is amazing! It doesn't get TOO cold (yes, it snows), things aren't nearly as overrun with tourists, and who can resist the Christmas Markets and experiencing German Christmas traditions and who can forget the Gluhwein!? However, if you are going to follow this particular itinerary, due to the daylight hours being very short (it gets dark by about 4:30om) then you may have to widdle your daily activities down a bit.
Getting Into Bavaria
For this particular Bavaria Itinerary, flying in and out of Munich (Bavaria) is going to be the best and easiest option. There is a smaller airport in Nuremberg, but it is mostly for inter-European flights and is often much more expensive for international flights.
Search For The Cheapest Flights To Munich Here
Getting Around Bavaria
Germany Roadtrip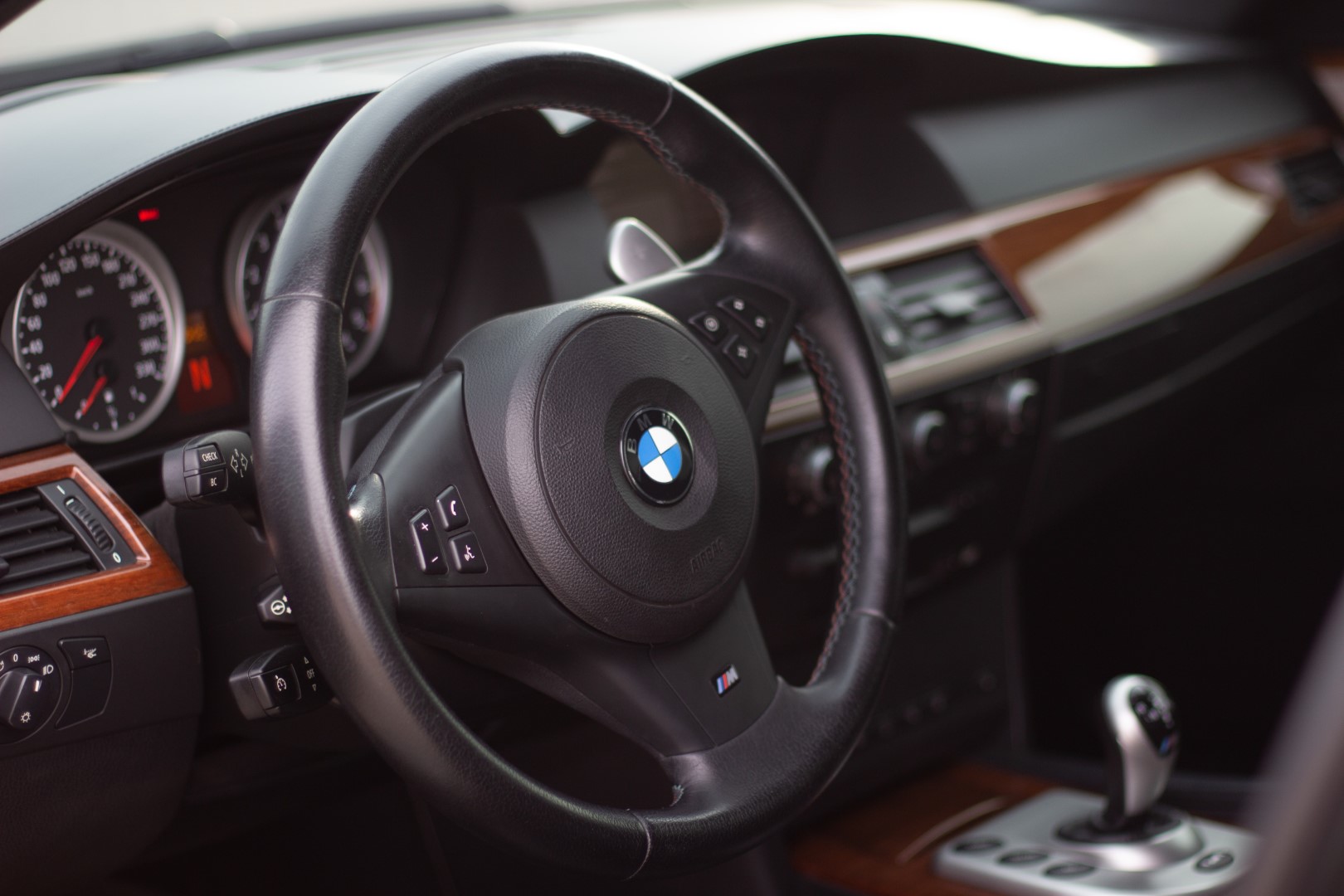 This 10 days in Germany travel itinerary is the perfect recipe for a Bavaria Road Trip! We have both big cities (for example, Munich and Nuremberg) and small quaint villages and towns all packed into our trip. We'll intentionally hop off the Autobahn so that we can drive through the rolling hills of the Bavarian countryside, including the famous "Romantic Road," and having a car is going to allow us to add in a few extra stops along the way, which would be extremely difficult to manage with the trains or public transportation.
Having a car is also going to cut down on travel time, especially in the Alps, where public transportation is a bit harder, where a car can zig zag you directly to where we want to go.
Worried about driving in Germany? It is actually not nearly as terrifying as many people imagine. Read all about the speed limits, what kinds of licenses you may need, and more here.
Compare The Lowest Daily Rates for Car Rental
Trains and Public Transportation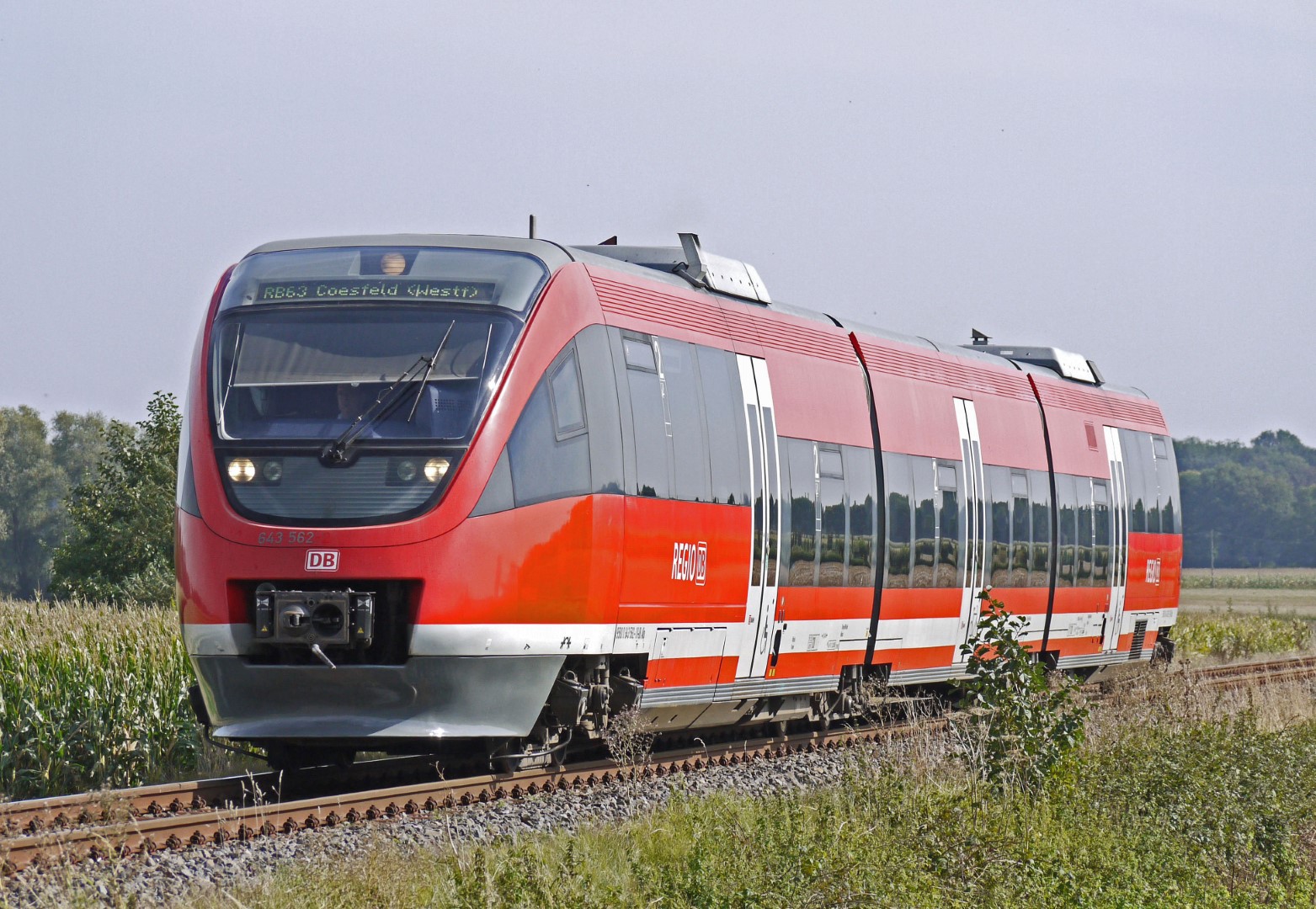 If you've looked at any of my Germany Destinations or my Germany Travel Tips, then you've already gathered that I absolutely LOVE the train system here! It's hard to outmatch the Deutsche Bahn.
So, you can absolutely do this entire itinerary by public transportation. However, down in the Alps, while you can still get to most of what is on the plan by trains and buses, it is actually going to be much for efficient to have car. For example, if you take a train to Neuschwanstein Castle from Munich, that is fine for a day trip. However, if you want to really explore more of the area in-depth (which is what I have you do in this itinerary in Germany), then you'll be extremely limited by public transportation and will have to cut out a lot of my suggestions (purely based on the time it would take for public transportation).
You can rent a car easily (and quite affordably) on your last day in Munich and that way you don't have to deal with timetables, numerous train hops, and you will have much more flexibility.
Bavaria Train Ticket
If you do decide to make this itinerary a bit more DIY and want to just take public transportation, then what you are going to want to do is get the Bayern Pass (The Bavaria Train Pass). Forget a Eurail ticket or anything like that.
The Bavaria Ticket covers (just about) all of the public transportation in Bavaria (yup, Sbahns, Ubahns, buses, trains, and trams!). It's a day ticket that you can put up to 5 people on and is a great way to save money.
You can read everything you need to know (including a few nuances, like time restrictions) and see the current prices and more on my Ultimate Guide to the Bayern Train Pass.
Public Transporation in the Cities
While we'll be using a car to get from one main stop to the next, you'll see that in almost all of the towns that I will recommend parking your car at the hotel and then using public transportation throughout the cities.
Each city will have their own public transportation system (and costs/ tickets), so the best way to look that up is to look up each individual city. For example, MVV is Munich and Nuremberg is the VGN.
If you have a smartphone, it's worth downloading these individual Apps, where you can just purchase day tickets or one way routes right on your phone.
Alternatively, at all main train stations, you'll find a kiosk on the platforms. You can change the language to English and purchase the tickets for what you need for the day.
Walking
In the smaller villages and towns, you'll find that you can just walk around! In fact, just wandering the cobblestone streets is one of my favorite things to do while traveling in Bavaria.
Tips for Your Bavaria Travel
Germany uses Euros. I always recommend people waiting until they arrive to get money. You'll find plenty of ATMs at the Munich Airport as well as within the city.
Get Coins! When you need a pitstop along your Germany road trip, you will find that you almost always have to pay for the bathroom. Keep €0.50-€0.70 on hand for these little fees.
Eat All the Bavarian Foods!!! Here are 20 of my favorite Bavarian and German dishes. But while you are in Bavaria, you absolutely can't leave without trying traditional Bayerisch foods, like a Schweinehaxe, Obatzda at a beer garden, and a Weisswurst Breakfast, just to name a few!
Learn a few "Basic Vocab" Words: Almost everywhere in Germany, you'll find plenty of people who will speak English. In Bavaria, "Gruss Gott" or "Servus" is a more common greeting than "Hallo." Likewise, you'll hear "Tchuss" much more than Auf Wiedersehen. While you are at it though, jot down how to say things like:
"Please": Bitte
"Thank you": Danke
"Excuse me": Entschuldigen
"Do you speak English?": Sprechen Sie Englisch?
"Where is the bathroom?": Wo ist die Toilette?
Note: Don't worry about Bayerisch dialect, you can still say "Hallo" or "Auf Wiedersehen" etc!
Talk to the Locals. Germans are quite private people, but that doesn't mean that they aren't friendly! One of my favorite ways to talk to the locals is at a B

avaria Biergarten

Biergarten, where it is common to cozy up to strangers at a table. Just ask, "Ist Das Frei?" and if they say yes, then give them a good "Prost!" when you get your Maß and strike up a conversation.
The Ultimate 10 Days Bavaria Itinerary
Alright, enough of the logistics already, let's get into your once in a lifetime Bavaria Roadtrip Itinerary!
Day 1: Fly Into Munich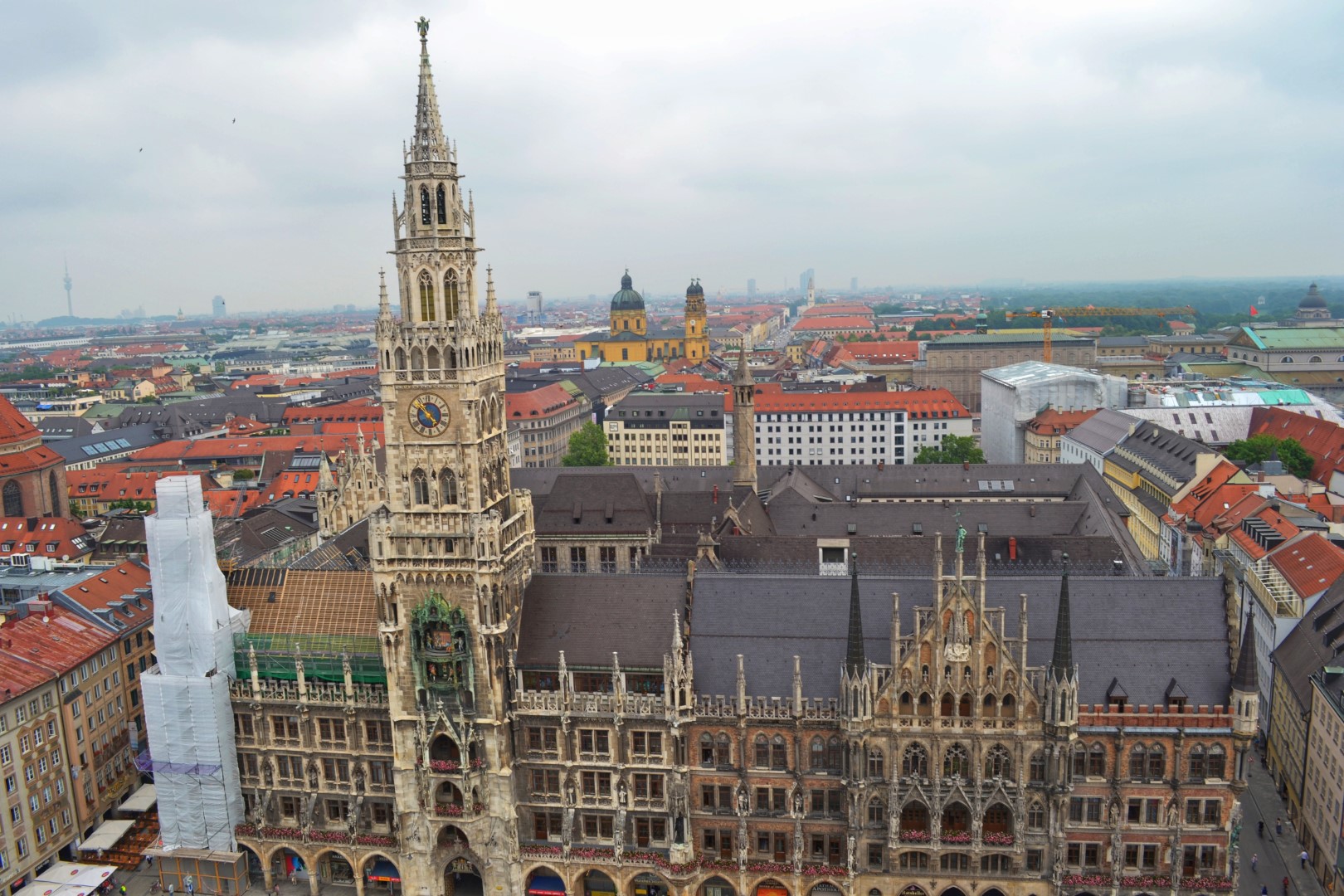 If you are flying in from the US to Bavaria, then you are most likely going to land in Munich in the morning. Even though you didn't get much sleep on your flight, we aren't going to waste any time. Contact your hotel ahead of time to ask if you can drop off your bags (and you never know, if you ask nicely enough they just might even have a room ready for you!) But we aren't going to take a nap. Nope, let's hit the ground running in the capital of Bavaria.
Munich definitely deserves several days to thoroughly explore all it has to offer. However, you can actually see most of the main sites in just a day or two. What is nice about today is that we aren't going to feel rushed (that's right, sit back and relax at a beer garden!) yet we are still going to see a LOT of what Munich has to offer.
Use this 1 Day In Munich Guide to have you seeing all the "Must See Munich Sites" like the Altstadt, Hofbrauhaus, the Glockenspiel, and more.
Pro Jet Lag Tips:
As tempting as it is to "just take a quick nap" this is actually one of the worst things you can do. Instead, try to lower your caffeine consumption a few days before your flight. When you land in the Munich Airport, go grab an espresso or strong coffee and that jolt to your system will have you raring to go!
Get outside and into the fresh air. It's amazing what some sunlight, body movement, and fresh air can do for jet lag.
Try to go as long as you can for the day. You don't need to stay up late, but try to last until at least the early evening before crashing in your hotel bed to help you get into the new time zone difference faster
Day 2: Munich and A Day Trip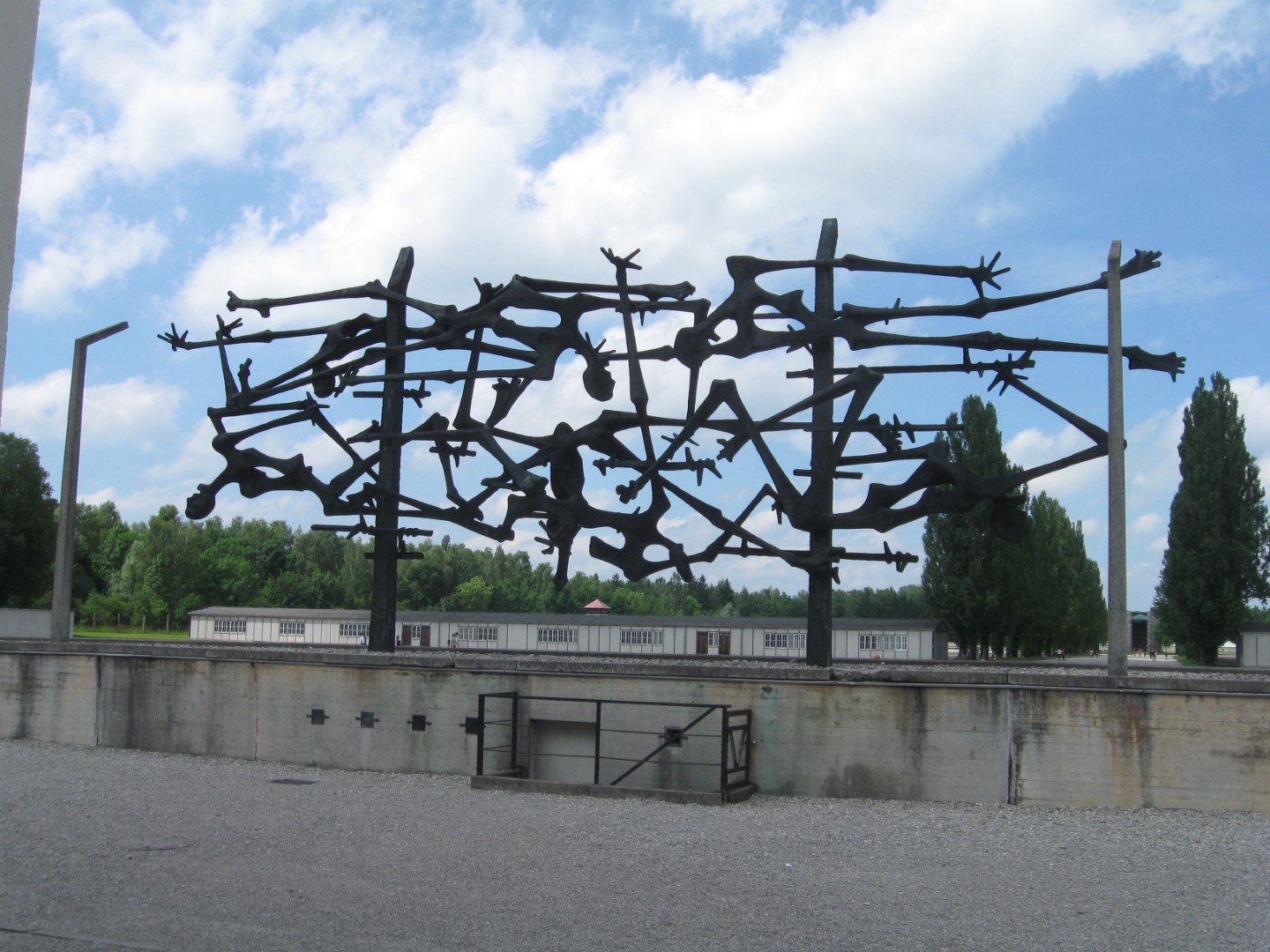 Today is going to be another packed, but very worthwhile day. After a hearty breakfast at your hotel (or some insanely delicious pastries from a local Backereri) we are off for the day.
Follow my 2 Days in Munich Itinerary to get exact details, directions, insider tips, and a walking guide for the day.
Head off in the morning to the sobering Dachau Concentration Camp. It only takes about 45 minutes to get to by the easy to use S-Bahn and is something that I think every visitor should go to. Read my easy, step by step guide on How to Get to Dachau Concentration Camp
In the afternoon, upon returning to Munich, spend some relaxing time decompressing at the English Gardens and then spend the evening watching river surfers and eating at an outdoor Biergarten in the park. Again, all the details, where to eat, and more are in the 2 day Munich article, linked above.
If you want to extend your trip longer, here are over 20 fantastic Day Trips From Munich
Day 3: Rent a Car and Head to Garmisch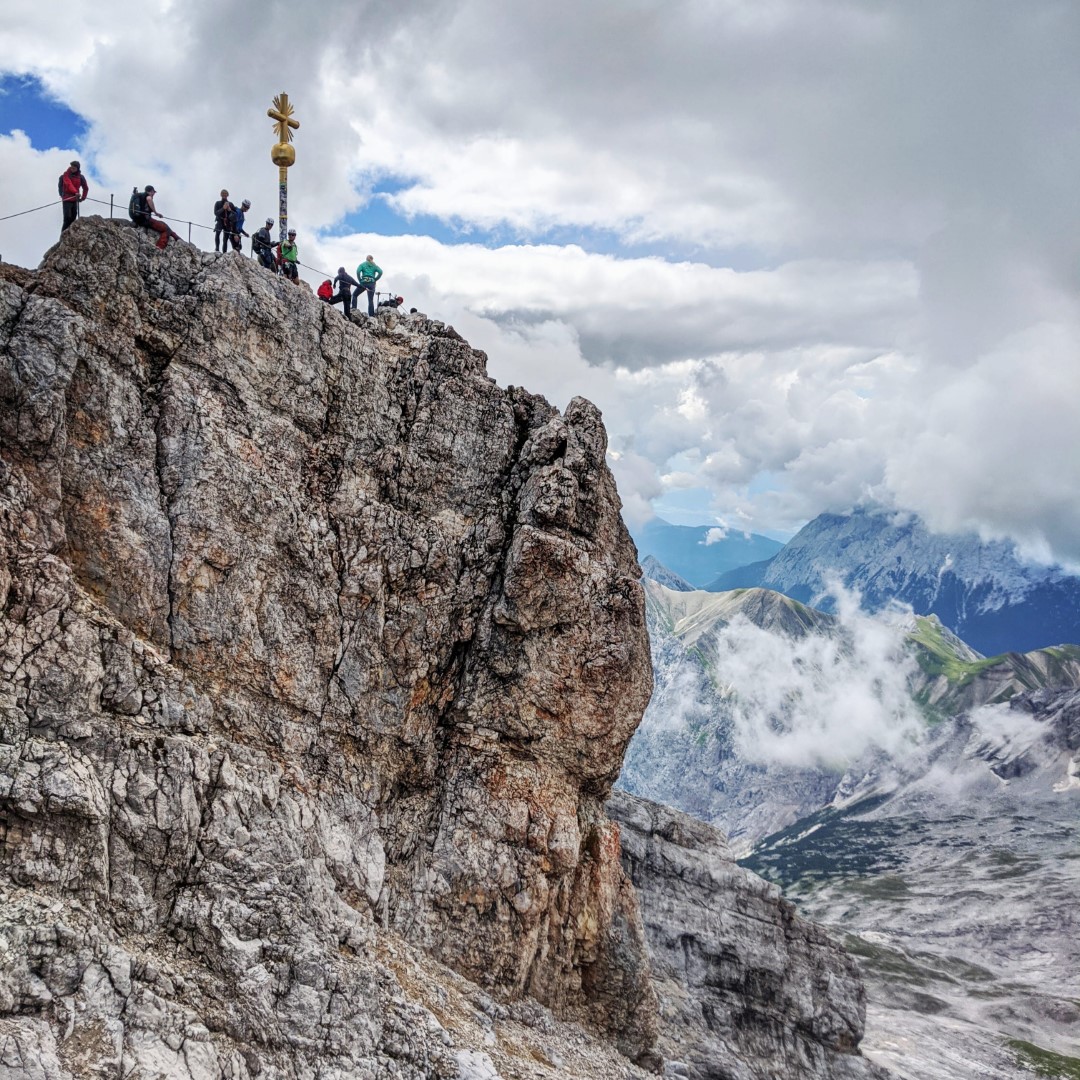 This morning, get your car rental early and head down to the breathtaking Bavarian Alps. Don't worry, driving in Germany is easy with these tips.
It takes about 1.5 hours to get from Munich to Garmisch-Partenkirchen, but you'll still want to get a head start on your day, as you'll want plenty of time for the day's activities.
PRO TIP: The next few days we are going to be "based" out of Garmisch. Therefore, check out the weather and you can rearrange the following days based on rain, snow, etc. If it is rainy and cloudy, I recommend switching days for the Zugspitze.
Morning: Ascend the tallest mountain in Germany: The Zugspitze
You have a few options for getting up to the top of the Zugspitze
1) Zugspitze Cogwheel Train
You can take this all the way to the top or you can stop at the Zugspitzplatt and then take the Gondola the rest of the way. It does take a bit longer than the Gondola, but for those afraid of heights, it's definitely an "easier" option.
Address: Olympiastraße 31 82467 Garmisch-Partenkirchen
2) Seilbahn Zugspitze Gondola
If you want to take the Gondola all the way straight up (and I do mean that it can feel STRAIGHT up!) then you can go to the town of Grainau, which is where the Seilbahn Zugspitze Gondola Station (Lake Eibsee) is at.
Address: Am Eibsee 6, 82491 Grainau
3) Combo of the Train and Gondola
I really like this option just because it gives you more variety in your day! If you choose this, then I recommend taking the train from the Zugspitze Bahn (Train station) just like above and getting off at the Zugspitzplatt (one stop before the peak). Grab a bite to eat at the restaurant, have a look around, try some sledding (even in the summer!) because after all, you are on a Glacier! Walk around, take in the sites at this altitude, like Germany's highest church, or even go on a short hike from this location, and peep into the "Iglu Hotel." Then there is the Gondola which will take you the rest of the way up to the peak.
For your return, I recommend taking the Gondola from the peak all the way back down to Eibsee, which is where we are going to spend the afternoon. At the end of your day, you can then take the same train you took in the morning from Eibsee, back to your car.
At the Zugspitze Peak
Once at the top of the Zugspitze, you can peer out over both Germany and Austria for as far as the eye can see. You can grab a coffee up at the very top as well to just sit back and soak in all the views as you relax. Or, if you are hungry, there is a restaurant where you can get some classic ski slope food (think Schntizles, sausages, soups, and more)
Zugspitze Tickets and Costs
You can get all the current ticket prices and timetables for the Zugpsitze here.
Afternoon: Lake Eibsee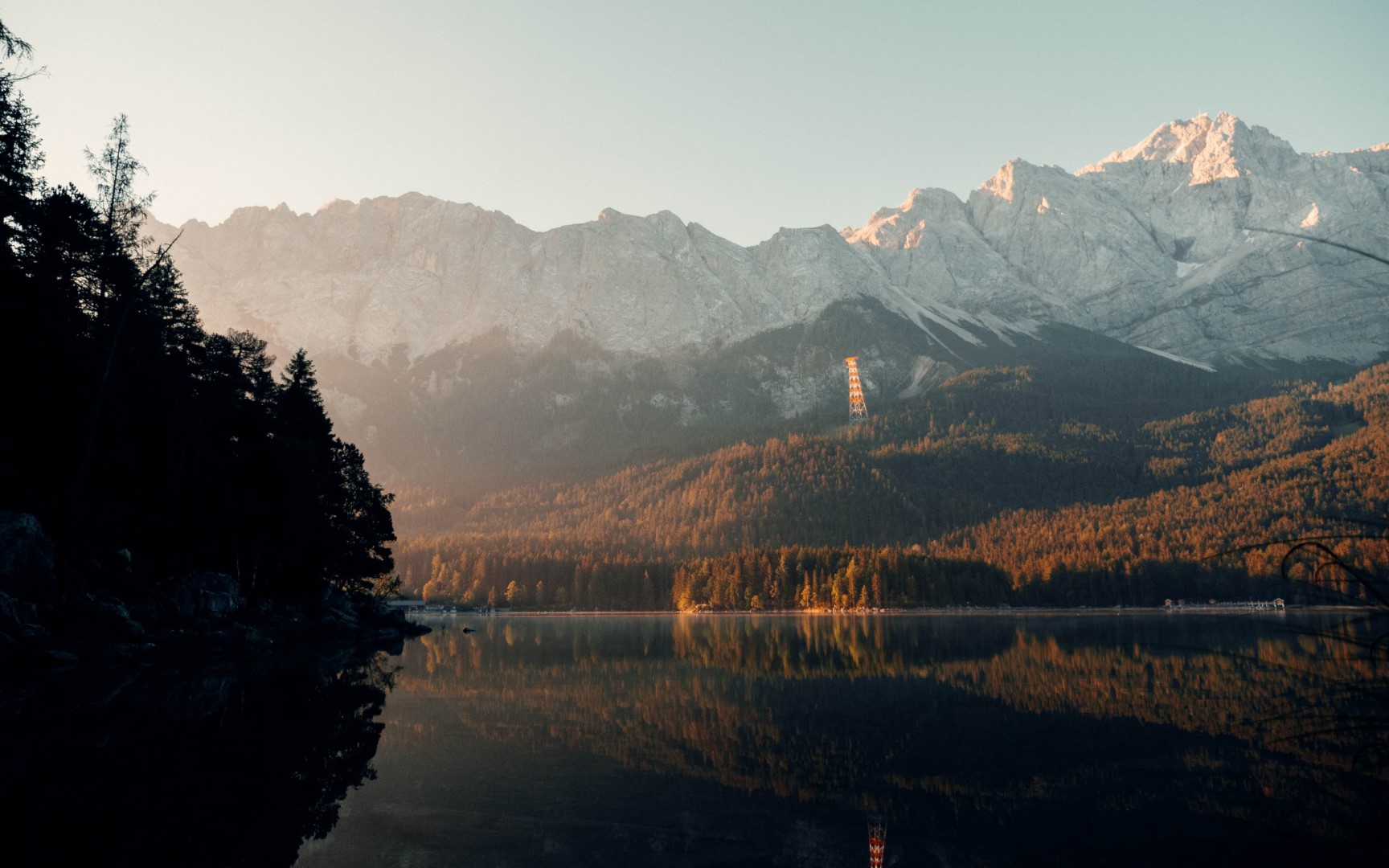 After you spend the morning marveling at being on top of the world (well, top of Germany at least) then you are going to spend your afternoon at the Eibsee Lake, which is actually where the cable car starts. This lake sits right at the bottom of the Zugspitze and if you want any Insta-Worthy photos, this is the place to do it!
Hike Around the Lake
If you have time, then you can take the 2-3 hour (about 9 km) walk around the perimeter of the gorgeous lake (just note the train timetable to make sure you can get back to your car at the train station). This walk is easy, flat, and absolutely stunning.
If you don't want to do that full hike or don't have the time, then just walk around. In the summer, you can also rent Stand Up Paddleboards, paddleboats, or just take the "Reserl" tourist boat out for a joy ride.
You can then head into Garmisch for dinner and to check into your hotel for the night.
Pro Tip: There are plenty of Guesthouses (Pensions) in town, which often has their own family-run restaurant at the hotel. This is a great option when you are tired from the long day and don't want to hunt around for food.
FAQ: Can you get to Garmisch by Train
Of course! Bavaria is so easy to get around with by train! In fact, if you take the train from Munich to Garmisch, then you'll want to use the Bayern Pass, which will actually get you some discounts at the Zugspitze.
However, the following couple of days of this particular Bavaria road trip is much more efficient with a car. If you aren't following this guide step by step, then you can absolutely do Garmisch as a (very long) day trip from Munich. Otherwise, having a car, for the next few days will be much more beneficial.
Day 4: Linderhof, Neuschwanstein, and (Optional) Oberammergau
Today, we are going to be doing some day trips from Garmisch so that we don't have to keep hotel hopping. We'll be seeing some of the most iconic Bavaria castles in Germany.
While still in Garmisch, find a local Backerei in the morning and pick up some goodies and food for the day. While you can get some food around Neuschwanstein Castle, there aren't a ton of options, they aren't that great, and they are, not surprisingly, overpriced. Instead, pick up some Bavarian Brez'n, some fresh made sandwiches from the Backerei (you really can't go wrong, but I love the salami sandwiches!), and anything else that catches your eye (which probably is all of it!) that way you can just have your own picnic whenever you are ready.
Linderhof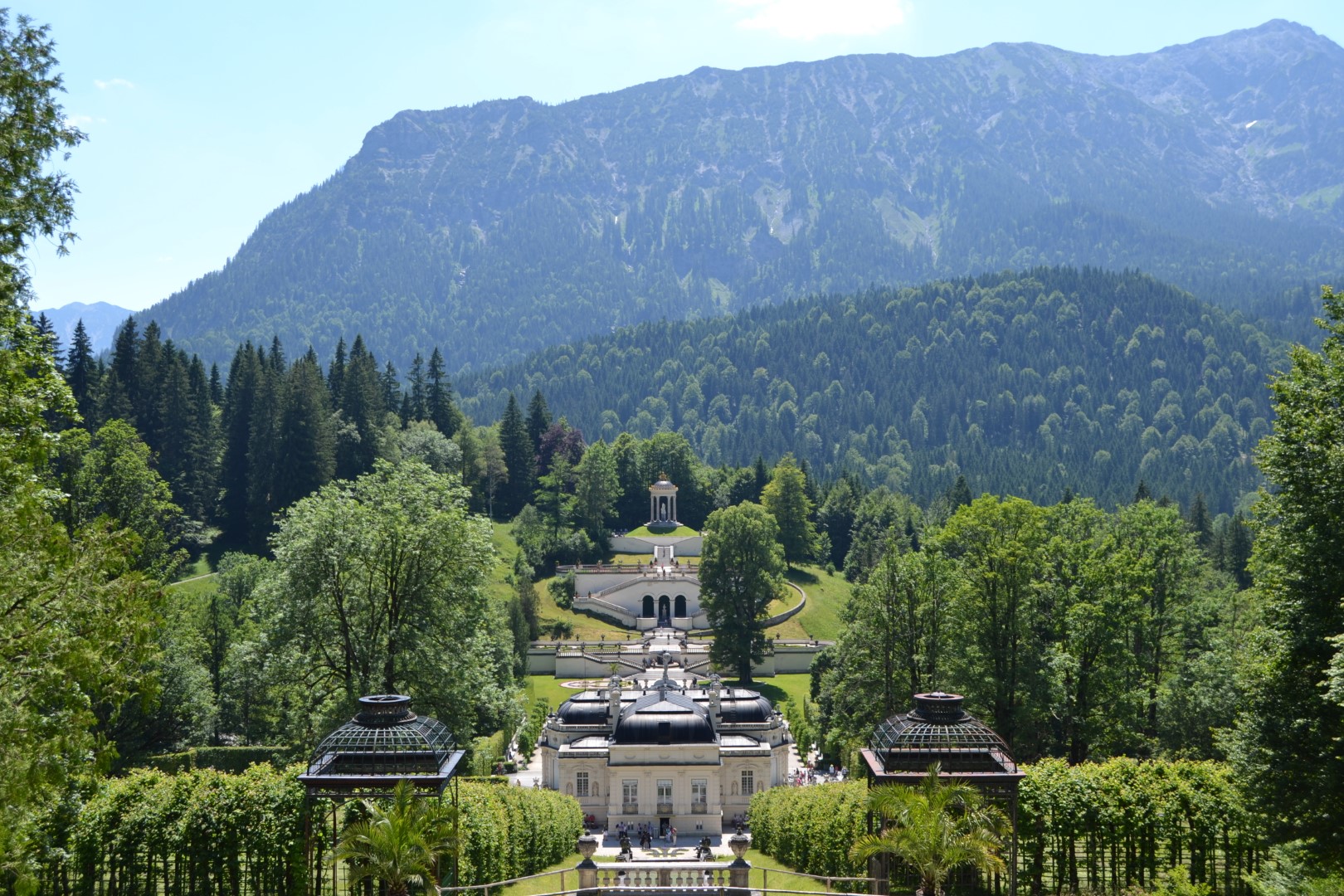 Ok, I'm just going to come out and say it. I might argue that Linderhof is better than Neuschwanstein. There!
Now, I LOVE Neuschwanstein, it is the "Cinderella" castle after all. However, it's overrun with tourists and you can only see a fraction of the actual inside!
Linderhof, on the other hand, commissioned by the same "Mad King Ludwig" is much less known (aka less tourists), is on a huge, expansive area of jaw dropping Alpine landscape, is much more "lived in" and there are tons of buildings and things to see, tour and explore here! Linderhof is easily one of my favorite Bavaria Castles. While it isn't completely off the beaten path, it is one of the more lesser known places to visit in Bavaria Germany, somehow!
From Garmisch to Linderhof Palace is about a 30 minute drive.
Time Needed at Linderhof:
The tour of the palace itself is about 25 minutes
If the Grotto is open, plan on about an hour there as well
Leave plenty of time for exploring the rest of the grounds, at least 1.5 more hours
Total Time Needed at Linderhof: 3-4 Hours
Linderhof Palace Tickets
See the Current Prices on the Linderhof Website Here
Opening Hours:
April 1- Oct 15: 9am-6pm
Oct 15- March 31: 10am-4:30pm
Fountain Display
From about Mid April through Mid October, every 30 minutes there is a beautiful fountain "show" in front of the palace.
Neuschwanstein and Hohenschwangau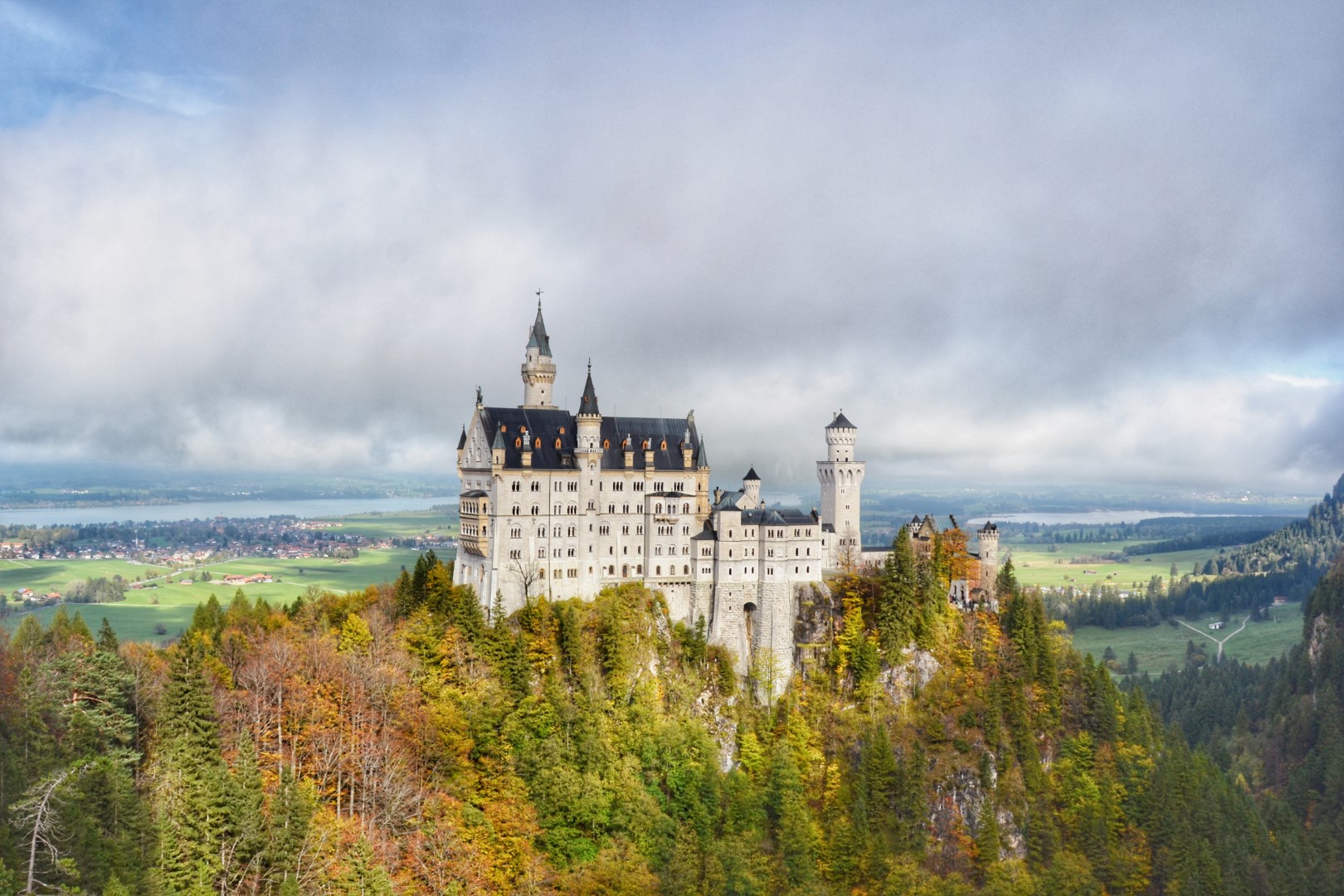 At around midday, after you are done with Linderhof, we're going to drive the 1 hour drive to Neuschwanstein and Hohenschwangau.
Now would be a fantastic time to nibble on those delicious Bavarian treats you bought this morning to fuel up for your afternoon.
Tip: You are going to drive into Austria to get to Nueschwanstein from Linderhof. Avoid any Autobahns so that you don't have to purchase a Vignette Sticker for your vehicle (only needed on the Autobahns in Austria)
I have numerous guides that help you know EXACTLY what to do for Neuschwanstein to help you get the most out of this famous castle
Start with my "Complete Guide to Neuschwanstein" which will tell you everything from entrance costs, to where to park, and even what things you can skip. This also includes information for Hohenschwangau.
If you are going to be at Neuschwanstein in the Winter, be sure you read this
Feeling Adventurous? Why not go Paragliding Over Neuschwanstein!?
While I cover everything you could possibly need to know in the above articles, a few things to just make extra note of:
If you decide you do want to take the tour of the inside of Neuschwanstein, then you'll need to book this ahead of time. You'll also need to arrive early to pick up the tickets, therefore I recommend booking one of the last tours, just to ensure you have plenty of time.
Don't skip Hohenschwangau. The outside of Neuschwanstein is STUNNING, no doubt! However, the inside of Hohenschwangau (Neuschwanstein's next door neighbor) is fantastic.
FAQs: Can I Take the Train To Neuschwanstein?
Of course! Well, sort of. You would use the train/ bus combo in my 3 ways to get from Munich To Neuschwanstein. However, this would mean basing yourself in Munich, which isn't the worst idea. However, you will be wasting a lot of time going back and forth from Munich instead of being able to really explore the Alpine region. Also by doing a day trip from Munich to Neuschwanstein, you will have to miss out of Linderhof, due to the timing and accessibility of the trains.
Oberammergau
This last stop for the day is completely optional. In fact, I would just wait to see where you are at in the day to decide if you want to make the last pit stop.
To be completely honest, if you fully take your time at all the castles, you won't have much time left for this Bavaria town (don't worry, though, I've left room for it in the next few days!) However, if you aren't "castle people" and have chosen to either skip on one, or breeze through them quickly, you might find yourself with some time in the afternoon, in which this is a great option (and one of my favorite "Picturesque German Villages") on your way back to Garmisch.
Note: If it is winter, you most likely will not be able to get all three activities in in one day due to the limited daylight hours and opening times of the castles.
One of the most fascinating things about Oberammergau is the absolutely stunning masterpieces of painted facades (known as "Lüftlmalerei") on almost all of the main buildings. It is like a living museum just walking down the street and admiring the amazing paintings. While most Bavarian Alpine Villages will have some of these, Oberammergau is filled with them, making it a most worthwhile wander.
Another thing to appreciate in Oberammergau is the intricate woodworkings found here. While you'll see this artform everywhere, get off into some of the side streets where actual woodcarver's workshops still exist today (and several museums). This is a fantastic souvenir or gift to bring home from your trip.
The final thing that makes Oberammergau quite famous is its once a decade Passion Play. The first play started in 1634 as a way to commemorate the destruction and death that the plague brought. It has continued every 10 years since. (It was postponed in 2020 due to Covid, therefore the next date of the play will be 2022)
You can read more information about the Oberammergau Passion Play, including the dates and tickets here
Day 5: Garmisch-Partenkirchen and the Partnach Gorge
Today we are going to explore more of the actual town(s) of Garmisch and Partenkirchen, sometimes affectionately known as Ga-Pa.
Start your morning just exploring the Altstadt of Garmisch. Make sure you wander down both Ludwigsstrasse as well as Am Kurpark. There are some more stunning Lüftlmalerei (painted facades) that make this a charming Bavarian village.
You'll find local shops, cafes, Bakeries and more.
Next, drive a quick 5 minutes (or about a 30 minute walk from town) over to the
Olympic Ski Stadium and Ski Jump.
You can actually take a tour of the stadium if that interests you and no matter the season, gazing upon the ski jump is a dizzying feat.
Next to the stadium is the
Garmisch Sommerrodelbahn
I love going on these Alpine coasters and this one can give you great views! It's a fun activity to do and there is even a Biergarten and playground next to it as well for a laid back lunch. Here are ticket prices and more info on the Garmisch Alpine Coaster
Partnach Gorge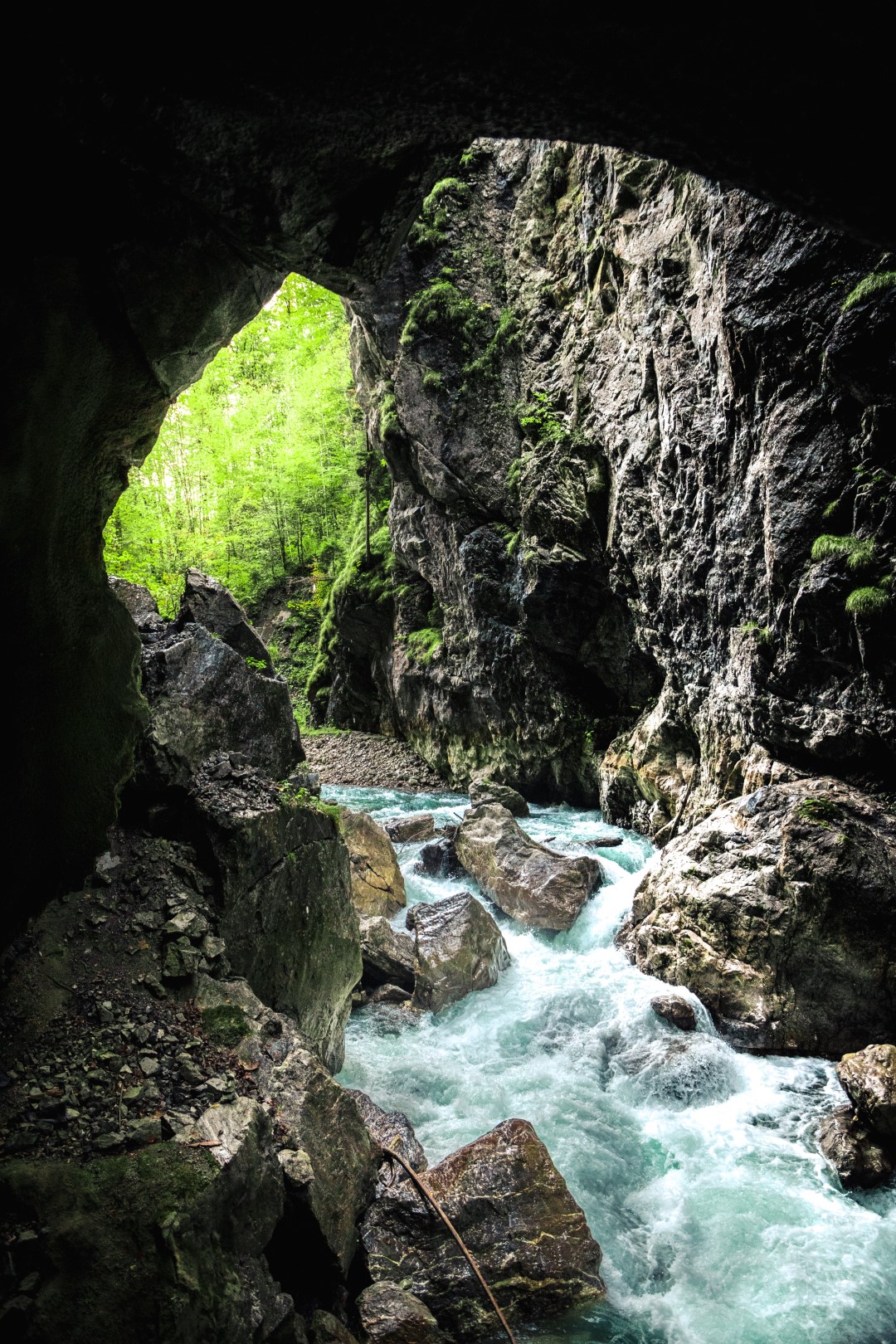 Next, we are going to the absolutely mesmerizing and wild Partnach Gorge.
From the Olympia Stadium, you'll see signs for a paved walkway to the gorge, which will take about 20 minutes to walk to.
Allow for about 40-60 minutes for the gorge itself (pending how busy it is, how many photos you take, etc)
Tip: The Partnach Gorge can get VERY busy during peak season. If you want to have it a bit more to yourself, then I actually recommend doing this first thing in the morning (yes, at 6 or 7am!) to avoid the crowds and then just doing this day in reverse. Alternatively, it can still be crowded, but not AS bad later on in the day, closer to dinner time.
Partnach Gorge Opening Hours
The gorge is actually open all year round and worth a visit at any time.
October to May: 8:00AM to 6:00PM
June to September: 6:00AM to 10:00PM
(Last admission is half an hour before closing)
Partnach Gorge Cost:
Adults: 6 Euro
Children: 3 Euro
Tip: Not wheelchair or stroller friendly. If you have young kids/ baby, I highly recommend babywearing through the gorge.
Optional: Oberammergau. If you did not make it to Oberammergau yesterday, then you can squeeze it in today. I recommend removing something, like the Rodelbahn from your itinerary in order to make sure you have enough time for driving (about 30 minutes/ 1 way) to Oberammergau, plus exploring.
Day 6: Rothenburg ob der Tauber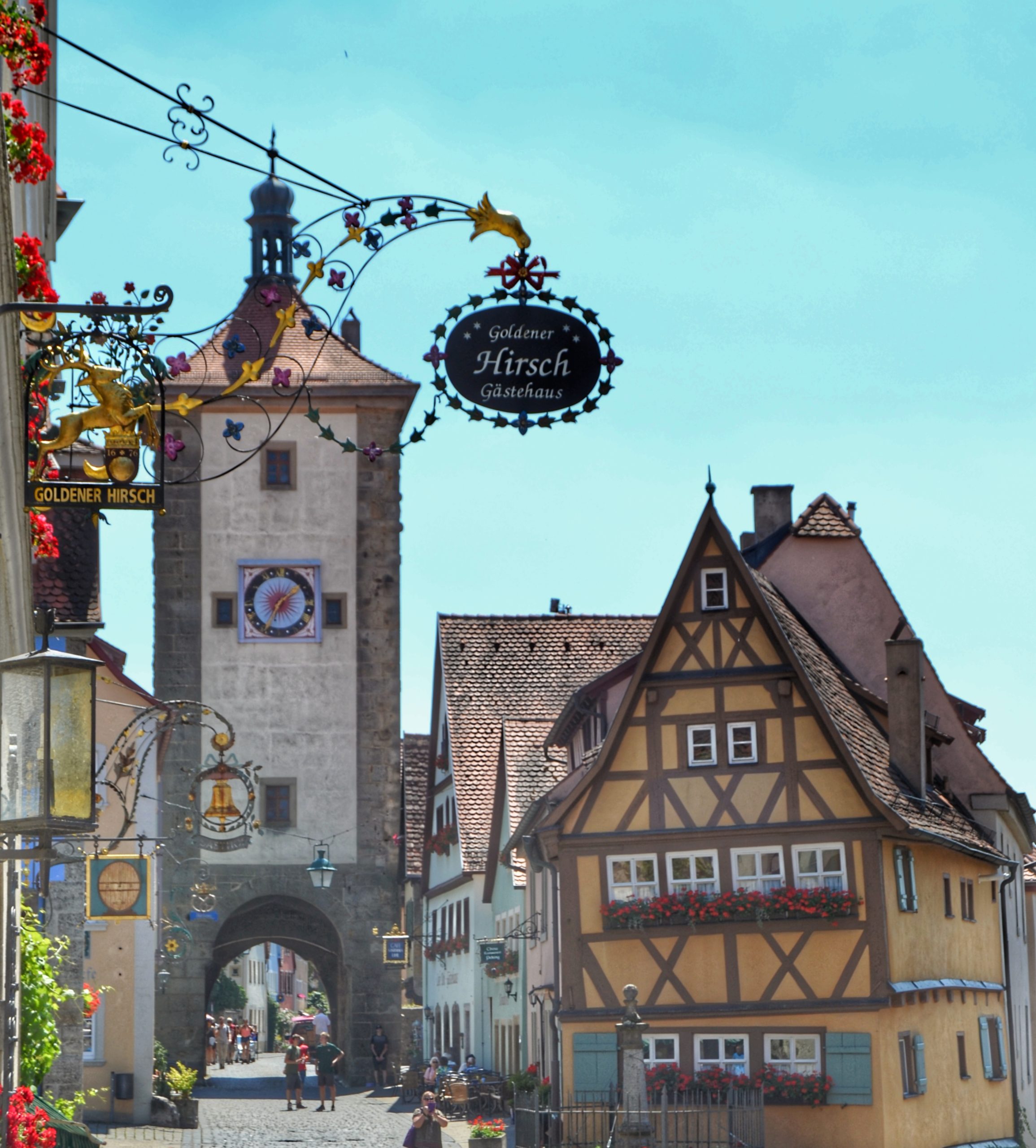 Next up on our 10 days in Germany itinerary is going to be part of the Bavaria Romantic Road, but done in reverse! It actually "ends" at the Neuschwanstein Castle, which we've already visited. So, now we'll head north along the Romantic Road to one of the most picturesque towns in all of Germany, Rothenburg ob der Tauber!
Important Note: It does take about 3.5 hours to get from Garmisch up to Rothenburg. Therefore, as usual, you are going to want to get a very early start on your day
Tip: If you want to take the real Romantic Road, then head back North towards Oberammergau and past Schongau and get on the B17. This will also have you avoiding Munich traffic.

Rothenburg ob Der Tauber is considered the best-preserved medieval town in Germany. It really is like stepping back into time as soon as you enter the walled city. However, you aren't the only person wanting that "quintessential Bavaria town" which is why this is often a very touristy "Bavaria must see" for most tourists. So, just be prepared for loads of tour buses, kitschy trinkets, and overpriced goods and accommodation.
So is Rothenburg even worth it??
YES!!!! I typically like to avoid places overrun by tourists, but there is really just something magical about Rothenburg that makes it all so worth it. Maybe it's the picture-perfect lanes and houses, or that it's the year around Christmas town, or those "schneeball" pasty balls that don't taste like much, yet you oddly want more of….. I don't know, but yes, Rothenburg ob der Tauber, for as touristy as it is, is most definitely worth your time. I promise.
I highly recommend getting the Rick Steves Guidebook for Rothenburg.
He has a fantastic DIY walking tour that is a great way to see this walkable city and give you a ton of great insight into its medieval past.
Be sure to walk around in the evening after most of the day trippers have gone home. This is the beauty of spending the night in town. Suddenly, the town seems much less "Disneyland-esque" without the parades of people and you can really feel the medieval magic come to life a bit more.
Day 7 and 8: Nuremberg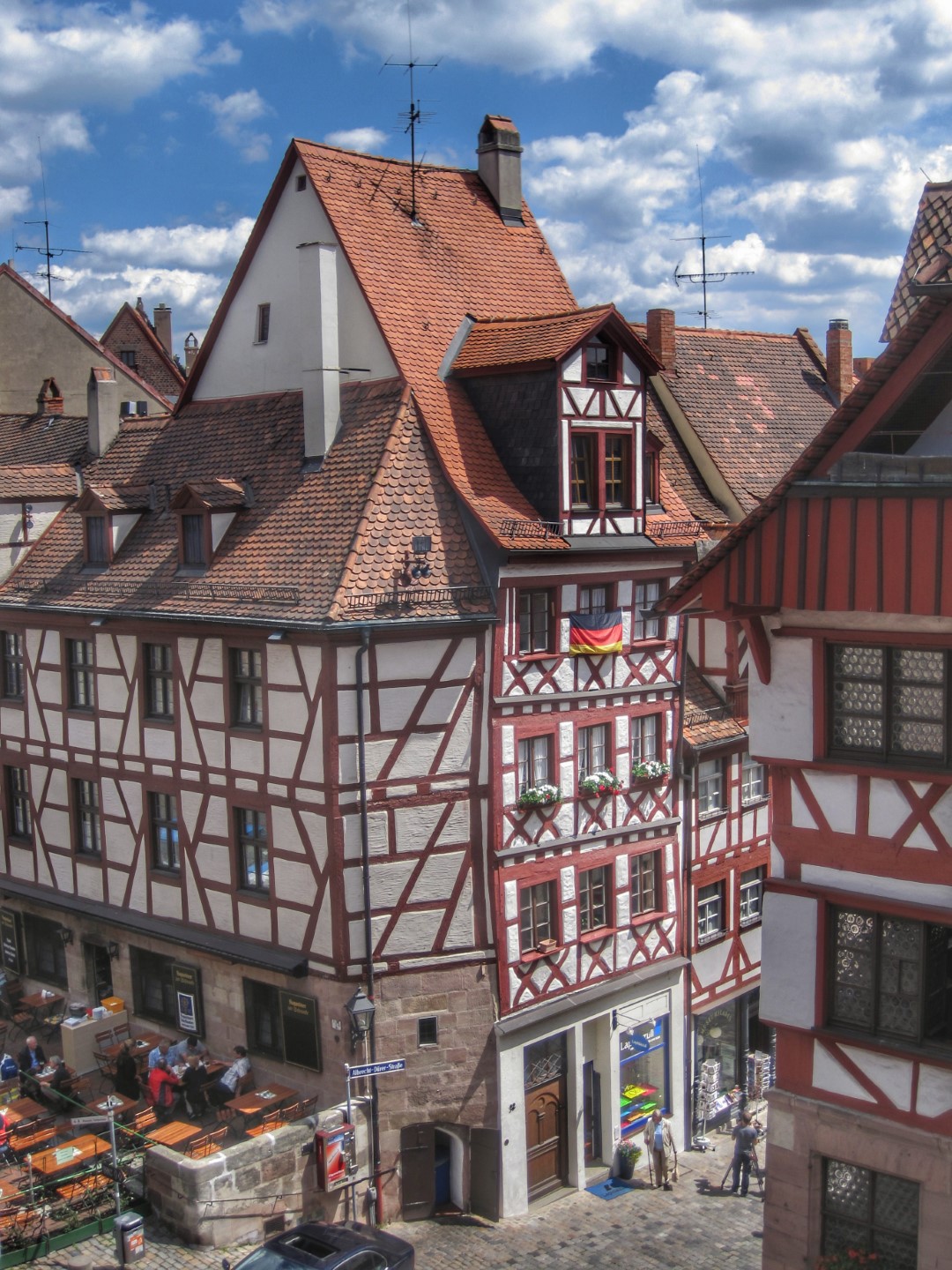 Once again, after a good hearty breakfast, it is time to continue our 10 days in Germany. We've spent a lot of time in the "South" so now it's time to head to the "North" of Bavaria with one of the most famous Northern Bavaria Cities, Nuremberg.
We've been going pretty fast-paced so we are going to slow down a bit here.
Use my Favorite Things To Do In Nuremberg Guide to explore the town and take my DIY walking tour of the Altstadt. You'll get to nibble on some famous Lebkuchen (gingerbread), chow down on the classic Nuremberger Brats, wander the Imperial Castle, and stroll through some picture-perfect alleys and lanes just screaming for you to stop, slow, down, and have a beer or cappuccino at an outdoor cafe!
On the second day in Nuremberg, we are going to go to one of the best museums I have ever been to. The Dokumentation Zentrum is an elaborate and incredibly well done museum that shows you exactly how a man, such as Hitler, with such horrifying views and plans, could capture the appeal of an entire country with his charisma and promises. It is a sobering and memorable memorial to those who lost their lives in the Holocaust, and of course, takes you through the Nuremberg Trials.
You are going to want several hours (at least 3) for this museum alone.
In the afternoon, spend some time walking the Nazi Rally Grounds and around the lake. After spending the morning at the museum, where there are detailed blueprint plans for what was intended on being built here, it really puts a lot of things into perspective.
You are probably going to be left with some extra time today. Use this time to find a Biergarten to sit at and just do as the locals do, and enjoy endless hours of good food, good drink, and good company, or you can even go to one of the other museums mentioned in my above Things To Do post.
Alternatively, there is almost always something festive going on somewhere in Nuremberg, ask at your hotel or stop at the Tourist Information on your first day to find out what is happening and join in the local fun! In the winter, there is the famous Christkindle Markt. In the summer, there are beer and wine fests, as well as the annual Fruhlingsfest (spring Volksfest) and more.
Nuremberg Makes for a Great Base Camp. Spend Some More Time in The Area With These Day Trips From Nuremberg
Day 9: Day Trip to Bamberg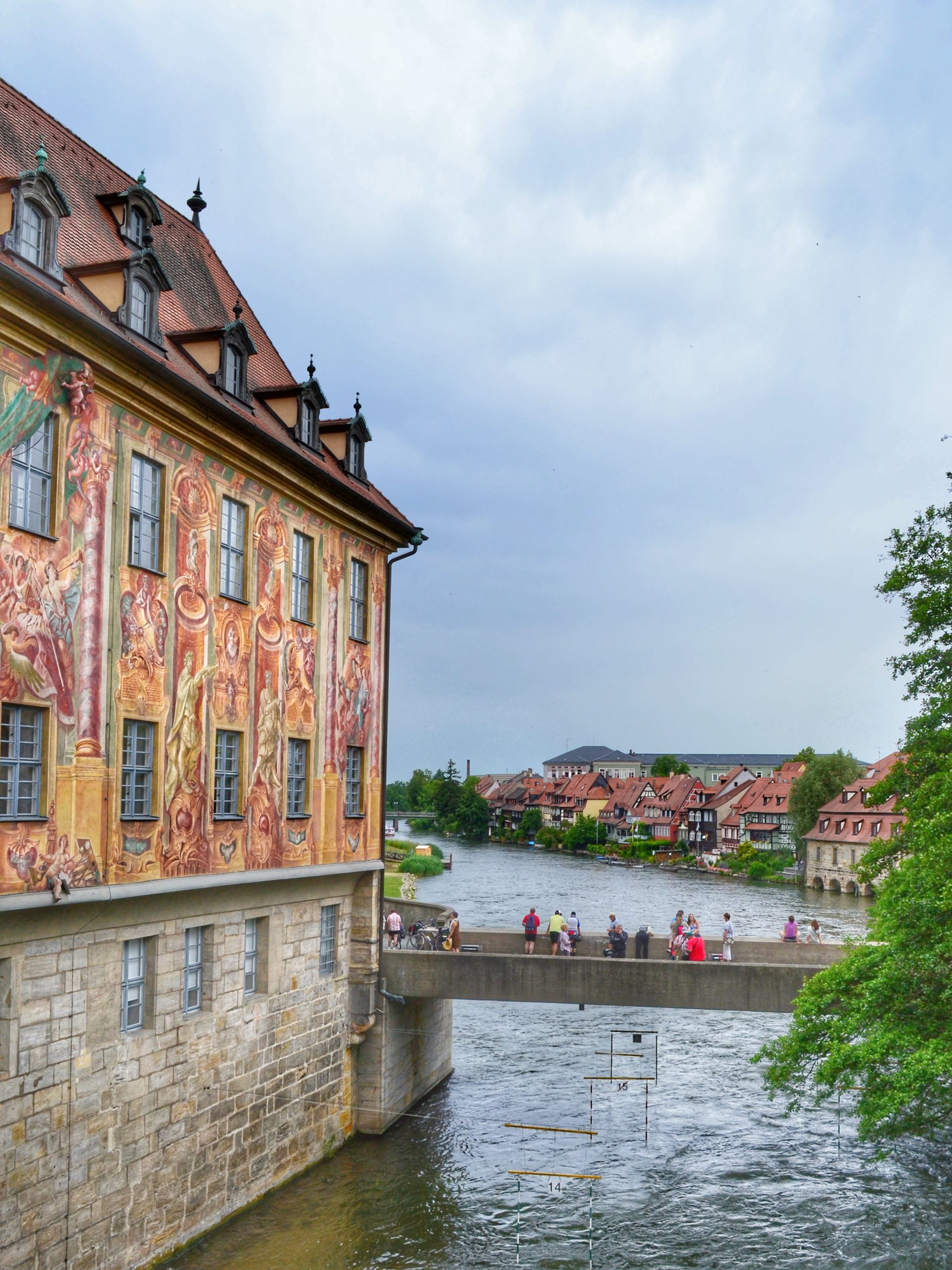 Leave your car behind and get the Bavaria Train Ticket and head to Bamberg for the day. This is one of the many Bavaria Germany cities known for its beer, but not just ANY beer…the RAUCHBIER!!!! This "smoked beer" is something you either love or hate, but either way is an absolute MUST try while in Bamberg! But there are plenty of Bamberg things to do besides drinking the beer that oddly tastes like bacon…
When you get in by train, just walk straight to the impressive Altsadt, which has gorgeous architecture dating all the way back to the 11th century, making it a World UNESCO Heritage site.
The City Cathedral is another must see thing in Bamberg and nearby that is the beautiful Rose Garden.
And down by the Regnitz river, where the old fisherman's village once was, is what many locals still call "Little Venice" and is perfect for a stroll.
Head back to your hotel in Nuremberg for the night.
Day 10: Regensburg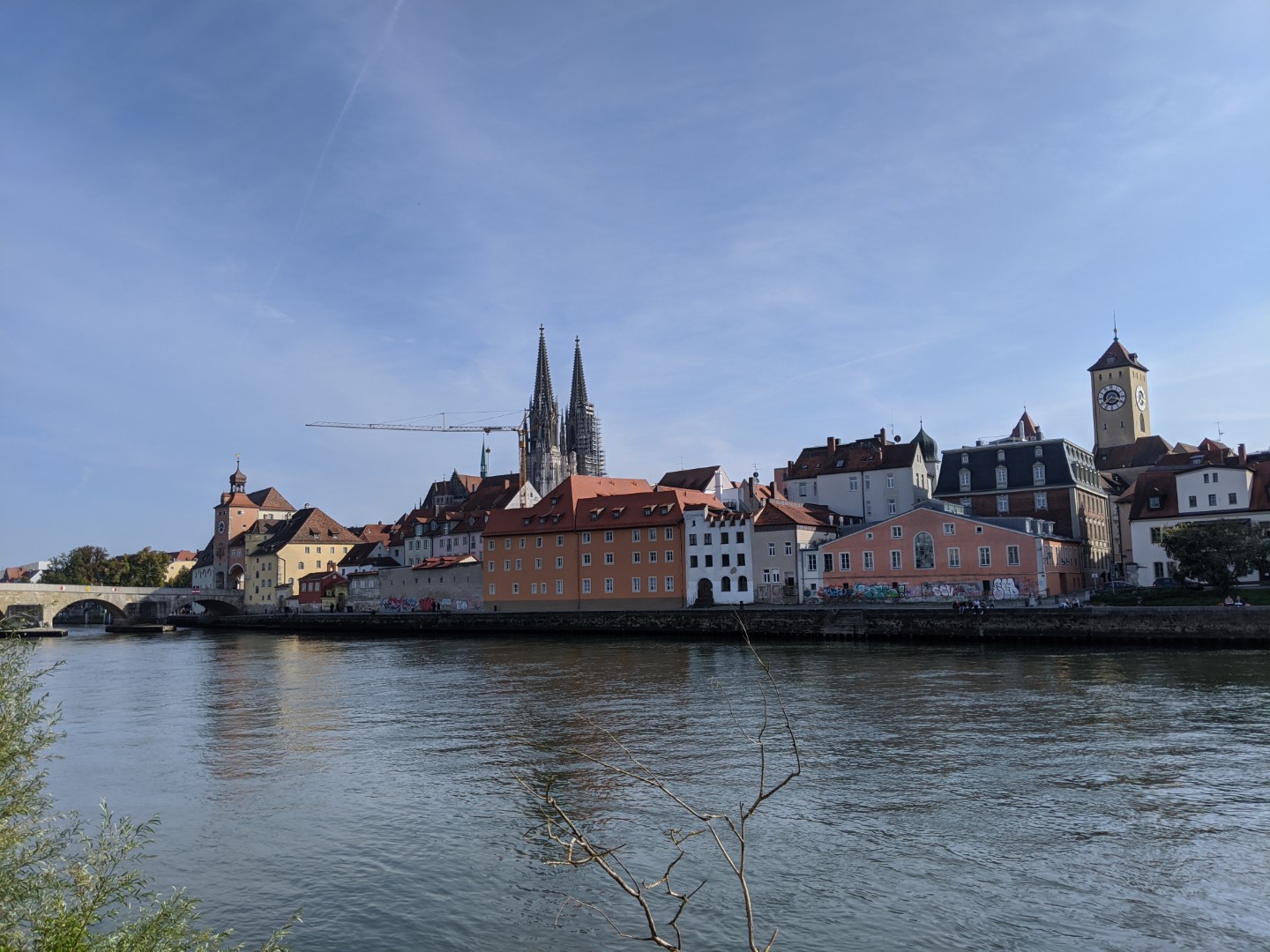 Today is your final day in the beautiful Bavaria area, but we actually have one of my favorite Bavaria Germany cities to visit still to see.
Today, on your way back to Munich, from Nuremberg, we are going to do a quick day trip and pit stop in a truly underrated city, Regensburg!
You'll need anywhere from about 3-6 hours, depending on how fast you walk, how long you linger at the beirgartens, etc.
Follow this detailed 1 Day in Regensburg Guide, which includes a step by step DIY Walking Tour of Regensburg to finish your last wonderful day on your Bavaria road trip.
Head back to Munich for your final night so that you can say "Auf Wiedersehen" to Bavaria in the morning.
And there you have it. An amazing, fun, packed, cultural, historical, and true glimpse into Bavaria, which will have you making memories that you will cherish forever!
Where to Stay On This 10 Day Bavaria Trip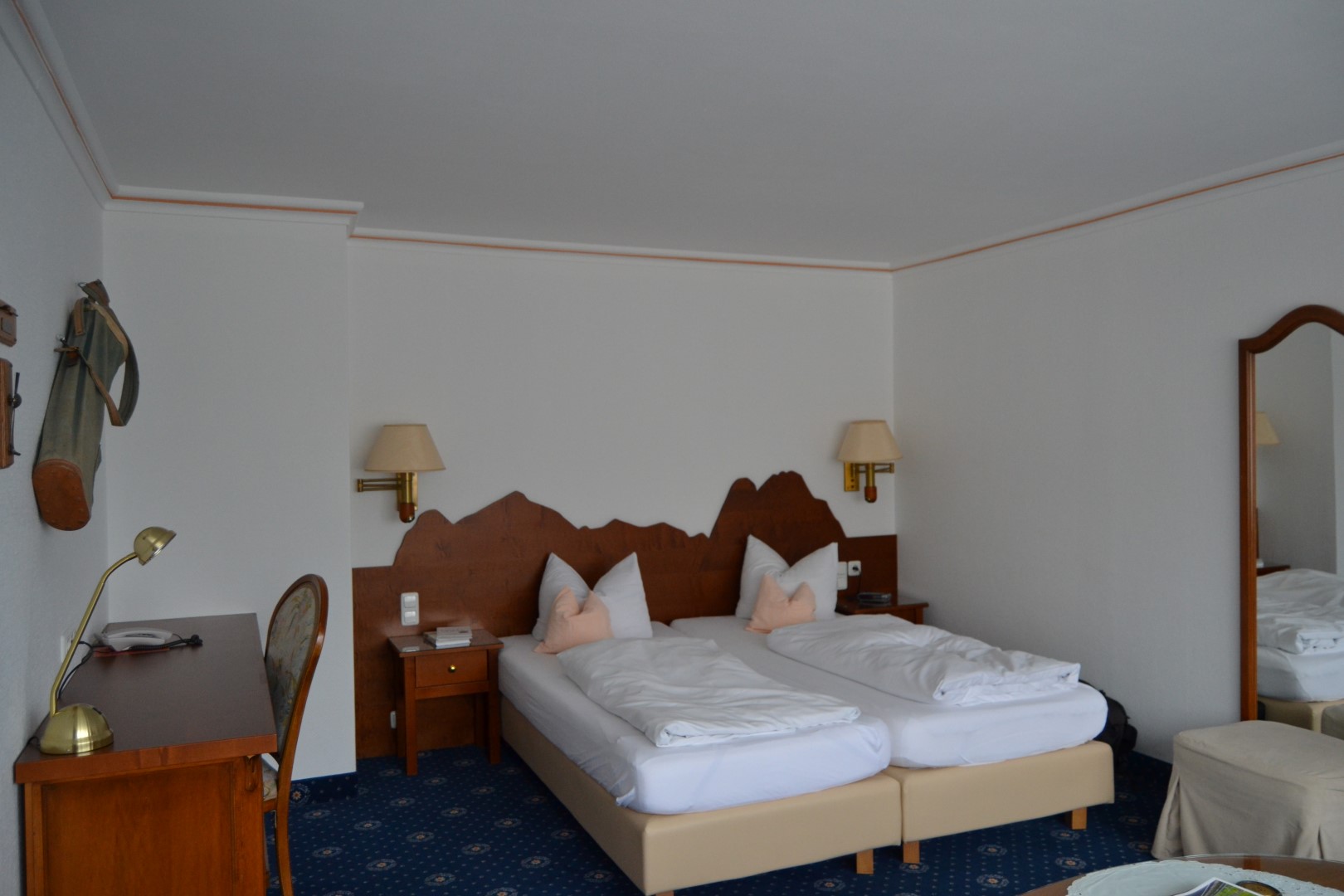 There are obviously so many options in each of the cities. Below I've listed some of the best rated (and/or personally stayed at) locations that I recommend for every price range.
Where to Stay in Munich
Located at Maximilianstr. 17, Altstadt, this luxury hotel with a spa, airport shuttle, indoor pool, and opulent rooms is in the heart of Munich and along one of the poshest streets in the entire city.
See More Photos Here
This adorable hotel at Mittererstraße 9, Ludwigsvorstadt makes you immediately feel like you are right where you should be; in the heart of Bavaria, with it's wonderful Bavarian and Alpine decor! It's just a quick 15 minute S-Bahn ride into the Altstadt, includes breakfast and is fantastically priced for Munich.
Click Here To See Current Availability
Within just 15 minutes on public transportation from Senefelderstr. 1, Ludwigsvorstadt, you'll be in the heart of the Altstadt. This hostel offers twin bed rooms and double rooms for those that prefer a bit more privacy, as well as the traditional hostel style rooms with 6 and 8 beds (including a female only dorm room). With fantastic reviews about cleanliness, drinks to purchase on site, and more, this is a great option for backpackers or budget travelers.
Click Here to Compare Prices
New To AirBnB?? Get up to $65 off your first stay with this coupon
Where to Stay in Garmisch
This hotel is located right in the heart of the Altstadt at Zugspitzstr. 76 and is an absolute treat to stay in. When we stayed here, I enjoyed one of the best goulashes I've ever had (in the on site restaurant), loved relaxing in the sauna, and the outdoor pool and lounge area has phenomenal views of the Alps! Our 2 room suite looked out over the village and Zugspitze and the staff was incredibly helpful. I would stay here again in a heartbeat.
See Photos and Reviews Here
While this is technically a hostel, you may never know it from its sleek and beautiful features and all amenities it offers. You can choose private rooms that have their own bathrooms, enjoy an included breakfast, and even relax in the Sauna within the hotel!
Read Reviews Here
This hotel is located in Grainau, which is where the Gondola station to the Zugspitze and Lake Eibsee are located. At this traditional style Bavarian hotel, you'll enjoy a great breakfast and friendly staff. You can even ask about the Grainaucard with pool access and bus ticket, which they often have for free for you to use.
Click Here To Compare Prices Now
Where to Stay in Rothenburg ob der Tauber
You will feel like you are stepping back in time, but not out of amenities and luxury with this amazing 3 star hotel, located at Klostergasse 1-3, right in the middle of the town. You get spa facilities on site, a restaurant, suite-style rooms that can overlook the beautiful valley, and an included huge breakfast buffet daily.
Read the Amazing Reviews Here
This hotel is right in heart of Rothenburg and is a traditional German pension, which means you'll get fantastic breakfast spreads included, charming rooms, and great hospitality by the staff. What sets this particular hotel apart is that they have their very own wine cellar, so you can enjoy local wines made right here in the region!
Check Current Availability Here
This lovely pension is perfect for the no frills traveler. The rooms are big and clean, the breakfast is hearty (additional cost), and there is an amazing restaurant right on site. Located at Alter Keller 8, you are right in the middle of Rothenburg, and just a few minutes walk away from the Altstadt.
Click Here To Compare Prices
Where to Stay in Nuremberg
When we stayed at this hotel (on points and miles), we loved every minute of our stay. Located at Bahnhofstrasse 1-3, you are within walking distance to all of the Altstadt as well as the train station. The rooms are ultra modern in decor and the bar was fancy place to wind down in the evenings.
See Current Availability Here
This hotel is right in the heart of the Altstadt at Josephsplatz 30-32, Mitte so you can be to the Emperial castle and other top sites within a few minutes of walking. The hotel itself is perfectly charming with classic German style rooms and there is even a small sauna, solarium, and gym making this a great 3 Star option.
See Current Pricing Here.
This hotel and hostel combo is perfect for the budget traveler. With a variety of different style rooms (private vs dorm), you have a wide range of pricing available. However, since it is newly renovated and well kept, you get all the comforts of a quality, clean hotel even at a really affordable price!
Check Prices and Rooms Here