[This post may contain affiliate links where we earn a small commission. Please see our disclosure for more information and thank you for supporting our site so we can continue to bring you awesome content for your travel inspiration!]
Some know it as "The Cinderella Castle in Germany." Others call it "The Disney German Castle."
Regardless of how you describe one of the most beautiful German castles, Neuschwanstein Castle is a must for most people visiting Bavaria.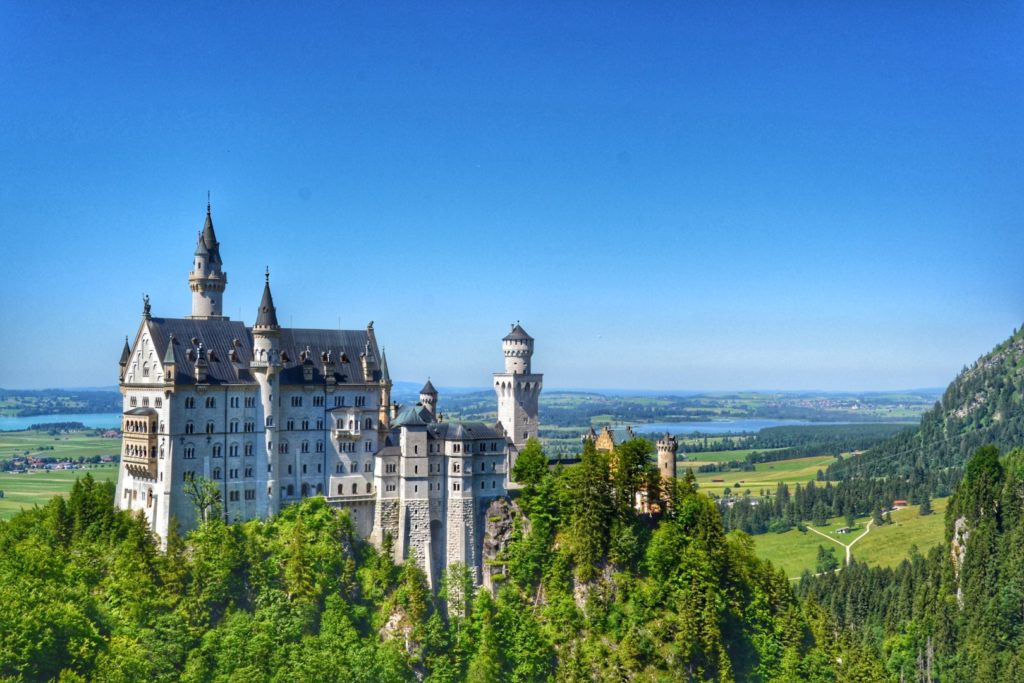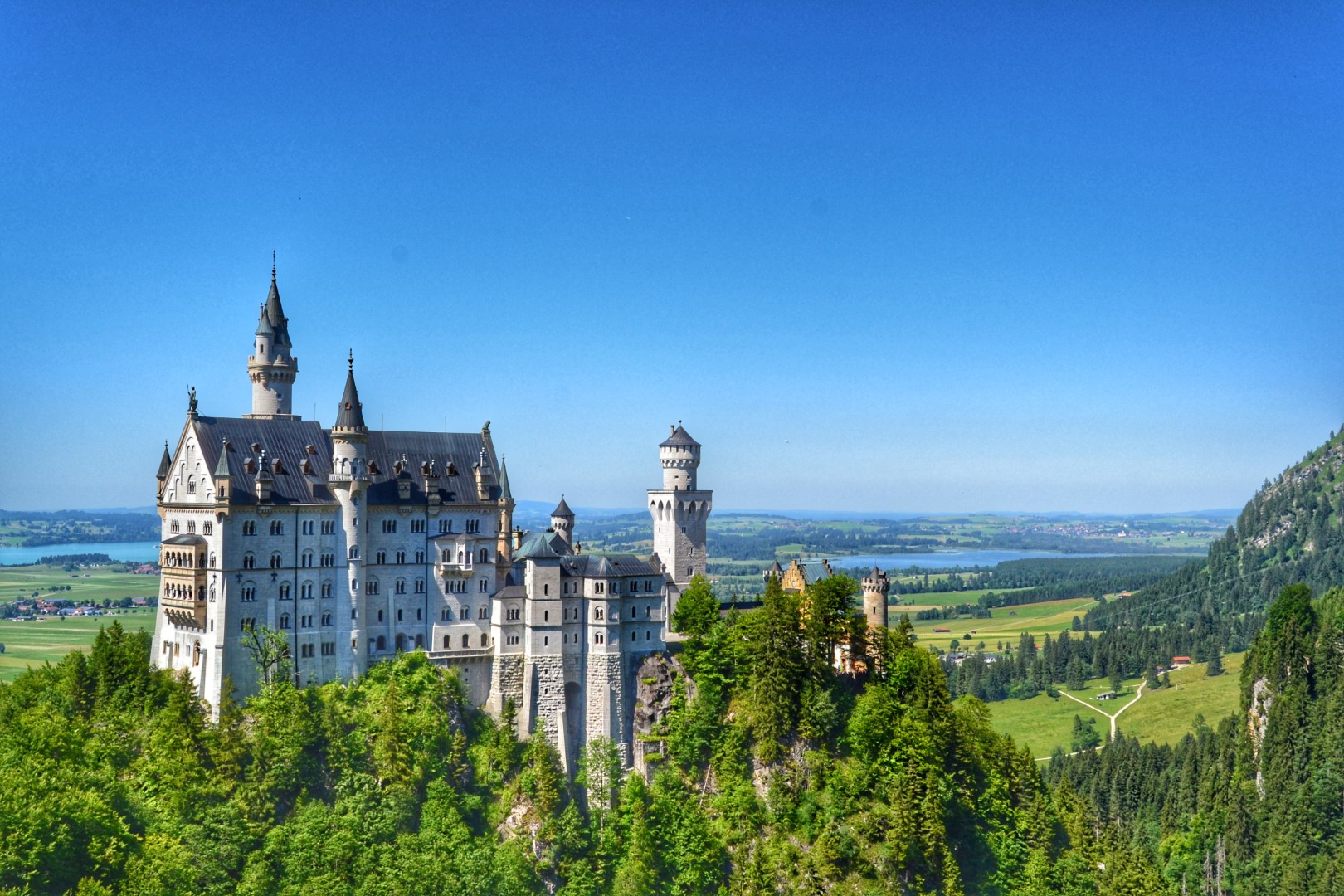 Neuschwanstein is one of the most iconic images of Bavarian castles, nay, castles in the world! While you could get to the castle from various points in Germany, many people decide to make a day trip to Neuschwanstein Castle from Munich, which is what we will cover in-depth here. There are several ways to get yourself there and each has its own pros and cons.
In this article, I'm going to show you the three main ways of How To Get From Munich to Castle Neuschwanstein
I'll be breaking down exactly how to get to Neuschwanstein by three modes of transportation. If you already know which one you'll be choosing, you can just click to go straight there.
Driving from Munich to Neuschwanstein Castle On your own
Take a Munich to Neuschwanstein Castle Bus Tour with a Group or Organization
Go From Munich to Neuschwanstein Castle by Train and Public Transportation
If you haven't already read my Complete Guide to Neuschwanstein Castle, be sure to do that, now.
You may be tempted to say, "Ugh, Neuschwanstein is such a tourist trap!" But I urge you to read that post and decide to put it on your Munich itinerary. I promise you WON'T regret it!!! That article also covers really important info like insider tips on how to skip the lines, where to purchase your tickets, and best times to go to Neuschwanstein Castle. Heading to Neuschwanstein in the Winter? Read our Neuschwanstein Winter Guide Here.
Join Our Travel in Bavaria Facebook Group To Help You Plan Your Trip!
How Far Is Neuschwanstein from Munich: Figuring Out How To Get There
If driving and depending on traffic (and let's be honest, how fast you are wanting to drive on the Autobahn, you daredevil, you!) you could go from Munich Germany to Neuschwanstein castle in 1.5-2 hours. And if you are like me and have the world's smallest bladder, you'll want to schedule in a few bathroom breaks in there.
Even though the distance from Munich to Neuschwanstein is only about 130 kilometers (80 miles), there is no direct train from Munich to Neuschwanstein so taking public transportation will take you closer to 3 hours.
Therefore, if you are planning to make the day trip to Neuschwanstein from Munich, plan accordingly. This will most likely be the main thing on your agenda for the day and anyone that tells you it can be done in a half-day is going to be rushing you big time. Also, you should really plan on visiting Hohenschwangau (right next door) and therefore, just plan on this being a whole day, despite your mode of transportation.
Munich to Neuschwanstein by Car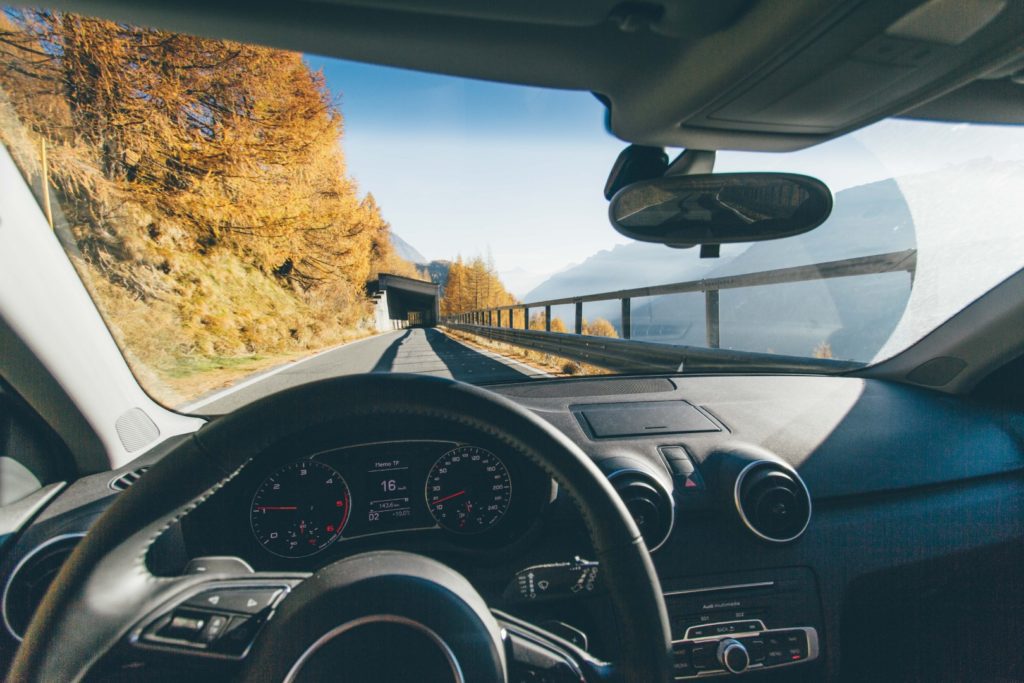 While I typically encourage travelers to always give public transportation a go, visiting Neuschwanstein Castle from Munich might be a time that I tell you to consider renting a car. Public transportation isn't bad on this route at all, but because there is not a direct route, it does add on some considerable time.
A car, on the other hand, is relatively cheap for a day, and the Munich to Fussen drive is a cinch. (Below, you can look at the comparison chart of all the options to get a better overall view of your choices)
The additional plus to renting a car yourself is that you have the opportunity to add in a few small-town stops or another one of my favorite palaces, Linderhof, along the way. If you've never been to the German Alps, you are in for a real treat, especially if you get to do a few quick add ons!
Driving In Germany
Some people are pretty hesitant to drive in a foreign country, let alone Germany, where rumors of certain roads having no speed limits are, in fact, true. You can read all about driving in Germany here so that you can know exactly what you need to drive while visiting Germany and what you can expect.
However, the bottom line is that the drive from Munich to Neuschwanstein is pretty straight forward. Yes, you'll be on the Autobahn and yes, there are sections that have no speed limit.
However, you merge just as you would any other interstate you've been on and you can always just hang out in the right lane cruising at a comfortable speed for you. Let those BMWs wizz past you in the left lane and you are just fine.
You don't need to know the German language in order to drive in Germany, either. The signs are all pretty logical to figure out and with a GPS, you'll have no issues at all.
Rent a Car In Munich
First, you'll need to get a car. Renting a car from the Airport is incredibly easy, but will be $10-$20 more a day most likely. Alternatively, there are plenty of car rentals throughout the city of Munich. I recommend doing a quick google search for places nearby your hotel so that you can quickly get a vehicle in the morning of your day trip.
Planning Other Day Trips From Munich? Here are over 20 ideas!
Directions From Munich to Neuschwanstein By Car
By Autobahn
The fastest way to get from Munich to Castle Neuschwanstein is by hopping on the Autobahn. If your GPS does not have "Neuschwanstein" as a destination, you can also put in the town of "Hohenschwangau" (that's where you are going to park) or you can also use the GPS coordinates 47.5576° N, 10.7498° E.
Depending on where exactly you are leaving from in Munich will depend on which route to take. Most likely, you'll go out on the A95 or A96 and then make your way on a few highways (Bundestrasse) until you reach Hohenschwangau.
According to the official Neuschwanstein website, you can also take the A7. You'll head towards Ulm-Kempten-Füssen) At Füssen take the road B17 to Schwangau. From there just follow the signs.
By Highways and the Romantic Road To Neuschwanstein
If you aren't sure if you want to drive on the Autobahn or if you'd rather drive on the famous "Romantic Road" in Germany, you can opt for the "Bundestrasse" which is like the state highways. While all the main stops on the Romantic Road are further North on the B17, it is still a very beautiful route to take from the A96 down to Hohenschwangau. Many people do a Romantic Road road trip where they include all the other great Bavarian villages and end at Neuschwanstein. If you are planning to do the full Romantic Road road trip, plan on at least a few days to see all the towns plus castle.
And if you want to skip the Autobahn all together, you can take the B2 to the B17 (Romantic Road) from Munich to the castle.
Read my Full Romantic Road Itinerary and Guide Here
Note: Driving on the Bundestrasse has a few more "rules" to be aware of than driving on the Autobahn. For example, even if there are not explicit speed limit signs, every time you go through a small village, you need to drop your speed to 50 km, and generally speaking, the highways are always set to 100 kph unless otherwise stated.
Know Before You Drive
Motion Sick: You are heading into the Bavarian Alps. As stunning as they are, if you get car sick, you are about to go on some pretty windy roads! Take your motion sickness meds or wear your sea bands so that you can actually enjoy your day trip!
Driving in the Winter: I cover exactly what to expect for driving to Neuschwanstein in the winter, but in general, just make sure that the car you are renting has winter or at the minimum all-season tires.
Look For Affordable Car Rentals From Munich Here
Parking at Neuschwanstein
When you arrive at Hohenschwangau, you are officially in Tourist Land. Therefore, it's not hard to find where to go next. Just follow signs for parking (P1 and P4 are the lots). The only parking is at private lots where you'll have to pay a 6 Euro charge (at time of writing and my last visit) for the day.
Getting From The Parking Lot To the Castle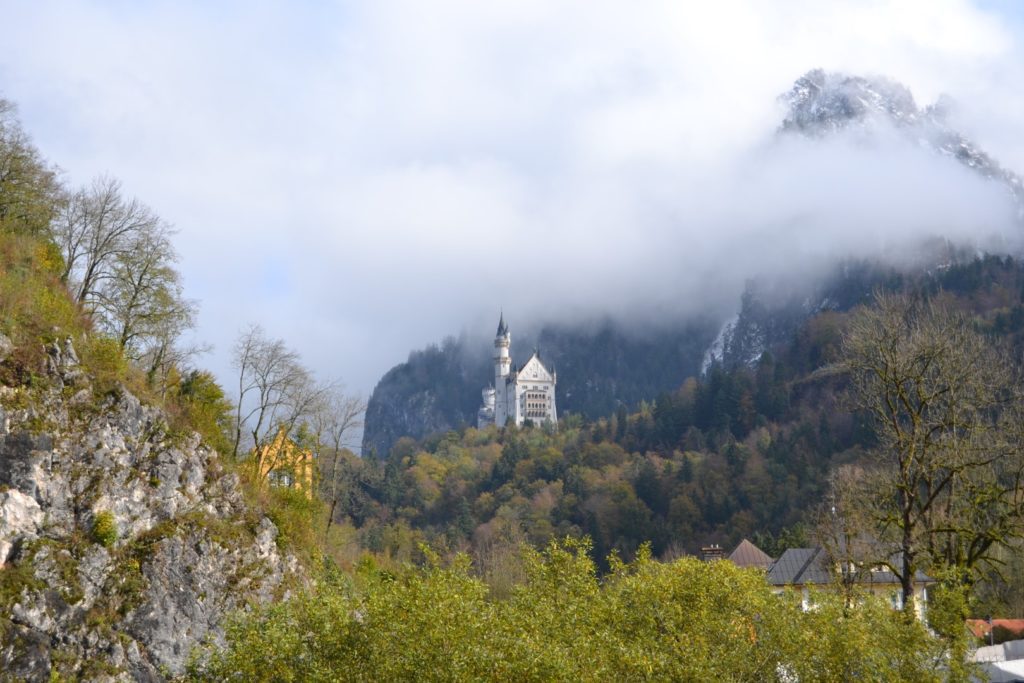 From the parking lots, you now have three more options for actually getting up (and I do mean UP) to the castle.
1. Walk. You can hike up about 40 minutes (about a mile) from the parking lot to the ticket office. You'll want to watch out for horse poop (see "Carriage" option)
2. Shuttlebus. There is a really handy (and packed) shuttle that leaves from P4 that will take you near the beautiful Marienbrucke (a must-visit site that has stunning views of the castle) from here it's an easy 10-15 min walk to the actual entrance.
(Note: you may have to wait for several buses during high tourist times)
Shuttlebus Cost: €2.50 Up. €1.50 Down or €3 Total for roundtrip. Buy your tickets (have exact change) from the bus driver
3. Horse Drawn Carriage. If you are really wanting to live up your fairytale fantasy, you can take an overpriced (but oh so memorable) horse drawn carriage. To get to the carriages, find Hotel Müller, where most of them are parked and buy your tickets right with the carriage driver.
(Note: the carriage does not take you all the way to the entrance. You'll be dropped off about 10 minutes downhill from the castle, leaving you with a short, but uphill hike for the remainder of the road. Also note that the carriage ride is only about 15-20 minutes total)
Other Stops On the Way To or Near Neuschwanstein From Munich
A huge benefit of having your own car to get to the castle is that you get to choose your itinerary!!! Therefore, while there are numerous places that are worthy of a quick stop on your day trip or to even add as another add on day, here are a few to consider.
Oberammergau
This beautiful Alpine town won't add a ton of time to your drive but is worth a quick stop. Have a scenic lunch up in the Alps or take the fun Alpine "roller coaster." While the Alps are stunning here, the town itself is quite the scene as well. The houses are pieces of art in and of themselves with beautiful frescoes and paintings, many of biblical scenes. After all, Oberammergau is known for its famous annual Passion Play, so the town takes great pride in that.
Read more about Oberammergau and other favorite picturesque small towns in Germany here
Linderhof Palace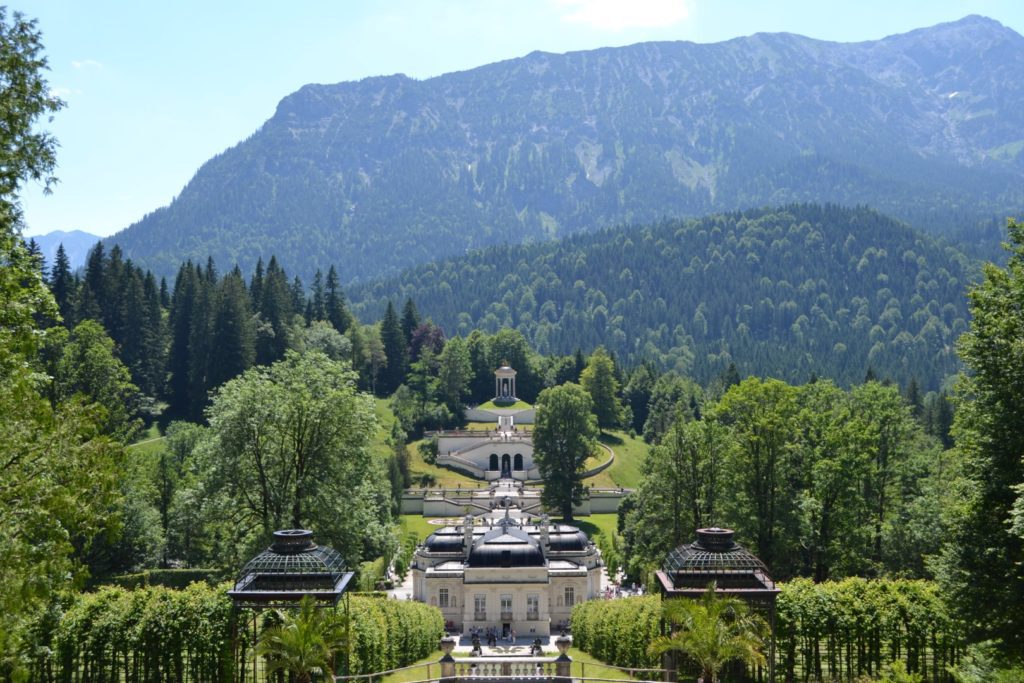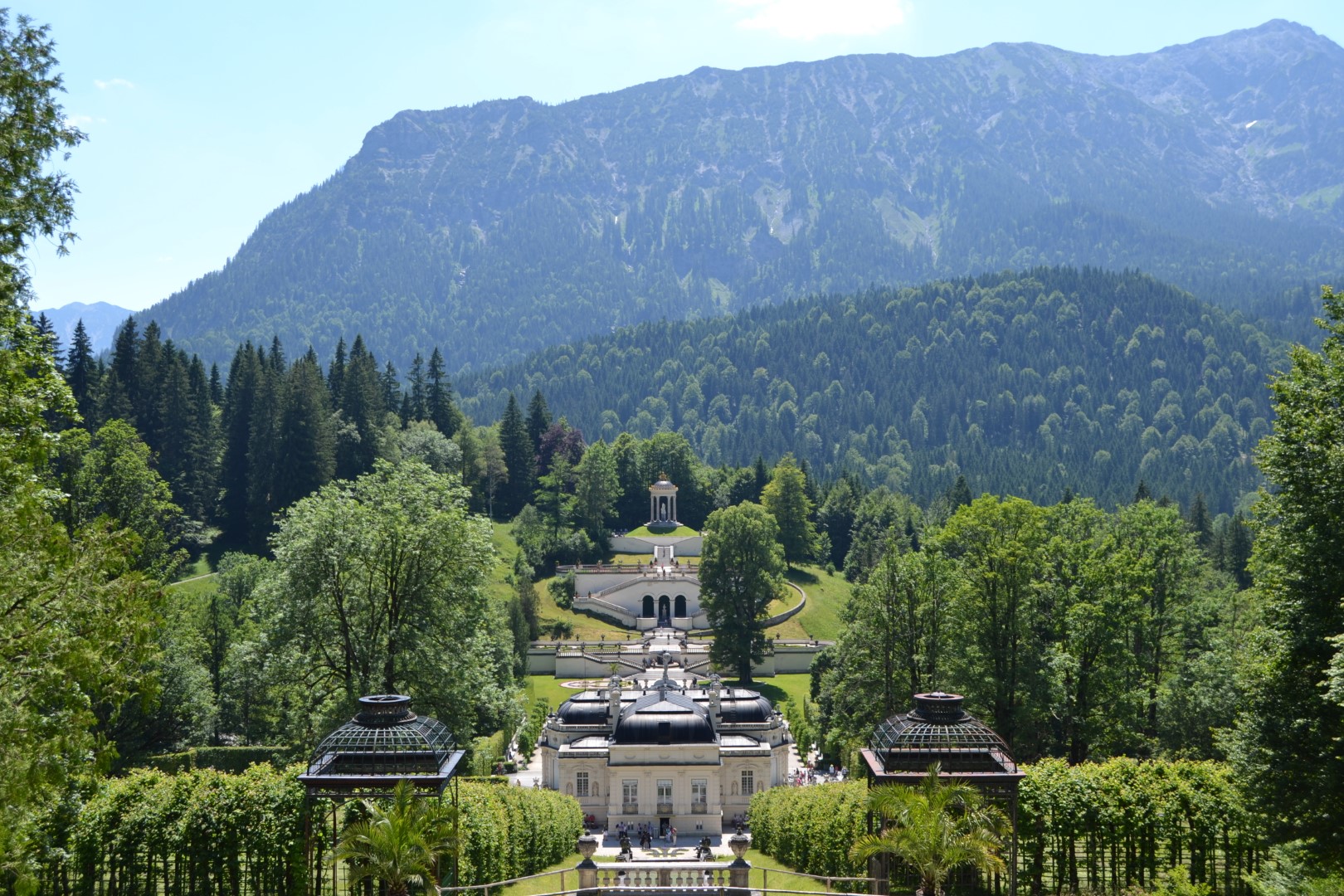 The "Other King Ludwig Castle" is absolutely stunning and slightly less touristy than Neuschwanstein. I often tell people to do Linderhof in the morning and then do Neuschwanstein and Hohenschwangau in the afternoon. It's a long day of castles, but hey, embrace that inner royalty in you!!
Ammersee
A great stop when driving from Munich to Neuschwanstein is at the Ammersee. This lake is one of those "off the beaten path" gems that locals love to come to. You can take a delightful stroll, eat a picnic lunch you brought or munch on a lunch from a lakeside cafe, or even take a ferry boat ride.
Munich Day Tours to Neuschwanstein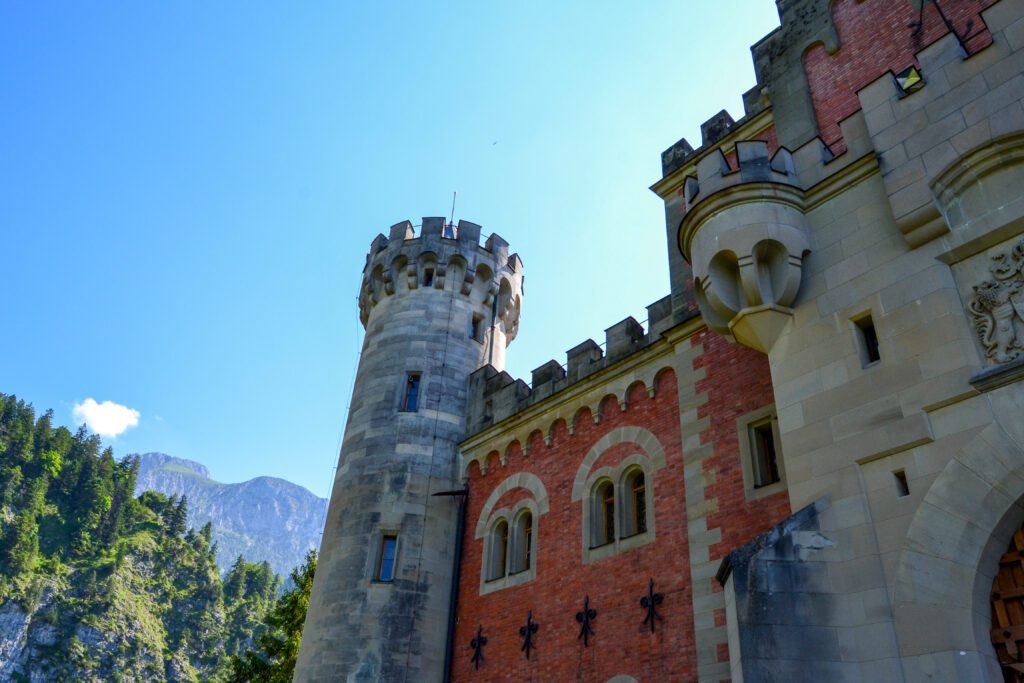 One of the most straightforward options of getting to Neuschwanstein is to just book a day tour with a tour company. If you are the kind of traveler that doesn't like the stress of piecing things together yourself and just want the ease and luxury of someone else telling you where to go and when, then this is a great option, and there are PLENTY of companies to choose from to fit your travel style.
Pro Tip: When looking for tours to book, avoid ones that say they will travel by train. While I have nothing against the trains in Germany (Oh on the contrary!) one of the reasons for taking a tour is because there are no straight train routes, so by taking a guided bus tour, you should be able to do it in less time or have longer at the actual castle itself.
Here are a few tours to consider
Day Trip To Linderhof and Neuschwanstein
As noted above in the driving section, I highly recommend adding Lidnerhof to your castle exploration day. It's a gorgeous palace and while it's obviously for tourists, it's not always AS packed as Neuschwanstein.
Day Trip To Neuschwanstein and Hohenschwangau
Despite Hohenschwangau literally being Neuschwanstein's next door neighbor, it's not as famous as the "Disney Castle." However, I do think it's a shame if you go to Neuschwanstein and miss out on Hohenschwangau. In fact, a little secret I tell travelers who are doing the castles themselves is to skip the inside of Neuschwanstein castle and do the tour of Hohenschwangau instead! (Gasp! I know!)
The problem is that there aren't really a lot of group tours that go to Hohenschwangau. Therefore, you'll either have to pay for a more expensive tour or do a private tour (more on that below)
Neuschwanstein, Linderhof, and Oberammergau Tour
While it would be one long day, there are some tours, like this one that will stop at all three of these stops which will surely make it a day to remember!
Private Tour
Another option is to take a private tour. These can be personalized a bit more than your typical large or even small group tours. For example, these tours typically pick you up directly from your hotel, and then you typically get to work with the tour company to coordinate exactly what you want and where you want to go.
Take a Guided Bike Tour
I love being able to combine fitness into our travels and we love to bike. This tour takes you around the absolutely beautiful area around Hohenschwangau and includes the castle tickets so you don't have to wait in line!
Book it Here:
View It From the Skies
Another amazing way to experience Neuschwanstein is from a birds eye view. You can take a private helicopter ride, a private small plane, or do what I did and go paragliding over the stunning castle. It is truly a once in a lifetime experience!!!
Neuschwanstein Castle Half Day Tour From Munich
If you haven't gathered by now, I don't think that Neuschwanstein is really a "half-day" kind of trip. And any tour company that claims they can do this in a half-day is deceiving you. Expect a minimum of 6 hours (usually more), which is hardly what I would call a "half day" trip.
How to Travel to Neuschwanstein Castle From Munich by Train and Public Transportation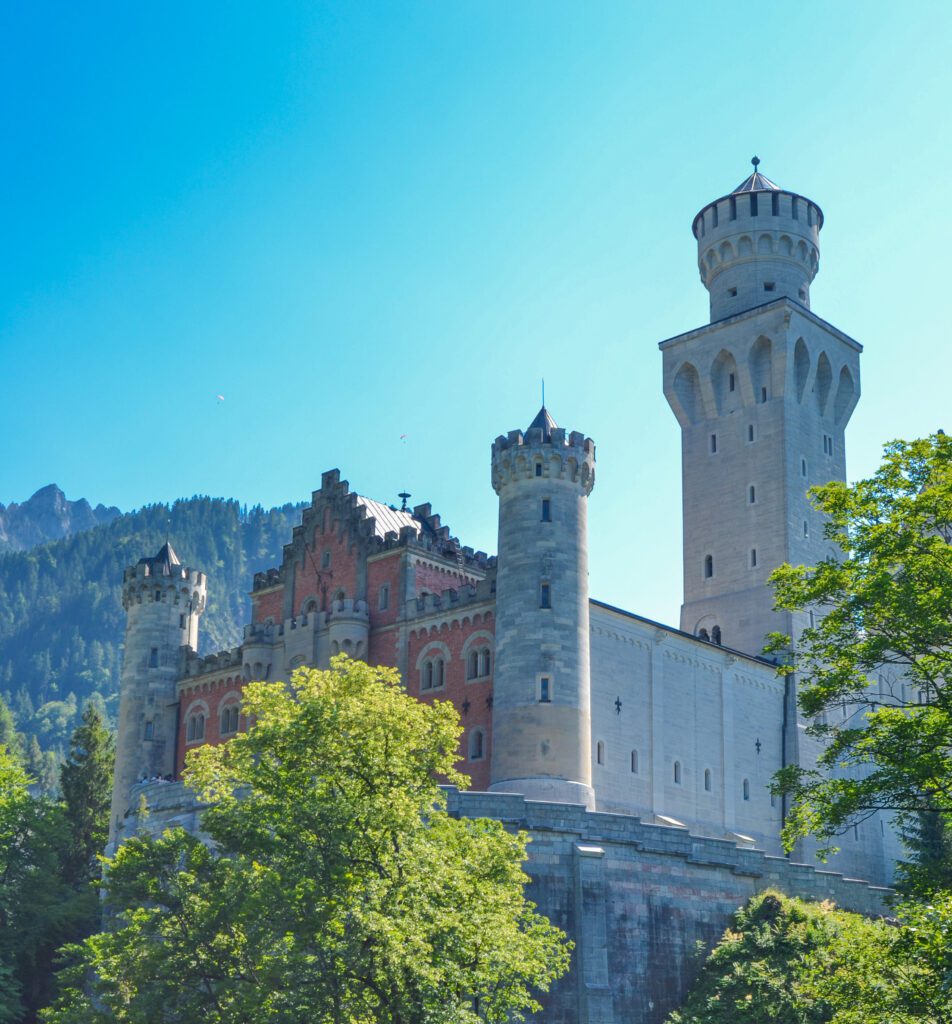 One of the most common questions is "How to get to Neuschwanstein from Munich via public transportation?" or "How to take the Munich train to Neuschwanstein Castle?"
Munich to Neuschwanstein by train is a fantastic choice for people who don't want to drive. However, since there is no direct route to Neuschwanstein castle from Munich by train, it is a bit of a hodgepodge of public transportation and can make for quite a long day.
If you are nervous about taking trains and buses, know that it's actually quite easy and this particular journey (albeit not as straightforward as a direct route) is still relatively simple to figure out. You can read my "How to Use the Trains in Germany" guide to help you understand Deutsche Bahn, how to get tickets, and more.
Get Your DB Train Tickets Here
Getting to Neuschwanstein Castle from Munich By Train: EXACTLY how to get there
Taking a Munich to Neuschwanstein castle train is actually quite easy if you have a full day available.
(Note: There is no exact or one "Munich Train to Neuschwanstein Cale" therefore you'll need to do the following:)
Buy a Bayern Pass.
I love using the Bavaria Train Ticket (read all about it here- as there are a few nuances you'll need to know)
This is good for up to 5 people and will cover you on all public transports for the whole day. You can purchase your Bayern pass here or at a Deutschebahn kiosk, located at most train stations (ie The Munich Hauptbahnhof)

Notes: This will not cover the shuttle at Neuschwanstein. Also, the Bayern Pass is only valid after 9am on weekdays. Therefore, don't try to get out too early for a head start or else you'll have to buy extra tickets on board!Watch exactly how to buy your Bayern Pass online here</li>
Take the Munich To Fussen Train
It's probably easiest to just start at the main station (Hauptbahnhof) in Munich. When you arrive at the station, there are plenty of electronic timetables. Find the line that says Fussen under the line "Ziel" (Destination) to confirm the time. You'll also see the column that says "Gleis" this is the platform that you'll need to be on for your train.

Note: There are some trains that will require you to do a transfer. While this isn't hard, it is just another step to have to do. Instead, look at the timetables and find the ones that will go straight from Munich to Fussen. For example, on the Bahn.com website, after putting in Munich to Fussen, click on the "details" for each time. Some may say to transfer in Buchloe. While this doesn't add time, it is just one more step that can be avoided if you choose another train.Here is a short video to show you how to figure out if there is a transfer.


Transfer To The Bus
The "Munich to Neuschwanstein castle train" only gets you so far as the nearby town of Füssen. By this point, most likely, the majority of people getting off at this stop are all going to be joining you at the castle, so you could basically just follow the crowds.Once you get off the train, go down to the end of the platform and hang a right which will lead you to the bus stops.
Take Bus 73 or 78Between these two buses, you should be able to get on one about every 30 minutes or so and each will zip you on over to Hohenschwangau in less than 10 minutes.Remember, your Bayern Ticket is good for these buses as well, so hang on to that!
Go To the Ticket Office
Hohenschwangau is where you'll find the ticket office (again, just follow the mob). I have a few tips and secrets on when and how to get your tickets (nope, it's not your typical "buy in advance answer) which you can read on my Complete Neuschwanstein Guide if you haven't done so yet.Even if you have pre-purchased tickets, you'll still need to go to the ticket office and turn your voucher in for the actual ticket.
Pick An Option for Getting Up To the Castle
Remember your three options (mentioned above) for getting up to the castle from here (Walk, Shuttle, or Horse Drawn Carriage)
Getting Back From Neuschwanstein Castle to Munich
While it's probably pretty obvious that you will just need to do the reverse of whatever you did to get to the castle, there are just a few things to note. For example, in the summer, the last shuttle ride down from the castle to the parking lot is at 6:45pm. Just take that into consideration for train times or commute times getting back into Munich.
Also remember that if you are going by train from Neuschwanstein to Munich that it is going to take you 2.5-3.5 hours to get home, so plan accordingly for that as well.
How to Get to Hohenschwangau Castle
To get to from Munich to Hohenschwangau is actually the exact same directions as getting to Neuschwanstein. The two castles are neighbors! You will take the same trains or park in the same lots and everything. When you are at the ticket office, there will be signs for the direction to get to both (it is about a 20 minute walk between the two castles)
Neuschwanstein Castle Tickets Official Website
Here is the site to get the tickets for the tours.
Note, right now you can only book tickets 1 month in advance.
FAQs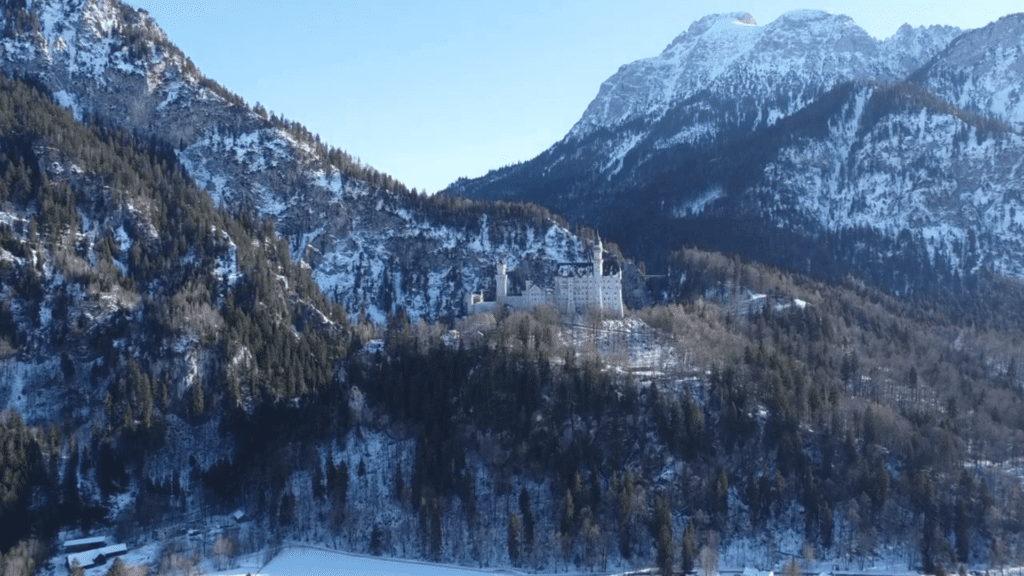 How far is Neuschwanstein Castle from Munich?

Munich to Schloss Neuschwanstein is 117km (73 miles)
Where in Germany is Neuschwanstein Castle/
Neuschwanstein Castle is in what city?
Neuschwanstein is in the town of Schwangau in Bavaria. This is located in the Allgäu region of the Bavarian Alps and is only about an hour and 45 minutes from Munich.
Where do you get the M
unich to Fussen train ticket?
You can get it on the Deutsche Bahn App, at a kiosk at the Munich Hauptbahnhof, or online
What is the N
euschwanstein Bayern ticket?
There is actually no specific train or train ticket for Neuschwanstein directly. However, you can get the Bayern Ticket, which will cover all local, public transportation to get you to Neuschwanstein.
When was Neuschwanstein Castle Built?
September 5, 1869 and was commissioned by the Bavarian King of the time, King Ludwig II.