Burg Lichtenstein Germany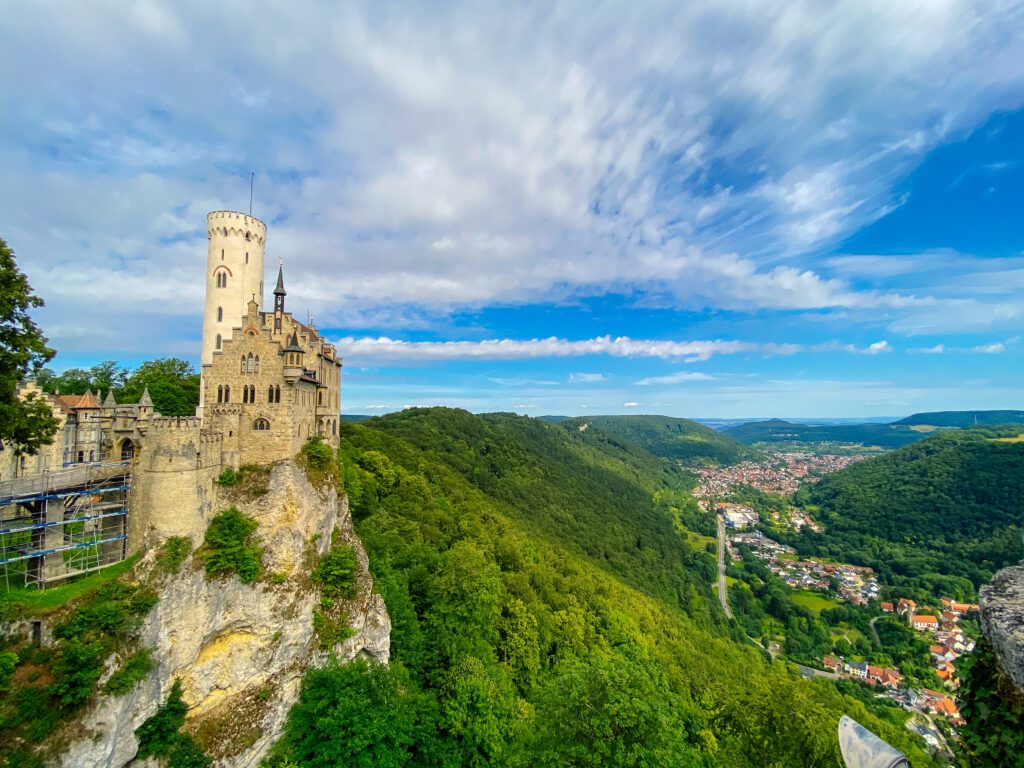 There are a few things most tourists coming to Germany have at the top of their lists for "Must Sees" or experiences, three that almost always rank at the top are:
There are so many fairytale Castles in Germany that it is sometimes hard to pick which are the Best Castles in Germany to prioritize. But, one of my personal favorites is the Burg Lichtenstein (Schloss).
Where Is the Schloss Lichtenstein?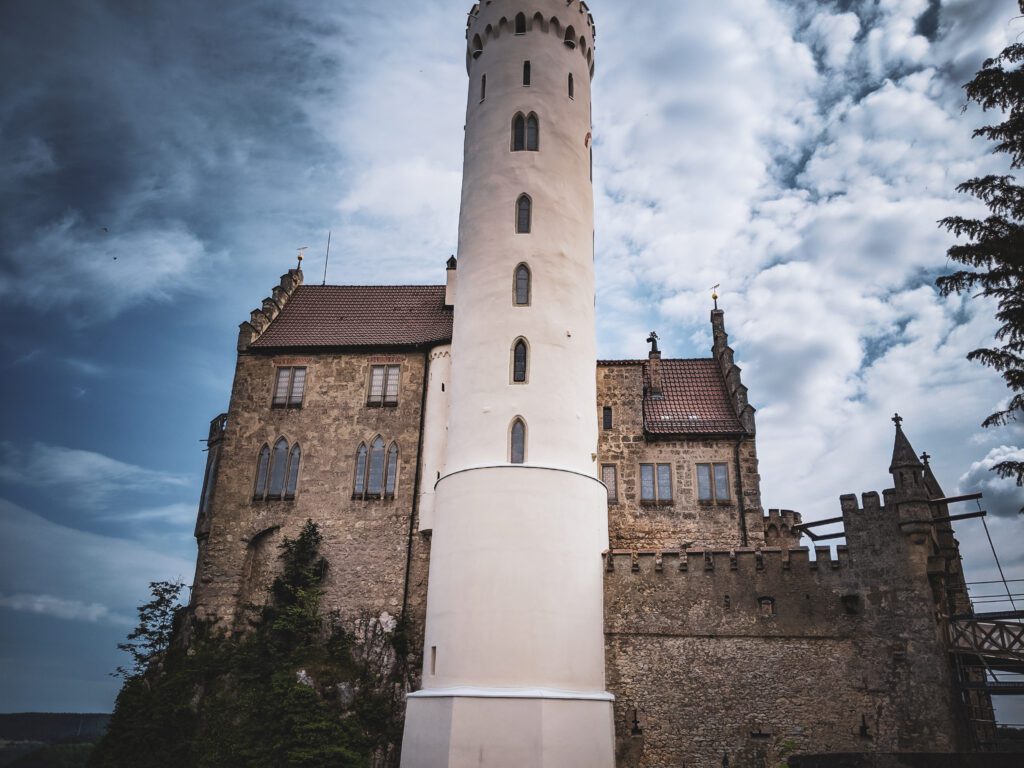 As confusing as the name may be, the Lichtenstein Castle is not in the country of Liechtenstein but instead in a gorgeous part of the state of Baden-Württemberg, Germany. Specifically, the region is called "Swabia" and the castle is located in what some people call the "Swabian Alps." Now, don't get pictures of looming mountains just because of the word "Alps." It's more of (very big) rolling hills, and beautiful valleys.
You Might Also Be Interested in Reading:
Why Is Lichtenstein Castle One of My Personal Favorite German Castles to Visit?
1. It Is Slightly "Off the Beaten Path"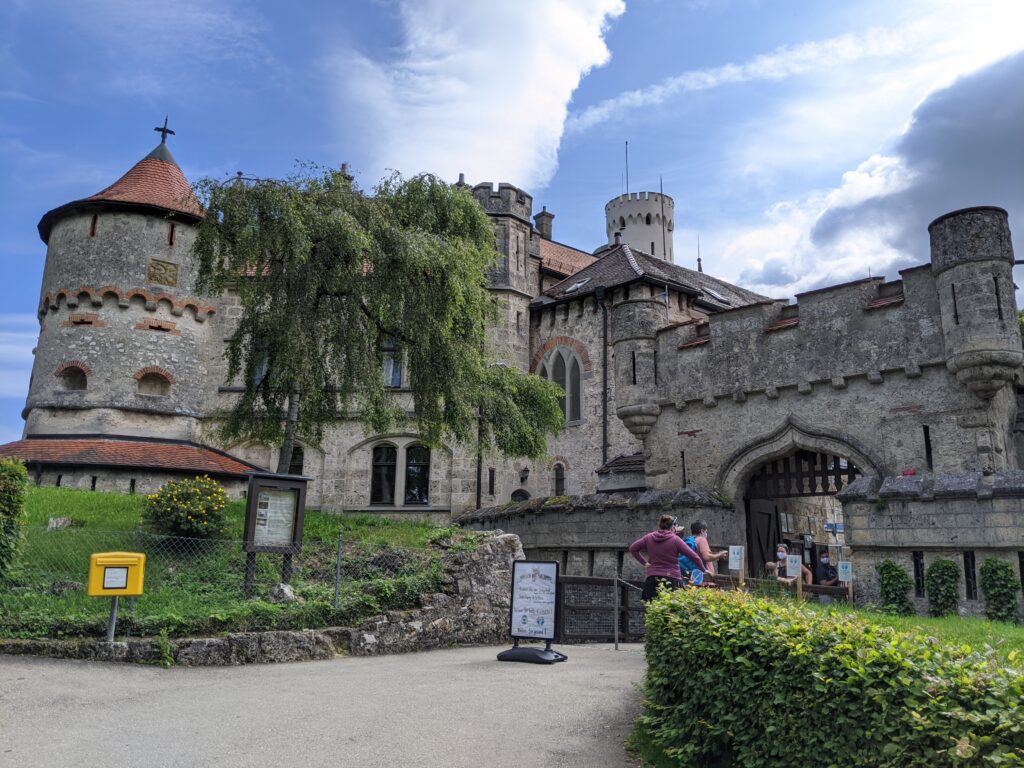 I say "slightly" because is anything TRULY off the beaten path nowadays? But I really like Castle Lichtenstein because it is not nearly as touristy as other famous Germany castles like Neuschwanstein. Now, I'm not saying that you are going to have the castle to yourself, buuuut I am saying that there won't be the throngs of tourists like at Burg Eltz!
Note: It can still get a little crowded on the weekends though. Best times to visit are during the week.
2. It's Only An Hour From Stuttgart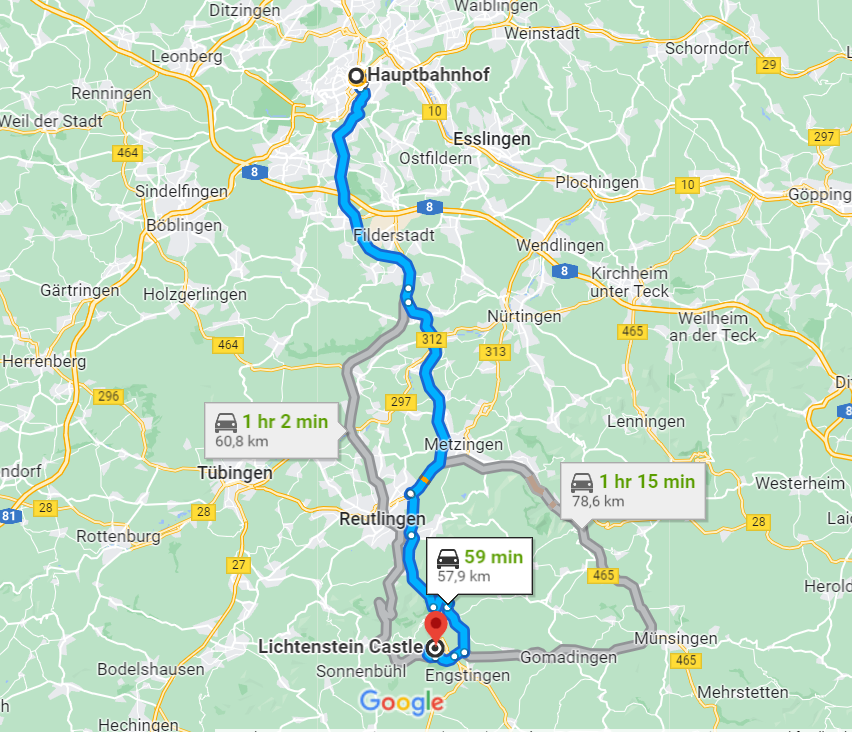 I've said it before, but I"ll say it again. Stuttgart doesn't do much for me (don't hate the messenger!!!) BUT I do love Stuttgart as a home base! There are so many fantastic day trips from Stuttgart that it makes for a really convenient place to settle into for a few days and explore the nearby area.
One of those great day trips is the Lichtenstein Castle! Stuttgart is only about an hour away, making it easy to get to.
You can easily get to the castle by car or even by public transportation (details for that below). If you are driving in Germany, it's a pretty straightforward drive from Stuttgart. The drive will be on the Bundestrasse (like the highways). You'll hop on the B27 heading South out of Stuttgart. Take that to the B312 and then to the B313.
Time From:
(By Car)
Stuttgart to Lichtenstein: 45 minutes- 1 hour
Tübingen: 30-45 minutes (Another fantastic town to visit!!!)
Baden Baden: 2 hours
Munich: 2.5 hours
Lichtenstein Castle Address: Schloss Lichtenstein 1, 72805 Lichtenstein. However, if you are putting this into your GPS, I'd put in one of the Parkplatz locations
Parking At Lichtenstein Castle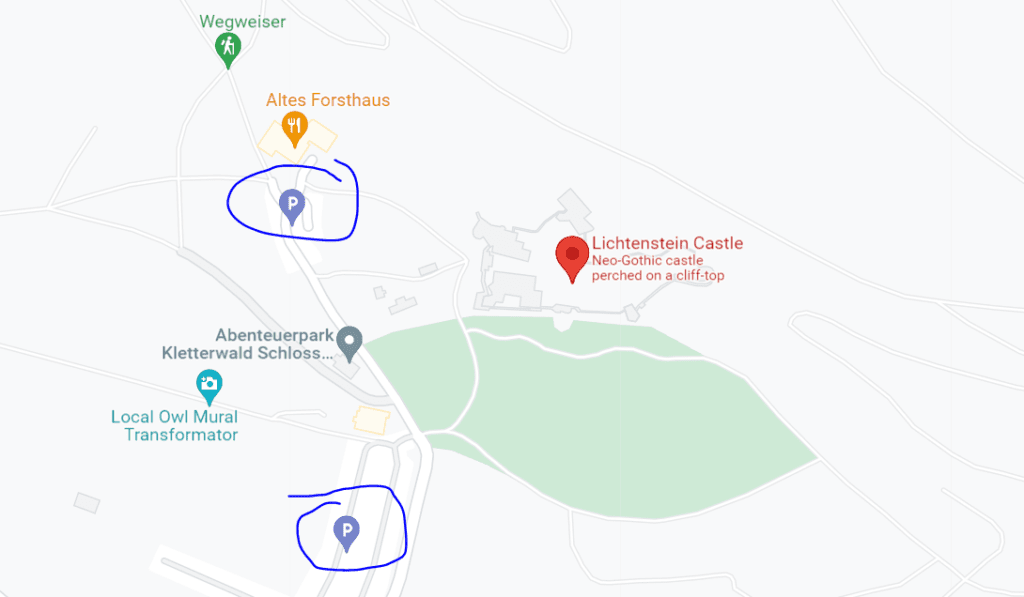 There are two parking lots, each about a 3-5 minute walk to the castle. One is by the Altes Forsthaus Restaraunt (GPS Coordinates for the Parkplatz: 48.40661, 9.25598) and the other one is on the other side (GPS Coordinates: 48.40488, 9.25644).
There is a small charge for parking, it was 3 Euro when we visited.
3. You Can Combine It With Another Famous German Castle In One Day
Can you do both Lichtenstein Castle and Hohenzollern in the same day? Absolutely!
We personally did the Burg Lichtenstein in the morning and then did the Hohenzollern Castle in the afternoon as a day trip from Stuttgart and it was the perfect castle hoppin' day!
We started our day early and drove the one hour to the Lichtenstein Schloss and spent our morning exploring the grounds. There is a restaurant on site (more on this below) and there is even a ropes course here (again, more on this in a bit) if you want to spend a bit more time at this particular castle.
We then drove the approximate 40 minutes to Hohenzollern, where we then had lunch at the Biergarten on site there before doing the castle tour (Tip: You are in the region of "Swabia" so make sure you try some classic Swabian Maultaschen, just one of the many authentic German foods to try.
It's then about a 1 hour drive back to Stuttgart, completing your full, but fantastic castles in Germany day!
Insider Tip: Not many tourists know about the nearby "Burgruine Greifenstein" (Burguine is like an old, ruined castle). There isn't a ton to see here besides what's barely left of the foundation of a very very old castle and it's not worth its own trip in and of itself. However, it's less than 10 minutes by car from Lichtenstein and is a fantastic add on, if for nothing else than the breathtaking views out over the valley from this location.
Know: Be sure to type in "Burgruine Greifenstein" as "Greifenstein" will take you to a whole different place.
4. It's Nicknamed the "Swabian Neuschwanstein"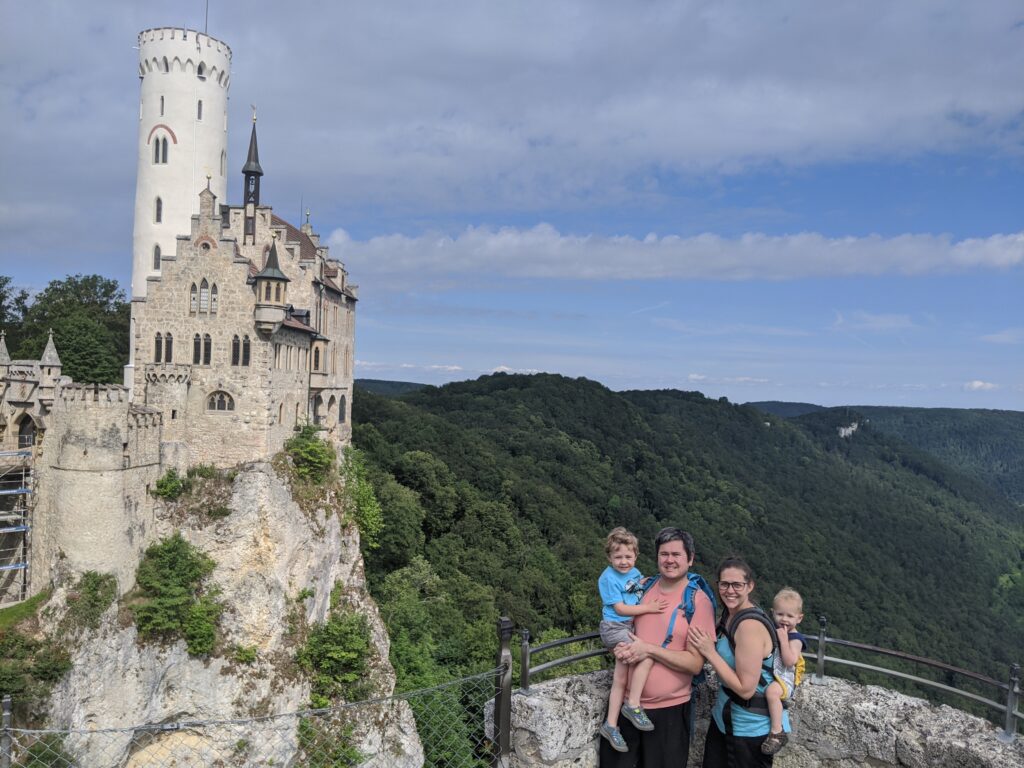 If you've seen photos of the "Cinderella Castle" (Neuschwanstein) then you can see why this "Wuerttemberg's Fairytale Castle" gets both of these nicknames. It has a similar stone look as Neuschwanstein with gorgeous towers and both rest atop a towering cliff overlooking beautiful valleys below. In fact, I would argue that, much like Neuschwanstein, both fairytale castles are much better viewed from the outside than the actual inside.
However, the Lichtenstein Schloss is much, much smaller than Neuschwanstein and therefore much less visited by tourists.
How To Get to Lichtenstein Castle Without a Car
If you don't have a car, you might be wondering if you can get to Lichtenstein castle by train. Well, the answer is yes, but there are quite a few pieces to the puzzle, but it's absolutely possible. Here is exactly how to get to Lichtenstein Castle by public transportation.
Train Ticket To Buy: I recommend getting the Baden-Württemberg-Ticket. This ticket:
Is good for up to 5 people
Covers all public transportation for a full day on all regional trains and local buses
Starts at 24 Euro. Add 7 Euro for each additional passenger up to 5 passengers
How to Get From Stuttgart to Lichtenstein Castle By Train and Bus
Start at the Stuttgart Hauptbahnhof and take the train to the Reutlingen HBF (depending on the train and time of day, plan on about 40min-1 hr for the train ride)
When you get off the train at Reutlingen, you'll need to walk about 5 minutes around the corner to the bus stop. Just follow the signs for the bus.
Take either bus 7606 or bus 400 to Honau (Plan on about 30 minutes for the bus ride). You can either get off at the

"Honau, Lichtenstein (Württ)" stop which is at Heerstrasse 34, 72805 Lichtenstein and walk from there or the
"Honau Traifelberg, Lichtenstein (Württ)" stop which drops you off at the ski lift and from here, you can start the hike up

Hike Up to the Castle

Depending on where you got off the bus, depends on which hike you'll take. I highly recommend downloading the google map offline before leaving your hotel or using Maps.Me, just so you know where to head.
It should take between 30-45 minutes to hike up. It is an easy to follow trail, mostly shaded, but still uphill (although not necessarily very difficult). You don't need to be hikers, but a bit of youth or athleticism on your side won't hurt!
TIP: Know the timetable for the return bus before heading up! Depending on which bus stop you took, the return bus is most likely on the other side of the street. Pop over to that and snap a photo on your phone of the timetable so that you know what time to be back for a bus without having to wait too long.
A Quick Lichtenstein Castle History: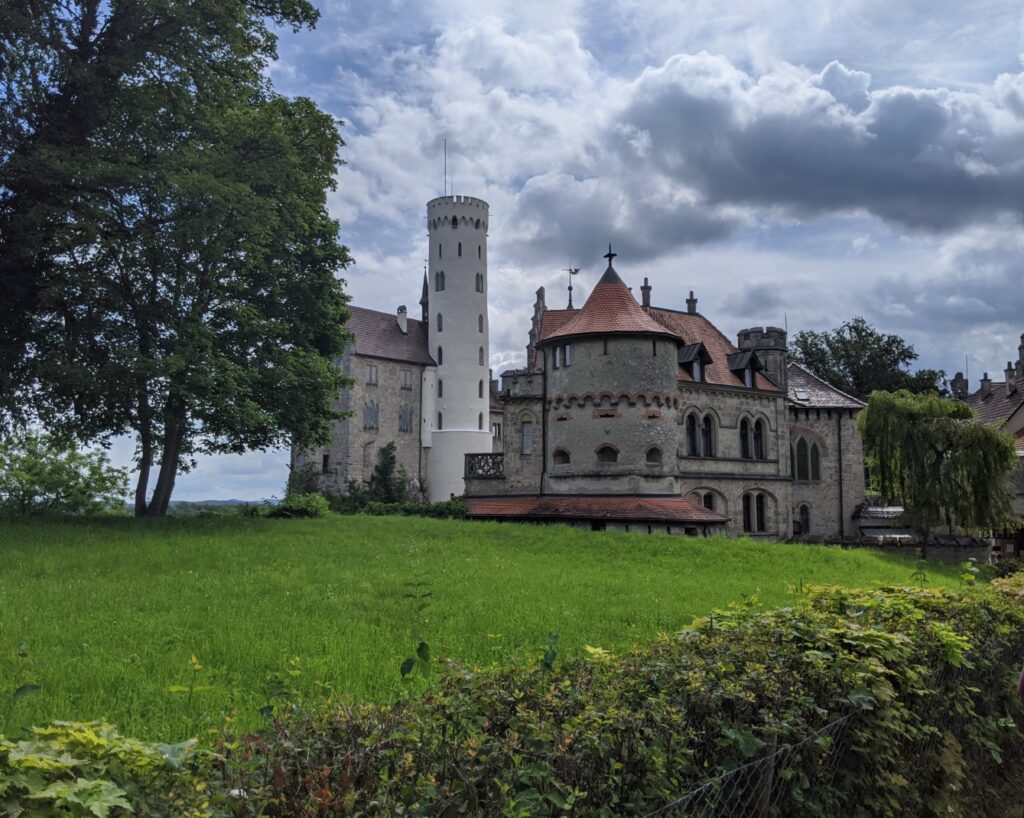 There's a bit more to the story, but a quick blitz of history before your visit:
Long story short, there used to be an "Old Lichtenstein Castle" nearby that got destroyed but instead of rebuilding at that site, they moved a bit to where the site of the castle you see is today. This was in 1390, but as history has it, that castle also eventually deteriorated and all that was actually left was the foundation. So in 1802, it was turned into a hunting lodge, which also fell into shambles.
Why was Lichtenstein Castle Built?
But a couple of decades later, the Count Wilhelm of Württemberg decided he wanted something a bit more elegant, upscale, and fit for a King…or, well, Count. Now, if you are wondering where the name "Lichtenstein" Castle comes into play, this is it.
There was actually a novel called, "Lichtenstein" which was basically a medieval love story. So enchanted with the story, the Count of Württemberg wanted his own medieval-style castle and therefore named it after the book that inspired him to create his own. It was such a passion-project for the Count that he even designed a lot of the castle and even decorated much of the interior himself.
One thing that surprises many visitors is that, despite it looking like a medieval castle, it is actually relatively "new" (Again, much like Neuschwanstein!) being finished in 1842!
Who owns Lichtenstein Castle today?
Interestingly enough, royalty (the Dukes of Urach) actually still own the castle to this day!
Opening Hours
| | | | | |
| --- | --- | --- | --- | --- |
| | Jan – Feb | March | April – Oct. | Nov. – Dec. |
| Mon-Fri | closed | 10am – 4pm | 9am – 5:30pm | 10am – 4pm |
| Saturday | closed | 10am – 4pm | 9am – 5:30pm | 10am – 4pm |
| Sunday/holiday* | closed | 10am – 4pm | 9am – 5:30pm | 10am – 4pm |
IMPORTANT: Can you still visit the outside of Lichtenstein Castle even when it is closed? No, not really. You can still hike up to the surrounding areas and get photos from afar, but unlike the Burg Eltz (which you can still go right up to the exterior of the castle, the way Lichtenstein Castle and the courtyard is situated, when it is closed, it's closed.
Lichtenstein Castle Tours
Can you tour Lichtenstein Castle? You betcha! Here's what you need to know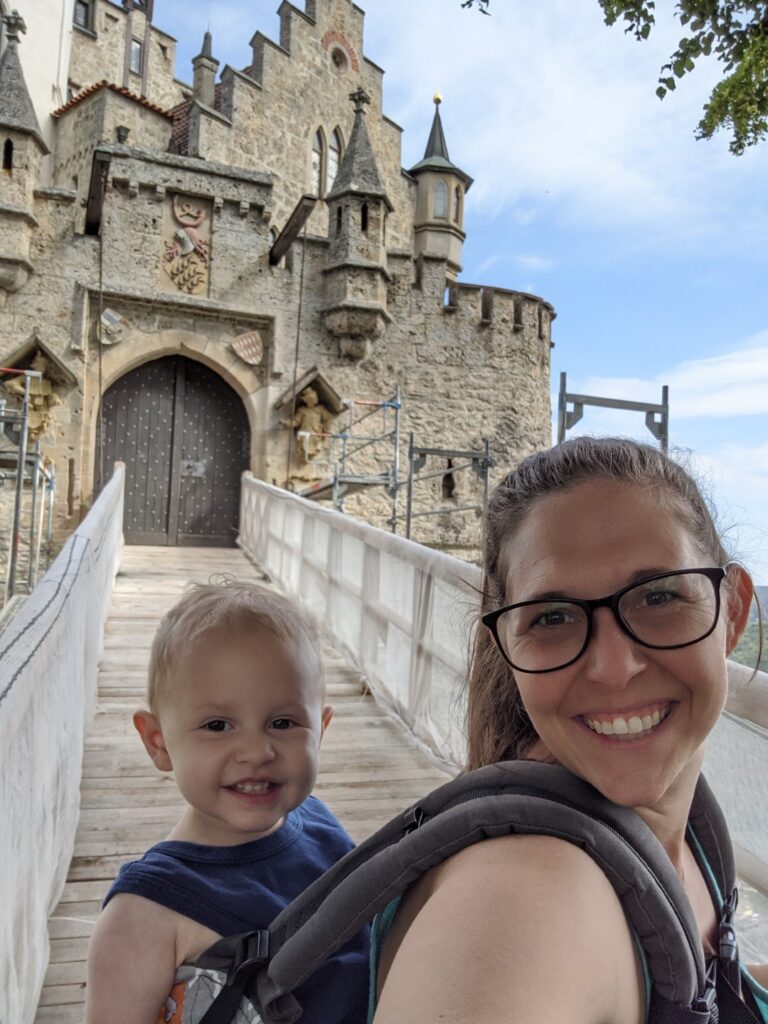 All Tours are in German: Unfortunately, the tours are only conducted in German. It is quite good if you do speak the language, as the guide includes good little stories, not just boring facts. However, they do have a brochure in English that you can follow along with as you go through the castle on the tour if you'd still like to see the beautiful inside.
Tours Take About 30 Minutes: The tour takes you through about 6 rooms. You'll be guided through the armory, the chapel, a drinking parlor, and the knight's hall. Remember, this castle was a labor of love by its creator, so it is actually pretty gorgeous inside with fantastic murals, paintings, and other small details that the Count put into his castle to make it feel like a real, medieval castle!
Not Wheelchair Accessible/ Stroller Friendly: Since this is modeled to be a medieval castle, there is a spiral staircase that connects the two floors. Unfortunately, there is no elevator, making Lichtenstein Castle not handicapped accessible. If you've got a kiddo, I suggest babywearing for the tour.
Burg Lichtenstein Courtyard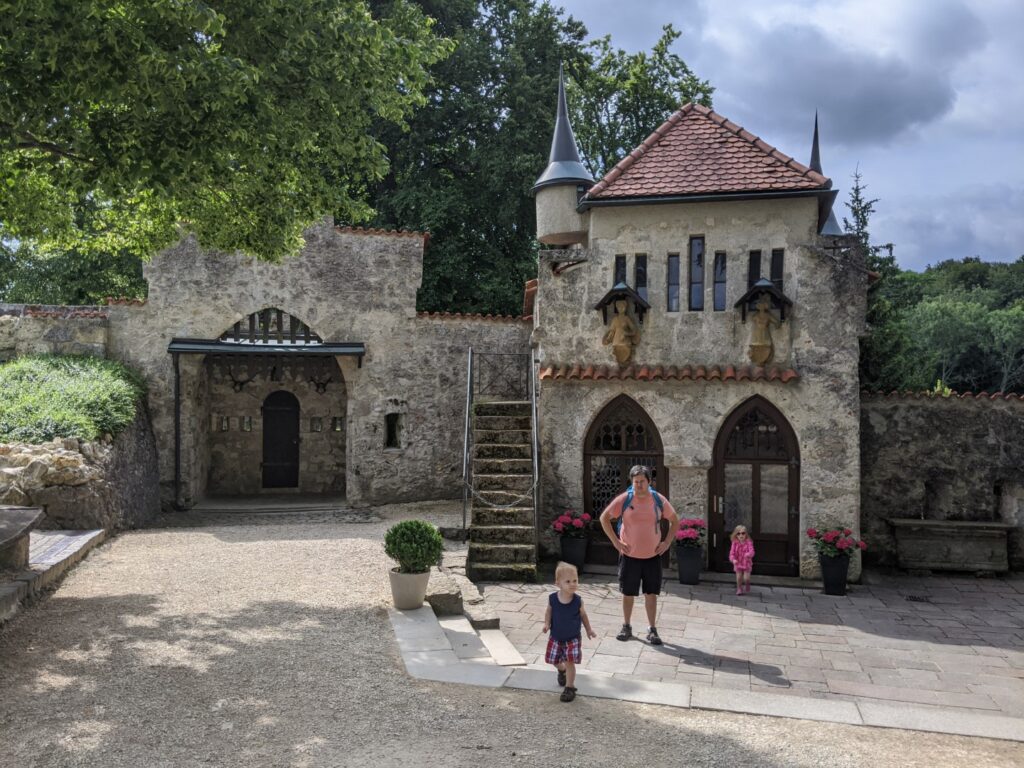 Even if you don't do the tour, just going to the castle for the walk around the courtyard, fantastic views of the castle perched on the cliff, and the stunning views out over the valley below is worth it alone.
Opening Hours
| | | | | |
| --- | --- | --- | --- | --- |
| | Jan – Feb | March | April – Oct. | Nov. – Dec. |
| Mon-Fri | closed | 10am – 4pm | 9am – 5:30pm | 10am – 4pm |
| Saturday | closed | 10am – 4pm | 9am – 5:30pm | 10am – 4pm |
| Sunday | closed | 10am – 4pm | 9am – 5:30pm | 10am – 4pm |
Also Closed On: Christmas (December 24th, 25th and 26th)
IMPORTANT: It is imperative to know that the castle is actually closed all of January and February and has shortened hours Nov-Dec and March. Unlike Burg Eltz (where even when the castle is closed and there are no tours, you can still go up and around the castle itself), Castle Lichtenstein's courtyards are closed as well in the winter.
Lichtenstein Castle Germany Costs:
Note: When we visited, cash only was accepted. While this may have changed, just make sure you have some on hand just in case they still don't accept cards.
Castle Courtyard
Guided Tour
Lichtenstein Schloss Restaurant
If you are wanting something delicious to eat before or after your castle romp, you've got two options right at the castle.
Schloss Schenke
This rustic Biergarten and restaurant is right at the foot of the castle, on your way to the parking lot, near the ropes course. For being at a touristy destination, it's got surprisingly great food and a wonderful ambiance! You can expect the typical Southern German/ Swabian style menu and food with things like Käsespätzle, Wurstsalat, and Schnitzel, but they also do a lot of fresh and seasonal foods as well!
Waldcafé Altes Forsthaus
This is more of a cafe and has a more upscale feel to it. You can get enjoy some absolutely fantastic tortes, strudels, and other classic German desserts and cakes while enjoying the beautiful scenery
Swing By Schloss Lichtenstein Abenteuerpark (Ropes Course)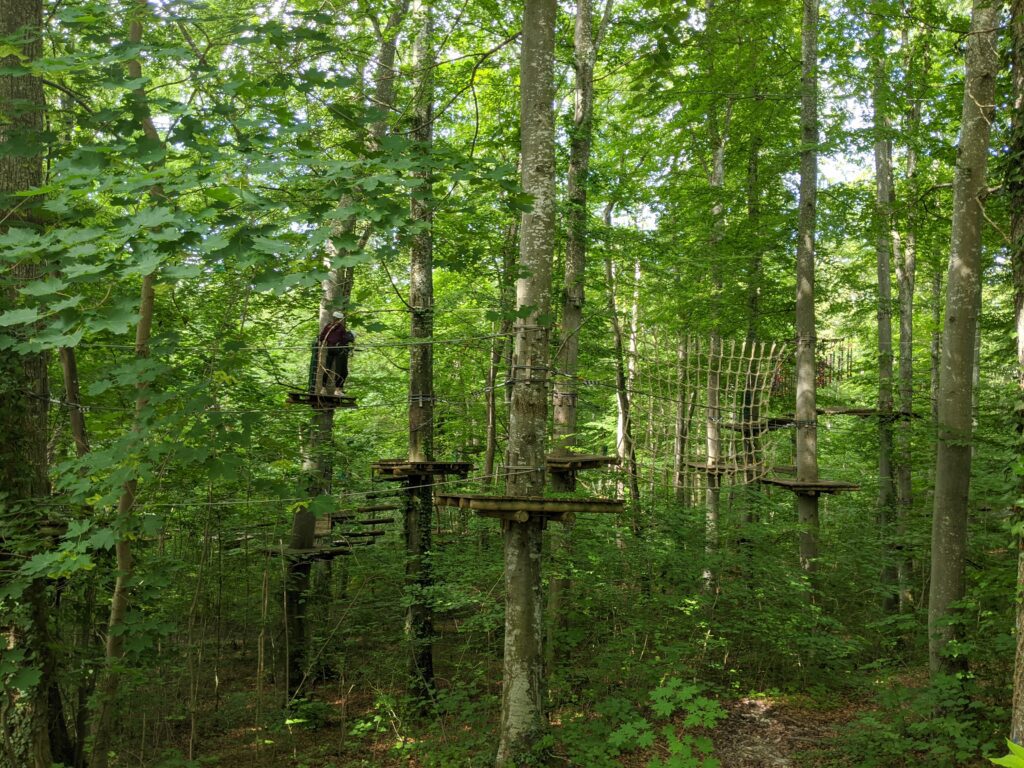 Right next to the Schloss Schenke restaurant, you'll find the "Abenteuerpark" slightly hidden in the forest and trees! If you are looking for an active style activity to add to your castle trip, this high ropes course (Klettern) and Parcours is a blast to do!
Schloss Lichtenstein Hikes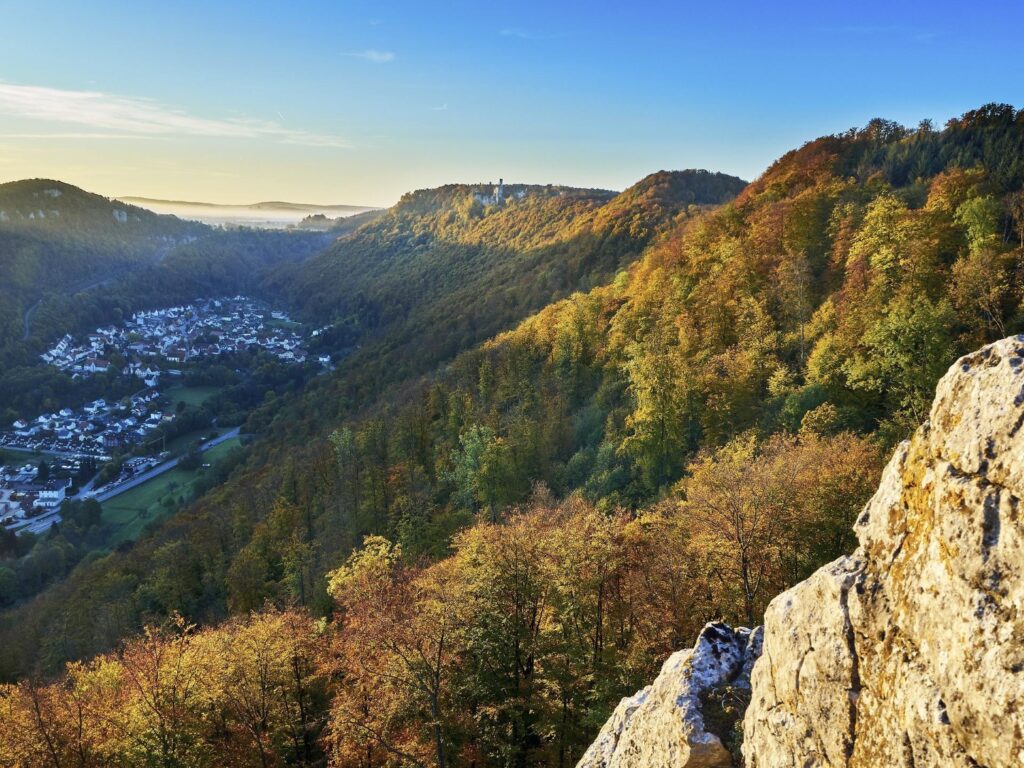 One of the many things to do when visiting the Lichtenstein Castle in Germany is to go on a gorgeous hike in the "Swabian Alps." Many people even choose to hike up from the bottom of the valley near the town of Honau. This is a great way to spend the rest of your day in the area if you love the outdoors! Here are a few Lichtenstein Castle Hikes (you may see the words "Schloss Lichtenstein Wandern" in German written on signs nearby the castle):
From Honau
As mentioned previously, people who take public transportation to Castle Lichtenstein will also need to do the hike up. This hike starts near the bus stop on Heerstrasse and winds you through the forest and up to the Castle
Distance: About 2 Km (one way)
Time Needed: 30-45 Minutes (one way)
Difficulty: Moderate
From the Traifelberg Skilift
Another popular hike up to the Lichtenstein Castle in Germany is from the ski lift. This again takes you through the woods and on some pretty narrow dirt paths with the cliff on one end and quite steep drop offs on the other.
Distance: About 2.3km (one way)
Time Needed: 45 minutes-1 hour (one way)
Difficulty: Moderate
From The Nebelhöhle (Fog Cave)
This is one of the most popular hikes in the area. Some people like to start their hike at the parking lot of the cave, while others start their hike from the castle itself. Either way, you pass through a quarry, the enchanting woods, have stunning views out over the valleys, and more. But the highlight and reason for the hike is for the Nebelhöhle (Fog Cave) which you can enter on your own. This path is very well sign posted as well.
Distance: About 10km roundtrip
Time Needed: About 4 hours total (just for the walk, not including time at the castle or at the cave)
Difficulty: Easy
To The Bärenhöhle (Bear Cave)
Another very popular hiking route from Lichtenstein Castle is the Bear Cave hike. Again, you'll be greeted by magnificent views of the Swabian Alps, forests, and meadows on the way to this cave! At the cave itself, enjoy a (German) tour of the inside where you walk past ginormous stalactites and see the bear skeleton, where the cave gets it's name from.
Distance: About 14km roundtrip
Time Needed: About 4 hours (just for the walk, not including time at the castle or at the cave)
Difficulty: Easy to moderate
Itinerary Options For Your Day
Option 1: For the Outdoorsy and Adventurists
Start your morning off with a good, German breakfast of cold cuts, breads, yogurts, eggs, and, of course, coffee!! Choose one of the above-mentioned hikes (depending on which one you choose will likely determine where you need to park or get to for the start of the hike)
Enjoy one of the hikes around Lichtenstein
Tour the courtyard, castle, and get all those amazing photographs you've been wanting!
Have lunch at the restaurant at Lichtenstein
Do the ropes and parcour course
Drive back to the town of your hotel and find a beautiful Bier Garten to finish off your day!
Option 2: For the Fairytale Castles (Lichtenstein and Hohenzollern)
Start your morning off with a good, German breakfast of cold cuts, breads, yogurts, egg, and, of course, coffee!! Then head off to
Burgruine Greifenstein for a quick stop then move onto…
Lichtenstein Castle. Spend as much time as you need and want slowly exploring the grounds of the castle, taking the tour inside and wandering around
Choose between lunch at Lichtenstein or at the next stop
Drive 45 minutes to Hohenzollern Castle
Hike up to the castle from the carpark
If you didn't have lunch at Lichtenstein, have lunch at the top of the castle in the Biergarten
Wander around the courtyard, enjoy the beautiful views out over the valley
Take the guided tour of the castle
Drive back to the town of your hotel and find a beautiful Bier Garten to finish off your day!
Option 3: Lichtenstein and Tübingen
If Tübingen isn't on your radar yet, it needs to be. It's one of my top "Charming German Towns" and I just LOVED the afternoon we spent wandering. It's got everything you want in picture perfect German villages from cobblestone streets, to pastel houses, adorable town squares with cafes, and unique boat rides down the river!!!
Start your morning off with a good, German breakfast of cold cuts, breads, yogurts, egg, and, of course, coffee!! Then head off to
Burgruine Greifenstein for a quick stop then move onto…
Lichtenstein Castle. Spend as much time as you need and want slowly exploring the grounds of the castle, taking the tour inside and wandering around
Have lunch at the Castle then drive to…
Tübingen
Just spend the afternoon wandering. We parked at the Parkhaus Altstadt-König (another nearby one is the Parkhaus Altstadt-Mitte) which let us walk around the Botanical Garden, make our way to the Altstadt, then went on down to the river for a leisure boat ride
Find a quaint cafe to have dinner at before heading back to your hotel for the evening
Where To Stay Near Castle Lichtenstein
If you are looking for accommodation near Schloss Lichtenstein, here are some options to consider.
In Honau (the town closest to Lichtenstein Castle)
Gästehaus Andrea:
There's nothing like staying at a local Gästehaus in Germany, and this was in just what you would expect! It's exactly what you need and nothing more. It's basic and simple, but extremely clean and comfortable with an exceptional breakfast included!
Aloft Stuttgart:
I've always liked the Aloft chain and this ultra modern one in Stuttgart is no exception. With a workout center and being located right in the center of Stuttgart, it's got everything a modern traveler needs.
Hotel Am Schloss: This hotel is directly next to the beautiful Schloss Hohentübingen castle, which makes it feel like you are staying in an extension of the castle! The rooms are themed and beautifully done, many with wonderful views out over the town or to the castle
See Photos of the Hotel Am Schloss Here
Hotel Garni Sand: This charming little guesthouse is cozy and makes you feel like you are right at home! The optional breakfast is great and the staff are all ready to help you enjoy your visit to the fullest!
Book the Hotel Garni Sand Here