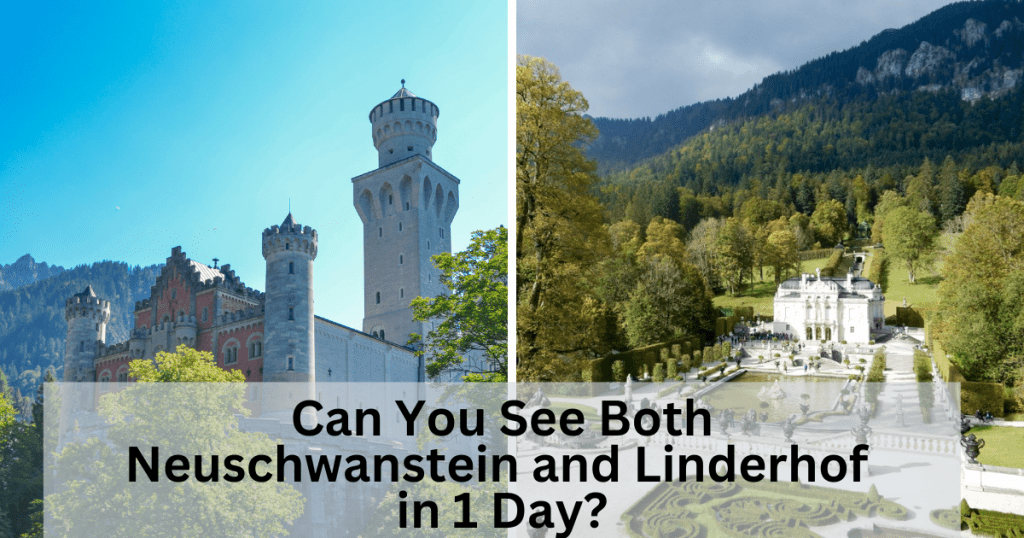 [This post may contain affiliate links where we earn a small commission. Please see our disclosure for more information and thank you for supporting our site so we can continue to bring you awesome content for your travel inspiration!]
When planning a trip to Germany, most people like putting Munich on their itinerary. There are countless flights that come into MUC, it's the capital of Bavaria, it's home to the largest beer festival in the world, Oktoberfest, there's plenty to do in Munich in 1, 2, or even 3 Days, and there are some really fantasticDay Trips from Munich making it a great "home base" for several days!
One of the day trips that just about every tourist has on their list is a day trip from Munich to Neuschwanstein. As touristy as this "Cinderella Castle" is, I absolutely love it (I've gone numerous times now and in every season!). It's such an iconic figure and really is one of the best castles in Germany! But what a lot of people don't know about is what else they can add on to their day trip to Neuschwanstein to make the most of their time. And while I don't believe much in "off the beaten path" locations in Germany, I do know that some places do have LESS tourists than others. So, if you are looking at a truly remarkable day exploring castles in the Bavarian Alps, you need to do a day trip to Neuschwanstein Castle (PLUS Hohenschwangau), Linderhof, AND the Ettal Abbey all in one, amazing, memorable day.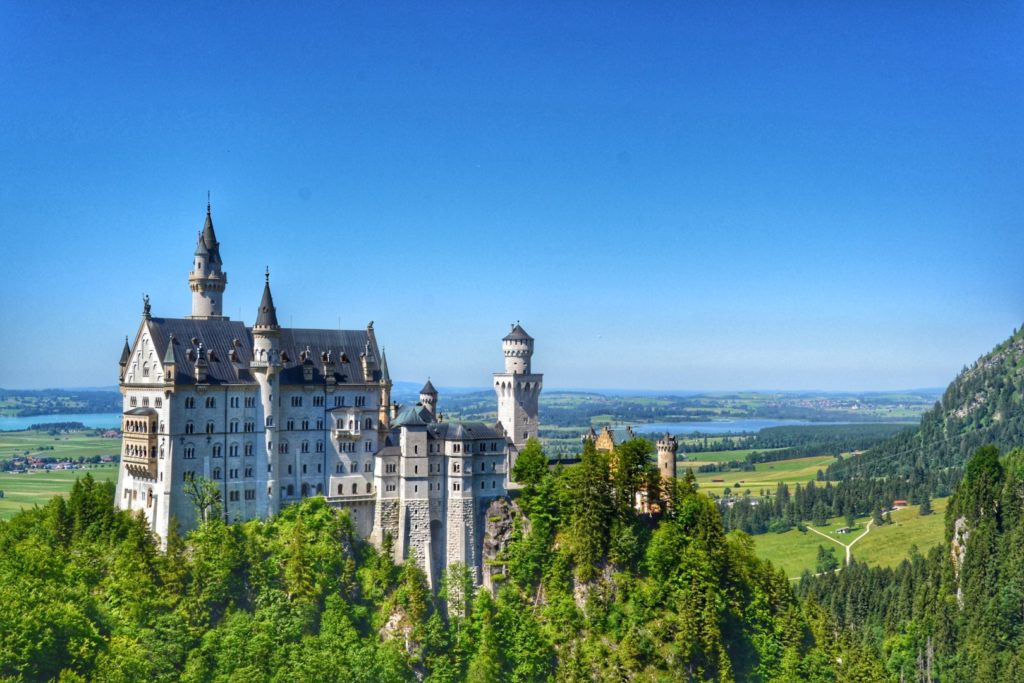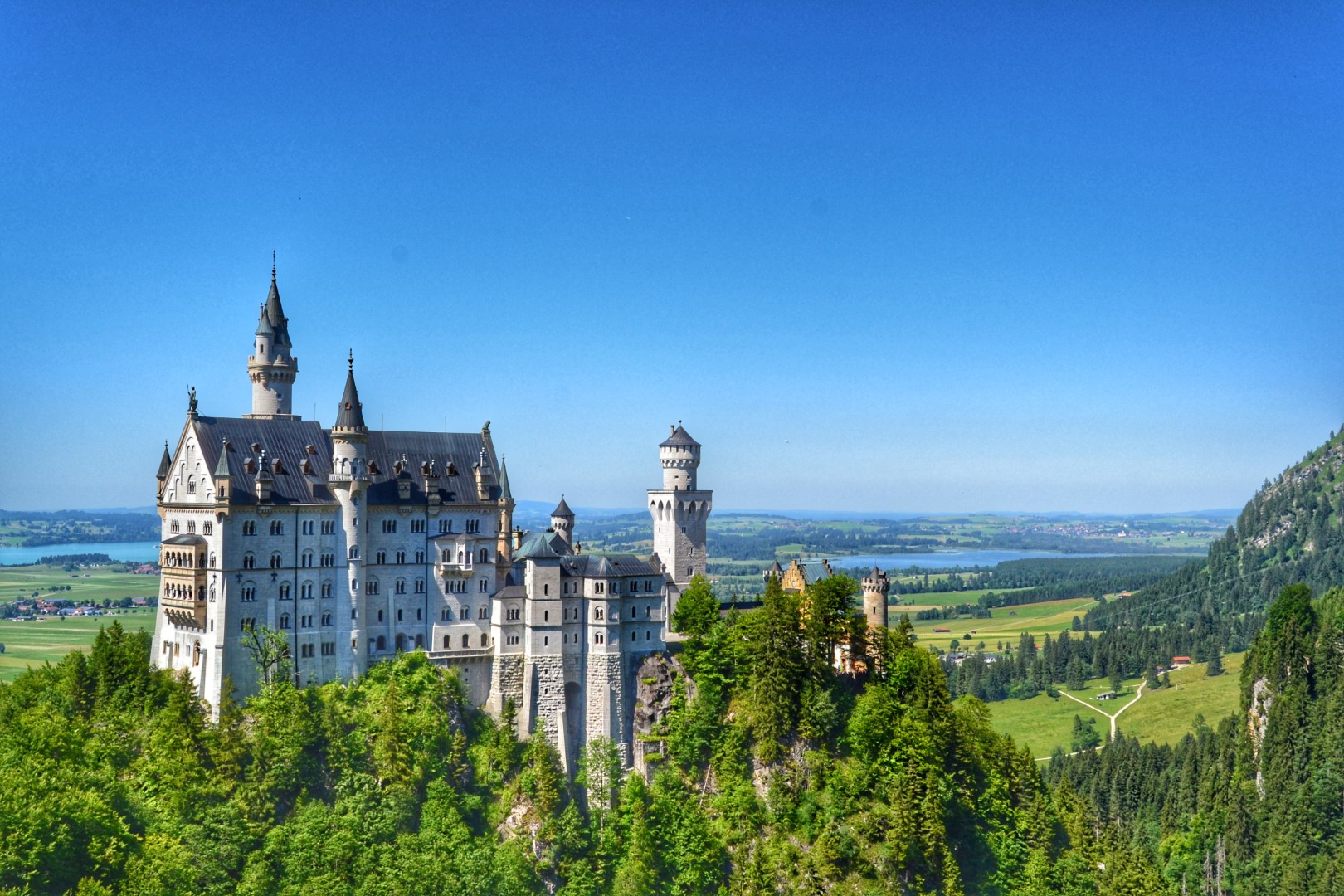 In this guide, I'll walk you through, step by step, how to make the most of your time seeing both Neuschwanstein and Linderhof in a day. I'll go over how to get there, the best times to book your tours (and if you even really need a tour at all!), where to eat, and even a few other insider tips on extra places to stop during your day!!
In fact, you might be a little surprised with my order of events of the day, but believe me, I've planned it out meticulously (so you don't have to!) in order to maximize your time to the fullest!
However, if you follow my plan for visiting both Linderhof and Neuschwanstein in 1 day, know that it is going to be a looooong day. I've tried my best to not rush things and even throw in a few slower moments for you to really enjoy your time, but know that in order to do everything I've suggested in this guide, you'll want to keep a close eye on the clock and stay on schedule to make it all happen.
So, if you are looking for the best day trip to Neuschwanstein Castle and Lidnerhof, let's go!
You Might Also Be Interested in Reading:
You'll Find In This Article:
Neuschwanstein and Linderhof Locations
Both Neuschwanstein Castle and Linderhof Palace are located in the beautiful Alps, in Southern Bavaria. From one castle to the other, it's only about an hour's drive, making it totally possible to see both Linderhof and Neuschwanstein (and Hohenschwangau!!) all in one day with the right amount of planning.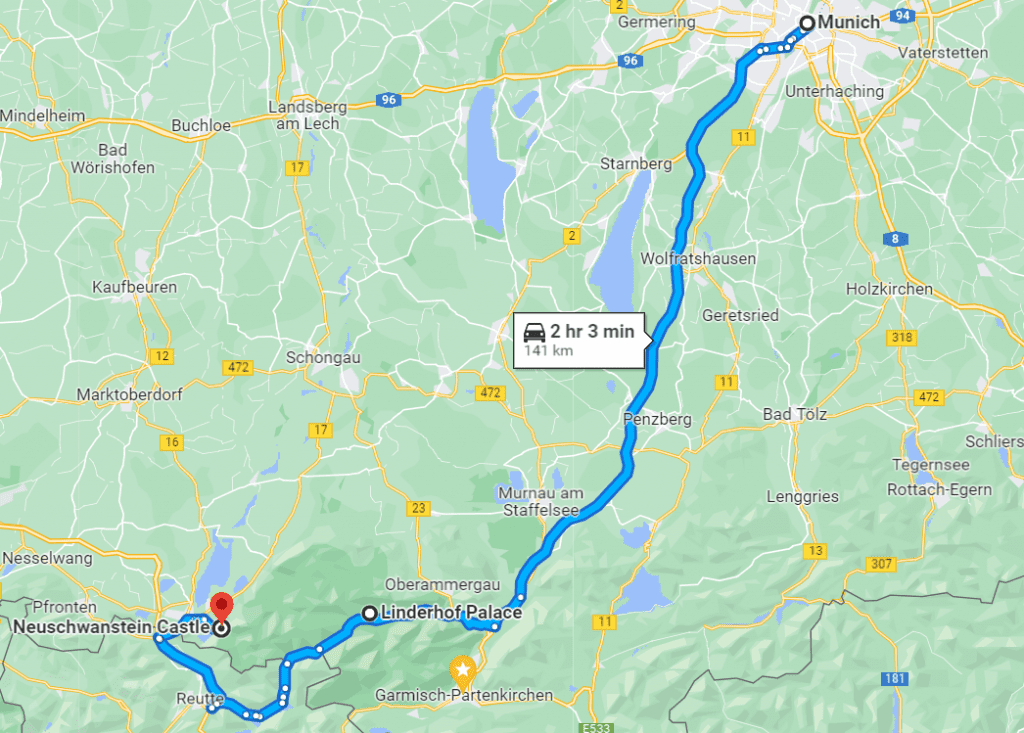 Most tourists are going to be coming from Munich and can easily make this a 1 day trip. However, if you have even just a smidge of extra time, want to see more in the Alps, and enjoy a bit slower pace of travel, I recommend basing yourself a little closer to the castles and giving yourself even just another evening by staying near one or the other.
A good option for those not wanting to do it all in a day and make the return back to Munich is to choose one of the following villages to spend in just for the night. A few good options are:
Oberammergau: 15 Minutes to Linderhof
Oberammergau is one of my Most Beautiful Towns in Germany. It's home to the famous "Passion Play" and is a smaller village with the most beautiful Lüftlmalerei (painted buildings with religious scenes, daily life of farmers, and more). In the winter, it's a great Beginner Ski Location in Germany and in the summer, you can grab the cable car up to the mountains for breathtaking views of the Alps.
And as far as getting to the King Ludwig Castles, Oberammergau is only a 15 minute drive to Linderhof, making it an excellent choice for staying overnight to begin early the next day.
Garmisch: 30 Minutes to Linderhof
One of the most popular "Resort Towns" in Germany is Garmisch-Partenkirchen, where the tallest mountain in Germany (Zugspitze) towers over everything. There are plenty of Things to Do in Garmisch making it another great "home base" for a few days for people wanting to explore more in the Alps.
From Garmisch to Linderhof, it's only about a 30 minute drive through some seriously gorgeous scenery!
You can read my "Where to Stay in Garmisch" for my top recommended hotels for all budgets.
Füssen: 5 Minutes to Neuschwanstein
Personally, if I am basing myself in the mountains, I prefer to choose Garmisch (there is just more to do in general) but I totally understand why some people choose to stay within a stone's throw of Neuschwanstein itself. There are plenty of good hotel options near Neuschwanstein and the town of Fuessen is cute to stay in for a night (you really don't need more than that though). In fact, this will be such a long day, ending at Neuschwanstein that just staying there for the night could definitely be worth it.
(If you choose to stay in Füssen then just do the following itinerary backward.)
You can read my "Best Hotels Near Neuschwanstein for my top recommended hotels for all budgets.
Getting to Both Linderhof and Neuschwanstein in 1 Day
Driving vs The Trains
While I normally love giving as many options for people to travel as possible, I'm just going to be blunt. If you want to do this itinerary of seeing everything that I am going to suggest then you WILL need to have a car. Whether that means that you rent a car or hire a private tour guide, there is really no other way to do it. You can also book a tour, as many will go to both Linderhof and Neuschwanstein in 1 day. However, you'll be missing out on some of the other "Hidden Gems" nearby that I have included in the itinerary below.
While you can do Neuschwanstein By Train on its own, doing both castles just isn't reasonable because…
Munich to Linderhof by Train: Approximately 3 hours
Linderhof to Neuschwanstein by Train: Approximately 3-4 hours
Neuschwanstein to Munich: At least 3 hours
Just GETTING to the castles alone by public transportation is going to take all day. That's not even allowing for any time AT the castles or getting back to Munich! So, if you can only get around Germany by Train, then you'll have to break this up into at least two full days to allow for the actual travel and train time.
Rent a Car
Renting a car is the best (and most affordable) option for this day. Even if you just rent the car for the day and return it back to Munich, it's still going to be worth it. You are going to be able to see SO much in the day with your own car, be on your own time schedule, and be flexible with your day! If you are a bit worried about Driving in Germany, you can read my guide that covers IT ALL!
Pro Tip: You'll see that we need to start veeeerrry early on our day out, so I suggest you renting the car the evening before your day trip so that we can get up and go as early as possible. We'll be arriving back pretty late as well, so check with the car rental company when you can return it, as it may have to be the next morning. (note that you'll most likely have to pay for parking at your hotel, so inquire about parking with where you are staying so that you can plan accordingly)
Compare Car Rental Prices Here
Hire a Private Guide/Car
While it's definitely more pricey than just renting a car for yourself for the day, I understand that not everyone wants to Drive in Germany (or can for that matter) and therefore hiring a private tour for the day is definitely an option to consider.
By hiring a guide for the day, you are able to basically plan out my suggested itinerary because you get a say in your day, compared to even the small group tours, which are just going to take you where they want to take you.
Private Tour: What is fantastic about a tour like this is that it's completely customizable to you. If you want to stop at Oberammergau or Ettal, just have a say and it can be coordinated! Book This Tour Here
Book a Neuschwanstein and Linderhof Day Tour from Munich
If you don't want to/ can't drive yourself to the castles, another option is to find a Neuschwanstein/Linderhof combo tour.
Pretty much all tours that include going to Linderhof will also include going to Neuschwanstein. Honestly, I think doing tours to these castles is rushed and really all they are doing is getting you there, but I also understand if you don't want to rent a car and
drive in Germany yourself
or if you can't afford a private tour. Check out some of these tours to see if one will work for you.
Group Tour From Munich
: This group tour is your generic bus tour that is affordable yet doesn't have much customization to it. It's a long day (10.5 hours) but you get to see both castles.
See This Tour Here
Neuschwanstein and Linderhof Castle in One Day Itinerary
Ok, now that we've gotten all the logistics out of the way, let's dive into this amazing day you are going to have for your Neuschwanstein Castle and Linderhof palace tour!
Get Up Bright and Early
If you are coming from Munich, we are going to be getting a very early start on the day. If you are staying in Oberammergau or closer to the castles, you can give yourself a few extra minutes of beauty rest. Otherwise, our goal is to get one of the first tours of the day at Linderhof.
If your hotel has breakfast, then that's perfect, but you'll probably want to be down for it by about 6am though (don't worry, German coffee is very good!) If your hotel doesn't have breakfast, I suggest stopping at a Bakery the night before and grabbing some yummy pastries so that you can just hop in the car and get a move on in the morning without having to waste time stopping.
Drive to Linderhof
You'll want to allow for at least 1.5 hours of drive time from Munich to Linderhof. However, the Linderhof Palace itself is located in the middle of a huge "park." So, you'll also want to give yourself plenty of additional time to park, pay for your parking ticket, and walk all the way through the palace grounds to the main palace.
This means you are going to want to leave Munich by about 7:30am, if not even earlier.
Get the 9:25am Linderhof English Tour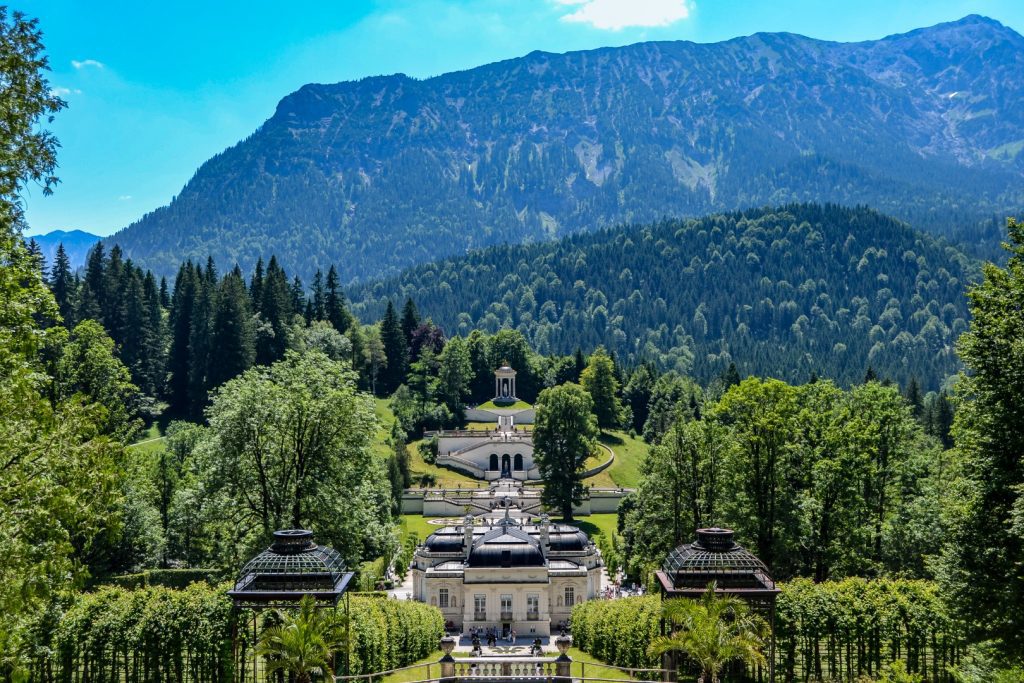 Depending on the season you are visiting, the tour times may be slightly off, but try to get one of the first English Tours they offer, typically around 9:30am. Book this in advance online so that you are ensured tickets. Be sure to get to the palace itself about 5-10 minutes before the tour starts. The tour ]is really only about 30 minutes, but I like starting off with the tour because you'll learn a lot about King Ludwig, his palaces, the area, and more so that as you explore the rest of the grounds you have a bit more context to it all.
If you don't mind not seeing all of the Palace Linderhof grounds, you can book a tour for any other time that suits you better, giving you a bit more flexibility in the morning.
Wander Linderhof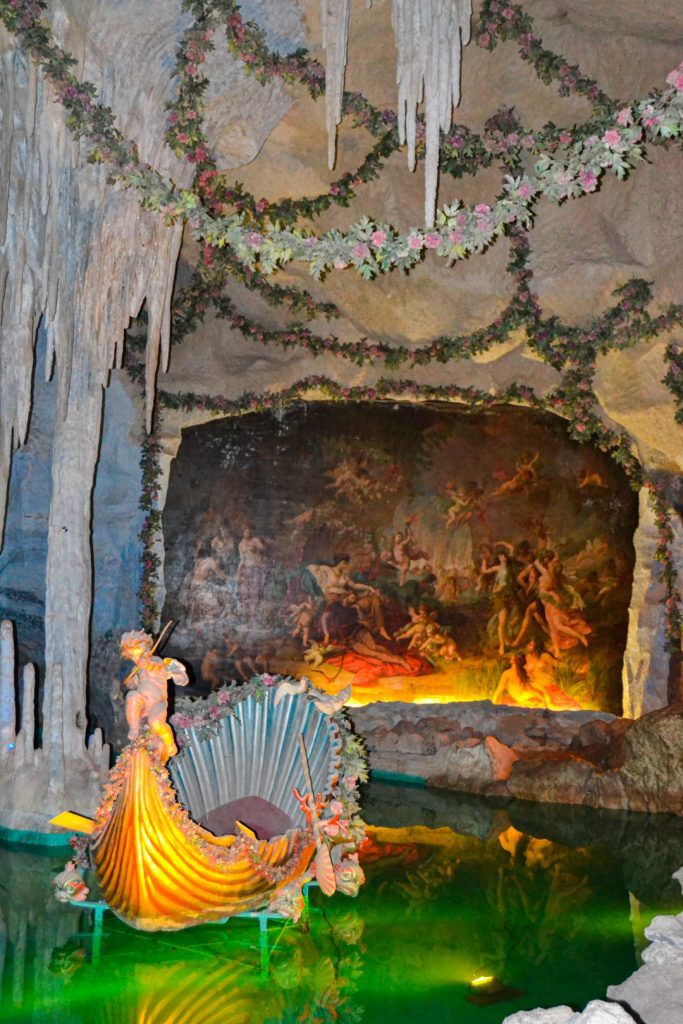 I go over all of the different areas of the Palace Grounds and Gardens in my Linderhof Castle article, so be sure you've read over the "Itinerary" section of that article to get the most out of your day there. Don't make the mistake of JUST seeing the castle. Be sure to make your way all around to places like the "Cascades" and Grotto (if it's open) as well as the Moroccan House and so much more!
Allow for a minimum of 2 more hours to stroll around and enjoy the stunning mountains, palace grounds, and wonderful views.
Get Lunch at Benedictine Monastery Brewery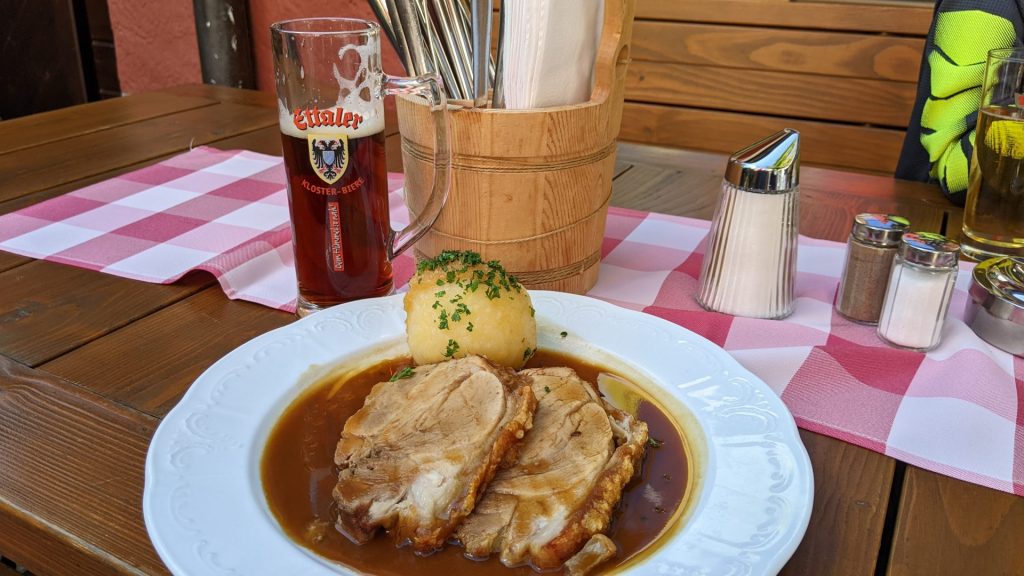 Around noon, start making your way back to the car and head to the town of Ettal (10 minute drive), which is where the magnificent Ettal Abbey is located. You can park in any of the lots (paid parking) nearby the Abbey and then go straight to the hotel/restaurant for lunch.
Ettaler Klosterbrauerei (Klosterhotel Ettal "Ludwig Dery Bayer")
I always joke that monks in Germany seriously make the best beer and the Ettal Brewery is no exception. Enjoy a relaxing lunch out in the Biergarten and get a traditional Bavarian meal. I personally enjoyed the Sauerbraten which was made with their own beer and it was absolutely fantastic! My kids ordered the Käsespätzle, which I ended up stealing most of because it was so good. And of course, enjoy a fresh beer!!! (I prefer the Dunkle!)
Address: Kaiser-Ludwig-Platz 10-12, Ettal Germany
See the Ettal Abbey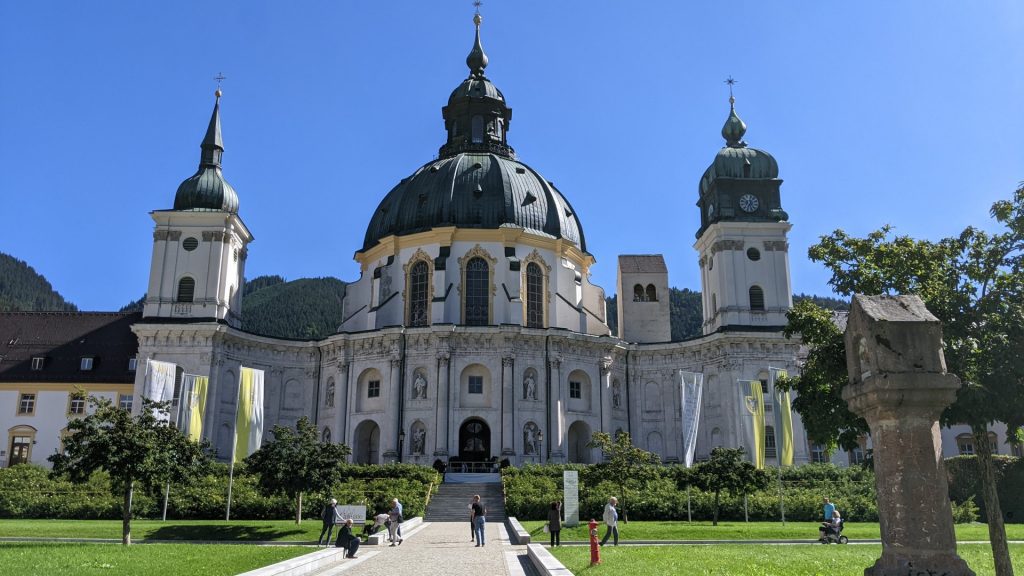 After you are totally stuffed from lunch, just walk across the street to the Abbey itself. This monastery is gorgeous both outside and inside, so be sure to climb the steps up and have a peak inside. You probably only need about 30-45 minutes at the monastery itself, as it's not that big and doesn't have a ton to see, but it is still worth a stop!
Be sure to be back in the car by about 2:30pm at the absolute latest in order to make it to the tours at Neuschwanstein next!
Alternative To Ettal Monastery: Go to the Austrian Highline 179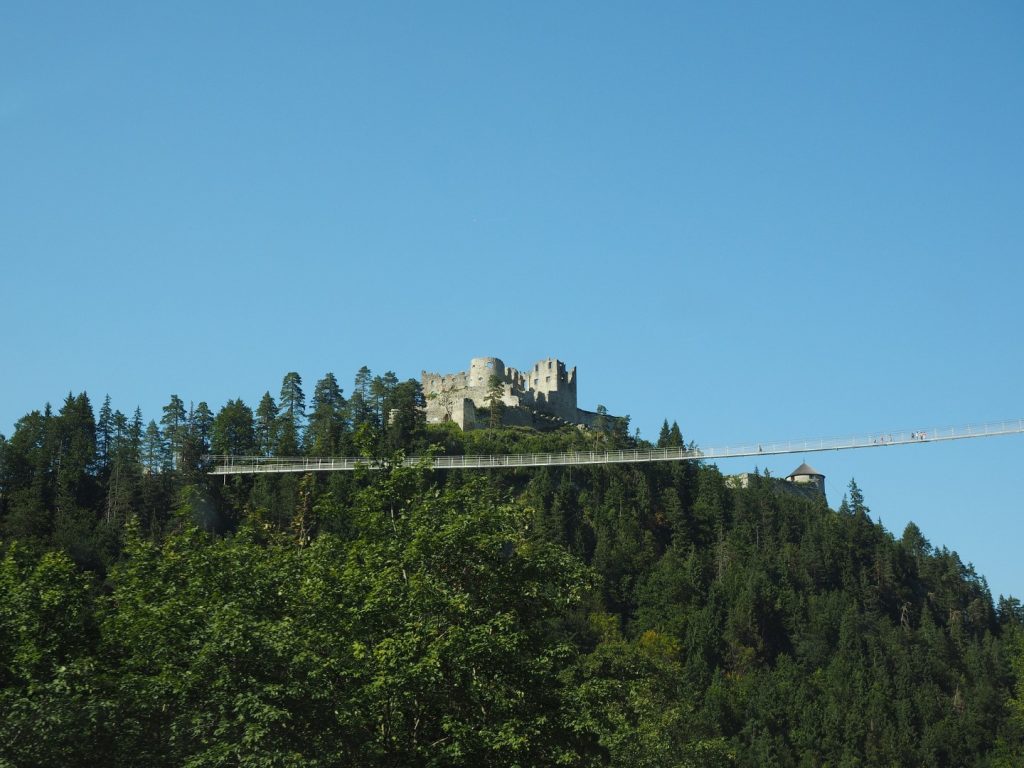 While I REALLY wish there was time for both of these in the day, the reality is that there isn't. So, if delicious Bavarian meals, fresh beers, and monasteries aren't your jam, you can instead stop at the Highline 179 on your way between Linderhof and Neuschwanstein. This insane suspension bridge is truly a sight to be seen (beware those that are afraid of heights!)
Only adding a few extra minutes out of the way you'll continue to the bridge that has the Guinness World Record for the "Longest Tibet-Style Footbridge" and has the slogan "A View With a Thrill!" clocking in at 114 meters high. The suspension bridge somehow stretched across from one mountain cliff to another and gives you a feeling of almost floating as you cautiously walk across the bridge that feels like it's floating high in the air.
Tip: If you do end up doing this instead of lunch at the Ettal, I recommend having a packed lunch so that you can eat a sandwich in the car to keep on time for the day. Regardless, you'll still only be able to spend about an hour here in order to get everything else done in the day.
Cost: 8 Euro (Adults)
Be sure to be back in the car by about 2:30pm at the absolute latest in order to make it to the tours at Neuschwanstein!
Drive to Neuschwanstein
Next, it's time to drive to Neuschwanstein from Linderhof (or Ettal). From the Ettal Abbey, most likely, your GPS will route you up through Oberammergau, go North and then eventually loop back down and around to Schwangau, where the parking lots are located.
However, if you have the flexibility, I recommend backtracking to Linderhof and taking the route that dips down into Austria. This is an absolutely gorgeous drive through the mountains and only adds about 10 minutes. Alternatively, this is the route you'll most likely take if you skip the Ettal Brewery for lunch and go straight from Linderhof.
Ettal To Neuschwanstein: Approximately 1 Hour
Linderhof To Neuschwanstein: Approximately 45-55 minutes
Insider Tip: Remember, you are going to be driving through the mountains. There are some pretty twisty turny roads, so if you are inclined to get car sick, it's not a bad idea to have some Dramamine packed just in case (my mother in law was very happy she keeps some in her purse whenever traveling when we did this route together!)
Important Neuschwanstein Booking Tours Information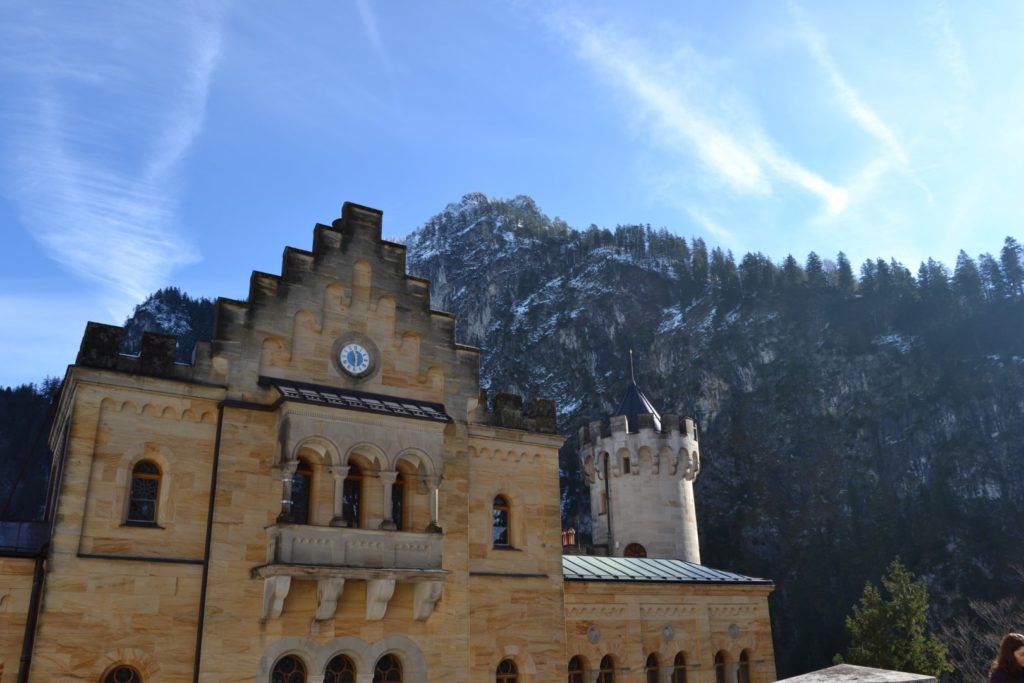 No matter what else you've done in your day, I always recommend going to Neuschwanstein later in the day. Everyone else is going to be going early and I've found that there are often much fewer people in the afternoons towards the end of the day (there's never such a thing as "have the place to yourself" when it comes to Neuschwanstein!)
Prebook your Nueschwanstetin Castle Tickets
I suggest booking the last tour of the day (5:50pm in the summer) if you are following this itinerary Neuschwanstein castle itinerary to a T.
You'll want to book your tickets in advance. WAY in advance. There are multiple things to know about booking your tickets though:
They often book out weeks, even months in advance (for high tourist seasons, like June) so book your tickets as soon as you can
Note that tickets to Neuschwanstein don't usually open up 3 months before the date of travel. For example, if you want to book your tickets for July, you probably can't book your tickets online before April. They have been changing some of the booking processes though, so it's worth it to have a look as soon as you know your dates, just don't feel disheartened if it doesn't show any if you are more than 3 months out.
You can't purchase tickets within 2 days of your desired day. For example, if you are wanting to go on Wednesday, you'll have to have them ordered online by no later than Sunday at 3pm
It will cost an additional €2.50 per person to reserve your tickets online
Other Things To Know About Your Neuschwanstein Tours
Give yourself plenty of time to get to the castles from the parking lot. You'll need at least 20 minutes from the parking areas to walk to Hohenschwangau Castle first. If you decide to go to Neuschwanstein first, it will take at least 45 minutes to walk. Depending on the time of day, busy season, etc, the shuttle buses can have wait times of up to 1.5 hours to get up the Marienbrucke. Most likely, by getting there at the times I suggest you won't have that long of wait times, but it's just something to remember and to plan accordingly for.
It's better to get there early and "wait around" (Believe me, there are way worse things to be waiting around for than gazing up at beautiful Bavarian castles!!) than to have missed your tours
Your tickets are only valid for the day and time on your ticket. If you miss your tour, they will not just slide you into the next available one (because there most likely isn't another open slot!)
What happens if you don't get a tour time?? For people who are rushed on time or money or find that they went to book the tickets too late and there is nothing more available, it's ok. Truth be told, I actually suggest skipping the tour of the inside of Neuschwanstein all together! For me (and most people) the most impressive and beautiful parts of Neuschwanstein are all the views from the outside! And while it's not a guarantee, there are often tickets available on site the day of for Hohenschwangau, so you still have a good chance of getting a tour there.
Parking
Neuschwanstein is located in the town of Hohenschwangau. If you put that into your GPS, once you get there, just look for the GIANT castle on the mountainside! But, you actually can't park at Neuschwanstein itself, so just follow the signs or put in P1 or P4 into your GPS
Pro Tip: P4 is the parking lot that has a shuttle bus up.
Parking Cost: €8.00
Take the 4pm Hohenschwangau Tour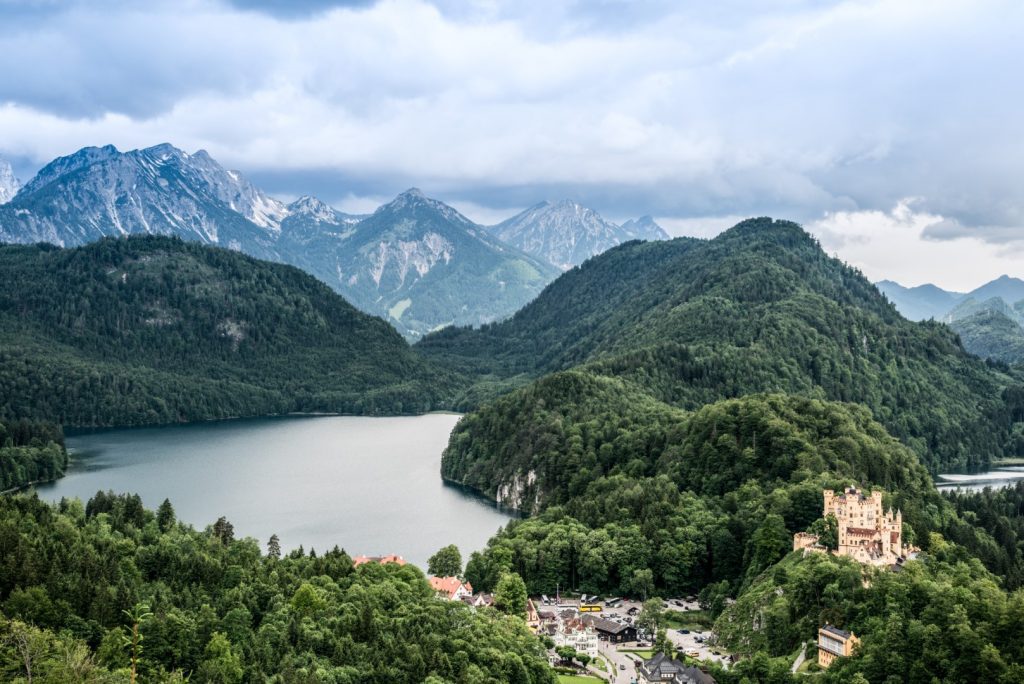 Pre-Book the 4pm Audio Guided Tour
While there are both audio guided and in person tours, they are both roughly the same, so I promise that doing the audio guided one won't leave you missing anything, but the 4pm time slot gives you plenty of time in the morning at Linderhof and some time to get to Neuschwanstein without feeling too rushed and then we'll still have plenty of time to enjoy Neuschwanstein as well.
I'm honestly always a little bit surprised when I hear that people went to Neuschwanstein but didn't go to (or even know about!) Hohenschwangau. I mean you can literally see it from the Neuschwanstein walking path!
All three castles (Linderhof, Neuschwanstein, and Hohenschwangau) were all built by "Mad" King Ludwig II but Hohenschwangau always ends up being one of my favorites. While Neuschwanstein is toweringly impressive from the outside, the inside only ever got partially finished and was never even lived in. Unlike both Hohenschwangau and Linderhof, where Ludwig spent much of his time. Hohenschwangau gives a much better impression of what living in a castle of a king really was like, and for that, I always recommend this tour.
Important: Be sure to arrive at the parking lots no later than 3:30pm (at the absolute latest!!!) You still need time to park and walk up to the castles!
Take the Shuttle To the Marienbrucke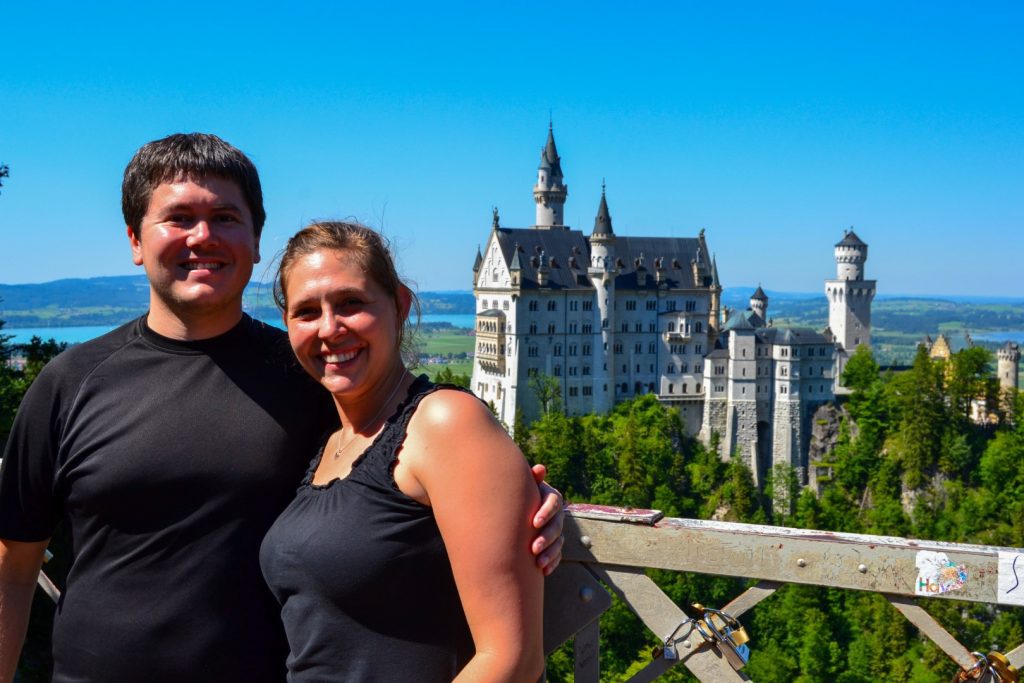 While you can absolutely walk between the two castles, I only recommend doing so if you are doing Neuschwanstein first and then Hohenschwangau. Walking from Hohenscwangau to Neuschwanstein is mostly a very uphill walk (and with a good amount of steps) and from this direction will take a good hour or so. On the other hand, if you are walking from Neuschwanstein, it's all downhill and very beautiful.
Therefore, instead grab the shuttle (starts at P4, so you'll have to backtrack a little to go back down to the parking lot). Just know that there can be long lines for the shuttle, but by this time in the afternoon, most people are going to be coming back down, not up.
Neuschwanstein Shuttle Cost:
Uphill: €2.50
Down:€ 1.50
Return €3-
Enjoy the Views from the Marienbrucke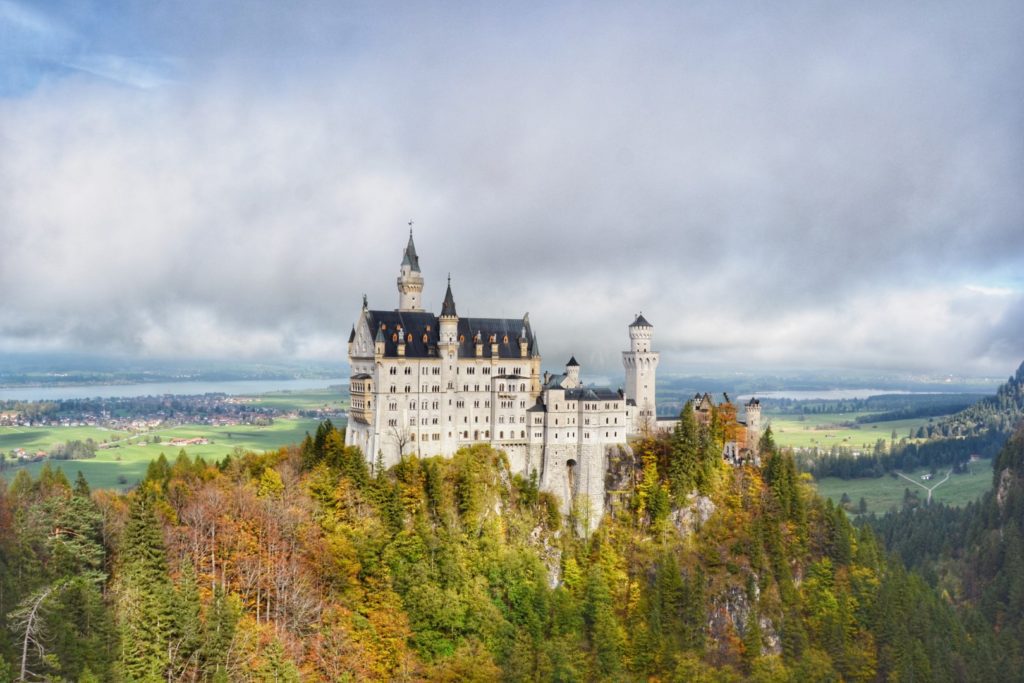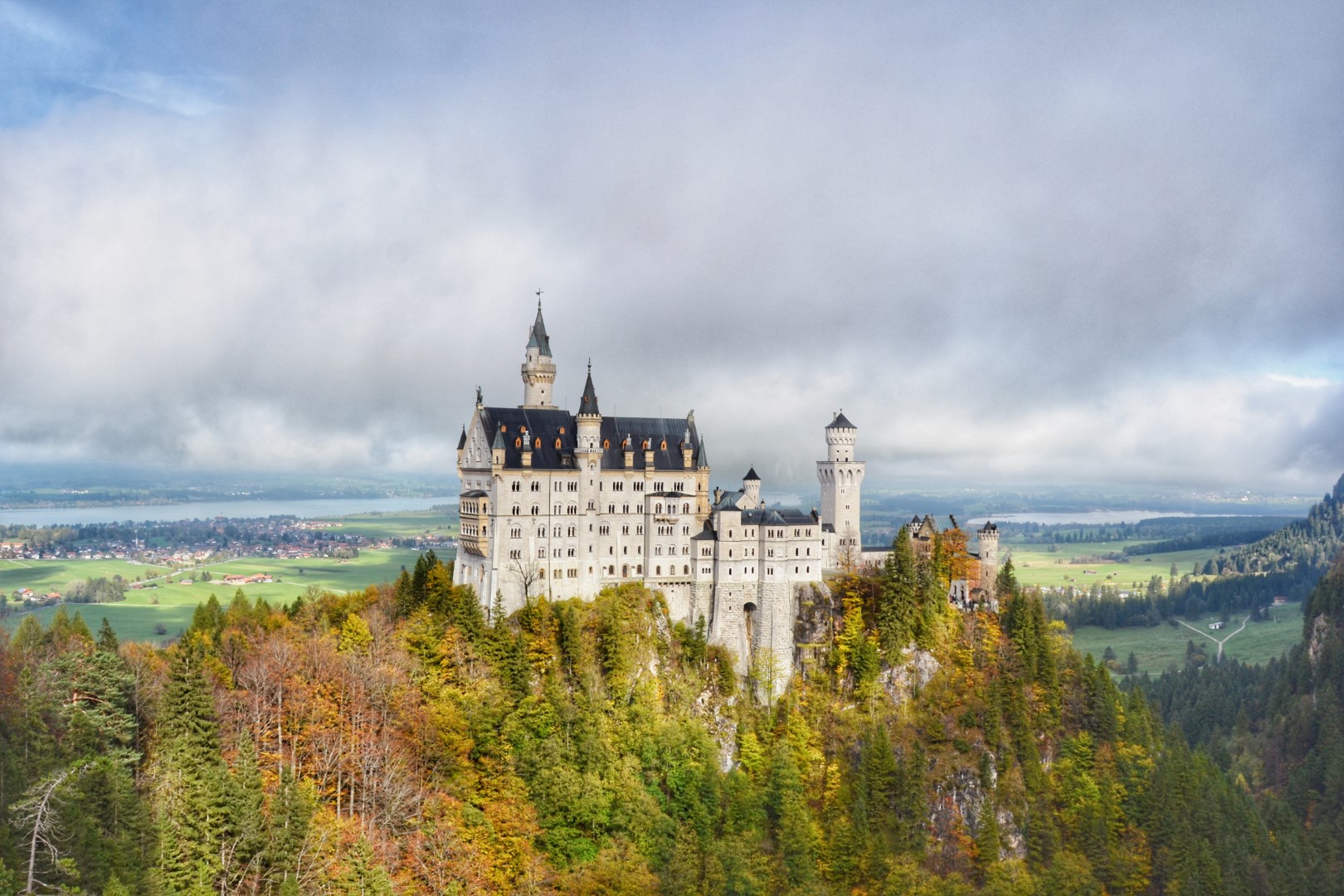 Join the rest of the crowds and attempt a selfy without other tourists in the way if you can manage. This is one of the best and most iconic photo spots of Neuschwanstein and truly gives you quite the impression of just how majestic and beautiful this palace truly is! From here, just follow the crowds and path and make your way down to the courtyards of Neuschwanstein.
Wander Around the Neuschwanstein Courtyards and Exterior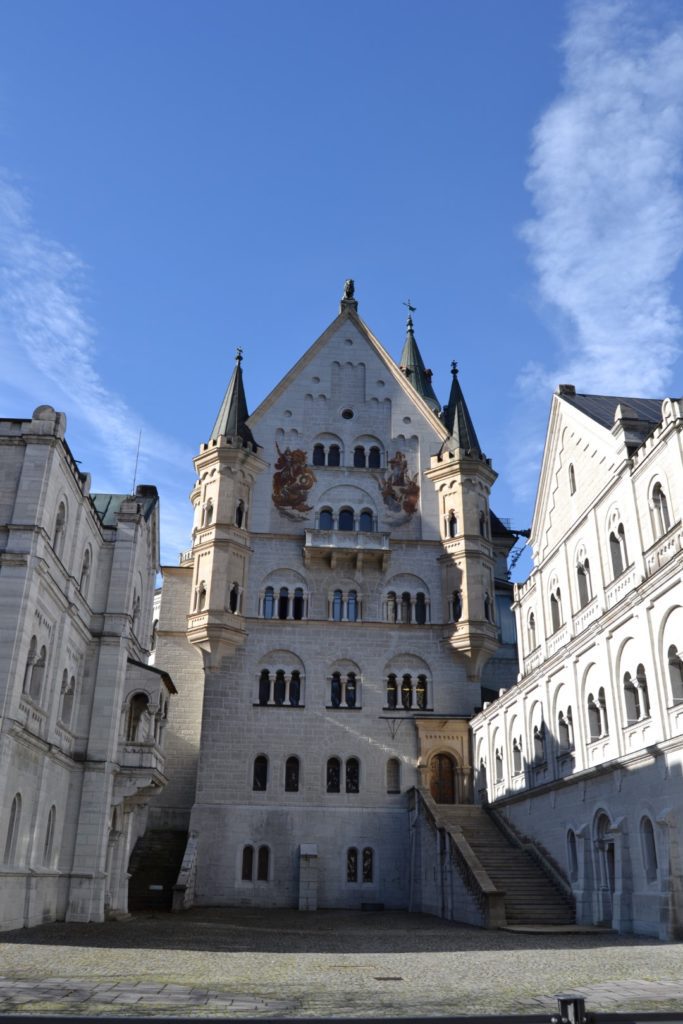 Depending on how much time you have, try to enjoy the views around the viewing platform and all around the castle grounds and courtyards before your tour starts. I really love seeing the castle from all the different angles. While I know nobody actually lived here, it's still fun to let your imagination run wild and envision princesses strolling around, knights in their armor, and all those other Disney fairytales to get swept away in the enchantment of the castle!
Note that they close the courtyard gates at 6pm after the last tour goes inside, so if you want to see the castle grounds, you'll have to do it before the tour starts.
Take the Neuschwanstein Tour (Optional)
Prebook your ticket 3 months in advance for the last tour of the day
Wait. What? Optional!? Yes. Optional!
I've already mentioned this above, but it's well worth talking about again. Neuschwanstein is iconic, beautiful, magical, and a fairytale in real life!!! But, fun fact: Only about 14 rooms inside are actually finished and able to be viewed. The tour only takes about 30 minutes and often feels rushed. It's pretty, but the interiors of Hohenschwangau and Linderhof are actually far better (in my opinion).
Now, I get it. You took all the time and effort to get to Neuschwanstein. You are here. Gazing up at the Cinderella Castle IN REAL LIFE! How can you NOT go inside!? Ok, yeah, I get that! So I won't hold it against you if you are like, "LeAnna, are you insane?? Of course, I'm going to take the tour!!!"
I say all of this because your day has been pretty rushed. If for whatever reason you don't make it to the tour or the tour was sold out, it is still 100%, without a doubt still absolutely worth it to go to Neuschwanstein even if you don't go inside.
Head Back
Unfortunately, there aren't a ton of fantastic options for grabbing food at the castle itself. There is a Wurst Stand, but it's overpriced and not that great. Alternatively, there are more options in the town of Füssen itself, or if you are heading back to Munich and aren't too Hangry already, you can try to wait and do a late night dinner there (or grab my personal favorite "Fast Food" along the way- A dürüm döner)
Now it's time to head back to Munich or wherever else you've decided your next stop should be. If you don't mind hotel hopping, then staying in Füssen for this night is handy because you don't have to make the 2 hour drive back to Munich, getting in pretty late, or having to drive after such a long and exhausting day.
Best Hotels Near Neuschwanstein Castle
No matter your choice, I have no doubt that as soon as you hit your pillow, you'll be knocked out like Sleeping Beauty herself, dreaming of fairytale castles!
I personally like to balance extremely busy days like this by following up with a relaxing day to balance out the fast paced travel with slowing down a bit. A few great "recovery" days after this hectic, jam packed day would be: