[This post may contain affiliate links where we earn a small commission. Please see our disclosure for more information and thank you for supporting our site so we can continue to bring you awesome content for your travel inspiration!]
To say I am no stranger to the German Spas and Saunas is an understatement. After my first baby was born, I started looking for affordable ways to get a little "Me" time every once in a while and that's when I first discovered the amazing-ness of the German Sauna Culture! Now, I'm not saying I'm a hero, but I mean, someone's gotta go explore as many German Saunas as possible, right? Might as well be me!
So, after getting over the fear of being naked at a spa, I've since done my due diligence in making my rounds to some of the best Germans Thermes! So, after heading to Baden-Baden numerous times, going on several Wellness Weekends with the girls to Bad Füssing, and going to Bad Abbach regularly (just down the road from me) I decided it was time to attempt what is known as the Largest Spa in the Wolrd: Therme Erding!!!
Despite having been to so many Spas in Germany, I found Therme Erding to be a whole other beast. I knew it was big, but I had no idea just how huge it really was.
Planning a Trip to Germany? Join Our Fantastic Traveling in Bavaria Facebook Group!
In fact, I wish I would have known more about Therme Erding Germany before going because I felt like I ended up wasting a lot of time just trying to figure the place out. I can't imagine how overwhelming it would have been for someone who had never done a Therme before!
So, that is where I am coming in. Hopefully, you'll have read this Therme Erding review before going so that you can arm yourself with a game plan! In this guide I'll go over all the different areas at the Therme, who they are for, what to expect, where to grab a bite to eat, and how to spend your time at the largest spa in the world! I'll also go over hotel options if you want to make a stay out of it.
Other Articles That You Might Be Interested In:
What Is Therme Erding
So, first things first. What even is a "Therme?" There are so many natural, thermal springs in Germany. Throughout the country, you'll find these spas, such as Therme Erding, where they divert the spring waters into pools and wellness areas. There are usually different pools with varying temperatures and more often than not, you'll also find amazing saunas as well. The waters are naturally rich in minerals such as salt, iodine, and more which are believed to help certain ailments like arthritis and even some skin conditions.
But Therme Erding takes the whole pool, sauna, and wellness concept to the next level! This place is huuuuuuuge!!! It's easiest to think of it in 4 main sections (I'll go into each of these in much more detail below). Everything to the right of the yellow line is where all ages (including kids) can go. Everything to the left is adult (ages 16+) only.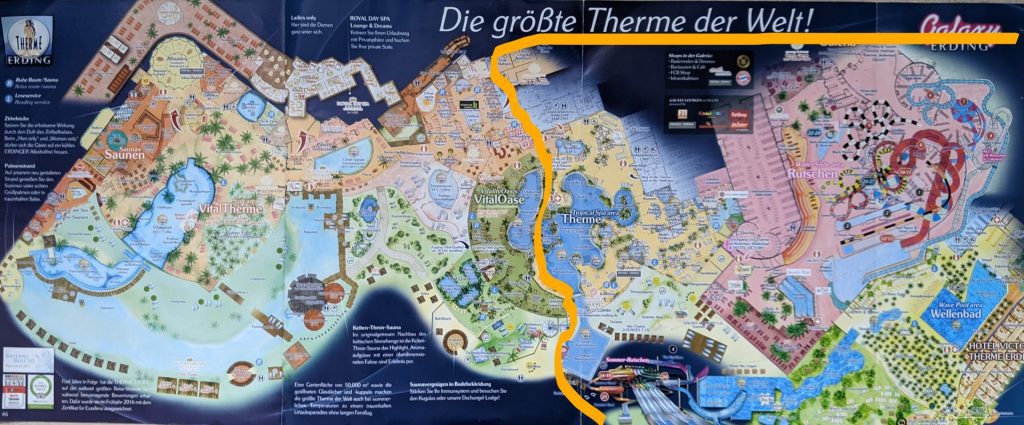 Galaxy Erding: This area is open to all ages and has the massive indoor (and outdoor in the summer) "water slide world" as well as the Wave Pool area
Tropical Spa: This is the family friendly section with plenty to do including a huge pool, restaurants, and more. There are some saunas here as well.
Vitality Oasis: This a pool and sauna area but only for ages 16+. Swimsuits ARE required in this section.
Vital Therme (Spa and Saunas): Textile Free (no swimsuits). Ages 16+
Where is Therme Erding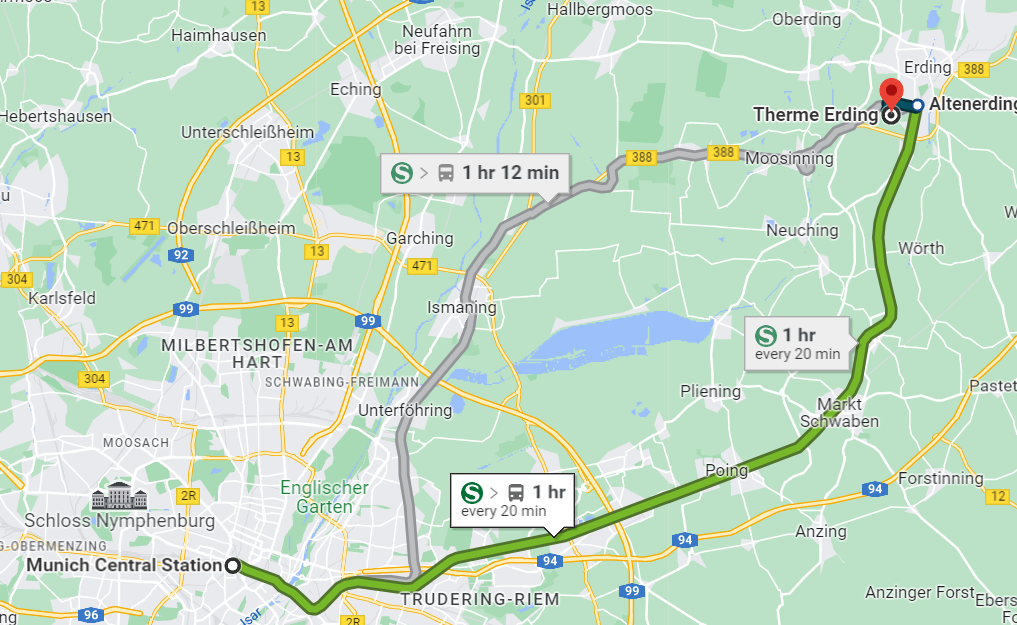 Alright, now that you understand just how massive this place is and at a quick glance can see just how awesome it looks and all there is to do there, you might be wondering where the heck it even is and how to get to Therme Erding (from Munich most likely).
Most tourists come to Therme Erding from Munich. Erding is actually the name of a town not far outside of Munich. The two main ways to get there are by:
Car: Driving from Therme Erding to Munich only takes just under an hour (give or take, pending Munich Traffic)
Compare Car Rental Prices Here
Train: It also takes just about an hour by Sbahn Train and Bus. Here is exactly how to use public transportation to Therme Erding from Munich Main Station
From the Hauptbahnhof, go downstairs following the big green "S" to the Sbahns.
Find the S2 going in the direction of "Erding" and ride it 17 stops (a little over 45 minutes)
Get off at the "Altenerding" stop and look for the bus stop nearby
Wait for the 550 Bus and get off at the "Therme Erding" stop
If you are doing this, you have a few options for tickets:
Buy the Daily Ticket:
Single Day Ticket: €13.40 This ticket is good for one person and includes all public transportation within Munich and up to zone 4 (including Therme Erding) all day. This is a great option if you are wanting to stay all day long at Therme Erding and/or if you plan on using the public transportation a lot within Munich that day.
Group Ticket: €25.10 This ticket is good for up to 5 adults or up to 4 adults and 2 children. Just like the Single Day Ticket, this ticket is good for everyone on the ticket for all public transportation within Munich up to zone 4.
Get the MVV Thermen Ticket
Alternatively, with the city of Munich, Therme Erding has a combo ticket available:
€38.70 Per Person Includes:

Transportation on Sbahn/Buses to Therme Erding from Munich
4 Hours in the Tropical Spa Area, Slide World, and Wave Pool areas (you can ask for the Vital Therme (adult only spa textile free section) upon arrival for an additional cost)
This isn't a bad option if you are just wanting to go for a bit, but if you are wanting to stay longer than 4 hours (which I do recommend) or if you want to go to the Adult Textile Free area, then buying just getting a normal day ticket and getting your Therme Erding ticket separately is possibly a better option. You can buy these Special tickets at the kiosks at the Sbahn Stations.
Insider Tip: These tickets are NOT validated automatically! Make sure you find a validation box to punch the time in!
Therme Erding Tickets, Costs, and Packages
Again, I found this all a bit confusing because there are so many options. Also, note that if you go on a Saturday or Sunday it is an automatic €5.00 extra for all tickets. This also applies during Bavarian Holidays and School Vacation times.
Tropical Spa and Waterpark Only:
This is the section on the right side of the map above. This is where all ages are welcome and swimsuits are required. This includes the Tropical Spa Pool/Area, the Galaxy Waterslides, and the Wavepool. Honestly, I think you need an absolute minimum of 4 hours just for these areas.
2 Hours: €22.00
4 Hours: €30.00
6 Hours: €38.00
1 Day: €46.00
Kids 3 and Under: Free
Vitality Oasis:
With this ticket, you can still access all of the above areas (the Tropical Spa, Galaxy Slides, and Wavepool) but you also have access to the (Textil REQUIRED) Adult only section. The only area that this ticket doesn't grant you access to is the nude section of the spa.
2 Hours: €30.00
4 Hours: €38.00
6 Hours: €46.00
1 Day: €54.00
Adult Only Spa Area and Saunas (Textile Free/ Nude Spa)
This is the left section of the map above and you must be 16 years+ and yes, this is the section of saunas and pools where NO swimsuits are allowed (not even optionally). When you buy this ticket, you get access to all of Therme Erding including the Galaxy, Wavepool, Tropical Spa, etc.
2 Hours: €30.00
4 Hours: €38.00
6 Hours: €46.00
1 Day: €54.00
Extra Costs:
Any meals at the restaurants
Lounge Chairs/ Cabana reservations
Any beauty services like massages
You can rent a towel for 4 Euro or a robe for 15 Euro (plus deposit)
Reservations
Reservations typically are not required, however I still highly recommend them. You are guaranteed entrance if you reserve a time slot and there are some days (like around the holidays/ school breaks) when they actually are required. You can book your ticket/ reservation here
It is an additional €3.90 to do a reservation (even on days where it is required).
Getting Into Therme Erding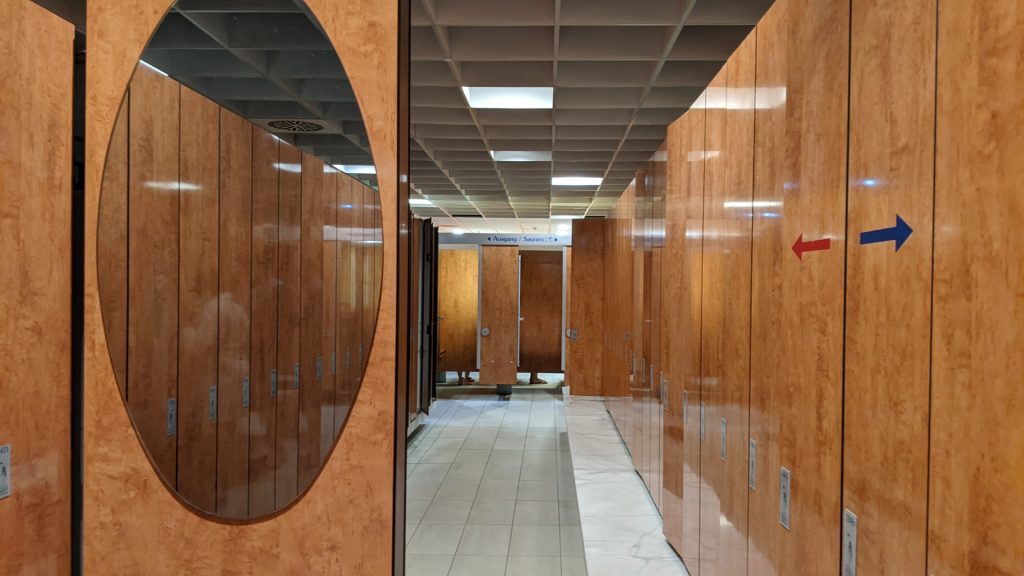 You might think going into a pool shouldn't be that complicated, but I found it very overwhelming!
After waiting in line, you'll go up to the ticket counter to get your tickets. If you have any questions, I found them really helpful and nice (and spoke English!) to help us decide how many hours and what areas we should go to.
You'll receive a wristband which is going to be your key to your locker (just place it up to the locker to lock/unlock it) as well as a way to pay for anything like drinks or meals during your time in Therme Erding (you scan it on the way out and pay for any extras at that time)
There are some "color codes" that are supposed to help you know where to head as well.
Blue Entrance: This is for the Tropical Spa area including the Galaxy Slides and Wave Pool. Use this one if you follow my "plan" for the day below. If you have a family, follow the Blue
Red Entrance: This is the left section of the above map. If you are 16+ and want to head straight to the nude sauna area, follow the red arrows
Vital Oase: You can go out this way if you want to kind of land in the "middle" of it all
Your wristband is your ticket to get you into each section. There are turnstiles in each part of the spa. So, for example, if you just bought the Vitality Oasis ticket, then when you scan your wristband to get into the Vital Therme (nude section), it won't let you in.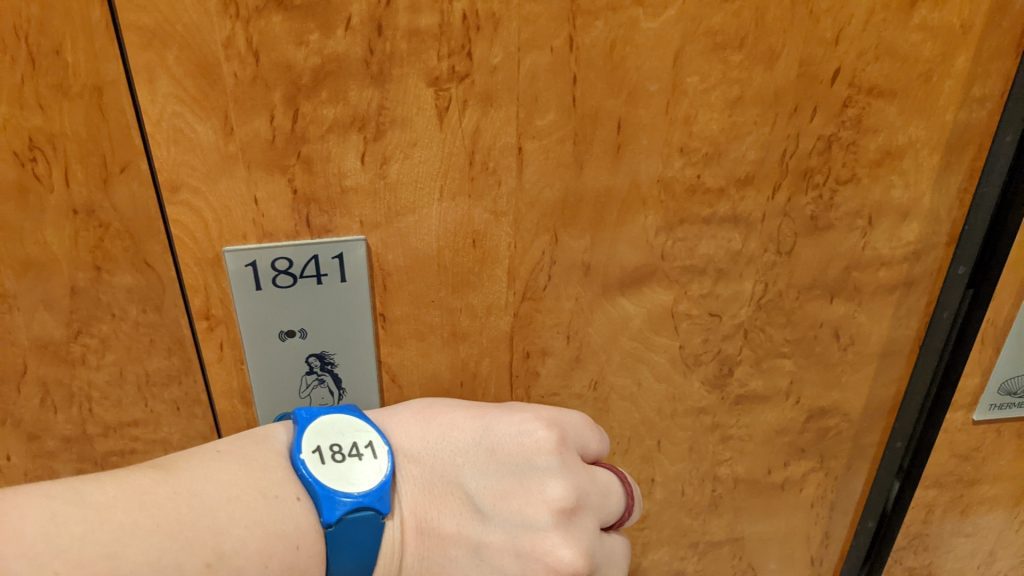 Therme Erding Review
Alright, now that we've gotten a lot of the logistics out of the way (I'll still cover the hotels and whatnot below) let's dive in (ba duh bum!) to the different areas of the seriously impressive Therme Erding, my thoughts on it all, and my recommendation for a plan of attack for your time.
Use this plan if you intend on staying all day as well.
Therme Erding Galaxy Waterpark
If you have a family or are just looking for the ultimate Munich Waterpark, look no further!!! This is EUROPE'S Largest "Slide World!" If you can get there in the morning, head straight for the Galaxy Slides. I found that even by Mid-Morning, this area was super packed. Alternatively, while I didn't stay late enough, I suspect that this area might calm down later in the evening as well. But during the day, it was pretty nuts. I honestly felt like I was wasting a lot of our time because we would have to wait in line at least 20 minutes just to go down ONE slide.
If you are there with a family, then this section might be the highlight and where you spend most of your day though, so get well acquainted with all the "Galaxy" has to offer.
The Longest Tube Slide in the World!!!
Virtual Reality Slides!
Racing Slides
Baby Slides and Play Area
Summer: Germany's largest "open air slide complex"
And so much more
This area is fantastic for all ages and with 27 slides, you won't get bored in here!!!! There are three main categories of slides: Family, Action, and X-treme. Have fun!!!!
Restaurants: When you get hungry, you can find food like crepes, currywurst and burgers in this section.
Wave Pool
Whether the Slide area is getting busy or you just need a break, head to the Wave Pool next.
Even if for just a minute, you might completely forget that you are in the middle of Bavaria and not in some Caribbean paradise. You can lay beneath real palm trees or go dip into the warm 95 degree (F) waters! And this isn't your ordinary "Wave Pool." The waves change from gentle little ripples and swells and range all the way up to 2 meter high waves!!!
Grab some food at the "Beach Restaurant" or grab a beachy cocktail at the Kaleidoscope Bar.
For those of you wanting to spend the night at Therme Erding, you'll also be able to go straight from your room to the "Wellenbad" (Wave pool) area as well as many rooms have great "views" out over the "sea" (wave pool).
If it is summer, next get in the "Crazy River" which is behind all the palm trees in this area and ride it out to the Summer Slides!
Tropical Spa Area
Next up is the Tropical Spa Area. No matter where you go next, you'll pass through this main, center section of Therme Eins. As you do, look for the
Gesundheitsbar: This actually isn't a "bar" as one might think. Instead, stop by and grab a face mask made out of a salt scrub or chalky mud! It's super fun and feels amazing!!!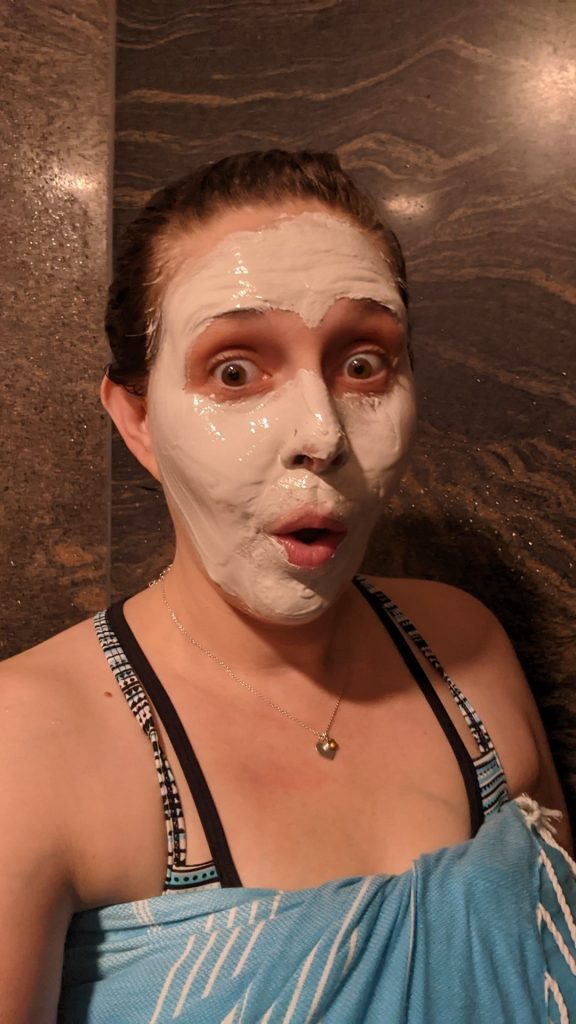 After your face mask, if you are an adult skip this section completely and just walk straight to the adult only area or the adult sauna area to maximize your time and enjoyment. Otherwise, this section is a fun "Tropical Spa" area where there are different things like steam rooms, salt rooms, infrared saunas, and the pool that has a swimup bar, massage jets, a waterfall, and more! There is also a kiddie pool in this section as well. If you are hungry, you can also grab food at the restaurant here.
If you are a family, then you can easily spend all of your day in just these areas alone. However, just these sections are massive and take a long time to walk between, so again, I highly suggest looking at a map ahead of time and making a game plan. Section your day up into three distinct times for each of the areas so that you aren't wasting time walking around.
Tip: I was a little confused at how the the Tropical Spa section was any different from the Vital Oasis and the biggest difference is simply that the Vital Oasis is adult (with swimsuits) only. Since I wasn't there with my kids that day, I wish I wouldn't have spent any time in the Tropical Spa portion and would just have headed to the adult only Vital Therme Saunas.
Restaurants: In this area, you can go to the "Hafen" (which means "Port" in German) which has the Breakfast Buffett in the mornings. Later on in the day, the same place has Ruffsburgers and kids menus as well. You can also go to the Ala Cart Empire which has regional and seasonal dishes as well.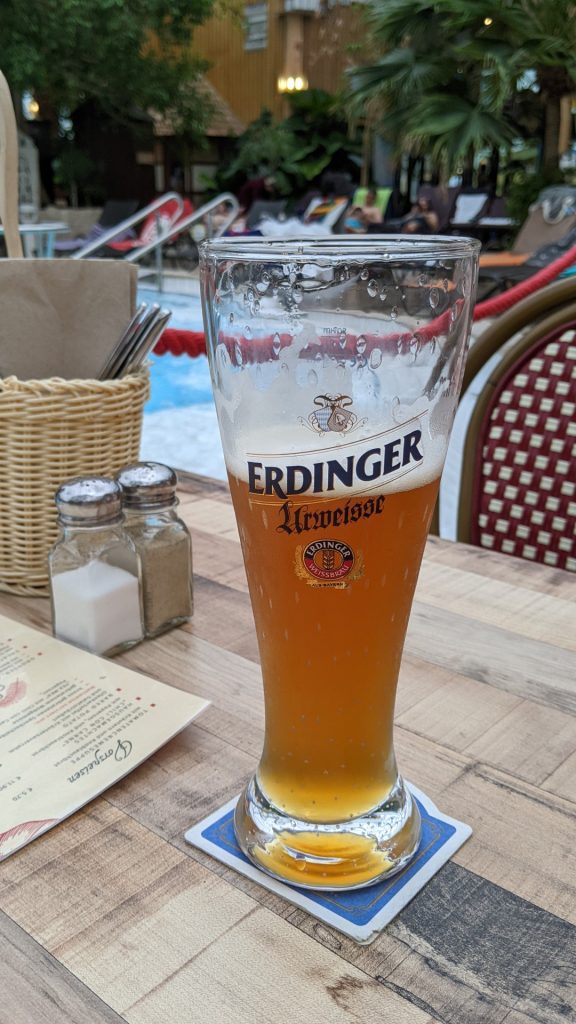 Therme Erding Vital Oase (Vitality Oasis)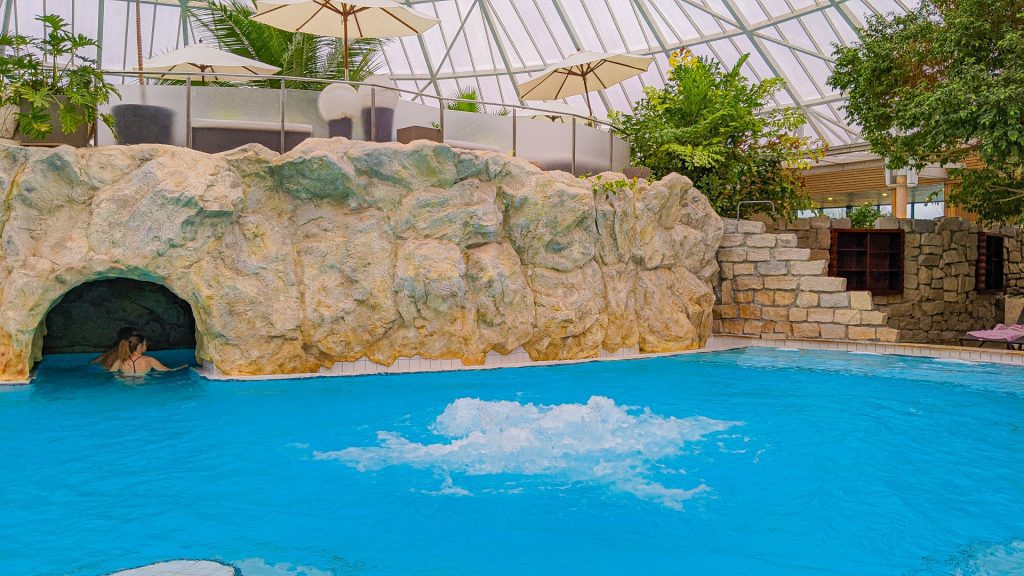 If you are just an adult, I still recommend doing the slides and the wave pool areas first, even if just for an hour. HOWEVER, If you are planning on going to the Spa and Sauna area eventually (textile free), then honestly, I would just completely skip both the Tropical Spa and the Vitality Oasis areas all together and head to the adult only portion next.
However, if you still want a full German Sauna Experience but are too gun shy to lose the swimsuit all together, then the Vitality Oasis area is the perfect place to dip your toes into the Sauna Culture. Granted, I still found this section very overwhelming with all the different sauna types, hot tubs, and more. But you do get the peace of an adult only section here, a fantastic (albeit overpriced) swimup pool bar, and lots of outdoor hot tubs, saunas, and steam rooms….all while being able to completely keep all your bits and pieces covered!
Therme Erding Sauna- Vital Therme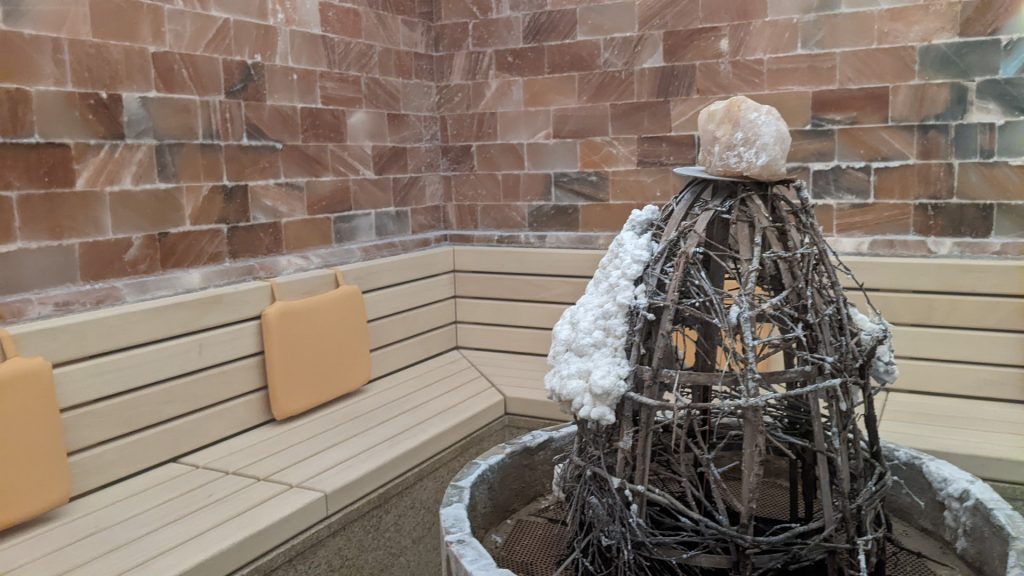 Ooooh, this is the part that I especially get excited about. I just LOOOVE German Spas and Saunas and the Therme Erding Spa is seriously NEXT LEVEL.
If you have a full day at Therme Erding (and have never been) then like I said above, I do recommend trying out the water slides and wave pool areas just because they are fun. But honestly, if you've never been to a German Sauna or you are wanting some extra relaxation time, I would dedicate most of your day just to this section alone (yes, you can spend ALL day in the Vital Therme and still wish you had more time!)
Remember, this is an adult only section and "Textile Free." Yup, you read that right…absolutely no swimsuits allowed. Eeeks! Yeah, I know that sounds terrifying, but I promise, if you follow these Tips for Being Naked at German Sauna then you will fit in like a pro in no time!
After leaving the dressing rooms, just follow the signs for the Vital Therme and head straight in (you can keep your robe and/or towel wrapped around you tightly at all times). You'll immediately be transported to a place of pure R&R as you walk into the Canal Grande, which looks like a Piazza plucked right out of Italy with a beautiful, inviting pool right in the middle of it! It's gorgeous! But if you continue walking then you enter the most massively large spa area I've ever seen.
Adults are sipping on coffees and eating pasta at the restaurants, others are lying on lounge beds (covered in a robe) reading a book or taking a snooze, and more are getting ready to dip into the giant Vitalpool. We swam up to the Therme Erding poolbar and ordered a very expensive Pina Colada and beer and between the cocktail, atmosphere, palm trees and warm waters, I truly felt like I could have been on a beach somewhere far away. It was blissfull!
Of course you can spend as much time in the indoor (or outdoor!) pool, but the highlight of this area, in my opinion, is the plethora of saunas. There are so many and all are absolutely fantastic! Of course, read my Everything You Need To Know About German Spas so that you know all about the etiquette and proper ways to do this before heading into any.
Of course, do NOT miss a famous German Aufguss! In fact, when you get your ticket, I recommend asking if they have a schedule for the day so that you can know where to be and when. They have over 100 "ceremonies" a day ranging from the Aufguss to meditation bowls under water and more. Knowing when and where they are is a great way to fully immerse yourself in the German sauna culture.
Finally, I finished off my day by doing a salt peeling in the Salt Room and then went floating in a pool that mimicked the Dead Sea!!!
Had I known just how amazing this section of the Therme Erding Spa was going to be, I honestly would have planned on way more time to be there!
Restaurants: In the Vital Therme you can grab a sit down meal at the Italian restaurant and there is also a Thai restaurant. If you want something a bit quicker, there is also a Crepe Cafe as well. Of course, don't forget about the 2 swim-up pool bars (one inside and one outside)
Therme Erding in Winter
I personally went to Therme Erding in January. It was the absolute perfect thing to do in Germany in the winter! After all, their whole spiel is that it's like a Holiday To the Tropics! While it was cold outside (it actually snowed the night before!) we were able to heat up inside. And since the waters are natural thermal springs, that means they stay hot all year around. You can even enjoy the outdoor thermal pools in winter, which was actually really refreshing! If you are looking for a great "island getaway" in the winter without actually heading to an island, this is a really fun alternative!
The only negative about Therme Erding in Winter is that there is actually a lot of outside stuff that will be closed. There is an entire waterslide section that is only open in the summer and I personally wouldn't want to hop in the "Natursee" (outdoor lake) in the frigid air. There are also extensive outdoor loungers and even an outdoor beach in the summer. But don't worry, there is SO much to do inside that you won't be lacking!
Therme Erding Hotel
There are many different Therme Erding hotel packages from staying right on site to choosing a hotel nearby that offers special rates for Therme Erding guests as well. Compare prices for hotels in Erding here.
A lot of people love staying right on sight in one of the Hotel Therme Erding rooms because what is better than waking up with a view out "over the sea" (Aka the Wave pool and palm trees) and walking just a few steps to the Therme!? The Hotel Victory is the main hotel with plenty of room options.
I think my favorite part about the hotel at Therme Erding is how most have a nautical theme and are done really well (not tacky and cheesy). For example, if you are a family, you absolutely need to check out the "Captains Cabin." The "Bunk Beds" are little mini boats!!! How fun is that!? You can also stay in a "Yacht Cabin" which feels like you are in a luxurious yacht (without the sea sickness!)
If you'd rather feel like you are in Venice than the tropics, you can opt for one of the rooms in the Veneziano as well.
One important thing to note is that not all room rates include waterpark or spa entrance. As you go through the booking process on the main website, you'll most likely see an option such as this. Therefore, just take those costs into account.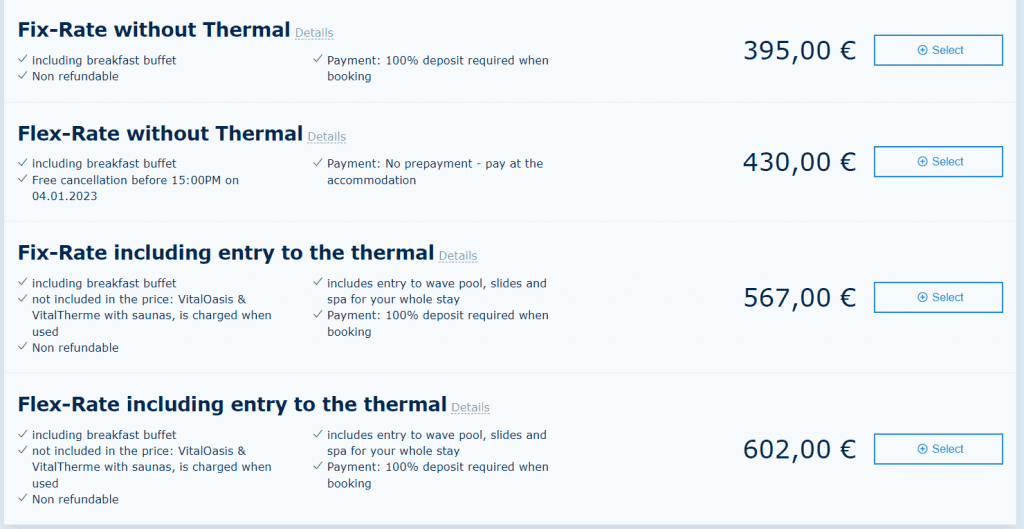 Just across the street from the Therme is the Therme Erding Victory Guesthouse. If booking here, request one of the newer remodeled rooms for maximum comfort. This hotel option is great if you want a studio style apartment stay.
Book The Victory Guesthouse Here
Hotels Near Therme Erding
Of course, if you want a more affordable option to stay nearby the waterpark, there are several good options. Because Therme Erding is one of the biggest draws to the town, many hotels offer discounts such as Spa Packages or Waterpark Entry, etc.
There are two Best Westerns that are nearby Therme Erding. This one is only a 5 minute drive (or about 12 minute walk) to the Therme. They have a great package that starts at only €101.00 per person and includes one night stay with breakfast AND 1 full day admission to Therme Erding. This Best Western is about a 10 minute drive but does have better reviews and still has the same packages.
If you love wheat beer, you've got to stay at the Hotel zum Erdinger, which is also the brewery for the famous Erdinger Weissbier They even have a shuttle that drops you off right at the Therme!
This is a really cool hotel because each room is a theme from a different place around the world. You can also purchase reduced-price tickets for the Therme from the hotel as well. For just €103.00 per person, you can get hotel accommodation, breakfast, and tickets to all of Therme Erding (including the adult only Sauna area)
Therme Erding FAQs
Do They Speak English at Therme Erding?
Yes, almost all employees speak great English and are very helpful.
Are Swimsuits Required in Therme Erding?
There are two main sections to Therme Erding. There is an entire spa area in addition to the wave pool and water slides that do require swimsuits. There is also an adult only section for textile free (nude) only. If you want to have a spa experience but want to stay clothed, there is an adult only section where swimsuits are required.
Are Kids Allowed in Therme Erding?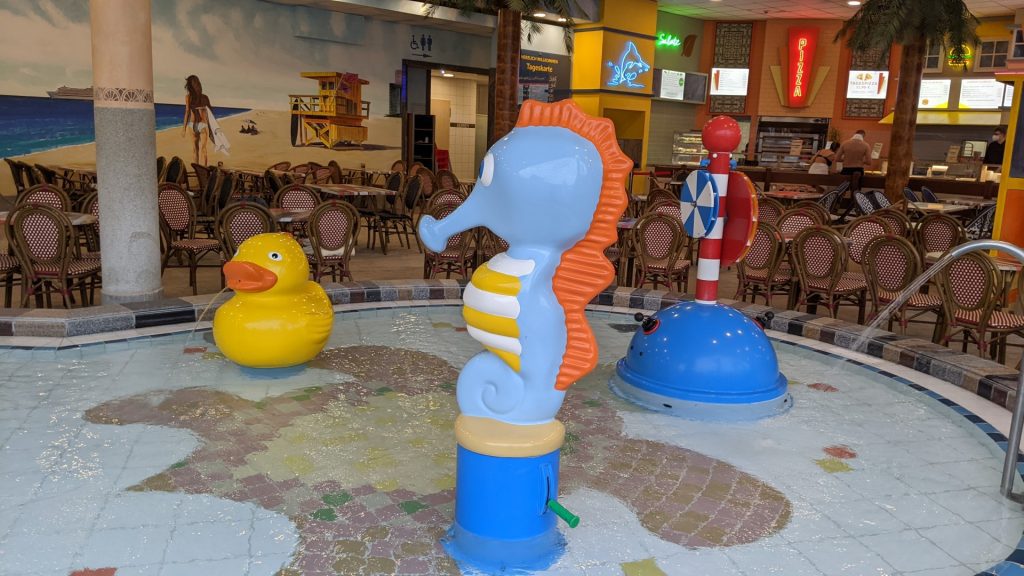 Yes. About half of the complex is open to kids of all ages. There is a baby pool area as well for the littlest of swimmers, slides appropriate for toddlers, a wave pool, and more that families can all enjoy together.
How Much Time Is Needed at Therme Erding
You'll want a bare minimum of 4 hours if you are just going to do one or two sections but a full day is ideal to enjoy the entire waterpark and saunas.
Are There Coupons To Therme Erding?
Occasionally, you can find Therme Erding Coupons and vouchers. For example, Aldi ran a great special last year that included 2 adult entrances for only 80 Euro! (no longer running) and you can often find Therme Erding discounts on the official Therme Erding website as well. For example, there are often last minute deals or holiday specials that they will run.
What To Bring To Therme Erding?
One towel for use inside the waterpark and saunas
One extra towel for showering or drying off afterwards
Flip Flops (sandals/ shower shoes) to walk around in
A robe (this isn't necessary but is fantastic, especially if staying in the Vital Therme textile free area)
A book if you want to kick back and relax
Water bottle (or buy one there)
Shampoo, etc if you want to shower when you are done
Dry clothes to change into after
Is Therme Erding Worth It?
I'll be honest and say that Therme Erding is pretty expensive compared to most Thermes in Germany. The cost of entrance alone is substantially higher than places like Baden Baden. The food and drink on site were convenient, but also overpriced. However, it is truly "an experience." It was a really fun day for me and if you want to go to a Munich Spa, this is going to be a memorable one for sure. Is it going to be a place I continue to go back to for my regular Spa Days? No (I'll head to way cheaper places like Bad Abbach near Regensburg!) But will I go back for a splurge or special occasion? Absolutely!