[This post may contain affiliate links where we earn a small commission. Please see our disclosure for more information and thank you for supporting our site so we can continue to bring you awesome content for your travel inspiration!]
Oh how I love Munich! On my first backpacking trip to Germany, we somehow only had one day in Munich and so the hubby and I saw as much as we possibly could for our 24 hours in Munich.
Luckily, we moved just a few hours from München a year later so we have spent MANY 1 day in Munich trips! After multiple times back to the city, here is what I would compile as my ultimate "Must See Munich in A Day" itinerary.
If you are staying in Munich for longer, here are also my other itineraries that builds on each day
Is One Day In Munich Enough?
Short answer. No.
BUT. Is 1 day in Munich better than none? YES!
Munich in 1 day is especially worthwhile if it is easily en route to another destination on your trip, or a day trip from where you are basing yourself from. The great thing about Munich is that there is a lot to do, but you can definitely see the main highlights in a (full) day if you are willing. Just know that you WILL miss out on some of what to do in Munich, but that it just gives you a great excuse to come back in the future to explore the rest!
One Day Munich Itinerary
Get To Marienplatz
If you are starting from the airport, it can be a bit confusing at first glance to get to the city, but not difficult once you clearly map it out.
Here are my detailed instructions on how to get from the Munich Airport to the City.
Alternatively, you might be coming in from the main train station. If so, follow the signs in the main train terminal to the S-Bahn and hop on the S1, 2, 3, 4, 6, 7, or 8 which will all take you to the Marienplatz, which is where I recommend starting your Munich trip.
If you are driving, I still recommend heading towards Marienplatz and finding a garage to park in for the day.
Wander Marienplatz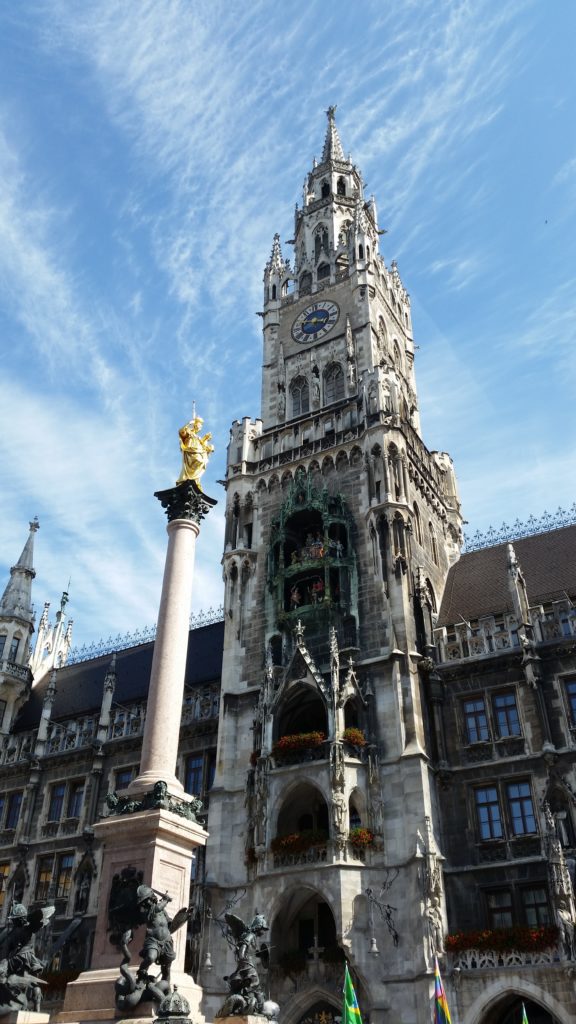 Take about 30-45 minutes to wander around this part of the Munich Old City. Well, at least LOOKS old. What is astonishing is that most of this section of Munich was completely flattened at the end of WWII but the city and officials all decided to rebuild in the traditional style instead of going contemporary (like Frankfurt decided). Personally, I think they made the right decision. This is an absolutely beautiful square that you would never know wasn't hundreds of years old!
Just take a few minutes to do a full 360 here.
You'll see the Old Rathaus (town hall), the New Rathaus (ironically looking older than the old one!), the Marian Column, and St. Peter's Church.
Watch the Glockenspiel from St. Peter's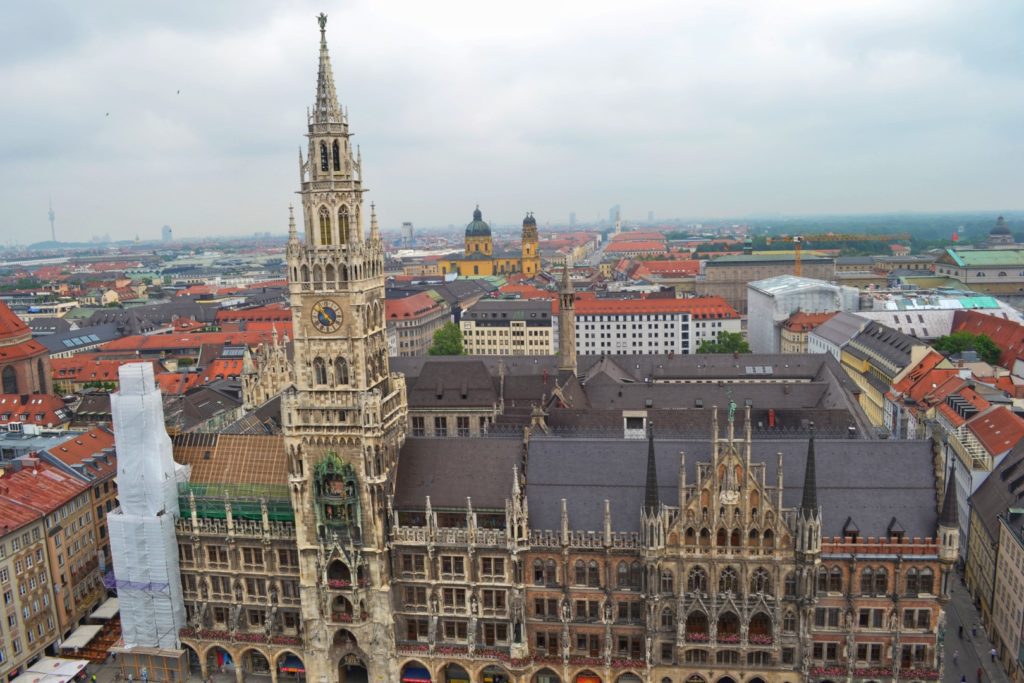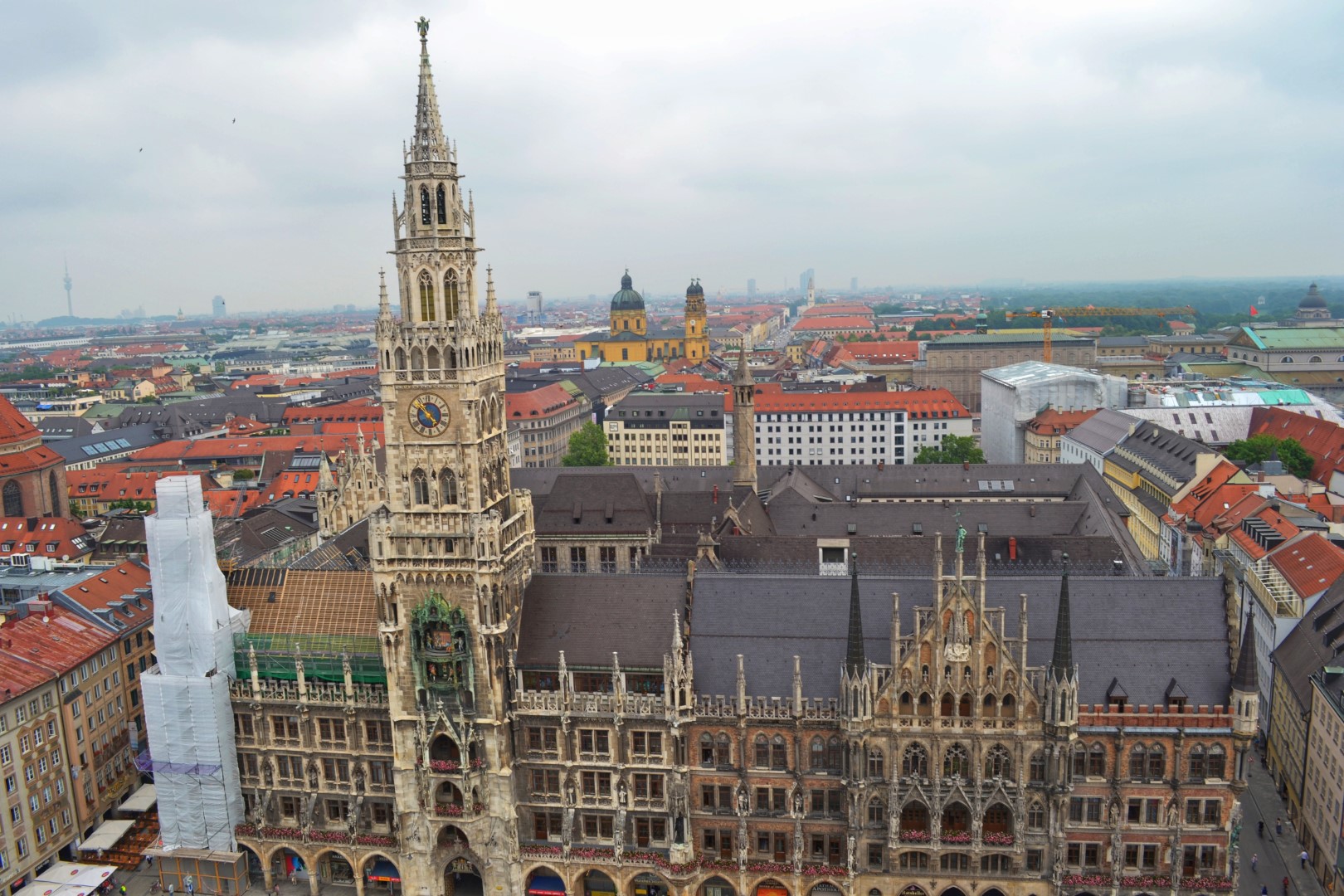 Ok, so we are going to totally maximize your time, after all, you're only in Munich for a day! So, we are going to head up the St. Peter's tower to watch one of the most famous "shows" in Munich- the Glockenspiel!
This cute little performance happens on the New Town Hall where at 11am and Noon, there is this adorable little storyline where there are jousts, dancing, and prosting of beers!
Why head up to St. Peter's for this? First of all, the views out over the Platz are fantastic from a birds eye view! Second, while ALL the tourists are down packed in the Platz waiting for the show, you'll be up high away from (a lot of) the crowds! Obviously, spend some time looking around inside the oldest church in Munich while you are there as well.
Pro Tip: Head up St. Peter's about 30 minutes before 11 or 12. This will allow you time to climb the spire and enjoy the views well before the Glockenspiel starts.
Cost To Go Up To the Observation Point: 3 Euro
Do a Free Munich Walking Tour
I LOOVE free walking tours wherever I travel and Munich is absolutely no exception. There are actually several companies nowadays and a quick google search will give you the top results and you can then find one that fits your time and schedule best. Personally, I always try to go with Sandeman's New Europe Tours. They are all over Europe and I've never had a bad one yet (no, I didn't get paid for saying that, I truly have enjoyed all my free walks with them!)
Almost all of these types of Munich free walking tours will start in the middle of the Marienplatz near the column.
These walking tours typically take about 2.5 hours where you will learn ALL about Munich (often from a local).
Walking tours are, in my opinion, one of the best ways to see Munich in 1 day because you aren't wasting time looking at maps and you can pack in a TON of information and sights in a short period of time, many being great hidden gems that you wouldn't have found wandering on your own. While most of these tours will take you BY places like the Frauenkirche and Hofbrauhaus, you won't actually go in them on the tour though. Therefore, I like to use these as a great starting point for intrigue. If there are any locations that you learned about on the tour and want to go in later to explore in depth (like the Hofbrauhaus) just take mental note as you walk.
Have Lunch At A Local Beer Garden
Next, I recommend walking the 4 minutes from Marienplatz to the Viktualienmarkt. What once was a traditional farmers market has now turned into a huge, wonderful, gourmet type of market where you can pick up some amazing picnic supplies.
Or, go sit at the classic beer garden and order yourself a Maß like the locals with some delicious beer garden food! Not sure what to order? Pick from my top Bavarian Foods you must eat! You can never go wrong with a German Pretzel (I recommend getting Kase (Emmentaler cheese) with it) or get a full on meal, like a haxen (pork knuckle).
If you did pick up some picnic supplies, one of my favorite parts about many beer gardens is that you can even bring your grub with you. Just order a beer and you are good to hang out under the chestnut trees. Just make sure you sit in the self service section if bringing your own food.
Pro Tip: At beer gardens, everyone is a friend!!! Don't expect a table to yourself. So, if you see a few spots open, just go up and ask "Ist Das Frei?" and if it's open, you'll be happily welcomed to the table.
Visit the Frauenkirche
On any other itinerary, I would suggest taking your time at the Frauenkirche, the most iconic cathedral in Munich. However, we are squeezing every last drop of Munich awesomeness into this 1 day as possible, so here's where I skimp a bit.
If you already climbed the steeple at St. Peter's in Marienplatz and you've already walked by the Frauenkirche during your free walking tour, I actually can suggest skipping (gasp) this at this point. Most people like the viewpoint (but you already got a great one of Munich).
HOWEVER, I think that if you haven't done either of those two things, then visiting the Cathedral is a must see in Munich then.
Explore the Nymphenburg Palace or Munich Residence
Depending on just how much time you have in Munich (and what you like to see), this may be a smidge too much for you, as it will take about 30 minutes to get to the palace via Sbahn/ Walking. If that's the case, I recommend picking one other activity from my other Munich Itineraries such as exploring the English Garden or going to the Deutsches Museum instead of the Schloss for an afternoon activity.
How to Get To the Nymphenburg Palace from Marienplatz
Download the MVV App (Munich's public transportation App) and if you have data, you can see in real-time the best routes and you can even purchase your tickets right in the App on your phone.
Get on the S1, 4, 6, or 8 towards Geltendorf (platform 2) and ride it about 10 minutes to Laim.
At Laim, you'll leave the tracks and go to the street to get on the bus next.
Get on Bus 151 towards Romanplatz and ride for 4 stops (about 5 minutes). Get off at Hirschgartenallee
Walk Southwest on Hirschgartenallee about 10 minutes to the Schloss (palace)
If you've never been to a German Schloss, they are beautiful. This one in particular has stunning gardens and is a huge complex of historical buildings. You should plan on AT LEAST 2 hours at the palace and grounds, so definitely plan accordingly. Here is the official site to check for the most current prices (they vary depending on season) and hours. https://www.schloss-nymphenburg.de/englisch/tourist/admiss.htm
Alternatively, you can stay right in the city center and go to the Munich Residence. You'll want several hours for this as well, as it can seem like you get lost in it's endless rooms. This is quite the lavish, guilded palace, ornately decorated to every single crack and corner!
Nymphenburg Palace or Munich Residence? Which one should you go to?
I personally like the Nymphenburg Palace better. It is more in the "Versaille Style" with beautiful outdoor gardens, numerous outbuildings, and feels like a nice little escape from the city. The Munich Residenze is dripping in gold (a little TOO much if you ask me), and the rooms start to feel repetitive after a while. However, it really is only durable if your 1 day in Munich is a particularly long one, it is in the summer (longer daylight hours) and you are willing to go go go during your day and pack a ton in. If you want to see a palace while you are there but just don't have the time to go to the "suburbs" (it only takes about 20-30 minutes to get to), then the Residenz is a better choice for you.
Finish Your Day at a Beer Hall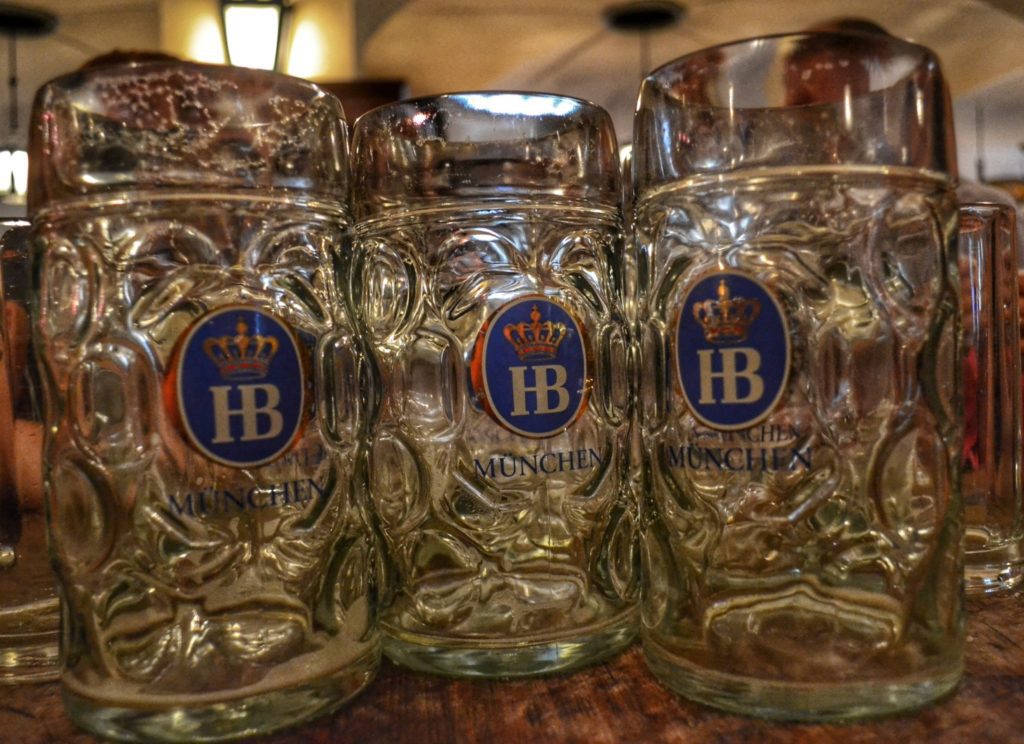 Ok, I know you all want to do it. So, just go to the Hofbrauhaus already. I won't judge. (Ok, maybe a little, but hey, I've gone multiple times myself so hello kettle!)
No day in Munich is probably complete without stopping into the most famous beer hall in the world. However, this extremely crowded, extremely touristy place is far from the best cultural and authentic beer hall experiences.
Don't get me wrong, you can order some German food and spend hours drinking your Maß and even dance a few polkas with the Oompah band here. So, with that being said, go ahead and duck into the Hofbrauhaus for a drink and a song and obviously "for the Gram" at some point in your day, but I want you to finish at my favorite beer hall and beer garden in Munich- the Augustiener.
Tip: While I have this info here at the end of the day, if you choose to follow my instructions, I recommend you actually stopping into the Hofbrauhaus after your visit around Marienplatz- it's only a three minute walk between the two and instead, finishing your day at the Augustiner Keller. However, if you insist on the Hofbrauhaus, then you can finish here as well in the evening.
Eat at the Augustiner Munich Restaraunt
I don't even remember how we originally found the Augustiner, but once we did, we haven't gone back to the Hofbrauhaus again. You will have to take the Sbahn and walk for about 5 minutes to get there, but your small effort will be rewarded, I promise!
The food is UUUUH MAZING and the beer so fresh, you'll never want to leave the beer garden. If you want the authentic beer hall experience, just head inside or sit in the cellar with all the other locals enjoying their time away from the crowds.
If you haven't had Maultaschen yet, I recommend getting it here. It's officially a Swabian dish (which overlaps with Bavaria) and is kind of like Germany's twist on delicious ravioli. Of course, you can't go wrong with the classics like currywurst, and of course schnitzel!!
If you aren't stuffed full and absolutely tired by this point, then you did your one day in Munich wrong! While there is still SO much more to see and do in this city, hopefully, you packed as much as you could into your Munich one day extravaganza!
If you want to easily sub out a few activities or have a bit of extra time, don't forget to check out my 2 Days in Munich and 3 Days in Munich itineraries to see my other favorite things to do Munich.
Are you heading to Munich for a day? What questions do you have that I can help with to help maximize your time?