[This post may contain affiliate links where we earn a small commission. Please see our disclosure for more information and thank you for supporting our site so we can continue to bring you awesome content for your travel inspiration!]
There is just something magical (and not to mention insanely gorgeous) about Bavarian Lakes. Many have been left as a bygone relic of previous Ice Ages, carving out enormous, deep, beautiful, and pristine lakes that are so large that many have numerous towns dotting and lining the "coasts" of the lakes. Bavaria is also home to the incredibly culturally rich and jaw dropping scenery of the Bavarian Alps. While not ALL of the most beautiful lakes in Bavaria are Alpine, it's pretty easy to top the list when you combine the often bright, turquoise blue and green glacial waters with the staggering, imposing Bavarian Alps! Add a castle in the background and you've got the perfect recipe for Picture Perfet Germany Postcards!
Living in Bavaria myself, I've come to really love the German culture of truly appreciating nature. One extremely popular, local activity, especially in the summertime, is for Germans to flock to their local lakes for a day of relaxation or "Sport." There is often an Imbiss (place for food like pizzas and Wursts) but at many of the larger Bavarian lakes, you'll find full restaurants and maybe even an atmospheric Biergarten to enjoy! Families will sprawl out on the green grass with their picnic supplies as everyone soaks in the views and waters. No doubt that you'll find plenty of people out on SUP boards, biking around the lakes, swimming, and just fully enjoying their day! If you want to see an authentic side of Germany, slowing down at a local lake is one of my personal favorite ways to do so!
While there are something like over 300 lakes in Bavaria alone, I'll admit that I have personally only been to a fraction of those! However, I have been to my fair share of some pretty stunning and amazing ones. So if you are looking for a great place to hike, just want to take an easy cable car for breathtaking mountain views, or simply want a place to hit the lake for some water sports, Bavarian lakes have it all!

My Top 15 Bavarian Lakes To Visit
From some of the most famous lakes in Germany to some of the most stunning all the way to a few of my personal favorite or more "local" feeling options, here are some of the Best lakes in Bavaria You MUST Visit!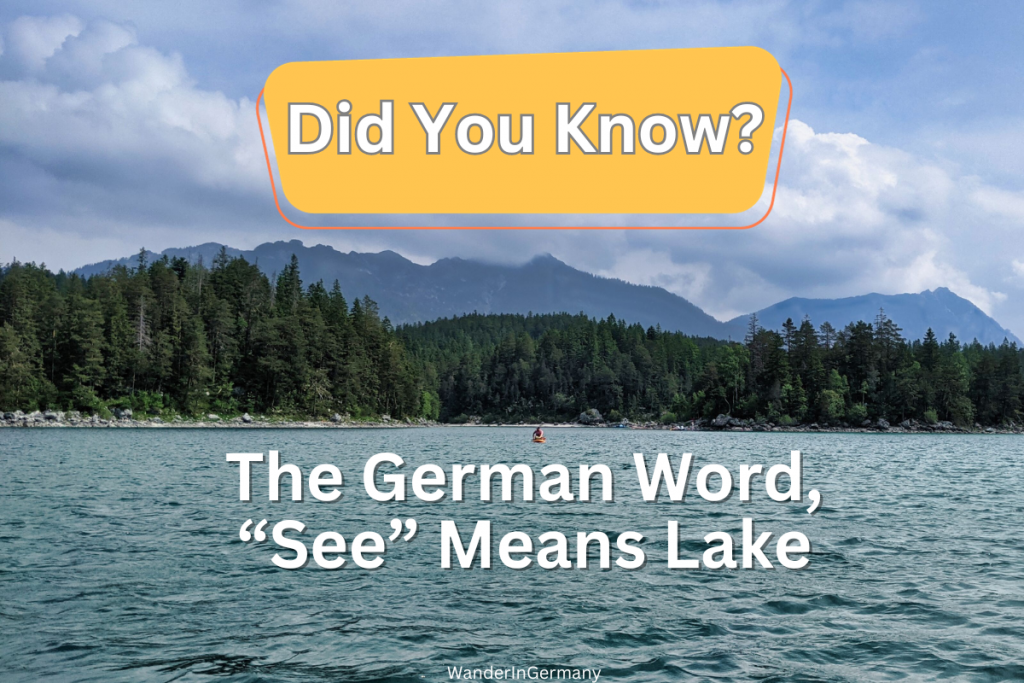 Bodensee/ Lake Konstance/ Lake Constance
(Yes, all in the same!)
Perfect For: Experiencing the Largest German Lake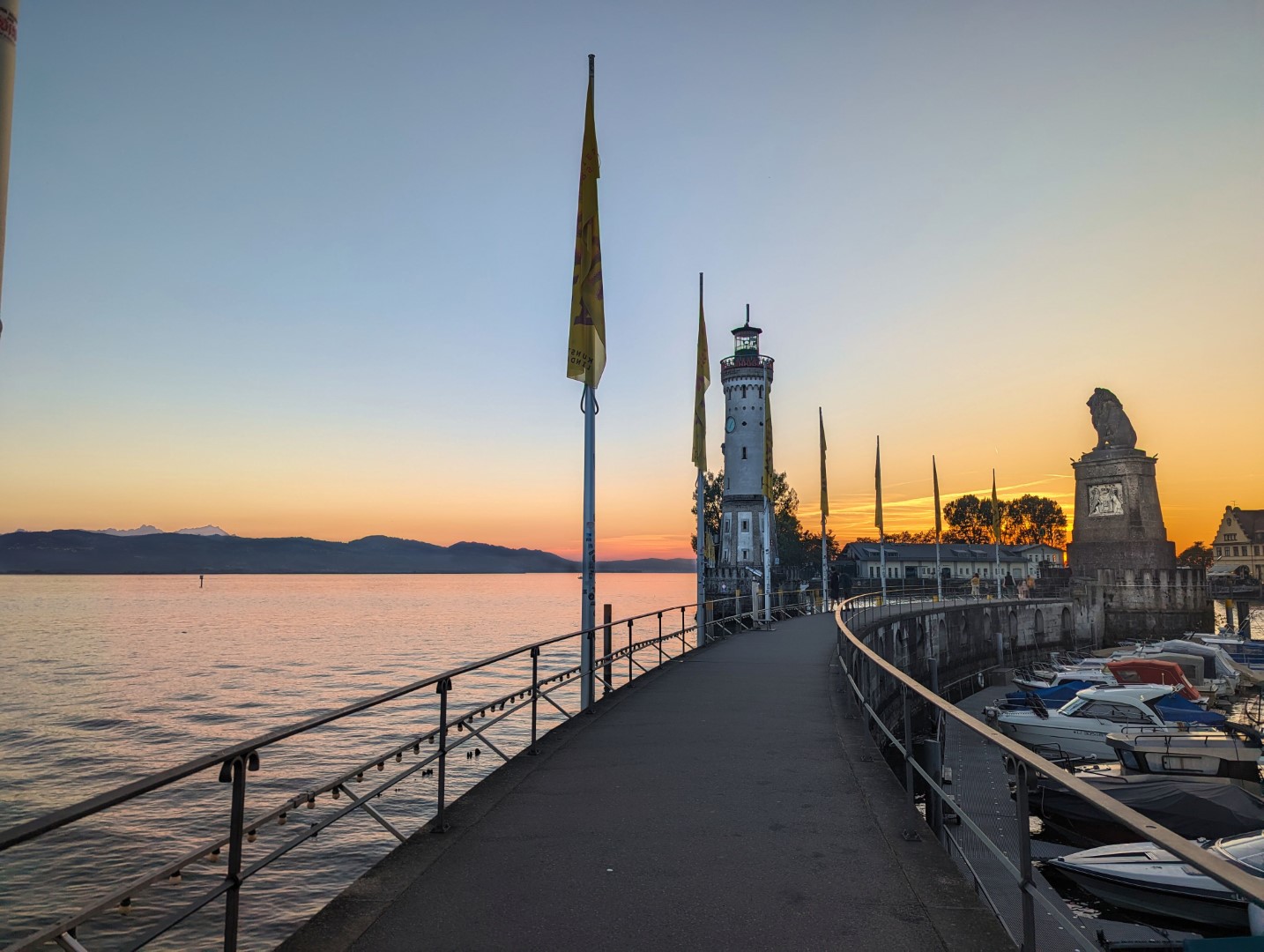 Considered one of the best lakes in Germany, this is also the largest German lake as it spans both states of the Baden Württemberg AND Bavaria AND also shares borders with Switzerland as well as Austria!!! It's pretty fun to be able to stand on the shores of the lake knowing you are actually looking at three countries at once (Oh, and the views of the Alps in Austria and Switzerland aren't half bad, either!)
The largest German city on the lake is Konstanz, which has a rich culture and a fabulous old town. Just outside of the city is the beautiful beach and swimming area of Strandbad Hörnle, but beaches also dot the rest of the lakeshore. There are plenty of options here for swimming spots or water sports.
Personally, I love going to the town of Lindau, located on the Eastern side of Bodensee. The little Altstadt of the town is insanely charming, perfect for a day of Wandering In Germany, and you can catch a boat ride right there from the really amazing harbor with the iconic Bavarian Lion Statue and beautiful lighthouse overseeing the the lake. There is also an AMAZING Spain Lindau that has the most stunning views out from the Saunas and Garten (especially at sunset!!!)
The last time I went down to Bodensee, my rockstar blogging buddy did this hilarious and insanse (but look at how fun and beautiful!!!) "Flying Dress" Photoshoot!!! There was a group of "Elderly" locals that legit got out their beers to watch as we made fools of ourselves. But when you've got those kinds of views out over the lake, we all had a great time!!!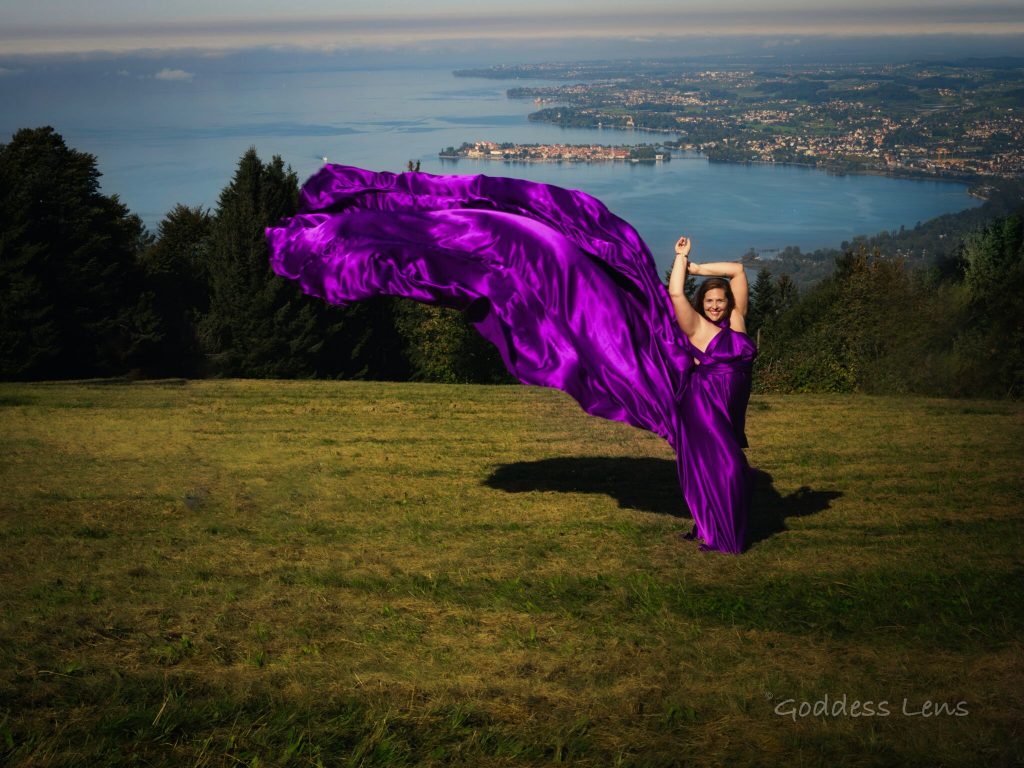 Eibsee
⛰️ Perfect For: Also Seeing Germany's Tallest Mountain (Zugspitze)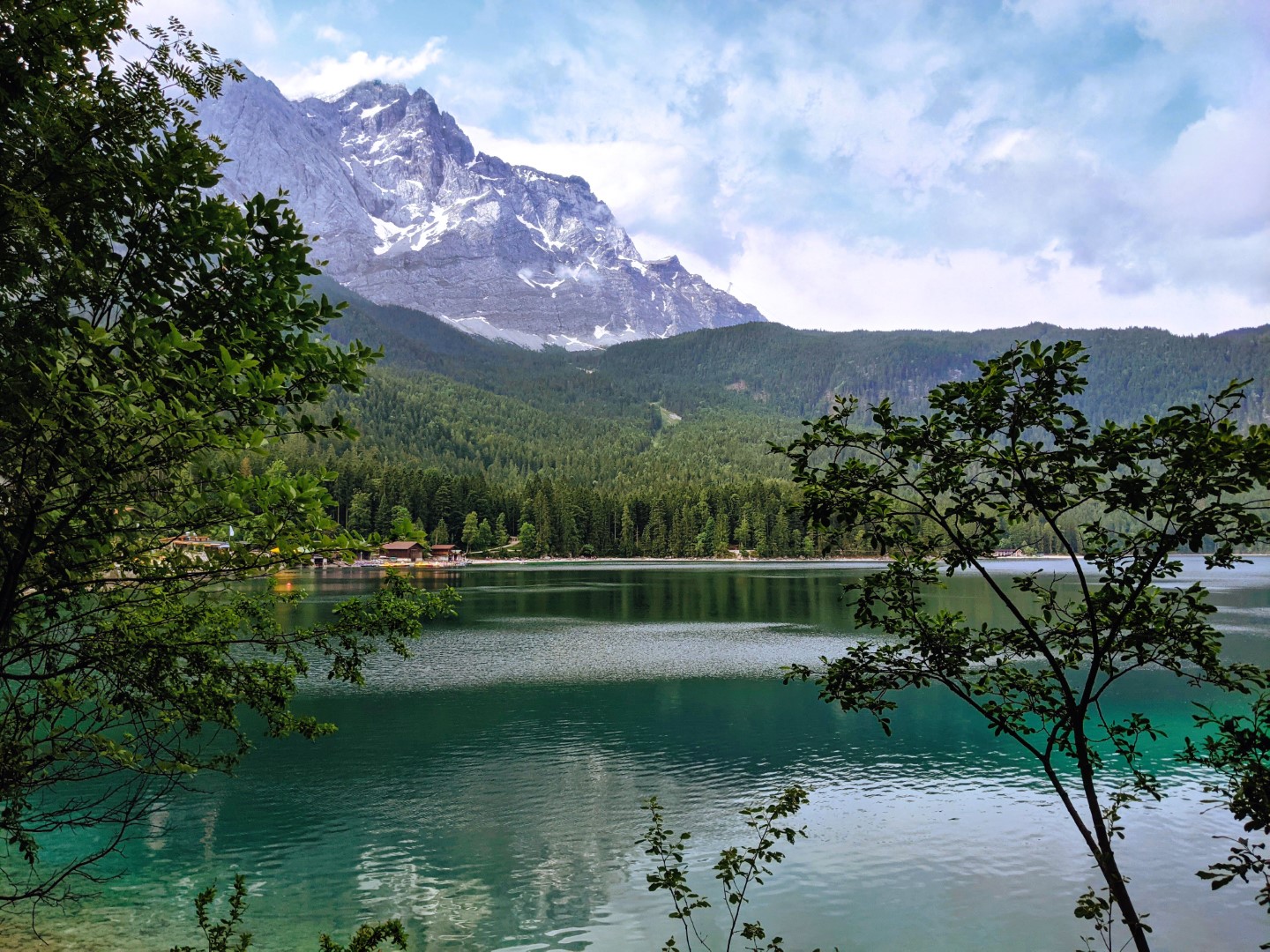 If you are heading to the tallest mountain in Germany, the Zugspitze, then a few moments (or hours!) of awe inspiring views at the foot of this massive mountain at one of the most beautiful Alpine lakes in Bavaria, the Eibsee, is where you need to be! While it can get quite busy in the summer months at the main beaches and restaurants, it is large enough that you can easily walk around the Eibsee Circuit Trail to find a few moments of quiet as you appreciate the beauty of one of the most iconic mountains in Germany.
In the summer months, you can rent SUPs, paddle boats, or just simply dive into the cool, glacial waters on a hot, summer day! Just know that even in the summer, the waters are still COLD (just ask my husband who dove in from our padd boat!) I've also been to Eibsee in the winter. It is still just as gorgeous but truly does take on a different vibe and atmosphere but is just as worthy as in the summer months.
While this may be one of the most famous Germany Lakes, it's obvious to understand why when you are gazing out over the turquoise waters staring up at the breath taking Zugspitze Mountain!
Geroldsee (Wagenbrüchsee)
🐄 Perfect For: Iconic Bavarian Countryside Views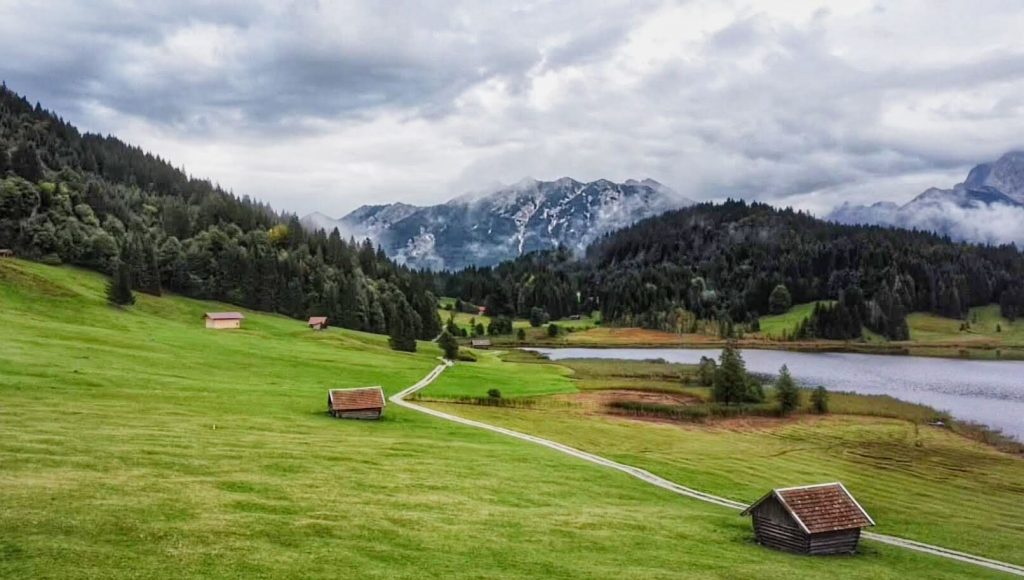 Speaking of Garmisch, if you are nearby that Alpine town and want to see a lake that truly could have been plucked straight from a Bavaria Tourism travel brochure, the little, unassuming lake of Geroldsee (also known as Wagenbrüchsee) is only about a 10 minute drive from Garmisch.
The little huts are classic structures in Bavarian farmfields and they just add a whole layer of Gemütlichkeit to the whole ambiance of the lake and the mountains!!!
PLEASE NOTE: As this lake becomes more and more "Insta" Famous, it's important to know that the fields just above the huts (yes, with some of the best views) are a protected preserve. Please Please Please, be respectful of both the nature as well as the farmer's land here. Just because you see others walking up the hills does NOT mean that it is ok. (And yes, my photo is from an approved drone, so no, I was not breaking the rules myself, either)
Chiemsee
🚴 ⛵Perfect For: Pairing Lake Fun (Water Sports, Biking, etc) with Local History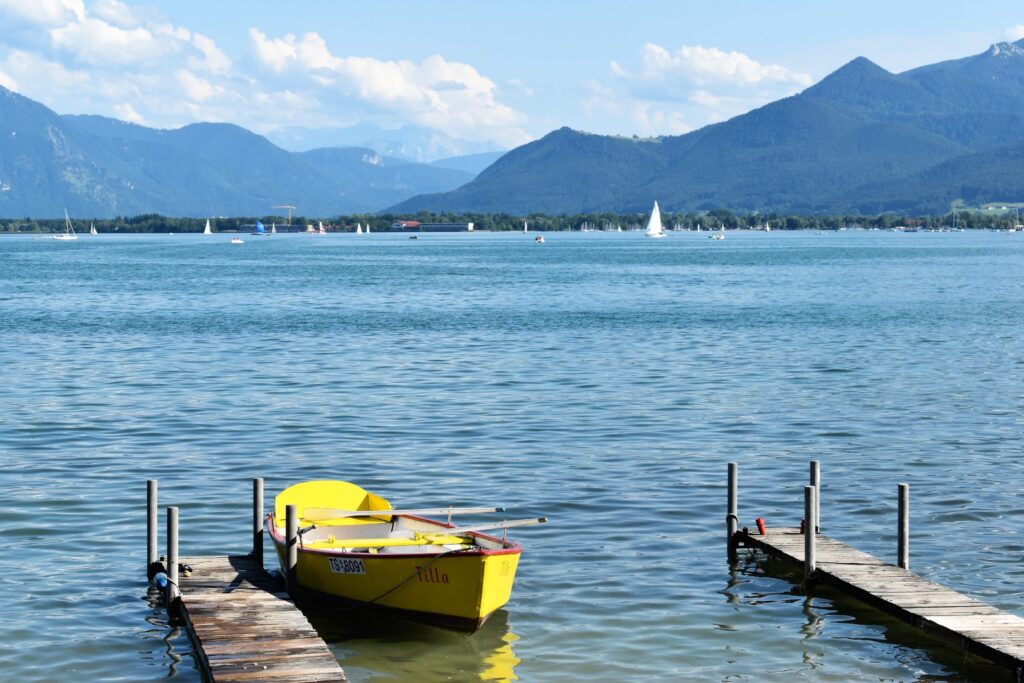 Chiemsee Lake is one of the best lakes in Bavaria, located in the southeast corner, close to Austria. And with it being SO close to the mountains, the views on the lake are wonderful!!! There are two small islands in the middle of the lake, both of which can be visited by boat, and one of which is home to the Herrenchiemsee New Palace, or "The Bavarian Versailles." While the Neuschwanstein Castle in Bavaria may be "Mad" King Ludwig's most famous castle, the flamboyant king adored the Palace of Versailles in France and wanted his own version and it truly is a contending piece of architecture to its palace of inspiration!

The second island, Fraueninsel, is home to lots of local fishermen, especially famous for their smoked fish. Chiemsee is also a great lake for swimming. As it is a glacial lake, its water is extremely clean and fresh. 
As with many of the larger Alpine lakes in Bavaria, this one is so huge that there are numerous towns bordering the entire lake. Grab a bike and make your way around the lake to experience the different towns along the way and the unique things each can offer.
Pro Tip: If you are heading to the STUNNING Berchtesgaden National Park (from Munich), Chiemsee is right along the way!
Walchensee
🚠/🥾Perfect For: All Levels of Hikers For Breathtaking Views of the Lake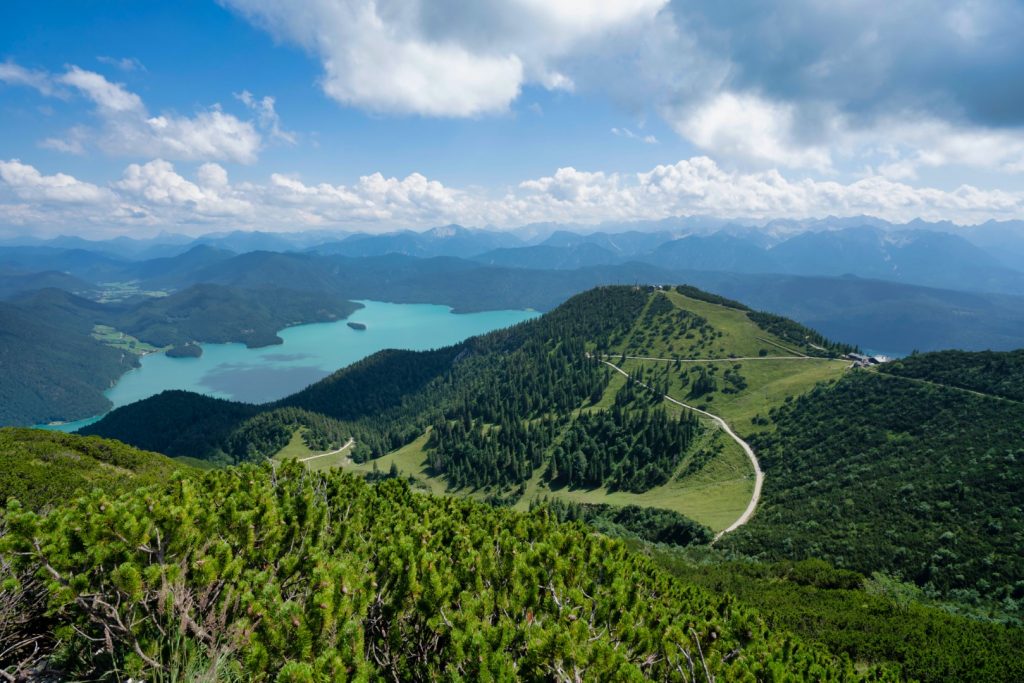 Walchensee is one of many Southern Bavaria lakes, but this one really packs a punch in terms of gorgeous views! The lake boasts jaw-dropping emerald waters and is surrounded by lush greenery. For the best views of the area, hike (or take the cable car) up to the Herzogstand where you get the most commanding and epic sights of the Alps and Bavaria overlooking those gorgeous blue waters. There are a number of options for trails you can take, some are quite long treks, but the simplest options can get you to the peak in under three hours. 
Insider Tip: This is one of the easiest mountains to get to from Munich. In just over an hour by car or a little under 2 hours by train, many Munichers love coming here for a day trip. So, while this may be more of an"off the beaten path" lake for tourists you can still expect a decent amount of Germans who really enjoy these easy, fantastic views.
Starnberger See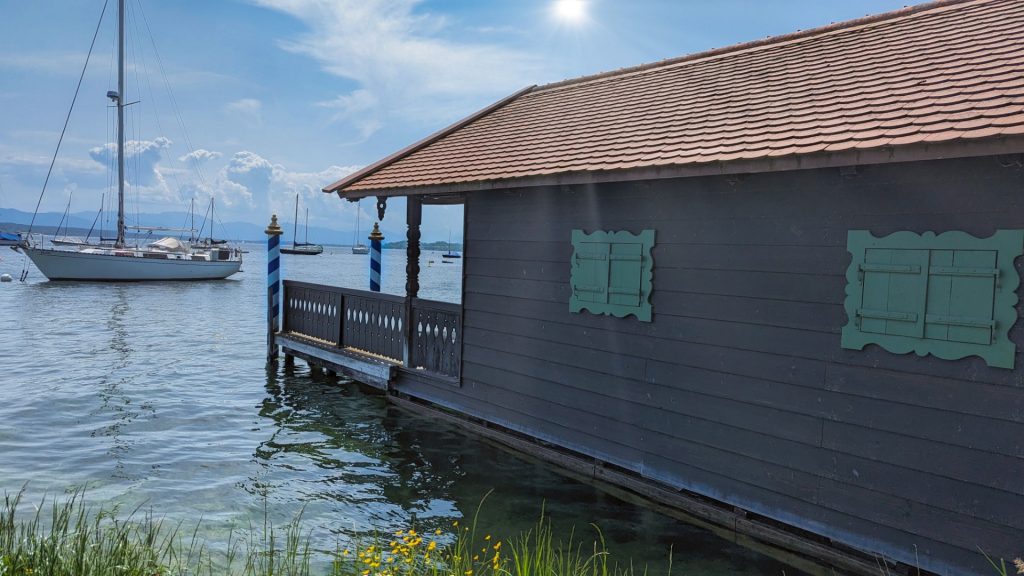 ⛵Perfect For: A SUPER Easy/Close/ Fast Getaway from Munich + Great Water Sports
Starnberger See is one of the easiest to get to lakes near Munich, only about 20 kilometers from the city, as the crow flies. The area around the lake is great for a weekend away from the city and there are plenty of hotel and camping options available. For a really fun way to see the lake, you can do an almost "Hop On/ Hop Off" style of travel with the Starnberg Boats. There are a few ferry routes which run from Easter through October and connect the different towns around the lake.
Here is my full list of Great Things to Do at Lake Starnberg for Everyone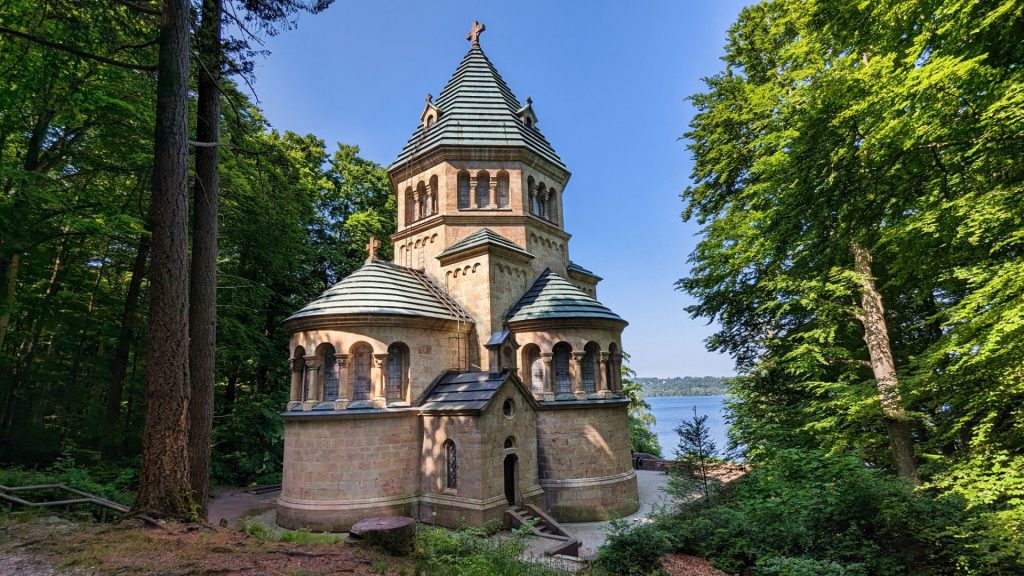 Lake Starnberg is also famous because this is the place where the Mad King Ludwig II was found dead, floating in the waters. Was it suicide? Murder? An accident? To this day, nobody knows.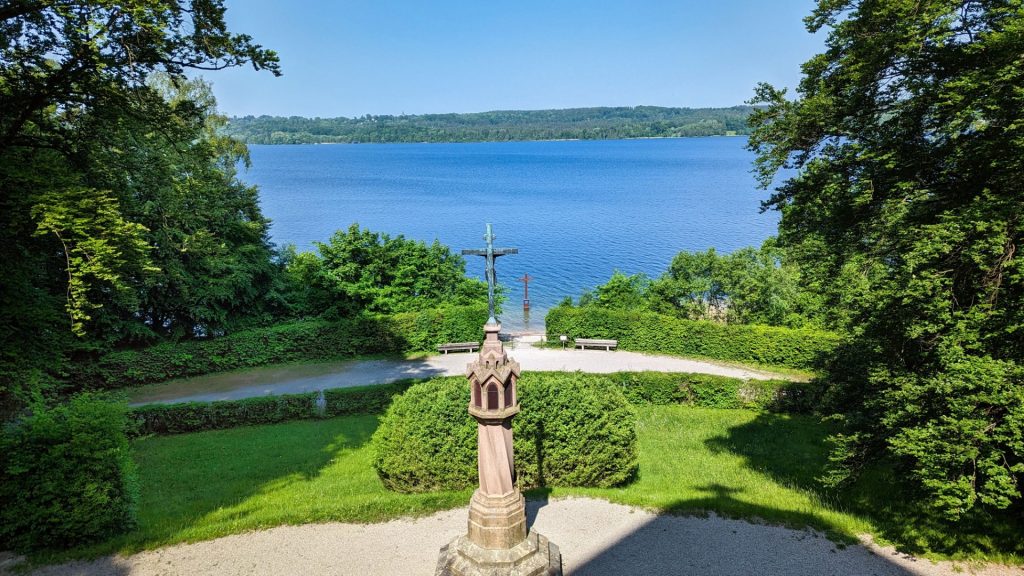 In fact, I just went to Starnberg with my family, where we did a really fun weekend of camping. While I personally prefer some of the lakes further south (AKA closer to the mountains for even more impressive Alpine views!) Starnberger See was the perfect escape if you are near Munich (which we are) without a ton of hassle!
Ammersee
 🚢Perfect For: Combining it with Starnberger See for a Perfect Munich Getaway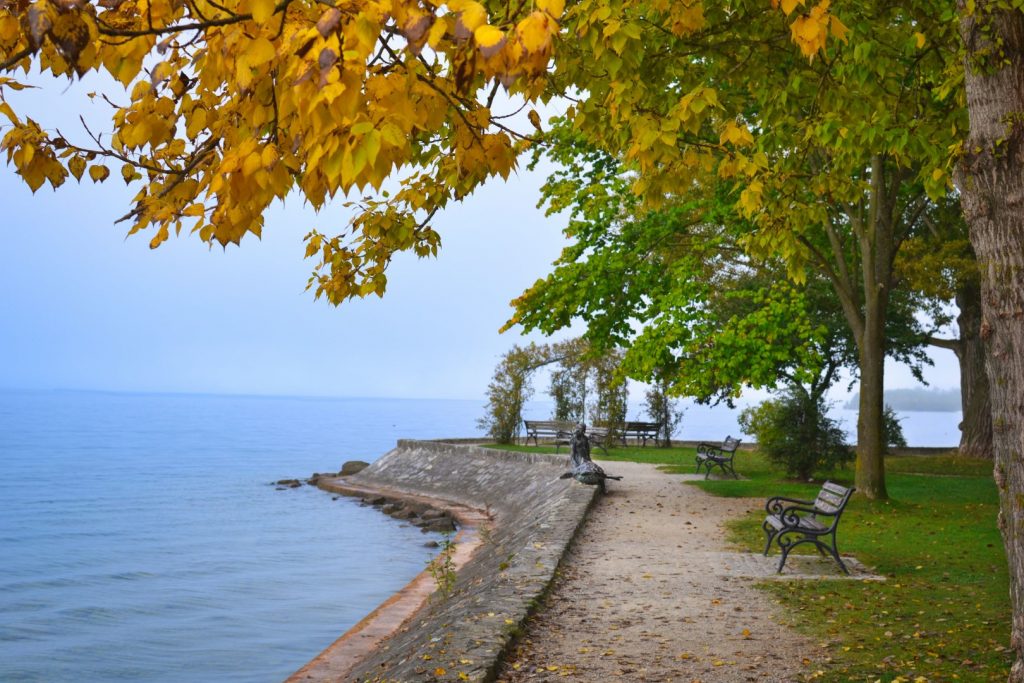 Ammersee Bavaria is another one of the Bavarian lakes located just to the southwest of Munich, and juuuust West of Starnberger See. In fact, it only takes about 20 minutes to drive between the two lakes. You can also take the S8 (Sbahn) straight from the Munich Hauptbahnhof directly to the town of Herrching, located on the Eastern side of Ammersee.
Since many people flock to Starnberg, Ammersee has a slightly more "local" feel to it without compromising any of the great things and activities that Starnberger See has to offer! There are two ferry routes around the lake, but if you get a combined ticket you can make your way around the whole lake by boat. It usually takes about three and a half hours, but will be longer with stops and is a great way to see the whole lake. There are also plenty of water sports, biking trails, a few places to camp at Ammersee, and more!
Personally, I really enjoyed just strolling the promenade of Herrsching. This beautiful "Little Castle" was just sitting there waiting to be adored! Can you imagine having this as your home overlooking a beautiful Bavarian Lake!? Yes. Please!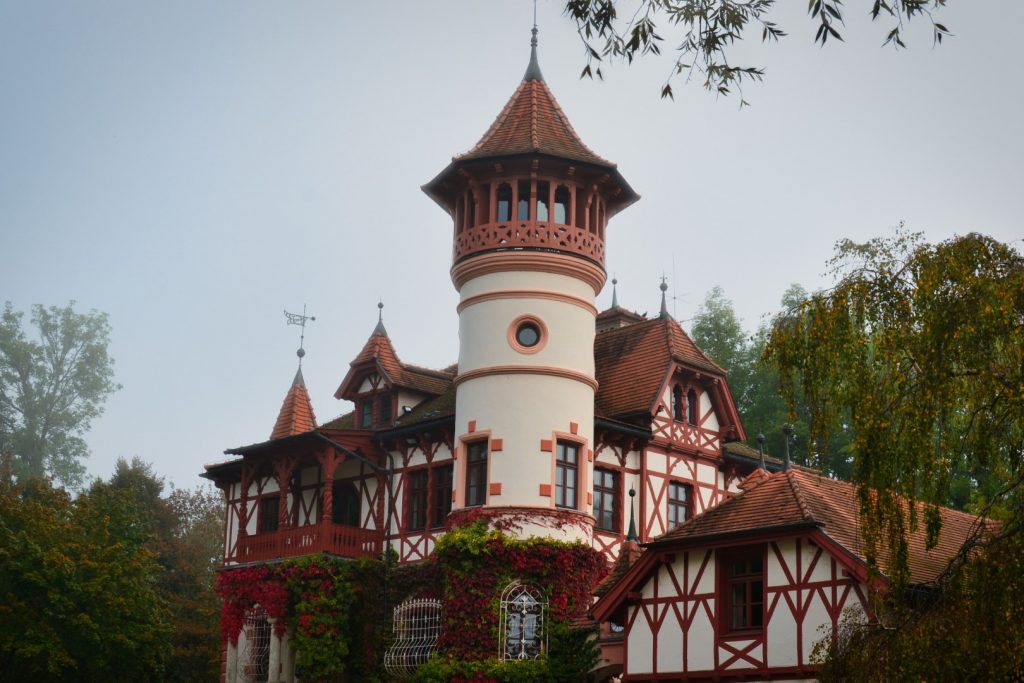 Insider Tip: No trip to Ammersee is complete without stopping at the nearby Andechs Kloster. This working monastic brewery is loved by locals and tourists alike for some of the best beer in Germany and some seriously delicious, homemade cheeses! A lunch excursion to the Kloster and Biergarten is not to be missed when going to Ammersee or Starnberg! It only takes a few minutes to drive to from Ammersee, but many hikers love the trek from the lake to the Kloster as well (and who doesn't love the reward of a delicious beer after a good hike!?)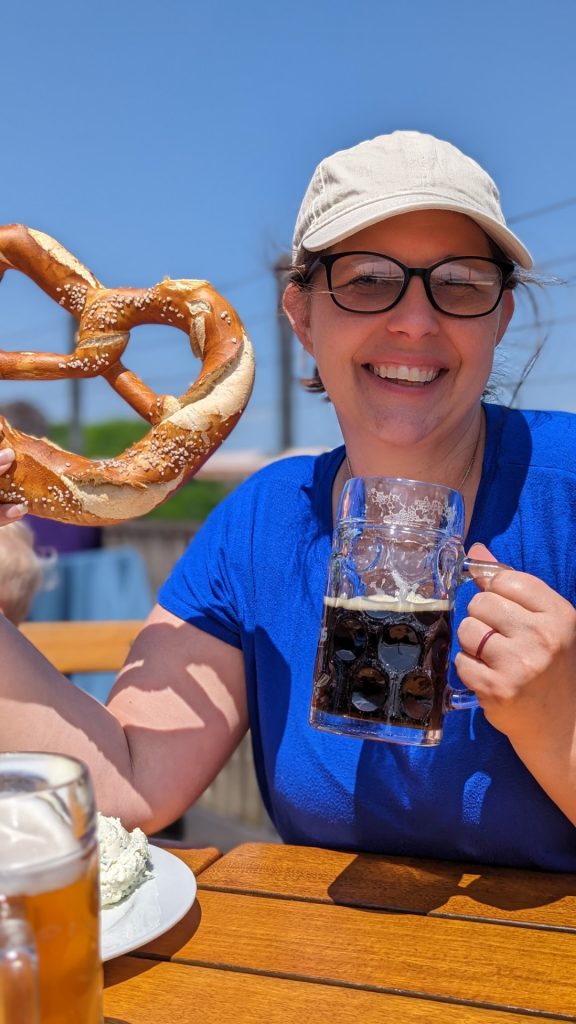 Alpsee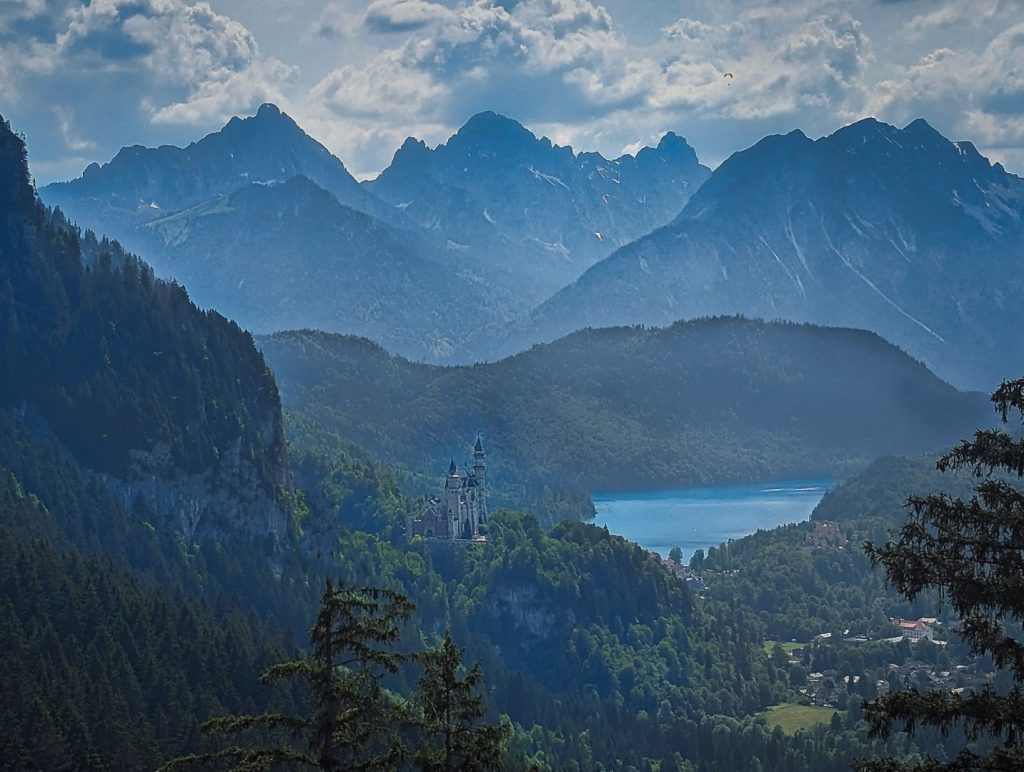 🏰Perfect For: Stunning Views of Neuschwanstein and Hohenschwangau Castles
Here at Wander In Germany, my tagline is "Balancing the German Iconic Sights with Local, Authentic Delights!" and going to (or just seeing) the Alpsee is the perfect example of how I do this! I could argue that no trip to Bavaria is complete without visiting the iconic, Cinderella Neuschwanstein Castle (unfortunately, that's what all the other tourists think, too!) But have no fear! For LeAnna is here (ok, sorry, that was pretty cheesy)
Yes, 100% go spend half a day oogling and drooling over the beauty that is Neuschwanstein! But if you want to escape from the tourist crowds a bit and see how the locals enjoy their free time in the area, head down the road just a few minutes to the Alpsee, or take this fantastic hike on the Tegelberg. King Ludwig II chose this location in the Alps for a reason as the backdrop to his fairytale castle. This is one of the most beautiful lakes in Bavaria with a natural area which is quite untouched since it is a protected nature reserve. The lake has great walking trails which will allow you views of both Hohenschwangau Castle and Neuschwanstein Castle. The easy "Alpsee Lake Walk" takes just about two hours and is a full loop. 
Insider Tip: The area around Neuschwanstein is no stranger to beautiful Bavarian lakes! While the Alpsee is right next to Neuschwanstein, Forggensee is literally just down the road (you can see it while you are up at the castles) and is a great spot if you are looking to Camp near Neuschwanstein. Forggensee has a much more "local" feel to it and since it is so big, there are tons of water sports activities to do there as well. Bannwaldsee is also right next to Forggensee (also offers some great Neuschwanstein Camping options!) And if ALL of those options for Bavarian lakes near Neuschwanstein still aren't good enough, try escaping to the slightly more quiet, yet still GORGEOUS Hopfensee.
Rachelsee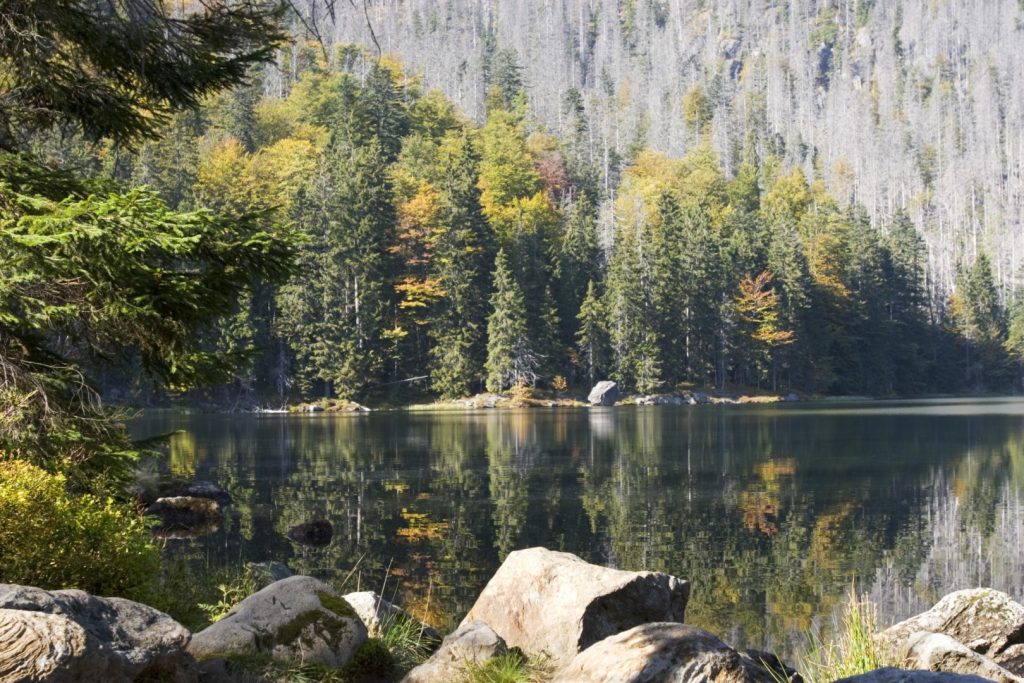 ☮ Perfect For: A Quiet and Remote Location Completely "Off the Beaten Path"
While many tourists put the Black Forest high on their Things to Do in Germany list, the Bavarian Forest, located only about 45 minutes East of Regensburg is an amazing, local gem! And while there is PLENTY to do in the Bayerischer Wald (Bavarian Forest) from really fun amusement parks (some pretty quirky like the Churpfalz Freizeitpark), to enjoying nature, the Rachelsee is arguably one of the Bavarian Forest's most beautiful lakes to enjoy.
Rachelsee is a unique lake, as it was formed from a glacier during the last ice age and can only reached by foot, making it a fantastic, retreat from the crowds! (Yes, even from the locals sometimes!) The area around the lake is remote and it doesn't see a HUGE number of visitors compared to the more famous lakes in Germany on this list.
Fun To Know: Being a remote location has provided many legends about this lake. For example, some believe that the name of the lake, Rachel, is actually named after the devil's grandmother. Others say that "Rachel" was the name of an evil lady whose coffin "sailed" on this lake with black ravens circling her last voyage.
Großer Ostersee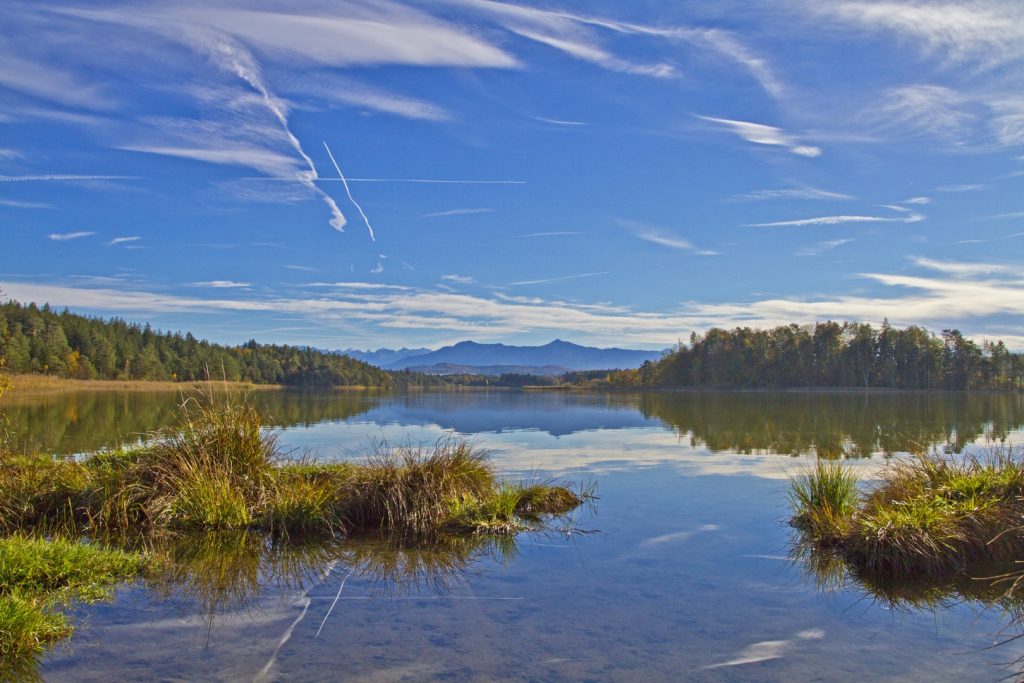 🌳🌿 Perfect For: An Easy Loop Trail Around a Unique Biodiversity Reserve
The Osterseen is a series of 24 small bodies of connected water. They are actually just a few minutes' drive from the south point of the Stamberger See (and with even better Alpine views!) making it a great addition to your Starnberg trip. However, unlike Starnberg, which is a lake you enjoy tons of water sports in, most of the Osterseen is actually a protected nature area, making it so that this is more of a truly peaceful and serene place to walk and hike and enjoy the views of the nature, but not swim, paddle, etc. There are actually only two spots on the Großer Ostersee that are permitted for swimming. In fact, hiking through these connected lakes is arguably one of the most biodiverse places in Bavaria.
Of all the Osterseen lakes, the Großer Ostersee is probably the one I'd recommend heading to first, as there is an incredible "Rundweg" (circular path) that you can do to circumnavigate the whole lake in less than 3 hours.
Königssee (Bonus Lake: Obersee!)
 ⛰️Perfect For: One of the Most Picturesque Areas of Bavaria (Also Perfect Day Trip from Salzburg)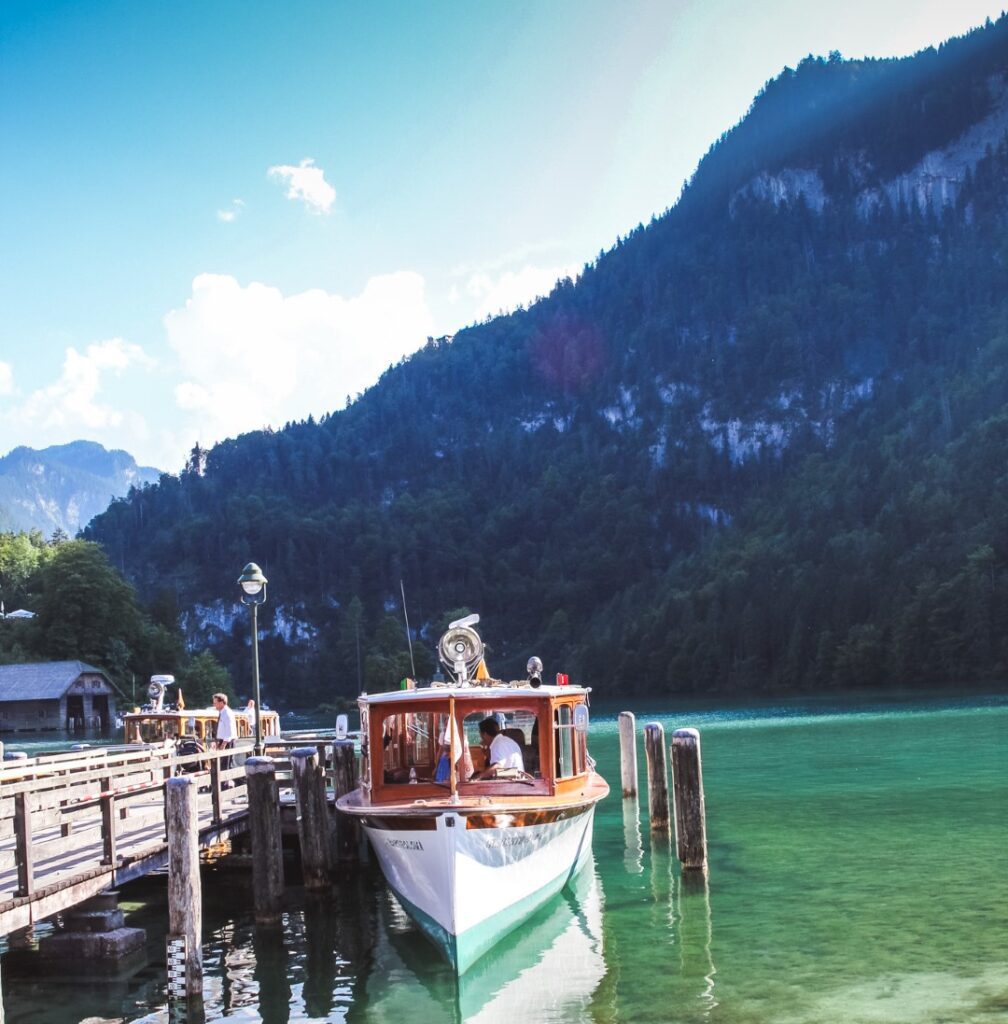 While many people head straight for the tallest mountain in Germany, the Zugspitze, if you are wanting out of this world scenery, you HAVE to go to the Berchtesgadener Land (also home of the Eagle's Nest, if that intrigues you at all). Not only is this National Park in Germany insanely beautiful, but a day visiting its most iconic lake, the Königssee is often the highlight of many people's trips to Germany! In fact, this area of Bavaria is often compared to the stunning Fjord areas of Scandinavia!
No day at the Königssee is complete with a once in a lifetime experience of taking one of their unique boats and listening to the trumpeter and hearing the echos! Other favorite things to do at Königssee are taking the boat to the beautiful Saint Bartholomew's Church, hiking around the lake, and eating some of the best smoked fish you may ever have at the Fischer Vom Konigssee!
Bonus Lake: The Obersee
 ⛰️ My Top Pick For Most Beautiful Bavarian Lakes!
Königssee and Obersee are actually two lakes lying right next to each other, connected by a small stream. Königssee is considerably larger, to the north of Obersee, but it's worth visiting both while you explore this fjord-like area.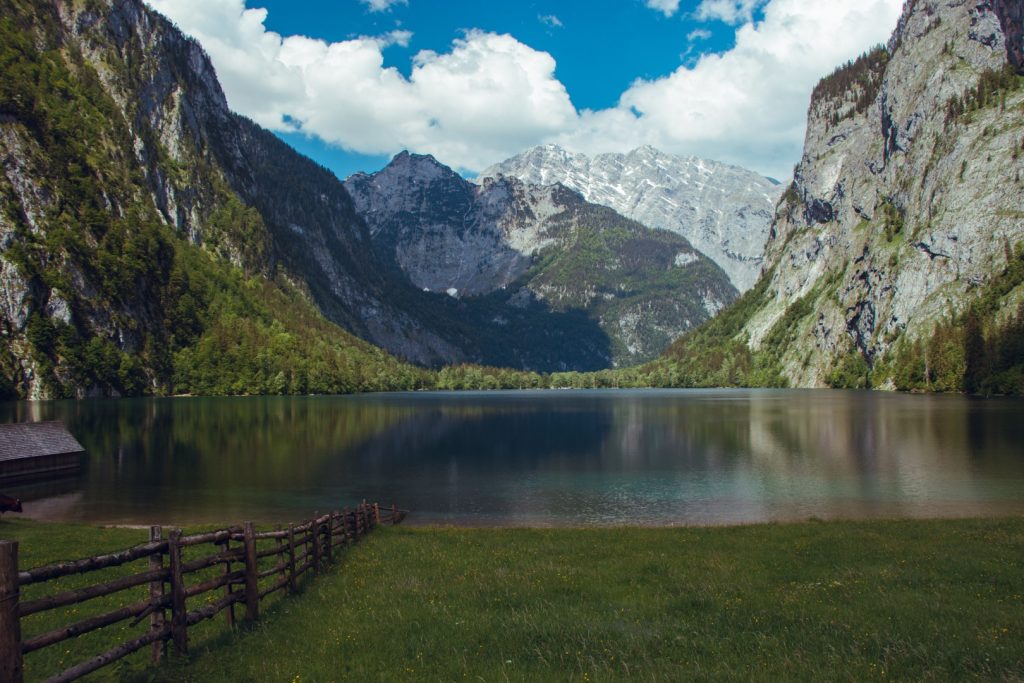 To get to Obersee is a journey in and of itself (and not to be missed!) There are electric boats that make the trip from Königssee Seelände to the stop of "Salet" about every 30 minutes. At the Salet stop, you'll get off and then hike about 25 minutes to the actual Obersee lake. You'll be rewarded with one of the most beautiful lakes in Germany (nay, the world, I'd argue!!!) I mean, we are talking, Bavaria, Picture Perfect!!!! There is even a little hut (that is basically screaming for your Insta-Photos!) that sells….wait for it…..Bavarian Wursts and fresh cheeses!!! YAAAAAS PLEEAASE!!!!
Since the only way to get to Obersee is to walk/hike from the boat, Obersee is a bit more serene and quiet compared to the often busy and bustling Königssee. It's amazing how just a few minutes away can actually feel like a world away. And it's THIS part of Wander In Germany that I absolutely love sharing with you. You truly can do both the Iconic Sights of Germany AND the Authentic Delights!!!
Obersee Just May Be My Top Recommended Beautiful Bavaria Lake To Visit!
Insider Tip: It is actually easier to do a day trip to Berchtesgaden (and Königssee) from Salzburg rather than Munich!
Sylvensteinsee
 🏍️ Perfect For: Cyclists/ Motorcycling Enthusiasts or Roadtrips with Stunning Views On Their Drive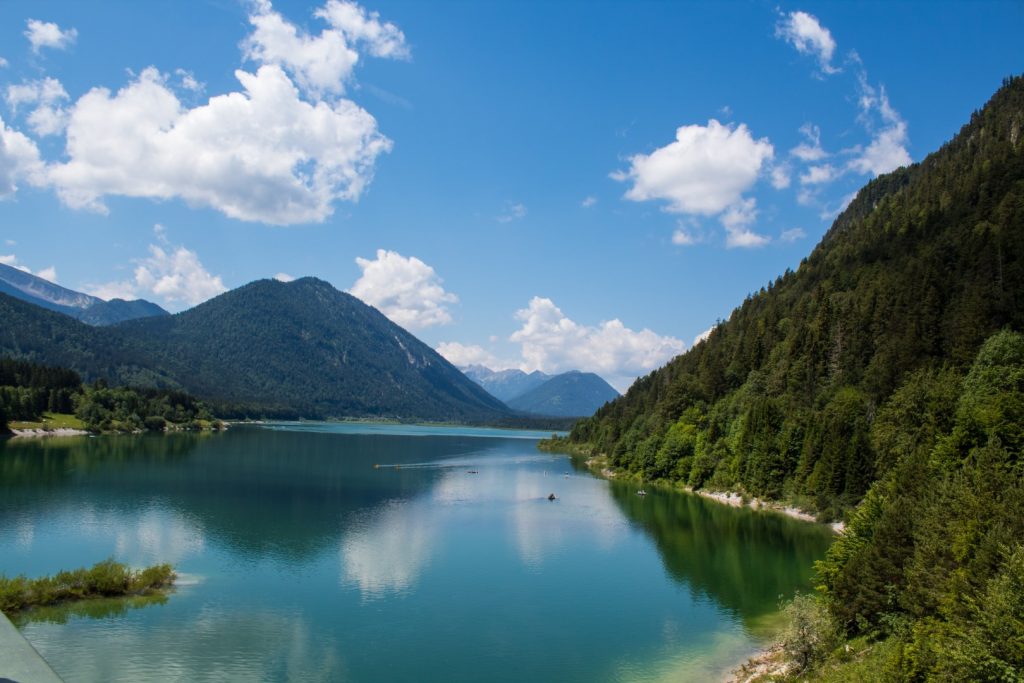 Sylvensteinsee lake is due south of Munich, all the way down near the border with Austria. It's actually a man made dam, but nothing about its unreal, jaw-dropping scenery would suggest anything but a natural wonder. Often boasting the most unusually aqua-turqoiuse colors, you might wonder if you are actually on some Caribbean island instead of sitting on the banks of a European mountain range. The German Alpine Road cuts across the top stretch of the lake, but the bridge that intersects the two main bodies of Sylvensteinsee is a gorgeous, if windy, route to take for some epic vantage points.
Many people do the drive over the bridge just for the views themselves.
Tegernsee
 ⛪ Perfect For: Incredibly Charming Lakeside Village + Easy Hikes and (And very close to Munich!)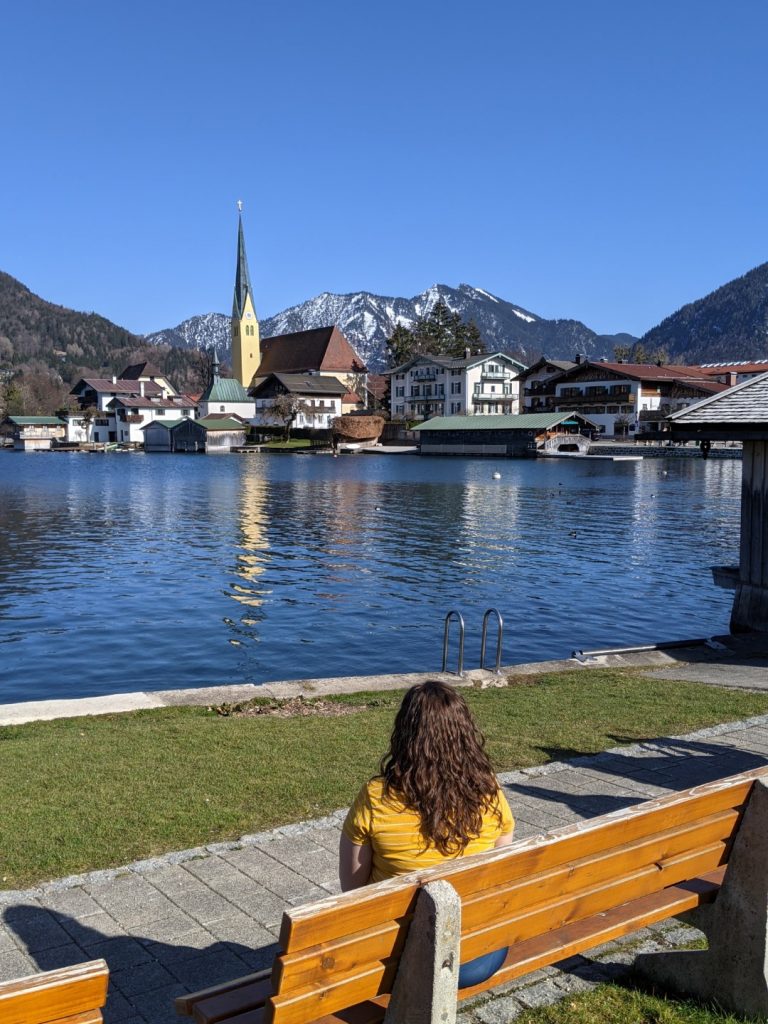 Both Tegernsee Lake and town are an easy hour's ride south on the train from Munich, making it a very popular day trip activity that is perfect for escaping into the Alps and nature. There is a lot to do in this area of Bavaria in general but around Tegernsee, you can choose to hike some of the nearly 700 kilometers of trails, wander the super cute village of Tegernsee, and in the winter, it's a great place to explore the cross country ski trails.
A few years ago, I did a day trip down to Tegernsee for a really easy (hey, I was 7 months pregnant!) but super visually rewarding hike from Tegernsee to Riederstein. (I'm all for the max views with the least amount of effort, folks!!!) I'd love to go back and explore even more of the trails around the lake!
Even if hiking isn't your jam, the town of Tegernsee could be plucked right from a "Germany Postcard" with its super cute church steeple flanking the lake itself, all while the Bavarian Alps loom above the lake and town.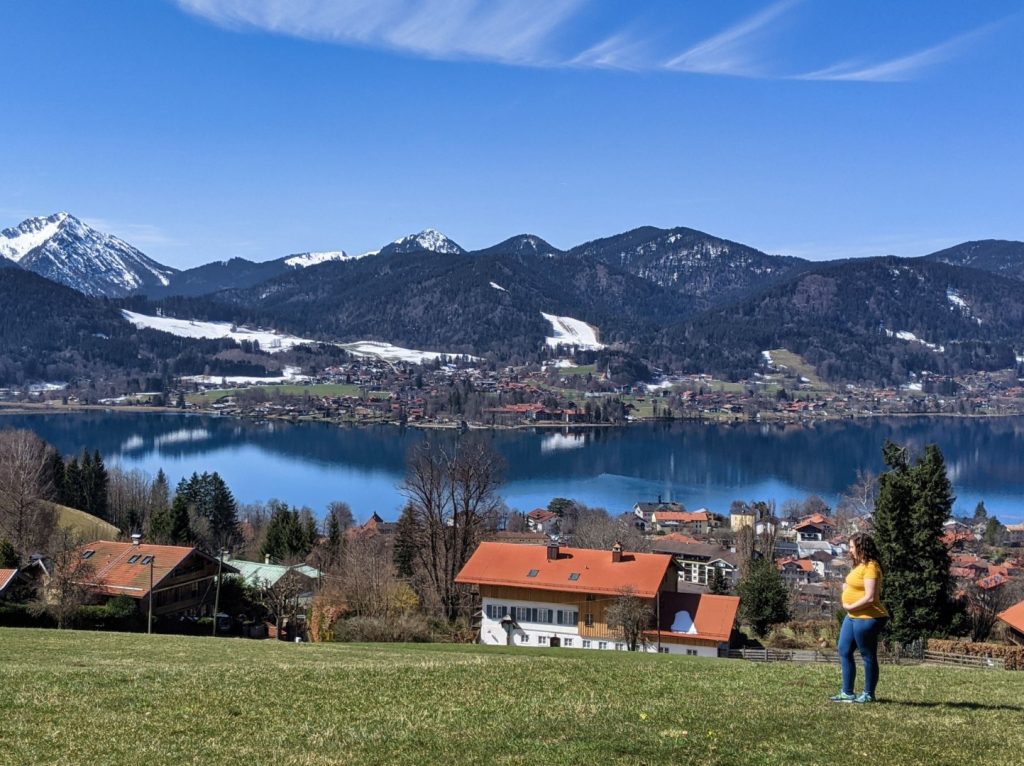 Insider Tip: And if you are like and are highly motivated by delicious Alpine cheeses, head to the nearby Naturkäserei Tegernseer Land, which has competed for the title of "Bavaria's best organic products."
Steinberg am See
Great for leisure sports, family, and an off the beaten tourist path lake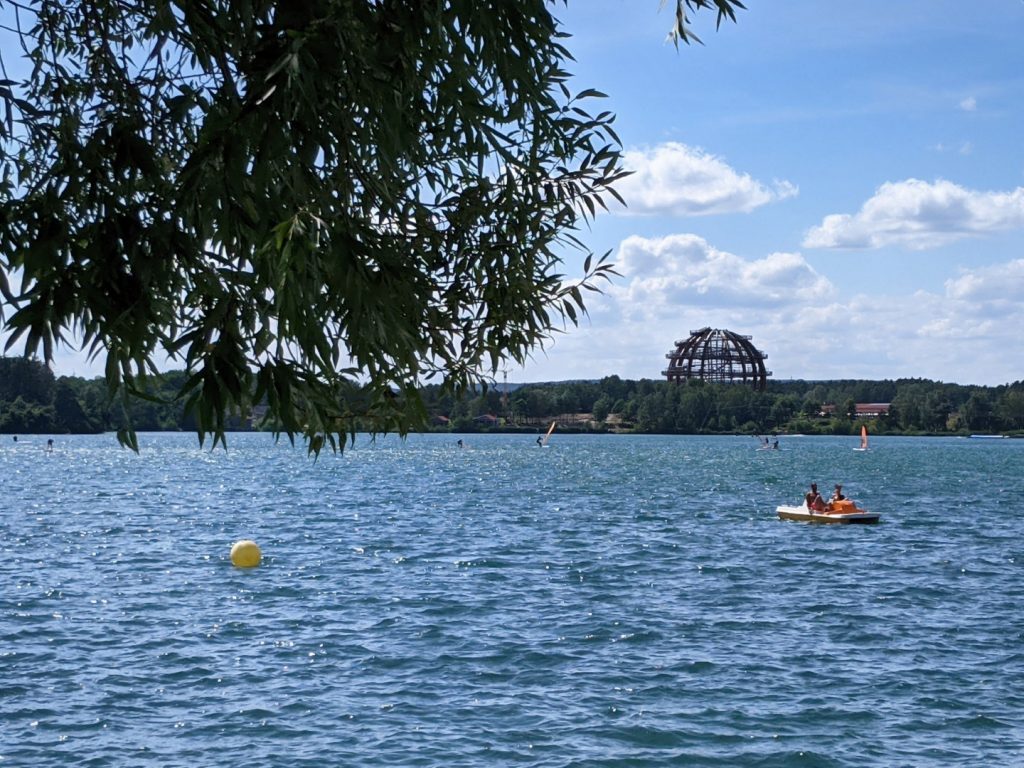 Just east of the city of Nuremberg, Steinberg am See lake has so much to offer!! Whether you want to do some water skiing, play some mini golf, go to a huge trampoline park, or climb the giant "Egg" (The "Kugel") to take the twisty, turny slide all the way down, there is something for everyone for the family here! Of course, you can also set out on the Steinberg Lake loop which brings you around the full bottom part of the lake in a 6.3 kilometer loop or you can tackle the whole lake in just 9.6 kilometers.
While Steinberg am See isn't one of the Bavarian ALPINE lakes (which are all in the South of Bavaria) if you are visiting Regensburg or anything in more Northern parts of Bavaria (like Nuremberg) and are looking to truly find "What the locals do," head to Steinberg for the day to enjoy nature like the Germans.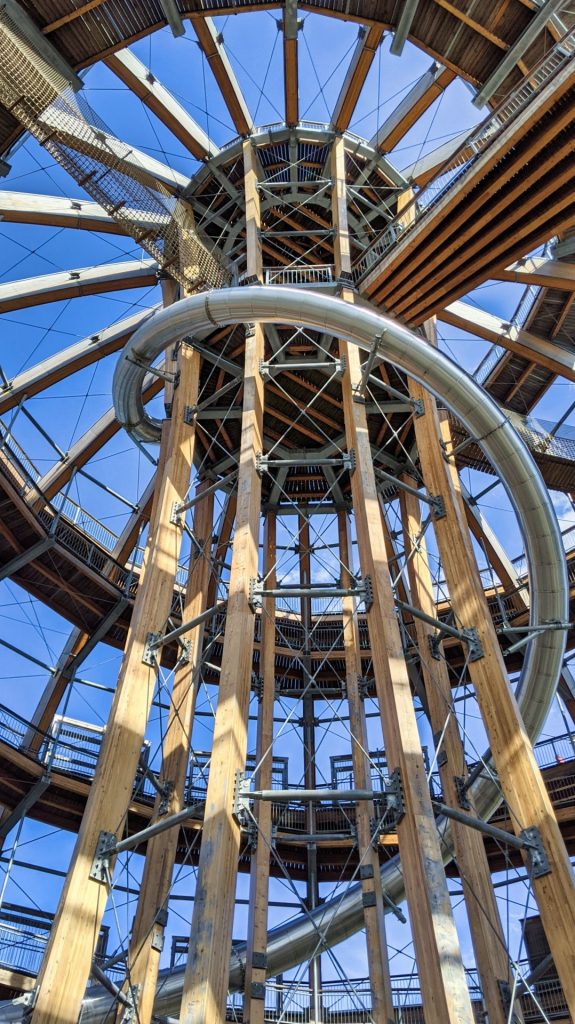 Conclusion
There are so many beautiful Bavarian lakes that it's pretty hard to narrow down truly the very best ones. However, I hope this list inspires you a bit to explore Bavaria beyond just the (insanely charming) towns and cities and to do as the locals do, by getting out into a bit of nature. Afterall, with views like these, it's hard NOT to put some of these lakes in Bavaria at the top of your list!