Hoch German vs Local Dialects
Dialects will Vary (Drastically)
I'll never forget when I traveled to Frankfurt and asked for a "Salami Semmel" and they looked at me like I had 4 heads. At the time, I thought it was just my reeeeeaaaaaaally bad German but I later came to find out that the word "Semmel" (Roll) that we use everywhere here in Regensburg is actually a very Bavarian word.
When I took my first A1 German class, the teacher was from a teeny tiny village and she was explaining that she speaks Bayerisch (a very strong dialect in Bavaria). But then she was joking that even she can't understand the Bayerisch in the next village over. You know, the town that is literally a 3 minute drive from the place that she grew up and has spent her entire life in. It was at this moment that I realized I was screwed for learning German. If a GERMAN can't even understand other dialects, what hope do I have!?
Local Phrases
Another thing to consider is that in some regions of Germany, they just have different phrases for things. It's not always necessarily a direct correlation to dialect per se (although, that often does come into play). A great example is the first time I traveled to parts of Northern Germany and people were greeting me with a phrase I had NEVER heard before in ALL of my traevls of Germany. I knew that saying something like "Grüß Gott" or "Servus" was definitely something from Bavaria, so I defaulted the usual "Hallo" or even "Tag" (shortened from Guten Tag). But when they started saying "Moin" (sometimes even just "Moi") as a greeting I was legit confused and thrown off!
My point is that having some very basic
Lake Starnberg is so close to Munich that it's often dubbed "Munich's Bathtub" (that sounds a bit weird) as well as "Munich's Playground." It actually used to be called "Würmsee" (literally "Worm Lake"). But don't worry, it's not because it's filled with worms or anything like that. It was just the name of the river (Würm) that flowed into the lake! I think "Starn" ("Stare") Berg ("Mountain)- so very roughly translated to "Gazing at the mountains" is a bit more appealing, don't you?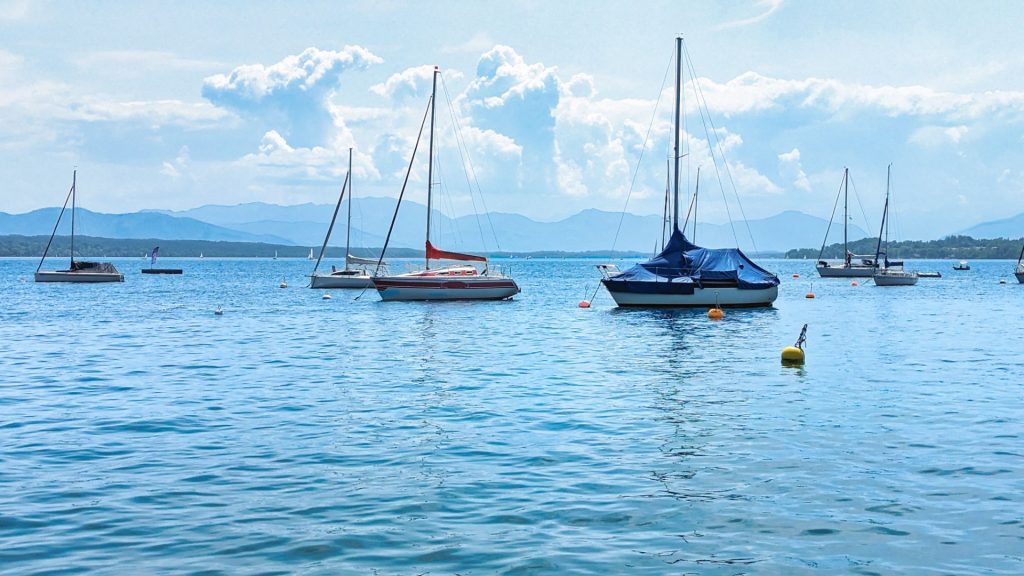 Starnberger See holds a ton of appeal and allure. Not only is the scenery beautiful, especially on clear, sunny days when the Alpine mountains are just within reach but there is also so many things to do at Starnberg Lake. Then, there is the whole "Murder Mystery" of "Mad" King Ludwig II, who was found dead in this very lake shortly after being declared "insane." But more on that in a bit!
From glamping, high end hotels, to down-to-earth camping, as well as local pensions, there are also plenty of accommodation options as well.
In this guide, I'll cover all of those things and more so that you can plan the best time for your visit to Lake Starnberg, Germany!
You'll Find In This Article:
Getting to Starnberger See, Germany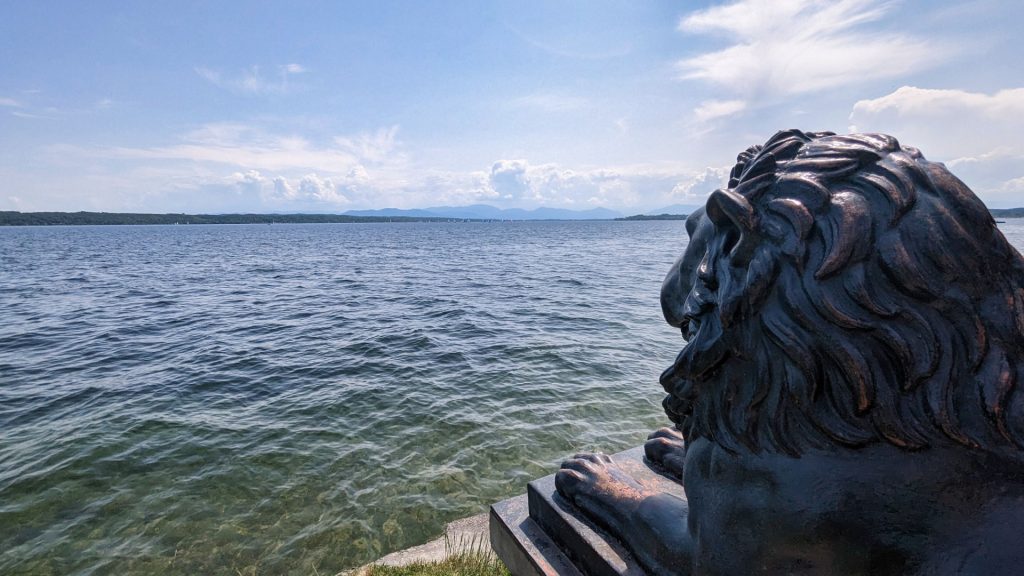 From Munich
Starnberger See is located approximately just 30 kilometers (19 miles) south of Munich. It's a mere 40 minutes by car to the Northern town of the lake's namesake, "Starnberg" and about 50-55 minutes by car to the central portion of the lake. Because of this, Müncheners often flock to the lake in the summer months as an easy reprise to nature from the city life of Munich.
By Car:
Both the A95 and the A96 will quickly get you from Munich to Starnberg. Depending on exactly which town along the lake you want to go to, will depend on exactly how long it may take.
Munich to Starnberg (Town): Approximately 40 minutes
Munich to Tutzing (West Side of Lake/Middle): 55 minutes
Munich to Seeshaupt (Southern end of the lake): 1 hour
Also note: Traffic in and around Munich can be hectic and it's not uncommon to have Staus (traffic jams), especially on weekends when many people want to come in and out of Munich to Starnberg.
By Train:
Getting from Starnberg to Munich couldn't be much easier! Most people just use the reliable Sbahn trains, but there are also Regional Trains that can get you to numerous locations as well.
| | | | |
| --- | --- | --- | --- |
| From Munich HBF to: | Starnberg (Town) | Tutzing | Seeshaupt |
| Sbahn | S6: 32 minutes | S6: 45 minutes | X |
| Regional Train | RB65 in direction of Weilheim(Obb): 17 minutes | RB65 or RB 66 in direction of Weilheim(Obb): 30 minutes | RB 66: 45 minutes |
| Cost | See Below | See Below | Bayern Ticket Recommended |
| MVV Zone | 2 | 2/3 | 5 |
From Munich (IE: the main Hauptbahnhof), you can grab the S6 (S-bahn). If coming from the main Hbf, the Sbahns are in the same location as the HBF but below the main tracks of the long distance trains. Just follow the big green "S" signs and it's easy to find!
Grab the S6 in the direction of Tutzing
Get off at a variety of stops, including Starnberg Bahnhof or Tutzing
If you want to go all the way down to the Seeshaupt town, you can take the regional train RB66 in the direction of Kochel, getting off at Seeshaupt
The RB 6 Train also is direct to Tutzing as well and only takes about 30 minutes.
Note: I'll go over boat rides more in detail, but if you are wanting to do a Starnberger Boat tour, going to Starnberg (town) is best. If you just want to do a "Southern" lake boat ride, go on to Tutzing.
Munich to Starnberg Train: Approximately 55-60 min (Sbahn)
Munich to Tutzing Train: Approximately 1.25-1.5 hours (Sbahn)
Munich to Seeshaupt: 1.5 hours (RB 66 Train)
Train Cost Munich to Starnberger See
There are multiple options that you can choose from to buy the train ticket to Starnberg from Munich so it will all come down to your needs/ group and final town you are going to on the lake.

One Way Ticket: €7.40 Honestly, I wouldn't bother with this one
Single Tageskarte: €11.00 This is great if you are using a lot of public transport in the day and are just doing a day trip to Starnberg Lake
Gruppen Tageskarte: €19.40 good for up to 5 people.
Bayern Ticket: Good if you are going all the way to Seeshaupt
Important: If you are using an Munich Public Transport Ticket (MVV) ticket (as opposed to the Bayern Pass or Deutschland Ticket), you may need to know the zone of the town you are going to, as that will slightly affect the total cost of your MVV ticket. I've listed these in the chart above.
Biking to Lake Starnberg
If you are wanting an even more active day, you can join the many Müncheners that cycle from Munich to Starnberger See! It's a pretty easy journey, mostly all flat and the majority of the route will be on designated bike paths.
Time: About 1.5 hours. 28 Kilometers
Things To Do at Lake Starnberg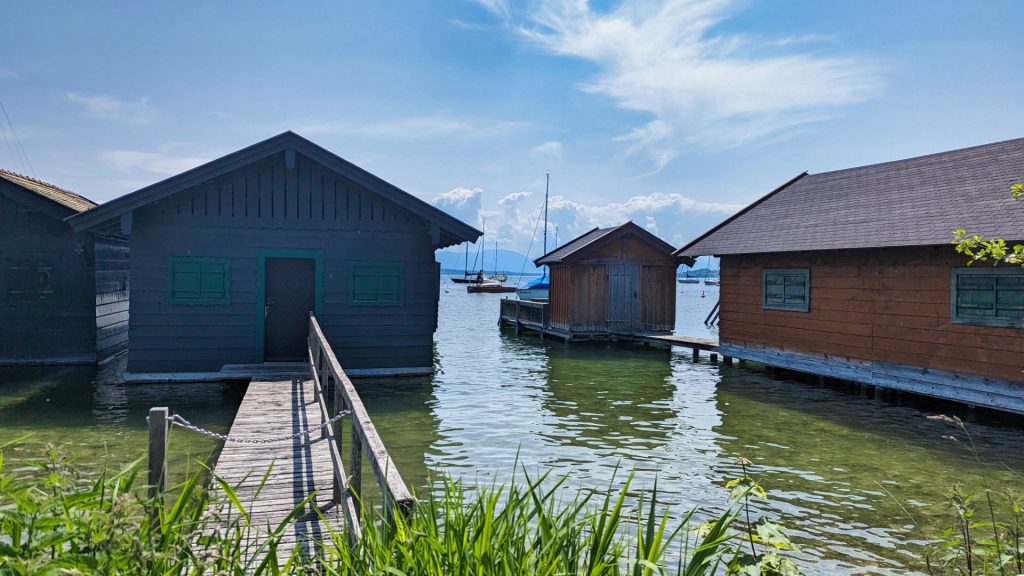 Know Before You Go:
Starnberg is considered a "local tourist" destination. This means that there will most likely be more Germans than foreigners, but it is still a VERY busy place with even locals "vacationing."
Since it is a popular destination for locals, the costs can be quite high for accommodation as well as restaurants in the area (especially ones along the lake) 
Because it is more of a "tourist" spot, things don't shut down as much on Sundays as they might in other places around Germany
HOWEVER, Monday is often the "Ruhetag" or closing day for many restaurants around the lake, the art museum, the small ferry to Rosen Island, and more so just keep that in mind if you plan on being there on a Monday.
Lake Starnberg Boat Rides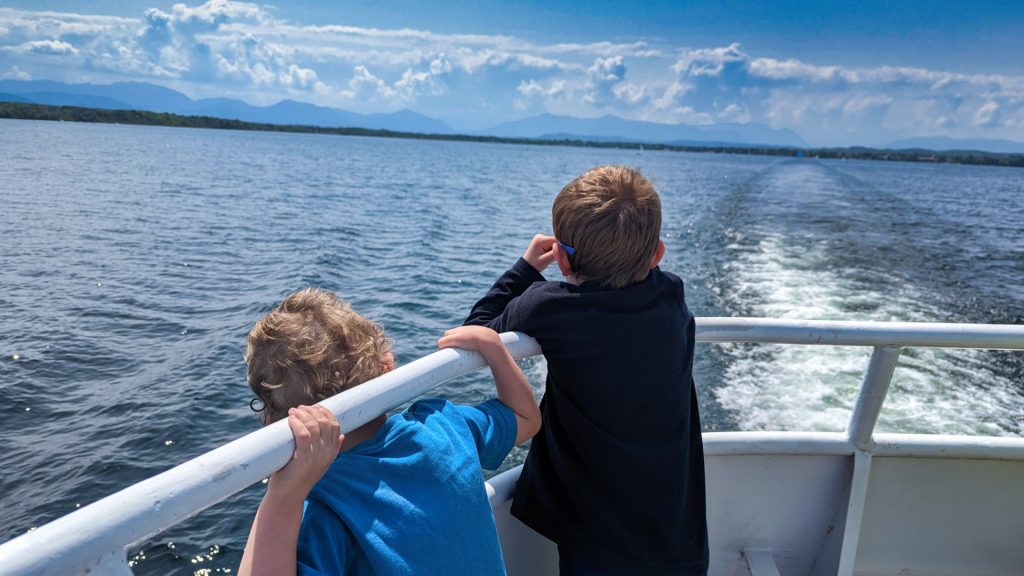 One of the best ways to experience Starnberger See is to take one of the boat tours around the lake. This is also a fantastic way to see many different spots all around the lake, all while enjoying being out on the waters.
There are multiple Starnberg Boat Trip routes, so it all comes down to your time, how you want to experience the lake, etc. Here are a few examples:
Use the Stanberg Boat Trips as a "Hop on/ Hop Off"
One really fantastic way to see a lot of the lake (especially if you don't have a car to get around) is by doing the "Grand Tour" which stops at all the main towns around the lake. You can get off at as many or as few of the stops as you'd like. You simply keep your ticket and disembark at any of the piers that the boat stops at. Just make sure you know the timetables so that you can be back at the pier on time for another boat.
Grand Tour of Starnberger See: About 3 hours of boat time (not including stops)
Do a Leisure Tour
For us with kids, we knew that even with beautiful scenery, our kids wouldn't want to sit on a boat for three hours. Instead of using the boat as a means of actual transportation between towns, we decided to just use it for a Leisure tour. Besides the "Grand Tour," there are also shorter ones, such as the "Northern Tour" (which obviously just goes to the towns on the North side of the lake) and the "Southern Tour."
We personally chose to do the Southern Tour because it is a little closer to the mountains to give us those beautiful Alpine views my whole family loves! These tours can start and end in the same location.
Northern Tour: 1 hour 45 minutes
Southern Tour: 1 hour 30 minutes
Starnberg Boat Trips Costs
| | |
| --- | --- |
| Lake Starnberg Boat Tour | Cost |
| Grand Tour | €24.20 |
| Northern Tour | €17.80 |
| Short Tour | €16.60 |
| Southern Tour | €17.80 |
Children under 5 are free
Kids 6-17 years are half price
Family discounts available
Mondays are Senior Citizen Discount Days (25% off)
If you used an MVV Ticket to get from Munich to Starnberg, show this to get a small discount on your boat fair
See the full list of prices and discounts for Starnberg Boat Rides Here
Lake Starnberg Boat Tour Timetable
The exact time for arrival and departure of the boats may vary or change so check the official site for the most current and accurate timetables.

Other Water Activities to do at Starnberg Lake
Starnberg Swimming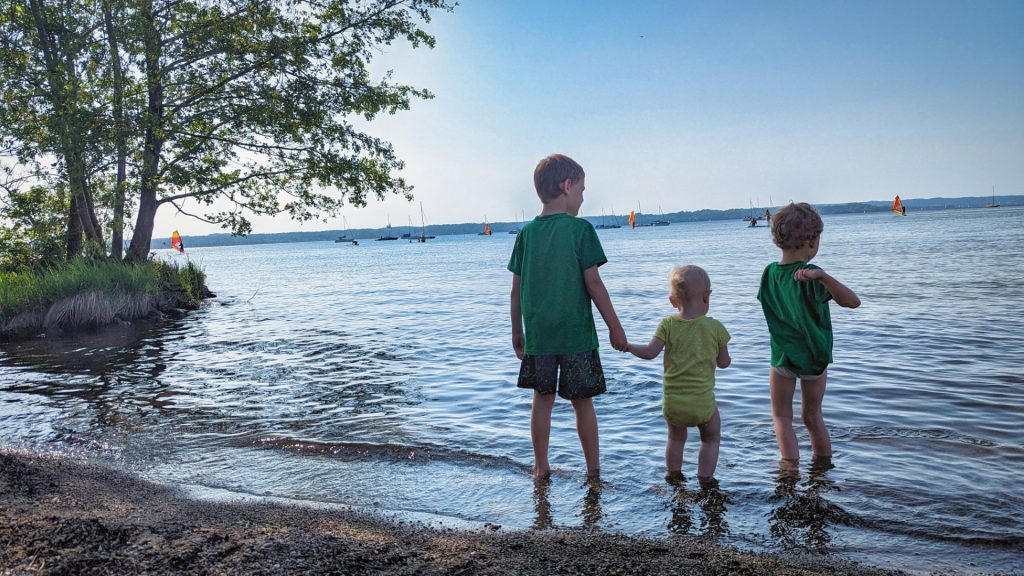 If you are looking for the best swimming spots at Lake Starnberg, there are plenty! Here are some of the places to look into if you want to take a dip at one of the many public beaches on Starnberger See
Percha Beach  
Starnberg Lido
Ambacher Erholungsgebiet
Seeshaupt 
Tutzing 
Strandbad Feldafing
Possenhofen's Paradies Rec Area/ "Bathing" Area 
SUP/ Kayak/Canoe/ Windsurf on Starnberg Lake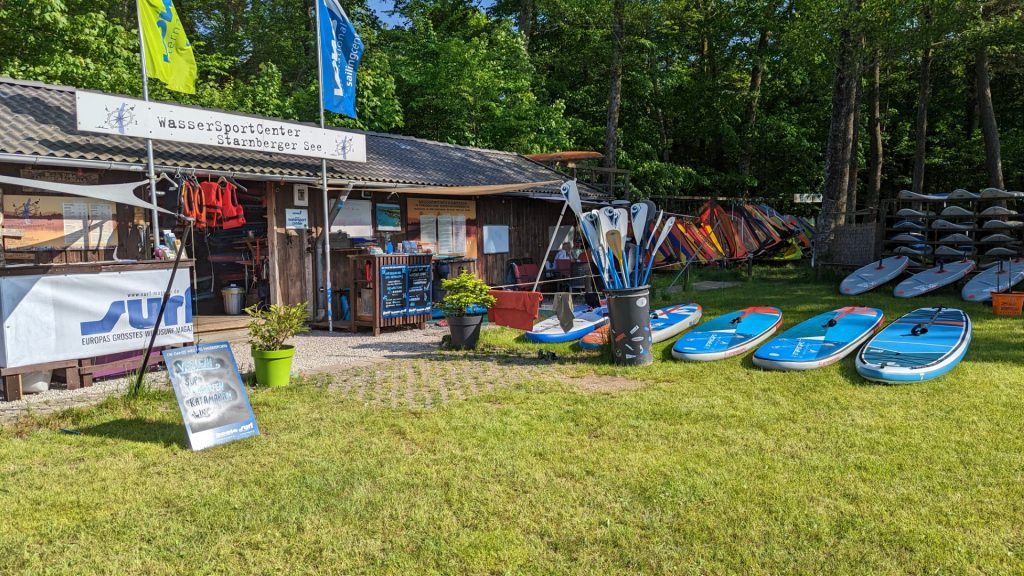 All around Lake Starnberg, you can rent SUP boards, kayaks, and more. We were camping at Lake Starnberg and at most of the campsites, I found that they all had SUP and Kayak rentals at their locations.
SUP Rentals:
SUP CLUB Starnberg: Located in Seebad. Offers rentals as well as group SUP lessons on Starnberger See
Wassersport Center: Located in Münsing. Offers SUP rentals as well as windsurfing courses and rentals
Nordbad Sup: Located in Bad Tutzing. SUP Rental, SUP tours around the lake, windsurfing courses and rentals
STEG 1 SUP: Located in Pöcking-Possenhofen. SUP Rentals "in good weather"
*Most of the Campgrounds Around the Lake had SUP and Kayaks to rent
If you are looking for some ideas on where to go on your SUP, this site is in German but has a few great DIY Starnberger SUP Tours/ Routes you can do!
Rent a Boat
Catamarans
A lot of the places I mentioned above for SUP and windsurfing rentals also have catamaran rentals as well.
Electric Boats
(You do not need a boat license if the boat is less than 15hp)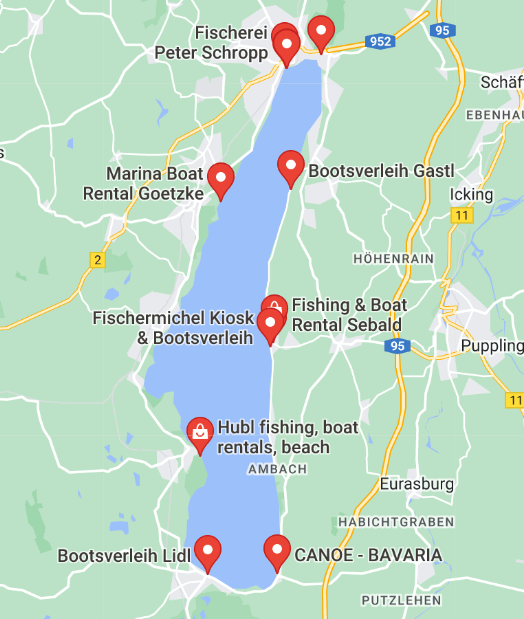 From smaller, electric boats to bigger speed boats, there are also plenty of rental options as well.
Insider Tip: the word "Bootsverleih" means "Boat Rental"
A few more places to look for Starnberger See Boat Rentals Are:
Goetzke Yachthafen: Electric boat rentals starting at around €25/hour
Gastl Boote: Smaller electric boats starting around €30/hour and going up to much fancier, nicer, and larger ones for more money
Peddle/ Paddle Boats
I always love going out on a Paddle/ Peddle Boat (Tretboot) on lakes! There are several places to rent a Tretboot on Starnberger See, most being rentable by the hour and typically starting around €15/hour
Bootsverleih Fischereri & Schropp: Located in the town of Starnberg along the Promenade
Gastl Boote: Located in the town of Berg. Peddle Boats available
I'm sure there are plenty more, just cycle or drive around and you'll be sure to find others!
Go SCUBA Diving in Lake Starnberg
As an advanced open water SCUBA diver myself, this one was a bit of a (fun!) surprise!!! While it may not be a colorful coral dive, it is sure to be unique. There are some really interesting underwater rock formations and a huge underwater drop off. There is even a "ship wreck" you can dive!
Since the lake goes down to a depth of 125m, it's easy to see why many locals use Starnberg as a place to learn deep dives.
Now, I have personally done a night dive as part of my certification, and I'll admit that it seems like a SCUBA Dive at Lake Starnberg would almost be similar (especially at lower depths!) where it's just so dark and murky. While the lake is a freshwater lake, because of its sediment, the visibility is often low, so if you aren't and Advanced Certified Diver or experienced in this kind of water/ visibility, it may be a challenge.
However, there are very strict regulations for SCUBA diving Starnberger See, so it is best if you contact a local dive company in Munich to do a day trip with them to ensure that you are in line with all rules.
Fishing
Before you just go out and drop a line, know that while Starnberg Lake offers some great fishing, Germany has very strict fishing license requirements. As a tourist, you'll have to find a town hall (Rathaus), any will do, and get a Visitor's Licence, which is about €25. Be sure to have your passport on hand.
Before catching that first fish, you'll also need to get an "Angler's Card" Catch Permit, which you should be able to get at pretty much any fish/bait shop along Starnberg.
Take a Ferry to Rose Island
King Ludwig loved his solace and surely, an island in the middle of the lake could provide him that! He loved to retreat to the "Starnberg Roseninsel" with close friends and family such as Richard Wagner and (cousin) Empress Sisi of Austria. On this island, you'll find beautiful gardens and plenty of green space to lay back and relax on! There is also the small villa "The Casino"
Getting to Rose Island:
In order to get to Roseninsel, you'll have to take a boat and it's quite the experience in and of itself! It's not like the huge tour boats that transport tons of people at a time across the enormous lake. Instead, you'll be guided on a small "Zillen" which is a flat, wooden boat with a canopy from the Glockensteg, which is located along the shoreline across from the Island itself.
It's a laid back operation, so there are no exact times for when the boats run (but expect at least a few times per hour). There is a bell on the dock that you can ring and they'll come and get you!
Hours: Typically 11am-6pm but Mondays have limited hours or are often even closed and when there are special occasions, the times will change as well
Cost: 5 Euro/Adult. 1 Euro/Child
Address: Fährstelle Roseninsel 82335 Feldafing. (This is about a 30 minute walk from the Possenhofen Pier)
Bike Rides around Starnberger See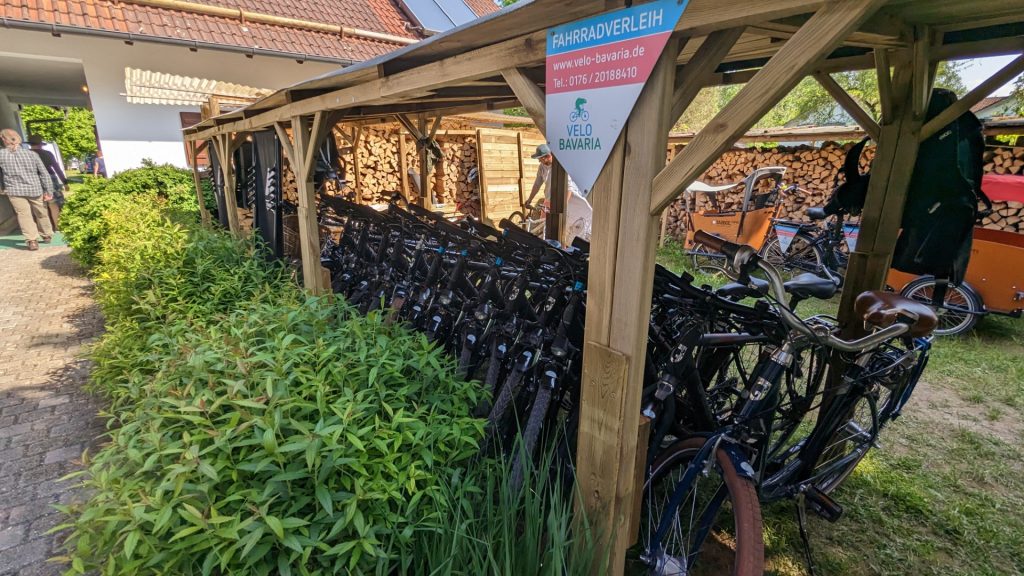 Arguably one of the most popular things to do at Starnberg Lake is to go on a bike ride. You can choose to do the whole loop of the lake, or just go point to point. This is an absolutely fantastic way to see all of the lake on your own time schedule. You'll pass by wonderful (huge!) German villas, the castles around the lake, be able to hop in the waters for a quick dip when you'd like, and of course have plenty of opportunities for a snack, coffee, ice cream, and of course, beer!
If you'd like to bike somewhere along the lake but not bike back, you can always take the boats back. It's just an extra 3 Euro per bike on the boats.
Full Starnberg Bike Route:
Distance: 50 km
Time: Approximately 3.5-4 hours
Difficulty: Easy to Medium
Paths: Mostly paved (a few street routes through the towns and a couple of more gravel like sections)
Starnberg Bike Rentals:
Insider Tip: Do know that many of the sections of the biking route are on the city streets. There are also portions that are somewhat gravely.
Hiking Paths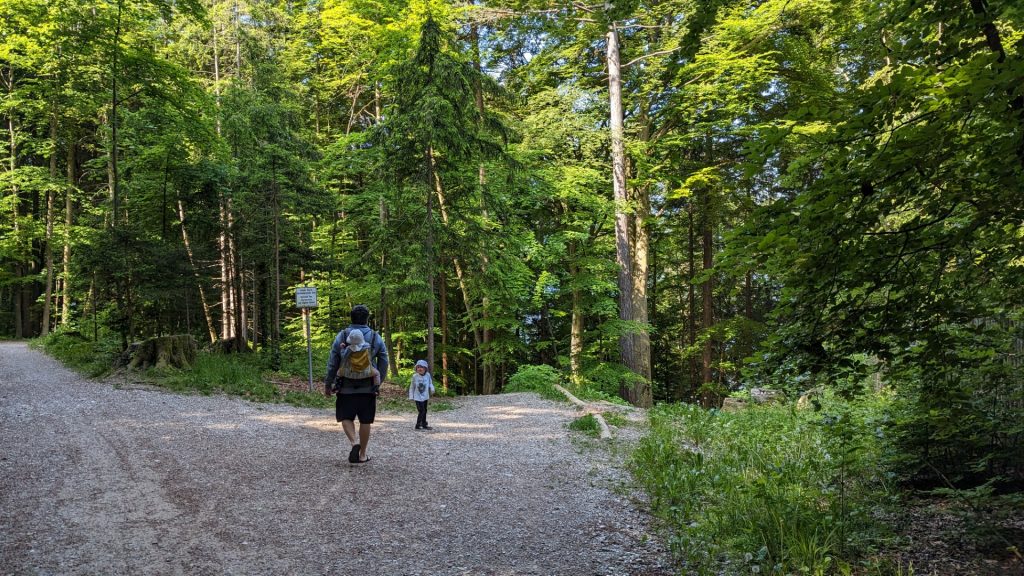 Visitors to Starnberg have a plethora of fantastic walking paths waiting to be explored. Honestly, you can just wander wherever your heart desires! Of course, there are paths that lead the entire way around the lake.
If you are looking for more specific hikes, here are 26 hikes around Starnberg for all levels and interests.
Some of the most popular routes that people like to do are:
Tutzing to Ilkahöhe: This round trip walk is about 8.5 kilometers and should take a little over 2-2.5 hours. You'll pass by several of the expensive villas around the lake, wander by churches, and walk through the countryside and even cow pastures
Maisinger Schlucht: This roundtrip route is perfect for families, those wanting an idyllic Bavarian beer garden, and gorgeous forested paths. It should take a little over 2 hours and is about 9km and is an easy route for most abilities/ages.
Many people enjoy hiking to the Andechs Monastery as well but this is a good trek!
Relax in the Starnberg Sauna- Seebad
At the Seebad Starnberg, you'll find a swimming pool, wellness area, and of course, the infamous German Saunas! If you've never been to a German Sauna, it's an amazing experience and I LOVE them! At the Seebad Starnberg, there is a a Sauna Section, but very small in comparison to many other famous "Thermes" in Germany. This one has only three main Saunas, but what makes it pretty awesome are their panoramic views out over the lake! Then, of course, there are the relaxation areas, including the garden area, quiet rooms, or recharge in the fireplace lounge.
Bounce Along a Horse-Drawn Carriage Ride
Before the high speed Sbahn connected Munich to Starnberger See, the lake was "in the country" and a total reprise from the hectic and busy life of the capital of Bavaria. In order for the wealthy residents who owned lake homes and, of course, the royalty that had castles on the lakes, they had to get to Starnberg by horse and carriage.
While you don't have to trek all the way from Munich by horse, if you'd like to do a Horse Drawn Carriage around Starnberger See yourself, it is still a possibility! Contact Coaching in Bavaria to see if they have any openings for a unique thing to do at Starnberger See!
Starnberger See Castles and Other Royalty Experiences
As mentioned earlier, Starnberg was a place where the wealthy of Munich would often go to escape the city. In addition to the enormous villas found all around the lake, royalties such as King Ludwig II and Empress Elizabeth (Sisi) loved to spend their time at the lake.
Starnberg Lake and Mad King Ludwig
I've already talked quite about how King Ludwig II held lake Starnberg as a special place in his life. He spent much of his childhood summers enjoying days at the lake with other wealthy and royal people but mostly going with close friends and enjoying the company of his close cousins.
In fact, the stories of Ludwig, from his engagement to one of his cousins (yes, cousin), his grand schemes and visions of so many palaces, ideas of train lines, to the the rumored affairs of his fateful last few days at the lake, Ludwig's life is actually quite fascinating (and truly pretty impossible) to puzzle piece together and somewhat understand. However, I always enjoy learning more about these types of things when traveling. It really helps me to put what I'm seeing (like a huge, giant Lake in Bavaria) into perspective.
Starnberg Audioguide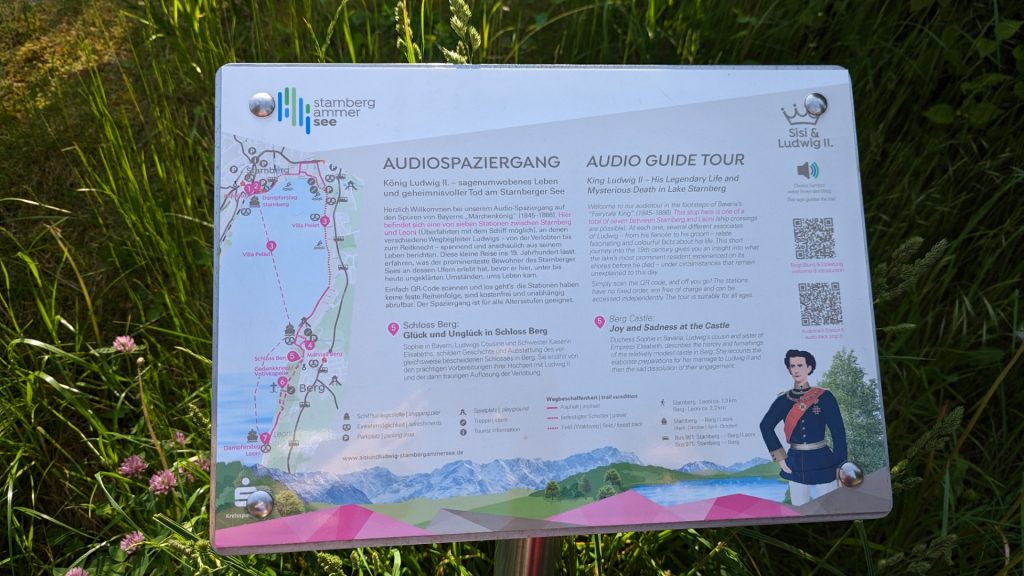 If you, too, want a bit of historical background on King Ludwig II and Starnberger See, I highly recommend listening to these audioguides on the lake. We would turn one on as we walked from place to place or as we we driving to a different location on the lake and even the kids were a bit fascinated by the stories (granted, some themes were quite a bit over their heads!)
Possenhofen Castle
This castle is pretty, but I wouldn't go completely out of my way to see it, especially considering that it can only be viewed from the outside. But, this is where Empress Sisi grew up and spent plenty of time at. However, there is a lovely "Bathing" (swimming) area here at the "Paradies." The other reason to go to the castle is if you are going to the Rose Island, then you can get off at Possenhofen, do a quick detour to see the castle, and then walk the 30 minutes to the ferry pier to Roseninsel.
Berg Castle
Located along the East side of Starnberg sits the Schloss Berg, which has quite the tumultuous past. From being a royal retreat since the 1600s to being occupied (and severely damaged) by American troops after WWII, to being restored and even today, still have the Bavarian Royalty use it as a summer retreat home, it's seen its share of history. However, one of the most commanding stories the walls may never tell is how the Berg Palace was "Mad" King Ludwig's last place of residence before his death. After just being declared "insane" this is where he was taken, only to be found dead in the lake shortly thereafter. 
Votive Chapel & Memorial Cross of King Ludwig II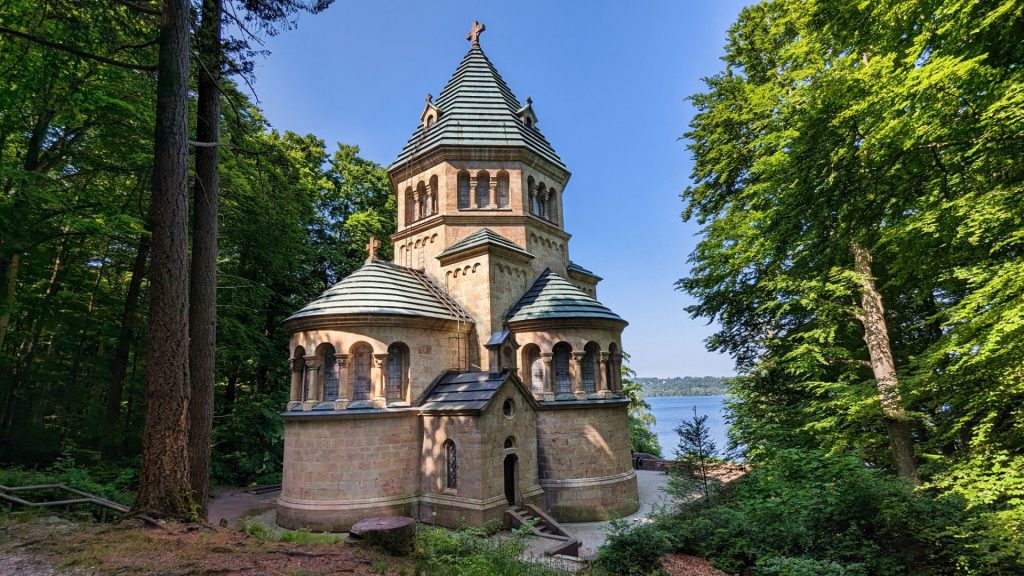 It almost plays out like a current-day soap opera. "Mad" King Ludwig was found dead in Lake Starnberg at this very spot after leaving for a walk with his physician from the Berg Castle, only to both be found floating lifelessly in the lake later. But what was the cause of death? Nobody really knows. Some say it was suicide. Others claim it was murder. Some even say it was almost like a "Coup" to get Ludwig out of power! It's no secret that King Ludwig led an opulent, distant, frivolous, and often unrealistic lifestyle. Rumors of being gay and people claiming he was insane only add fuel to the fire of the "Fairytale King."
Regardless, all we know today is that his life was cut short and he was found right along the shores near Berg along the Starnberger See. Today, there is a beautiful, small chapel (Votivkapelle Memorial Chapel) in the woods above the lake near the Berg Castle devoted to King Ludwig and you can find the memorial cross looming over the See to commemorate his life, as well as a cross IN the lake at the exact spot his body was found.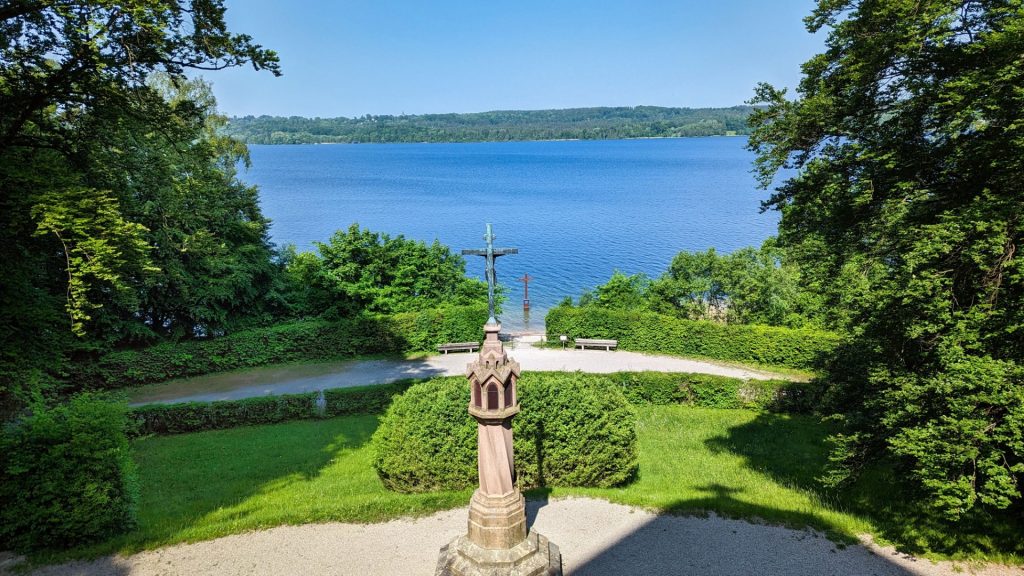 There is also the "Royal Park" which you will most likely walk through anyway to get to the cross that you can enjoy as well.
Insider Tip: It is a LOVELY walk from Berg Castle to the Votive Chapel and only takes about 15 minutes one way
Visit the Nearby Bavarian Lakes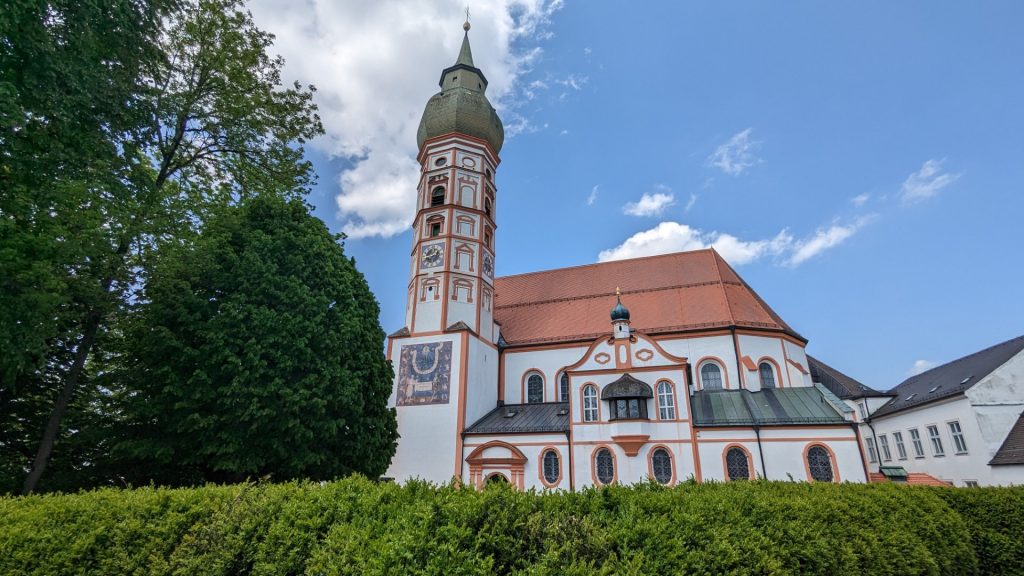 While Starnberger See has more than enough to offer for days on end, you can also check out some of the other nearby fantastic lakes! 
Ammersee: About a 1 hour bike ride in between or about a 25 minute drive if you go from the West side of Starnberg to the East side of Ammersee. We went to the famous Andechs Monastery for lunch and it was fantastic!
Maisinger See: Located smack dab in the middle between Starnberg and Ammersee and a wonderful nature preserve
Fünfseenland/ The 5 Lakes: This area is known as the Fünfseenland because of all the lakes in such close proximity to one another (Starnberg, Pilsensee, Lake Ammersee, Wörthsee, and Weßlinger See).
Osterseen: The "Easter Lakes" are another group of lakes and literally just minutes south of Seeshaupt! The "Großer Ostersee" is especially fantastic for walking around and being even closer to the gorgeous Alps!
Hop Over to Andechs Monastery and Brewery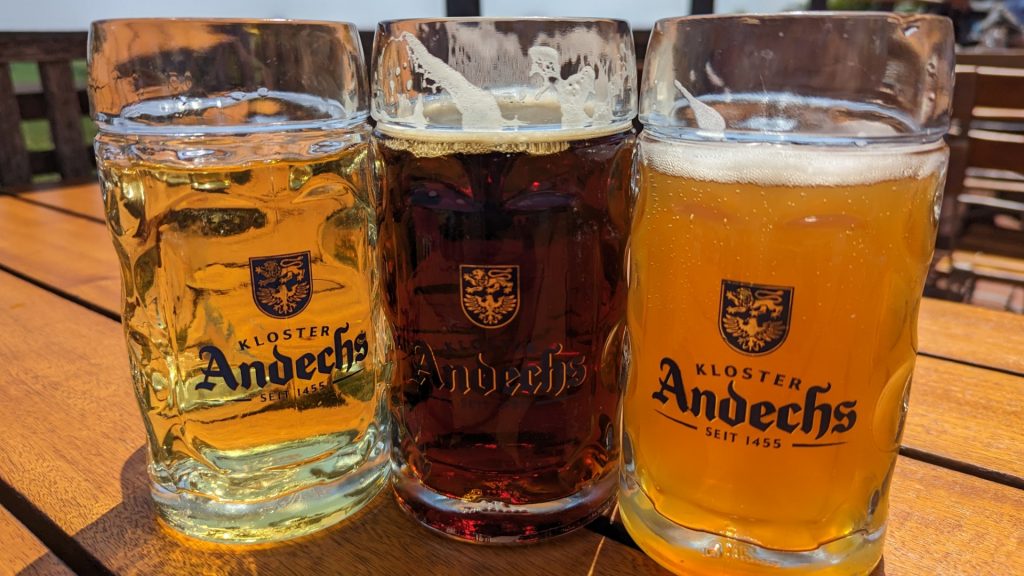 To the West of Starnberg is another great lake to visit, Ammersee. Only about a 15-20 minute drive from the West Side of Starnberg and in between the two lakes is the famous Kloster Andechs, a Benedictine Monastery and Brewery. Many Catholics still consider this a place of pilgrimage, but the majority of visitors today comes to enjoy their world famous beer, the views, and a delicious Bavarian meal!
Insider Tip: Some people like to bike or even hike over to Andechs from Starnberg Lake.
Stroll the Promenades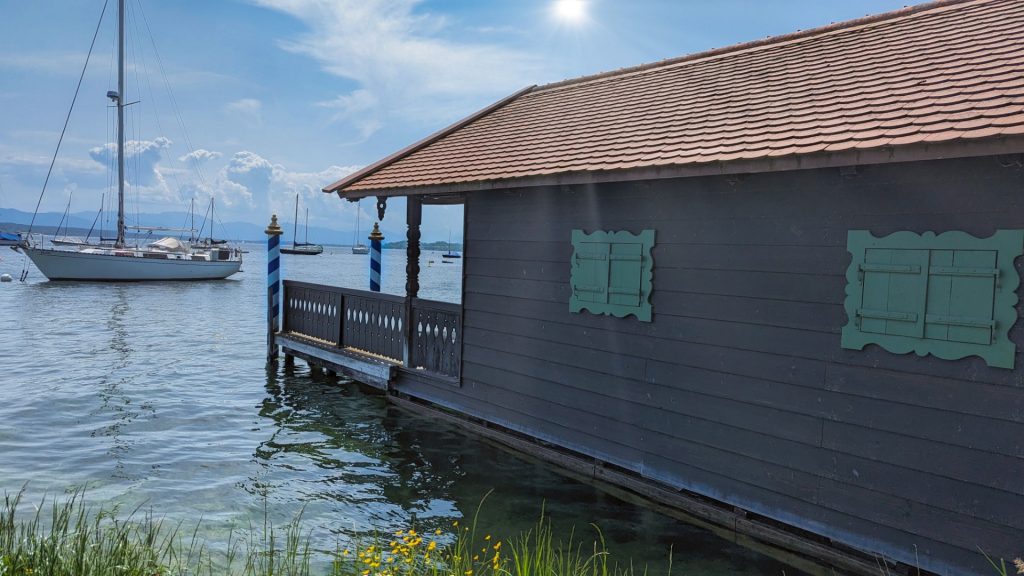 One thing to remember is that Starnberg Lake is HUGE. So there's not just like "a" town to congregate in. There are so many towns lining the entire lake (more on which ones to check out below!). One thing that we particularly enjoyed doing ourselves was just strolling along some of the Promenades. Back in B.C Time ("Before Children") I would have LOVED these areas to stop for a cocktail as we watched the sun slip away, but since we were there with our family, the promanades were more of leisurely strolls, stopping to play at playgrounds, and instead of cocktails at a cafe, we enjoyed our fair share of Eis Cafes!
Seepromenade Starnberg See: Located in Starnberg (town) and is great for people starting their journey here! There is a nice promenade that goes past souvenir shops and cafés. You can heard towards Percha Beach if you want to go to the fantastic pier or just sit alongside the water at it's beach.
Brahms Promenade: We really enjoyed the Starnberger See Brahms Promenade located in the town of Tutzing. It had absolutely gorgeous views of the Alps, a few restaurants, a fantastic playground right alongside the water, and a super cute Marina.
Go Camping or Glamping!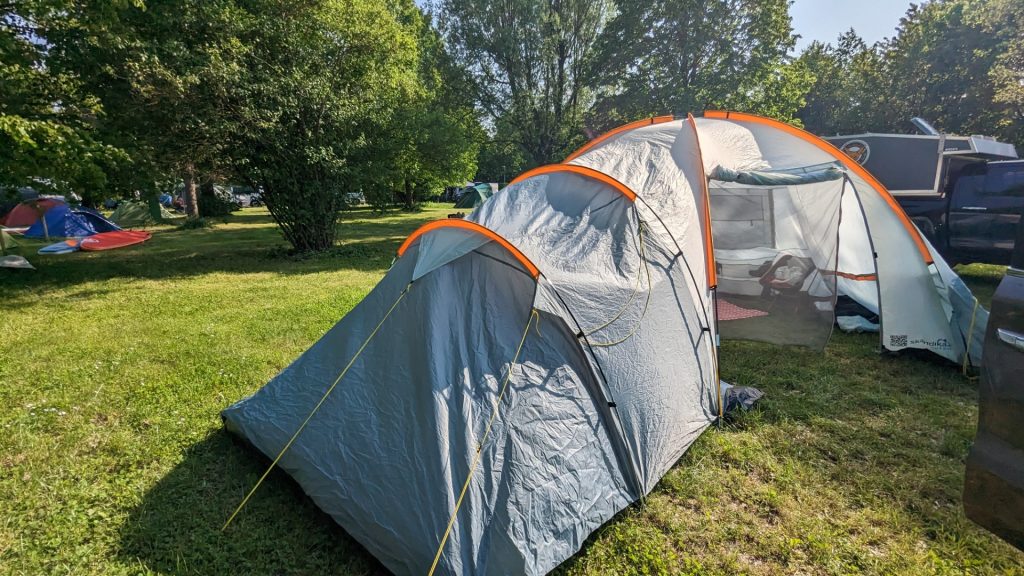 My family loves camping (yes, even with 2 little ones and a baby!) so on our trip to Starnberg, we set up camp and enjoyed the weekend in the tent! We stayed at the Beim Fischer Starnberger See Camping and it was perfect for us! There was a kid's playground, options for electric hookups, a super helpful staff, and it was RIGHT next to the lake!
If we had had more time, we would have (literally) set up camp and probably would have brought bikes and every day would have just biked to other parts of the lake (or used a combo of boat rides with our bikes to get around). However, we just had a long weekend, so we maximized our time with driving to the other towns along the lake and still felt like we were able to do SO much!
Camping Starnberg Locations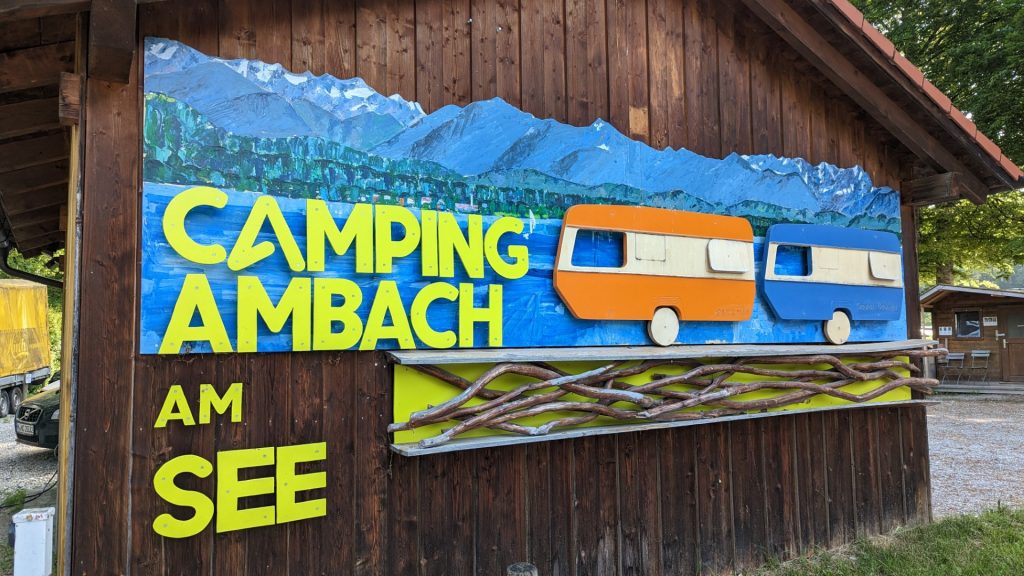 If you want to go camping, there are only 3 Starnberger See Campsites right on the lake. There are others nearby though as well as at other nearby lakes.
Beim Fischer: Located in Münsing. Fantastic Campsite for tent camping and camping vans. Very clean facilities. Vending machine for food essentials. Fun Playground.
Camping Seehaupt: Located in Seehaupt. Great campsite for caravans and campervans. Small, basic "Cabins" also available for rental. There are no camping spots directly ON the beach, but there is a beautiful beach backed up to the campsite. A small restaurant, very nice facilities, kids' playground, and more.
Camping Ambach am See: Located in Münsing. A huge campsite with tons of amenities and great facilities. A really awesome "Cafe" area right next to kids' play section. Lots of spaces for caravans and campervans. There are a few outfitted caravans available for rental as well.
View Top Notch Expressionist Art at the Buchheim Museum
If you want to combine some culture and museums with your nature time at Starnberg, head to the town of Bernried (located on the Southwestern side of the lake) for the Buchheim Museum, which specializes in Expressionist Art (think the style of Edvard Munch's "The Scream")
Opening Hours: (Closed Mondays)
Tues-Sunday 10am-6pm (closes at 5pm from November to March)
Closed Mondays
Admission:
Adults: €13.00
Children: €6.50
Under 6: Free
Stop at the Popular Towns
Whether you are taking the boat ride and want to do a "hop on/hop off" style excursion, are biking around the perimeter of the lake, or even just doing a drive, here are some things you can do at the more popular places.
Starnberg
Walk along the main promenade, hop into the lake at some of the beaches, or wander down the Maximillianstrasse, known for its unique shops. 
If you want to do the grand Starnberg boat tour (approximately 3 hours) this is where you should start from
Berg
As mentioned previously, this is the site where King Ludwig II was found in the lake. 
Possenhofen
Come here if you want to do the small, Roseninsel Ferry Ride. Enjoy the sprawling castle grounds as well.
Tutzing
Great promenade. Fantastic views of the Alps
Bernried
Stop here for the art museum
Seeshaupt
Located at the Southern end of the lake, it's got a great, low key vibe to it and has a wonderful Biergarden (Würmsee Suberl) right along the shore with fantastic views!


Starnberg Restaraunts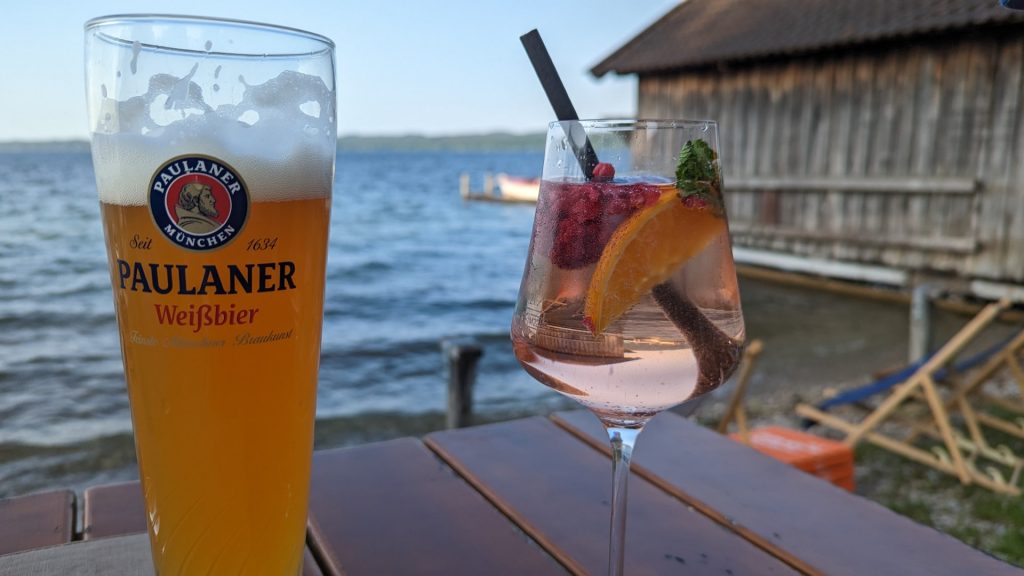 This is in no stretch of the imagination a complete list of restaurants on Lake Starnberg. However, it's a good starting point if you are wanting a place to grab a bite to eat around the lake.
Best Restaurants on Lake Starnberg with a View/ On the Lake:
Unfortunately, if you want to get great lake views at a restaurant, you are probably going to have to pay for it. And sadly, a lot of the ones right along the lake aren't even THAT good anyway! But, here are a few to look into for cafes and restaurants on the water:
Würmsee Suberl (Seeshaupt): Right on the lake with great food and reasonable prices.
Seestub'n Percha (Starnberg): Great atmosphere, right on the lake and very good food
Zum Kleinen Seehaus (Münsing): Great place for fantastic sunsets and kids can swim but it can get VERY crowded and the prices are very high
Strandcafe Starnberg: Great views of the lakes and distant mountains but very average food at best
H'ugo's Beach Club: High end bar with food. Prices a bit high and food average
Strandhotel Berg: Pricey
Starnberger See Biergartens
While these Starnberg Biergartens aren't right along the lake, you can expect better food and (slightly better) prices
Zorro's Restaurant (Bernried )
Biergarten (Starnberg): How much more direct can you get!? Good food at a local Biergarten!
Gasthof In der Au: Very good Bavarian food and the Biergarten has a great atmosphere (and indoor dining for bad weather)
Things to do in Starnberg with Kids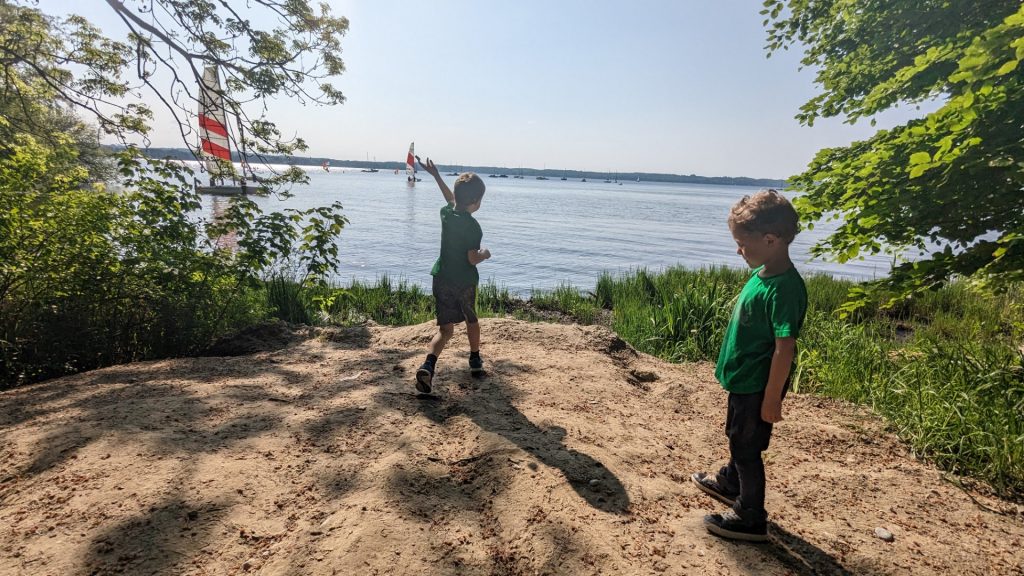 While of course, everything mentioned above is fantastic for most families and I'm a huge proponent for simply adapting (almost) all travel activities to adjust for traveling with kids and Starnberg lake with families is no exception. Here are specifically some things to at Lake Starnberg with Kids (that we did personally):
Kids Attractions: There is no lack of activities from feeling the magic in the fairytale park "Märchenwald Isartal", to taking boat trips across the lake or meeting all sorts of animals at "Gut Aiderbichl" in Iffeldorf or doing some arts and crafts at the "Freilichtmuseum Glentleiten" just for kids.
Swim: There are plenty of places to swim with kids at Starnberger See. We found the beach at the Wassersport Center in Münsing (just across from our campsite at Beim Fischer) to be really nice for our kids. There is also a beach at the "Ambacher Erholungsgebiet" (just next to the Ambacher Camping) which is nice and shallow. Percha Beach is also a family favorite location with a very shallow entrance into the lake.
Bike: Obviously how much or how far you bike is going to depend on your kids, their ages, and their abilities. I was a little surprised that there weren't more actual designated, paved, biking paths. Instead, a lot of the route was on the roads or even on gravel paths. If you have (younger) kids, maybe just doing a leisure bike ride down any of the promenades may be a better option than a full on cycling route.
Do a Shorter Lake Starnberg Boat Tour: While my kids LOVE boat rides, they also have only about 1 hours worth of "sit down"-ness in them at a time. While you can obviously move around the boat and even eat (which we happily did both), it was really nice taking one of the shorter Starnberg Boat Trips (we did the Southern Route). That way, we still enjoyed great Alpine Views, had a fun outing, and yet, didn't have meltdowns!
Another option to enjoy the lake is to get the pass and use that as your method of transportation between towns. You can start in one place and boat over to another town and that will help break up the longer Grand Route of the boats that I have detailed above.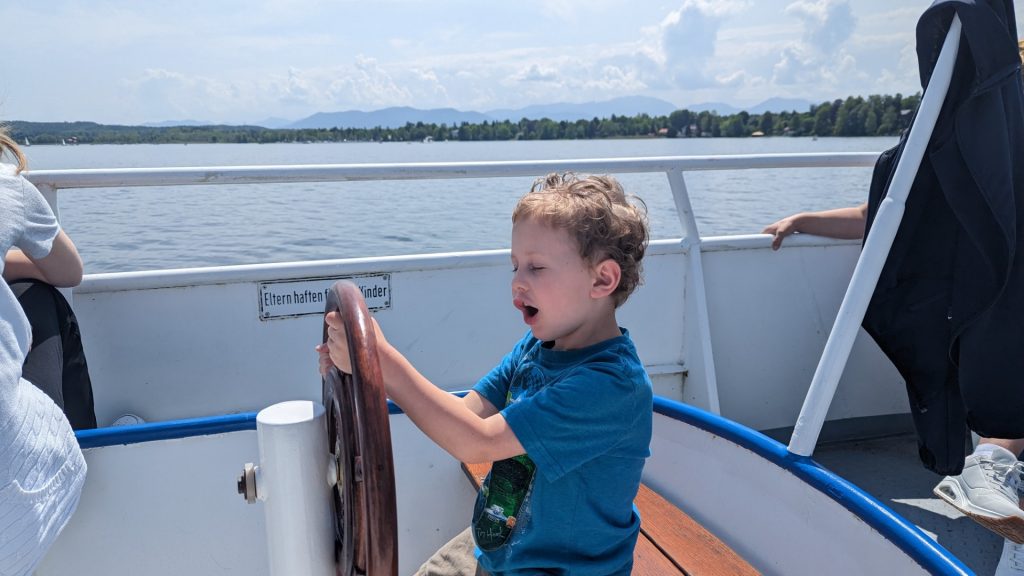 Adjust a Hike/ Walk or Stroll the Promenades: We did several shorter walks around portions of the lake. One easy one that we did was from the Schloss Berg to the Votivkappelle (where King Ludwig's body was found) and back.
We really enjoyed just leisurely walking the promenades of various towns as well instead of doing full blown walks around the lake. The Brahmspromenade in Tutzing was fantastic with a great playground, wonderful views of the Alps, cute boat docks, and more!
Find a Playground: When all else fails, we just head to the nearest playground to let the kids get some energy out and balance out "our adult sightseeing" activities. There are countless playgrounds at Starnberg lake (Spielplatz) so you won't have issues finding one nearby!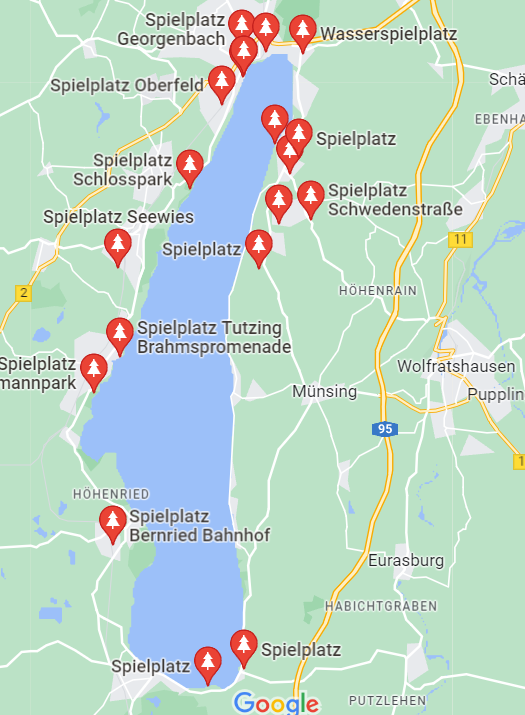 Hire a Paddle Boat: We love renting paddle boats on lakes with the kids. It's fun, they find it unique, and it's pretty low stress! I've mentioned several places above that you can rent a "Tretboot" for around 15-20 Euros.
Starnberg Hotels
Most of the hotels on or right by the lake are going to be more upscale and are often decently pricey. If you want to save a little money, there are plenty of Ferienwohnungs (holiday homes) all around the area that are only a few minutes' drive to the lakes.

Visiting Starnberg Lake FAQs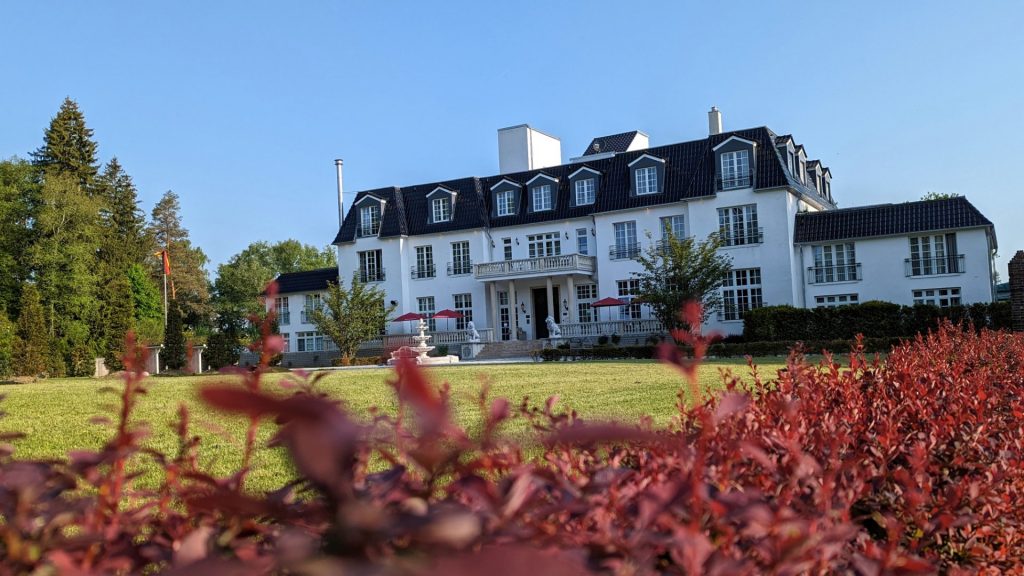 Where is Starnberger Lake Located
Starnberger See is just only about 25 km South (and barely West) of Munich in the state of Bavaria making it an extremely popular and easy access destination for people in Munich.
Is Lake Starnberg Worth Visiting?
While Starnberger See isn't a huge (foreigner) tourist destination, if you have ample time in Munich and are looking for a great day trip out of the city, then yes, Starnberg is well worth a visit. It's a great place to spend time with friends and is a popular family destination considering how easy it is to access from Munich. However, there are so many amazing Bavarian Alpine Lakes, that many don't take THAT much longer to get to and many offer even better Bavarian Alp views and things to do for more serious outdoor enthusiasts.
Can you swim in Lake Starnberg?
Yes. While a lot of the lakefront is privately owned, there are still many public beaches to enjoy leisurely swimming. Some of the best places to swim at Starnberg are at Percha Beach, Ambach Erholungsgebiet, and Strandbad Feldafing.
How Much Does the Train Cost From Munich to Starnberg Lake?
Many towns along Starnberger See can be accessed with a MVV ticket (Munich's public transportation). However, different towns have different Tarrif Zones which will influence the total ticket price. However, to just get from Munich HBF to Starnberg Train Station, you can easily get the Single Day Ticket (Tages Ticket) Zone 1-2 for €11.00 for Munich to Starnberg HBF (town). If you are going to a different location on the lake in a further zone, for example, Tutzing is in zone 4, which the TagesTicket Zone 4 will cost €13.40. If you are going to towns that are completely outside of the MVV Tariff Zones, (like Seeshaupt) then the Bayern Ticket may be a better option, which starts at €27.
What MVV Fare Zone is Starnberg In
Luckily, you can use the MVV (Munich's local transportation) tickets to get from Munich to the town of Starnberg (on Lake Starnberg) but you'll have to buy the correct ticket to reflect the zone you are going to. If you are just going to Starnberg, then it is in Zone 2. If you are going to Tutzing, it is Zones 4/5, which will cost more. Towns like Seeshaupt are not in the MVV Zones.
What State is Starnberg In?
All of Starnberger See is in the Southern state of Bavaria.
What is the Largest Lake in Munich?
The largest lake IN Munich itself is considered Feldmochinger See, but even this is more of a "Local" lake and is nothing in size in comparison to even the nearby Starnberger See.
How Big is Starnberg Lake?
Starnberg Lake has the area of 58 km², making it the second largest lake in Bavaria (right after Lake Constance/ Bodensee). It is so large that there are several districts and countless, separate towns that are along the shores of Starnberg Lake.
How Deep is Starnberg Lake?
Starnberger See goes as deep as 128 meters (420 feet) in some parts of the lake!!! And that is not even considered one of the deepest lakes in Bavaria!
What is the Largest Lake in Bavaria?
The largest lake in Bavaria is Lake Constance (also called Konstance as well as Bodensee) clocking in at a whopping 536 km² and borders Germany, Austria, AND Switzerland!