Hoch German vs Local Dialects
Dialects will Vary (Drastically)
I'll never forget when I traveled to Frankfurt and asked for a "Salami Semmel" and they looked at me like I had 4 heads. At the time, I thought it was just my reeeeeaaaaaaally bad German but I later came to find out that the word "Semmel" (Roll) that we use everywhere here in Regensburg is actually a very Bavarian word.
When I took my first A1 German class, the teacher was from a teeny tiny village and she was explaining that she speaks Bayerisch (a very strong dialect in Bavaria). But then she was joking that even she can't understand the Bayerisch in the next village over. You know, the town that is literally a 3 minute drive from the place that she grew up and has spent her entire life in. It was at this moment that I realized I was screwed for learning German. If a GERMAN can't even understand other dialects, what hope do I have!?
Local Phrases
Another thing to consider is that in some regions of Germany, they just have different phrases for things. It's not always necessarily a direct correlation to dialect per se (although, that often does come into play). A great example is the first time I traveled to parts of Northern Germany and people were greeting me with a phrase I had NEVER heard before in ALL of my traevls of Germany. I knew that saying something like "Grüß Gott" or "Servus" was definitely something from Bavaria, so I defaulted the usual "Hallo" or even "Tag" (shortened from Guten Tag). But when they started saying "Moin" (sometimes even just "Moi") as a greeting I was legit confused and thrown off!
My point is that having some very basic
Let's hike up to that Tegelberg Berghütte for lunch tomorrow!" I said to my husband while we were on a couple's getaway anniversary trip, sans kids, while staying at the Wellness Hotel Das Rübezahl (which gave commanding views of the Neuschwanstein Castle as well!)
We've done plenty of hikes in the Alps over the years, granted, the majority of those were before three kids and definitely all before I broke my ankle a few months ago.
But, after looking up the hike and believing it to be just about an hour, I felt confident that it would be a great hike.
Yeeeeaaah….20 minutes in and I was regretting a lot of life decisions, particularly the ones to not stay fit after our third baby!!!
So, what is the hike to the Rohrkopfhütte in Schwangau like? I'll give you all the stats and facts and figures you need but also give you a play by play to let you decide if it is worth your time and energy (and also give you an alternative if you are maybe a few kids in, like me, or not in your prime shape anymore!)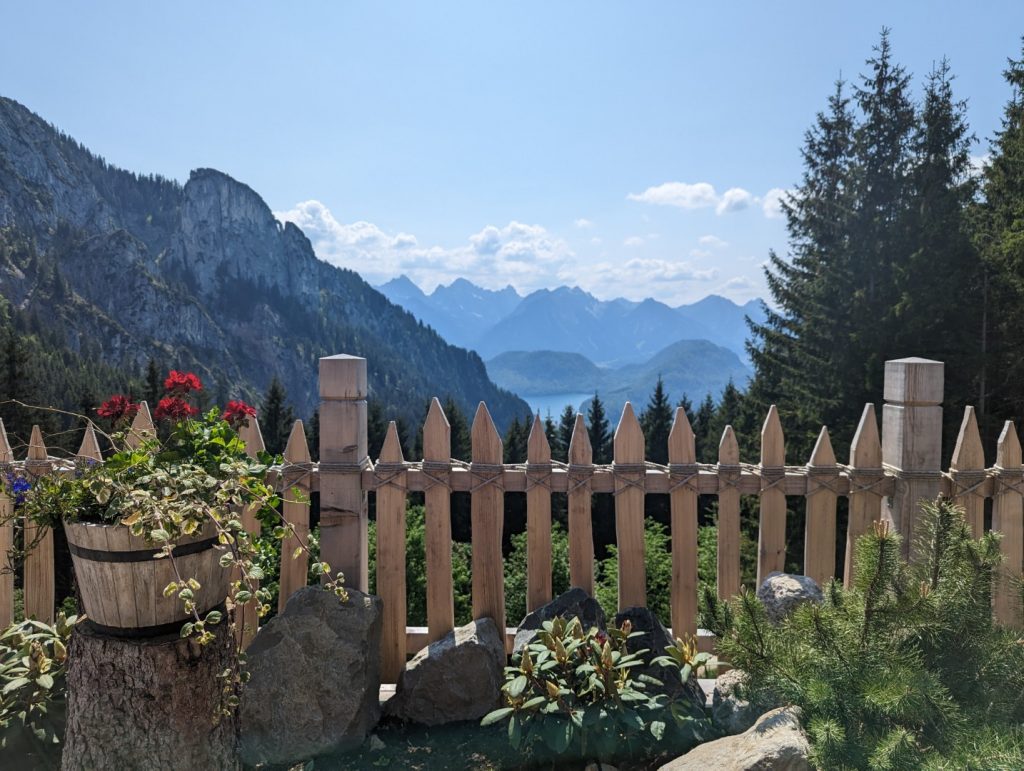 Hike Details (from Parkplatz)
(Note: this is from the Parkplatz, I will give other stats below for the hike from the Tegelberg Talstation)
Time:
Ascent: About1 hour and 45 minutes (one way to the hut) +
Descent: About 1.5 hours
Total: About 3.5 hours (not including time at the hut)
Distance: Approximately 2.5 km (1.5 miles) each way= About 5km total
Difficulty Level: Intermediate/ Medium Difficulty
Elevation Gain: 435 Meters (1425 ft) 
Rohrkopfhütte Details:
Address: Rohrkopf 1, 87645 Schwangau (only accessible by hiking- no cars allowed)
Website: http://www.rohrkopfhuette.com/
Email: [email protected]
Phone: +498362 8309
Know Before You Go:
I'll go into detail on the hike below, but a few things you need to know first:
It's "Difficult"
I use the quotes because obviously this is relative to each individual person. To be completely frank, after 3 kids and a recently broken ankle and leg I am, well, let's just say not in the best shape of my life (far from it). But I also am no stranger to hiking (from my more fit days in life). 
I found this hike to be a good challenge but I obviously survived to tell the tale!
You Can Only Walk To It (or Ski in the Winter)
With my recently broken bones, I am actually still in physical therapy and building back up muscle and stamina. When I asked the receptionist at the Das Hotel Rübezahl (the hotel we were personally staying at and that also owns and recommended the Rohrkopfhütte) if it was possible to drive up due to my foot (and possible threats of rain) she said it it was only possible by foot. (There IS a very small, mountain road, but it is only accessible for emergency vehicles and hut workers)
It's a Popular Place
As I huffed and puffed my way up to the mountain hut, I kept thinking, "Well, I bet it will be a great "Under the Radar" place with how difficult it is to get there!"
Wrong! It is a very popular place because the views are out of this world and it offers a very extensive menu.
In the winter, skiers can easily get to the hut as they come downhill and in the summer months, hikers take various paths to come and rest for a bit before continuing on their "Wanderweg."
By no stretch of the imagination will you "have the place to yourself."
The Path is Well Marked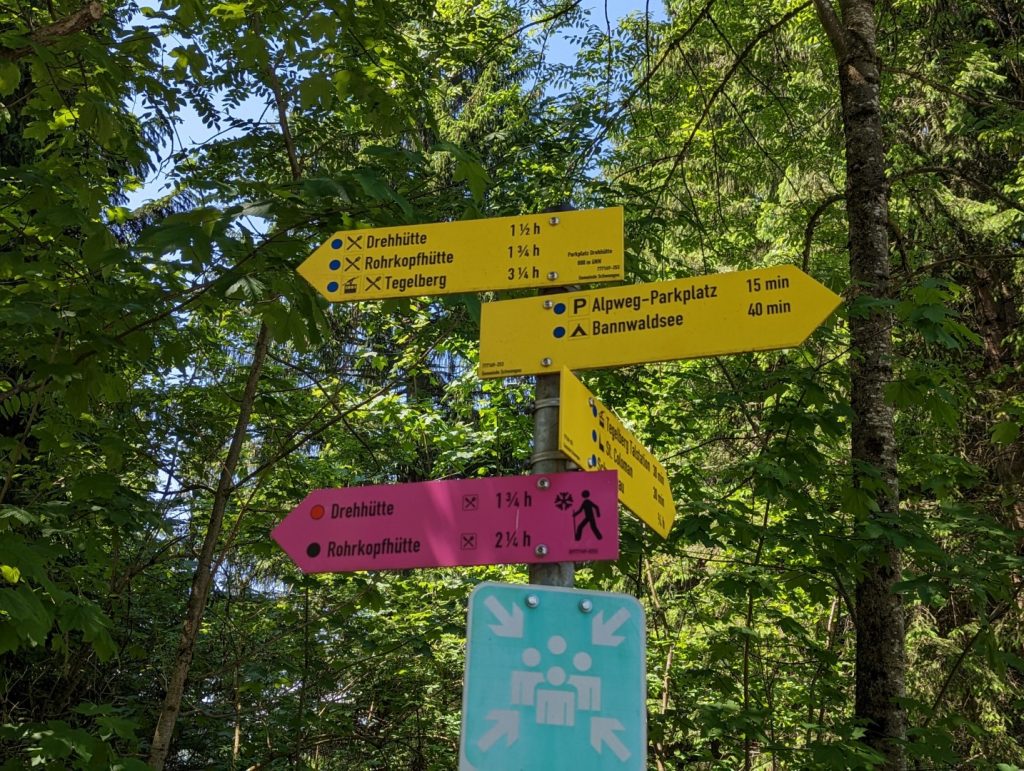 The entire way from the parking lot to the hut was extremely well marked. Just keep following the signs and you'll make your way up easily (well…easily meaning you won't need a map!)
The Views Are ABSOLUTELY Worth It
I'll be brief here as I'll go into more detail below. The views are out of this world stunning!!!
Check the Weather and Tegelberg Livecam
The weather in Bavaria, and always in the mountains, can often be unpredictable, at best. You never really know when it is going to rain, so always check the weather before heading out for several hours for a Tegelberg hike. I always like to check the livecams of the mountains we are going to as well. While it's not as important as in places like Garmisch for the Zugspitze, sometimes, it looks like the weather is one thing down on the valley floor but up at the peak it is something COMPLETELY different!
Parking
There are actually several different locations where you can start your hike from. Some people will start from the Tegelberg Talstation (Gondola Station), others even in Schwangau.
We chose to drive to the actual Rohrkopfhütte Parkplatz.
Important: There are actually two separate parking lots. As you are driving, you'll pass one that says, "Unterer" but I suggest you pass that one and go to the "Oberer Parplatz"
1) Oberer Parkplatz Drehhütte Rohrkopfhütte
GPS: 47.57722331596272, 10.77062490433103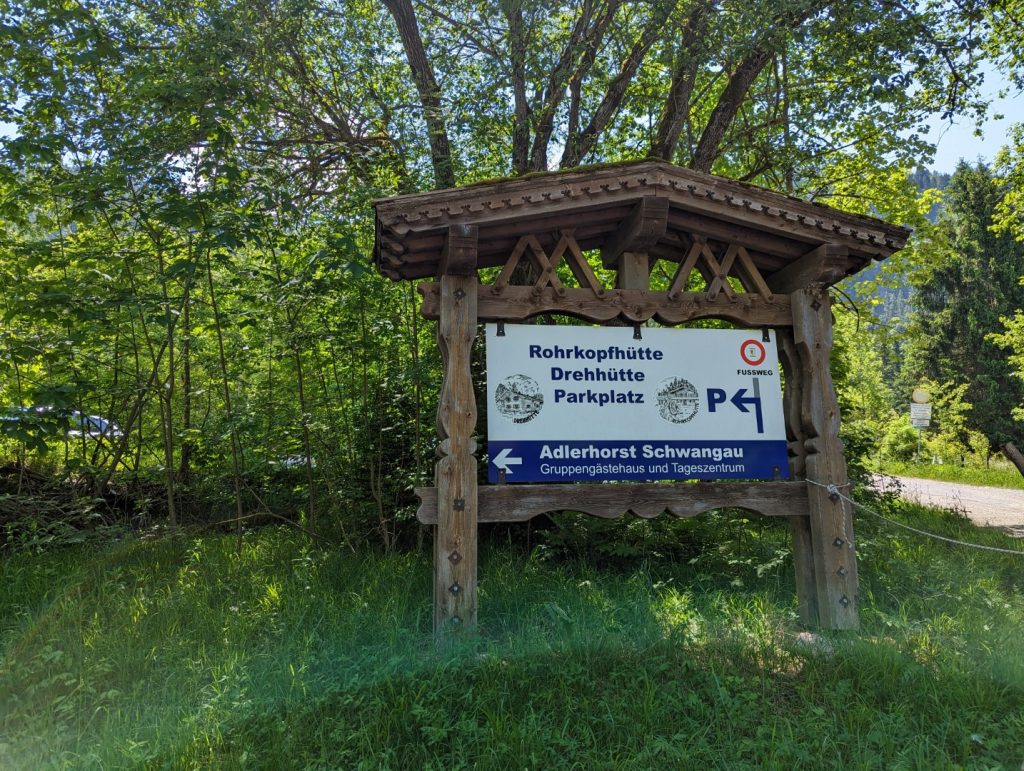 If you decide to take the Drehhütte path up, there are two parking lots that you can park at. If you want to be a little bit closer to the trail, then you will actually drive passed the first lot "Unterer Parkplatz" and continue on the small road until you can't go any further. This will be the Oberer Parkplatz.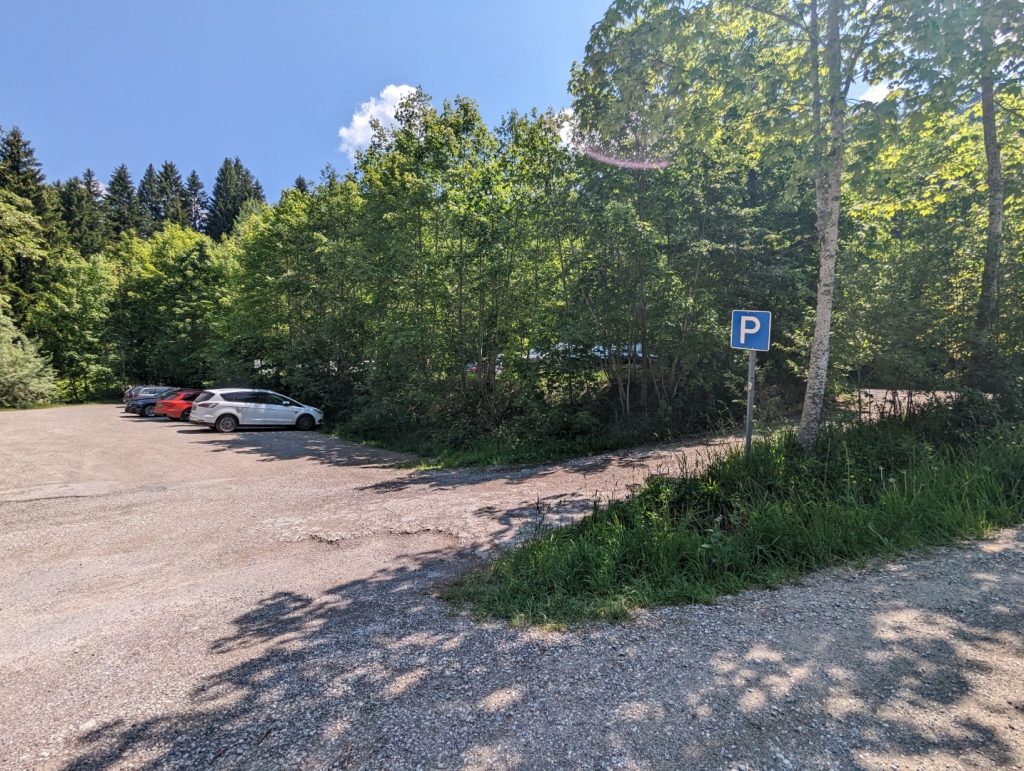 Parking is Free
Note: It is not allowed to overnight park (or camp) here. Therefore, the parking lot "closes" at 11pm.
2) Tegelberg Gondola Station
Below, I will discuss a different route to get to the mountain hut if you'd rather not do the steep uphill climb. If this is the route you'd like to take, then you can park at the Tegelbergbahn.
Address: Tegelbergstraße 33, 87645 Schwangau
The Hike
After parking the car, we saw the first sign that said, "Rohrkopfhütte 1 ¾ hour."
I narrowed my eyes and shot Andy a glance, "I thought you said this was only 1 hour?"
Now, normally, a 2 hour, one way hike in the gorgeous Alps would be a welcome day out for me. But, just a few months ago, me and the baby took a tumble down the stairs, landing me in the hospital with 3 broken bones and a leg and ankle full of metal as my souvenir of the trip (the baby was 100% perfectly fine, by the way!!). Because of this, I actually have only been on my feet for about 2 months and am still in "recovery" mode (aka…I'm just simply not to my physical 100% yet).
But….when in Rome (well, Schwangau in this case)!!!! I was promised a good, hearty Moutain Hut meal and if there's anything true about me it is that I am highly motivated by food and good views.
So we started following the very well marked path that told us where to go. It started as a gravely path and quickly led us through the beautiful Alpine forest, full of trees and rocks growing glowing green moss.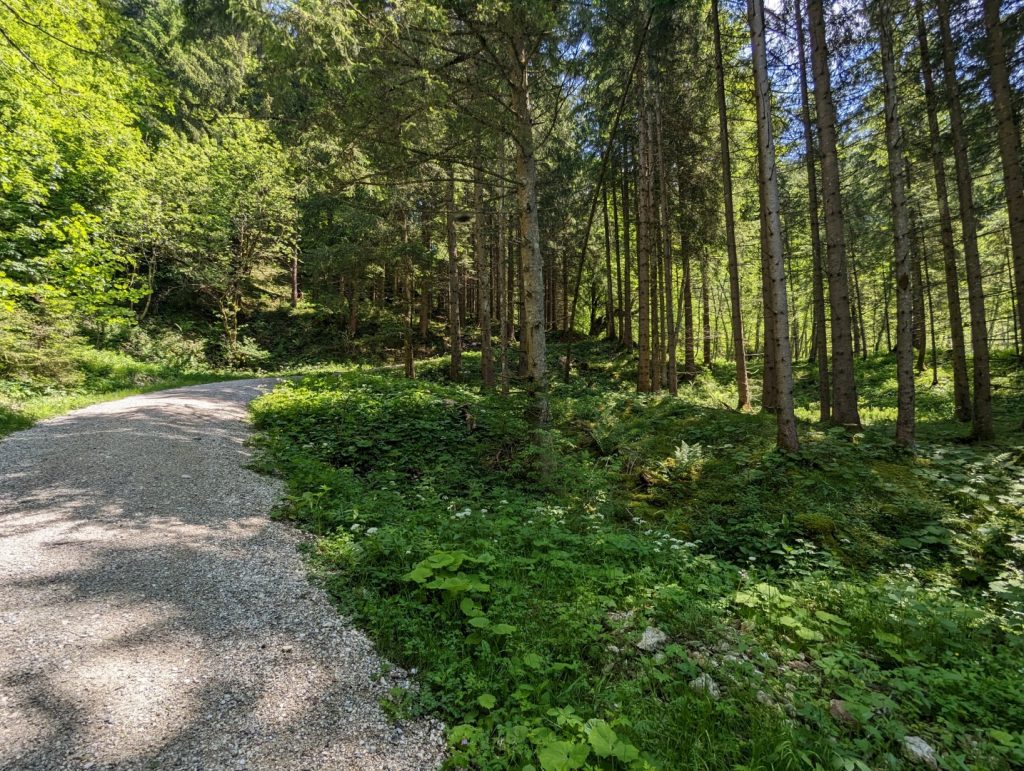 About 20 minutes in, I realized just how quickly fitness goes out the window when you literally have to sit on the couch for 3 months straight letting a foot and leg heal from an injury. My lungs were already stinging as the only direction I could see the path going was up….and up….and up. Luckily, the majority of the path was more or less shaded under the trees, but oof…that "Up" was getting tough.
"Do we flatten out at all?" I asked hopefully in between gasping for some air.
Andy looked at his Maps.Me App and gave me a look that said, "I don't think you want to know the answer."
I said, "Well, at least a Radler will taste great when we get there!" (If you've never had a radler, it's the most refreshing "Bier" there is!!! It's half lemonade (but really more like Sprite) and half Helles Beer. I promise- it's PERFECT on a hot, German, summer day!) 
As we continued up, I started to seriously contemplate my life. Ok, that may be a bit dramatic. But I was beginning to wonder, "Is this really a difficult trek or am I actually THIS out of shape!?" It's not like we were getting passed left and right, but I definitely was the tortoise in this particular race. I will also note that I only saw one family with kids that were about 8 years old and another that the dad was carrying the baby in a carrier. I know for a fact that my usual "You can get an ice cream at the end!" bribe to my 4 and 7 year olds would probably not have worked well on this hike and they would have found it quite difficult.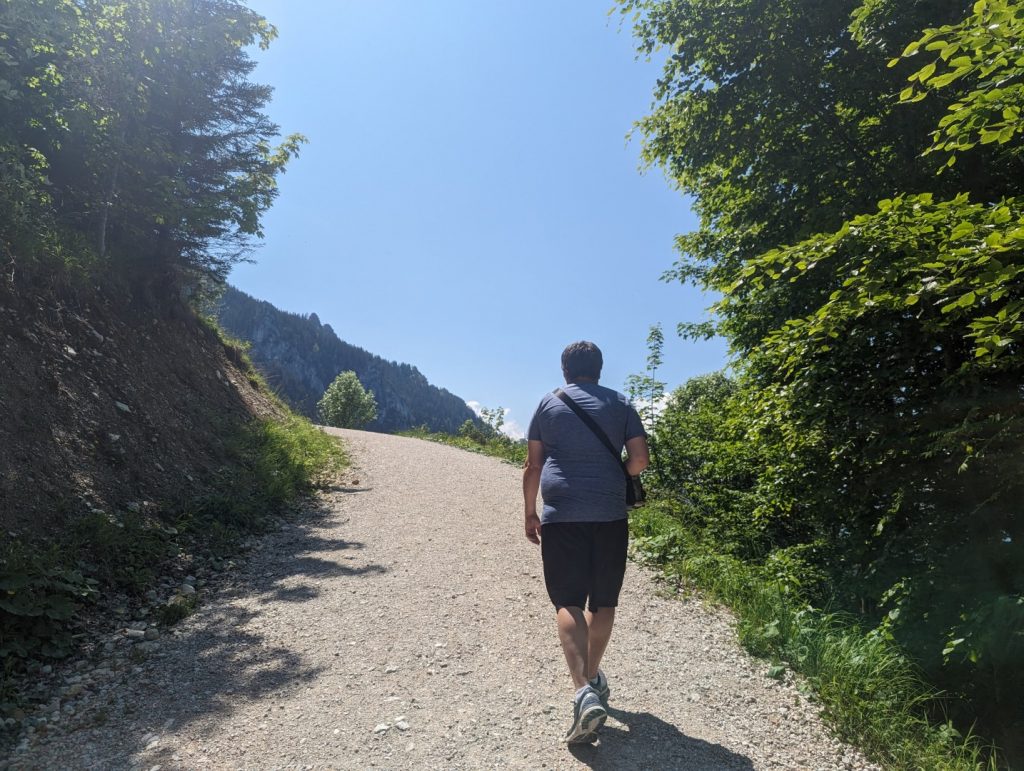 I still have yet to fully determine if it really was a decently difficult hike or if I desperately need to start working out again. But, I will say that Kamoot's "Intermediate" difficult level description I saw afterwards did give me a smidge of solice that maybe I'm not completely insane and only just a little melodramtic.
"This better be worth it." I mumbled.
At this point, I sound pretty grouchy, but let's take it all with a grain of salt here, shall we? I mean, we are in the beautiful, fresh Alpine air surrounded by lovely forests. Just how crabby can one really be?? The reality was that it was a gorgeous, not too hot, not too cold day, it wasn't raining (that in and of itself was a major win!), and the hubby and I were on a fantastic, romantic anniversary getaway together. Life really isn't so bad now, is it?
But I couldn't help but wonder, "What kind of business plan is this!? Why would anyone put a restaurant in a location that only a few people could walk to? Wouldn't they get so much more business at a part on the mountain that someone could drive to????" But, if nothing else, I was looking forward to a quiet Alpine Hut all to myself.
And then it happened. The viewpoint opened up and I gasped for air. But this time, not because of the lack of oxygen pulsing through my body.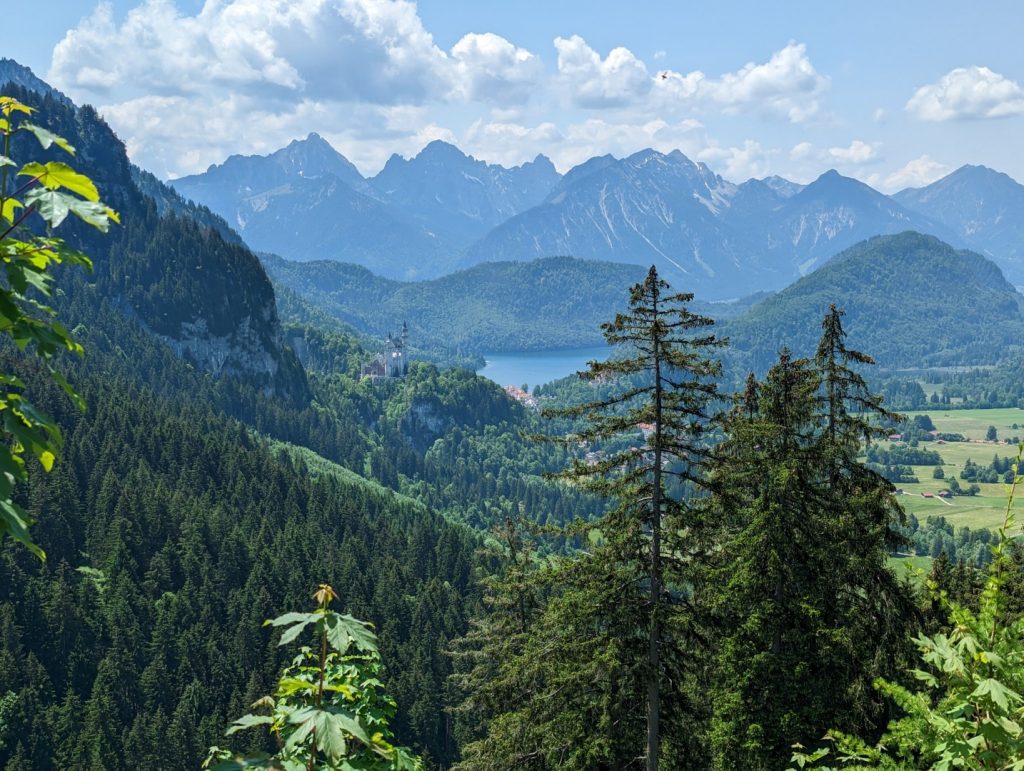 Oh My Gosh. The VIEW!!! It's called the "Fairytale Castle" for a plethora of reasons, but standing right there with Neuschwanstein on proud display surrounded by the Bavarian Alps and the lakes shimmering, it really was a magical scene. It's pretty obvious why King Ludwig II was so insistent on this being the location for his dream castle. If I were him, I also would never want to leave this landscape. Move over Disney, I felt like the princess overseeing my castle!
While I didn't really want to stop looking out at this phenomenal Neuschwanstein viewpoint (and it was a great excuse to stop for a bit to catch my breath!) I knew we should continue on up to the hut.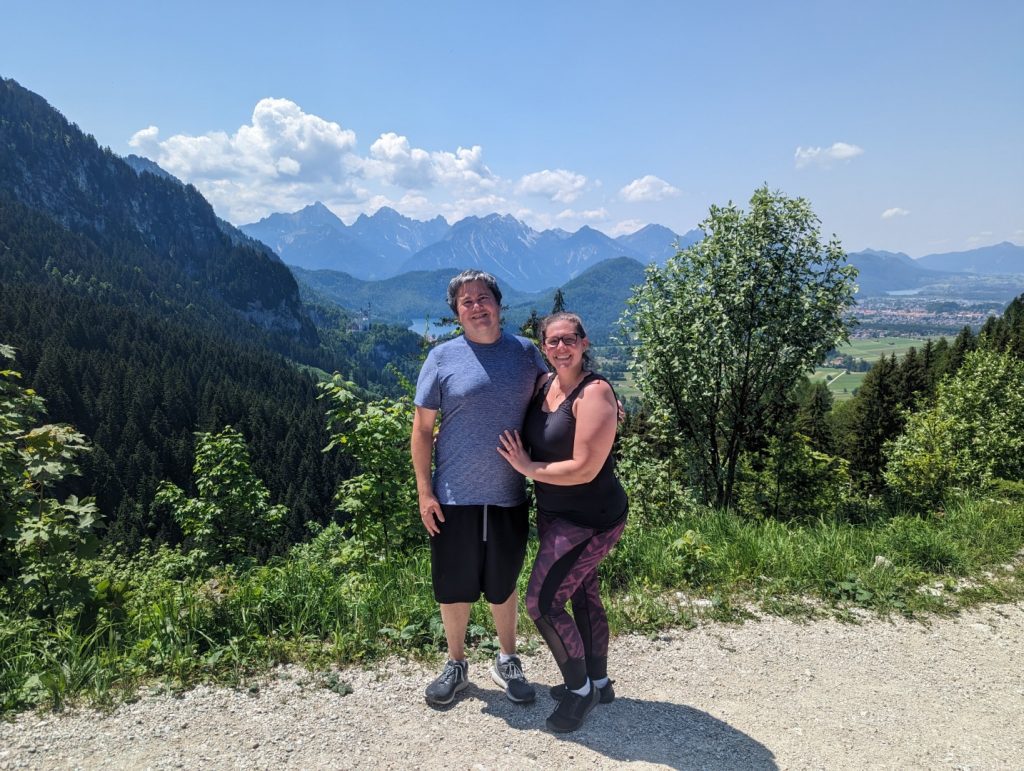 From here, I'm not sure if things really did get more intense or if I was just pretty well knackered at this point. Either way, as we entered more forested area, I noticed that the paths started turning into switchbacks. I mean, that can really only mean one thing. And that one thing was not that the hike was getting any easier! However, I knew that we were at least halfway done with the hike so there was really nothing else to do but press on. And by press on, I literally mean I was pressing my leg with my hands as I walked in a futile attempt to "boost" me up. At one point, a hiker coming back down took pity on me and in German announced that I was "Only 5 minutes to a cold Radler and good food at the hut." My German isn't good enough to say, "Uuuum…..how did you look into my soul like that and know me so well!?" So instead, I just mumbled, "Oh, gut. Danke!"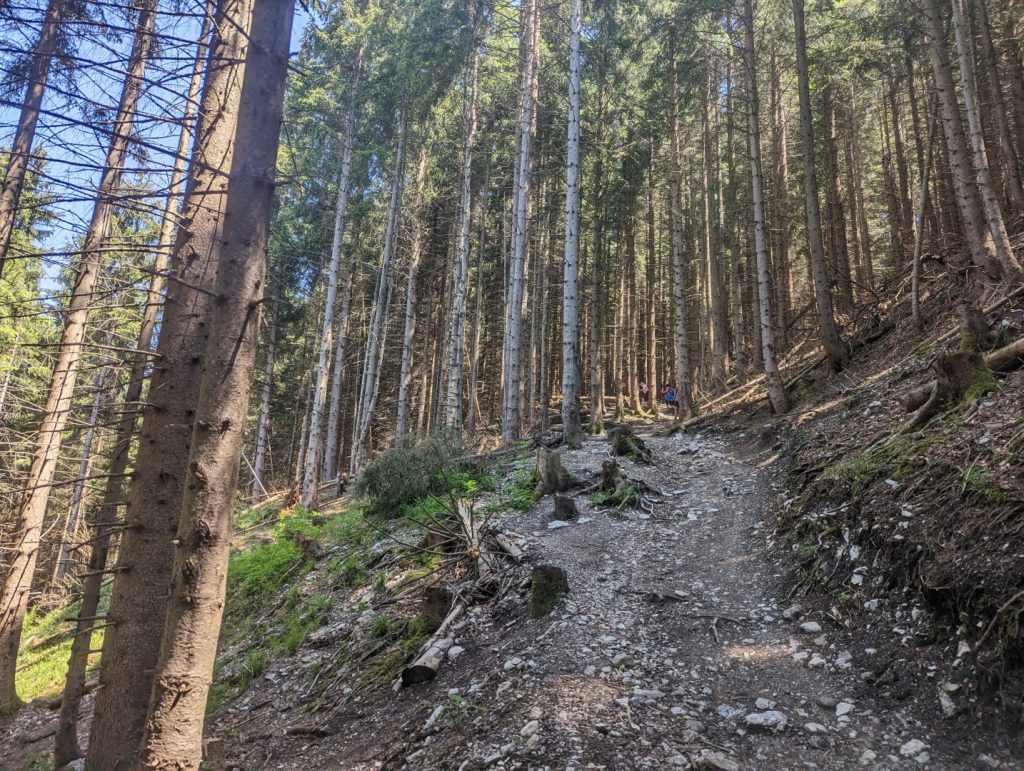 As the fellow hiker promised, about 5 minutes later, the forest cleared and an opening on the side of the mountain gave way to commanding views of the Tegelberg. And up, just above (yet another) hill, I could see the roof of the Rohrkopfhütte beckoning me. And, apparently, I wasn't the only one waiting for the Oasis in the Dessert. The dad of the one family I saw started bellowing behind me and excitedly telling his kids that they really were "Fertig!!!" (Finished) And that no, he wasn't joking this time!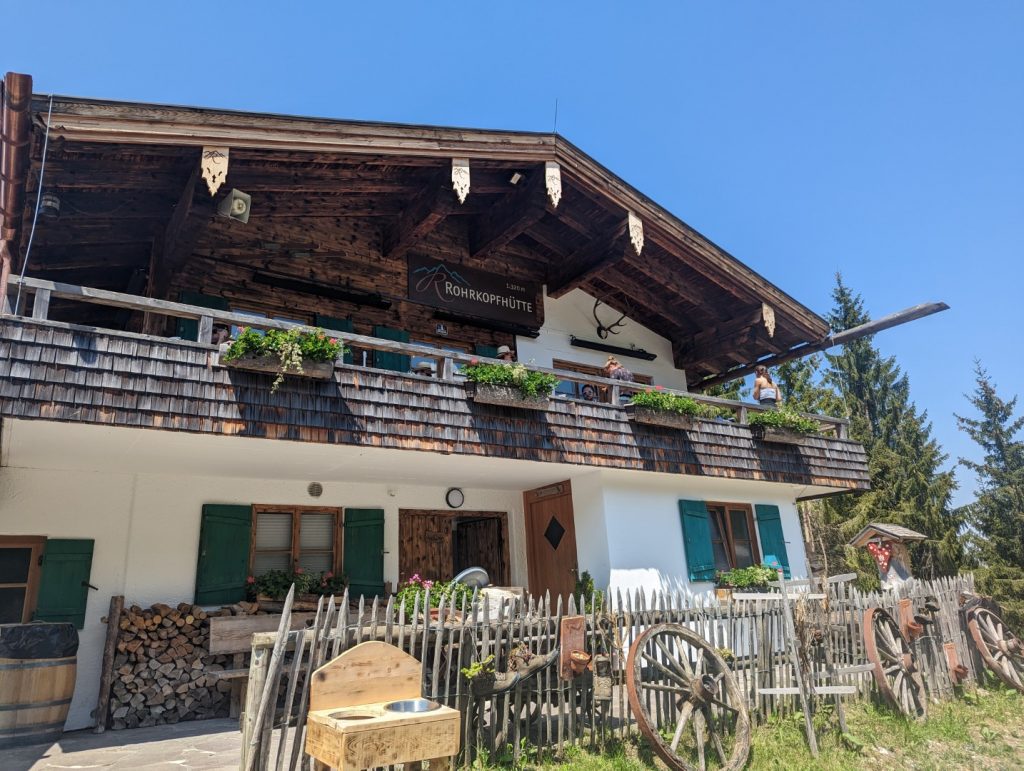 Unfortunately, my own fairytale dreams of a rustic hut with just me, my hunny, and some Alpine cows grazing on the hills was far from the reality. Apparently, Germans LOVE hiking to places that are difficult to get to and we were by far, not the only ones there! (Ok, I actually already knew this about Germans and their love for hiking, but I was still actually pretty surprised with the amount of people there!!!) There were so many other hikers there that we couldn't even get a table right away, despite the feeling that my legs were about to turn to jello at any given moment.
Luckily, after living in Germany for so long, we now know that most Germans are actually quite friendly and a polite, "Ist das frei?" as you point to an empty section of the huge tables will typically earn you a spot at a shared table. If you can though, try to snag a lounge chair or table on the deck to really continue to get in every second of mountain views as you can!!!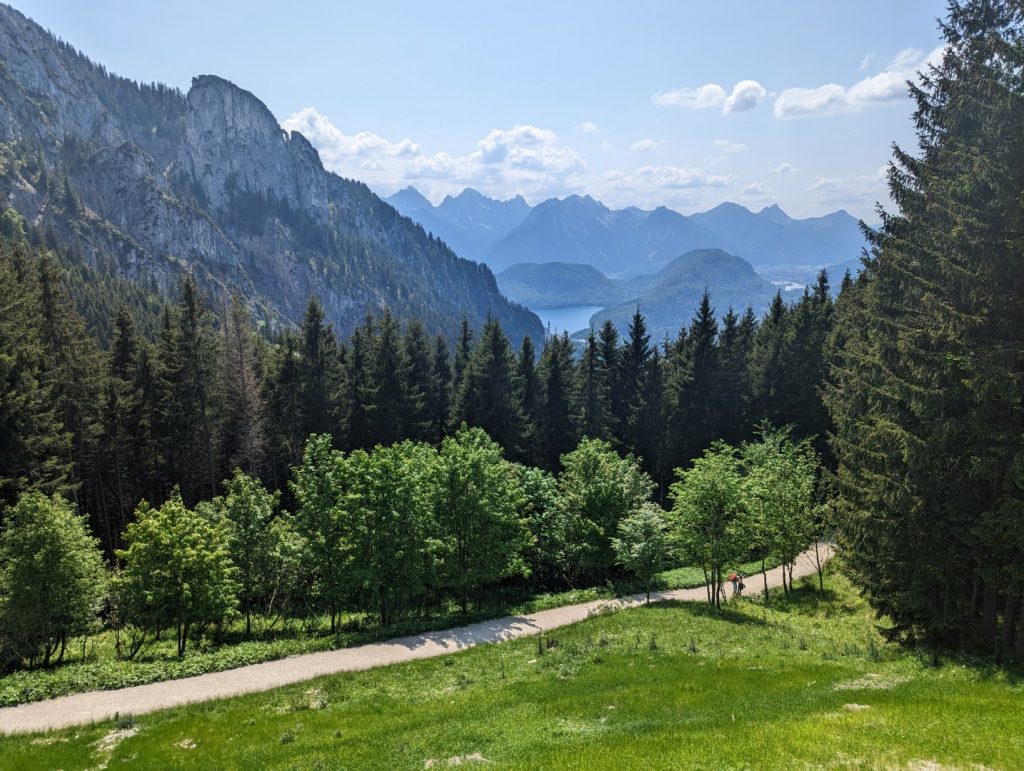 Rohrkopfhütte Menu
Because it was so busy, the staff was having to run around a lot. In Germany, it's not considered rude to do a little polite hand wave with a smile towards a server to let them know you'd like to order. As soon as she came over, I ordered the largest water I could (be sure to ask for "Still" if you don't want water with gas), and, of course, my Radler while Andy got a fresh Apfelschorle (half apple juice with half sparkling water) with ginger followed by a Helles Bier.
The menu was actually impressively extensive with plenty to choose from, including several local, Allgäu regional specialties. I note this because often mountain huts only have a few main staples because of the difficulty getting all the supplies up to the restaurant.
I'll be 100% honest and say that the food itself wasn't the best I've had in the Allgäu (not bad by any stretch of the imagination though and I have extremely high expectations in this region), but the views and drinks made it completely worth it!!! Even if all you are going for is a coffee, beer, or Aperol Spritz, I can say, without hesitation, that you will not want to leave that view! While I was reaaaallly tempted to get the Käsespätzle (how could I say no to Allgäuer Cheese!?) I decided to go completely rogue and try something I'd never had before: an Allgäu Krautkrapfen. It was sort of like a pastry dough that was then rolled up into cinnamon roll looking figures that were filled with bacon and sauerkraut and topped with leeks. Hubby got a great cheese spread with classic Obatzda and a few other dips. It was really good but would have been better as an appetizer than a meal probably for him.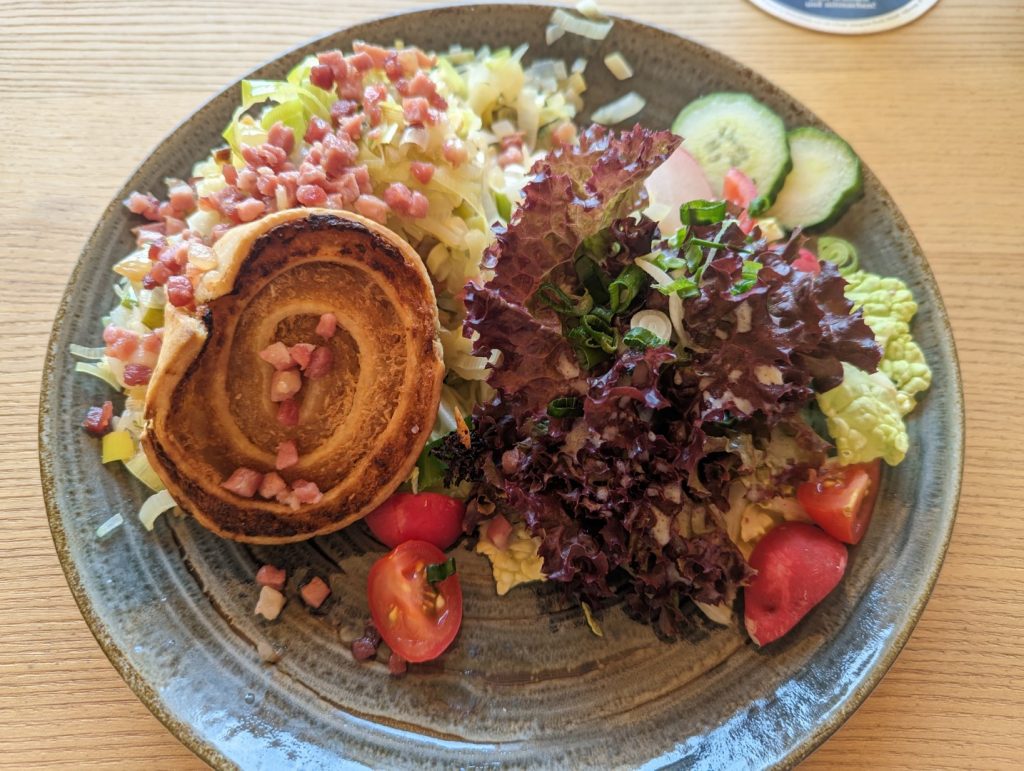 I was a little disappointed that we hadn't planned our day better because I would have loved to have spent another hour or so getting a coffee or a Kaiserscharmm and just hanging out there for awhile, buuuut my massage appointment at the Das Rübezahl was in a few hours (I know, I know…tough life, right?) and at my speed and pace, we knew we need to start the trek back.
The Descent
I always laugh because whenever I go hiking I always say, "Well, it will be faster going down than up!" And then, somehow, it always takes me the same amount of time!? So, I was glad that I didn't take that approach this time because we truly did need about 1.5 hours to come down from the restaurant back to the car. Now, I will say this, with a completely good foot and leg (like you most likely have) I think we could have done it in only an hour.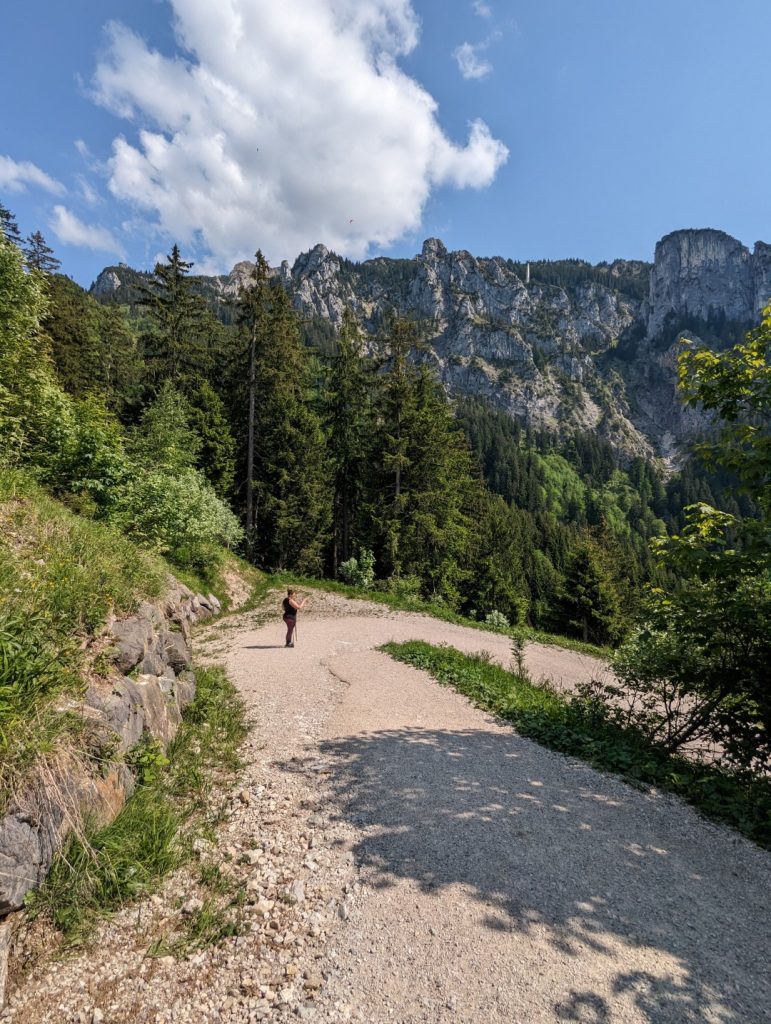 Because of my bum foot, coming down was actually more difficult than going up, especially with the steep descent and gravely paths that often shifted below my very worn down shoes. It was at this point that Super Hubby wandered off the path a bit only to reimurge with two make shift walking sticks from the forest floor! Needless to say, I have purchased some actual trekking poles since then.
No matter your speed though, just plan on giving yourself extra time to sit and enjoy the Neuschwanstein Viewpoint again though. It truly is one in a million!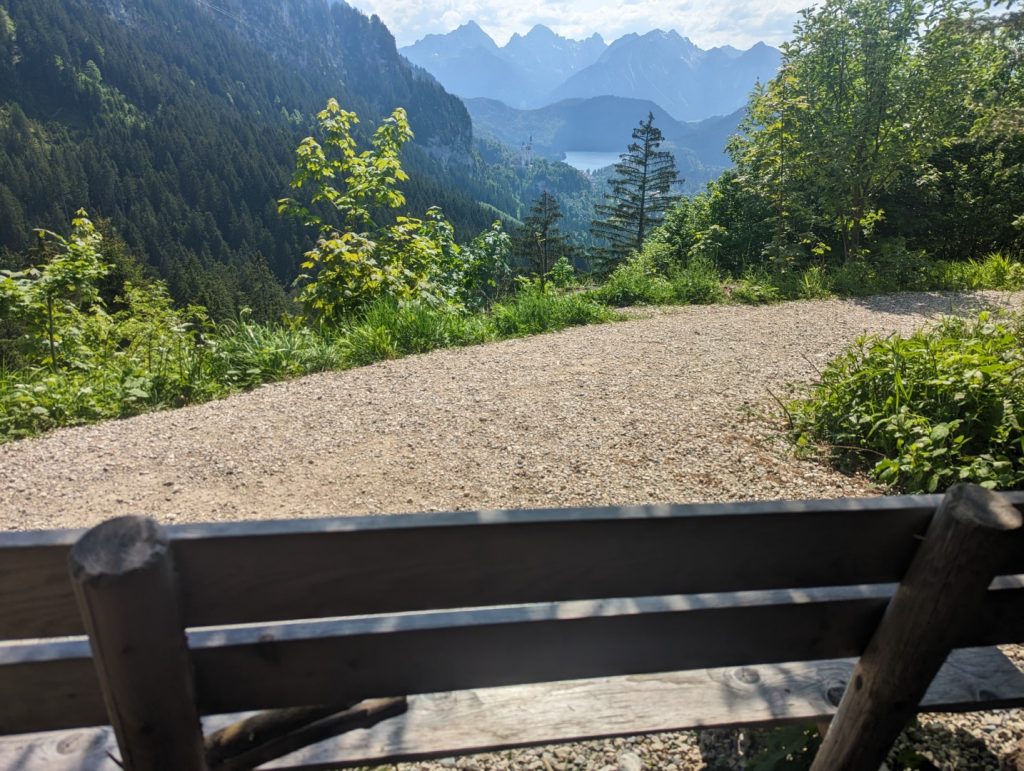 Alternative Hike: Using the Tegelberg Cable Car
Sometimes, hiking down isn't always as easy as it should seem. Hiking down the Tegelberg mountain is a decently steep descent (again- more in the Intermediate range so we're not talking scrambling or anything) so it could be hard on joints like knees if that is an issue for you. However, if you want an "easier" day of hiking, I always love taking cable cars up in the Alps and then doing the hike downhill. This is a great option as an alternative for the Rohrkopfhütte hike!
Tegelberg Gondola
The Cable Car is a fantastic way to zip up to the top of Tegelberg Mountain in a matter of minutes.
While we didn't do this particular route to get to the Rohrkopfhütte Tegelberg Hütten this time, we have taken the the Bergbahn in the past when we were hiking around Neuschwanstein Castle. That time, we we just took the cable car up, enjoyed lunch at the Tegelberg Panoramarestaurant, did the "Königsrunde/Tegelberg Panoramaweg Hike" and then went Paragliding over Neuschwanstin Castle.
Operating Times: (Summer) 9am-5pm
Tegelberg Cable Car Price
For the purpose of this article, if you are doing the Rohrkopfhütte hike, then you will only need a single journey (Ascent) because you are going to be hiking all the way back down to the parking lot. However, I'll include return prices in case you decide you want to do any of the other activities or hikes at the top maybe another day.
Note: Ask your hotel if you get the Ostallgäu Guest Card as part of your stay to get the "Youth" price for the Gondola.
| | | |
| --- | --- | --- |
| | Return Trip | Single Journey |
| Adults | €28.50 | €18.50 |
| Youth /Seniors | €27.50 | €17.50 |
| Children (6-15 years) | €12.00 | €7.50 |
The Hike
Time:
Top of Gondola to Rohrkopfhütte: Approximately 50-60 minutes +
Hut to Botton of Gondola Station: Approximately 50-60 minutes
Total: Approximately 2+ hours (not including time at the hut)
Distance: Approximately 4km total (2.5 miles)
Difficulty Level: Intermediate/ Medium Difficulty
Elevation Descent: 894 meters (2933 ft) 
If you decide to take the cable car up and do this "Tegelberg Wandern" (hike) then you'll drive to the Tegelbergbahn. You can buy tickets there at the kiosk. Ride the Gondola up and when you exit you'll be blown away with the views all around you! Personally, I recommend spending a little time up here, as it is just simply gorgeous. Maybe grab a cappuccino or small bite to eat at the restaurant, or just sit on a bench and soak in the beauty!
When you are ready to start the hike, you'll follow the well marked signs for the "Schutzengelweg" Path. This is a pretty cool route as you'll find display boards that talk about the history of the area going back all the way to the stone age, how the Romans influenced this area, and of course how the Bavarian Royalty families built the castles.
The hike down from the Cable Car to the Rohrkopfhütte will only take about 40-50 minutes of descent.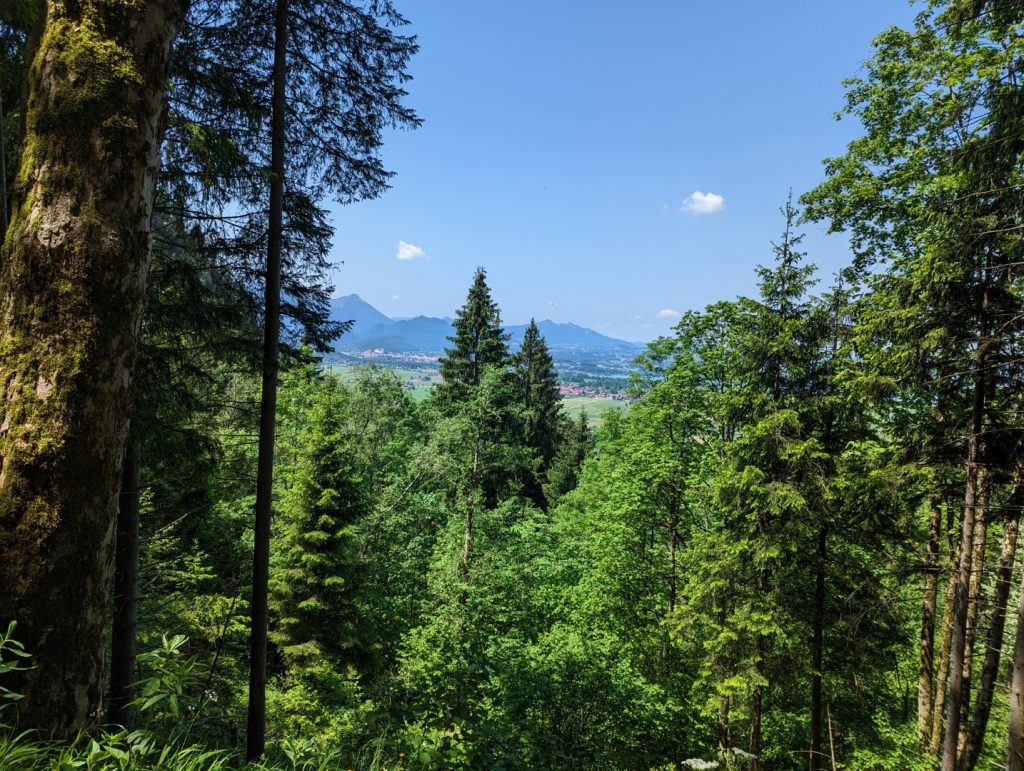 After you have rested plenty, had a bite to eat and something to drink at the Rohrkopfhütte and gazed out over the mountains, then you can continue your hike down to the Tegelberg Valley Station. Just continue to follow the well marked signs and it will lead you back to where you started. This portion of the hike will take about another 50-60 minutes or so. And yes, you will still get STUNNING views of Neuschwanstein!!!
Try the Kneipp Therapy
Once you've almost reached the bottom, you'll find the Kneipp Therapy. I always get a kick out of this, but you seriously need to try it! The idea is that these freezing cold "pools" help to promote circulation and they really do feel amazing on your tired, hiking feet after you step out! They are about the depth of your knees and the freezing cold water is a bit difficult to step into. After you get over the initial cold shock, hold onto the rail and start walking around the "pool" (You'll notice the locals will bring their legs nice and high as they step). After you get out, you'll be amazed at how refreshed you feel!!!
The Tegelberg Sommerrodelbahn
If you haven't had enough fun yet, at the bottom of the hike is also the Sommerrodelbahn (Alpine Coaster) which I always love doing!!!