[This post may contain affiliate links where we earn a small commission. Please see our disclosure for more information and thank you for supporting our site so we can continue to bring you awesome content for your travel inspiration!]
Beers and Boats Down the Danube River
I'm a sucker for "Bucketlist Items" when traveling. I know, I know, they are typically overly touristy, but there is just something about saying "Yeah, I've been to the oldest brewery in the world!"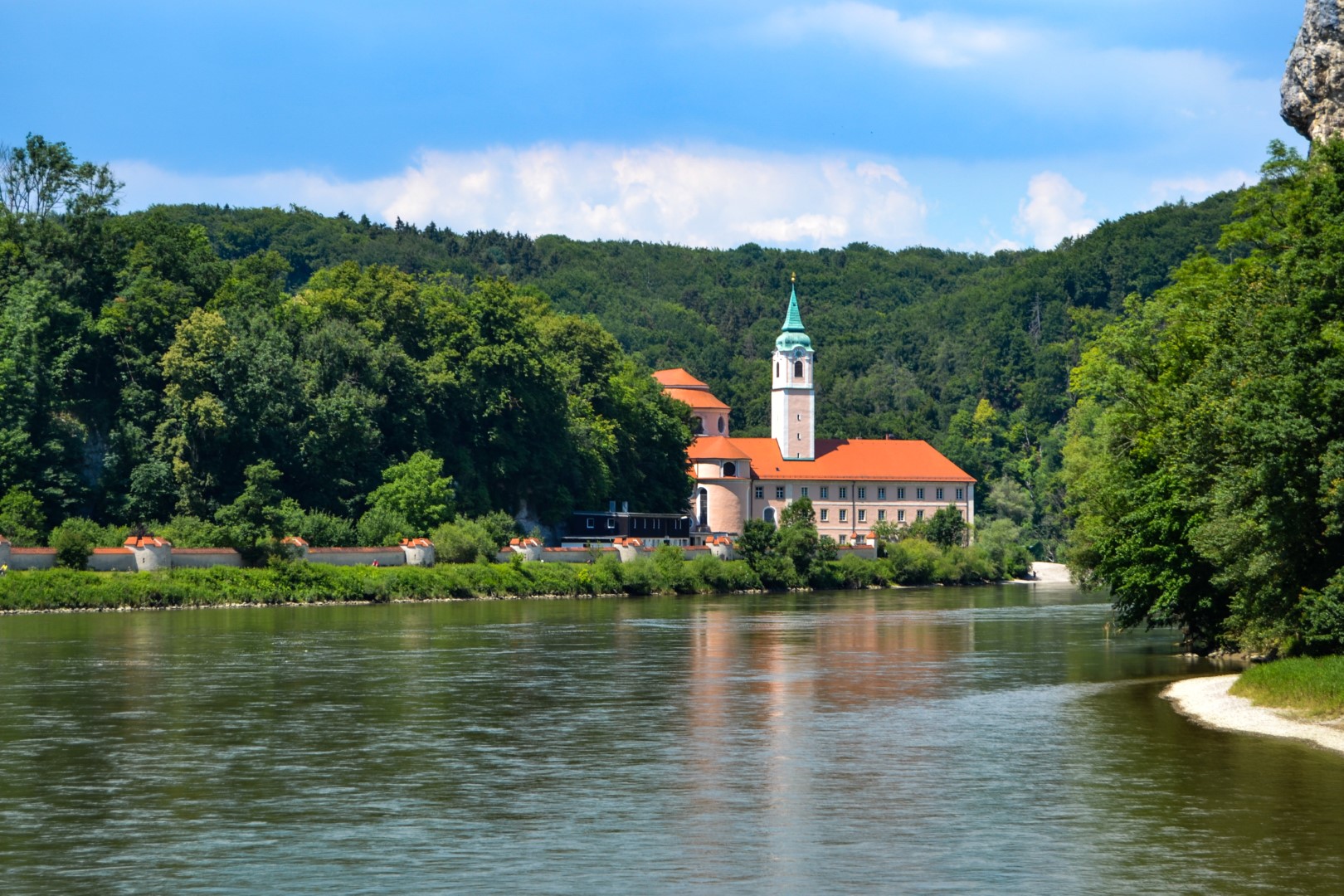 (Fun Fact: Bavaria still holds the title for "Worlds Oldest Brewery" but that award actually goes to Weihenstephan.)
Weltenburg Abbey actually is the "World's Oldest MONASTIC Brewery." But let's not lie, there is something REALLY good about beer made by monks in Germany. And no, that was not sarcasm. I don't know what it is, but there is just something about German Bier from monasteries (Klosterbrauerei) that tastes….well, heavenly!!!!
But what I love about Kloster Weltenburg is that it not only is a fun thing to say you've been to the place where they brew some of the oldest beer in the world, but it is actually a really amazing day trip as well!!!
Weltenburg makes for either the perfect day trip from Regensburg (you can even add a stop at the beautiful Walhalla and just make it a whole day down the Danube) or it can always be a worthwhile Day Trip From Munich as well.
Is Weltenburg Touristy?
Yes…..and no? There are plenty of Danube cruise boats that offer the Weltenburg Kloster as an excursion, so sure, there are going to be tourists there. On a weekend at eating times, the Biergarten can get quite full and crowded.
However, with all that being said, I've never felt that it was overrun by tourists and you'll find both locals and sightseers alike enjoying a beer under the trees, wading into the waters, and enjoying a beautiful day in Bavaria.
Want More Day Trips In Bavaria? Check Out our Travel in Bavaria Facebook Group!
Getting To Kloster Weltenburg
You have a plethora of options on how to actually get TO the Weltenburg Abbey, it really will just depend on your interests, mood, and how much time you have.
Kelheim Hall of Liberation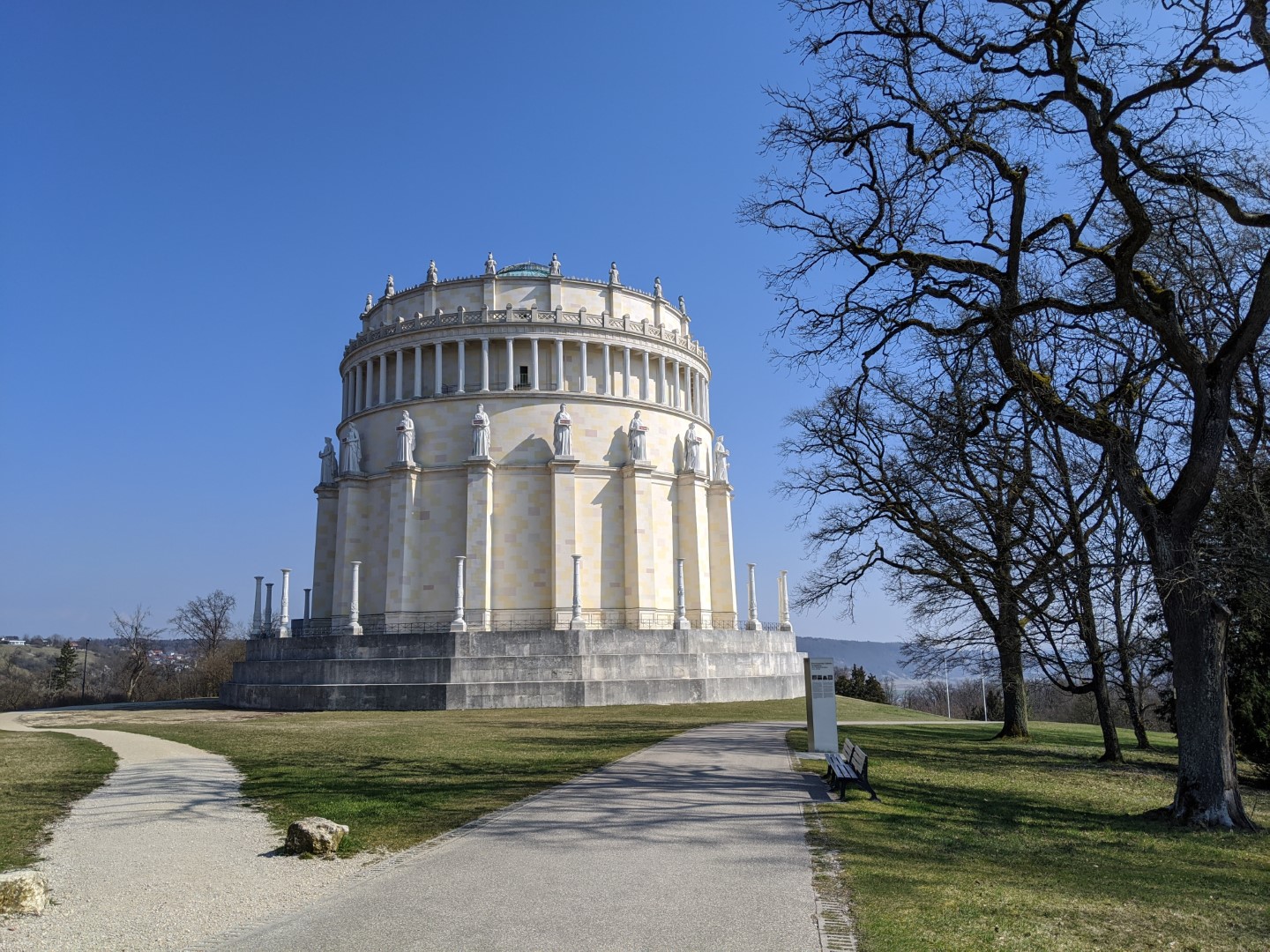 Most people start their journey from Kelheim and will take one of the following options below. The most notable thing in Kelheim is the towering Hall of Liberation. If you've got a bit of extra time, it's worth heading up to the monument for the views out over the valley. Otherwise, skip it.
Schiffahrt Kloster Weltenburg (Boat to Weltenburg)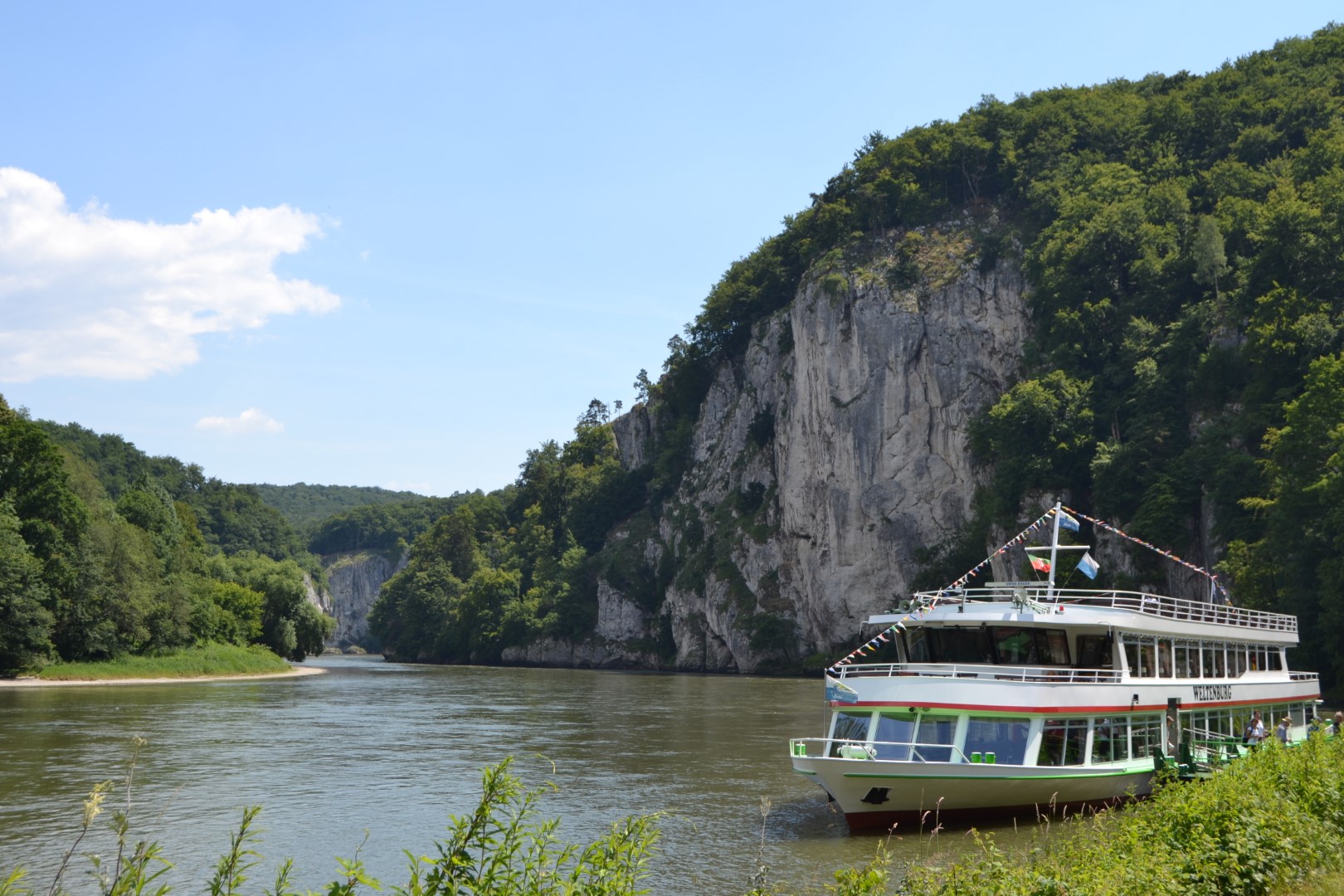 A really popular thing for tourists to do in general is taking a Danube Boat ride. If this is something that intrigues you, then taking the boat from Kelheim to Weltenburg down the Donau (Danube) is an absolute delight!
A Delightful Trip Down the Donau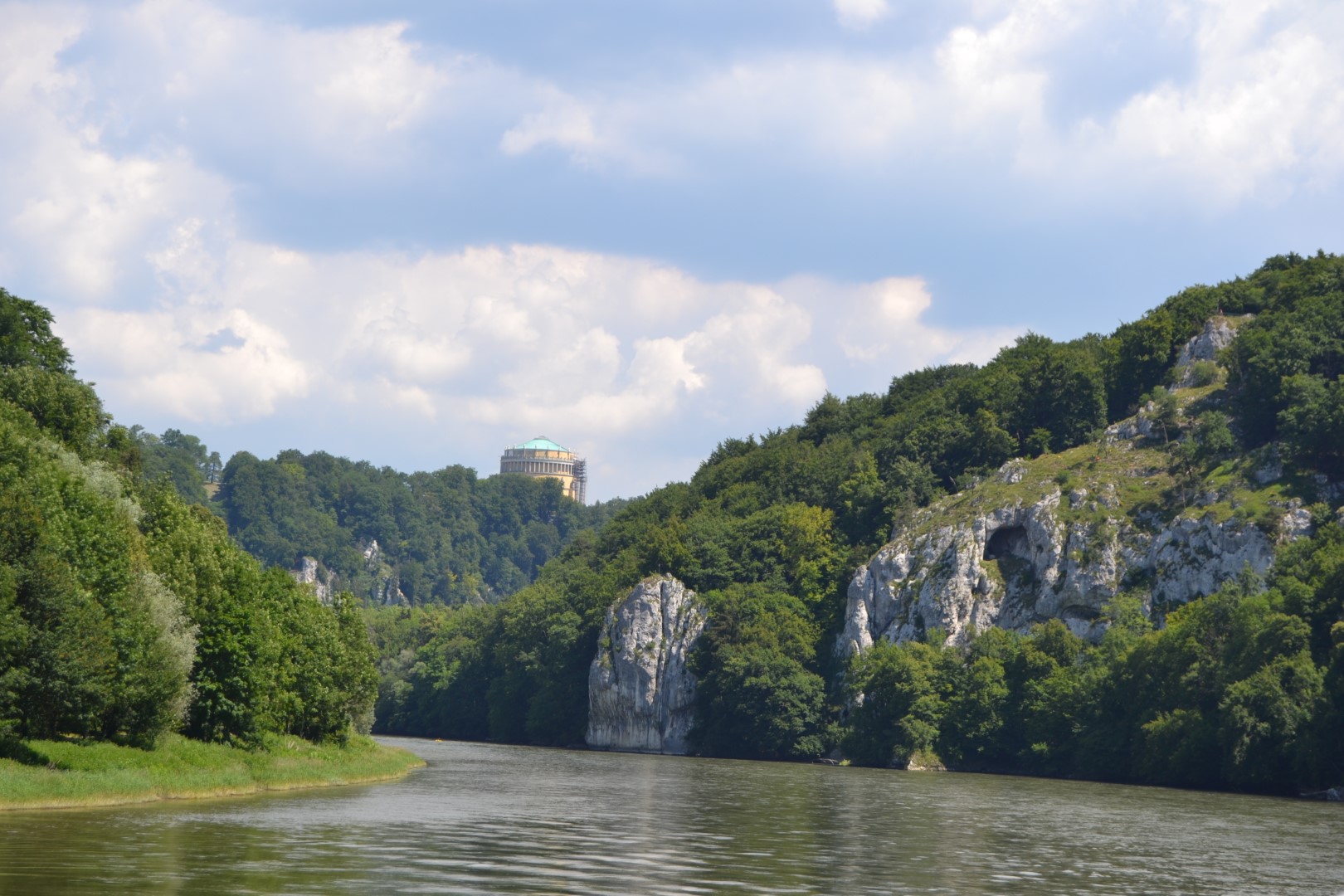 For the next 40 minutes, just sit back and enjoy the leisurely boat ride to Weltenburg Abbey down the Danube Gorge. As the boat cruises, there is actually information (in English) that is broadcast over the speakers about the river and this specific area, which is actually pretty interesting to hear about. You'll learn about the caves tucked into the cliffside that date back to the stone age (and rumor has it, were occupied by pirates at one time…..ARRRGH!) and you'll pass the "Junfrau" stone which was once a beautiful young women turned into rock by an evil witch!
And if listening to the commentator isn't really your thing, then just tune out as you sip on a cappuccino or beer and nibble on a snack that you can purchase from the bar and just soak in the scenery.
As you meander down the Danube, every twist and turn of the river will have you face to face with tall karsts jutting out having you wondering if you have left Bavaria and entered some other magically enchanted realm.
Weltenburg Ferry Details and Logistics:
If driving, you'll make your way to Kelheim you can put in " Parkplatz p3 Pflegerspitz Am Pflegerspitz93309, Kelheim" or "P4 Danube Foreshore" there is also a P5 parking area. All parking lots cost 4 Euro to park
Honestly, if you can drive to Kelheim (or Weltenburg) that is the best, most direct route. However, there are a few other options (albeit it will take a very long time comparatively)

From Regensburg: Buy a Bavaria Ticket (good for the train and bus!) and go to the town of Saal an der Donau. From Saal you'll transfer to the buses 5 or 10 of the VLK Kelheim.

The boats typically only run between March and November.
Ferries leave about every hour in the peak summer season and about every half hour on the weekends (check the website for spring and fall, as those will vary)
The boats will NOT run if the water levels are too high (which is actually not an uncommon thing, so check the website prior to leaving)
Costs: (Roundtrip)

Adults: €12,50
Kids 6-16 years: €11
Children: Free under 6 years
Dogs Welcome: €3,00
Bikes: Additional €6 on top of ticket fare

Website for updated information, timetables, etc: Donau Durch Burch
Note: There really is no good direct boat from Regensburg to Weltenburg. There is one option to Kelheim but it can take over 2 hours and there isn't a TON on that route to see. It's much better to just get straight to Kelheim.
Tip: When you exit the boats at the Weltenburg Abbey, be sure to check the timetables for return trips back to Kelheim
Driving to Weltenburg
If you don't have the extra time for the boat rides, then another option is to just drive to Weltenburg.
We did this one year with my parents and just plugged in the address to the GPS. We were gleefully driving through the beautiful forested area when the Navvy proclaimed, "Turn left and Load Ferry."
Ok, no big deal, we've driven onto ferries before.
And then we turned left and we saw it. This was NOT a ferry. This was like a wooden slab of raft!!!! While I can personally swim in case of an emergency, I was a bit more concerned about my new car making the journey. Luckily, there was some parking on this side of the river and we just crossed on the ferry ourselves.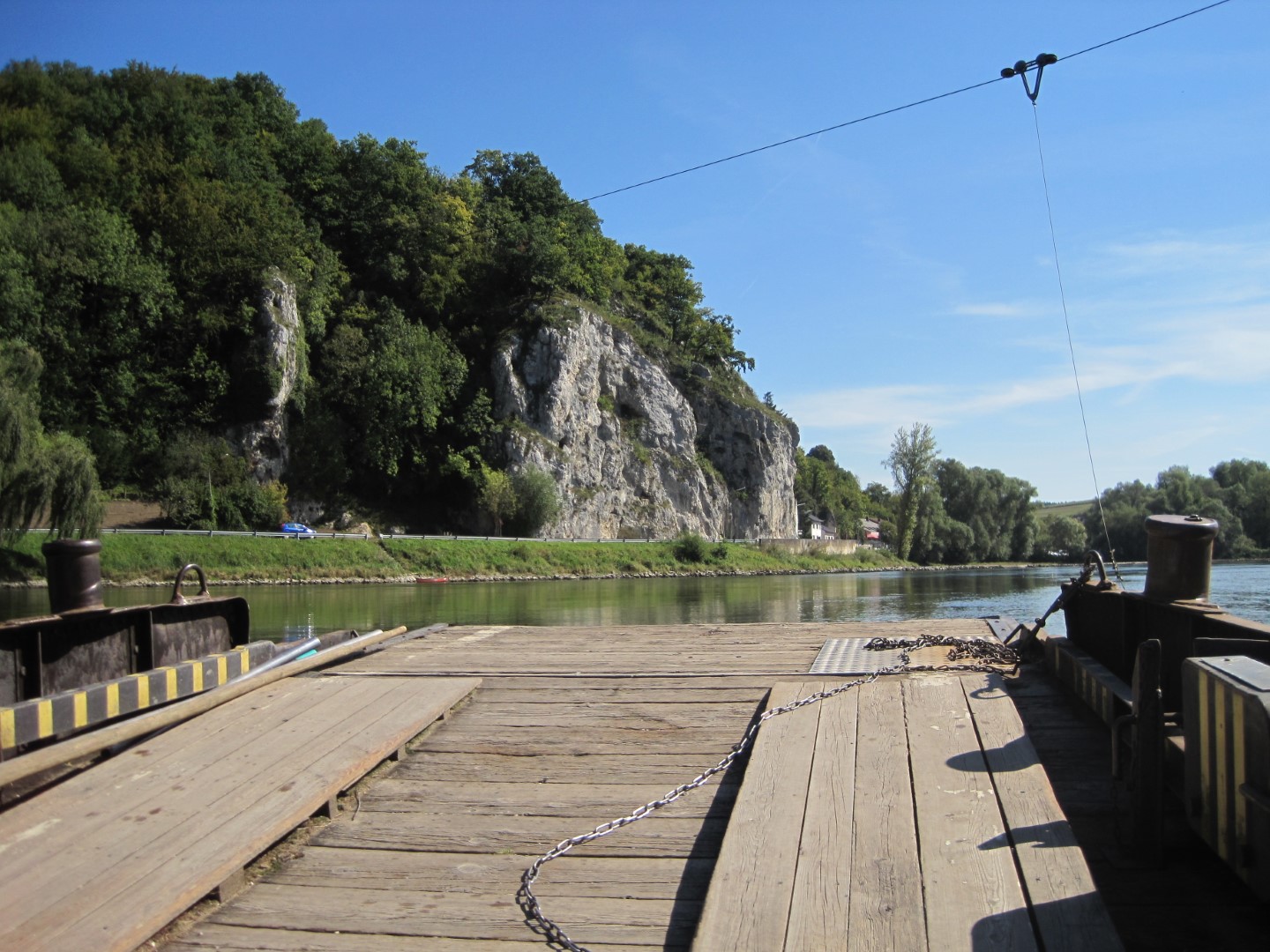 Note: This is NOT the same ferry as the above boat. This literally just crossed ACROSS the river.
Tip: Check the times for this particular "ferry" as the last departure is shockingly early (5pm at the time we took it) and there really isn't much of a way back over the river without it!
If you want to avoid that whole ordeal, no worries! Just make sure that you approach Weltenburg (town) from the Kelheim direction.
There is plenty of parking near Asamstraße 8 and then you'll just follow the (flat/easy) footpath to the actual monastery.
Hike to Kloster Weltenburg
Another very popular option for outdoor enthusiasts is to actually hike to the monastery along the "Altmühltal-Panoramaweg (Loop 27)"
There are a couple of options for this, but most people will start at Kelheim, head over the bridge and then follow the well marked path for "Weltenburger Höhenweg" (Trail #3). There are a few steeper points on this trail, but is mostly an easy-moderate hike for people who enjoy walking. You'll be taken through the beautiful forest and get great monastery vies from across the river. You'll just take one of the above smaller "ferries" across the Donau for a few Euros.
You can either continue the loop trail back after your time at Weltenburg (more fantastic aerial views on the cliffside of the area and the monastery). If you do this, you'll then follow the "Danube Route' (Trail #1) .
Alternatively, if the hike one way was plenty of adventure for you, you can then take the big ferry back to Kelheim.
You can expect it to take about 1.5-2 hours per way for the hike.
The Kloster Weltenburg Biergarten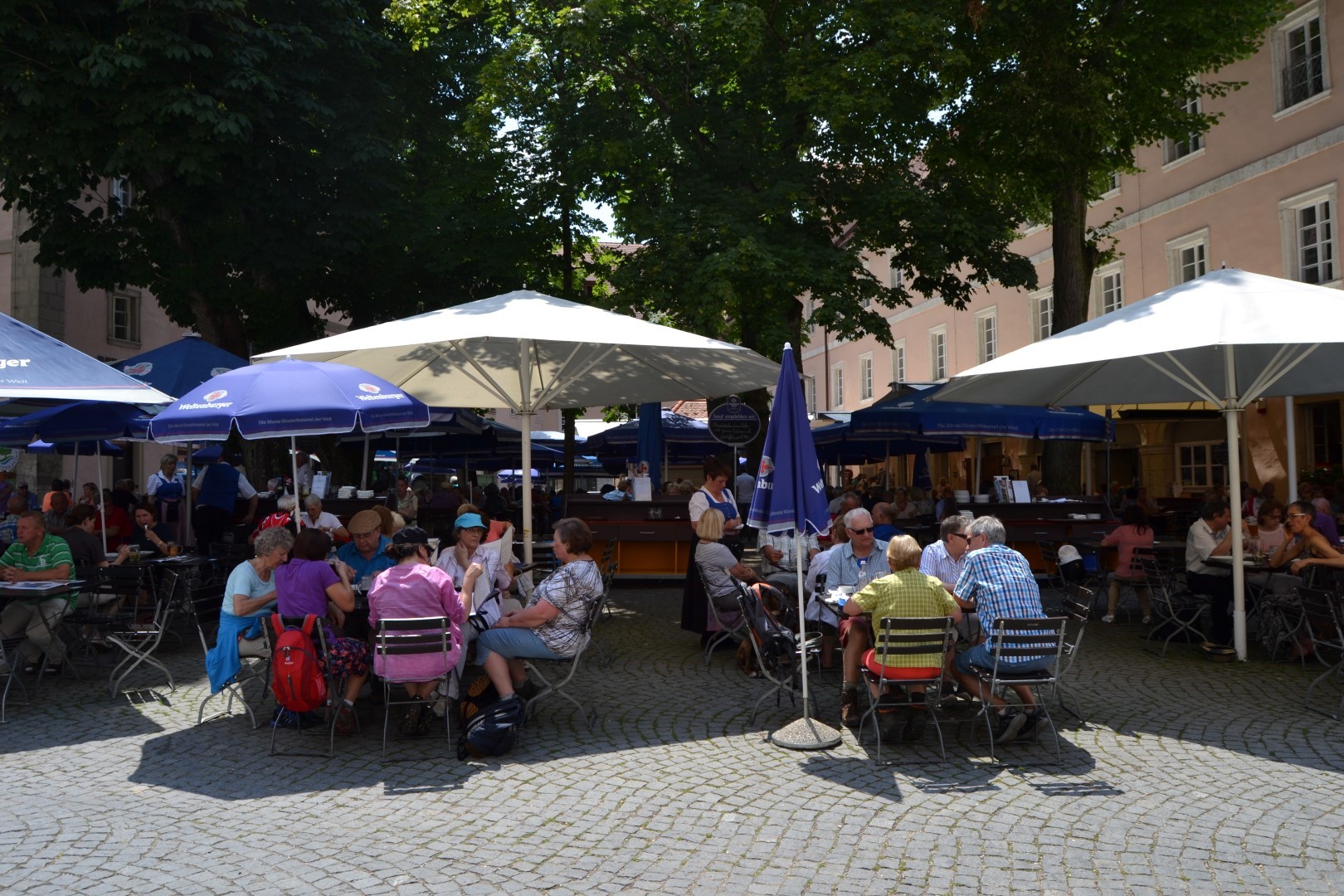 You can't make it all the way to one of Germany's oldest breweries and NOT sit and enjoy a beer at the beer garden!
The Weltenburg Biergarten/Restaurant can get quite crowded, so it's best to try to get tables not during the lunch or dinner rush hour times. You can also plan to arrive early (it's also great in the shoulder seasons like April/ May and September if the weather is nice).
The menu is smaller but plenty of my favorites from my Classic Bavarian Foods you Must Try list are all impeccably done! A few of my favorites from the Weltenburg Biergarten are the Rahmschwammerl, Maultauschen, and Haxen (of course wursts are also available).
Now, I'm no beer connoisseur (don't judge me, I actually didn't even like beer before moving to Germany!) but Weltenburger Bier is top notch. The Weltenburg Borock Dunkel is considered one of the best beers in the world. Don't believe me? It's won the "World Beer Cup" (think Olympics….but for beer!!!) THREE times! (And has also won the Silver medal twice, and Bronze once).
Yeah…..this is GOOOOOOD beer! (I told you those monks knew what they were doing!)
Radlers are also a very popular drink, particularly in the summer in Germany. And while I (now) LOVE me a good Dunkel Bier and not much can beat sipping a Radler in the summer, I am typically not a fan of the Dark Beer Radlers. However, there is just something about the freshly brewed, on tap, Barock Dunkel paired with the refreshing Zitrone while sitting under the classic Biergarten trees that makes this a really special treat to enjoy.
And if you are like my hubby and thoroughly enjoy a good, Bavarian wheat beer, then try out the Hefe-Weissbier Hell.
Asam Church
The other main thing to do while at the Abbey is to duck into the very Baroque-style little Asamkirche. Especially on a hot summer day, it's nice to go in, sit down, and look up. In true Baroque fashion, churches like these are decked out to the nines!
When we were there, we just so happened to stumble upon someone playing the beautiful organ. While I'm not a religious person, it's moments like this that make me just love living in Germany, as I can marvel in the beauty of the music and take in the architecture and design of the church.
Take a Brewery Tour
Tours are not the norm. Therefore, if you would like a guided tour of the Weltenburg Brewery, you'll have to call or email in advance and see if you can schedule one.
Skip Rocks and Play in the Water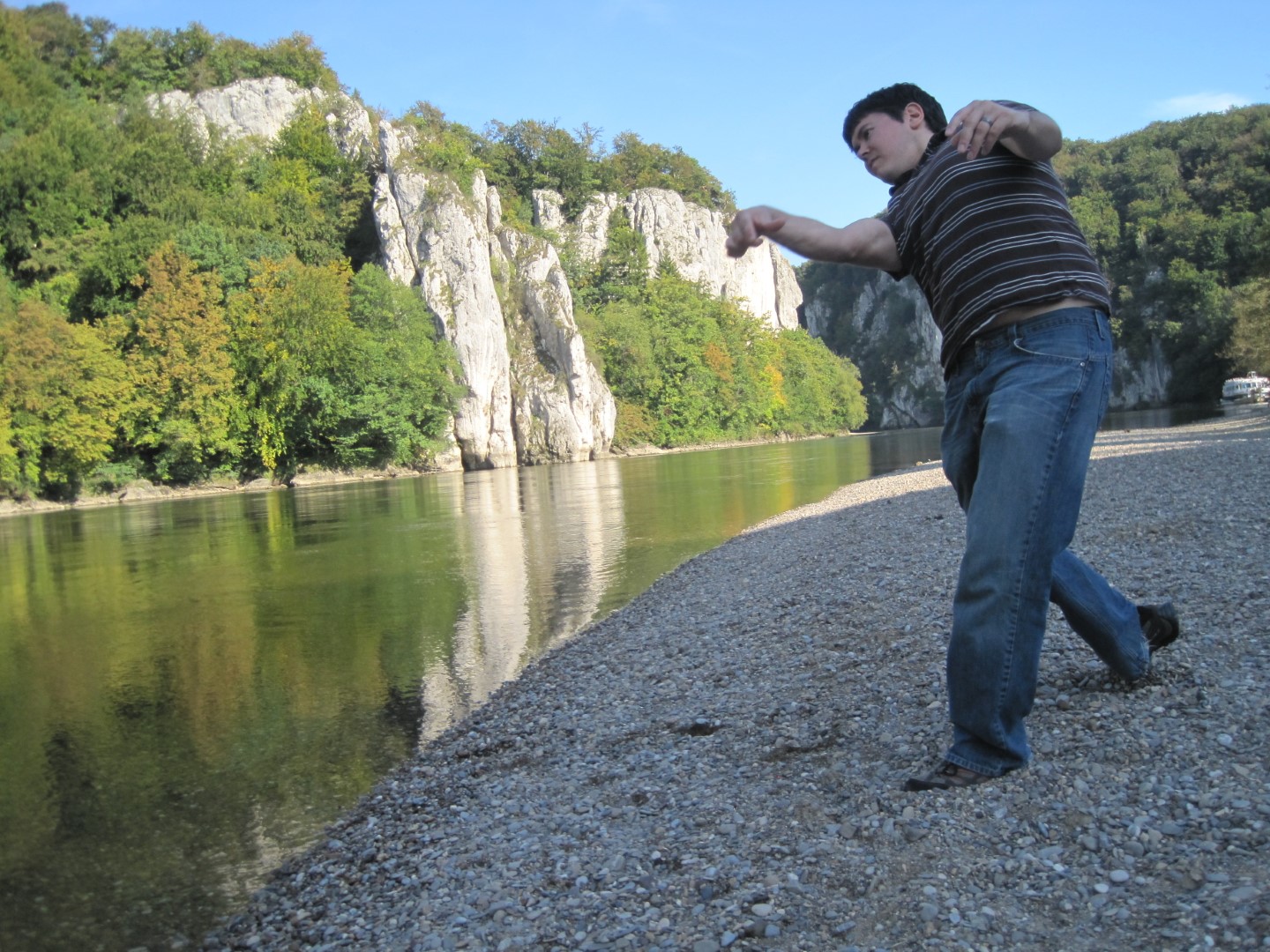 The little rocky shore of the monastery is a great place to just kick back for a while. The little pebbles are basically screaming at you to see how many times you can skip them. It's also fun to take a few moments and just chill, watching boaters float on by.
Go Swimming
On particularly hot days, plenty of people will take a dip right in the river! Others will just sunbathe with a good book, while occasionally peeping up from the pages to take in the beautiful scenery.
Hike/ Walk Around
You can also take a short walk/ hike around the grounds and into the forest as well. There are some remains of an old 10th century fort, a beautifully done walking Stations Of The Cross, and some really gorgeous walking paths to wander around for a bit as well.
Weltenburg Kloster Opening TImes and Address
The grounds are open from 8 a.m. to 7 p.m. daily and is free to wander around.
Biergarten Hours:
Monday to Friday: 10:30 am to 7 pm (kitchen closes at 6:30pm)
Saturdays and Sundays: 9:30 am to 7 pm (kitchen closes at 6:30pm)
Address: Asamstraße 32, 93309 Kelheim
Combine it With a Trip To Walhalla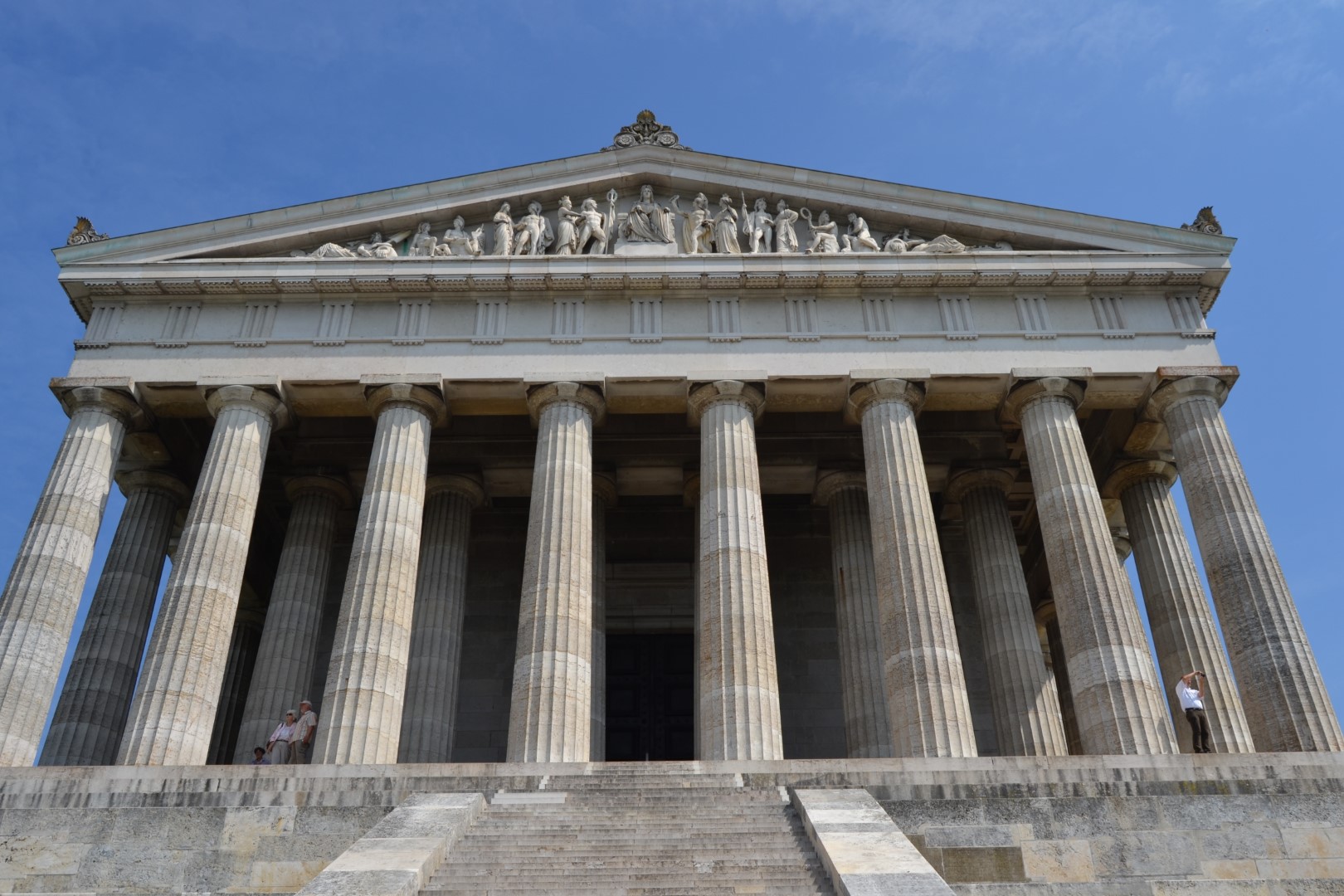 One year, we spent a full day exploring the Donau near Regensburg. We got to the beautiful Walhalla in the morning (depending on how much time you have, you can even go next door to the wonderful Donaustauf Ruins- it's just a few minutes down the road!) and then made our way to Kelheim to grab the boats and did a late lunch (AKA no problem getting a table in the Weltenburg Biergarten!). It was the absolute perfect day trip in Bavaria and a gorgeous way to see the Danube river.