[This post may contain affiliate links where we earn a small commission. Please see our disclosure for more information and thank you for supporting our site so we can continue to bring you awesome content for your travel inspiration!]
Nuremberg (Nürnberg) has so much to offer visitors, yet somehow many people only do a day trip to Nuremberg (Often from Munich- See our Munich Itineraries Here) or it's only a short stop on people's bus tours. And while I think that it deserves at LEAST two days (more on that below), in this guide I'm going to show you exactly how to get the most of your one day in Nuremberg.
Planning Your Trip? Join our Travel in Bavaria Facebook Community to help!
Why You Should Include Nurnberg on your Germany Itinerary, even for just one day.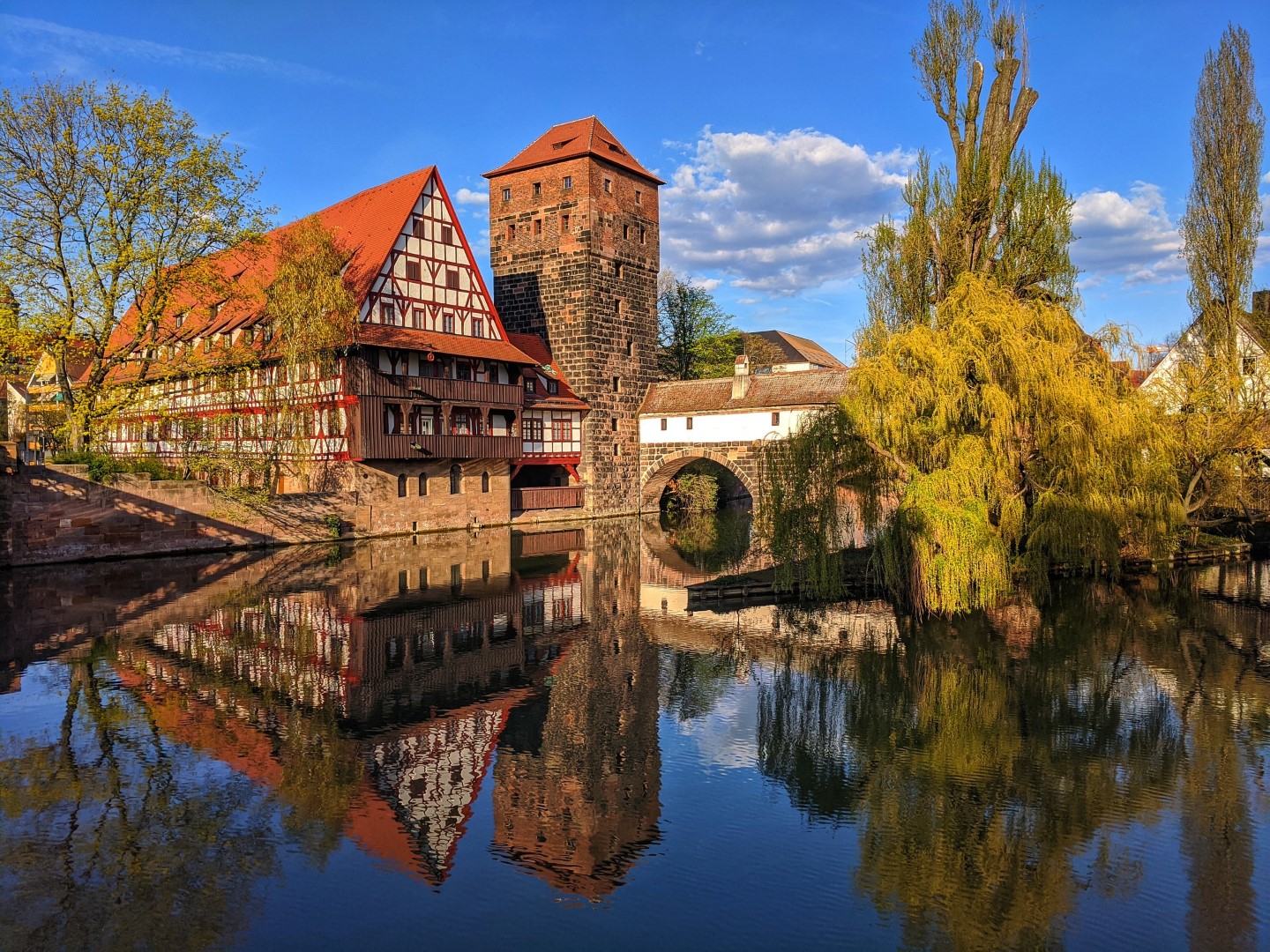 I have done a Nuremberg day trip countless times, as it's just a short train ride away from my home, and each time I learn or see something new. Here's a few reasons why Nuremberg makes a perfect day trip:
The old town (where many of the top things to do in Nuremberg are) makes the surprisingly large city feel like a small town. This is particularly helpful for travelers short on time since you don't have to waste a ton of time with transportation.
Most people might associate the city with the Nuremberg Trials and other WWII history, but Nuremberg is so much more than just the Holocaust Era. The city is absolutely dripping with history all the way back to the middle ages. In fact, in the 1300s, Nuremberg was even the seat of the Holy Roman Empire. Even if you are not a history buff, the fascinating city is sure to make you appreciate history.
Note: While you can see so much of the city in this 1 Day Nürnberg Itinerary, I do think that slowing down and spending 2 days is actually the ideal amount of time here. Check out ALL of my favorite things to do in Nuremberg here to see if you should add some extra time to your itinerary.
Make Nuremberg Base
I love Nuremberg as a "base camp," if you will. It's a great place to stay while doing short and easy day trips to nearby local off the beaten path Germany gems! Here are over 20 Day Trips from Nuremberg that are great to explore.
Getting Into Nuremberg
Nuremberg is located in Upper Bavaria in the Franconian region of the state. Because of its central location, it's really easy to get in and out of this wonderful town.
If you are visiting Nuremberg, you are probably getting in by one of 3 ways
Flying
There is an "international" Airport in Nuremberg, but it mostly services inter-European flights. For example, coming in from the US, you will still most likely land and transfer in either Frankfurt or Munich anyway. If this is the case, check the prices for the other airports because sometimes they are much cheaper and it adds very little extra time to just hop on the train than wait for airport transfers.
Getting from Nuremberg Airport to City Center
Getting into the Altstadt (old Town) from the airport is incredibly easy. Walk out the main terminals and find the big, giant, Blue and white "U" sign for the U-Bahn. Get on the U2 (resist any urges to start singing. Nah, who am I kidding. Belt out "With or Without You" if your heart so desires!) toward Röthenbach and get off at the Hauptbahnhof (Main train station) and from there you just walk out to the Altstadt.
By Train
It's no secret on this site just how much I love the German train system! Nuremberg is a major transportation hub, so there is no shortage of trains coming in and out of the city. What is fantastic about the location of Nuremberg is that in 3-4 hours you can be in Berlin, Munich, Frankfurt, and even Prague. (Prague is the exception for trains. You'll want to transfer to a bus in Nuremberg)
Most likely, your train will arrive at the Hauptbahhof and from there, you can walk to the Altstadt within minutes or transfer to the S-Bahn at the station to zip around town to locations like the Documentation Center and Nazi Rally Grounds.
Tip: If you are traveling within Bavaria, make sure to use the Bayern Pass! You can read all about it here and how it can save you a lot of money.
By Car
Nuremberg is really easy to get to by car as it is right on several major Autobahn routes and is only a few hours from other major cities like Munich and Frankfurt. If you are just staying for one day, you can either find a parking garage, or it would be even easier to do a Park and Ride from just outside the city and not have to worry about driving (street parking can be quite difficult).
Driving in Germany is actually way less intimidating than what most people think. Read this post to get everything you need to know about Driving in Germany.
Getting Around Nuremberg
Walking
The Altstadt is where most of the main Nuremberg tourist sites are located. So, that means once there, you can spend most of your day just simply walking.
S-Bahn
One reason why I love visiting Nuremberg is that it is actually a pretty big city, but with a smaller town feel. Because of this, it is incredibly easy to get around to all the major tourist sites by walking or public transportation, and therefore, a car is not needed at all.
I'll detail exactly what S-Bahns to use to get around in this particular Nurnburg 1 Day Itinerary in its respective sections.
Your Complete 1 Day in Nuremberg Guide
Ok, let's get to your actual one day in Nuremberg!
Because there is really a lot to be done here (and let's be honest, 1 day in Nuremberg REALLY isn't enough) we are going to cram in as much as possible while still going slow enough to thoroughly enjoy your day. With that being said, strap on your most comfortable shoes because we'll be doing a lot of walking and it WILL be a long day today. Since we have so much on our plates, try to get as early of a start on the day as possible.
This quick, one day in Nuremberg is also assuming you are there during the long, summer days. If you are there in the winter, for example seeing some of the Best German Christmas Markets, where it gets dark quite early, you'll have to cut a few things shorter to get everything in before dark.
Morning: Altstadt Walking Tour
Time Needed: Plan for at least 2 hours to walk the Altstadt. If you like to look at churches or go window shopping, allow for just a little extra time.
8am-11am
If you are just getting in today, if you arrive at the Hauptbahnhof, that is going to be a perfect starting point for our Altstadt walk. From the train station, it is just a few minutes' walk to the first medieval wall and "gate" that encircles Nuremberg.
Walking Tour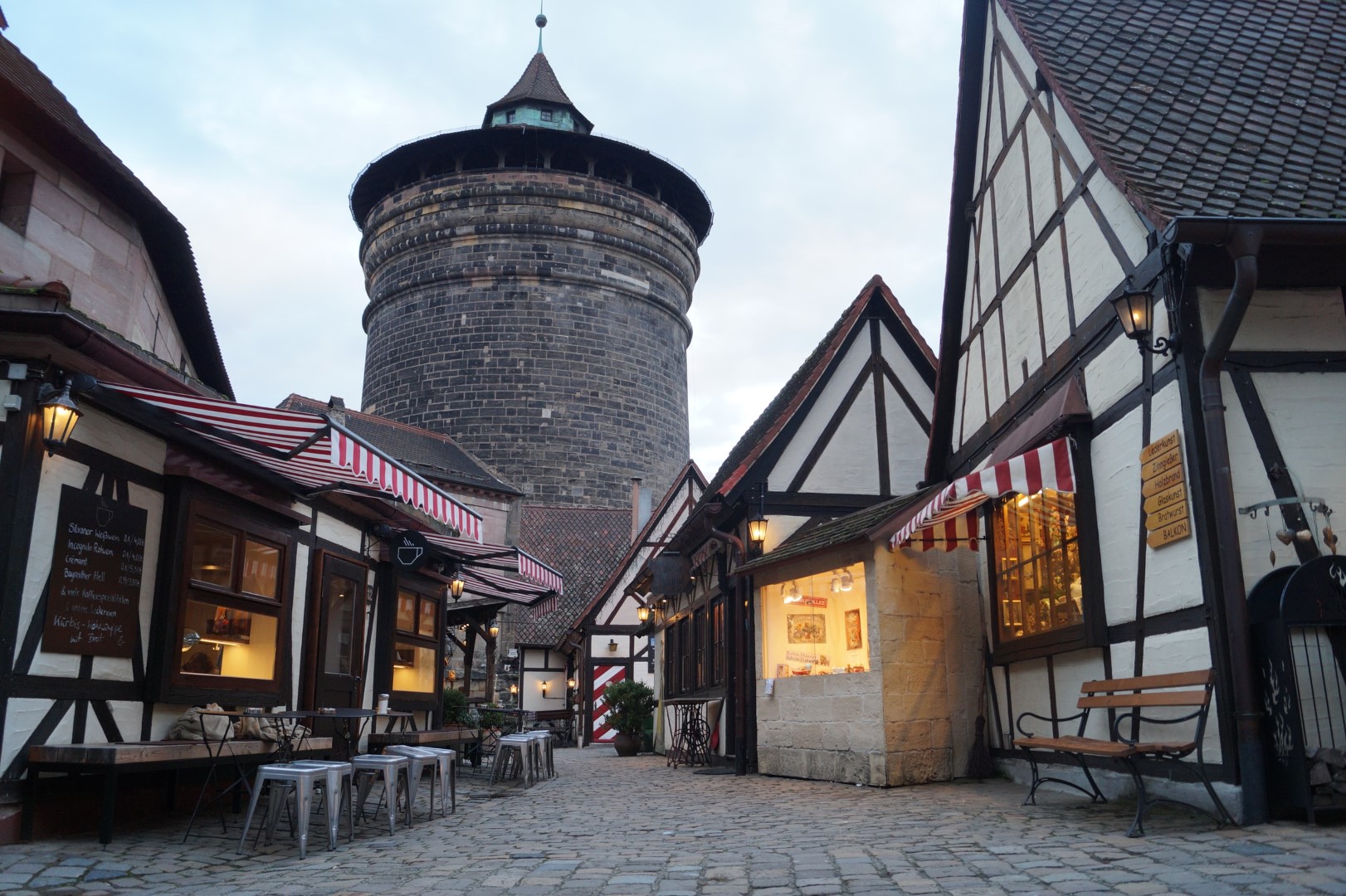 We are going to start with a walking tour of the Altstadt. You can either do this DIY Nuremberg walking tour or even just hire a guide. Either way, plan for at least 2 hours for walking around this part of town. The benefit of getting a guide is that Nuremberg is steeped in SO much history, that your time will be much more meaningful with someone explaining everything in detail.
When you leave the main train station, keep following the signs for "Ausgang" (exit) and then "Altstadt" (old town) and then head towards Konigstrasse. Start at the…
1. Frauentor
If coming from the train station, you can't miss passing under the Fraentor, just one of 128 gates along the medieval wall. As soon as you enter, you'll be transported into what feels like a centuries-old city. However, while it feels old, charming, and romantic, remember over 90% of Nuremberg was actually destroyed during the WWII bombings. Like much of Germany, they chose to rebuild it in the same fashion instead of "new" construction styles.
2. Dip Into the Craftsman Courtyard
Right next to the Frauentor you'll find timbered houses and winding alleys that just might make you feel like you are in a fairytale. This area is now almost like a little market. You can find handmade goods and there is some fun window shopping to be done here. If you are in the market for souvenirs, this is a fun place to look.
3. Follow Konigstrasse
This main street will be your path but don't be afraid to veer off once in a while to explore nearby. On this lively street, you'll find plenty of cafes, churches to peak into, restaurants, and great people watching.
4. Stop at Lorenzerplatz
This wonderful square has one of the most beautiful churches in town. Like most of the old town, the majority of the church had to be rebuilt, but it still maintains its beautiful Gothic architecture. It is definitely worth a quick stop inside, especially on a hot day, where the cool, stone church is a great place to sit and take in the beauty of the inside.
5. Inspect the Fountain of Virtue
On the Lorenzerplatz, find the much talked about statue. Sure, bare breasts can be seen spouting water, but look past that to find the virtues of love, charity, temperance, and patience.
6. Continue to Museumbrucke
Follow the road and you'll cross Museumbrucke. Stop for a bit and do a 360 here for all sorts of sites. Across the river in one direction is the Fleischbrucke. Does it look familiar? Rumors are that this was quite the architectural feat for the time and it took its inspiration from Venice.
On the other side, you'll see the Hospital of the Holy Spirit. While it's actually a restaurant today, it once held the crown of the Holy Roman Emperor.
Some days, there are fun little pop up markets that are held on this bridge as well.
7. Stop At the Ship of Fools (Narrenschiff)
Konigstrasse will turn into Plobenhofstraße after the bridge and it's near here where you'll find a rather odd statue. It is based on a famous allegory comparing life (and its numerous types of humans) to a group of people on a ship bound for eternity.
8. Nibble on a Classic Lebkuchen
Nuremberg claims to have the original Lebkuchen (gingerbread). But these heavily spiced cookies (or cakes, really!) are not just sprinkled with ginger. Therefore, they can be quite the aquired taste. One of the most famous places to get your Lebkuchen is at Schmidt's right before entering the Hauptmarkt. Stop in to try some or even pick up some for souvenirs.
9. Take in the Hauptmarkt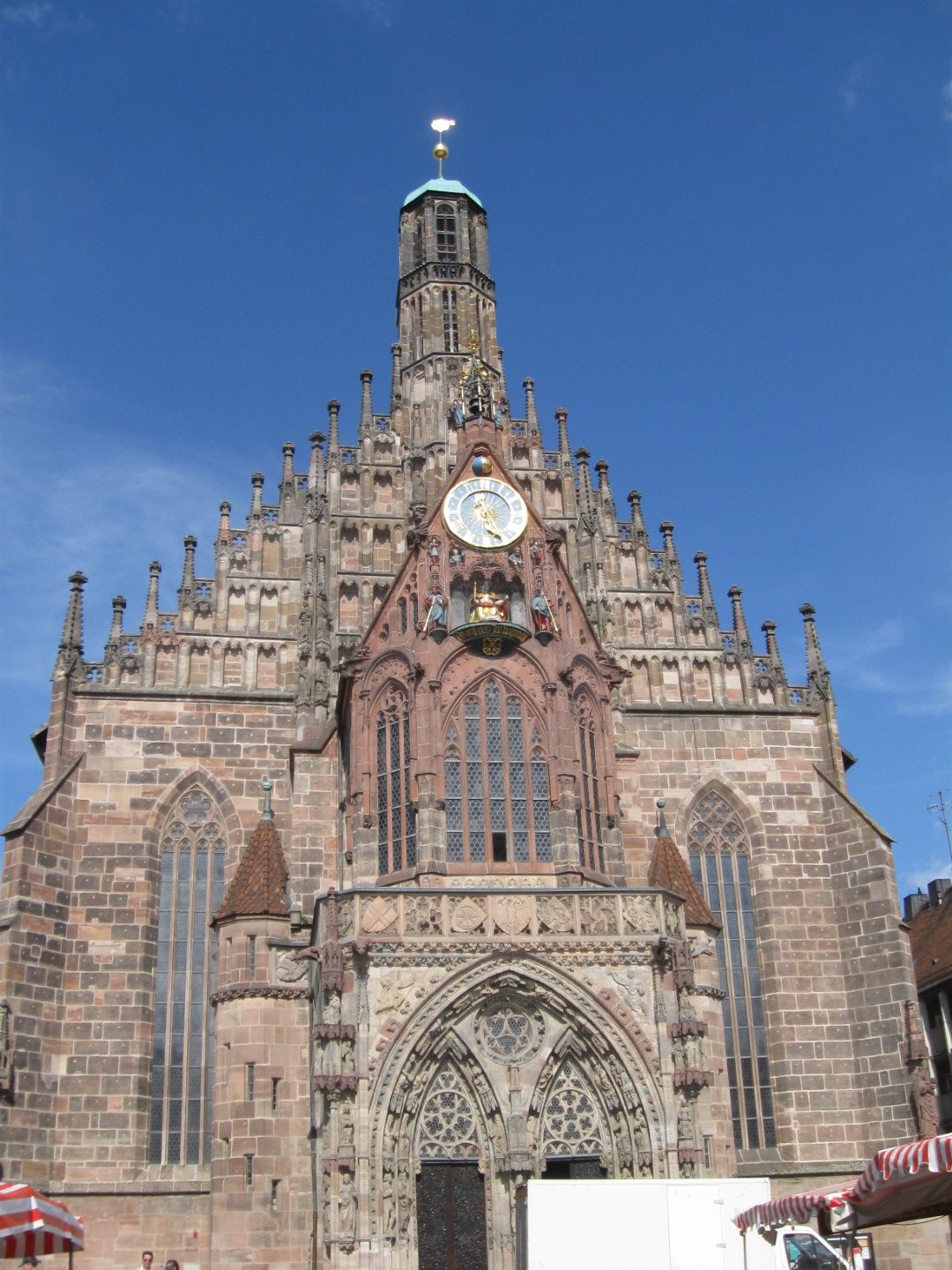 Continue on and you will walk into the main market square. Spend some time here, especially if a market is being held! This is also where Europe's largest Christmas market is every year, so if you are in Bavaria during late November through Christmas, it is definitely a sight to see!
At the Hauptmarkt, you'll also find the:
10. Frauenkirche
Depending on your day, if you can be at the Hauptmarkt at noon, you can see the Nuremberg Glockenspiel Show on the Frauenkirche Church (if your timing doesn't work out, don't go out of your way to do this though).
The Frauenkirche is not only a beautiful church that dominates the square, but it holds plenty of historical importance as well. Inside, you might be surprised to find a Star of David. World War II was not the only time that Jewish people were brutally persecuted in Germany. The Star is a reminder of how the majority of the Jewish community here was "blamed" for the Plague and therefore, most of the Jewish people here were killed in retaliation for this, as far back as the 1300s.
Another thing that makes the Fraunkirche stand out is that instead of a large crucifix over the altar, many people go to appreciate the Tucher Painted Alterpiece, which is almost more of a piece of artwork. Go inside to marvel at it for yourself.
11, Schöner Brunnen
Towards the back of the Square, you'll see a giant fenced in spire that looks like it could have been taken straight off the top of an old, Gothic-style church. Instead, it is a fountain.
Fun Fact: Look around the fencing for a brass ring. Legend has it that if you turn the ring three times to the right you will have good luck. Turn it to the left? You'll get pregnant. But wait. Plot twist! It only works if you are a local! But don't worry, just go around to the other side and find the iron ring, where it will work for tourists 😉
12. St. Sebaldus Church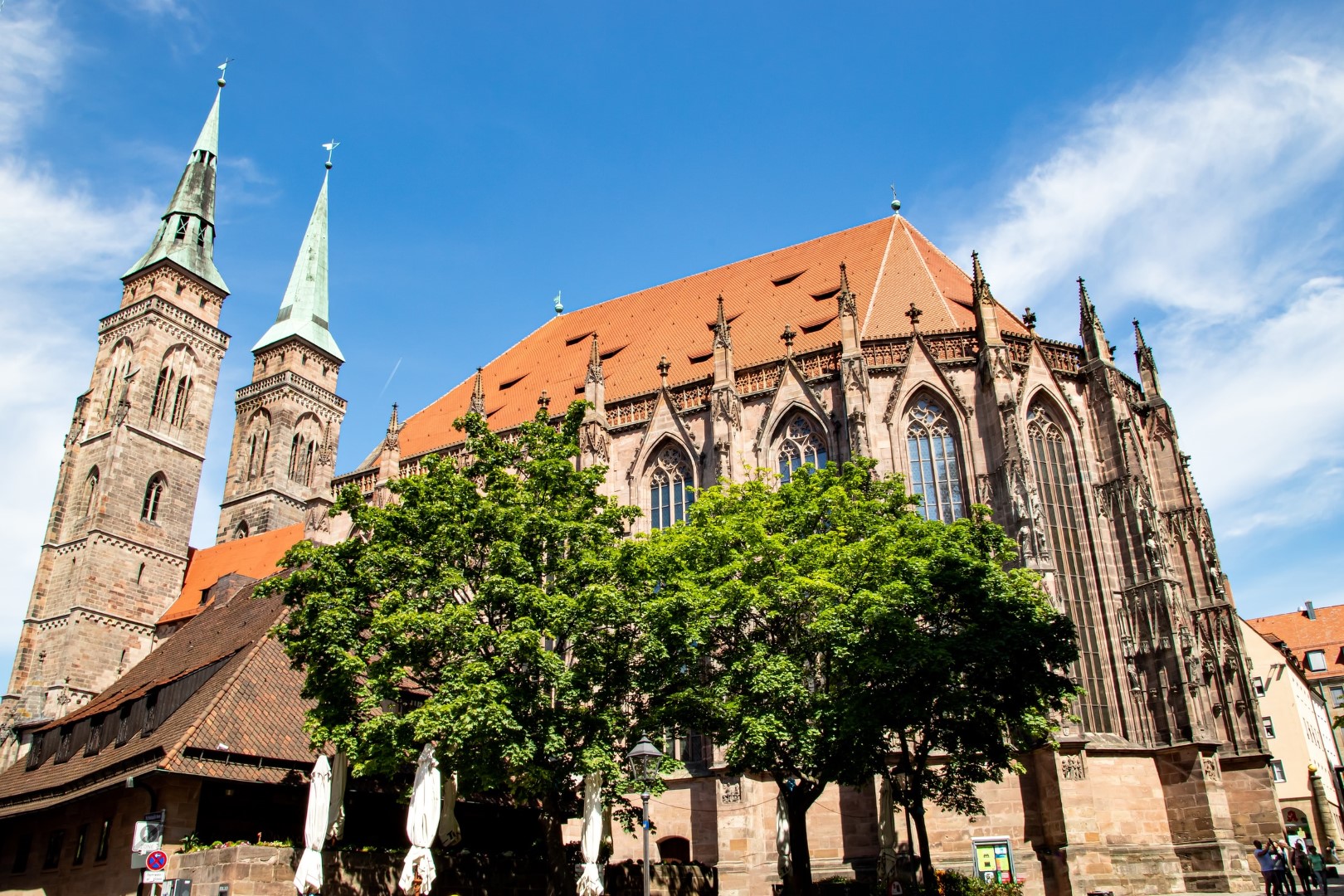 From the Hauptmarket, continue on "Hauptmarkt" (street) towards "Rathausplatz." The namesake of the St. Sebaldus church is the patron saint of Nuremberg. If you've got the time, this is another beautiful Gothic style church worth dipping into even just for a quick glance.
Eat A Classic Franconian Food For Lunch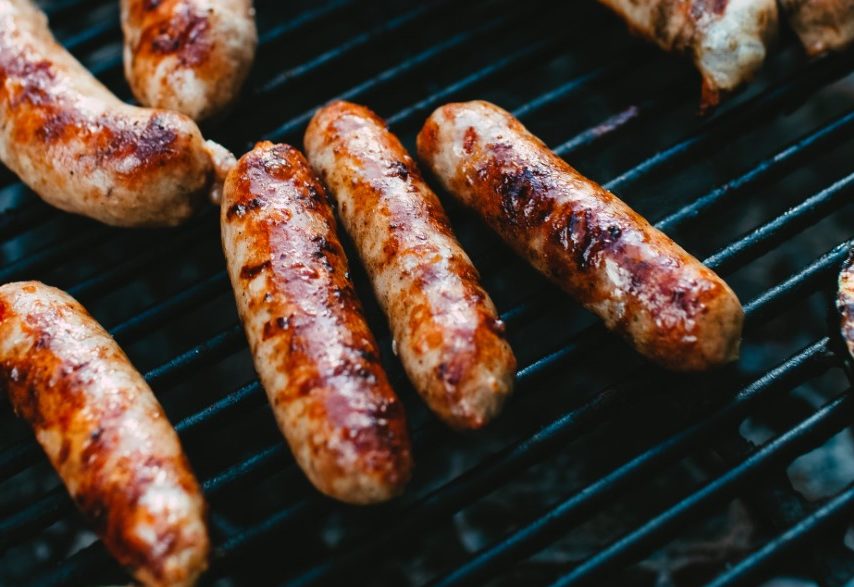 11am-12:30
After all that walking this morning, it is time for lunch. If you were a fast walker and it's not quite lunchtime, then go do the Imperial Castle (next on the list) and grab lunch on your way back to the train station.
For lunch, I suggest one of two options:
Find a Nürnberger Rostbratwurst
Germany is no stranger to Brats, but Nuremberg boasts it's own, special brat, the Nuremberger! To eat it traditionally, you can either get a plate of sausages (they are small, finger-like sausages) with a side of kraut and delicious mustard or get it in "Wickel im Drei," which is typically three sausages on a roll. When at a restaurant, you are more likely to find it plated. Both are delicious and you can't go wrong either way!. One of the most popular places for getting your sausage on in Nuremberg is the Bratwursthausle, which is not far from where we are on this walk at Rathausplatz 1.
Restaurant Burgwächter
This restaurant right at the foot of the Imperial Castle is, arguably, quite a bit more touristy (aka more expensive) but you get great vantage points and an ever so classic German feel and ambiance inside. And for being such a tourist hot spot, the food is surprisingly good! You can get authentic Franconian/ Bavarian food here, like the above mentioned Nuremberger Brats in addition to some of my favorite Bavarian foods like Obatzda, Sweinehaxen, and Sauerbraten. And don't forget to get the Keller Bier, it's a specialty in the Franconian region!
Early Afternoon: Kaiserburg (The Imperial Castle)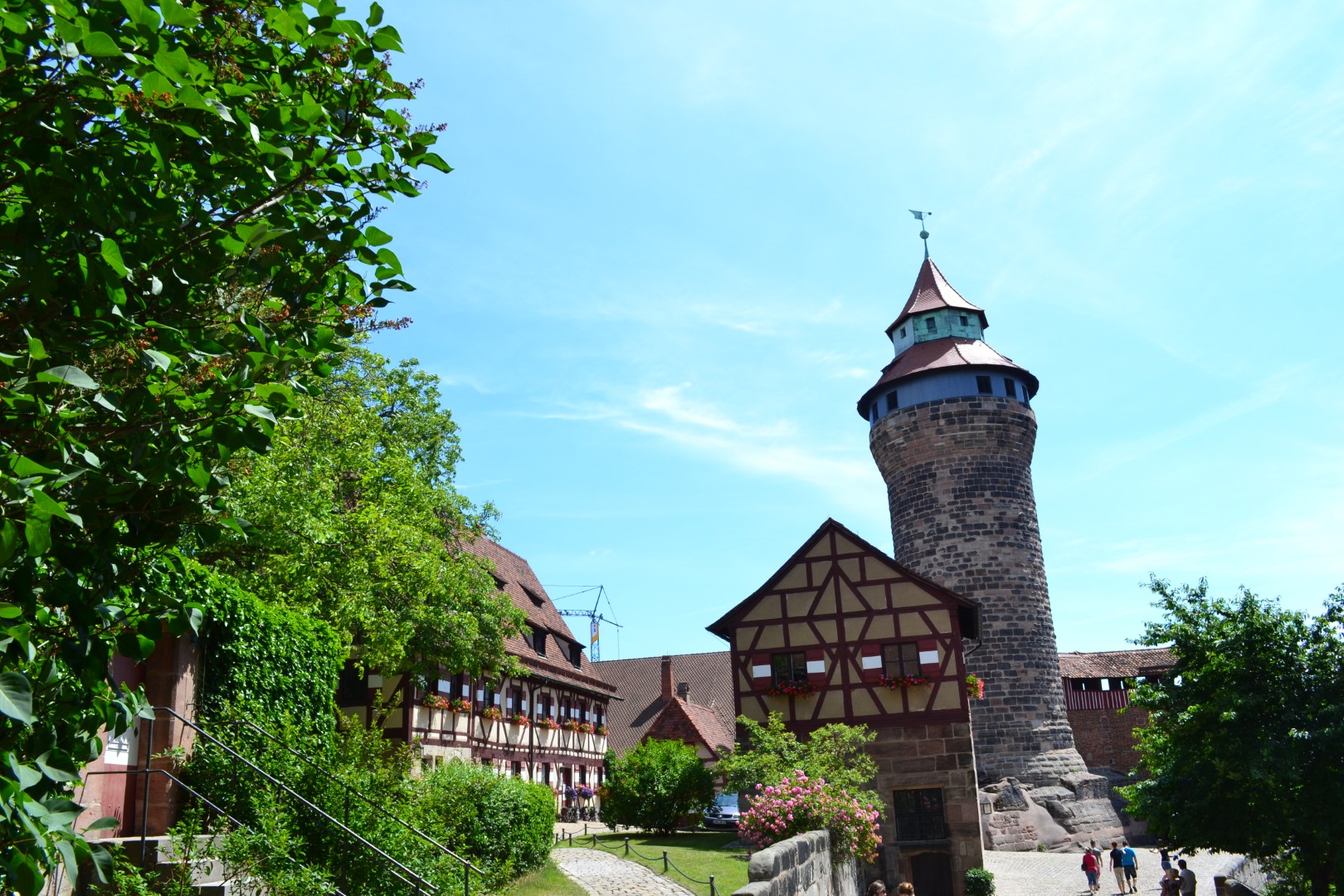 Time Needed: Approximately 1 hour
12:30pm-1:30pm
(If you happen to be in Nuremberg for more than one day, I recommend taking more time visiting all the different parts of the castle. However, since we are short on time, we are going to just see the highlights and you'll only need about one hour here.)
I love Nuremberg's Imperial Castle. It was basically it's own working city within the walls of the fortification, so you feel like you are stepping back in time after climbing the steep path up to the castle. The half-timbered buildings with fresh flowers flowing from the flowerpots makes you stop in your tracks and say, "Wow! I'm in Germany!"
At the top of the hill, stop before going further into the courtyard and just take a view out over the Altstadt for a few moments.
Continue on into the inner courtyard.
Sinwell Tower
You can climb the tower for just a few Euros, but since we are short on time, I'll just tell you the truth that it doesn't give that much better views than where we were just at.
Gaze Into the Well
What's so impressive about a well you ask? Well, (pun intended!) it is a whopping 165 feet deep!!! Impressive!
Next, wander the courtyards. I just like meandering around at this point and just taking in all the cobblestones and beautiful buildings of the fortification.
While you can visit the chapel and go into the museum, on today's quick tour, we can skip that and still have thoroughly enjoyed the castle.
Burggarten and Suddlicher Burggarten
The palace gardens are absolutely beautiful when in season and even though we are on a quick timetable, I think you would be remiss if you didn't at least do a quick walk through them. From here, you can find the viewing point and this is where, I think, one of the most impressive vantage points of the city is.
Take In Beautiful Views at the Tiergärtnertor
When you walk out of the Suddlicher gardens, you'll be heading to the Teirgartenerplatz, a charming little square that screams "Germany" with it's half-timbered houses and adorable square. You can even get fantastic view points from up IN the actual medieval wall itself!
Early Afternoon (Continued)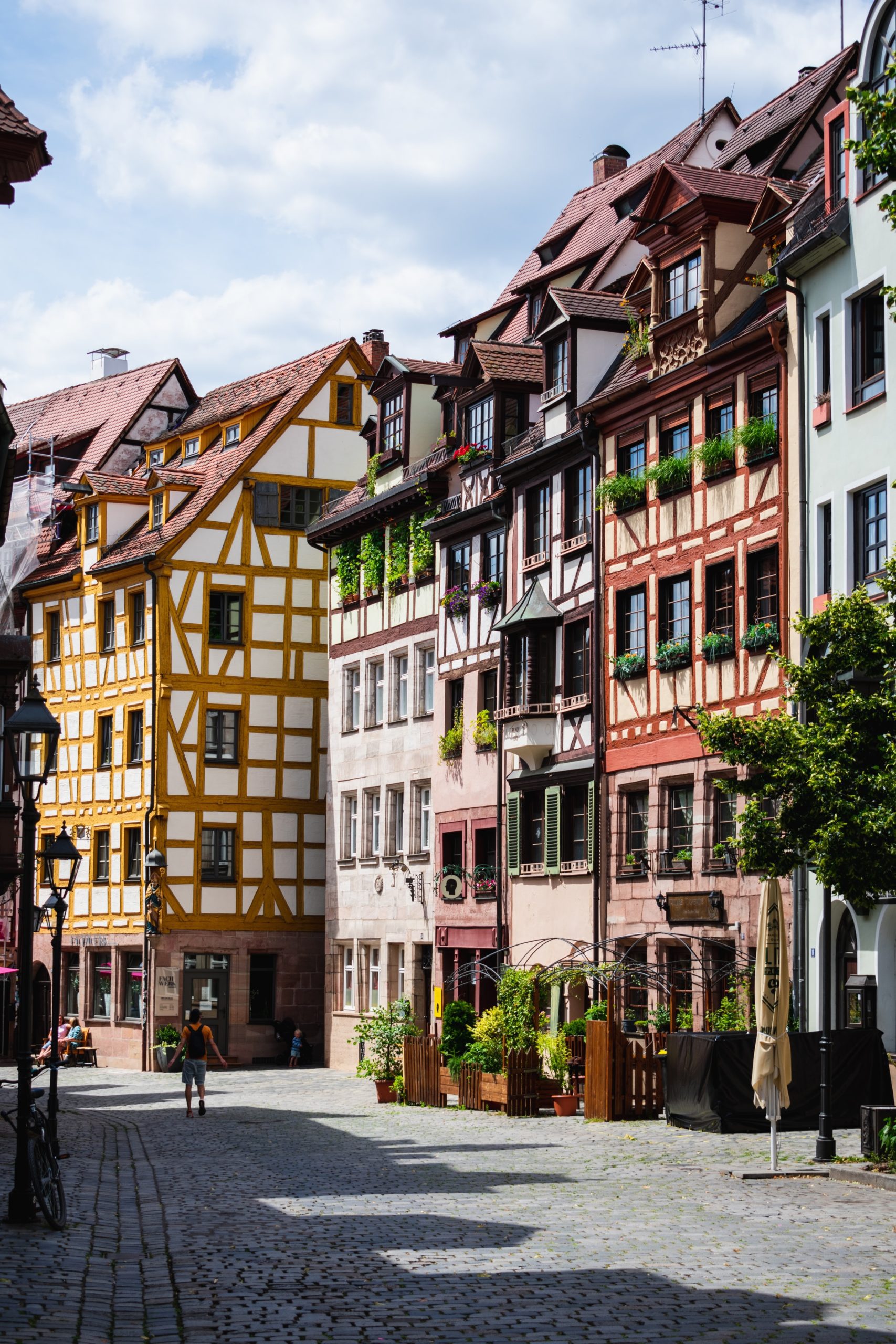 1:30pm-2:30pm
We are going to start making our way back to the Hauptbahnhof slowly. With no stops, the walk back would take about 30 minutes. If you are starting to get pressed on time (or it's winter and you are limited on daylight hours) then you can adjust or skip the next few suggestions in order to get in all of the afternoon activities.
Sample Some Senf
Germany takes it's mustards VERY serious! After all, it is the perfect sauce to round out all those classic wursts you find everywhere! If you want to see just how many variations (and just how delicious they can all be!) then stop at Der Senftladen (Bergstrasse 27) right off of the Tiergärtnertorplatz. These also make fantastic souvenirs as well, especially for your foodie friends!
Go To Weißgerbergasse (Tanner's Lane)
This little lane is so beautiful. Even on the fastest of trips in Nuremberg, it is worth just sauntering down and taking in all the beautiful half-timbered houses. If you are wanting a fantastic photo op, this is where to do it In Nuremberg!
If you've got a little bit of time, stopping at a cafe on Tanner's Lane for a cappuccino for some ambience soaking is always enjoyable!
Finish your walk of Altstadt by getting back to the Hauptbahnhof
Afternoon: Nazi Rally Grounds and Documentation Center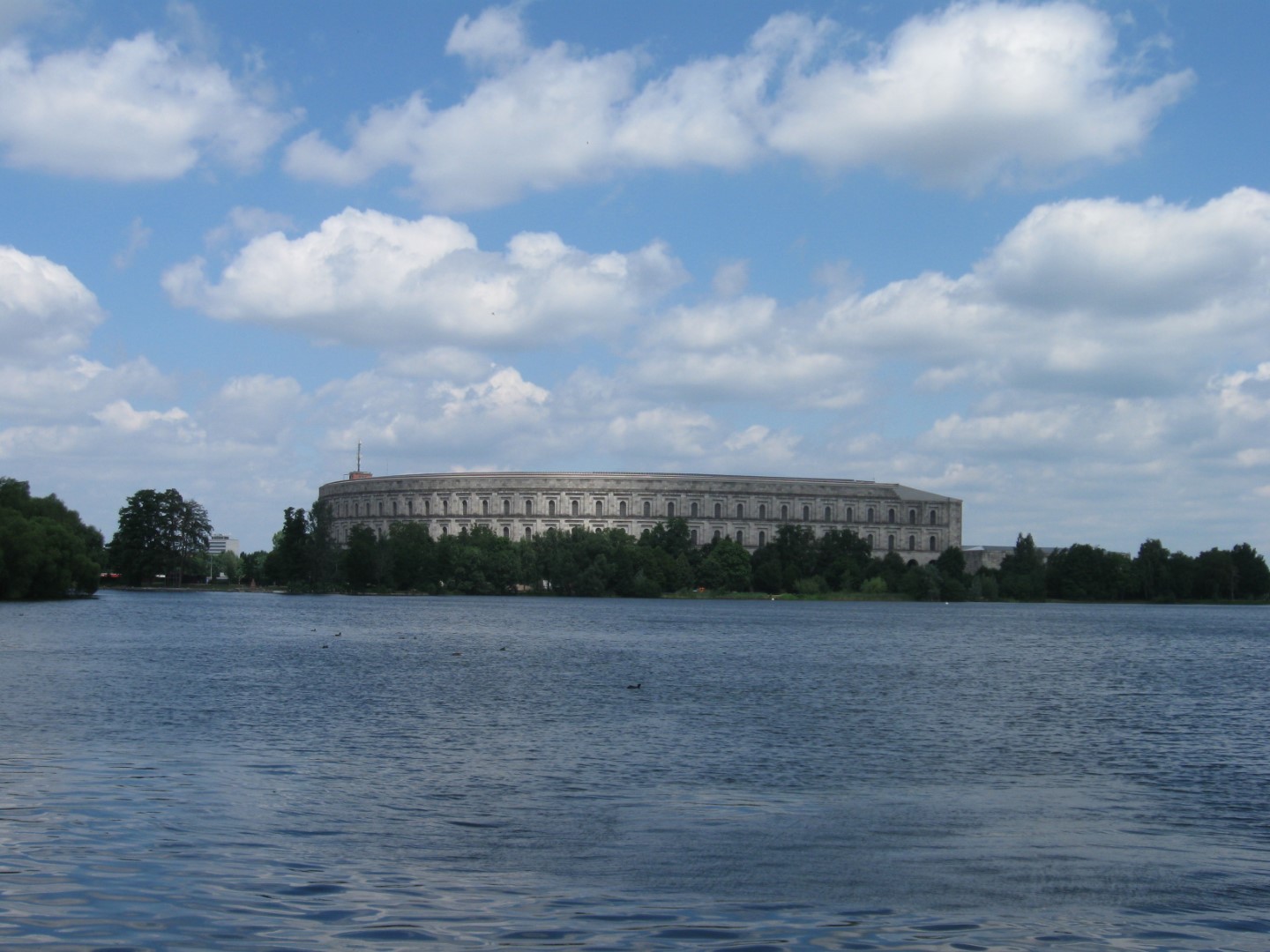 Time Needed: About 3 hours for the museum and another 1-2 for the Rally Grounds. This means you'll have to carefully plan your time because you'll want to be to the museum no later than 3 pm, since it closes at 6.
3pm-6pm for the Museum
6pm-7:30 for the Rally Grounds
Notes:
If you are a huge history buff, I would reverse today's itinerary and do the Documentation Center and Rally grounds first. We spent about 3 hours in the museum alone and I wouldn't even consider myself a huge history person (the museum is just THAT well done!)
If you are visiting Nuremberg during the fall or winter, with more limited daylight hours, I would skip the Rally Grounds themselves but absolutely still do the museum.
Getting To The Documentation Center
From the Hauptbahnhof, you have a few ways to get to the Documentation Center. To be honest, I would just download the VGN App (Nuremberg's transportation App) and see which one it says is currently fastest for your time of day. They are all about 20 minutes to get to the Rally Grounds, give or take a few minutes.
SBahn: At the Hauptbahnhof, follow the big green circles with a white, "S" on them (S-Bahn) to get to the Sbahn Station.
You'll take the S2 towards Dutzendtiech and get off at the Doku-Zentrum stop
Tram: You can take either the S8 or the S6 towards the "Doku-Zentrum."
Depending on how you got into the city that day, if you came in on a Bayern Pass, then then that ticket is good for all public transportation within Bavaria for the whole day, so keep your ticket for the S-Bahn or Trams.
Documentation Center
Time Needed: At least 2-3 hours. Do NOT cut this short or you will feel terribly rushed and you will regret not leaving the full time for this.
Note: The museum closes at 6pm.
Having lived in Germany for multiple years, I have been to numerous concentration camps, such as Dachau and Auschwitz, Jewish Ghetto camps, and memorial sites throughout Europe, like the Memorial to the Murdered Jews in Berlin. Each one has had different impacts on me for various reasons.
However, the Nazi Documentation Center in Nuremberg has to be, hands down, one of the most well done museums that I have been to. It not only focuses on the atrocities of the Holocaust, but also answers the questions of just how Hitler took such power and control of the entire country, and much of Europe.
I remember always wondering how in the heck someone like Hitler actually takes power in a Democratic country. That's right, he was ELECTED by the people! How does an entire country get enveloped in such an extremist way of thinking. How does an entire country accept, turn a blind eye to, or submit to a genocide happening in their own back yards?
This museum explains all that so well. It all suddenly makes sense. And not only are we diving deep into the history, but it also then helps us to frame expectations for the future as well. We need to use this horrible example from history to prevent it from happening again.
Nazi Rally Grounds
Time Needed: At least 1 hour to walk around.
6pm-7:30pm
While the Documentation Center Museum is on the Rally Grounds (in fact, part of it is in the Congress hall) there is still more to see of the Rally Grounds. It is actually pretty fascinating to see what Hitler's huge plans were for creating this massive area for propaganda, rallying events, and trainings. However, most of what he had intended was never seen to completion. However, all of the plans and visionaries can still be seen inside the museum. Taking that knowledge outside to the Rally Grounds really puts things into perspective.
Since either a lot of the areas here were destroyed or just never even built/finished, the main things to see here are the Zeppelinfeld and Congress hall.
Many people are surprised to find that these locations are "Tourist Attractions." However, Germany has extremely strict laws regarding Hitler and Nazi memorabilia (aka, it's illegal to own them if not in a museum) and things like the Nazi salute are also illegal. Germany has taken very serious measures to take ownership of its past. It is not proud of what has happened, but they are determined to learn from it and make sure it does not happen again. Nothing about the Rally Grounds is memorializing Hitler or the Nazi Regime. Instead, it is a dark place in history that is now used as a learning tool for the future.
Finish Your Day
It should be well into the evening now, so it's time to find dinner. If you were literally just in Nuremberg for the day and are heading back to the train station for your next destination, have a look at any of the Bakeries and shops in the Hauptbahnhof to get some classic German quick foods like schnitzel semmels (Schnitzel sandwiches), a quick curry wurst, or a delicious Doner Kebab.
Otherwise, if you are spending the night in town, grab something near your hotel and enjoy a great night's rest after such a full, fun, and memorable day in Nuremberg!