[This post may contain affiliate links where we earn a small commission. Please see our disclosure for more information and thank you for supporting our site so we can continue to bring you awesome content for your travel inspiration!]
Somethings just scream "CHRISTMAS" to me.
Things like biting into my Mom's "Crescent Cookies" (Vanillekipferl in German), beautiful twinkling lights, and sipping on the seasonal Glühwein (pronounced kind of like "Glue Wine (Vine) "). Luckily, there are so many wonderful German Christmas Traditions, it's not hard to get into the holiday spirit.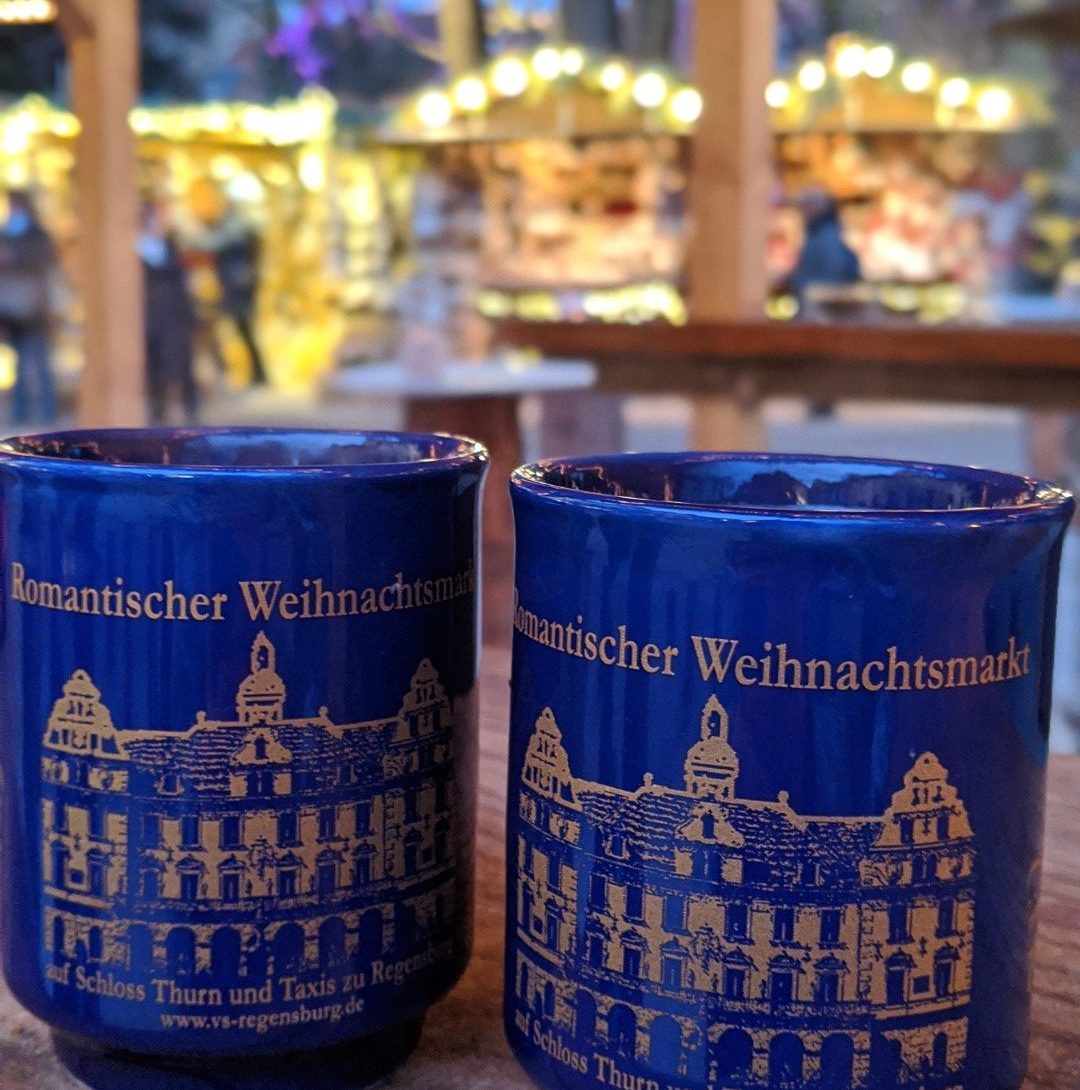 And even though I live in Germany and I can easily just go to the supermarket to pick up a bottle of pre-made German mulled wine, there is just something special about making my German Grandfather's Gluehwein recipe on Christmas Eve that makes me feel so warm, merry and bright (oh wait, that's probably just the booze….)
If you are wanting a Non Alcoholic Gluhwein, you can make my KinderPunsch recipe at home as well.
Since I personally hate having to scroll for ages to get to a recipe, let's just get right to the Glühwein recipe. However, below the recipe card, I want you to stick around because I'll go into detail about tips and tricks to making the perfect homemade Gluhwein, including variations for the best wine to mull, how to make mulled wine in a crockpot, how long you can store it, and more.
Yield: 8
Homemade Gluhwein Recipe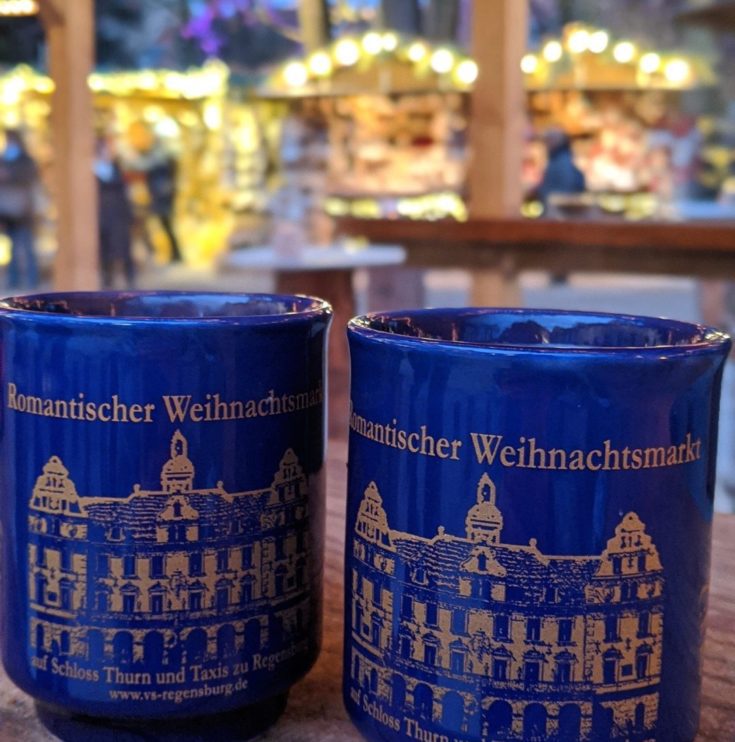 This german mulled wine recipe is easy to make and easily adaptable to your personal tastes and crowd size.
Ingredients
3.5 Cups Red Wine (see notes below)
1 3/4 Cups Port Wine
1 Cup Sugar
Peel from 2 Oranges
2 Cinnamon Sticks
10 Cardamon Pods
10 Cloves
1 Cup Brandy, Aquavit, Vodka, or Cognac
Optional: Raisins and Chopped Almonds
Instructions
Combine the wine and port with the sugar over medium heat until sugar is dissolved.
Put the orange peal and spices in a cheesecloth bag and add to the warmed wine (see notes below)
Simmer the spices and wine mixture for 20 minutes *DO not let it boil!
Add brandy or preferred liquor and barely simmer for 5 minutes
Remove the spices by with a strainer or remove the spice bag
Optional: Sprinkle your mug with a few raisins and almond slivers
Keep Glühwein warm for continued serving
Notes
Do not let your Gluehwein come to a boil at any time
This recipe for Gluhwein can also be made in slow cooker (see below for instructions)
Tips On Making the PERFECT Cup of Gluhwein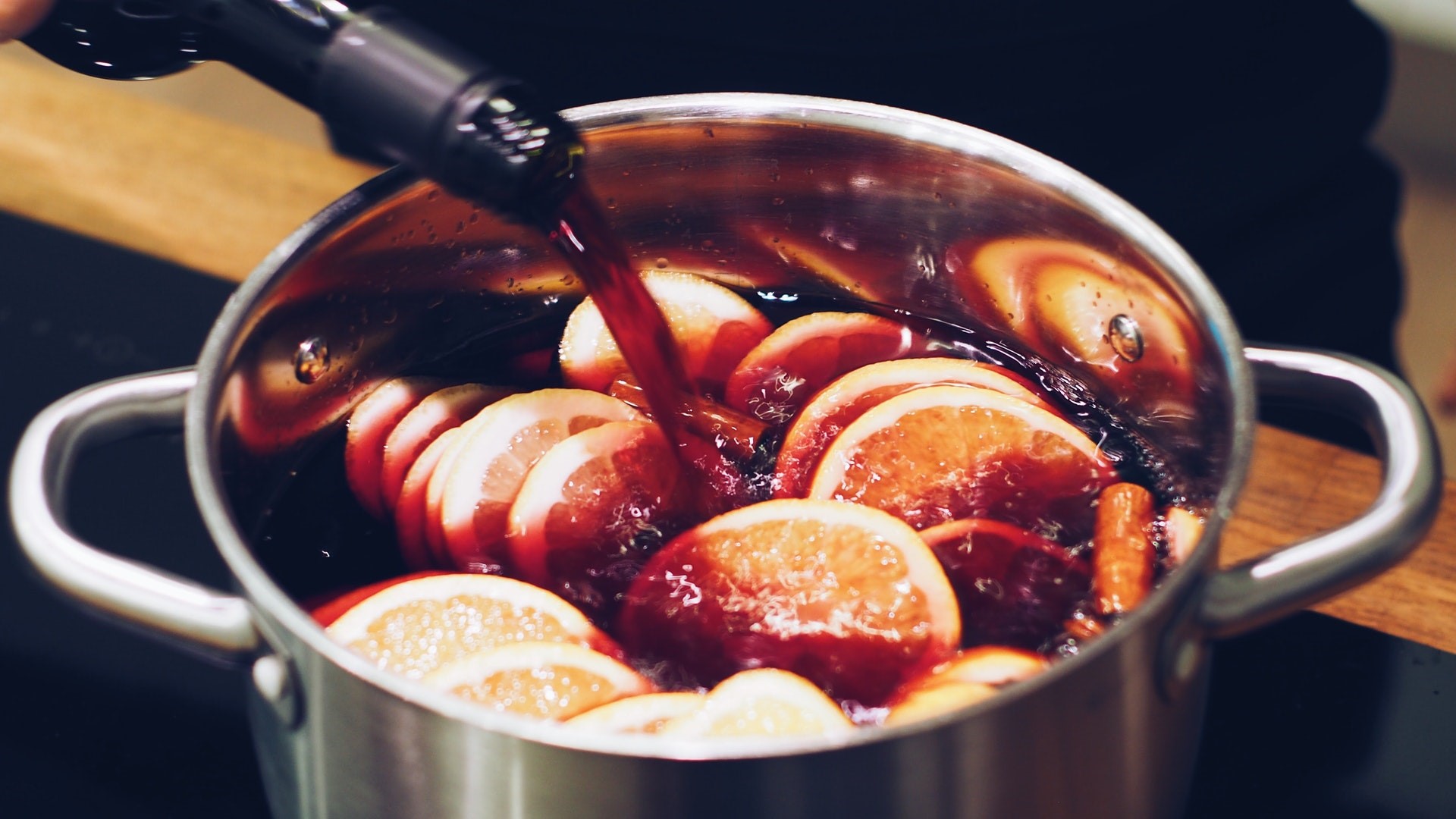 1. Do NOT Boil Your Gluhwein!
This might be one of the most important parts of making your german hot wine. This is actually why I like to make it in my Crockpot (more on that just below) so that it is pretty fool-proof on the no boiling issue.
2. Best Wine for Gluhwein
There are many theories out there on what is the best wine to mull. If you are lucky enough to be IN Germany, a common wine to make Gluhwein with is Dornfelder (a popular German wine from the Württemberg region). However, that is actually quite difficult to find outside of Germany.
Therefore, if you can't get your hands on a Dornfelder, a few other wines for Gluhwein would be:
Syrah
Malbec
Cabernet Sauvignon

Riesling (see "Mulled white wine" below)
Some people suggest Merlot, but with this particular recipe, it's got the added booze, so I actually think something with a lower alcohol content works better.
Mulled White Wine
The thing about Gluhwein is there a ton of different varieties! There are berry wines, roasted apple, and more! While one might think that an authentic german gluhwein recipe is for reds, you can find white Gluhwein all over at the German Christmas markets.
What better wine for a white Gluhwein than a classic German Riesling though?
3. You Don't Need Expensive Wine
I know, I know, you want to serve this delicious hot german wine to your holiday guests and they deserve the best, right!? Well, in this particular situation, don't worry about expensive wines, since there are so many other flavors, spices, and alcohol going into it.
4. Gluhwein Recipe (Slow Cooker)
Want a fantastically easy Gluhwein recipe? Just do the above recipe ALL in the crock pot! I still warm the wine, port, and sugar in the slow cooker until the sugar is dissolved, but then after that, I dump everything else in and then I just set my crock pot to low and walk away until I'm ready for a sip myself.
With this option, you don't have to worry about the Gluhwein boiling, and this way, you can keep it warm and ready to serve at a moment's notice all evening long (ok, or day…I won't judge!) It's the perfect party option!
5. How To Serve Gluhwein
How fancy do you want to get? To serve Gluhwein, simply pour the mulled wine into a mug (if your spices were loose, be sure to strain them out first). A clear mug is a beautiful presentation, but really any mug works just fine! You can garnish with an orange peel for extra pizazz and even top with a few raisins and slivered almonds to really look fancy.
Or, just do as I do. Simply pour a ladle or two of your Gluhwein into any mug you have handy and that's it! Enjoy!
If you want the full Gluhwein experience, I suggest getting a set of these clear, glass mugs or a beautiful holiday set, which gives a real "German Christmas Market" feel.
Other Names for German Christmas Wine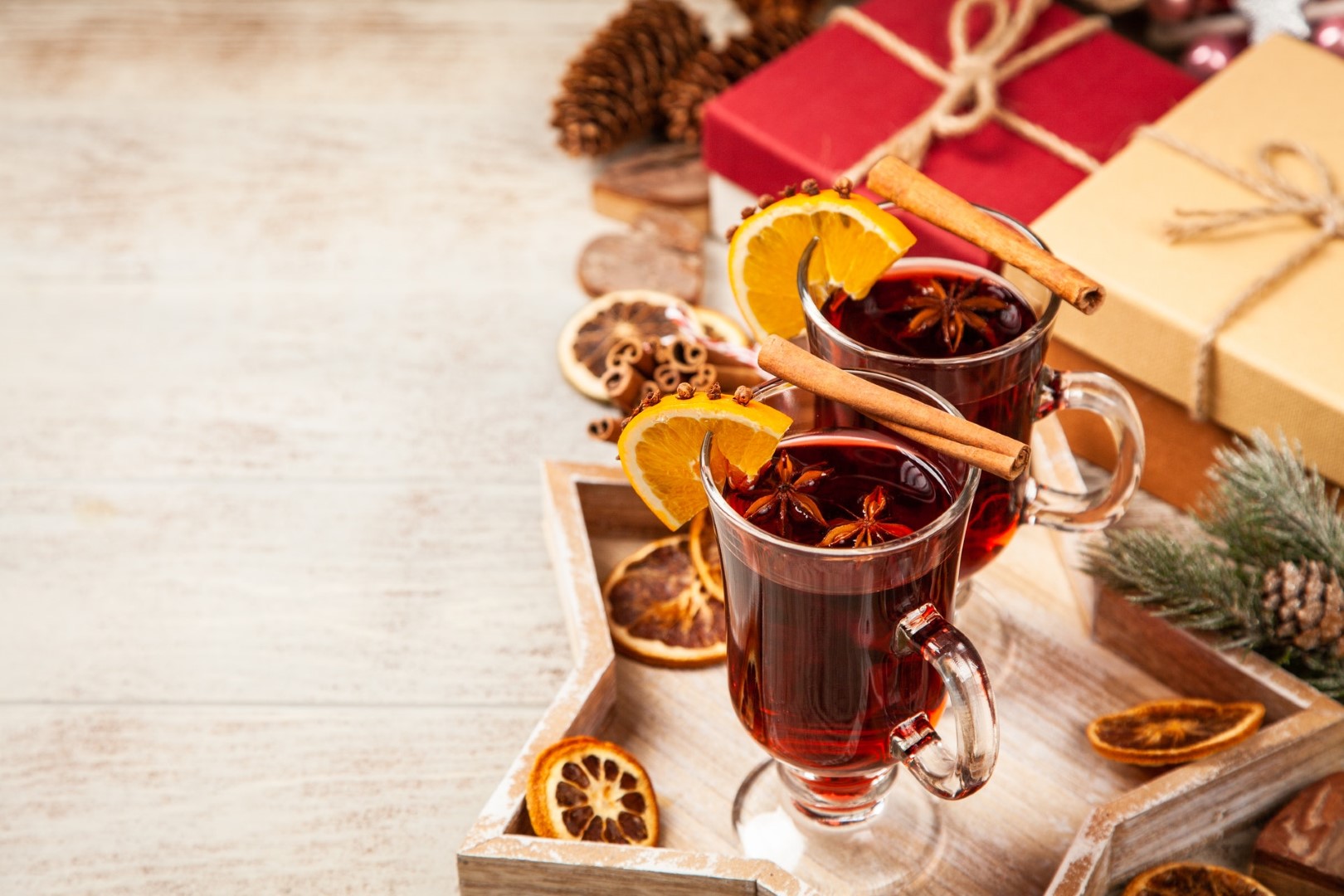 You might be confused with all the different spellings, but that's because of those silly little umlauts. No matter which version of the word you see, they all mean the same thing
Gluehwein rezept (recipe)
Glühwein rezept
Gluhwein recipes
Glühwein recipe
Alternatively, Glühwein isn't the only mulled wine out there. Pretty much every European country has its own name for their warm, spiced wine but at the end of the day, they are all more or less the same. Gløgg (Glögg) (Swedish), Vin Chaud (French), and Svařák (Czech) are just a few other popular examples.
Alternatives To H
omemade Gluhwein
While this traditional German Gluhwein recipe is actually incredibly easy (despite a lot of ingredients), I myself am TOTALLY guilty of not wanting to buy all the different boozes for this. So, what's a gal wanting to get in the German Christmas Spirit to do!?
1) Buy It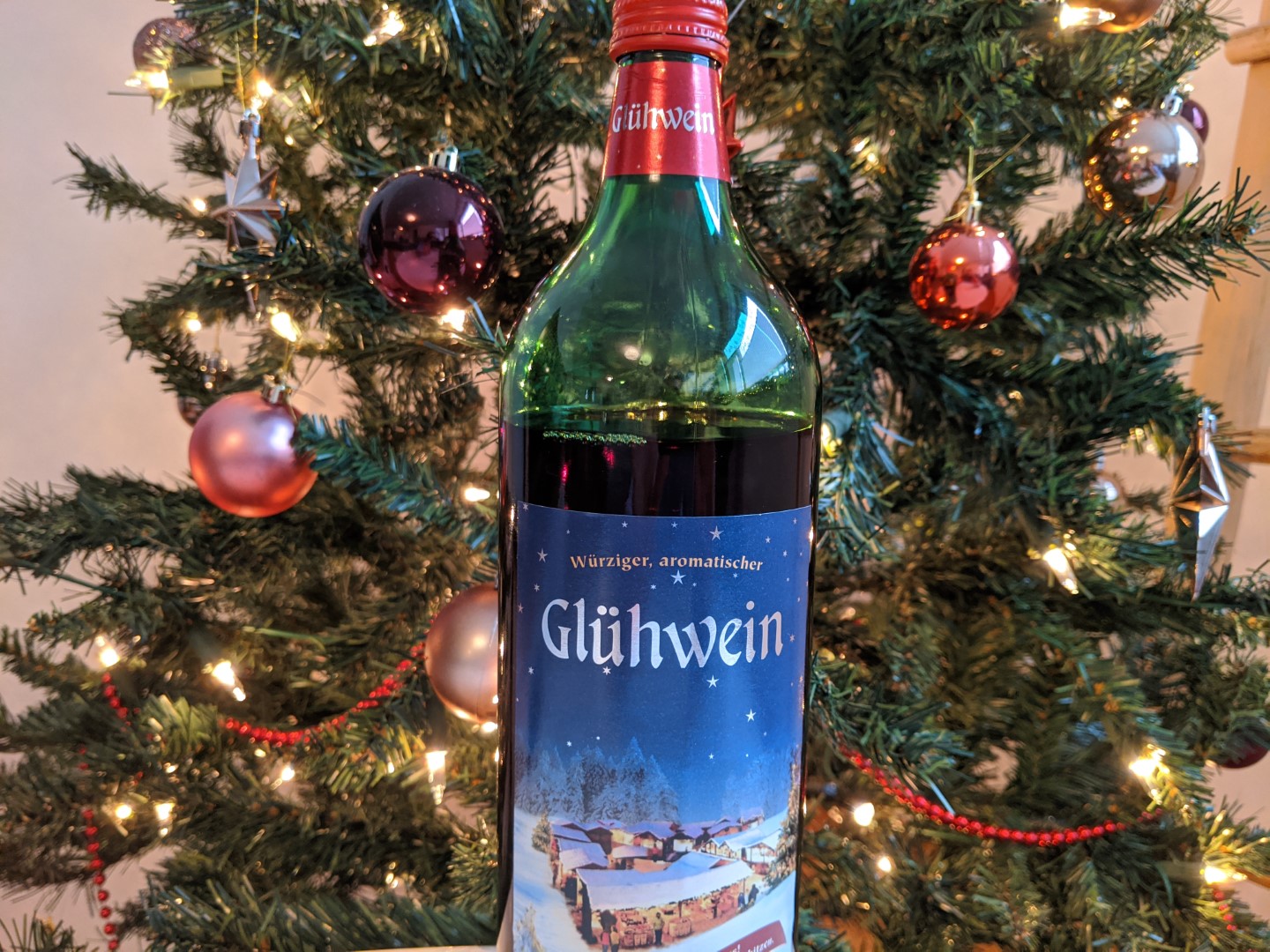 If you live in Germany, you can obviously just run to the grocery store to stock up. But if you are in the US, where do you buy gluhwein? Aldi Grocery Stores (originally FROM Germany, itself!) are popping up all over the US. If you can find yourself an Aldi, you can find some Gluhwein! However, the way Aldi works is they do a lot of seasonal stuff, meaning you can only expect to find it around the holidays. What's more, is when they run specials like this, once they are out, they are out! So, get there early to make sure you get some!
2) Just use a G
luhwein spice mix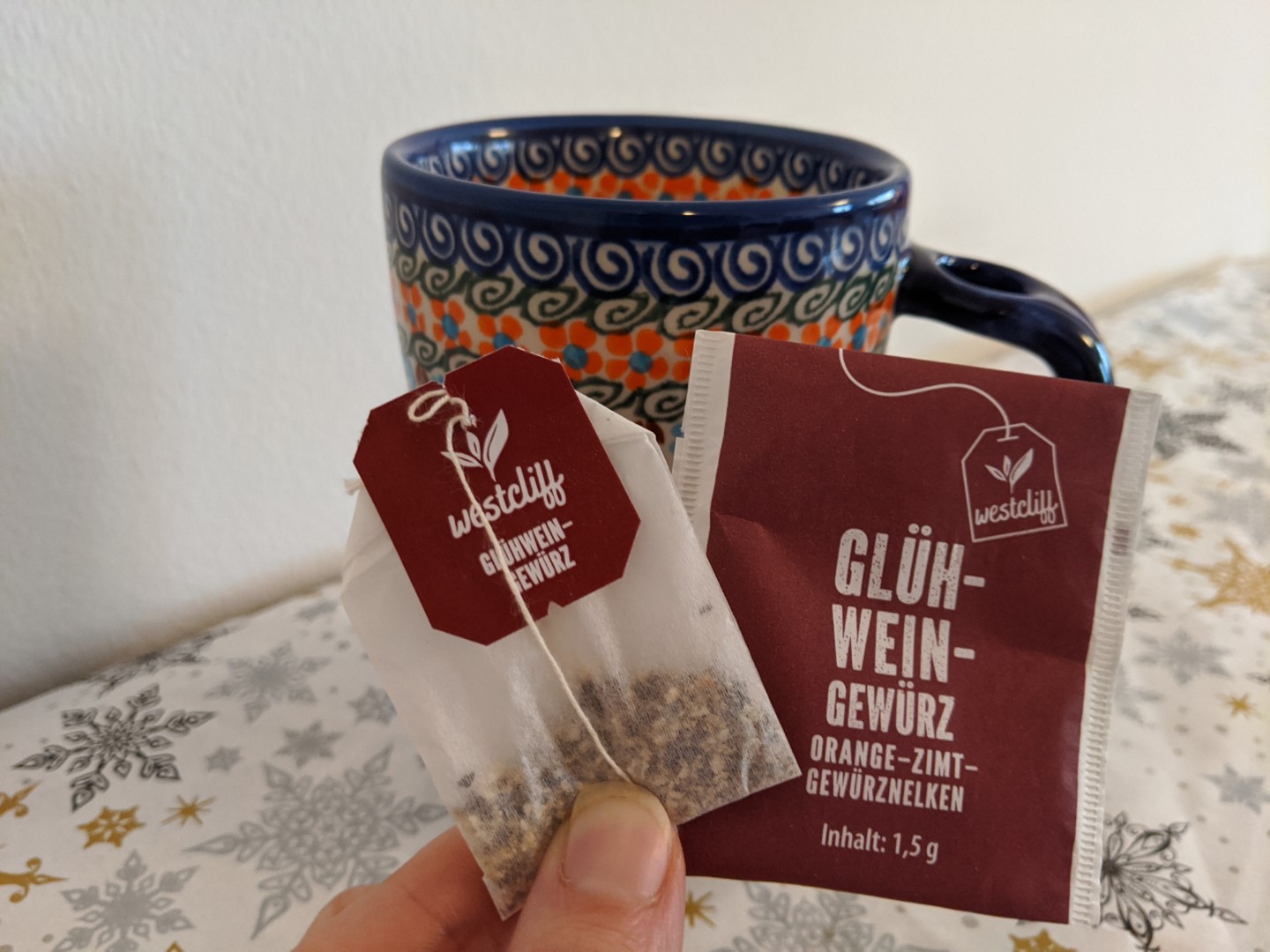 If I have to be honest here, when I'm back in the US, I like to just use a mulled wine spice mix kit.
"Gluhwein Tea Bags": I LOVE this because you can just do a single serving of Gluhwein instead of having to make a big pot of it. Do as the Germans do and do a "Mit Schuss" (With a shot) of rum or other liquor if you want to up your party game.
Premade Spice Kits: Using a Gluhwein kit, making your own has never been easier, as you just dump in your bottle of wine to the pot, add the spice kit, let it simmer, and voila! Fresh Gluhwein!
3) Non Alcoholic Gluhwein
If you are abstaining from alcohol or your kiddos want to join in the festive fun, in Germany, there is "Kinder Punsch" which is the kids' version of Gluhwein and shockingly delicious! (Get my authentic Kinder Punch Recipe Here) It's not a non alcoholic mulled wine, but rather a heavily spiced concoction of juices that are simmered in the same way Gluhwein is. I loved this option when I was pregnant and my kids now adore this hot treat on cold winter nights.
Give It As a Gift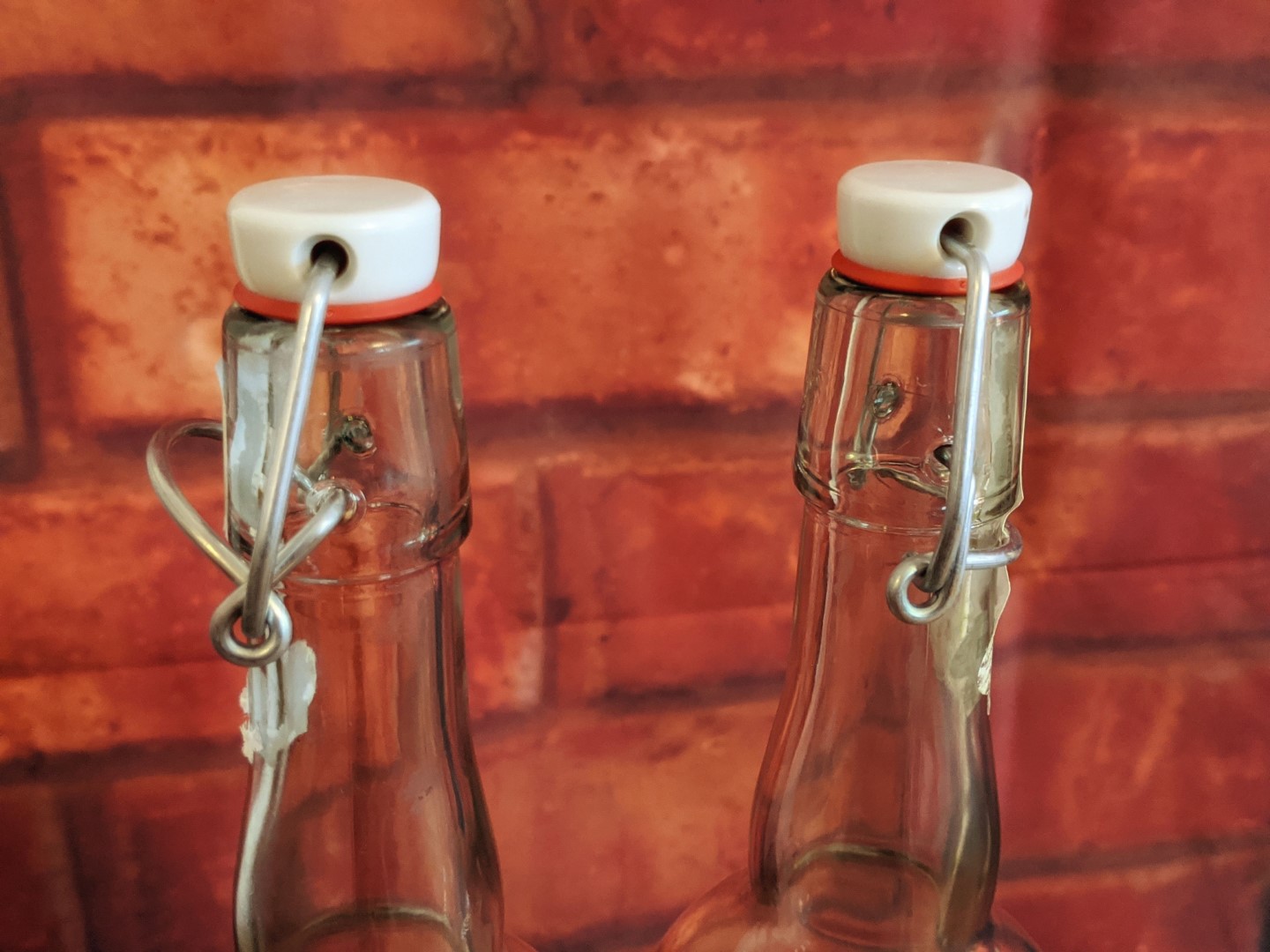 Who doesn't love receiving homemade gifts that they'll actually use (or in this case, drink!) I love making a big batch of this Gluhwein and then bottling them in pop top glass bottles, like this, writing on them with a silver marker and gifting them to my wine loving friends.
Making Glühwein FAQs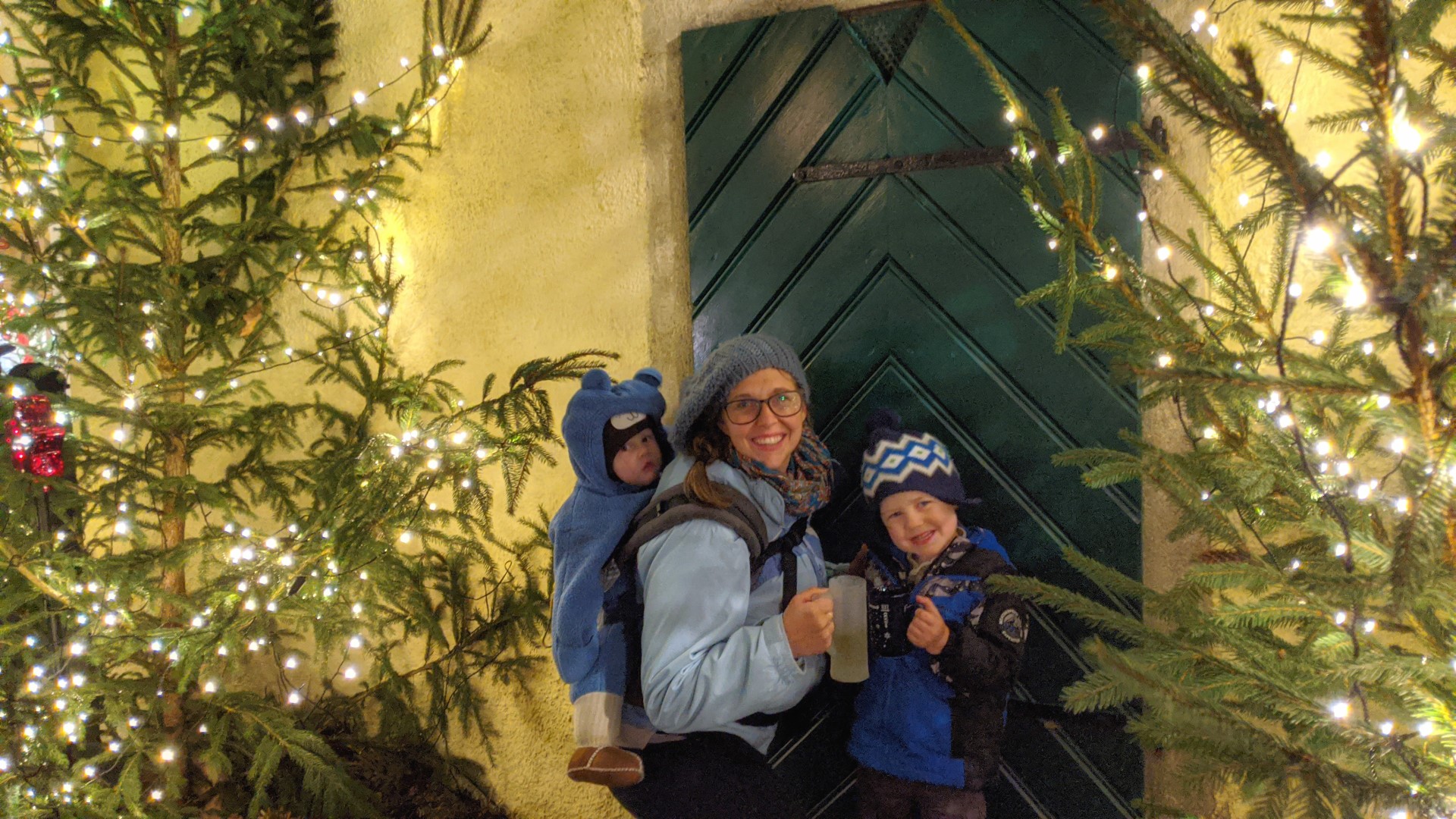 What's the difference between mulled wine and Gluhwein?
Nada. It's the same thing but Gluhwein (Glühwein) is just simply the name for it. Depending on what country the mulled wine comes from, there might be different liquors (or lack thereof) used or a few different spices, but ultimately, they are all extremely similar.
How long does homemade Gluhwein last?
About 3 days. If you seal it in an airtight container, you can set it in your refrigerator and simply reheat it when ready to use the following days.
Can you reheat Gluhwein?
Absolutely! Whether you have a premade bottle of Glühwein or if you've made your own, simply reheat on the stove until warm or even in the microwave.
Can you microwave Glühwein?
Sure! Just be careful not to boil it, so keep an eye on it and start with about 45 seconds-1 minute and go from there.
What do you eat with mulled wine?
If you want to get real authentic, you could try your hand at any of these "Must Eat Foods From Germany" but honestly, just a good, classic bratwurst is PERFECT with a mug of Gluhwein. If you are serving it at a party, a cheese platter goes beautifully with it as well.
Can you buy premade mulled wine?
If you are in the US, the best bet for easily finding premade Gluhwein is at Aldi. You can also go to specialty wine shops and ask if they can get some in for you.
If you can't get your hands on a bottle of premade mulled wine, you can also buy mulling spices to toss in a warm mug of wine or use these handy Glühwein tea bags
Does Gluhwein contain alcohol?
You betcha! This homemade recipe contains way more alcohol than just a bottle bought at the store, but even premade Gluhweins will have roughly 9.5% alcohol. If you want a non alcoholic Gluhwein, you can make a delicious Kinder Punsch.