[This post may contain affiliate links where we earn a small commission. Please see our disclosure for more information and thank you for supporting our site so we can continue to bring you awesome content for your travel inspiration!]
Are you making your Christmas Market list and checking it twice?
The Best German Christmas Markets have it all:
Magical ambiance: ✓
Fantastic stalls and vendors where you can stock up on C

hristmas gifts in Germany: ✓

Insanely delicious foods: ✓
Hand made German Christmas market gifts:

✓
So, whether you are looking for famous things to buy in Germany, just want something unique to call a souvenir from your amazing trip, or if you are on the hunt for fantastic presents to gift to others, the German Christmas markets have you covered!
Here are some of my favorite things that I love collecting that make the best German Christmas gifts for others or are a great little souvenir of Germany for myself!
You Might Also Be Interested in Reading:
Don't Forget To Plan For Winter In Germany!
German Christmas Mugs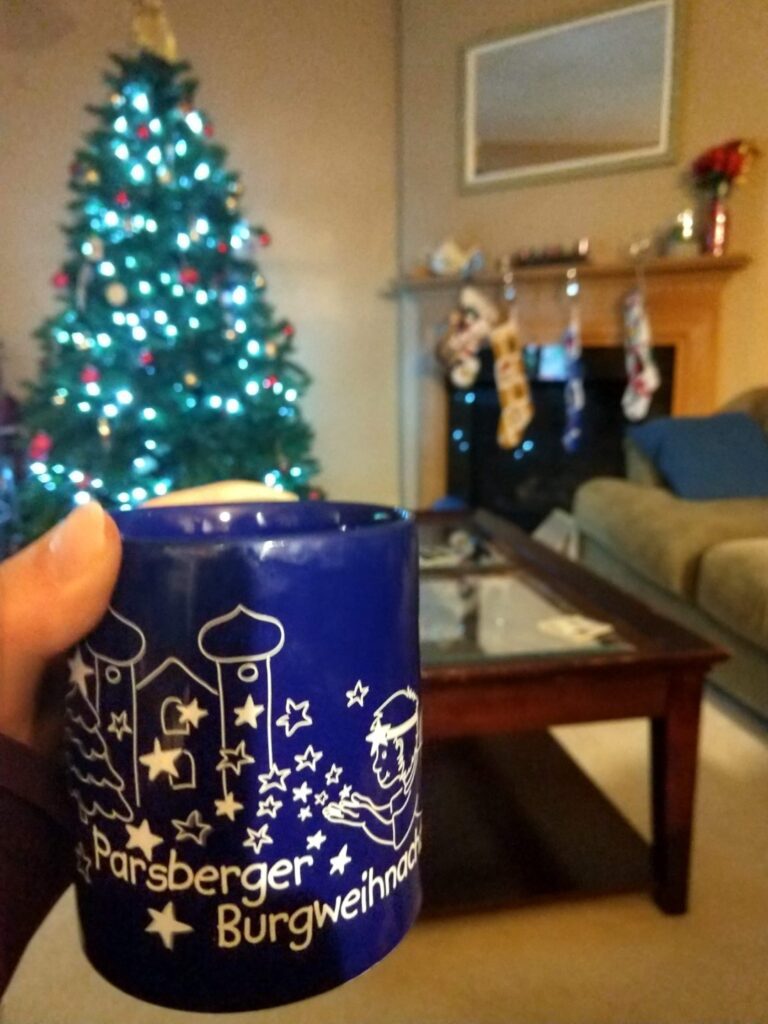 This is probably one of the top collected German souvenirs from Christmas markets! It's pretty standard that each Christmas Market has its own mug. It typically has a design that shows off a popular monument or building in that town, says the name of the market, and has the year.
I know people who travel hours JUST for the mugs and have quite the collection!!
Personally, I love collecting the "cutest" ones and then displaying them each Christmas season on a "Mug Tree." It makes for the perfect Christmas decor, I can use it as I make my own homemade Gluhwein, and is up there on my list for the best souvenirs from Germany that I've gotten!
The way getting a mug works:
When you are at a market, you will go up to a Gluhwein stand and order your Gluhwein (or Kinderpunsch).
You'll pay the cost for the Gluhwein (usually a few Euros) and also a "Pfand" which is a deposit on the mug, often 2 Euro. Some places will give you a token for your Pfand.
Then, you return the mug (and token if you have one) to the stand when you are all done and you get your deposit back.
If you choose, you can keep the mug for the cost of the Pfand!
Therefore, the mugs are perfect German Christmas presents because they are only a few Euro!!
Christmas Market Gift Ideas For Your Mug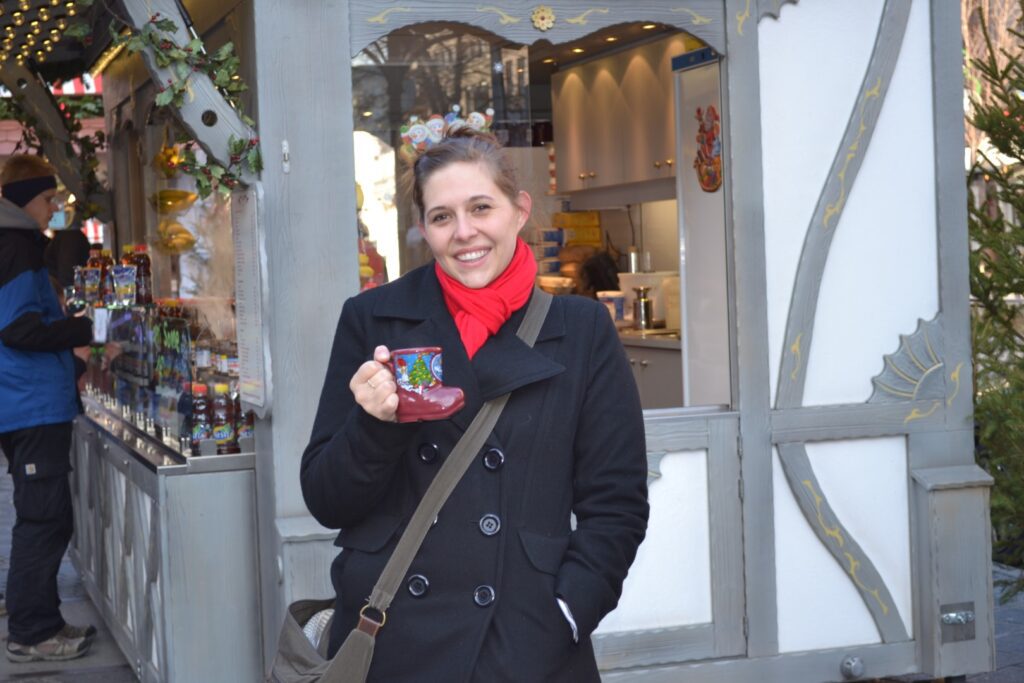 Collect a beautiful or unique mug. Some are in the shape of boots, others have fantastic designs, and some are beautiful frosted glass.
While at the market, find a stall that sells Gluhwein Mix. Fill the mug with the mix and gift it with a bottle of wine so that they can make their own at home.
Tip: You can bring home bottles of Gluhwein in your checked luggage as well that you can gift with a mug. Just make sure you have a wine sleeve to protect it while traveling.
German chocolates are soooo good. Get some chocolates to fill up the mug before gifting it.
Lebkuchen is the German gingerbread (you'll either love it or hate it) and makes for great, authentic

Christmas market gifts if you get the smaller ones. You can also get other traditional German cookies, like Vanillekipferl cookies to put in them.
Need German Christmas Market Itineraries and Suggestions?
Planning a Trip to Germany? Join Our Fantastic Traveling in Bavaria Facebook Group!
Pounds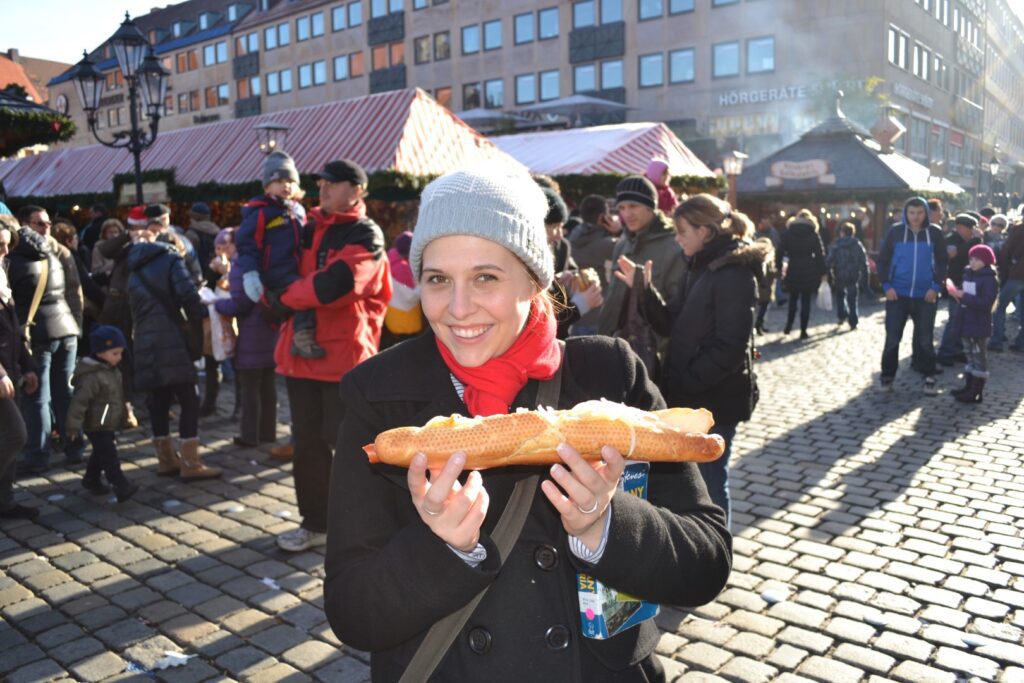 Yup….just be prepared to collect some serious pounds. No, not the British currency.
Weight.
As in, don't step on the scale after a few Christmas Markets!
But hey, that's the price you have to pay for checking off all the foods to eat at a German Christmas Market! After all, while the stalls and stands are fun to look at, I'm not going to lie, I think German Christmas Market foods just might be the main reason I love going to them year after year!!
Wooden Ornaments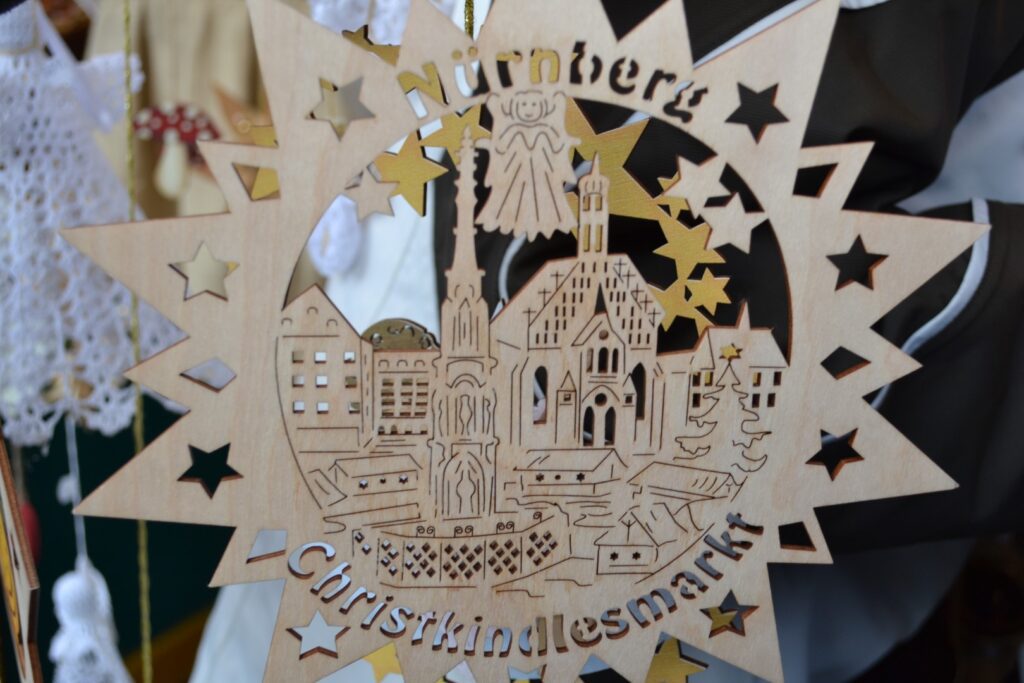 The wooden Christmas ornaments from Germany are so beautiful! There are countless Christmas designs like snowflakes, deer in the snow, nativity scenes, and more.
However, I particularly like finding ones that are specific to where I'm at to make for the perfect Germany souvenirs. For example, find a stall that has a wooden ornament that has the town name carved into the design, or even just an image of the town you are visiting.
Christmas Market Gift Ideas For Wooden Ornaments
Some of the smaller ornaments are just a few Euros each. I love getting a smaller ornament and placing it on the outside of the gift that I'm giving, kind of like a name tag on the present. It makes the presentation really beautiful!
Authentic German Christmas ornaments (Glass)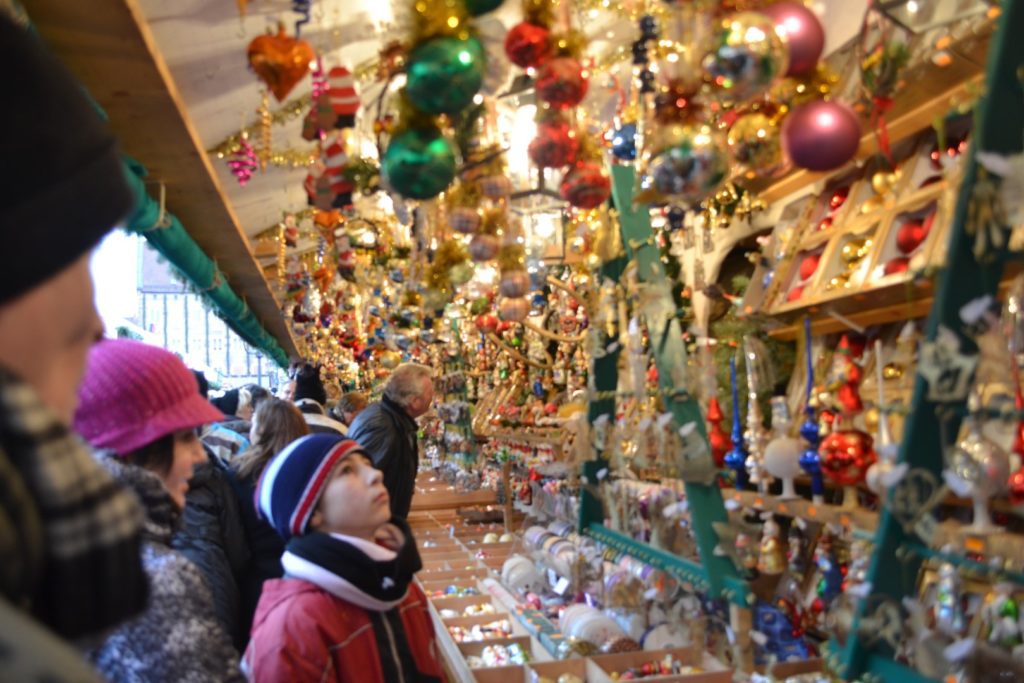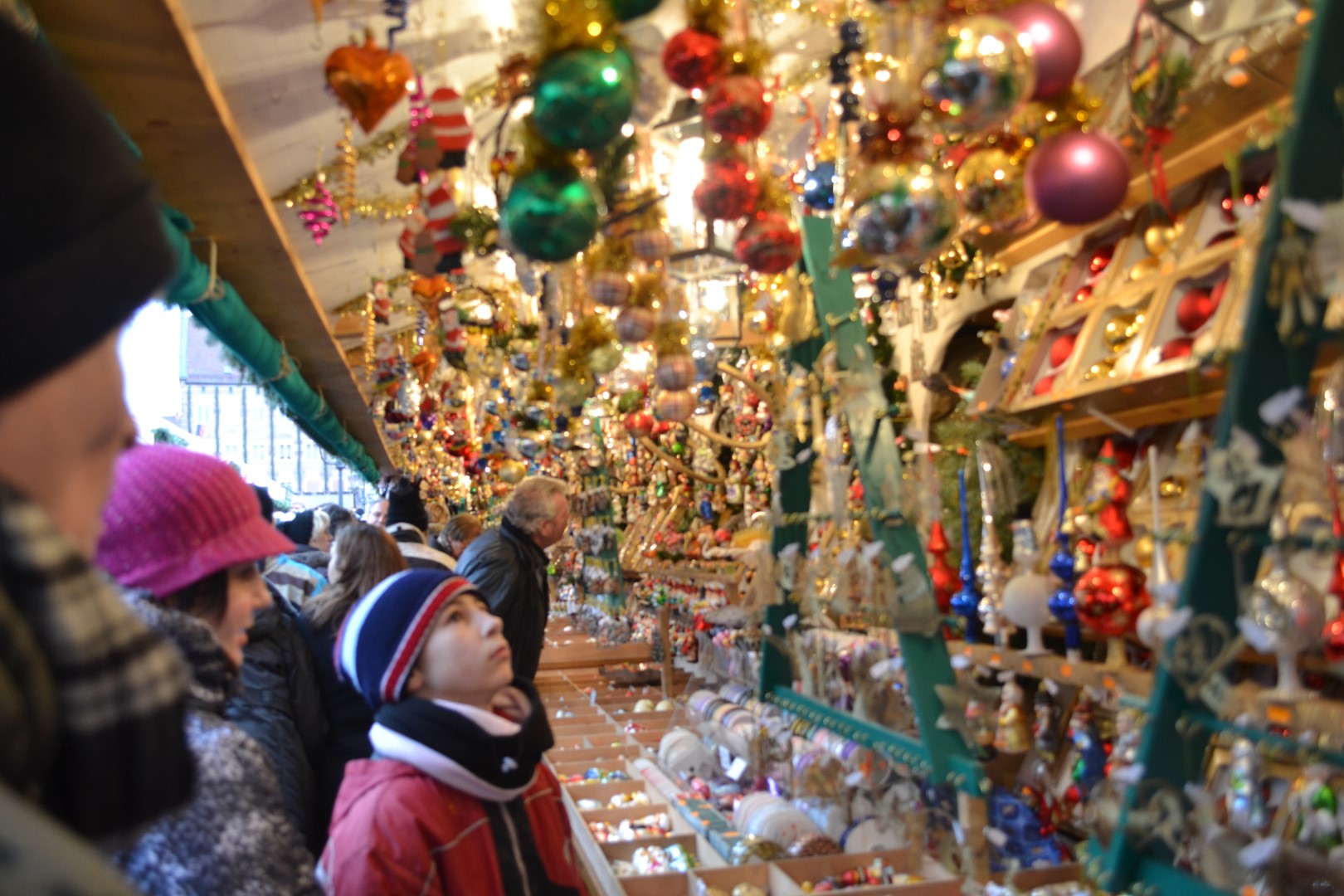 Every single market you go to is going to have glass ornaments. The question is if they are authentic hand blown German glass ornaments or mass-produced Chinese knockoffs (Be sure to read my linked post to find out where and how to find the real deals and which markets are guaranteed to have authentic German Christmas baubles)
Glass Town Ornament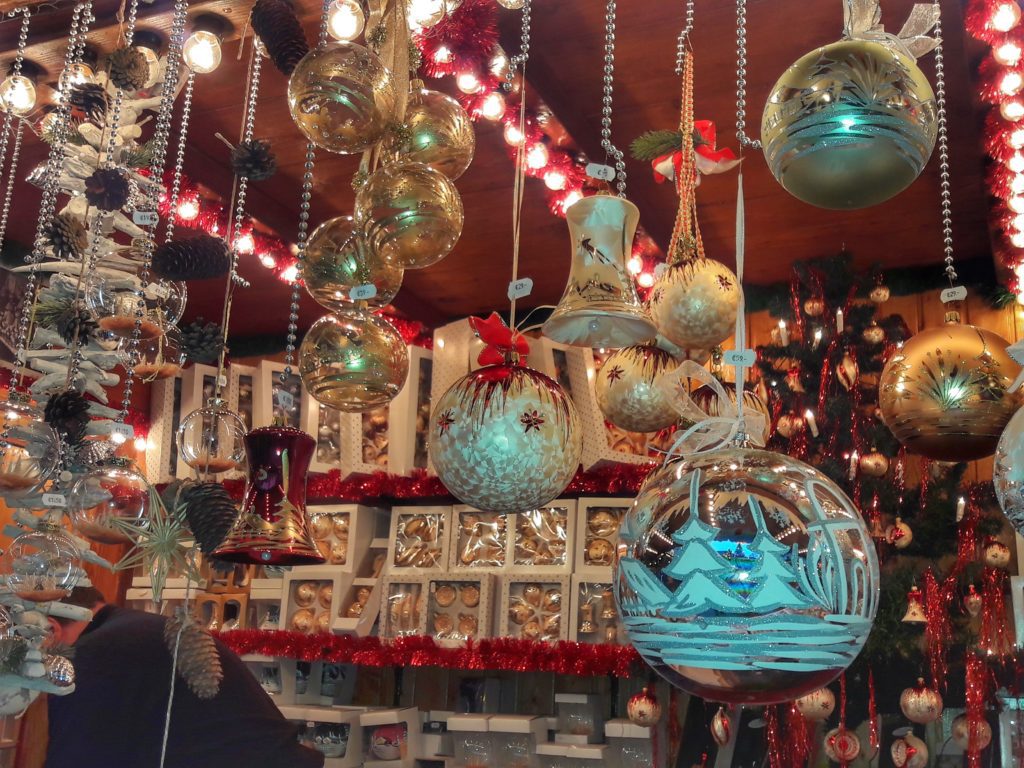 If you can't tell, a running theme for Christmas market gifts that I love to get are ones that are unique (you'll find a lot of the same stuff at every market- I like finding items that are handmade or supportive of local artists).
One way to do this is to find a stall that has German Christmas ornaments to make personalized designs. Some will paint an ornament or ball right there in front of you, others will have it already made for you to choose from.
Christmas Market Gift Ideas For Personalized Ornaments
If an artist will paint one, have a person's name put on it
I gift my kids a new Christmas ornament for our tree each year that symbolizes something from that year. For my oldest son's first Christmas, I got him a huge glass bulb that had a beautiful, hand painted scene of the town of Regensburg on it (the town he was born in)
Germany Christmas ornaments are are diverse as there are people! You are sure to find one that reminds you of that special someone for who you are looking for a great gift.
Lace G
erman Christmas Ornament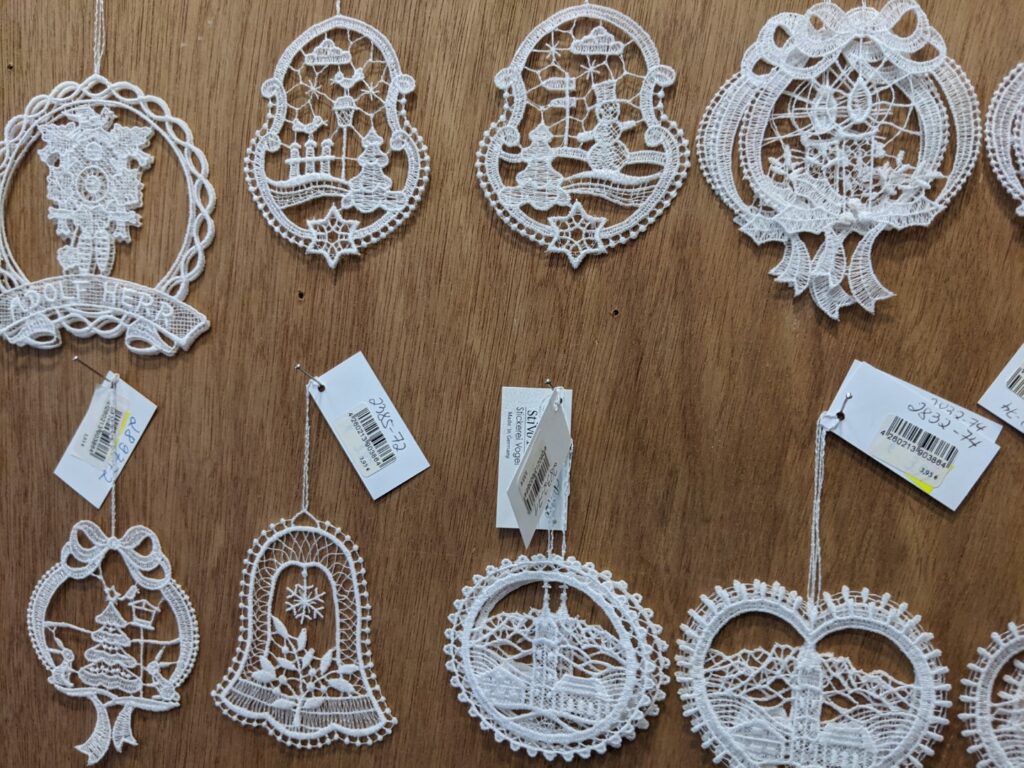 These are another one of my favorite German Christmas market gifts, especially when I need to buy for a lot of people. You'll find hand-stitched lace into the designs of things like candles, snowflakes, Christmas stars, and more. Again, these will only cost a few Euro each and there are so many designs!
Christmas Market Gift Ideas For Lace Ornaments
One year, I needed about 15 gifts, so I got a bunch of lace ornaments that I thought resembled each person I was gifting them to. Pair them with something else small, like German chocolates and voila! You've got perfect Christmas gifts from Germany!
Weihnachtspyramide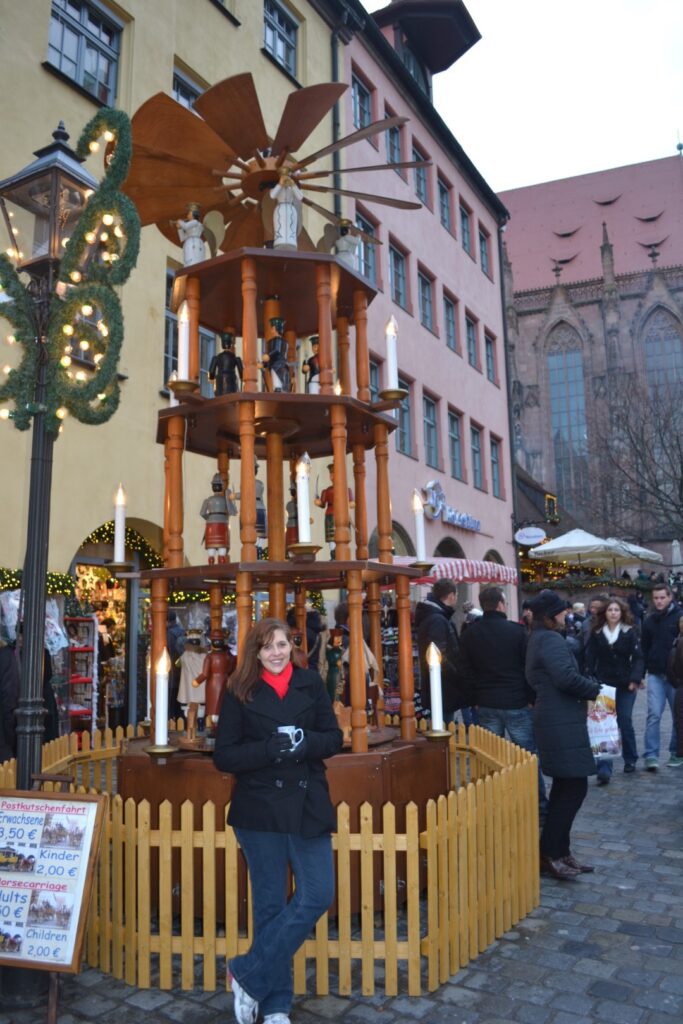 If you are wondering what to buy at German Christmas markets, you could not get more authentic than the beautiful German Christmas Pyramids!!
There are endless designs to a wooden pyramid. Some only have one or two tiers while others have multiple. There are various scenes as well, such as nativity scenes, angels, wise men on their journey, and more.
They all have candles, where the heat lifts up to little fan blades that are slightly tilted. When the heat hits these, it begins to turn like a carousel.
These "Candle Carousels" are some of the most beloved items and often become Christmas decor that are passed down in families. This was one of my absolute favorite Christmas decorations my own mom had. I couldn't wait to put it all together, light the candles, and (un)patiently wait for it to begin spinning!
Needless to say, I was ecstatic to get one of my own at a real German Christmas Market to go with my other beloved traditional German Christmas decorations that hopefully my kids will cherish as well.
Nativity Scenes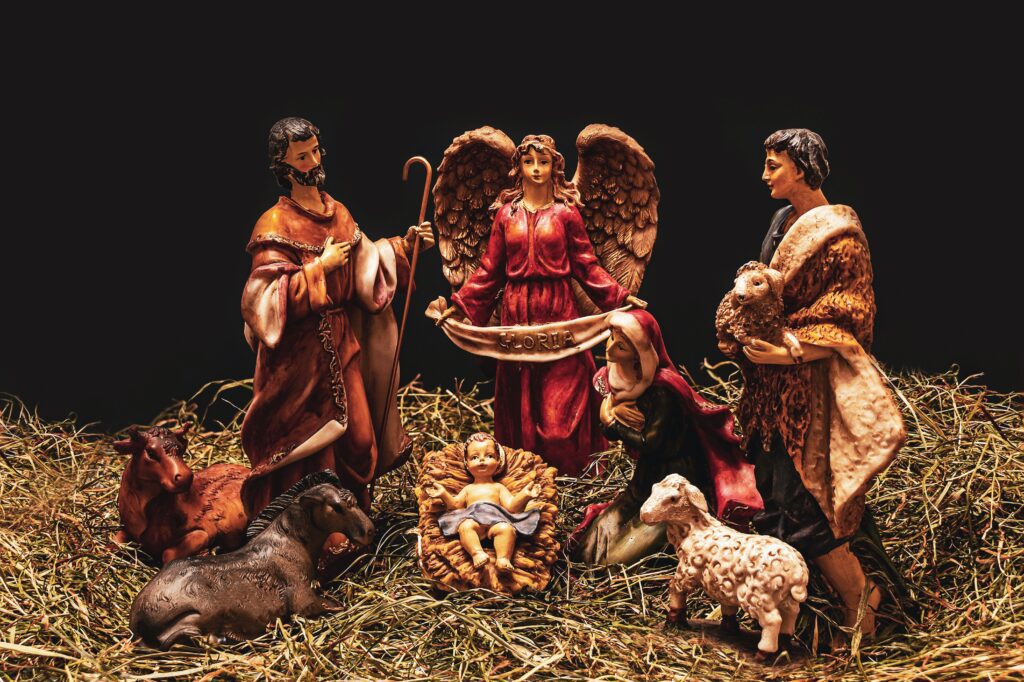 Another really beautiful thing to buy at German Christmas markets is a nativity scene. These will range in prices depending on the set you want or if you get a stable to go with it. While the stables are often really stunning, that might be a harder chore to get home in your luggage, but the figurines themselves are decently easy to pack away into nooks and crannies in your bag.
Christmas Market Gift Ideas For Personalized Ornaments:
I bought a whole nativity set in Germany for my Goddaughter. Now, each year at Christmas, I gift her with one more piece of the set and carefully inscribe the year on the bottom of that one piece. I planned it out so that on her 18th birthday, she'll get the stable and have a complete, beautiful, German nativity set from her beloved Aunt
German Räuchermann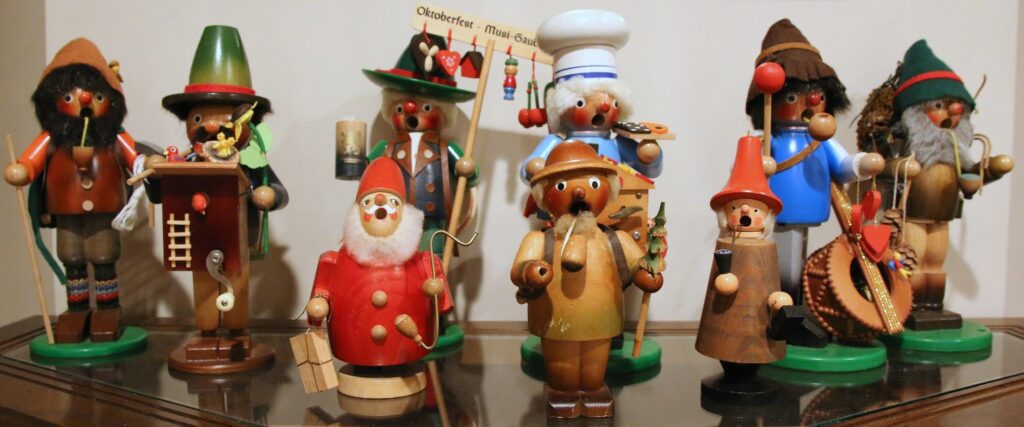 These adorable little figurines are incense smokers. As the smoke rises from the incense, it puffs out of the man's mouth, creating quite a fun little scene! Traditionally, the men were craftsmen, foresters, etc but as the Räuchermann have become more popular, you can find endless figures like chefs, golfers, and even Räucherfrauen (women).
Christmas Market Gift Ideas For Räuchermann:
Find a figure that reminds you of the person you are shopping for!
Wooden Arches
If you couldn't tell by now, German Christmas wooden decorations are a popular thing to buy at Christmas markets! Most of them come from the Ore Mountain region in Germany.
These beautiful German wooden arches (called Schwibbogen or Lichterbogen) are the perfect things to buy at a German Christmas market! Like so many of the other items listed here, you'll find a huge range of options to buy. Some are just a simple candelabra style design. Two of the more popular, elaborate scenes are of a wooden carved nativity scene or a beautiful depiction of an adorable little village.
Lichthäuser
Ironically, these "light houses" didn't even originate in Germany. However, because of the half-timbered house designs of so many of the German porcelain village houses, these are some of the most popular items to get at a German Christmas market today.
Some people love to collect a new one every year and eventually create an entire Christmas village of their own at home. My sister did this and each year, and her little village was absolutely stunning, especially when she surrounded them with fake snow, miniature pine trees, and lit them up in the evening!!!
You can get whole German Christmas village sets (which can be quite pricey) or even just little figurines (which aren't AS impressive but so much more affordable!)
Advent Calendars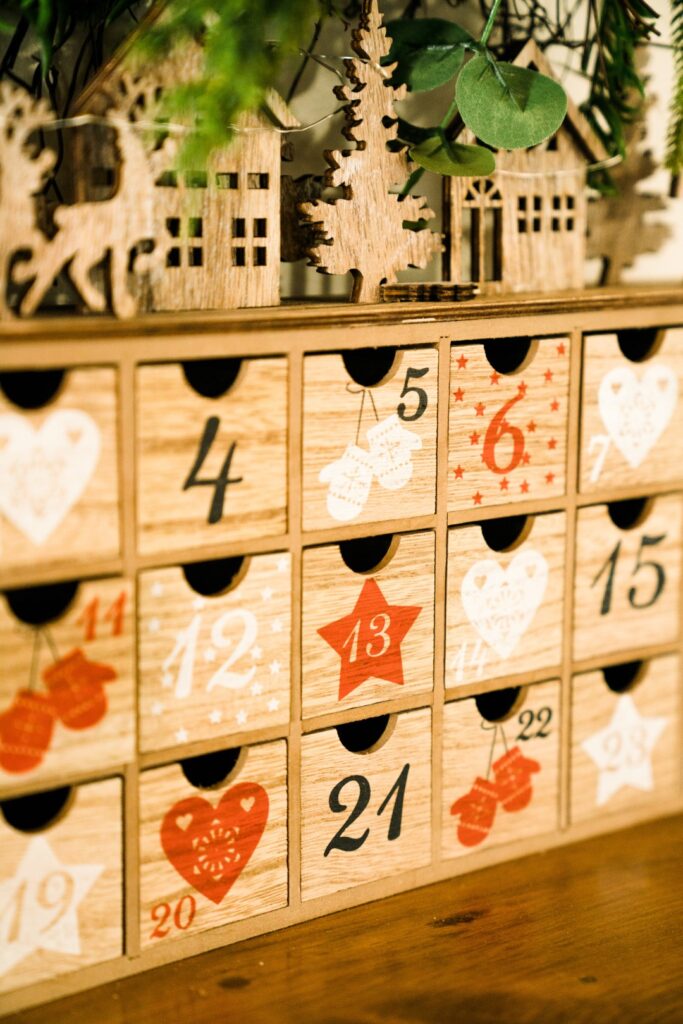 Germans LOVE their advent calendars! Each kid gets (at least) one each year and there are many different themed ones nowadays (Lego advent calendars, Puzzles, hot cocoa flavors, and even Wine and Beer Advent Calendars for us adults!)
But, it's also really special to get an advent calendar from a Christmas Market. One of the more popular designs is a wooden structure with the 25 little drawers (like this) that you can fill with tiny little chocolates or candy yourself. While not as traditional, one year at the Frankfurt Christmas Market, I got a "Stocking Advent Calendar" where there were 25 miniature stockings hung on a string and you could place little goodies in each one!
Lace Doilies, Table Runners, and Table Cloths
This is another personal favorite Christmas market gift to give (and to collect for myself!) as it can easily be packed into a suitcase and doesn't add hardly any weight to your luggage!
One year I bought myself a beautiful Christmas table runner with red poinsettias for my own dining room table. Another year, I gifted my Mom and Mother In Law beautiful table cloths that had Christmas candles and bells on them. I hope that each year, as they pull them out for their Christmas decor that it will remind them a little of me and my travels!
German Christmas Crafts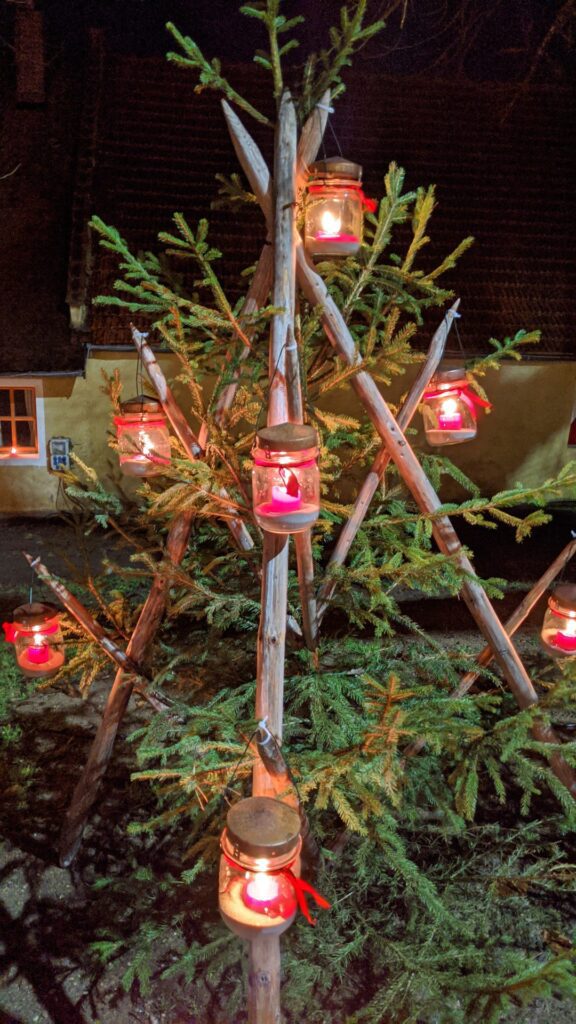 I have to admit that after years of going to Christmas markets in Germany, I've become a bit jaded. A lot of the really big ones all kind of mush together in my brain and feel repetitive. So many now just have the same, mass-produced goods (more on how to know when to spot the real deal in myChristmas Market Tips and FAQs) that you will see at literally every single market. I kind of feel jipped buying something that I could just order online! I want something REAL!
Some markets, like the Schloss Guteneck Christmas Market in Bavaria, are known for being unique and pride themselves on local vendors and artists. Finding these markets will make your Christmas Market trip so much more special!
Some of my favorite crafts that I've seen at the markets are:
Hand made jewelry
Knitted Hats, scarves, etc (there are a lot of mass produced ones, too but there are also plenty of Omas also selling their own goods!)
Hand dipped candles
Paintings
Various wood working designs (I have a set of "candles" made out of tree trunks. They are so rustic and unique looking!)
German Christmas cards: some of these are really amazing! Some are intricately designed and others even pop up!
Hand made soaps
Hand made signs: I got a wood burned sign with Neuschwanstein on it and they even personalized it with a "Welcome To the Browns" message!
Birdhouses and other fun yard decor
SO much more!!!
Nutcrackers (Nussknacker)
You can find these wooden soldiers all over the Christmas Markets and they make for great German Christmas decor and gifts!
Prune People (Pflaumenmaennchen or Quetschenmaennchen)
This is more of a regional item that you'll most likely only find in Franconia, particularly around the Nuremberg area.
The story goes that a local man wanted to give his children gifts for Christmas, but had no money. However, he did have a prune tree. So, with prunes, figs, nuts, and wires, he made little doll figurines to gift to his kids.
Today, there are countless little prune figurines, and despite them being made from organic matter, they actually last for years. In fact, the (English translated) saying goes, "With a prune man in your house, money, and happiness stay, too"
Spices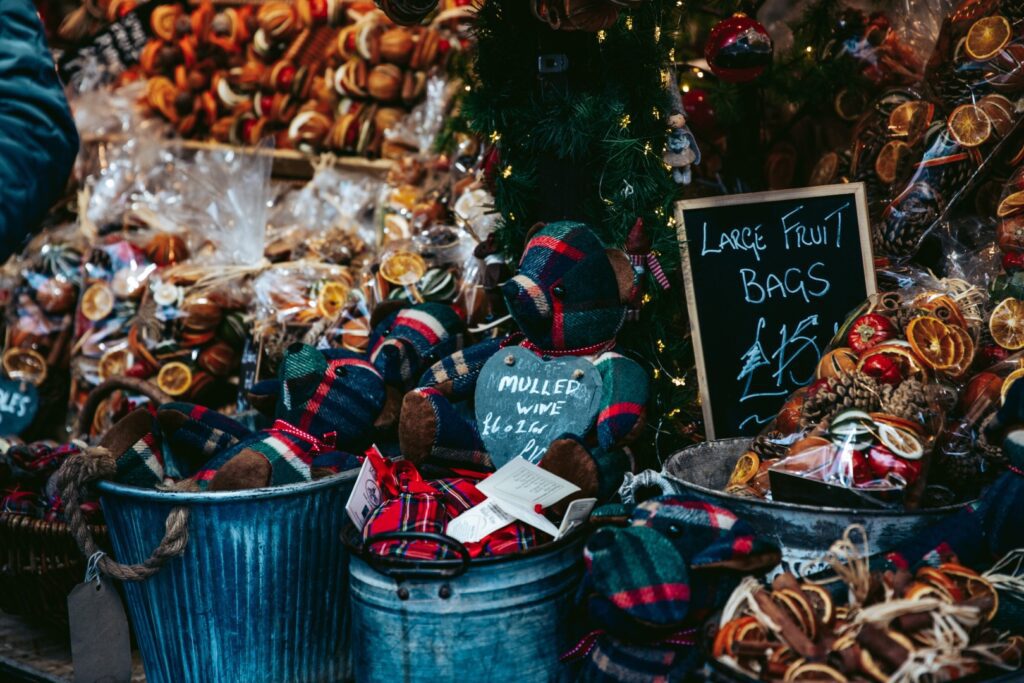 I love finding the stalls that sell spice blends! There are some seriously fantastic ones, like Gluhwein sachets, Obatzda dip packets, grilling blends, and so much more!!! They often have dips or samples out for you to try. I love getting these for myself personally, but if you have a food lover that you need a gift for, these are fantastic and also pack well!
Specialty Mustards
Germany loves their "senf" (mustard) and while there are a few main staples, there are just about as many mustards as there are brats in Germany!!!
This makes for a pretty unique gift to give to someone, especially people that like to try foods with a different twist!
Wooden Toys
Wooden items are very popular toys in Germany, and not just at Christmas time! I just love that even today, German kids often have just as many wooden toys as they do electric. In my former life as a Montessori teacher, almost all the items in a pre-primary classroom are made of wood because they are durable and often require the imagination of the child (rather than a screen doing the imagination work for you)
You can find some really great items at the Christmas markets, like slinky style wooden toys, pull and push toys, abacus style bead boards, wooden puzzles, object permanence boxes, ball slidess, and so much more!
Wooden Names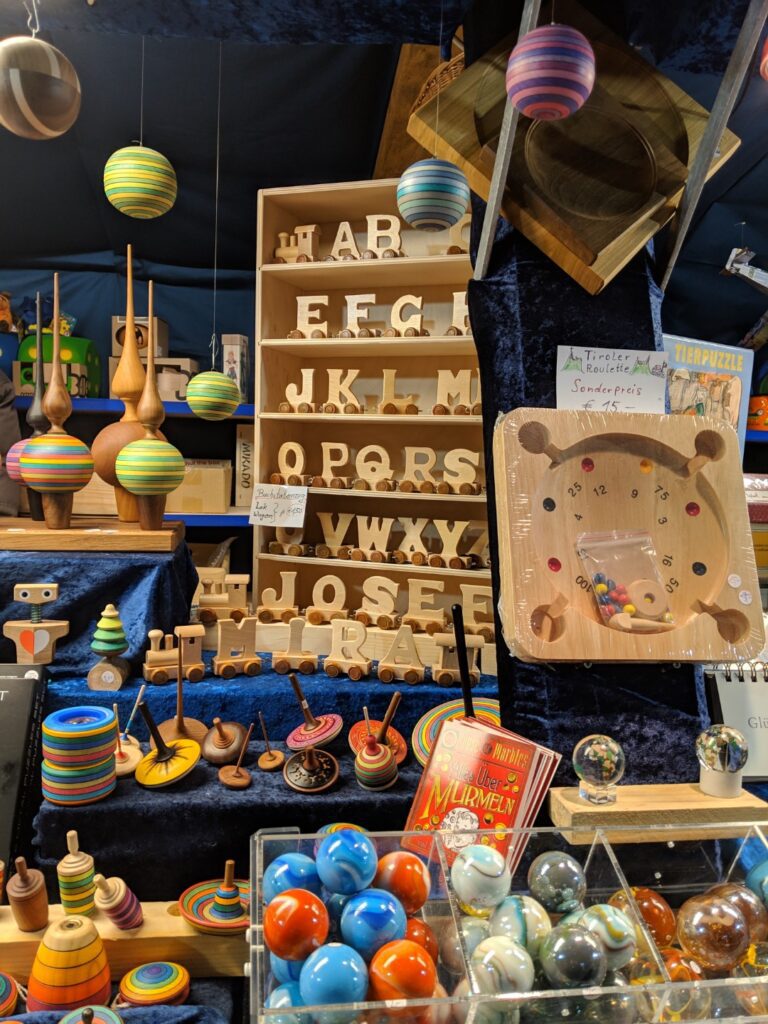 This is another fantastic gift for kids. For each of my children, I've gotten their names spelled out with the wooden train sets.
Gingerbread Cookies (Lebkuchen)
Whether you want the smaller version to eat yourself or you want the big, heart shaped German Christmas cookies for sale, a big Lebkuchen is a fun thing to buy at a German Christmas market.
I'll be honest and say that I am not a huge fan of the taste of the German Lebkuchen, but the big German gingerbread hearts are more for show and decoration than they are for eating anyway. However, these can be a bit tougher to make it back home all in one piece.
Beeswax Items and Candles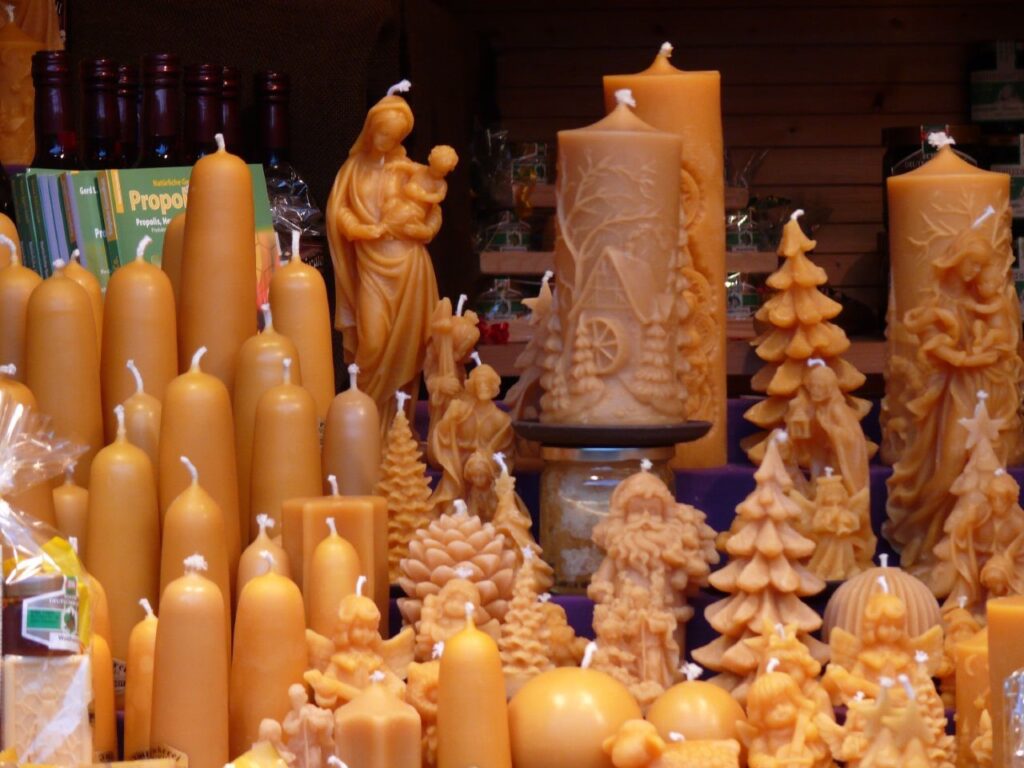 A very popular stand that is a bit surprising at the German Christmas markets is the Beeswax candles for sale. These are often handmade (you can always ask the vendor) and come in every shape and size and figure! There are standard candle shapes, honeycombed styles, angel figures, Christmas tree shapes, pine cones…even nativity scenes all made from wax!!!
Star Lanterns (Fröbelstern)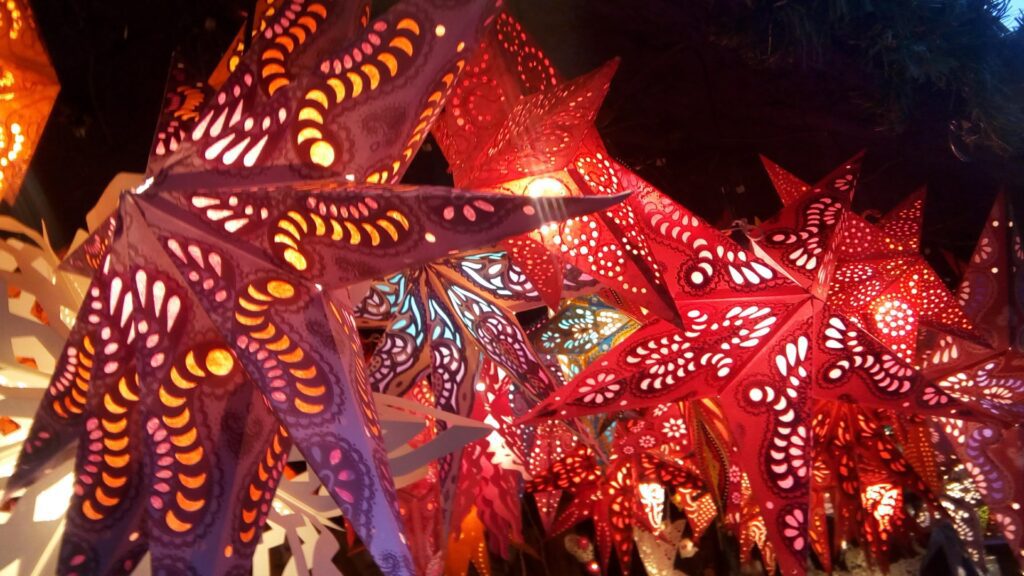 These gorgeous German gifts have numerous names from Papier Stern, Stern Lanterne to the Froebel Star (Fröbelstern).
If you walk around neighborhoods in German villages and towns you will probably notice that many people have beautiful stars lit up in their windows.
This is another one of my favorite things to buy for Christmas from Germany. While they look big and pointy, they actually come folded neatly up, so they are perfect for packing into your luggage!!
German Christmas Candle Holders With Village Scenes
If you are looking for something a little more personalized to remember your trip to Germany, these are fantastic souvenirs! While there are plenty of mass produced ones, be on the lookout for ones that have scenes painted from the town you are visiting! Some have iconic buildings and cityscapes painted onto the little bowl shaped candle holders and are perfect for remembering your special time in Germany for Christmas.
Booze
Oh yeah, time to get Merry, my friends! Did you know that you can bring alcohol back in your checked luggage? Just as long as it is sealed and does not exceed 70 percent (140 proof) you can bring it home!
What are some good alcohols to bring home from Germany?
Liqueurs: There are tons of different options to choose from, but one, classic is the "Eier Liqueur" (it's not quite eggnog, but a somewhat similar alcoholic beverage) another great one for Christmas is the "Lebkuchen Liqueur" which is fantastic in coffee or over ice cream!
Schnapps: Germans make all sorts of different flavors of Schnapps!
Gluhwein: You can get really cheap (and really good!) bottles of Gluhwein actually at a local grocery store
You'd be surprised with what you can buy at a German Christmas market! You'll even find things like kitchen gadgets, slippers, and so much more! Hopefully, this list gives you an idea of what to buy at a Christmas market though and that you thoroughly enjoy your time eating, shopping, and enjoying your holidays!