[This post may contain affiliate links where we earn a small commission. Please see our disclosure for more information and thank you for supporting our site so we can continue to bring you awesome content for your travel inspiration!]
As the light snow drifts down from above, a tiny snowflake fades away as it falls into the steaming hot mug of Glühwein that is warming your hands. You look up from your mulled wine to see the soft glow of the stands and vendors selling trinkets, hand made goods, and delicious German foods. Just then, a band begins to play slow, melodious Christmas tunes, so you wander over the cobblestoned streets to enjoy the music under the huge Christmas tree and think to yourself, "Is this real life or am I in a fairytale?"
No, my friends, you aren't in some make-believe Christmas wonderland, you are at an authentic Christkindle Markt in Germany! While plenty of countries around the world may have holiday markets, nothing seems to beat the Gemütlichkeit (cozy feelings) that the best Christmas markets in Germany always seem to evoke!
So, which German Christmas Market is the best? You are going to hate me, but I've got to say it….
"It depends"
Ugh, I know, so cliche, but hear me out. What are you wanting out of your German Christmas Market? Do you want:
Ambiance to the extreme? (So many options!)
Germany's most famous (Arguably Nuremberg)
The oldest Christmas market in the world? (Then head to Dresden)
The most visited Christmas markets in Germany? (That would be Dortmond)
A more local experience (May I suggest Regensburg?)
A family friendly outing (Guteneck is amazing!)
As you can see, there are so many different kinds of Christmas Markets in Germany. So, here are 7 of the Best Christmas Markets in Germany, as determined by myself and other Weinachtmarkt enthusiasts.
And for those of you wanting to bring a bit of Germany to your home this year, you can make your own homemade Gluhwein or Kinderpunsch with these recipes.
Regensburg Christmas Markets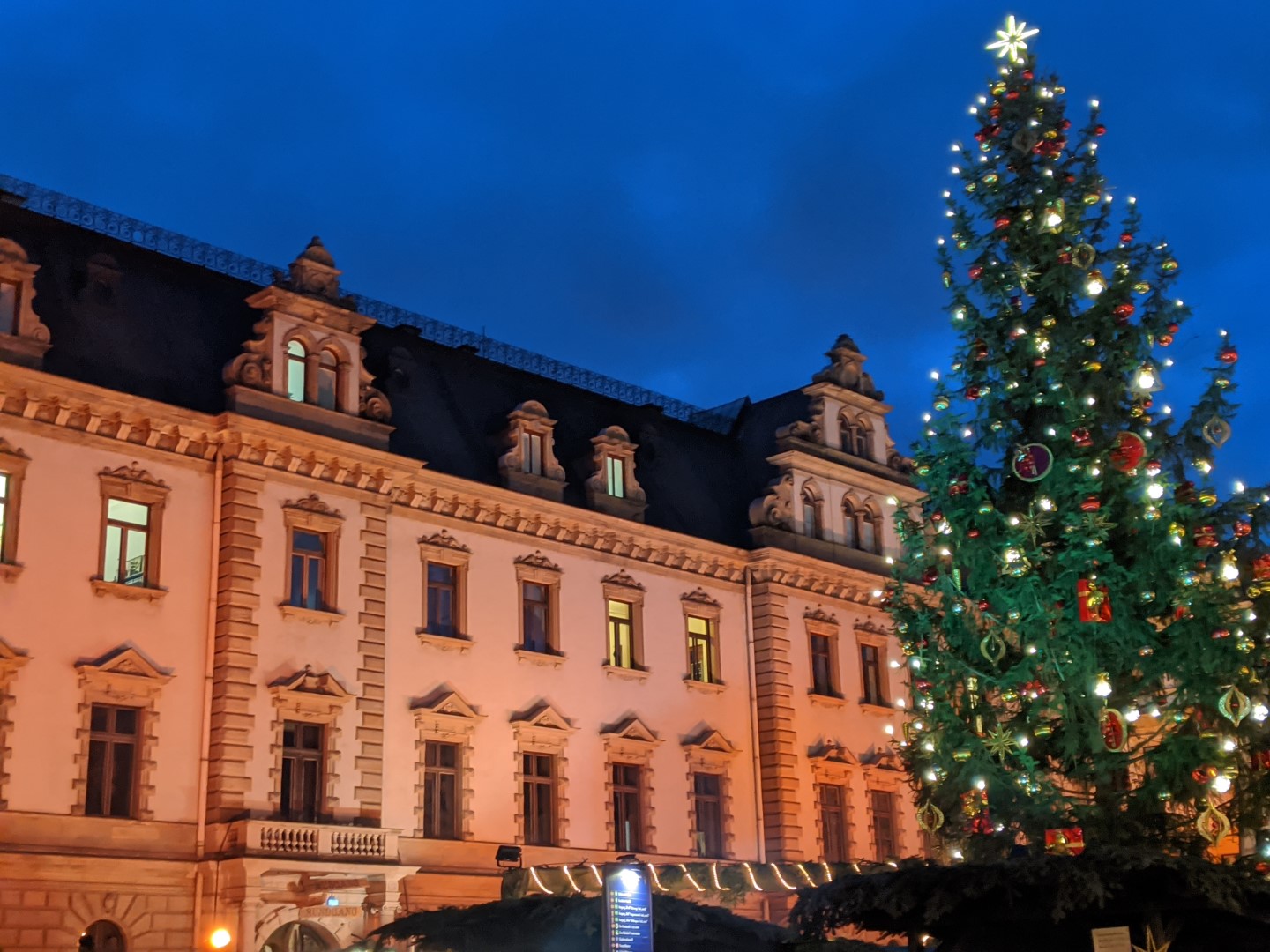 As someone who lives in Regensburg, I may be a little biased, but a Regensburg Christmas is NOT to be missed. There isn't just ONE Christmas market in town, but upwards of 6!!! And the best part is that each one has its own little charm and feel, making it a magical experience to explore the medieval city by foot and stopping here and there for a warm mug of Glühwein before heading to the next market.
One of my favorite ways to explore the markets is by doing this free walking tour of Regensburg because you will not only see all the top sites of the city but also go by every single market on the way! What I find so unique about these is that each market has its own charm. One may just be local handicrafts, another with live sheep and a manger scene! And of course, there is the "Romantic Thurn and Taxis" market at the Schloss (palace) that just oozes Christmas spirit!!!
Whether you decide to try to hit up all the markets (can be done in one, long day) or just go to a few, walking the cobblestoned streets with the glittering lights decorating the whole town, sipping on your Glühwein will sure to have you be filled with plenty of holiday joy.
Freiburg Christmas Market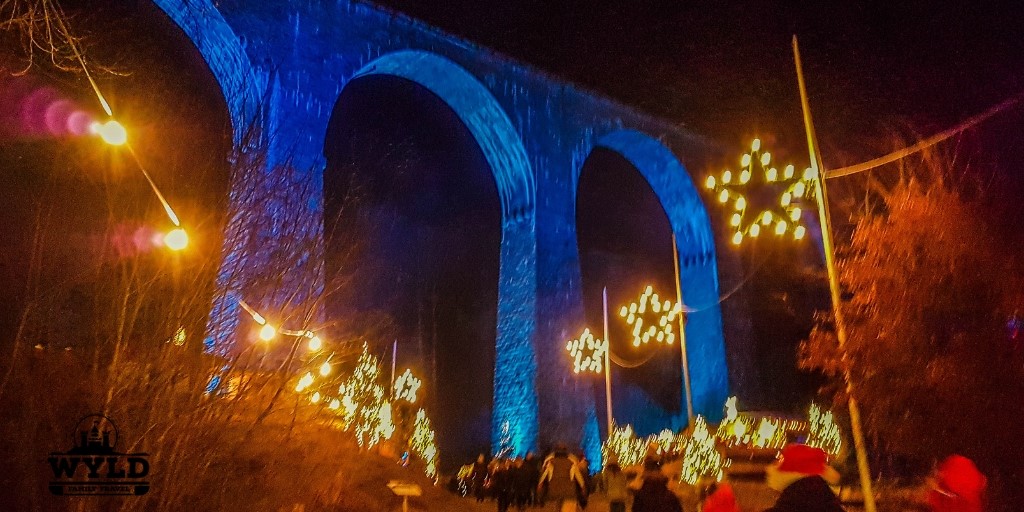 Freiburg is a beautiful city in any season but it really comes alive at Christmas time. With decorations around the city, Christmas trees around every corner, lights that brighten the night sky, and with a Christmas market in every square there really is not a better time to visit Freiburg!
You will find many different markets that will cater to every traveler. From singles who just want to wander and eat to families that need some entertainment for the children.
Most people first flock to the Freiburg Munster for their first Christmas Market taste. Here you will find some amazing stalls that sell the famous hot mulled wine (Gluhwein), traditional Christmas decorations, and mouth-watering food for you to keep warm with. You will find many people wandering with a wurst in bread and trying to juggle a hot cup of Gluhwein.
From there you can wander to the city center and find other markets. If you like it you can stay, if not, you can move on to another! You will find some with small carnival rides to keep the children happy and some others will have a small stage with people singing carols. Feel free to join in if you know the tune!
Contributed by Marc from Wyld Family Travel
Nuremberg Christkindle Markt
The Nürnberg Christkindle Markt is one of Germany's most famous Christmas markets. There are records dating all the way back to the 1600s of its origin, so to say they've mastered the art of a magical market is a bit of an understatement! Seeing the Top Sites in Nuremberg paired with one day at the market is the PERFECT way to explore the city!
This HUGE market takes place on Nuremberg's Hauptmarkt (Main Square) and has rows after rows after rows of vendors, food stalls, trinkets, hand made goods, and more!
In addition to the giant market, Nürnberg has staked its claim on a few other German (and Christmas) classics. For example, you can't go to a Christkindle Markt without getting a classic Nürnberg Semmel (Nürnberg's own bratwursts in a roll). Nuremberg also claims to have THE original Lebkuchen (German gingerbread), so if there is any location to buy a few small disks (or large hearts!) this is the place. Finally, as you wander the market, you'll see tons of "Prune Men." This Nuremberg staple was first "created" by a father who had nothing to give to his children for Christmas besides the prunes from his front yard. He made these adorable little stick figures and voila…instant local favorite toy!!! Speaking of kids, there is an entire "Kinder Christkind Market" JUST for kids to enjoy!
Seeing as the Nuremberg Christmas Market is one of the largest and most popular, you can also presume that it is going to be EXTREMELY packed and busy. If you can't stand crowds, you will have a hard time thoroughly enjoying this market. Try going in the mornings and on weekdays rather than any evening and weekends.
Contributed by LeAnna from Wander In Germany
Frankfurt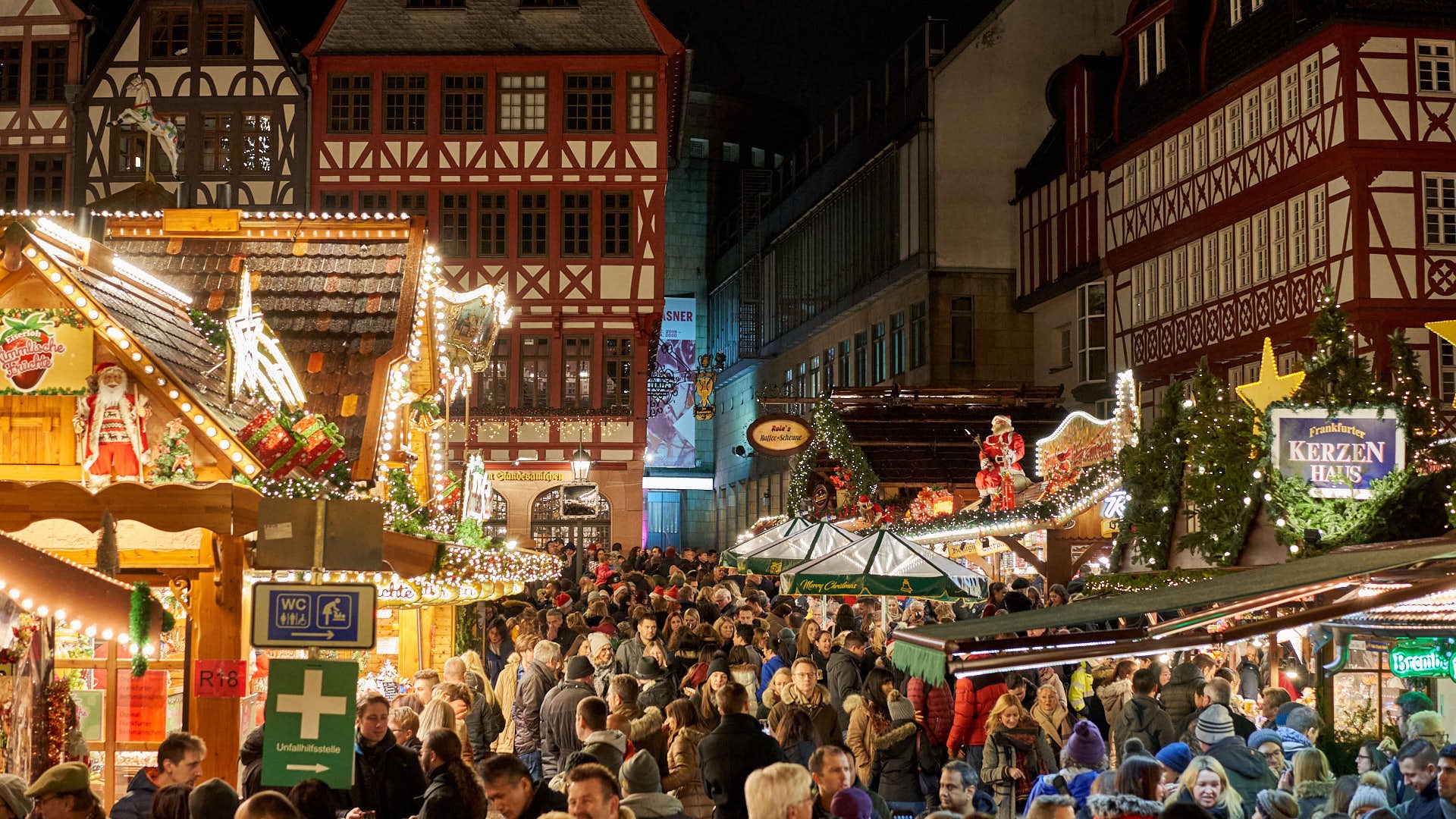 The Frankfurt Christmas Market is one of the best markets you can visit in Germany, and also one of the oldest ones. The first known records that mention the market go back to 1393, so it has been around for more than 600 years! While it started as a small December market, it now attracts about 3 million visitors each year.
When visiting the Frankfurt Christmas market, you should start your visit on Römerberg. In the heart of the Old Town, you can find a giant Christmas tree with a stage just next to it. On weekends, this is a great place to stop and listen to choirs sing Christmas carols.
Here on Römerberg, you can also find lots of typical food and drinks from the area. While Germans love mulled wine, here in Frankfurt, locals will drink hot Apfelwein instead. Apfelwein, which translates to "apple wine" is a drink similar to cider. Nothing helps against the December cold as well as sipping a hot apple drink infused with Christmas spices.
A unique attraction that you can only find at the Frankfurt Christmas Market is the honey house. Just north of Römerberg, you can see this half-timbered house which the owners move from the countryside to the Christmas market every year. Inside, you can sample various types of honey or enjoy the view from the first floor. Looking through the windows, you will have the chance of seeing all the tiny stalls and Christmas lights from above.
While evenings are great for visiting the Frankfurt Christmas Market so that you can enjoy the lights, this is also the busiest time of the day. You'll come across many locals meeting up with friends and co-workers. Therefore, we recommend visiting in the early afternoon. The market is less crowded, and you can take your time shopping for Christmas gifts and trying all of the local delicacies.
Contributed by Ilona from Top Travel Sights
Ravennaschlucht Christmas Market
The Ravennaschlucht Christmas market is like none you have ever seen! It is held out in the forest underneath a 40-meter arched railway bridge. During the night the arches are lit by lights that change from blue, green, red, and yellow. It is a great effect but it is even more amazing when a train is traveling over the top of it!
The stalls are all set around the bottom of the bridge with fires where you can warm yourself with an amazing cup of Ghluwein or a sausage cooked from one of the vendors.
You can find yourself walking around it looking at all of the beautiful stalls for such a long time and it is difficult to not buy every one of the amazing Christmas decorations they have for sale there.
They have a section up a path that has a Christmas story told in pictures with a voice over speakers as well to tell you the story as you walk. Even though the story is in German, it was still fantastic to watch the children around you get excited over the story. You could really feel the Christmas cheer everywhere and from everyone that was there.
A tip for this market is that you have to book parking online months in advance if you want to drive yourself. You do have to pay an entry of around 3 Euros per person to gain entry to the market. There are toilets but have some extra tissues with you, just in case, as it gets very busy and we found they had nearly run out.
Contributed by Bec from Poland Travel Expert
Berlin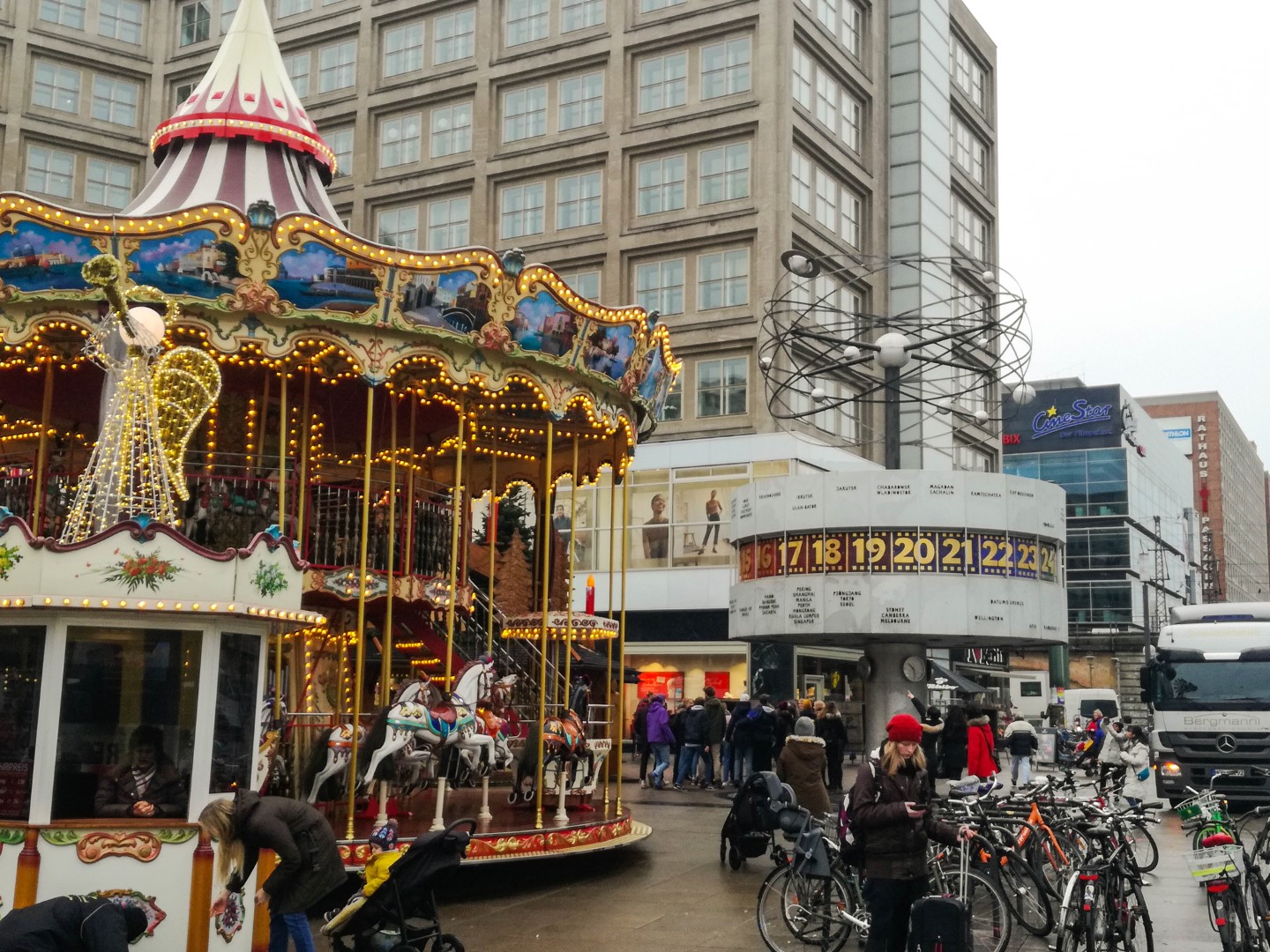 A visit to Berlin during the Christmas season is particularly worthwhile because there are over 90 Christmas markets in the German capital throughout the city that you can visit!!!
With so many Christmas markets, it quickly becomes clear that there is a perfect Christmas market for everyone. Whether you want to visit one of the typical tourist markets or prefer a small local insider tip is entirely up to you.
One of the most famous examples is the Christmas market on Alexanderplatz. It is one of the most popular markets in the city and is always well attended. A vast wooden pyramid on the square, in which you can enjoy delicious Christmas snacks and hot mulled wine on different floors is a unique sight on this market.
The WinterZauber at Gendarmenmarkt is also popular with locals and visitors alike. Although you can, of course, also enjoy delicious food here, this Christmas market is especially famous for its handicrafts. Exhibitors show their craft at numerous stands. If you are looking for a present for your loved ones or for a festive decoration for your home, this Christmas market is the right place for you.
However, what all Christmas markets in the city have in common are delicious Christmas foods and hot drinks. Of course, the Christmas market classics mulled wine, mushrooms with garlic sauce, crepes, roasted almonds, or the Berlin classic currywurst are particularly popular
Anyone traveling to Germany should definitely visit the capital at any given time, but over Christmas, it is particularly wonderful. You can stay in Berlin for a few days to learn more about Germany's history and division while also partaking in the festive Christmas season.
Contributed By: Vicki from Vicki Viaja
Munich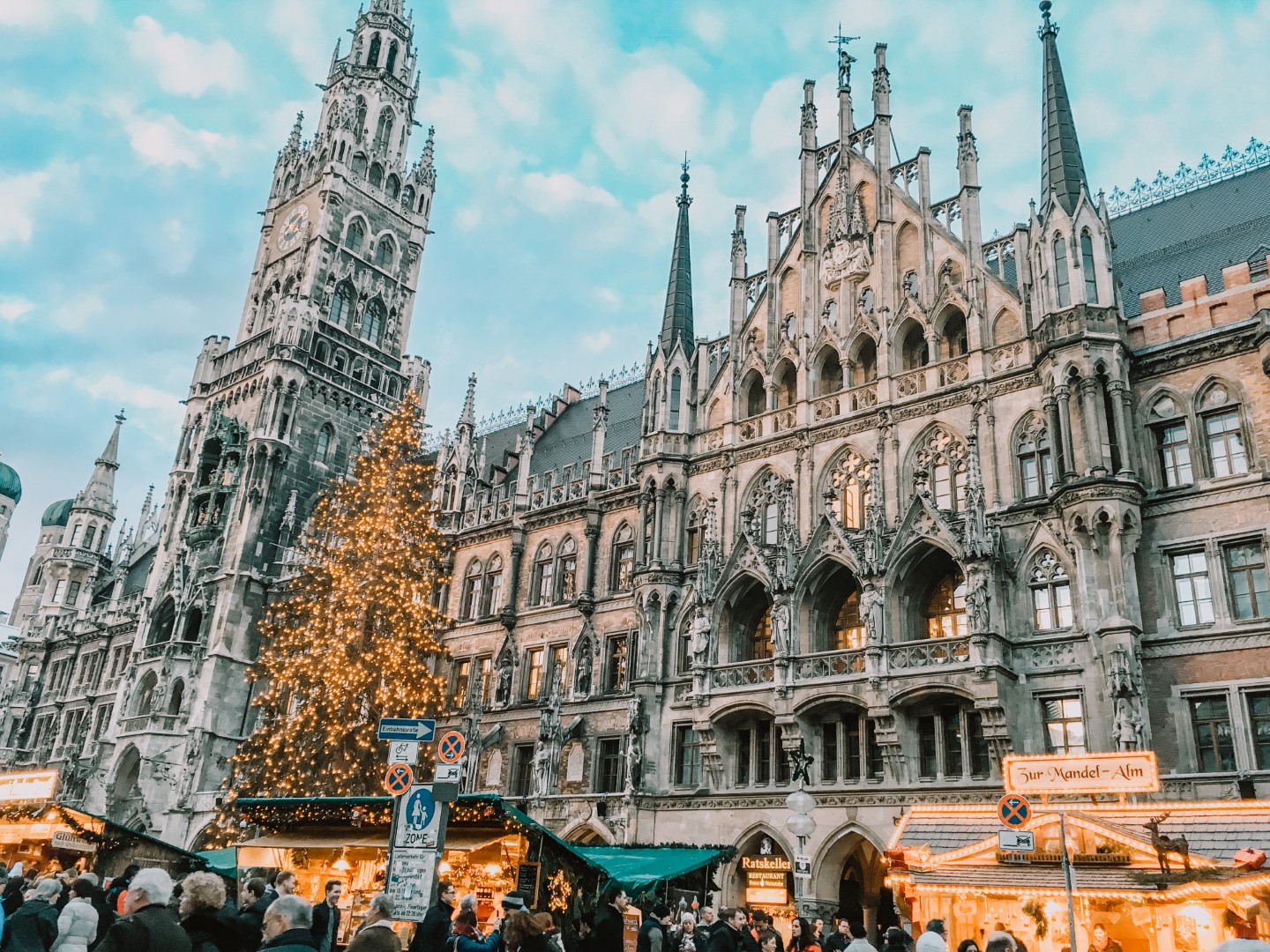 A Munich Christmas market is the perfect place to celebrate the holidays. Come December, this Bavarian city is filled with festive cheer and laughter. Vendors take over the famous Marienplatz Square and the Munich Neus Rathaus makes for the perfect backdrop. There are several other Christmas markets scattered around Munich including the English Garden, Munich Residenz market, and the Slandiger Tor market. Most are all within walking distance, so why not do a little "market hop" and go to them all?
Munich also hosts one of the most unique Christmas events and traditions, the Krampus run! The Krampusnacht is an event that you'll find in many towns in Bavarian and northern Austria and Switzerland. It is unique to this particular geographical area. But what is the Krampus run? In this region of Germany, Krampus is a horned creature that visits naughty Children before Christmas. The Krampus run involves a group of Krampus "running" through the streets. It's actually super fun and some actors will remove face masks for scared children to show them it's really not real!
One of the best parts of the Munich Christmas market is its array of German food. Gluhwein is a staple at any German Christmas market, it's a great way to warm up on a cold day! Bratwursts and pretzels can be found all over as well as warm strudel of every variety. Traditional German Christmas cookies such as Lebkuchen or Spekulatius make for the perfect souvenir to take home to friends and family.
Try to see the Christmas markets at different points in the day. During the mornings they are quieter but in the evenings the city lights up and it's just magical!
Contributed by Rachael from A City Girl Outside