[This post may contain affiliate links where we earn a small commission. Please see our disclosure for more information and thank you for supporting our site so we can continue to bring you awesome content for your travel inspiration!]
I've had a lot of experience with Christmas in Germany.
The very first time my family visited Deutschland, we actually left the US on Christmas Eve (My mom always did know how to find killer travel deals!). So we arrived to the freshly fallen snow of beautiful Bavaria and were about to get our first taste of what a German Christmas was like.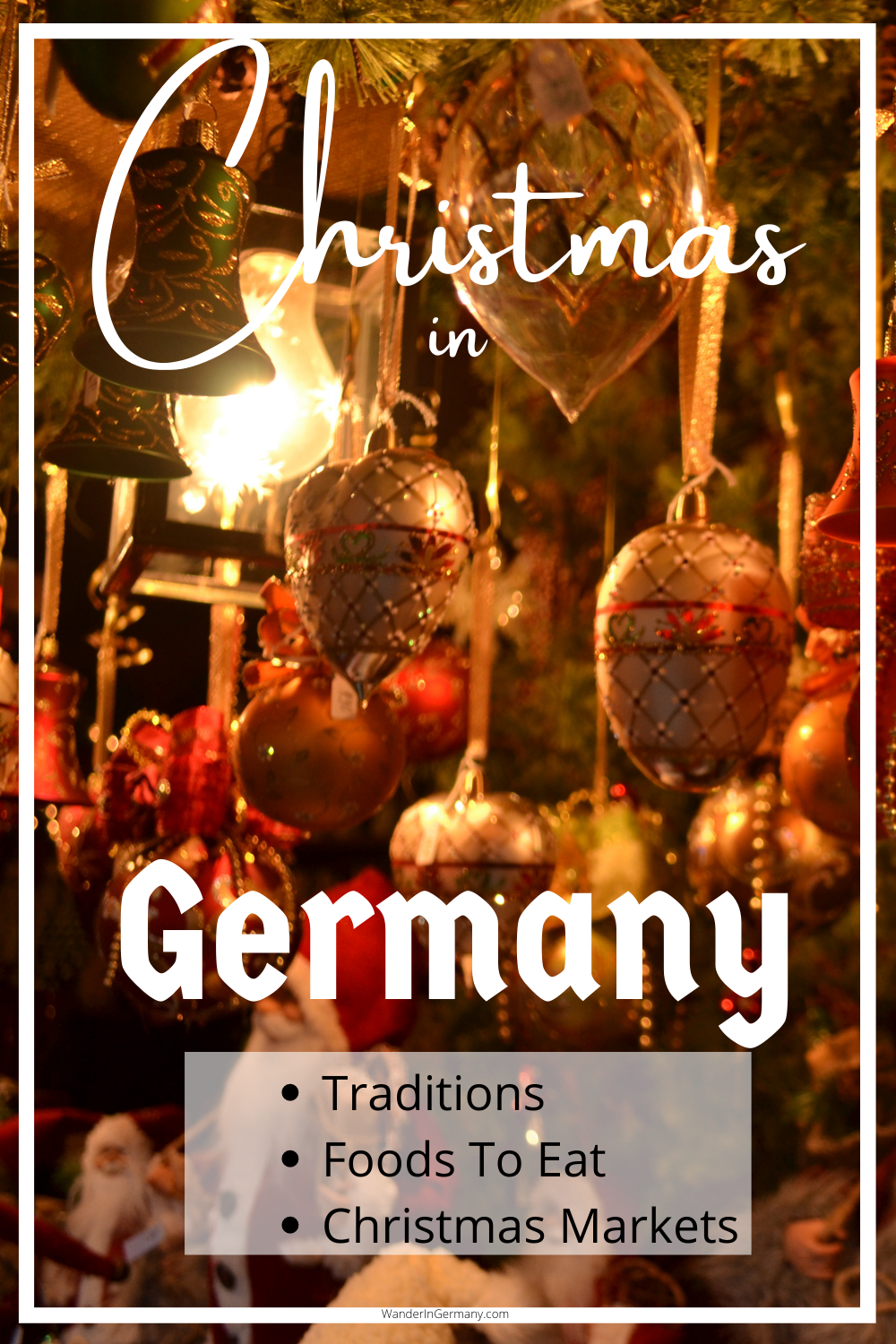 Fast forward and I've now found myself living in Germany for the better part of almost 10 years and every Christmas season of Germany somehow seems to steal my heart a little bit more. While I think there is something wonderful about traveling in every season in Germany, there is simply something magical about the German Christmas season that you have to experience for yourself. I think part of the allure to it all is that so many of our (Americans and other cultures) Christmas traditions actually originated from Germany (Advent Calendars, stocking stuffers, the Christmas tree, St. Nick…) so it's no wonder Germans do it SO well!
So, if you find yourself in Germany for Christmas, I encourage you to be on the lookout for these customary traditions that will make you feel Merry and Bright in no time at all with a healthy dose of Gemutlichkeit!
Other Articles You Might Enjoy:
Let's start at the beginning of the Christmas season in Germany and make our way through to the end….
4 Weeks of Advent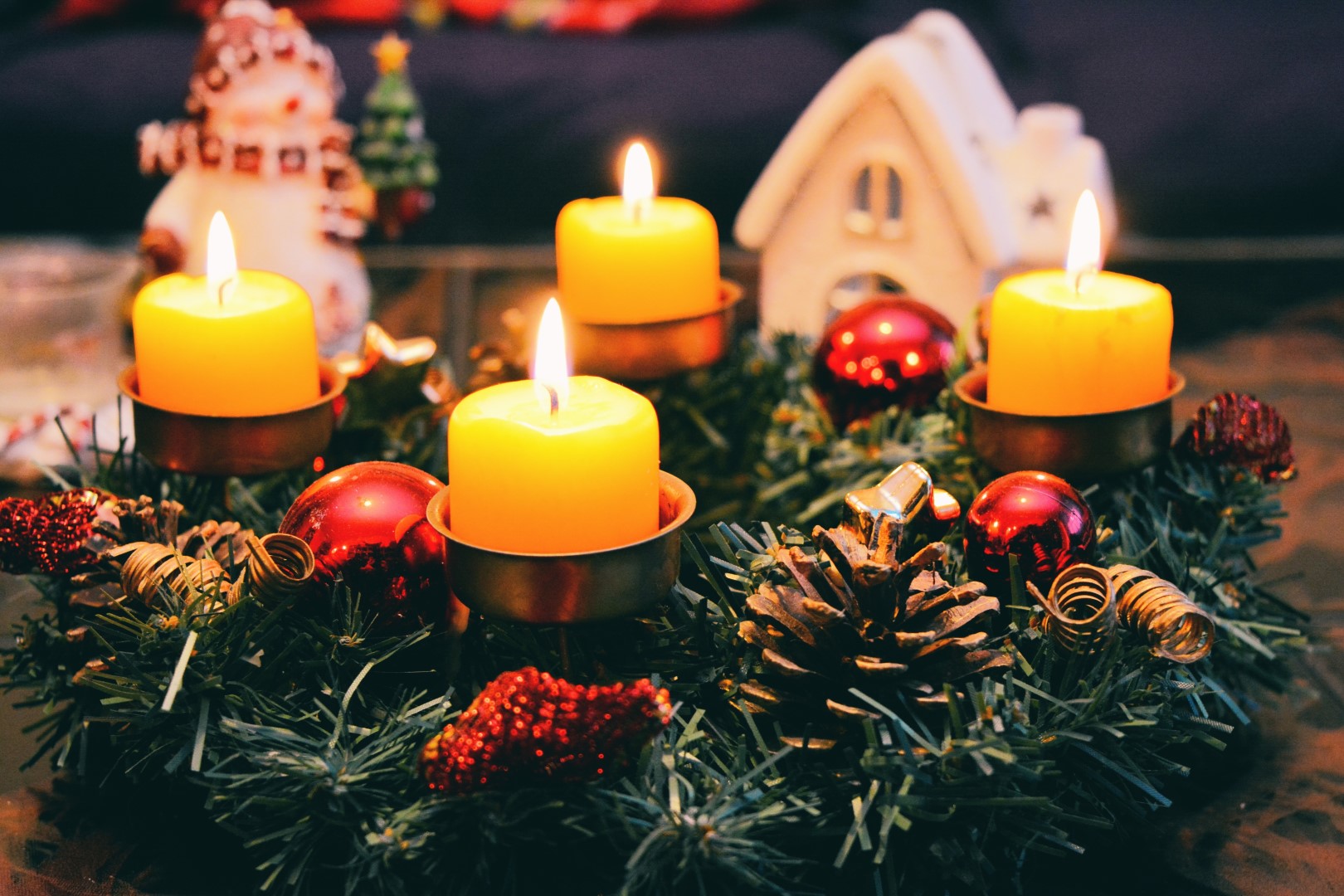 It all starts with the first Sunday of Advent (4 weeks before Christmas). You'll see Christmas markets ready to fling open their doors for the first weekend of Advent, as Germans can't wait to begin the festivities (some will even begin the weekend before Advent!)
Being raised in a very Catholic family, the idea of advent was nothing new to me in Germany. What I was surprised about though was that this is an old German tradition dating back to around 1839 when a priest wanted to help children track the days until Christmas.
You have a wreath with four candles and each Sunday, you light one more candle until you get to the 4th, which will be Christmas day.
In Germany, many families actually still make their own Advent Wreaths but you can also find absolutely beautiful ones at Christmas Markets as well, which are fantastic souvenirs or even gifts.
Christmas Markets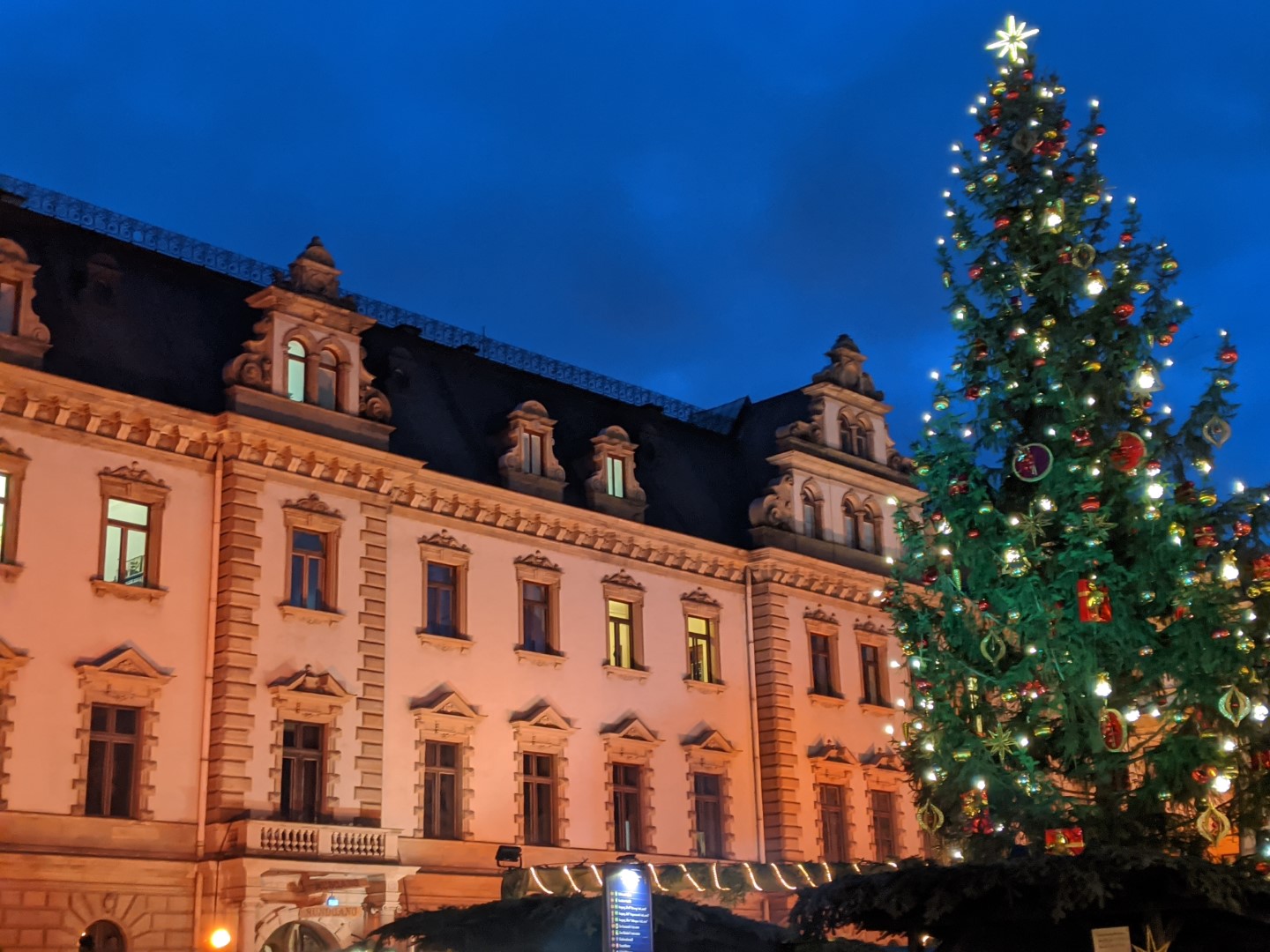 Obviously, NO Christmas in Germany article would be complete without the famous German Weinachtmarkt!
Whether you go to the amazing Freiburg Christmas market, one of the many magical Regensburg Christmas Markets, or are on the hunt for the Best Berlin Christmas Market (they are all over the city there!), going to a classic Weinachtmarkt (or Christkindlemarkt) is an absolute MUST during the Christmas season. (You can read more on my Famous Christmas Markets to Visit post)
Just imagine yourself walking down a cobblestoned alley with twinkling lights strung everywhere above you as you keep yourself warm with simmering sips of Gluhwein (mulled wine). You stop at a small little hut that is selling local handmade goods before moving on to the next stall where you get wafts of sweet smelling Lebkuchen (Gingerbread). As you continue your stroll, the sound of soft Christmas music can be heard from a stage nearby as German Christmas carols are sung for everyone.
Just then, you glance up and catch sight of the town castle, with it's enormous Christmas tree lit up before you.
This is it. THIS is a German Christmas!!!!! Soak it aaaaalllll in!
Wondering What Do They Sell At German Christmas Markets? Here are my MUST buy items!
St. Nikolaus Day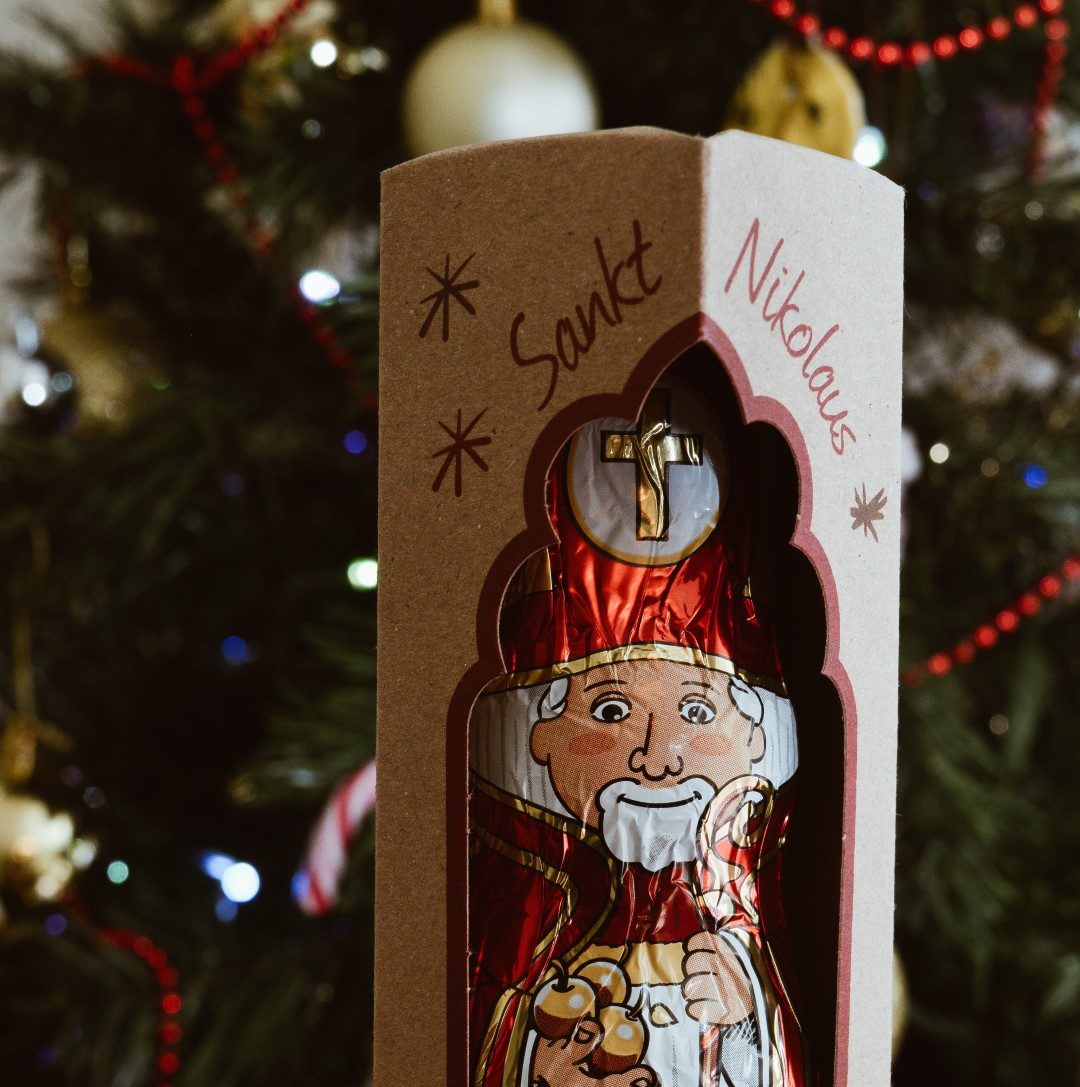 Now that I have kids, this is one of my favorite days of the German Christmas traditions! The original story goes that people used to hang their stockings on the windows to dry at night. Nikolaus (a real bishop in modern day Turkey or Greece) would help poor people out by dropping coins into these stockings or shoes.
So today, every year on the 5th of December, the kids all "shine their boots" (Ok, most don't actually do this anymore, but I still have my boys clean their boots…you know, just for fun!) and they put them by the front door as part of the St. Nikolaus German tradition.
When they wake up on the 6th (St. Nikolaus' feast day), to their delight, they find all sorts of goodies ranging from coins (often chocolate!), treats (German kids LOVE Kinder Eggs!), and even small toys.
Depending on where you are visiting in Germany, you may see a St. Nikolaus parade and some families even do all their gift-giving on this day instead of Christmas.
Krampusnacht
Now, if you thought the story of St. Nikolaus was just so sweet and heartwarming, well, things are about to get REAL German on you!
No, Germans can't just let their kids get away with thinking that life is all merry and bright! They have to contrast the kind, generous, St. Nick with a devlish half demon, half goat man. Yes. You read that correctly.
And while Krampus is typically only "celebrated" in Southern parts of Bavaria, if you are in the region, it is absolutely worth trying to find a Krampus Festival. They are frightfully delightful!
The story goes that on December 5th, Krampus comes to steal away any naughty boys or girls to take them to his lair. (YIKES!) And here we were, thinking COAL was a good enough punishment for kids! So, as a child, you either get stolen away by a demon, or you get presents in your shoes….Yup, that all makes sense.
Today, at many Christmas markets in southern Bavaria, there will be a Krampusnacht (Krampus Night), where people dress up in hideous costumes and terrorize all the (willing) participants!!! Oooooh, Germany!!!!! Munich has a popular "Krampus Run" as well which people of all ages love to go to.
Advent Calendar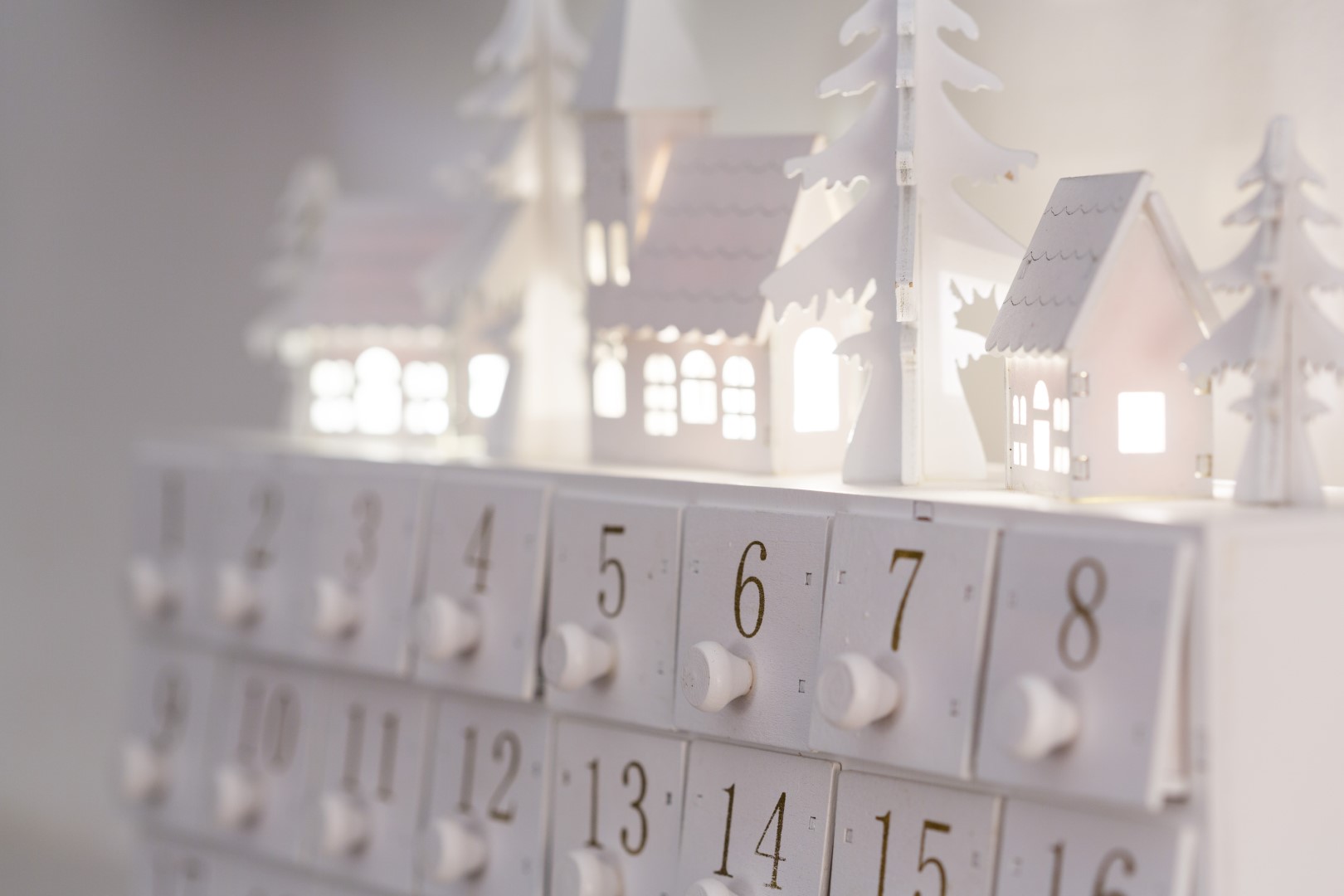 On a much lighter note, another favorite tradition is the advent calendar. For 25 days, you open a little window that holds, typically, a tiny treat or chocolate as you count down the days to Christmas.
You can find just about any kind of Advent Calendar in Germany today. At the grocery stores, there are Lego Calendars (with Legos instead of Chocolate), Paw Patrol, you name it.
But, I'm privy to the beautiful ones you can buy at the Christmas Markets. There are many different styles, but some of the wooden ones are just absolutely stunning and you can re-use it year after year (with your own candies, of course). Again, this makes for a fantastic souvenir from your trip or a great gift to bring home for others.
No Santa…..Sorta
So, we already talked about St. Nick. You might be saying Potato, Patahto. After all, in the US, we often use St. Nick and Santa almost interchangeably. However, here in Germany, they don't really do the big, fat, jolly Santa that we know.
So, who brings the Christmas gifts if there is no German Santa Clause!?
Baby Jesus…..Sorta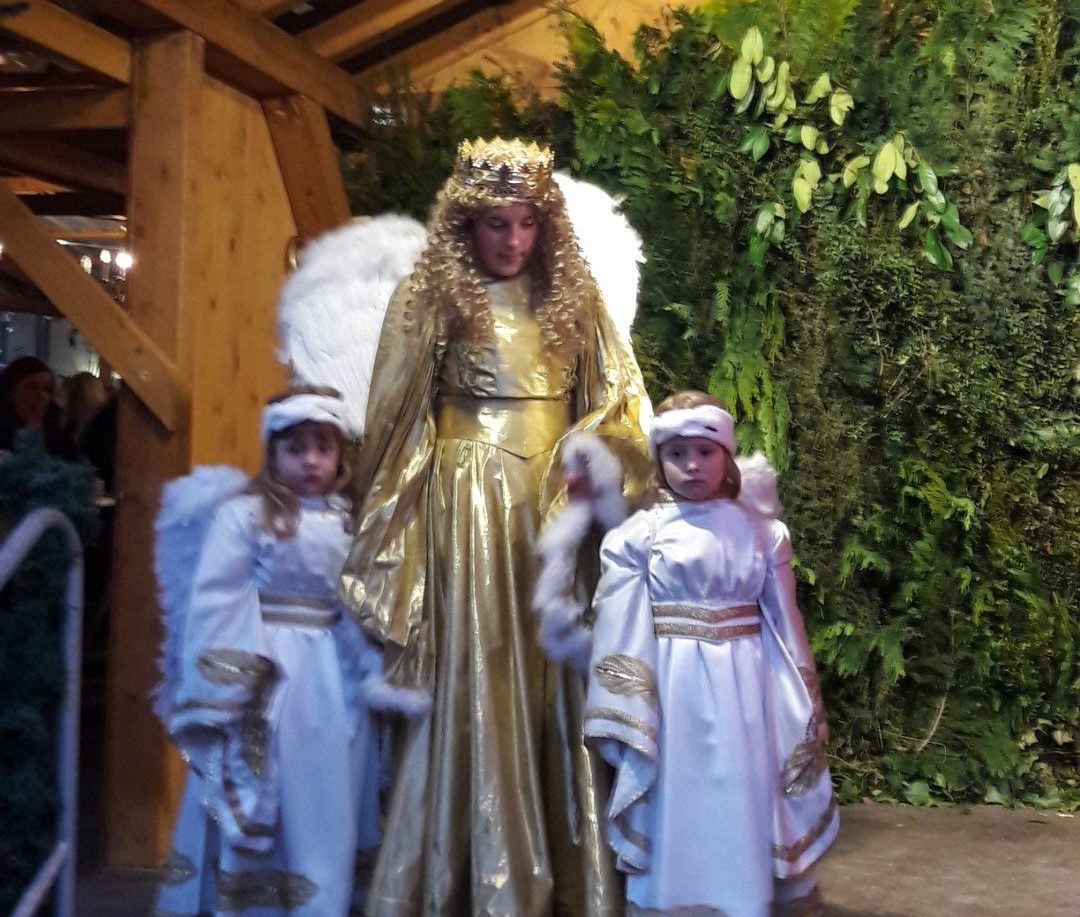 This one still perplexes me to this day, but instead of Santa Clause bringing all the toys for boys and girls on Christmas Eve, baby Jesus does….but only kind of.
Baby Jesus is actually represented as the Christkind (Christ Child). Ok, this is all making sense so far….
But instead of a baby boy, the Christkind is this beautiful female Angel.
How they jumped from little baby boy to adult angel women, I'm not entirely sure, but she is an absolutely beloved figure everywhere.
Many German Christmas markets are actually called Christkindl Markets and you'll find a gorgeous Christkind walking around talking to all the little kids who adore her. One of my favorite German Christmas memories was when we were at the magical Regensburg Thurn and Taxis Christmas Market and the Christkind spoke from the balcony. I mean, I still don't speak German (sshhhhh), but it seemed like she was telling a beautiful story, and EVERYONE was completely enthralled with her!
Oh Tannenbaum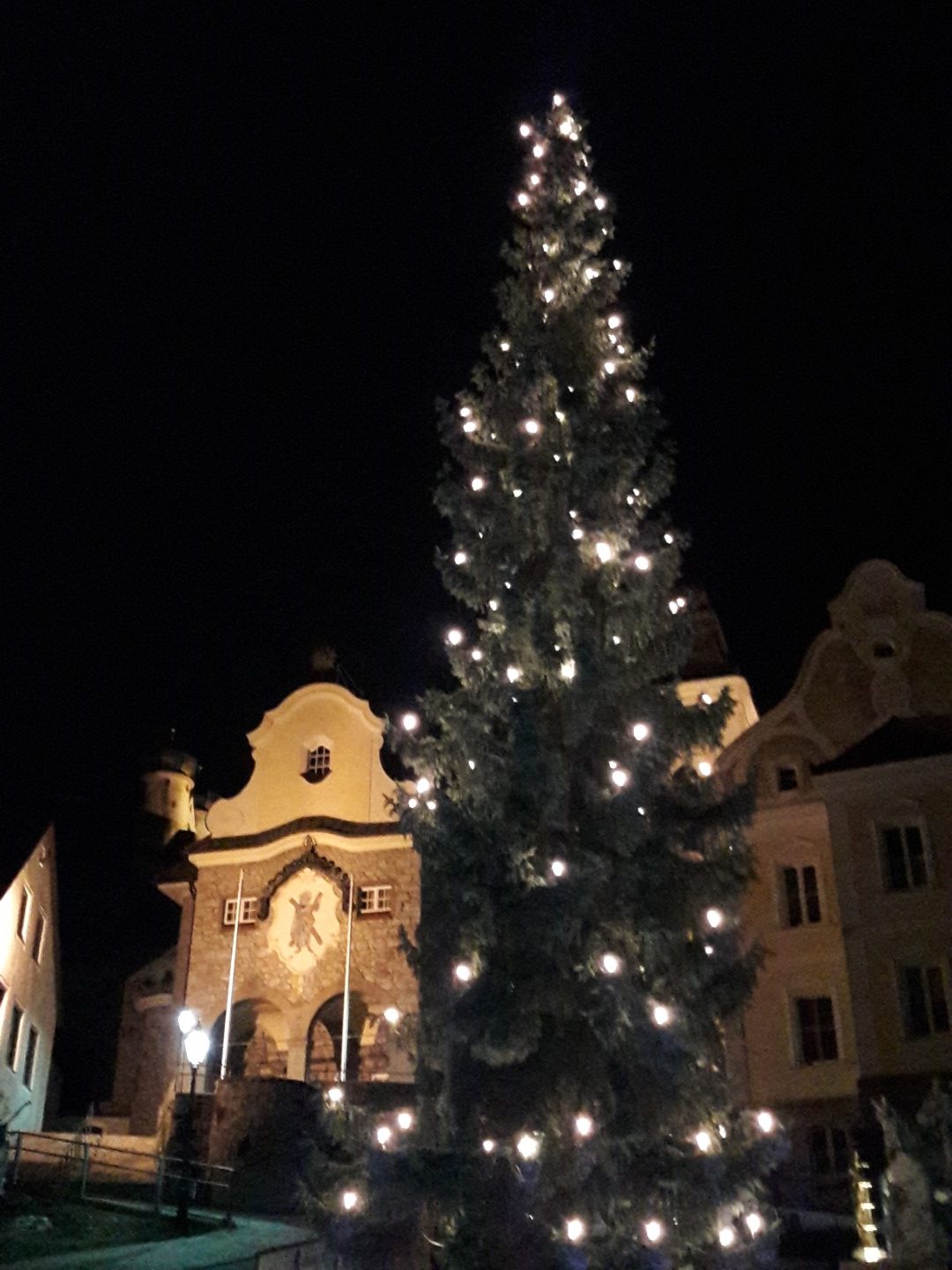 Like many Christmas traditions, the concept of a Christmas Tree actually originated in Germany. Pretty much every city, town, and village will have a huge, beautiful German Christmas tree displayed in their town center for the entirety of the advent season, but many people in Germany don't put up their own personal Tannenbaum until much later, often not even until the night before Christmas!
Heiligabend
Speaking of Christmas Eve, Germans prefer to do most of their festivities on the 24th (Heiligabend), not the 25th of December. Most families will all get together for a Christmas dinner on the 24th and this is typically when they share their gifts amongst families. If you are traveling around Germany, you might find a store or other things open in the morning of the 24th (MAYBE!) but be prepared for it all to be closed by about noon so that everyone can start their holiday.
Christmas Eve is also when many Catholics will attend their church service. If you can find a Mass to go to, it could be a wonderful addition to your German Christmas celebrations.
Christmas Day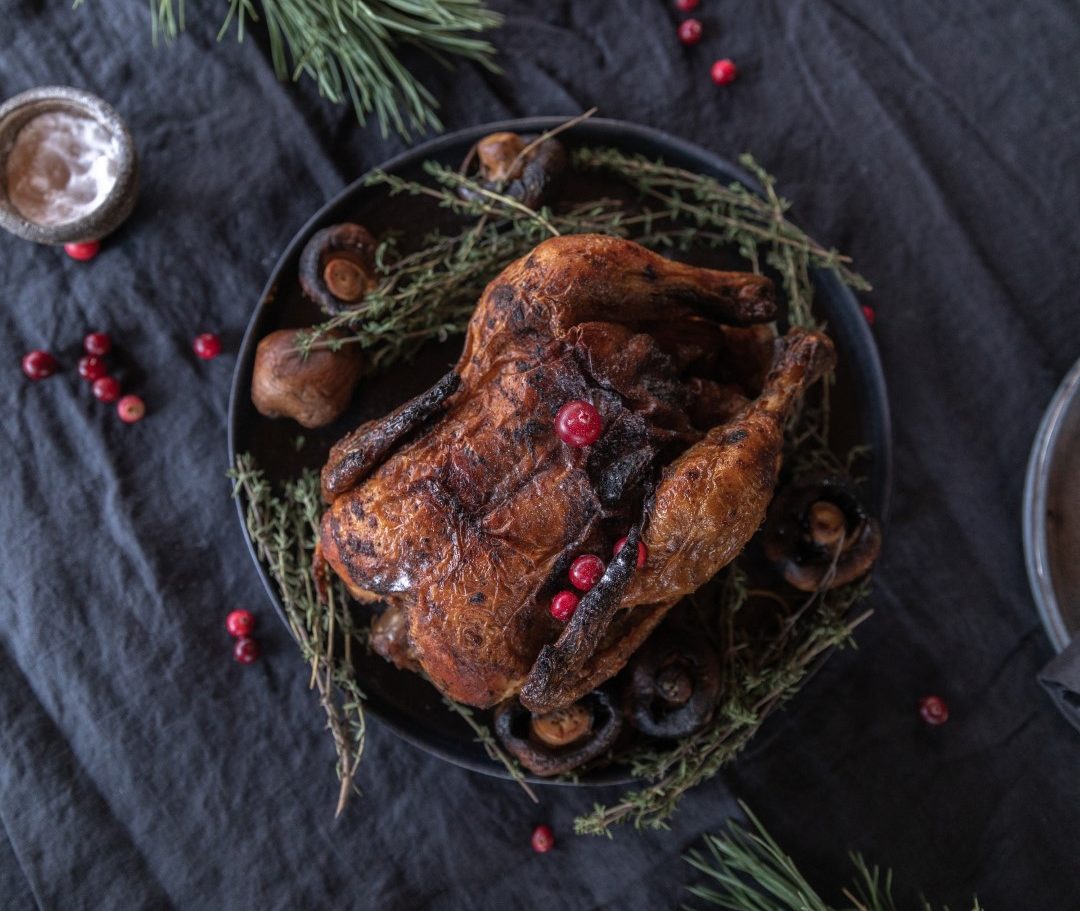 So if all the gifts are opened, what is there to do on Christmas Day in Germany?? This day is often a more quiet, family-centered day. Kids are excited to play with the toys they received last night and most families will go to Oma and Opa's house for a big Christmas feast. If you are lucky enough to be celebrating with a local family, you can expect something like carp or goose to be carefully prepared for your meal.
If you are in Germany for Christmas, don't expect ANYTHING to be opened on the 25th, so plan your trip (and meals) accordingly.
December 26th
Christmas is over! Well, not in Germany it's not! We now move onto "Zweite Feiertag" (Second Holiday) or "Zweiter Weihnachtsfeiertag" (Second Christmas).
So, if you thought you would be heading out and getting back on the tourist path, think again. Most things are still going to be completely closed, including grocery stores.
Tip: However, if you want to have a magical "Second Christmas" celebration, the Neuschwanstein Castle is actually open on the 26th, which would make for a one of a kind belated Christmas. (We actually went to Neuschwanstein in December and it was simply magical with the snow-capped pine trees, warm gluhwein, and gorgeous castle grounds!)
Three Kings Day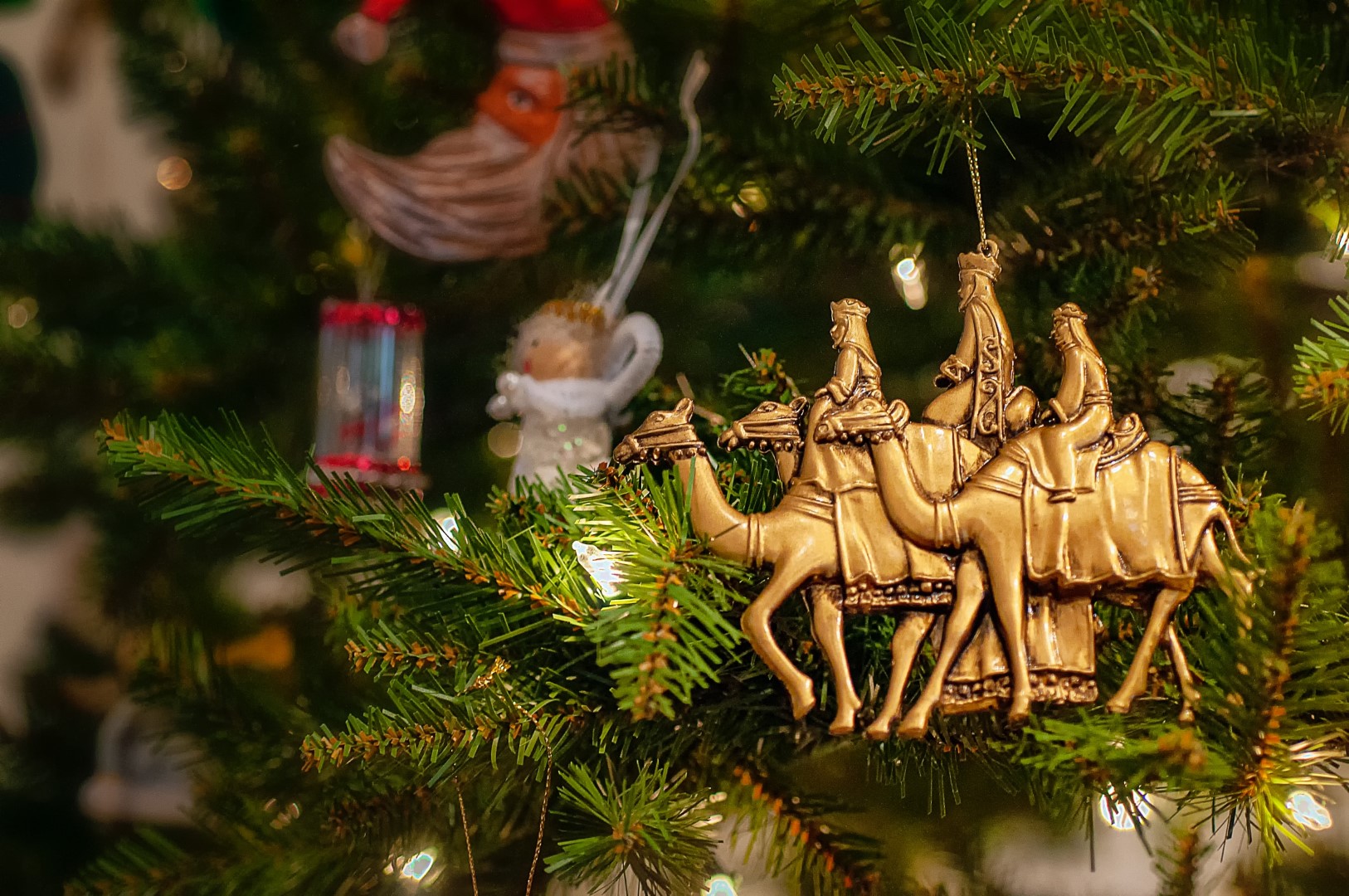 Ok, December 26th has passed, so SURELY Christmas is done now, RIGHT?
Wrong.
While you can go about your traveling after the 26th and things will be open, we are still technically in the Christmas season. which won't be concluded until the Epiphany.
I remember my first Christmas living in Germany when I saw these three little kids wandering the streets with homemade crowns and blankets tied around their necks like capes. "What in the world is going on out there!?" I wondered.
As it turns out, every 6th of January, Germans celebrate the tradition of the Three Wise Men who visited baby Jesus in the manger. Kids will reenact the long journey of the Wise Men, often by a town parade, and may even be singing songs.
In Bavaria (a very Catholic region), the Three Wise Men will go door to door blessing your home for the upcoming year. When traveling in Bavaria (no matter the time of year), look up above the door frame before going into a building. Chances are, every single one will have a date written in chalk. That was the 3 Wise Men blessing their home on that day. And if the family of the house just so happens to give the kids (I mean, Kings!) chocolate, who is to stop them 😉
Christmas Foods In Germany You MUST Try!
While you may not get a goose roasted up for you on Christmas Day on your trip, there are some other MUST try treats and foods (ok, mostly all just booze and sweets!) that are classic German Christmas staples!
Glühwein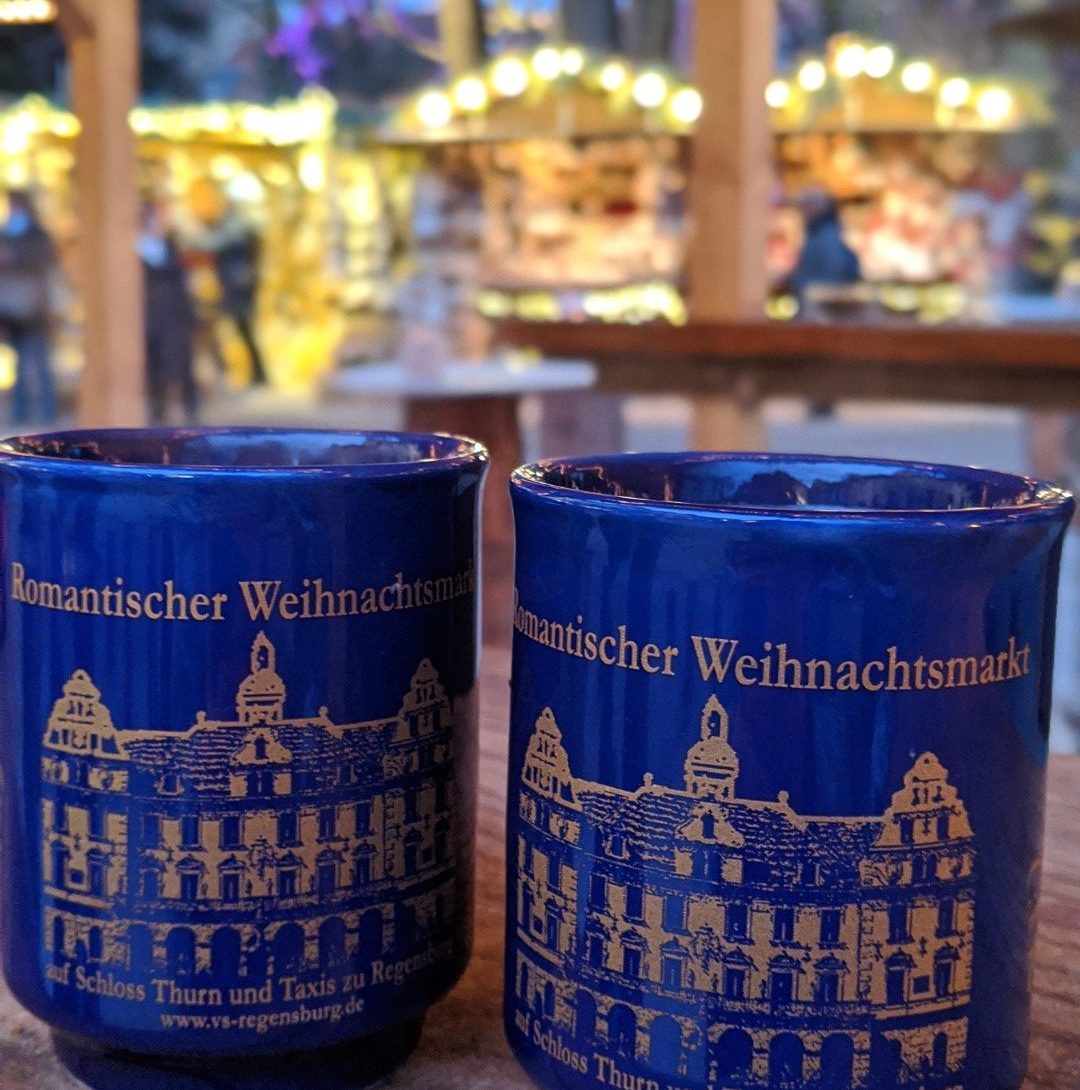 It's so cliche but I'm sorry, you can't have a German Christmas without Glühwein !!! This mulled, spiced wine can be found everywhere. Granted, it just somehow always tastes out of this world as you wander a gorgeous Christmas Market, but you can also pick up bottles at a local grocery store to sip on at your hotel as well.
Make your own Traditional German Gluhwein at home with this recipe
Types of Glühwein
Germans love their Glühwein so much, there are a lot of different varieties:
Red: The most common is a red German Dornfelder (a great wine from Germany regardless) that is then heavily spiced and warmed to create the classic Glühwein. These are often quite sweet, but delicious none the less.
White: There is even a white wine variety of Glühwein. I tend to feel like this one isn't AS sweet as the red and offers a good change of pace if you want to try something different.
Berry Glühweins: While it is harder to find a Heidelbeeren (blueberry) or other "Berry" variety of Glühwein at a supermarket in Germany, at many of the bigger Christmas markets, you should absolutely give one a try at least once.
"Mit Schuss": As if Glühwein after Glühwein isn't dangerous enough, you can also order it one of my favorite ways, "Mit schuss" which is "With Shot." Shot of what? My personal favorite is rum! I feel like this somehow takes down the sweetness level of the Glühwein and kicks up the fun!
Kinder Punsch: Kids want to join in the festivities, too! And while you can start legally drinking in Germany at 16, it's still frowned upon to just hand your toddler a glass of hot wine. Enter: Kinder Punch. It's literally a spiced punch that is delightfully warm and festive! When I was pregnant, this was a perfect alternative to still keep in the Christmas Spirit at Markets, and now my 4 year old loves getting his own mug as well. (You can make your own KinderPunsch at home with this recipe)
Feuerzangebowle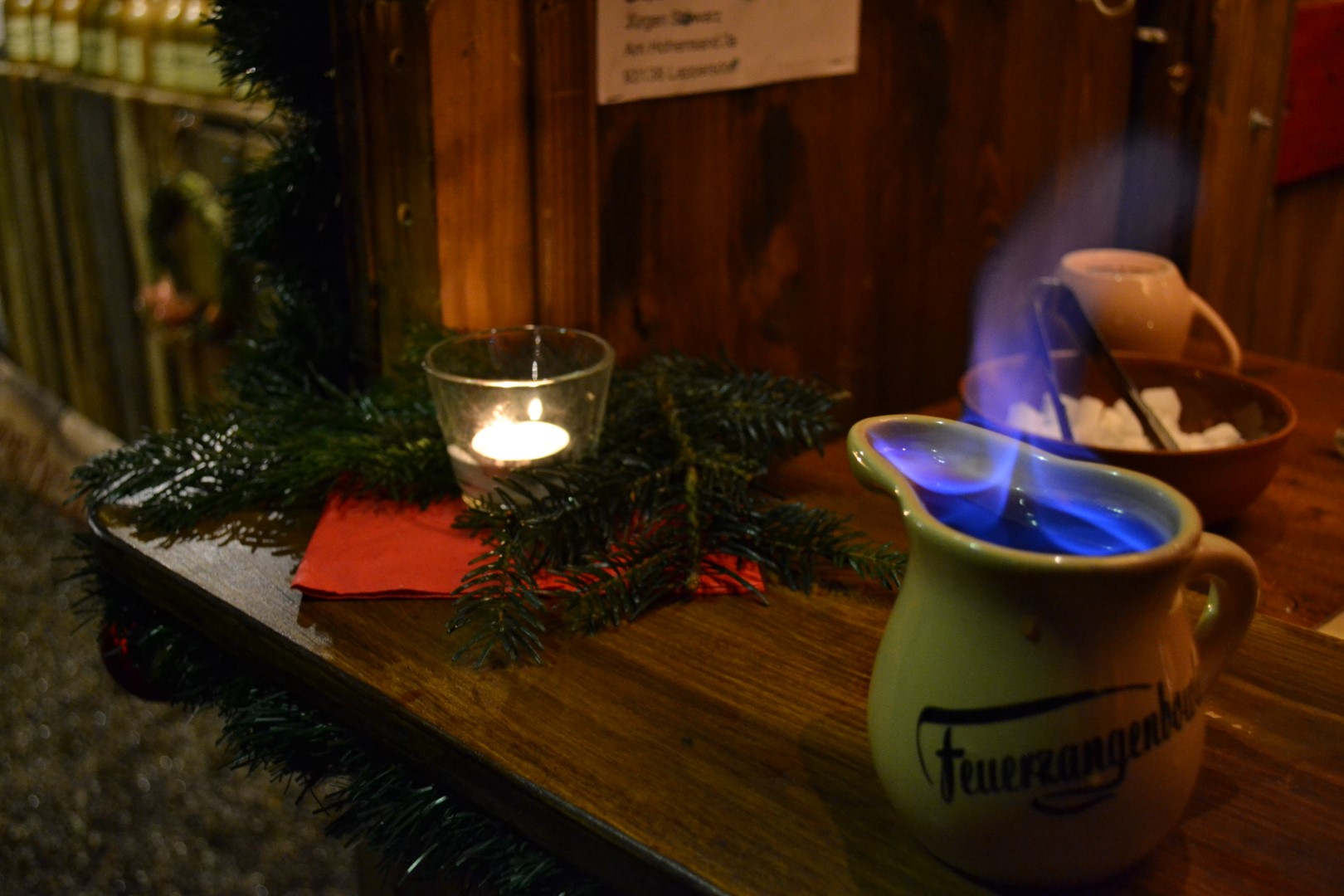 While this spiced wine could technically go under the Gluewein, it's fun to give it it's own fame and glory. Literally translated to "Fire Tongue Bowl" this drink is more of a show than anything else. You have to have a special "Tongue Bowel" that the Gluewein is then poured into. On the tongue of the bowel, a sugar cube is placed, which is then soaked in rum. Light it all on fire and voila! Feuerzangebowle!!!
Eierlikör
No Christmas is complete without Eggnog, in my humble opinion! But this Egg Liquor is NO Eggnog. So, let this be a warning to all you eggnog lovers out there. I repeat. This is NOT EGGNOG!
While it is a warm beverage made of egg yolks, spices, sugar, and brandy or rum, I think since it is less spiced than what I think of Eggnog, and the fact that you drink it hot is what really threw me off my game. Now, it is definitely worth trying, at least once, just be prepared for a weird mouth experience of a thick, creamy, hot substance…..(sorry for that awkward description, it was the best I could do!)
Moving on from the booze, it's time to start looking at the foods you must try for a classic German Christmas!
Lebkuchen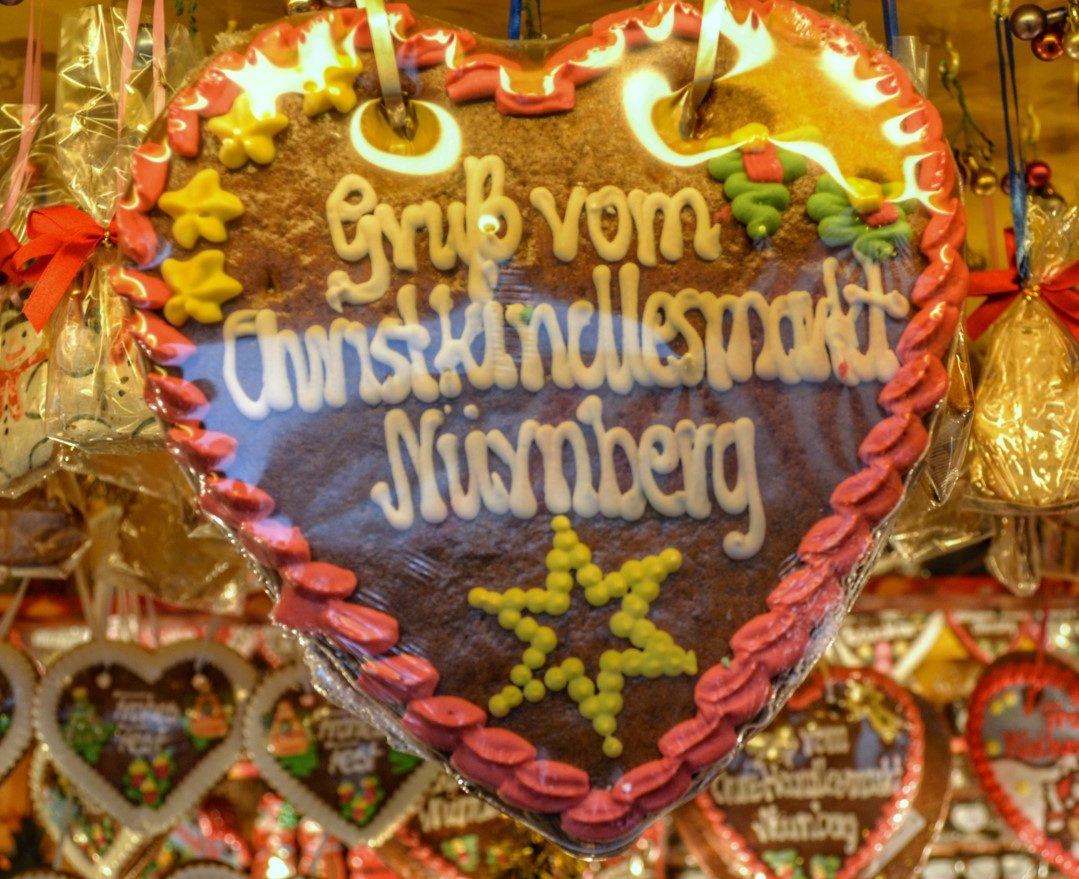 Lebkuchen, or gingerbread, is not like the Gingerbread you may be thinking of. Instead of a harder, molasses ginger cookie, like I grew up with, Lebkuchen is a heavily spiced (I get lots of notes of things like Anise in it), soft, almost cake-like cookie. Again, this is one of those that you are either going to love or hate, but you can't say you've been to Germany in December and NOT have tried a Lebkuchen!
Nuremberg claims they have the original Lebkuchen, so while you are in town for Bavaria's largest Christmas market, definitely give it a try. (Don't worry, you'll find Lebkuchen everywhere, not just in Nuremberg)
This is another fantastic treat to bring back as a gift to someone. You can even get sealed packages (some even are dipped in Chocolate!) at the grocery stores that would be easier to transport back and keep fresh.
Stollen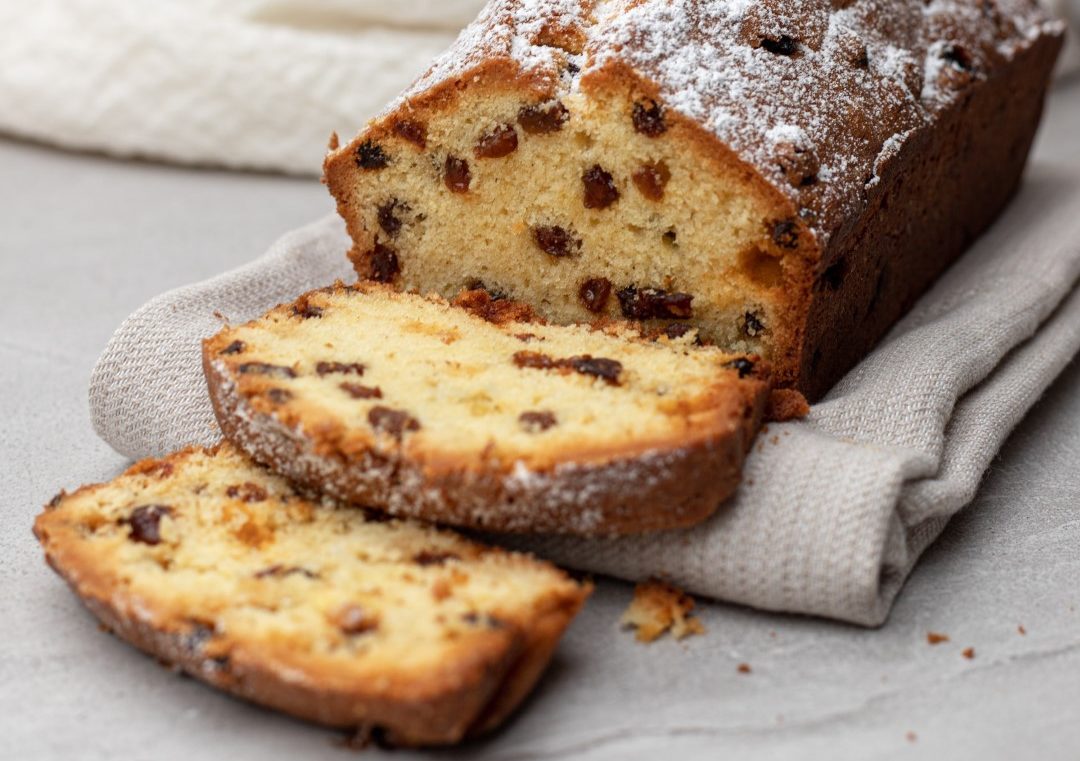 You can't get more classic Christmas food from Germany than Stollen! This is somewhat akin to a fruit cake and can be found everywhere in Germany throughout the holidays. Shoot, they even start setting them out at grocery stores as early as October!
Stollen is a baked, spiced, bread that is filled with nuts and candied fruit and then given a beautiful dusting of powdered sugar. If you haven't gotten a delicious pastry in Germany yet, then you might be surprised to find that a lot of their cakes and treats are often not as sweet as Americans are used to, including the Stollen.
Kräppelchen
This one is going to have different names based on the region, so keep an eye out for all of these depending on where you are at. This little donut hole looking treat is also called Quarkbällchen, Mutzen, Kreppelchen, or even Schmalzgebäck.
These little fried dough balls are simply delicious. They are light, airy, sweet, and the perfect little dessert after some perfectly grilled bratwursts at a Christmas market!
Chestnuts Roasting on an Open Fire
Is it just me, or did I just think this was just part of a song?
No, it is REALLY a real thing!! You'll smell the amazing aroma of the Chestnuts (literally, roasting on an open fire!) long before you see them. Oddly enough, I don't think these nuts have much flavor to them at all, but it sure is fun to say you've had them!
Candied Nuts
If the chestnuts weren't your thing, don't write off the roasted nuts just yet.
At another stand, you are sure to smell the delectable roasted and candied nuts. While you can find cashews, pecans, and other kinds, the candied almonds remain my all-time favorite. You'll get them piping hot in a little cone and I promise, you won't be disappointed in these!
There you have it, some of my favorite Germany Christmas Traditions that both locals and tourists can enjoy over the holidays.
If you are lucky enough to be in Germany over Christmas, make it a priority to experience some of these events to create some of the most magical (and memorable) travel experiences you'll cherish forever.