Hoch German vs Local Dialects
Dialects will Vary (Drastically)
I'll never forget when I traveled to Frankfurt and asked for a "Salami Semmel" and they looked at me like I had 4 heads. At the time, I thought it was just my reeeeeaaaaaaally bad German but I later came to find out that the word "Semmel" (Roll) that we use everywhere here in Regensburg is actually a very Bavarian word.
When I took my first A1 German class, the teacher was from a teeny tiny village and she was explaining that she speaks Bayerisch (a very strong dialect in Bavaria). But then she was joking that even she can't understand the Bayerisch in the next village over. You know, the town that is literally a 3 minute drive from the place that she grew up and has spent her entire life in. It was at this moment that I realized I was screwed for learning German. If a GERMAN can't even understand other dialects, what hope do I have!?
Local Phrases
Another thing to consider is that in some regions of Germany, they just have different phrases for things. It's not always necessarily a direct correlation to dialect per se (although, that often does come into play). A great example is the first time I traveled to parts of Northern Germany and people were greeting me with a phrase I had NEVER heard before in ALL of my traevls of Germany. I knew that saying something like "Grüß Gott" or "Servus" was definitely something from Bavaria, so I defaulted the usual "Hallo" or even "Tag" (shortened from Guten Tag). But when they started saying "Moin" (sometimes even just "Moi") as a greeting I was legit confused and thrown off!
My point is that having some very basic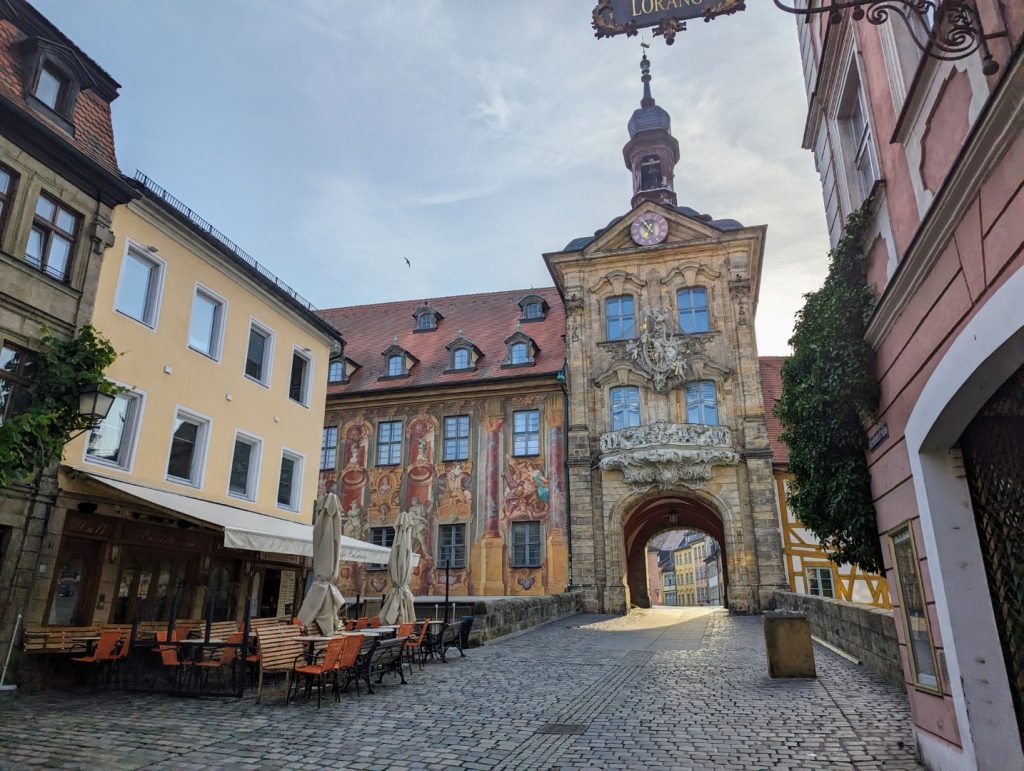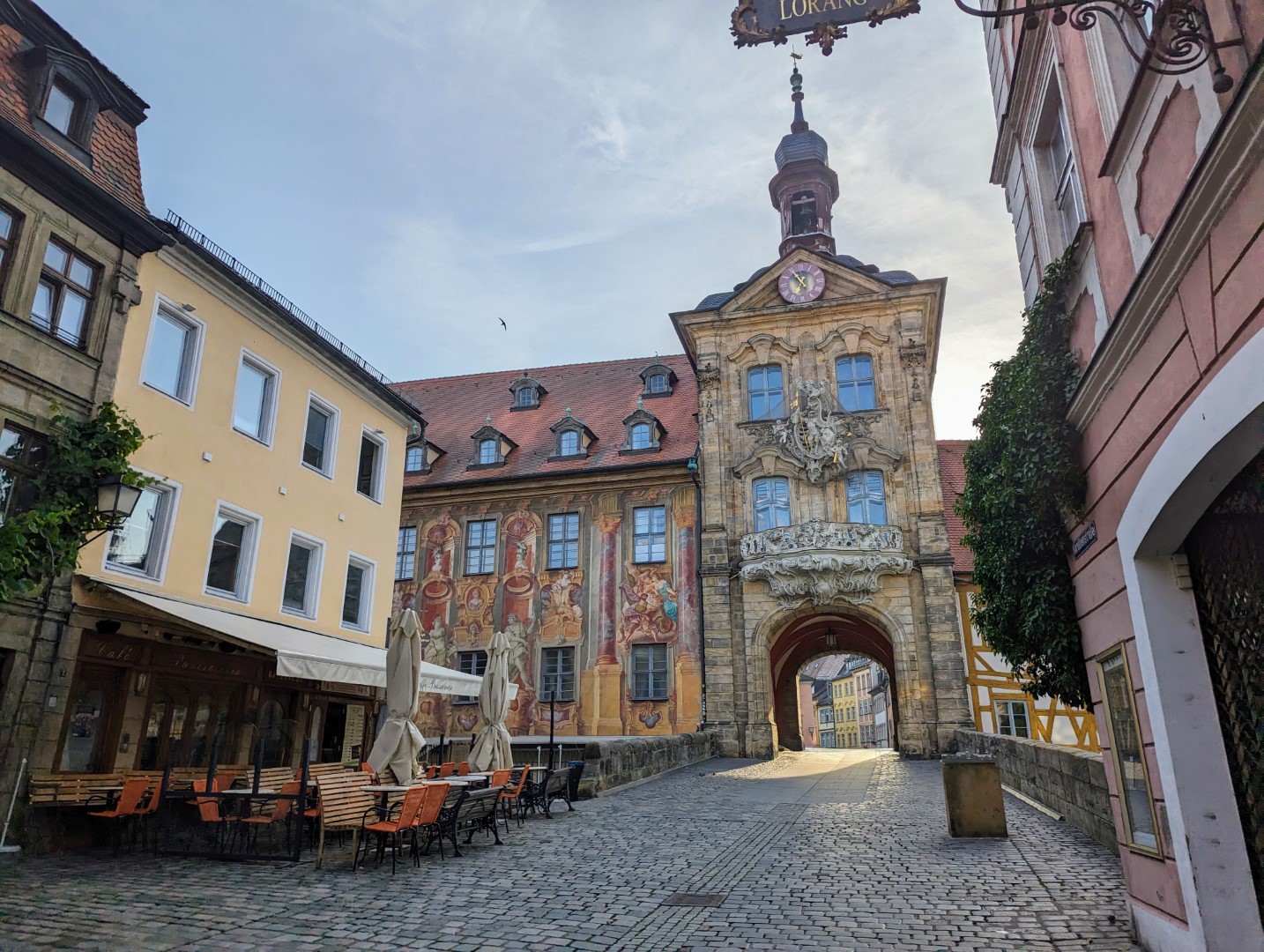 I love living in Germany. I love exploring and traveling in such a beautiful country. I love the sustainability measures being implemented all over.
And I love the food!!!!
I know, I know…..Germany isn't typically known as the top culinary location in the world, but I promise, there are some real gems on the menus!!! And Bamberg Food? Well, living in Bavaria myself, I was actually really surprised with just how many local Bamberg foods I discovered on my most recent trip to Bamberg. You see, Bamberg is also in Bavaria, but shhhh, don't remind a person from Bamberg about that. Because, actually anyone who lives in the Franconian region (of Bavaria) considers themselves FRANCONIAN first and foremost.
And one way that sets Franconia apart is its cultural differences from other parts of Germany, including Franconian food!!! While it seems strange that in a town not even 2 hours away from where I live there can be such differences, but here in Regensburg, I promise, I have never seen a Bamberg Onion on a Speisekarte anywhere! One thing that I really noticed about local, Bamberg food is that so many of the dishes feel like comfort food. Many are just typical staple ingredients that you would probably have at home yourself, yet are still soo good! Also, I will admit, I did feel like it is very meat-heavy (which is zero problem for this Nebraska born gal who grew up on steaks!!!) but I could see it being a bit much with the meat for people who aren't used to so much in their usual diets (particularly pork).
So, while you are visiting Bamberg, what should you be looking out for if you want to try the local Bamberg Gastronomy? Here are just a few of the dishes I have personally tried that you should keep an eye out for! Not only will I mention the dishes but also which Bamberg restaurants you can find them at while visiting.
Where to Eat in Bamberg
Another thing that really surprised me about eating in Bamberg was just how many local restaurants there are. From a cafe on every corner to a brew-pub serving up local dishes, to family owned restaurants. But even MORE surprising was the food on the "Tourist Paths." Normally I steer wide and clear away from tourist areas when looking for a great (and affordable) meal while traveling. However, I was really pleasantly happy with the quality of food with the restaurants in Bamberg Innenstadt (Old Town), even in the highly popular pedestrian zones!
Note About Dining Out in Bamberg
I can't tell you how many times I have to remind people in my "Travel in Bavaria Facebook Group" that German service at restaurants is not bad. The servers aren't rude, they are (usually) not slow on purpose and they definitely aren't ignoring you.
BUUUUT, dining out culture IS much different in Germany than in the US and if you don't know what to do, it's easy to make the above assumptions. If you want something while at a restaurant, YOU have to get the server's attention (a polite hand raise or ""Entschuldigen" will do) and ask (they don't just come to your table every 2 seconds) and yes, tipping in Germany is different than in the US as well!
Slow Service?
All that to say…..every Bamberg restaurant I went to had extremely slow service! The first one I was like, "Hmmm. Ok." But by the third one, I realized it was a recurring trend. Now, the reality is that I don't mind this at all, but as an American who used to be used to service being extremely fast, I could see this as a bit jarring….and I'm even now used to the German way of service! There were times that I didn't see a server for a good 10-15 minutes at a time and I had a few meals that took a hot minute to come out. I'm still not sure if this was just a cultural thing here or what, but I just wanted to give a heads up for others who may not be used to it.
To be honest, it's kind of nice though if you know it will happen. And in a place like Bamberg that is practically just made for wandering at a leisurely speed, having a meal that takes longer than normal is a great way to remember to slow down in life. Savor the food longer. Sip on an extra drink. Shoot, you are on vacation! Enjoy it!!
HOWEVER, if you have plans for a designated time, plan accordingly and give yourself plenty of time for meals.
Make Reservations for Dinner
While finding a place to eat for lunch never seemed to be a problem, I will say that if you want to be guaranteed a table at a particular restaurant from this list, it's best to make reservations.
What to Eat in Bamberg
Bamberg Onion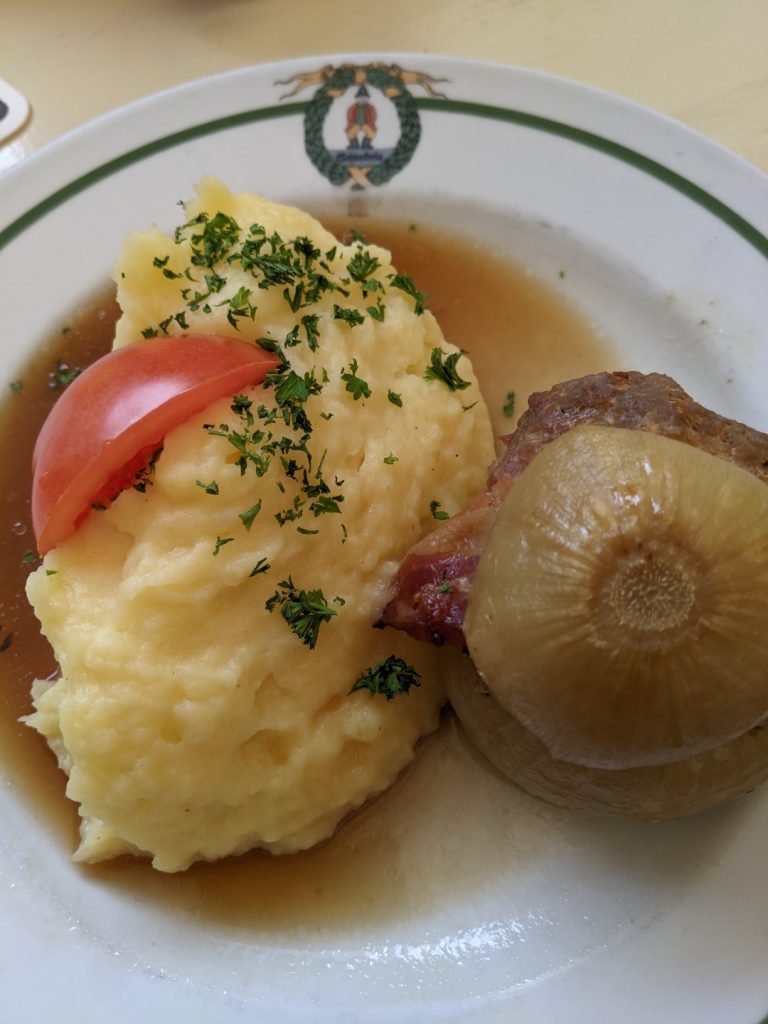 As many as hundreds of hundreds of years ago, Bamberg was already a major onion trader. With such a local supply, it's no surprise that they created dishes that used one of their main crops and so the Bamberg Zwiebel entered the scene upwards of several centuries ago. Which is why this dish is both simple and classic.
Maybe the easiest way to describe this is almost like a meatloaf-style mixture (of ground pork, bacon pieces, soaked bread, spices, etc) is filled into a hallowed out onion and slowly roasted. Towards the end, a healthy dousing of the local Bamberg Smoked Beer helps add depth and flavor to the roasting process.
Where I Ate A Bamberg Zwiebel: Perhaps one of the most popular places to order the Bamberg Ziebel is at one of the most famous Bamberg Germany Restaurants/ Brewery Schlenkerla.
Address: Dominikanerstraße 6, 96049 Bamberg
Schäuferla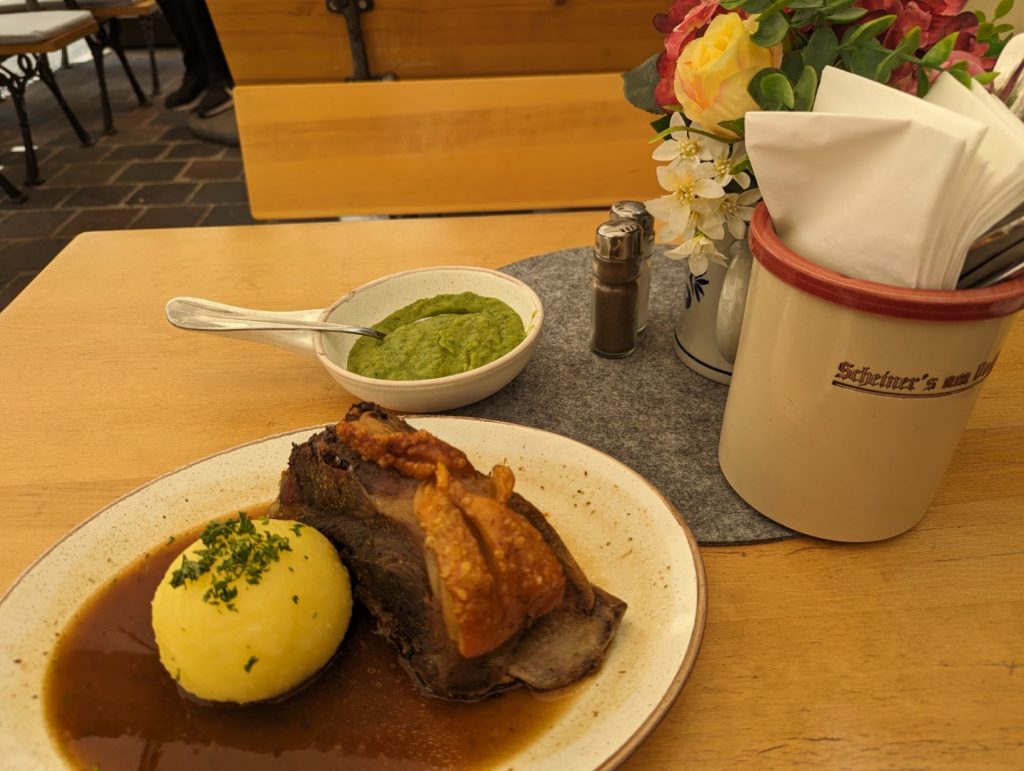 If you read my Bamberg Guide, then you already know that Franconia was a patchwork design of various local entities which is why the Franconian dialect is so unique. Therefore, you could go even to the next village over, and you may not see "Schäuferla" on the menu. BUUUT you may see "Schäufele" or "Schäufelchen" Guess what? They are all the same- basically just different dialects.
But what is Schäuferla? Well, while in more southern parts of Bavaria, you'll often see a Haxe (pork knuckle), here in Bamberg, the pork shoulder is a much more common dish. And if I'm being 100% honest, I actually prefer the Schäufele (literally meaning "shovel" because of the shape of the bone). I find the Schäuferla to be extremely tender (fall off the bone!), and juicy, but still has that crackling goodness of a super crispy layer of the fatty skin that has been roasted to absolute crunchy perfection!!!
Typically, a Schäuferla will be served with side dishes like sauerkraut, often a gluttonous ball of a potato dumping (Kartoffel Knödel but in Bamberg, it is called a "Kloß"), and will come in a beautiful puddle of "gravy" (not thick but more like the pan drippings) to sop it all up together!!!! Occasionally, you'll also find the very peculiar side dish of mashed peas on the side as well.
Where I Ate A Schäuferla: I tried the Schäufele at both Schlenkerla and at the request of a local who swore the best Schäufele in town was at the Scheiners am Dom restaurant. Personally, I liked the Schlenkerla one better though.
Schlenkerla: Dominikanerstraße 6, 96049 Bamberg
Scheiners am Dom: Katzenberg 2, 96049 Bamberg
Blaue Zipfel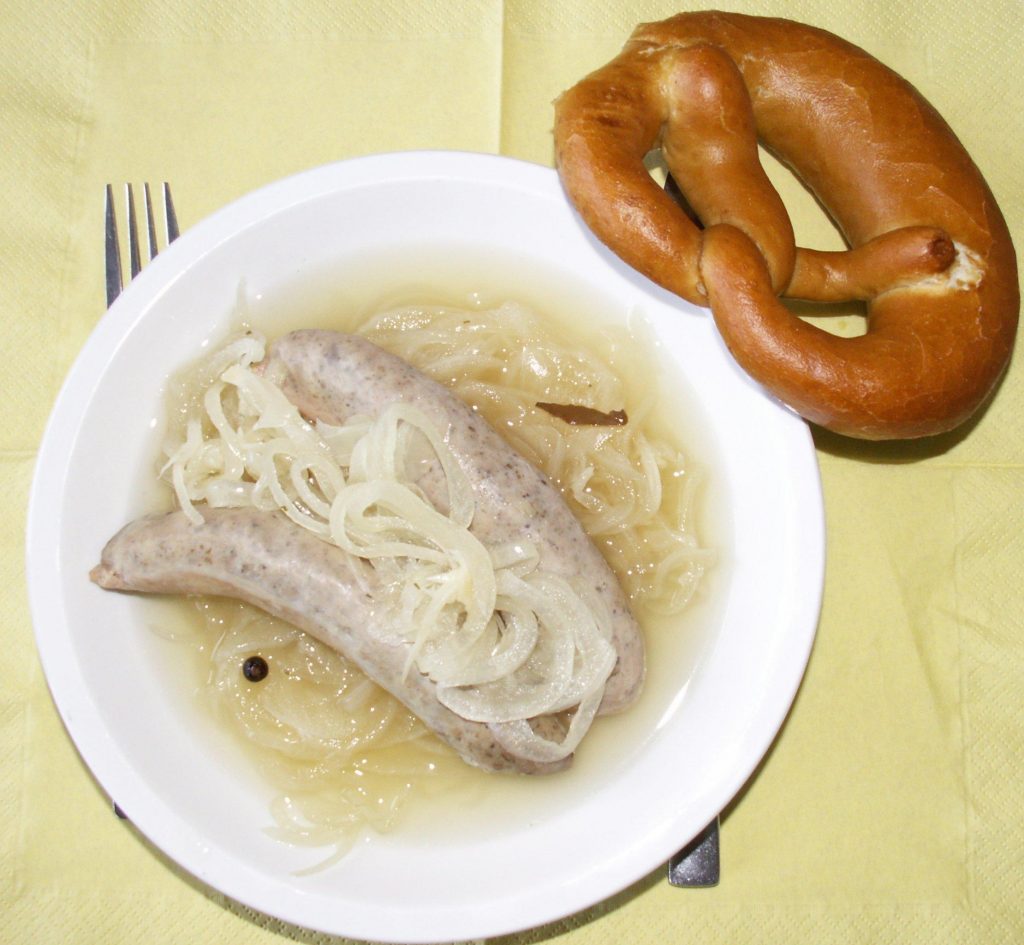 Sometimes I feel like the endless list of ways to do sausages in Germany is the scene from Forest Gump as they talk for hours on preparing shrimp. The Franconian sausages called "Blaue Zipfel" could easily be in the middle of that rambling list of "Anyway, Like I was saying, Wursts is the food of the Germans! You can BBQ it, boil it, bake it, saute it……"
Not your typical grilled style of wursts, these "Blue Sausages" are cooked in a pot of vinegar (which is what gives them the Blue looking tint!) and onions. The first time I had Blaue Zipfel, it was served in this beautiful, ceramic cooking pot with a side of fresh bread from a local bakery.
Where to Eat Blaue Zipfel: Truth be told, I actually didn't eat the Blaue Zipfel in Bamberg (Funny enough, it was one of the first meals I ever ate in Germany though at a small, local pension in the village I first lived in but they called it a "Sauer Bratwurst"). I'll admit that it isn't at the top of my "Favorites" list when it comes to Great German Wursts. However, if you want to give it a try because "When in Rome!" it's at most of the local Franconian restaurants like Schlenkerla or at Das Wirtshaus Zum Domreiter and I saw it on the menu when I had lunch at the Michaelsberg Cafe as well.
Bamberger Hörnla/Hörnchen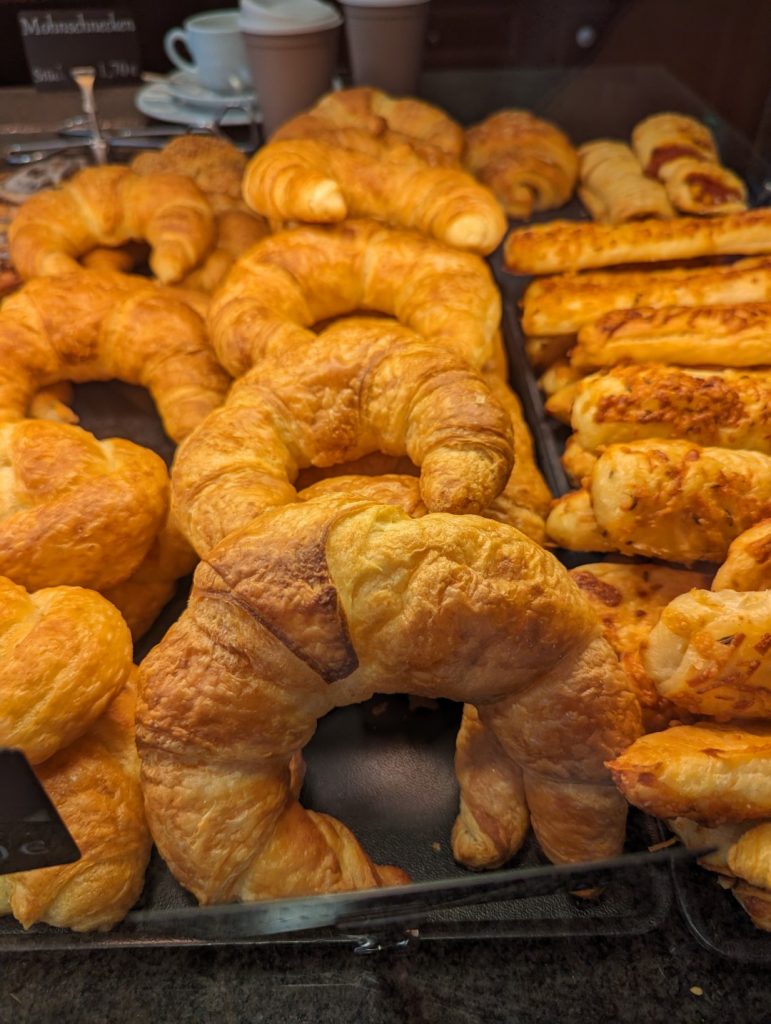 To the untrained eye, this Franconian pastry may just look like a croissant (ok, it did to me at least!) but to the locals, the Bamberger Hörnla has plenty of differences from its French contender. For example, a croissant is typically made with margarine whereas the Hörnchen must be made with butter. Another difference is that the yeast dough of the Hörnla uses milk and then the mixture is left overnight, which apparently creates a different texture. (Again, if you hand me a freshly baked croissant or a Hörnla, all I know is that I will eat both happily and most likely pretty quickly!) Apparently, a Hörnla also traditionally has the delicious ingredient of quark, which I can only assume gives it a tangy yet creamier taste in comparison??
Today, the Bamberger Hörnla is a staple in the local Bäckerei and most likely, each establishment has its own, passed down recipe from the many centuries of making this pastry in Bamberg.
Where I Got My Bamberg Hörnchen: Hof Bäckerei Seel on Dominikanerstraße 8
Geschnittene Hasen (Sliced Bunnies)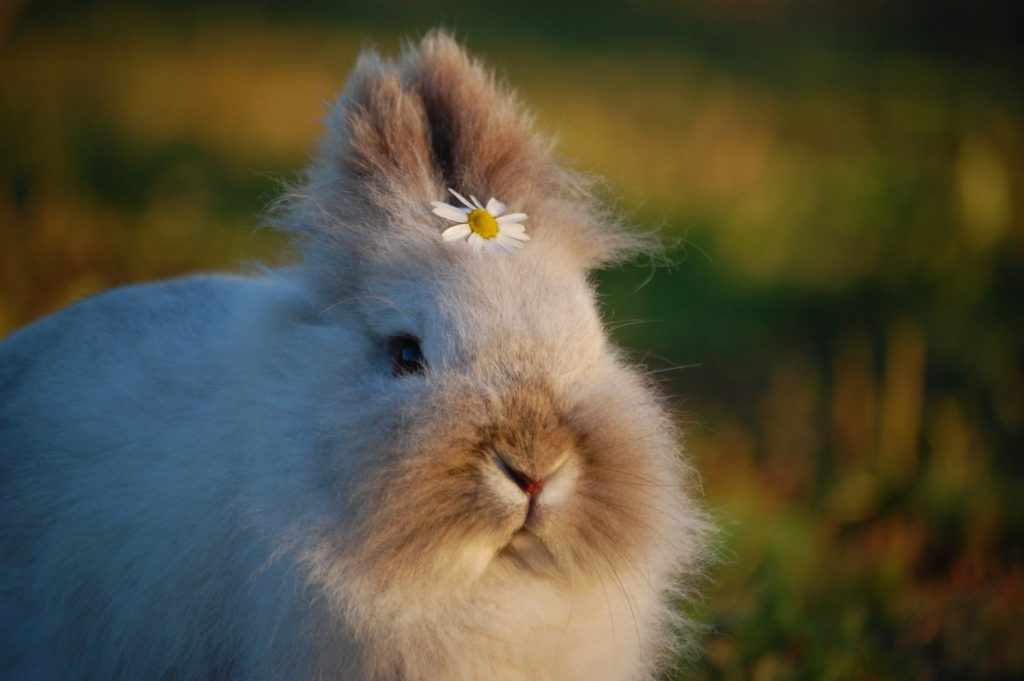 (Ooops. I don't have a picture of Geschnittene Hasen because I may or may not have devoured mine before remembering I needed a photo. #Blogger Fail)
Literally translated to "Sliced Bunnies" (YIKES!) You can shove the image of a brutal scene of rabbits out of your head because this delightful pastry has nothing to do with animal cruelty. Instead, this local favorite is a shortcrust pastry that is made with butter, egg, vanilla, and sugar. The dough is then "sliced" up into strips, and then twisted around in a "bunny ear" sort of shape. It's then fried up in delicious butter or lard and then generously coated in powdered sugar or cinnamon/sugar.
If you have been to Rothenburg od der Tauber, then you are, surely, familiar with their local version of this, the Schneeballen (Snowball). And while the core recipes are extremely similar, I think the fact that the "sliced bunnies" are fried up in butter at the end is what made me prefer the Bamberg version.
Pro Tip: Sit down at the bakery with a cup of coffee (my go to is a Latte Machiatto) with the Geschnittene Hasen for a delectable afternoon treat!
Where I Got My Geschnittene Hasen: Hof Bäckerei Seel on Dominikanerstraße 8
Röstklöße mit Speck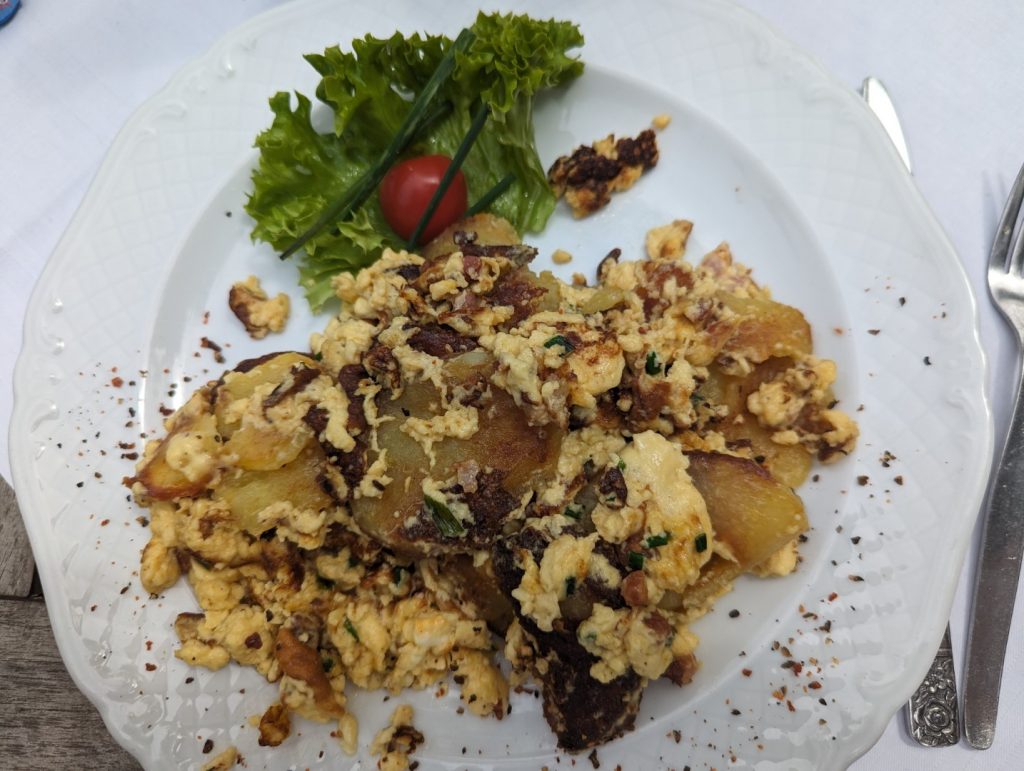 "Meat and Potatoes." You can't really get more "home-style food" than this but since it was under the "Classic Franconia Dishes" on the menu, I sort of reluctantly tried. But when I asked the waitress what local dish she recommended, I took her word for it.
When it first came out, I was like "Ok, so we've got some home fried potato slices with some bacon pieces with random scrambled eggs mixed in there. I could make this myself at home!" But then I took a bite and was like "Hold up here, folks…what is going on!?" I still don't know what the magic spark of it all was, but it was seriously DELICIOUS! Maybe it was because it was all fried to absolute perfection or maybe the Franconia potatoes had more of a fluffy texture. I don't know man, but I couldn't stop eating it!
Where I Got The Röstklöße mit Speck: Café Restaurant am Michaelsberg (Michelsberg Kloster)
Rauchbier Truffles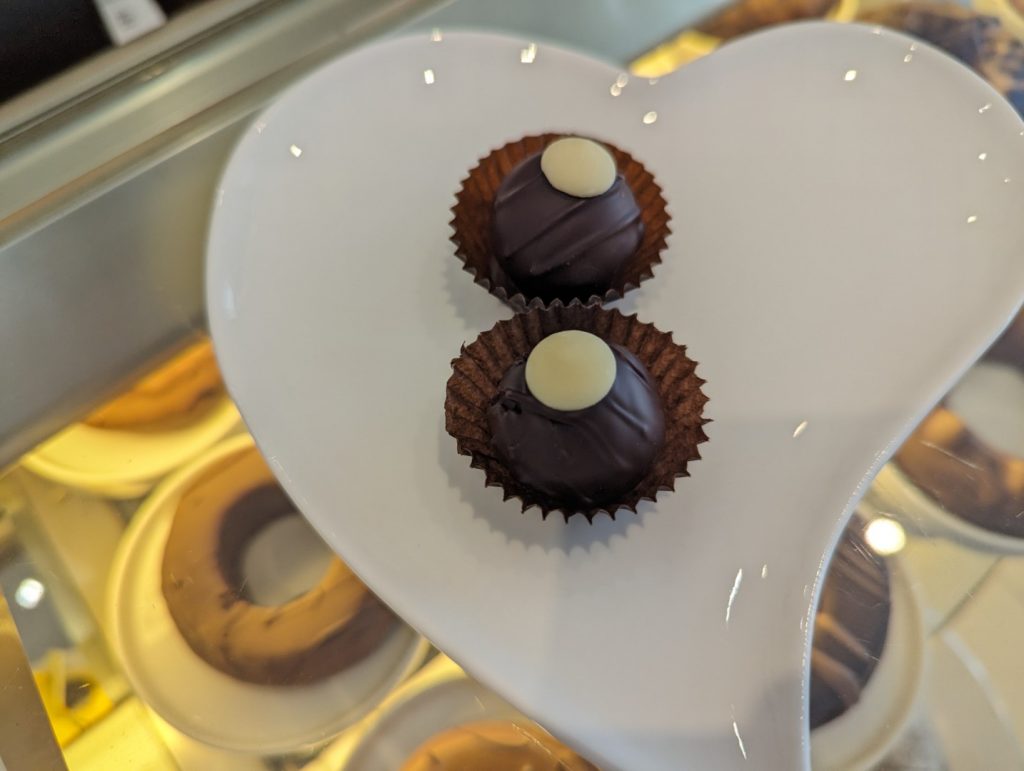 If you've done any homework at all on Bamberg, you already know all about the famous Rauchbier (don't worry….I'll cover where to get this as well below!) so it's no surprise that it's used all over town in various methods of cooking (like in the Bamberger Zwiebel) and now baking as well!
Tucked away around the corner from the Cathedral is the Café am Dom, where they have taken one of the most famous aspects of Bamberg (Smoked Beer) and somehow elegantly paired it with the smoothest, most perfect chocolate to make for a truly curious "Smoked Beer Truffle." As someone who isn't head over heels for the Rauchbier in general, I had my doubts but when offered chocolate, I rarely say no.
I was pleasantly shocked by how well the (not overpowering) smoky notes of malt paired with the chocolate. I recommend plopping the whole truffle in your mouth but slowly chew it and continue to masticate it for a while to really bring out all the flavors before gulping it down.
Where I Got Some Rauchbier Truffles: Café am Dom (Ringleinsgasse 2)
Macarons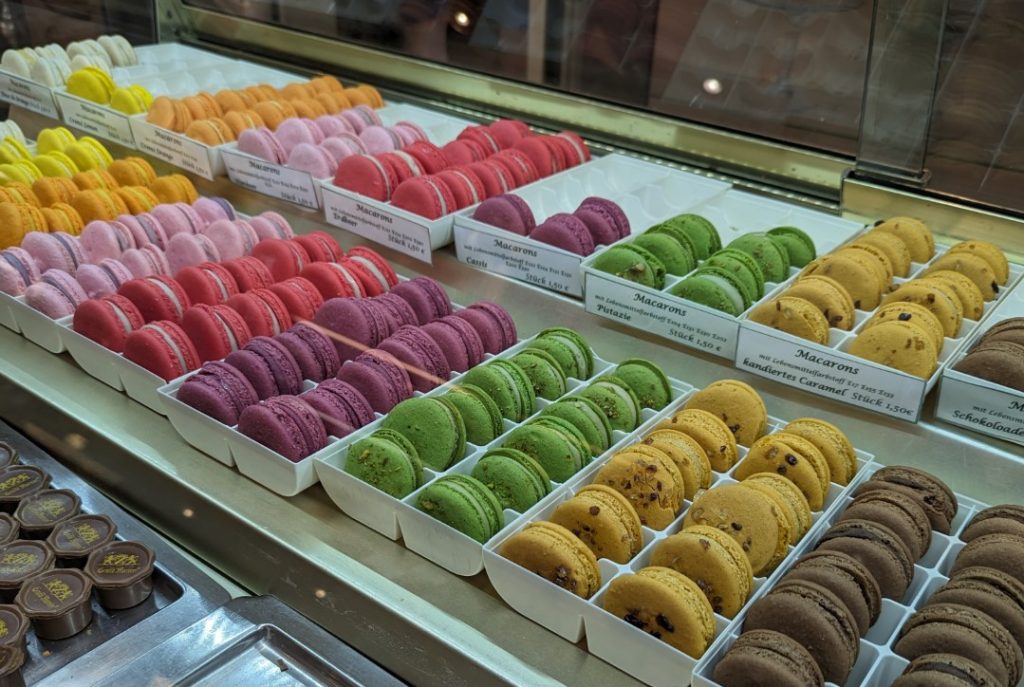 While the French may be more known for their pastel-colored Macarons, that's not to say that Bamberg doesn't have a sweet spot! Walking down the busy Lange Strasse, the building simply says, "Konditorei & Café" but just try walking passed the window cases full of brightly colored treats, cakes, and delicately lined up macarons without feeling the need to stop! Good luck!!
Where I Got My Macarons: Graupner Konditorei (Lange Str. 5)
Eis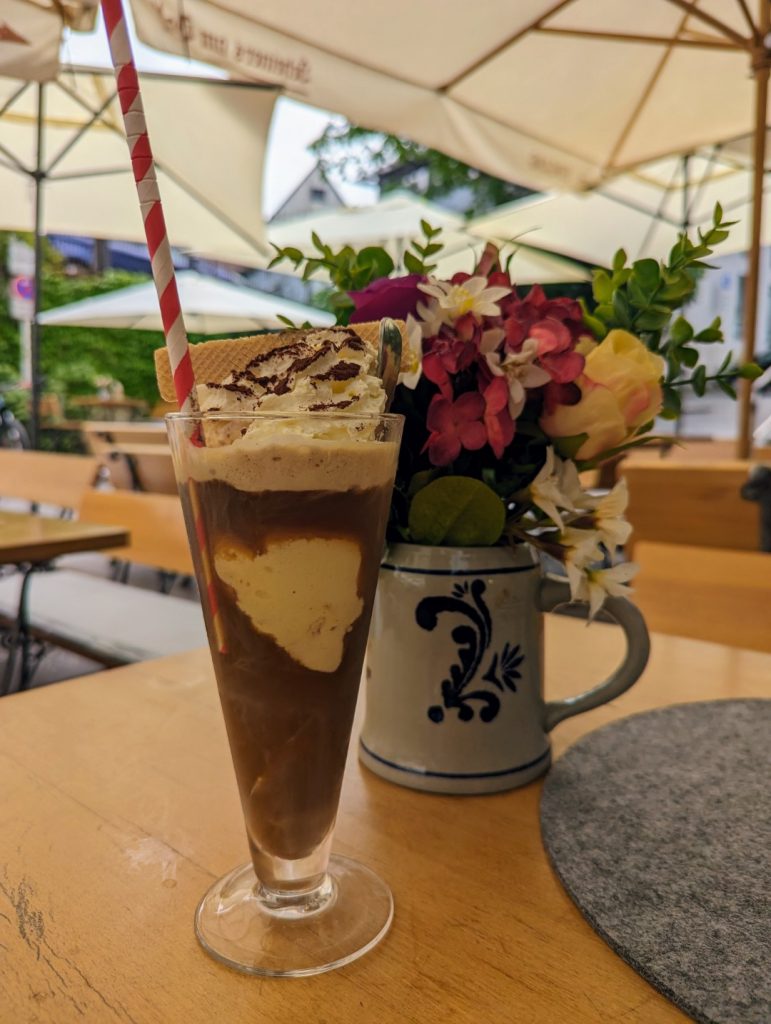 I often joke about Germans and their love affair with ice cream. It could be the dead of the winter and Germans will still line up at a local Eis Cafe! (But don't even THINK about sending your kid to Kindergarten without a hat in the autumn!!) I was actually surprised as I did a tour with the local tourism board when my born and raised Bamberg guide recommended two ice cream shops- both in the heart of what I would typically consider "Tourist Trap Area." But she absolutely assured me that despite the highly trafficked areas that these two shops have been local favorites since she was a kid.
Riffelmacher Conditorei-Café-Eiscreme: What makes this Eis Cafe different is its VERY unique flavor options- ones you typically would never find. Like a poppy ice cream or a lavender flavor, chili truffle, and even a rose option (just to name a few)!
Oberer Brücke 12, 96047 Bamberg
Eiscafé Bassanese: Located right at the edge of the Rathaus bridge, this Bamberg cafe is a bustling spot for great Italian gelato. Maybe it's just the atmosphere, the views of the gorgeous Rathaus, or its prime spot for people watching, but it's easy to see why this is a local favorite spot for ice cream.
Karolinenstraße 2, Bamberg
Eiskaffee: (Pictured) I loooove an Eiskaffee in the afternoon while people watching at an outdoor cafe! Think "Root Beer Float" but Coffee Style!!! Yes, you envisioned that correctly: Coffee with ice cream! Most Eis Cafes that have a seating area will have this and it's often found at restaurant cafes as well. I enjoyed mine after my lunch at the Scheiners am Dom lunch.
Bamberg Storath Chocolates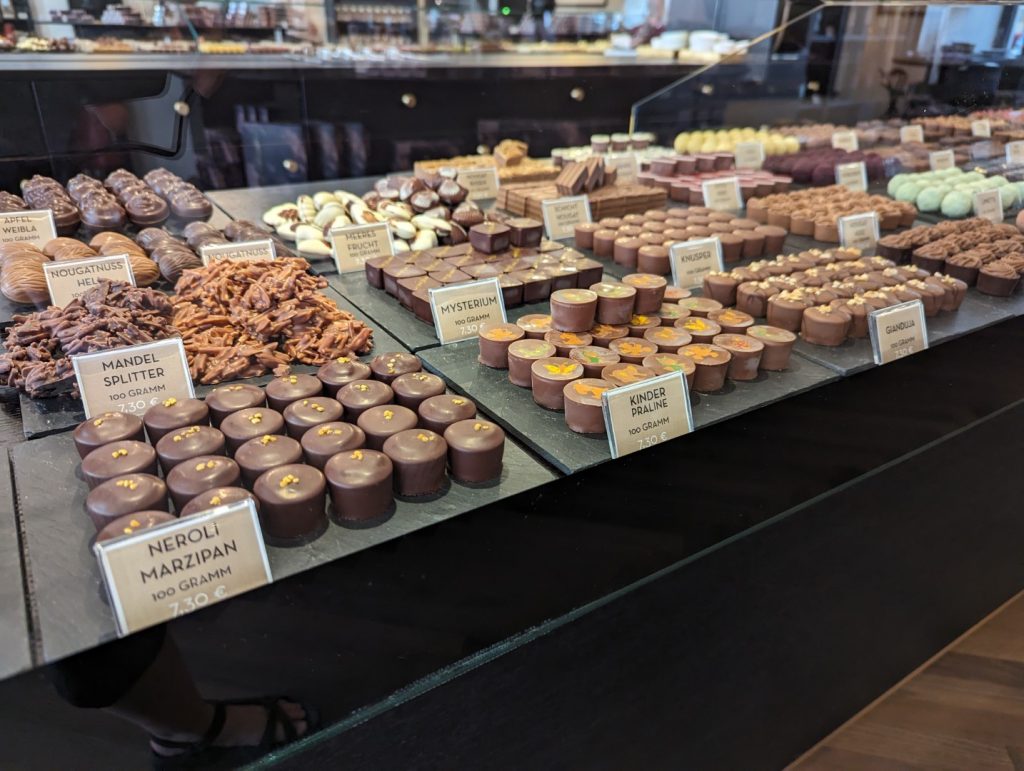 It's customary in Germany to bring things like a bouquet of flowers and some chocolates or wine when visiting a friend's house. I was told by Steffi, my tour guide, that when a local really wants to show their appreciation for a host, the fancy Storath Chocolatier shop is where they head to get a smattering of chocolatey delights! Walking into the shop felt like walking into an elegant French cafe with the chandeliers and rows and rows of absolutely irresistible variations of chocolates beckoning you as you gaze into the cases all while the waft of freshly pressed espresso floated in the air.
Address: Lange Str. 24, 96047 Bamberg
Bamberg Brizza"Brezn Pizza"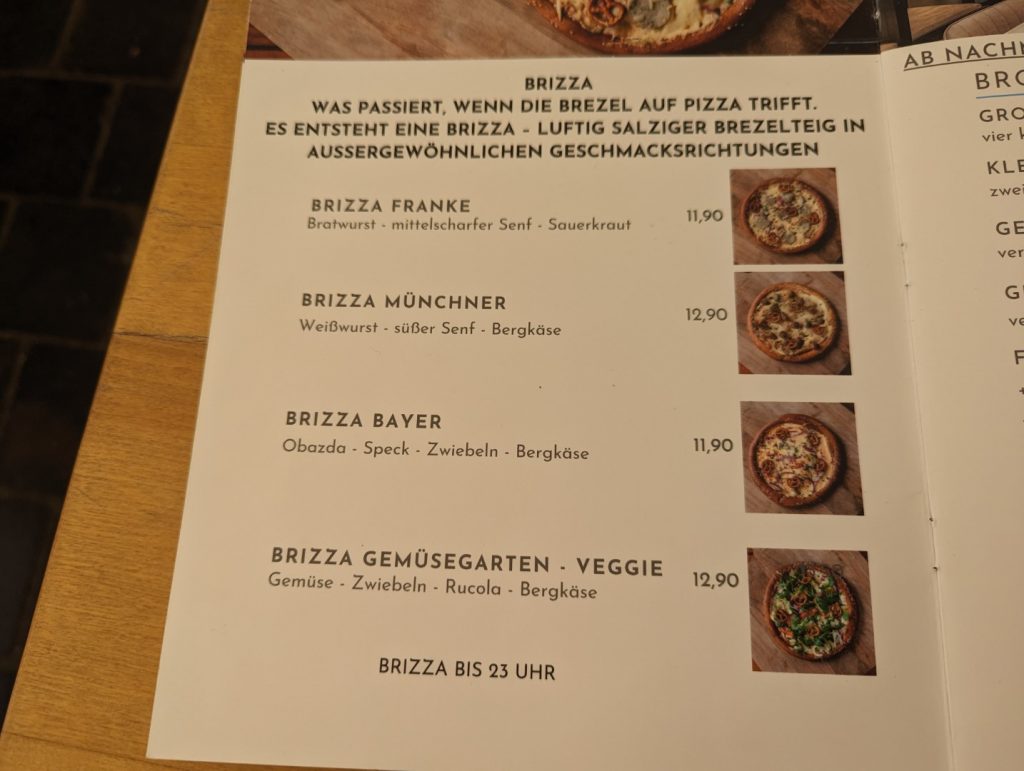 Tell me you're in Germany without telling me your in Germany!
What's one of the most stereotypical German foods out there? A Pretzel!!! (Brez'n in Bavaria!) So, when I saw a Brizza (Pizza that had a Brez'n crust!) I was like, Yup! This just makes sense!!!! Now, I am not saying that Bamberg can lay claim to this (I actually have no clue where the origins of this are) but I will say I haven't seen this concept in many other places (yet).
So what is a Brizza? Well, there may be different kinds, just like there are endless pizza toppings. But, if you are new to Bavaria, then definitely give the Brizza Bayer a consideration. Pretzels with freshly made Obatzda (delictable cheese style "dip") is one of my absolute favorite Brotzeit (see above) picks, so it makes sense that they've made a pizza style version of this! And have I ever actually been able to turn down Bergkäse (Alpine cheese)!? There are other options like the "Franke" which has wurst, mustard, and sauerkraut, or the Münchner which includes the famous Weißwurst and finger-licking good Bavarian sweet mustard.
Where To Try a Bamberg Brizza: Scheiners am Dom Cafe
Do Brotzeit at the Spezial Keller (Bamberg Keller)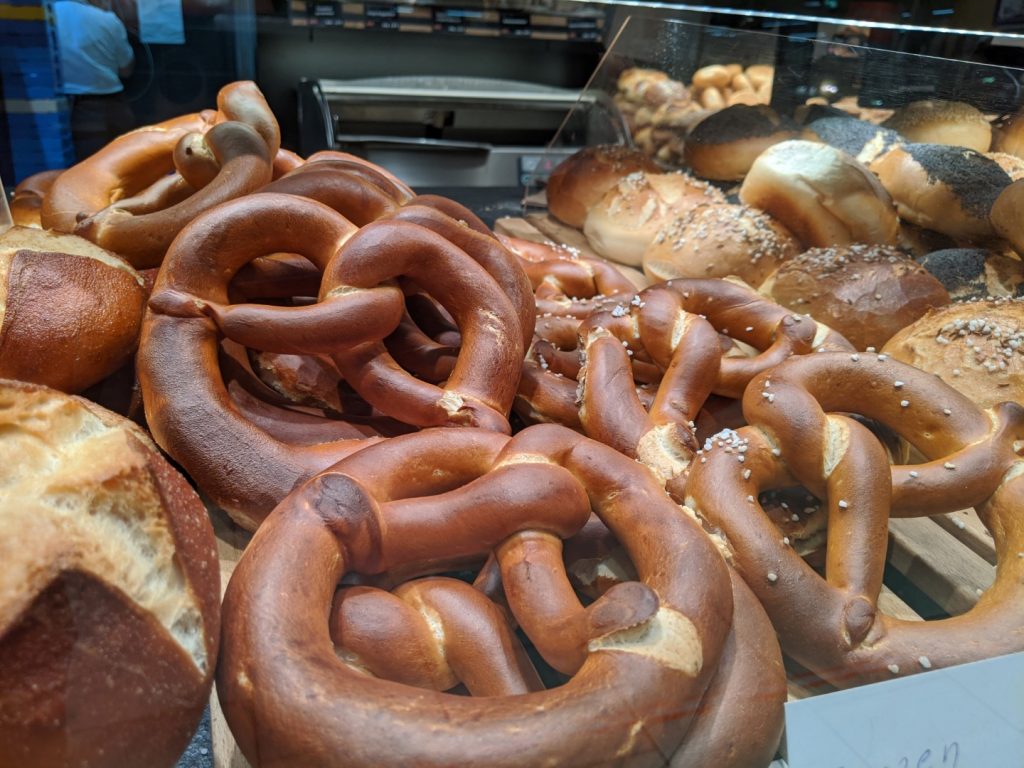 While I am going to include a whole section on Bamberg Breweries in here, I figured I'd throw this one in under the food section. But, there's a catch. YOU bring your own food!
Ok, so while you absolutely can order food at one of the most famous Bamberg Breweries, they also absolutely don't mind if you bring your own picnic style shmorgishborg as long as you order their famous Bamberg Beer (for example, their Bamberg Smoked Beer).
In fact, this is often what locals do all over Germany when going to self service Biergartens (or, in this case, the Bier Keller) so if you want to "Do as the locals do" this is a great option!
But what is a "Brotzeit??" Well, it literally means "Bread Time" but is often like a "Snack Time" but can actually be a whole meal in and of itself as well! And truth be told, it can really just be whatever you want it to be! But typically, you'll find things like deli meats (salami, schinken (ham), gelbwurst slices, etc), cheeses, probably some veggies like cucumber or cherry tomatoes, and, of course, the bread!!! German pretzels, a semmel (roll), or even just slices of bread will all do just fine!
Spezial Keller Address: Ob. Königstraße 10, 96052 Bamberg
Drink a Flavored Homemade Lemonade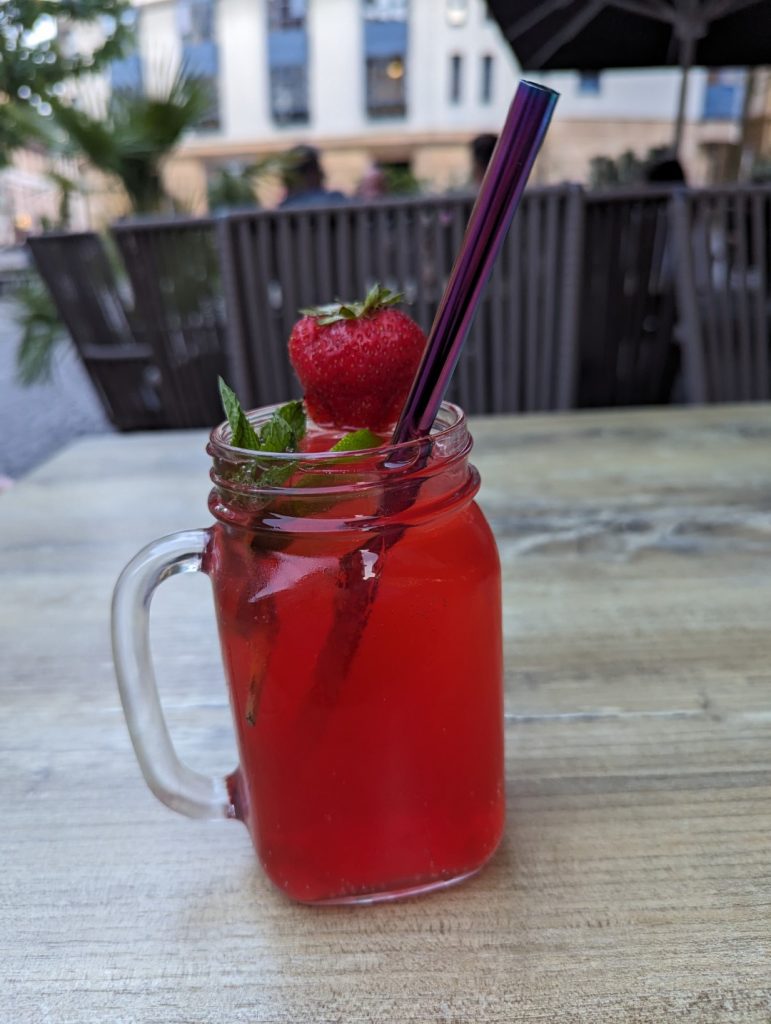 On my most recent trip to Bamberg, I was staying at the Hotel Weierich. I wasn't completely ready to call it a night but didn't really care to go "out." So, I walked around the corner and stumbled upon one of the many Bamberg Cafes. So I got a seat so I could grab a drink at the Little Italy Bamberg restaurant. The reason I stopped here on a whim was because as I strolled on by I saw the most lovely drink in a mellow shade of blue that I was like, "I need that in my life!"
When I asked what it was, the waitress said it was one of their many homemade lemonades but that she highly recommended one of their house favorites, the Strawberry Lemonade. Since I was looking for a cocktail, she proclaimed that it was no problem to toss in some vodka and "Voila!" a summer cocktail!
Now, we've all had strawberry lemonades in our life, right? But man, this one was simply divine! Maybe it was because it was a particularly hot summer day so it just hit the spot, or maybe it was just the ambiance of the fading glowing sun on a summer's evening as I sat at a cute corner side cafe next to the half timbered houses, but dang, it really was fantastic!
In fact, it was SO good that I went back the next night to give that blue concoction I originally eyed a try, which happened to be their Coconut Mint Lemonade. I really am not sure which one I enjoyed more!
Where I Got The Best Lemonades Ever: Little Bamberg Italy (Cafe) Pfahlplätzchen 4
Note: I actually didn't eat anything here, so I can't vouch for the food. I will say that it seems like you most likely need reservations though if you do plan on heading here and it does look like the reviews are great.
Bamberg Rauchbier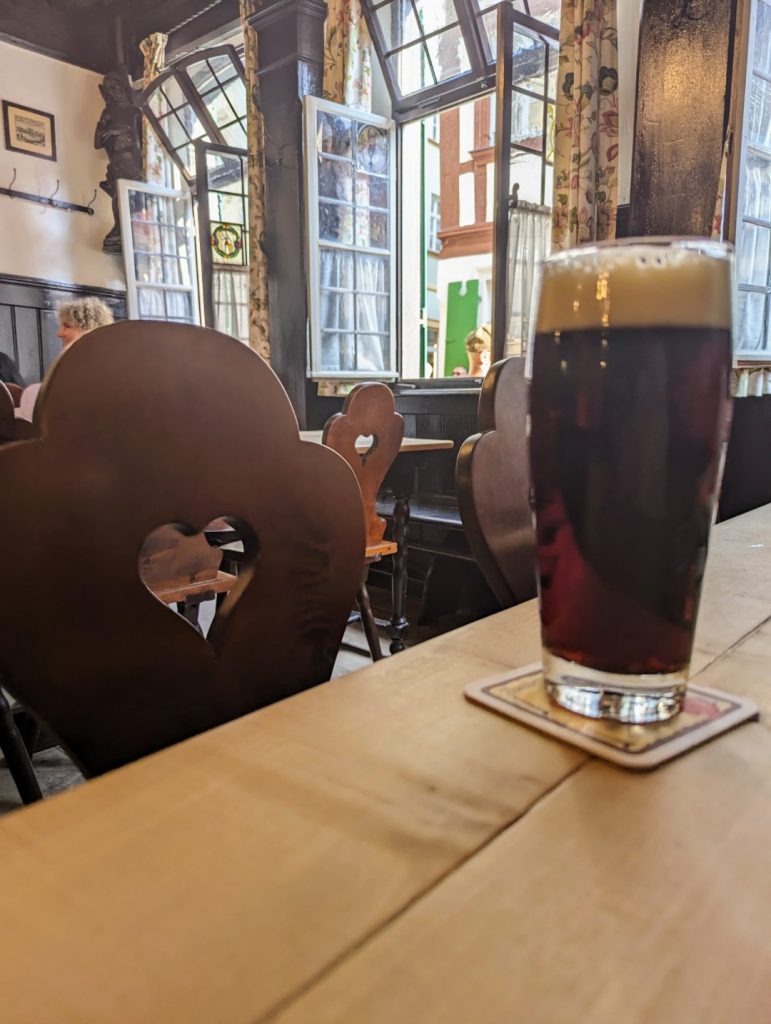 Yeah, ok, ok. Beer is not a "Food to eat in Bamberg."….. OR is it!? (Duh Duh Duhn…..)
First, we need to step back in time almost 2,000 years ago when Bamberg was already an established settlement. To make a long story short, the Benedictine Monks, who often fasted, particularly during Lent, found a loophole. Nobody said you couldn't DRINK while fasting! So, they simply had their LIQUID bread! (Made with similar ingredients as actual bread)
So, see? Bamberg Smoked Beer can absolutely be on this list of must try foods!
But let's get back to the very unique "Bamberg Rauchbier"- something you really can't find in many places in the world.
You'll either love or hate Rauchbier, there is really very little "in between" on opinions. Although, I do kind of wonder if it can grow on you because I'll admit that after numerous attempts, this last time I had the smoked Bamberger Bier at the Schlenkerla Brewery, I didn't absolutely haaaaate it.
Even if you have your reservations about drinking a beer that kind of tastes like a campfire, you truly can't come to Bamberg and NOT try a Rauchbier, if for no other reason than to say you've given it a try and to check it off your Germany Bingo Card.
Fun Fact: ALL beers actually used to be smoked beers! For thousands of years, people have been making beer and in order to do so, you must dry the malt. The most common way to do this? Dry it over a fire! So, even if the aim wasn't to MAKE a smoked beer, this was still inadvertently done. It wasn't until the middle of the 17th century that a kiln was made to use hot air instead of smoke and therefore creating whole new lines of beers!
Read All About the Bamberg Rauchbier (where to get it in Bamberg and more) Here
Bamberg Rauchbier Breweries
If you want to go to one of the few Rauchbier breweries still in the world, then there are two Bamberg Breweries to head to:
Schlenkerla: One of the most famous breweries for Rauchbier. In fact, they actually distribute smoked beer in the US today, but I promise, fresh from the tap is way better than one that's been bottled. Schlenkerla can hardly be missed as it's a widely popular spot for both tourists and locals alike and in the insanely charming looking building on the popular pedestrian street Dominikanerstraße.
Spezial Kellar: The Spezial Kellar is a fantastic place if you want to try a smoked beer without actually feeling overpowered by the smoke flavor. This Keller sits above the Altstadt giving fantastic views with a great, cozy vibe of a classic Franconian Kellar.
Other Franconian Beer Breweries in Bamberg
The reality is that Bamberg and Beer go hand in hand, whether it's smoked or not. In fact, there are over 70 breweries in the area. It's said that Bamberg has more beer breweries per capita than anywhere else in the world! So, if Schlenkerla or Spezial aren't your go tos, there are countless other ones you could give a try.
Mahrs-Bräu: Head to this Bamberg Bar for more of a pub style Bamberg Brauerei vibe
Brauerei Fäßla: A favorite amongst locals (and with plenty more than just Rauchbier)
Brauerei Greifenklau: A bit more off the beaten path so you'll probably find more locals than tourists
Bamberg Hopfengarten: The "Smallest Brewery in Bamberg" but making some seriously big waves with some really creative craft brews
Franconia Wine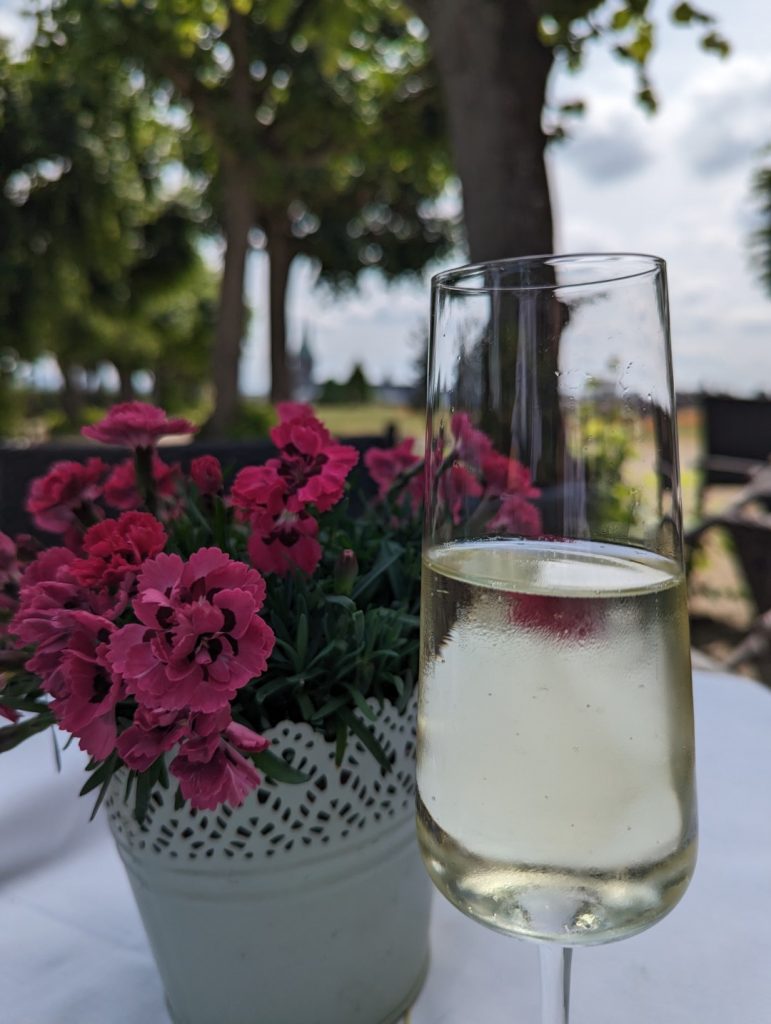 While I may not have the "liquid bread" excuse to put wine on the food list, I'd be remiss if I included Franconian beer, but didn't talk about the regional wine here!
While you may now know about Bamberg Rauchbier and the world may be more familiar with the Rhine Valley of Germany for its wine, Franconian wine is a completely underrated gem that needs to be celebrated way more! After all, it's believed that the wine grapes here have been growing for well over 1000 years!
While you can find red wines from the area, if you are looking for a truly Franconian wine, give the Silvaner a try or a Müller-Thurgau.
Bamberg Wine/ Sekt
One particular unique thing about Bamberg is the gorgeous Michelsberg Kloster (Monastery), where the monks used to actually have the largest vineyard in the area. Today, it's been replanted and is much smaller than in its glory days, but it is still a producing vineyard! Two local wines you can get try right from Bamberg are their Michaelsberg Silvaner or their Michaelsberg Sekt (Sparkling Wine)
Where I had Bamberg Sekt: Michaelsberg Kloster Cafe
You can also get the Michaelsberg Sekt and Silvaner at their "Stiftsladen" at the Kloster itself or at their store in the Bamberg Innenstadt on Hauptwachstraße 9
The Bocksbeutel
Fun Fact: Today, if ever you see a unique wine bottle in a flattened out shape, it most likely comes from Franconia. While this is not a hard and fast rule (and Franconian winegrowers lost a trademark ruling on keeping it for themselves entirely), the Bocksbeutel bottle is often highly associated with high-quality Franconian wines.