Hoch German vs Local Dialects
Dialects will Vary (Drastically)
I'll never forget when I traveled to Frankfurt and asked for a "Salami Semmel" and they looked at me like I had 4 heads. At the time, I thought it was just my reeeeeaaaaaaally bad German but I later came to find out that the word "Semmel" (Roll) that we use everywhere here in Regensburg is actually a very Bavarian word.
When I took my first A1 German class, the teacher was from a teeny tiny village and she was explaining that she speaks Bayerisch (a very strong dialect in Bavaria). But then she was joking that even she can't understand the Bayerisch in the next village over. You know, the town that is literally a 3 minute drive from the place that she grew up and has spent her entire life in. It was at this moment that I realized I was screwed for learning German. If a GERMAN can't even understand other dialects, what hope do I have!?
Local Phrases
Another thing to consider is that in some regions of Germany, they just have different phrases for things. It's not always necessarily a direct correlation to dialect per se (although, that often does come into play). A great example is the first time I traveled to parts of Northern Germany and people were greeting me with a phrase I had NEVER heard before in ALL of my traevls of Germany. I knew that saying something like "Grüß Gott" or "Servus" was definitely something from Bavaria, so I defaulted the usual "Hallo" or even "Tag" (shortened from Guten Tag). But when they started saying "Moin" (sometimes even just "Moi") as a greeting I was legit confused and thrown off!
My point is that having some very basic
Few places in this world do I truly consider, "Off the beaten path" for travelers. There is usually good reason why certain places are pretty touristy, especially when looking at a country like Germany. I mean, Rothenburg is like a postcard taken straight from real life, Neuschwanstein is literally nicknamed, "The Fairytale Castle" and Garmisch makes for a perfect home base in the Bavarian Alps!
And while Bamberg is, by no stretch of the imagination a "hidden gem" it is often a bit more off the (beaten) path of many tourists and very rarely thoroughly given much attention in the major guidebooks. And that truly is a shame! In fact, I love visiting Bamberg so much that it's even on my own "Off the Beaten Path" Romantic Road Alternative. (For those travelers who want the ALLURE of Romantic towns and villages with true charm all while flying more under the radar)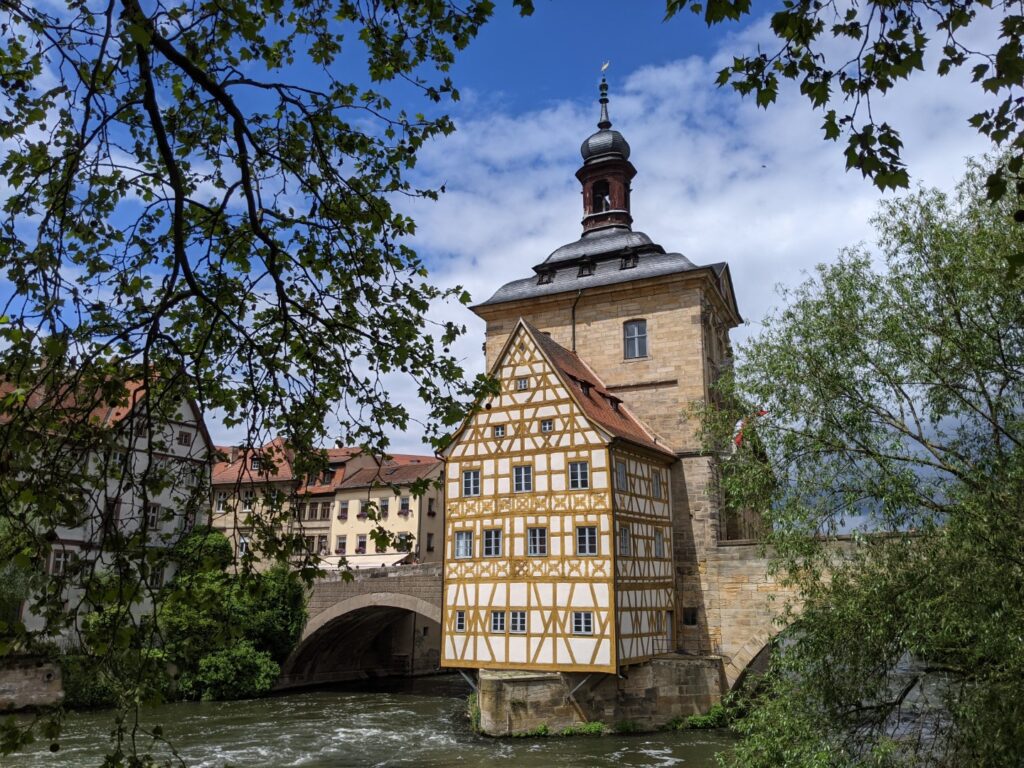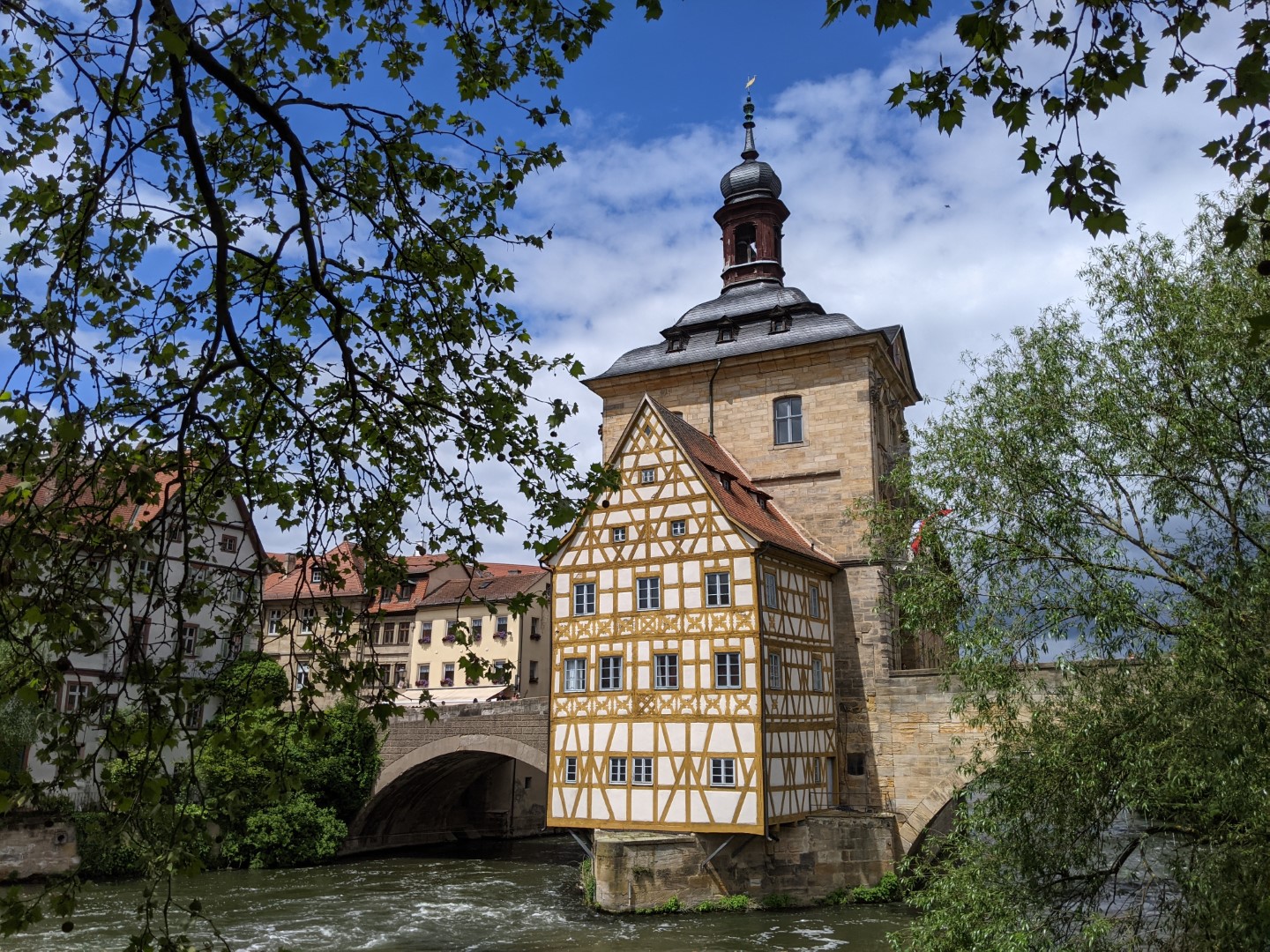 In fact, I practice what I preach on this site, so it may come as no surprise that with so many great Bamberg tourist attractions, I've made it a point to visit Bamberg numerous times! So, on my most recent trip, I had the absolute pleasure of working with the Bamberg Tourismus Board. Together, we were able to curate the perfect 2 days for me to explore an even more authentic and genuine side to Bamberg than just the typical list of "Bamberg Things To Do" (which are all absolutely must-see things to do in Bamberg as well!). And I'll happily admit that I fell in love with Bamberg all over, yet again, and I know you will too!
So, why do YOU need to visit Bamberg? In this article, I'll cover everything you would need to know about a trip to this beautiful town including where to stay, how to get there, things to do in Bamberg, what food (and local drinks) you MUST try out, and more. But, for a quick tl;dr:
Bamberg, with its half timbered houses, narrow cobblestone alleys, and the gorgeous Bamberg Old Town ooze "Medieval Vibes" while simultaneously pairing perfectly with other time periods to make it a beautiful mix of architecture and history. Having been spared from major bombs during WWII, visiting Bamberg is truly like stepping back in time.
Bamberg is an amazing alternative to the mass-visited medieval towns like Rothenburg ob der Tauber or even Munich
There are PLENTY of things to do in Bamberg from the classic, tourist (and must see/do) sights to more "off the beaten path" and local activities (which I'll cover both of in this article!)
You Might Also Be Interested in Reading:
You'll Find In This Article:
Where is Bamberg, Germany?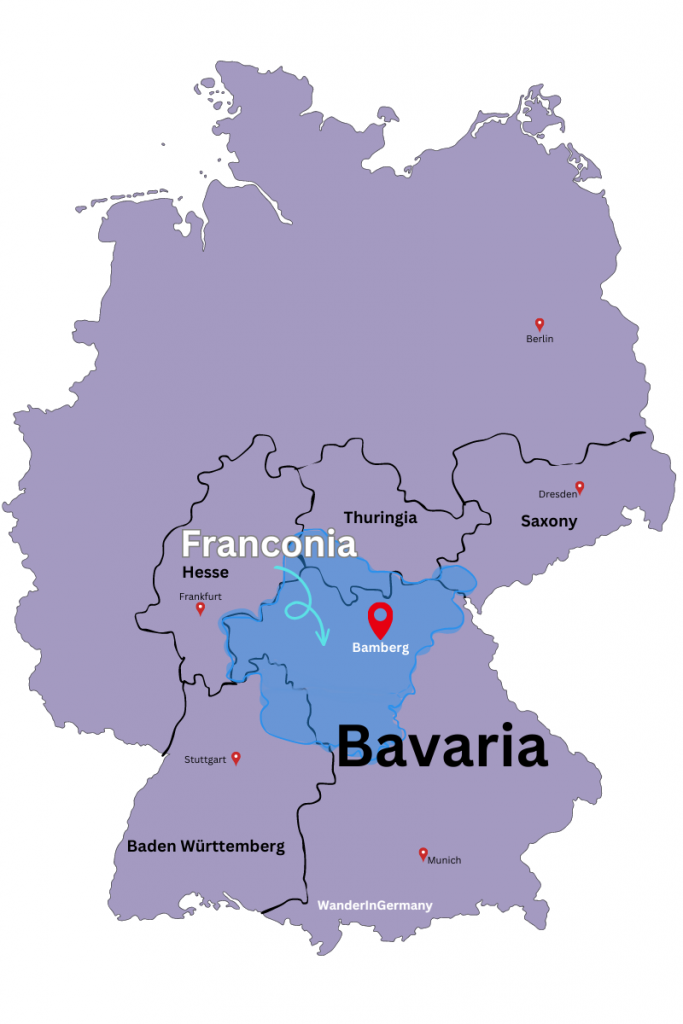 Despite looking at a map and seeing that Bamberg is officially in the northern part of Bavaria today if you ask a local, they are first and foremost, from Franconia, NOT Bavaria. While many "Bavarian" influences can be seen, Franconia actually has its own unique cultural differences, food, and even dialects. After all, Franconia was its own region and culture before Napolean decided to "give it to Bavaria."
Bamberg is less than an hour North of Nuremberg, 2-2.5 hours North of Munich, and about 2.5 hours East of Frankfurt
Heading to Bavaria? Join our Travel in Bavaria Facebook Group to get your personalized questions about your trip answered by locals and fellow Germany travelers!
Bamberg Itinerary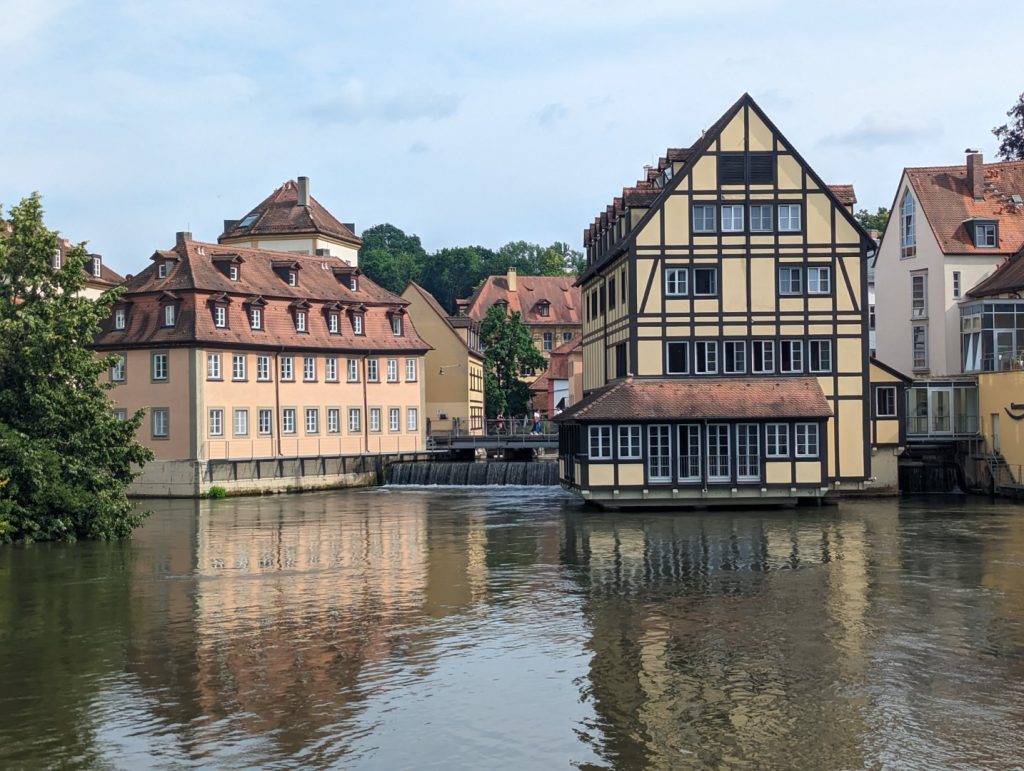 1 Day in Bamberg
You need at LEAST 1 day in Bamberg to see the town itself and the typical Bamberg Germany tourist attractions (Rathaus, Old Town, Cathedral, etc). However, if you need it to be JUST a day trip, you can. For example, a day trip from Nuremberg to Bamberg is totally easy and doable!
2 Days in Bamberg
However, if you love slow travel, REALLY want to soak in local culture, and actually get a feel for Bamberg, 2 days is even better!
My advice is to do the touristy things one day, like all the Alstadt stuff. On the second day, get off the beaten path! Take a gondola ride, walk the nearby hop fields, do a Beer Hike through the Franconian fields stopping at various local breweries, get lost in the back cobblestone alleys, do a local brewery tour, or people watch at a corner cafe with no desire to look at your watch!
When You Visit Bamberg….
Visiting Bamberg is a pure delight and joy on all your senses. You'll be flooded with quirky and fun history, be tempted with odd treats at the local bakeries, drink beer that you'll either love or you'll hate, and you will feel transported to a fairytale town that even Disney would be jealous of.
Bamberg is often considered the "Franconian Rome" because of its many close ties to the Vatican City (it is also built on 7 hills, it was a stronghold for the Holy Roman Empire, etc). But today, Bamberg has been injected with a sense of youth from being a Univesity town. This means that, while not a party town, you will never be lacking in finding things to do or enjoying the great vibe and local flair of life out on the streets of the Bamberg Altstadt all while simultaneously falling in love with its rich history and beautiful sights.
If you need More Information on How to Get to Bamberg (Train vs Car), the Best Hotels in Bamberg, and more logistics on visiting Bamberg, scroll to the bottom of the article for this info or Click Here to Jump To Those Sections.
What to do in Bamberg Germany
Take a Walking Tour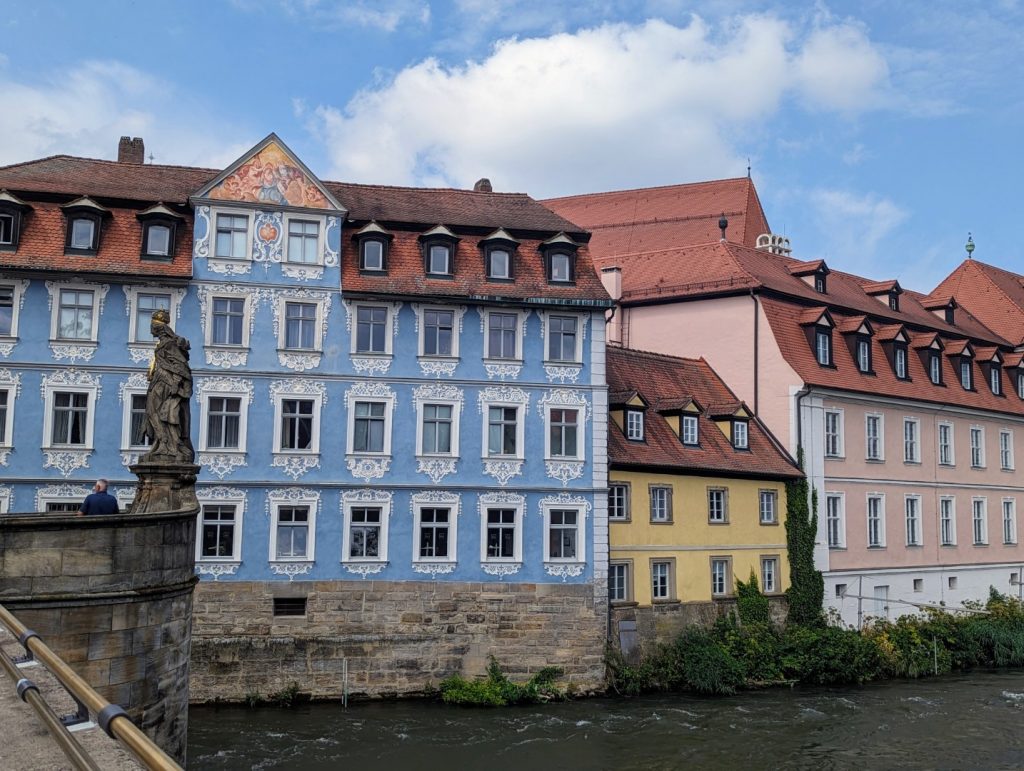 Time: 2-3 hours
One of my favorite ways to explore a town is to take a walking tour. Getting insider information from the locals and getting my bearings on the town allows me to come back later to dive deeper into places and restaurants that intrigued me the most.
1) Walking Tour through the Bamberg Tourismus
On my last trip to Bamberg, I did a guided tour through the actual Bamberg Tourismus (included in my Bamberg Card- more on that below) where Bamberg local, Steffi, wandered the cobblestone streets with me showing all the great gems, local favorites (like stopping into the Storath Chocolatier shop or getting a smoked beer truffle!) and seeing the top sights of Bamberg. Despite having been here before, I still learned so much, like how Bamberg was mostly spared from WWII destruction, why Bamberg does more Bier Kellars than Biergartens, fascinating history on the Fachwerkhaus (half timbered buildings), and of course, food tips, like the best places to get a Schäuferla (smoked pork shoulder).
Cost: Included "Fascination World Heritage" Tour with the Bamberg Card or contact the Tourism Board for tour details
Self Guided Audio Tour
If you'd rather go at your own pace, the Bamberg Tourism has also made a Bamberg Audio Guide Tour that you can download yourself and then off you go to see all of the main Bamberg highlights!
As always, you can go to the Bamberg Tourist Information Office to get ideas on what to do as well.
Bamberg Germany Tourism Office: Geyerswörthstraße 5, 96047 Bamberg
Cost: €8,50
Bamberg Free Walking Tours
I've been doing the "Free City Walking Tours" that have popped up all over Europe now for several years and always love them. You pay what you feel the tour was worth at the end, which means that typically, the tour guide does a great job (they are working for that tip!) and you usually end up learning a lot!
This Bamberg walking tour takes about 2 hours and will take you to most of the highlights and main sights of the Bamberg Altstadt.
Cost: "Free" (Tip what you felt the tour was worth at the end)
Tour Times: Every Saturday and Sunday Only at 11am- 1pm
Meeting Place: The "Face Sculputre" Near the Rathaus
Just Wander in Germany….er Bamberg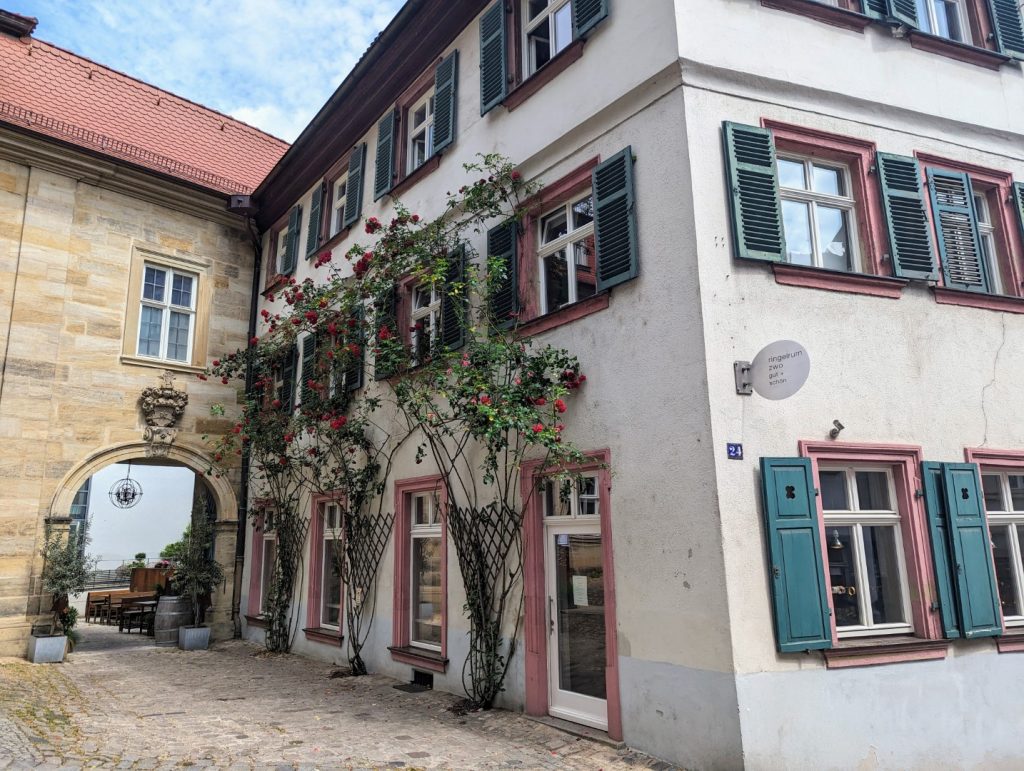 While there are plenty of great, actual "Things to do in Bamberg, Germany" if you've been around the sight a bit, you know why it's called "Wander" in Germany. First and foremost because one of my favorite ways to explore and really experience Germany is to just simply WANDER. And Bamberg is practically made for this!!! It's both easy and difficult to get lost in the Bamberg Altstadt.
Easy, in the sense that there are so many cool, hidden back alleyways that you can just mozey on through. But difficult in the sense that the Bamberg Old Town really isn't THAT big, so it's pretty hard to get completely turned around and disoriented.
Marvel at Rathaus (Town Hall) On the River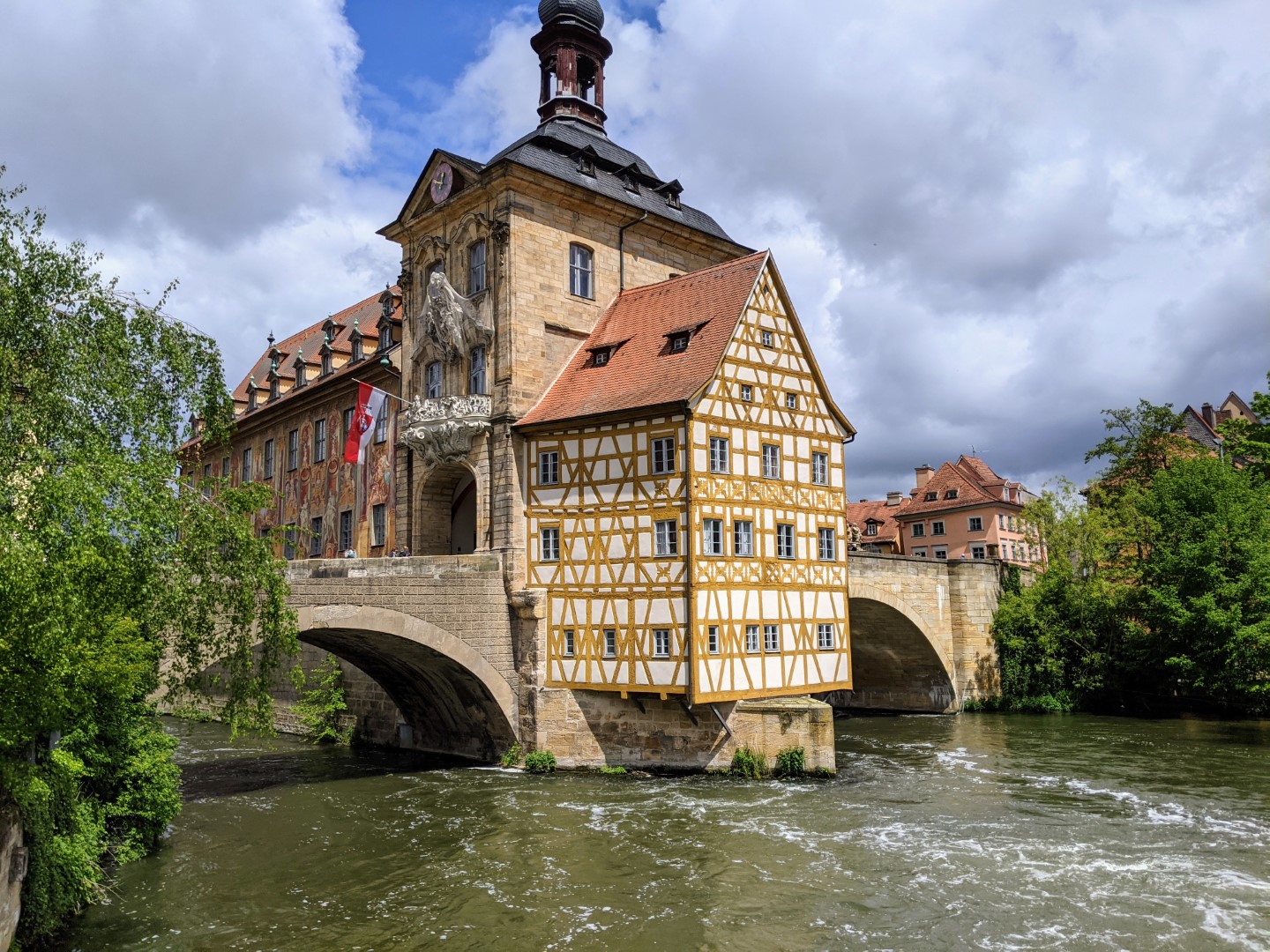 No visiting Bamberg/ Sightseeing is complete without walking to the famous Bamberg Rathaus. While not the operating Rathaus today, this unique building with stunning Rococo decor and architecture straddling the Regnitz River is a sight in and of itself. But the history and stories behind it give so much context and make me love the people of Bamberg even more (if that is even possible!)
The story goes that (way) back in the day when the land was ruled by the prince-bishops, the commoners and local people wanted a place where they could have more rights and freedoms. Obviously, the wealthy (religious and political) rulers knew that this would mean losing some of their own power, and therefore, of course, they weren't very willing to give up their own land.
The people of Bamberg eventually said, "Fine! You won't give us some land to build a town hall!? Then we'll take the water!!!" And so they did…building this amazing building and creating their own Rathaus (town hall).
Insider Tip: In addition to walking THROUGH and around the Rathaus, walk to the "Geyerswörthsteg" bridge, which is where you'll get all those iconic, picture perfect views of the Rathaus on the river!
The Art and Architecture of the Rathaus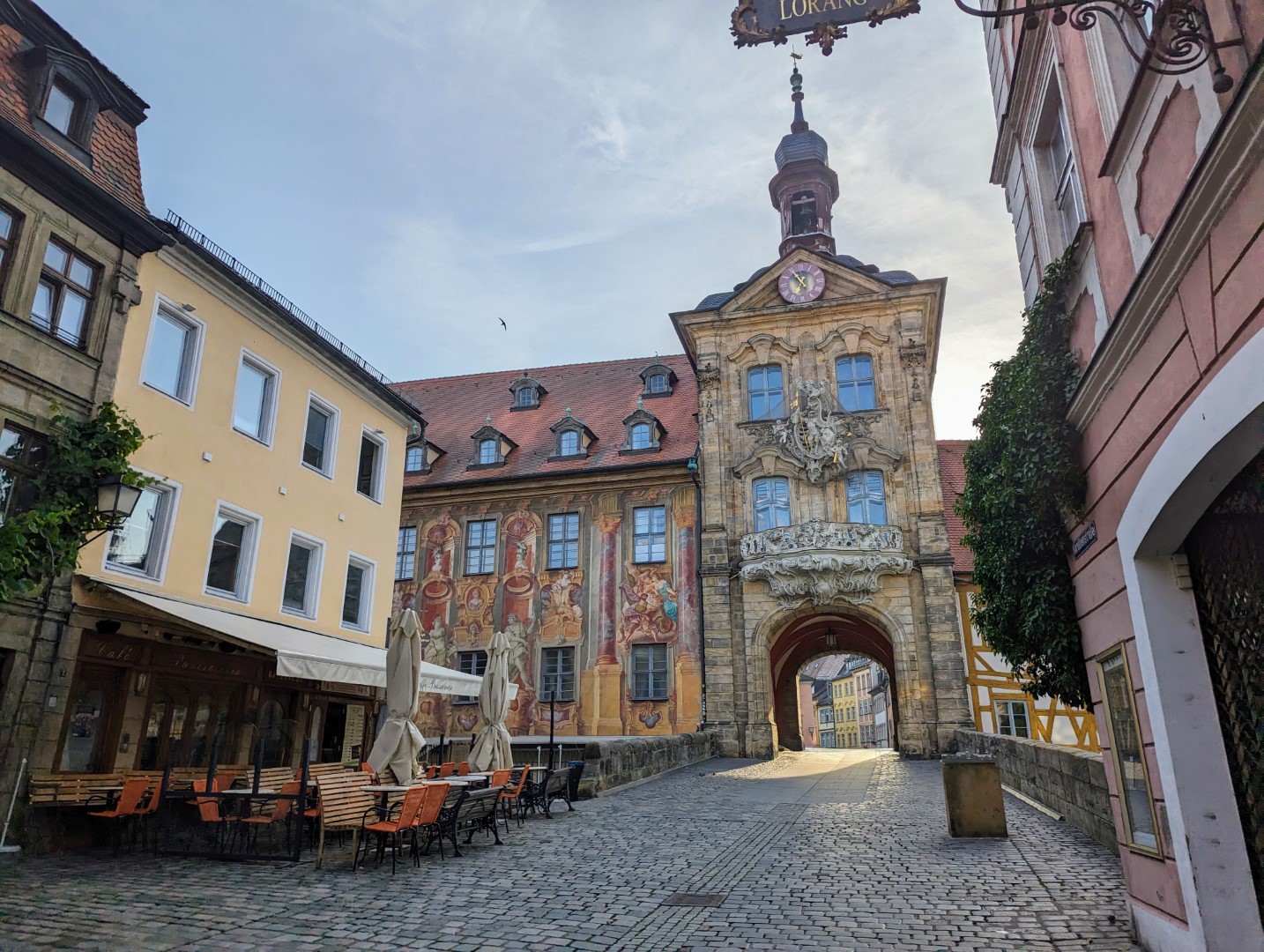 Besides the fact that this building is plopped right in the middle of the river (on a bridge), the Rathaus itself is a stunning piece of artwork. The allegorical scenes painted on the building are beautiful. In fact, they are painted in the "Trompe d'oeil Architecture" style which impressively means that the painting is done in this almost 3-D illusionary style! It really is trippy and something I haven't seen much of.
Insider Tip: Try to find the Cherub whose leg literally sticks out of the building!
Walk the Oberer and the Unterer sides of the Rathaus/Bridge
On the one side of the bridge (Oberer), you can walk through the Rathaus tunnel and really appreciate the beautiful architecture and paintings.
On the other side (Unterer), you'll get fantastic views of the Bamberg "Little Venice," see the Kunigunde Statue (the beloved Bamberg Empress who is still standing watching over and protecting her town) as well as stop for a moment at the Jewish memorial.
Rathaus Today: Fine Bone China Museum
While the operations of the Town Hall eventually moved, it is still called the Rathaus even today. However, instead of politics, you can find a fine bone china and porcelain museum inside.
Don't Put on a Facade: Appreciate the Fachwerkhäuser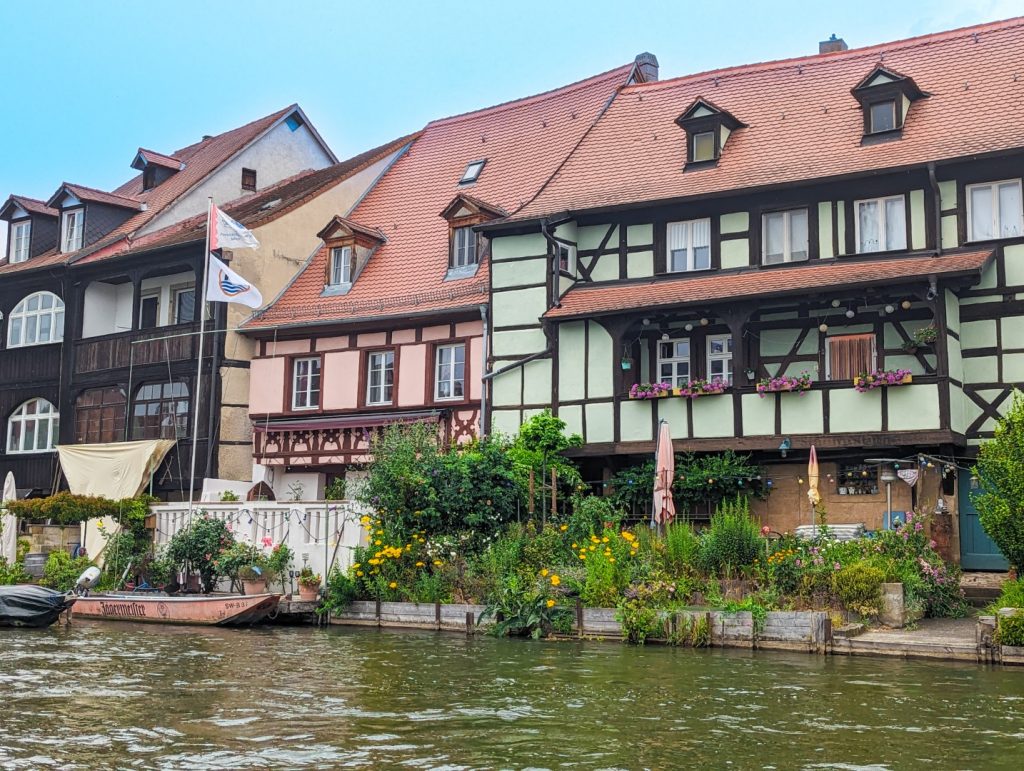 There is just something about Half-Timbered Houses for me. It's like I get giddy looking at them. Maybe it's because growing up, images of Germany often contained these buildings, so when I see them in real life, I kind of have to pinch myself and say, "EEEK! I'm really here…in GERMANY…in real life!!!" (Yes, I live here and yes, I STILL say this!!!)
But the Fachwerkhaus in Bamberg may be one of my favorite stories of this architectural style I've heard yet.
This was obviously the style and design of the time in Germany. However, in Bamberg in the 1700s, the Prince Bishop (Ruler) LOOOVED the style that King Louis XIV of France was embracing….BAROQUE! So, the Bamberg Prince Bishop said, "If the French can do it, so can we!!" as he wanted to "modernize" his land. What better way to incentivize people than to give them some tax breaks? He offered:
No taxes for 6 years if you build a new building in the Baroque style
No taxes for 10 years if it's 10 stories high
No taxes for 20 years if you change your home from half timbered to Baroque!
But here's the catch….you only needed to change the FRONT! So, you'll find many homes in Bamberg putting on the facade of a Baroque beauty on the front, while the back of the home is still very Half Timbered!
And this is actually one of the reasons why the entire Bamberg Innenstadt is a UNESCO World Heritage site. It is one of the best preserved medieval structures (on the insides and back) while simultaneously preserving beautiful Baroque architecture (from the front!)
Stroll Down the "Little Venice" At Sunset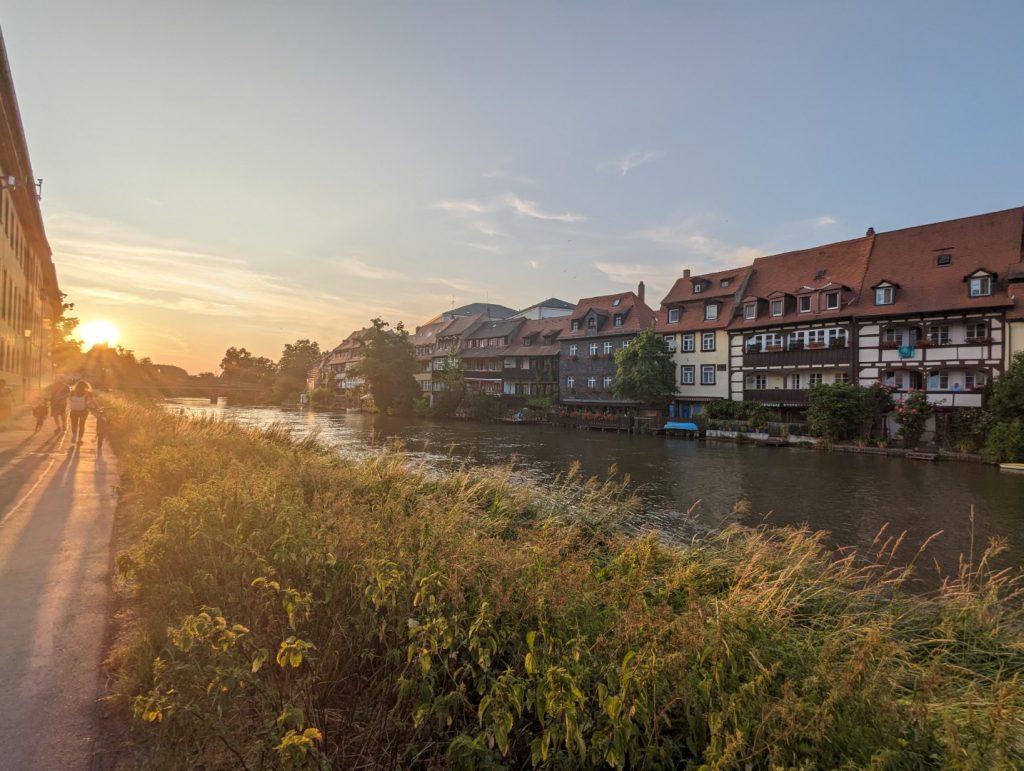 While you can literally see the "Klein Venedig" (Little Venice") from the Rathaus bridge, it's a pure joy to just meander down the path opposite of the old homes that once belonged to the local Fisherman. Today, most of these are still private homes and establishments, so you can't actually go in them or even through their lovely gardens, but you definitely can enjoy their beauty from across the Regnitz River.
While I actually walked along the Klein Venedig several times (it's just so delightful!) perhaps my favorite time was as the summer sun was beginning to set and there was this magical, glowey, orange casting the most romantic veil over the river and homes. While a slow walk down the Little Venice is charming enough, there were plenty of locals out enjoying the peaceful evening as well. Many were sitting on benches just relaxing while others had a bottle of wine and cups as they sat in the grass soaking in the rays of fading sunshine.
As I always say, when in Rome Germany do as the locals do! These are some of my favorite ways to truly enjoy "local life" while traveling, so grab a bottle of wine or a Bamberg Bier and kick back for a bit while admiring the Bamberg Little Venice.
Take a Gondola Ride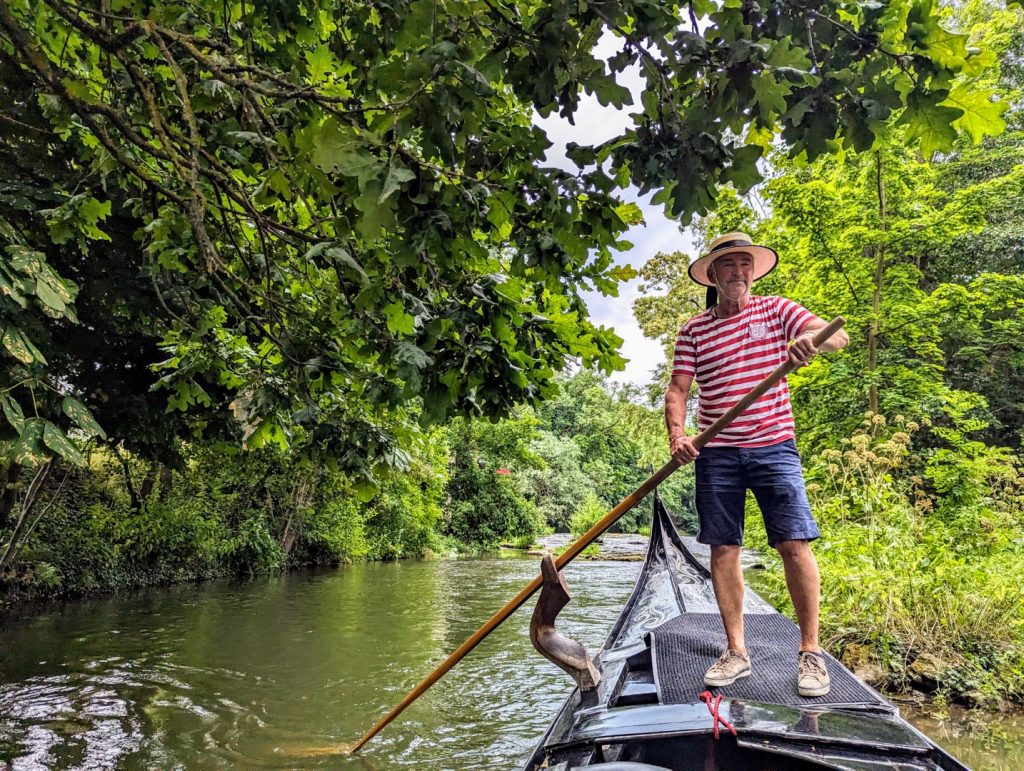 Hopefully, you didn't scroll passed that last section about "Little Venice" because no, you haven't left Bamberg to escape to Italy. You really are still in Bamberg. There are many reasons why Bamberg is known as the "Little Venice" and local Bambergian, (Did I just make that word up??) Jürgen, thought one day (maybe after a few beers) "How can we have a "Klein Venedig" with no Gondolas!?"
Floating in an authentic Venetian Gondola with Jürgen was a true delight. From the beautiful views from the water to Jürgen's personal anecdotes and passion for showing off his Gondola, I enjoyed every minute of gliding along the Bamberg Canals in a truly unique activity! Perhaps it was the beautiful views or maybe it was Jürgen's sincerity about genuinely wanting to show off his beautiful town, but I felt more enamored here than I did when I took an actual Gondola in Venice!
Gondola Days Of Operation: Only Saturdays and Sundays
Cost:
– 1/2 Hour: €60
– 3/4 Hour: €90
– 1 Hour: €120
Contact Jürgen directly to book your Gondola Ride ([email protected]) More info here> Bamberg Gondolas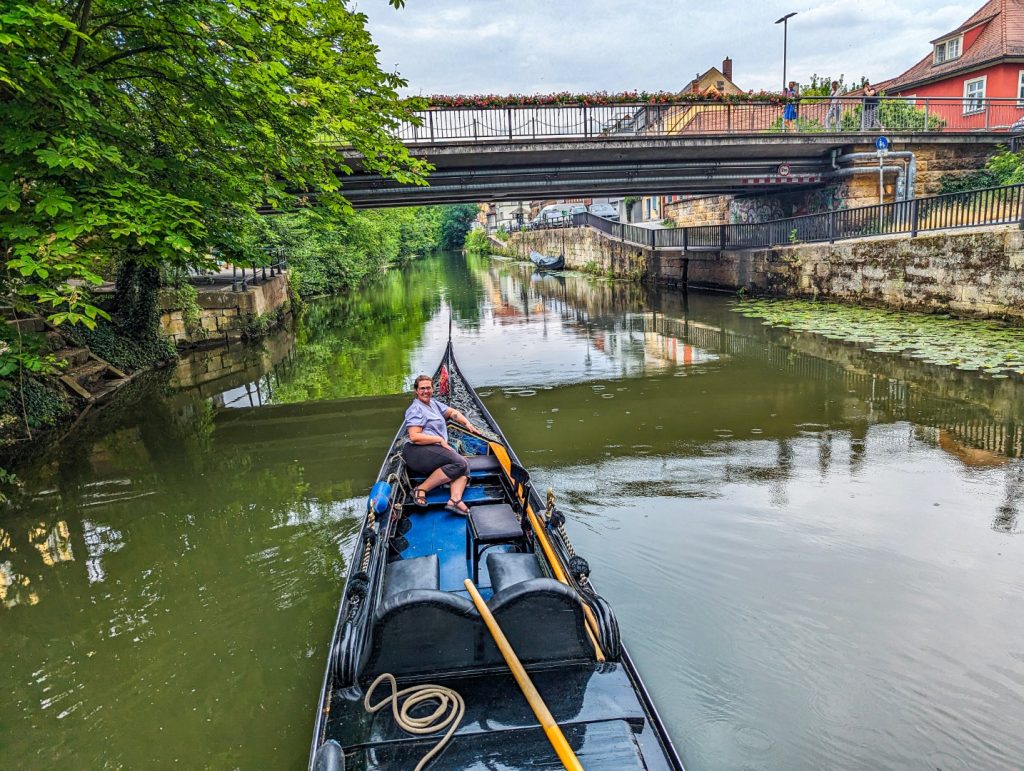 Alternative: Little Venice Bamberg Boat Ride
If you are in Bamberg during the week or need something more budget friendly, you can also still enjoy the Bamberg Little Venice by doing one of the city boat rides. While not as intimate and unique as a Venetian Gondola, it's a great alternative.
Departure Time: Seasonly at 11am at the Klein Venedig Boat Dock: Kapuzinerstraße 5
Cost: €13
Duration: 1 hour 20 minutes
Drink a Smoked Bamberg Beer (Bamberg Rauchbier)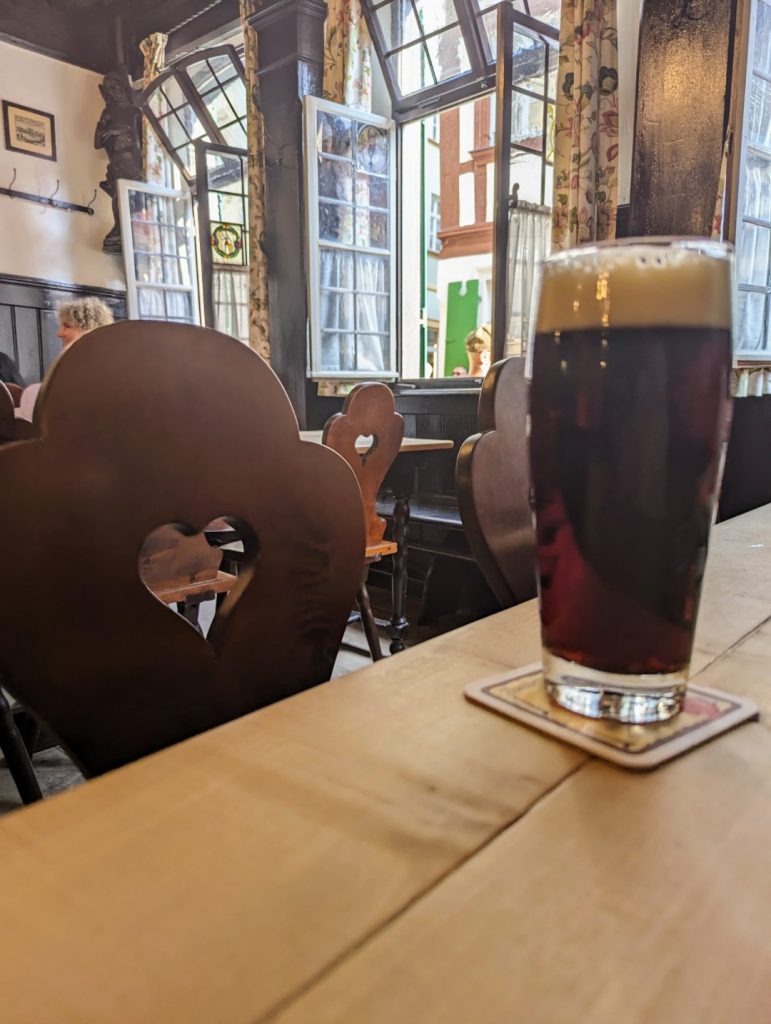 I've said it before and I'll say it again.
You either love or hate Rauchbier (Smoked Beer), there is really very little "in between" on opinions. Although, I do kind of wonder if it can grow on you because I'll admit that after numerous attempts, this last time I had the smoked Bamberger Bier at the Schlenkerla Brewery, I didn't absolutely haaaaate it.
The funny thing is that the very first time I tried a smoked beer from Bamberg, I immediately said, "It tastes like bacon!" And I mean, if you know me, you'd know that I'll never say no to bacon!!! So, why, when paired with the malty flavor of the beer (also something I usually typically enjoy) did I dislike it so?? I actually still don't know, but I can tell you that I'm not the only one that has my hesitations.
However, can you REALLY come to Bamberg and NOT try a Rauchbier? Absolutely not! If for no other reason, give it sip just to be able to say you had the famous Bamberg Smoked Beer!
Tip: If you fall into the camp of "Not for me" when it comes to the Rauchbier, have no fear. With over 70 breweries in the area of Bamberg, you are sure to find a beer that is absolutely your taste and style.
* Another Bamberg classic is the Bamberg Rotbier (Red beer) which is an amber lager with a Franconian twist of a nice, malty beer. I actually really like this one!
Fun Fact: ALL beers actually used to be smoked beers! For thousands of years, people have been making beer and in order to do so, you must dry the malt. The most common way to do this? Dry it over a fire! So, even if the aim wasn't to MAKE a smoked beer, this was still inadvertently done. It wasn't until the middle of the 17th century that a kiln was made to use hot air instead of smoke and therefore creating whole new lines of beers!
Read All About the Bamberg Rauchbier Here
Which Bamberg Breweries To Go To?
There really is no shortage of breweries to go to in Bamberg, but if you are looking for some of the "original" smoked beers, head to:
Bamberg Schlenkerla Brewery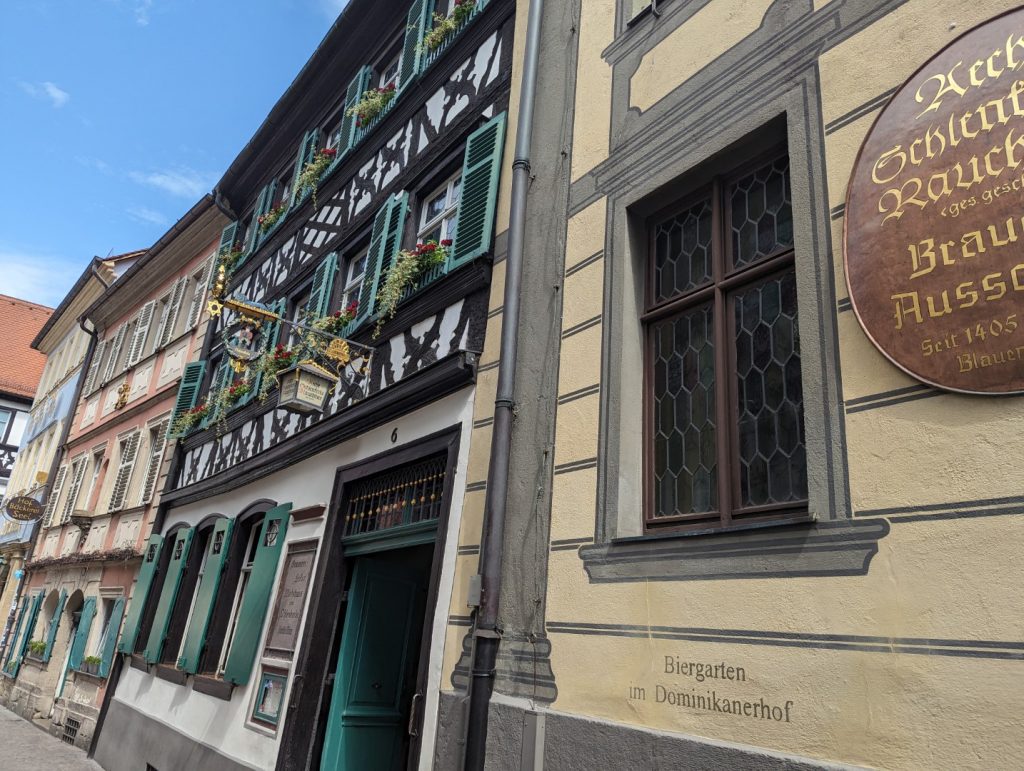 Perhaps the most famous, the Schlenkerla Brewery is a Bamberg staple. You can enjoy the beautiful Biergarten under the trees or the classic Franconian style restaurant inside. I recommend the Schäuferla here or if you want something VERY Franconian give the Bamberger Zwiebel a try (something I haven't really found outside of this area).
While going to Schlenkerla is by far not one of the "off the beaten path" things to do in Bamberg, it is still a popular place even for locals to also meet, particularly in the summertime. You'll find the cobblestone street outside the Bamberg brewery filled with friends gathering to drink a glass of beer before returning it back to a little window inside the restaurant!
The most famous beer here is the Schlenkerla Marzen Rauchbier which is NOT subtle! It is made with a smoked beech wood for the smoking process, but there are others on the menu if you don't want something as intense.
Spezial Keller
While the Schlenkerla Brewery is in the heart of the Altstadt, the Spezial Keller is a wonderful place that gives fantastic views out OVER the Altstadt! If the smoked flavors of the Schlenkerla beer were too much, then give the Spezial Rauchbier a try for a bit of a more mild smoked flavor.
Of course, enjoy the classic Bamberg beer kellar, food, and great ambiance of locals and tourists alike all enjoying another great day in Bamberg!
Insider Tip: You can actually bring your own "Brotzeit" (think picnic supplies!) and enjoy sitting "Auf den Keller" like the locals do. Just be sure you still buy the beers here.
Bamberg Hopfengarten
I'll go into way more detail about the "Smallest Brewery in Bamberg" a few sections down, but if you want a truly unique beer experience, head just a wee bit outside the main Altstadt into the Gartenstadt Neighborhood (you can take a quick, 5-10 minute bus ride). The Bamberg Hopfengarten is more than just a brewery. It's a nursery, its own hop garden, has a distillery…and more! If you want a "Farm to Table" style of experience for your beer, head here! (More on all of this below)
Auf den Keller vs Biergartens
In most places in Bavaria, you go "to the Biergarten" but here in Bamberg, you go "Auf den Keller" or "On the Cellar."
Long ago, the Bamberg breweries realized that there were natural caves that could help keep their beers cold in all seasons. So why in the world should they do the hard work to transport their kegs from the cellars into the Biergartens!? Instead, they began setting up on top of the cool caves where they could continue to keep their beers (and people!) nice and chilled in the summer!
"Keller" Season: If you want to experience Bamberg like a local, "Keller" Season typically begins around May(ish) and will stay open until it gets cool, often around October(ish)- give or take.
Tuck Into the Bamberg Cathedral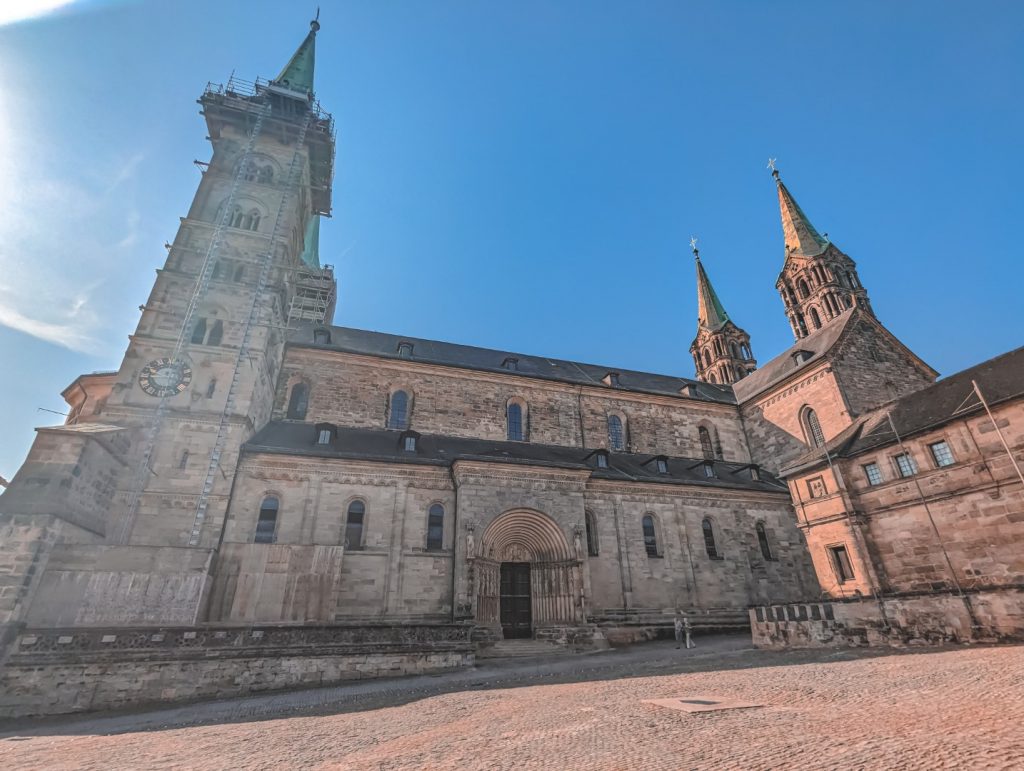 One of the main Bamberg sights is the beautiful, Gothic Bamberger Dom. The Domplatz used to be the main event square of Bamberg and even today, the Cathedral is still a commanding piece of architecture in town. While not the original cathedral on the location (over 1000 years old), the Bamberger Dom we see today still has the impressive bragging rights of being close to 800 years old.
Step into this huge church and you'll see why it's been such an important staple of the town for so long. For starters, it is said that possibly as long ago as the stone age, people already started gathering in what we now know as Bamberg, and on the site of today's Cathedral was originally a fort (and then two more Cathedrals that actually burned down). It's obvious to see the location importance of the Cathedral.
Pope Clement II Burial
Which is also why Pope Clement II is buried in the Bamberger Dom. As the presiding bishop of Bamberg who later became Pope, he had requested that he be buried in Bamberg, NOT Rome, so the Bamberg Cathedral was a natural spot for his final resting place. What ISN'T so natural was his suspicious death less than 12 months after becoming the head of the Roman Catholic Church- most likely poisoning. At the end of the day, Pope Clement II is actually the only Pope to be buried in all of Germany.
The "Bamberg Horseman"
Another notable figure to check out at the Dom is the Bamberger Reiter (Bamberg Horseman). At first glance, it just looks like a normal statue in a beautiful church. But nobody actually knows its origins. We have no idea who actually sculpted it and while there are plenty of various theories of who the man riding the horse could be, it all still remains a mystery to Bamberg and the world alike.
The Imperial Couple (and saints) Heinrich II and Kunigunde
Talk about #RelationshipGoals. Heinrich II and Kunigunde were not only the emperors of the Holy Roman Empire of the German Nation but also are the only canonized saint couple! In fact, if it hadn't been for this duo, the Bamberg Cathedral may never have been built. After all, they were worried that their legacy (and prayers for salvation) would never live on because they couldn't have children. They had the (original) church built and convinced many people to continue to pay alms, pray for them after death, and give masses in their honor. I guess you could say their plan worked since we are still remembering them today!!!
Kunigunde is quite the beloved figure in Bamberg. You'll find a beautiful statue of her looking fondly over the Rathaus on the bridge and there is the rumor that it is because she "spread a veil of fog" over Bamberg to hide them from the destructive bombs of WWII that the town was mostly spared.
Bamberg Cathedral Note: Despite the Cathedral taking 100 years to build, due to the construction material being a not so sturdy Sandstone, chances are good that when you visit the Bamberg Dom that it is, in some way, covered by scaffolds as it almost continuously needs some form of maintenance and reconstruction. However, you can still enjoy it, the square, and most likely, the inside as well.
Step Back in Time in the "Old Court"- Alte Hofhaltung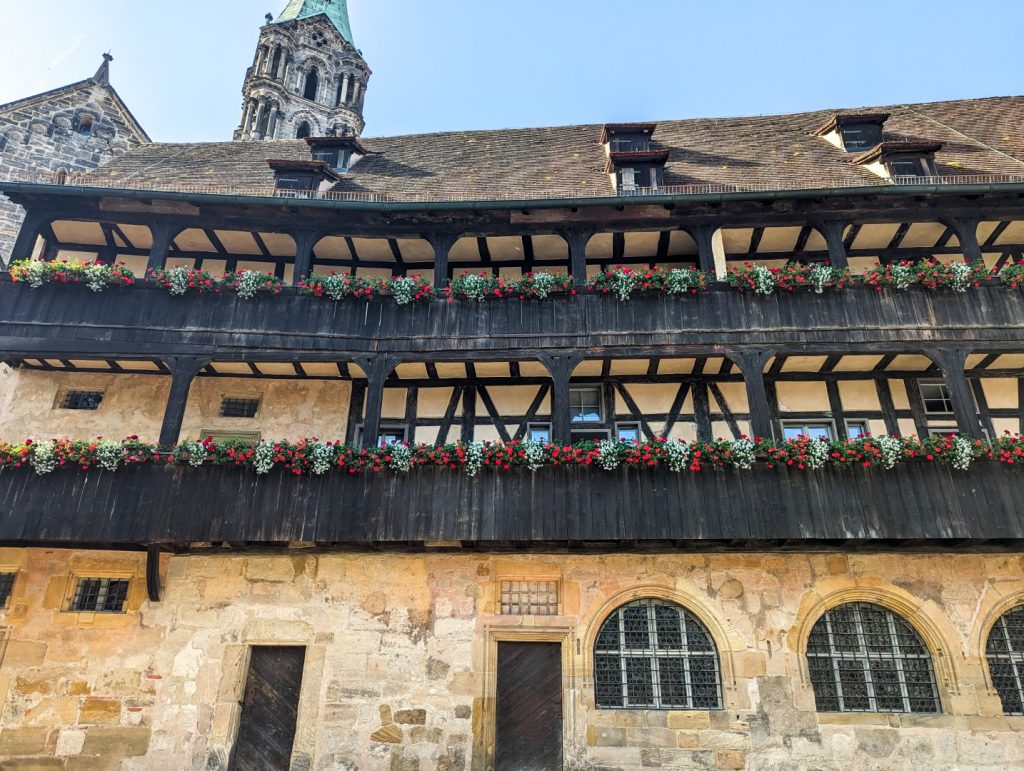 While you are at the Cathedral, don't forget to walk next door and through the gate into the "Old Court" (the Alte Hofhaltung)– a beautiful place where you will feel like you are stepping right back into Medieval times (minus the things like the horse manure on the cobblestones or people who haven't showered in months).
With Bamberg being a highly influential location in the Roman Empire, it was common for kings and emperors to frequently visit here. However, with such powerful people come huge entourages. They needed a place to "house" all the workers as well as a location to be the central headquarters for things like the bakeries for the visitors, horse stables, etc. Sometimes, up to 1000 people would come with the politicians and this is where they basically created a "Campground" for them all. And as you circle around the inner courtyard, with enough imagination, you can practically envision all the hustle and bustle for yourself!
Today, you can go inside, which is a history museum (Free entrance with the Bamberg Card)
Fun Fact: Many movie lovers like to visit this courtyard because it is where some of the scenes from Orlando Bloom's, 2011 "3 Musketeers" was filmed
New Residence/ Neus Residenze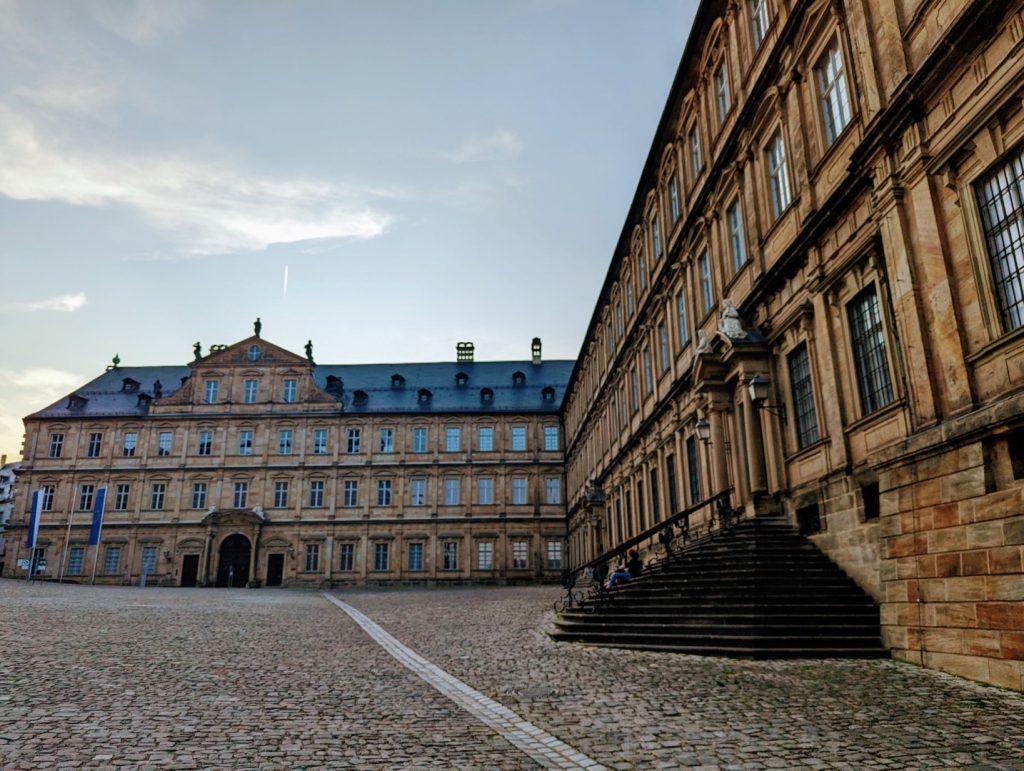 Remember the rulers in the 1700s were a bit obsessed with things like Baroque architecture and Versaille ("Mad" King Ludwig- who built Neuschwanstein also wanted to make Linderhof into his "own" Versaille as well) so naturally, the Prince Bishop of Bamberg also was like, "Hey, I want in on these grand palaces and gardens!" In fact, it is rumored that he "despised" the Fachwerkhaus so much that he created this lavish baroque residence next to the Cathedral.
Insider Tip: If you like seeing the insides of historical buildings, check out the Residenze Apartments and the gorgeous Emperor Hall here (guided tour)
Stop to Smell the Rose (Garden)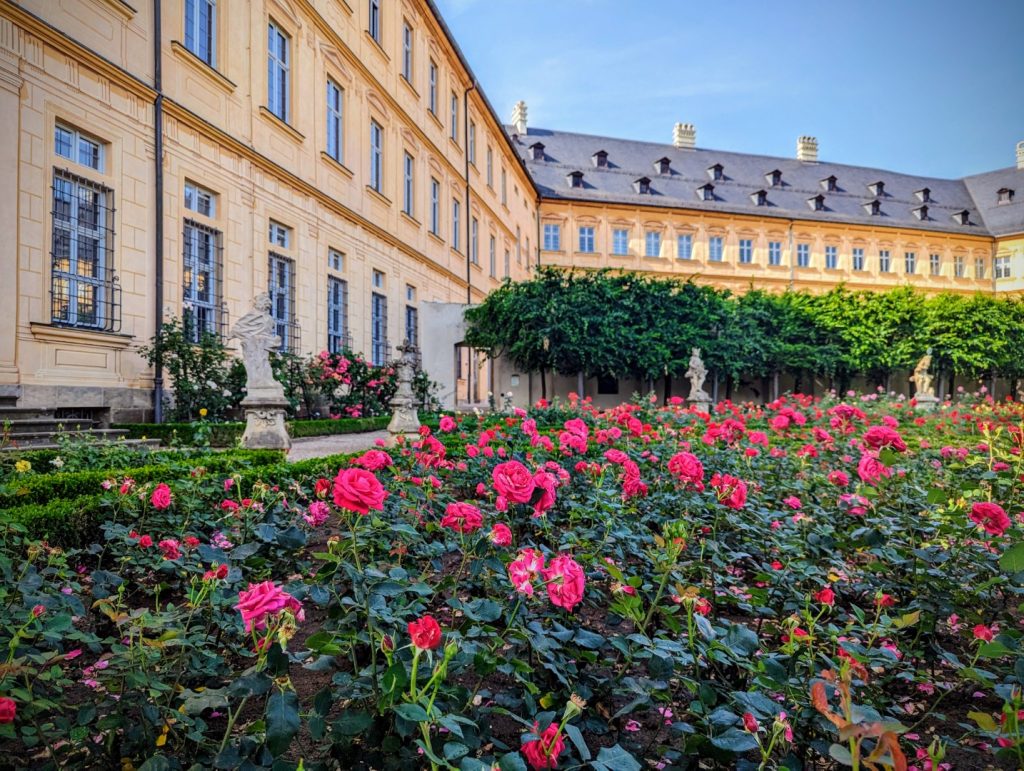 I have always had an affinity for Roses (those and Irises) which are my favorite flowers. So naturally, I had to enjoy one of my favorite Bamberg Attractions: the Bamberg Rosengarten. One of the things that I've always enjoyed about this spot is how locals and tourists alike come here to sit, pause, and slow down for a bit. You'll see people sitting on the benches just soaking in the views of the red rooftops of the Alstadt, friends catching up for a chat, and everyone appreciating the beauty of the blooming buds.
Originally, this garden was attached to the Neus Residenz as your classic "French Style Kitchen Garden" which was primarily used for growing food for the Residenz as well as providing a leisurely place for a stroll through the flowers. Today, you'll find 48 different varieties of roses!
Best time to go to the Bamberg Rose Garden: As always, this depends on the year and weather, but typically, if you want to see the Bamberg Rose Garden in Bloom, anytime from about June(ish) through mid October should yield some beautiful flowers. However, even if the roses aren't in full bloom the views out over the town are still well worth the visit here!
Entry: Free
Hours: Daily
April-September: 9 am-6 pm
October-March: 10 am-4 pm
Bamberg Rose Garden Insider Tip: Stop into the Cafe Floriana in the garden to get an extraordinary cheesecake!!!
Michelsberg Monastery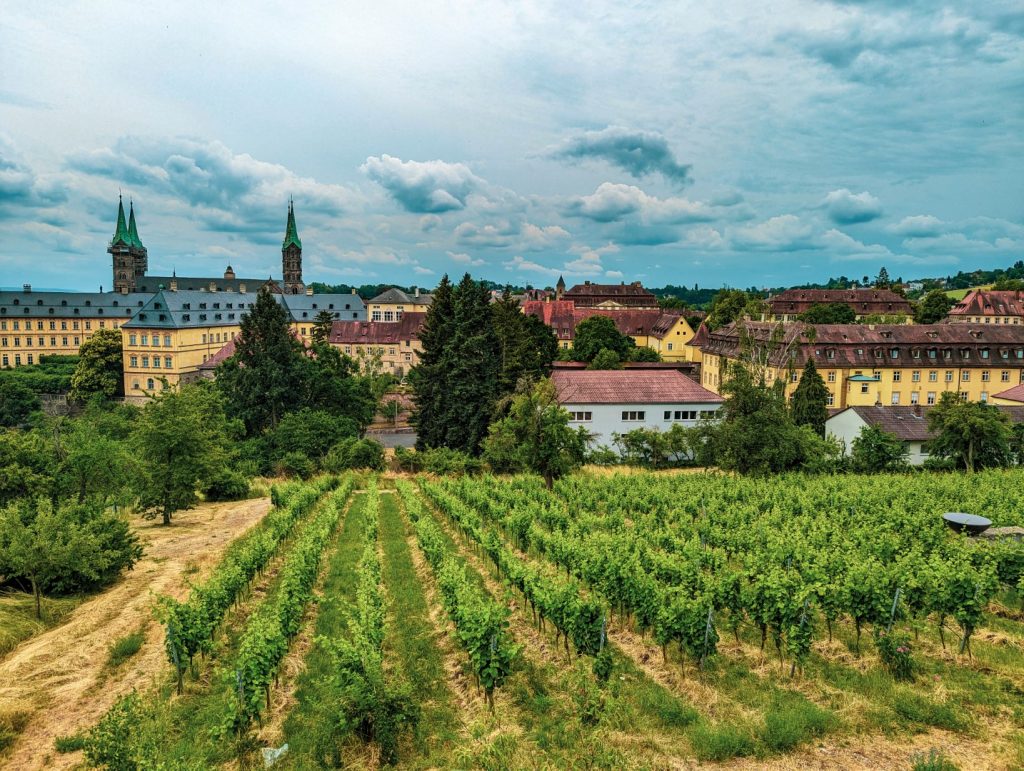 Located high on one of the "Seven Hills" of Bamberg is the imposing Kloster Michaelsberg, which is a "Must" for your Bamberg sightseeing list. Dating back just a "mere" 1000(+) years ago, this Monastery has had many facelifts and revisions over the last millennium. As the story goes with many buildings this old, things like fires and earthquakes influenced new versions needing to be rebuilt, each rendition a mirror to the current architecture of the time. Today, we see a neogothic church with plenty of baroque influences which are impressive to see firsthand.
Fun Fact: The Michaelsberg Kloster used to be the town's largest owner of vineyards (Apparently monks love beer AND wine!)
Important Note: The St. Michael's Monastery is currently closed for renovations and most likely will remain so until at least 2025. HOWEVER, I still recommend a trek up the hill to at least look around the outside, enjoy the beautiful views, and to sit and enjoy a local "Michaelsberg Sekt" or Silvaner at the Cafe (more on these next….)
My Recommendation For Enjoying the Bamberg's Michaelsberg (Opened or Closed!):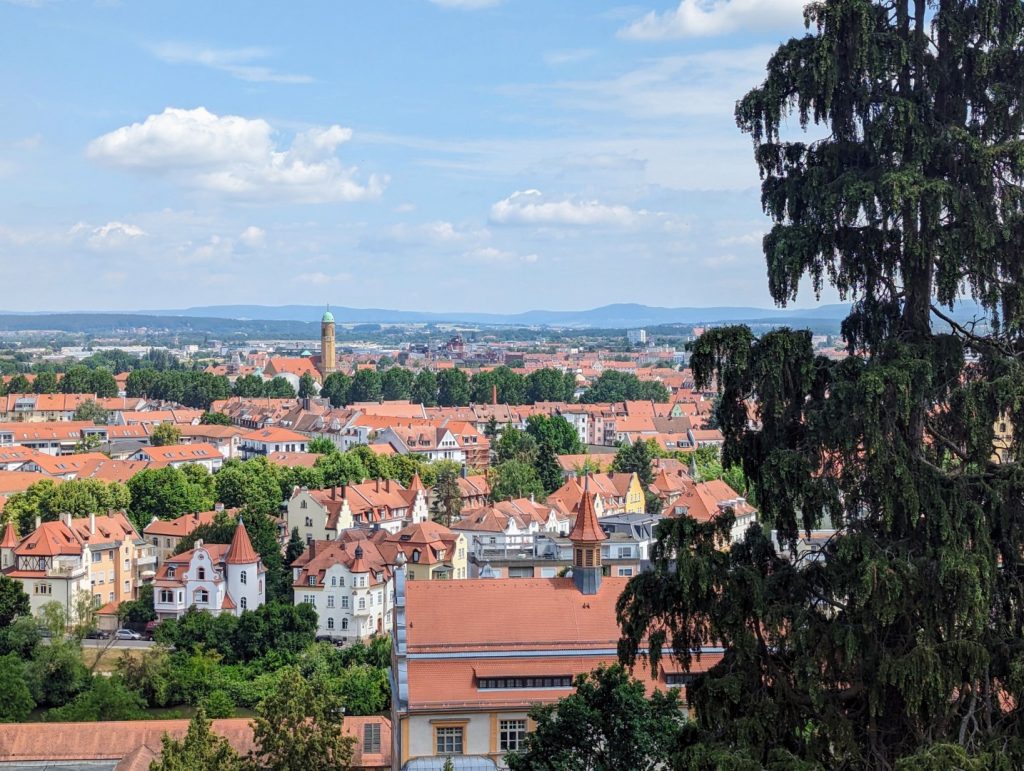 From the

Alte Hofhaltung

, walk in the opposite direction of the Dom on the Domplatzstrasse. Turn right at Michelsbergerstrasse and follow it all the way up to the Kloster. You'll pass some really intriguing looking buildings and houses. You can also go into the St. Jacob's Church on your way up. St. Jacob's is a great idea for what the very original Cathedral probably looked like since it is only slightly younger than that one.
Wander around the outside of the monastery (Today, parts of it are actually a nursing home)
If you want, you can go to the "Beer Museum" (I personally skipped this because I'd rather do an actual beer tour in Bamberg to get a more "Hands on" experience of the beer culture of the area)
Walk passed the Hoity Toity looking Italian Restaurant and gazebo ("Ristorante da Francesco") and continue walking around to the "back" of the Kloster to the actual Michaelsberg Cafe. They have tons of Franconian Specialities that I highly recommend considering! I got the Hausgemachte Röstklöße mit Speck. I wish I knew how to describe this, because when it first came out, I was like, "Hhhmmmm, ok….potatoes, eggs, and bacon mixed up? What's the big deal? I could make this myself for breakfast." But then I started eating it and I was like, "Oh my gosh!!! What is this magical combination!?" Talk about comfort food at its finest!!!! It was fantastic!
Sip on the St. Michael Kloster's OWN wines from their OWN vineyard. I enjoyed their Sekt (sparking wine) that they make from their own grapes, but you can also get a Silvaner (also a very regional Franconian white wine).
Enjoy the views! There is both a viewing platform, but also just looking out to the Dom and town from the cafe is beautiful.
Walk to the giant cross- find the path that goes down (Benediktinerweg/Panoramaweg Michelsberg). From here, follow this path passed the tiny Kloster Vineyard and back down into the heart of the Innenstadt.
Visit a REAL Hopfengarten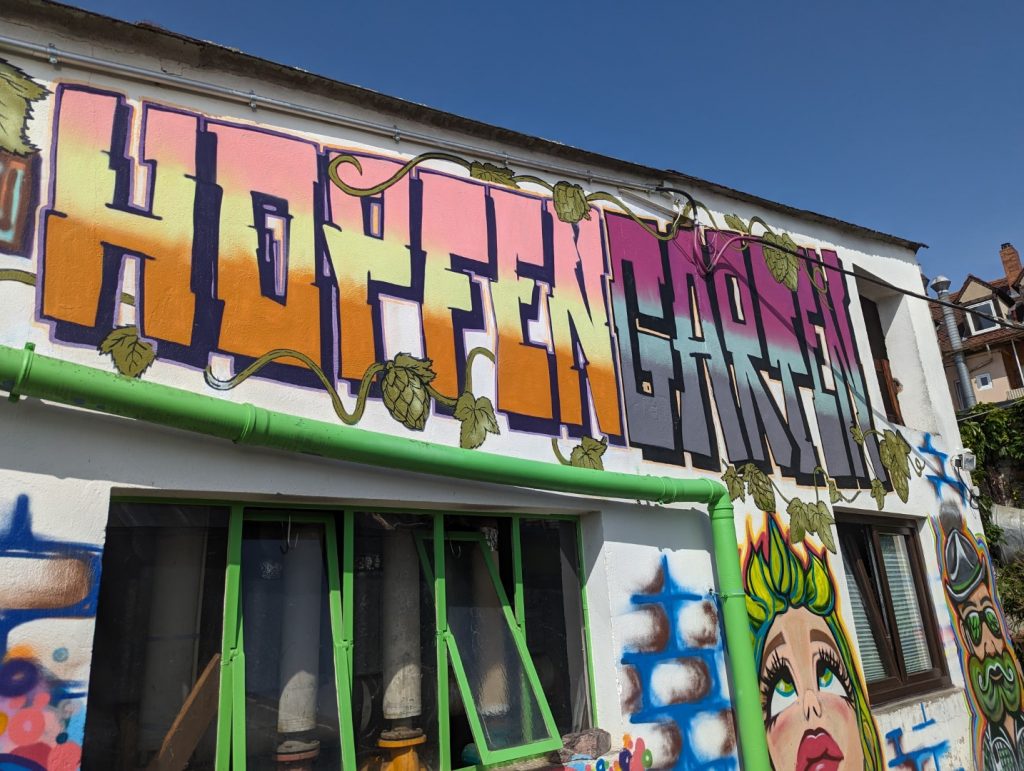 If you know anything about German Beer, nay BAVARIAN BEER, then you know about the Reinheitsgebot "German Beer Purity Law.". Brewers may only use Barley, Hops, and Water and it's taken pretty seriously! Which is why when I heard what Chris was doing at "The Smallest Brewery in Bamberg" I had to raise an eyebrow.
The Bamberg Hopfengarten isn't JUST a brewery. It's AN EXPERIENCE!
First, they are a nursery and are growing some pretty crazy stuff….all to experiment and play around with different craft style beers (I know, BLASPHEMY in Bavaria!) I mean, at one point, they picked some strange yellow bud off a plant and told me to chew it. As my mouth literally went numb Chris began to chuckle at my reaction. I still have NO idea what it actually was, but the fact that they are using so many unique herbs and plants is just downright cool. And the absolute PASSION you see in Chris is basically contagious. He loves what he does and it is really inspiring to watch him talk about his work, projects, and creativity! (Which you can do through different classes, brew sessions, and seminars that they put on).
What are some drinks they've concocted?
The Himbo (Raspberry Helles) was a delight in the summer heat!
How about a spicy, Chili Doppel Bock
Maybe give the Gurke (Cucumber) Beer a try
A Mint Beer? Yes please!
….Just to name a few!
Then there is the distillery. Yup…they make their own Gin and Whiskeys too……oh and food sauces, and spices, and drink syrups……and…and… well, you get the point. I had my reservations if they were spreading themselves too thin and if that meant any of the products wouldn't be good because they were focusing on too many different things buuuut NOPE! They've done a fantastic job!
THEN there is the Hopfgarten itself!!! We all drink beer in Germany and some of us like going to a brewery tour, but few of us actually see the STARTING point of the beer….from the ground up! But here at the Hopfengarten, you can walk amongst the rows of Hops (shoot, they even have a Hop Harvesting Festival in the autumn where you can actually help harvest the hops in exchange for beer! Sign me up!)
Even if you are not coming for a hands-on experience of a class, you can also do tastings, which I HIGHLY recommend! Sitting under a pergola shaded with the growing, green hops was a perfect way to pass a few hours enjoying a very local side of Bamberg!!!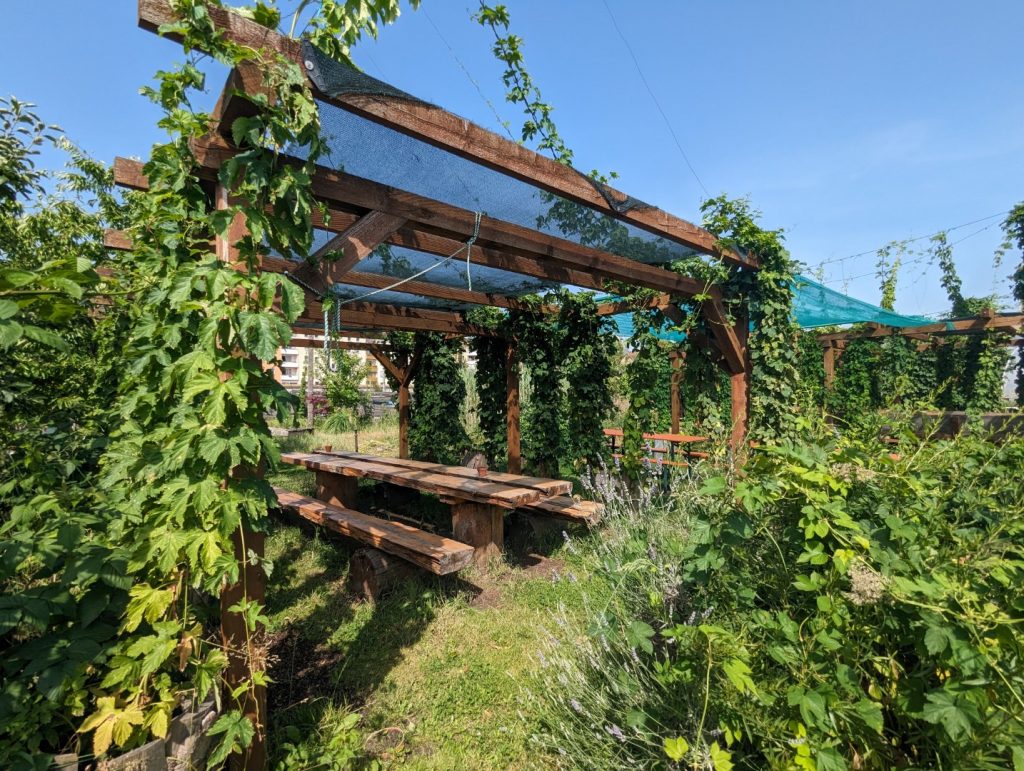 So, let's circle back to this whole "Reinheitsgebot" thing, shall we? First, I asked how Germans were responding to such odd combinations of beers (given the German purity law and the fact that (stereotypically speaking) Germans often like to stick to "Tradition") and it's probably no surprise that the younger generations are totally embracing the creativity! But as for the actual Reinheitsgebot? Well….since there are other ingredients besides the barley, hops, and water, he can't label it as "Beer" and instead as a "Gerstenmalz" (Barley Malt) Drink. #Semantics!
Eat Your Way Through Bamberg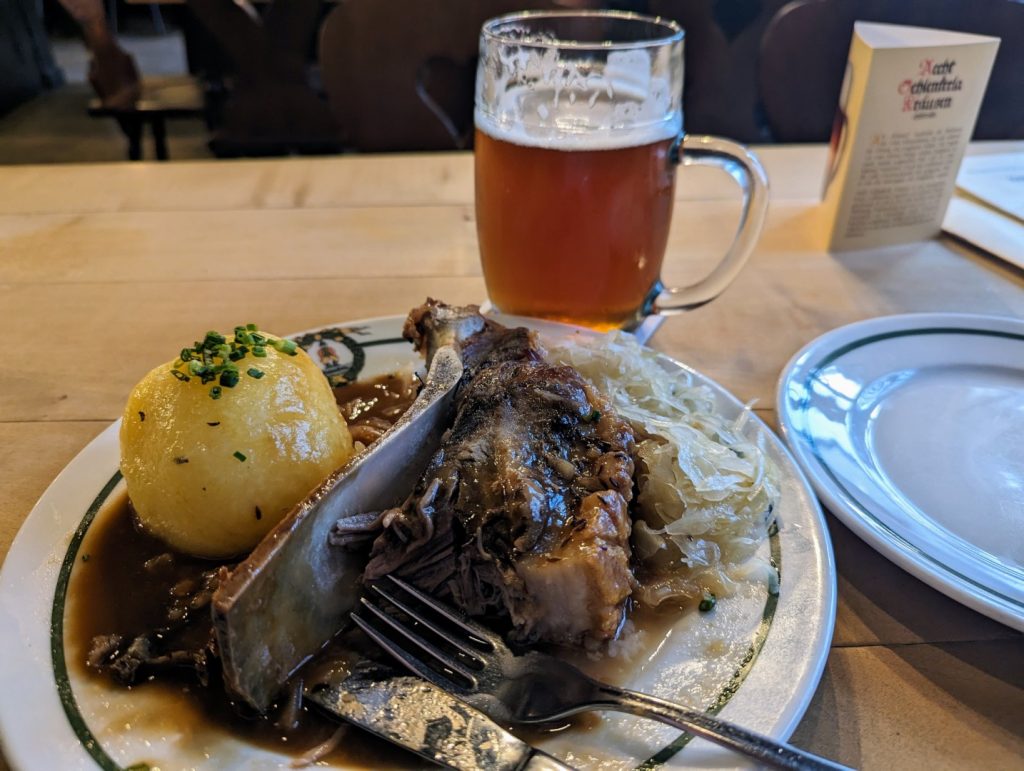 I'm just going to make a whole separate blog post on this because, well…we are talking about me here. Of course, I had to eat my way through Bamberg and I was really surprised with how many unique things I found! Stay tuned for that article coming out ASAP. Here are just a few things that I couldn't say no to while eating in Bamberg:
Local Franconian Food (Blaue Zipfel- brats cooked in Vinegar, Bamberg Zwiebel- minced meat cooked inside onions, Schäufele- roasted pork shoulder….and more!)
Bamberger Hörnla: A yeast dough croissant
Macaroons
Local Chocolates from Storath
Geschnittene Hasen ("Sliced Bunnies): a DELICIOUS pastry fried in butter and coated in sugar and cinnamon
A house made strawberry lemonade (optional: Vodka to make it a cocktail!)- it was so good, I went back the second night to try the Coconut Mint version. I'm still not sure which I enjoyed more!
Pro Tip (Make Reservations!): I personally recommend making reservations for restaurants during dinnertime! When I was in Bamberg (June) it was quite busy with both locals and tourists enjoying the city and many places required reservations to get a table.
Enjoy a Cafe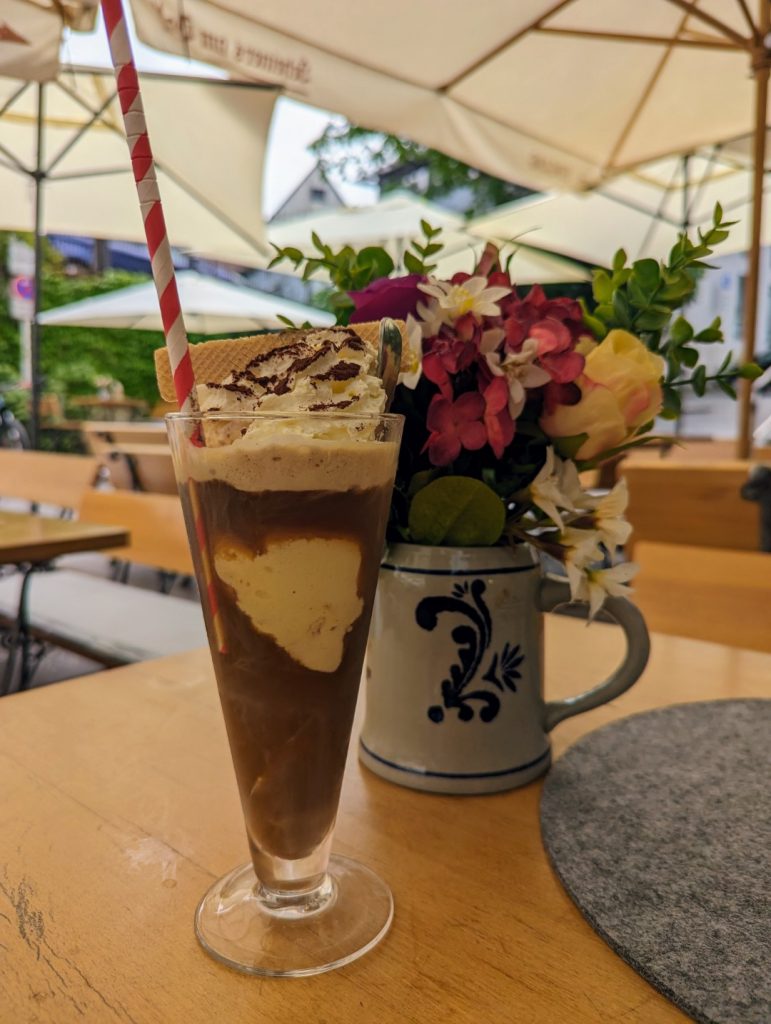 I simply love the "Cafe Culture" of Bamberg. No matter where you walk around the Bamberg Altstadt there are corner cafes and restaurants to sit down, slow down, and enjoy. Whether you are getting a glass of Franconian wine, a Bamberg Rauchbier, an afternoon Latte Machiatto, or a slice of cake, anytime is a great time to people watch at an outdoor cafe!!!
See the Gabelmann,

Martinskirche

, and the Grüne Markt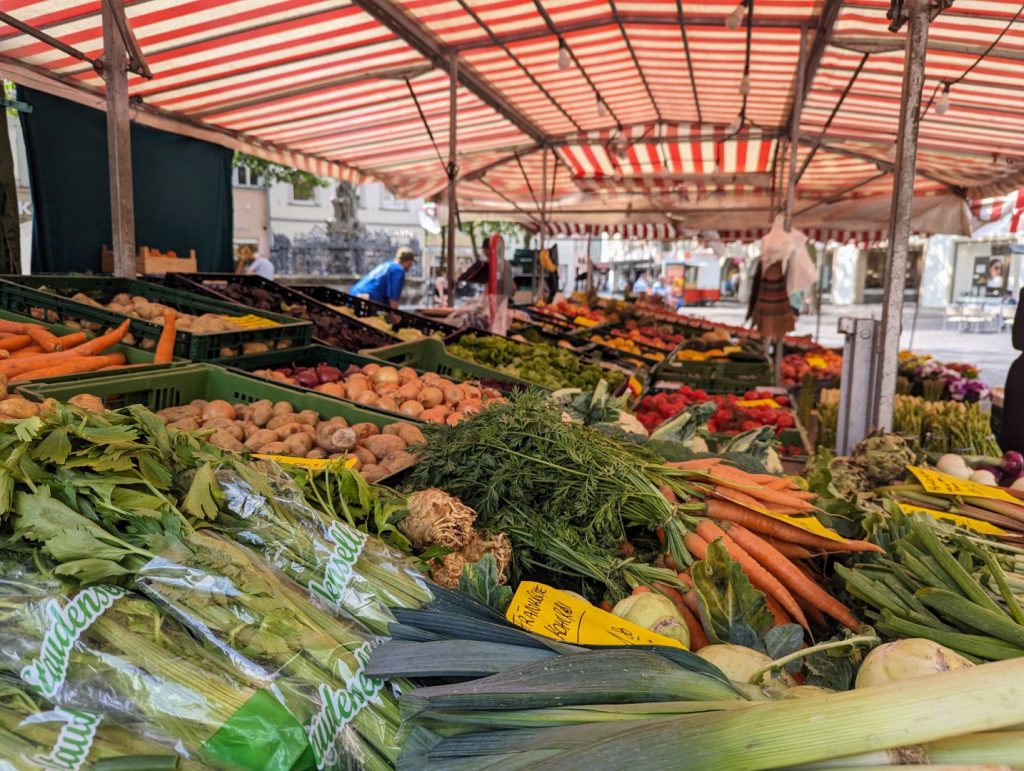 In the Pedestrian Zone, you'll find this lively square. On one end, there is the Neptune fountain, however, since he is holding a pitchfork, you'll only hear the locals calling it the "Gabelmann" or "Fork Man!" Walk a little bit down and you'll find the rows and stalls of local produce and fresh flowers being sold Monday- Saturday by local vendors. You'll also find Martinskirche here as well, worth just a quick pop into for a few minutes.
The Bamberg Grüne Markt Bombed During WWII
Bamberg is known to have escaped the bombs and destruction of WWII, however, it didn't completely go unscathed. This market square did get hit and this is why many of the buildings are rebuilt in a more "modern" style (that is subjective since I'd argue that it still looks quite old!) compared to the elaborate Baroque facades and the unique Fachwerkhauses.
Insider Tip: I got asked once in my Travel in Bavaria Facebook group for recommendations on where to buy authentic Birkenstock in Germany. Apparently, there is a good store for this on this square, the "Schuh Zeller."
Tour a Museum
Personally, I spent most of my time "getting lost" in back alleyways and cobblestone streets of Bamberg and much preferred that to going indoors to a museum. However, if you are a museum type of person, Bamberg has plenty of museums to consider! A few of the top rated ones are:
Diözesanmuseum (Old Treasury)

Naturkundemuseum (Natural History Museum)

Beer Museum
More
Hike To the Bamberg Castle Altenburg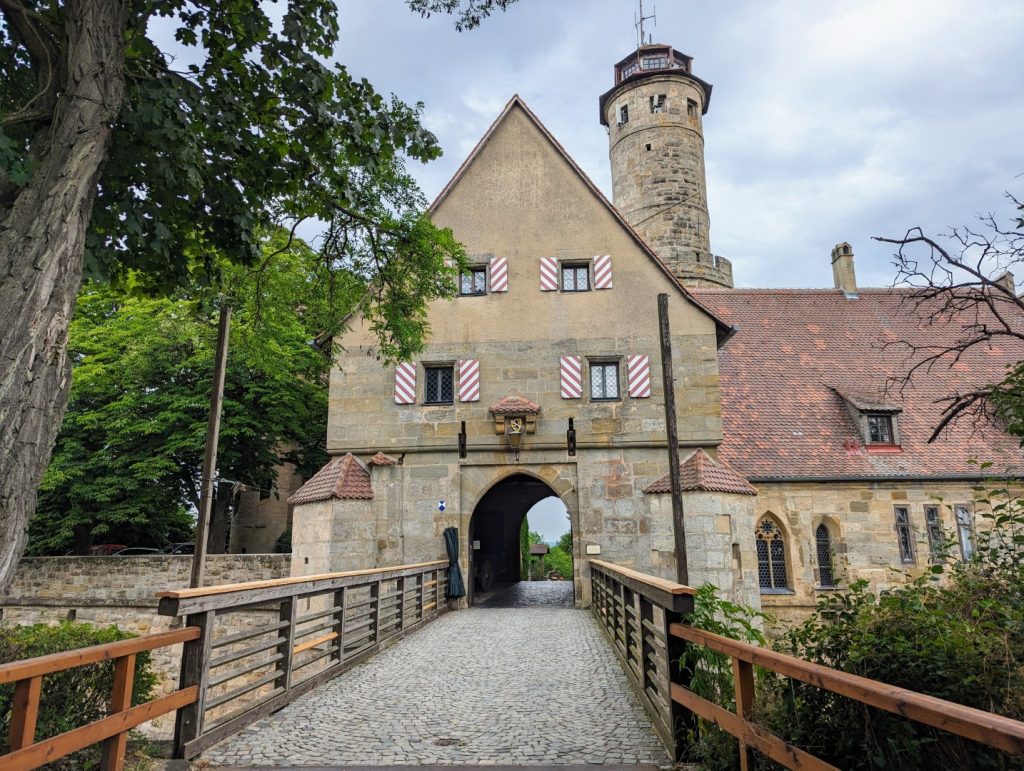 Despite having lived in Germany for almost 10 years, I am still far from "Castled-Out." And the Bamberg Altenburg Castle? Yeeeah…..I'd be lying if I said it wasn't well worth the trek!
Getting to the Altenburg Castle:
The easiest way is to simply drive to the parking lot at the foot of the castle (you can also get a taxi)
Take a bus to a "nearby" stop. There is no actual bus stop at the castle, so you can get close, but then you still have to walk at least 15 minutes usually to get up to the castle (and yes…it is UP).
Walk from the Altstadt. It's actually only about a 30-45 minute walk from the Bamberg Altstadt (it is quite uphill though!)
Take One of the Many Bamberg Beer Tours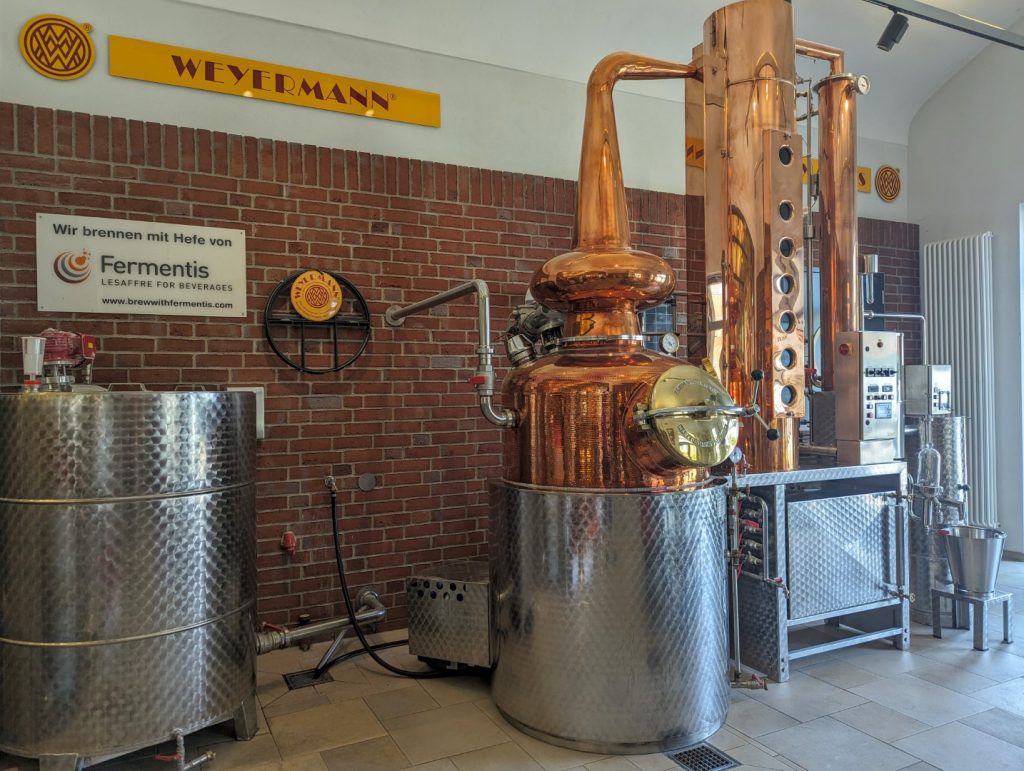 One way to really immerse yourself in the Bamberg Beer culture is to do a beer tour. You can do something as simple as a tour of the Weyermann factory (an institution for malt production globally), do a Beer Hike with the Beer Wanderers, or do an amazing day at the Bamberg Hopfengarten where you can take part in making the beer yourself!
Dates to Note For Bamberg Events
There are so many great things to do in Bamberg year around. Be sure to be on the lookout for some of my favorites:
Rooftop Thursdays
In the summers, there is always plenty to enjoy outside in Bamberg. One unique thing is the "Rooftop Thursdays" which run from May to September. Head to the Haas Säle terrace (Near the bottom of the Cathedral) on the lively Sandstrasse (street) and enjoy a live DJ, drinks, and fun on summer evenings.
Bamberg Sandkerwa
August 24-28th, 2023
A Kirchweih festival is one of the many festivals in Germany besides Oktoberfest! A Kerwva fest celebrates the consecration of the local church (in Bamberg's situation, the St. Elisabethenkirche)
You can expect a carnival like experience, live music, and in Bamberg things like jousting contests, parades, an odd clay pot smashing contest(!?) while blindfolded, fireworks, and more festivities!
Fête de la Musique
(Summer Solstice Annual)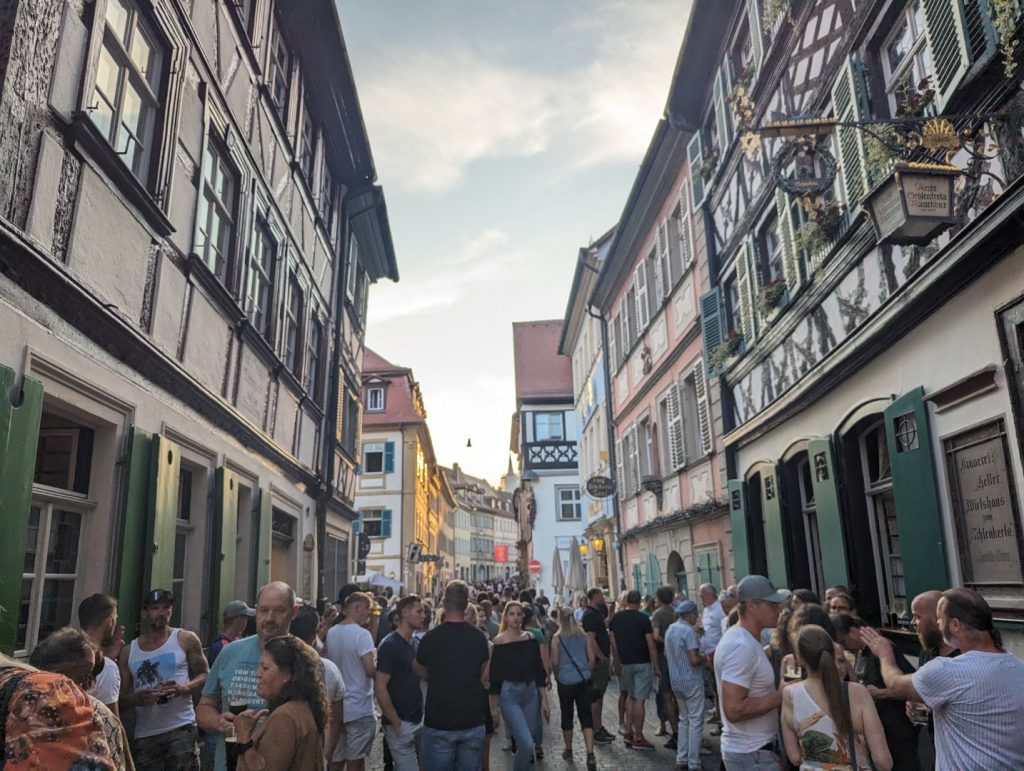 Summer Solstice is celebrated throughout Europe, whether at the German Bergfeuer in the mountains (a MUST see experience!!!) or, in the case of Bamberg and over 340 other cities worldwide, they participate in a music festival held on the longest day of the year! In Bamberg, you simply need to walk down the lively Sandstrasse in the Altstadt to see and hear live bands of all styles.
I was there for the Fête de la Musique this year and REALLY enjoyed everyone out savoring the gorgeous summer evening. If you don't like one style of music (I personally didn't care for the loud DJ in one of the squares-I know, I know….I'm like an old crabby lady!) then simply walk a few steps to find another band. I strolled just 2 minutes from the DJ and found a fantastic acoustic 4 person band singing folk style music- MUCH more my vibe!) I grabbed a drink from the restaurant and sat on the bridge overlooking the band simply soaking in the atmosphere of the town.
Attend a Local Bockbieranstiche (Bock Beer Tapping)
(September- October Annually)
Beer tapping is a cultural shebang no matter where you are at in Germany! Just about ANY beer festival throughout Germany will typically open with an official beer tapping to get the party started. In Bamberg, the Bock Bier is a big deal and TONS of the local breweries will have their annual tapping (Bockbieranstiche) for the "Strong Beer Season." If you are in Franconia between September through October, be sure to put a Bockbieranstiche on your bucket list!
Bock Bier used to be widely used by monks who were supposed to be fasting. You know the term "Liquid Bread"…..yeaaaah, sounds like a clever workaround if you ask me! (Can you even imagine, a bunch of monks walking around on empty stomachs drinking high alcohol content beer!?!?!) This beer isn't for the lightweights clocking in at 6.5-7.% alcohol!
Bamberg Bockbieranstich Events: See the different dates for different breweries here
Schlenkerla Urbock:
(First Thursday of every October)
The Schlenkerla Urbock is the Schlenkerla's version of the Bockbieranstich. Being such a highly regarded establishment, you can imagine this is a good ol' time! Head to the Dominikanerhof (next door to the Schlenkerla) on the first Thursday in October for their SMOKED Bock Bier tapping to kick off the "Bamberg Strong Beer Season."
The Urbock beer has been maturing in the caves of Bamberg and while it is similar to the Schlenkerla's famous Marzen Rauchbier, the Urbock has even MORE smokey malt and even MORE alcohol (if you can imagine such a thing!!)
Bamberg Wine Festival
(End of May)
Move over Rhine and Mosel Valleys, Franconia is a totally underrated gem for wine lovers!!! While Bamberg is most known for its Rauchbier, it still has its fair share of local, Franconian wines.
Each year, towards the end of May is the Bamberg Wine Festival, where local growers from nearby Franconian vineyards show off the fruits of their labor!
Bamberg Christmas Markets
(Late November-Christmas)
While there are countless fantastic Christmas Markets in Germany (and here are my favorite Bavaria Christmas Markets), no Bamberg Winter would be complete without doing the Bamberg Christmas market on Maximillianplatz. One thing that makes the Bamberg Christmas Market just a bit unique is that you can actually purchase an ornament to put on their HUGE outdoor Christmas Tree (proceeds go to charity) and they are proud of their rotating nativity scene that changes weekly during Advent.
Get the Bamberg Card
One way to see more of Bamberg for less is to get the Bamberg Card. For only €22, you get 3 days worth of:
Complete use of the Bamberg Public Transportation system (bus, train, etc)
Entrance into most of the museums in town
An included historical walking tour
Discounts to various other local things to do
Cost: €22
Validity: 3 Days
Getting to Bamberg
Where is Bamberg, Germany?
Depending on the rest of your itinerary will most likely depend on the exact details of how to get to Bamberg. I personally suggest using Bamberg as part of your journey (not the beginning stop) because depending on where you fly into, there may be some really fantastic places along the way. For example:
Where to Fly Into:
Albrecht Dürer Airport Nürnberg (NUE):
The Nuremberg Airport is arguably the closest airport to Bamberg and is a great starting base as well for a trip around Bavaria. However, not a TON of international (like from the US) flights come in and out of Nuremberg and it is often more expensive than other options. However, if it works out for you, then taking a quick train from Nuremberg to Bamberg (40 minutes) couldn't be easier!
Start your trip with a few days in Nuremberg before going up to Bamberg. Or, make Bamberg one of your many Day Trips From Nuremberg.
Munich (MUC):
Many people find flights in and out of Munich to be the best option when flying internationally coming into Bavaria and Munich gives them access to SO much to do in the area. If flying into Munich, I highly recommend spending at least 2 Days in Munich itself then stopping for 1 day in Regensburg before going to Nuremberg and then continuing onto Bamberg for a few days.
Frankfurt (FRA)
Despite it not being IN Bavaria, flying in and out of Frankfurt is often more affordable than the other airports mentioned AND you can get to Bamberg in just a little over 2 hours. Many people will make a stop in Würzburg on their way from Frankfurt to Bamberg.
Getting to Bamberg by Train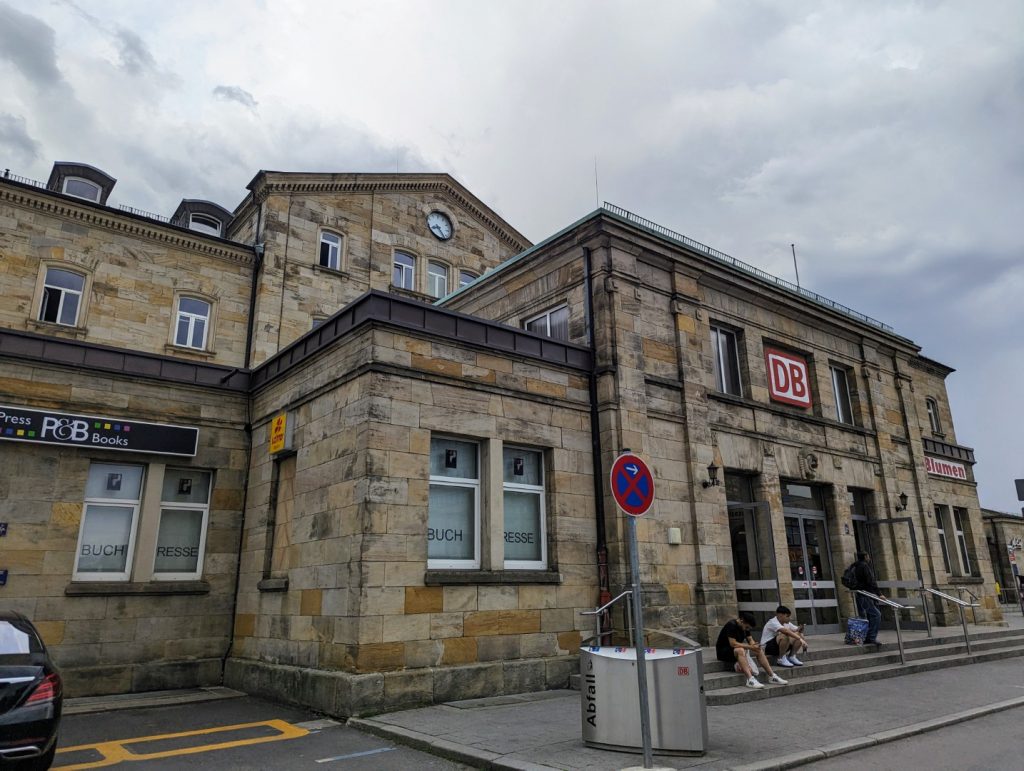 One thing that is really great about Bamberg is how easily accessible it is by train. Remember, if you are traveling within Bavaria, it's worth it to look into the Bayern Pass to get to Bamberg by train!
The only catch to the Bamberg Train Station is that, unlike a lot of other towns in Germany, the highlights of the Bamberg Altstadt aren't right when you step off the tracks. If you are staying within the Bamberg Old Town, it's only about a 20 minute walk. However, with luggage (and those wonderful cobblestone streets!) it can be a slight challenge. You can either take a bus to get close to your hotel, walk, or simply hire a taxi, which are often right outside the train station.
Reminder: When using the Bavaria Train Ticket, it is only valid on REGIONAL TRAINS ONLY.
Purchase Your Other Deutsche Bahn Tickets (including ICE) Here

Once again, the step by steps on getting to the Bamberg Hauptbahnhof will be determined by where exactly you are coming from. But a few of the common routes travelers are on are:
Rothenburg to Bamberg by Train:
Time: 2.5 hours- 3.25 hours
Many people will go to/from Bamberg to Rothenburg. There are various train routes to get in between these two towns (both are in Bavaria, so the Bayern Pass is good for the regional trains). No matter the train/route you take, they are all generally between 2.5-3.25 hours but none of them are direct. Some will transfer in Würzburg (and Steinach for this route), others in Nuremberg.
Nuremberg to Bamberg Train
Time: 35 minutes (ICE Trains)- 45 Minutes (Regional)
If you are coming from the Nuremberg HBF, there are often trains coming about every 35 minutes (ish) and it couldn't be easier. There are no transfers and you'll be getting on the train that ends in Bamberg, so there is little room for error (just don't get on the ICE train if you have the Bayern Pass!)
From the Nuremberg Airport: It's actually still VERY easy to get to Bamberg from the Nuremberg Airport. The Ubahn is literally right outside the front doors of the airport. Hop on the U2 which takes you directly to the Central Station. From there, follow the above directions. This total time only takes about 1 hour.
Munich (HBF) to Bamberg Train
Time: 2-3 hours depending on the train you take
While I personally recommend adding in other stops (Regensburg, Nuremberg, etc) in between Munich and Bamberg, if you have decided to just go straight, then you have two main options:
The ICE Train: This is going to be the fastest option and takes 2 hours or less and has zero transfers making it quite easy. I always recommend booking a seat when doing ICE trains.
Regional Trains: While quite affordable, taking the regional train from Munich to Bamberg will take you about 3 hours (give or take a bit depending on the exact regional train you take). It also usually has one change (typically in Nuremberg.
Frankfurt (Airport) to Bamberg
Time: Less than 3 hours
At the Frankfurt Airport, just follow the signs for the trains. From there, you can grab an ICE train, which departs regularly throughout the day in the direction of Würzburg. In Würzburg, you'll transfer to a regional train which gets you the rest of the way to the Bamberg Train Station.
Getting to Bamberg By Car
Of course, the other option if you are Driving in Germany is to simply just drive yourself from wherever you are coming from. These are all approximate times and can vary depending on traffic.
Nuremberg to Bamberg: 45-60 minutes
Rothenburg to Bamberg: 1 hour 45 minutes
Regensburg to Bamberg: 2 hours
Munich to Bamberg: 2.5-3 hours
Frankfurt to Bamberg: 2-3 hours (pending traffic)
Bamberg Parking
Parking in Bamberg can be a challenge. There aren't a ton of free spots and even if there are, I personally hate driving into the pedestrian-filled Old Town zones of any medieval town, which inevitably have small cobblestone alleys to navigate.
If you are driving to Bamberg and staying the night, I definitely recommend asking your hotel about parking (even if they may not offer it, they'll be able to tell you which garage is closest).
Find a parking garage: This is what I've done in the past on day trips. You do have to pay. There are other "Tiefgarages" (Parking Garages) but here are a few that are closer to the Altstadt:

Parkhaus Zentrum Nord

: Only about 5-10 minutes walk to the main sights and has plenty of spaces available

Parkhaus am ZOB:

Situated near the central bus station (ZOB), this parking garage provides easy access to both the city center and public transportation.

Parkhaus Obere Königstraße:

This is where I parked in the past and is close enough to the Altstadt and main sights
Where to Stay in Bamberg/ Best Bamberg Hotels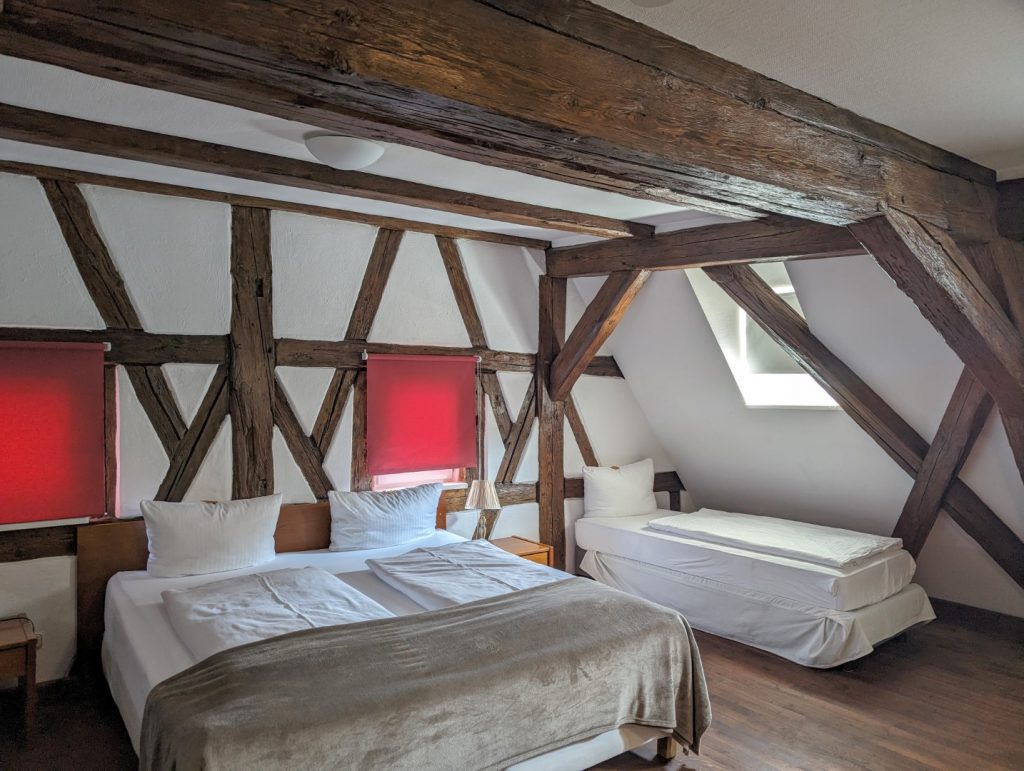 It's probably no surprise that in such a cute town that there are equally cute hotels to stay at in Bamberg! There are plenty of locally owned, charming Pensions, Guesthouses, and Boutique Hotels in Bamberg to choose from. You can read my full "Best Bamberg Hotels" Guide here or check out my top picks:
Need a Fast Answer? Here are My Absolute Top Picks for A Boutique Hotel: Bamberg
Need a Fast Answer? Hereare My Absolute Top Picks for A Boutique Hotel: Bamberg
FAQs
What is Bamberg Known For?
Bamberg is arguably most known for its Bamberg Rauchbier (smoked beer) as well as its unique UNESCO World Heritage Site that includes all of the Bamberg Altstadt for having some of the best preserved Medieval Architecture (Fachwerkhaus) in combination with Baroque Architecture.
Where is Bamberg Germany?
Bamberg is located in the Northern region of Bavaria known as "Franconia." It is less than an hour away North of Nuremberg, is about 2 hours North of Munich, and is only about 2.5 hours East from Frankfurt.
Why Go to Bamberg?
Bamberg is everything a quintessential place to see in Germany should be! Medieval, charming, cute, friendly, historical, local, and plenty to do! It's not "off the beaten path" but it is definitely less visited than other "main" sights in Bavaria, making it a perfect gem to get to know local life a bit better, eat some great Franconian food, and see some stunning architecture in a medieval town that is still bustling today!
How Many Days for Bamberg?
You'll want a minimum of 1 day to see the main things to do in Bamberg, but give yourself 2 full days if you like a slower side of travel and enjoy seeing a more authentic side of places.
Is Bamberg a Small Town?
The Bamberg Altstadt is very compact and easy to get around to most everything by foot. The town of Bamberg itself has a population of almost 80,000 people though, so it is by no stretch of the imagination a "Small Village." Most things outside of the Altstadt can be accessed by the local bus system.
Is Bamberg Germany Walkable?
Absolutely! Most of the main sights are all in a compact area of the Alstadt. If you take the train to Bamberg, it is just a short 20 minute walk from the Hauptbahnhof to the Altstadt. You can walk around Bamberg (Old Town) easily in one day. There are also many frequent buses that run all over Bamberg, making it very accessible without a car.
Is Bamberg On the Romantic Road?
No. However, it is on the WanderInGermany's "Under the Radar Route" which includes an "Off the beaten path" alternative to the very touristy towns along the Romantic Road while not losing any of the charm and "romance" that is so alluring to tourists.
Which is Better, Bamberg or Regensburg?
I would argue that both Bamberg and Regensburg have extremely similar "vibes" to the cities and you simply can't go wrong with either destination. Both are great day trips and both are places that have enough to do but are not completely overridden with hoards of tourists. If you are staying in more Southern Bavaria, then Regensburg is a no brainer and easy to get to. But, if you are enjoying Northern Bavaria or even parts of Baden-Württemberg, Bamberg is a cinch to get to and worth enjoying for at least a day!
Why Wasn't Bamberg Bombed?
While there is an old rumor that the Empress Kunigunde "lowered her veil" and shielded the town in a cloud of fog to protect the town from the raids, the reality is that Bamberg just wasn't a logistical and military target. There were few factories and industries in Bamberg contributing to the war, it wasn't a major transportation hub for supplies, and it wasn't a major military operational location…all saving it from getting hit too hard and therefore preserving the medieval town.
What Region is Bamberg Germany In?
Bamberg is in the Franconia region, which is the northern area of the state of Bavaria.
Is Franconia Bavaria?
Franconians are Franconian first. However, today much of Franconia is in the Northern region of the state of Bavaria. Parts of Franconia also reach into the nearby German states of Baden-Württemberg, Hesse, Thuringia, and even slightly into Saxony.
Why is Franconia Part of Bavaria?
Despite almost becoming a sovereign state several times, Franconia never was able to do so due to many smaller strongholds and mini states within the region. Because it was not its own state and not completely able to be unified together, by the time Napoleon took control of many Germanic areas, he decided to merge Franconia into Bavaria (which was its own State/ "Country" at the time)
It wasn't until 1871 that Bavaria (and therefore also Franconia) even become a part of the German Empire.
Is Bamberg near Munich?
Both Bamberg and Munich are in the southern German state of Bavaria. Munich to Bamberg is approximately 230 kilometers (143 miles) which takes about 2.5-3 hours to drive or less than 2 hours by high speed train.