[This post may contain affiliate links where we earn a small commission. Please see our disclosure for more information and thank you for supporting our site so we can continue to bring you awesome content for your travel inspiration!]
Note: This Article has been updated for the 2023 Christmas Markets and will continue to be updated as more markets release their 2023 dates
Best German Christmas Markets To Visit
You could easily spend every day of December going to a new German Christmas market and still have not see them all, which is why if you are doing a Christmas in Germany itinerary, it's best to focus on just one area or region. That's why I want to dig into the Best Christmas Markets in Bavaria and give you the perfect German itinerary to enjoy both some of the most famous Christmas markets in Germany, as well as some of my own, personal, local, favorite, and off the beaten path ones.
Just about every town and village in the country has its own Weihnachtmarkt but some are more notable and famous than others. The problem is, even if you just wanted to see the most famous Christmas Markets in Germany, you'd be spending so much time traveling between them that you wouldn't really get to slow down and enjoy both the German culture and the markets alike.
Not Sure What to Buy at a Christmas Market? Here's the Perfect Shopping List!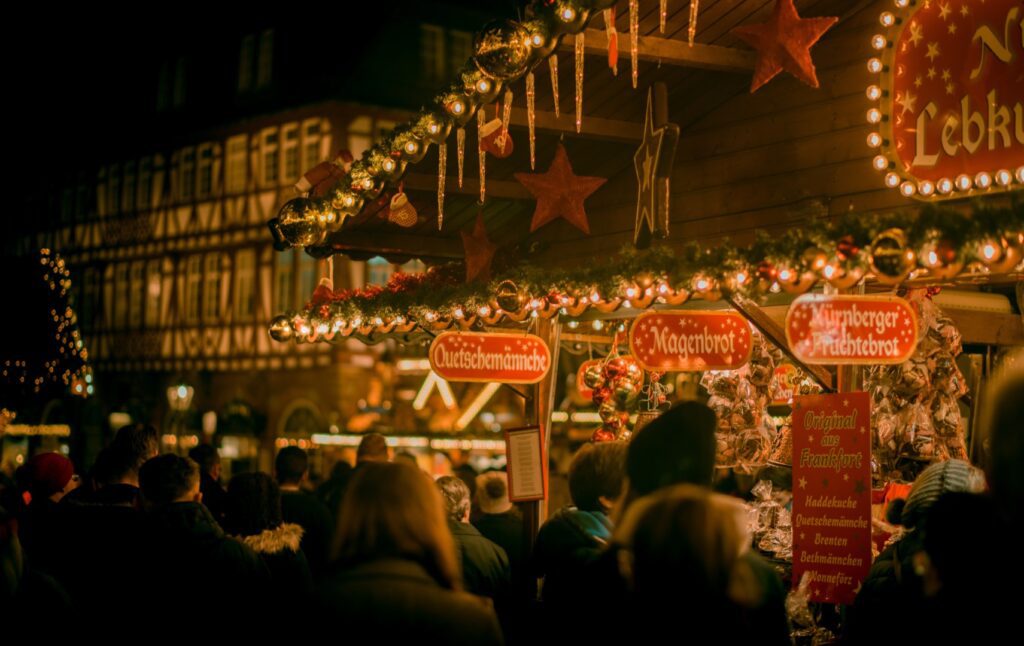 Which is why even though there are SO many other German Christmas Markets that are absolutely worthy of going to, I wanted to create an Itinerary that gave you plenty of time to explore some of the country's best while not being so rushed that you don't actually enjoy your time.
Also, I wanted to give you a few special, off the beaten path German Christmas Markets that, to be completely honest, are actually better (in my humble opinion) than some of the bigger named ones.
NOTE: This itinerary is planned for people traveling to Germany for the Christmas Markets. Bavaria has so much to offer though, so I've created it as a way to see both the popular cities as well as having enough time for the markets. (If you currently live in Germany, feel free to use this itinerary or make them weekend or day trips)
Planning a Trip to Germany? Join Our Fantastic Traveling in Bavaria Facebook Group!
Note: This itinerary is JUST for the amazing Christmas Markets in Bavaria. Obviously, there are so many other famous Christmas Markets in Germany that are well worth visiting, but alas, we just can't do them all in one trip! Some other German Christmas Markets to look forward to on other trips are:
Dresden
Aachen
Freiburg
Berlin
Düsseldorf
In this itinerary, I'll cover where you should go, how long I suggest staying at each place, give accommodation recommendations, and of course, cover all things "Germany Christmas Markets!"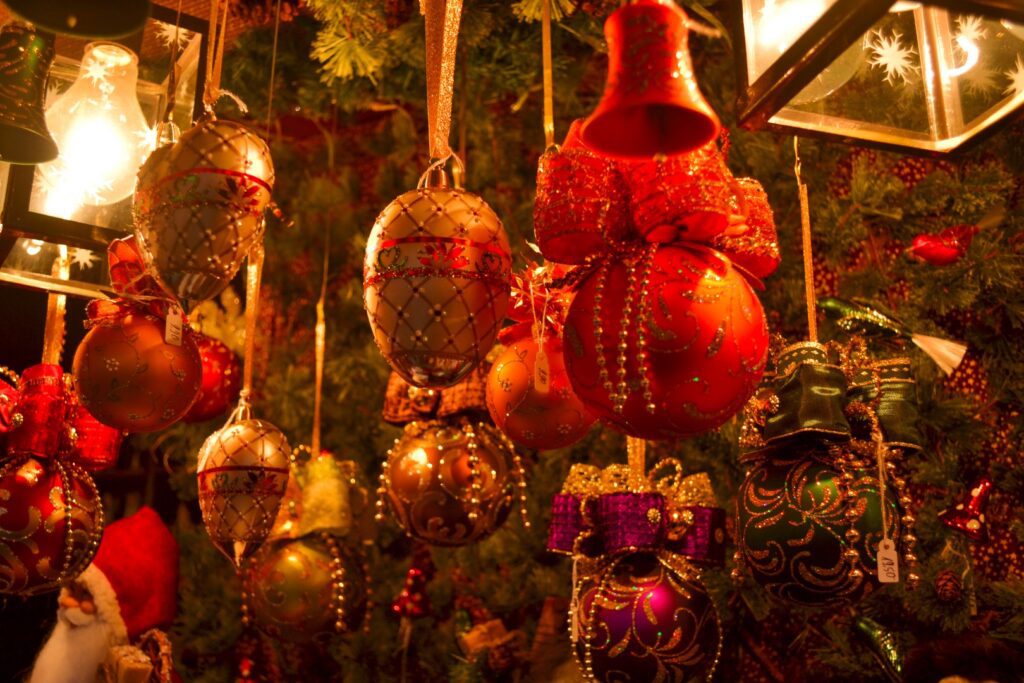 Other WanderInGermany In Depth Article That You Might Find Useful:
Should I Drive Or Can I Take the Trains?
Usually, I totally recommend taking the trains in Germany if you can. And while a lot of this itinerary is possible via public transportation, a few of the locations will need a car. Also, since we have some days where we want to get a few markets in, taking public transportation could make that impossible. If you do decide to take the trains, don't forget to look into the Bayern Pass, since everywhere we are going in this itinerary is in Bavaria.
Therefore, I actually recommend driving in Germany for this itinerary. If you are flying into Munich you won't need a car at all in the city, so you can rent one on your last day before heading to the next destination. For the city locations in this itinerary, it's best to just simply google a parking garage near the market and park there for the day. The smaller markets listed typically have parking at lots nearby.
Find The Best Prices For Car Rentals in Germany Here
The Munich Christmas Markets and City Sight Seeing: 2-4 days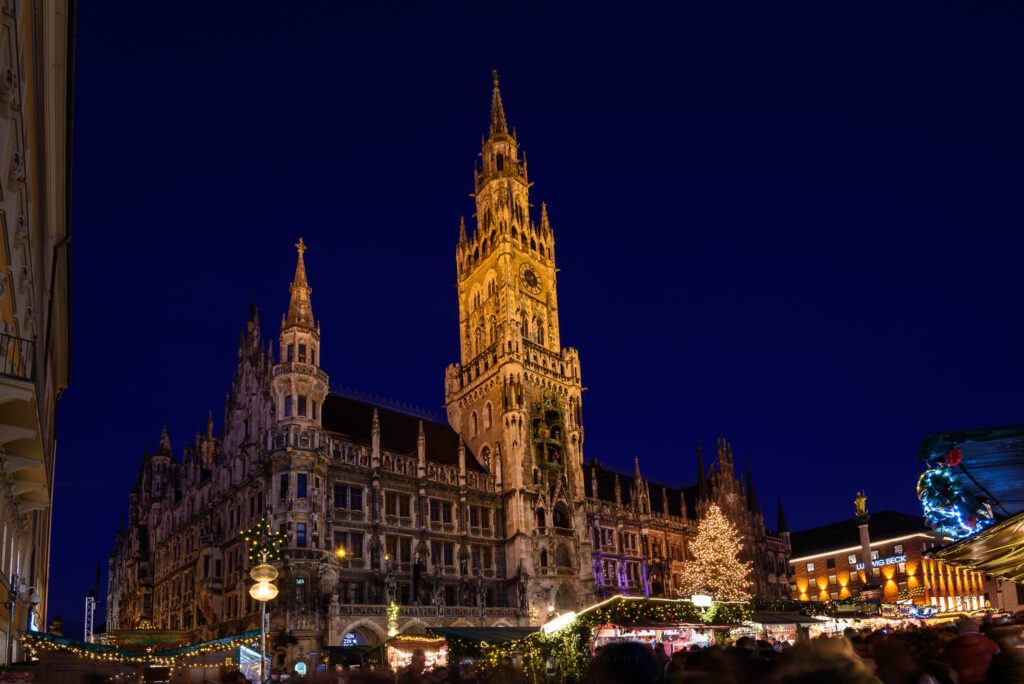 We're going to start our Christmas hopping itinerary in Munich because:
It's a major transportation hub, in case you are just flying into Germany
It's a great place to get settled, get oriented, and start those Christmas Markets!
Munich is one of the most popular cities to visit any time of year, but Munich at Christmas time is a dream!
I have several itineraries for Munich, so even though your primary objective may be to see the markets, I HIGHLY recommend doing my 3 days in Munich itinerary to fully see all that Munich truly has to offer (and add in a 4th if you'd like to go to Neuschwanstein from Munich). And with over 12 Christmas Markets in Munich (some say upwards of 20!), you will have no problem filling your time!!!
Arguably, the most popular of the Munich Christmas Markets is the Marienplatz Market. Live music is played every evening, there is a GIANT Christmas tree and you'll find all the traditional Bavarian Christmas Market stalls and stands. Another notable market in town is at the Munich Residenz, which is supposed to resemble a beautiful Alpine Village. There is even an LGBQT friendly (but welcomes everyone) market, called the "Pink Market!"
And if you are looking for something truly magical, the English Gardens are always a favorite place to go in Munich, but at Christmas time, you can enjoy horse drawn carriage rides, treasure hunts for the little ones, and even an ice skating rink. That market is at the Chinese Tower in the English Gardens
Address:
There are markets all over. Some of the most popular are:
Marienplatz
Schwabinger Weihnachtsmark: Near Münchner Freiheit (Directions Here)
Munich Residence: Residenzstraße 1
Chinese Tower (English Gardens): Englischer Garten 3
Munich Medeival Christmas Market: Wittelsbacher Platz
Sendlinger Tor (Gate): Sendlinger-Tor-Platz 1
Tollwood Market: Theresienwiese (where Oktoberfest takes place)
Pink Market: Stephansplatz
Official Munich Christmas Market Website
Munich Christmas Market Map
To help you navigate a little bit, here is a map of the Munich Christmas markets you can use to visually see where they all are throughout town.
Munich Christmas Market Dates:
Most will run from November 27th-December 24th 2023 but check on the individual market to make sure it's running the whole advent season
Where to Stay In Munich for the Christmas Markets
Budget Accomodation $: B&B Hotel München-Moosach
Mid Range $$: Hotel Europa
Luxury $$$: Rocco Forte The Charles Hotel
Click Here To Find Munich Hotels
You can also look through my Day Trips from Munich to find towns that will have Christmas markets near Munich, such as Bamberg.
Day Trip From Munich: Füssen Christmas Market
Almost everyone wants to visit the famous "Cinderella Castle", Neuschwanstein when in Bavaria. But is Neuschwanstein worth it in the winter? HELL YES! In fact, I think the winter is one of the most beautiful times to see the magical castle! You can either just do the castle as a day trip from Munich itself, or if you want to keep the Christmas Market cheer going, you can spend your morning at the castle and your afternoon at the nearby Füssen Christmas Market before heading back into Munich for the night.
If you don't want to drive or just want to see the German Fairytale Castle, you can also do a tour of Neuschwanstein from Munich
Augsburg and Dinkelsbühl: 1 Day
Our next day is going to be split between two of the Romantic Road Christmas Markets:
Augsburger Christkindlemarkt: Start your morning by driving from Munich to Augsburg. This market is often considered one of "Germany's Most Beautiful Christmas Markets" as well as one of the oldest, dating back into the 1400s!
While I do suggest coming in the morning on your way to Dinkelsbühl, that would mean that you would miss out on the traditional "Augsburger Engelsspiel" or "Augsburg's Angel Play" where the Christkind angels are on full display to enchant everyone in the market.
If you want to see the play, it is only on Fridays, Saturdays and Sundays at 6:00 pm
Augsburg also has a fantastic kids program as well, where St. Nikolaus himself comes to greet the kids, the Christkind visits all the little children, a children's angelic choir sings, and more.
Augsburg Christmas Market Dates:
Opens November 21: 10am-9:30
Sundays-Thursdays: 10am-8pm
Fridays and Saturdays: 10am-9:30pm
December 23: 10am-9:30pm
December 24: 10am-2pm
Dec 25: Closed
Address: Rathausplatz, 86150 Augsburg
Official Augsburg Christmas Market Website
2. Dinkelsbühl: After you spend the morning in Augsburg, you'll continue up the Romantic Road and head to medieval Dinkelsbuehl next for the afternoon and evening. What makes Dinkelsbühl so charming is that it isn't just a bunch of the same mass produced goods. There is a "Bazaare" where local artisans have on display (and for sale) regional handicrafts. And it's a perfect place for kids traveling in Germany as well, as there is a large model railway that they'll love and St. Niklaus comes every day for a visit (often with the beautiful, German Christkind by his side).
You'll often be serenaded by a choir or wood wind band with enchanting Christmas songs as well, putting you in the ultimate Christmas mood!
Dinkelsbühl Christmas Market Dates:
Open Nov 30th-December 21st, 2023
Every Mon-Friday: 1pm-8pm
Saturdays and Sundays: 11am-8pm
Address: Martin-Luther-Straße, Dr.-Martin-Luther-Straße 6B, 91550 Dinkelsbühl
Dinkelsbühl Weihnachtsmarkt Website
Where To Stay
Rothenburg ob Der Tauber: Depending on how much you want to drive in a day, you can continue on about 45 minutes up the Romantic Road and stay in the next town along our route. However, with 2 Christmas Markets in the day already, that is a pretty full day, so it will all depend on if you don't mind a jam packed day as well as your tolerance for staying only a night in one place. Since we'll be spending at least 1 (maybe even 2) days in Rothenburg if you'd like to "settle in" for 2-3 nights it could well be worth it to just power through and end your day in Rothenburg. (See the next section for hotel suggestions in Rothenburg)
Dinkelsbühl: If your day is full enough with leaving Munich and going to 2 Christmas Markets, then you can stay in Dinkelsbühl for the night before heading to Rothenburg in the morning.
Click Here To Find Affordable Hotels in Dinkelsbühl
Rothenburg ob Der Tauber Christmas Market: 1-2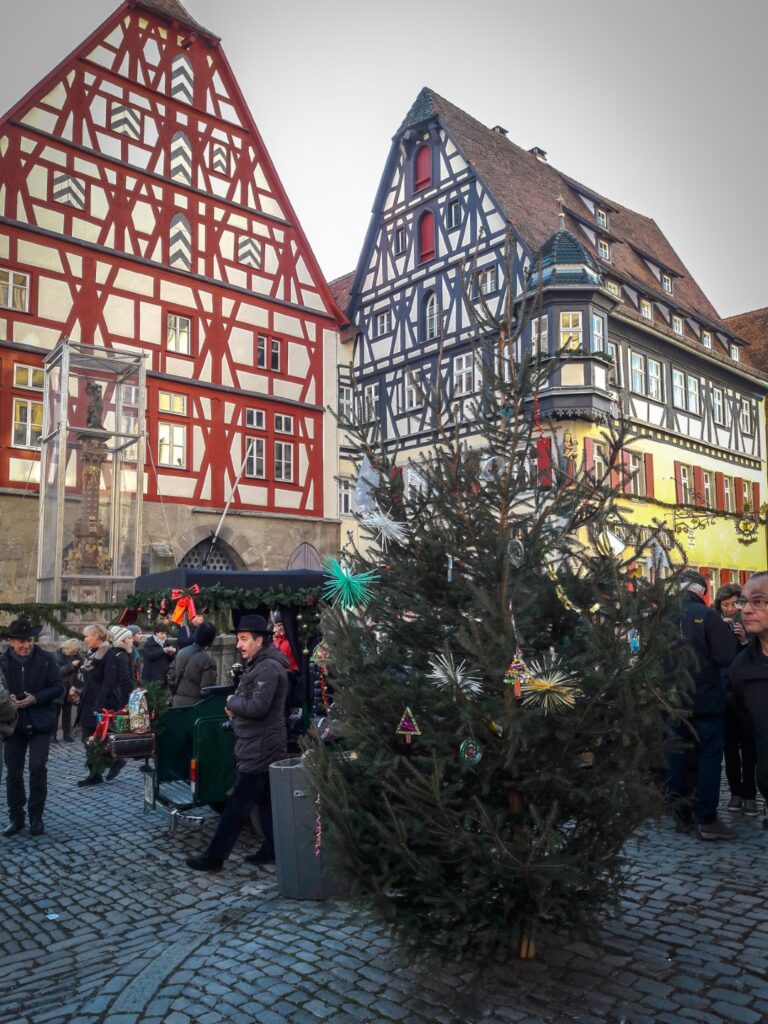 Rothenburg IS considered THE German Christmas Village, and for good reason! It's as if Santa himself came and declared the medieval town his for the taking! You can easily spend 1-2 days here during Christmas time. Here is my 1-2 days Rothenburg Christmas Market Guide and Itinerary, which walks you step by step through the town to see both the traditional Christmas Markets as well as site see the small town itself!
Because the Rothenburg Christmas Market (and town) is one of the most famous in Germany, be prepared for crowds. If you can avoid it on the weekends and evenings, that is best. It may not feel AS magical as it would in the illuminated nighttime, but is still a very worthwhile market and town to go to.
Of course, while you are in town, don't forget to stop into the Christmas Shop and Museum.
Where To Stay in Rothenburg
Alternatively, if you have decided just to spend 1 full day in Rothenburg, then you could actually continue on in the evening to our next destination; Nuremberg. We will be staying there for a few days, so again, if you'd rather get a "home base" for day trips, you could even do Rothenburg from Nuremberg. (Hotel suggestions for Nuremberg next)
Click Here To Find Rothenburg ob Der Tauber Hotels
IMPORTANT: Rothenburg Christmas Market is one of the most popular German Christmas Markets out there. Therefore, if you want accommodation (and affordable accommodation, at that!) then you will want to book well in advance!)
Budget Accomodation in Rothenburg ob der Tauber $: Gästehaus Gerlinger or Hotel Schwarzer Adler
Mid Range $$: Gästehaus Edelzimmer
Luxury $$$: Burghotel
Rothenburg Christmas Eve Hotels With Dinner
Almost all the markets in Germany close down by mid day on the 24th and most towns are almost completely closed (including restaurants, which is hard for travelers!) Since Rothenburg is considered THE "Bavarian Christmas Village" a few hotels offer Christmas Eve dinners.
Hotel Eisenhut: This just might be Rothenburg's most famous Christmas Hotel! Instead of spending time with their own families, the Hotel Eisenhut puts on an elaborate and festive evening for their guests!
As part of the festivities on Christmas Eve, you get a 6 course Christmas Eve Dinner, complete with beautiful piano music and a real Christmas ambiance you won't soon forget.
Book Your Hotel Eisenhut Stay Here
Romantik Hotel Markusturm: The name "Romantic" is for good reason. If you are looking for an insanely wonderful ambiance to cap off your Christmas Market stay, the Romantik Hotel Marusturm is sure to fit the bill! This hotel typically sells out early though because of its pure charm.
See Availability for the Romantik Hotel Marusturm Here
Hotel Reichs-Küchenmeister: I just love how this hotel screams "Bavaria" with its wood workings and cozy Gemütlichkeit feel in the common area and dining room. They also have a really great restaurant on-site as well.
See Current Pricing for Hotel Reichs-Küchenmeister Here
Rothenburg ob der Tauber Christmas Market Hours and Dates
December 1st – December, 23rd 2023
Monday to Thursday: 11.00 am– 7.00 pm. Friday to Sunday: 11.00 am– 8.00 pm
Various Programs throughout the season. Check the program here
Address: Throughout town. Main Market is at Rothenburg Marktplatz 91541 Rothenburg ob der Tauber
Official Rothenburg Weihnachtsmarkt Website
Nuremberg: 1-2 Days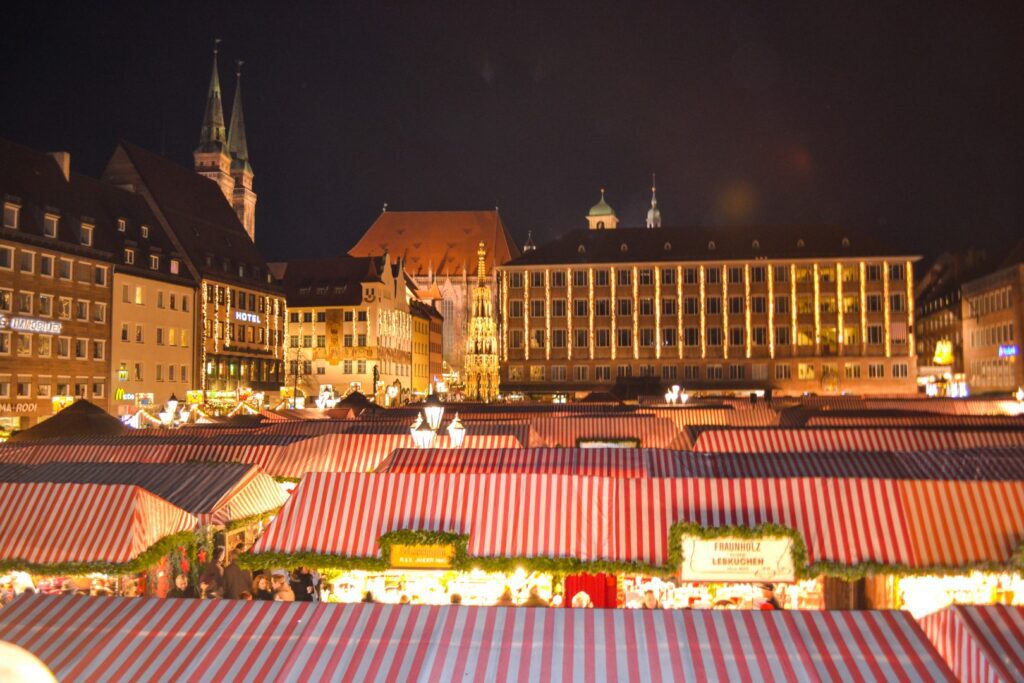 The famous Nurnberg Christkindlesmarkt is not only one of the oldest and most famous markets in Germany but in the WORLD! The main market is held at the Hauptmarkt in town and is massive with almost 200 stalls and vendors!
Because of its fame though, I will admit that Nurnberg is a market on this list simply just for that…to say that you've been to one of the most famous Christmas Markets in Europe (it would kind of be a shame to be in Bavaria at Christmastime and NOT go). However, as time has passed, the Christkindlesmarkt has become extremely mass produced (you'll see the same goods and things sold at just about any other market), and arguably worse, it can be SO jam packed and crowded that it is hard to even move around in. I don't have claustrophobia, and even I get antsy in those kinds of crowds!
One benefit of the Nuremberg Christmas Market is there is a fantastic Kinder Weihnachtmarkt as well. In fact, this kids section is the size of some small village markets! There are charming carousels, cookie decorating stations, and even places to make their own little gifts.
Kinder Weihnacht Location: Hans Sachs Platz
I also have it on the list because Nuremberg makes for a good home base for the next few days so that you don't have to keep hotel hopping.
If you are just wanting to see the Nurnberg Christmas Markets (and nothing else), then 1 day will easily suffice. However, if you have never been to the city, I recommend my 2 Days in Nurnberg Itinerary which will allow you to see both the huge market itself as well as some of the really fascinating sites in town. For example, the Nazi Rally Grounds and the Dokumentation Zentrum is not to be missed.
Nuremberg Christkindlesmarkt Dates:
Dec 1st until December 24
Opening Day: December 1, 2023: 10 a.m. – 10 p.m. (Ceremonial opening with prologue : 5:30 p.m)
Mondays- Sundays: 10am-9pm
Dec 24: 10am-2pm
Address: Hauptmarkt
Where to Stay in Nuremberg For the Christmas Market
We're going to call Nuremberg "home" for a few days so that we can slow down a bit. The next few days will be day trips from Nuremberg, so it's well worth finding a good hotel since we'll be staying here the next several nights.
Budget $: Ruhiges Zimmer Nähe Nürnberg Messe or City Hostel (in Fürth)
Mid Range $$: Hotel DasPaul
Luxury$$$: Sheraton Carlton Nuernberg
Stay in A Castle in Nuremberg! Jugendherberge Nürnberg (Hostel and private rooms)
Click Here To Find Nuremburg Hotels
Official Nürnberg Weihnachtsmarkt Website
Coburg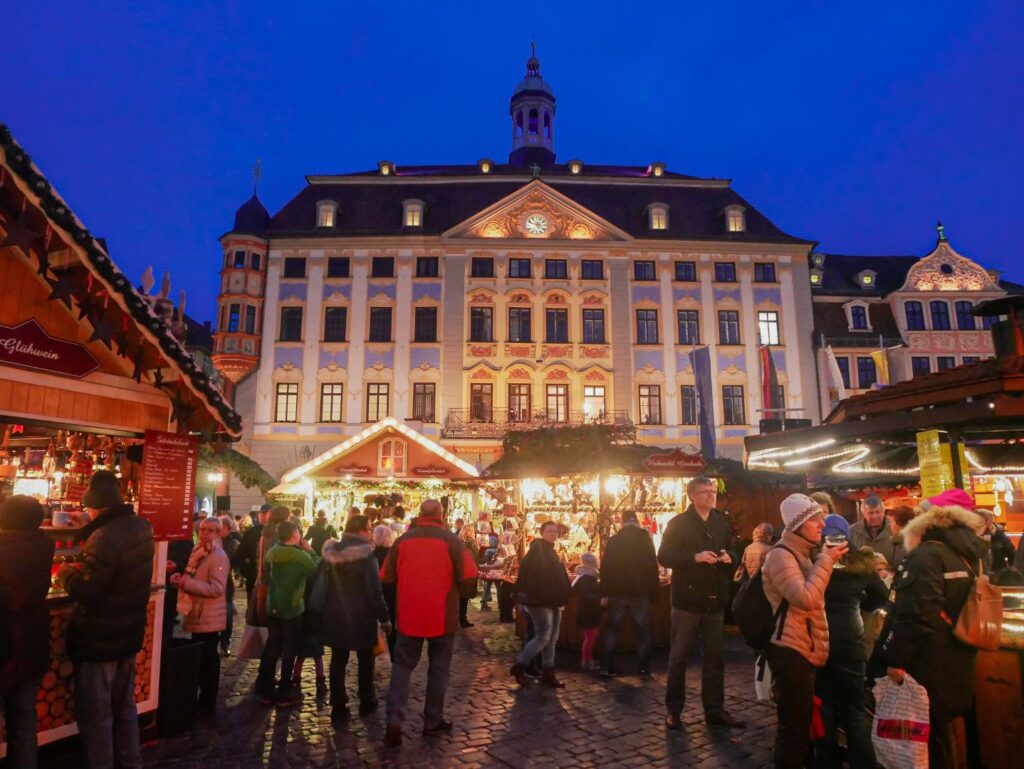 (Day Trip From Nuremberg)
One of Coburg's claims to fame is that it supposedly has one of the largest castles in the world, and while the Christmas Market isn't actually IN the castle, the Veste looms overhead, adding to the amazing German "feel" of this market. After a day in the very busy Nurnberg's Christkindl Markt, Coburg will be a breath of fresh air. You'll get away from all the mass produced goods and instead, enjoy some real local products.
At the Coburg Christmas Market, you can hang out in the "workshop" area where the craftsmen (and women) create works right in front of your eyes that you can then purchase right then and there. Things like pottery, weaving, hand blown glass ornaments and more are all created for your enjoyment.
If you have kids, try to make it to Coburg on a Wednesday (or weekend), which is when St. Nick himself shows up in a horse drawn carriage to deliver gifts and packages to all the little boys and girls.
Coburg Weihnachtmarkt Dates:
November 25th to December 23rd

Daily 11am-8pm
Address: Coburg Rathaus
Insider Local Tip/ Bonus Markets!
Depending on when you are doing your Germany Christmas Market Itinerary, see if you can squeeze in the following markets
Seßlach Advent Markt: This small, but charming local down is only 20 minutes from Coburg and worth popping in for the afternoon if you are already down the road in Coburg for the day. However, it is only open one weekend a season (typically the last weekend of November)
Lauscha: You may have never heard of this tiny town, but it is actually the home of the German Glass Blown Christmas Ornaments. When you go to markets like Rothenburg or Nuremberg, you may be disappointed to see that a lot of the ornaments and goods are actually made in China now-a-days. However, Lauscha is still producing their own, hand made German glass ornaments, which makes this market very unique if you are looking for a one of a kind souvenir from your Christmas in Germany trip.
2021 Lauscha Christmas Market Dates: November 26/27th and December 3th/4th
Return and Stay in Nuremberg
Schloss Guteneck Weihnachtsmarkt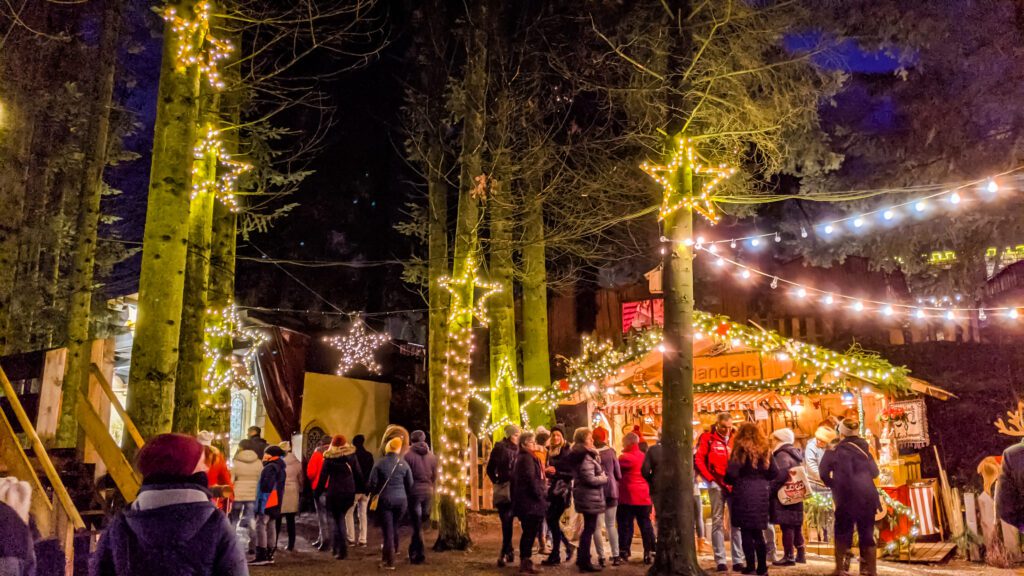 (Day Trip From Nuremberg)
I'm really excited to share this off the beaten path market with you. The Weihnachtsmarkt Schloss Guteneck is arguably one of my favorite markets I've ever been to. Why is it so fantastic?
It is set on the grounds of the Schloss Guteneck (Guteneck Palace). I mean, how magical is a Christmas Market in a castle!?
It is not an incredibly popular market with tourists. Not to say it's not popular, in fact, it can be packed on the weekends and evenings. However, it's more locals than throngs of tourists (you will see a few tour buses, but nothing like Rothenburg or Nurnberg)
It's insanely charming. The market winds along a gravel path, lit by firelight, that meanders around the castle. The stalls are all mostly local vendors with handmade goods.
Small little bonfires are lit throughout the ground adding to the "Gemütlichkeit"
There are camels….you read that right; CAMELS!
There's a fantastic little beer hall that often has an "oompah band" playing inside
Read My "Why You Must Visit The Guteneck Christmas Market" Post Here
Personally, I prefer this market in the evening, when the soft glow of the fires and the lights are lit from the stalls and stands. It just gives a fantastic, romantic feel to the whole experience. Therefore, you can find another market to go to in the morning (such as Amberg, which would be on the way), or this would be a great morning to head to some other sites in Nuremburg, like a museum. Alternatively, you have been go-go-going on this Christmas Market Itinerary. Why not get out of the cold and into some heat and try out a German Spa Experience by going to the saunas at the Nuernberg Bad?
Schloss Guteneck 2023 Weihnachtmarkt Dates: To be Announced
(Last 2022 Dates) November 24th-Dec 18th
Only Runs Thursdays, Fridays, Saturdays, and Sundays
Thursdays and Fridays: 4pm-8pm (Entry Cost: 6 Euro)
Saturdays and Sundays: 11am-8pm (Entry Cost: 8 Euro)
Address: Schloßberg 10, Guteneck (Parking lots available)
Official Guteneck Christmas Market Website
Regensburg: 1 Day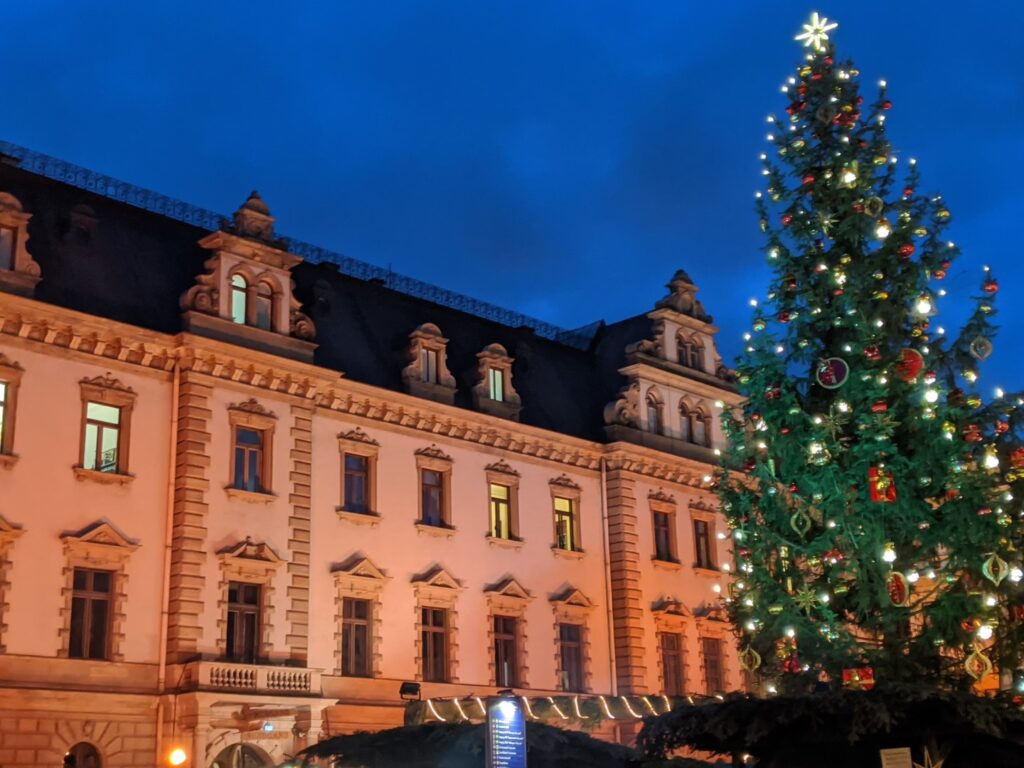 Our next stop is another one of my absolute favorite towns for the best German Christmas markets. I love Regensburg at Christmastime because there isn't just one market, but upwards of 6 markets strewn around the Innenstadt (Old Town). Each market is pretty small, but what makes this so appealing is that Regensburg itself is an absolutely gorgeous medieval town to explore. The entire old town is actually a UNESCO World Heritage Site, so each alleyway and cobblestone street is beautiful. Add glittering Christmas lights and a mug of hot Gluhwein in your hand, and it feels almost like a fairytale!
I suggest doing my 1 Day in Regensburg DIY Walking Tour. As you do the walk (and see all the main sites), you'll hit every single market as well.
Tip: I love to grab a cup of German mulled wine as I leave one market and sip on it as we meander around the cobblestone streets. Then, simply refill at the next stop!
If you do my walking tour of the town, I recommend close to a full day so that you have time to walk around, see everything, and enjoy each and every market. I suggest hitting the Spital Market when it's dusk (around 4:30/5pm) which is great with the fires (and don't miss a Feuerzangenbowle here! They take the mulled wine, throw in a healthy dose of rum, and light it all on fire!)
Then, you'll want to do the "Romantic Thurn and Taxis Weihnacthmarkt" in the evening. Sure, you could do it during the day, but they really don't call it "Romantic" for nothing! For years, I skipped this market because it is a little pricey for entrance. But after going once, I can see the appeal. The entire market is set on the beautiful grounds of the "Thurn and Taxis Schloss (Palace).' When you first enter, you walk on a dirt path lined with torches. The glow from the Schloss soflty illuminates the entire market, which winds around outside and leads to the huge inner courtyard of the palace, which is decorated with an enormous Christmas Tree.
Book A Private Guided Regensburg Christmas Market Tour Here
Regensburg Christmas Markets:
Neupfarrplatz
Lucrezia Markt
Spital
Romantic Thurn und Taxis Christmas Market
Nov 17– Dec 23, 2023
Cost: Monday: €5.50, Tuesday – Friday: €8.50, Saturday – Sunday: €10.50. Kids: €2.50)
Located in the St. Emmeram Schloss (Address: Emmeramspl. 5, 93047 Regensburg)
Where To Stay In Regensburg
Budget $: Hotel Weidenhof
Mid Range $$: Hotel Orphée
Luxury$$$: Hotel Goldenes Kreuz
Tip: Regensburg can be difficult to find cheap accommodation, so if you are in that price range, you'll want to book pretty far in advance
Official Regensburg Christmas Tourism Website
Waldwipfelweg Christkindlmarkt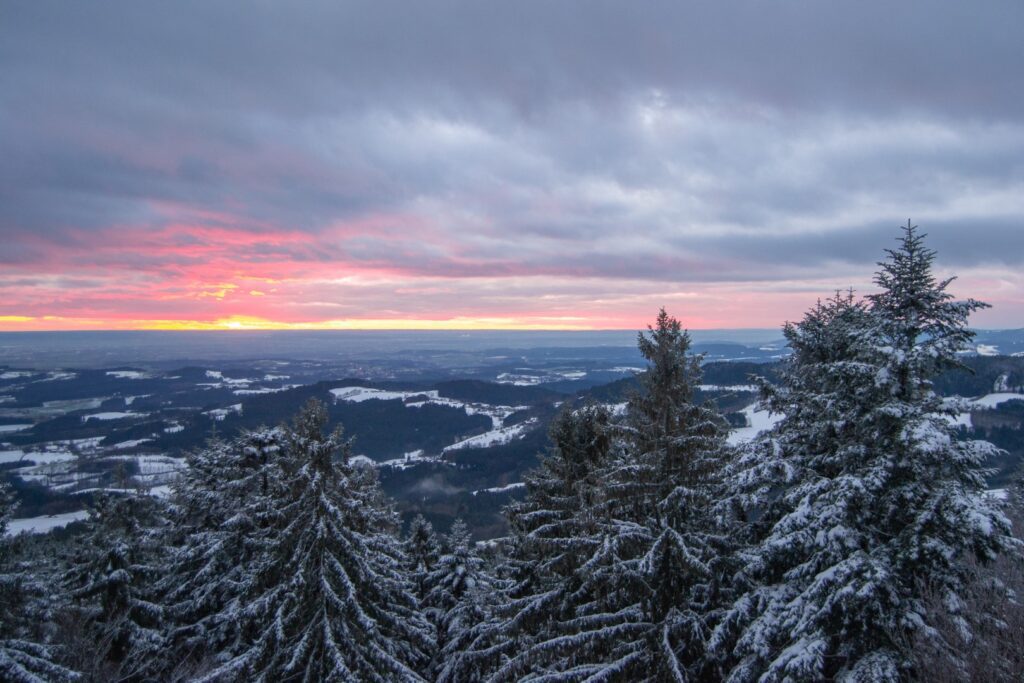 (Day Trip from Regensburg)
This next day trip from Regensburg (about a 1 hour drive) is another one of my favorite "secret" Christmas Markets. Again, it's not that it's not busy or packed, but it is definitely off the beaten path with tourists and has a much more "local" feel to it.
But it isn't just that this market isn't a huge tourist trap that makes it so wonderful. This market is set in the beautiful Bavarian Forest. At Waldwipelweld, there is a "sky walk" that takes you up and over the Alpine Pines, which when they are covered in snow, is basically like gazing out into a winter wonderland! After watching the sunset over the forest from above, head down onto the forest floor, where you roam around in the woods from wooden stall to stall, with the glowing lights illuminating your path. It's like a real life Hansel and Gretel enchanted forest experience….you know, minus the whole getting eaten by a witch thing!
Since you'll want to get to the Waldwipelweld Christmas Market in the evening to experience its true captivating atmosphere, in the morning from Regensburg, I either recommend
Spending a few hours completely relaxing at the nearby Bad Abbach Kaiser Therme or
If the weather is decent, stop for a bit at the Donaustauf Castle and next door Walhalla Monument (you'll only need about 1.5-2 hours total for this)
Waldwipelweld Christkindlmarkt 2023 Dates:
Every advent weekend on Friday, Saturday, and Sunday + November 18, 19, & 20
Fridays: 3pm-8pm, Sat/Sun: Noon-8pm
There will also be a "Winter Market" from December 27th-Dec 30th from Noon- 8pm
Cost: Adults: 9,50 Euro. Kids 3-15years: 6 Euro. Under 3: Free
Address: Maibrunn 9a, 94379 St. Englmar
Head back to your hotel in Regensburg for the night and then return to Munich for your flight if you are returning home.
Other Optional Bavarian Christmas Markets to Consider
Depending on just how much time you have in Germany, or even better, if you live here, there are plenty of other notable Christmas Markets that you should put on your list. However, as a tourist, some of these locations aren't easily on a good "route" so if your main purpose of the trip is to see Christmas Markets, it's best to organize your itinerary where you can get the best bang for your buck along an easy to navigate route.
Lindau Harbor Christmas Market: Bodensee (Lake Constance) is often flocked to in the summer months, but don't skip it quite yet just because it's winter, as it actually has one of the best Christmas Markets in Bavaria! You may not be able to swim in this lake sitting at the foothills of the Alps in December, but you can take a romantic boat ride while sipping Gluhwein, welcome Santa into the village, walk around the misty lake, and enjoy the Christmas Market here.
Bamberg: This Bavarian town is gorgeous anytime of year. It's Christmas Market would be another fantastic Day Trip From Nuremberg if you've got another day to spare
Berchtesgadener Advent: Berchtesgaden is one of the most stunning areas in all of Germany. Nestled into the German Alps, Berchtesgaden is like a relaxing Bob Ross painted picture in real life! Throw in those Christmas vibes (and stalls of food, drifting snow, and mulled wine) and you've got yourself a Christmas experience you won't forget!!!
Neuschwanstein: While Neuschwanstein in the winter doesn't have a market itself, seeing the "Cinderella Castle" covered in white is arguably one of my favorite times to visit the castle. The nearby town of Füssen though does have a market for the first two weekends of Advent, so why not combine that with a trip from Munich to Neuschwanstein?
Are There Any German Christmas Markets AFTER Christmas?
While the vast majority are either only open until the 23rd or 24th (or even just 1-2 weekends for smaller towns), there are still quite a few Christmas markets in Germany open after Christmas.
Note: This list is for markets all over Germany, not just Bavaria.
Name of Christmas Market
Date
Berlin WeihnachtsZauber Gendarmenmarkt
Nov 27 - Dec 31
Braunschweiger Weihnachtsmarkt
Nov 23 - Dec 29
Bielefelder Weihnachtsmarkt
Nov 21 - Dec 23 &
Dec 27 - Dec 30
Celler Weihnachtsmarkt
Nov 24 - Dec 28
Dortmunder Weihnachtsstadt
Nov 17 - Dec 30
Duisburger Weihnachtsmarkt
Nov 10 - Dec 30
Closed: Nov 20th + Dec 24/25
(Düsseldorf)
-Engelchen-Markt
-Handwerker-Markt
-Altstadt-Markt
-Sternchen-Markt
-Märchen-Markt
-Schadow-Markt
-Kö-Bogen-Markt
Nov 17 - Dec 30
Europapark Winter Magic (Rust)
Nov 26 - Jan 8 (Closed 24/25 Dec)
Flensburger Weihnachtsmarkt
Nov 21 - Dec 31
Goslar Weihnachtsmarkt & Weihnachtswald
Nov 23 - Dec 30
(Göttingen)
Göttinger Weihnachtsmarkt
Nov 21 - Dec 29
(Hamburg)
-Weihnachtsmarkt St. Petri
-Fleetweihnachtsmarkt
Nov 21 - Dec 30
(Heidelberg)
-Winterwäldchen auf dem Kornmarkt
Nov 18 - Jan 1, 2023
Weihnachtsmarkt Hildesheim
Nov 21 - Dec 28
Kaiserslautern Silvestermarkt (New Years Market)
Dec 27 - Dec 30
Märchen­weihnachtsmarkt Kassel
Nov 21 - Dec 30
Koblenzer Weihnachtsmarkt
Nov 18 - Jan 8, 2023
Lübecker Weihnachtsmarkt
Nov 21 - Dec 30
Lüneburger Weihnachtsmarkt.
Nov 23 - Dec 31
Weimarer Weihnachtsmarkt
Nov 22 - Jan 5, 2023