[This post may contain affiliate links where we earn a small commission. Please see our disclosure for more information and thank you for supporting our site so we can continue to bring you awesome content for your travel inspiration!]
If you've been around this site much, then you know how much I appreciate finding a "home base" and then doing day trips, especially now that I travel in Germany with kids! It just makes it so much easier than having to repack bags and constantly hop around. And there are SO many great day trips from Nuremberg, Germany, that Nürnberg is the perfect place to slow down in and just sight see the surrounding area! So, in addition to my day trip IN Nuremberg (you can easily make it 2 days), here are over 20 of the Best day trips from Nuremberg!
Planning a Trip To Bavaria? Join Our Bavaria Trip Planning and Day Trips Facebook Group!
Getting Around For Your Nuremberg Day Trip
By Train
There are plenty of day trips from Nuremberg by train and the Hauptbahnhof is really easy to navigate. The Nuremberg train station is a major train hub, so you'll be able to easily catch ICE trains (fast trains that take you further distances), Regional Trains, and SBahns all at the Hauptbahnhof.
Bayern Train Pass: If you are going to be doing a day trip within Bavaria, I highly recommend looking into the Bayern Pass. You don't need reservations and it covers up to 5 people on ALL public transportation within Bavaria (which all of the suggestions on this list are still in)
VGN Zone: The VGN (Ver­kehrs­ver­bund Groß­raum Nürn­berg/ Transport Association for the Greater Nuremberg Area) is the local system for public transportation. Depending on where you are going (and how many people are with you), it could be worth it to just buy a day ticket on the VGN instead of the Bayern Pass (the VGN Day Ticket Plus also covers up to 6 people). I will be the first to admit though that the day tickets are a bit confusing due to all the "zones" so the best way to see what prices you might be looking at is to just simply put in your origin and destination in the "VGN Journey Planner" and see what the prices are and then decide if the Bayern Pass is better or not.
A few towns that are covered in the VGN Zones are:
Neumarkt
Bamberg
Bayreuth
Dinkelsbühl
By Car
While most of the destinations on the list are really easy to get to by train (and I ALWAYS recommend using the trains in Germany if it makes sense- they are efficient, clean, and really enjoyable!) some of the recommendations either are just easier to get to with your own car, or it is much faster to not have to make multiple connections.
If you do decide to rent a car and drive in Germany, then I actually recommend googling a "Park and Ride" for Nuremberg and parking it there overnights and just taking the S-Bahn in so that you don't have to deal with parking in the city.
Read My Easy Guide To Driving In Germany Post Here
Other Articles You Might Like to Read:
Bamberg
Time from Nuremberg
By Train: 1 Hour (be sure to ONLY take the Regional Trains, as the ICE is not covered on the Bayern Pass or VGN)
By Car: 1 Hour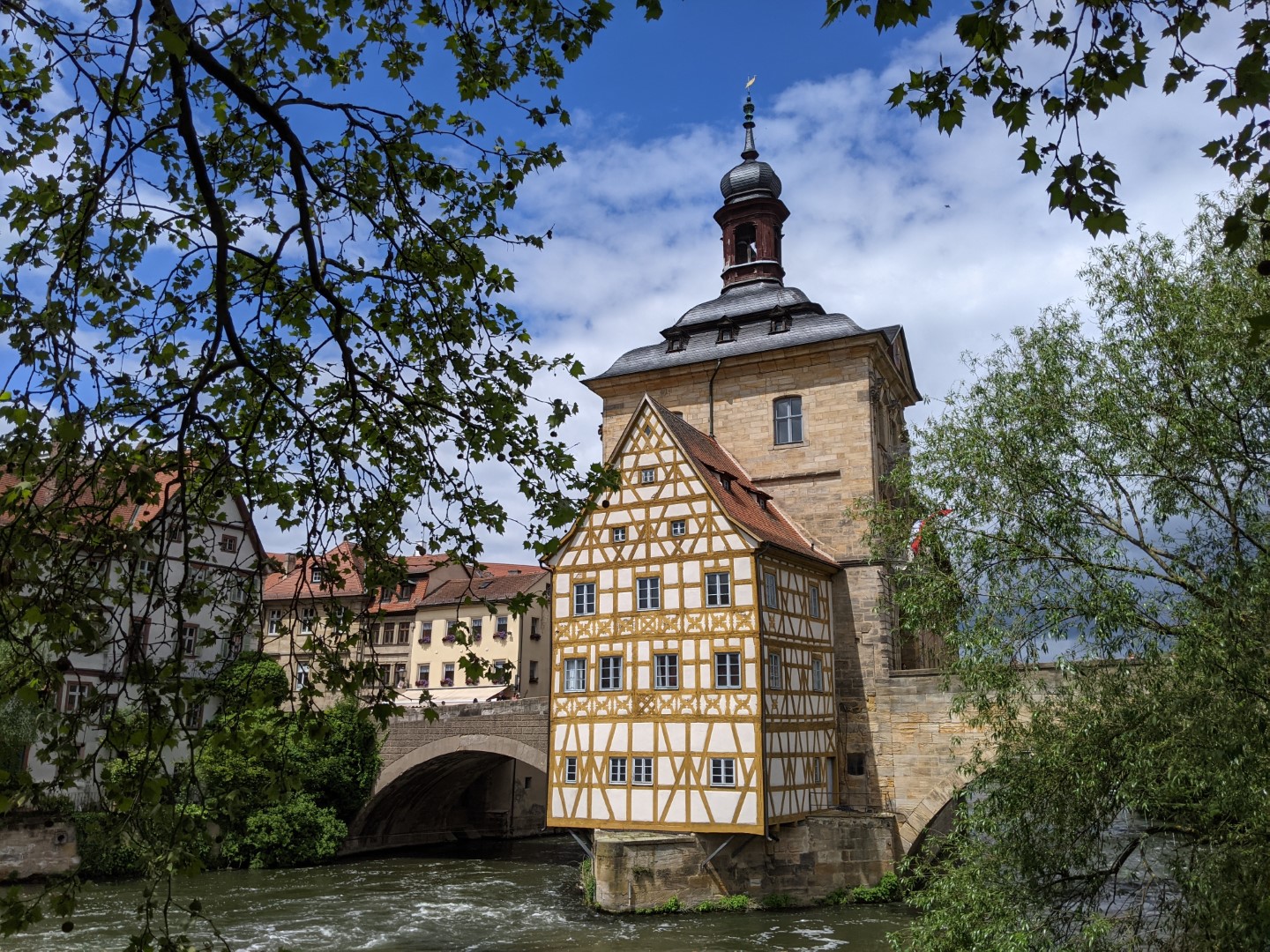 I absolutely adore this charming town. In fact, it's so beautiful, the entire Old Town has been declared a World UNESCO Heritage Site. You know it's a must-see town when even MY husband said, "Wow, this town is gorgeous!"
So, what makes Bamberg so great? Well, to start, the Altstadt is all extremely walkable and most of the things to do in Bamberg are all right there. Also, you can easily see all of the must-see sights within one full day, making it an absolutely ideal day trip from Nuremberg.
Another really fun thing about Bamberg is that is it famous for its Rauchbier (Smoked Beer). It is definitely unique and you'll either love it or hate it…but only one way to find out!
(Note: if you are taking the train from Nuremberg, the Altstadt isn't just a few steps out the Hauptbahnhof. You'll actually have to walk about 30 minutes to get to the Rathaus. Alternatively, you can hop on a bus that can cut down that time by at least half)
Bayreuth
Time from Nuremberg
By Train: 1 Hour
By Car: About 1 hour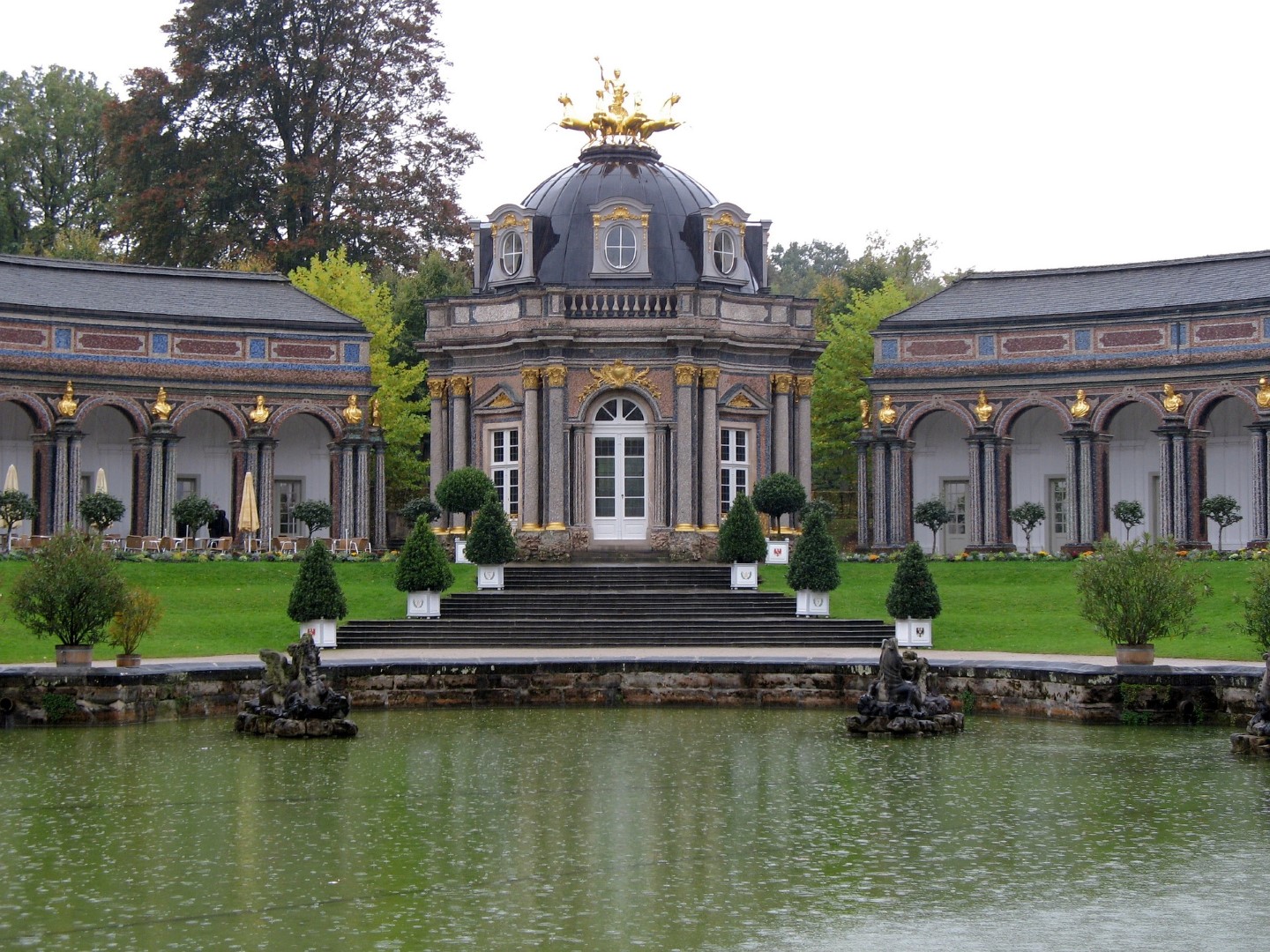 Some people say Bayreuth is the city of Ws (Wheat beer, Wagner, Wilhelmine) but I'd argue it's the city of B's (Bayreuth. Beer. Baroque. Beautiful).
This town just oozes Baroque architecture and history. It's as if you stepped back into an Opera. And hey, you actually literally CAN. The Bayreuth Opera house is so lavish and opulent that it is an absolute MUST see (only possibly with tours) even if you aren't into gaudy buildings barfing up gold and mosaics (ok, don't tell me I'm the only one that thinks that's what Baroque looks like!?)
And of course, the fairytale Erimatage is just dreamy to walk through at any season of the year!
Finally, if you weren't into the Rauchbier from Bamberg, then have no fear. Some people claim that with all of the local breweries in Bayreuth, that some of the best beer in Bavaria is made right in this town, so you are sure to find one that hits the pallette juuuust right.
Coburg
Time from Nuremberg
By Train: 1-1.5 hours
By Car: About 1.25 hours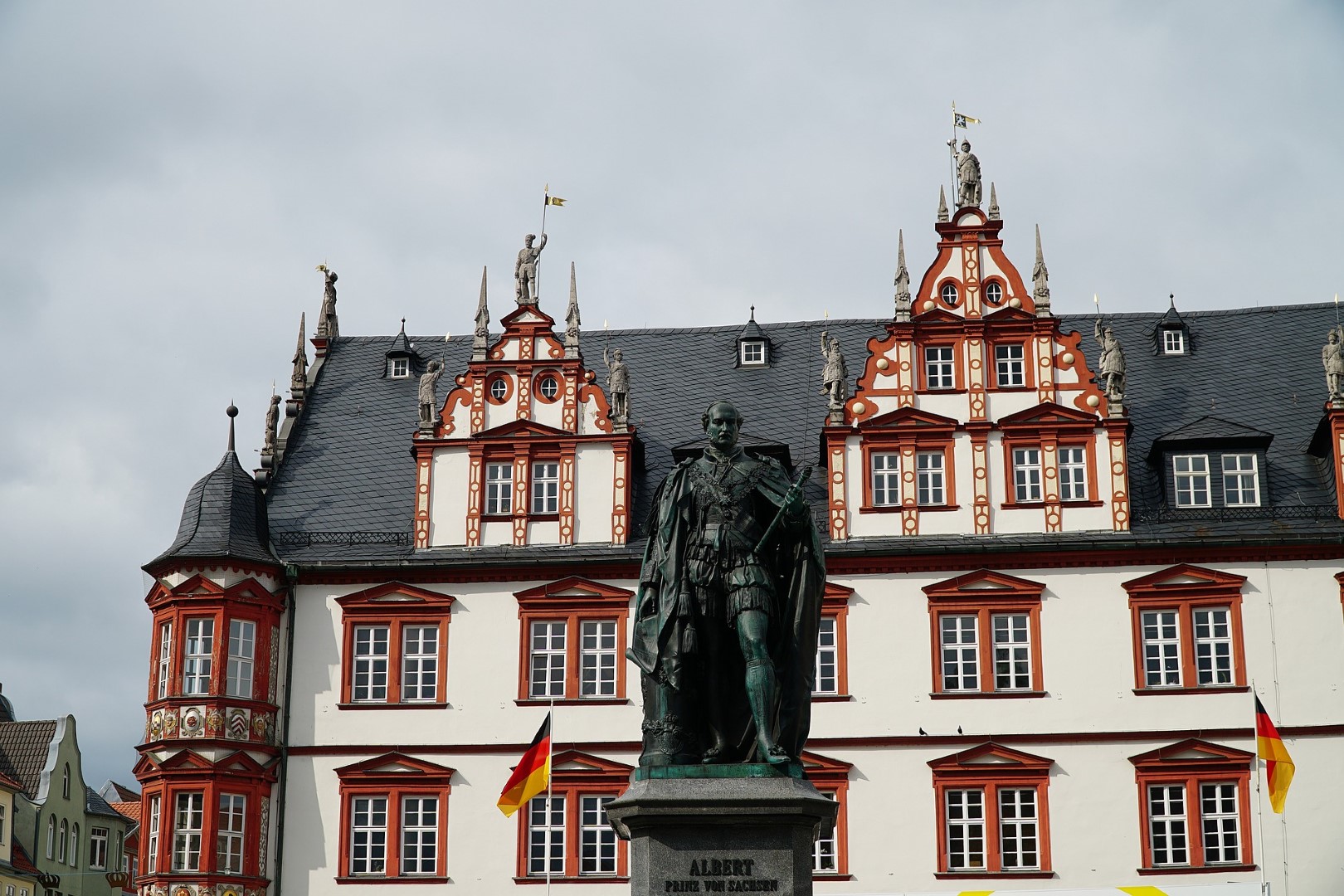 While one of the most popular things to do in Coburg is go to its annual Christmas Market (often seen as one of the best Christmas Markets in Germany) Coburg is well worth a day trip any time of year. Many people also claim Coburg as one of the most picturesque towns in all of Germany.
And since it seems like Coburg likes to make a name for itself by making lots of "best of" lists, let's make sure to add it to the list for one of the largest castles in Germany! In addition to the Veste Coburg (dating back to the 1200s!) there is also the 16th Ehrenburg Castle which is absolutely necessary to visit as well.
And of course, when all else fails, Coburg has a beautiful Altstadt to just wander in.
Love Castles? Here are 15 Fantastic Castles To Visit in Germany
Luisenburg Felsenlabyrinth
Time from Nuremberg
By Train: Not possible
By Car: About 2 hours
Address: Luisenburg, 95632 Wunsiedel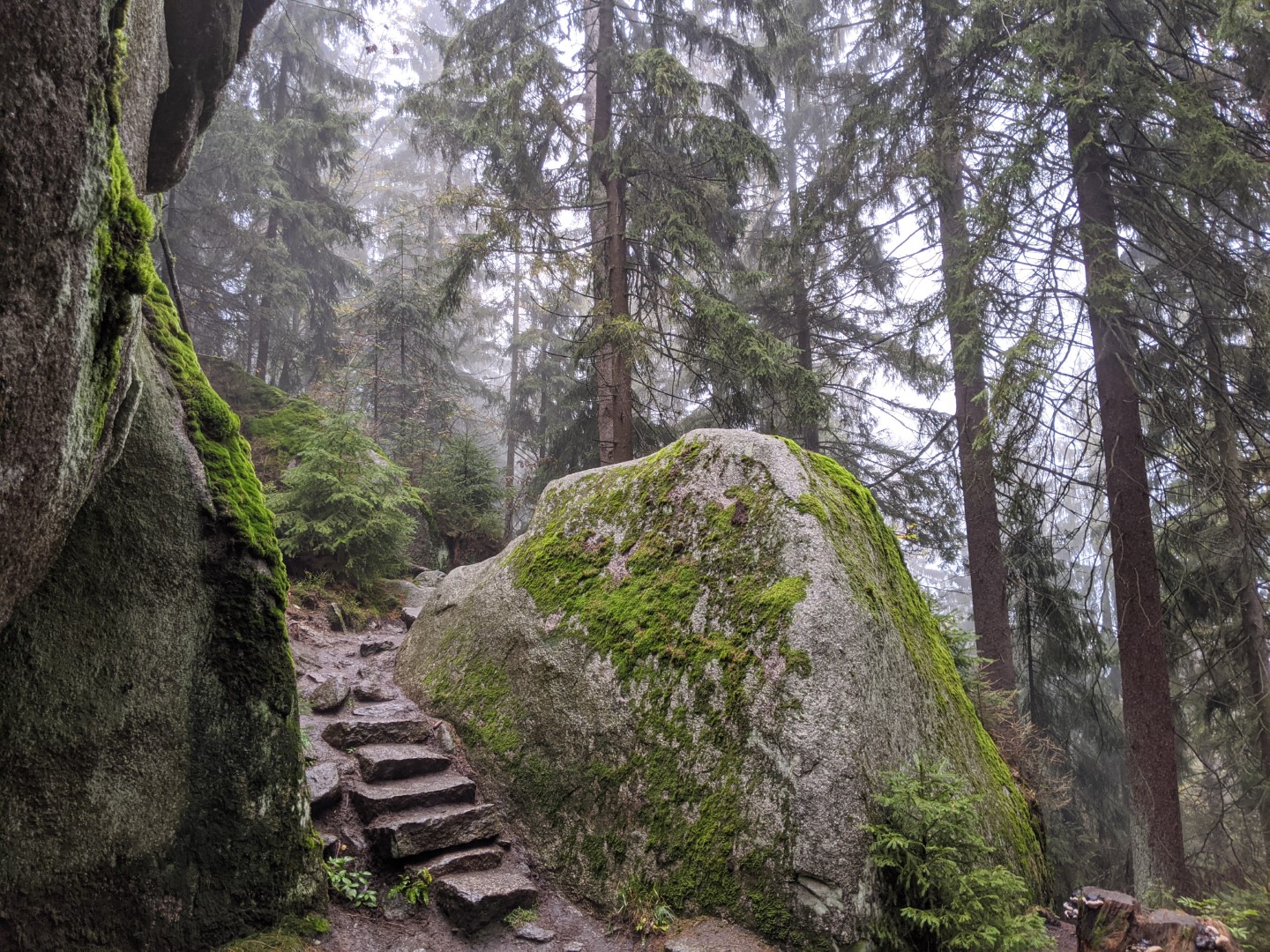 If you've ever wanted to wander through an enchanted forest, this just might be the closest thing you'll get to in real life. MASSIVE megalithic rocks covered in beautiful moss create a twisting and turning "Labyrinth" through the forest. On the day we did a day trip to Luisenburg, it was foggy and made the entire forest feel etheral and magical! Honestly, no descriptions can really do this place justice.
You can easily spend several hours hiking on the well marked (and easy) paths and trails here and is well worth a visit for an off the beaten path Germany day trip!
Note: There were some seriosuly small little crevices to climb through. We were baby wearing that day and had to take special care not to bop any heads!
Take a Beer Hike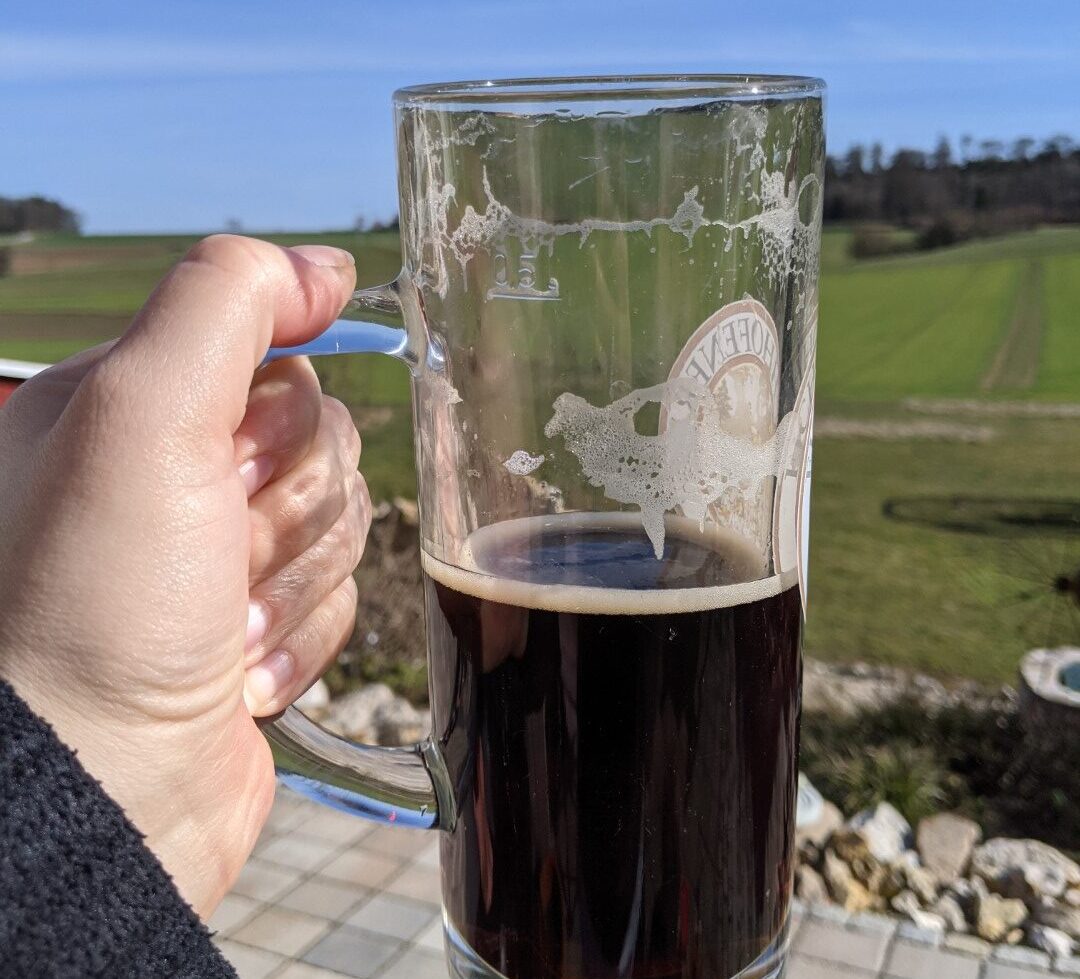 It's no surprise that a popular thing to do in Germany is to drink beer, and what better place than in Bavaria!
If you haven't gathered yet, Germans love the outdoors. They also love their drinks. So, one way to taste several local beers as well as see this beautiful area of Bavaria (the region is called "Franconia"- and locals will consider themselves "Franconian" before Bavarian) is to take a hike in the countryside, making pit stops at local breweries.
There are actually several Beer Hikes in Franconia, some are several days worth, but you can always choose to just do a few in one, full day. Just don't forget to eat!
Do a Wine and Walk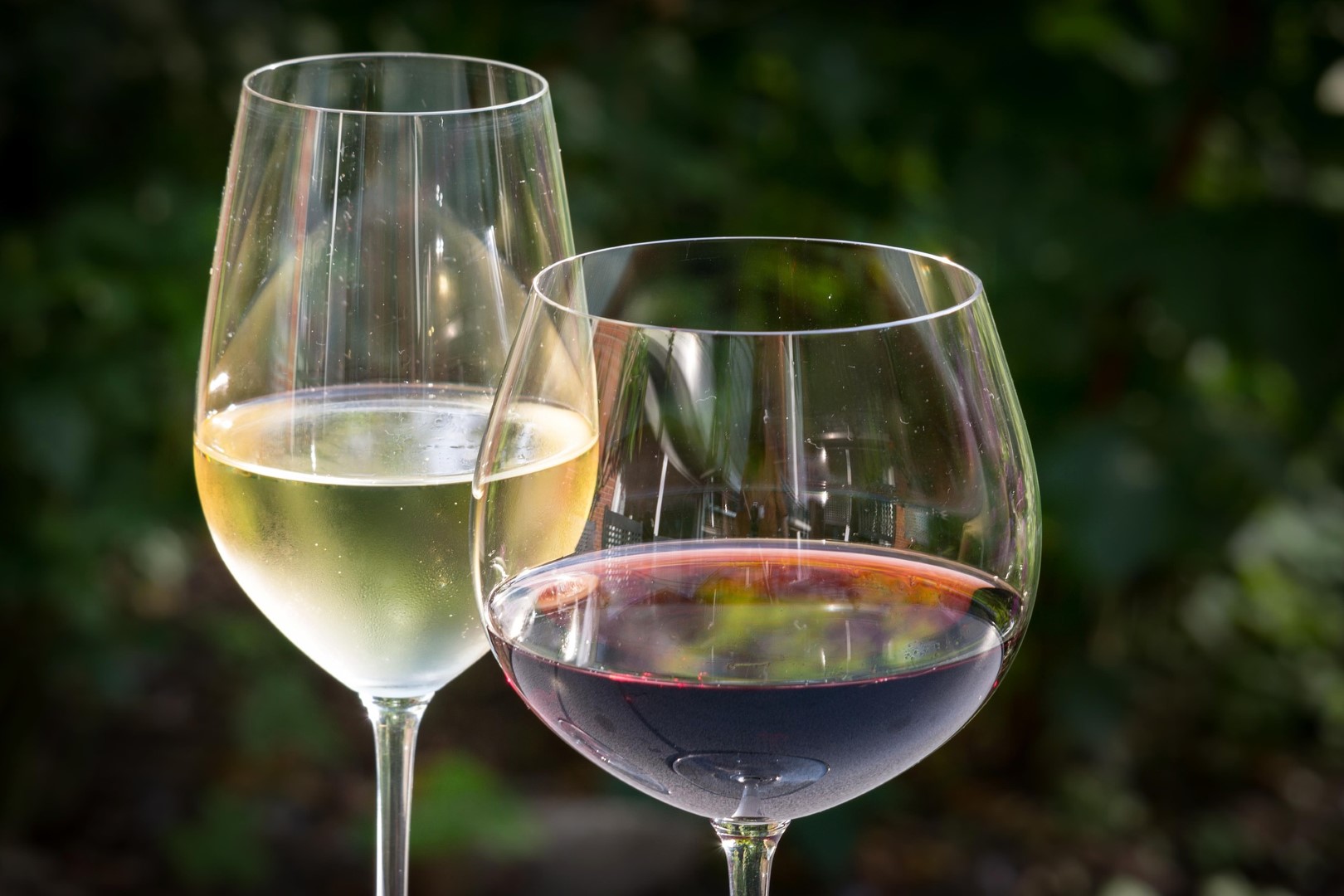 All this talk about beers, you probably didn't realize that Franconia is actually one of Germany's best wine regions! So, move over Bier! We're sipping on wines today!
So, in true German fashion, someone once decided to combine gorgeous hikes through vineyards with wine sampling! Like the beer hikes, there are numerous wine hiking options in Franconia, and like the above, you can do a multi-day journey, or just choose a few to visit.
Pottenstein
Time from Nuremberg
By Train: About 2 hours (but this requires a few stops and doesn't give you much flexiblity in the area)
By Car: About 1 Hour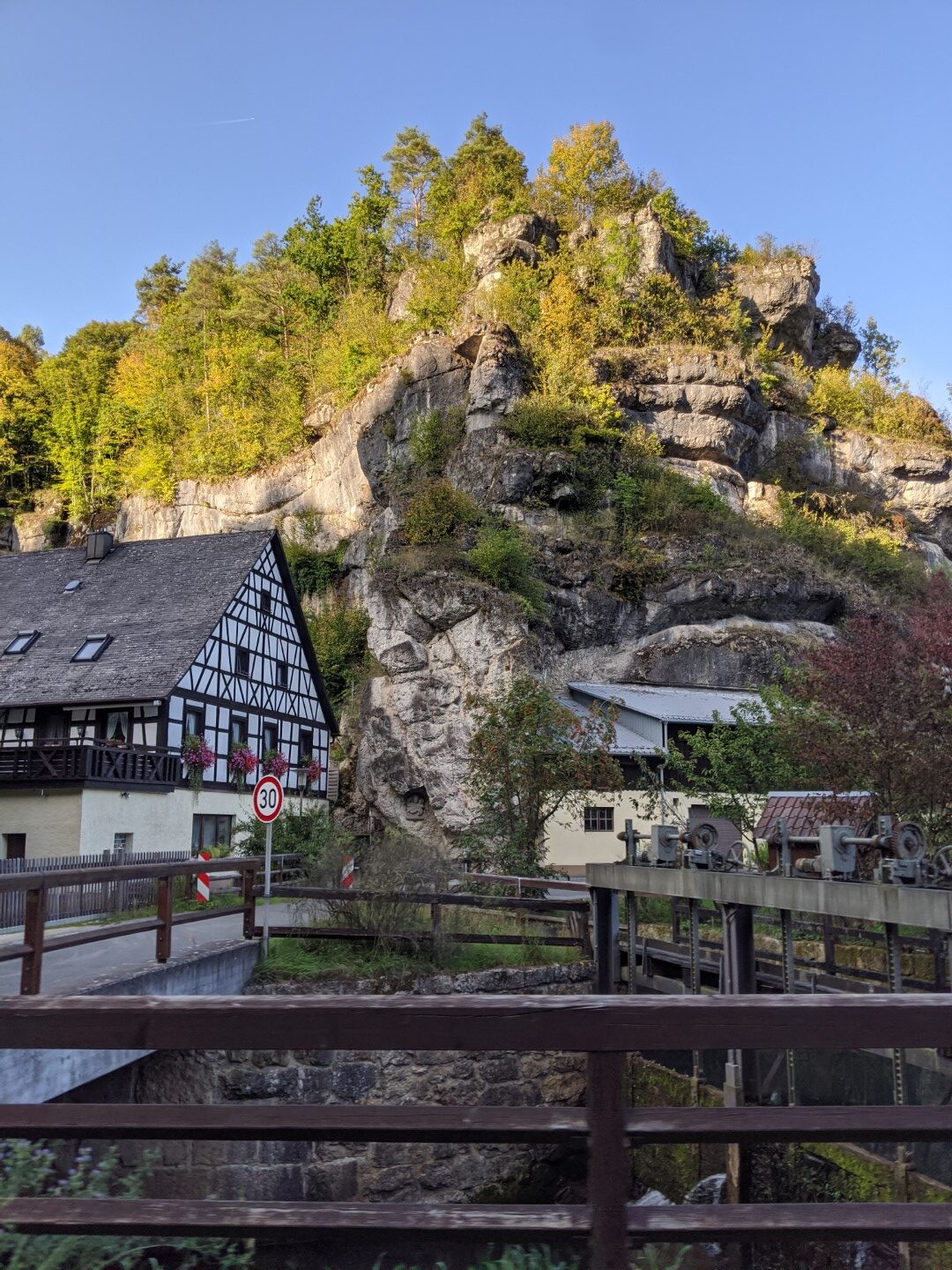 After our day trip to Pottenstein, I'm kind of obsessed with this little town and area in "Franconian Switzerland."
Nestled in between huge rock karsts, it's easy to see why it's called "Germany's Switzerland." Ok, maybe it's not THAT grand, but it is still absolutely beauitful! And after spending a very full and packed day, I wished we had actually made it a weekend trip because there was that much to do (and we like to travel slow).
We started our day out at the Kletterstieg (Rope Climbing Course) and spent most of the morning being little monkeys swinging in the trees. This course is huge and has everything from a toddler's playground area, to a children's course (it was perfect for my 4 year old) to really difficult high ropes courses and a zipline that even this adrenaline junky found difficult (and fun!)
Next we headed over to the Rodelbahn (Alpine Coasters) where you could easily spend a ton of time here at as well. There are 3 coasters that zip you around and plenty of other playgrounds, a restaraunt, and a fantastic viewpoint.
There is also magnificent hiking in the area and we didn't even get to the Devil's Cave on our day trip! Shucks….guess that just means we'll have to go back 😉
Explore The Outdoors in Franconian Switzerland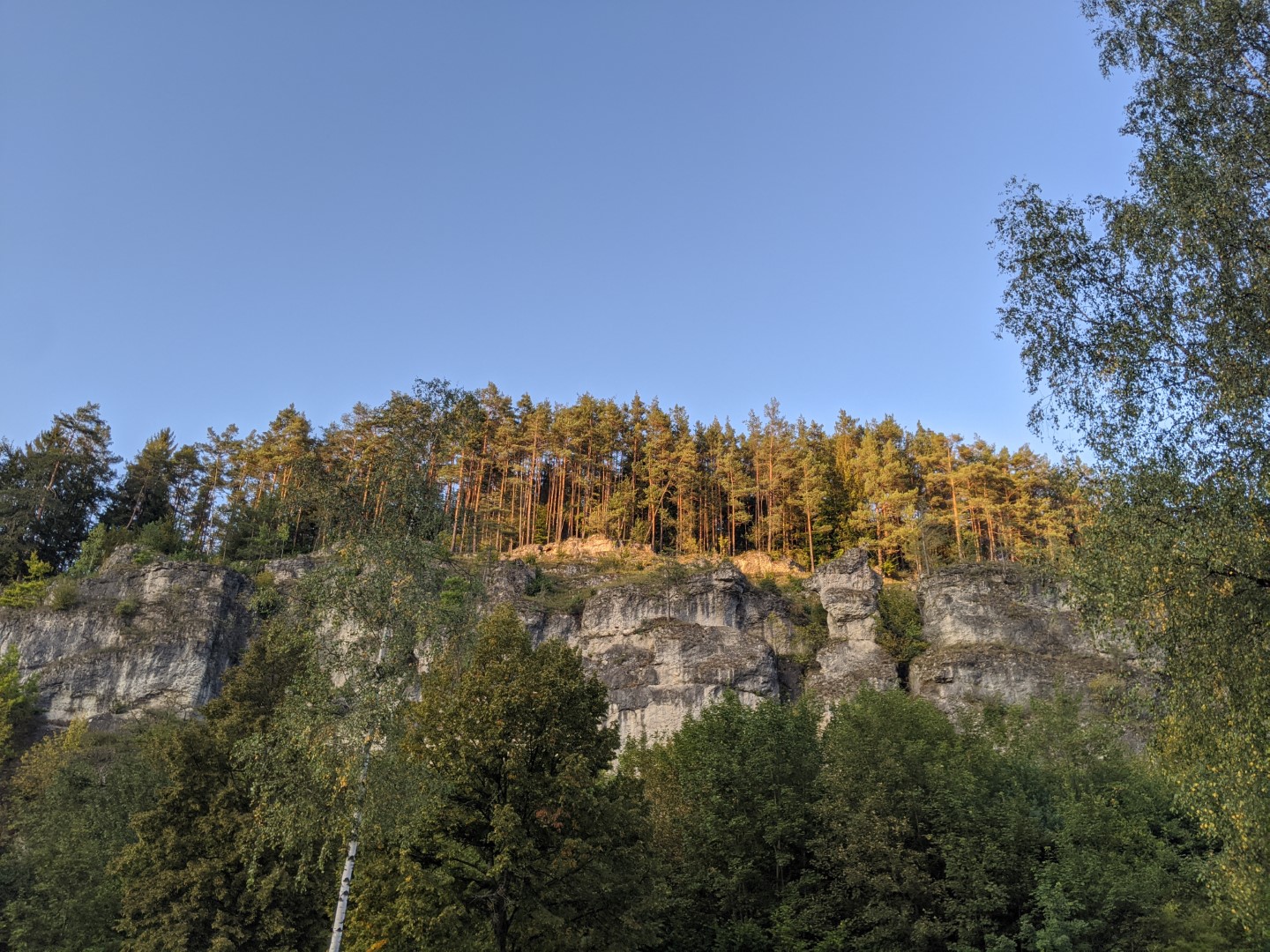 Time from Nuremberg
Will vary depending on exactly where you go; having a car will most likely be necessary.
Several of the above (Pottenstein, the beer/wine walks, etc) are all in the region of "Franconia" but within Franconia, is an area called "Franconian Switzerland" and as noted above, it is an absolutely stunning and beautiful area of Bavaria to explore, particularly for outdoor enthusiasts!
Burgruine Wolfstein (Neumarkt)
Time from Nuremberg
By Train: 1-1.5 Hours
By Car: 45 minutes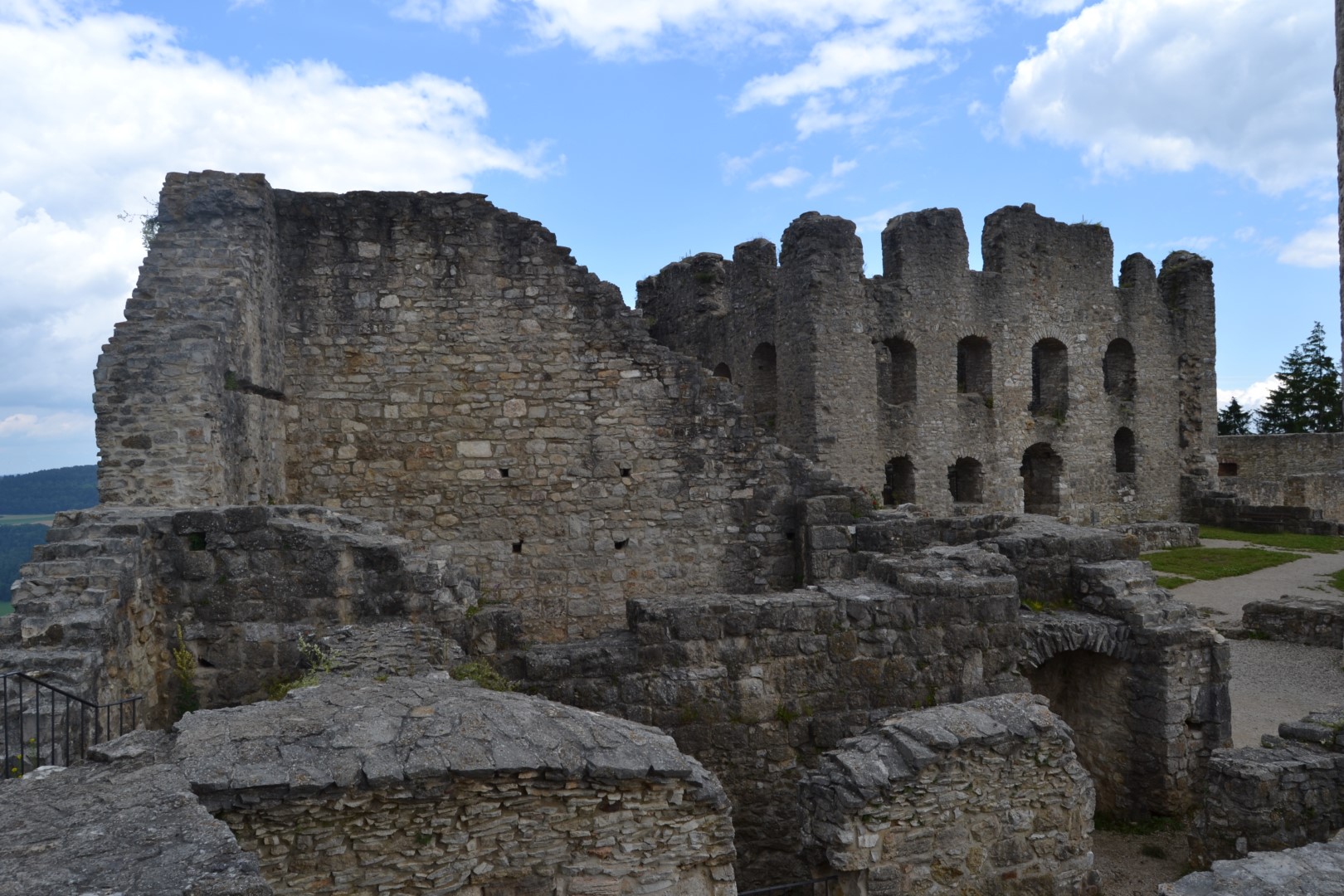 I love this ruined castle. In fact, if I'm being honest, I actually often prefer the ruined, stoney castles over the posh and lavish Schlosses. There is just something about using your imagination to envision what this magnificent fortress must have felt and looked like in it's prime…and this ones dates aaaaalllll the way back to 1120!!!
And like a lot of castle ruins, it's completely free to wander around on and explore.
Tip: If you have a car, drive a little further down the Autobahn (about 15 minutes) to the charming little village of Parsberg (it's also on the train line as well). There is another fantastic castle here (and since it's so local, it's totally off the beaten path!) Ok, Ok, I'm a bit biased because I used to live here, but I still swear that the Golden Kreuz in town has THE best Wienner Schnitzle I've ever had (and get the district's UUUMAZING "Kupfer" beer to go with it….you won't be disapointed!)
Regensburg
Time from Nuremberg
By Train: About 1 Hour and 45 minutes (Note: DO NOT Use the ICE train to get from Nuremberg to Regensburg. This is a completely seperate (and MUCH more expensive) ticket than the Bayern Pass
By Car: About 1.5 Hours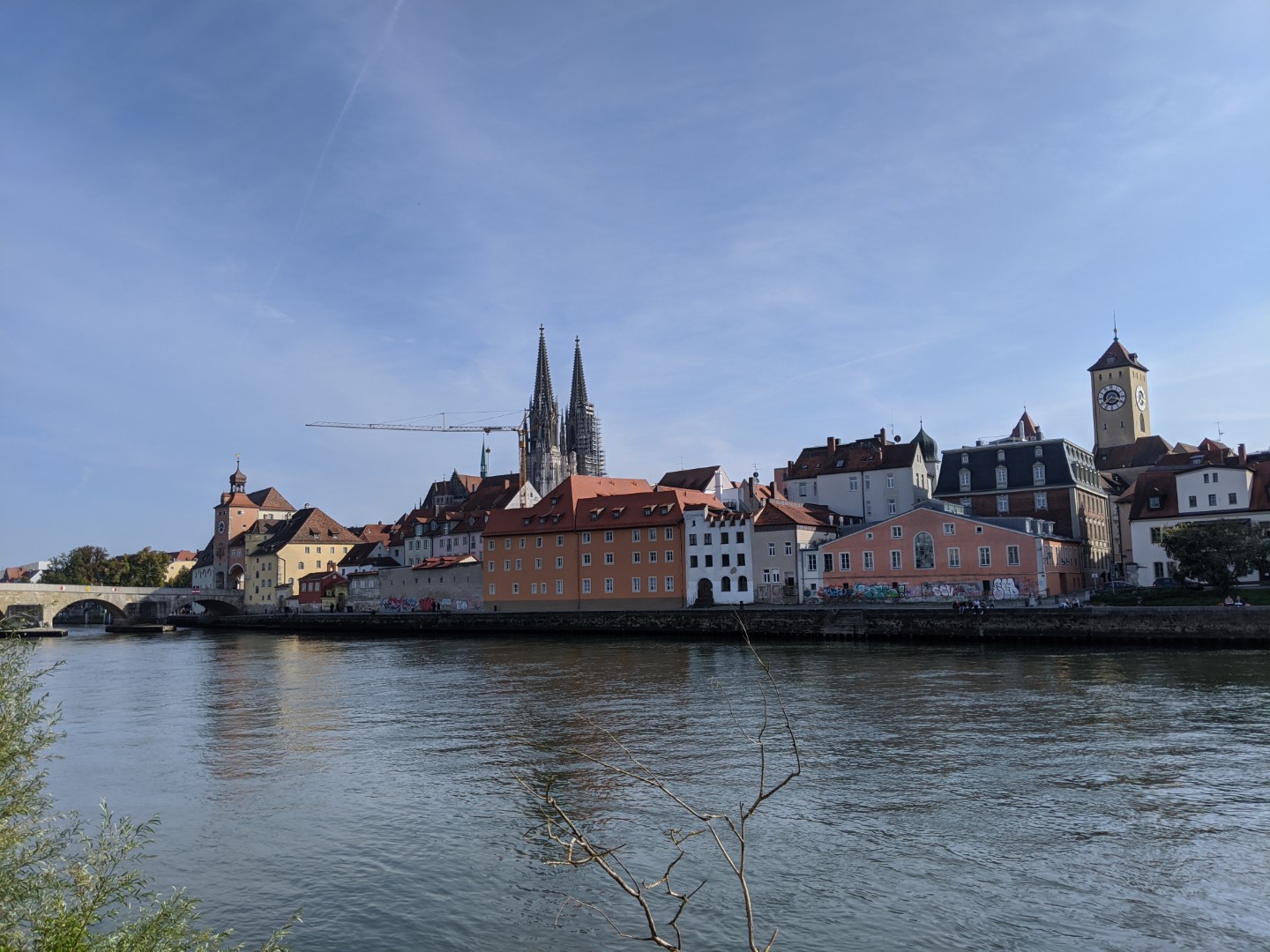 Regensburg just might be one of the most underrated cities in Germany in my opinion. This medieval city's Atlstadt is so well preserved that you will often feel like you are stepping back in time. And not just a time long ago in Germany. This once was one of the wealthiest towns in all of Germany, as it was the most Northern city in the Holy Roman Empire. Therefore, not only will the cobblestone brick alleys completely sweep you off your feet, you might actually think you are in Italy from all of the archetectural nods to land that controlled the city for hundreds of years. Therefore, you can see why I think that Regensburg actually might be one of the best day trips from Nuremberg!
And you can see it all in one, full day! Here is my 1 Day in Regensburg Itinerary, which even includes a full DIY Innenstadt Walking Tour.
Rothenburg ob der Tauber
Time from Nuremberg
By Train: About 1 Hour and 15 minutes
By Car: About 1.5 Hours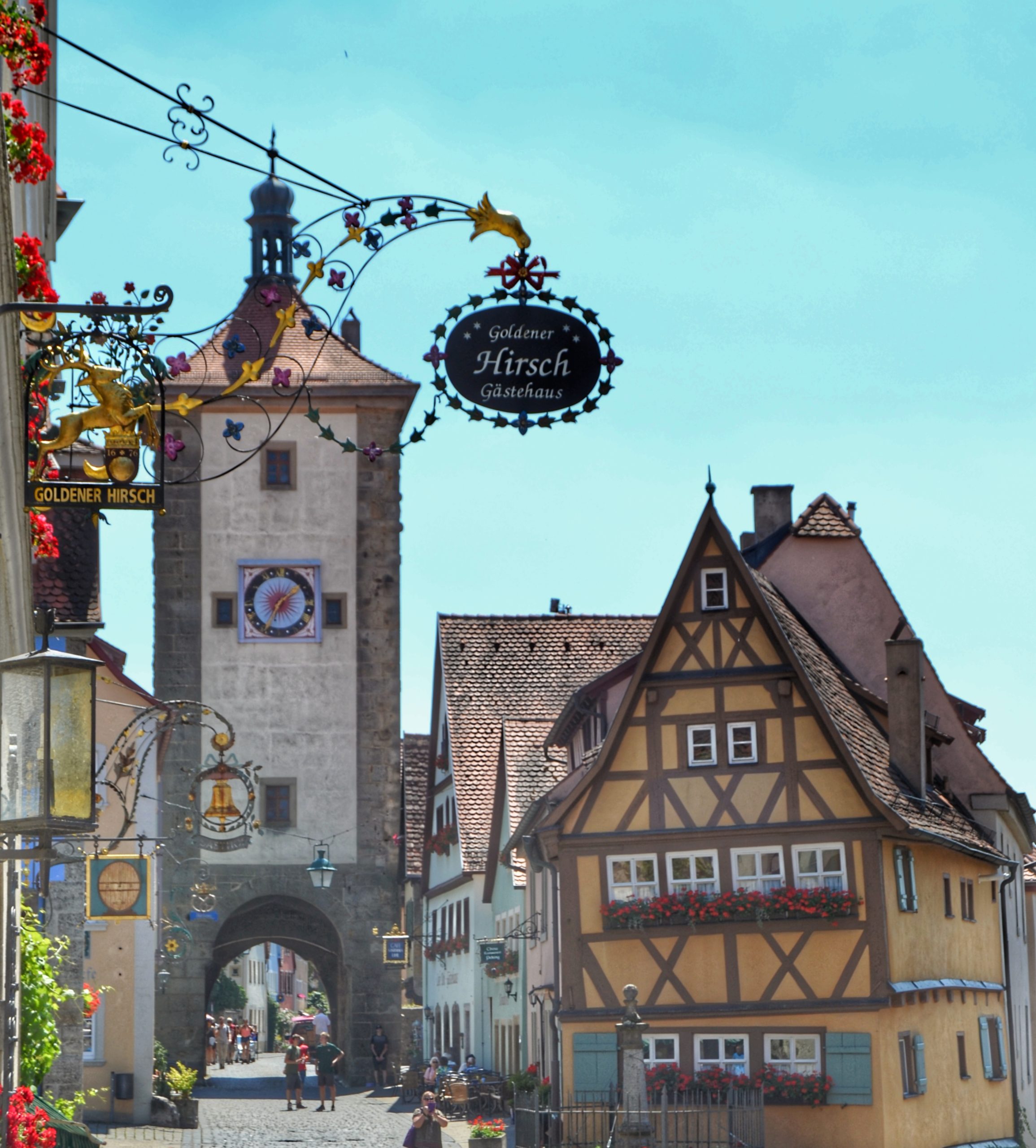 While Rothenburg is an absolute dream in the winter (here's the Perfect 1 day in Rothenburg Christmas Market Itinerary), this is one of Germany's most visited towns by tourists. So yes, it can be crowded and overrun by day trippers, but honestly? It's still totally worth it. There is a reason why this is considered another one of Germany's Most Picturesque Towns.
In fact, few images scream "Germany!" more than Rothenburg (ok, maybe the Neuschwanstein Castle or Oktoberfest!) This village has exploded with popularity because of it's incredibly well preserved medieval walls and town. If you can close your eyes and pretend to not see all the other tourists, you really can imagine life in Germany hundreds of years ago.
You can wander the cobble stone streets, eat a classic Rothenburg "Schneeballen" (snow ball pastry), tour the medieval torture museum, and more in a full day trip from Nuremburg. Since there is plenty to do in town, I highly recommend leaving early and staying late.
Note: The Nuremberg to Rothenburg train is possible on the Bayern Pass but it is only valid starting after 9am on weekedays though (anytime on the weekends) so plan your time accordingly if you are trying to get out early.
Weltenburg Monastery
Time from Nuremberg
By Train: It is quite complicated to get to by public transportation, I recommend a car for this day trip
By Car: About 1.5 Hours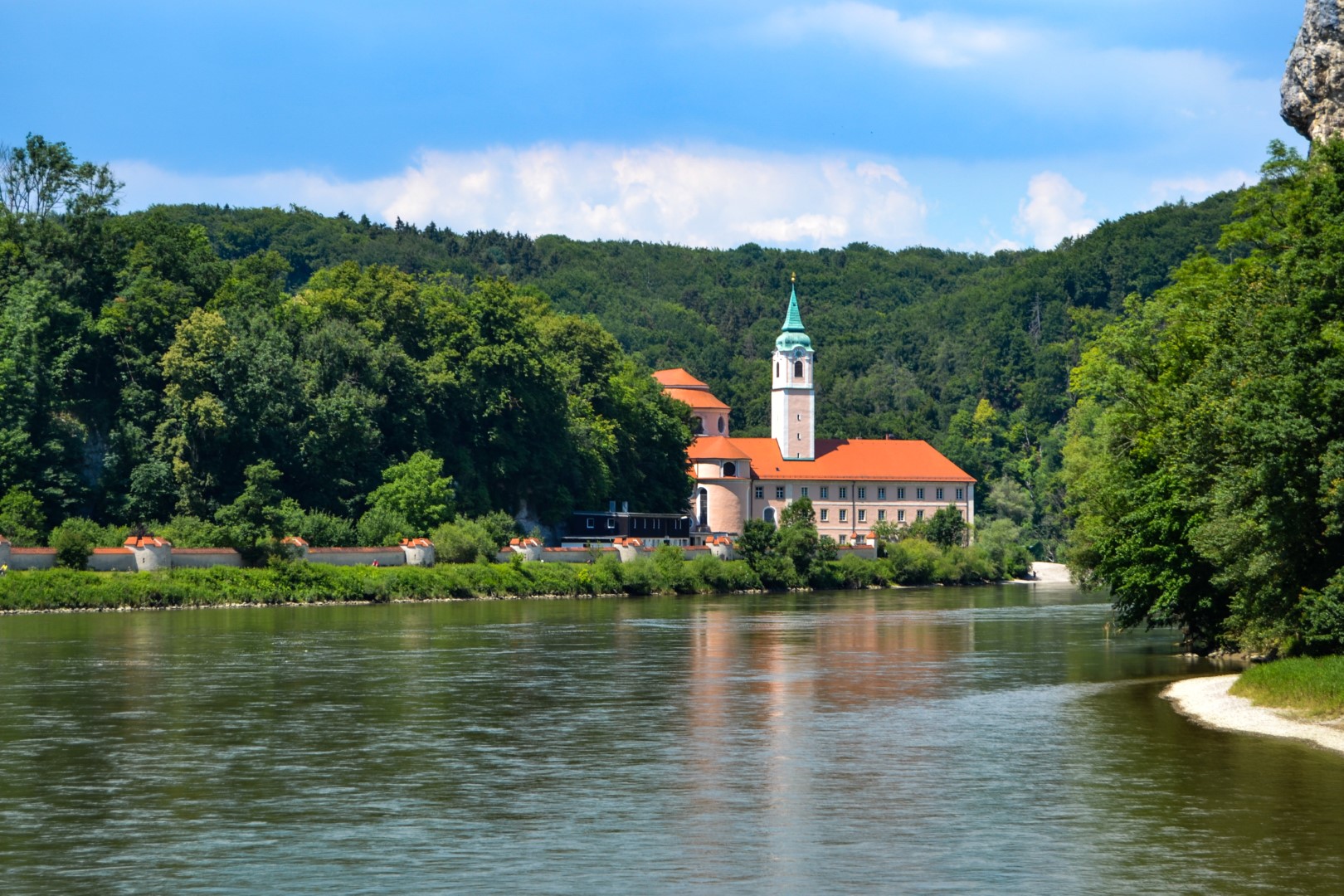 While would make for one of the many great day trips from Regensburg, it should still be at the top of your list as one of the many fantastic day trips from Nuremburg. I love a day trip to the Weltenburg Monastery because it is such a laid back day but also because it is the world's oldest monastic brewery! I highly recommend going to Kelheim and taking the ferry down the meandering Donau river as you wind through karsts and beautiful scenery that then drops you off at the Abbey. Then, spend a lazy afternoon at the brewery eating some of my favorite, authentic Bavarian foods, sipping on some of THE BEST beer not only in Bavaria….not only in Germany….but IN THE WORLD (yes, it's won awards!) and enjoying your time on the grounds and by the river.
You can read exactly how to get to Weltenburg, what to do there, and more in my "Everything You Need To Know About the Weltenburg Abbey and Brewery" article.
Kristall Palm Beach
Time from Nuremberg
By Train: 30 minutes
By Car: 20 minutes
Address: Albertus-Magnus-Straße 29, 90547 Stein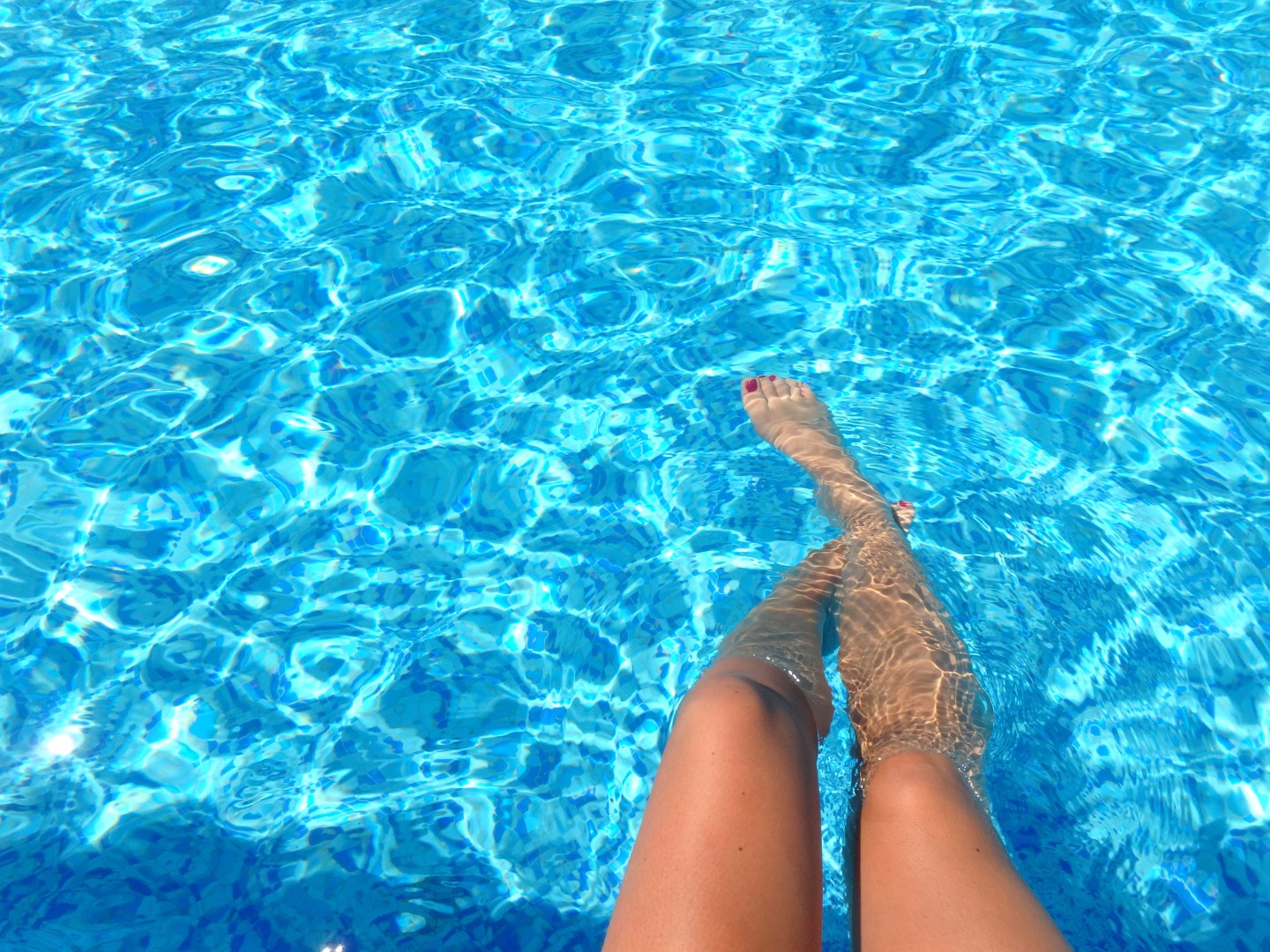 This isn't just your average swimming pool. This amazing water park has something for every age and everyone. This is the perfect day trip near Nuremberg in the winter as well as summer and is sure to be a blast for all!
For adults, soak in the "Kristall Therme" (which are the hot spring pools) as well as detox and relax in the Sauna and Wellness areas
Sip on a cocktail at the swim up bar
For kids (and kids at heart), you can't skip out on the water park area, which includes tons of huge indoor/outdoor waterslides
For families and kids, have a blast in the Kinderland!
Munich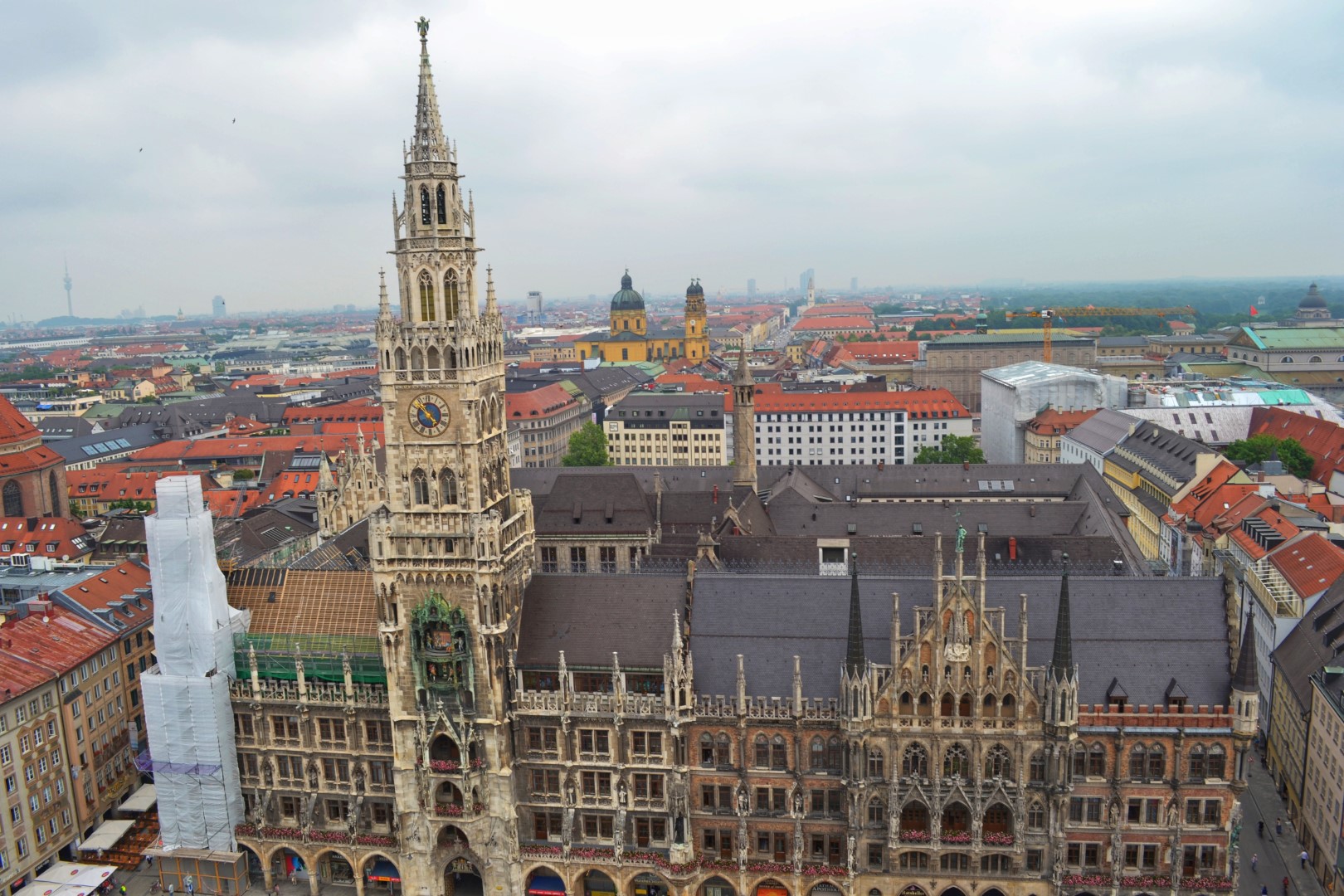 Time from Nuremberg
By Train: 1 hour and 45 minutes (on the Bayern Pass- note that the ICE trains are a more expensive and separate ticket)
By Car: About 2 Hours
Obviously, Munich could be on your list of day trips from Nuremberg. Honestly, I would do Munich separately, but if you are very squeezed on time, already live near Nuremberg and are just looking for day trips, or are even planning a trip to Oktoberfest, then you can still have the perfect 1 day in Munich.
You can easily go to the Marienplatz, enjoy some time at a bier garden, go to some of the iconic churches in town, and more even just on one day in Munich.
If you are making Munich a home base, be sure to check out my 30+ Day Trips from Munich as well.
Day Trips from Nuremberg With Kids (and kids at heart!)
Playmobil Land Fun Park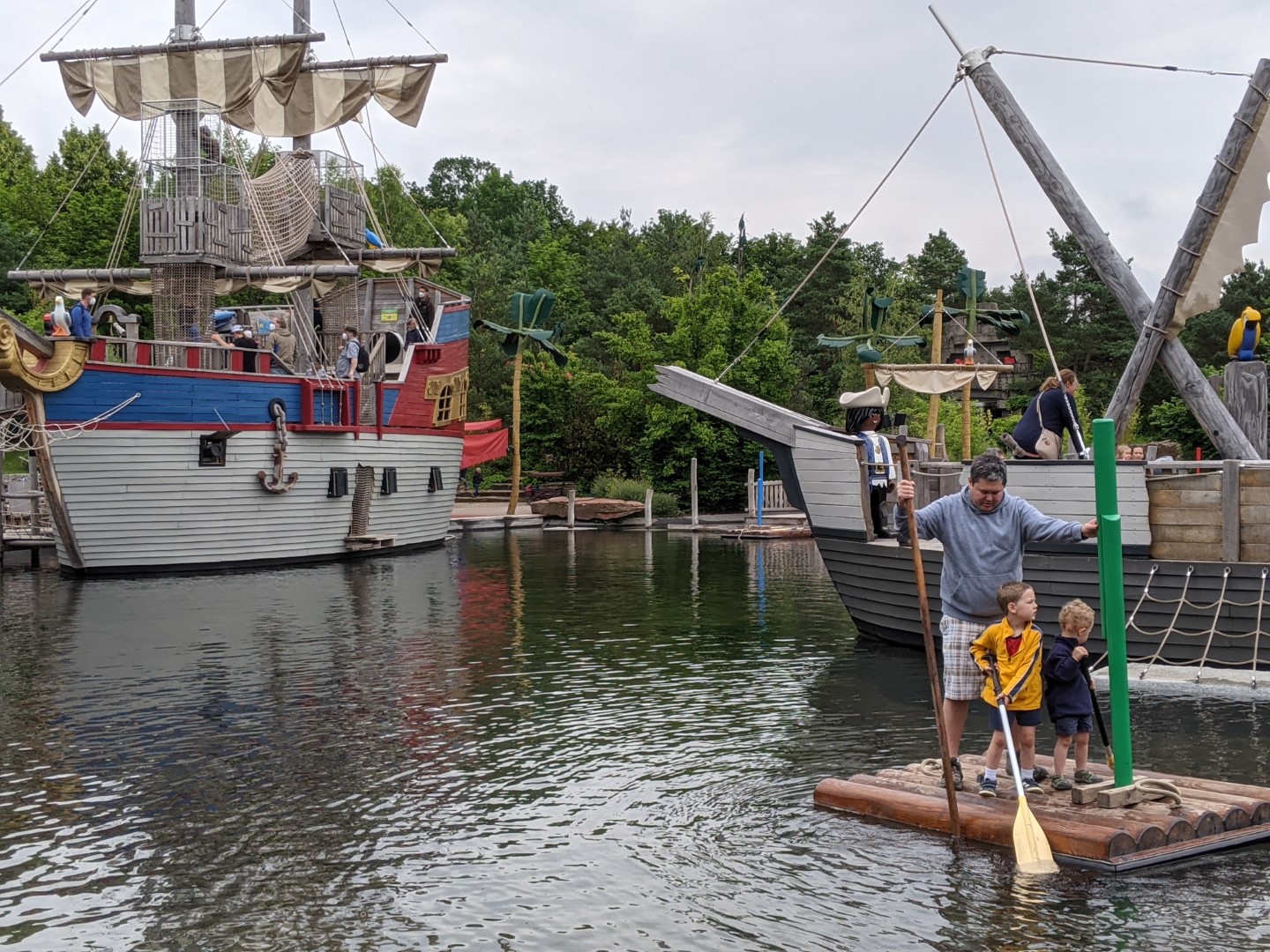 Time from Nuremberg
By Train: 25-45 (show your VGN ticket and get a small discount)
By Car: 20 minutes
Address: Brandstätterstraße 2-10, 90513 Zirndorf
I probably can't say enough good things about Playmobil Fun Park, which is why you can read all about our day at Playmobil, including the shockingly affordable prices for a day pass, all there is to do, tips for getting the most out of your day and more.
This theme park is perfect for the littler ones (my kids were 2.5 and 5 and it couldn't have been more ideal for them!) There are no rides like an amusement park, but there was so much to do that my boys won't stop asking when we can go back!
Monsterpark Rattelsdorf
Time from Nuremberg
By Train: About 2 hours
By Car: 50 minutes
Address: Im Stock 11, 96179 Rattelsdorf
I don't know about you, but my boys are absolutely obsessed with "diggers." Every time we pass a construction site, they yell out as if they've never seen the darn things before!
So, it's no surprise that someone decided to capitalize on this and create a little "theme park" where kids can come and operate real-life excavators themselves!
The biggest downside to this day trip is that (currently) only 6 years and above can actually operate the machines and it is actually pretty pricey. However, I could see it being a really fun, special birthday or celebration gift for the kiddos.
Website with hours of operation and prices: https://www.monsterpark.de/
Dinosaur Park in Altmühltal
Time from Nuremberg
By Train: About 2 hours
By Car: 50 minutes
Address: Dinopark 1, 85095 Denkendorf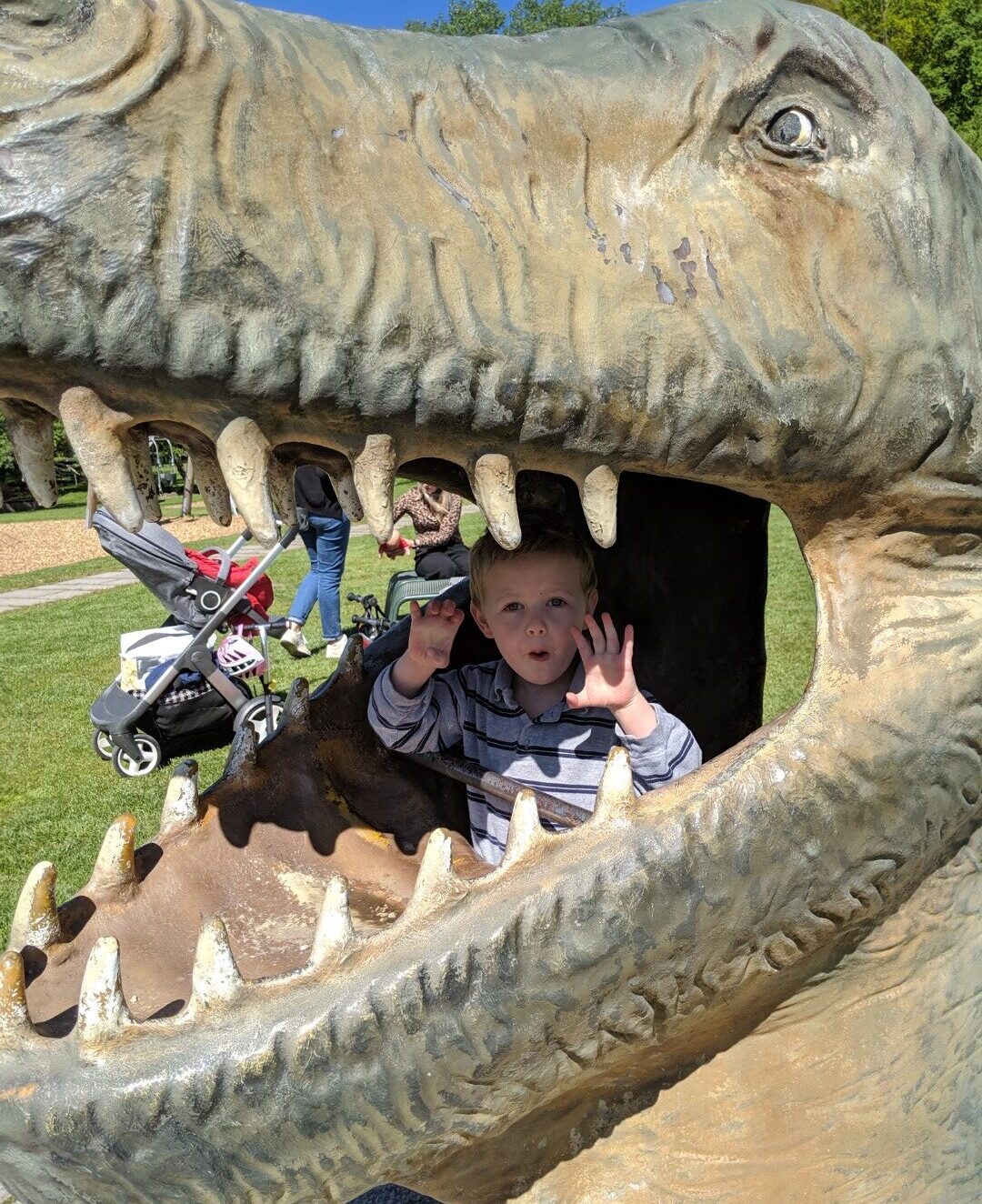 There is just something about dinosaurs that kids are completely drawn to. And at the Dinosaur Park, their imaginations can come to life as they wander in the forest and encounter over 70 life-sized dinosaurs on display! What is even more fun is that kids can get up close and touch and "play" with the dinosaurs. Want to see how you stack up to a Brontosaurus? Go stand at its feet! Want to pretend to get eaten by a T-Rex? Climb into its mouth and hang onto the teeth!
And while that is all fun and games, the Dinosaur Museum is a place of real intrigue and education, where you can see an original T-Rex skeleton as well as the biggest Pterosaur ever found.
At the park, there is also fossil digging available for little paleontologists and of course playgrounds for kids to play on as well.
Baumwipfelpfad Steigerwald
Time from Nuremberg
By Train: There are a few options (but requires tons of transfers)
By Car: About 1 hour
Address: Radstein 2, 96157 Ebrach
This tree top walk (stroller and wheelchair accessible) takes you high above the tree tops and meanders through the gorgeous forest. A highlight is the winding observation tower that lets you gaze out as far as the eye can see! Along the walk, there are information boards (in German) that tell you all about the local flora and fauna. There even is a "Wipfel App" that has fun interactive info as well.
Christmas Markets Near Nuremberg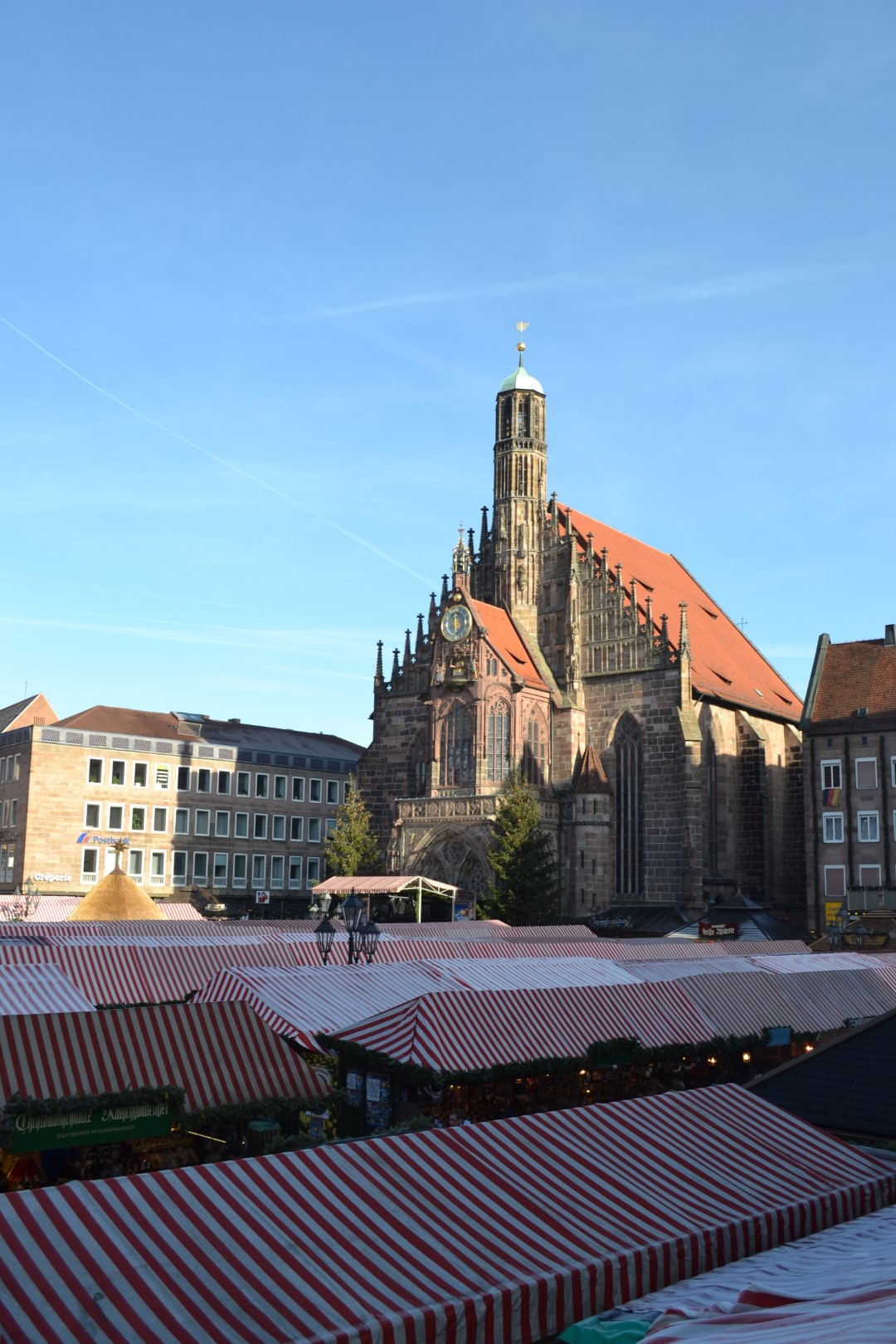 One huge draw to winter in Germany is the Famous Christmas Markets. And Nuremberg gets the claim for one of the world's oldest and most famous markets! So, it's no shocker that tons of tourists make it an essential stop when doing a Christmas Market tour.
However, if I have to be honest, I feel that while it's still worth a quick stop, the Nürnberg Christkindlesmarkt has become so overrun, jam-packed with people, and most of the stalls and stands are just generic trinket items, that it's actually not at the top of my list.
HOWEVER, there are SO many amazing, unique, and absolutely magical Christmas markets near Nürnberg that if you are making a Weihnachtsmarkt Tour and have Nuremberg on the list, you absolutely need to look into the following ones as well, all of which can be done as day trips from Nuremberg.
Rothenburg ob der Tauber
As mentioned above, Rothenburg is actually known as THE German Christmas Village (year round!) And while it is just as touristy as the Nuremburg Christmas Market, it still retains it's medieval town's charm that makes it totally worth a stop on your Germany Christmas Market Tour. You can easily do it as a day trip from Nuremburg, or spend 2 Days in Rothenburg for Christmas to get the full Christmas experience as well as town vibes.
Baumwipfelpfad
The same tree top experience mentioned above creates a really magical Christmas Market that is so unique. There is just something about walking along the boardwalk, high above the snow-covered pine trees, as if there are thousands of Christmas Trees just beyond the walkway!
With the observation tower strung with lights and the stalls selling local handmade goods, the forest seems to shimmer in the evening glow. Toss in some delicious Gluhwein and brats and you've got yourself a dreamy Christmas Market!!!
Historical Romantic Guteneck Weihnachtsmarkt
This has got to be one of my absolute favorite Christmas Markets in all of Bavaria. It's not called "Romantic" or "Historical" for no reason. Set on the grounds of a castle, this Christmas market is kind of like if a medieval festival (complete with food cooked over open fires, animals like camels and birds of prey on display, etc) meets a Christmas Market. There are the roasted nuts, delicious Christmas Market foods and of course plenty of Gluhwein. But I also love that almost all of the stalls and vendors are local craftsmen with really unique goods to sell (compared to some of the trinket stands at more popular markets). And then you can walk into the castle courtyard and be serenaded by a live band playing carols!
It really is something out of a fairytale!
Dinkelsbühl
There are plenty of great Christmas Markets along the Romantic Road, and Dinkelsbühl is one of my favorites along that particular route. The town itself is charming any time of year, but add the magic of a Christmas Market and the Altstadt is completely transformed into a winter wonderland of Christmas cheer.
Regensburg
My other top pick for best Christmas Markets has to be Regensburg because it's actually not just one Christmas market. No, it's actually upwards of 6 throughout the Innenstadt! So what makes this so unique is that you spend a little while enjoying one, small market (and of course a mug of Gluhwein!) and then start to meander your way through the cobblestone streets, just enjoying the city itself, until you get to the next little market (and another mug of Gluhwein!!) Each market has it's own draw. One is more of an artist's showcase, another is in the romantic Schloss, and another has sheep and the Feuerzangenbowle (a rum-infused Gluhwein that's lit on fire!)