[This post may contain affiliate links where we earn a small commission. Please see our disclosure for more information and thank you for supporting our site so we can continue to bring you awesome content for your travel inspiration!]
While I don't believe in COMPLETELY changing travel just because we have a family, there are times that we definitely have to adapt to traveling in Germany with kids. When I first discovered Center Parcs a few years ago, I knew that it would become a family favorite. (No, this is not a sponsored post. Yes, I pay for ALL my vacays at Center Parcs)
But after going to the Allgäu Center Parcs (read my review on that location here) a couple of times, we wanted to mix it up a bit and try a new park.
Plus, Germany was just coming out of lockdowns from Covid, so Center Park Germany was offering some KILLER last minute deals and the Hochsauerland location's prices couldn't be beat (but more on prices below).
So, as much as I LOVE giving you every single fine print detail in my reviews, this one has to be a bit different. Since we were just coming out of lockdowns, there were still quite a few things not open at the resort that I know you will probably want to know about and I can't, in good conscious, write about those things without experiencing them.
However, you are going to see that we enjoyed our time at Center Parc Hochsauerland despite those road bumps.
Click Here To See Current Deals for Hochsauerland Centerparcs
What is Staying at Center Parks Hochsauerland Like?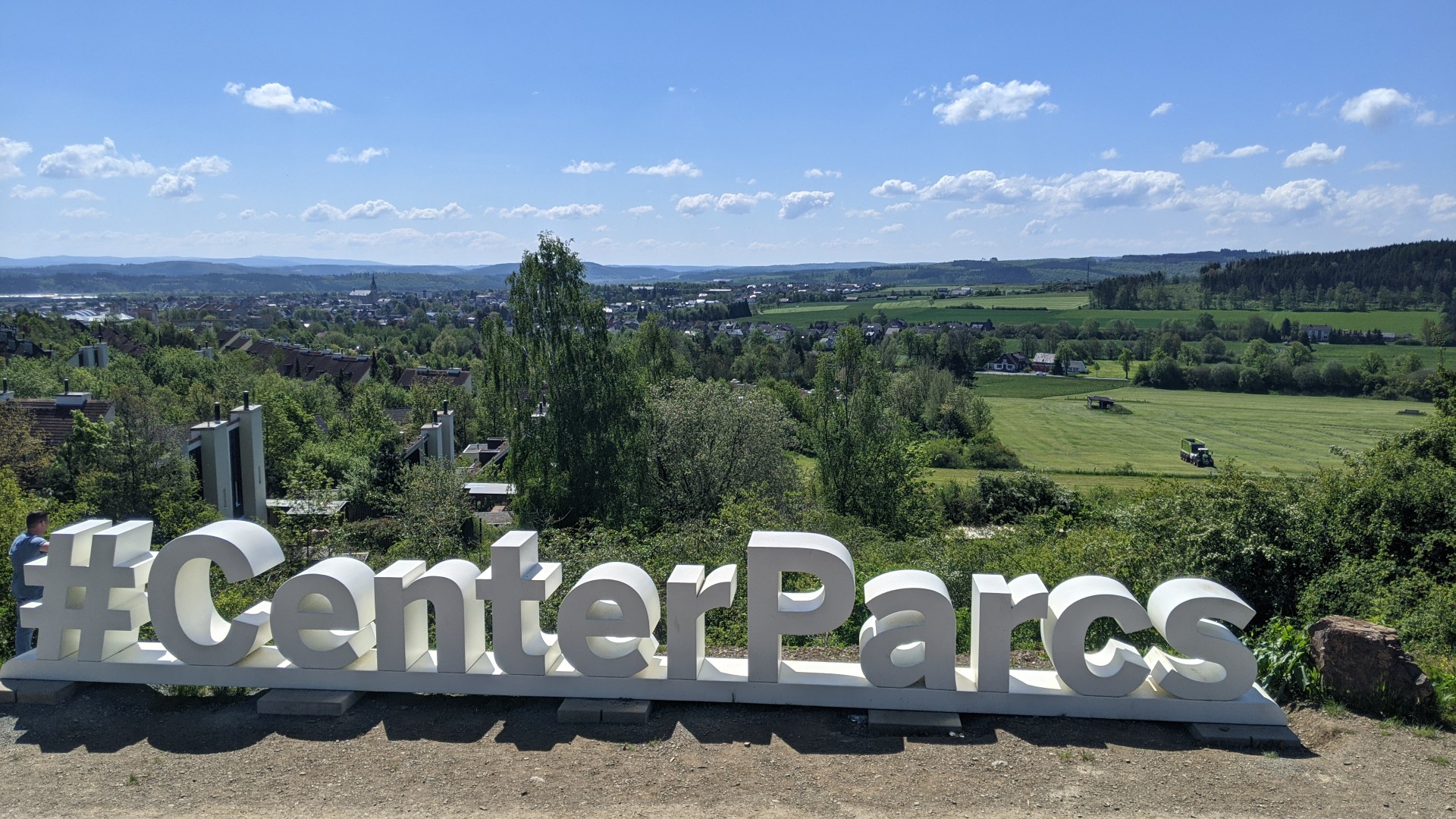 I'll get into the nitty gritty in the sub sections below, but if you have never been to a Center Parcs location before (they are all over Germany), they are like a big village where you have everything you need and it is ALL geared towards families!
There are playgrounds throughout the entire park for the kiddos to run off some steam. There are numerous restaurants on site, a grocery store, a bakery, coffee shop, and more.
There are also activities throughout the entire park to do such as bowling, mini golf, a petting zoo, tennis courts, and (again) more!
I was a little "nervous" going with Hochsauerland when I know that the Allgäu location is one of the best in Germany and why mess with something that you know works, right? I had read reviews that Hochauerland was a bit more outdated (which is understandable considering Allgäu's location is the newest one) but we really wanted to try a different location since we've already been to Allgäu 3 times (and damn, we could NOT beat the price at Hochsauerland for the weekend we wanted!)
Cottages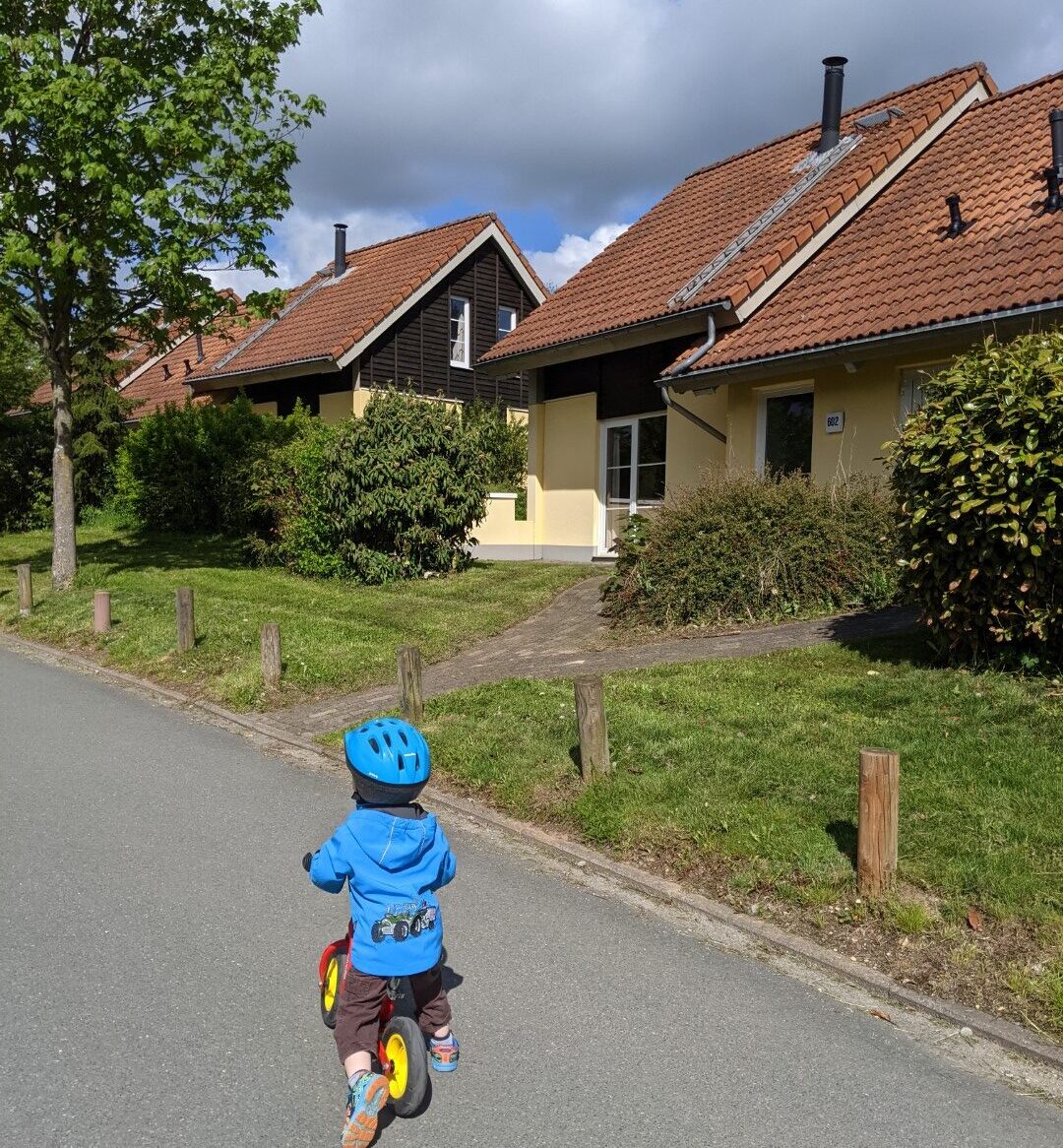 At all the Deutschland Center Parcs, you'll find the "cottages" which are basically like AirBnBs. There is a range of sizes of fully stocked apartments available that accommodate 4 people with 2 bedrooms to 12 people with 6 bedrooms!
I'll give you a full tour of the one we had below, but I love having our own apartment whenever we travel.
We bring almost all of our own food to cook at the cottage and it's nice to just have more space to sprawl out than in a hotel room with a whole family! Plus, we love going to Center Parcs with friends, and it's a blast to get a place big enough for us all to hang out together playing board games, cooking meals, and the kids to do their own thing!
Center Parc Hochasuerland Hotel
At this resort location, there is also a hotel. This is great for small families. Depending on the package and/or room you choose, there is also supposedly a fantastic breakfast buffet. Otherwise, it is around 15 Euro for the buffet.
Newly Renovated!
However, when we arrived, we were pleasantly surprised to find that ALL the cottages had been newly renovated as of 2020, so they were all very up to date! While we didn't stay at the Hotel, I do believe that it also got a facelift as well, so everything is pretty spiffy throughout the park.
Cleanliness
I will say that I didn't feel like it was AS clean as it could have been, but I also didn't find it DIRTY. For example, there were some dust balls in the corner…not a huge deal but something I noticed.
We also had a big leak in the upstairs bathroom sink and despite us asking for maintenance, nobody ever came out to fix it.
Note:
The website is NOT English friendly and it can be a bit confusing if you don't speak English. But hey, we ARE in Germany after all. On sight at the resort, it is similar with language. We didn't have many issues because we didn't do much that we had to interact with staff, but I've heard that not everyone speaks English (which again, I don't have qualms with only because I know we are not in an English speaking country!)
Where Is Center Parcs Hochsauerland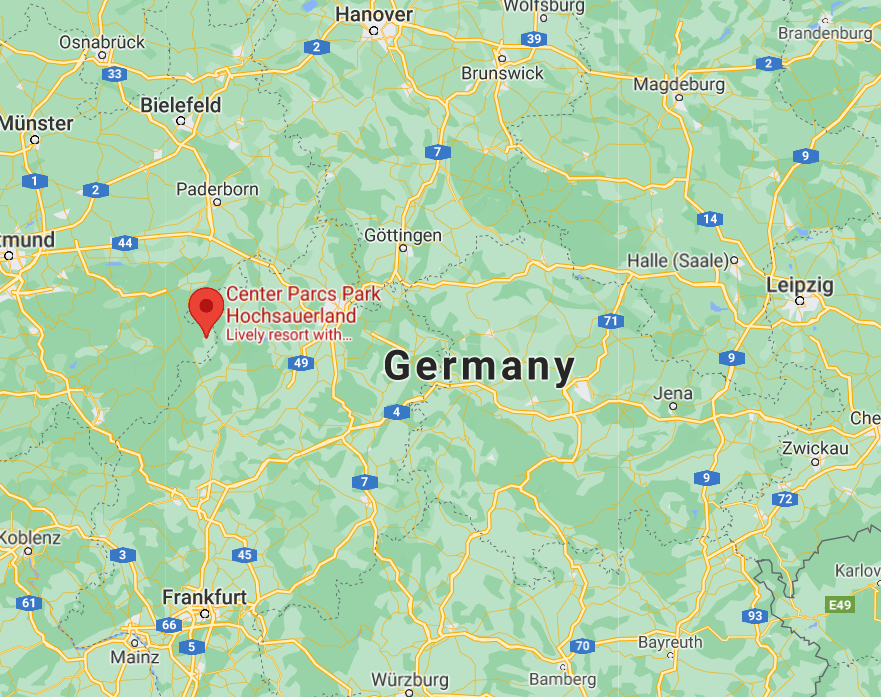 Center Park Hochsauerland is pretty much in central Germany in North Rhine-Westphalia in the district of, well you guessed it…Hochsauerland! It's located right on the outskirts of the town Medebach, which was actually a good size with plenty of restaurants and was a nice little town in and of itself.
Tip: If you find the prices at the park too expensive, just head into town to find something more local, including the grocery store.
Address: Sonnenallee 1, 59964 Medebach
Getting To Center Park Hochsauerland
By Train/ Public Transportation: You'll most likely take your train to the nearby town of Olsberg and then take a short bus ride (S30) to Madebach- Park Hochsauerland, which is literally just right outside the park.
Driving: It is most likely significantly faster to just drive though. While you are not necessarily in the MOUNTAINS in Hochsauerland, there are some small skiing areas in the high hills, which means that the roads can actually get quite twisty and turny (and small!) but it's actually a beautiful drive!
However, once you arrive, you are only allowed to drive your car around the park to unload your belongings (as well as pack up for departure). After that, the resort is a car free zone and you will park in their provided lots for the remainder of the stay.
Note: Hochsaurland Centerparcs does have electric car chargers available in the parking lot
Booking Your Cottage
Despite living in Germany, I'll be the first to admit that my German is NOT very good (hang heads in shame). But I found the website to book to be a bit of a runaround and sometimes hard to find exact information and details. The option to turn on English was only on some pages (and hard to find) so there were things that I couldn't find ANYWHERE (and then had my German-speaking friend double check because let's face it, I have a history of looking something right in the face and saying "Where is the…..")
For example, from my previous stay, I knew we needed to bring some basics for the cottage (more on this below) but NOWHERE could I find a list of what exactly was included in the stay and what was necessary to bring. In fact, this is one of the biggest complaints on Trip Advisor. People show up and are shocked to find no hand soap (especially disappointing during Corona times) and only one roll of toilet paper per bathroom. Obviously, they want you to go buy it at their (overpriced) store, but I think it should be mentioned somewhere on the website regardless of what to expect in your cottage.

Choose A Cottage
There are a lot of different apartment/cottage/ cabin options and most of the biggest differences are simply in size and amount of people each accommodates. However, there are some that are a bit more luxurious, one is HUGE and even has it's own playground in the backyard! (Note to self for next time!)
You do have an option to pay a bit extra to choose exactly where you would like to stay in the park. One thing to know is that the resort is really big and this particular location is kind of set up on a high hill….meaning if you are at the top, remember you don't have cars so if you are planning on going to the pool or main attractions at the Market Dome, that means a decent trek uphill.
Tip: You can bring bikes, scooters, etc to help you get around the park easier and you can also rent golf cars (but they are EXPENSIVE!) if you don't want to hike it up to the top.
If you want, you can pay 30 Euro extra to choose your exact location. Normally we don't do this, but because we got the cottages for so cheap and we knew the pool wasn't going to be open (more on that below) when we were there (Thanks, Covid) we decided to "splurge" 😉 and pay the extra 30 Euro to choose a cottage that was right next to a playground, which meant us adults could still hang out at home while the kiddos played!
When To Book For Center Parc Deals

There are several theories to this. Some people say to book out as far in advance as you can. Unfortunately, when it comes to these kinds of trips, I am not a pre-planner, so I can't vouch for if this is the best option or not.
Alternatively, I CAN say that waiting until the last minute (and being flexible) is a great way to save! Obviously, this can go either way and you can risk having apartments be completely booked out. However, I ended up booking about a week out and we only ended up paying about 100 Euro/night per family!
If you can be REALLY flexible or REALLY last minute, you can even get bigger Center Parc last minute discounts. For example, the above image was for a search for just two days from now and it was over €650 off, and this was for one of the HUGE houses!
For this particular trip, Center Parcs were doing a Spring Special (they often have regular deals, like right now, as I write this, they are already running a "Summer Special") where everything was already 35% off and then since we got it last minute, it was even cheaper!
Also, if you book a holiday 3 times within 2 years, then you also become a "Center Parcs Friend." There isn't a discount, but you can get early check-in, a little "present" at arrival. and some gifts at the shop as well.
Click Here To See Current Prices For Allgau
Packing For Center Parcs
One of my biggest raves about the Center Parcs concepts is their cottages. With a family (or in our case, we always like going with a group), a "home" is really the only way to go! I love that at the resorts, we can order out if we want to because of all the restaurant options on site, but we also have the freedom to make our own meals (and save money).
The cottages are considered "self catered" and at first glance, you might think that everything is provided. The reality is that MOST things (appliances etc) are provided.
Tip: There is a store on site for any last minute purchases or "oops, I forgot" items. While I wouldn't say that it is outrageously priced, I would argue that it is expensive, comparatively. You are much better off going to the store locally and getting all your food and supplies and just bringing them with you rather than having to buy there.
Bedding
Depending on the package you choose, some apartments come with bed linen, others you have to select that upgraded package (which isn't too much, and in my opinion still better than lugging all our own pillows, blankets, and bedding with us!)
Note: On our previous stays, when we got the linen package, towels were included. Upon our arrival to Hochsauerland we were a bit surprised to find NO towels, and when we inquired about it, were told they are never included (hmmm). Remember that leaky sink I mentioned earlier? Yeeeeah……no towels meant no way to clean up all that water! (even when we asked!)
Moral of the story? Either just bring along your own shower towels to be safe, or inquire before arrival to double check.
What You Can Expect To Find In the Cottage:
A fully stocked kitchen of cooking appliances.

Every apartment comes with a toaster, plenty of pots and pans for cooking/baking, cups, plates, bowls, coffee pot, can opener, spatulas, pasta strainer, silverware, water boiler, refrigerator, and even a big measuring bowl, plus some more that I'm sure I forgot about!

One toilet paper roll per bathroom
One "rag" for wiping up and only 2 dishwasher tabs
Table for eating
Baby high chair
Baby crib (our apartment had one on each floor)
Baby gate for multi-level homes
Drying clothes rack
Outdoor patio with table/chairs
What To Bring:
Trash bags
Hand towels
Hand soap for each bathroom/ kitchen
Sponge
Dishwashing soap
Dishwasher tabs
Bed linens (possibly- check your package or "upgrade to have this included" which I highly recommend so that it's one less thing for your to have to pack)
Food, snacks, and beverages
Towels
Other Packing Essentials:
Masks during Covid (all the indoor locations require a mask)
Clothes and backups for entire stay (there are no washing machines in the cottages, so either pack doubles or bring laundry soap and a line for a classic bathtub laundry day- I do think there might be pay to wash machines at the hotel though, so you'll want to double check)
Board games
Toys for kids to play with
Balls for kids to kick around
Beach towels
Swimsuits
Kids flotation devices (arm wings, puddle jumpers, etc). Life vests are free to borrow at the pool
The usual travel supplies (toiletries, medicine, clothes, underwear, socks, etc)
Baby supplies if necessary (pacifier, diapers/wipes (these are EXPENSIVE on site!) A crib sheet is NOT provided. Read my Center Parcs Baby Guide Here
Pair of walking shoes as well as sandals for the pool
Baby carrier or stroller if applicable
Pool toys
Playground toys (like a shovel, etc)
Coffee and filters (some apartments have a Dolce Nespresso machine as well, pods not included)
Mosquito repellant during summer
Tupperware for leftovers
Electronics/ Chargers
Optional To Bring
Bikes, laufrads, scooters, bike trailers
HDMI cable to connect laptop to TV for movies
Flashlight
Here is a tour of our apartment at the Centerparcs Hochsauerland
Arrival At All Center Parcs
After you make your booking, you'll need to fill out information for all the guests (names, birthdates) staying at the cottage, your license plate numbers, and some other general info. You'll get a booking receipt that you can print out or have ready on your phone to scan once you arrive. Be sure to do all this! Otherwise, you may have to wait in a line to get into the park, and then have to go wait in line inside at the reception as well.
Note: I did all of this on the App. However, the friend that went with us wasn't able to even get the App on her IPhone and my hubby said he couldn't even find it in his US App store (I was able to get it in the German Android App store)
Check In: Check in is at 3pm. During non-covid times, you can actually arrive at 10am on the day of your check in. You won't be able to access your cabin until 3, but will have access to the rest of the park, the amenities (like the pool!) and everything else. Since we usually just go for the weekends, this is a great way to sneak in some extra time at the park!
On the flip side, on the day of your departure, you just need to be out of your cottage by 10am but then you can stay at the resort the rest of the day, using the amenities. Typically, we try to get some more pool time in, but since that was closed on this particular trip for us, we ended up doing some mini golf and having lunch at one of the outdoor restaurants before hitting the road.
Note: During Covid (at the time of our stay) guests were not allowed to come in and use the resort until exactly 3pm. Anyone arriving prior had to park and wait in the parking lots. Covid did NOT impact staying on departure day, you are allowed to stay on site after check out.
Parking
What is really nice is that besides at check in and check out times, the whole park is car free. It is SO nice letting the kids roam a bit more without the fear of cars zooming around!
Parking in the general lot is completely free. There is an indoor garage attached to the hotel, which is a few Euros (6/Day when we were there)
There are also charging ports for E-cars as well!
Note: At arrival and departure, you can bring your car right up to your cottage but once you are finished, you are to take the car back to the main parking lot (which is right by the Market Dome)
The Cottages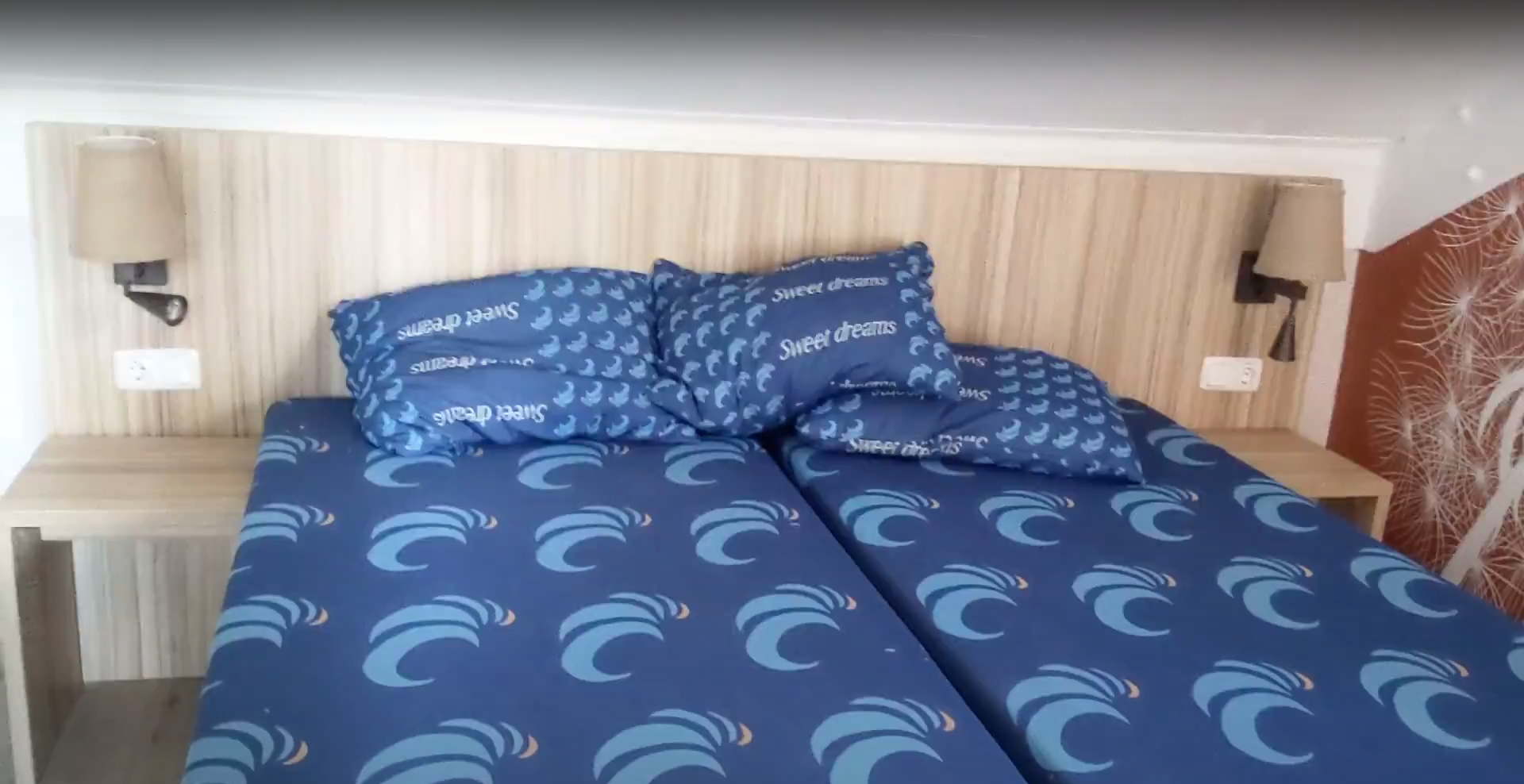 As stated above, each cabin has been fully renovated as of 2020. What is nice about this, is that it was pretty much exactly like the other parks we've been to (same furniture, similar layouts etc) so if you go regularly, you know what to expect! There is a fully stocked kitchen, which is SO nice to not have to bring plates, bowls, and other kitchen supplies!
There is a really nice seating area, which was great for game nights as well as for the kids to kick back and watch a movie.
Outside the cottage, we had a (pretty small) outdoor patio area. It wasn't really much room to really let the kids run around, but there was a nice, big table and plenty of chairs, and even lounge chairs so we could enjoy some meals outside (and the kids had fun doing sidewalk chalk in the mornings! )
Cleanliness
I am finding that the cleanliness of Center Parcs, in general, is a bit hit or miss. I will say I have never personally had issues with cleanliness (this was our 4th time staying at a park). The bed linens were fresh and the bathrooms looked clean. As mentioned earlier, there were some dustballs in the corners, which tells me that they are not OCD about the level of cleaning, buuuut I can't say that I felt like it was dirty.
I never know just how well the people before us cleaned out the dishes or utensils, and there were a few cups that were…iffy. However, I don't really expect housecleaning staff to go through hundreds of cabins' worth of dishes every turnover.
All in all….I had no qualms with the level of cleanliness.
You can read further reviews on Booking.Com as well from other guests
Activities at Center Parcs Hochsauerland
Aqua Mundo
The highlight of just about any Center Parcs stay is going to be the pool. And what do you know…..it was closed due to Covid regulations when we were there. (Wah! Wah!)
However, in non covid times, most people say that they really enjoy this location's pool and waterpark (a few iffy reviews on the water quality, but not an alarming amount of negative complaints). Like most Center Parcs Aqua Mundos there is a huge water playground that is ideal for the smaller ones where they can spend HOURS splashing around or climbing on the structures. There are several good sized slides throughout the water park, a lazy river, and an indoor and outdoor pool.
Note: I've had a lot of people ask me if it was still worth it for us to go without the pool in operation. Here's my take on that:
YES! I am obsessed with finding the best travel deals. Even on AirBnB, I couldn't find a place for a comparable cost that had near what Hochsauerland has to offer (even without the pool). The kids had a great time playground hoppin', doing the other activities, and it was just a laid back weekend getaway.
Now, with all that being said, I don't think I would have paid a ton more if the pool wasn't open and we also only stayed from Friday-Monday. I also don't know if any longer of a stay without the pool would have been as good, either.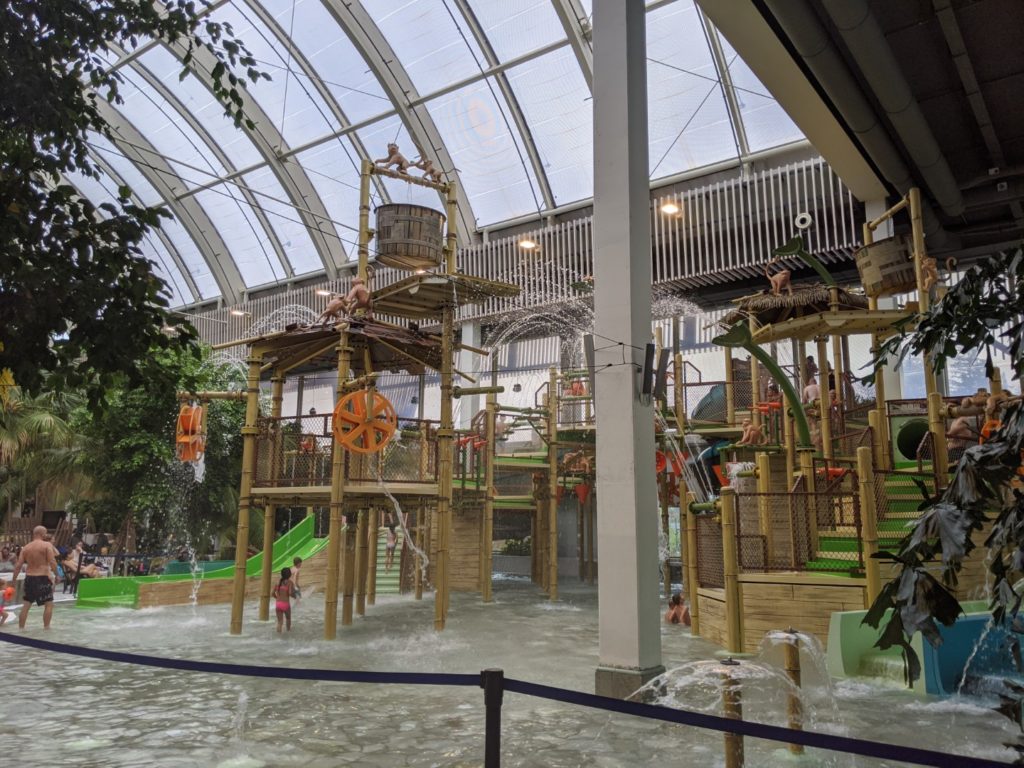 This is the playground pool in Allgau, which is extremely similar to the Hochsauerland version.
Aventura Spielberg
After the pool, this might just be the biggest draw and attraction at the Hochsauerland Center Parcs location. When I say that this is a GIANT playground on the side of a mountain, that doesn't really do it justice. In fact, it touts the title of the "Longest Playground in Europe." IT.IS.HUGE.
All up alongside the giant hill there are climbing courses, playgrounds, slides that zip you around, enormous swings, and more.
To say that you could spend all day there is an understatement. (There is also a nice Biergarten right there so you can spend hours and hours here!)
Playgrounds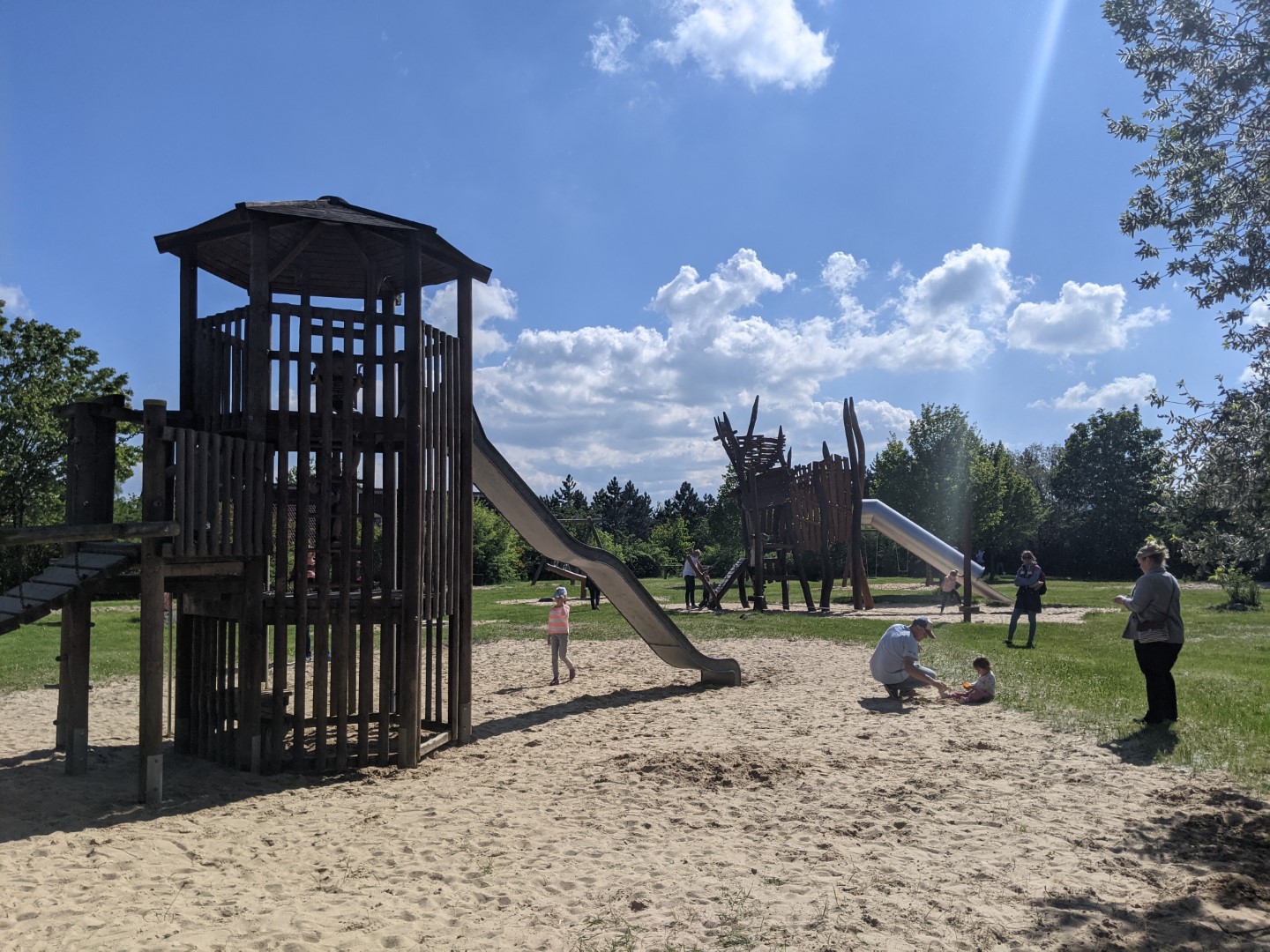 Throughout the entire park, you'll find playgrounds all over. Some are smaller, others really big. We joked that we are long past our "Bar Hopping" days and now fill our time with "Playground Hopping!" We would go to a playground for an hour or so, take a break, and then go find another one. It's amazing how kids don't care that they are just playing again, as long as it's a slightly different scenery!
There is also an indoor playground for rainy days.
Petting Zoo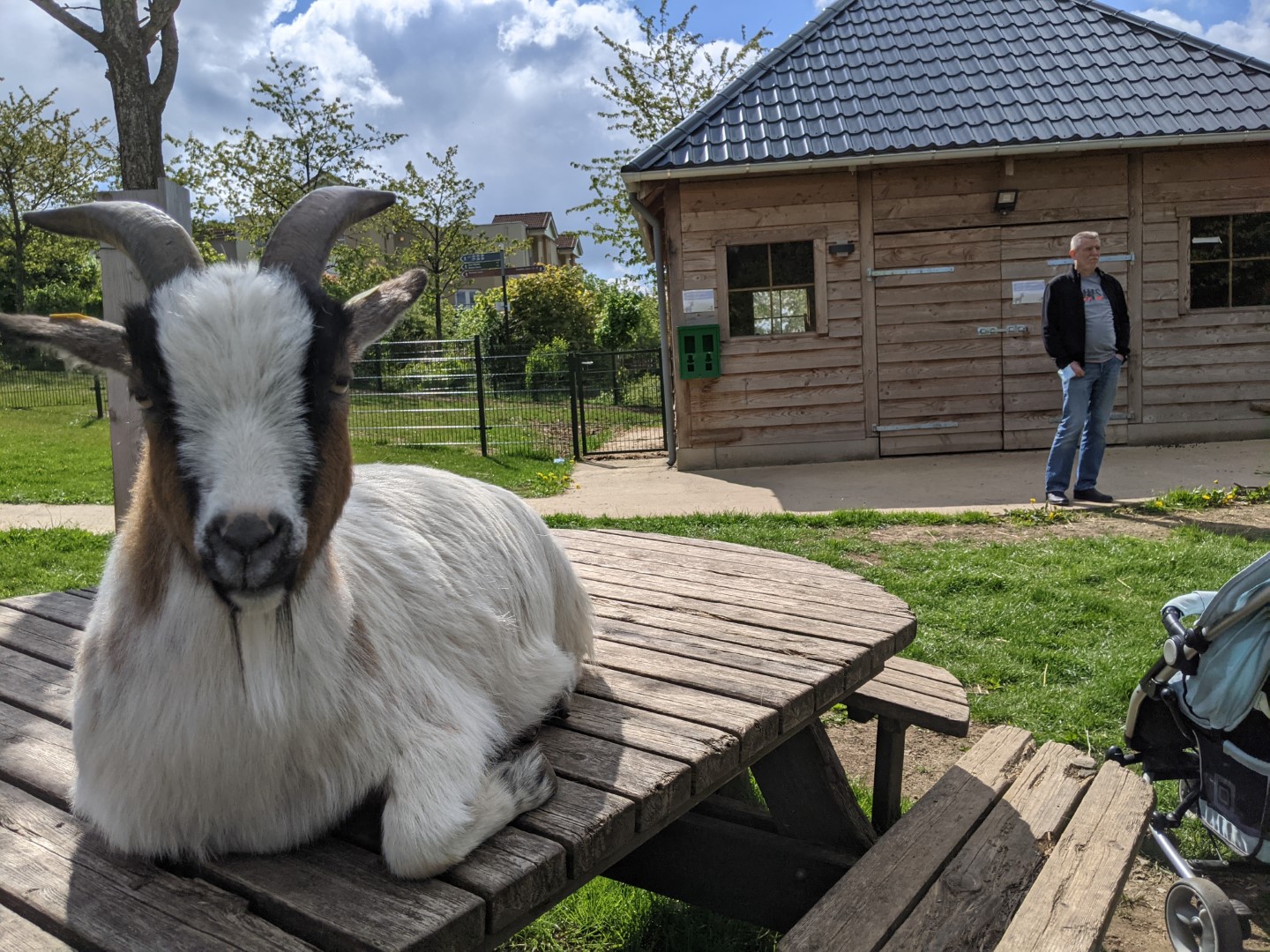 I think we went back to the petting zoo at least once a day! The kids just LOVE seeing (and petting) the animals! There were some hungry goats, a few sheep, some HUGE rabbits, and 2 donkeys. There was a fun little tractor in the area that the kids played on as well.
Kids Activities
In non covid times, there are more kids programs, but many are at an extra cost. There are dances, face paintings, and even little live "shows" for the kids.
Sports
There are soccer areas and tennis courts, archery and more.
Spa
Darn you covid!!!! I really could have used a spa day, but alas, the 'Rona prevented yet another day of R&R (cue the mini violins)
Other Paid Activities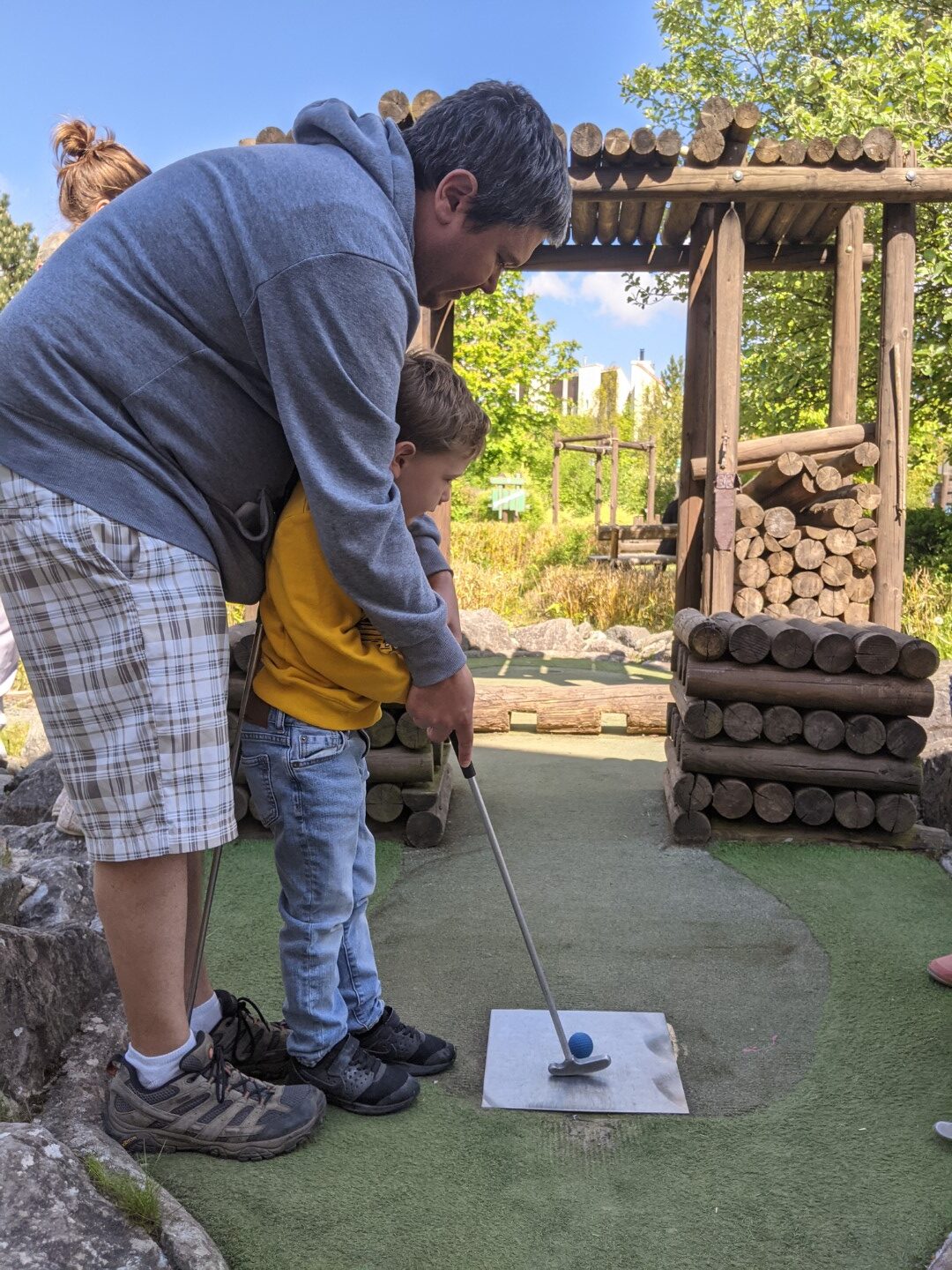 While we normally spend most of our time at the pools when at the Center Parcs, that wasn't really an option for us this time. Since we got such a good price on the cabins, we decided we would splurge a bit and do a few more of the "paid activities" than we normally would.
There are plenty of activities that you can pay extra for (and yes, most of them are completely overpriced) such as hover board rentals, mini golf, safari cars for the kids, a climbing wall, laser tag, and more.
We chose to do some mini golf and the safari cars on this trip and while I hate coughing up the extra money, the kids are STILL asking when we can go putt putting again and they really loved the safari, so all in all, it was a win!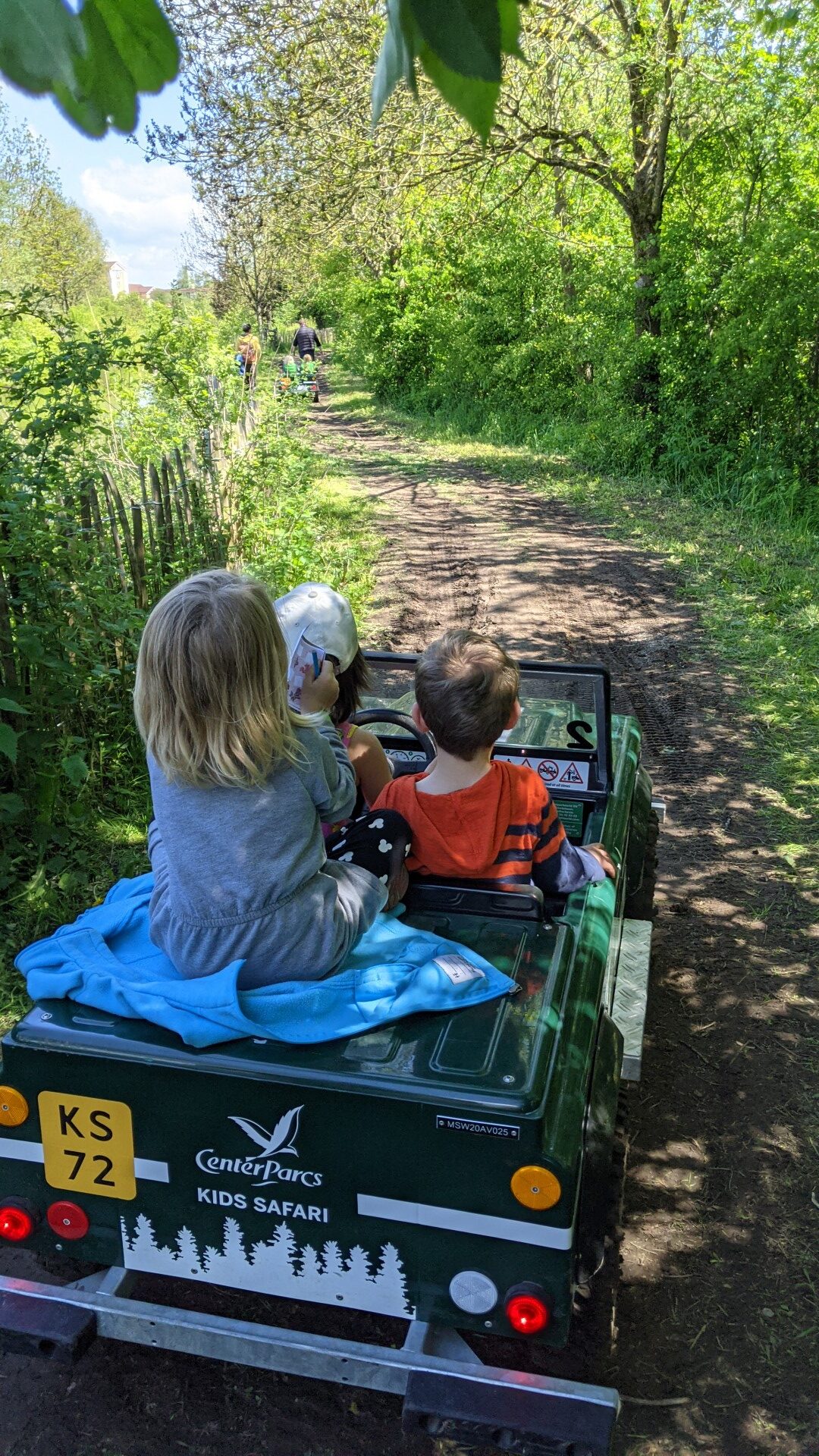 Book Your Center Parks Stay Here
Eating at The Resort
Restaurants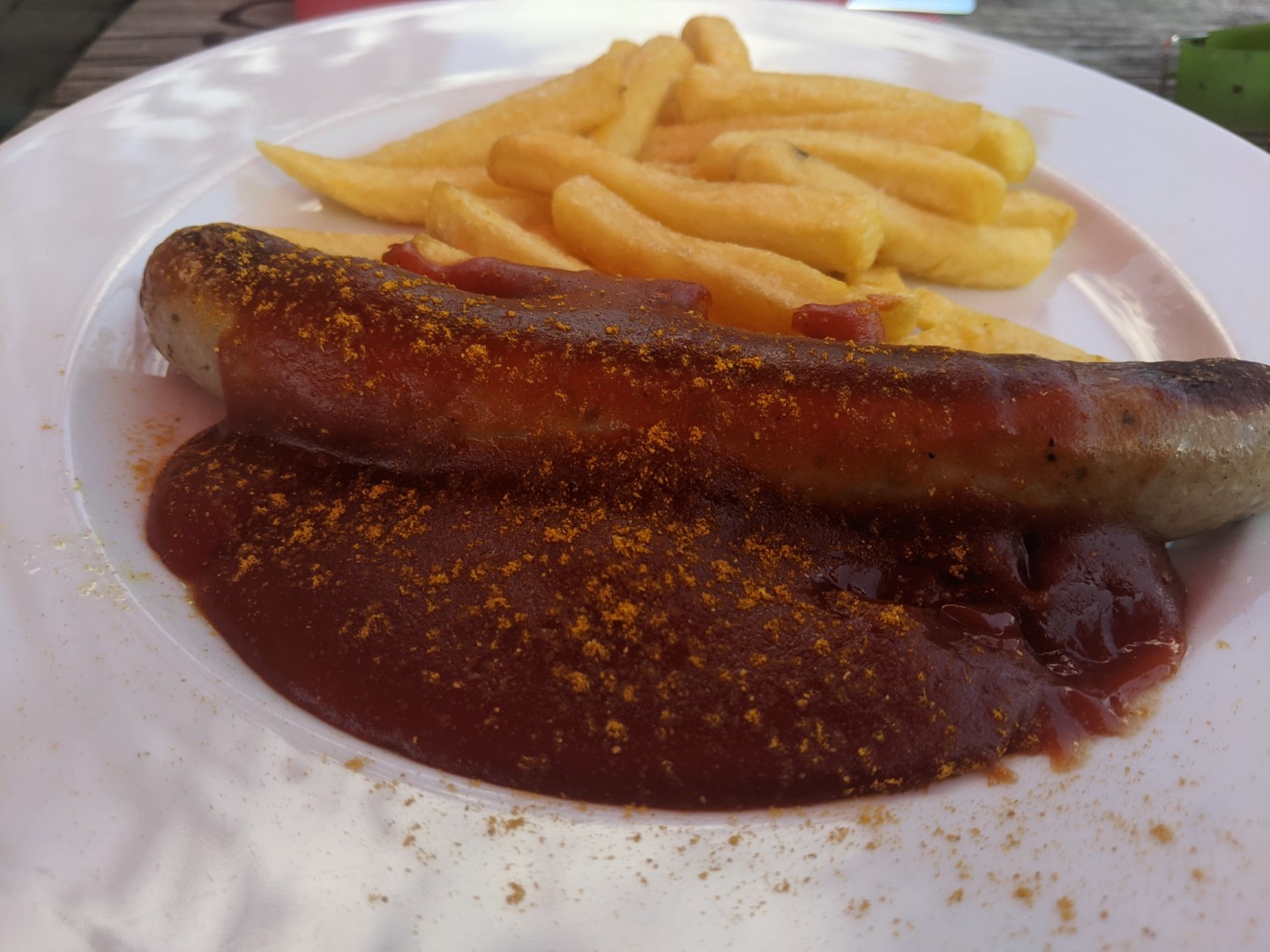 Aqua Cafe: A "general" restaurant with burgers, salads, ice cream etc that you can access through the Aqua Mundo as well.
Biergarten: Typical Biergarten food
Il Giardino: Typical Italian food selections
Market Restaraunt (all you can eat buffet)
Pancake House: The name implies it all
Billy's Burger: Burgers and fries
Hardings Family Grill: Grilled foods like steaks, ribs, and even seafood
Die Hütte: A large restaurant at the Adventura Park that has a wide variety of foods
I will admit that I am always a little surprised at how decent the food is at Center Parcs. I mean, I've been to plenty of places that are similar and the food is subpar, at best.
All that being said, the prices are on the higher side. Not crazy expensive necessarily, but not cheap, either.
Tip: The town of Medebach is literally just right outside the park and there are actually quite a few restaurants and eating options in town, which will most likely be a bit cheaper.
Insider Tip: You can order from any of the restaurants at the resort and have them deliver it to your cottage
Self Catering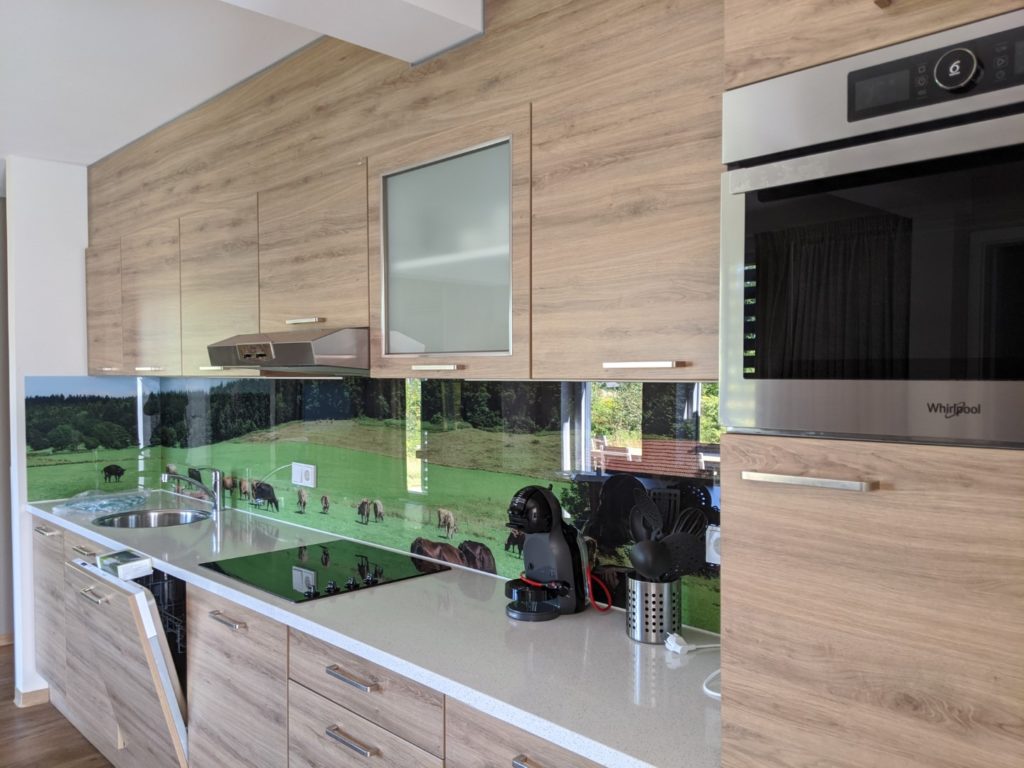 We love the self catering concept. On one hand, we are on a holiday, so we don't care to cook EVERY meal. On the other hand, it's nice to save some serious cash without having to eat out the whole trip. We personally always do our own breakfasts and then about once a day we might order out or do a sit down restaurant (depending on the day's activities). When going with friends, it's always easy to split who makes what so that you aren't cooking for every meal and you actually get to enjoy your vacation!
My biggest tip is to do some meal and food prepping before you even arrive. The last thing you want to be doing on a vacation is slaving over the stove for hours! On the other hand, you don't just want frozen pizzas and quick pastas for all your meals, either!
I always make up some meals that can either be re-heated or just a few things done to finish it all up when I am there. This is especially handy because I didn't want to bring any seasonings or oils. So, I did all the heavy lifting with my own ingredients at home first.
For this trip, this is what we made or brought with us:
BBQ Pulled Pork and Coleslaw (made up ahead of time- just reheat and enjoy!)
Measured and baggied all the dry ingredients for pancakes ahead of time. Bring along some bacon fry to bake up.
Fajitas cooked up the day before. Just bring fresh toppings and shells!
Premade (store bought) pizza dough. Then the kids all helped to "make" the pizzas with fresh toppings
Storebought meatballs for meatball subs (just had to warm them up in the oven and top with sauce and cheese and plop into a hoagie bun!)
Bring a package of eggs, bread for toast, and yogurts, oatmeal packets, etc for quick and healthy breakfasts
Banana bread made at home
No good trip is complete without some desserts! We had Scotcharoos to bring, cookies, and more!
We also always bring a heavy arsenal of snacks for the kids (ahem, ok, all of us) like chips, rice cakes, veggies and fruits, etc
Getting Around The Park
This park is all located up on a sprawling hill. The first few "layers" of cottages are easy enough and flat enough. Since we paid the extra 30 Euros to choose our location, I strategically chose just down the street from the Market Dome (where most activities are located).
Otherwise, no matter where you are located, it's about a 10-15 minute walk to get around.
While at other locations, I think a bike is a fantastic option, if I was up higher on the hill, no way would I have been able to bike up to the top cottages here.
Rent a Golf Cart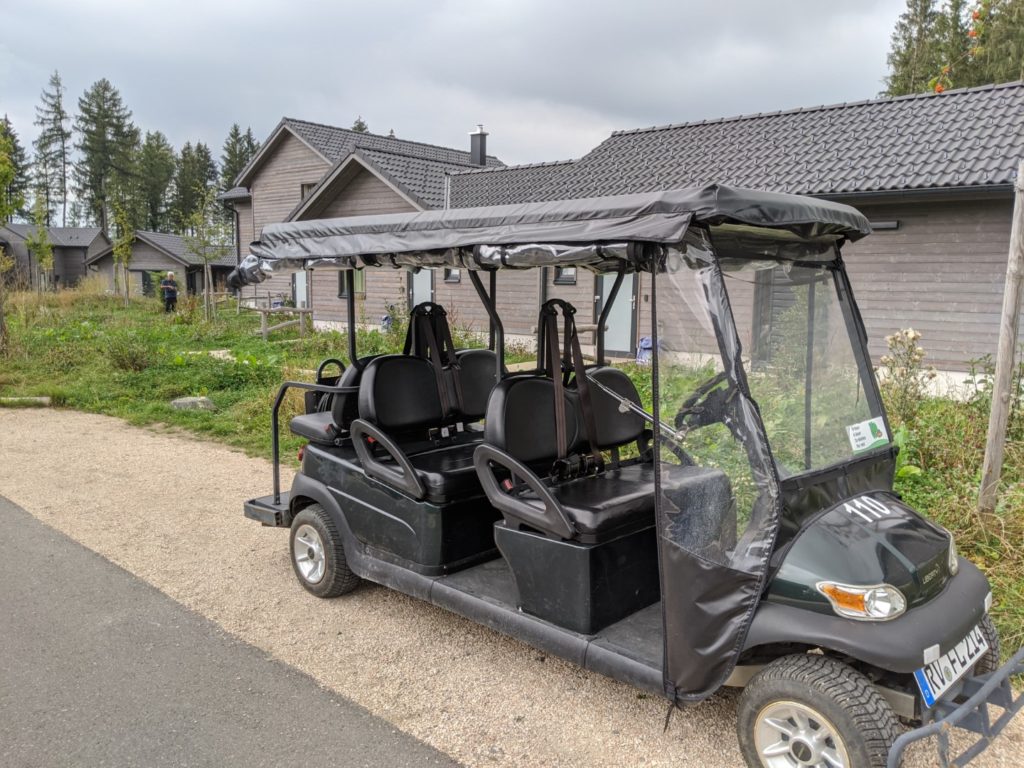 If you really want to get around fast, there are golf carts (E cars) to rent on sight as well. These definitely cost a pretty penny, but if you plan on going back and forth a lot or on the hill, it is something to consider.
Is Center Parcs Worth the Cost?
Our total cost for the accommodation from Friday through Monday trip was only €643.50 total (including taxes) for 4 adults, 3 children, 1 infant. So that totaled 321.75 per family, which only came out to be 107.25 per night!
We also then chose to pay for
30 Euro Choose your Cottage
Mini Golf (€8/Adult and €6.50/Kids)
30 minute "Safari" ride (€14)
For the same weekend, I scoured the internet for other good deals and options like staying at a Bauernhof in the Bavarian Forest, or even just renting our own AirBnB in the mountains. Sure, I could find an AirBnB that was the same cost, but obviously, none had any of the amenities. Family Hotels and Farm Stays all had plenty of activities to do, but most were about double the price.
I was pretty hesitant to go to a Center Parcs when the pool is closed, but it turns out, we still had a really great weekend getaway, and the cost couldn't be beat!
Excursions and Day Trips from Center Parcs Hochsauerland
Whenever I go to a Center Parcs hotel, I always look up things to do nearby. I go in with a grand plan of doing outings and then we always end up having so much to do at the park itself that we never leave! However, if you are staying longer than just a weekend or want to explore more of the area, there was plenty to do nearby.
Skiing and Hiking
While you aren't in the Alps, there are actually quite a few options for great hiking and even some easier skiing (PERFECT for little ones and beginners!) nearby, such as in Winterberg. Supposedly, even in the winters, there is a little bunny slope on the Aventura Park to ski down as well.
Time from park: Winterberg: 15 minutes
Marburg
Marburg is this charming town with adorable half-timbered houses and a castle that would be perfect to just explore for an afternoon.
Time from park: About 1 hour
Hercules Monument
The Hercules Monument is this beautiful monument in the Schlosspark right outside of the town of Kassel. With water running down cascades in front, and it being built on a pyramid, it's a beautiful thing to see!
Time from park: About 1 hour
FAQs
You can read some of my Center Parcs Frequently Asked questions (like is there child care, what activities are free, can you leave and return from the parks during your stay, and more at the end of my Allgau Centerparcs Review
See what specials, deals, and packages Center Parks Allgau has running here.