Playmobil Funpark Zirndorf (Nürnberg Germany)
One thing that I have learned with traveling with kids in Germany is that it can't just be all museums, fancy schlosses (even if you are at some of the best castles in Germany!), and beautiful churches. THEY have to have things to look forward to.
Which is why we decided that in addition to things like family specific getaways, like staying at the Center Parcs throughout Germany, that once a summer, we were going to go to a German amusement park! Last year, we did Europa Park (Read all my tips and tricks here). as well as Churpfalz in Loifling. and we just went to Legoland Germany last weekend
Which meant that this year was the absolute perfect year to explore the Playmobil Funpark Zirndorf (near Nuremberg)!
The Surprise
We decided to take B out of Kindergarten on a Friday (I didn't want to have to deal with a theme park on the weekend in the summer!) but didn't tell the boys where we were going.
As we nonchalantly drove past the entrance, which is clearly visible from the road, complete with a HUGE castle and knights, B's eyes got wide as he politely asked, "WOW! Can we go THERE someday!??"
I responded calmly, "Sure! Why not right now!?"
The problem is that I'm a naturally sarcastic person already, soooo B didn't quite pick up on the fact that I was dead serious at first, but as soon as we caught on, he couldn't wait to clamor out of his car seat and run over the moat!
Other Articles You May Be Interested In:
Playmobil Germany: What to expect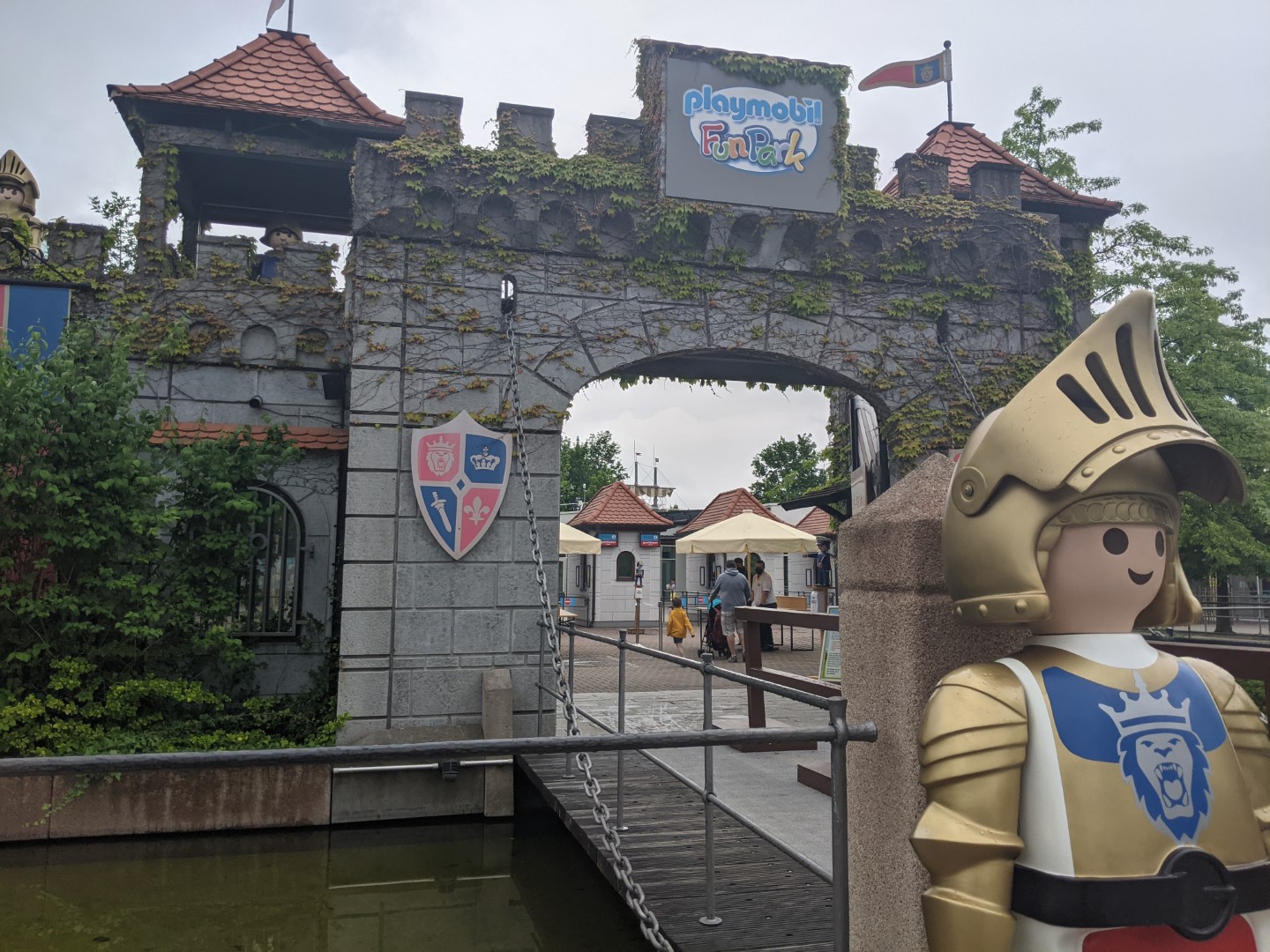 What is Playmobil in Germany Like?
Since Playmobil Funpark is one of Germany's top theme parks, you might be thinking rides, roller coasters, and the whole 9 yards.
However, it's actually not like that at all, which is probably what honestly sets it a bit apart from other German amusement parks. Instead of roller coasters, it is like one ENORMOUS park full of playground after different playground and interactive play structures for kids to absolutely do what they do best; PLAY and explore!!!
At one point, B started running (while simultaneously ecstatically yelling about something he saw up ahead) and the parent in me's gut reaction was to say, "Shhh" or "Remember we don't run around like this." But instead, it's like "Hell yeah kid….go run, jump, play, climb, yell!!!!" Shoot, when Mr. J had a complete meltdown (those things happen around naptime….or……whenever) instead of getting stares of "Can you puuulleeeeease make your kid be quiet" the empathetic looks from passing by parents was more like, "Yup! Been there!!"
It was so great to have a full day's activity and outing that was all about the kids and things THEY were going to love and enjoy, rather than our typical sight seeing of Germany.
Tip #1: You probably aren't going to see it all. Accept that.
The "gotta get the most out of our money" cheap frugal traveler in me often wants to get as much into a day of exploring as humanly possible. However, Playmobil Park Nuremberg has SO much to do that you just probably won't be able to do it all in one day without completely rushing the kids. If they are engrossed in a particular area of the park, that is the whole point!
I'll go into detail about areas of the park further below and specifically what there is to do in each.
Best For Ages 2-10ish (Give or Take)
I was wondering what the best ages for Playmobil were going to be, since some parks are more geared towards younger (Churpfalz) and some towards older clientele (Legoland or Euro Park).
My kids are 5 and almost 3 and it was PERFECT for both of them. There was plenty that my 2.5 year old could NOT do and even a small handful of things that my 5 year old was still too small for. However, there was always something for each of them nearby that it was never an issue. (Ok, it WAS an issue when Mr. J desperately wanted to do the paddleboats with B but thank goodness for naptime in the stroller!)
I could easily see my 10 year old nephews having fun. I even had someone in our Day Trips in Bavaria Facebook Group say that her 14 year old still found enough to keep him happily busy all day as well.
Playmobil Land Germany Cost, Location and Details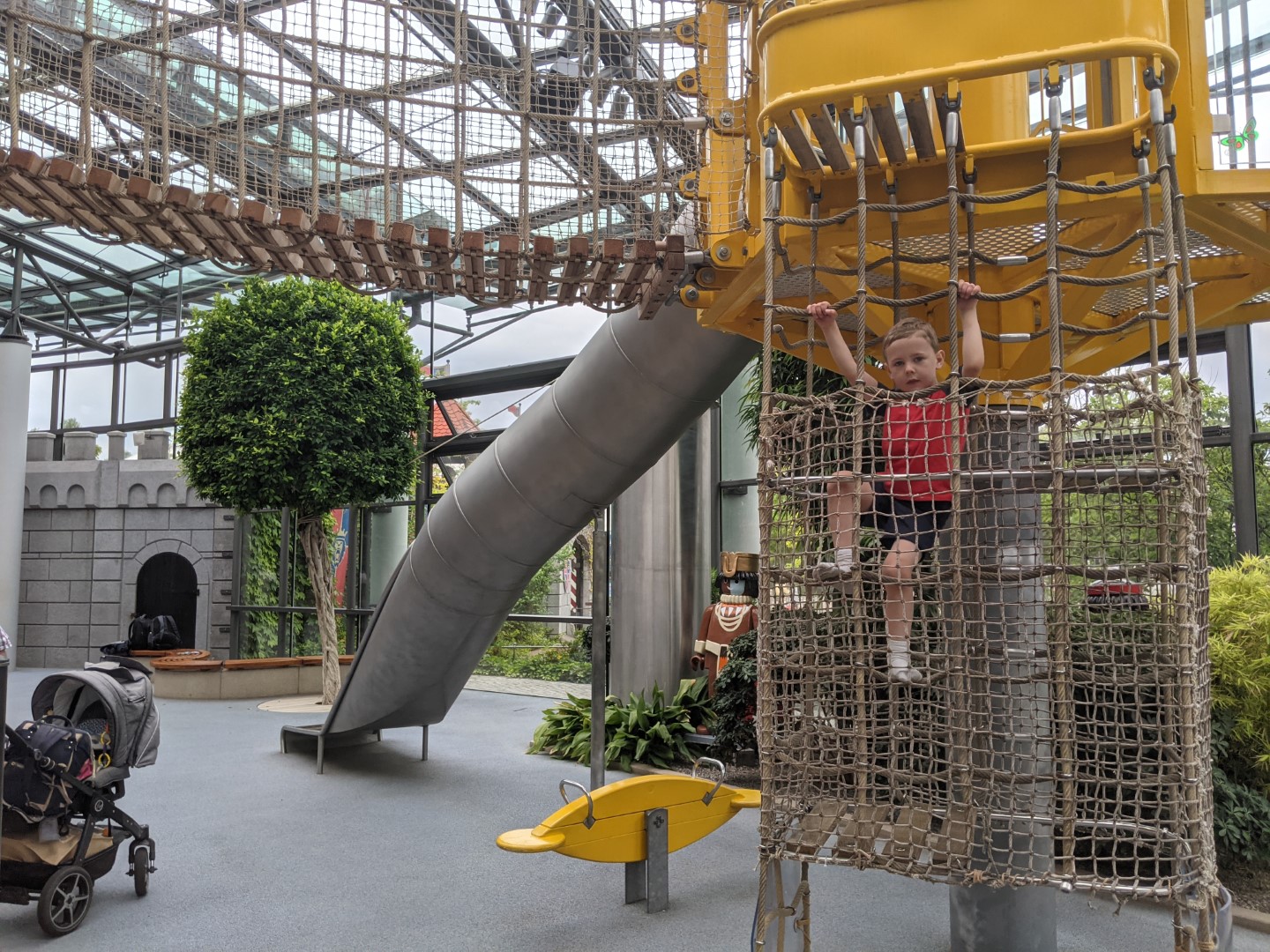 Entrance Fees
Ok, I was legit SHOCKED at the prices of Playmobil. And not in a bad way!!! Considering you've got an entire day full of extreme fun for your kids, I couldn't believe how affordable it was for a full day's ticket!
It's only €12.90 (Adults and all kids over 3) per person, which is a steal compared to some other amusement parks!
Tip #2: Figure out a discount!
While less than 13 Euro is pretty dang cheap, that doesn't mean I still don't look for discounts! (Ahem, reference my cheap comment above) There are actually a ton of ways to get a few bucks off your ticket:
Kids under 3 are free (but still need a "ticket" so make sure you still book that)
FREE entry on kiddos' birthdays!!!! (We were going to go on B's birthday this year buuuut #covid)
"Snoozing Time:" There are a few weeks in November when the outdoor park areas are closed but the indoor climbing area (best for 5 year olds+) is still open ….for only €1.50!!! #WINNING!!!!
Winter Season: Simarlarly, you can go to all the indoor activities and HOB Center (more on the HOB below) in the winter for only €7.50. I know where I'm going when I have cabin fever this coming winter!
*NOTE: Currently at time of writing (2021), you MUST book your tickets online in advance (no purchasing tickets at the windows)
Tip #3: Have Some Cash and Small Coins on Hand
You can pay for your tickets by credit card as well as the major restaraunts. However, if you want to purchase anything at the stores, there is a 5 Euro minimum for card usage.
Also, while the stand I went to for coffee took my contacless card, the official website does say that many of the smaller stands only accepts cash.
Likewise, if you want to buy the little treasure boxes for things like mining for gold, or getting "tattoos" have some Euro coins handy.
Address: Brandstätterstraße 2-10, 90513 Zirndorf
It is often also referred to as Playmobil Park Nürnberg as it's only about 25 minutes from the Nürnberg Hauptbahnhof.
By Public Transportation:
From the HBF, you can take the S4 in the direction of Ansbach 5 stops and get off at the Anwanden stop
Switch over to the 151 Bus in the direction of Oberasbach Rathaus, ride 2 stops and get off at the "Zirndorf Playmobil-FunPark" stop

Note: This route doesn't run all the time, if you want to get there before the park opens, you can leave at 8:21am, otherwise, this particular 25ish minute option only runs once an hour (other times are possible but with much longer transit times)
By Car:
Since we live in Bavaria, it was really easy for us to drive. Since it's just outside the city, you don't have to worry about a ton of city driving and it's really easy to find.
When you arrive, there is a parking garage (5 Euro/ Day) which is just a 2 minute walk to the main entrance. There were TONS of spots, so no need to worry about finding a parking location.
Tip #4: There is a Free Electric Car Charger in the Garage!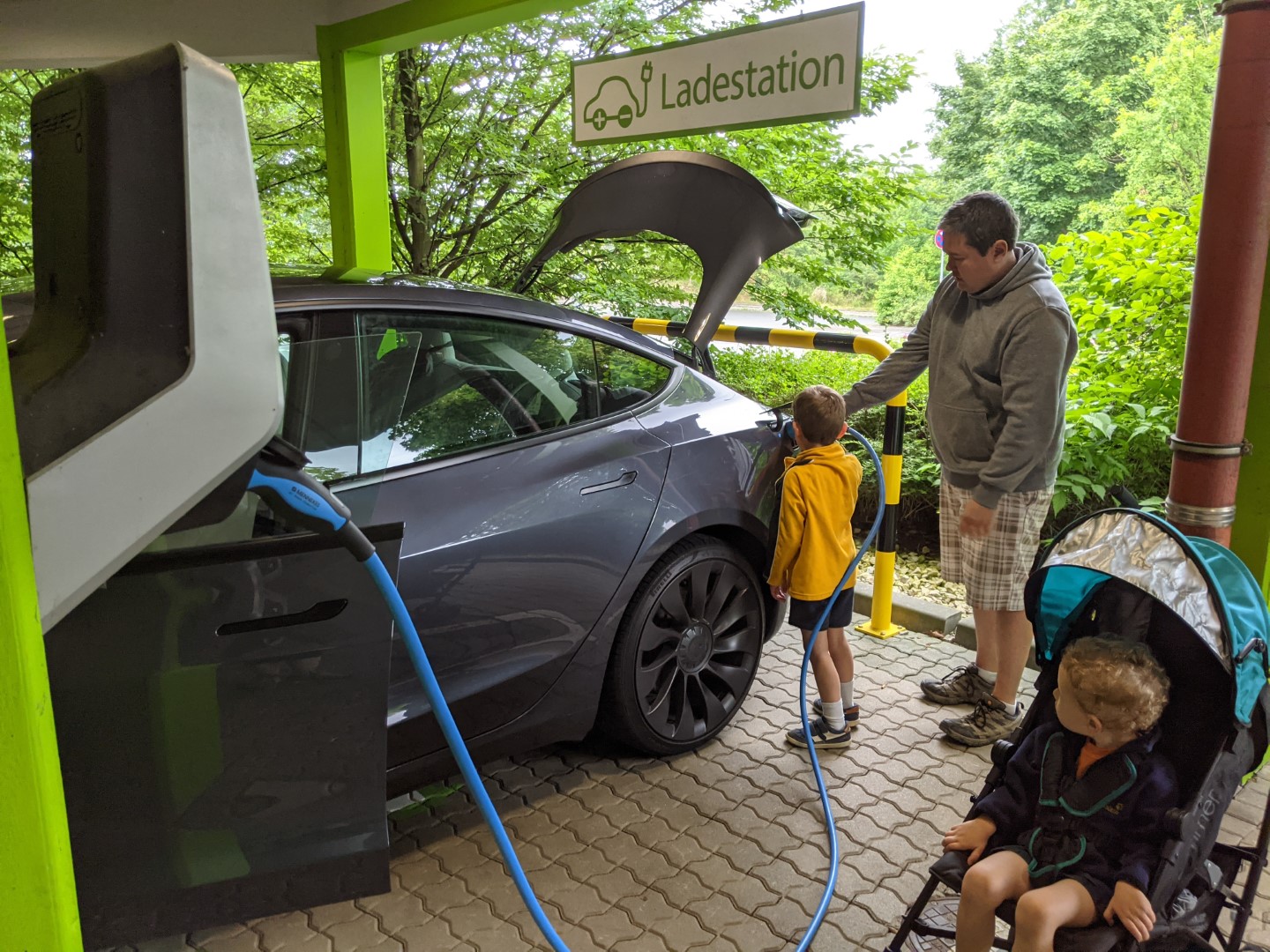 We were absolutely stoked when we pulled in and saw that there was a free electric car charger at Playmobil! (anyone who knows me, knows I have a legitimate fear of our car running out of battery!)
Opening Times
Daily 9am-7pm (check the website for hours for the off seasons)
How Much Time To Allow
We arrived just after opening (9am) and they had to round us up and out at 7pm and we still didn't do it ALL! So, yes, you should definitely plan on making it an absolutely full day, unless you live nearby and can come back in spurts.
Tip #5: You Can Leave and Re-Enter The Park
If for whatever reason you need to hop outside the park, just keep your ticket handy and you can simply re-enter.
Eating At Playmobil in Germany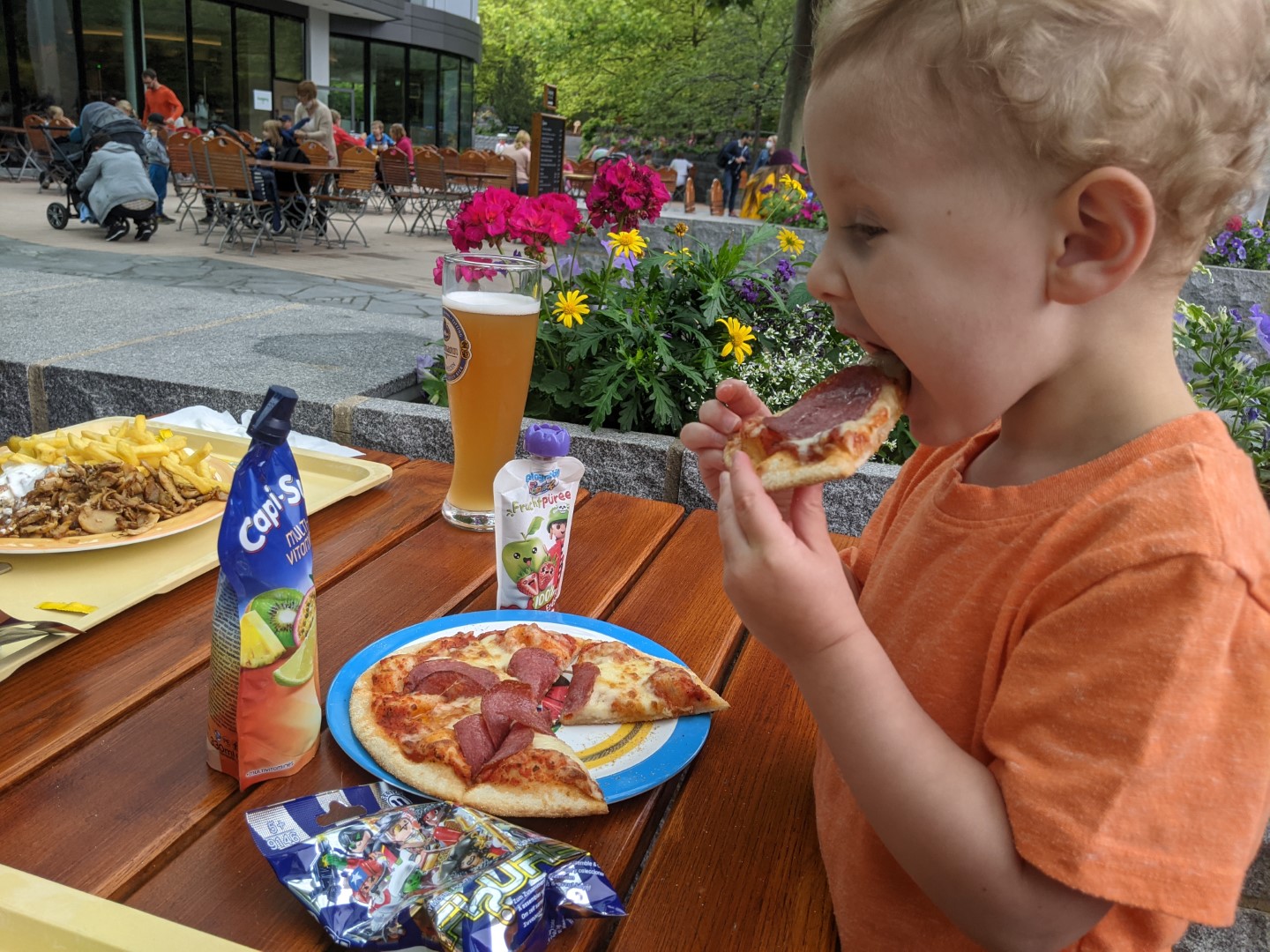 I normally can't stand amusement park prices. From the entrance fees to the price gauging of food and drink, theme parks are often a budget traveler's (aka ME, aka a Family Traveling!) nightmare.
So, yet again, when I saw the costs of food at the park, I was more than pleasantly surprised! I'm not talking super duper cheap finds, but I am talking 100% in line with eating out in Germany prices.
It was less than 10 Euro for an adult meal but more impressive was the kids meals. For example, you could get the following kids meal for only €5.50
One main meal (chicken nuggets with fries, a kids size pizza, or a German Knoedel) PLUS
A juice box
A fruit squeezie
AND a PlayMobil toy
I also needed an afternoon pick me up, and was happy that a Cappucino was only about €2.50! Mama needs her caffeine!
For eating, there are a few little stands (like a crepe, ice cream, etc) or you can choose to eat at the:
Biergarten: Typical beer garten outdoor style (much of which is actually covered though, which is very nice!)
Brats
Gyro Plates
Salads
etc
Pizza: Right across from the Biergarten is the Pizza/Pasta place (you can get your food here and take it to the beer garden as well)
Western Town: Towards the back of the park is the Western section, where they have "American Western" style food
Tip #6: Bring Your Own Food, Snacks and Drinks
Even though the prices are nothing more than what you would find at a regular (non theme park) restaurant, you are absolutely allowed to still bring in your own food. We ended up eating at the restaurant because we were there ALL day and didn't want to pack two full meals, but obviously, no parent leaves for a day outing without plenty of snacks, waters, etc!!!
Packing List for Playmobil Fun Park
Not sure what to bring to Playmobil? Here's what I brought:
Plenty of food, snacks, etc. (Baby food if applicable- there is a microwave available in the HOB center)

Water Bottles
Sunscreen
Swimsuits
Hats/ Sun caps
Raincoats (if applicable)
Change of clothes for after the water play
Jackets (especially on not as warm summer days, while I was very comfortable in a t-shirt, after playing in the water, the kids needed a jacket to warm up)
Change of clothes for….well……kids being kids
Wet/ Dry Bag to stuff any soiled and/or wet clothes into without getting everything else wet
Lightweight or Quick Dry Travel Towels
Good Walking/ Waterproof Shoes (If wearing sandals, have them be closed-toe for all the different climbing areas)
Euro Coins
Portable Cellphone Battery Charger (I took so many pictures that my battery got zapped pretty quickly!)
Bandaids
Diapers if applicable
Stroller or wagon (no scooters, etc are allowed)
Note: I am a BIG believer in babywearing (I can't stand pushing around strollers) but the entire park is flat and it's totally worth it to bring a stroller (lots of people also had wagons) if for nothing else to shove your stuff in for the day! For us, it was a Godsend when Mr. J needed a nap as well.
Tip #7: There are storage lockers in the HOB center in case you need to stash anything away during the day
Areas of the Park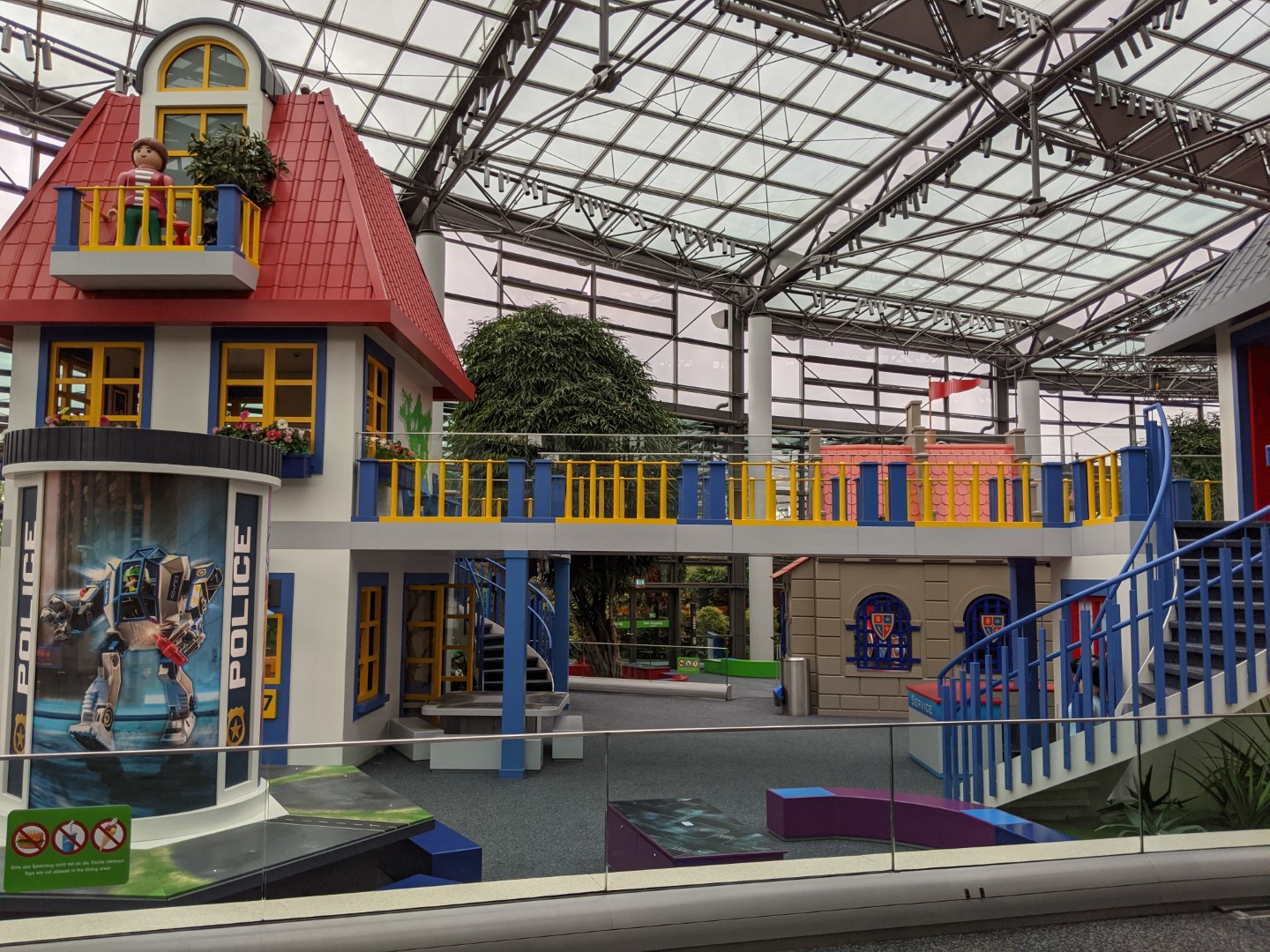 Alright, so now that you know the low down of what to expect in general at the German Playmobil Funpark, let's chat about all the fun areas and stuff do do!
Now, I am not a pro amusement park go-er, but if it looks like it is going to be an especially busy day, then one of the tricks I've learned is to head to the back of the park first, or at least go towards the left when the path splits (head in the direction of the Polizei cars instead of the Pirate Cove). Luckily, we were there on a weekday and on a day that the weather wasn't real sure if she wanted to cooperate, so we had no issues with crowds at all.
Tip #8: Grab a Name Wristband When Entering the Park
The park is actually REALLY big. When you enter the park, as they check your tickets, there are little wrist bandlets that you can write your kids' (or your) names on it and contact info in case something happens and your little one gets separated from you, it is easy to to reconnect.
Slide Slope
Huge slides for the kids to warm up to. We didn't spend any time here because, well, we can slide at playgrounds. We wanted to get to more of the bigger, more unique features of the park.
Pirate Cove and Lagoon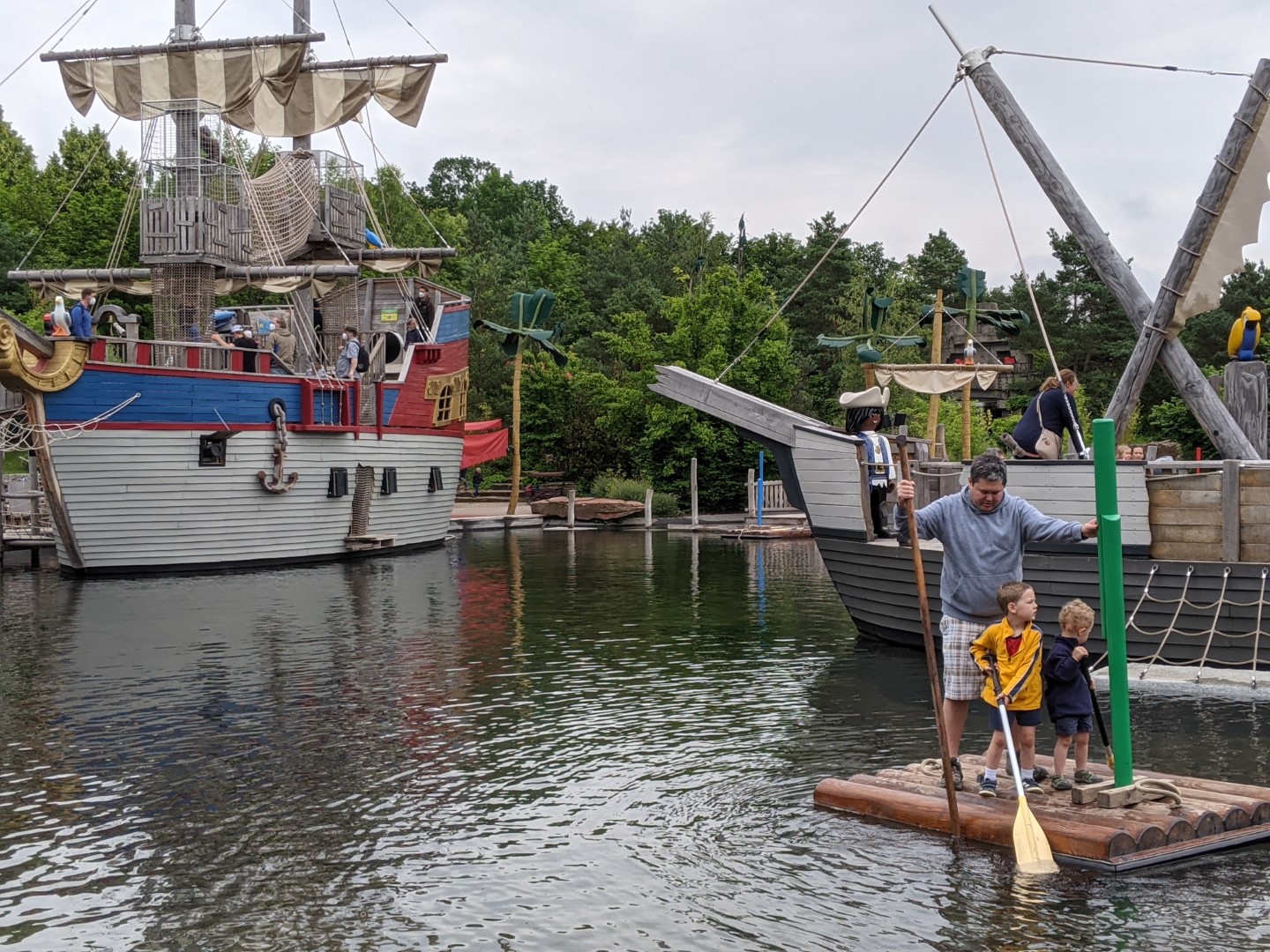 This. Was. Awesome!!!!
Even I had so much fun in this area and it was tempting to just spend half the day pretending to loot and pirate on the high seas!
There 2 main pirate boats that the kids can climb all up into and play around in as well. There were also little raft boats they can row themselves over the lake, water cannons to shoot, rope bridges to carefully walk over the water, and so much more.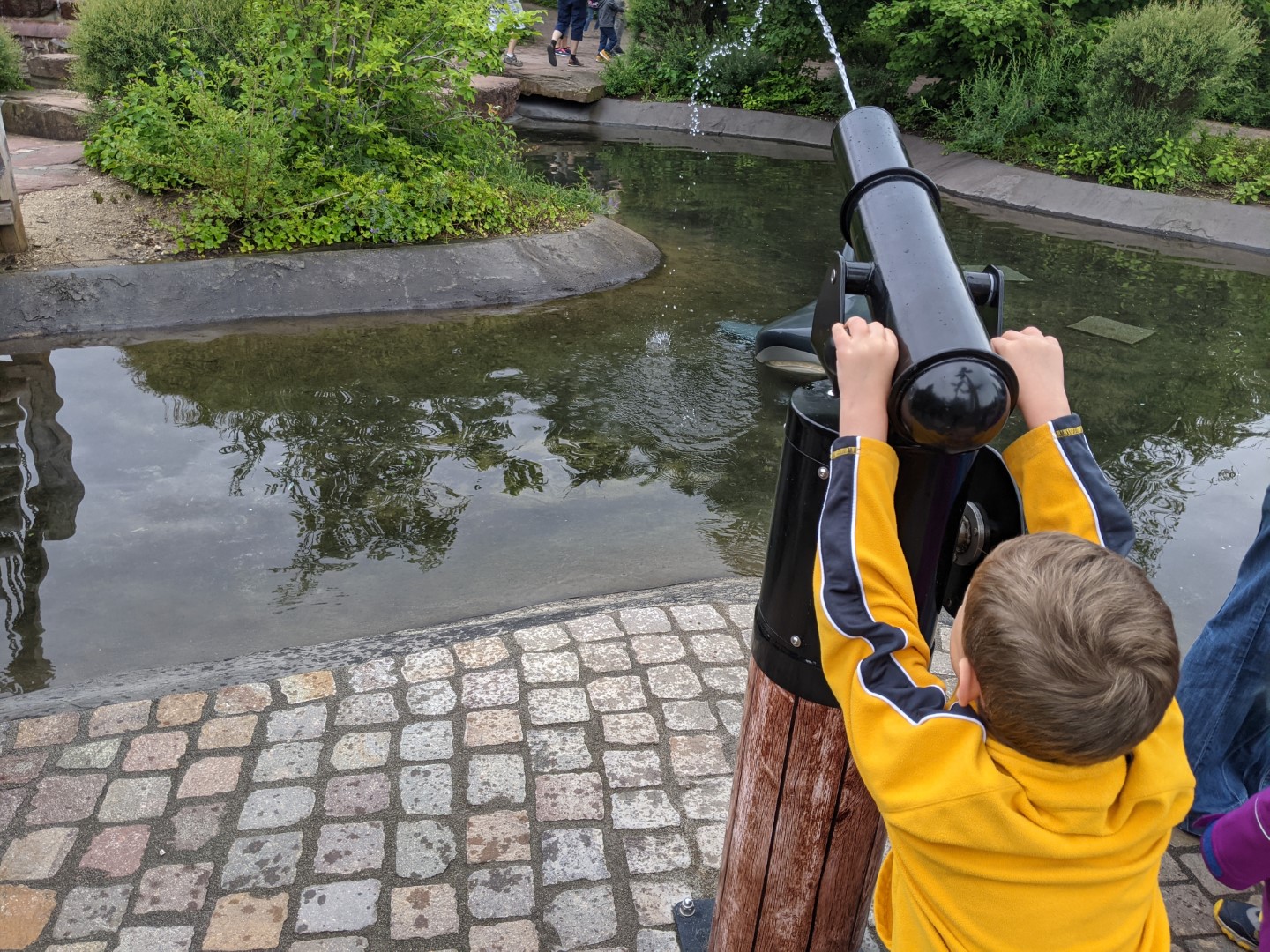 Right next to the pirate ships is an area where kids can climb on some more structures and even dig for "treasures" (pay a Euro and get a little treasure box to "collect" your booty in!)
Tip #9: Got Wet Clothes? No Problem! Use the Dryers!
At one point as I wobbled my pregnant body over one of the ladder ropes that swung over the water, I thought. "Man, that would suck if one of us fell in" (It was barely a foot or two deep). But low and behold, when I went to the bathroom (which is often being 7 months pregnant!) I loved that they actually had a dryer!!! Genius! Clearly, there were wet, sad kids in the past!
Tree House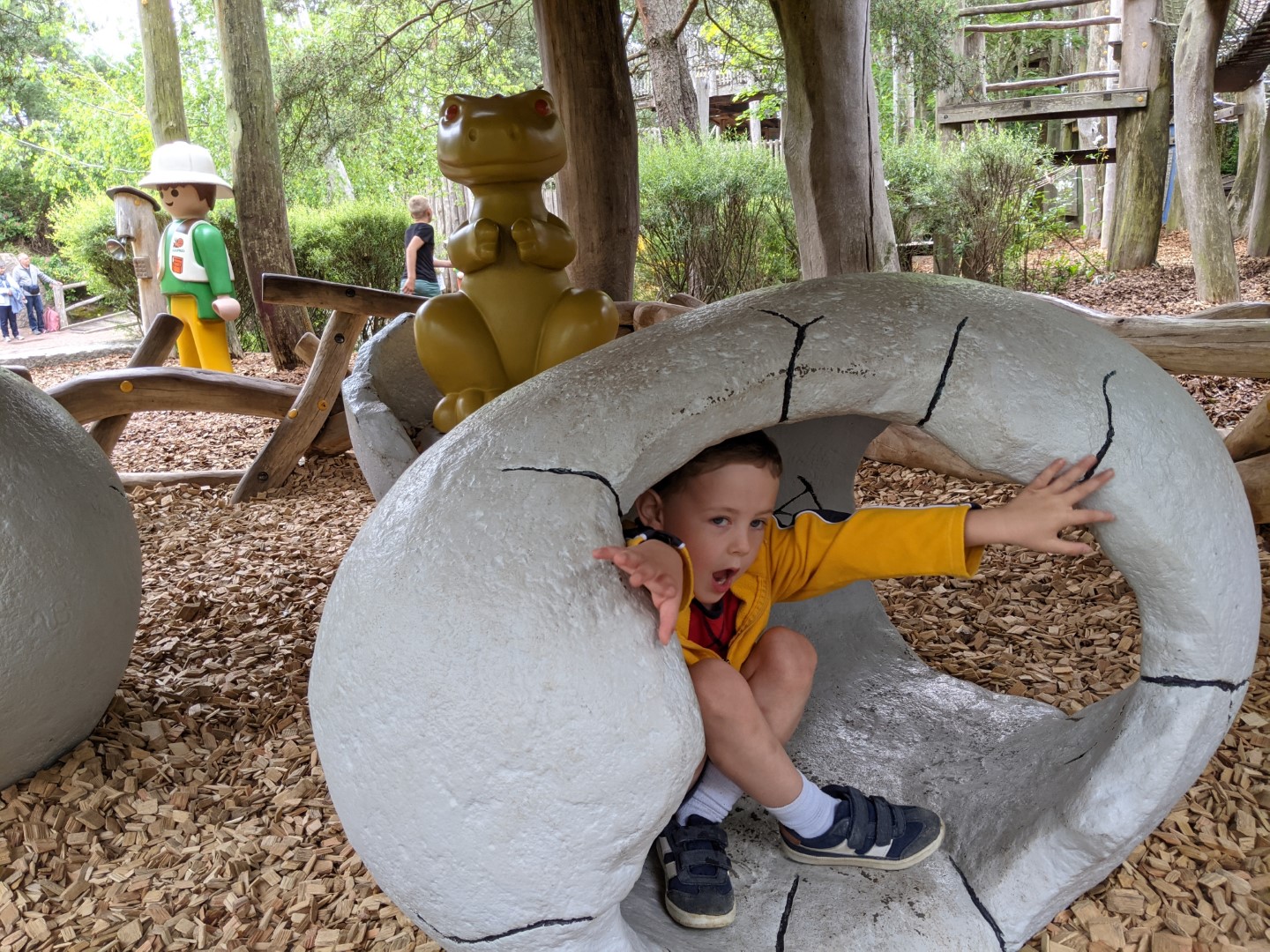 Yet another fan (kid) favorite was the Dinosaur Tree House! We kicked off our shoes and played in the little "stream" where the kids would grab little "fish" and boats and chase them down the winding water. This area was absolutely perfect for our 2.5 year old who is very much still into water play. Meanwhile, B went off to explore the huge treehouse and dinosaurs!!! (He claimed that a T-Rex tried to eat him in one part, but luckily he is too fast for those "Meater Eaters!")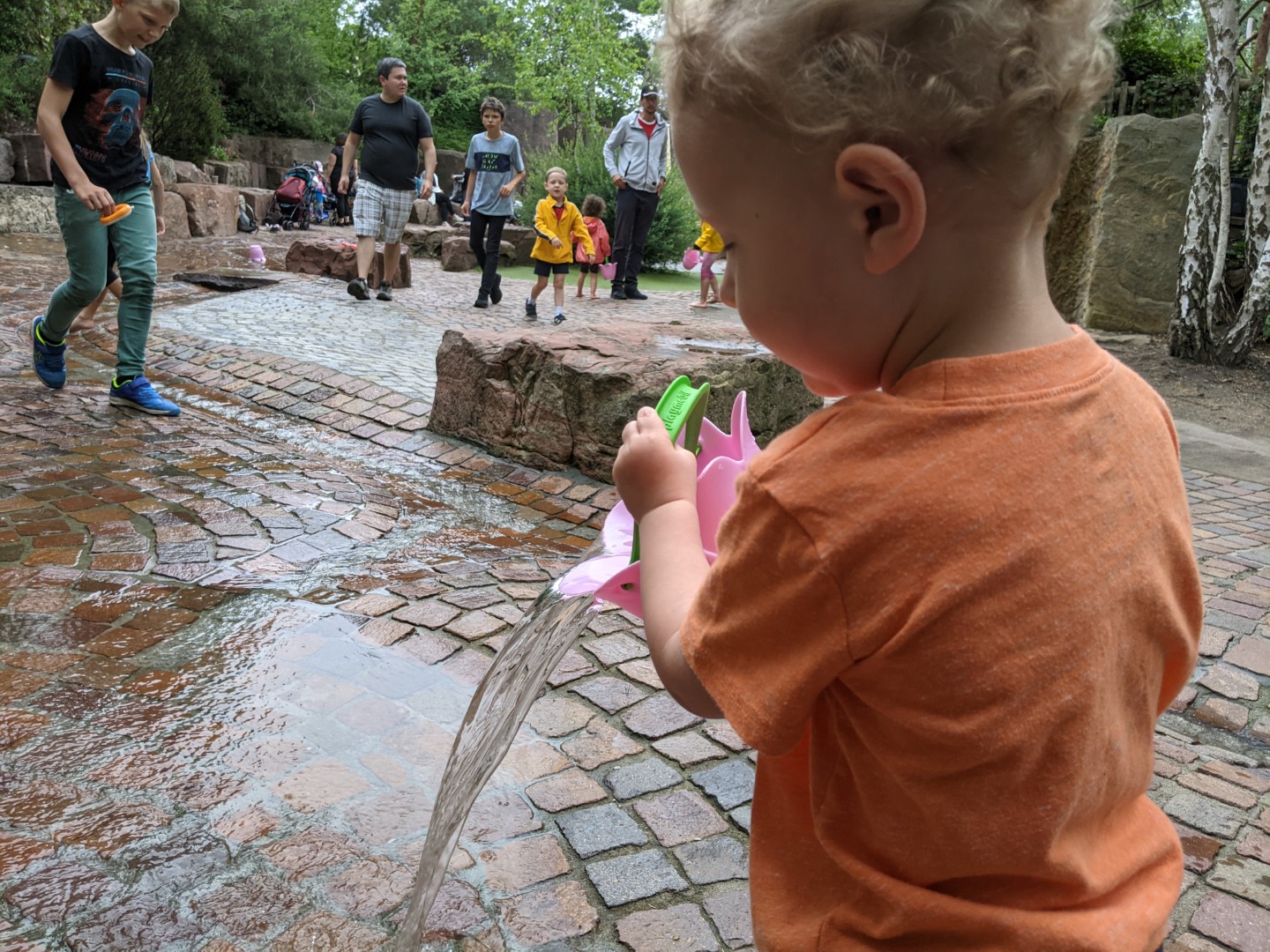 Knight's Tournament and Kings Castle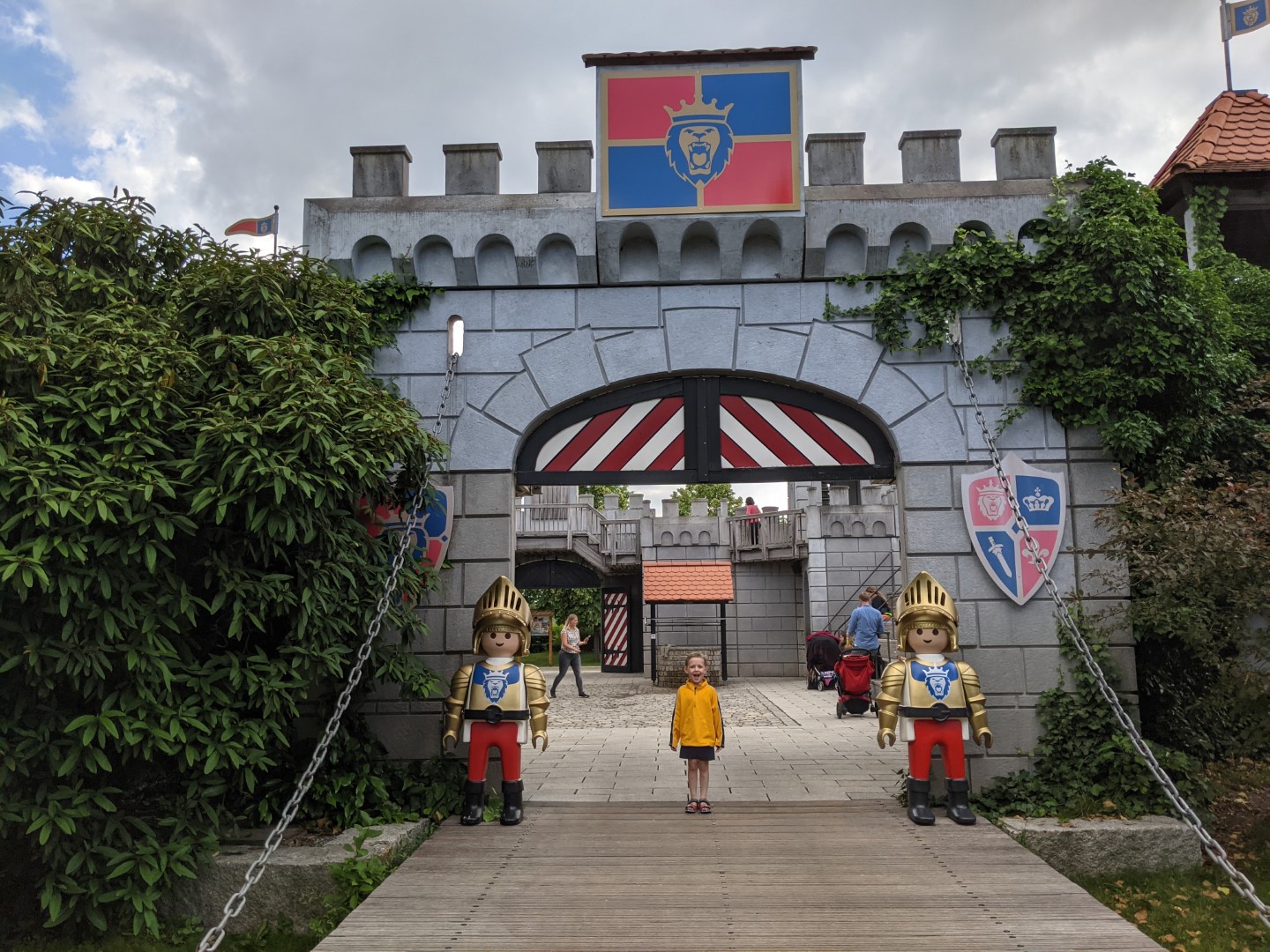 If you keep looping your way around, you'll come to the Knight's Tournament area. I believe that there are actually sometimes shows and "events" held here throughout the day, but there were none when we were there. Which was just fine, as B was content to sit on the throne and Knight Daddy himself.
The Castle was honestly maybe just as much fun for us adults as it was for the kids! There were secret underground tunnels to discover, mirror rooms, a tower to climb and so much more!!! This was one of those areas that we had to remind the kids that there was still SO much more to see and do at the park and that as much fun as we were having, that we shouldn't stay there the rest of the afternoon!
Mermaid Kingdom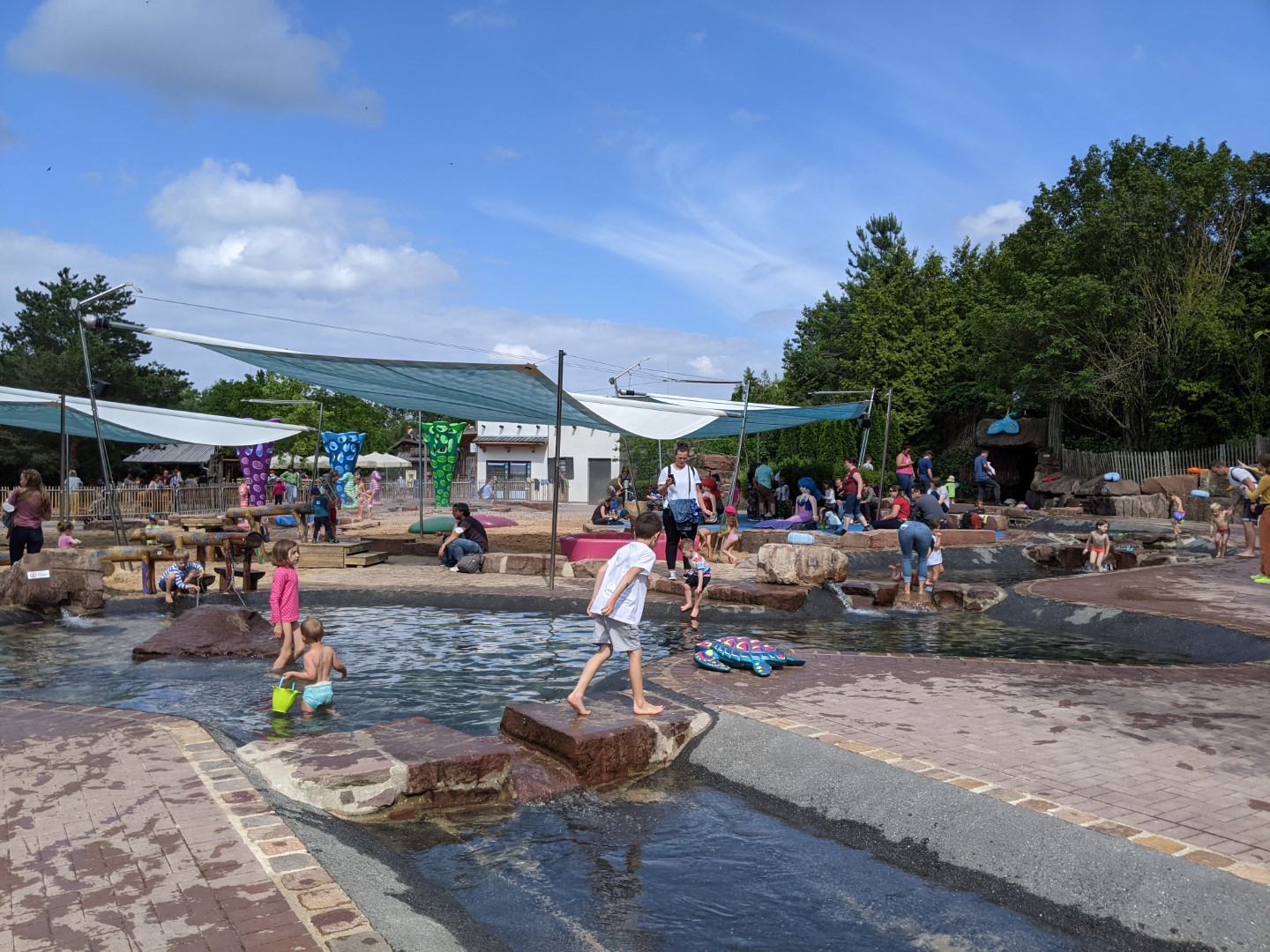 We got to the Mermaid Kingdom just as the sun FINALLY began to shine, which was absolutely perfect timing because The Little Mermaid in me couldn't stand the thought of having to skip over this enchanting section! There was so much for kids to do here as well! There were plenty of little ones just digging in the sand, other kids were wading in the mermaid pools, while others sat WITH the mermaids and some ran through the coral reefs!
Noah's Ark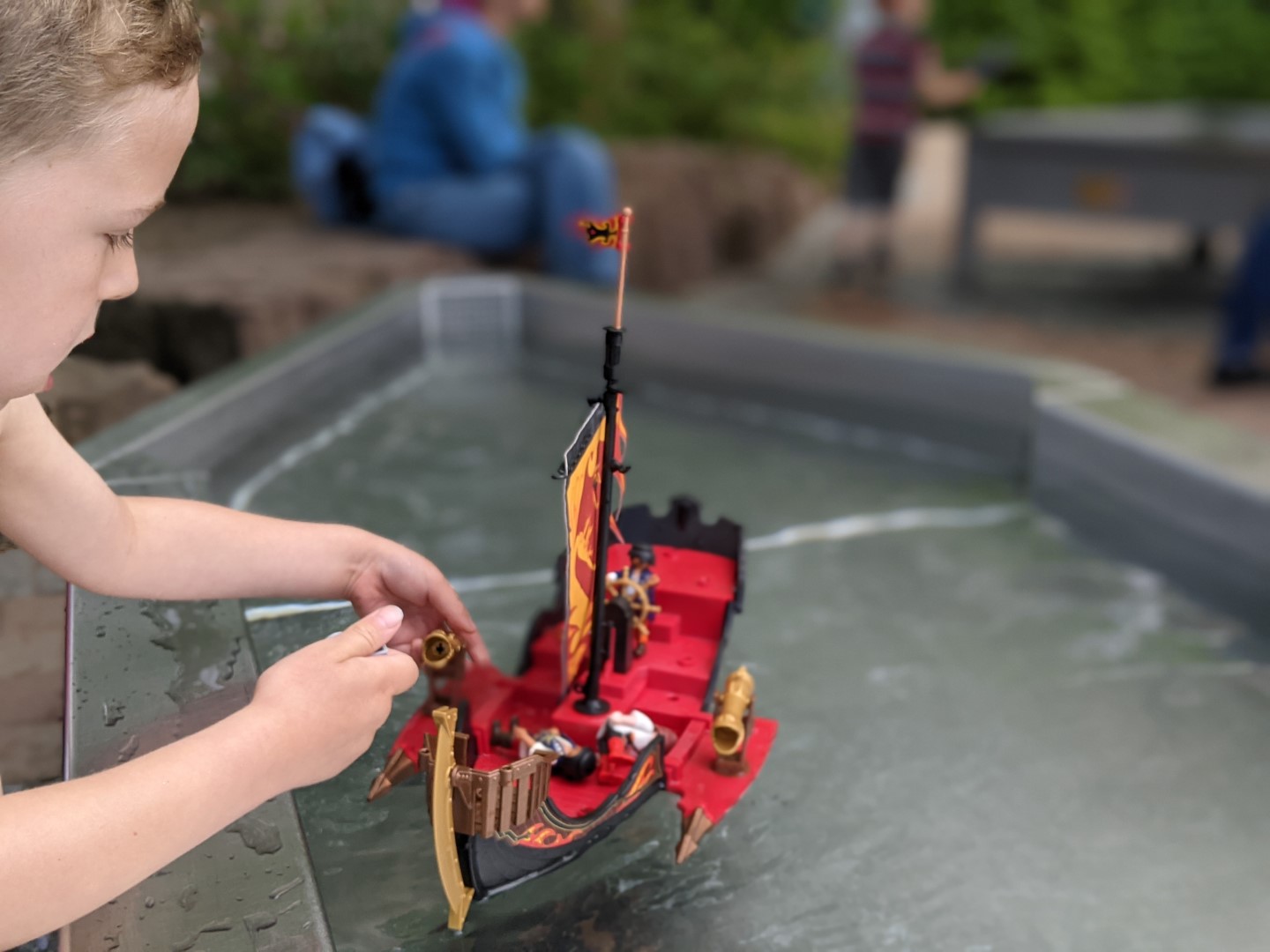 If you could imagine one, huge, giant water table for kids to play in, this is kind of like that. With multiple "streams" of water, there was a higher level area (for kids over 3) that had pirate ships galore and a separate 3 and under area, which had Noah's Ark and was more easily reachable for littler bodies.
Tip #10: Do All The Water Activities Together
For us, it was a cooler day, so we didn't want the kids in cold suits more than they had to be, so we strategically did all the water activities one after the other (plus, they are all pretty much near one another). Even on a hot day, this would have been nice to do this method, if for no other reason than not have to deal with taking on and off wet suits throughout the day!
Water Play Area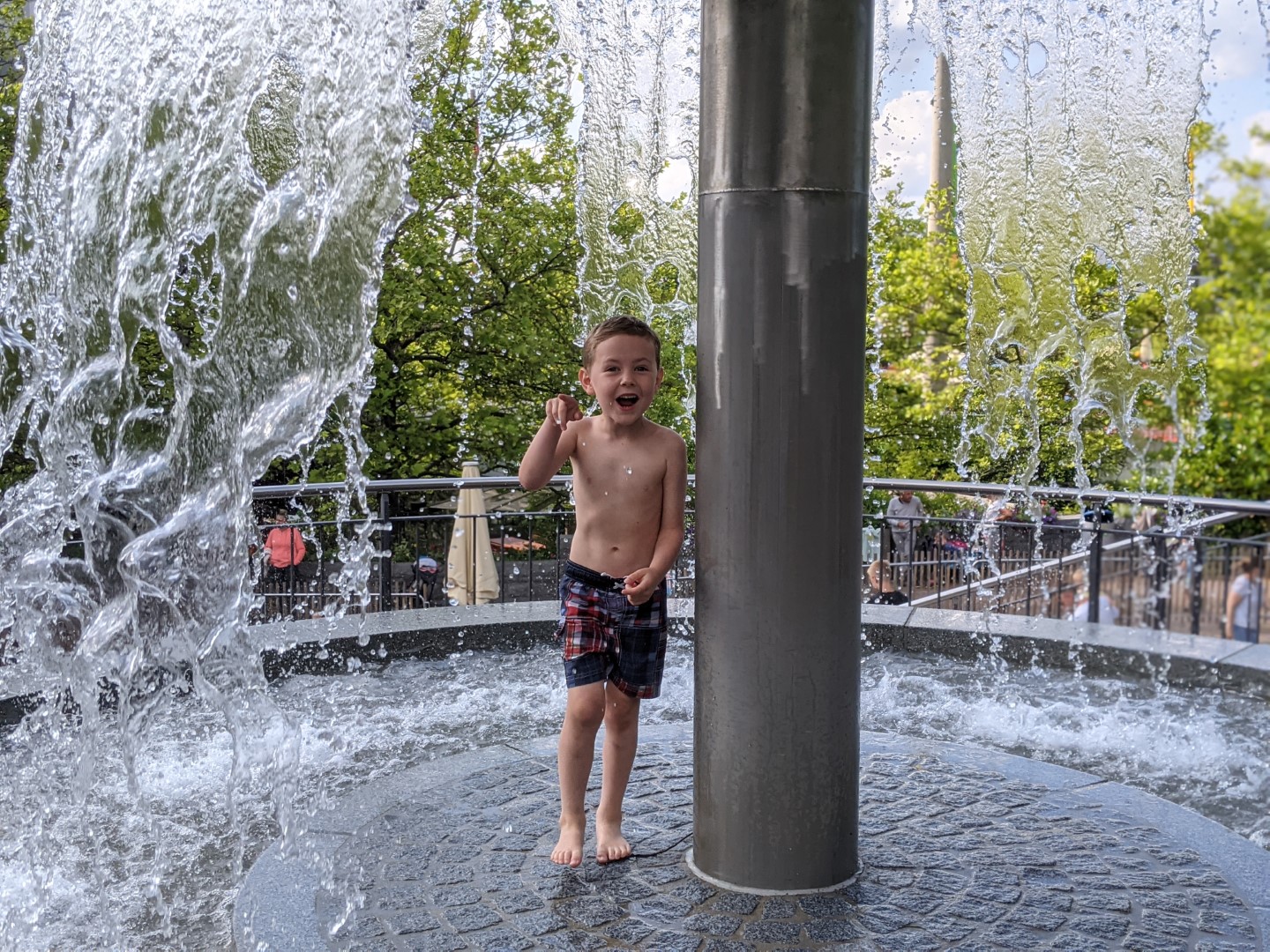 Another huge water play zone is awaiting on a hill that brings the water down from a giant "water mushroom" and the kids can play in the tracks, jump over the streams, and more.
Western City
Dig for gold or ride in a runaway horse drawn carriage as you step into the "Wild West."
Farm and Tractor Rally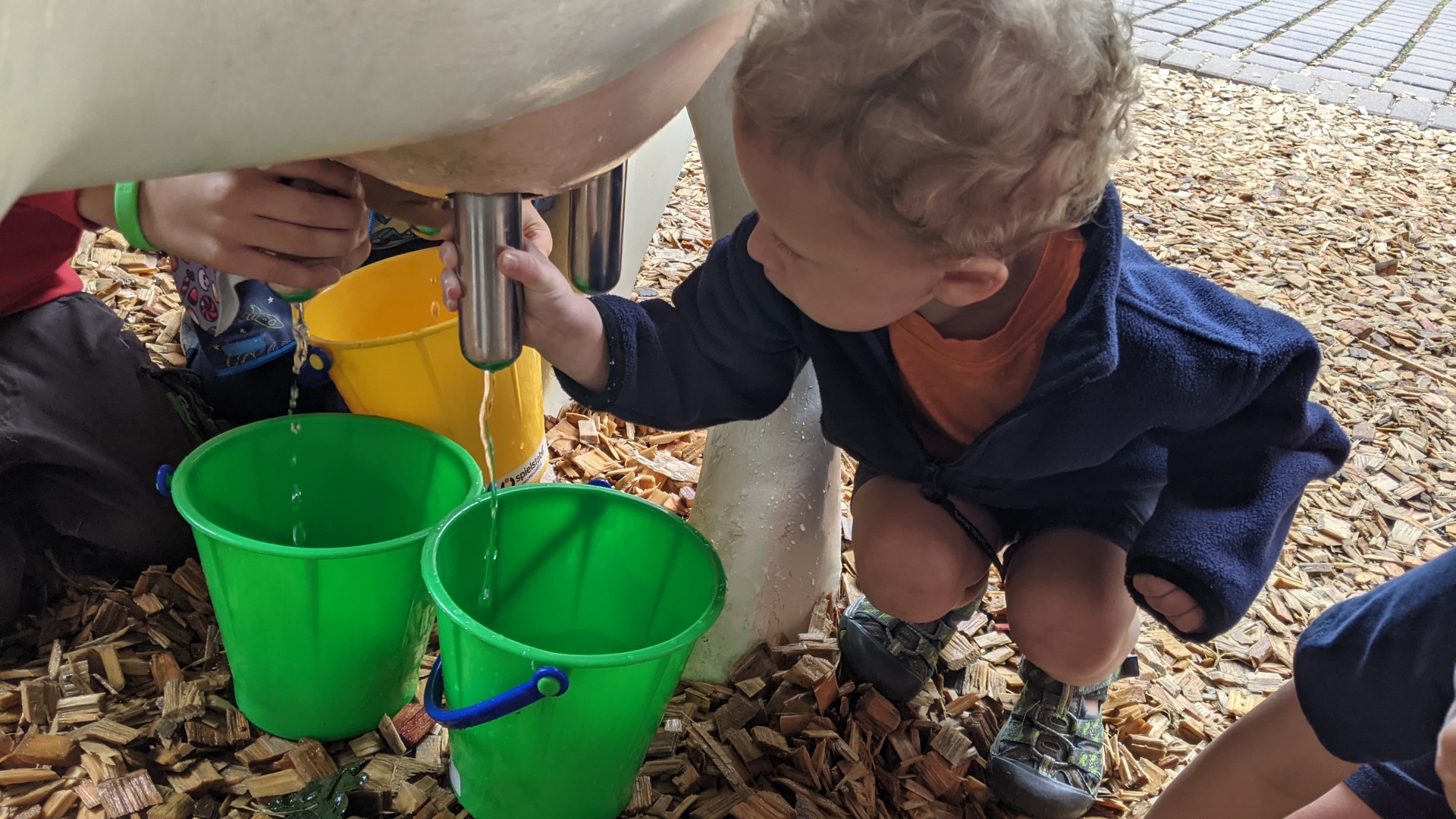 Have you ever wanted to milk a cow? Well, here's your chance! (Ok, well sort of!) It was these tiny details though that made Playmobilland Funpark so amazing. I mean, the kids could literally pull on the cow's utter and "milk" (water) the cows!!! How interactive and fun is that!
And while B was pretty bummed that he was too small to ride the Polizei cars, it was great that the Tractor Rally was just around the corner and both boys could zip and race around the track on the tractors!
Parcours Course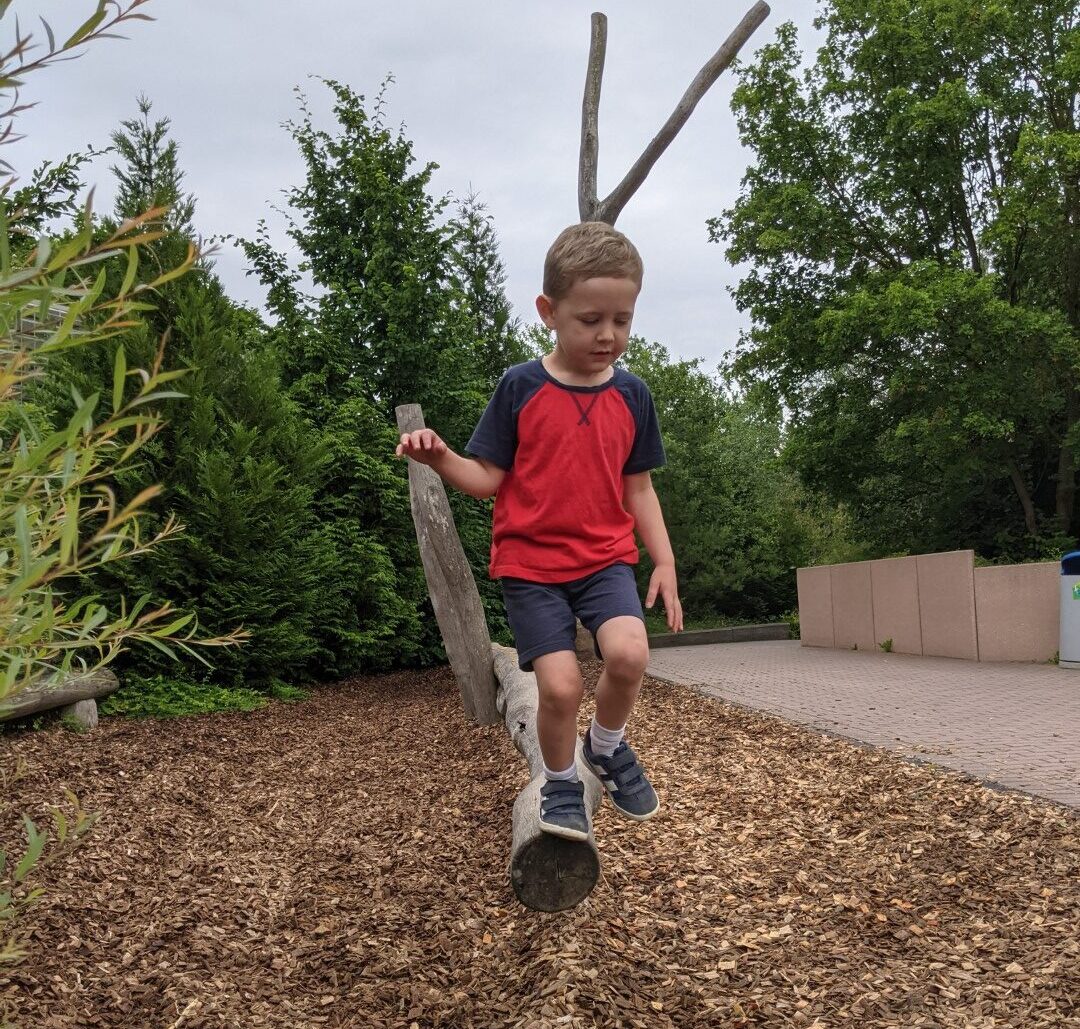 What was especially nice about the balancing area playgrounds was that there were a few sections within this area, each for a different age group. This meant that while Mr. J could happily play in an age appropriate playground, B also had stuff to challenge him and have fun as well. There were tightropes, climbing ropes, balancing walks, and more. The prior teacher in me loved the Gross Motor skills this area encouraged!!!
Police Station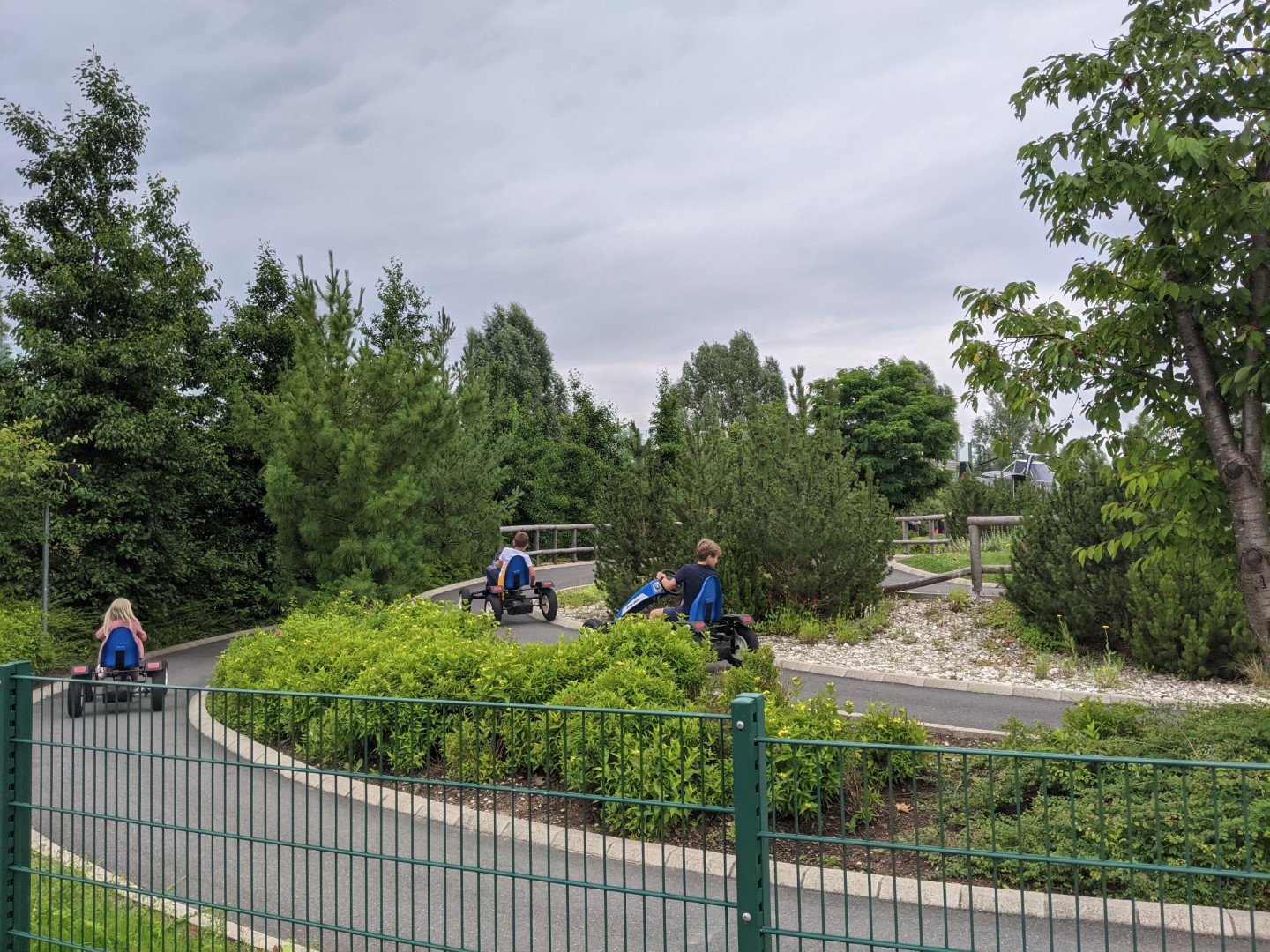 For older kids, there is the really fun Police Car Course where they can pedal police cars around a huge race track. You had to be a certain height for this particular area, and B was just under it…..maybe next year kiddo!
But again, I love how you can easily distract a disappointed kid here, because there was also a huge helicopter that grabbed his attention and he was more than content with!
Paddle Boats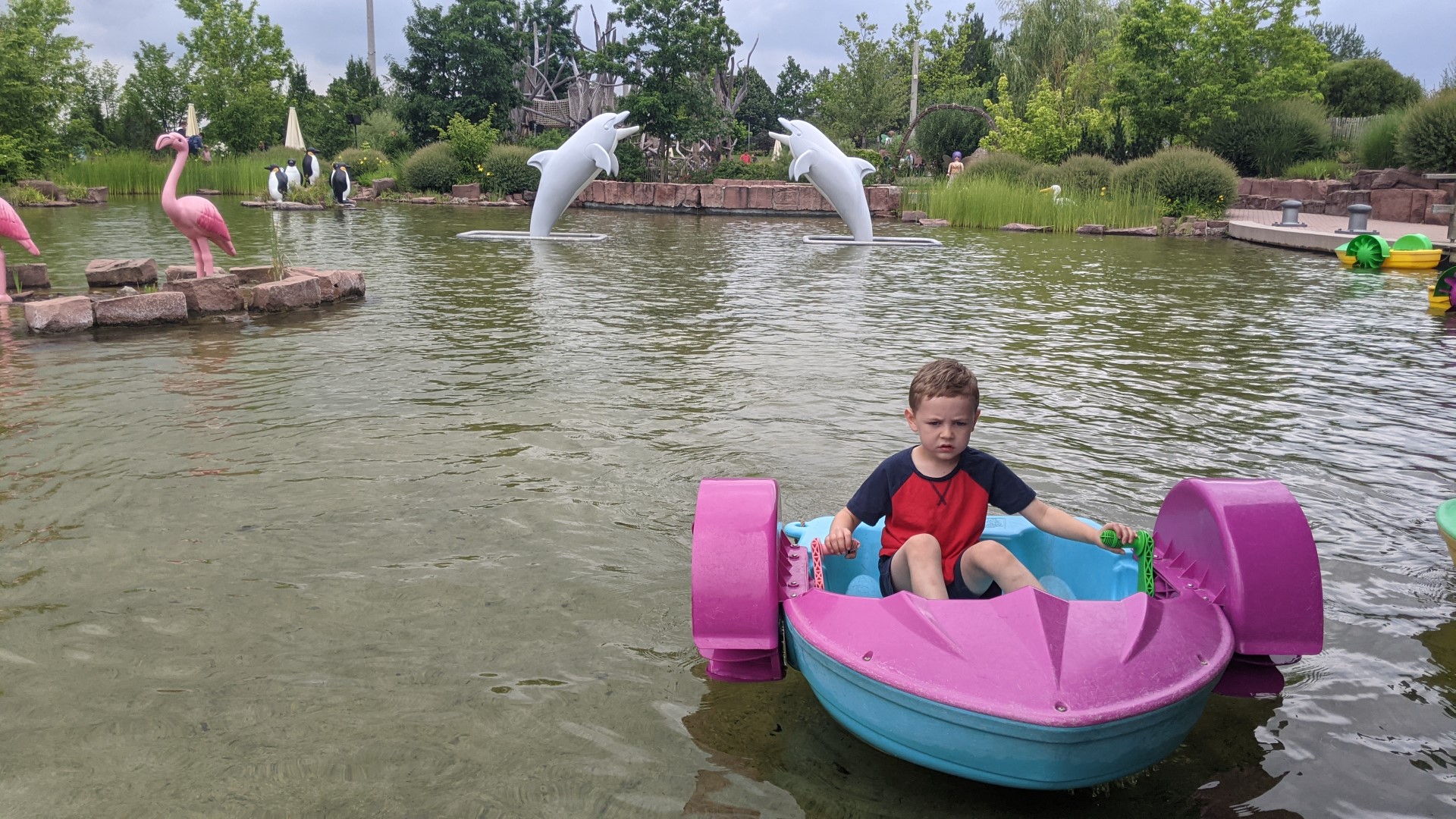 One thing that I love doing is fostering independence in my kiddos. I wasn't sure how B was going to feel about getting on the (small) paddle boat that he had to paddle all by himself, but judging by the fact that he wanted to go back and get in line several times to keep doing it, it's safe to say that he loved it. Again, it is small details like this that I really enjoyed about the park because while it looks just like a big theme park, there are actually a ton of skills (independence, gross motor, risk taking, etc) that the park actually fosters really, really well.
Octa Climbing Net
As awesome as this area was, we decided to only spend a few minutes here because Germany has some pretty stellar playgrounds with similar activities, so instead of spending time on that we wanted to continue on to more unique stuff at Playmobil Land.
(The rest of the areas we actually didn't havemuch time to get around to. Again, there is SO much to do and see in a day, that we kind of prioritized with what we knew the boys were going to LOVE. )
Mini-Arch
We actually didn't even get over to this area, but supposedly, it is perfect for the youngest explorers.
Inflatable Jumping Pillow and Trampolines
We barely got a few minutes here only because, true to the German way of life, RIGHT at 7pm, workers promptly were rounding everyone up for closing.
I will say that the giant jumping pillow itself had WAY too many kids on it (B even got off after a few minutes and said it wasn't fun because it was too hectic and kids kept bumping into/knocking him over) but this is a great example of how I liked that when there was something for older kids, there was almost always something close enough for the younger kids, too. So, while the older children jumped on the huge pillow, Mr. J had a grand ol' time hopping on the trampolines (Or "Jumpalines" in Mr. J Speak)!
Fairyland
If you've got a little prince or princess in your life, I'm sure they will absolutely swoon over the unicorns and fairy area!!!
Mini Golf
For an extra cost, you can play a round of mini golf as well.
Stay at the Playmobil Hotel
We actually wanted to stay at the Playmobil Funpark Hotel so that we didn't have to make the drive back home after our long, exhausting, and full day (and that way we could do more fun day trip stuff from Nuremberg) but the hotel books out pretty far in advance and there was no availability, so alas, I can't give you my review on if it is actually worth it or not.
But it all looked really tempting and cool. There are different themes in the rooms which correspond to PlayMobil figures such as Knights, Farms, and Prince/Princess, and Pirates!
Tip #11: If you want to stay at the PlayMobilland Hotel, book as far out as you can!
A lot of families choose to book the "PlayMobil Funpark Hotel Paket" where you get
1 night at the hotel for 2 Adults and 2 Kids
Buffet Breakfast for 2 Adults and 2 Kids included at the HOB Center
Tickets into the park for 2 consecutive days
The breakfast buffet opens before the park does and kids have access to the HOB Center. I'm all about eating in peace while my kids go play!!!
The Playmobil Fun Park hotel package is €299
There are also plenty of other places to stay nearby and of course, staying in Nuremberg is also a great option if you are staying in the area longer.
Playmobil Germany and Covid Precautions/ Changes
The rules and regulations are CONSTANTLY changing in Germany but while we were there (July 2021) here is what I found:
No vaccination card or even negative test was required (check current daily incidence rates to see if this requirement is in place, as well as double check what current regulations are in general)
Masks were only required in "crowded" areas (I chose to wear mine in lines) as well as indoors (such as at the HOB center) and in the bathrooms.
The Play City in the Hob Center was sadly closed while we were there due to covid. Therefore, no toys or anything like that were out to play with.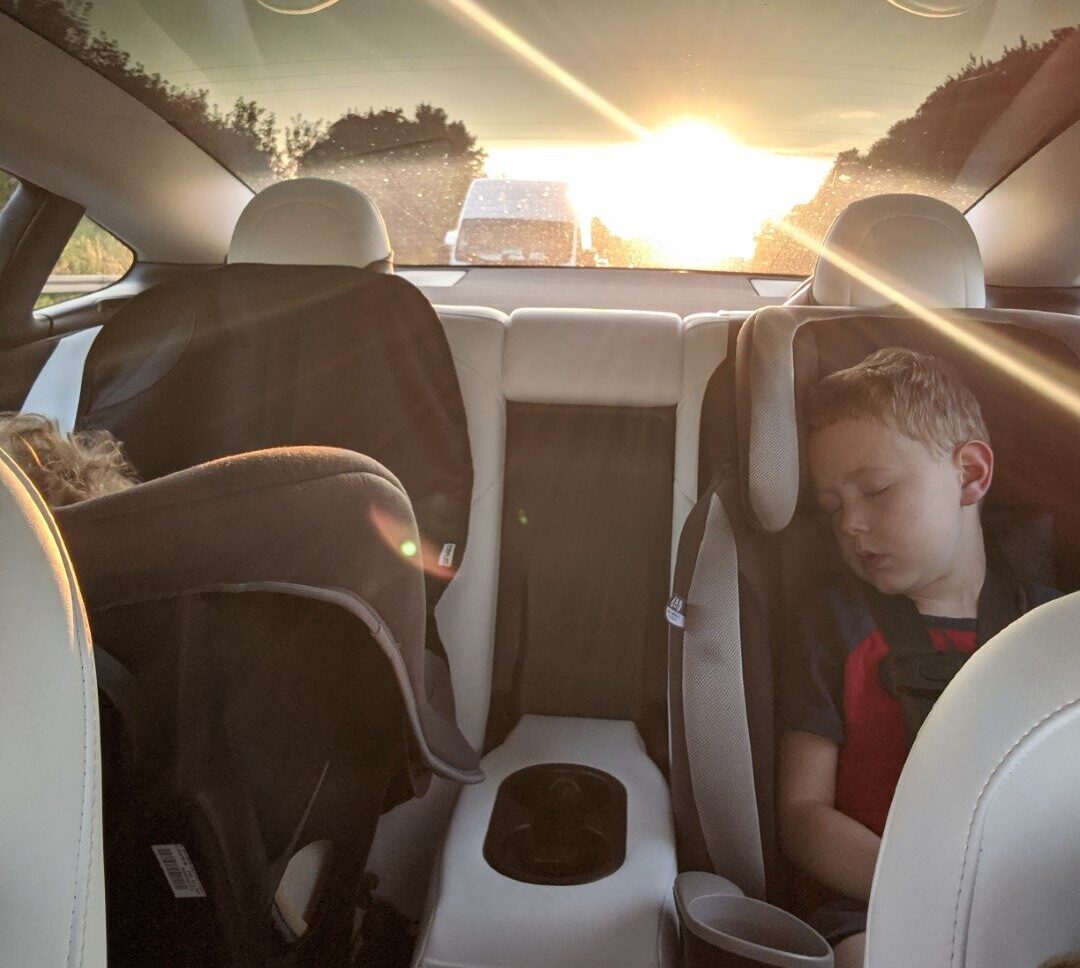 All in all, we had an amazing time at Playmobil Germany Park (Nuremburg). We weren't even to the Autobahn yet when B was already begging us to come back again. And honestly, for the prices, amount of stuff to do, and pure fun…..I told him that wouldn't be a problem at all!!!
And considering they were passed out and slept so well that night, I'd say it was a win for all!!!
(Thank you to Playmobil for providing entrance tickets to the park. All opinions are my own)